41 Rooms, Playlist 2 is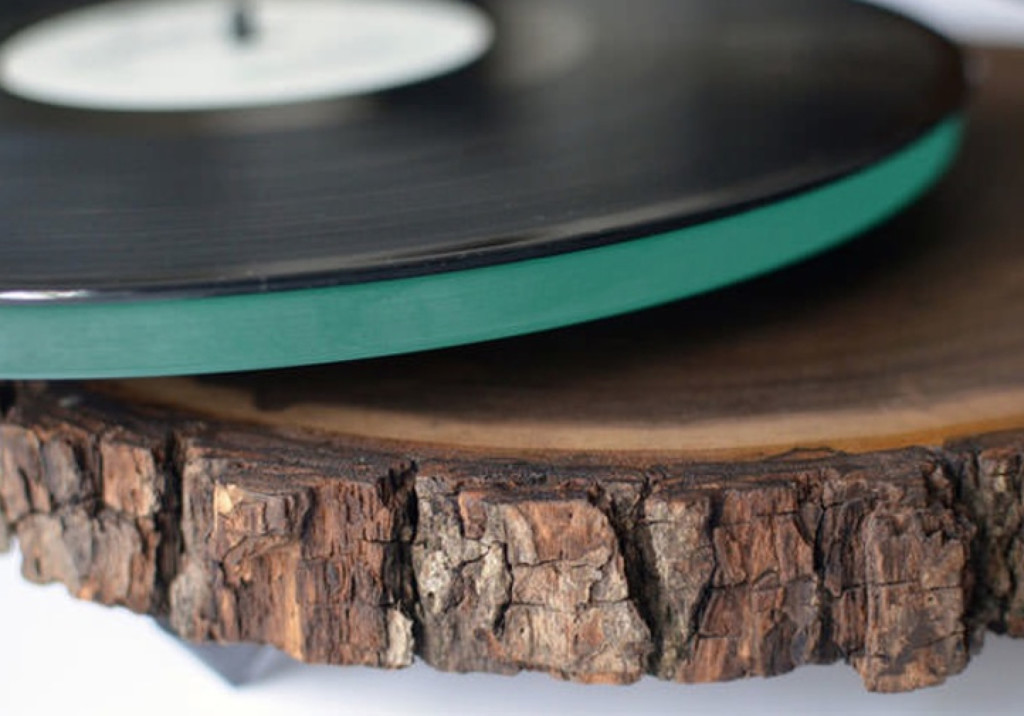 94% VINYL FRIENDLY.  Near perfect.
---
Lyric of Playlist 2:
'I'll see you baby when the clans rise again. Women and men united by the struggle going down. With a pocketful of plastic like a dollar on elastic. In this free world. I wouldn't tell you if I didn't care'.

---
Tracks marked * have been given a tiny (or sometimes, slightly bigger) 41 Rooms 'tweak'.
---
00.00
(Intro) THE FLAMINGOS – Stars (Edit) – Unreleased demo – 1983
Episode #1 for info.
---
00.40
NEW ORDER – Don't Do It * – Fine Time 7″/12″ – Factory – 1988
Another New Order great moment, the vinyl take nonchalantly hidden away on the flip of Fine Time 7″ and 12″ singles.
---
04.43
TIPPER – Led Down (Voice Stealer Mix) – 12″ – Higher Ground – 1999
A hypnotic seven minutes or so. The sleeve's image artwork nearly as sharp as the production… and at the time most probably nearly as expensive.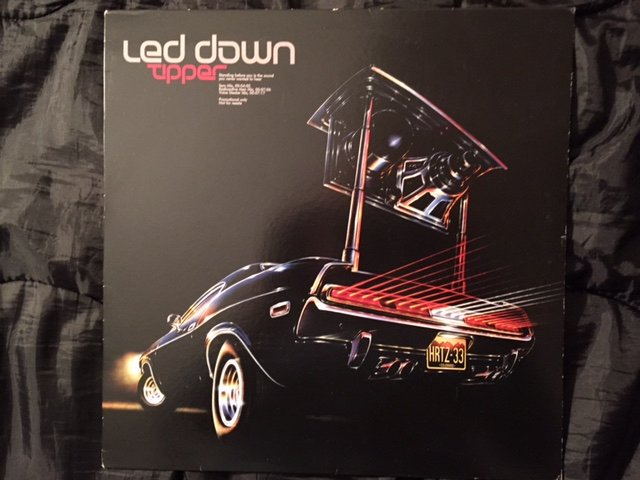 ---
10.53
RICHARD H. KIRK – Velodrome – Virtual State, 2LP – Warp – 1994
I was lucky enough to promote two Cabaret Voltaire gigs – in my home town, Bedford, England, in '83 and '84 – and arguably, when the 'band' were at the height of their 'powers'. Founder member, Kirk has released material under a multitude of pseudonyms since the band's break-up in '94 and Virtual State was hot out of the stalls around the time of CV's demise. Two decades on, his releases are still to be reckoned with. After a party with a bunch of collective friends in Sheffield once, I woke the next morning to find myself in a large, newly decorated white but very sparsely kitted out room, with nothing apart from the bed I was in and a lone electric guitar propped up against an opposite wall. I'd absolutely no idea where I was until I went out and met Richard on the landing. His house. In the history of electronic music, both he and Cabaret Voltaire are genuine heavyweights..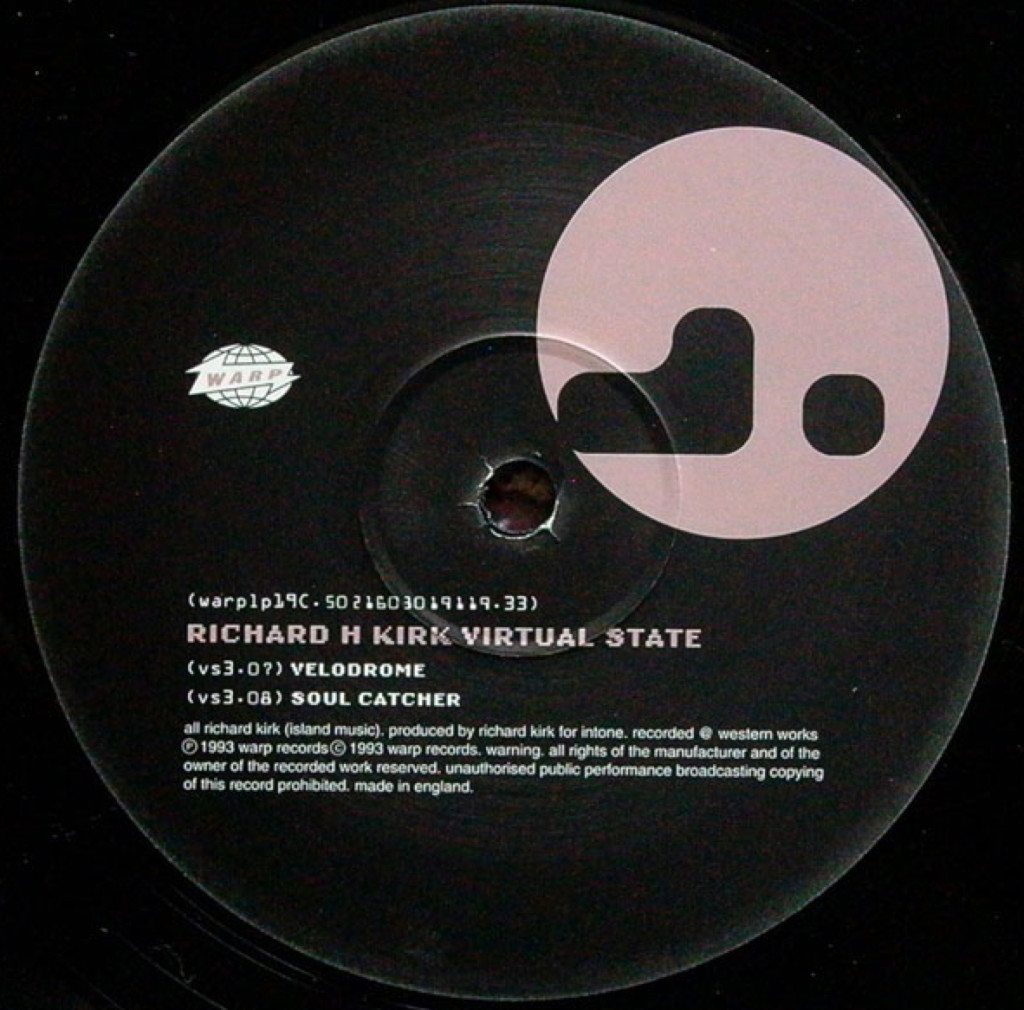 ---
16.20
LONELADY – Fear Colours (Barbican Version) – 12″ – The Vinyl Factory – 2015
Recorded live in June 2015, at London's Barbican. Lonelady recounts of the experience, 'Bunkerpopping… I am invited to be part of (multi media artist, Doug Aitken's) Station To Station, a month-long live art happening taking place in iconic Brutalist structure The Barbican. In a piece called 'Retreat Or Danger?' I continue to explore concrete and its effects on the psyche in a week long residency, featuring a modular synth tutorial, animated Paul Virilio slogans, an on-site 12'' vinyl pressing of new song 'Fear Colours' and a live performance in the gallery with Wrangler. King of my concrete castle; I don't want to leave… I am forcibly ejected to make way for Terry Riley'. An 'in-progress version', the 12″ is a Limited Edition of 300, and Lonelady's progress in 2015 is mapped out here.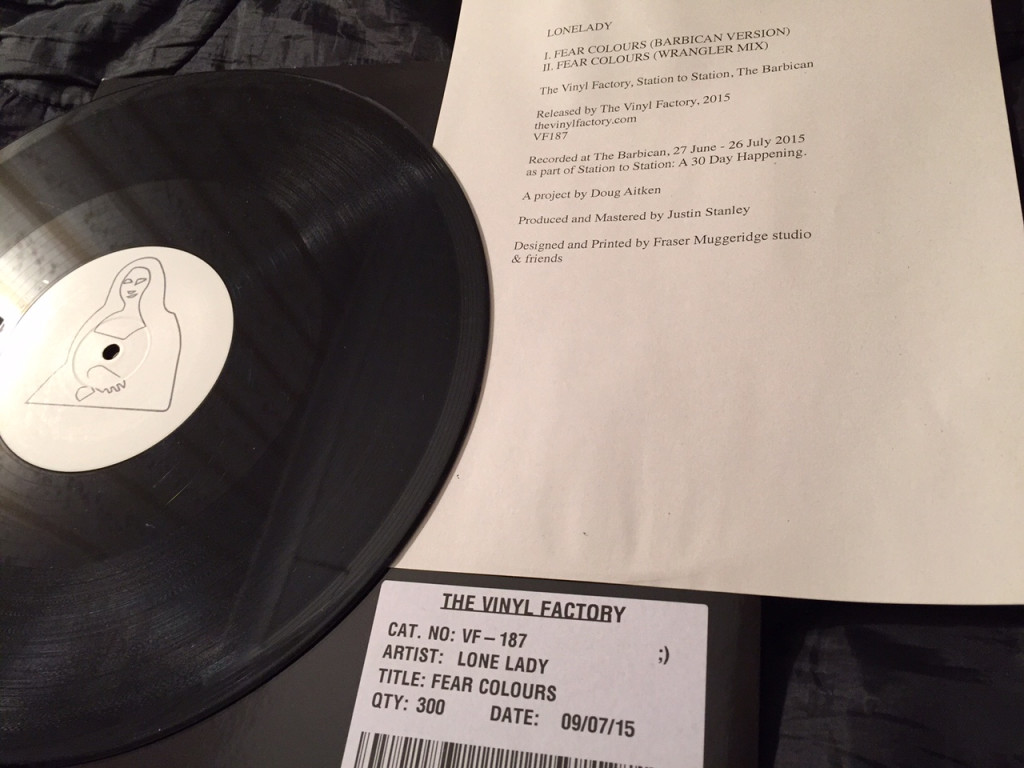 ---
20.37
BUNNYDRUMS – Shiver – Feathers Web 12″ EP – Funk Dungeon Music, Inc – 1983
Just the sort of inventive and alive track that made the post punk era such a well of wonderment. You'd think that anyone recording in this territory around the time would have automatically winged copies of their records to John Peel in the UK, such was his kudos. Maybe not quite always, though. I can't remember who, but someone guesting on his show in the mid eighties and looking to champion a handful of US releases/labels played this. Obviously keen on what he'd heard, Peely replied, "This is really irritating, you know. Why is it these swines don't send me their records?" On being told they were called Bunnydrums he was quick to point out they'd actually sent him an earlier single and in the mountains of releases he did receive, he didn't miss much, as I was to find out. For another time.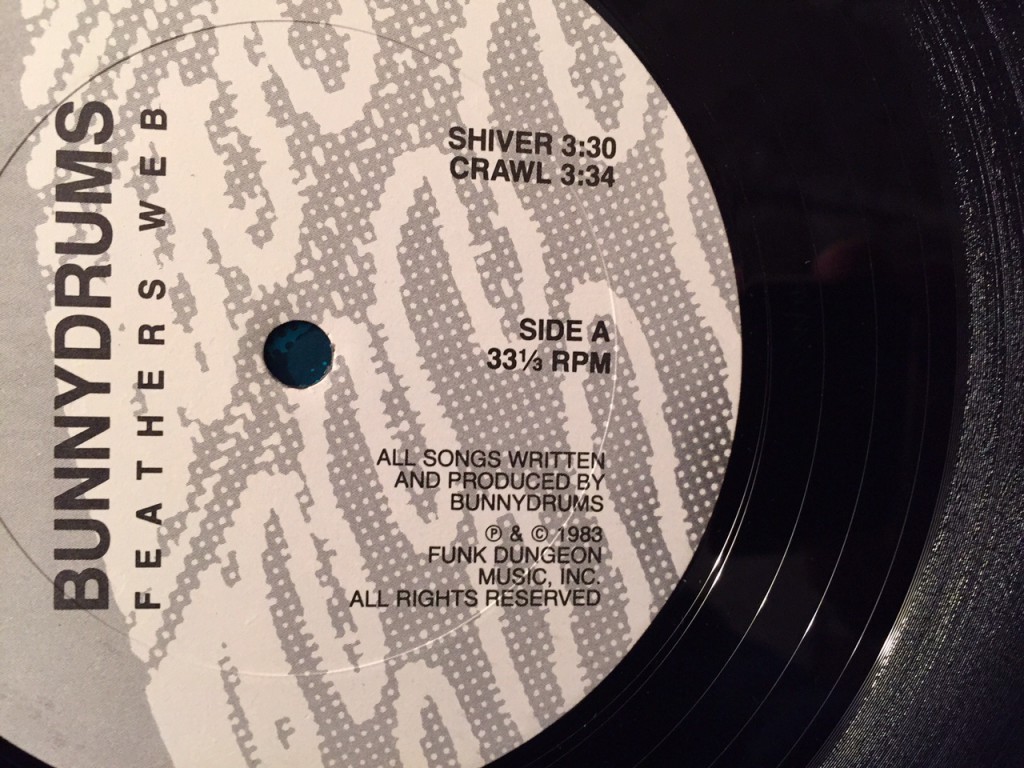 ---
23.40
BITING TONGUES – Aair Care – Libreville, LP – Paragon – 1984

808 States' Graham Massey in an earlier 'state'… and before releases on Factory.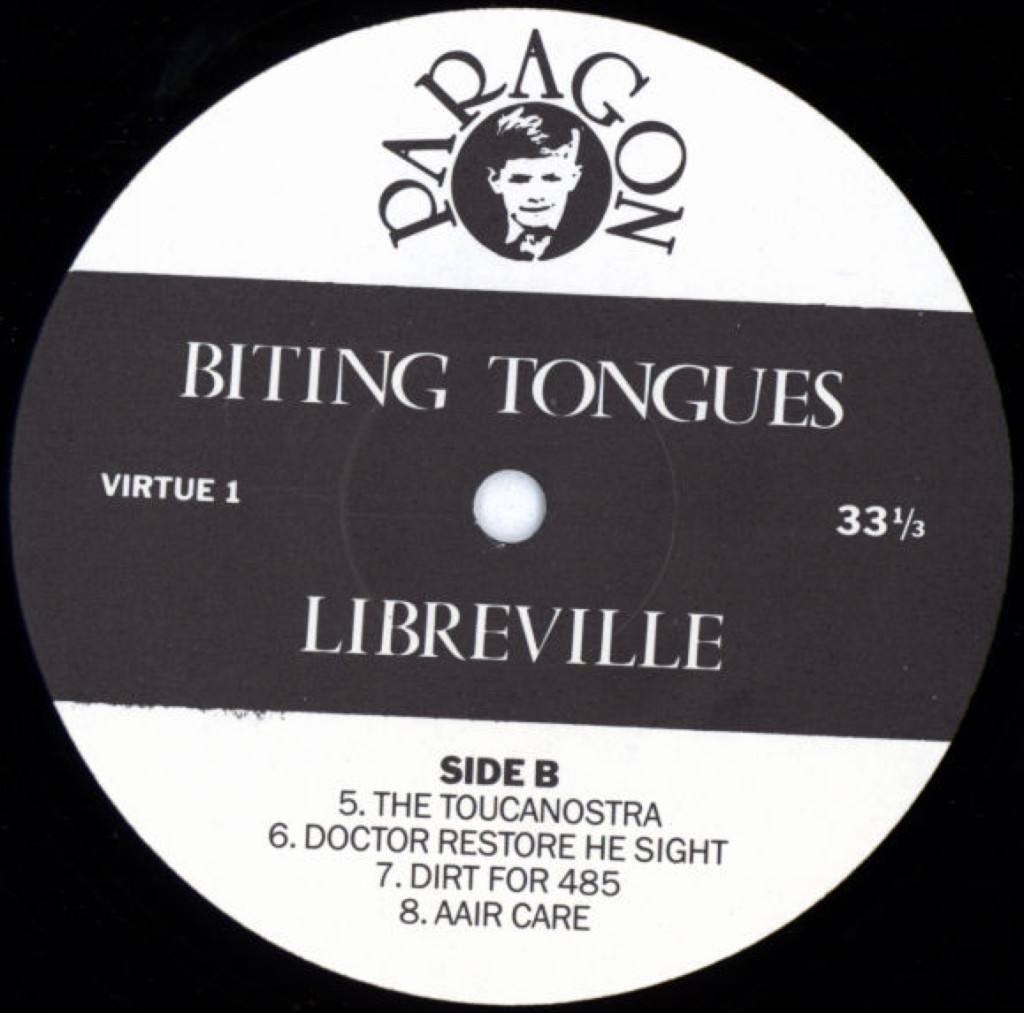 ---
26.04
PUBLIC SERVICE BROADCASTING – Elfstedentocht Pt 1 – 7″ – Test Card Recordings – 2014
Rockin' sounding white vinyl purchase from 2014's Record Store Day. And worth a bit more now.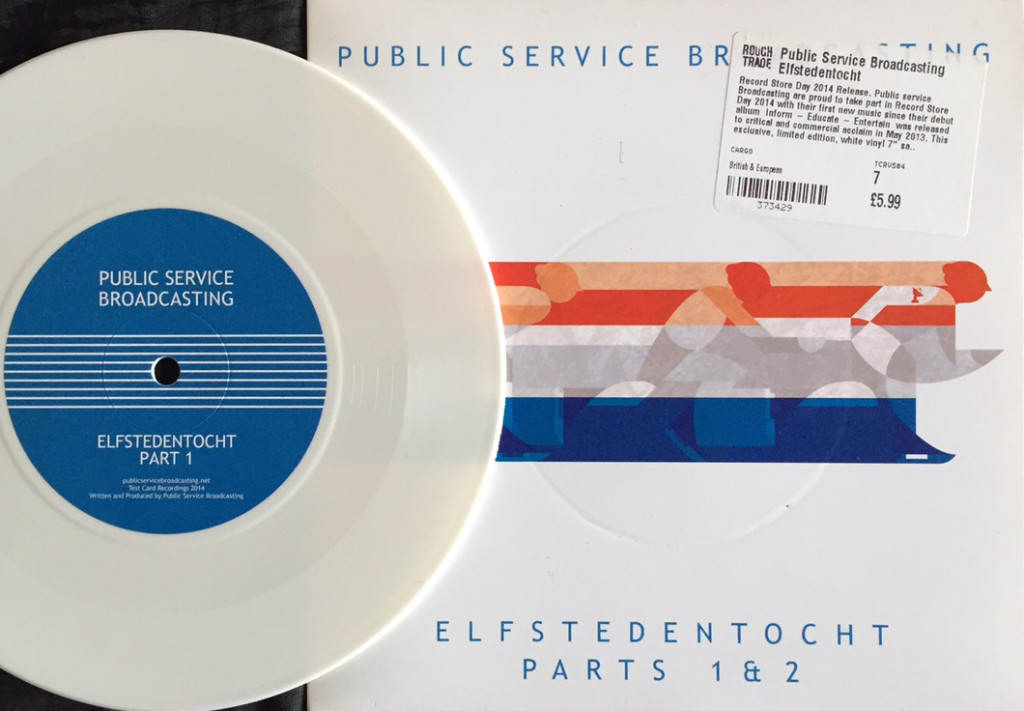 ---
29.11
CRISPY AMBULANCE – Concorde Square (Edit) – Live On A Hot August Night, 12″ – Factory Benelux – 1981
There are a couple dozen tracks, (with some unlikely minnows in there) where I instantly remember the era, space, nearly even the smell of a certain place. Winkles, Bedford, (mostly 1981) is that place, and this is one of those tracks.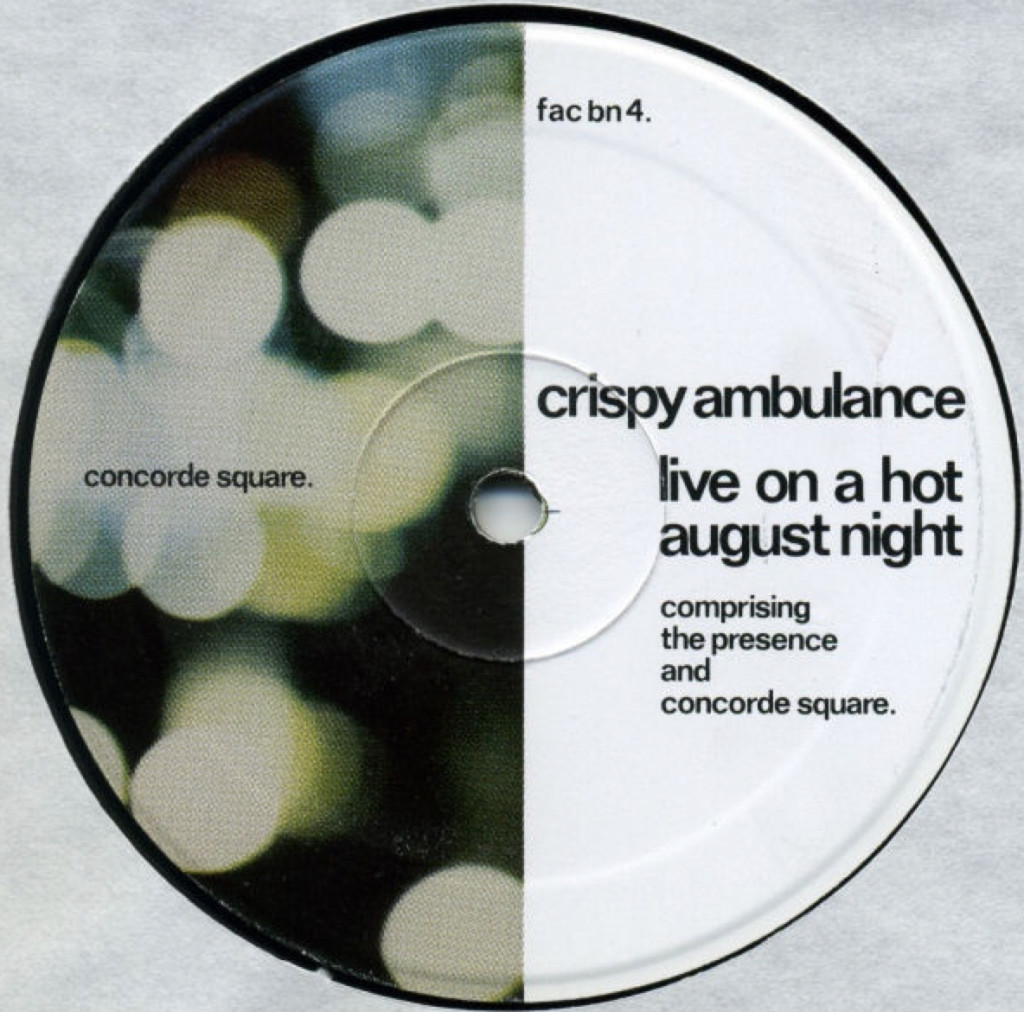 And… 'the time will come to make you see, the time will come to make you see'… that the following three minutes plus is possibly the best 'single' in the last thirty years…
---
32.14
BENJAMIN SCHOOS (feat LAETITIA SADIER) – Je Ne Vois Que Vous – Cassette single only – Cassingle and Loving It – 2011
If any track of this millennium should have definitely made it to a 7″ piece of vinyl (besides Fakesensations), this is it, and as good a flight of pop fancy as it is, it would take seven years to get there. See below. Stereolab's Laetitia Sadier guests on a track originally only available in physical form on 100 cassettes. Those wacky French, eh? I would dearly love a copy but am holding back the tears and making do with one of a subsequent second run (of 100?). For some reason, Schoos then revisited the tune – practically to the note – with one Isabelle Blais taking on the ominous task of matching Sadier's vocals… and she nearly does. It's a monumental piece of pop, either way. Best left sung in French though, if you're going to mention kangaroos… which it does.
Of course, if you want to then go and annihilate this beauty, you best hire a 3000 piece orchestra and do the song live. Be prepared, as Schoos did just that. Search out the video when you're really bored. Monstrously overblown (a bit like the setting and the conductor's stomach) and laughable in many ways, Schoos nearly equals that horror in a separate live video – in a trio set up. Thankfully, Ms Sadier was well clear of both crash sites. For a song this good to have been withered within an inch of its life, to then pull just 300+ views between the two videos, is a stunning (non)achievement. Of course, now you'll maybe bump up the figures by going to view the carnage. To be fair(er), another live TV version and the official video (both with Sadier) restore the balance and the latter currently has 12,000+ hits, so the people did speak, and you can buy it… here.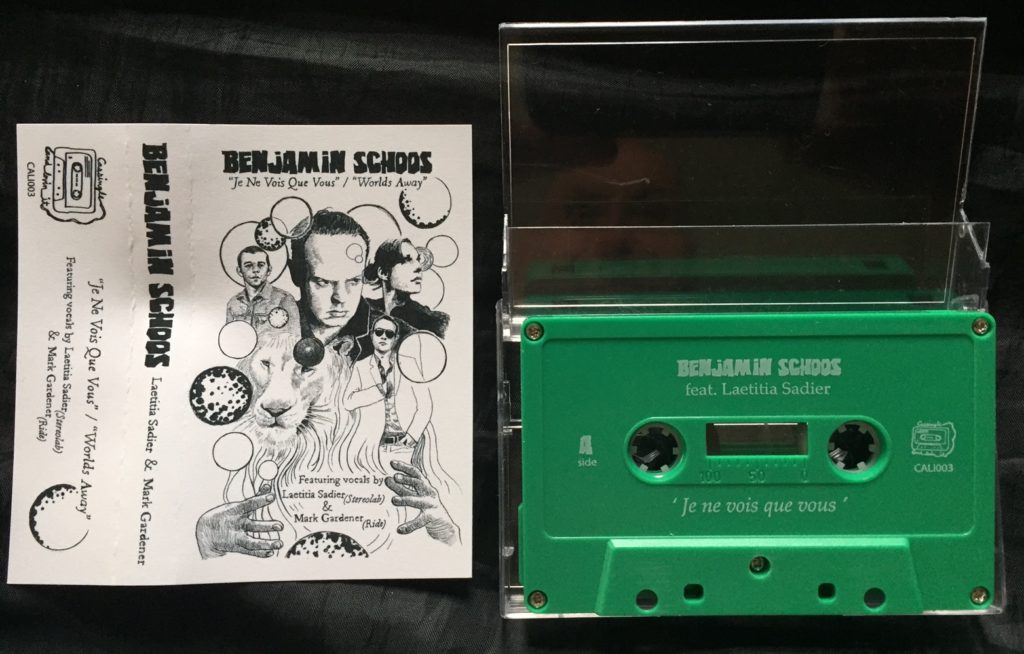 And onwards to 2018 for the long overdue arrival of this fab tune on 7″ – 300 copies only, via Freaksville Records in Belgium.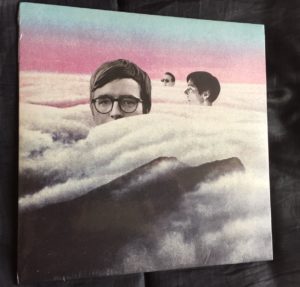 ---
36.01
HELP STAMP OUT LONELINESS – Pacific Trash Vortex – 7″ – Where It's At Is Where You Are – 2009
Somewhere I heard the track Cellophane from HSOL's self-titled album, headed to Discogs to clock their output, went elsewhere online to methodically grab a listen to as many of the tracks as possible and then bought this sky blue bit of vinyl grooviness. This is the way these things get done around here. 500 copies, supposedly. Was somebody supposed to number them? Lazy buggers.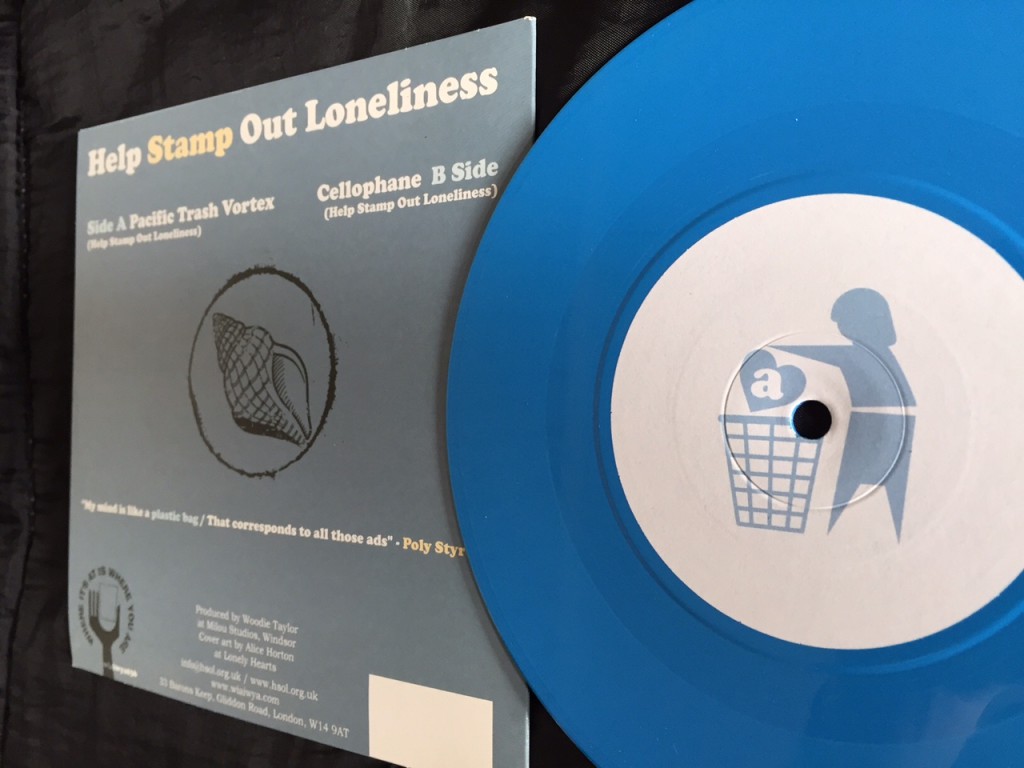 ---
38.39
KIRSTY MAcCOLL – Free World – 12″ – Virgin – 1989
Lyric of the Podcast winner. We're on a roll, now. Another zippy, short and sweet slither of genius pop. Quality lyrics (as they always were from the now sadly departed Ms M) and Johnny Marr shining and sparkling on guitar. Result! The 12″ is currently available for a quid on Discogs. Bargain heaven.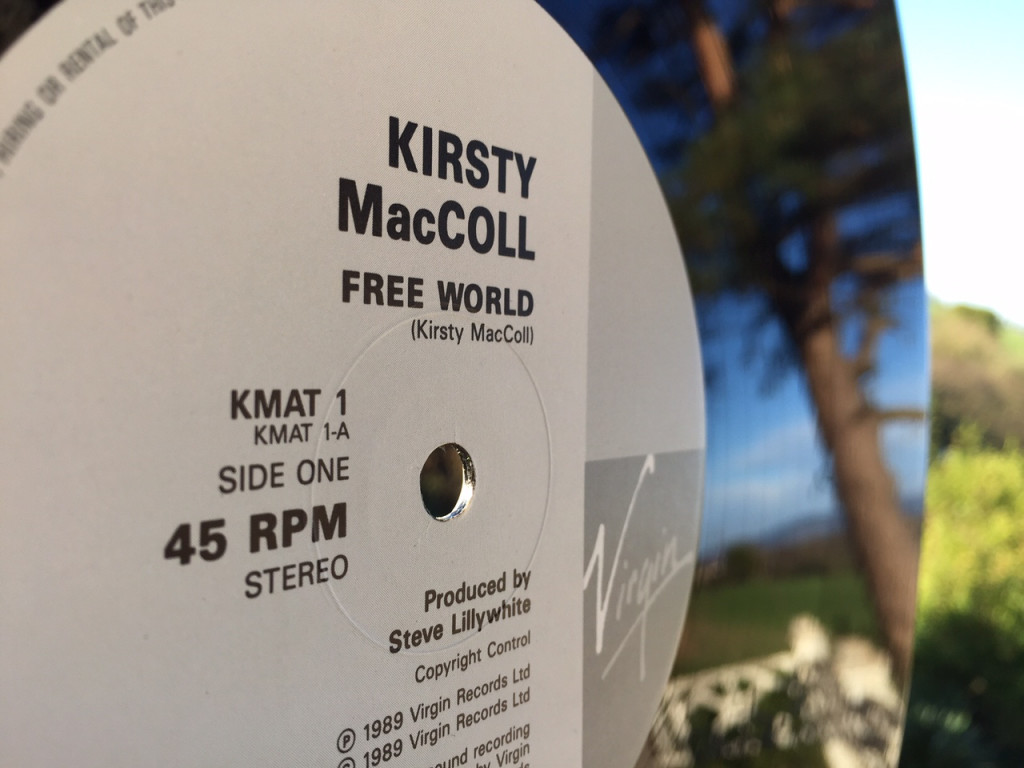 7″ acetate

10″ acetate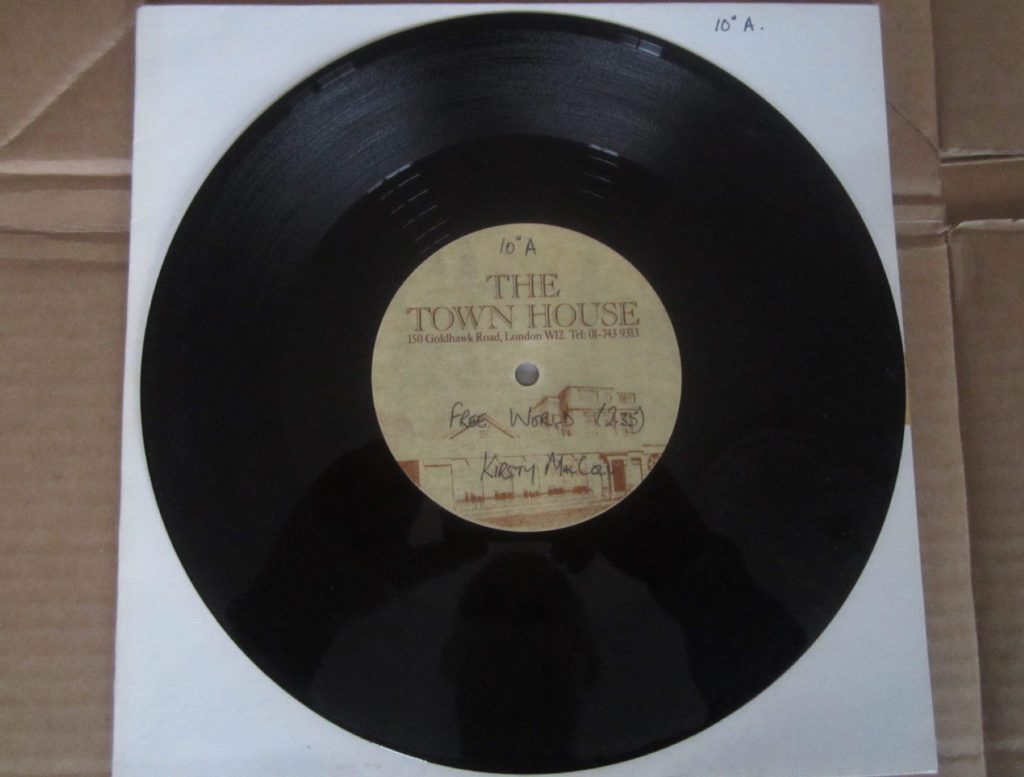 ---
41.08
SIOUXSIE AND THE BANSHEES  – Cannons – Tinderbox, LP – Wonderland – 1986
How was this NOT a single? One of the funkiest people to ever tread the boards.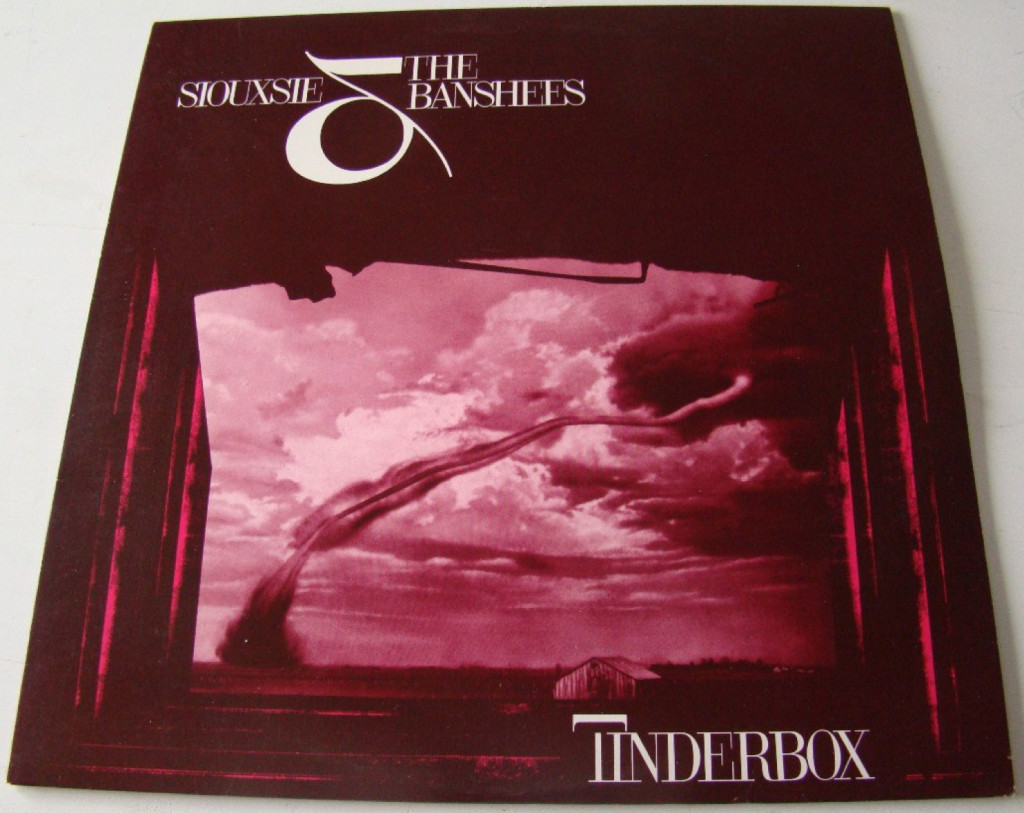 ---
44.02
TWO BANKS OF FOUR – Skylines Over Rooftops – City Watching, LP – Sirkus – 2000
Two Banks of Four inhabit(ed) an area of the musical spectrum that's often sidelined to the shadows but from his days as Galliano head honcho through 2Bof4 and onwards to Earl Zinger and William Adamson, Rob Gallagher – his lyrics in particular – have played no small part in razor targetting 'life'. 2Bof4's last album was in '01 and single in '08, but there was, at least, communication uttered on their website in 2013 – lying dormant maybe, as if to say, 'We'll be back when the world wises up'. For me, hopefully that will happen. And wherever you are, a big shout out to Ben Wilcox, the man who put out this album and other fine stuff on (t)his label in the late nineties/early noughties.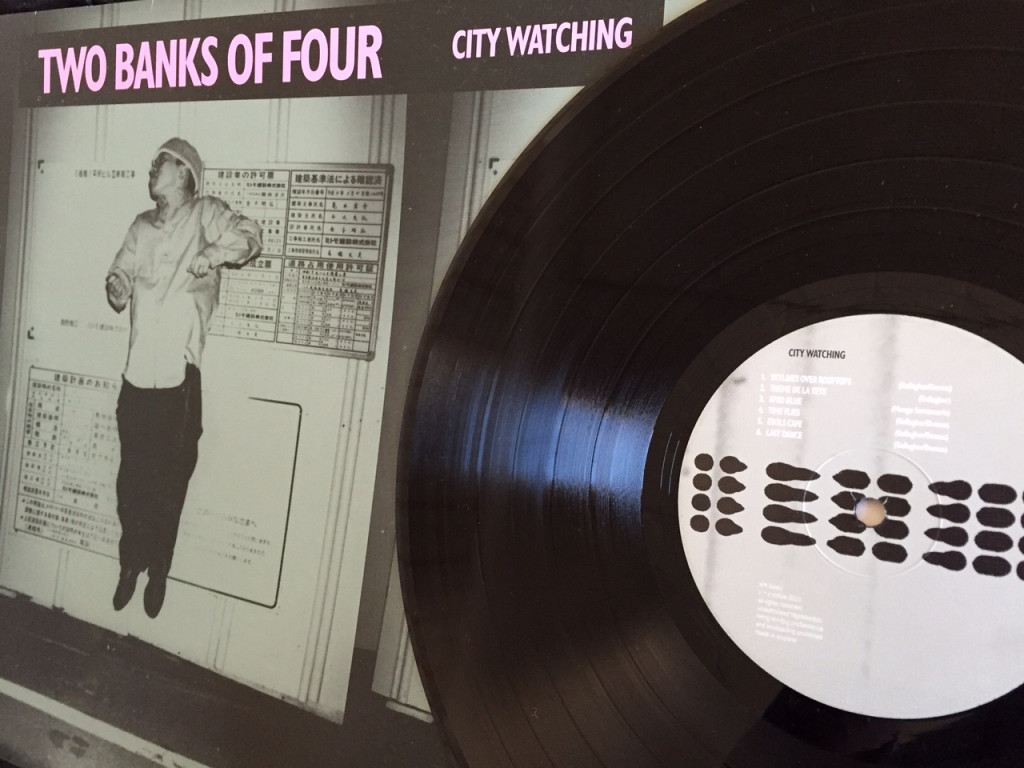 And this musical lineage continues with…
---
49.17
BONOBO – Between The Lines – Days To Come, 2LP – Ninja Tune – 2006
Simon 'Bonobo' Green is yet another artist I continually check on. Always shifting around. And here with smokey-vox-about-town, Bajka!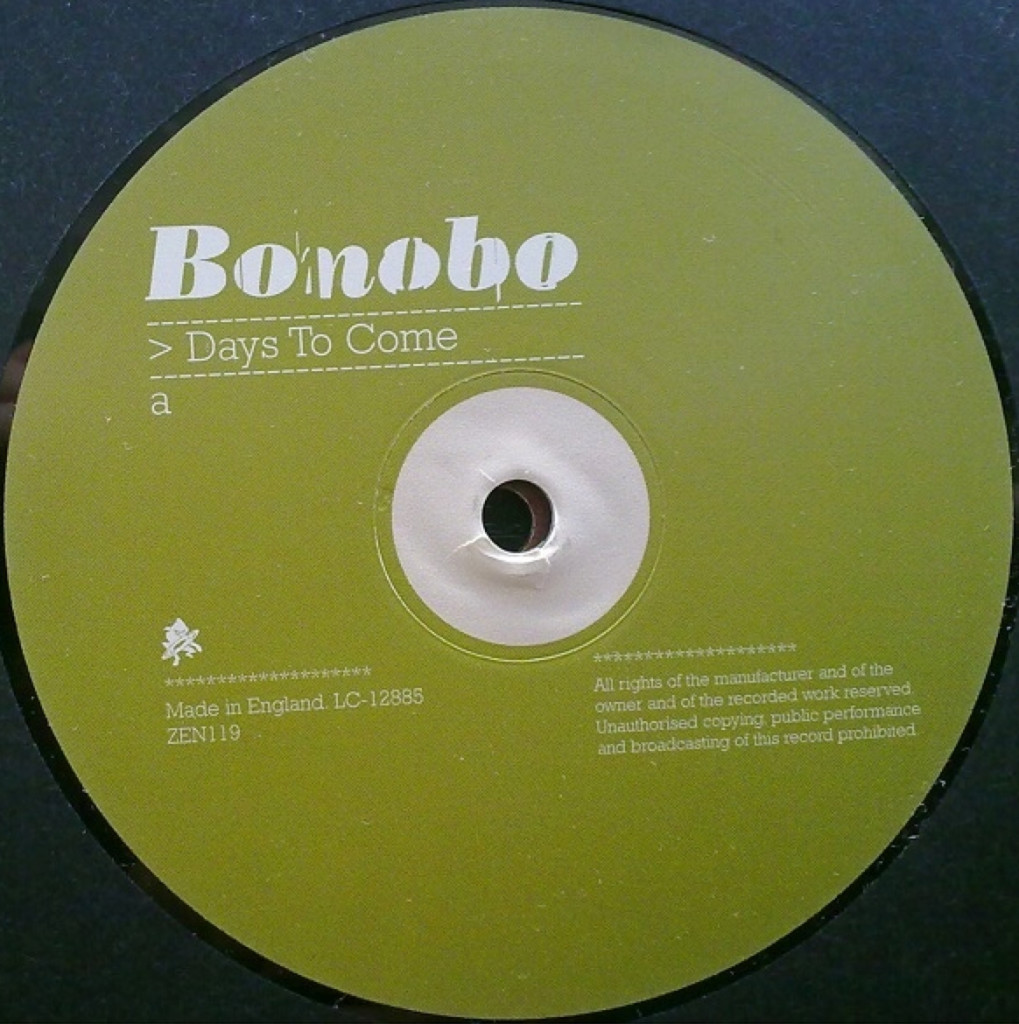 ---
53.09
A CERTAIN RATIO – Coldest Days – Good Together, LP – A&M – 1989
I've warmed to ACR's A&M years more in recent times than I did back in the day, and tracks like Coldest Days certainly give Jez Kerr's understated (and underated?) vocals room to shine. For me, this is up there with some of the band's best.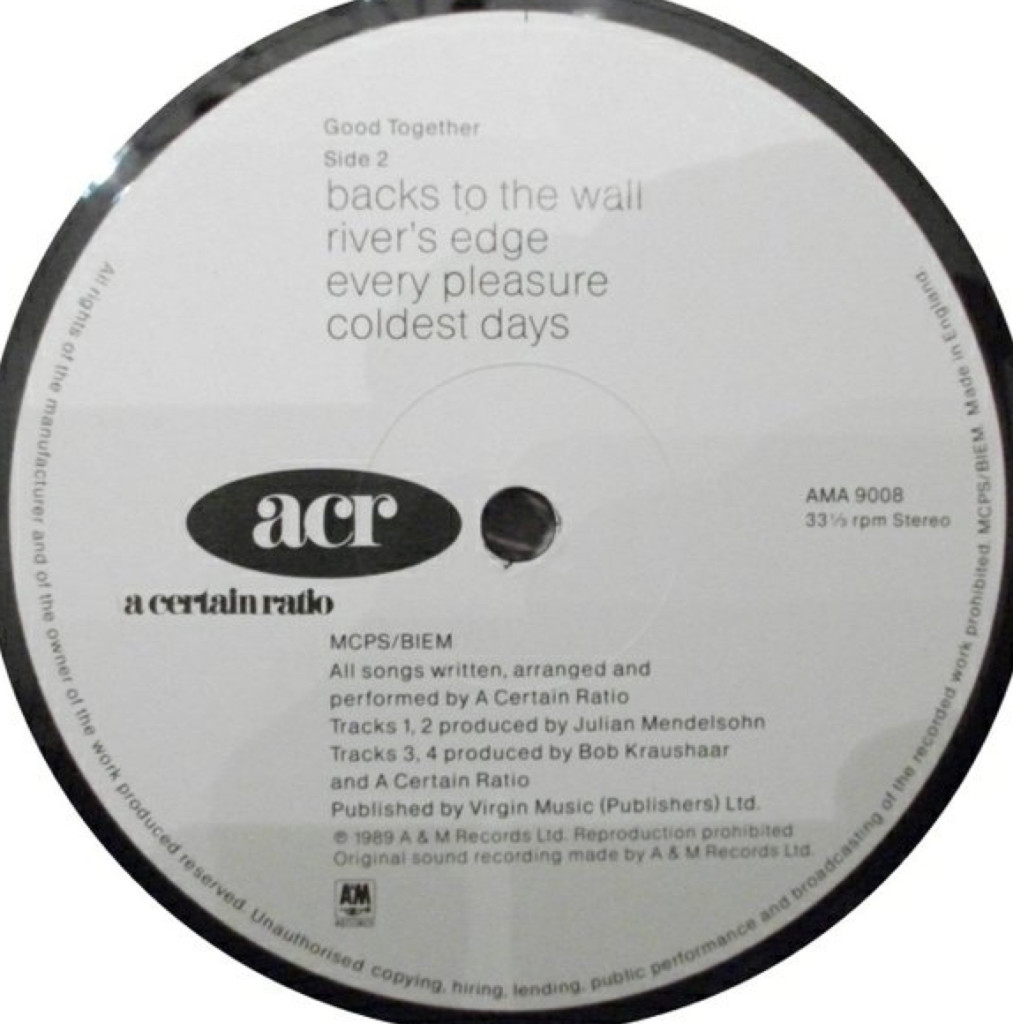 ---
57.09
MINT ROYALE – Wait For You * – See You In The Morning, CD only – Faith & Hope Records – 2005
These boys must have had one seriously grafting publisher on their side in the early days; their output appearing all over film soundtracks,  TV series' and ads. I fell upon them completely aside any of that. Big beat bizniz, and here's some muso stuff.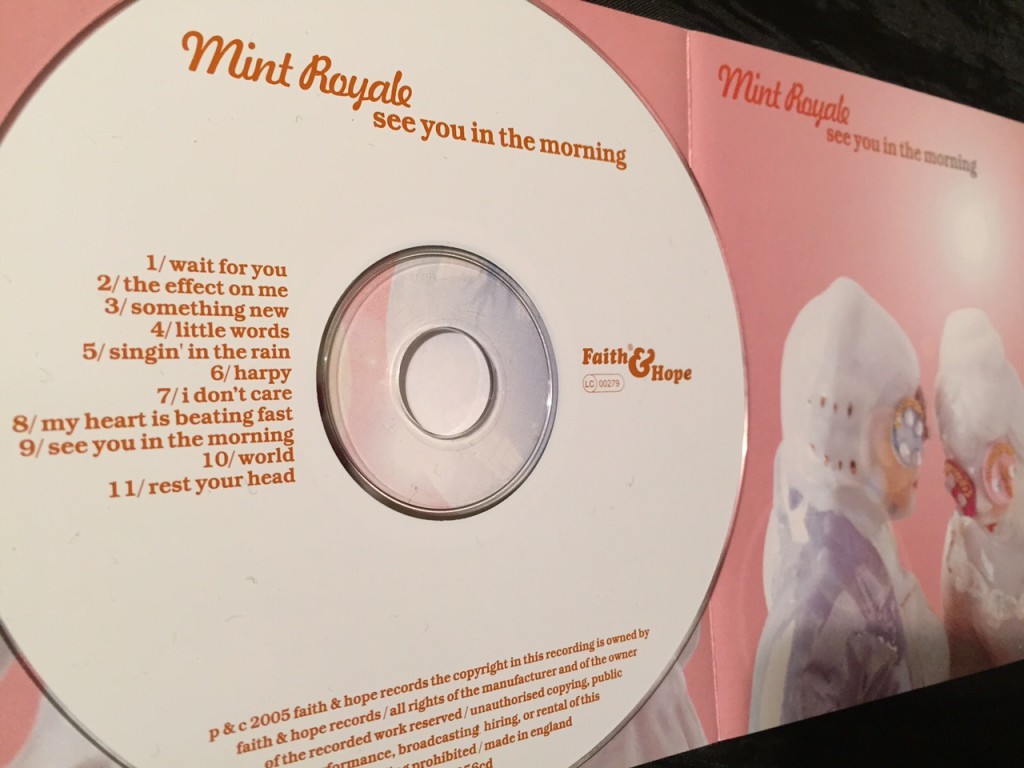 ---
01.00.12
DAVID BOWIE – Stay (Live) – 'Great Live Concerts', LP – A&M – 1989
The Thin White Duke was already slotted in here for this 41 Rooms appearance before his death in January. With Adrian Belew's guitar driving the whole drivey, driven beast, and Bowie at his soul crooner best, vocally, it's no surprise this recording eventually got an official release. 'The Apostle' kicking things off dropped by nearly four decades later… and fitted in just right. He motions to 'believe', and he'll be guesting here again at some point but 41 Rooms will be leaving religion at the door, if that's OK with everyone.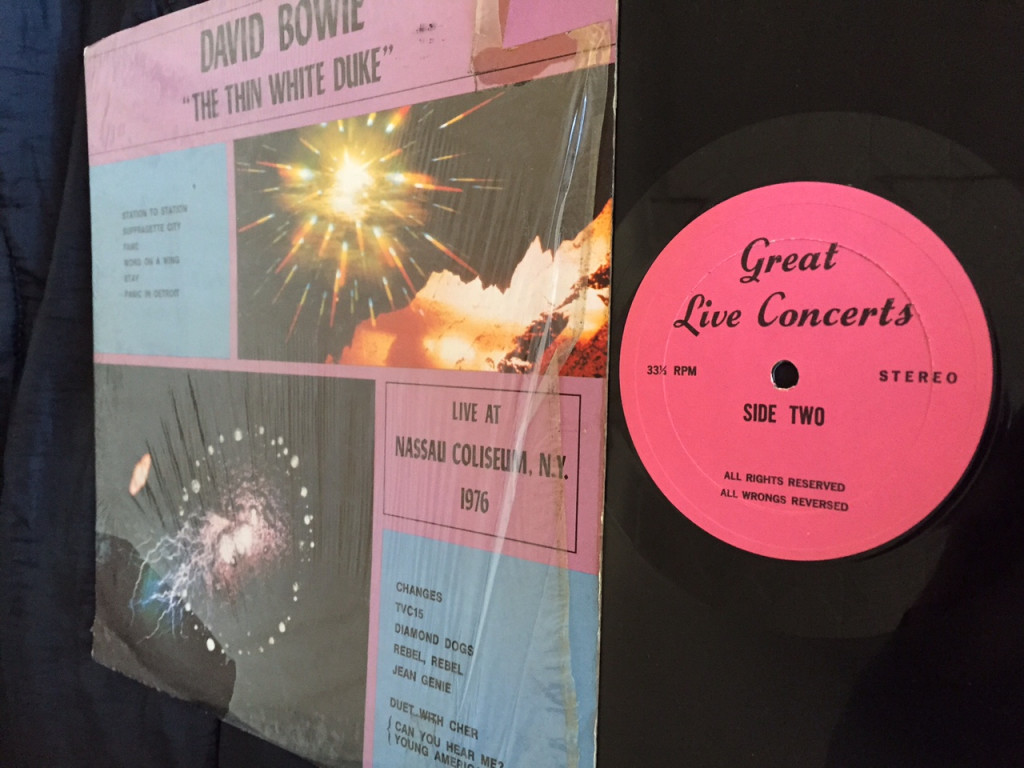 Quite possibly the above album was bought at the shop below, maybe a year or three before, certainly the first shop I ever bought bootlegs in.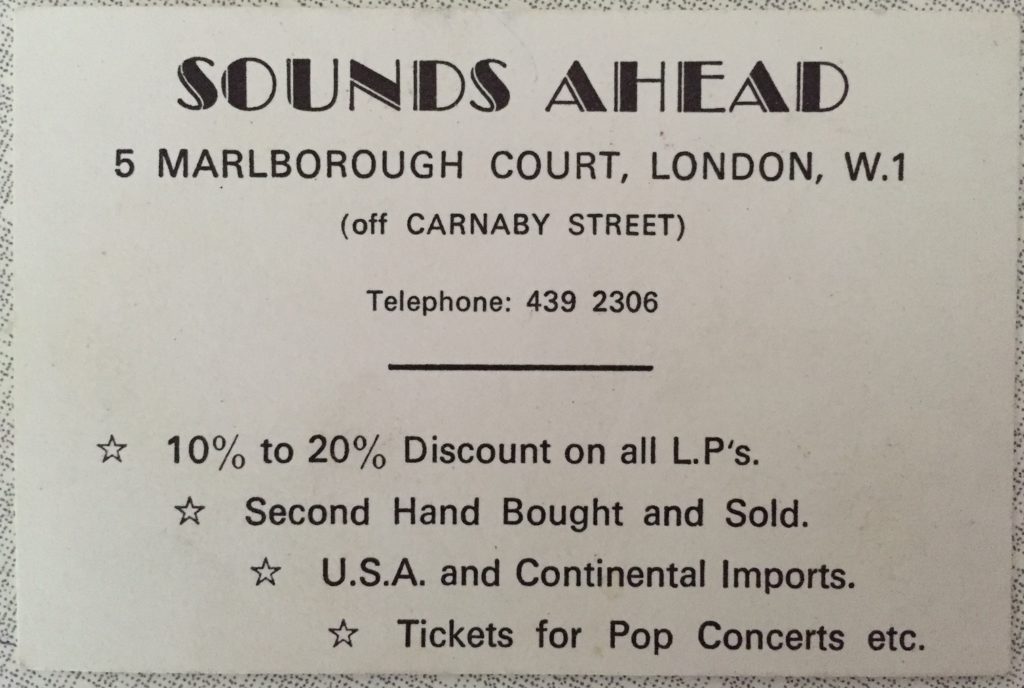 Out there somewhere and cut within a year or two of the gig, a possibly one off US bootleg acetate of the above Nassau Coliseum March 23, '76 Stay performance.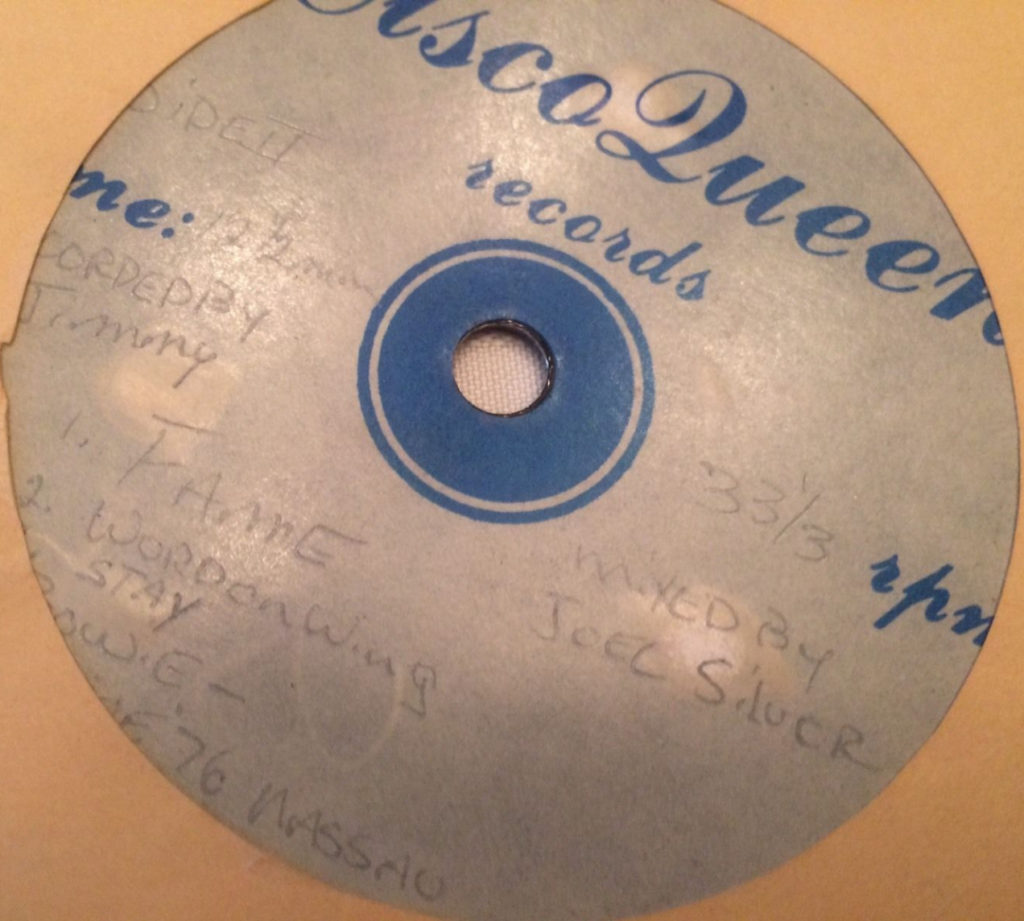 ---
01.07.57
ALABAMA 3 – Woke Up This Morning (Drillaz In The Church Mix) – 12″ – Elemental Records – 1987
'One of the most joyous, righteous, provocative and inspirationally delinquent bands Britain has ever spawned' – Discogs. That'll do for me, tho' I can't get away from the outro'ing chorus/refrain sounding like "I gotta f*** me and go". And of course now you will never hear anything else either. 🙂
---
01.10.49
IRMA THOMAS – Anyone Who Knows What Love Is – 7″ – Imperial – 1964
In my teens I had Irma's Some Things You Never Get Used To 7″ but the way these things can do, it took me the next three decades to hear this. Irma had had four kids and two husbands by the time she was 19, that's some life experience for a teenager, so at some other point catch the voice that's lived that life oozing majestically through the distortion of a uuutuuube'd amateur live video of her performing My Heart's In Memphis… in a New Orleans's 2003 twilight. Worth it for the 'Oooh baby' line alone. As I said, a voice that's 'lived'.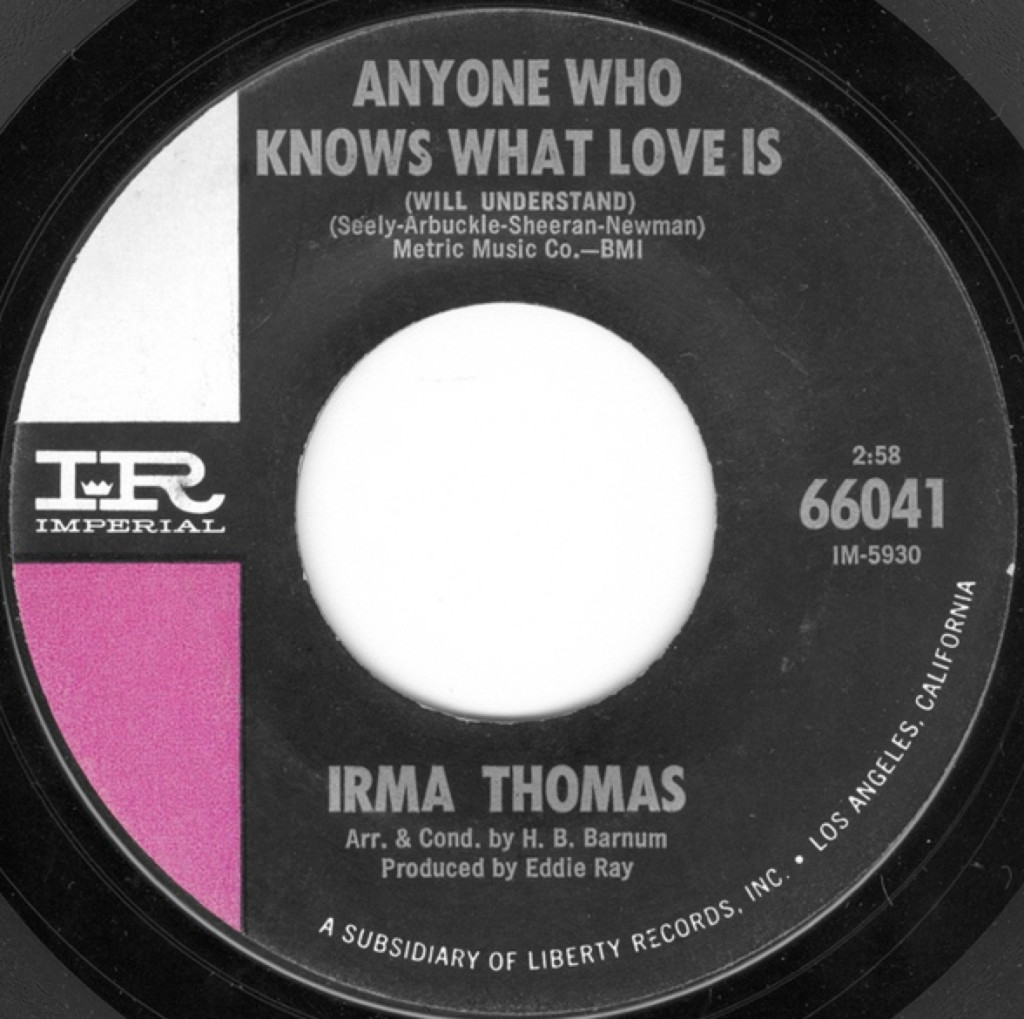 And a UK demo copy for me to aim for at some point…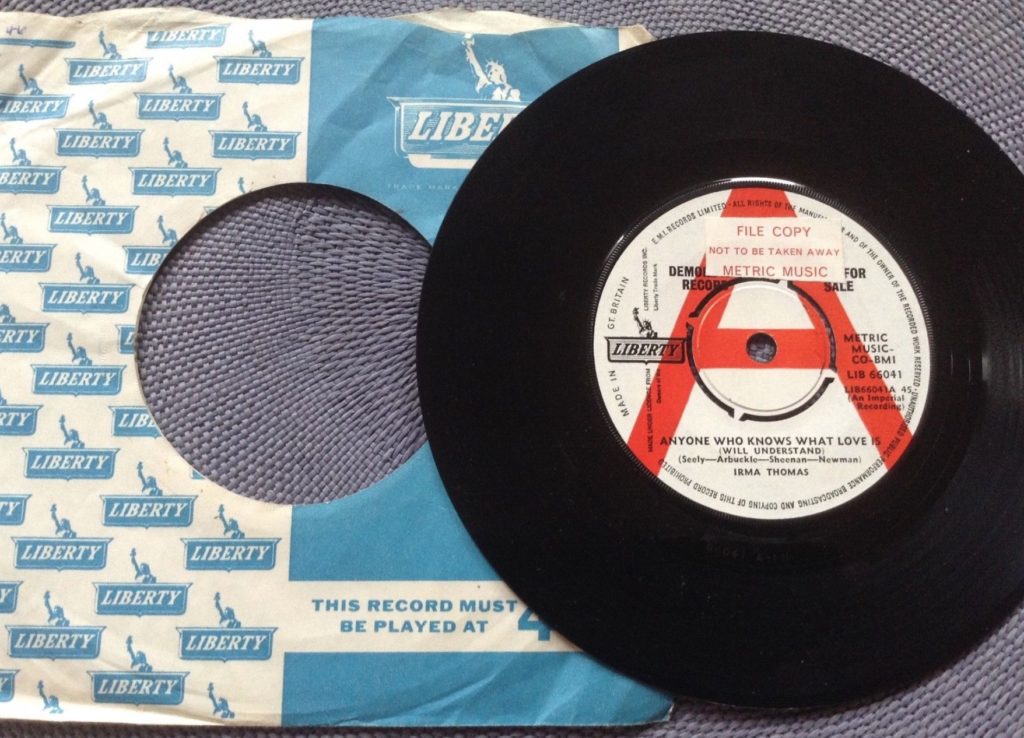 coz I'm never likely get my hands on this US acetate.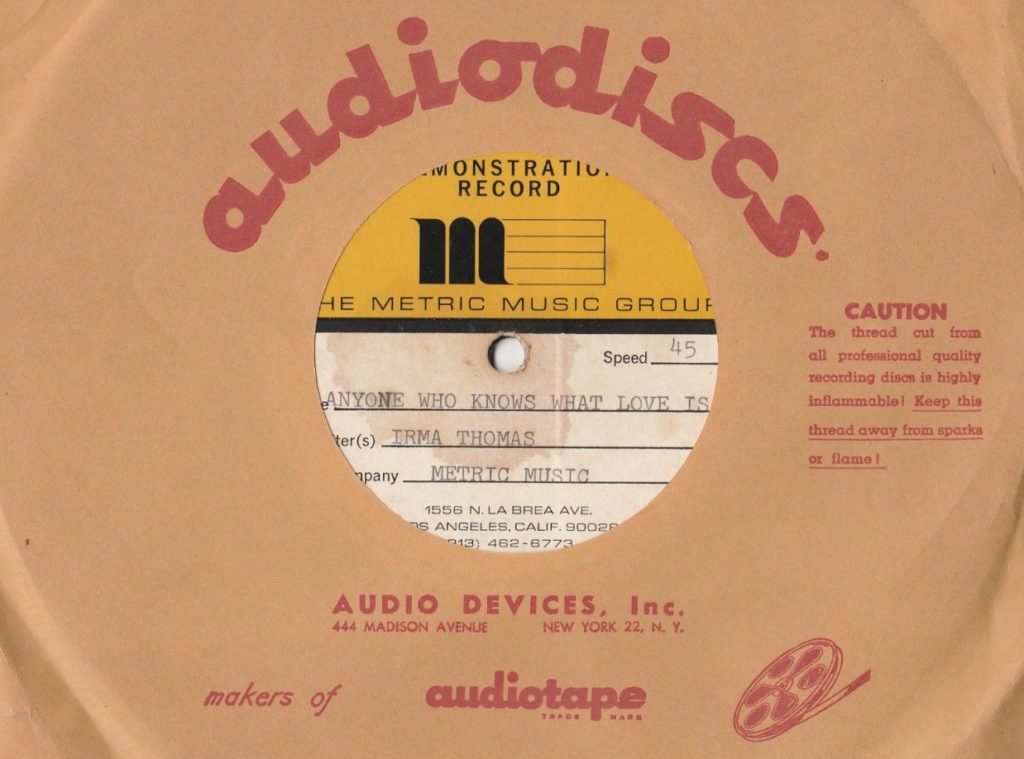 ---
01.13.36
NICOLE CROISILLE – Where Did Our Summers Go – B-side, La Leçon Particulière 7″ – Disc'Az – 1969
I can't remember how but I only very recently fell upon this stunner. From the 1968 French film La Leçon Particulière. Nope… me neither, but it matters not. This evocative 2 mins 14 needs no visuals, and it's the sort of song that might resonate with anyone on life's 'back nine'.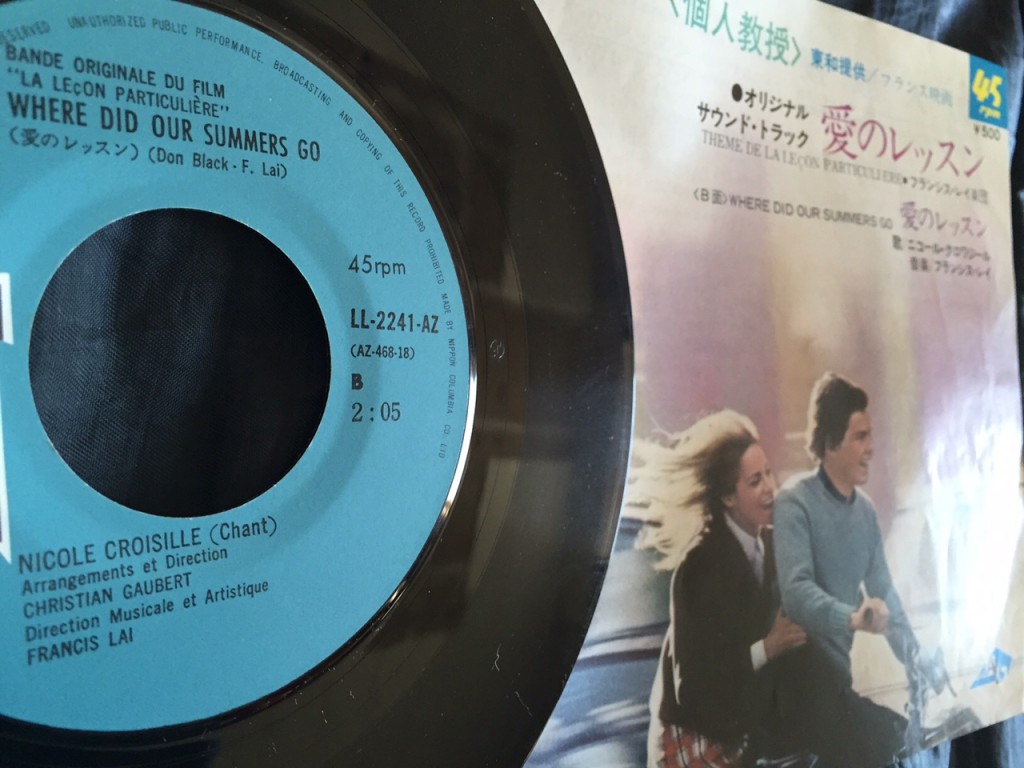 ---
01.15.43
WILL SESSIONS – True Story – 7″ – Fnr – 2012
Cinematic hip hop, and the credits would be rolling at this point.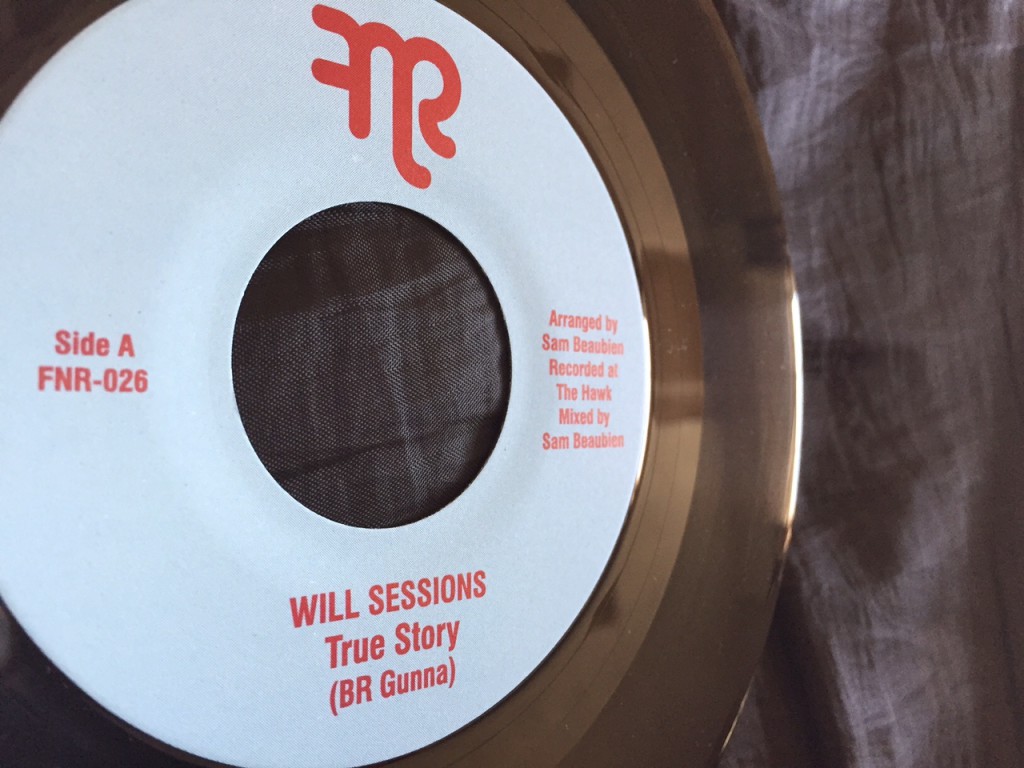 ---
01.18.33
THE RED CLAY – U R The One – 12″ – Surplus – 2001
Oddities like this make me smile big time. Two thirds of Attica Blues provided the two sides of this lost but mesmerizing 12″. It probably sold diddly-squat, but both sides house quality tracks. This is Charlie Dark's tune. Leftfield beats of the highest order and the only release on this label.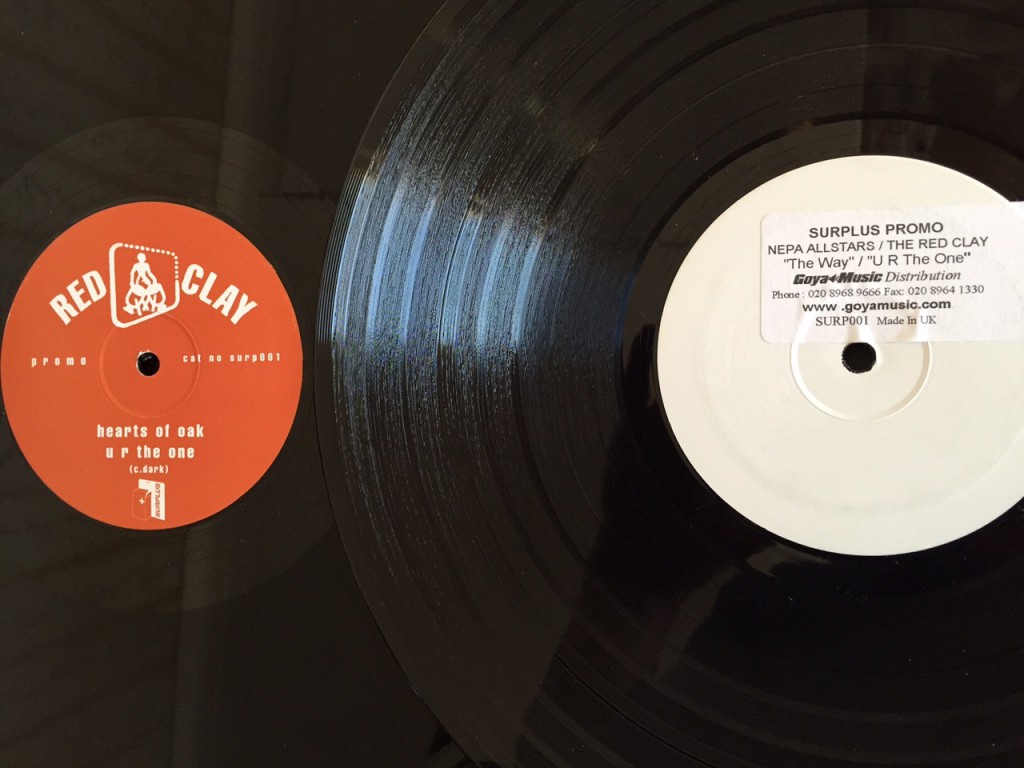 ---
01.24.43
OUTLINES – Listen To The Drums (Original) – 12″ – Sonar Kollektiv – 2006
The French trio responsible for that infectious take on Sarah Vaughan's Just A Little Lovin' wayyyyyy back, but this grabbed me more. Another great mix or two of this to be heard beyond Episode Two sometime… maybe.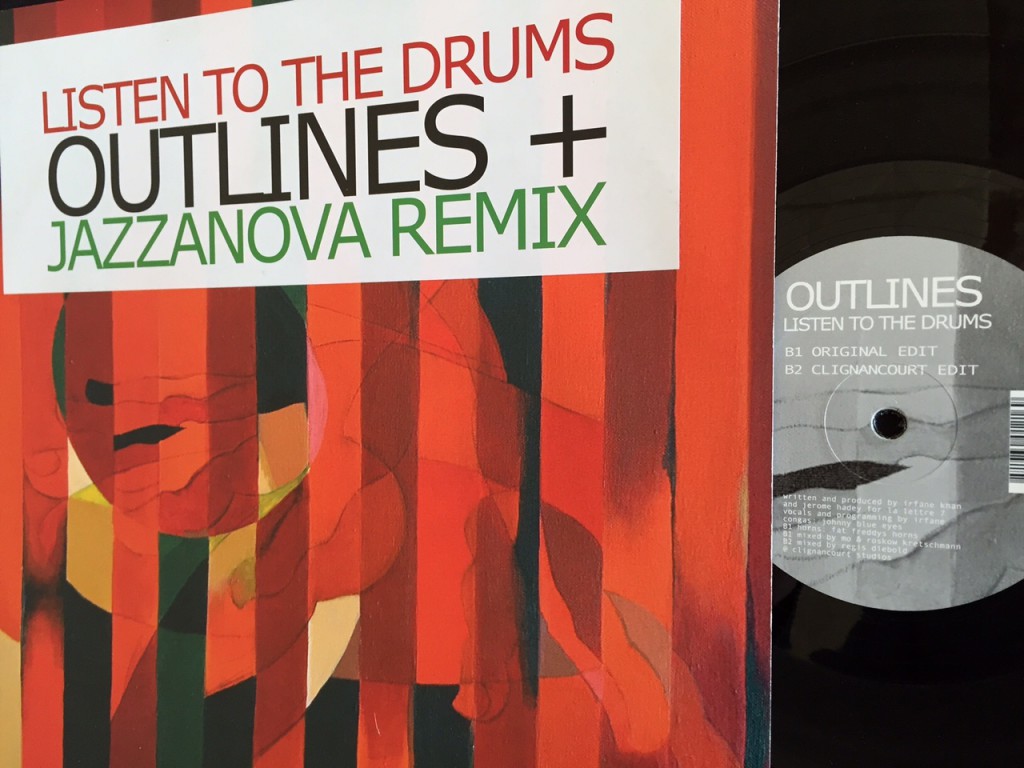 ---
01.29.24
NYAM NYAM – Fate – Hope of Heaven, LP – Situation Two – 1984
The highlight on their only album – by a country mile.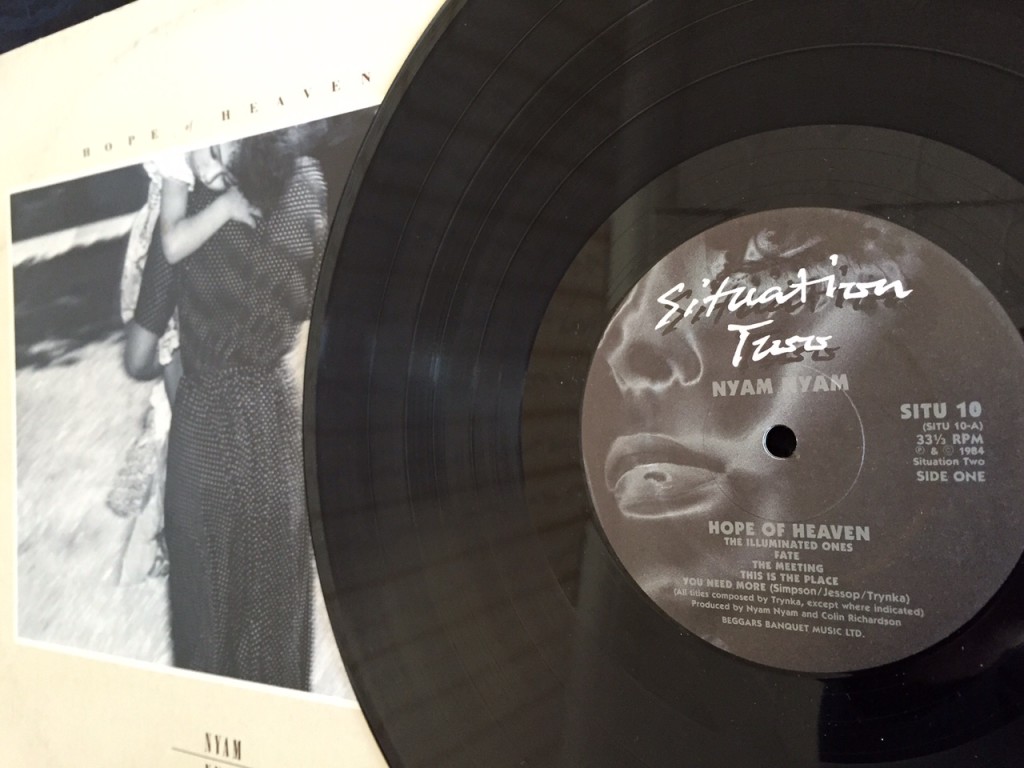 And acquired in 2020… a 7″ test pressing currently undocumented on Discogs.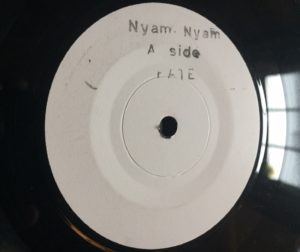 ---
01.32.51
DEPARTMENT M – The Second Prize –  7″ – Too Pure Singles Club – 2013
Whoooaaarr! Storming stuff. The work of one Owen Brinley. His ex band, Grammatics, had a couple of prog rock-tinged tracks I liked. Only 700+ views (and a lone comment – 'Owen is brilliant') for a cool live version of Second Prize on uuutuuube, but that would be the last thing to dent my thinking. This is class. Releases on both Fierce Panda and Too Pure failed to jump start OB to a higher profile, but who knows. Grey, heavyweight vinyl, hand numbered to 500 copies.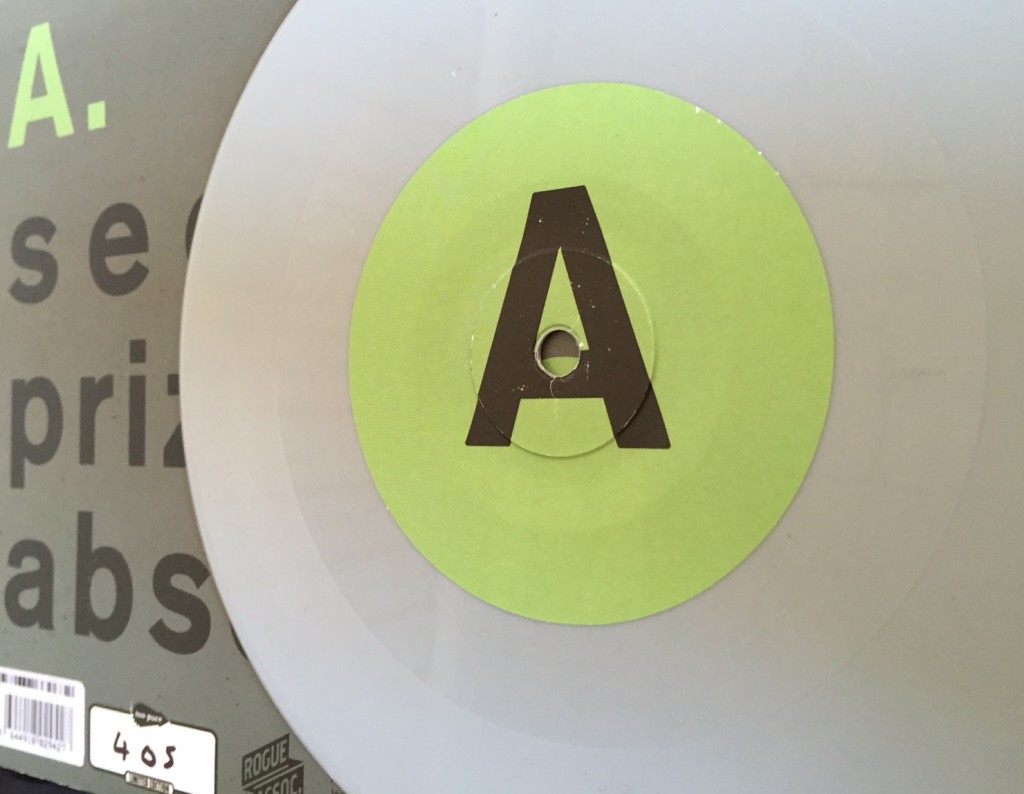 ---
01.36.42
MR & MRS DALE – It's You – 12″ – Bigshot Records – 1989
Heard this very this distinctive deep-house-drifting-to-techno track in the early 90s on Kiss FM (UK), possibly via either Colin Dale (no relation… I assume) or the late Colin Favor. Both had techno shows on the station at the time. This is one of the best from the genre's funkier side. By the mid 90s I had two copies of this 12″, picked up for £1 each in the various Record/Video & Tape Exchange shops in London's Notting Hill. Whenever I then happened on Musicstack (or maybe it was still Netsounds?) online, they initially had a Wants section and the very first time I looked in, someone in the US was offering $75 for a copy, so I obliged. It all helps to dent the cost of the vinyl coming my way. I remember the buyer getting back to me after the record arrived, near delirious with his thanks. The power of music, eh? And then I promptly went and picked up another copy in the same shop(s) for £4… so I have two copies yet again. The circle of life… and of a circular record.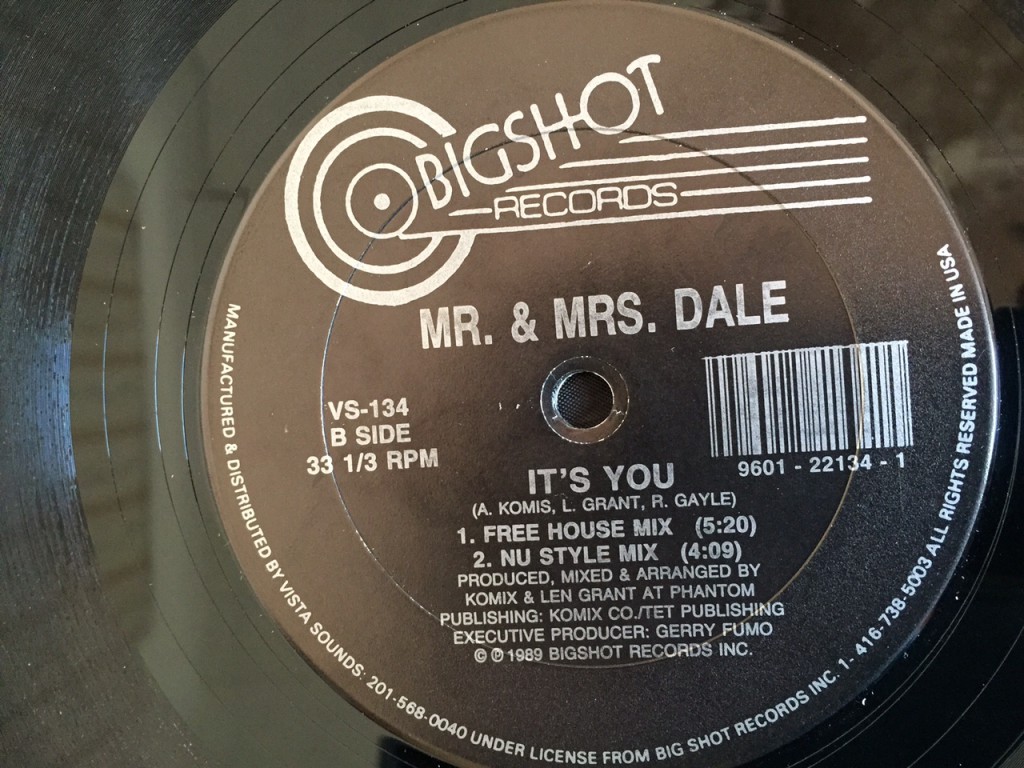 ---
01.40.08
INNER CITY – Ahnong(h)ay (Original Reese Mix) – Single-sided 10″ – 6 by 6 – 1995
Bronze… or gold? Has to be gold for this awesome track. Again, like the above, I probably first heard this via the Colins, Dale or Favor. Transfixed by it, I then spent regular bits of nearly a couple of decades chasing the record down, but armed with little – or, more tellingly, the wrong – info. Some vague half heard reference to Carl Craig was about 'it' – and he did do a mix. Shazam finally got me there. Ain't technology brilliant? And whatever 'One Sided Two Play' refers to, contrary to someone on Discogs suggestion, there's only one tune on this baby.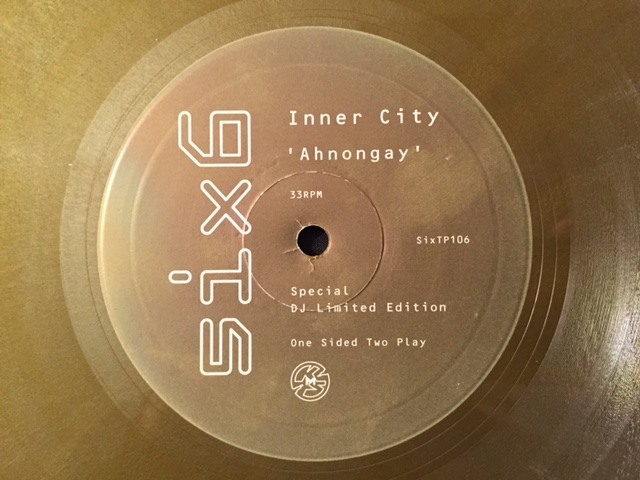 ---
01.46.14
LUCKY PEOPLE CENTER – Still Cloudy In Saudi-Arabia – 12″ – Radium 226.05 – 1991
Still cloudy in 1991… and still very 'cloudy'… 🙁  The sort of sample and beats scrambling I go for. I so fell for this 12″ when I first heard it, I've tended to pick up (in a 'home for the unwanted' sort of way) extra copies whenever I've seen them forlornly inhabiting the lower priced bins. Currently I have three. If I'm meeting with you any time soon and this 12″ has grabbed you, give me the nod. You can have a copy. Just spreading the word… and sounds.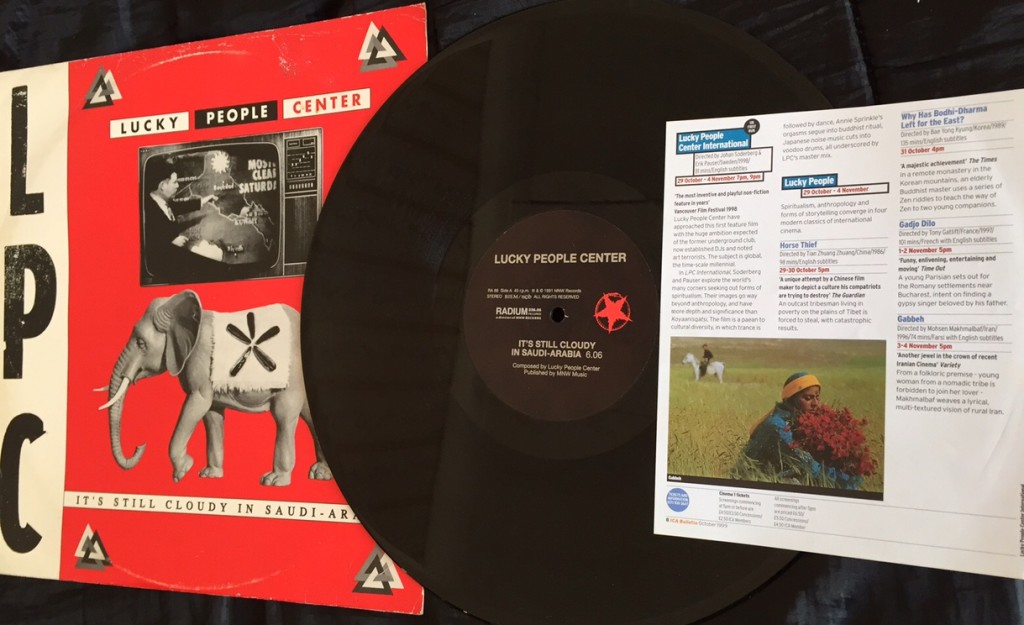 ---
01.50.49
The first in an occasional series of 'B-side, what B-side', double A-side 7″ers…

WAH! HEAT – (Hey Disco) Joe (granted the 'B-side') and…
01.55.33
Better Scream – 7″ – Inevitable – 1979
There weren't many vocalists more confident than Pete Wylie when this debut single surfaced in '79 and both sides immediately blast a certain club and time into my senses, having both been spun at Winkles in 1981. A bunch of copies of this post punk classic currently reside for the price of a pint at Discogs, and every home should have one… and a maybe a pint as well, to celebrate this chest thumping 7″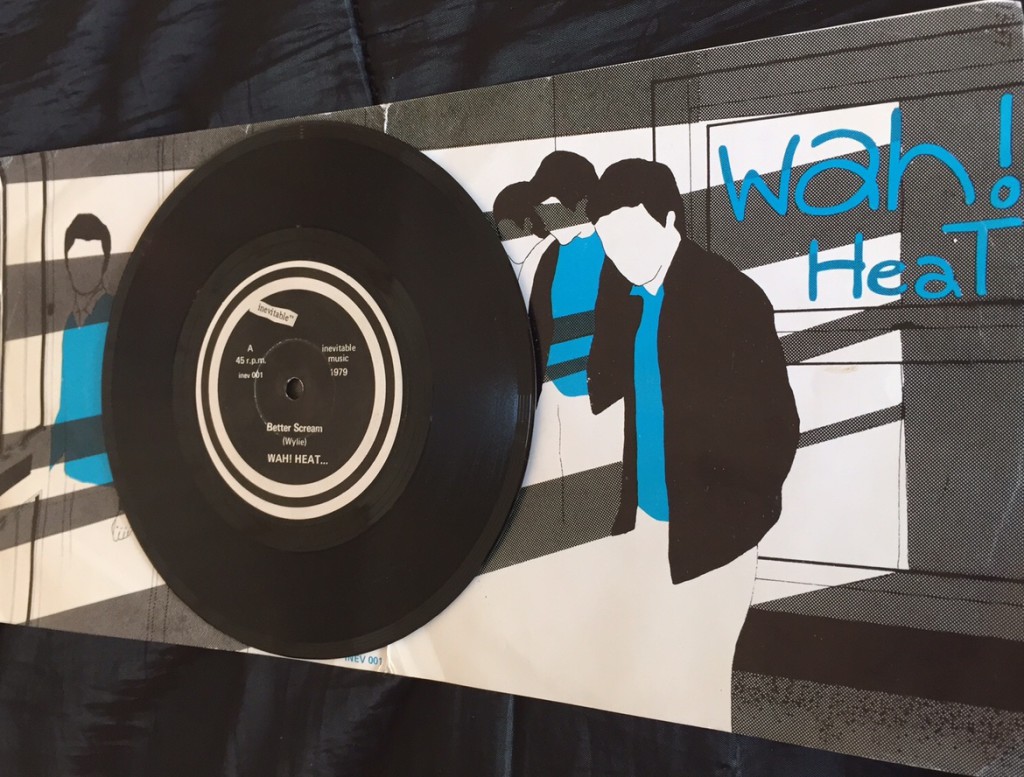 ---
01.58.40
CLOUD BOAT – Pink Grin I / Pink II – 12″ – Apollo – 2013
Inevitably compared to James Blake, Cloud Boat and he have apparently been mates a long while. Must have been weird responding to 'Hey, what you up to?' and playing each other their 'work in progress'. Here, it's a segue of both tracks from the 12″, the 300 only, pink vinyl copies belie the mournful d&b/folk/electronica concoction inside. Up there with the best pink vinyl of the last few years :)… or indeed that of any colour.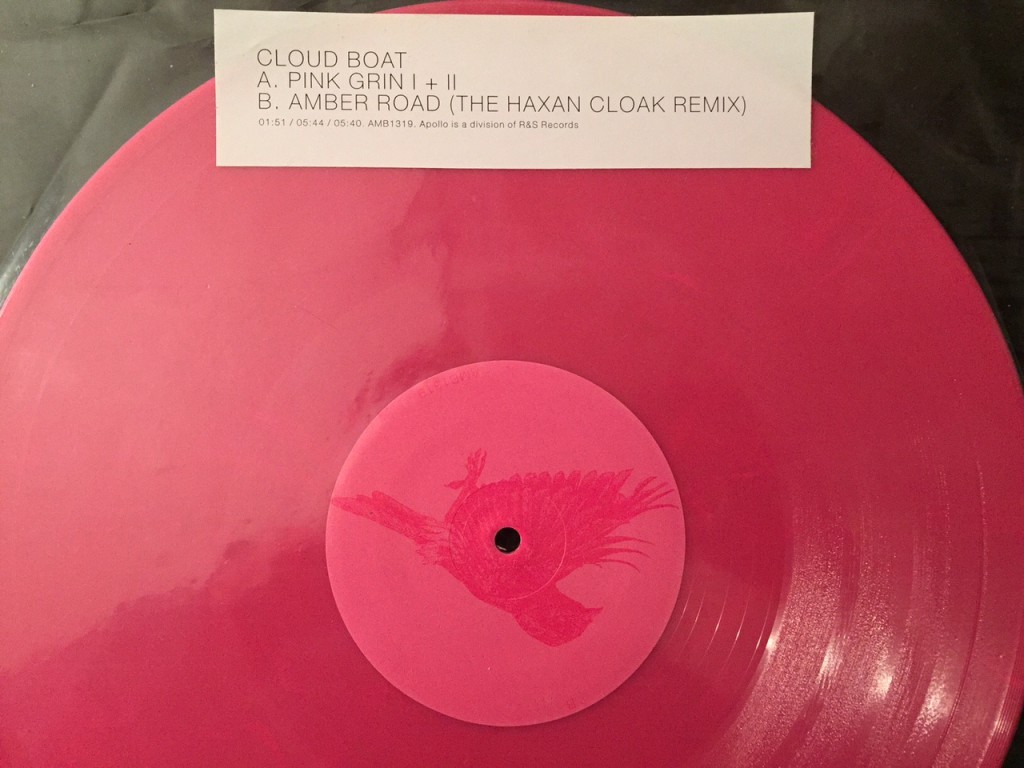 And Episode Two is gone…
---