PLAYLIST 75 uploaded January 5, 2020
and is 88% vinyl friendly! Impressive.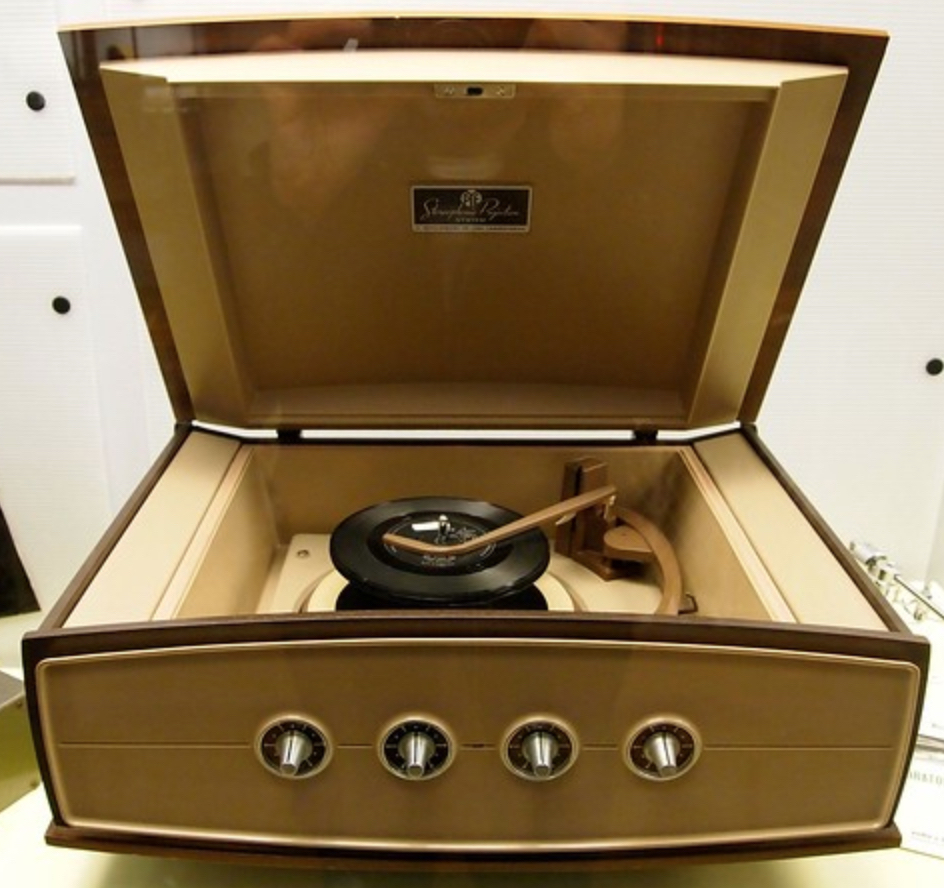 A Pye 1005 Achoic Stereophonic Projection System. It's a Sixties thing. One for mate, Angus Cameron, as he grew up with one of them.
---
Lyric of Playlist 75…
It's rare it goes to a dance track on 41 Rooms but Louie Vega and friends sound so positive. Oh to feel…
---
00.00
(Intro) THE FLAMINGOS – Stars (Edit) – Unreleased demo – 1983 Episode #1 for info.
---
00.41
NEW ORDER – Dream Attack (Mountain View Shoreline: June 4, 1989)
One of those live recordings that has managed to blend all the instrumental elements just right, even if the cracks were maybe beginning to appear in the band's camp during this US tour.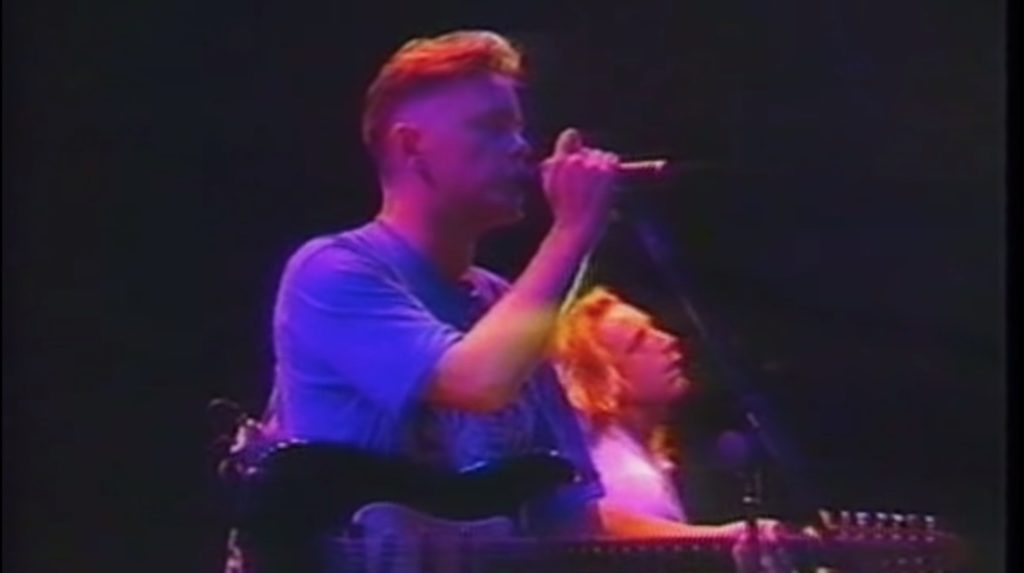 ---
04.43
THE TEARDROP EXPLODES – Bouncing Babies (Album Version) – Kilimanjaro, LP – Mercury – 1980
A Zoo Records 7″ from the previous year deemed worthy of re-recording for the band's striking debut album.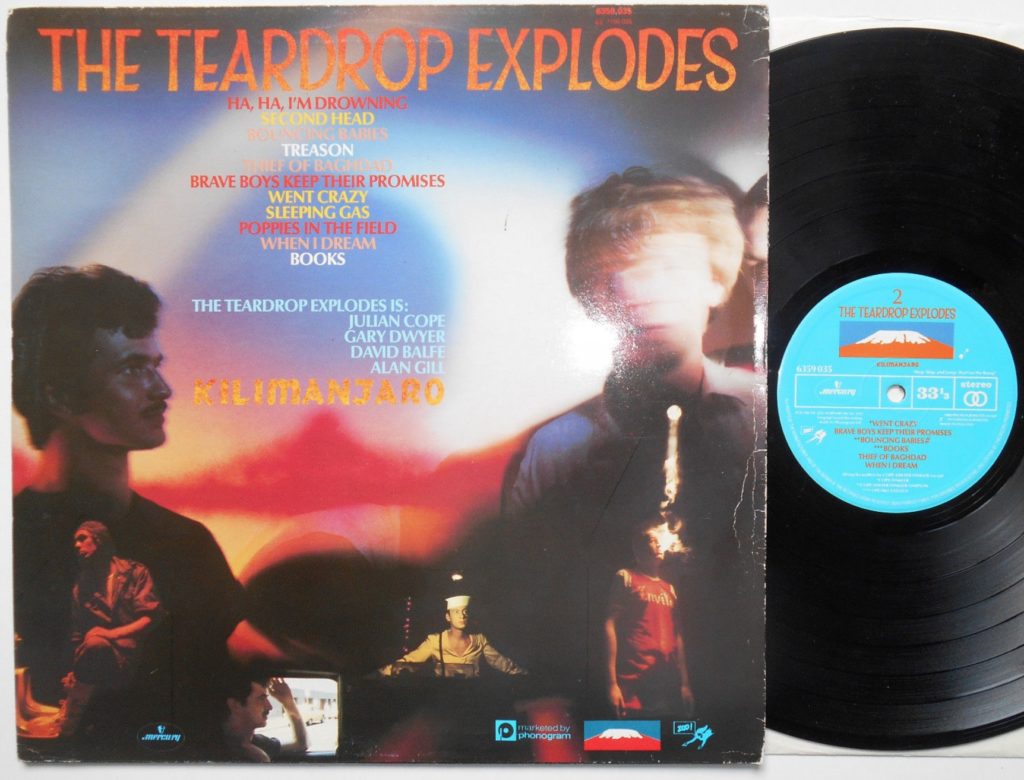 ---
07.09
THE CHERRY BOYS – Airs & Graces – 7″ b-side – Crash – 1983
With a little bit of The Jam and Sixties beat combo styling also thrown into the mix there's no prizes for guessing why this followed Julian Cope's crew above – though you might want to avoid checking out all the available Cherry Boys video footage. There are associated comments wondering why these lads 'never made it' but I'd nearly guarantee that any of the media's movers and shakers of the time who came across them – particularly in the late stages of the band's short career – thought they lacked an edge and just looked too much like nice lads trying to be sassy. To his credit though, John Peel had no misgivings as he gave them a session.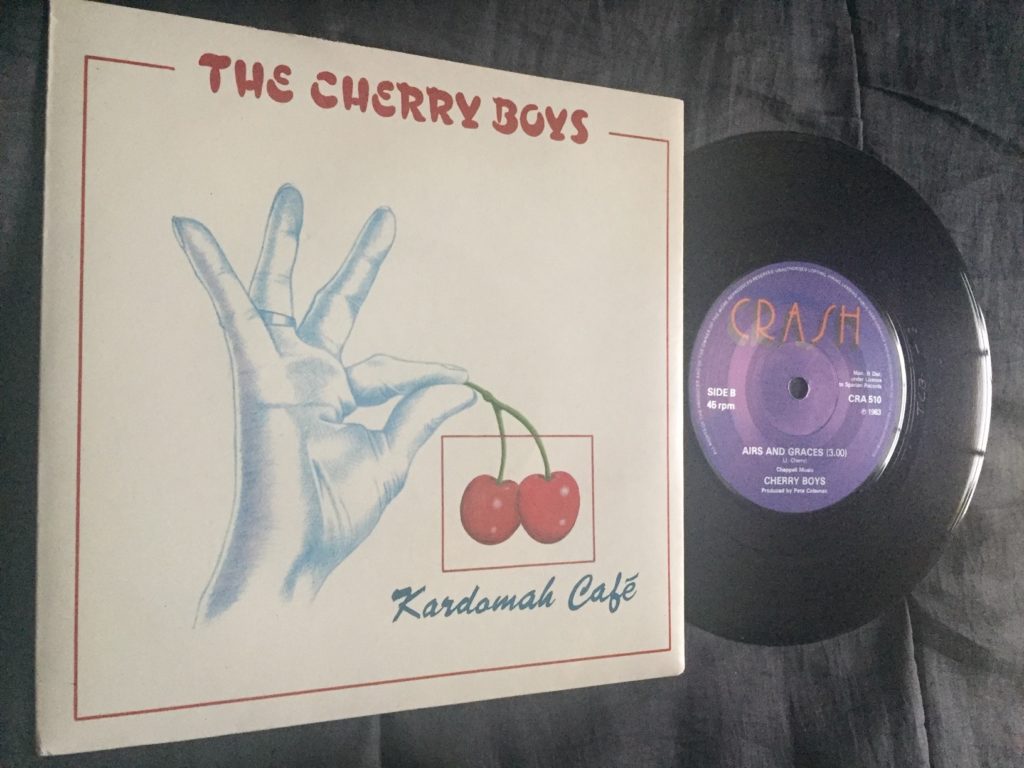 ---
10.24
ECHO AND THE BUNNYMEN – The Pictures On My Wall – 7″ – Zoo Records – 1979
Back to Liverpudlian music royalty and a time when Mac and Julian Cope were no doubt keeping an eye and ear on each other's releases.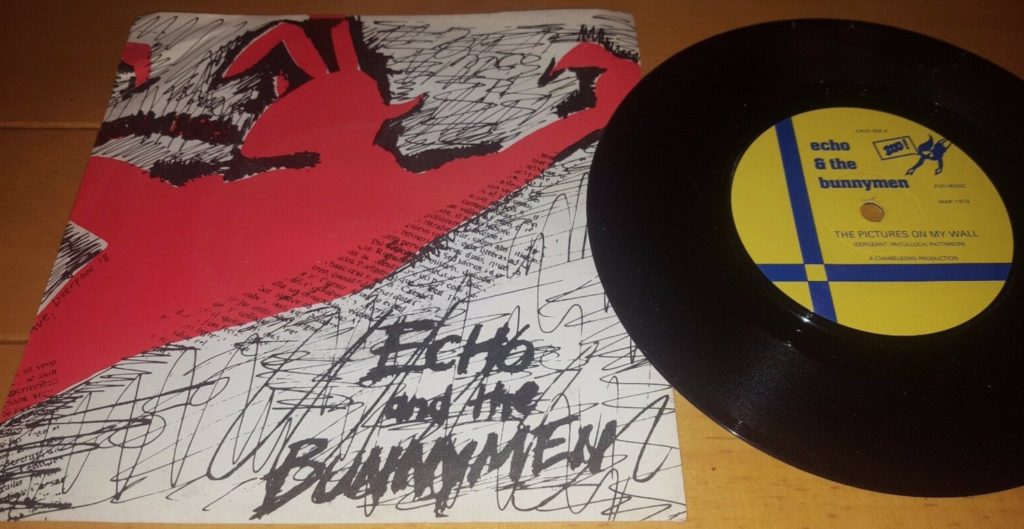 ---
13.04
GARDENING BY MOONLIGHT – Whistling In The Dark – 7″ – Interdisc – 1983
Their recorded career of one album and three singles spanned 1983 only but I've only just realised band member Duncan Bridgeman has made it to 41 Rooms before – having been involved with Shake Shake's self-titled 7″ a couple of years earlier.
---
16.41
WILDBIRDS & PEACEDRUMS – Doubt/Hope (Live) – Uuuuutube only – 2008
A duo from Sweden, with a live take of their debut (but promo only, CD) single.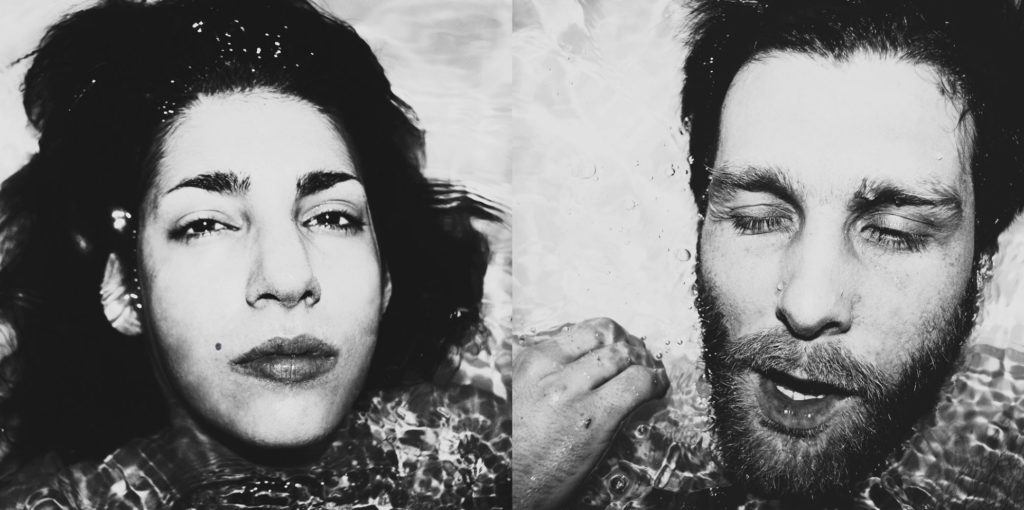 ---
19.29
LIOTIA – Blackout – 12″ – Ramrock Red Records – 2020
Pronounced Ly – Oh – Sha they're yet another duo and although both they and this track have been around for a year or two this is their 'about to surface early in 2020' debut release.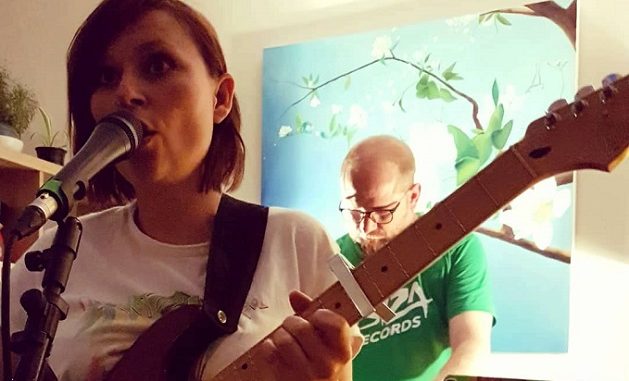 ---
22.48
COCTEAU TWINS – Amelia – Treasure, LP – 4AD – 1984
From the year I and my mate, Budge saw a bunch of their gigs, including all five around the UK and Scotland in the April. Amelia never made it in to any of them, though.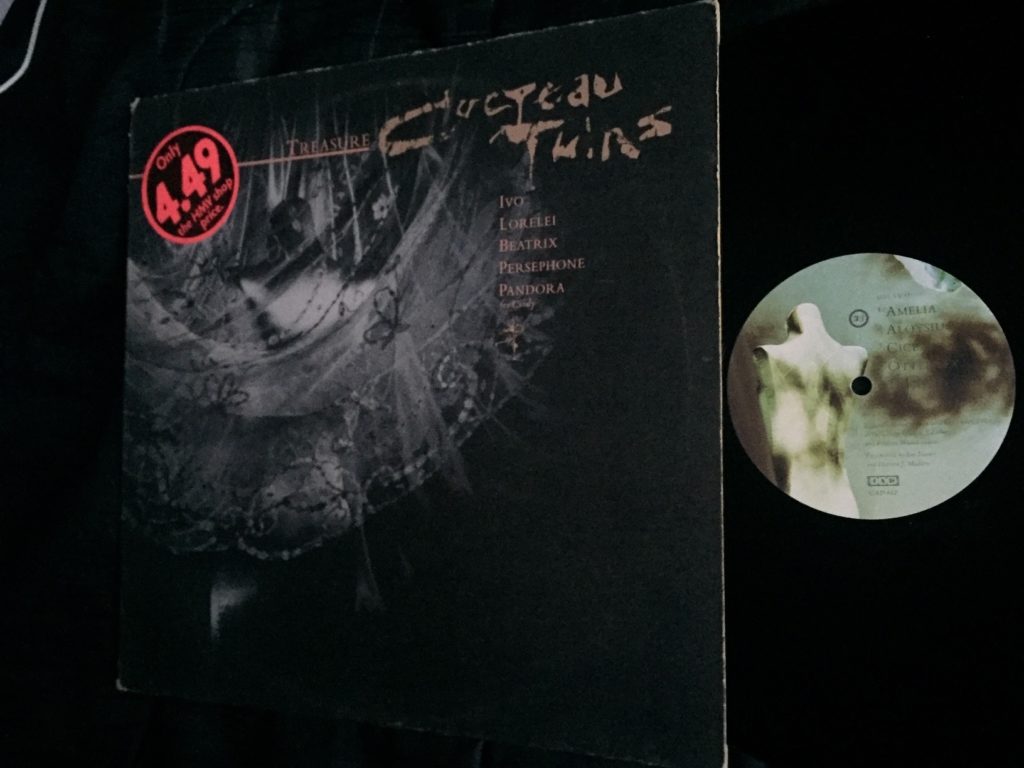 The gig I think I first met Dave Haslam at, as he bought my Rorschach Testing fanzine this night. I would later duly return the favour selling various issues of his damn fine Debut mag in Bedford.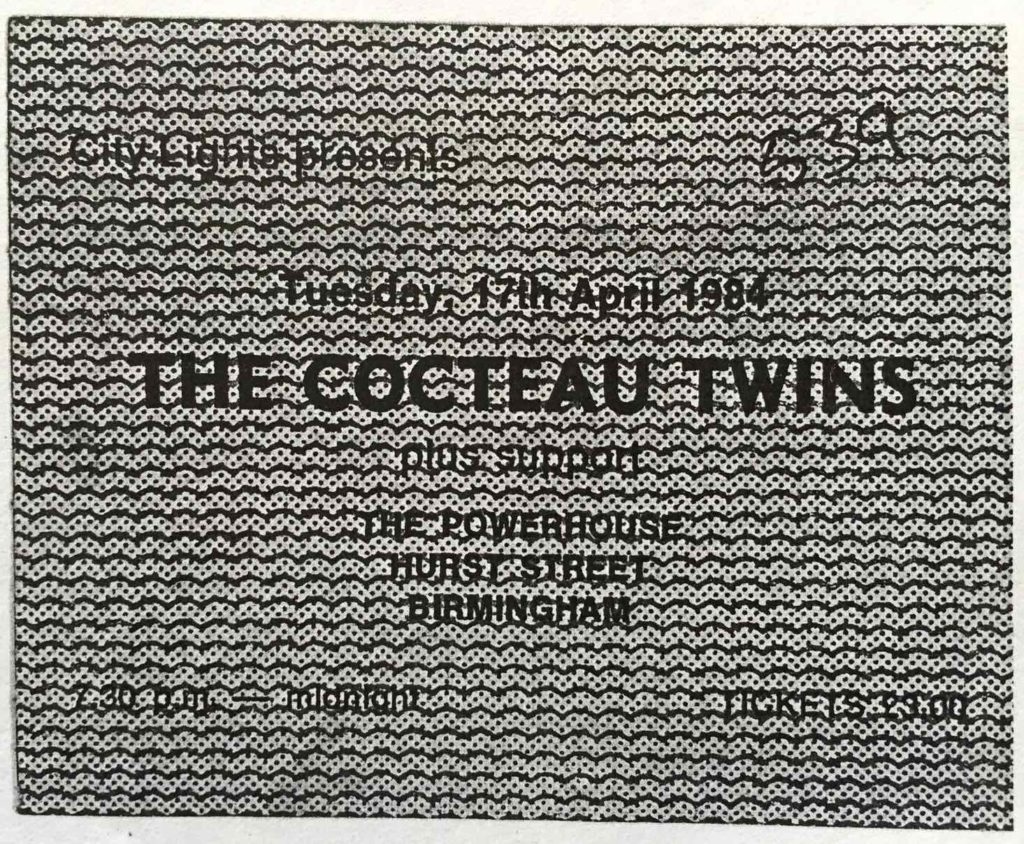 ---
25.48
THE BETA BAND – To You Alone – 12″, promo only – Regal – 2000
Anecdote: When the Got-Ta-Scatta duo of myself and Dave Summersgill were recording a tune in a Scottish countryside studio one time the subject of congas cropped up and no sooner had studio owner Dave upped and downed the phone than the Beta Band's Robin dropped in to give us two strangers a free hour and the required beats. Then… he was gone. Nice lad. 🙂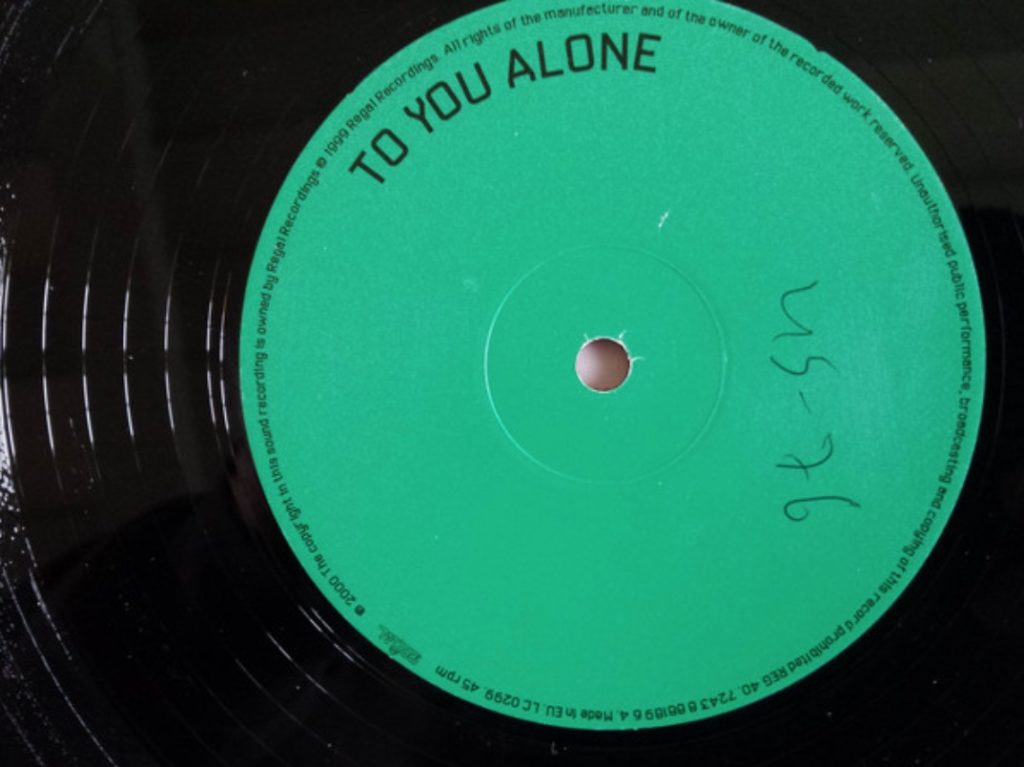 ---
27.21
EDGAR BROUGHTON BAND – Mr Crosby – 7″ b-side – Harvest – 1972
Who do you reckon? Bing? David?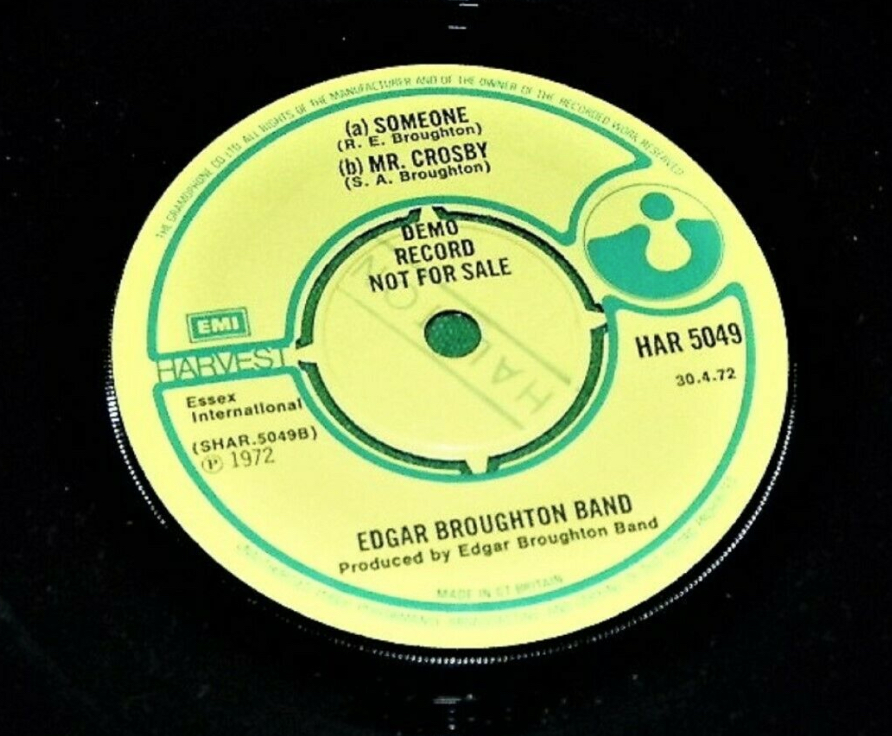 ---
29.23
PRESSURE DROP – Gotta Make It Home – 12″, The Taster EP – Big World Records – 1991
Conscious…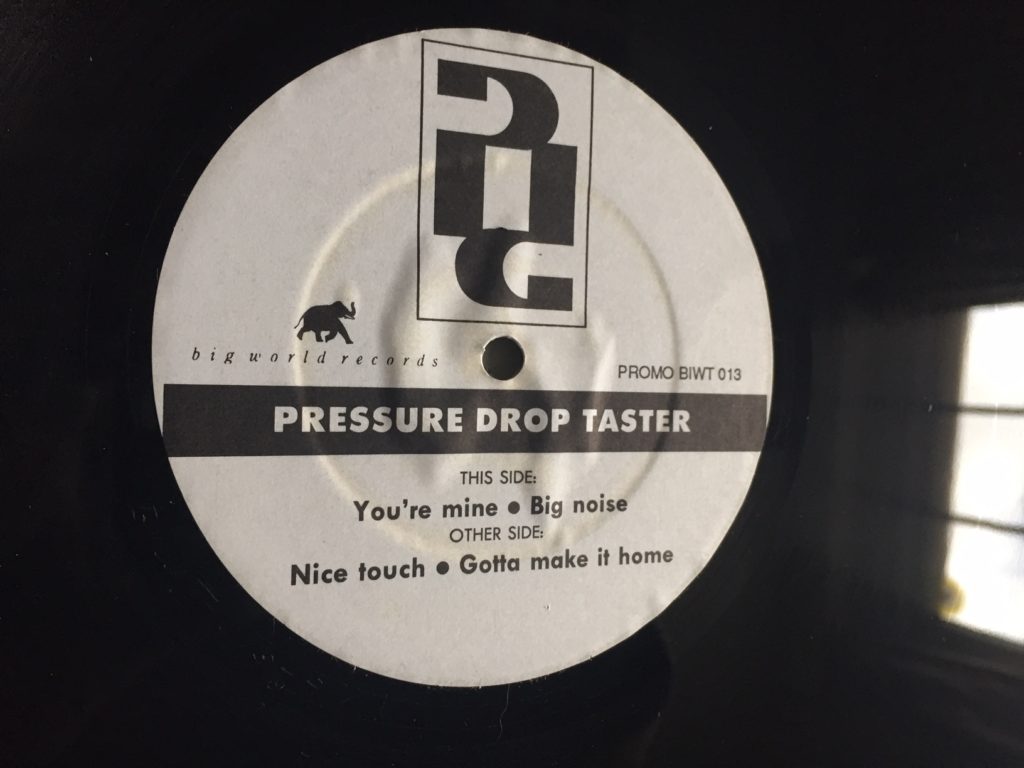 ---
33.34
JON LUCIEN – Would You Believe In Me – Promo 7″ EP – RCA – 1973
Beyond a rare $200 plus US promo only 4 track EP for the Rashida album this track didn't get its own 7″ release back in the day but the soul/acid and beats jazz fraternity of the Nineties took hugely to it, whereby a couple of bootlegs seemed to finally goad RCA into very belatedly (but rather appropriately?) releasing a legit 7″ four and half decades after the track first appeared. Every time I hear it though, I can't help thinking Lucien suddenly seemed to have somewhere else he needed to be, rather than in the studio finishing this song. It's way too short!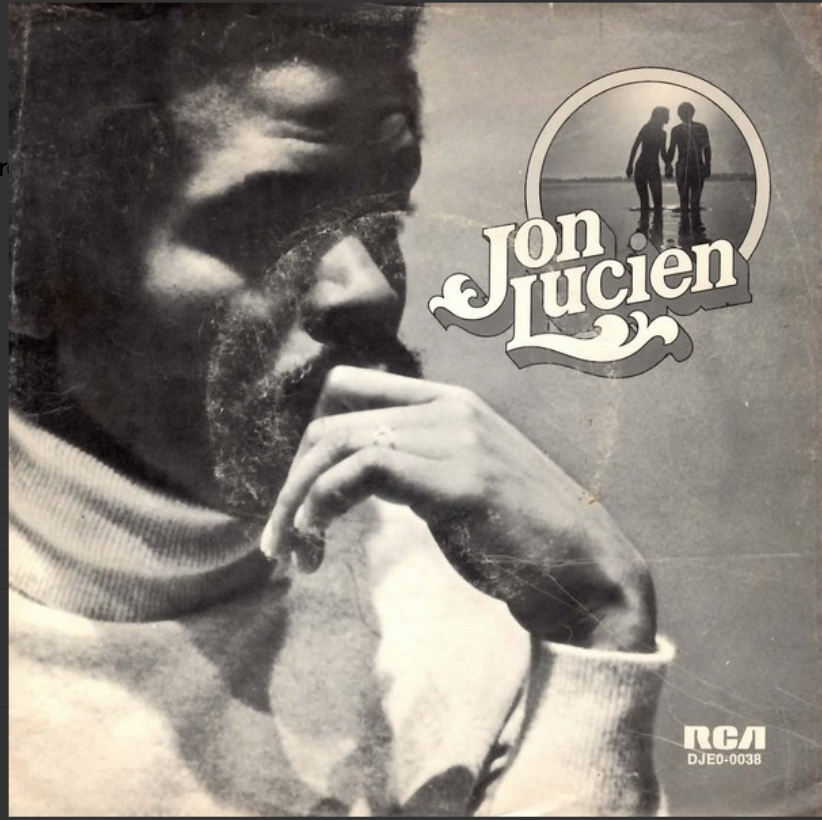 Jazid magazine (#3) ad, mid '96. I never did get to see him play live.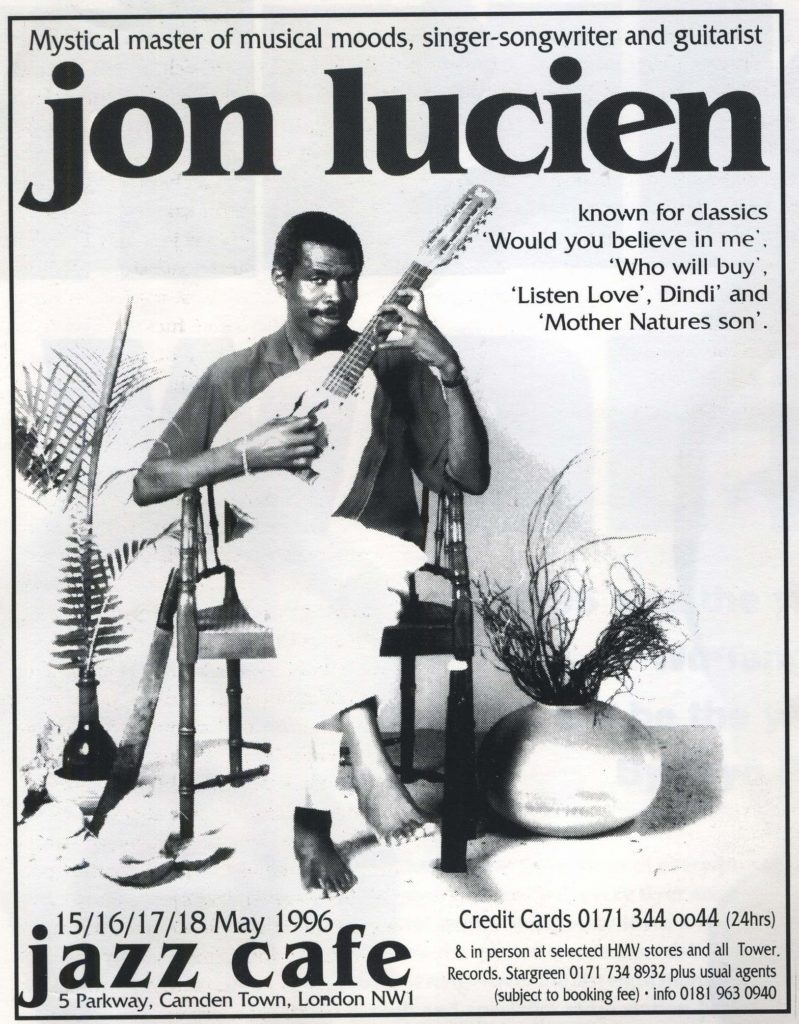 ---
35.43
EBONY ALLEYNE – In Love With A Stranger – 7″ b-side – Okeh – 2002
Ninety per cent of (let's call it) 'light and breezy' modern soul does zero for me but occasionally a tune really grabs, and in the more than capable production hands of Ian Levine this one did.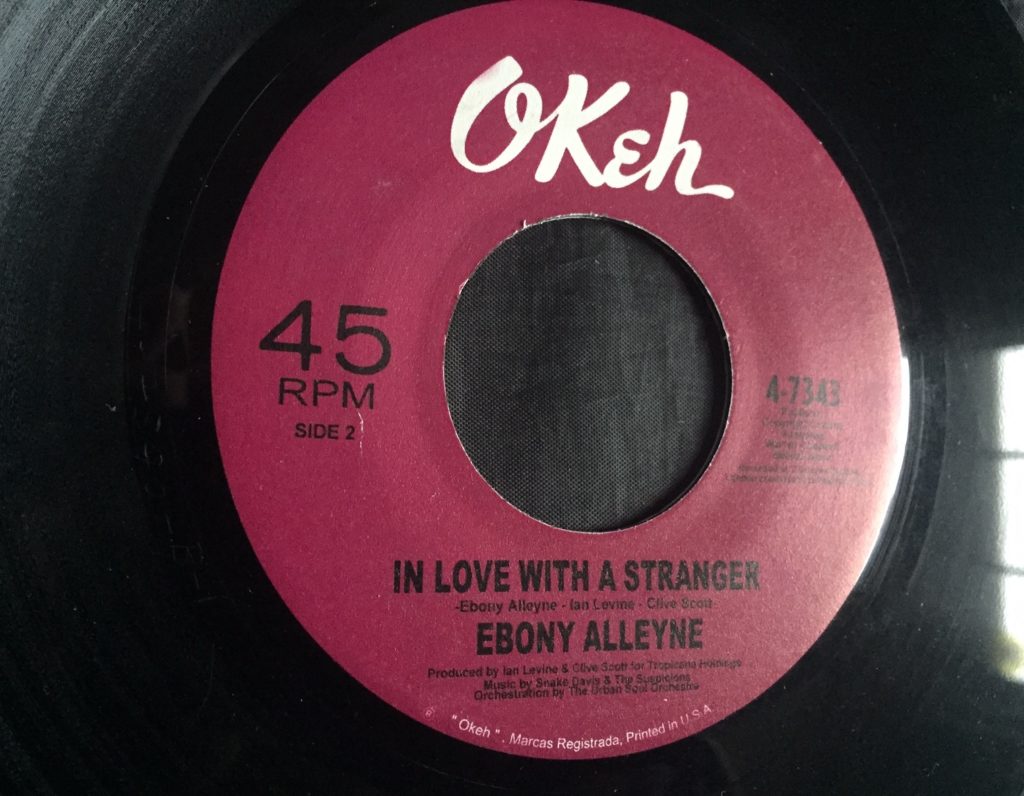 ---
39.39
TIGERCITY – Red Lips – ? – 2007-8?
Lighter in touch (instrumentally) and kookier in feel than the version that appeared on the band's one and only ever album, 2009's Ancient Lover – this was somewhere online (maybe MySpace?) from a year or two earlier, I think. Wherever, it's not out there now, well… apart from here. 🙂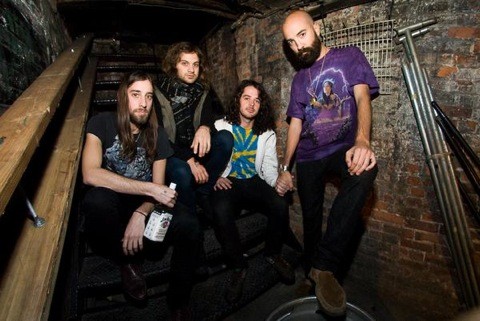 ---
43.17
BRYAN FERRY – Don't Stop The Dance – 7″ – Island – 1985
Opulence on the dancefloor. A sound further from a foodbank than any other on show 75.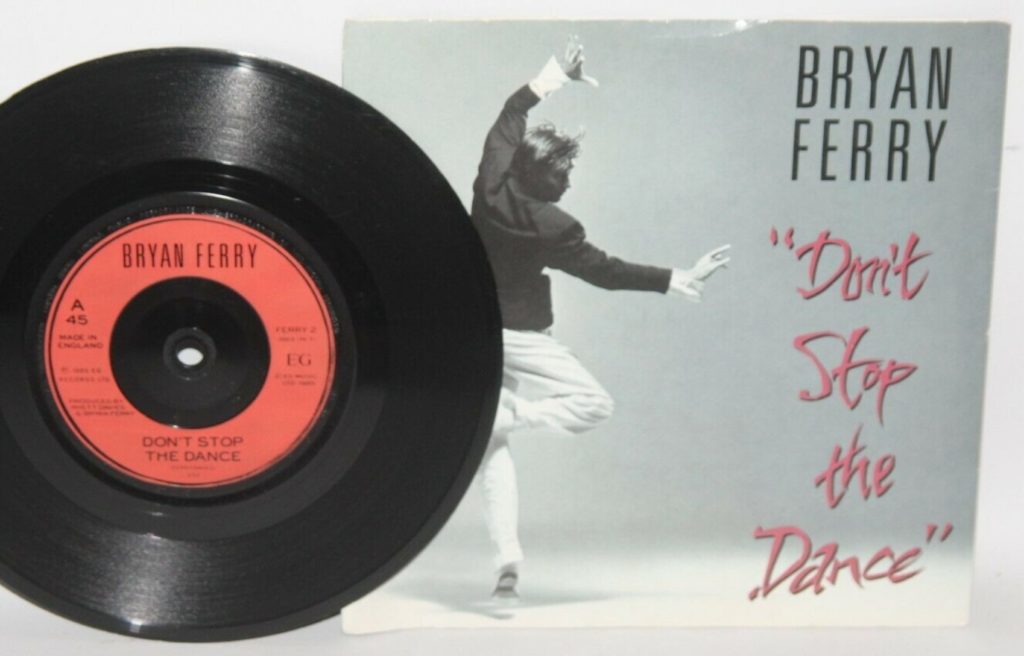 ---
46.59
MY TIGER MY TIMING – I Am The Sound – I Am The Sound EP, CD only – Pure Groove – 2009
There's nothing to match the 'excitement' of your debut release – and this was theirs.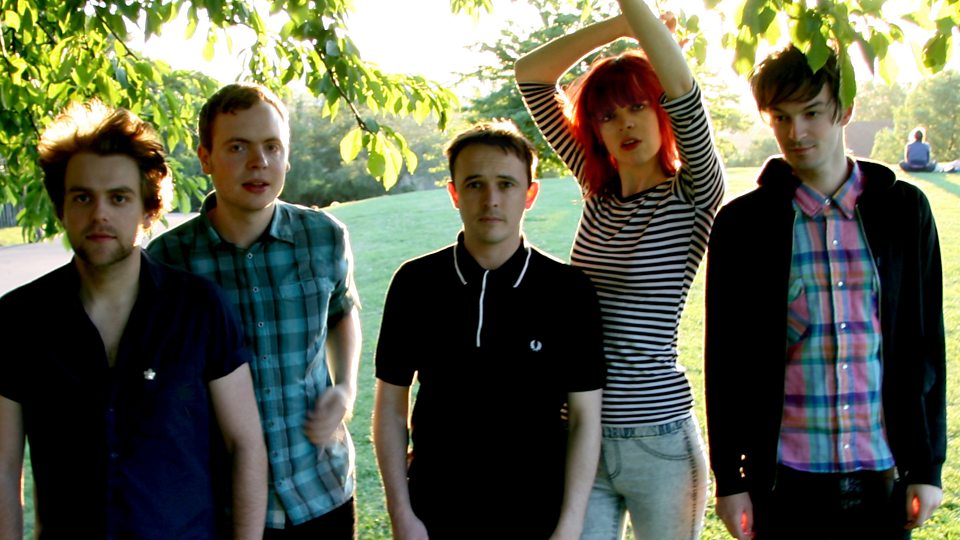 ---
50.47
LONELADY – Groove It Out – 12″ – Warp Records – 2014
Fashioned for the dancefloor, Julie Lonelady spelling it out. A new album forthcoming this year.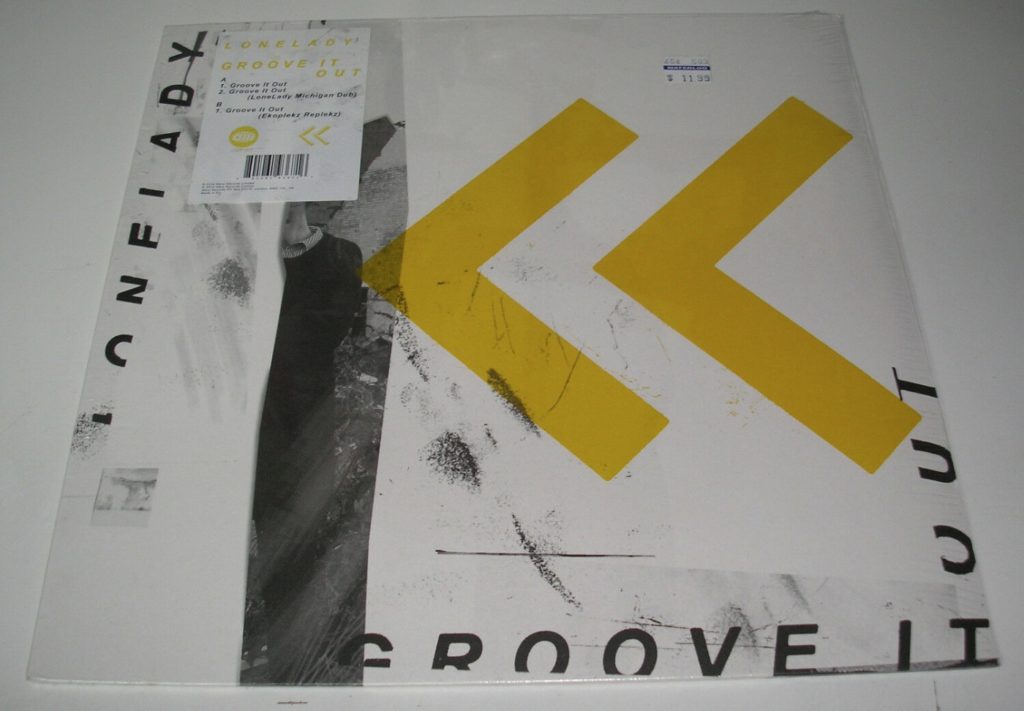 ---
56.54
PVA – Divine Intervention – 7″ – Speedy Wunderground – 2020
'Since forming in the din of a house party two years ago, PVA are the genre-hopping passion project of London musicians Ella Harris, Josh Baxter and Louis Satchell. The three piece traverse fistfuls of genres throughout their rapturous live sets, incorporating techno landscapes, Balearic euphoria, and industrial miasma within the same songs. The band's unique energy combines with blocky synths, autotuned vocals and motorik drum loops to earmark the group as one of the capital's foremost new bands.
'Regularly headlining medium sized venues (Brixton Windmill, The Social among others) and winning over punters at festivals (Green Man, Knee Deep and Test Pressing Festival) alike, the three piece are a unique beast whose reputation and buzz to date is routed in the mania of their bustling live sets. With a multitude of shows planned across the UK for the end of 2019 and an appearance at Sonic City in Belgium, 2020 is set to be a year that can only see the band grow and evolve further.
'Speedy co-runner Pierre Hall first caught sight of the band at Green Man Festival on the Rising Stage. 'They completely blew me away' says Hall, 'I'd heard about them – but heard very little. I was won over instantly. I loved the chemistry between them. And especially with Ella (Harris). She was completely magnetic.'
'The track they've recorded with Speedy boss Dan Carey, 'Divine Intervention' perfectly instils the essence of those live performances. Of the recording process/song itself the band say, 'Divine Intervention was one of the first songs Josh and Ella wrote together back at the start of 2018. Having put it aside for a while, Louis brought it a new lease of life, adding live drums to the track, when he joined the band later on in the year. Being able to have it as our first release is very special, as it's a song we've been working on and has been evolving for almost a year now – to work with Dan Carey and all the team at Speedy to capture the energy of the track onto a recording was a really great experience.'
'The result is a proper bona fide end-to-end banger from the instant it starts, and a classic Carey production. 'It reminds me of Patti Smith fronting Factory Floor' says Hall, 'which in my mind is no bad thing. Definitely one of my very favourites.'
'Ella (Harris) says 'Divine Intervention is about getting lost in memories and past experiences, coming to resolution within yourself and growing from these experiences to be a fuller, more rounded version of yourself. It's very cathartic being able to contrast these personal, quite sad at times lyrics against such an upbeat track – the euphoria of dance music cures all.' – deejay.de
A new band on the block and the second track playlisted here that's ahead of its release in the new year.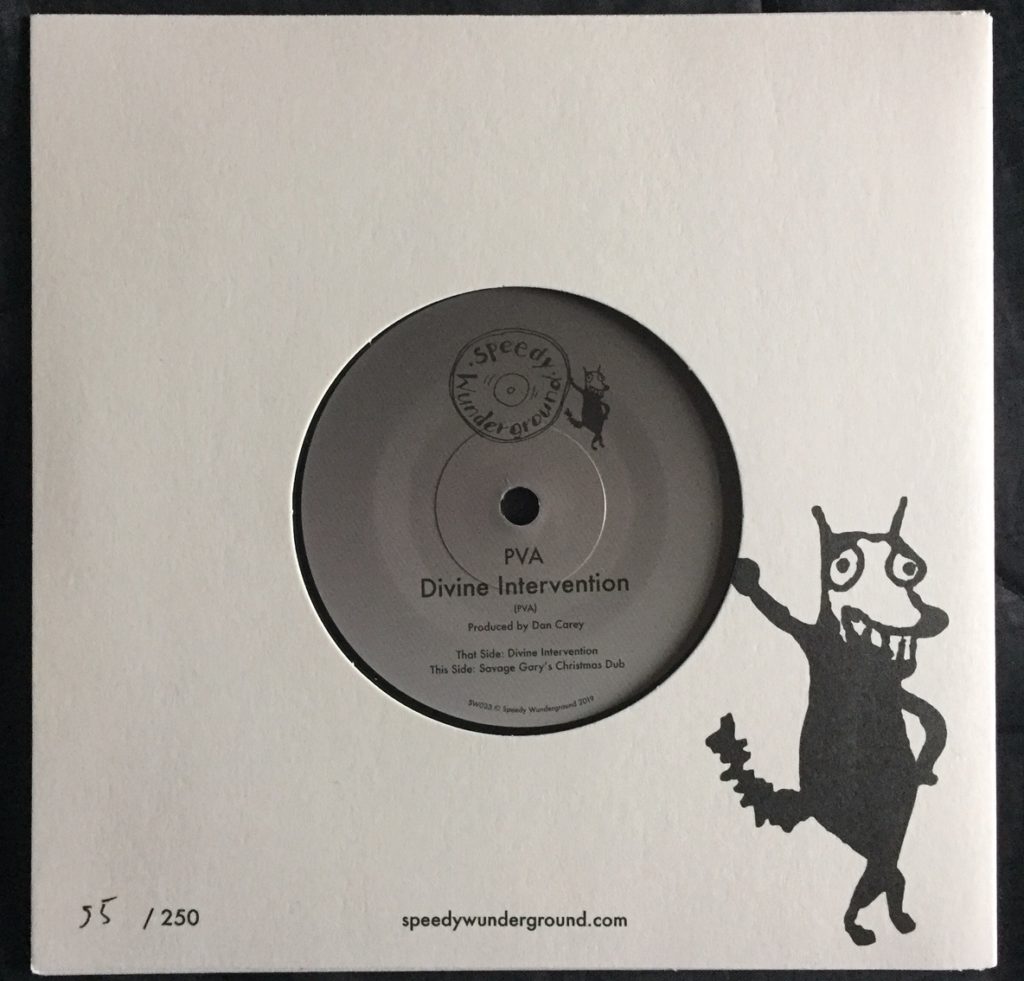 ---
Time for tea and some writing.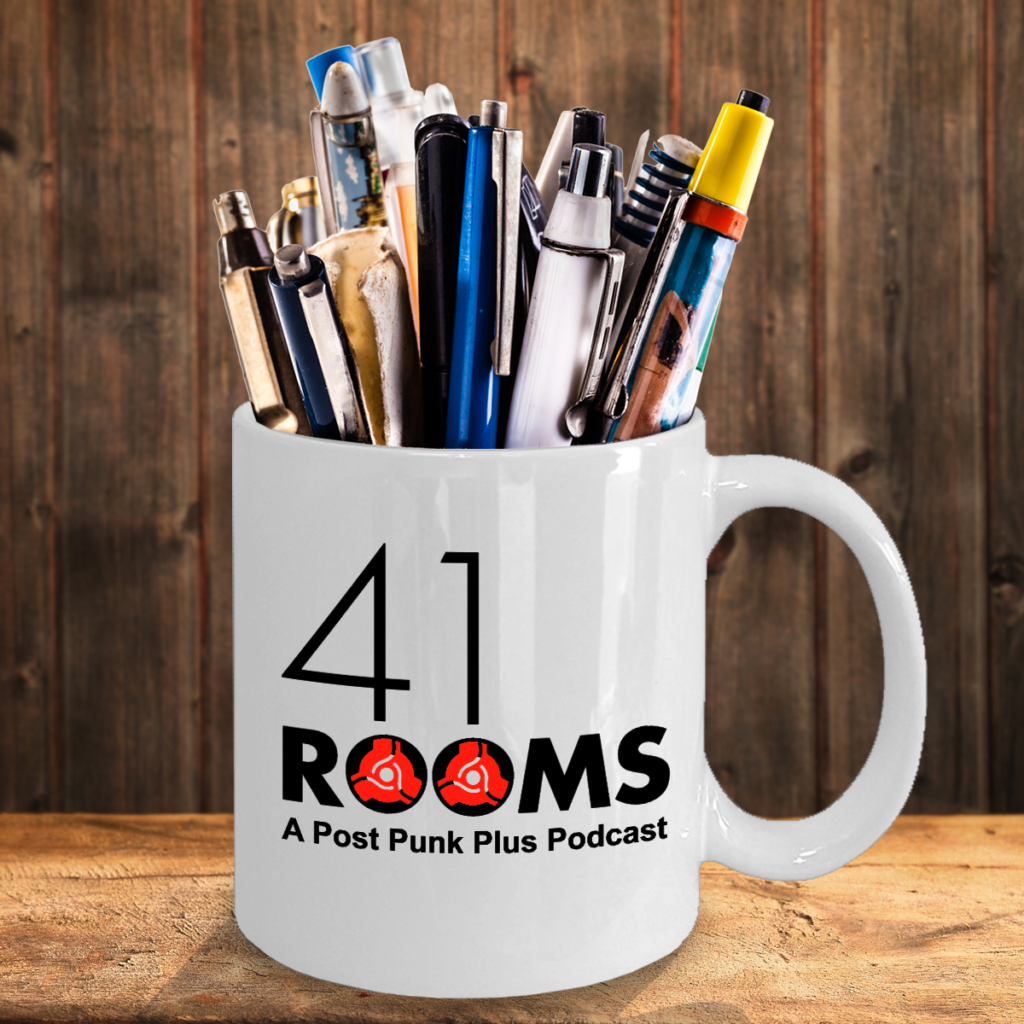 ---
01.00.30
A CERTAIN RATIO – Knife Slits Water (7″ Version) – 7″ – Factory – 1982
'I know I'm taking a vast liberty in reviewing something which featured in the listings two months ago, but some things just can't be ignored. The sound of A Certain Ratio is always welcome on my turntable – and if they are shunned, misunderstood strangers to yours, make this a splendid introduction – it's a lift.
You can keep fit with Shack Up, jog on the spot with Do The Du, slum with Guess Who, but learn how to dance anew with Knife Slits Water. Rashly, not a better record have I danced to recently. Conclusively, if you slip your body into the rhythms and then push and glide, you'll gain more from this than that… that plodding, elephantine beat route of the hard funk with a soft centre of complacency.
If I were to say that it is possible to derive traffic satisfaction from the hardness of the slapping bass breaks, the backbeat that runs through like the skilful blur of a bouncing basketball, the twittering noises that remind me of Japanese electronic jazz funk (where can one find those records?) would that explain the fascination?' – Keith Alcorn, The Masterbag, #18, Autumn '82.
I always played the album version at our club, but with Tilly on vocals, just about any ACR track and mix sounded great.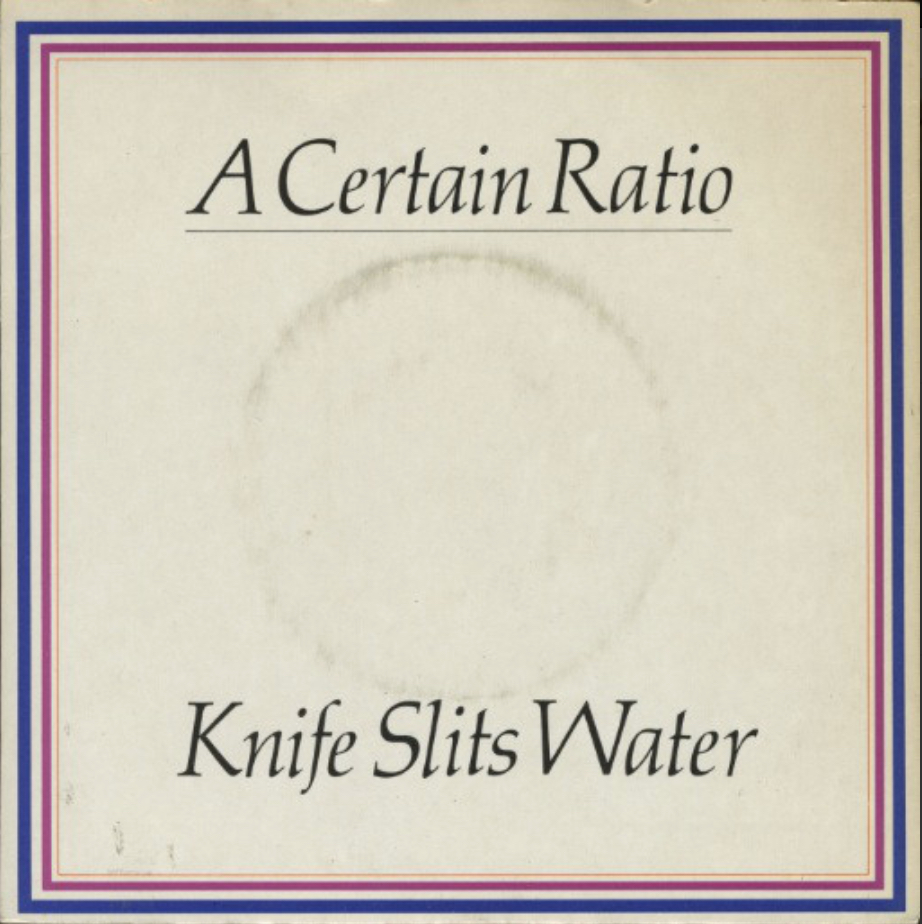 ---
01.04.07
DAVID SYLVIAN – Answered Prayers – Gone To Earth, 2LP – Virgin – 1986
As soothing as Radox, from a number of this double album's tracks that were 'Bath music' for me back in the late Eighties. Too much info, possibly.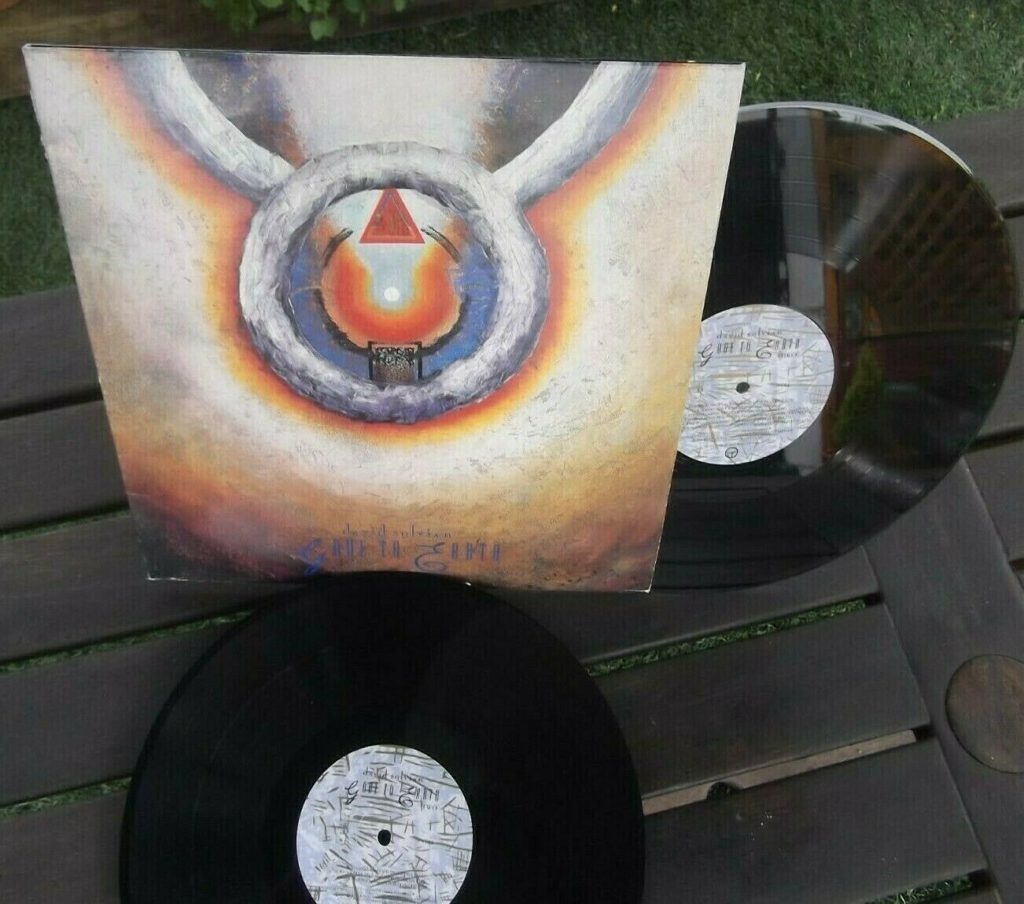 ---
01.06.55
LO-FIDELITY ALLSTARS – Dark Is Easy – 12″ – Skint – 2001
Still getting tunes out there as recent as 2016, this was a slacker more 'lo-slung' sound than Battle Flag, their previously featured 41 Rooms debut and a single release from a couple of years earlier.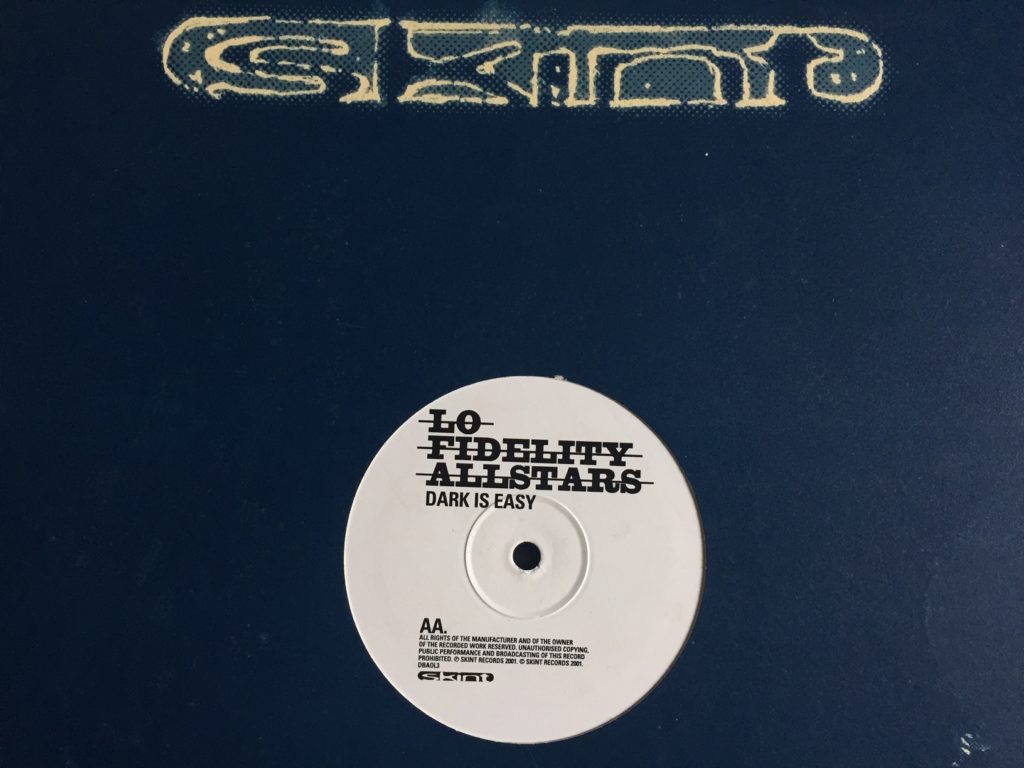 ---
01.11.26
A RACE OF ANGELS – We – 7″ – Choi Division – 2019
'Straight out of the Bristol, UK now Los Angeles resident Yeofi Andoh came up in a vibrant local music scene with the likes of Massive Attack, Nellee Hooper and Tricky. Recently known as the singer of The Steoples (Stones Throw Records) for this release Andoh offers another persona and moniker- a race of angels — sent to this earth to lift hearts and nourish souls. For Choidivision's debut single, a Race Of Angels is blessing us with a deep cut, cherrypicked by DJ Choimatic himself: "We."
'Side A offers the song's original edit, swimming in sensual, hypnotic vibes. Andoh's songwriting is direct and endearing. For him, love is both the message and the medium.' – Bandcamp
With a nod and a wink to some Manchester post punk legends for the label name, this 2005 album track finally appearing on a release of its own fourteen years later may well be down to the inclusion of a DJ Spinna remix on the flip.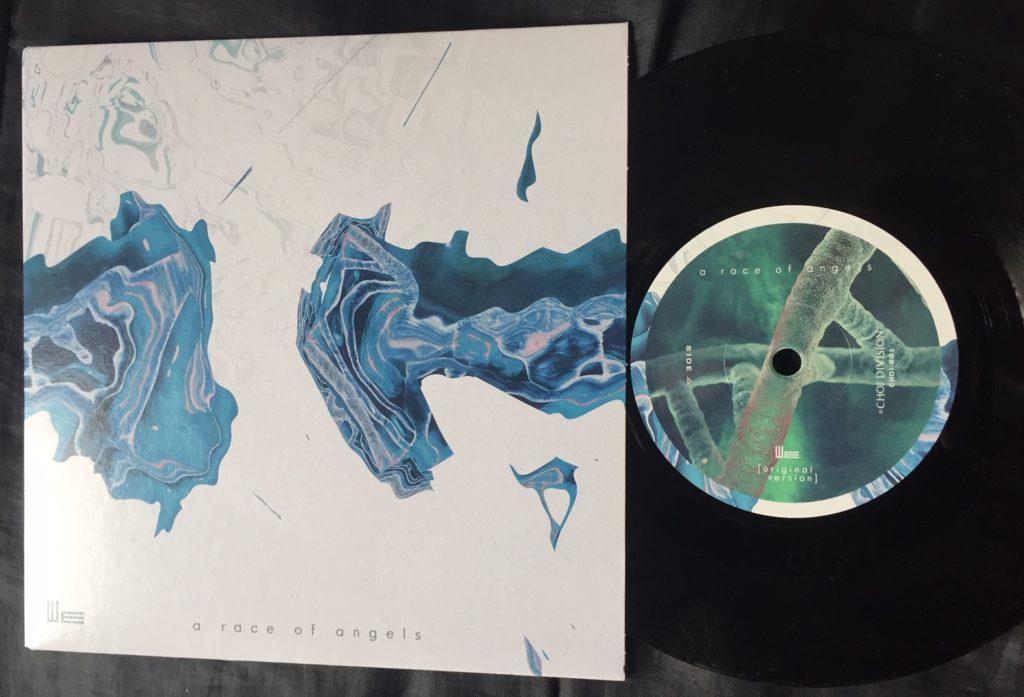 ---
01.16.06
ATTICA BLUES – The Man – Test. Don't Test, 2LP – Columbia – 2000
Like the much missed (by me and others) Two Banks Of Four, a very inner city sound.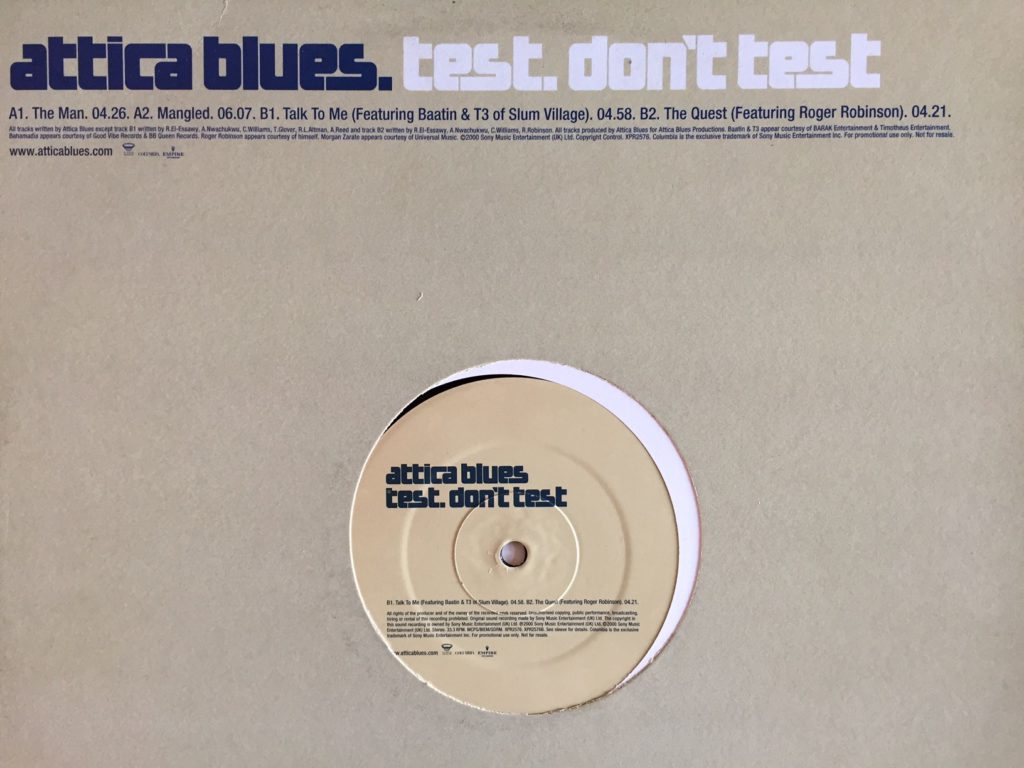 ---
01.20.32
TWO BANKS OF FOUR – One Day * – Three Street Worlds, 2LP – Red Egyptian Jazz – 2003
Regular listeners to 41 Rooms will be aware I'm a big fan of the 2Bof4 and Valerie Etienne vox combination.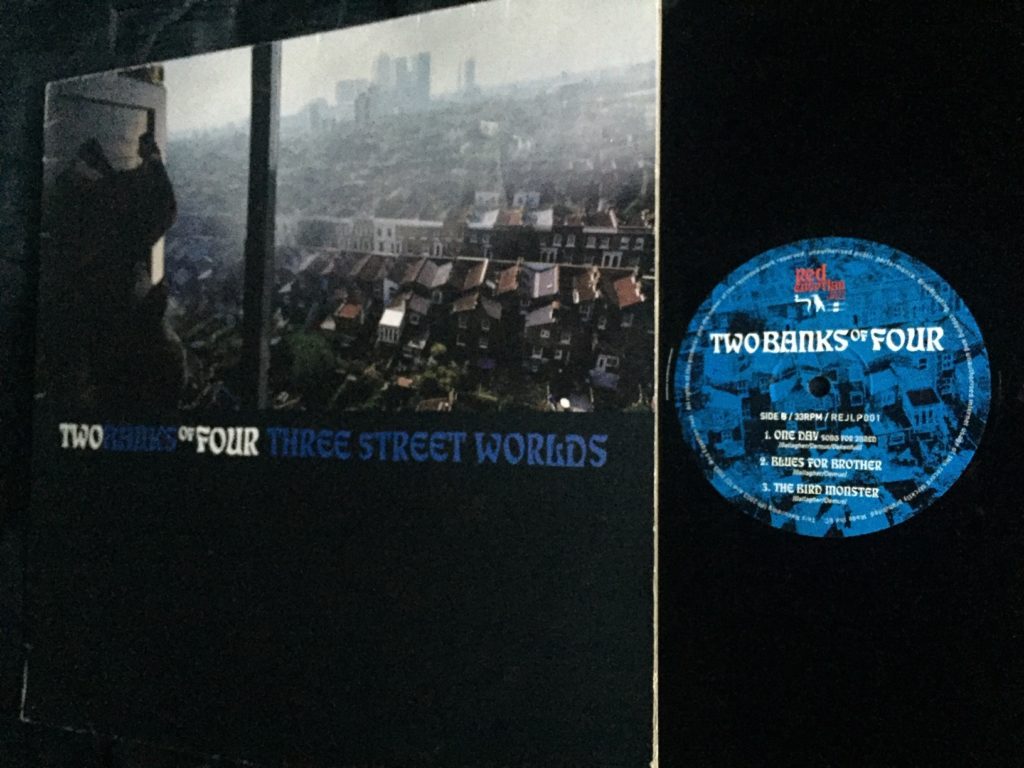 ---
01.25.15
JAZZTRONIK – Pathways (Intro edit) * – 12″, En:Code EP – Especial Distribution – 2006
AKA Ryota Nozaki and currently, it would seem, devoting his efforts to production work only but when some of these Japanese jazzers reign in a bit of that out and out, errr… 'jazziness' and hook up with vocalists I can often get excited.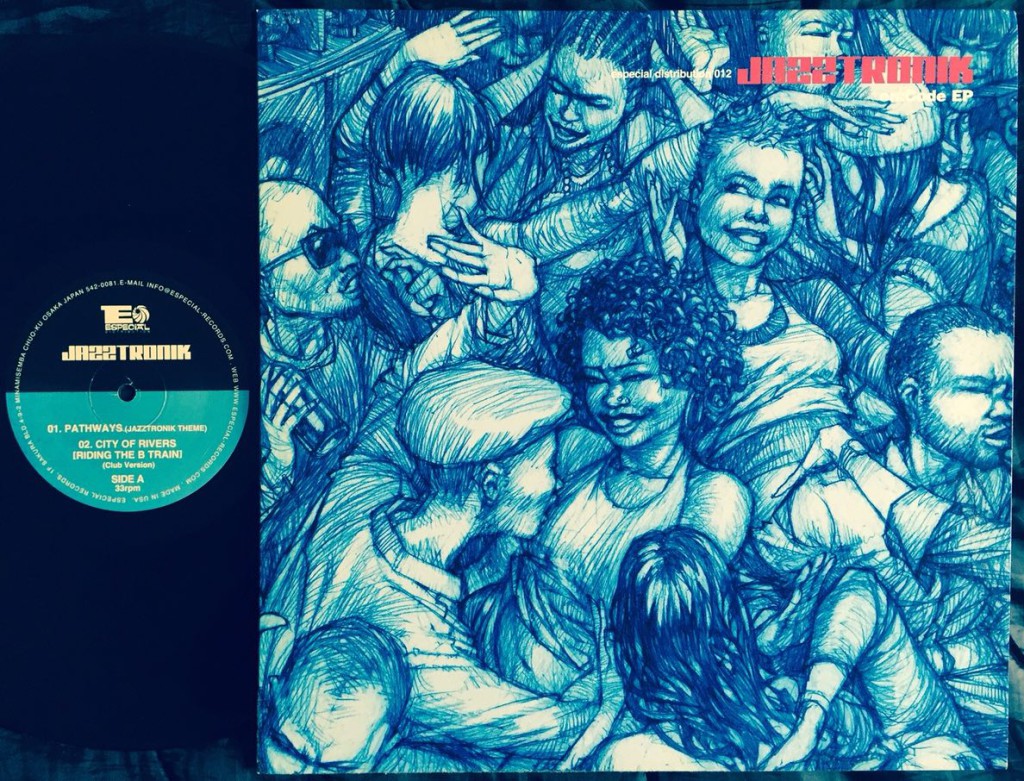 ---
01.26.38
STEVIE WONDER – Another Star – Songs In The Key Of Life, 2LP – Motown – 1976
A true legend, and still very much at the height of his creative powers here. A near eight minute tune with, effectively, a five minute outro and if I'd been properly on the case this should have been a 41 Rooms show closer.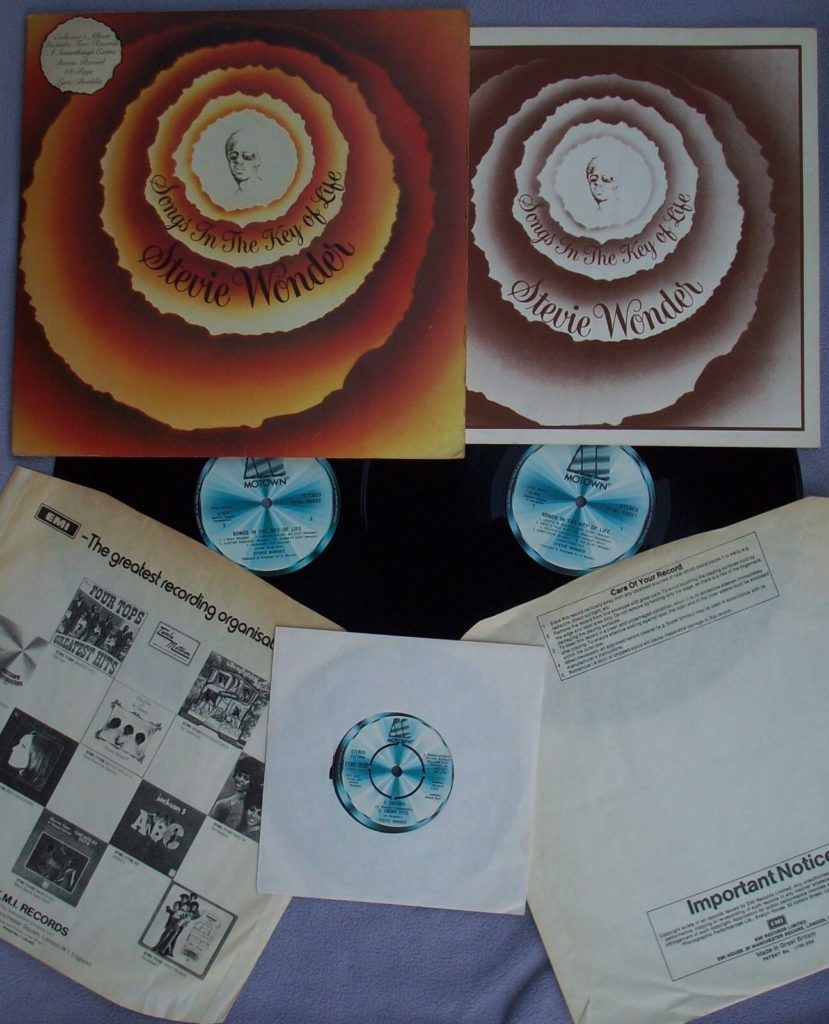 ---
01.34.15
UNITED FUTURE ORGANIZATION – Cosmic Gypsy (Toshi's 2 Hours Remix) – Now And Then-Years Of Lightening, Day Of Drums 1990-1997, 2CD – Brownswood Records – 1997
UFO to some, vinyl heads lose out here, as this track was only ever available on the CD take of the compilation.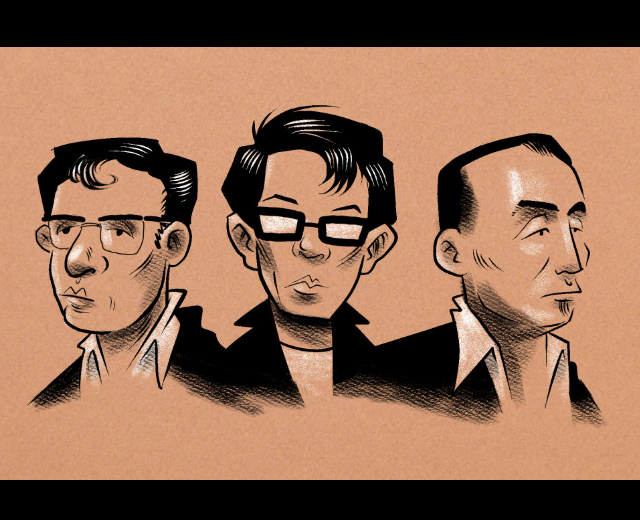 ---
01.38.38
KIM HIORTHØY – Torture Happiness * – 7″, clear vinyl – Smalltown Supersound – 2000
Three hundred hand numbered copies only of this Norwegian arts all rounder's debut single but when I was on the hunt for a vinyl presser for a Got-Ta-Scatta 12″ in 2001 I just happened to approach the company that had pressed this 7″, and they just happened themselves to send me a picture sleeve-less copy of Torture Happiness as an example of their work. I'd never heard of Hiorthøy but I took to most of (see below) the sound coming out of these grooves, as did a good few others, seeing as you'll have to pay €60+ to now get a copy.
There's an edit that I had to make. No seriously, I really had to. Go elsewhere to check out the full version. I'm just not wired to handle the intro, random and stuttering, 24 secs (monkeys,… typewriters… Shakespeare) and the twattish laugh in the middle. Norwegian humour? Maybe you just had to 'be there' but it genuinely sounds like someone forgot to edit the frigging recording!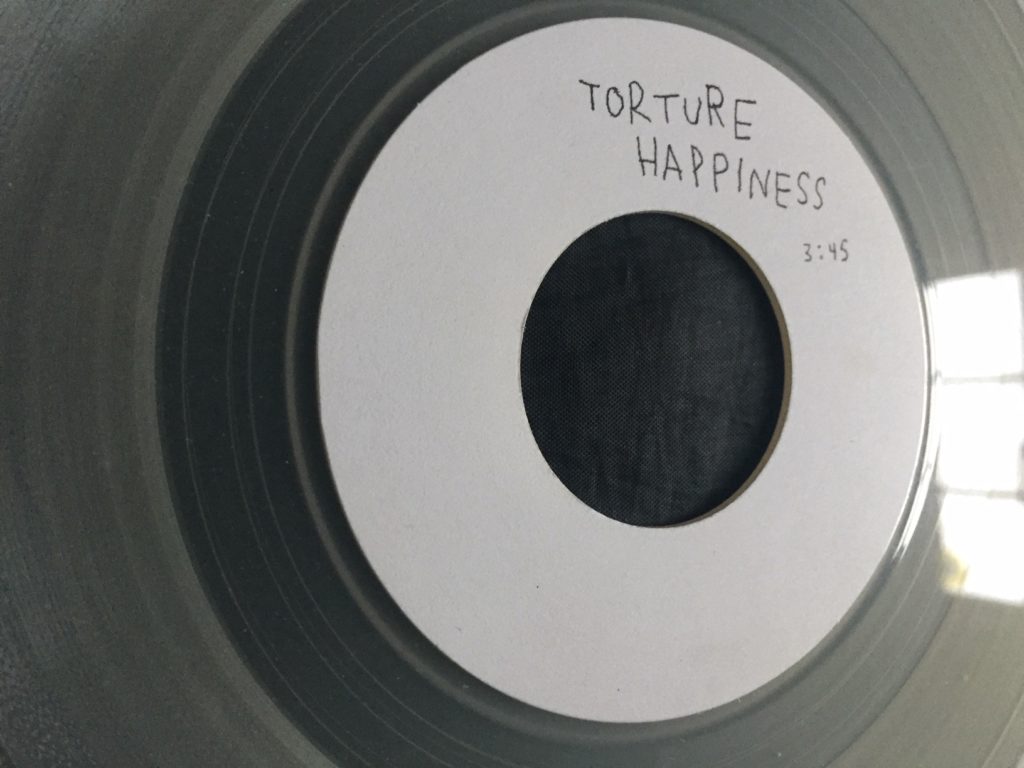 ---
01.41.21
FAMILY FODDER – Symbols – Monkey Banana Kitchen, LP – Fresh Records – 1980
A song idea they wore out in two minutes and then trailed off with a three minute skittering post punk dub… obviously.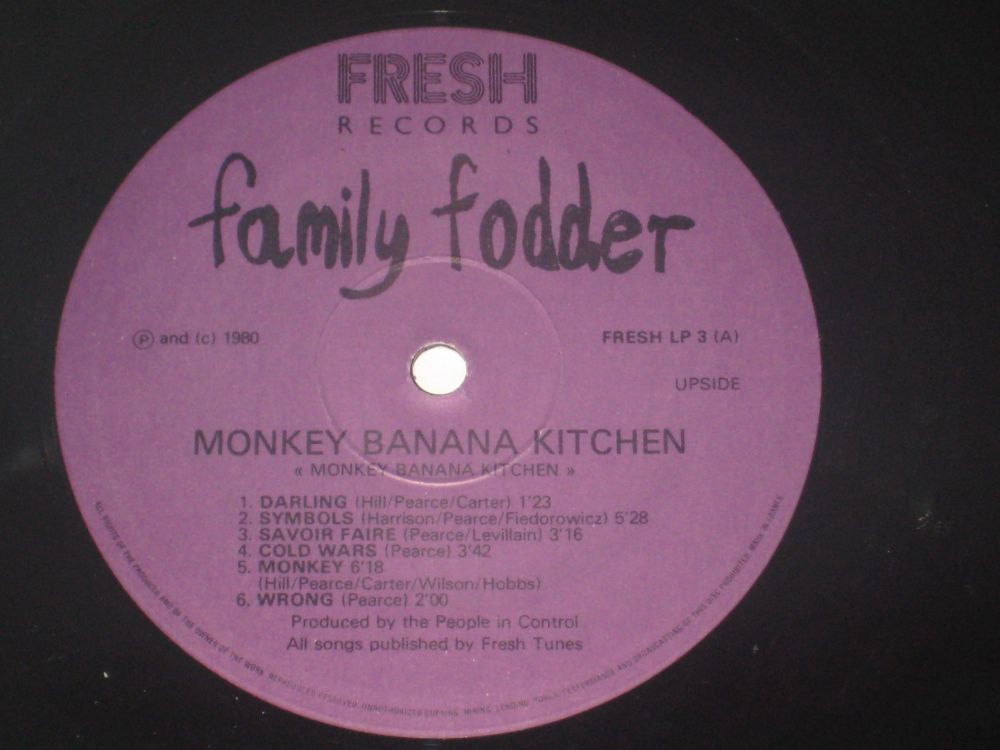 ---
01.46.42
THE MOODY BLUES – I'm Just A Singer (In A Rock And Roll Band) – 7″ – Threshold – 1972
I never owned an MB's album back in the day but I had a few singles and compared with most of their material this was them on speed!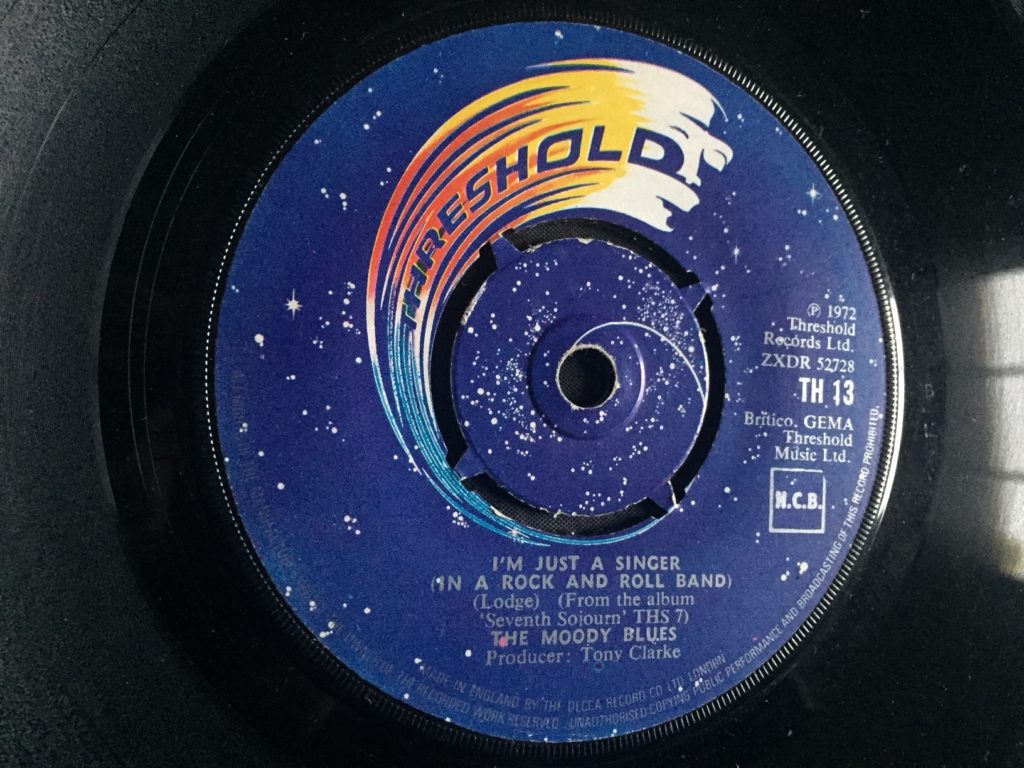 ---
01.50.14
THE SOUND – Heyday – 7″ – Korova – 1980
The energy of youth, before the problems set in for mainman, Adrian Borland. 🙁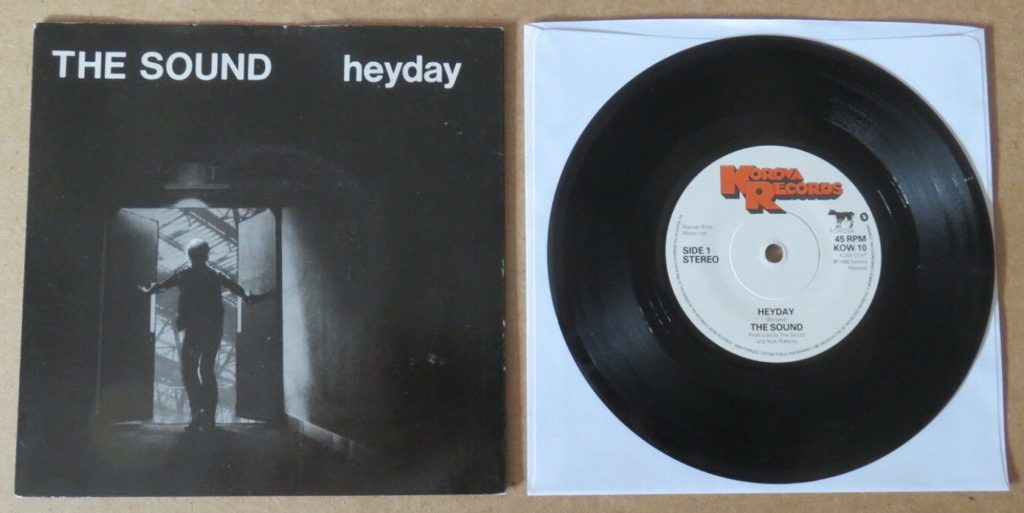 ---
01.53.13
WORKFORCE – Back In The Good Books (Body Mix) – 12″ – Rorschach Testing – 1986
'Bound to make a cross-over onto the dancefloor, is the latest from Sheffield 'industrial funksters' (I quote) Workforce. After their successful Doublevision debut of last year. As before, they offer different and differing mixes of the A-side title: one, full of chopping funk guitar, big beats, synths and percussion breaks, topped with strident vocals and literally cluttered with hooks, the other puts the percussion upfront and builds with insistent adrenalin intelligence, proving that they're not stuck in a (lock-)groove, they add a widescreen white-soul ballad, too: the icing on the cake (-mix). With packaging as good as we've come to expect from the Rorschach mob, altogether a hit!' – Richard Boon, The Catalogue #34 Feb '86.
Cheers, Richard! Those lunchtime pints in the Caledonian Rd paid off. A single I and mate, Mick Lowe put out on our short lived label, Rorschach Testing.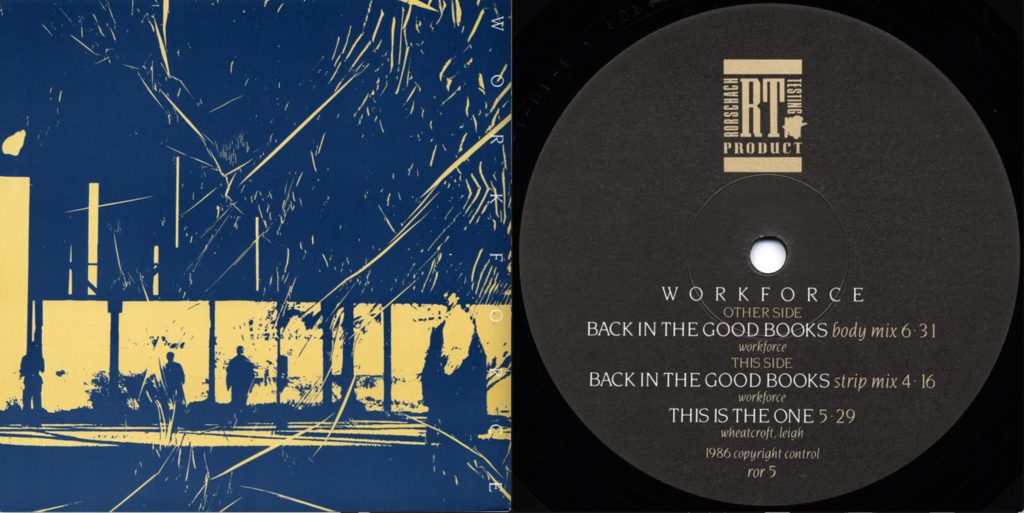 As it says on the 'tin' – a test pressing, via my very own hand (writing).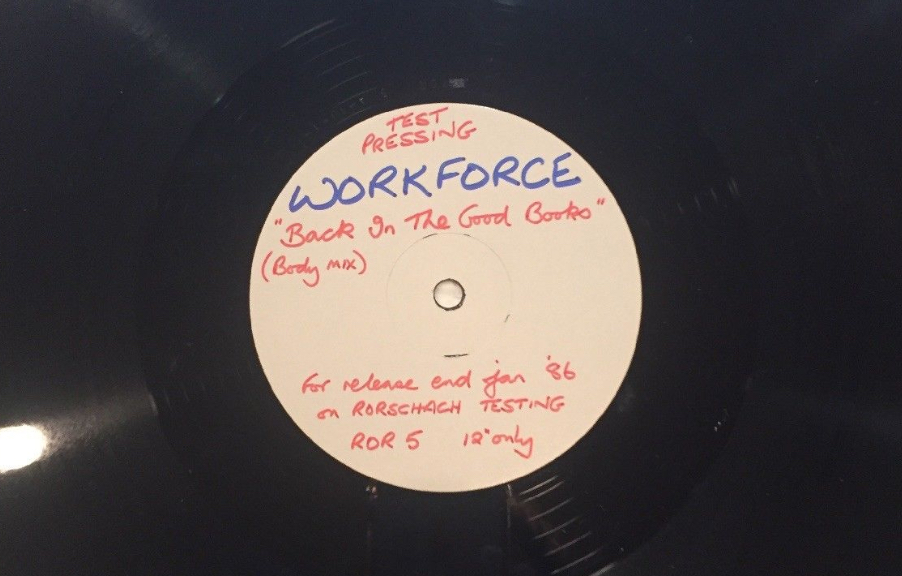 and part of the promo pack for the 12″ and some live dates.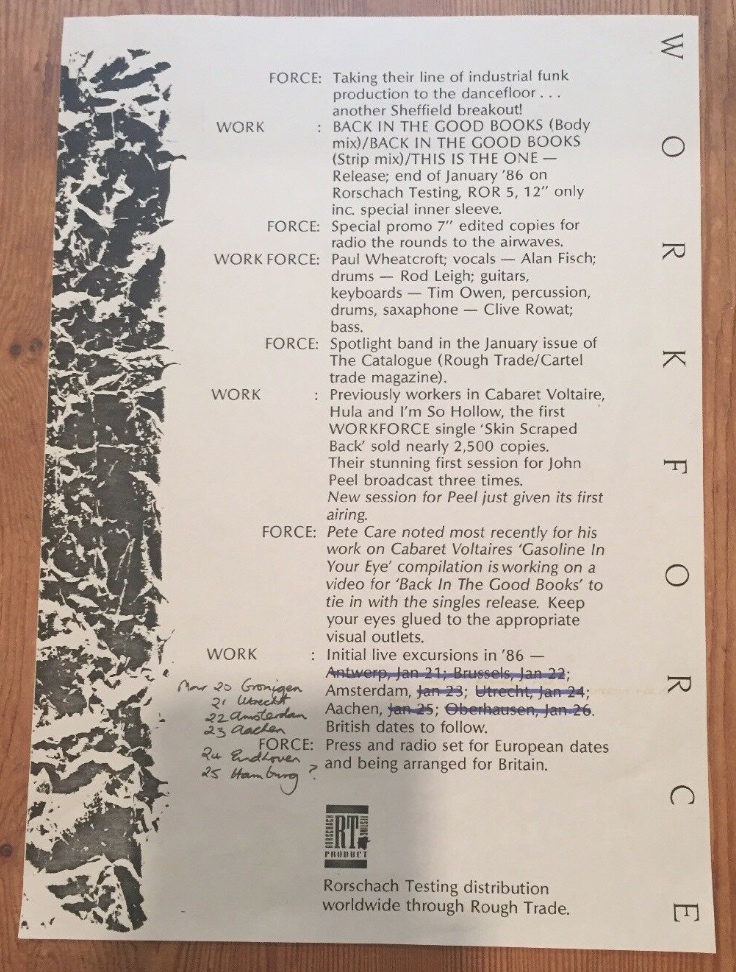 ---
Show 76 will be with you Feb 2.
Dec