41 Rooms, Playlist 54 
Uploaded April 1, 2018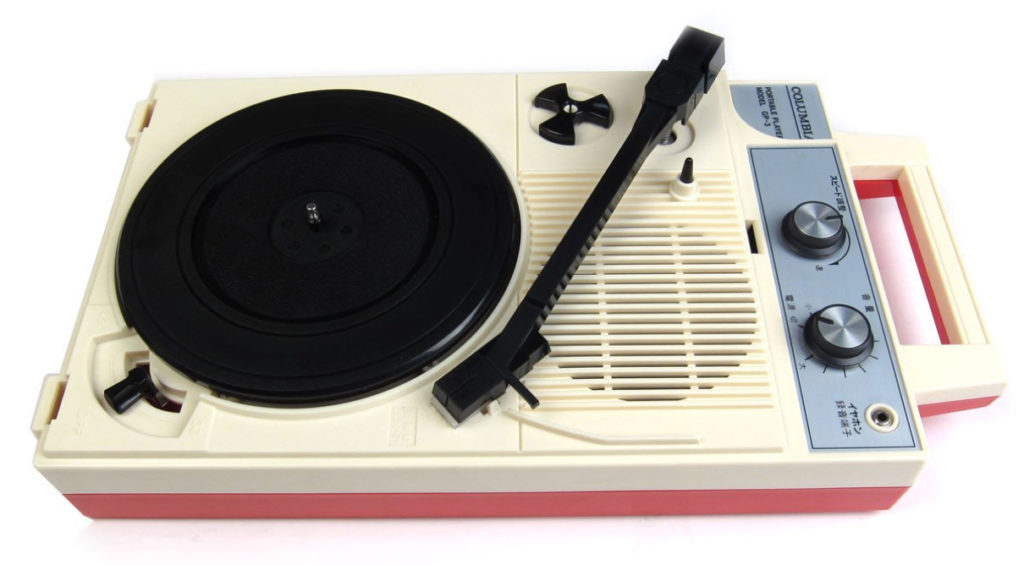 41 Rooms' Playlist 54 is 88% vinyl friendly. Impressive.
Any track marked * has been given either a tiny or a slightly larger 41 Rooms 'tweak'/edit/chop/etc.
---
One track is certainly sonically challenged. Apologies.
---
Lyric of Playlist 54: 
Even as a strident non-believer I can at least like the fairytale idea that…
'When you reach Jordan's bank, there's no money, power or fame. No third or second class, the fare is all the same.'
Alternatively, you need paying attention to if you kick off with…
'Taskmaster burst the bionic zit-splitter'
Indeed.
---
00.00
(Intro) THE FLAMINGOS – Stars (Edit) – Unreleased demo – 1983 Episode #1 for info.
---
00.41
NEW ORDER – This Time Of Night – Low-life, LP – Factory Records – 1985
Its working title, Pumped Full Of Drugs, transferred over to title an official video release of a May, '85 gig in Tokyo, but as much as Barney's voice perfectly suited the languid tempo the track only made it to their live sets for a couple years.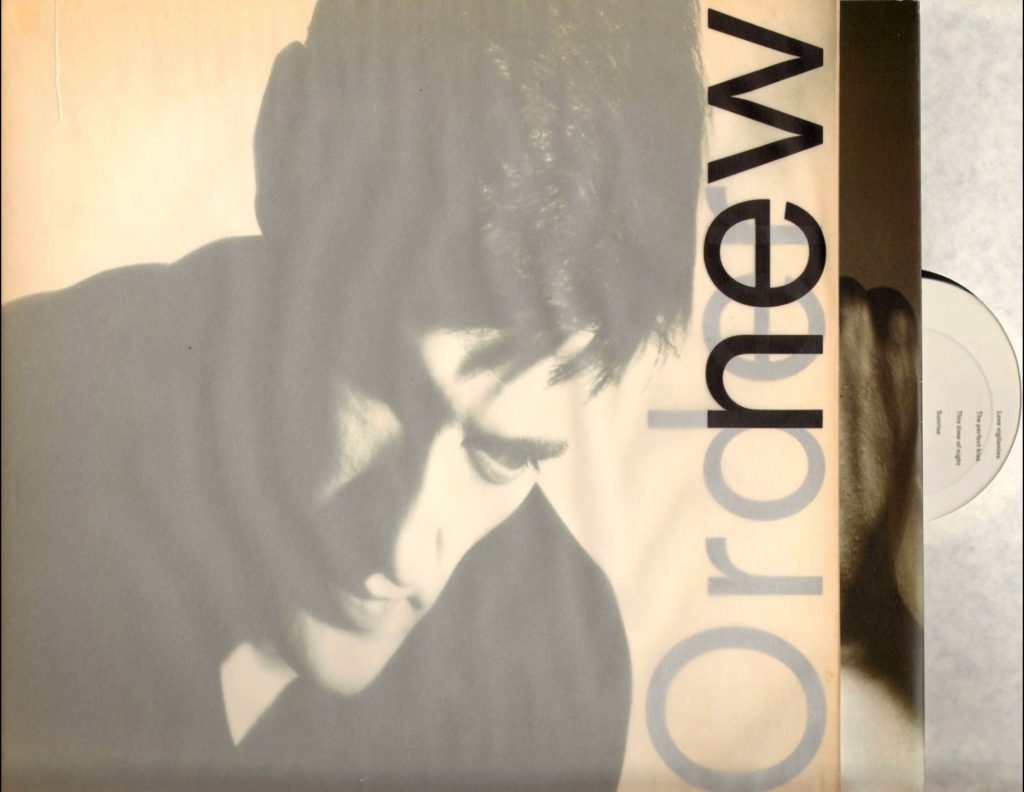 ---
05.11
ORBITAL – Style – 12″ – FFRR – 1999
Possibly not 'right up there' with a lot of 'Orbitaloids'. They'll be back here, though.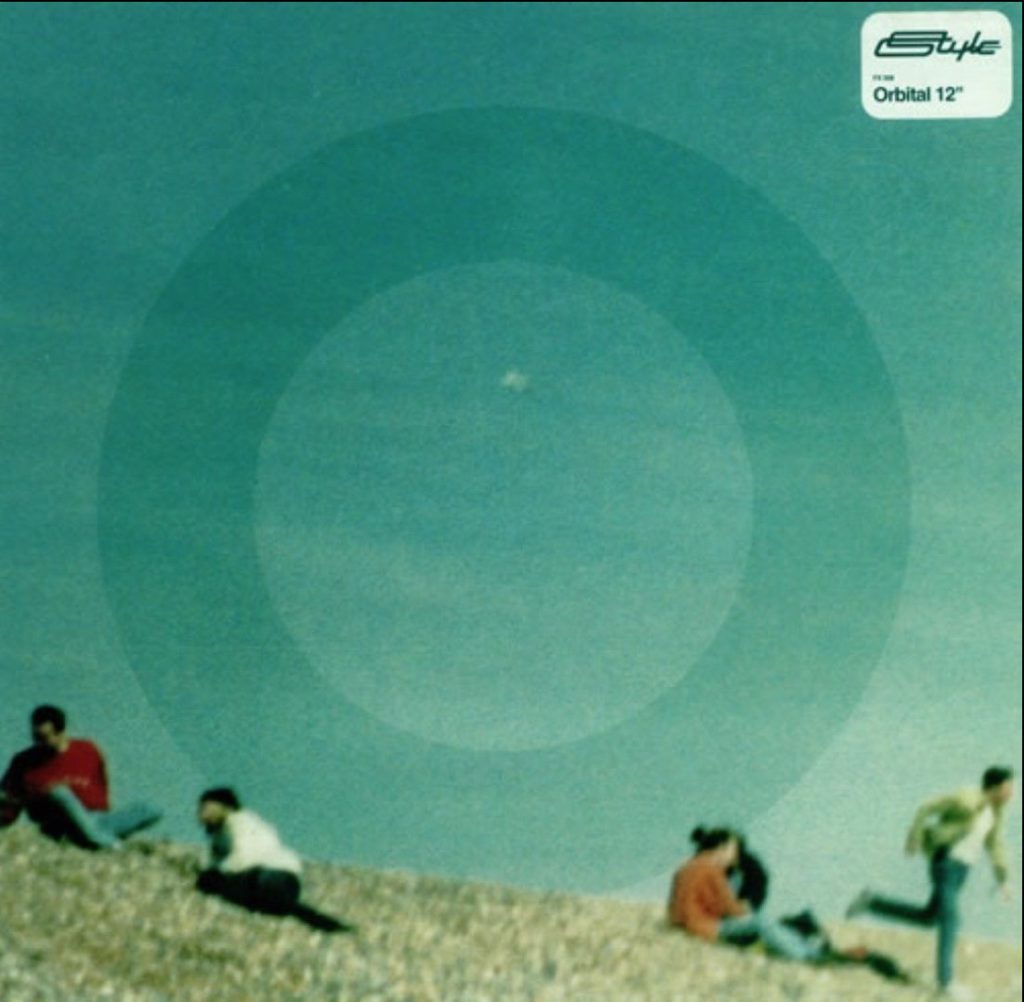 ---
8.59
LONELADY – Little Fugue – Download only – 2018
'LoneLady has shared new music as part of the next chapter of her temporary installation project, 'Scrub Transmissions', currently taking place on the outskirts of Manchester.
The artist has embedded an MP3 device into a patch of waste ground in Miles Platting, Manchester, with a new transmission playing previously unheard track 'Little Fugue'. To find the installation follow the map viewable below. You will need to supply your own headphones. The directions in full are on LoneLady's blog.
The 'Scrub Transmission' installation loops continuously until the batteries dies and the track becomes an obsolete entombed relic within the building. It's estimated the installation will be live for up to two weeks.
'Little Fugue' was recorded in the same sessions as 2015's 'Hinterland'. Since 2016 she's been holed up in her recording studio in Somerset House Studios amongst other creatives and musicians including Anna Meredith, Charles Jeffrey, GAIKA, Ian Forsyth and Jane Pollard amongst others whilst she works on a new album, pausing momentarily to play shows with New Order, Hot Chip, Roisin Murphy & Primal Scream, Stephen Mallinder (Cabaret Voltaire) and Eric Random.' – Warp.net
---
12.31
LOW NOISE – Urban Tribal * – 7″ b-side – Happy Birthday Records – 1981
Thomas 'Dobly' Dolby a lilting…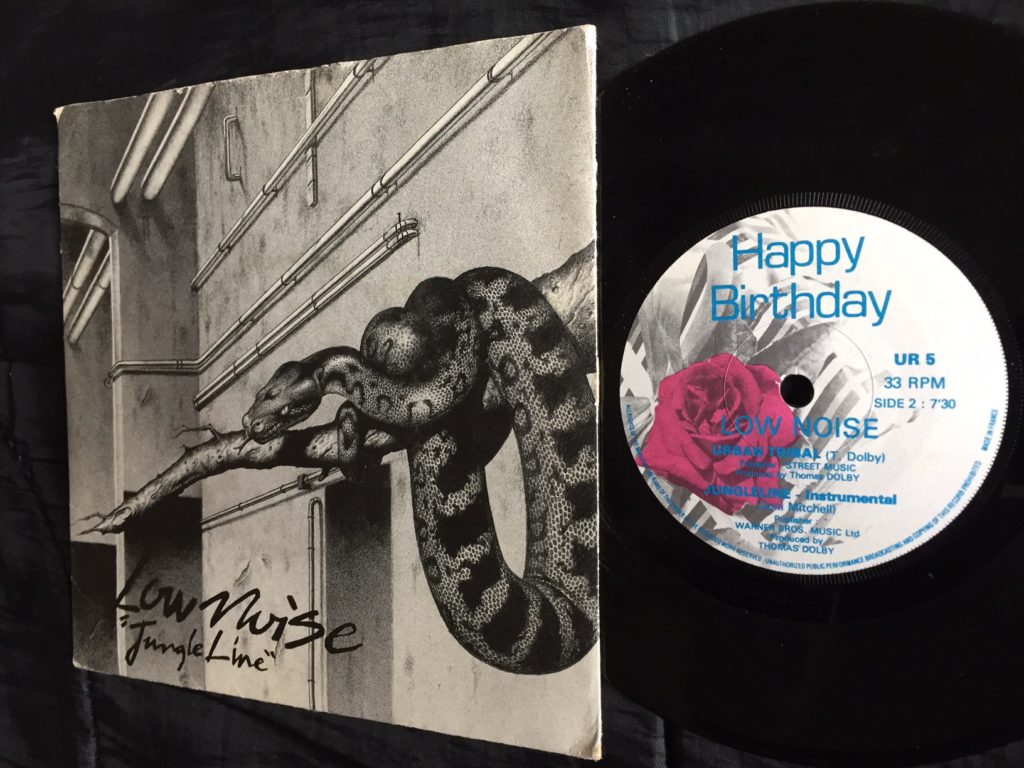 Memories of a hillside walk in Ireland in 1981, and ignoring any 'urban'/'rural' conflict, the above tune soundtracking the video shot. My dad, Glen (the dog) and girlfriend, Viv. And the Ferguson Videostar camera that Viv's wielding may well have also captured New Order at Norwich and Kilburn in 1982, and Brixton and Tolworth, London in '83. The Multi Broadcast shop I used to hire the gear from may have stepped up in class by then though but it hasn't stopped the Ferguson making it to the Museum of Design In Plastics, a specialist research resource at the Arts University Bournemouth. Possibly all way more wordage than was really needed re connecting with Mr Dobly Dolby's fab tune.
(Left) Back in 1981… and (right) in 2018, from the balcony of where I now live!

---
16.15
THE NAUGHTIEST GIRL WAS A MONITOR  – All The Naked Heroes – 7″ – Aardvark – 1980
I bought this single at the time and then sold it years later but I'd say its charm has survived.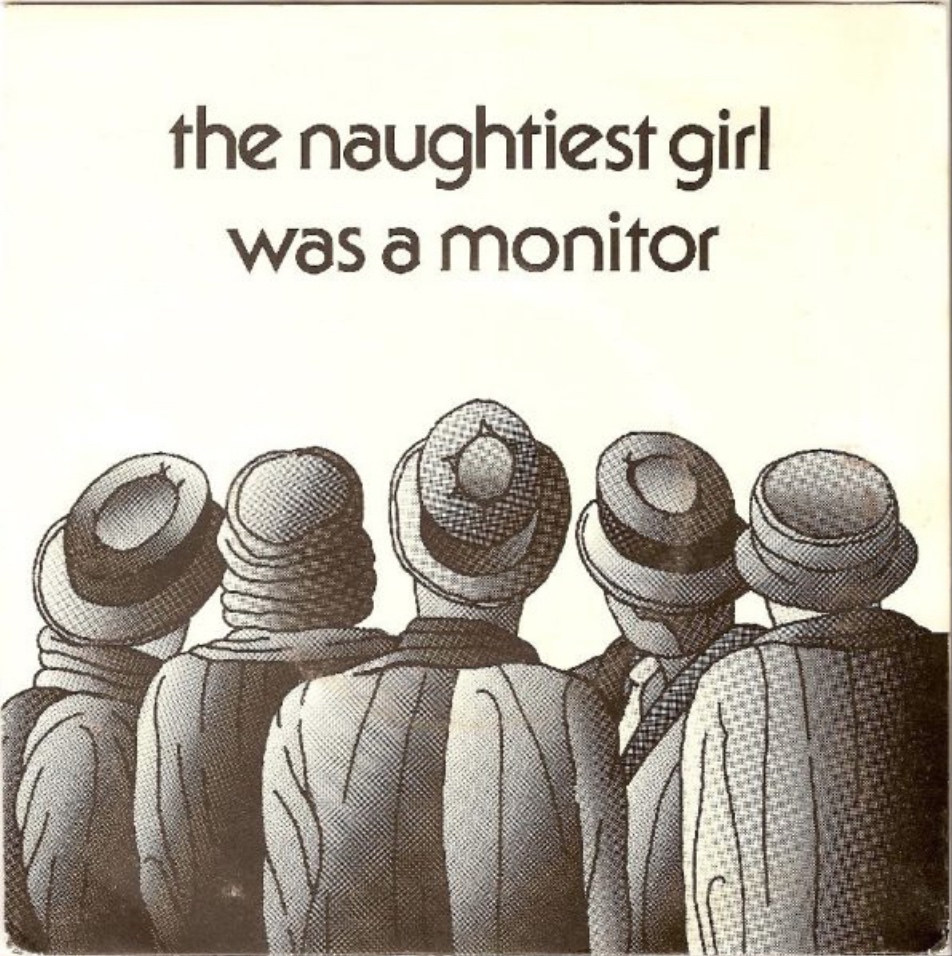 ---
18.23
ULTRAVOX – Maximum Acceleration – Systems Of Romance, LP – Island – 1978
One of John Foxx's finest Ultravox moments, I'd say.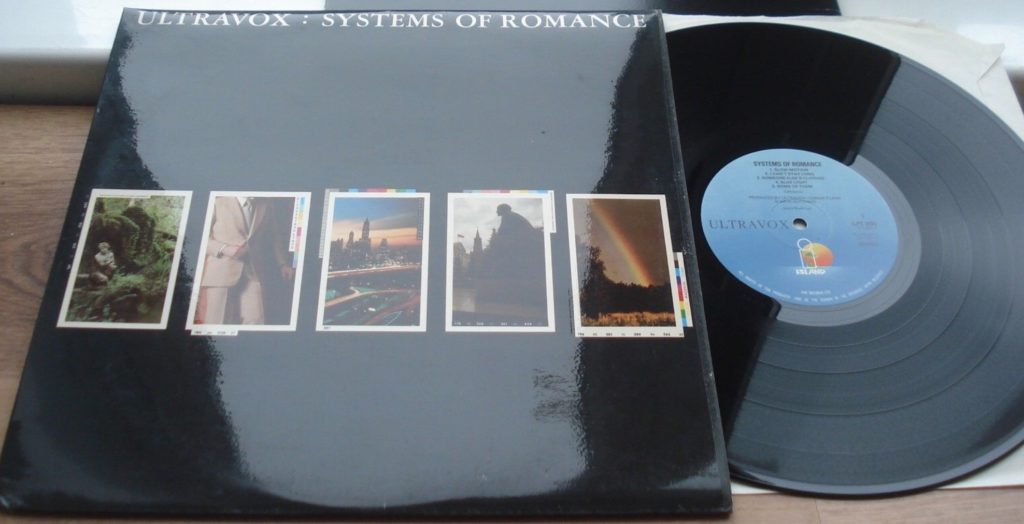 ---
22.00
SIMON DUPREE & THE BIG SOUND – Kites * – 7″ – Parlophone – 1967
I don't remember hearing this til the early 70s but even as a teenager it sounded great. It appears my wheeling dealing, young record buyer's head ** didn't stop me looking to make a profit on it, though. My ancient singles 'logbook' tells me that having bought it for 20p at some point, I then sold it in August '78 for £3(!) – a big profit back then, no doubt then fed back into more record buys.
** My close mate, Dave 'Dobber' Lewis reminded me years ago that in a letter I winged in to the music press somewhere in the seventies (on hell knows what subject) I referred to myself as Dec 'Singles King' Hickey. Oh dear. It was a different world.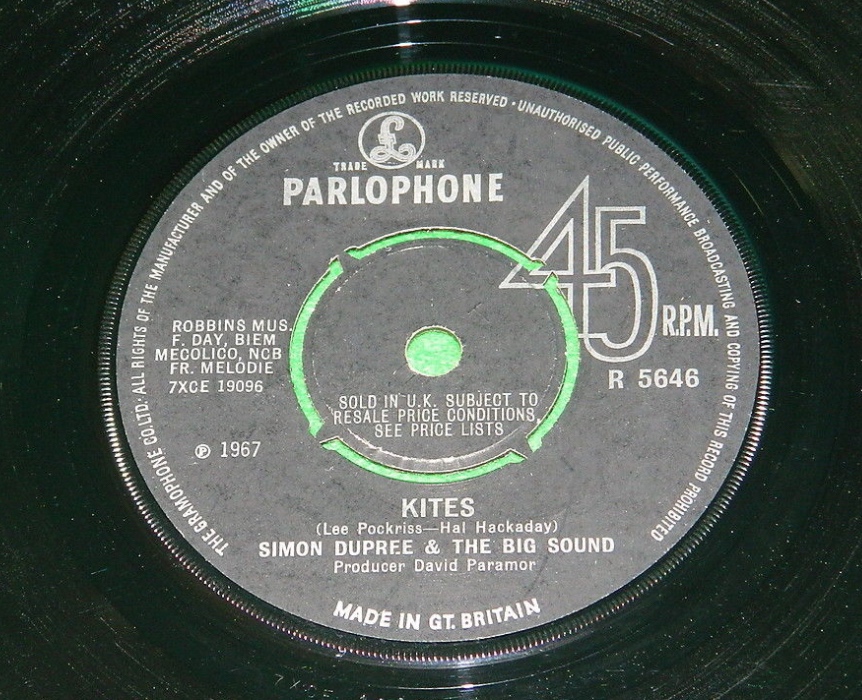 Original acetate, out there somewhere.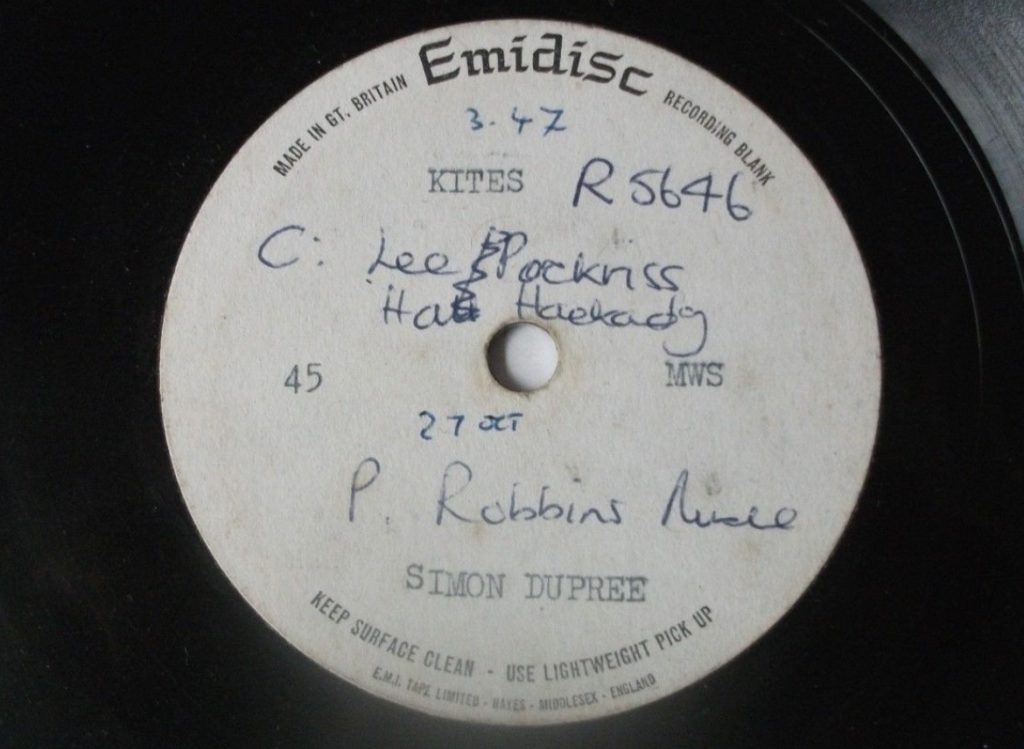 ---
25.49
SYLVESTER – I Need Somebody Tonight – Stars, mini LP – Fantasy – 1979
Practically lost as the fourth track on a 12″ EP/mini LP this relentless, hypnotic groove has quite rightly earned a growing respect in the last two-three decades – due in large measure to Patrick Cowley's synth work.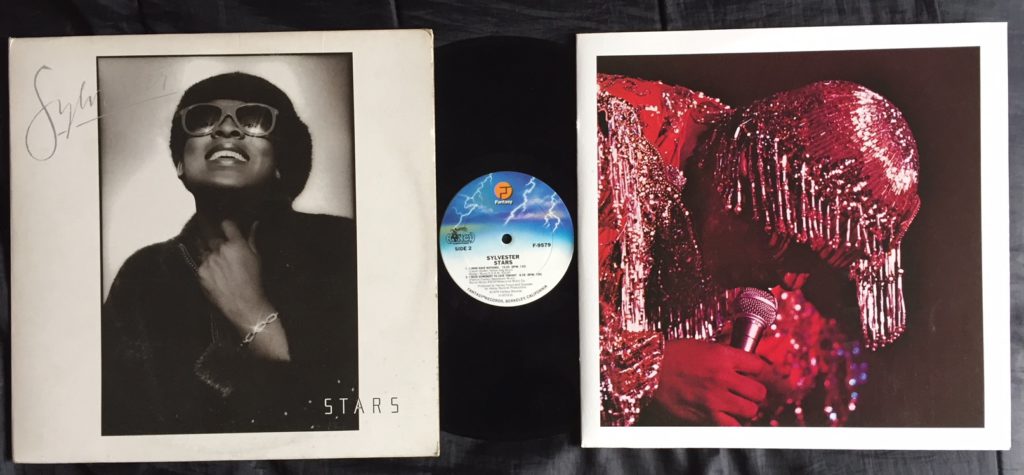 ---
31.59
SUPERSTARS OF ROCK – Strobelight Serenade – 12″ – Related – 1997
Wicked…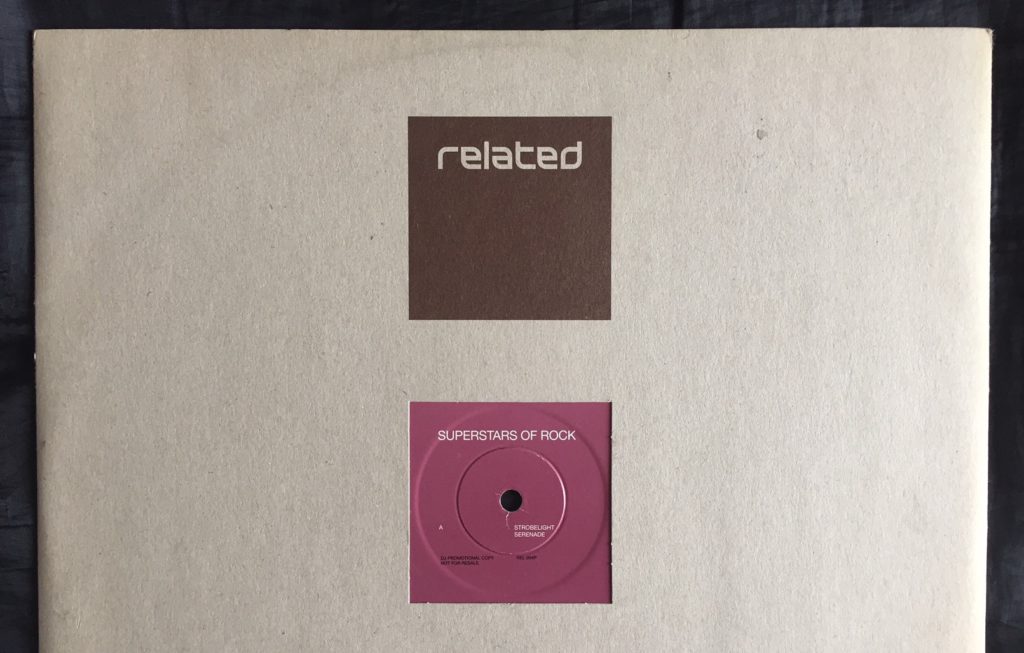 ---
Fourth (I think) in a occasional series of great double sided 7″ers…
39.45
EDDIE HOLMAN – Hey There Lonely Girl – 7″ – Probe Records – 1969, c/w
43.12
EDDIE HOLMAN – It's All In The Game
This Holman brace (certainly 'Hey There… ') brings to mind Bedford Rugby Club 'discos' in the mid 70s. I was 18 or so and though it might seem like I'm recalling nightlife from somewhere around the Second World War, I remember Hey There Lonely Girl often ruled as lads looked to grab a girl for the 'slow smooch' that was the last song of the night. I'd like to point out I was 'going steady' at this point.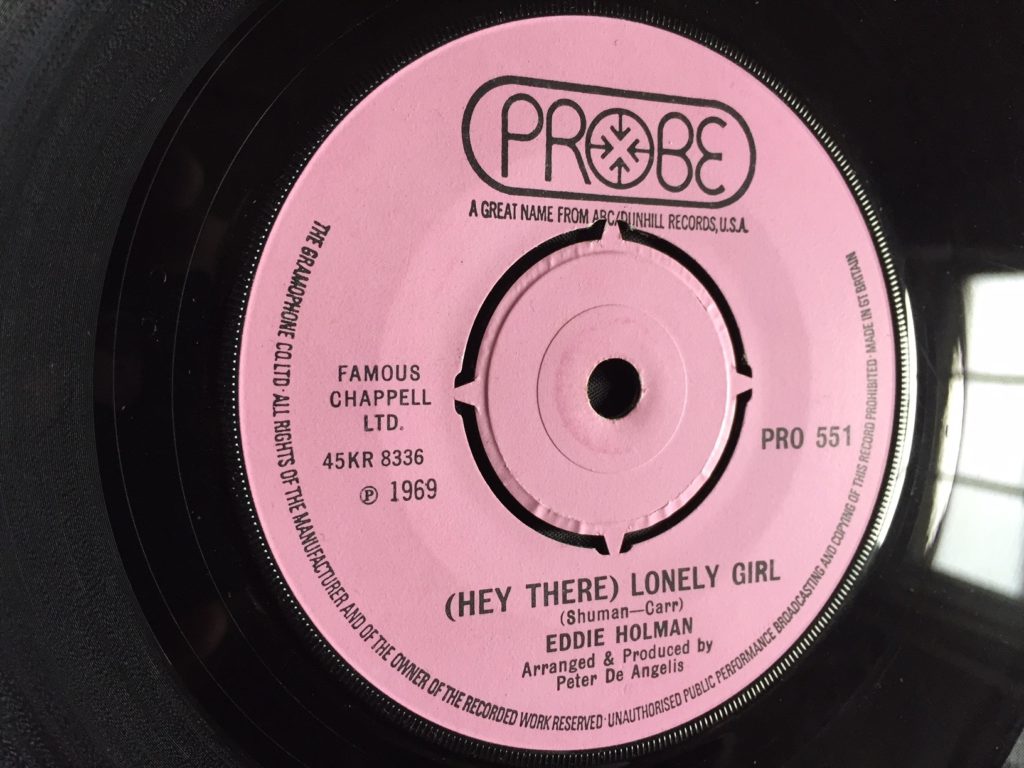 ---
46.50
MARTINE GIRAULT – Revival – 12″ – Opaz – 1992
'Kiss FM DJ Bob Jones's pick to click from last summer, out at last just in London as a limited edition launching the Hackney based label, this Ray Hayden created gorgeous slinky girl breathed and organ pulsed 99.9bpm street soul swayer (with a beat losing pause only a half a minute from the start) has a sultry Rap Interlude introed lush 0-100bpm Revival Theme insrtumental plus the tougher but more gently drifting 0-99.8bpm 'Nothin's Gonna Change' as flip, highly recommended if you can get to it.' – James Hamilton, Record Mirror (Music Week), 4.7.92
'Revival gets another go round on the topside of Martine's new 12″. If you haven't got it, or don't know it by now, you will never, ever, ever know it, ohh-oo-oo-oo-ooh. THis tune didn't win Best Soul/Vibe record at the DMC Mixmag Awards for nothing… ' – Dennis Lyons *** Mixmag Update 17.12.92′
'Gorgeous slinky street soul classic reissued in 99.6bpm Original and tinkly sinuous 99.7bpm Funky Vibe Mixes, now with the even sultrier 'Cause It Matters To Me' in 0-84.9-84.7bpm Quiet Fire and 0-84.75bpm Renaissance Mixes.' – James Hamilton, Record Mirror (Music Week), 16.1.93
A big underground tune, certainly in early 90's London.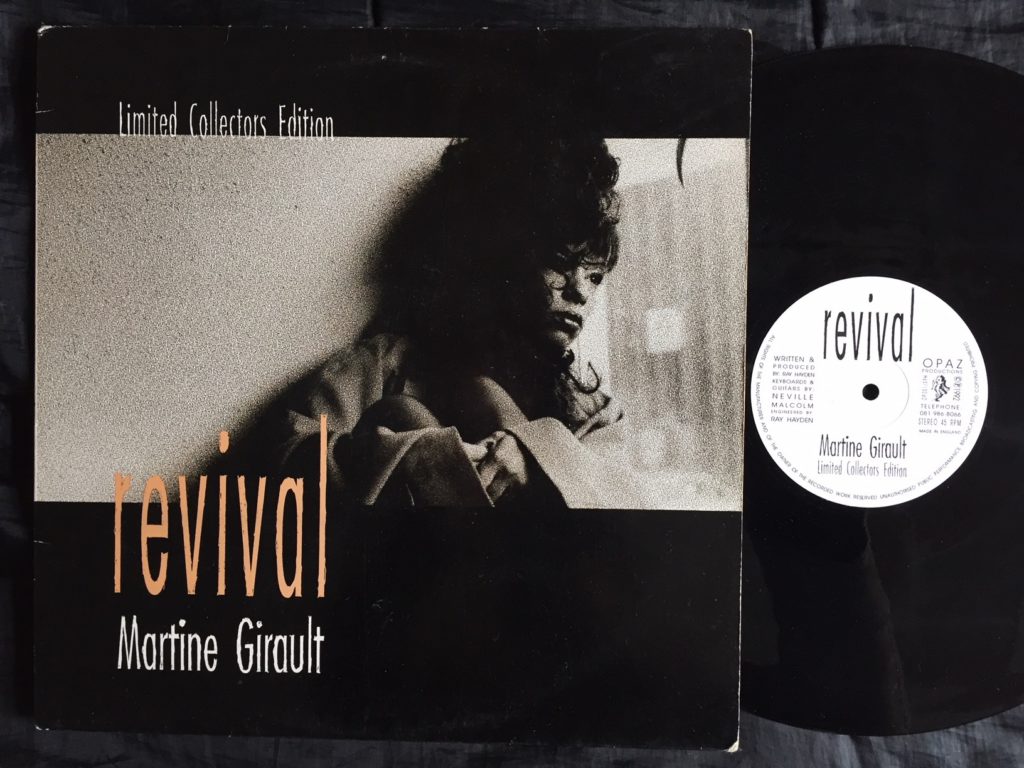 ---
51.16
HEIGHTS OF ABRAHAM – All The Time In The World – 12″, Tides EP – Pork Recordings – 1992
Ex-Chakk'ers Jake Harries and Sim Lister teaming up with ex-Ashley & Jackson and then Fila Brazillia's Steve Cobby… and on the wonderful Pork Recordings label. Class leftfield, blue-eyed soul, make no mistake.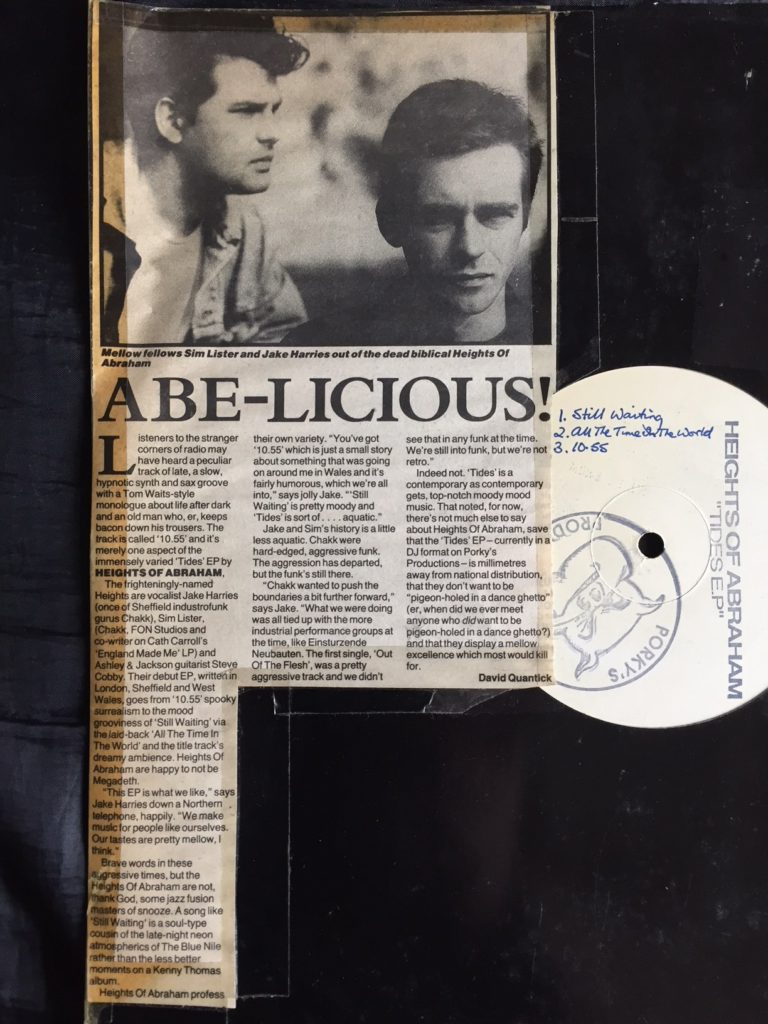 ---
56.10
DJ SHADOW – This Time (I'm Gonna Try It My Way) – 7″ – Island – 2006
A shift to the side of a 'classic' DJ Shadow sound but it's easy to see why he jumped on using this vocal sample. The following is in relation to a separate (and sparser) use of the sample but it fleshes out the story.
'This was ripped from a mix by Fraykerbreaks, quite well-known for his DJ Shadow breaks sets. It's the original studio reel sampled by DJ Shadow for his track "This Time (I'm Gonna Try It My Way)"…so elusive that even he doesn't know who sang it. Note that this isn't the original rip of the reel, which also featured two more songs and some dialogue between "Joe" and Ray Dalton of Music City. Added into the mix are several guitar samples and horns that were sampled by Shadow on the same track. This reel was apparently found in an abandoned recording studio in the Bay area that was about to close down. The reel was labeled "Joe", and there were a couple of tracks on it, but this was the standout. Somebody found it and introduced it to Shadow, who liked the sound of it and sampled it for his track. It's from 1967, apparently. Props to YouTube user allbay74 (aka Jinx74 from Soulstrut), who found the reel, Shadow, Fraykerbreaks, and of course Joe himself for performing this amazing track. If you have any idea who "Joe" is, please leave a comment!' – hitmusicsingles, Youtube, Dec 19, 2010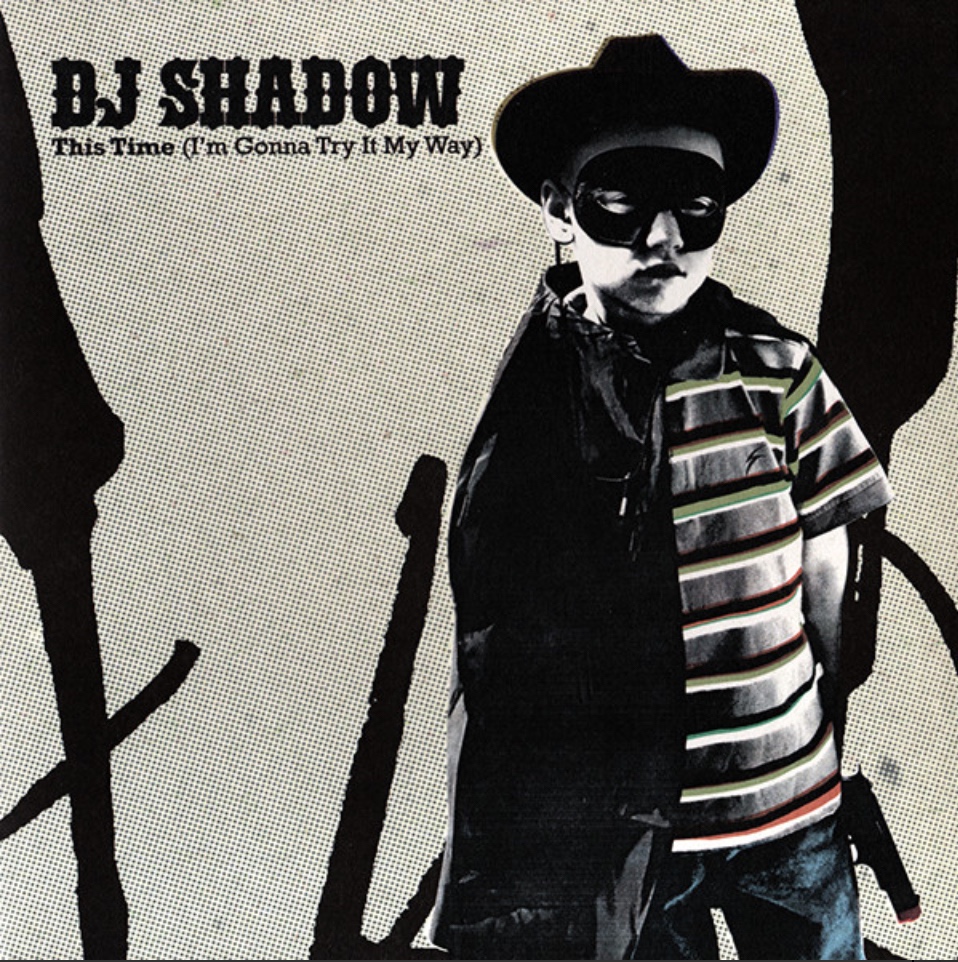 ---
59.11
THE SUNDAYS – Can't Be Sure – 12″ – Rough Trade – 1989
'The Sundays had all the mystery squeezed out of their imminent arrival because all we wanted to find out was the lining of their garments – "The Cocteau Twins with hooks and words"? Cruel, cruel. Can't Be Sure is a gentle, humming, wickedly understated gift of a melody with teasing words, glinting guitars, endearing vocals, all aching refrains, soft 'r's and occasional gasps, all the things that matter, and then as the drums kick off the toms onto the snare half-way through… it's over before you know it. And then you yearn. That kind of marvellous. Possibly even better is I Kicked A Boy, the perfect Smiths-meet-Cocteaus song every independent must have prayed for – ascloseasthis to a typical strolling Johnny Marr guitar-brushed song, but which one? Don't Tell Your Mother has a stretchy, almost jazzy swing. The Sundays manage to squeeze most of the mystery.' – Forgot to clock where the review was from. Very probably, the indie trade bible, The Catalogue.
£3.49 from Andy's Records (likely Bedford) in '89. Probably worth approx £2.99 less now, given the sleeve's water damage. Doh!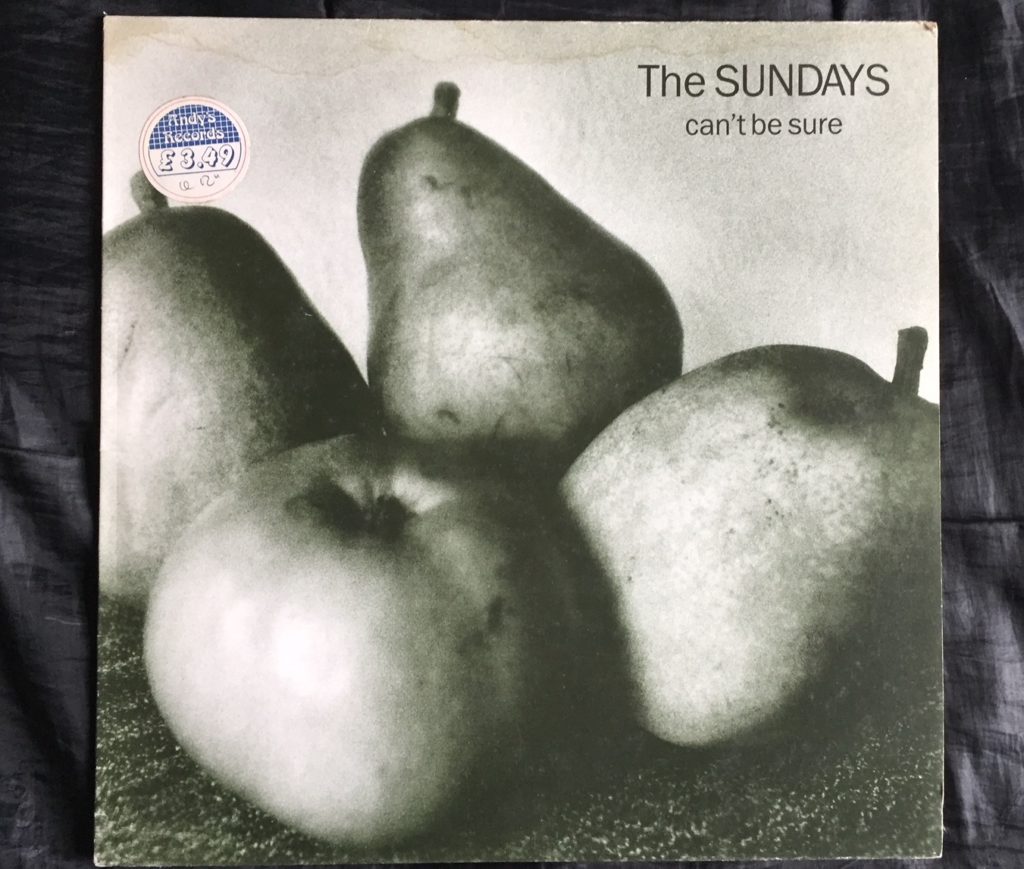 ---
Half time coffee break… with Sam's mug, San Francisco way.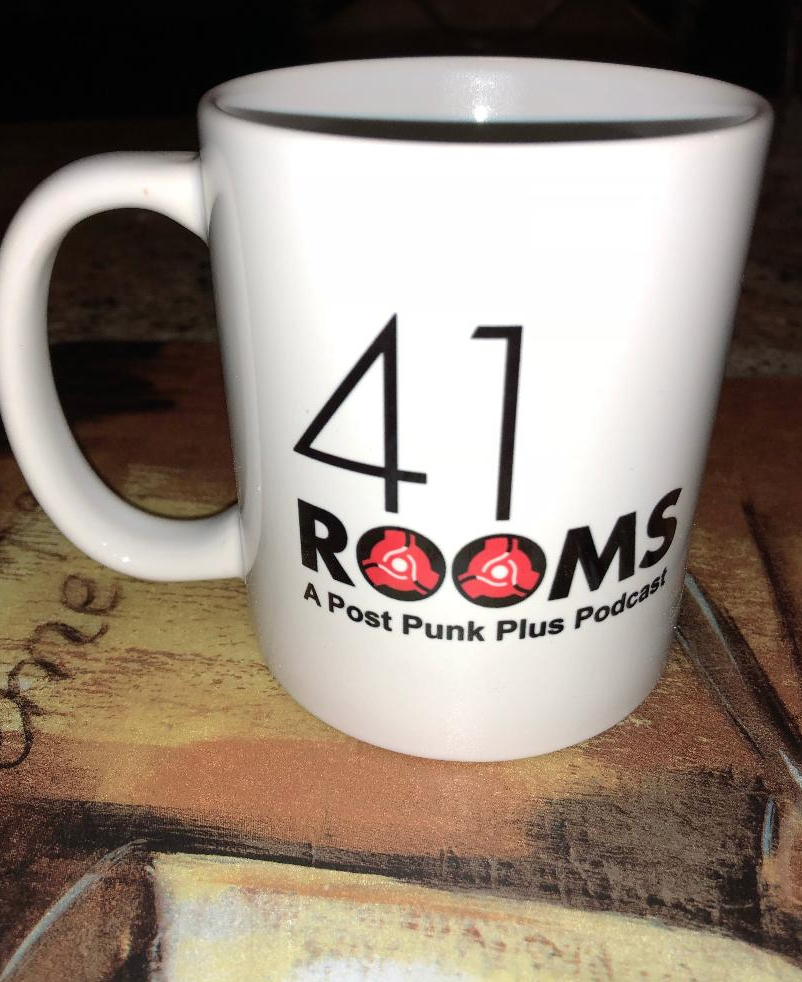 ---
01.02.30
HELP STAMP OUT LONELINESS – Biergarten – Self-titled, CD only – Where It's At Is Where You Are / Papillons Noirs – 2011
In 2011? Indie for grown-ups, maybe.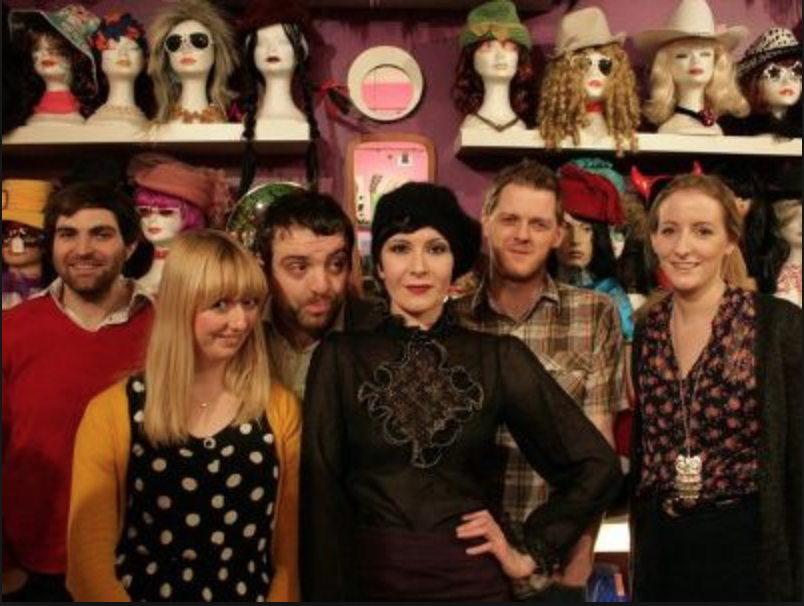 ---
01.05.57
KITCHENS OF DISTINCTION – Railwayed – Strange Free World, LP – One Little Indian – 1990
Lead track from the album, and beyond a US promo only 12″ (where it was coupled with the equally magnificent Drive That Fast) if it had made it to full release it would have also featured as a 41 Rooms great double sided single. This is one storming tune and every time I hear it I have a vision of a very young Jenny Agutter standing on a train station platform waiting for her dad to come home. Inspiration for the lyrics. Who knows?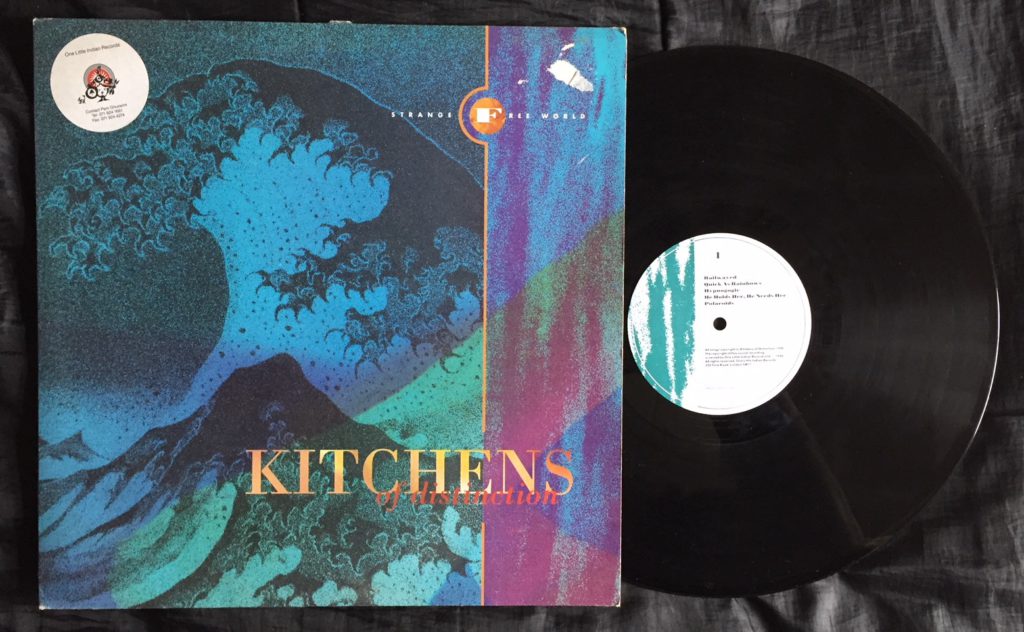 The Catalogue #65, Nov/Dec '88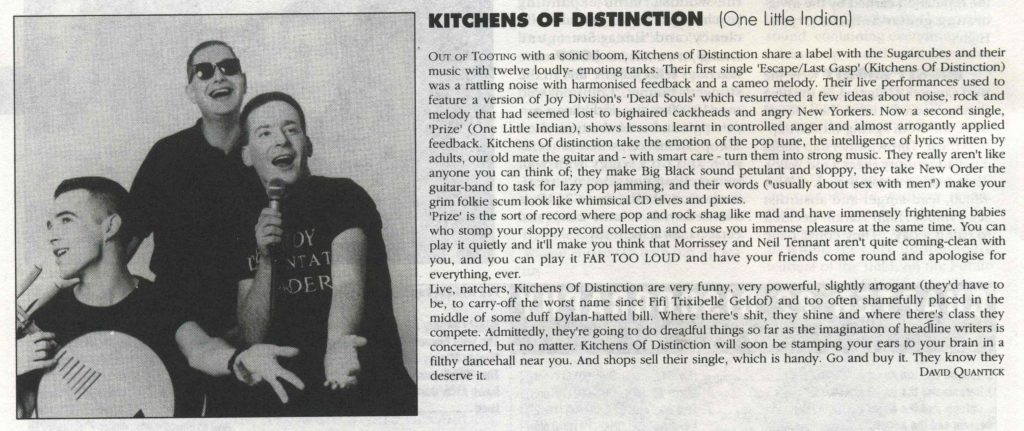 ---
01.10.45
THE CHAMELEONS – Perfume Garden – What Does Anything Mean? Basically, LP – Statik Records – 1985
They never made poor records.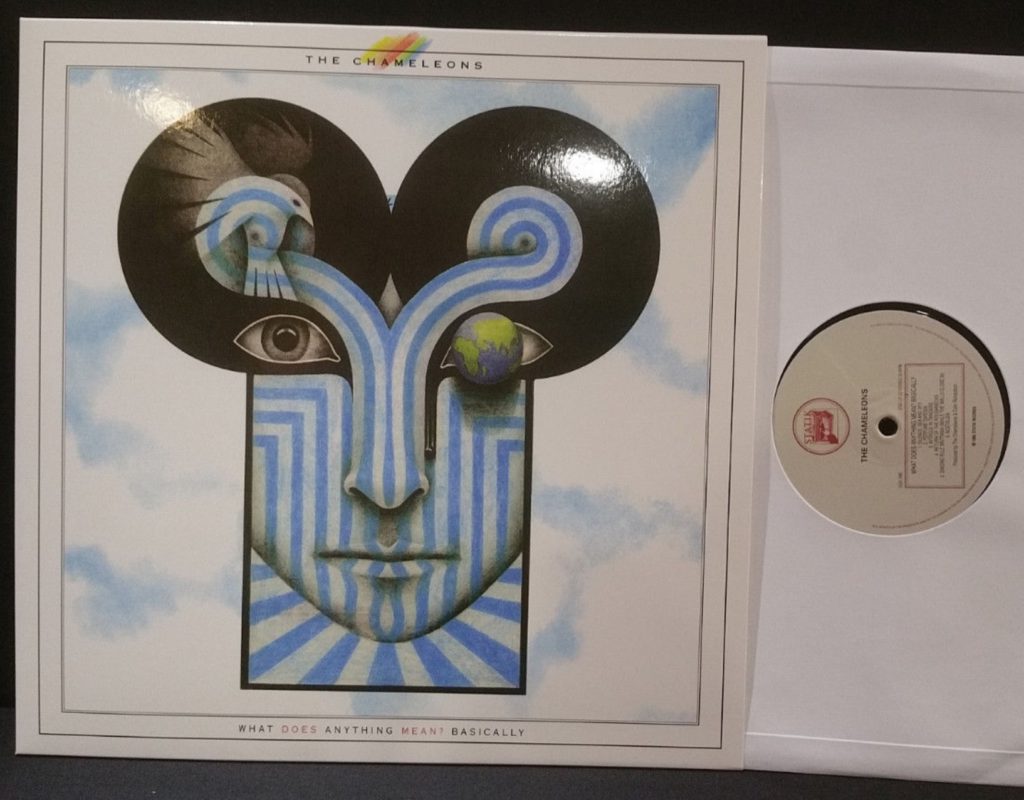 The Catalogue #25, May '85. When a 10,000 run was seen as a limited edition.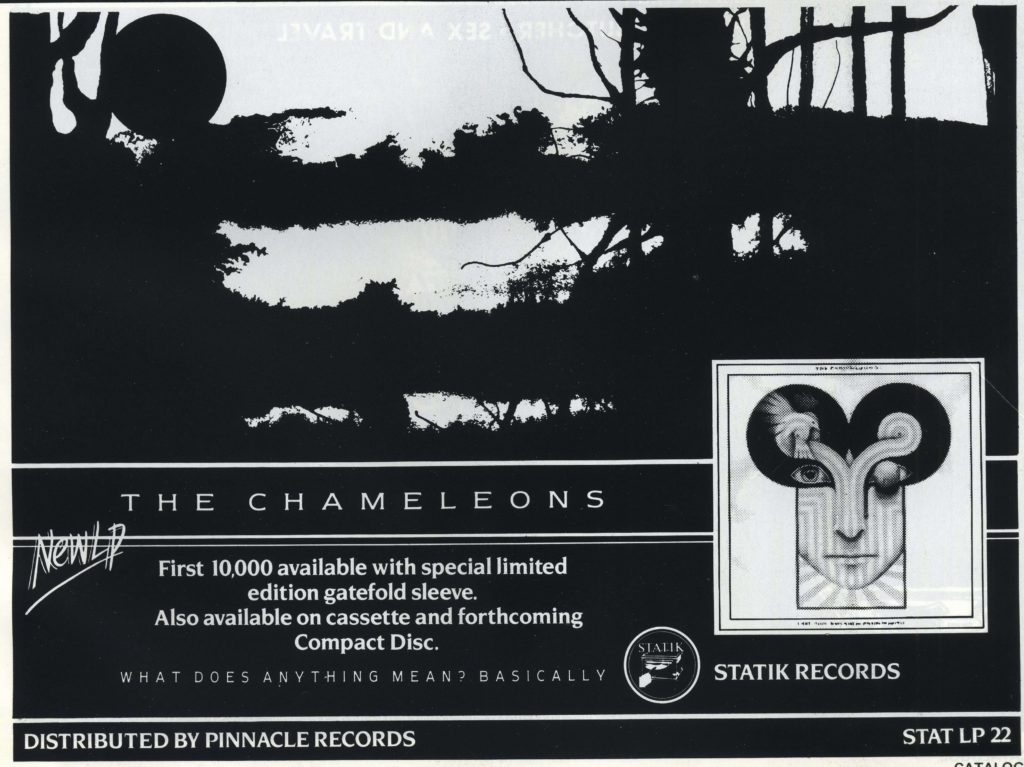 ---
01.14.55
JOSEF K – The Angle (One Angle) (Crépuscule Single Version) – 7″ b-side – Les Disques Du Crépuscule – 1982
The 'Farewell Single' would have been yet another in the series of 41 Rooms' great double sided 7″ers if I hadn't played the A-side on an earlier show and not thought about the b-side. Note to self… pay more attention.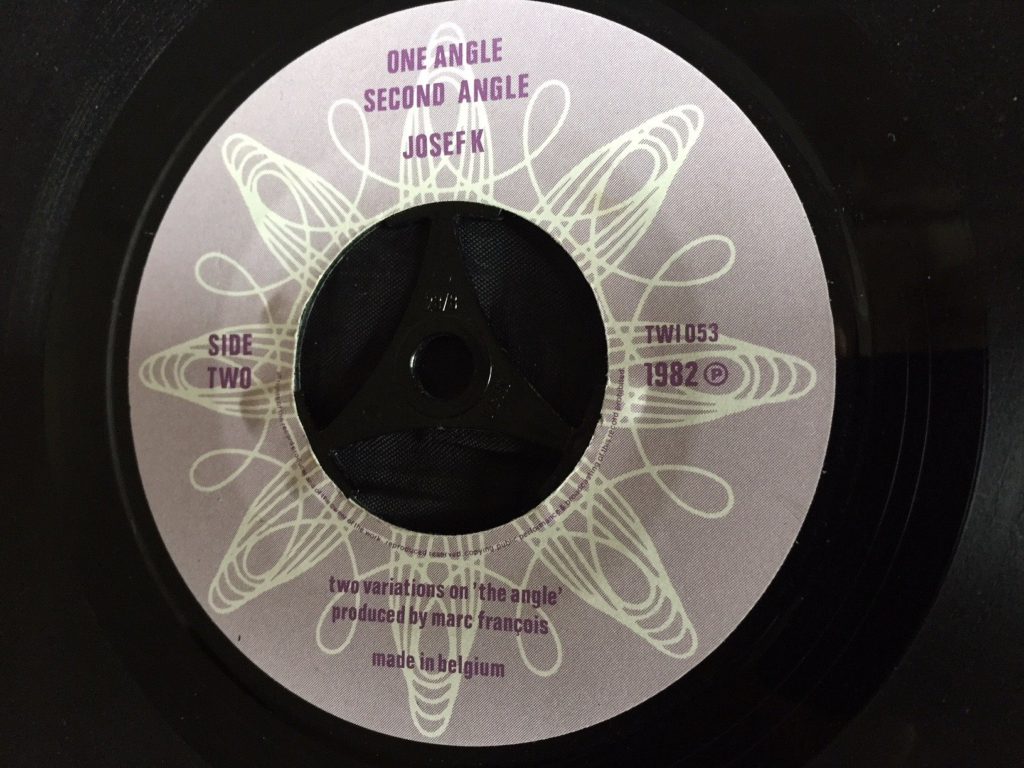 ---
01.17.29
ELECTRIC GUITARS – Health – 7″ – Fried Egg Records – 1980
Early Talking Heads springs to mind, plus others I presently can't quite also bring to mind.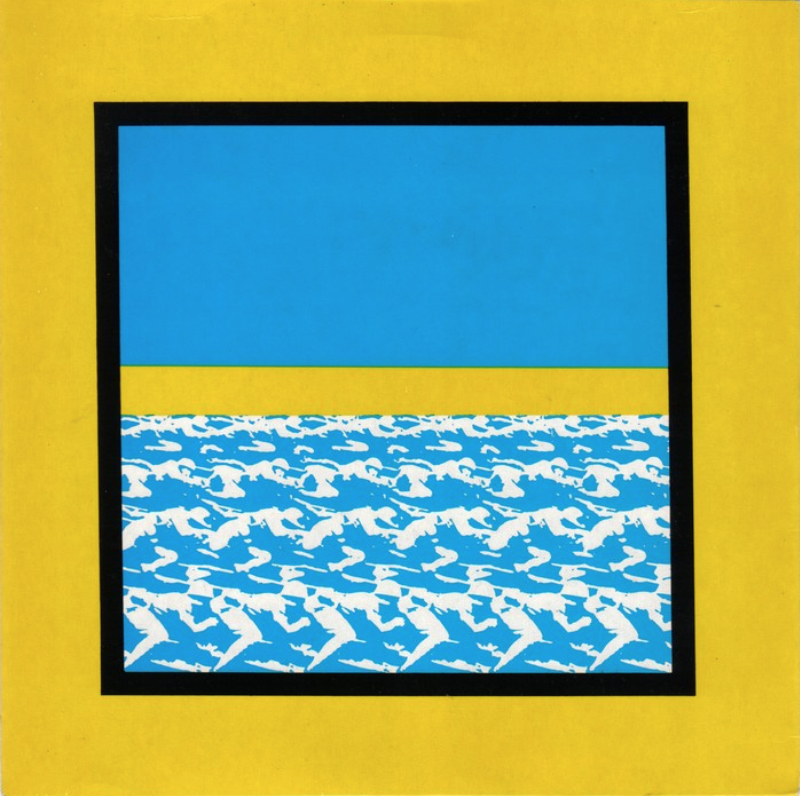 ---
01.19.41
RACHEL SWEET – It's So Different Here – Fool Around, LP – Stiff Records – 1978
I happened on Rachel Sweet via Stiff's cheapie, 'scratch and sniff rubber' Akron Compilation, out the same year as her debut album above… which might have been about the first time I realised Akron was a town!  There must have been something in the water there as both Ms Sweet and her fellow 'Akronite', Jane Aire have, more generally, a bit of a Brenda Lee cum Ronnie Spector thing going on with their voice boxes.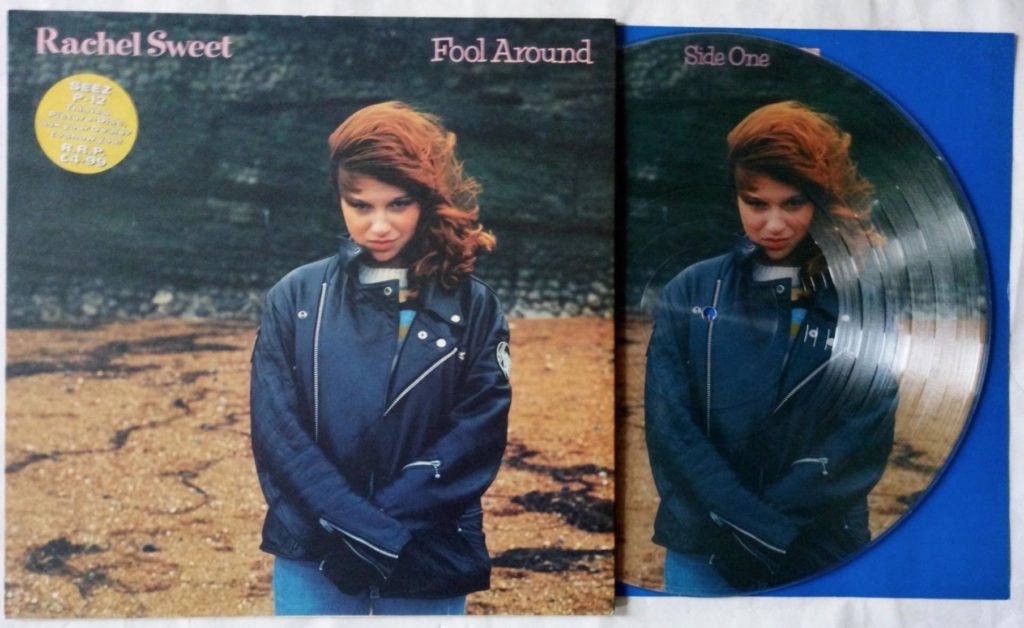 ---
01.22.29
LANI HALL – Peace In The Valley * – Hello It's Me, LP – A&M – 1974
One of the two original, female vocalists in Sergio Mendes'ssssss Brasil '66 and later to become Mrs Herb Alpert with a solo career and record deal on the man's co-owned A&M label. I don't suppose it was a huge struggle getting that.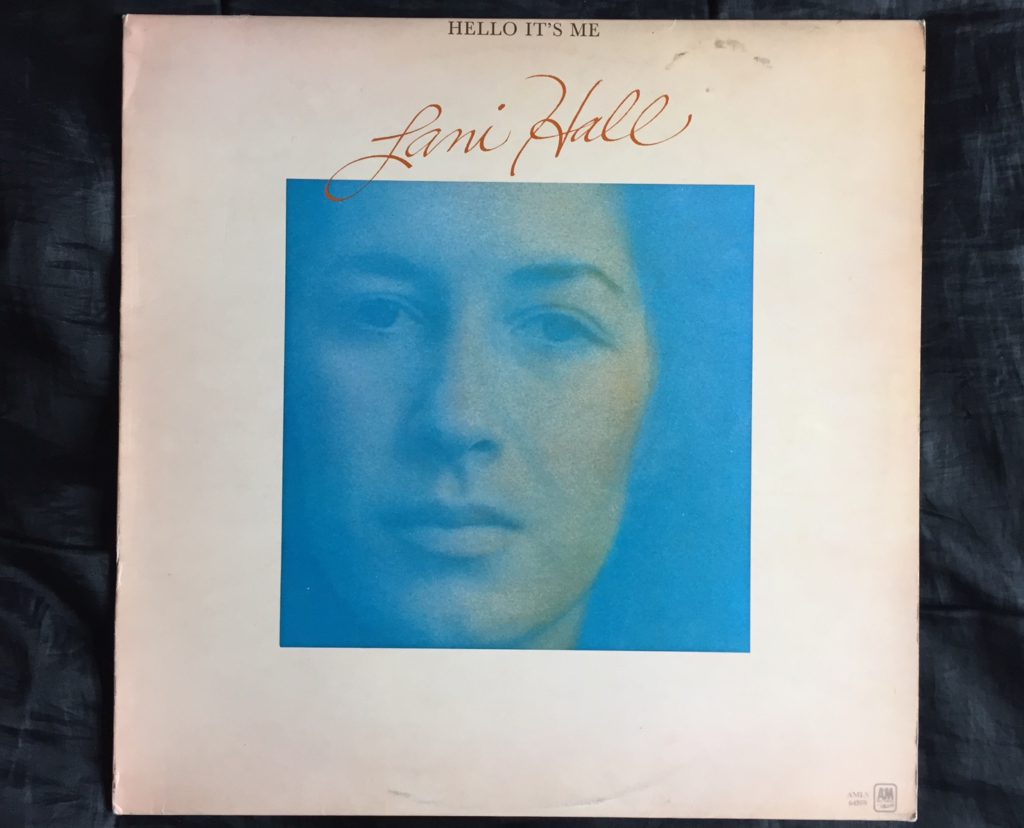 ---
01.26.23
THE CARPENTERS – All I Can Do – Offering, LP – A&M – 1969
Unusually for them, Richard and Karen steppin' on the gas!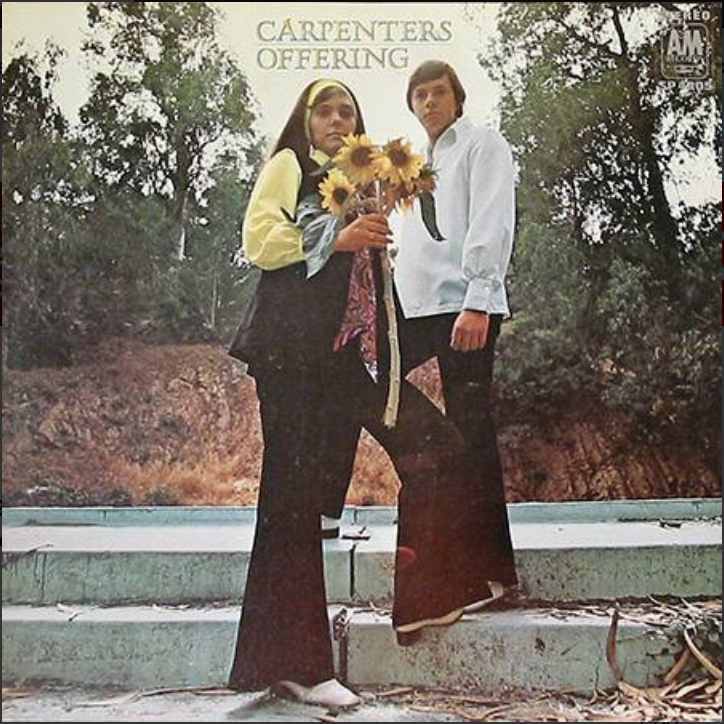 ---
And unwittingly continuing with a (vague) Carpenters connection… 🙂
01.28.03
NAO – Bad Blood * – For All We Know, 2LP – Little Tokyo Recordings – 2016
'Wonky funk' the girl herself calls it. One edition of this double album should have featured one yellow and one green (turquoise/teal?) disc but had two green (definitely looks turquoise/teal to me) discs… and another edition, of 750, had the plum red discs that were intended. 🙂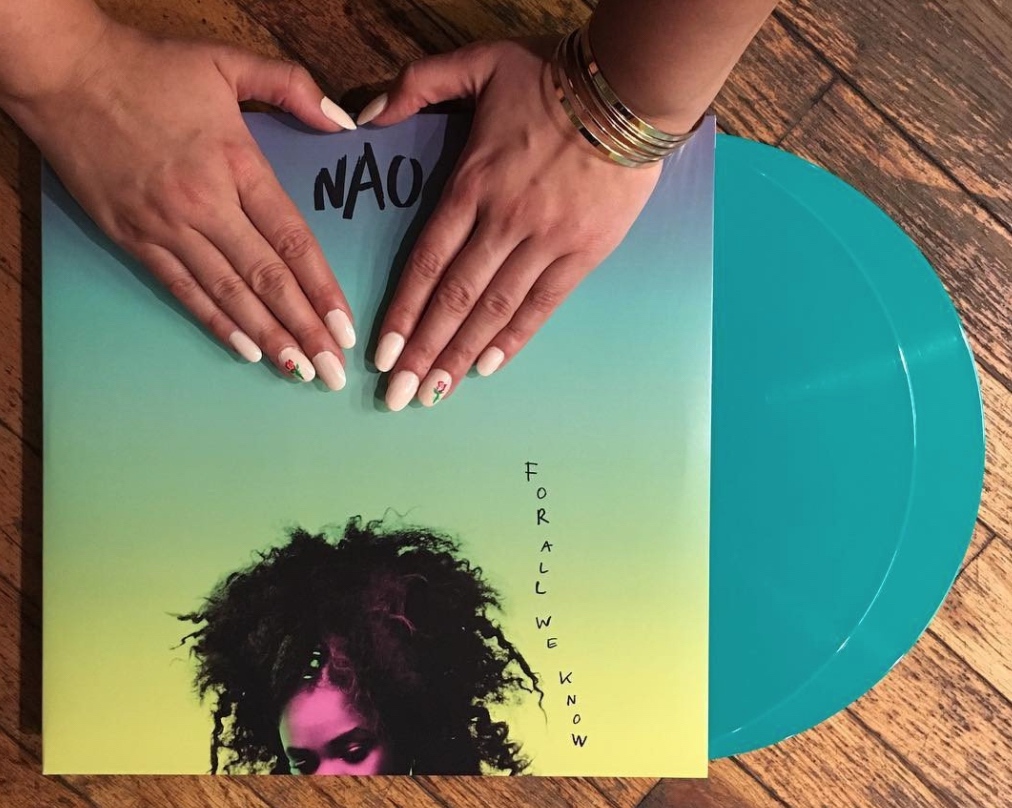 ---
01.31.51
PORTISHEAD – Pedestal – Dummy, LP – Go! Beat – 1994
Slow… beats… classic.
---
01.35.26
PARLIAMENT – The Silent Boatman * – 7″ – Invictus – 1970
I would have been 13 or 14 when I first clocked this, around the time of its release. Under the bedclothes late at night, with my mini plastic radio's earpiece picking up from Bedford, England the off-shore and seemingly out in space sounds of Radio Luxembourg. George Clinton and Co may have kept with the bagpipes idea(!) of writer Ruth Copeland's original but the P-Funk boys version has forever been in any potential Dec's Top 50… and it'll be there til the day I shuffle off. As spiritual as it can be for someone who's pretty convinced any boat Copeland and Parliament may be hoping awaits them just isn't going to materialise.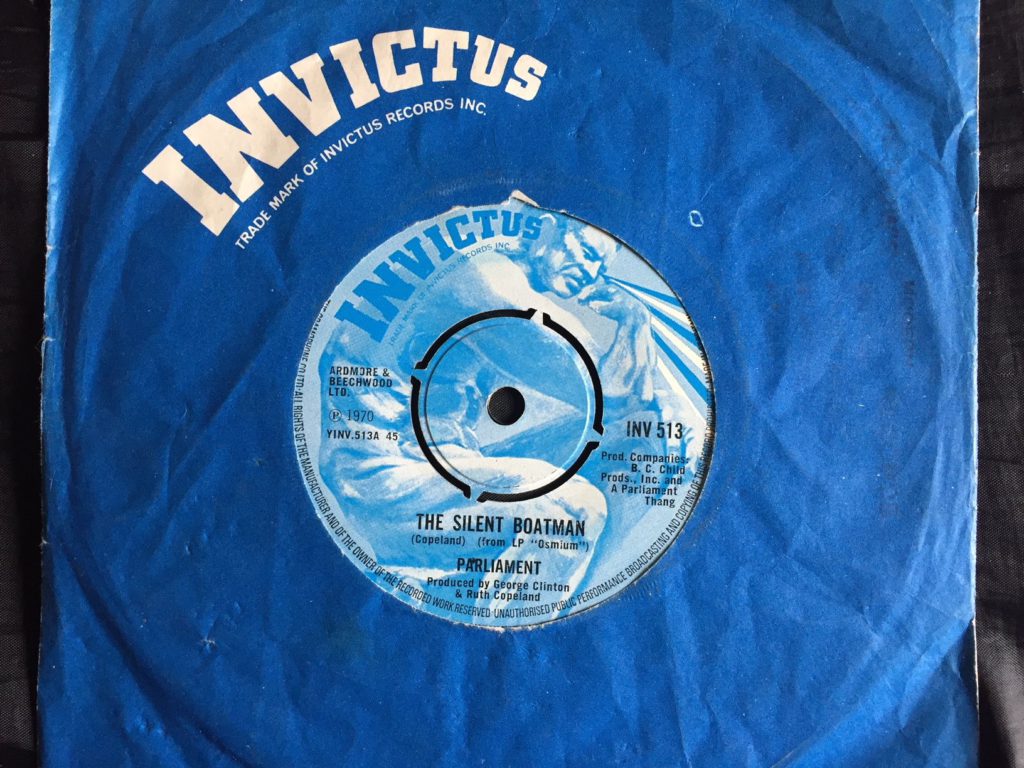 01.38.52
THE MARBLES – By The Light Of The Burning Candle – 7″ b-side – Polydor – 1968
No surprise that the voice belting out this Bee Gees written cutie, Graham Bonnet, went on to front a version of Rainbow. That's the band, not the kids TV programme.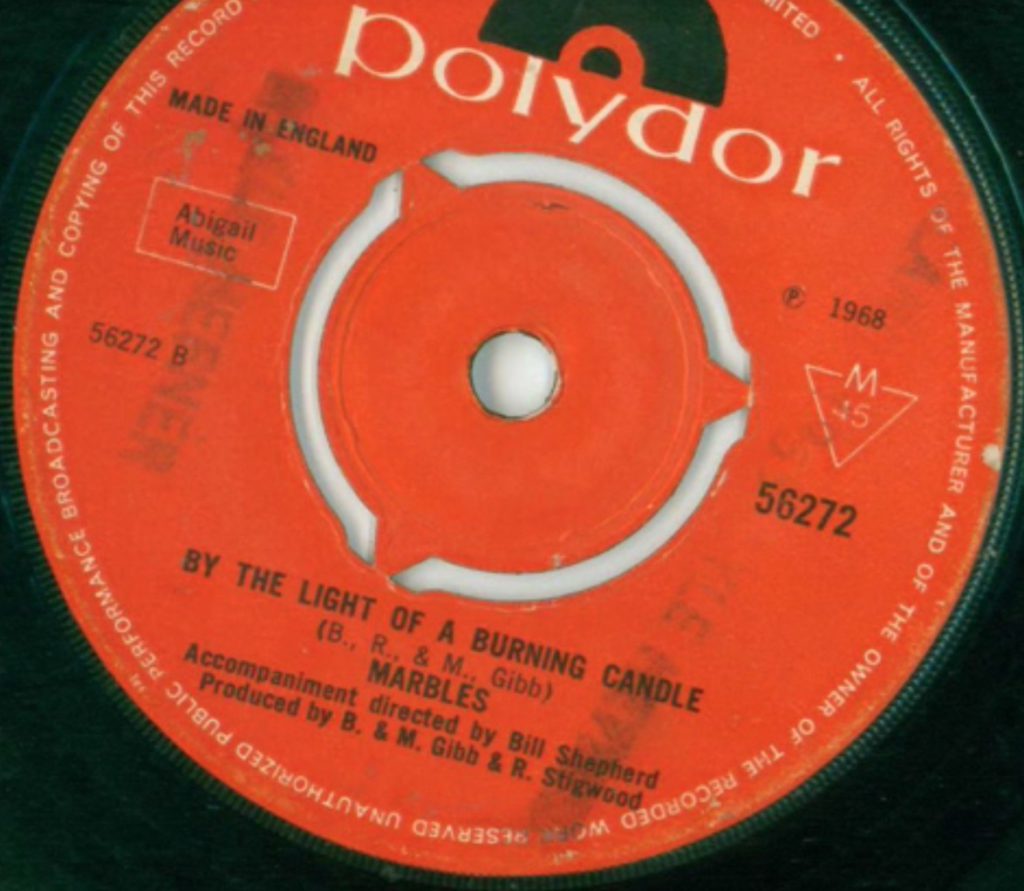 01.41.03
ICHI – Go Gagambo – split 7″ – Sweet Dreams Press – 2014
Split with partner, Rachael Dadd, the 7″ is a 'limited edition bug broach from Japan' run of 100 only and comes with liner notes. While you're flailing to find one of those, for some background there's a cool interview (with nearly more home interior photos than words) right here. And should you first check out the video for Go Gagambo its setting might surprise you.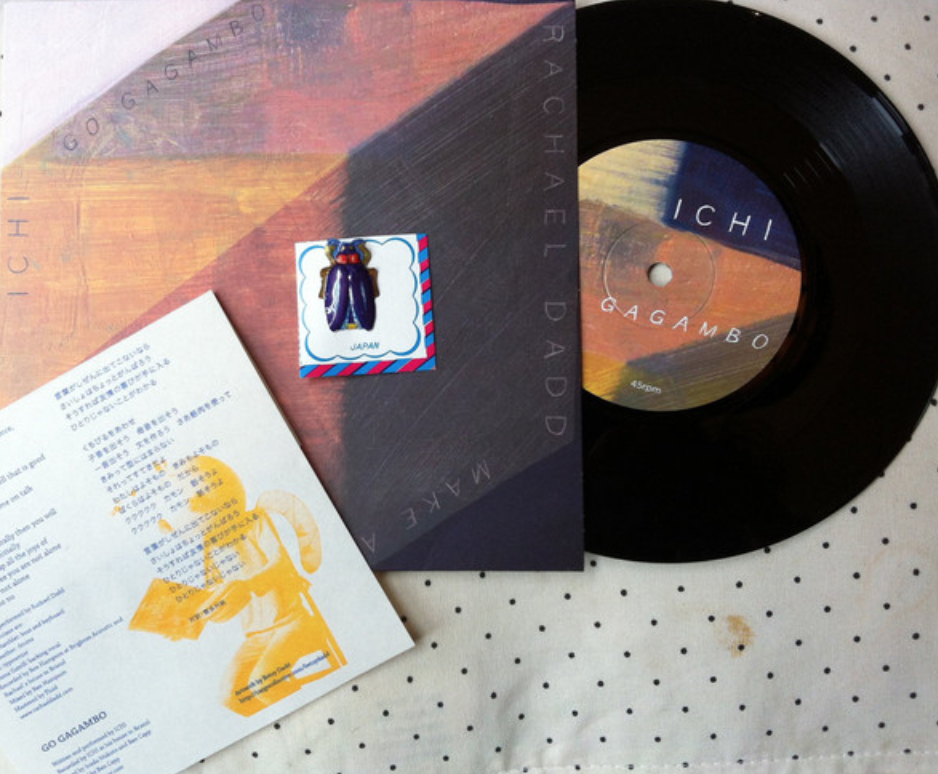 With the vinyl image covered, no excuse is needed to show some of the tools of Ichi's trade!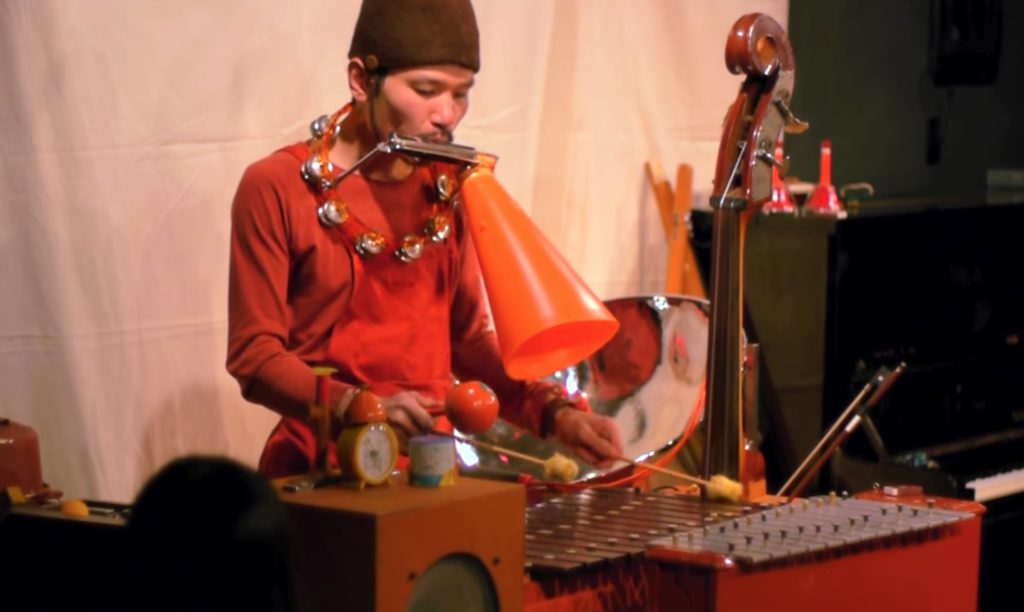 ---
01.43.20
ROOTS MANUVA vs THE FALL – Roots Manuva's Witness (1 Hope) vs The Fall's Blindness (Peel Session version) – Youtube and Soundcloud only – 2012
With the bass line lifted from Manuva's Witness by then Fall member, Jim Watts, it maybe was only time before someone slung these two together.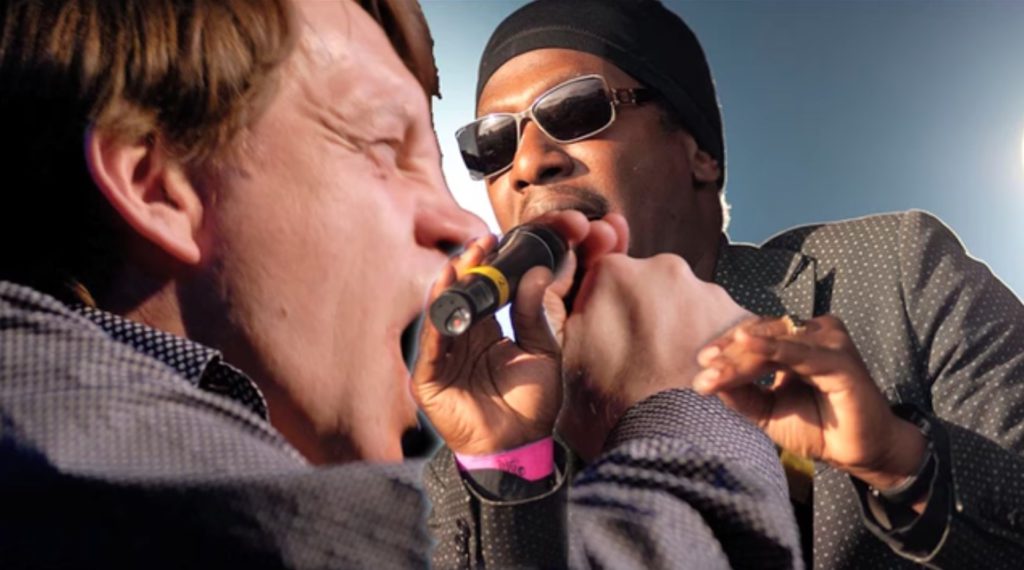 01.47.33
GUNSHOT – 25 Gun Salute – Patriot Games, LP – Vinyl Solution – 1993
When this album was released I was living only a few hundred yards away from the Vinyl Solution offices on London's Portobello Road. None of the firing was heard to ricochet across Ladbroke Grove, though.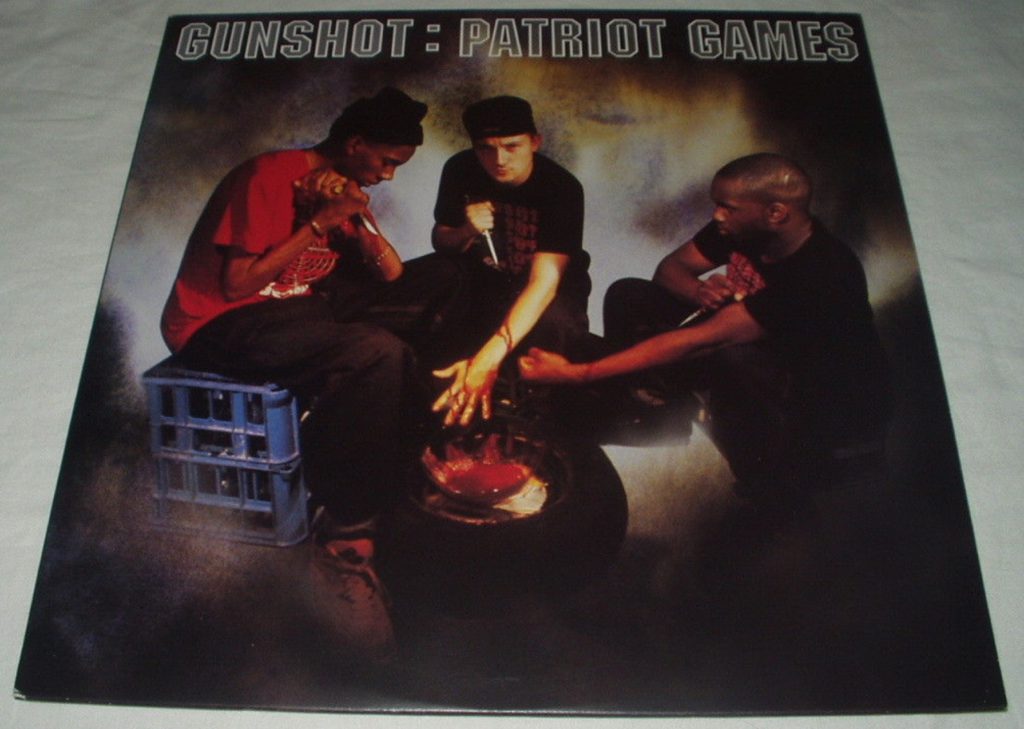 ---
01.50.28
GO HOME PRODUCTIONS – GHP Goes Bananas – Free download only – 2012
Suitably bonkers – as the subject matter is the Banana Splits – and Mark Vidler is the GHP man responsible for this affectionate homage to the late '60s children's(?) programme.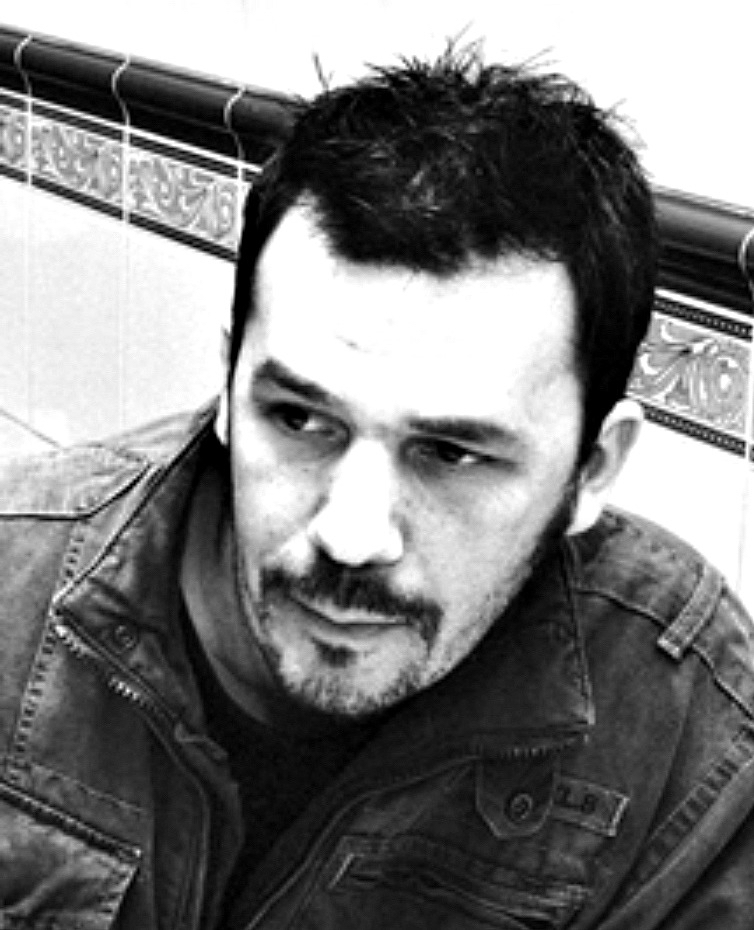 01.53.09
BOGSHED – Summer In My Lunchtime – Step On It, LP – Shellfish – 1986
A rare example of a 'two tempos' tune making it to 41 Rooms.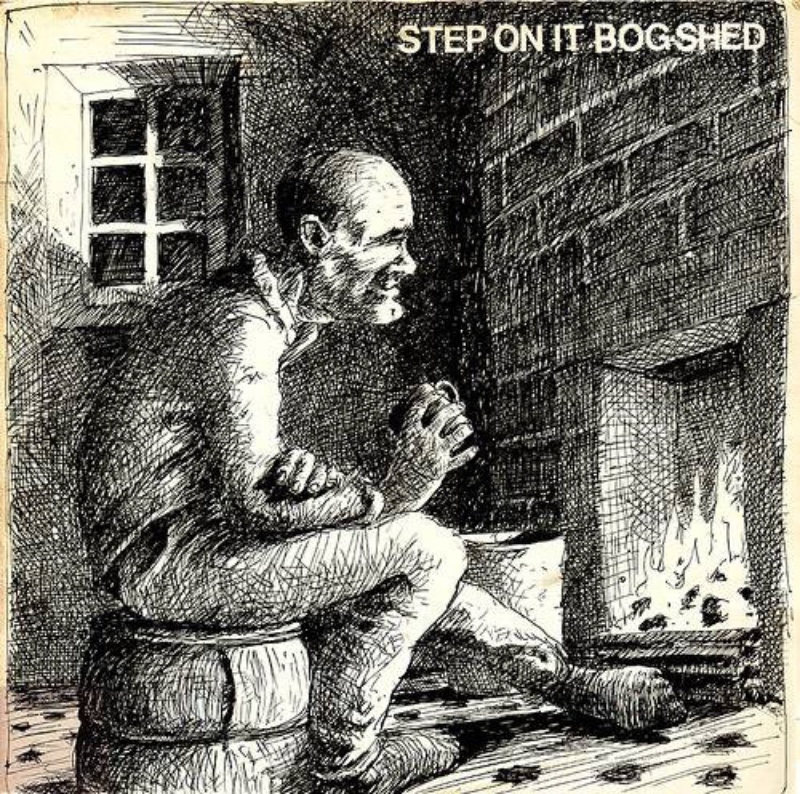 ---
01.55.38
NICK GREEN – Why Do I Need To Know – 7″ – Anxious Records – 1994
It would appear this swirling corker 7″ was the sum total of Nick's output as a 'pop' artist. Released on Eurythmic, Dave Stewart's label and with an album from the period unreleased, if you're only going to make one single then make it a good'un… and he did… and it should have made a mark. Thankfully for him he's gone on to have success writing music for TV – 'Wild At Heart' and 'Waterloo Road' being two such series to have benefitted from his input.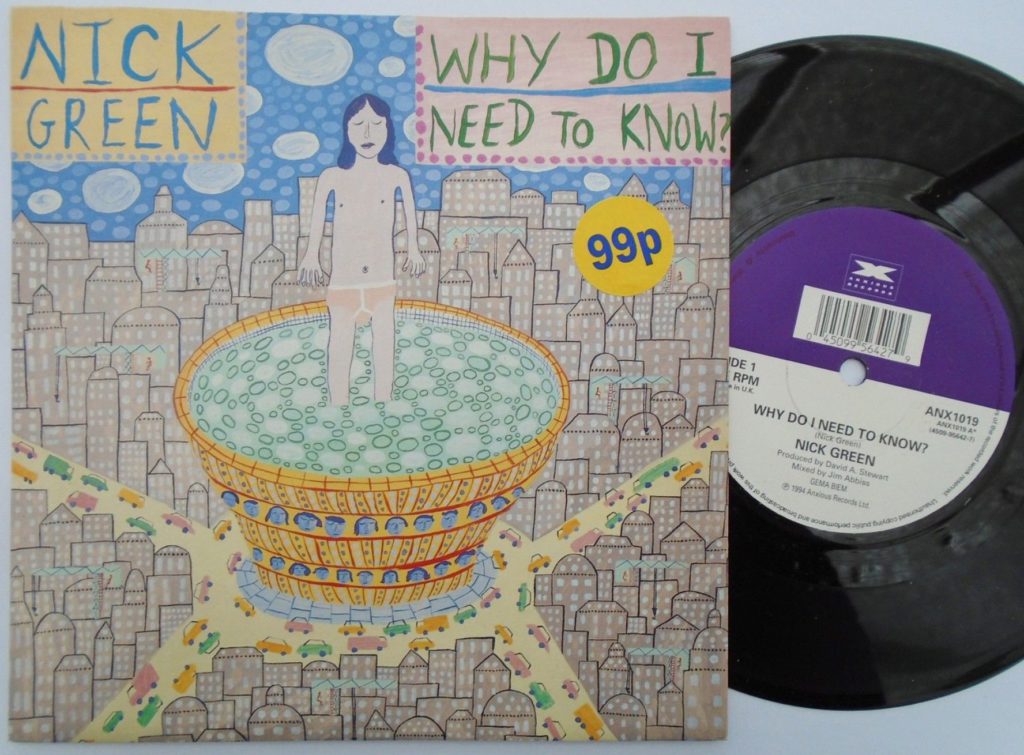 ---
Show 55 surfaces on May 6.
Dec