PLAYLIST 92 uploaded June 6, 2021
and is 89% vinyl friendly! Impressive.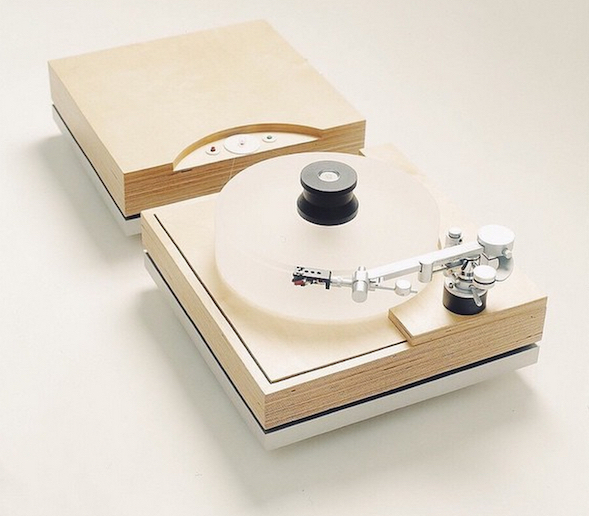 The Nordic Concept Reference Turntable, designed by A Better Life Audio Group. 'The Milky Bars are on me!'
---
Any track marked * has been given either a tiny or a slightly larger 41 Rooms 'tweak'/edit/chop.
---
Lyric of Playlist 92…
The weight of Tim's regret just about shades Joni.
---
00.00
(Intro) THE FLAMINGOS – Stars (Edit) – Unreleased demo – 1983 Episode #1 for info.
---
00.41
NEW ORDER – Mesh – 1981-1982, 12″ EP – Factory (US) – 1982
It's a subjective thing, obviously (and as time moves on and the band's fan demographic spans yet more decades/generations, that becomes more relevant) but albeit a compilation, for me this is one of the near perfect New Order releases.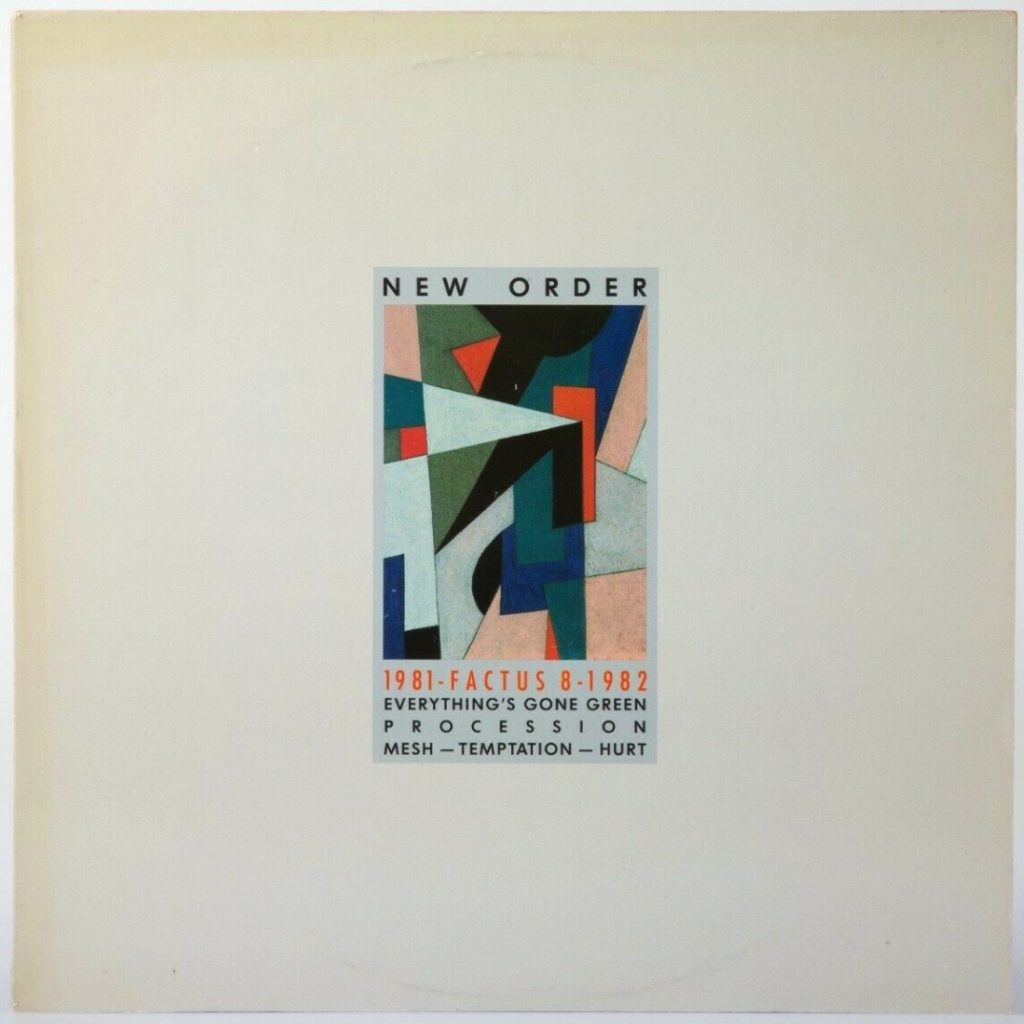 ---
03.37
CABARET VOLTAIRE – Red Mask – Red Mecca, LP – Rough Trade – 1981
An album that surfaced in the same year our Winkles club nights started and it sounds even better to these ears now than it did back then, when this track was the only one I spun on the decks.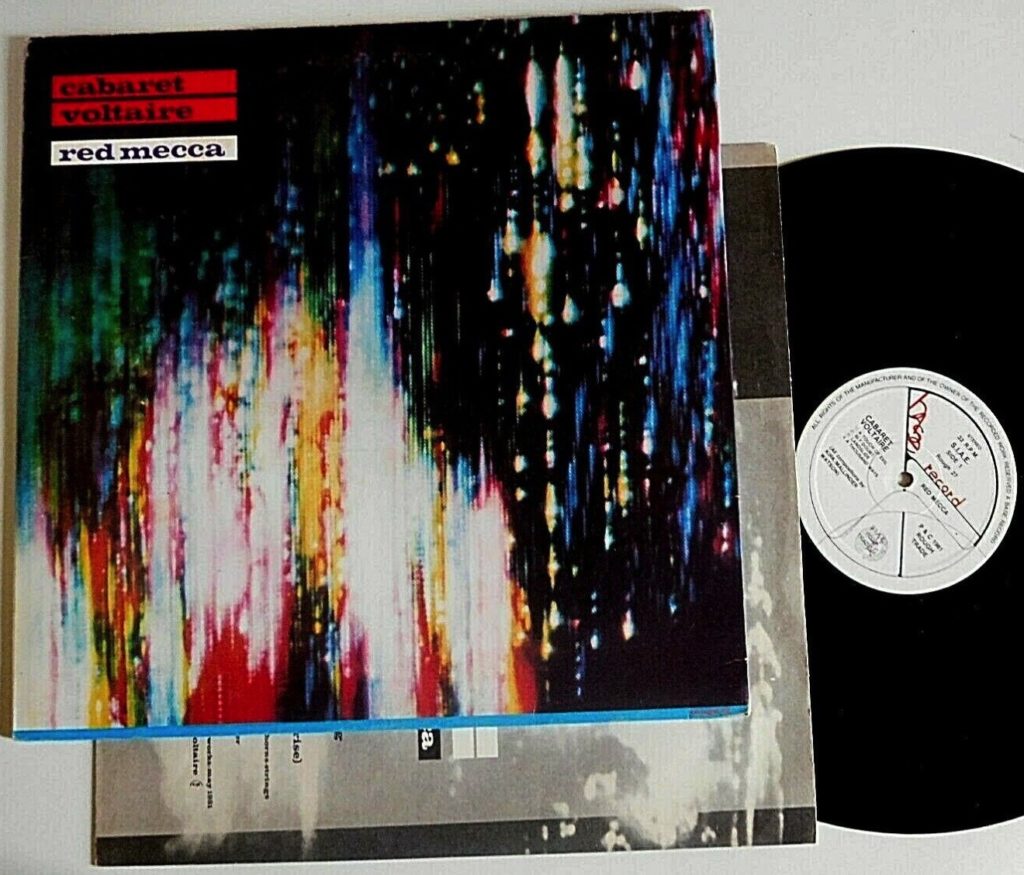 ---
10.23
CLICK CLICK – Sweet Stuff – 12″ – Rorschach Testing – 1985
Well, in being one half of the short lived label that released this Sounds magazine Single of the Week 12″ and also the manager of the band through til their initial break up in late 1989, I have more of a connection with this track's existence than almost all the other nearing 2700 tracks played on 41 Rooms to date.
L to R – 1st run: Yellow and blue envelope-style 12″, produced by CC drummer, Derek Smith (1000 copies), a white label test pressing and the 2nd run, red sleeved 12″ (2 x 1000 copies, I think)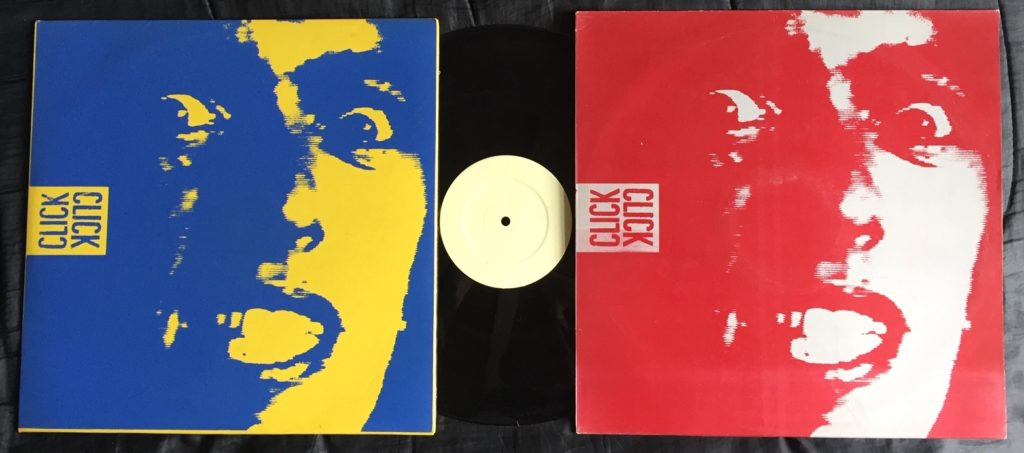 One the original metal stampers for Sweet Stuff and a 14×17″ poster.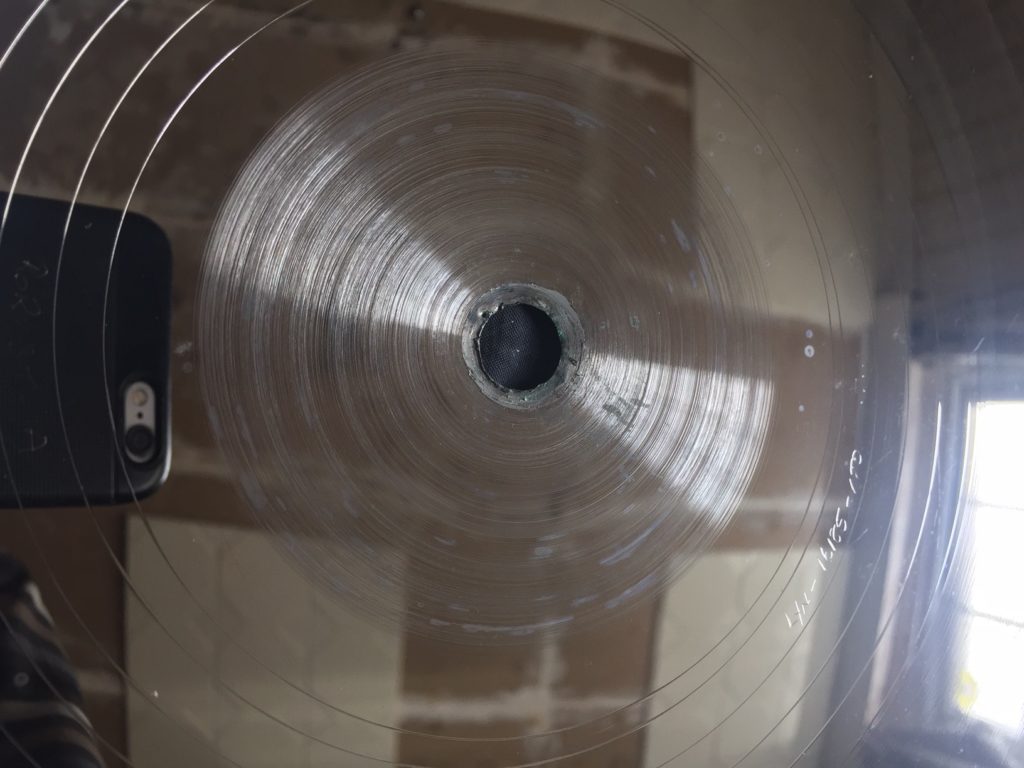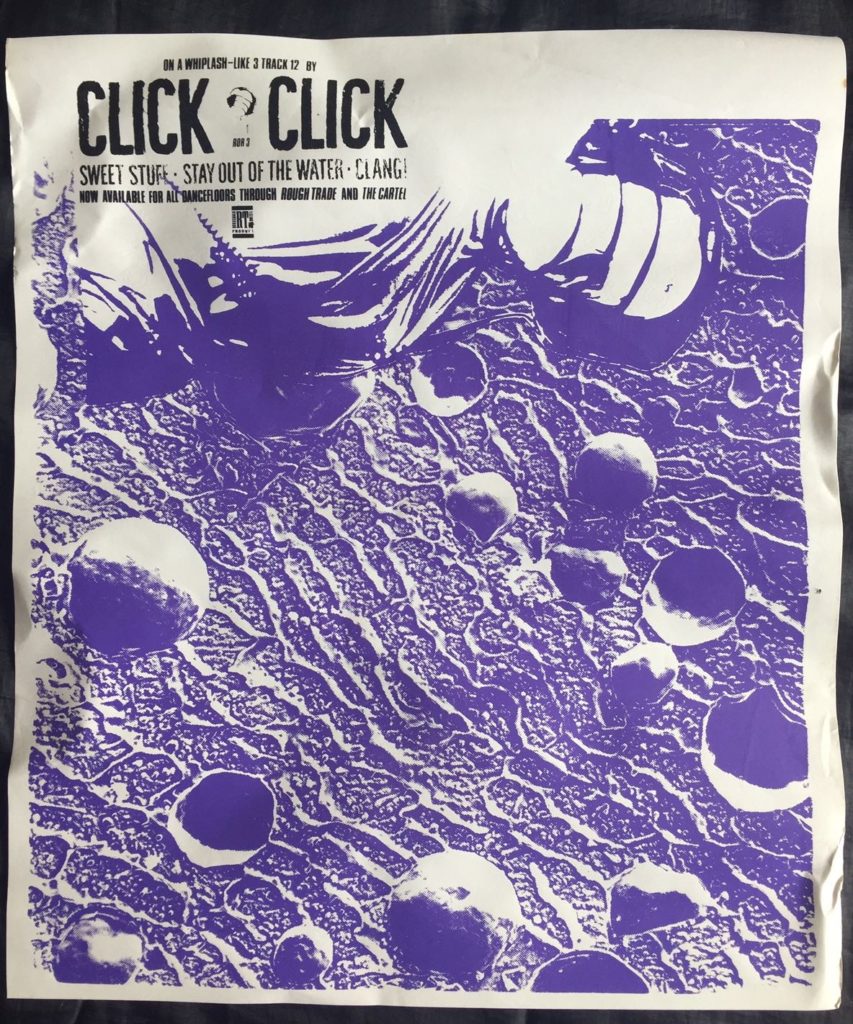 ---
14.39
P(ublic) I(mage) L(imited) – Careering (John Peel Session, 1979) – Metal Box, 2×12″ Deluxe Edition Boxset – Virgin – 2016
From their only ever Peel session – and with Lydon in captivating form – a track immortalised in an appearance on the Old Grey Whistle Test. The Beeb's stage was never more lurched around on.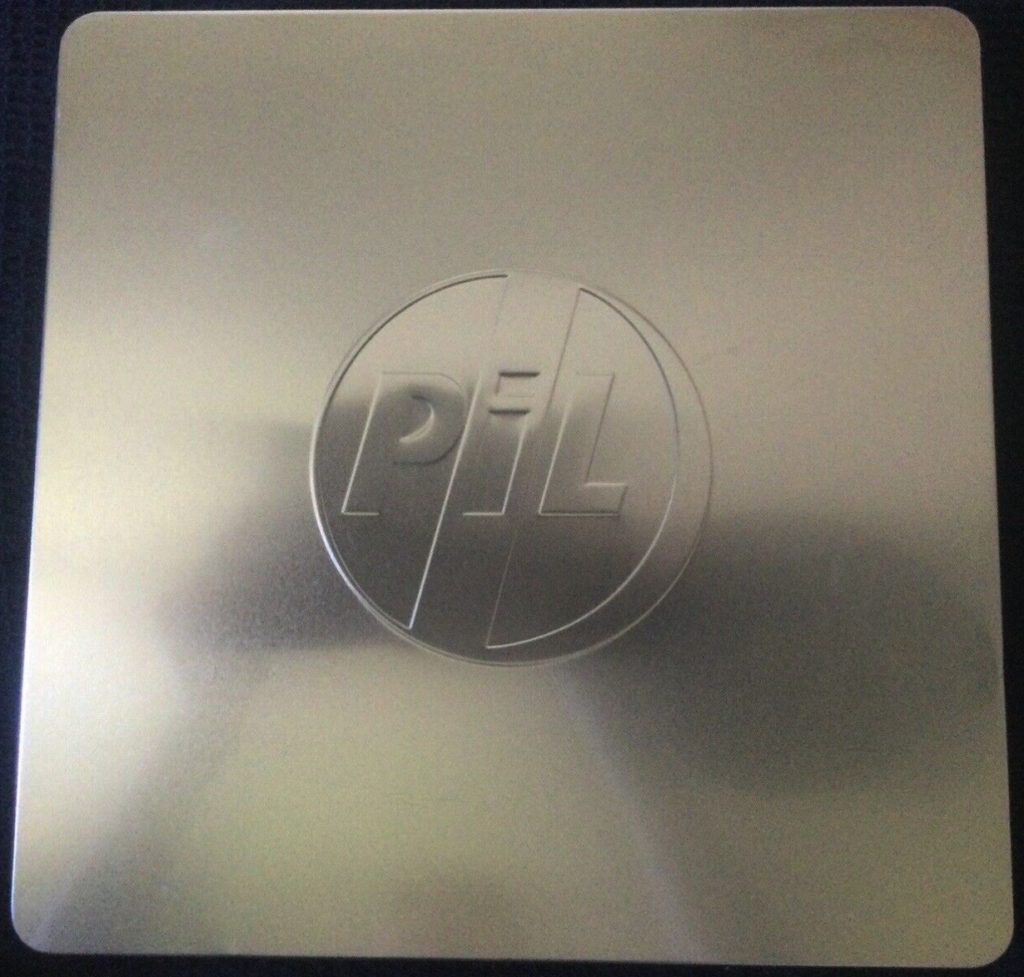 ---
22.08
FAD GADGET – Back To Nature – 7″ – Mute – 1979
A plodder of a tune… but in a good way. The late Frank Tovey's debut release.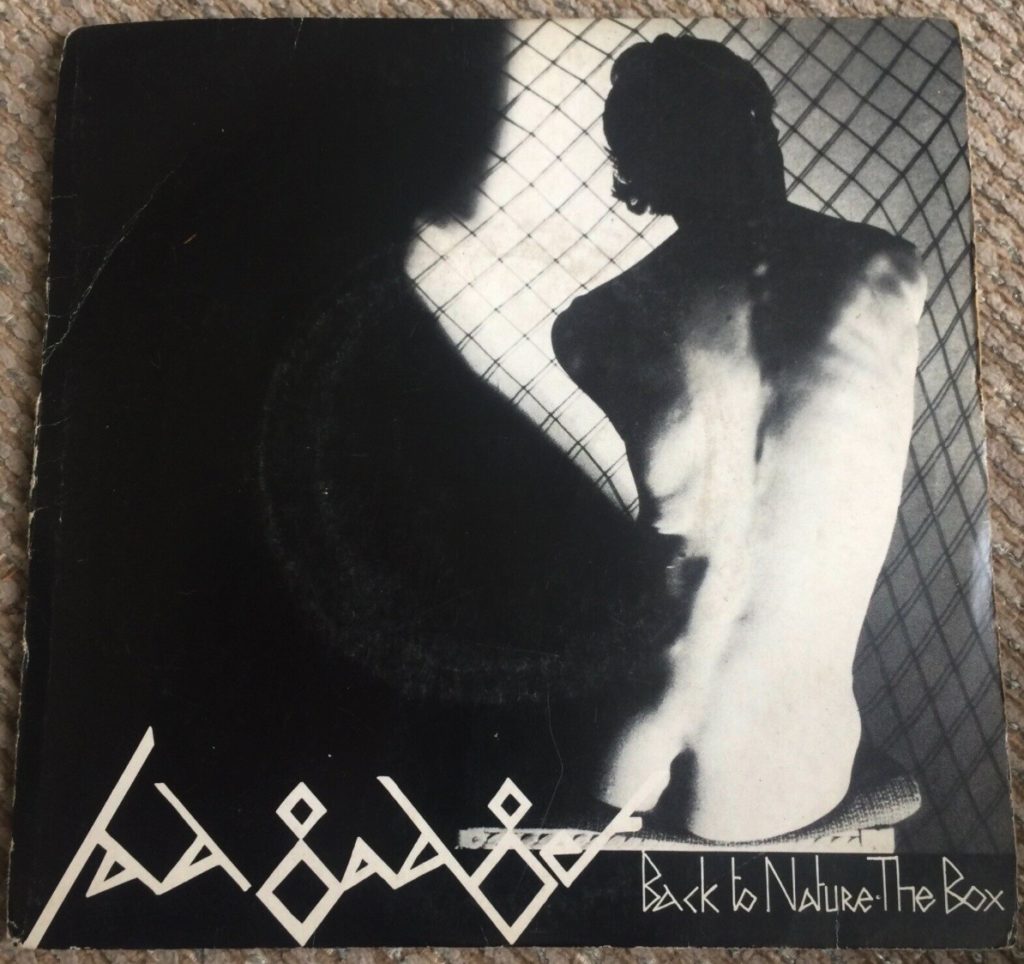 ---
27.05
NASMAK – No Touch And Go – 4our Clicks, LP – Plurex / Boudisque – 1982
Outside of their native Holland they were maybe under appreciated at the time but as slight as it may be, I think their appeal has maybe grown a little through the years.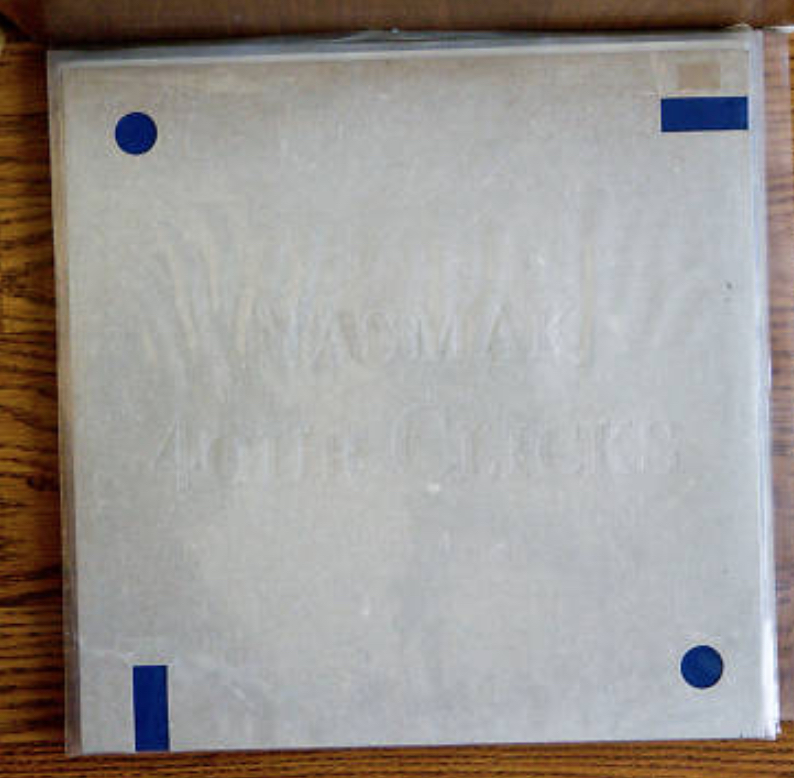 ---
31.25
MARC AND THE MAMBAS – Black Heart – 7″ – Some Bizzare – 1983
I'm not sure what all the flamenco and matador bizniz was about on the sleeve but Almond and his mambas had the more usual (for the time) 'goth-like' look on the Switch TV prog where I first heard this tune.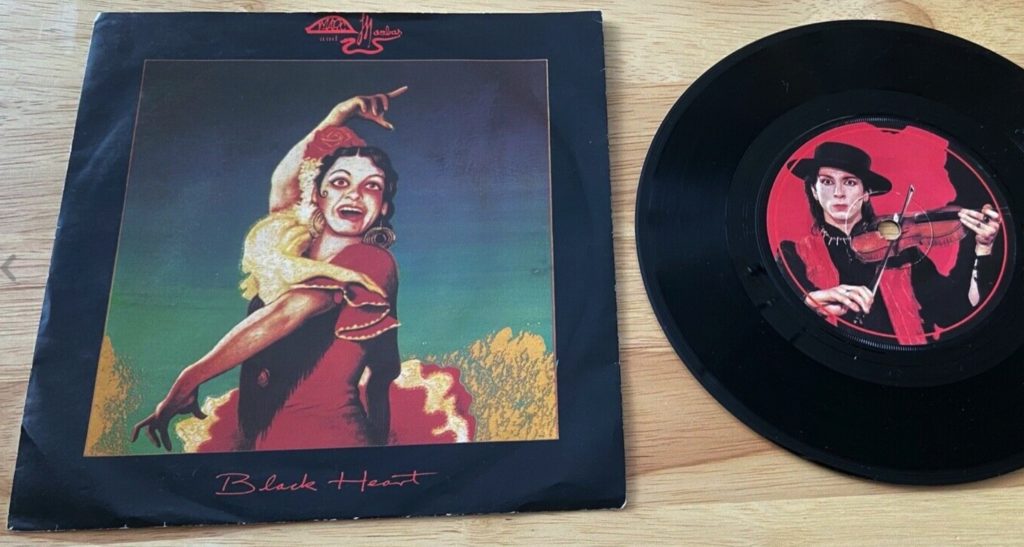 ---
36.05
EYELESS IN GAZA – Soul On Thin Ice – Caught In Flux, LP + 12″ – Cherry Red – 1981
Not a tune I heard them do live but a big fave of mine. Punk Folk, I'd say.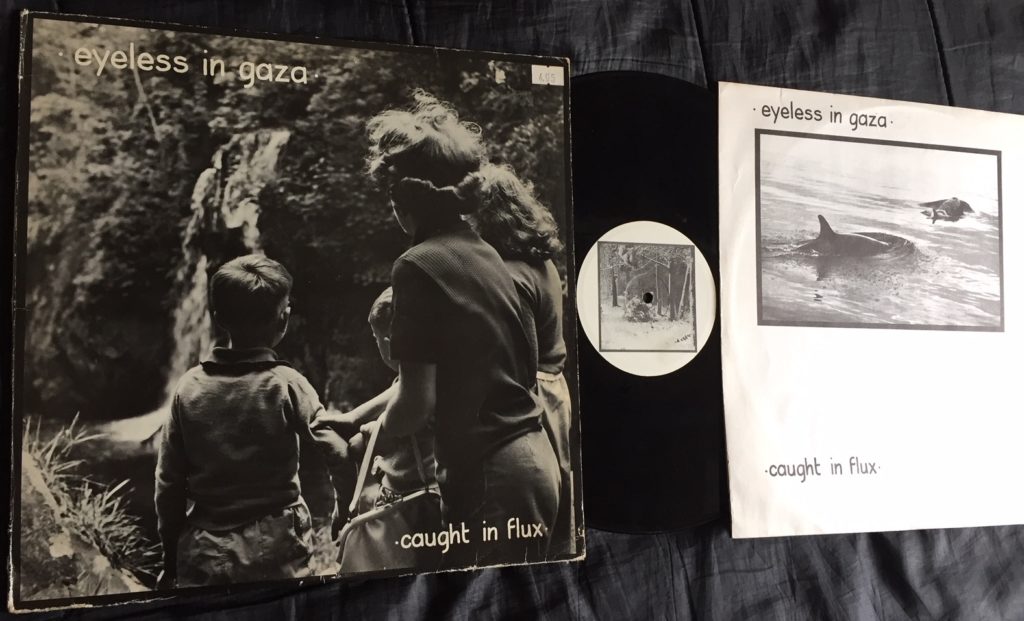 ---
38.54
COLLATE – Medicine – 7″ – Domestic Departure – 2021
'Limited edition of 500 copies with risograph printed covers' says Discogs. No mention there – or indeed via the site's five sellers currently with copies, or at Bandcamp where I bought mine – of the card included with my copy, currently residing in California. The single is still available, so I'd say head to Bandcamp. It's also the more direct route to financially helping the band / label. Here that's especially handy as 'all profits will be donated to Portland-based mutual aid groups, including Mutual Aid Alliance Portland & Fires Igniting the Spirit (Indigenous-led organizers of runs to bring critical supplies/resources to Indigenous communities)'.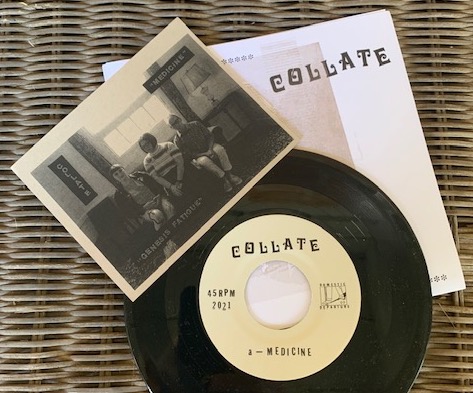 ---
41.05
LIQUID LIQUID – Optimo – 12″ EP – 99 Records – 1983
A band with a sound as current now as they had back in the early '80s then and that's reflected in the value put on their original releases – this one in four different colours.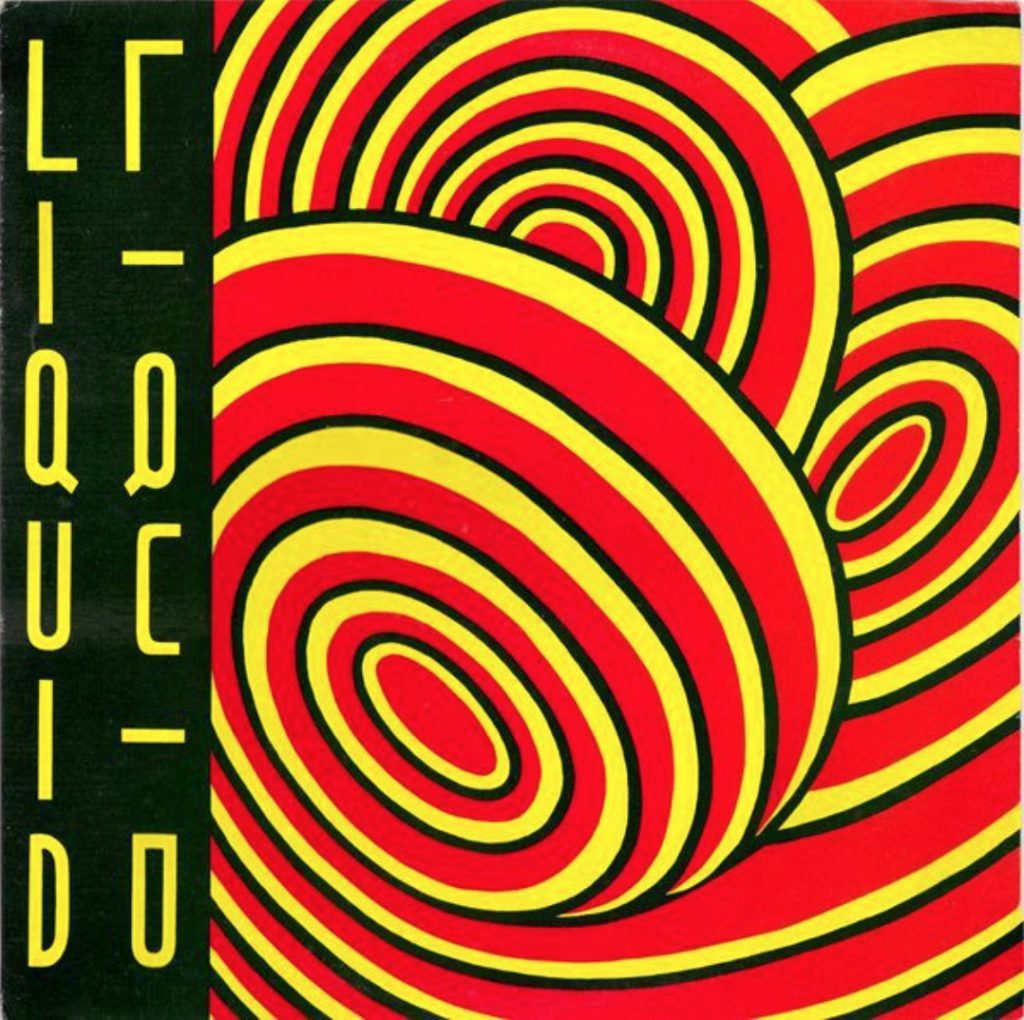 ---
43.42
CANDIDO – Jingo – 7″ – Salsoul Records – 1979
Bedford's Nite Spot, Spectrum, Stars and Castaways, Dunstable's California Ballroom, Luton's Sands or Northampton Cinderella Rockerfellas? Some of those I frequented only once or twice but the chances are that somewhere in there I was on a dance floor to this around its heyday. 🙂 My 12″ came in at £2.99 at the time, it seems.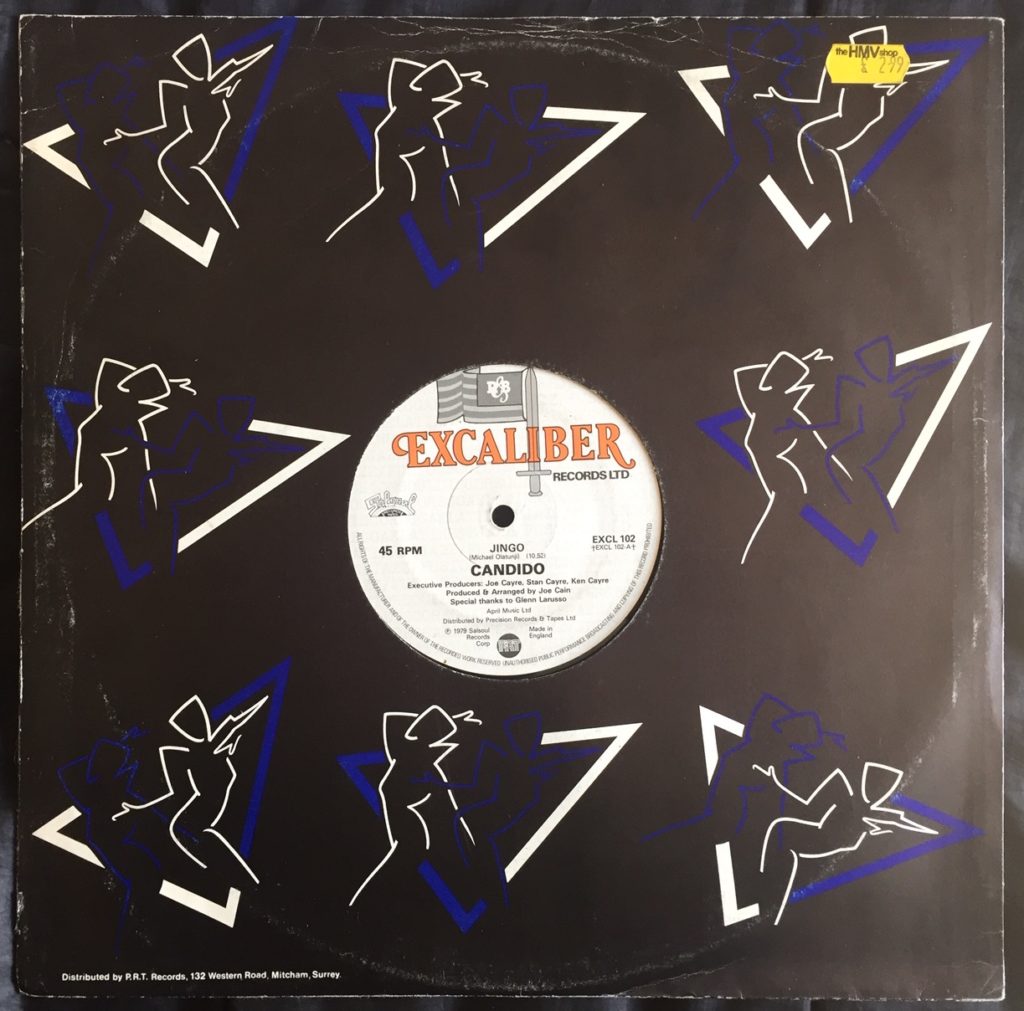 ---
46.37
NAO – Take Control Of You – So Good, 12″ EP – Little Tokyo Recordings – 2014
The third of her 'wonky funk' tracks to make it to 41 Rooms from this debut release.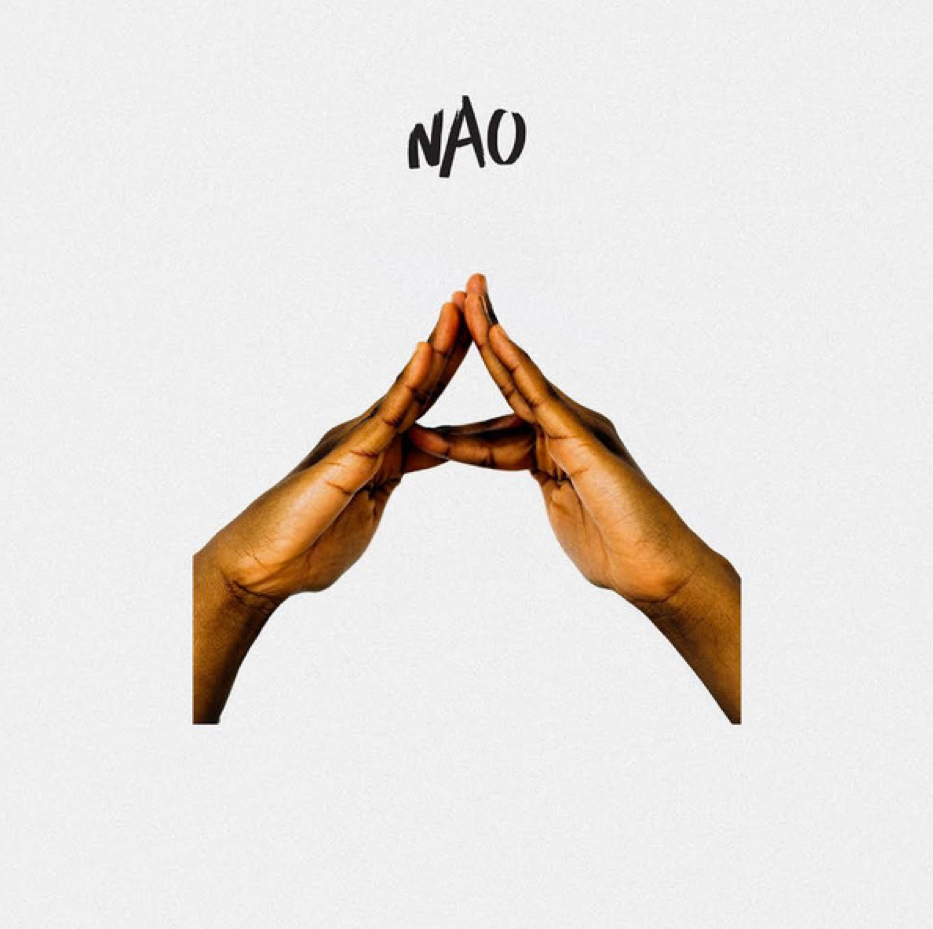 ---
50.36
ELECTRIBE 101 and LAURIE ANDERSON – You're Walking and Falling (Ambient Groove Dub) – Youtube – 2021
Crafted by one StellaVista and given the thumbs up by Electribe vocalist, Billie Ray Martin on Youtube (the only place to find this?), it's as cute in the lyrical match up as it is neat in the blend of the sounds.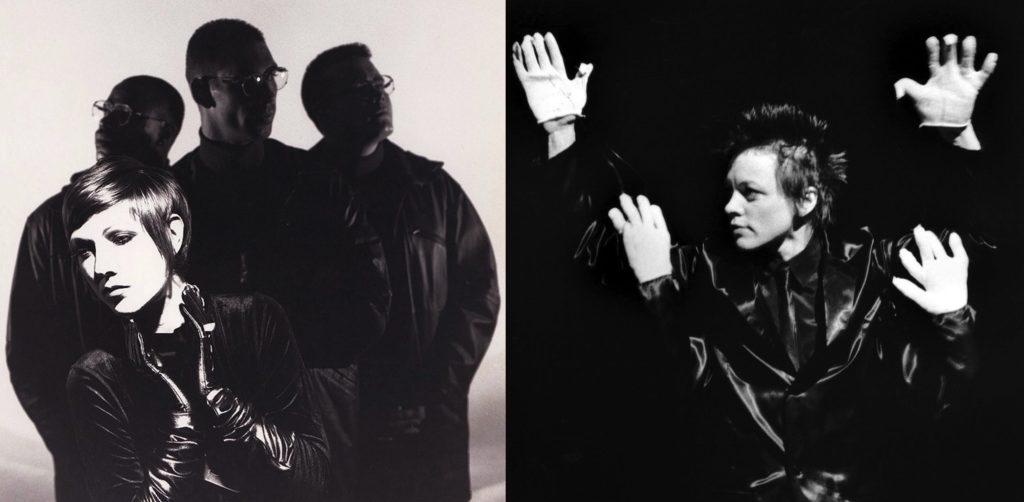 ---
56.22
DAVID BOWIE / PAT METHENY – This Is Not America – 7″ – EMI America – 1985
Specifically written for the film, The Falcon and the Snowman the song then seemed to gain its own life, even making it to Bowie's set for a show at the BBC in 2000.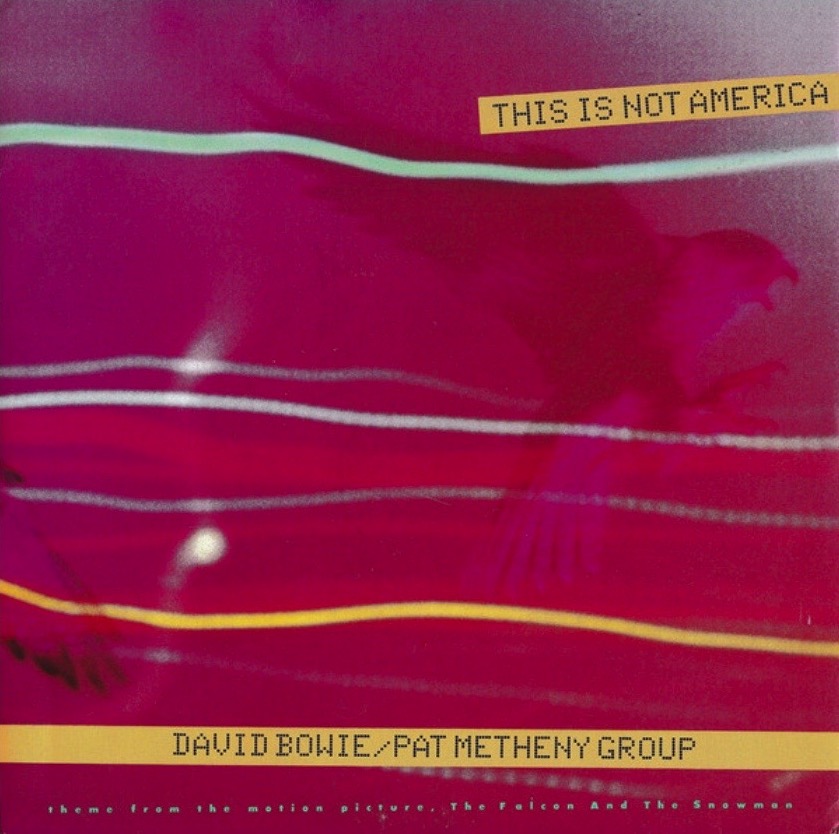 ---
59.51
THOMAS LEER – Memories Of Reason – The Scale Of Ten, LP – Arista – 1985
Not the first time Bowie and Leer have been side by side on 41 Rooms and interestingly their two tracks here came out in the same year.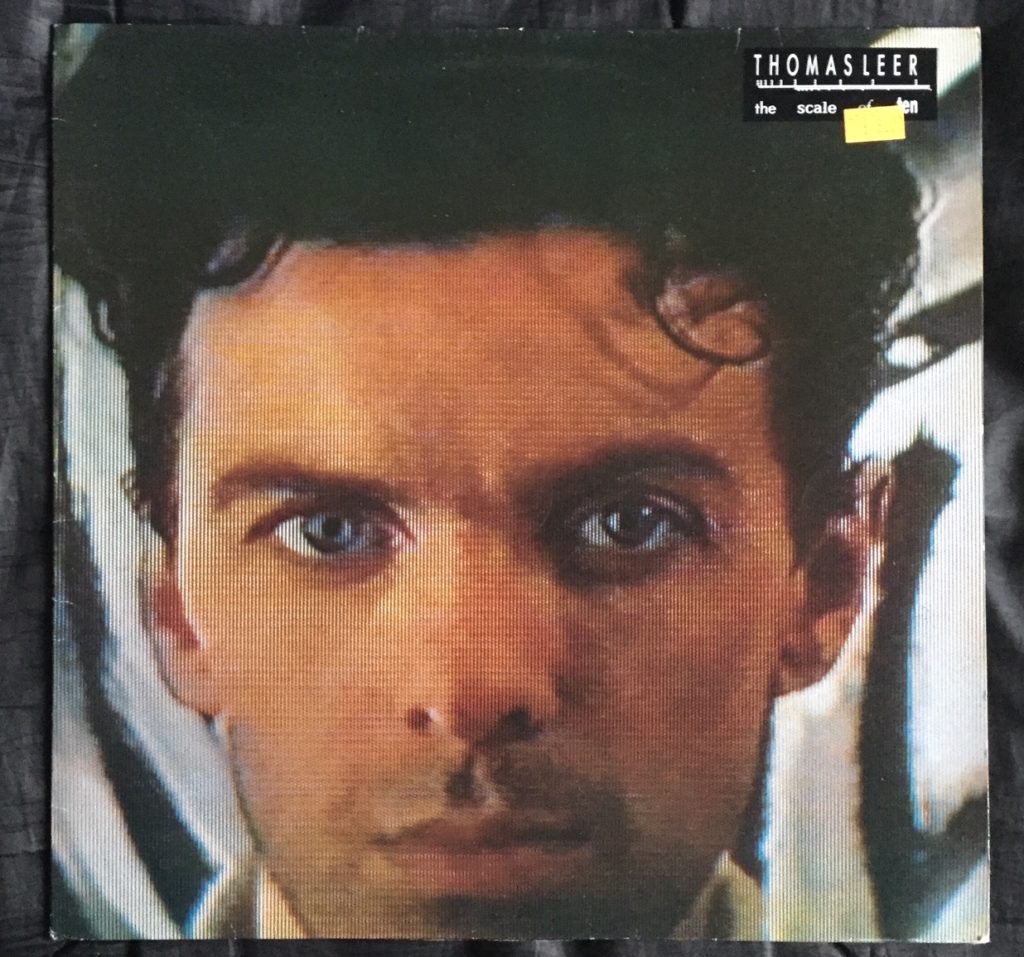 ---
Half time tea break…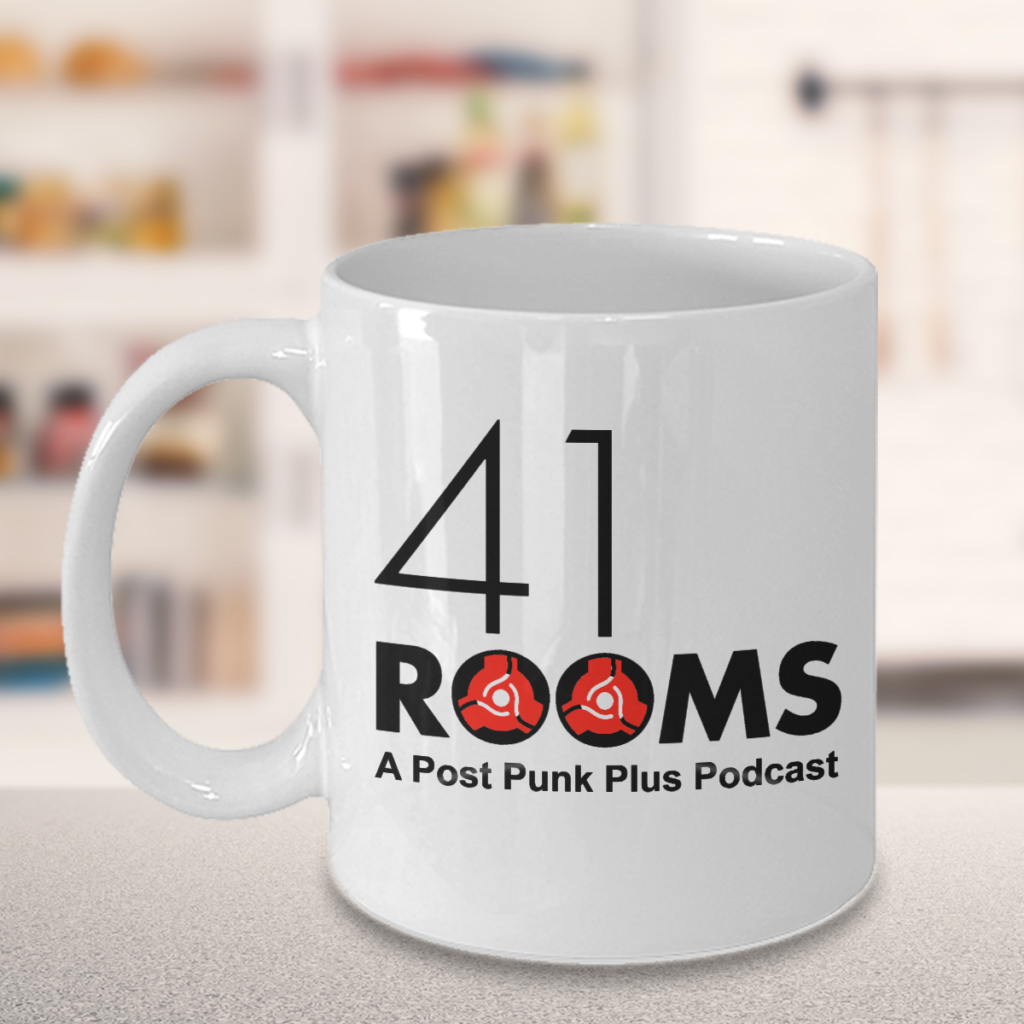 ---
01.03.43
BETH HIRSCH – Indelibly You (Got-Ta-Scatta Rework) – Download only – 2008
Possibly my favourite piece of work with my co Got-Ta-Scatta'erer, Dave Summersgill. Best known as one of the vocalists on Air's multi million selling Moon Safari album, Beth woke one morning (in LA, I think) heard and loved our Maya Angelou… errr… 'homage', A Wonderful Thing and asked us to remix a track for her. We plumped for Indelibly You… and 'SOOOO GORGEOUS ! I LOVE IT !!! Thank you !!!' was her response to our rework. Only last year she asked us for permission to release it in a higher profile fashion, so it might yet get another life.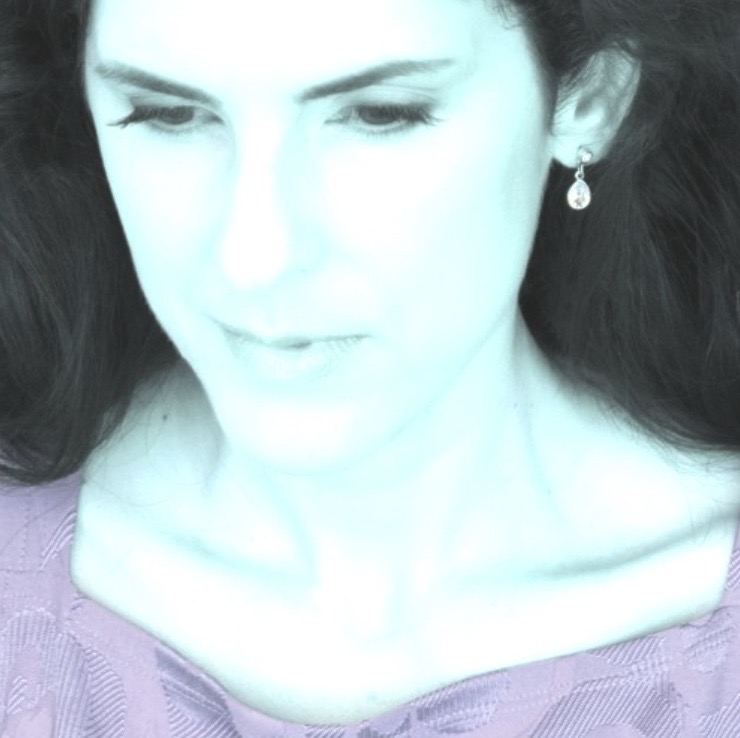 ---
01.07.47
AMERICA – Three Roses * (41 Rooms Extended – Self-titled, LP – Warner Brothers – 1971
As with Paul Weller's Blink And You'll Miss It way back in an early 41 Rooms show, I just didn't think there were enough choruses here… so I added another. Quality harmonies by the truck load with this trio.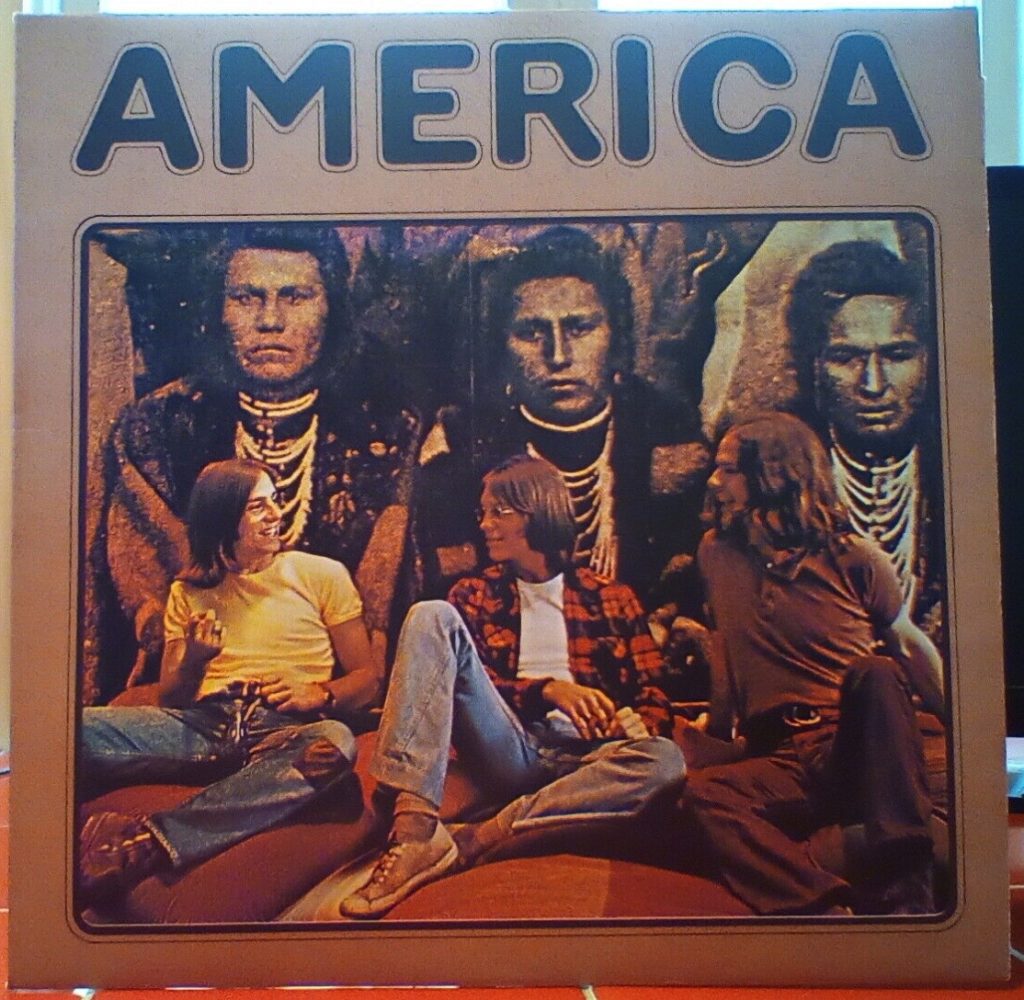 ---
01.11.57
NICK CORBIN – Too Much Time – 7″ b-side – Big A.C Records – 2020
Very Style Council'ish and sounding like a nailed on A-sider and gig ender/encore tune to me. 🙂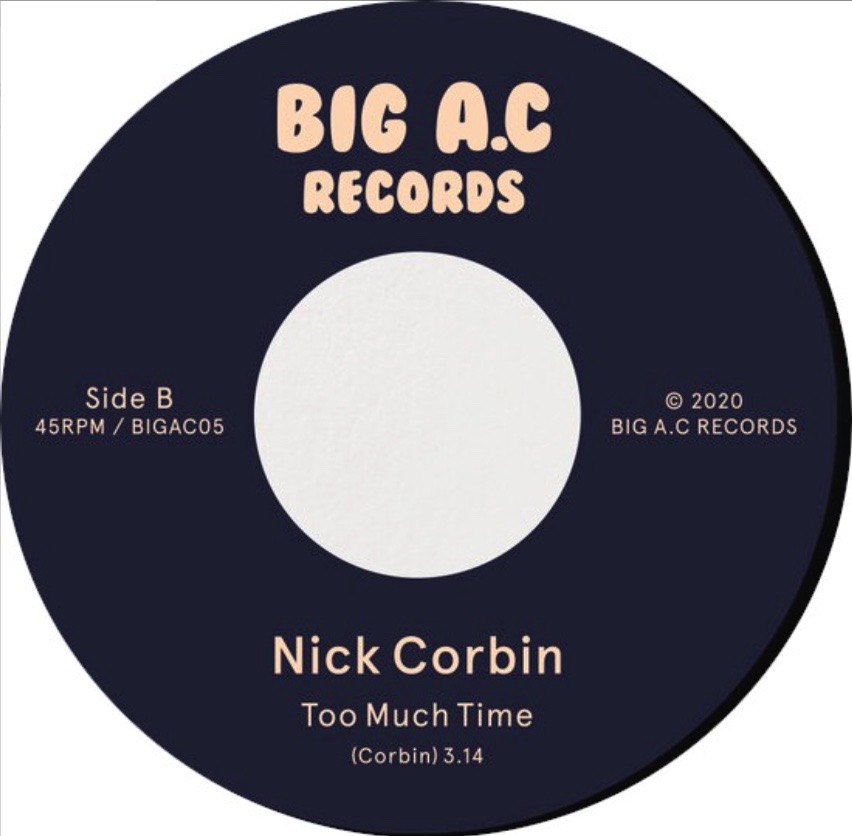 ---
01.15.05
CABARET VOLTAIRE – Blue Heat (12″ Mix) – #8385 Collected Works (1983 – 1985), boxset – Mute, The Grey Area – 2013
They're back! Unusual for me to return to a band within a single show but it is the Cabs… and it felt right.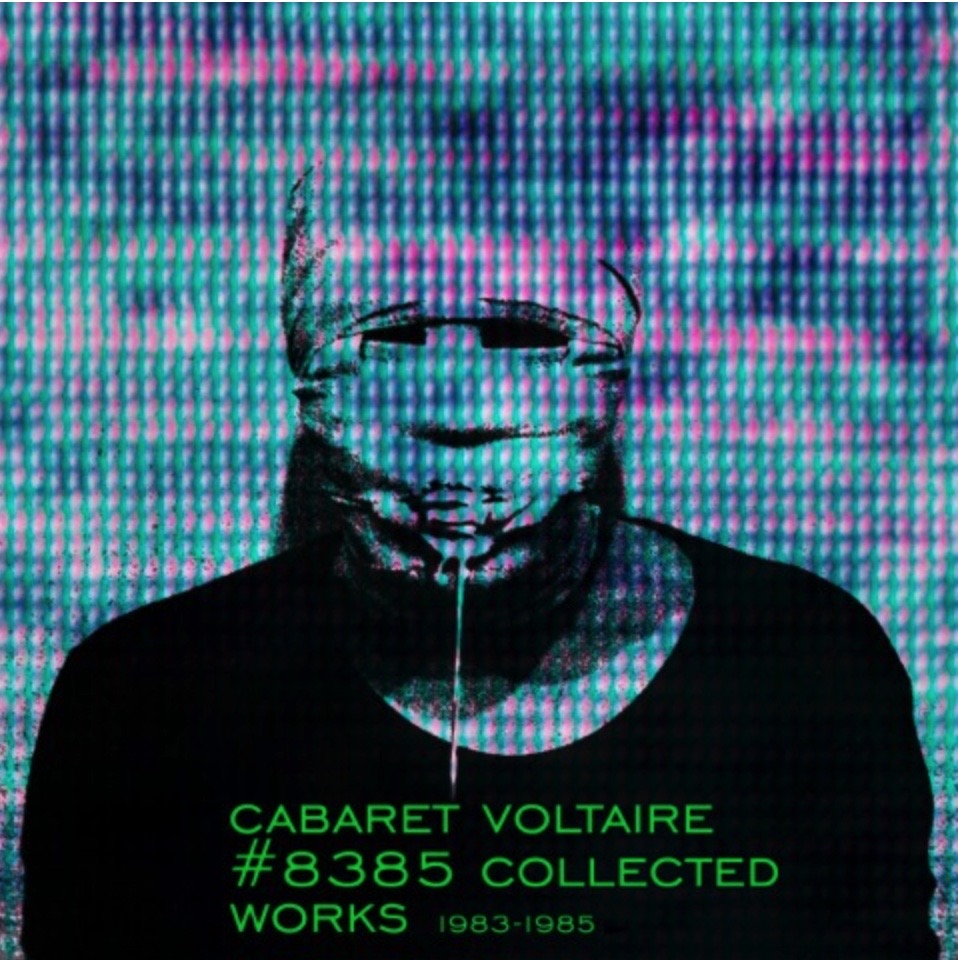 ---
01.22.00
DEAD CAN DANCE – The Trial – Self-titled, LP – 4AD – 1984
In their set at my Bedford Boys Club gig promotion, in July '84.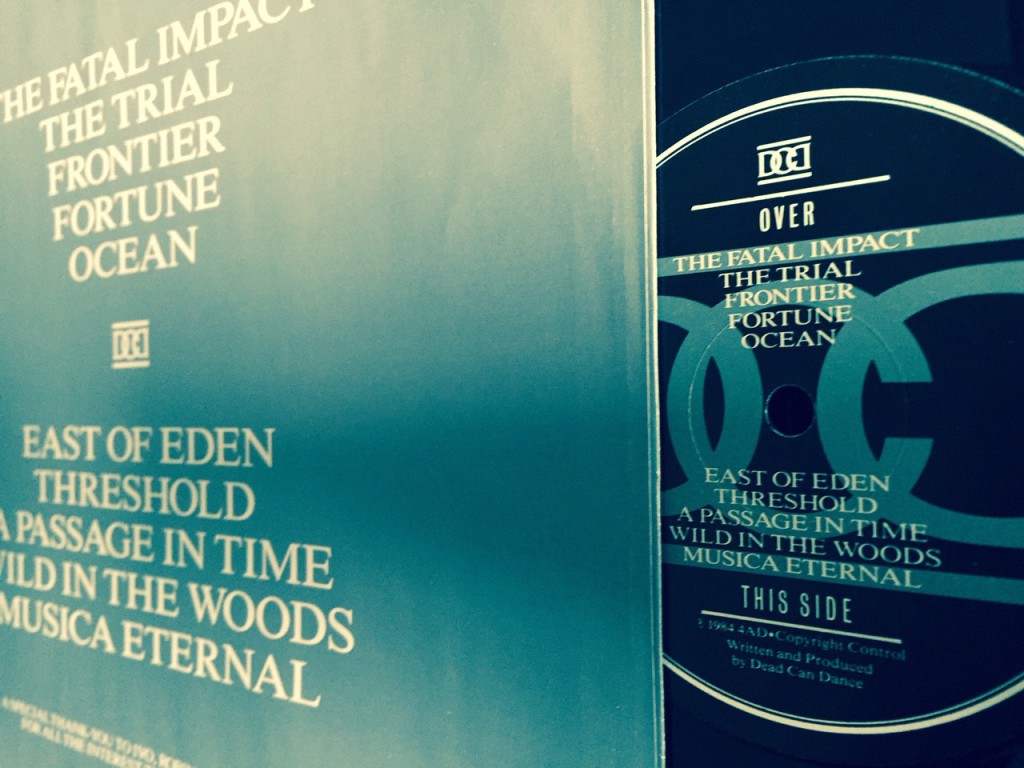 ---
01.25.25
JOY DIVISION – Incubation – 7″ flexi b-side – Factory – 1980
18/4/80 FAC Reject*
*This record should not have cost you anything, wherever or however it was obtained." Aaaah, the dreaded flexi. Cheaper to produce than 7″ vinyl and obviously a neater fit when (usually) regularly included as freebies with magazines in the '70s and '80s, but the sonic quality wasn't great and if you got a crease in one its days on the turntable were numbered. A novelty format, this one though came with some mighty sounds and was readily available for free with purchases through indie record shops. I might have a few copies of this.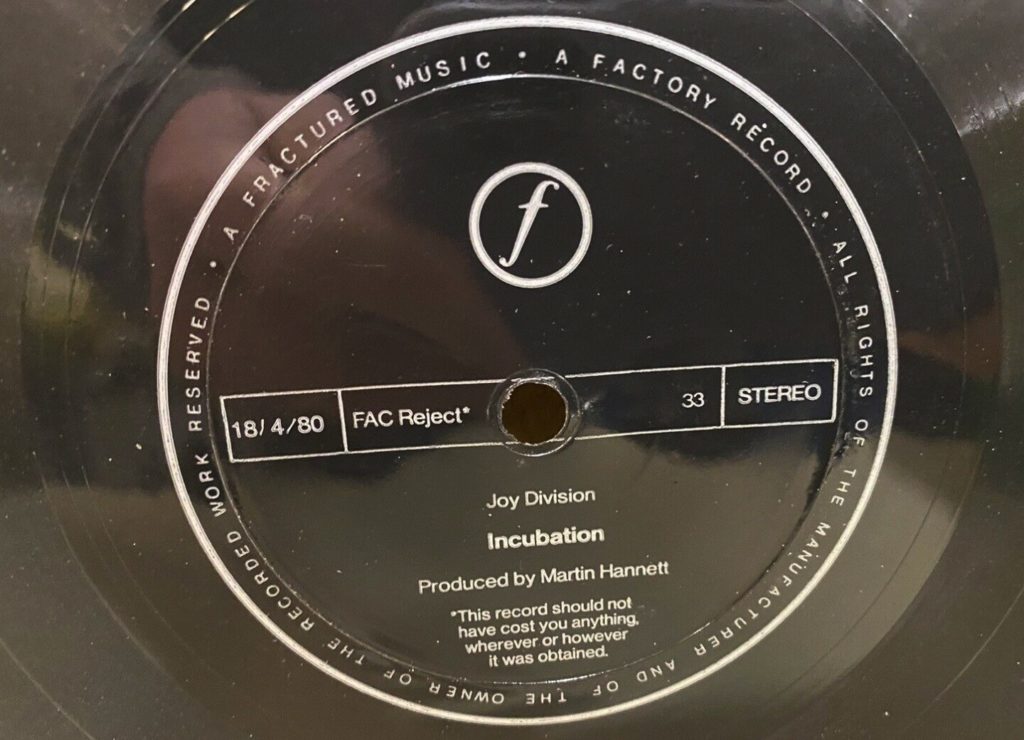 ---
01.28.12
SIOUXSIE AND THE BANSHEES – Sin In My Heart – 7″ b-side – Polydor – 1981
Well, as 41 Rooms likes to isolate its playlist tracks to their purest setting, we'll give a nod here to this French 7″, seemingly the only country where 'Sin… ' b-sided Spellbound, although it may not have actually made it to a full release.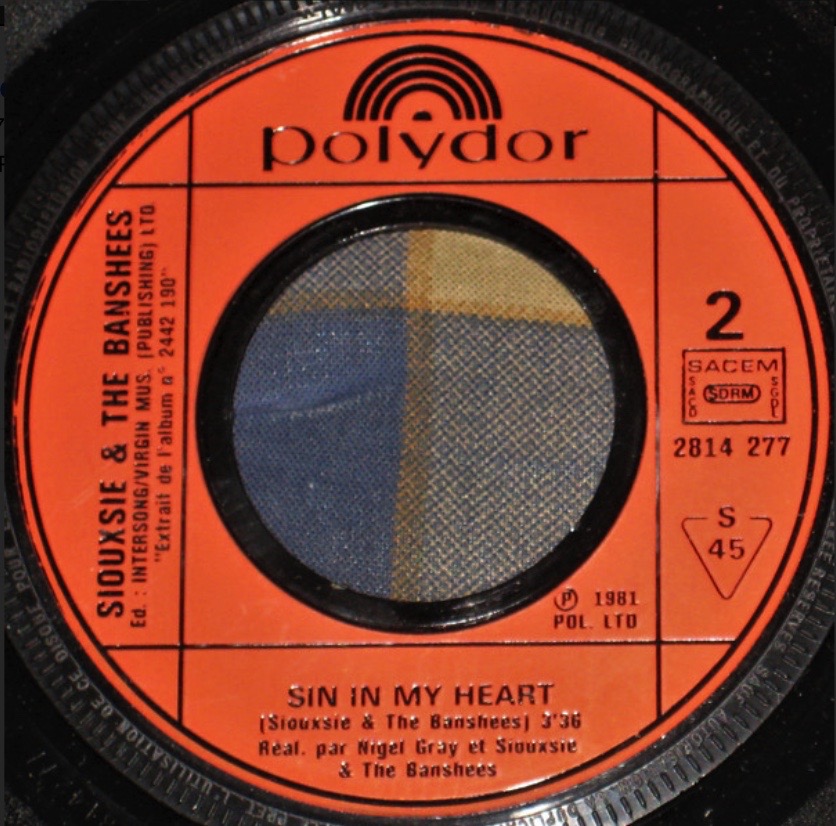 ---
01.31.20
TIM BUCKLEY – I Must Have Been Blind * – Blue Afternoon, LP – Straight – 1969
Soul music from one of the great singer-songwriter voices, and along with his Song To The Siren, also covered by This Mortal Coil.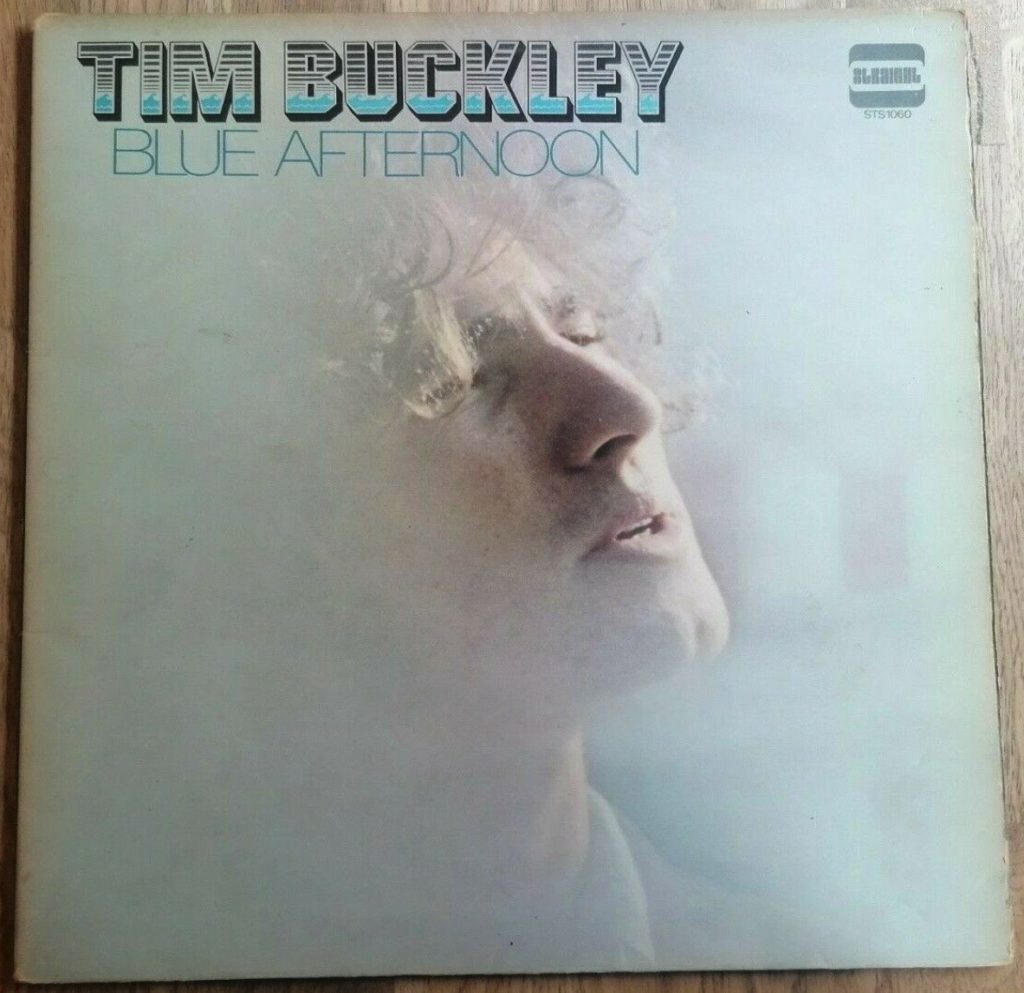 ---
01.34.58
JONI MITCHELL – I Think I Understand – Clouds, LP – Reprise – 1969
Inspired by her reading Tolkien's Lord of the Rings trilogy, this is Joni on a particularly poetic high… which with her catalogue, is going it some!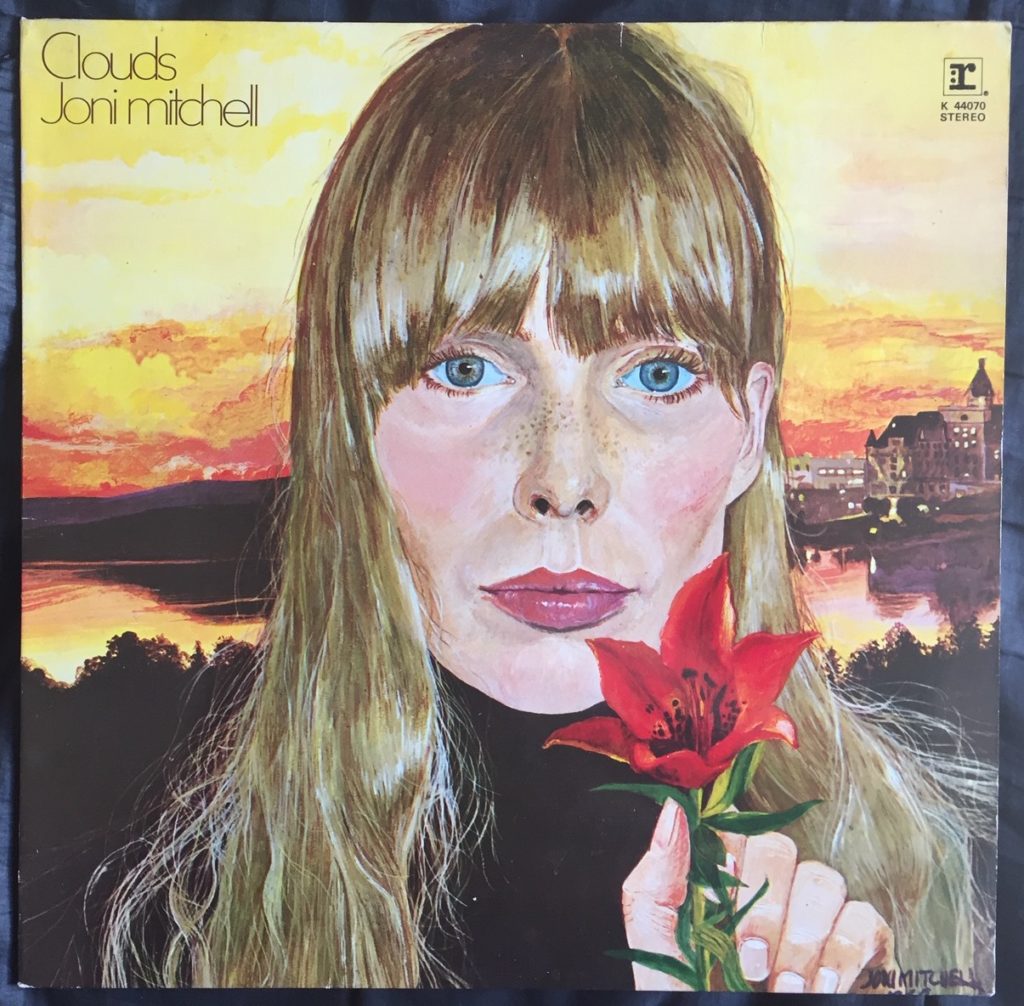 ---
01.39.17
JEFFERSON AIRPLANE – White Rabbit * – 7″ – RCA – 1967
As my fave colour roams somewhere between teal and turquoise and because Jose Feliciano's earliest UK single releases were also pre-empted by this RCA colour and design for promo copies we'll go with the corresponding White Rabbit UK promo – €200 and the only copy on Discogs (as I tap) is yours. Incidentally, both Airplane and Feliciano's US recordings in this period were produced by Rick Jarrard, then the label's in-house' producer on the West Coast.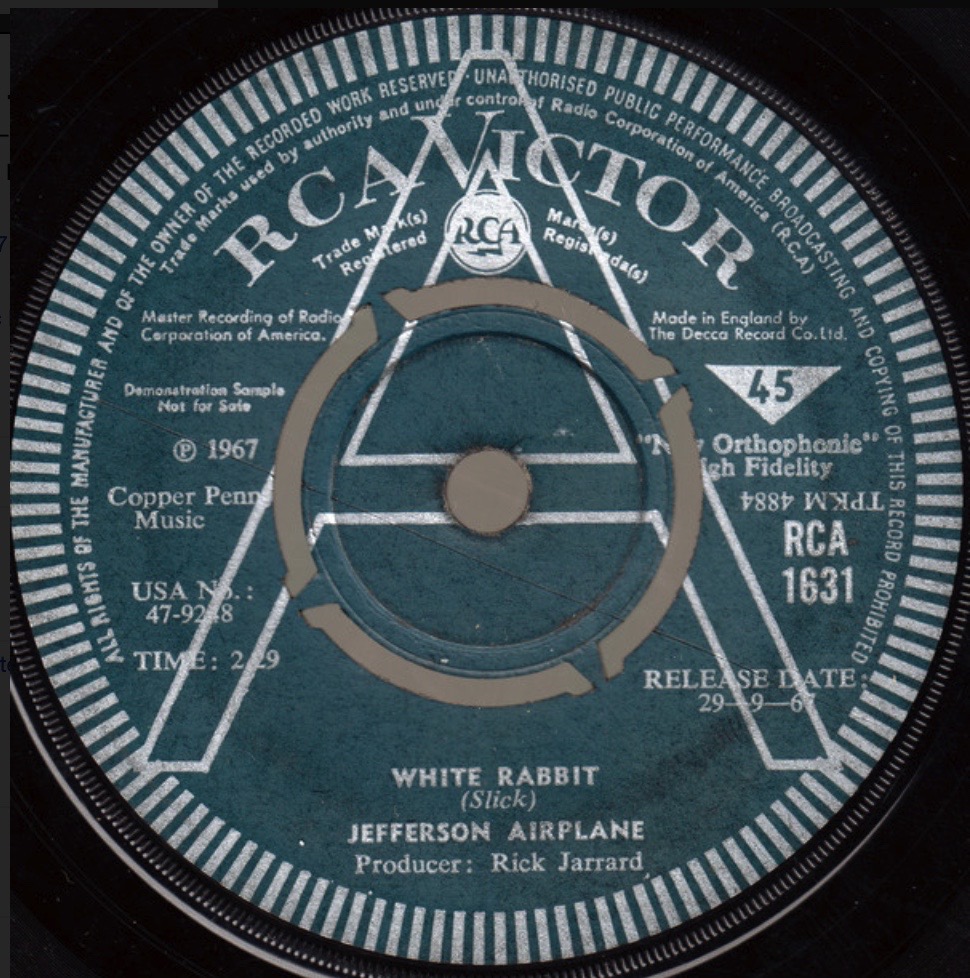 ---
01.41.53
MARXMAN – Do You Crave Mystique * – Dark Are The Days, promo only 12″ EP – Talkin' Loud – 1993
'A serious t'ing. Marxman's socialist, serious prose is a linear descendant of the profound statements of The Last Poets, the recently reborn Watts Prophets and, naturally enough, Public Enemy. They pull no punches with their sharp observations – you may not like everything they have to say, but you have to admire their bottle in saying it. All in all, their work makes for some pretty uneasy listening at times, and how much you appreciate it depends on how much appetite you have for change and challenge. Me, I ate it up – their musical blend of fusion-fuelled jazz and Celtic soul acts as a remarkable counterpoint to the lyrics, and even if the hard sell of 'Affair' passes you by, you'd be hard pressed not to share my admiration of the feisty flowing shuffle of 'Days'. A totally commendable first release – even better than 'Even Better Than The Real Thing'… ' – Dennis Lyons **** Mixmag Update July '92.
One of a bunch of meaningful tunes in the brief mid '90s career of this Bristol/Dublin outfit.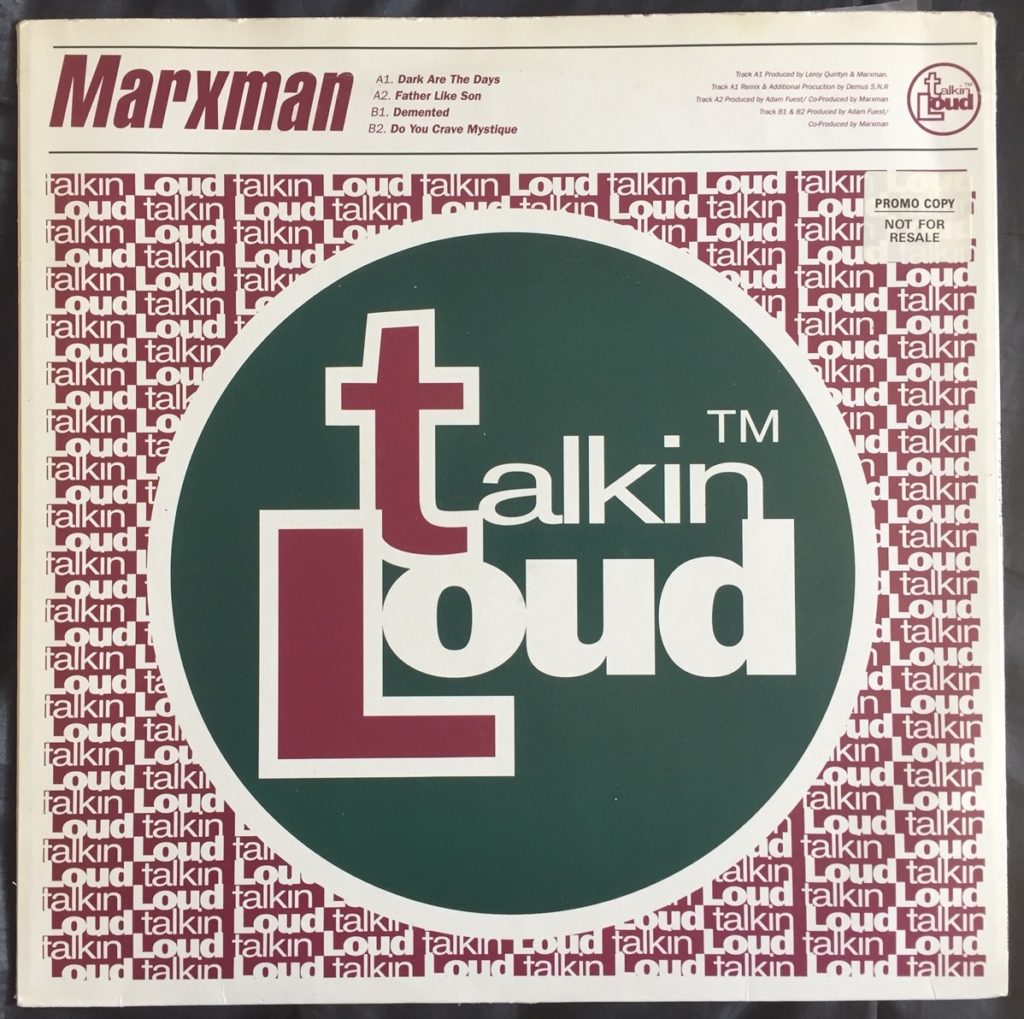 ---
01.45.57
CHASE & STATUS (feat LIAM BAILEY) – Blind Faith – 12″ – Ram Records – 2011
I can't work out whether it's one Yolanda Quartey or Anelisa Lamola who belts out the refrain here but whoever, it's a euphoric counter to lead vocalist, Bailey… and one of those 'more than the sum of their parts' situations.
01.49.47
LED ZEPPELIN – Achilles Last Stand * – Presence, LP – Swan Song – 1976
The era of classic rock did 'epic' like few genres and this is one of the best. I was lucky enough to catch them doing it live at Knebworth twice in 1979.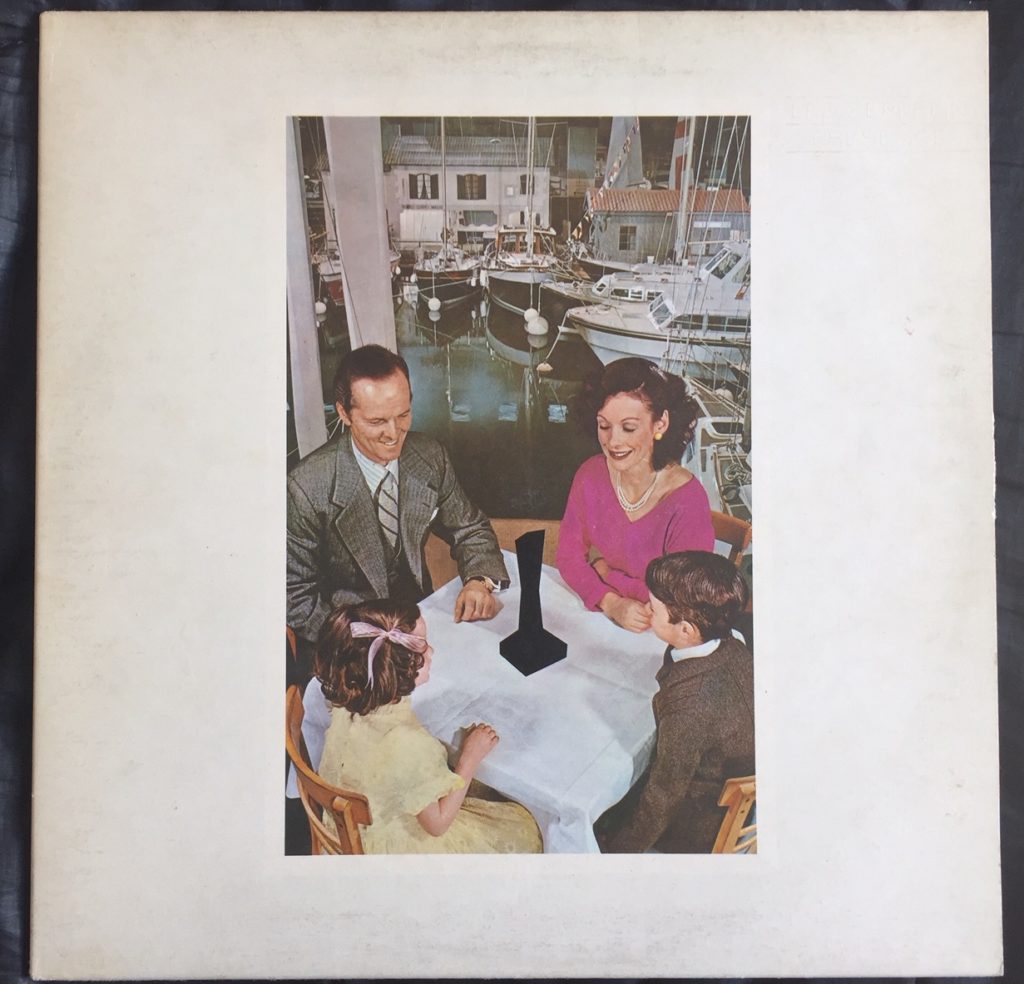 At the time, I was also taking on board new wave and its accompanying world of 1″ badges but back in '76 I found time to pay handsomely for this one-off 2″(!!) monster to be produced. The things you do in your 'youth'. It would turn out even more costly in the long run, as I cut out the image of Page from the band's Earls Court '75 programme – thereby diminishing the value of the latter considerably in the process. 🙂 Encore 'the things you do in your 'youth'…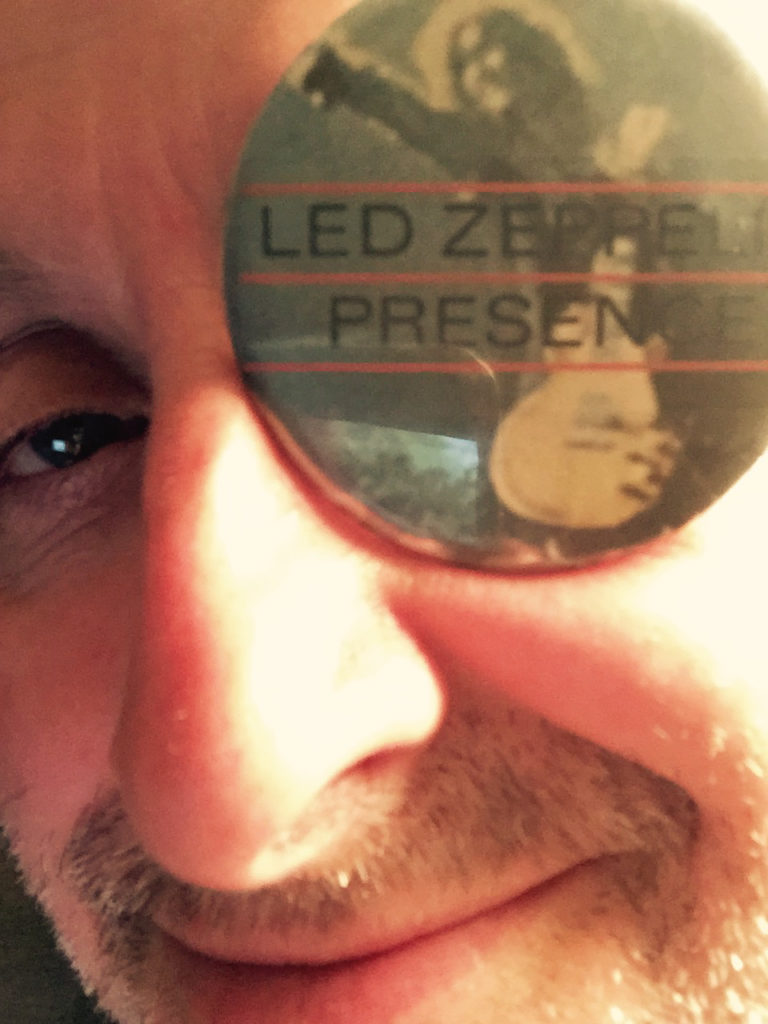 And a couple of snapshots from Knebworth '79. Life long close mate, Dobber – better known to the wider world as Dave Lewis, Led Zep author/chronicler of much note – and Robert Plant taking things in.

Photo credit/copyright: Dec Hickey
---
Show 93 will hopefully be here July 4.
Dec x