41 Rooms, Playlist 12 is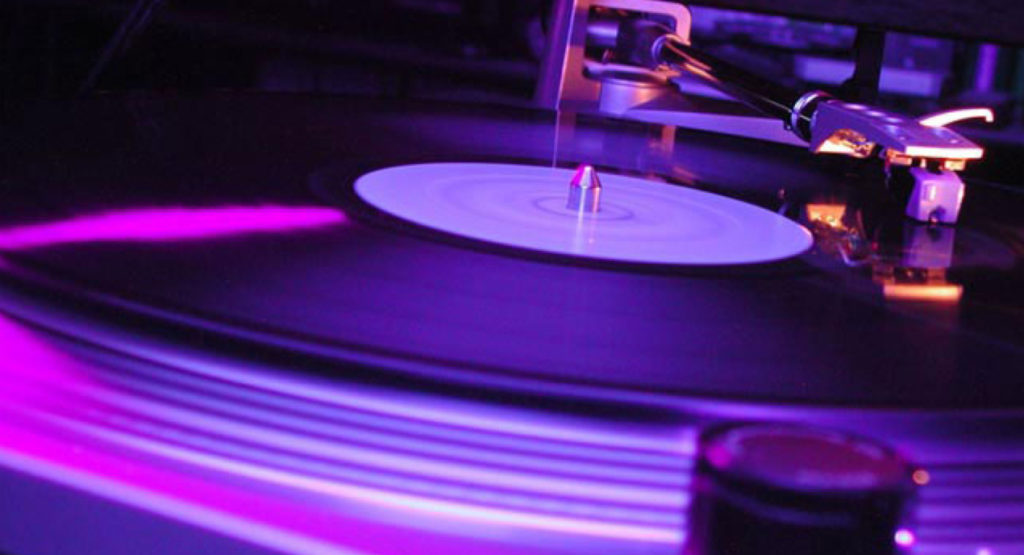 97% VINYL FRIENDLY.  Near perfect!
---
Lyric of Playlist 12:
Grandma, your generation believed in talk. Scared of the very steps in which you walked. Father listened to all that was said, until depression set in, leaving mouths unfed…
A bit of conscious soul wins it over what could have been here – some Scouser flippery!
---
Tracks marked * have been given a tiny (or sometimes, slightly bigger) 41 Rooms 'tweak' 😉

---
00.00
(Intro) THE FLAMINGOS – Stars (Edit) – Unreleased demo – 1983
Episode #1 for info.
---
00.41
NEW ORDER – Mr Disco * – Technique, LP – Factory Records – 1989

Rarely played live but at least I got to hear its last outing (to date?) – at the 1989 Reading Festival, and as the oh so cheery synth bridge criminally only got used once in the studio recording, just to please myself… I've added another here. 🙂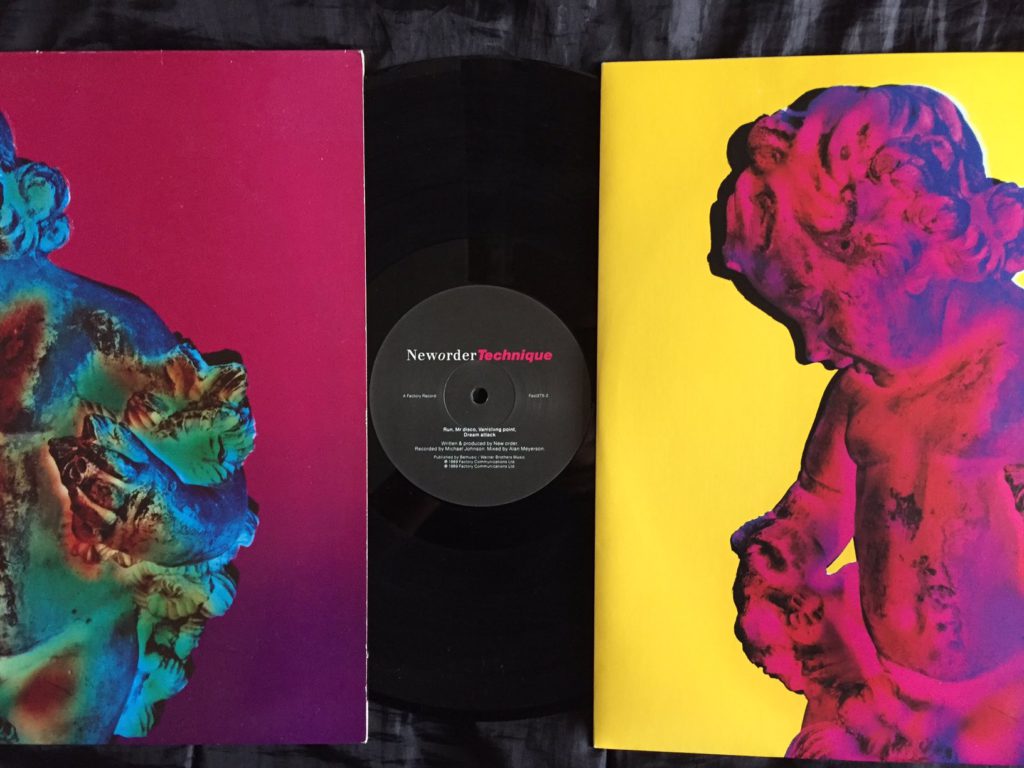 ---
05.03
SUB SUB – Space Face – 12″ – 10 Records – 1991
'Unaltered since the Manchester bleep trio's own white label, this noisily buzzing, washing and jangling 0-121bpm keyboards cantered seems lo-tech and cramped (is a remix due?), flipped by the washing machine gurgled percussively thrashing 114.5bpm 'Ecto-Jam-Sub'. ' – James Hamilton, Record Mirror (Music Week), 18.5.91
A thumping rave era gem from the boys who were to later become Doves, and the latter obviously still loved it enough to do a cracking version of the tune at Glastonbury in 2006. Youtube it sometime. I sold my copy of the pre 10 Records white label pressing (see below) for £82(!) in 2005 but such is the rollercoaster ride that is the value of vinyl I could pick up a copy again now for £10-15. In most instances though this sort of thing can go both ways. 🙂  🙁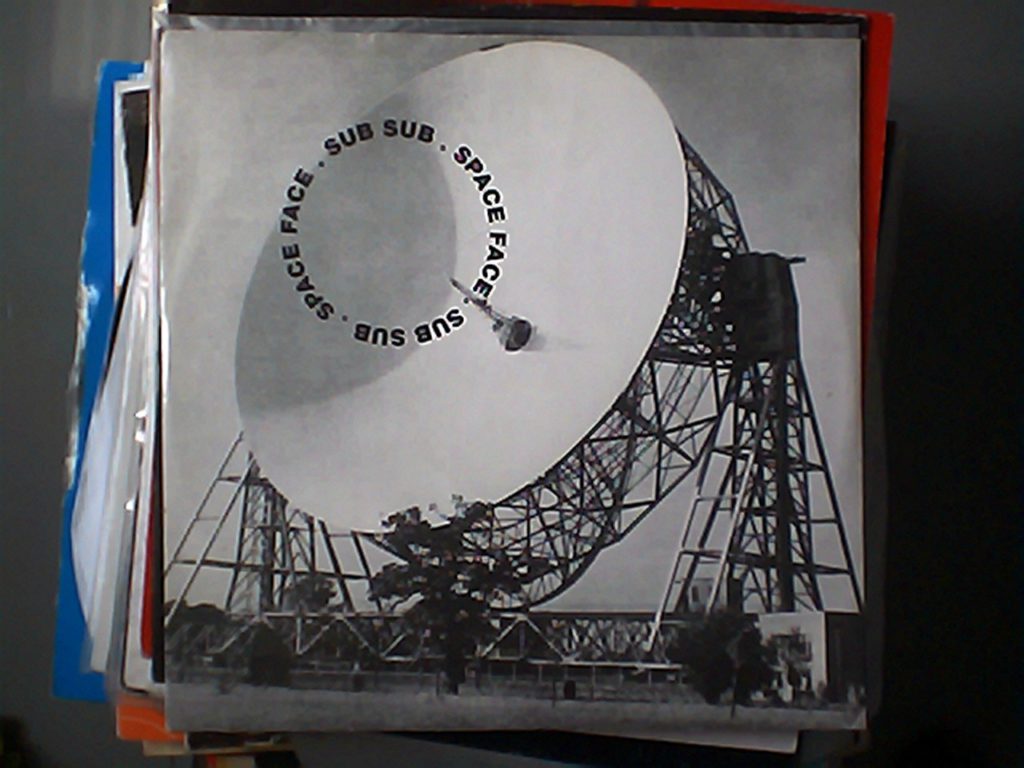 My once worth £82 white label copy.
---
11.18
CHRIS & COSEY – Vengeance – Exotica, LP – Play It Again Sam – 1987
Classy electronic disco… and as they provided me with a track for the Discreet Campaigns v/a cassette back in 1985 I've a soft spot for them. I've caught them live just the once to date, at Heaven in London early in 2015, and they and their sound were on top form.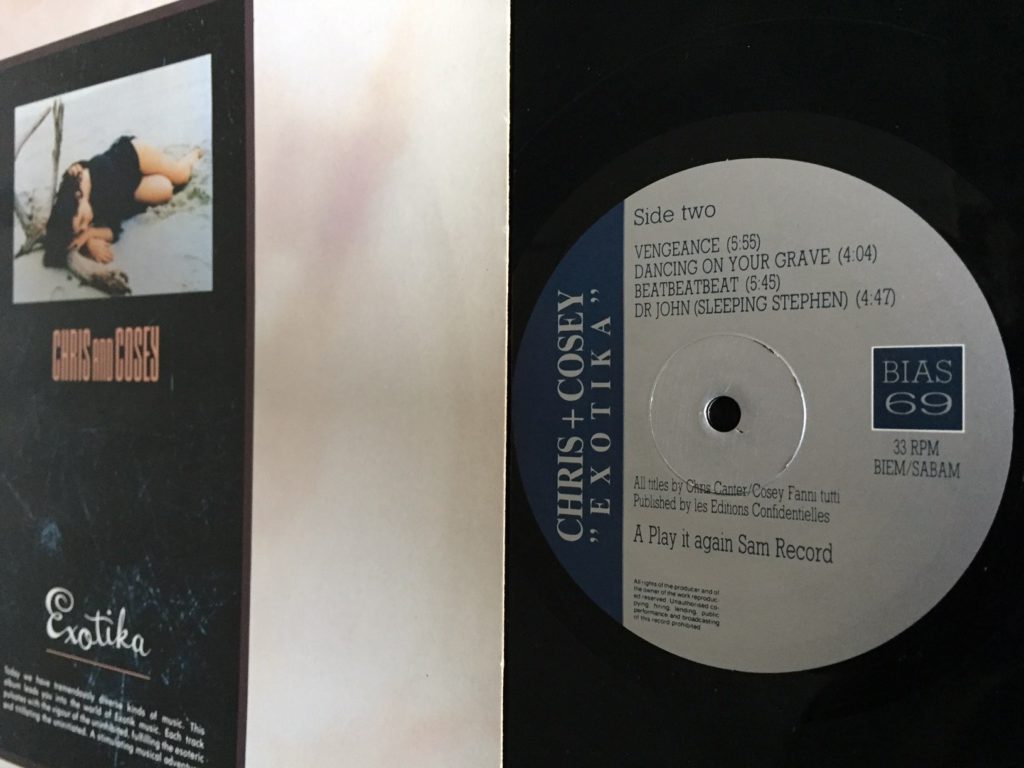 Underground #, Nov '87, though I'd beg to differ with this appraisal.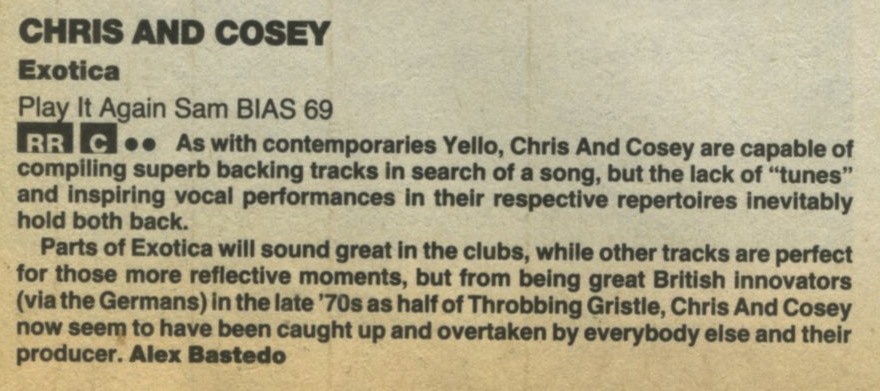 ---
16.55
GOLDEN TEACHER – Love Rocket – Bells From The Deep End, 12″EP – Optimo Records – 2013
An interesting crew from Glasgow. Shades of the B-52s, Quando Quango and something else I can't quite put my finger on at the moment, and you'll find some stuff on them here.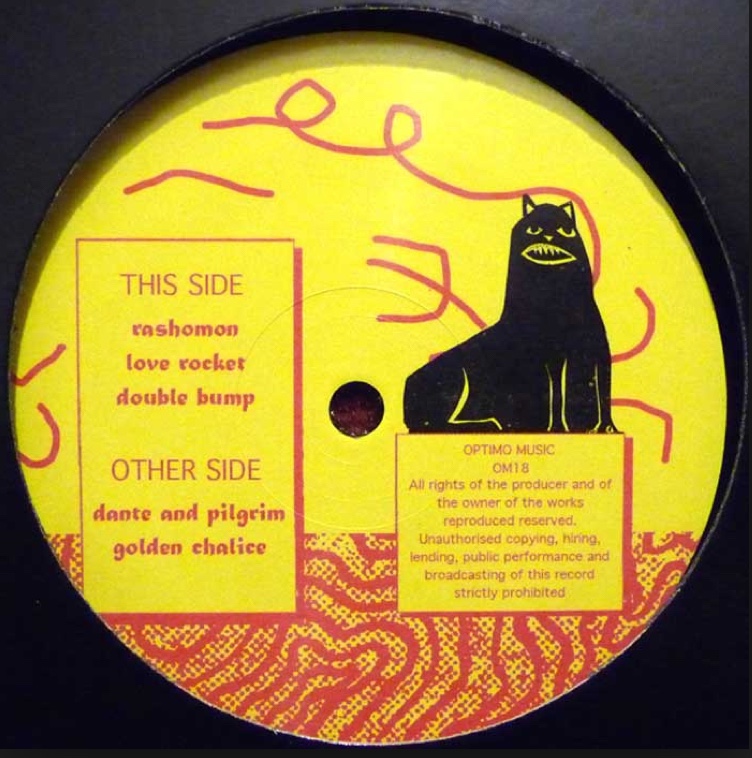 ---
20.47
VARIÉTÉ KONTRAST – Rava – Unreleased Demo Cassette – 1983

I know zilch about this German band but their only release – a 1984 LP – fetches sturdy prices. For whatever reason, the band didn't make the cut for it… quite literally.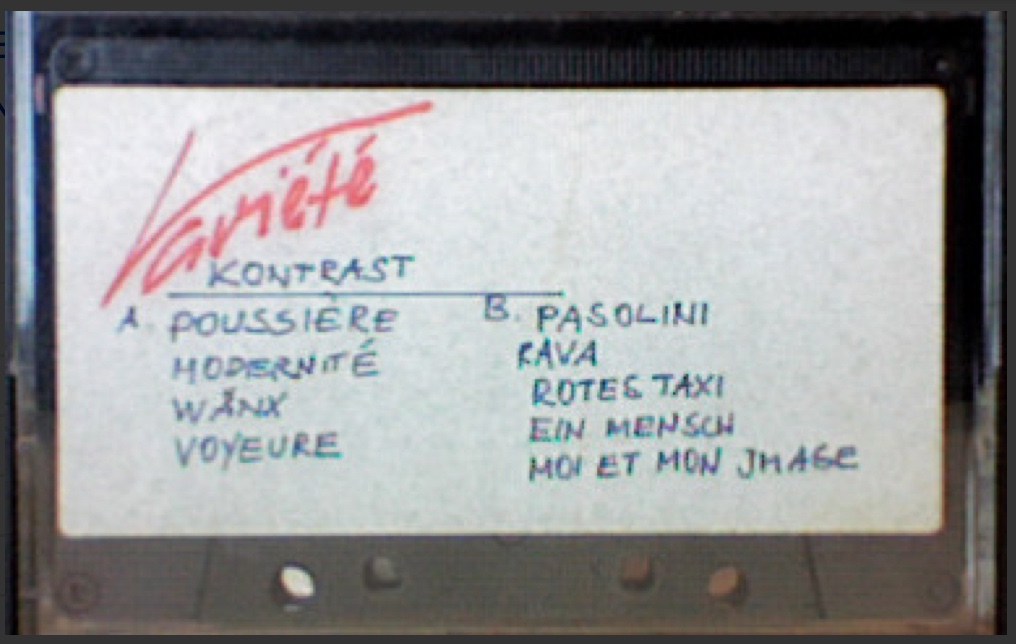 ---
23.40
MARC MAC (FEAT ETTA JAMES) – See Me Smile – How About A Game Of Chess?, 2LP – Omniverse Records/ABB Soul – 2005
One half of 4Hero with some post 90s trip hopping via Etta James' version of the Bee Gees' Sound Of Love. Result!!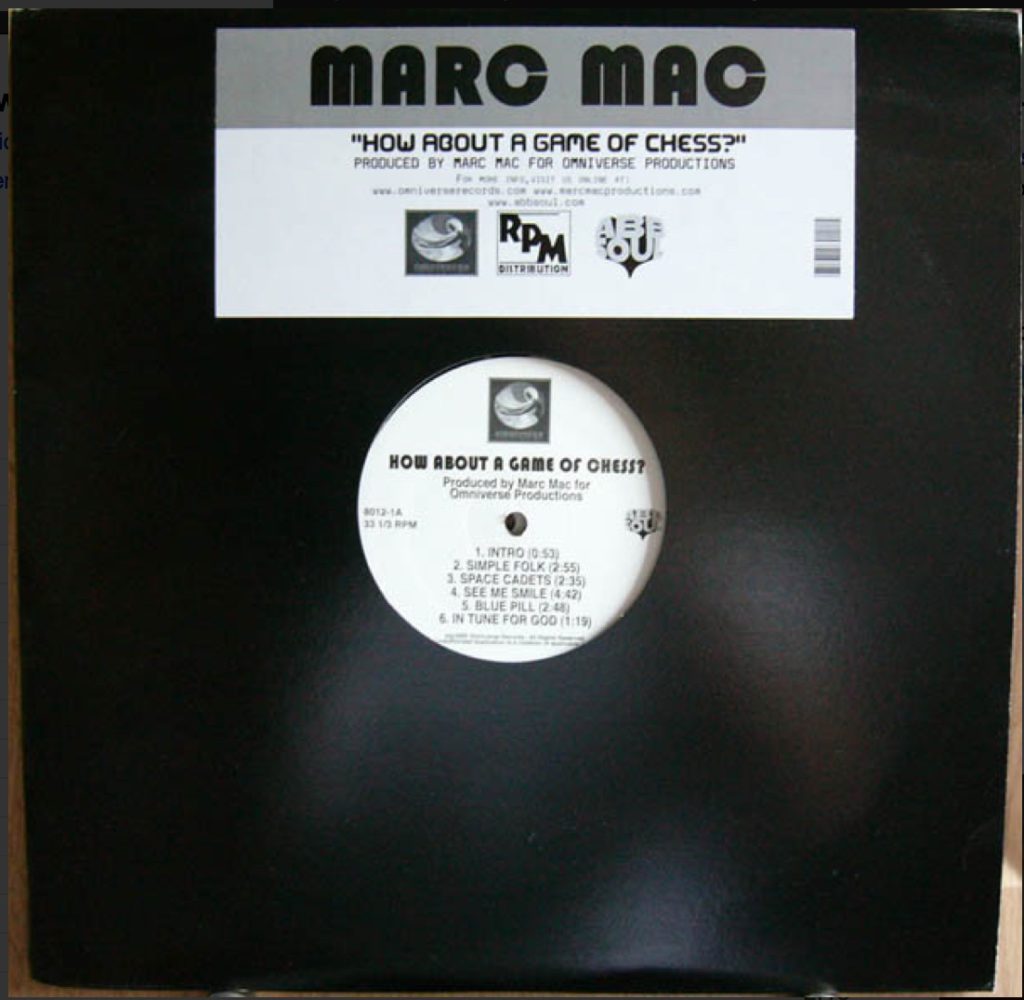 ---
27.40
THE BLACK KEYS – Never Gonna Give You Up – Brothers, LP – Nonesuch – 2010
I was going to bet on there being an old soul tune that could lay claim to having more than a slight influence on the making of this – and then I realised it is actually a cover, of a Gamble, Huff and Jerry Butler tune. Purists will likely disagree but I reckon it's better than the original.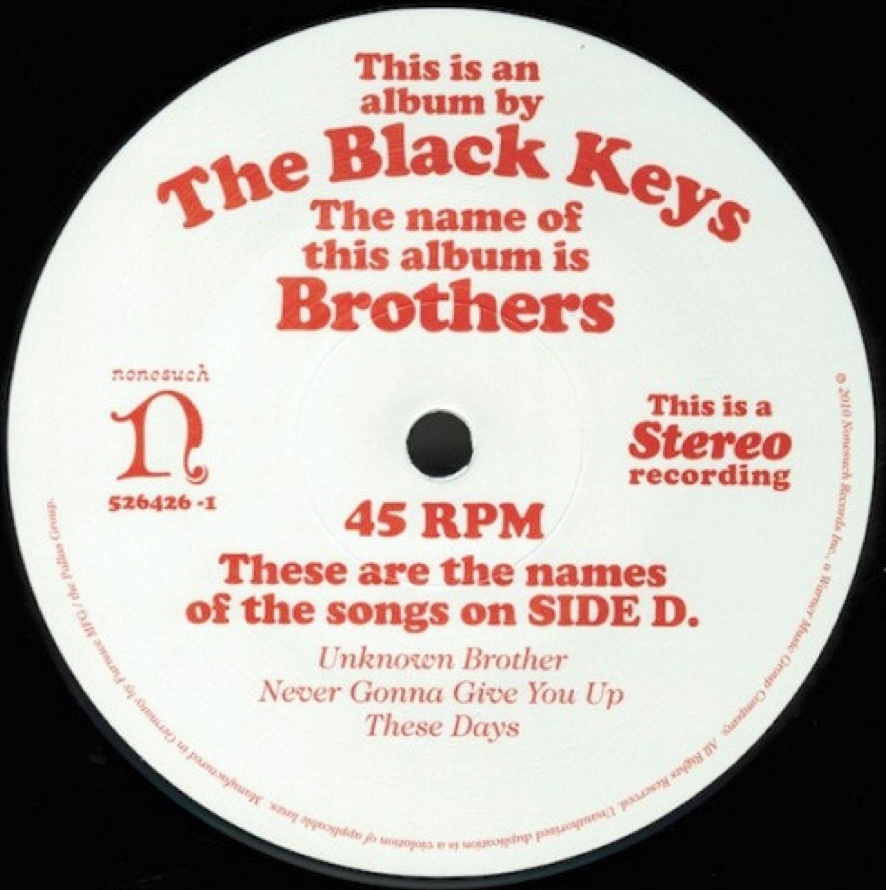 ---
31.13
EDDIE HOLMAN – Four Walls – Lonely Girl, LP – ABC Records – 1969

I'd have his Hey There Lonely Girl and It's All In The Game as a classic double sided 7″, but this is darker and grittier.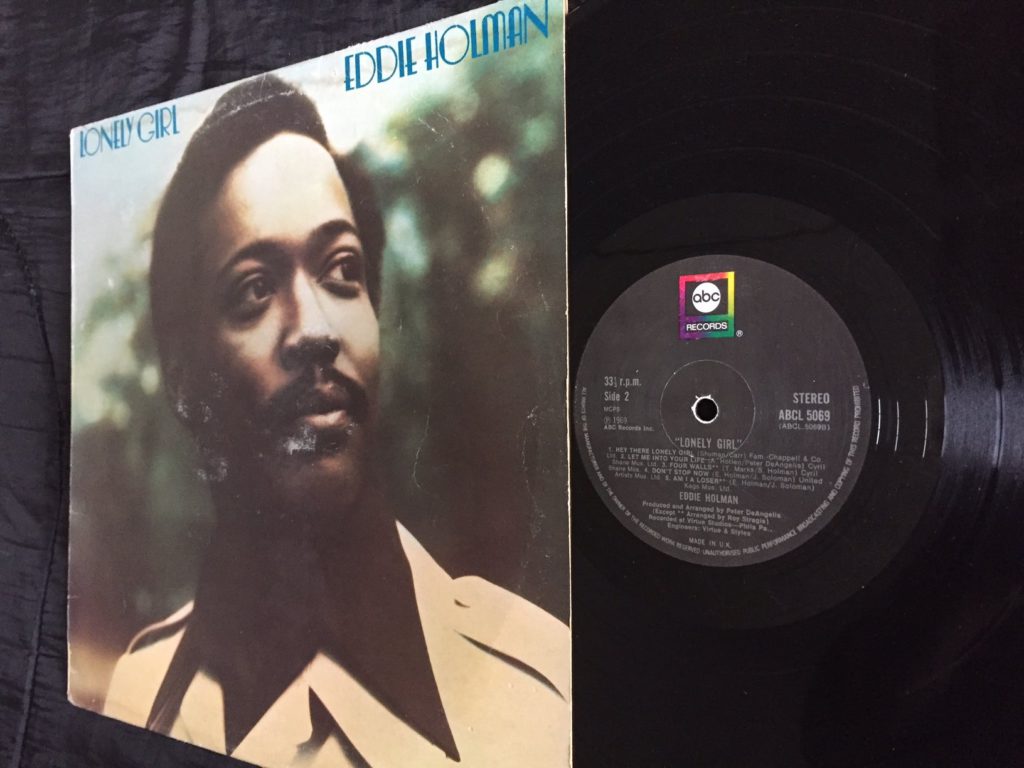 ---
33.36
THE LOST GENERATION – This Is The Lost Generation – Young, Tough and Terrible, LP – Brunswick – 1972
I can thank Patrick Forge's nineties Kiss FM radio show for pointing this beauty my way. Conscious soul heaven.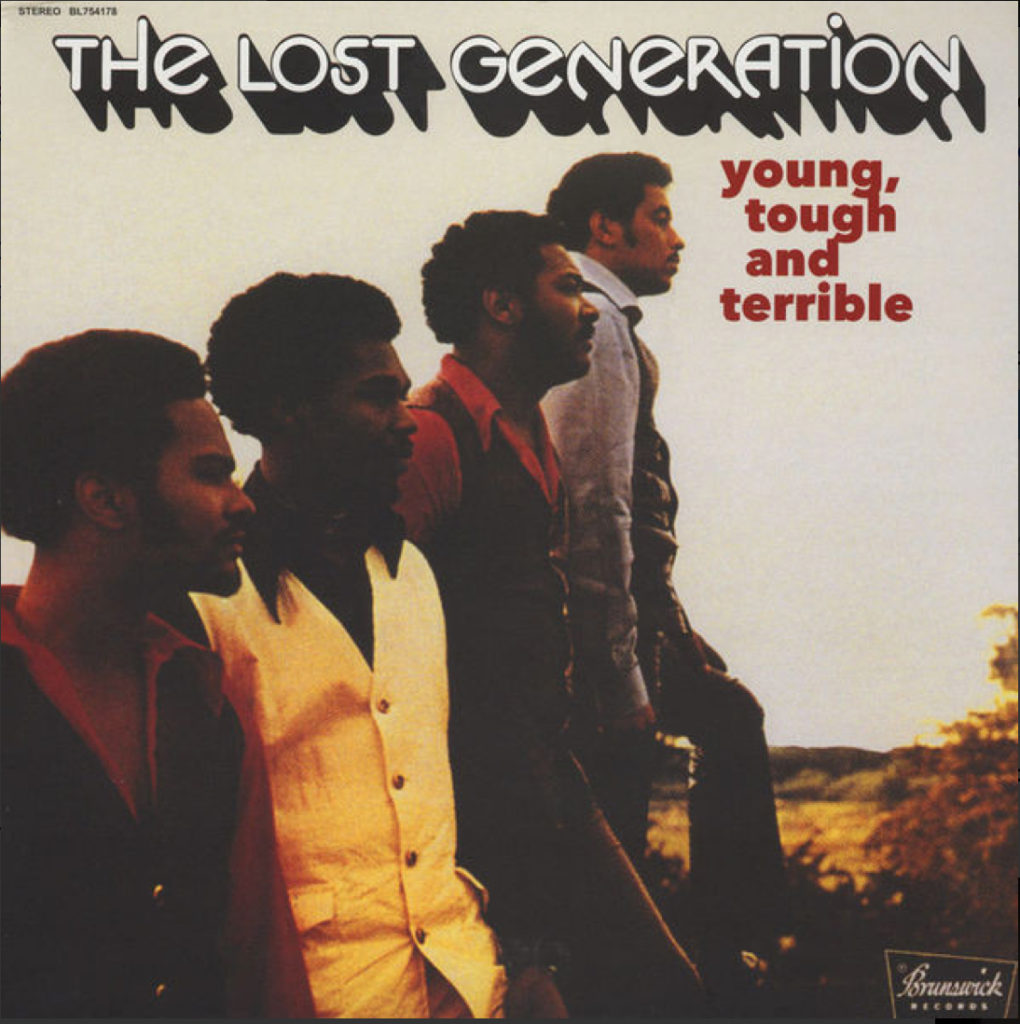 ---
37.01
BLACK PEACHES – Suivez-Moi – Get Down You Dirty Rascals, LP – 1965 Records – 2016
Bustling sounds from a Hot Chip offshoot… and on orange vinyl, a colour I've had a record pressed on myself.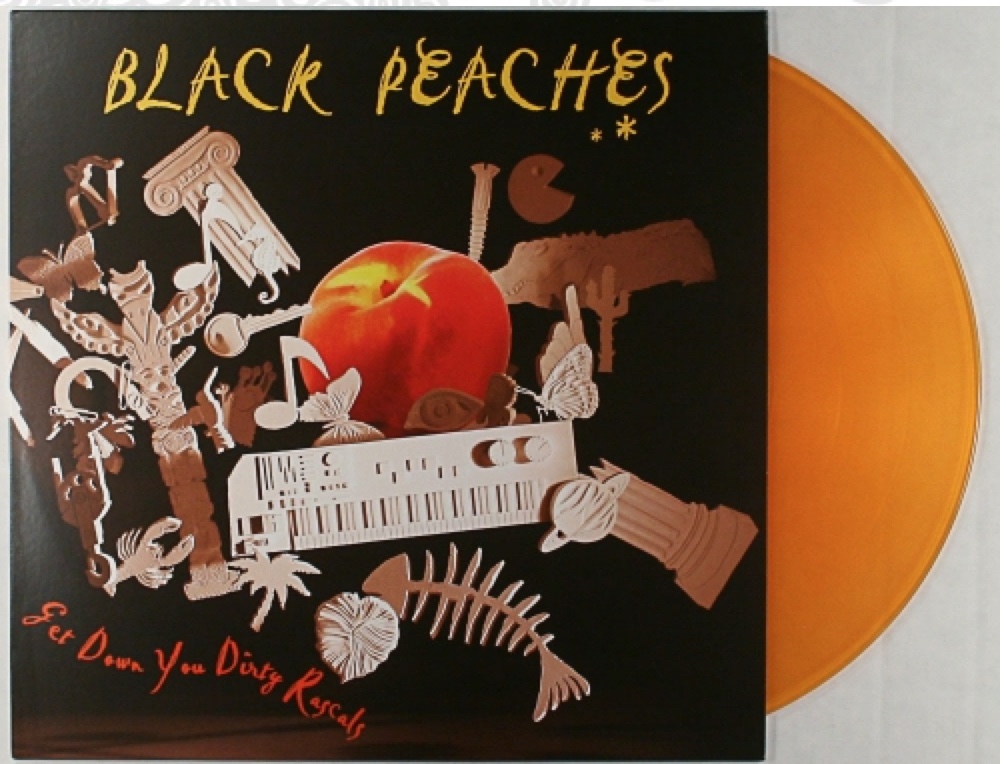 ---
41.18
VANGELIS – Let It Happen – Earth, LP – Vertigo – 1973
Although I bought his Pulsar 7″ in 1976, his synth stuff is generally not for me… but this is fab.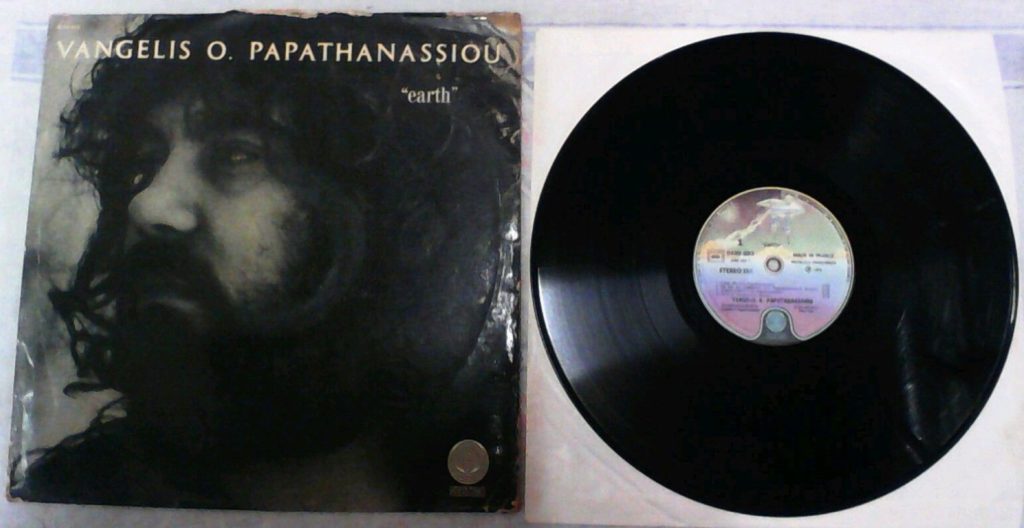 ---
45.24
PETE JOSEF – Colour – Colour, LP – Sonar Kollectiv – 2016
Completely up my alley and the sort of modern day 'soul jazz' hybrid that raises my spirits, maybe as much the best from any genre.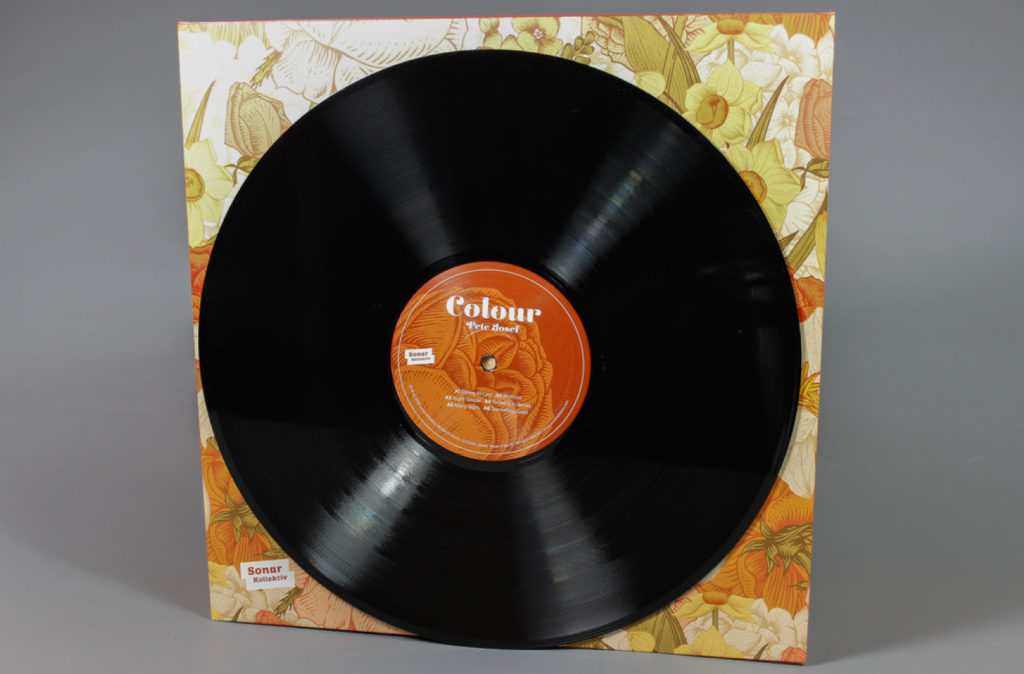 ---
49.41
MARATHON MEN – Stay Here – 12″ – G.A.M.M. – 2007
G.A.M.M. are a Swedish label, and the sort I should do a fuller rekky on. They do things differently there.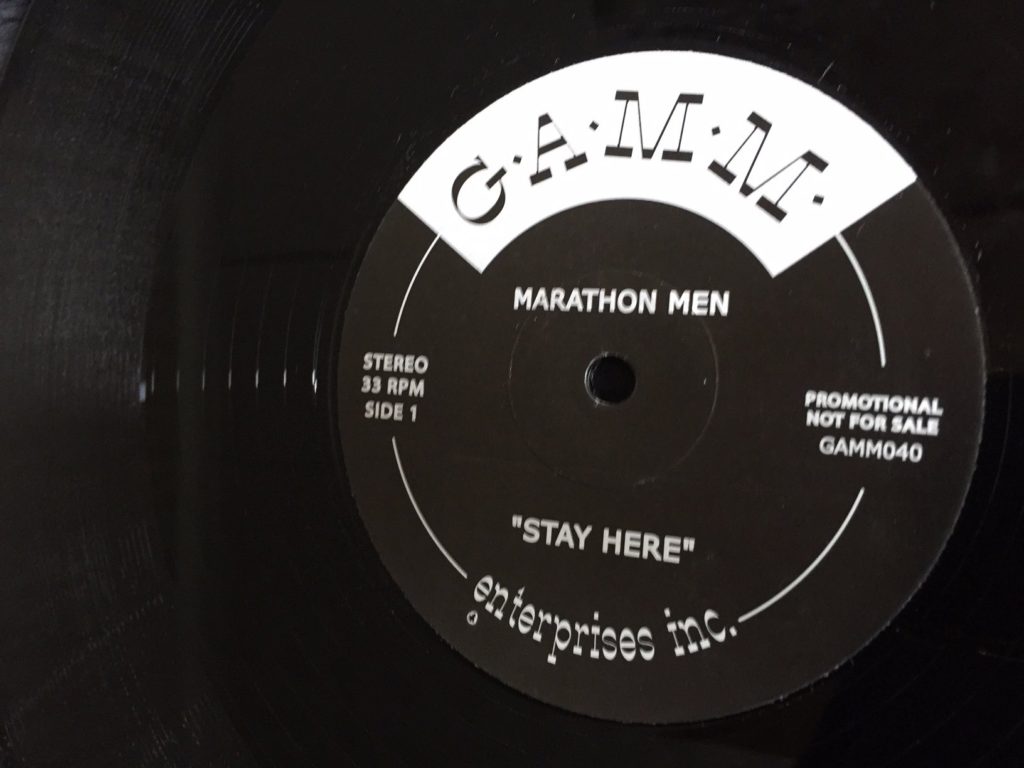 ---
54.45
THE PASSION OBSESSION – This Boy – 12″ – Searching Records – 1986?
A true lost pop gem, and maybe even a 'World Exclusive' of sorts. As of the original upload date of this show there was just one mention anywhere on the internet of this single and 41 Rooms was then the only place on the net to hear this beauty, so that certainly counted as 'lost' in my book. To help spread the word I youtube'd the track  but that sole net mention had been a listing on eBay from 2010 where a copy sold for $39, so somebody wanted the record badly. Tagged then as 'C86 UK Indie Twee' it's certainly too glossy and polished to have been the latter but with nothing on the sleeve or vinyl 1986 could well be the right year, as I bought my copy from Virgin Records in London's Oxford Street around that time and I bet there's someone out there who knows exactly when £3.49 was the price of a Virgin's store 12″ 🙂 I remember thinking the track felt slightly adrift of the times and would have had a better shot at success if (still with an indie crossover slant) it had been released two/three years earlier. And unless John Peel was having one of his occasional pop moments, I must have been listening to some more mainstream show to have heard it at all.
Postscript: The single was seemingly finally added to Discogs around 2017 but rarely still does a copy come up for sale.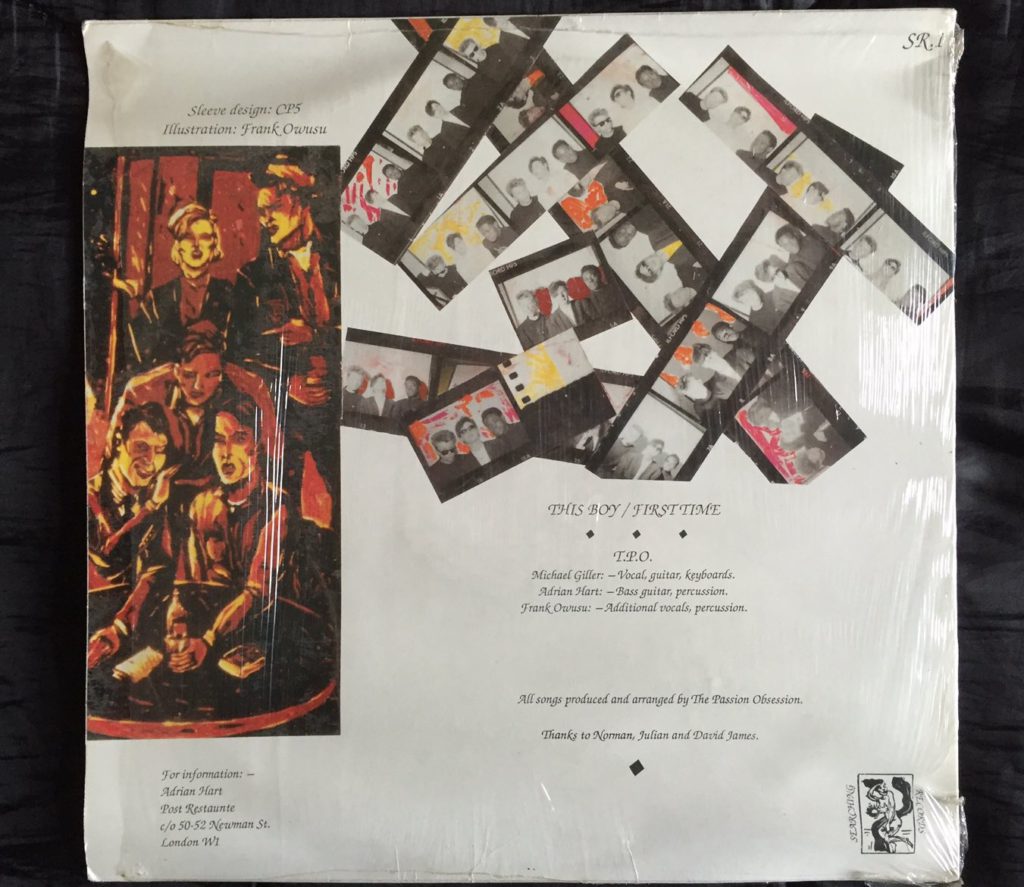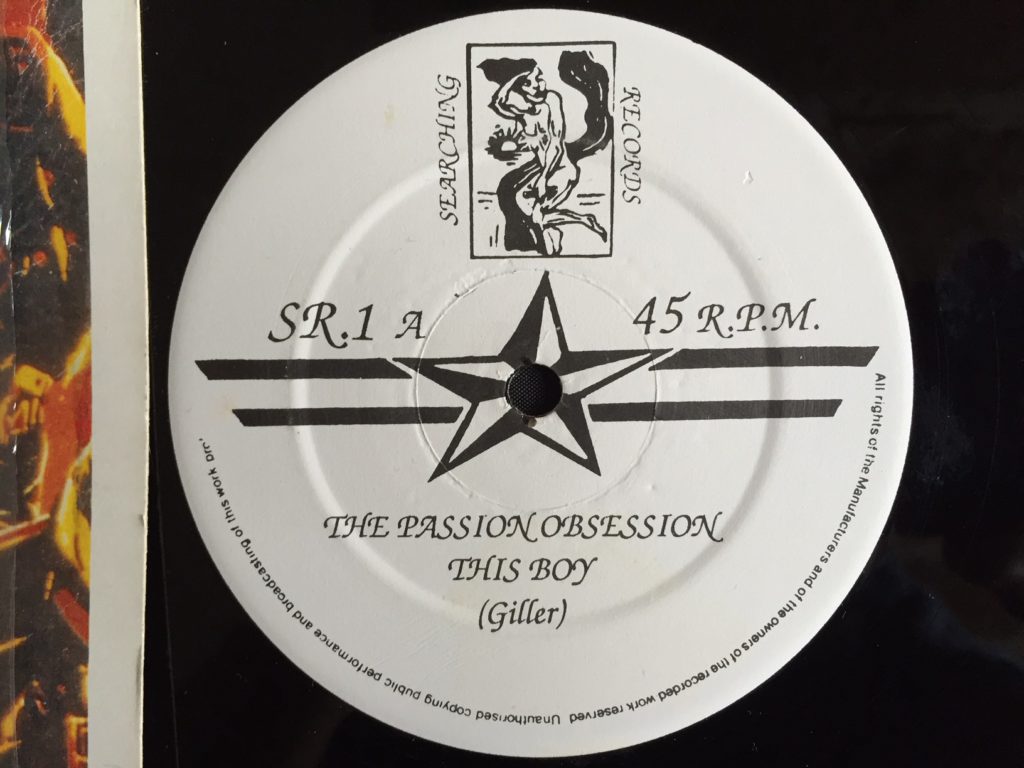 ---
WINKLES 1981 (Pt 3, More Big Guns)
A(ny) second Wednesday night in a small club in Bedford in 1981. And with 1976 to the then present year to pull on…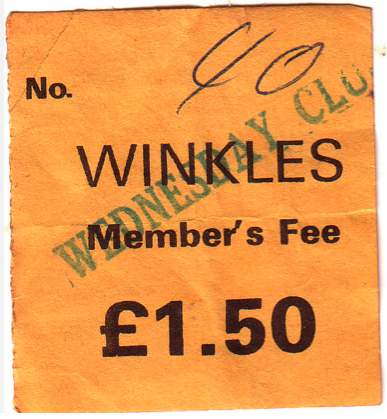 59.06
BAUHAUS – Dark Entries – 7″ – Axis/4AD – 1980
The origins of 'goth' might show a consensus centering on certain bands. The seeds in Bedford's scene would have Bauhaus as part of it. A thundering sound.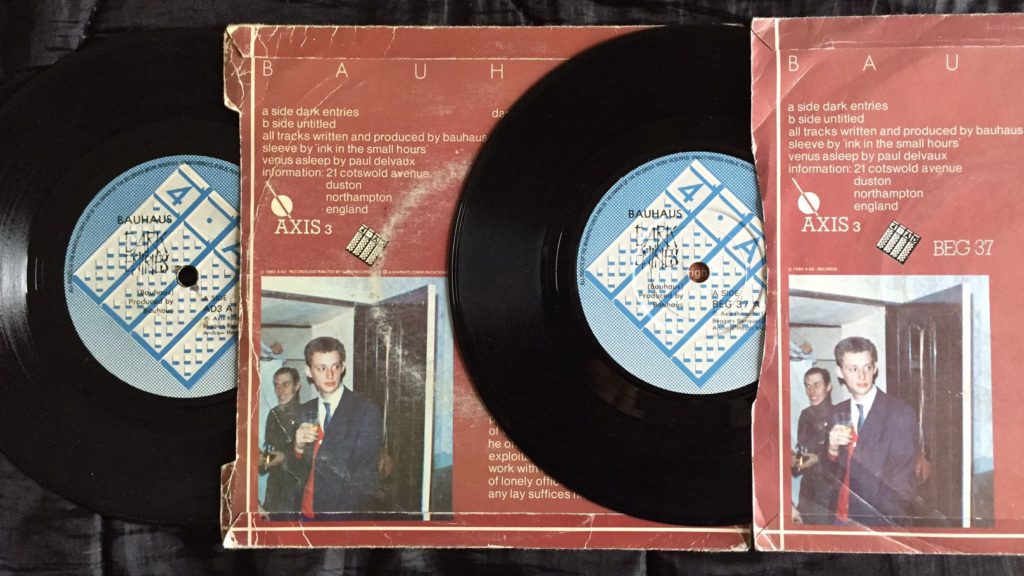 ---
01.02.41
THE BIRTHDAY PARTY – Release The Bats – 7″ – 4AD – 1981
If the previous Bauhaus disc cropped up in my DJ sets at Winkles this 7″ from the Australian marauders was never far adrift.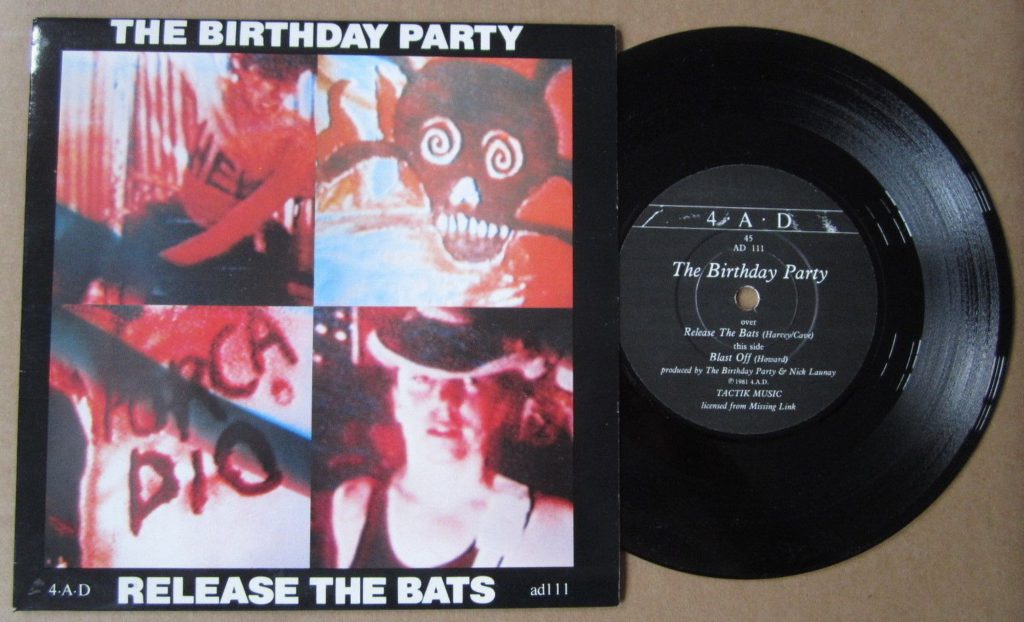 Masterbag, 4-21.8.82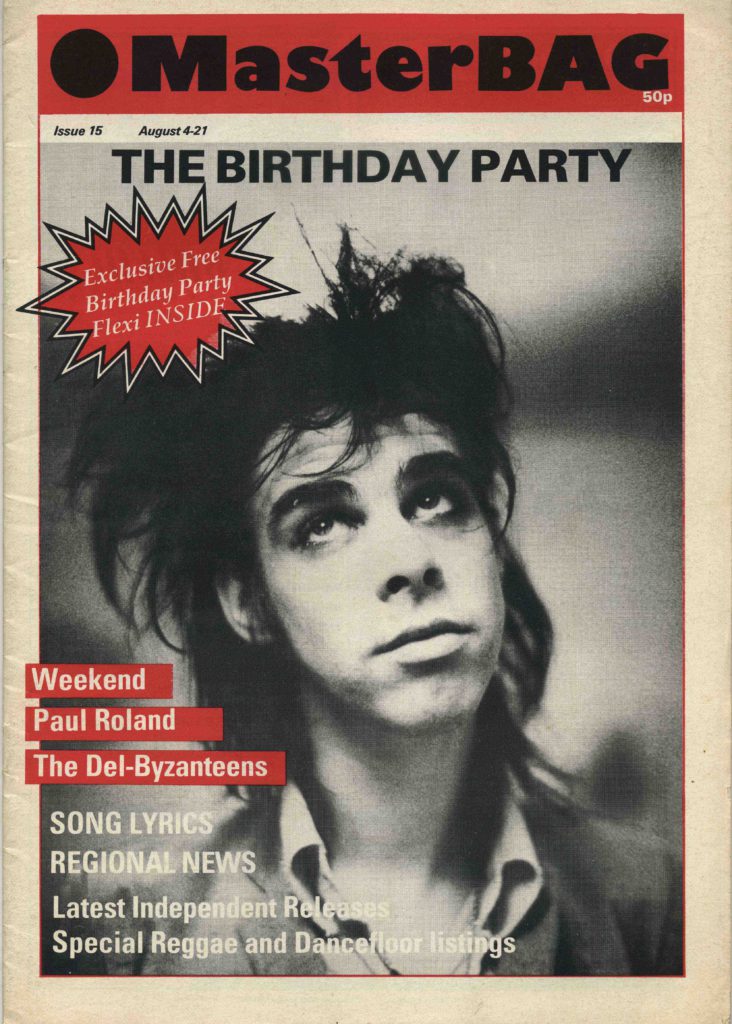 ---
01.05.08
KILLING JOKE – Follow The Leaders – 10″ – EG/Malicious Damage – 1981
See above.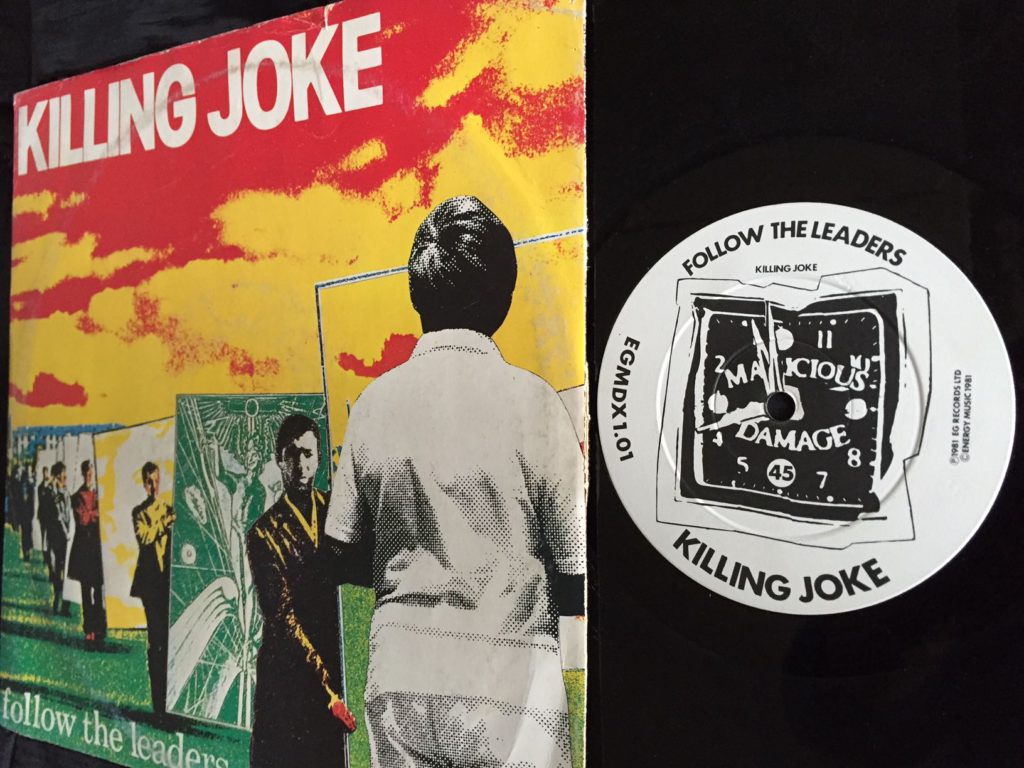 ---
01.10.20
PUBLIC IMAGE LIMITED – Public Image – 7″ – Virgin – 1978
With the Pistols' energy still intact, John Lydon's PIL came out blazing. A big tune on its release, and it still sounds mighty in 2016.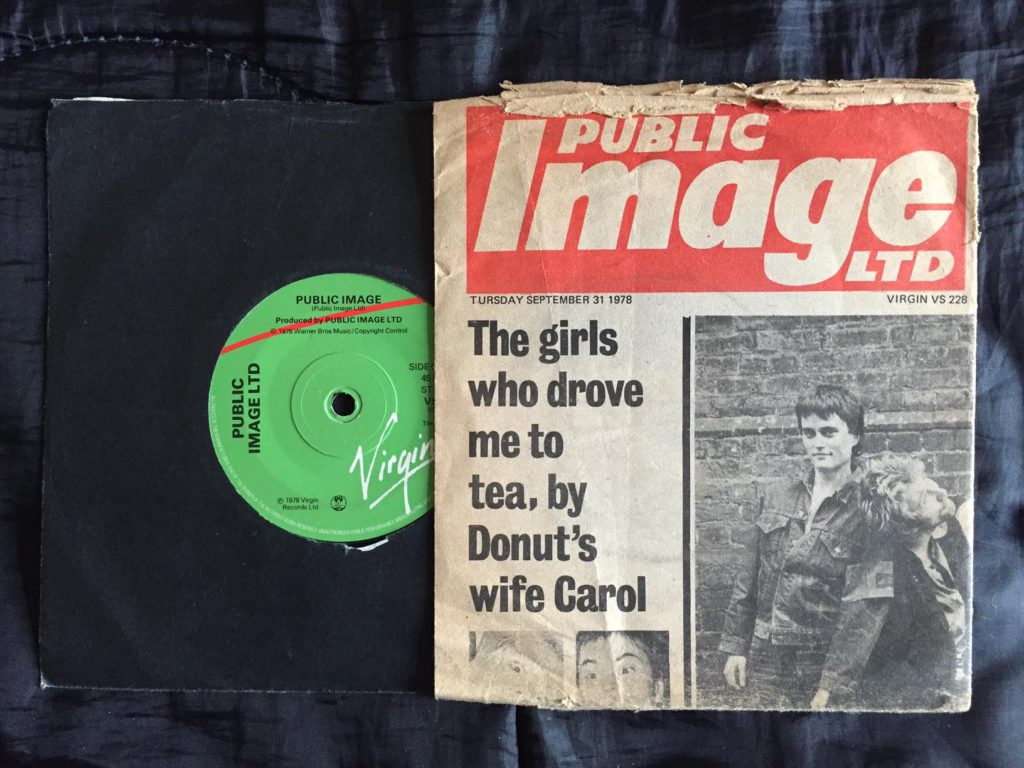 ---
01.13.09
ECHO & THE BUNNYMEN – Crocodiles (Live) – Shine So Hard, 12″EP – Korova – 1981
Any live version of Crocodiles has the beating of the album version for me – and it's certainly the case with this take, recorded at Buxton Pavilion Gardens on Jan 17, 1981 – as it happens, three days after our club started. You can hear the adrenaline flowing, and the song had lost none of its power two years on, judging by a version from London's Royal Albert Hall on uutuuuube. I think I mentioned in From Heaven to Heaven that, around this time, the Bunnymen seemed more likely contenders than New Order for the leap to some sort of mass acceptance – what with McCullough being a natural front man and Barney having reluctantly drawn the short straw in that department. Mac looked like he wanted the acclaim more but neither band will be down the dole office anytime soon.
One priceless and magic oddity I still have from John Peel's radio show that doesn't involve music does, however, involve 'Mac'. Saturday teatime, in December, 1993 when Peely's show had transferred to a weekend afternoon slot, Ian McCullough rang in from a pub payphone to report on a just finished Liverpool home game. To the uninitiated, this is football, UK style… and Peel was and Mac is hardcore Liverpool – and here's that 'match report'.
JP: Go on, tell me all about it then.
IM: Hang on, I thought you were ringing me back (slight laugh).
JP: Oh I see. You running out of money?
IM: Well no, I've got money, but… I've got a number here for you to ring me back, if that's better…
JP: Well, you're on the air now, you're on the air already…
IM: Oh, am I?
JP:  Yeah yeah, so keep going, now that you're here…
IM: Oh, OK. (I'll) put some money in here then…
JP: OK, we'll reimburse you…
IM: Cheapskate BBC… (JP laughs), (aside) Yeah, it's Peely. The match? Well, it was a game of no halves.
JP: Right… (slightly despondent)
IM: It was… Can I say 'crap' on the air?
JP: You can say that, well, you've said it now…
IM: Well, it was bad. A draw was probably a fair result, but we were lucky to scrape it, to be honest.
JP: Anybody any good at all?
IM: Mark Wright was good. Harkness was good but Souness obviously pulled him off to bring on another defender.
JP: Right (more despondency)…
IM: Just… no cohesion at all. Same story as, as the last few seasons. Diabolical.
JP: So, what's the response of people around you, then? I mean, who are they getting at?
IM: Well, somebody in the row behind me was actually wanting Stewart to come back in, so I think even the supporters have gone loopy, you know. When supporters are asking for a (??) like him to come back, it's a sad time.
JP: So what needs to be…
IM: How many points are we behind? About forty five? We can make it up, I think… Easter pile-up, you know…
JP: Well, the mad thing is, actually, Liverpool have got a game in hand and if they win that, according to my calculations, I think they're fourth in the table, which is, errr… an indication on how terrible things are, by and large, in English football.
IM: Yeah. I mean, to be honest, I can't see anyone catching (Man) United. I mean, when you draw two all at home to Swindon – they weren't that bad, Swindon, to be honest, and they kept it on the ground, errmmm…
JP: You don't get much of that these days…
IM: Pardon?
JP: I said, you don't get a whole lot of that these days, either.
IM: I can, I can hardly hear you, John.
JP: OK, you keep talking and I'll…
IM: Keep talkin'…
JP: Yeah, just keep going.
IM: I'll just tell you it was crap. Errr, Jones was crap. Harkness was alright, Wright was good, Ruddick was… he made Ron Yeats look, ermmm… mobile. Redknapp was pretty crap again, I thought, although a few people – kind of Redknapp fans, little girls, I think – thought he played well. Mølby, he showed his weight today. Barnes looked… Barnes kept hold of the ball quite well. Rush looked invisible and Fowler, he suffered through Rush's lack of, lack of whatever he has, you know? (???) totally immobile again, McManaman kept getting the ball on the right and didn't do anything with it.
JP: Can you hear me well enough to tell me where you are, Ian?
IM: I'm in Childwall, the Childwall Abbey Arms.
JP: Right. Got any 'pop' business to tell us, any showbiz stuff?
IM: Yeah, I'm working back with Will (Sargeant) again, so… the rock world can shake at that.
JP: (Laughing) Anything gonna result from this activity, do you think?
IM: Pardon?
JP: Anything likely to result from this activity?
IM: Yeah, sometime probably around May, and I've been working with Johnny Marr, and that's sounding fantastic, so I've been… I've had a busy year, just kinda writing with Johnny and Will… and it's sounding fantastic, if I…
JP: OK. Well, thanks very much, errr… if you fancy doing this again, we'll pay for it next time.
IM: OK. (Would) love to, coz I'm a bit nervous today. It's me first time being John Motson.
JP: (Laughing). You're very welcome, any time you like.
IM: OK, cheers John.
JP: See ya then.
IM: Bye.
JP: Bye, bye.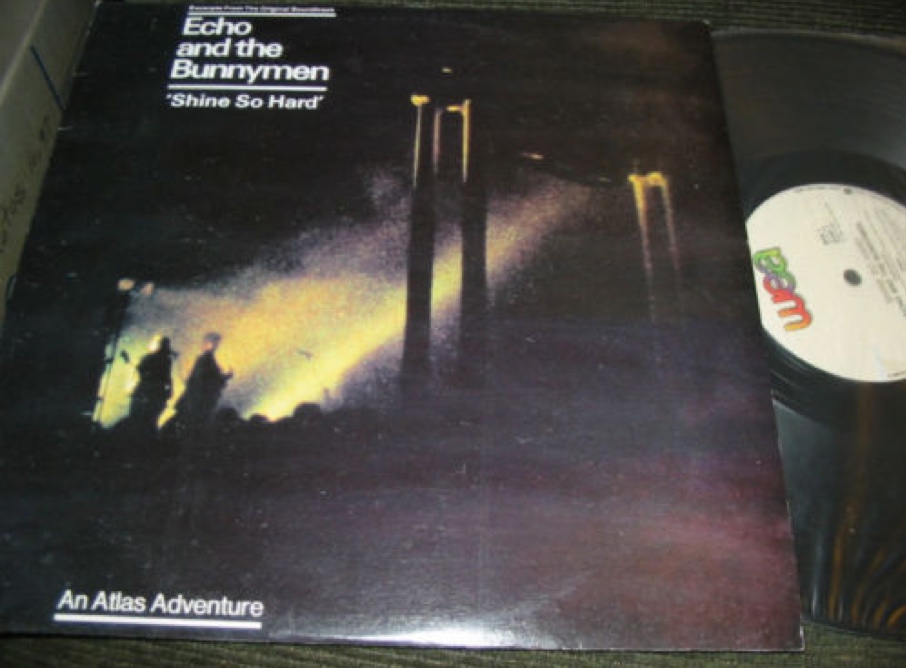 ---
01.18.02
CABARET VOLTAIRE – No Escape – Mix-Up, LP – Rough Trade – 1980
As ever present on the Winkles turntables on our nights as Joy Division, New Order, A Certain Ratio et al, the video to No Escape (a mimed performance out on some windswept Yorkshire Moors looking terrain) is nothing special, technically, but back then it somehow seemed greater than the sum of its parts, impact-wise.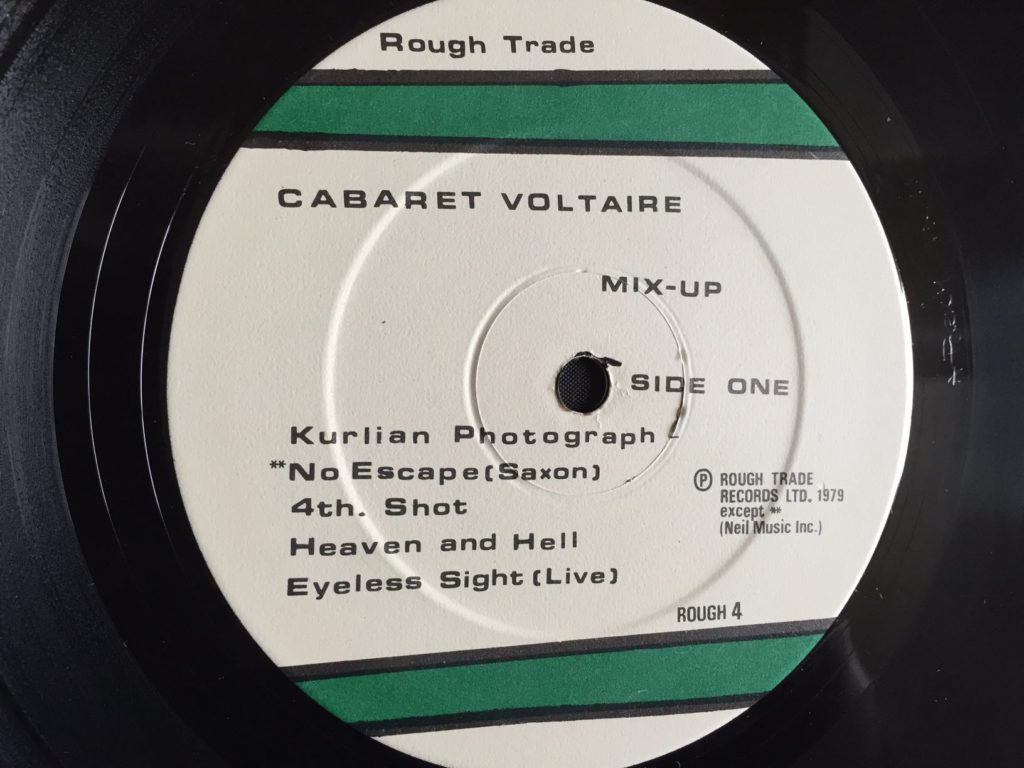 Richard Kirk and Bernard Sumner – Sheffield Poly, 23 Sept, 1981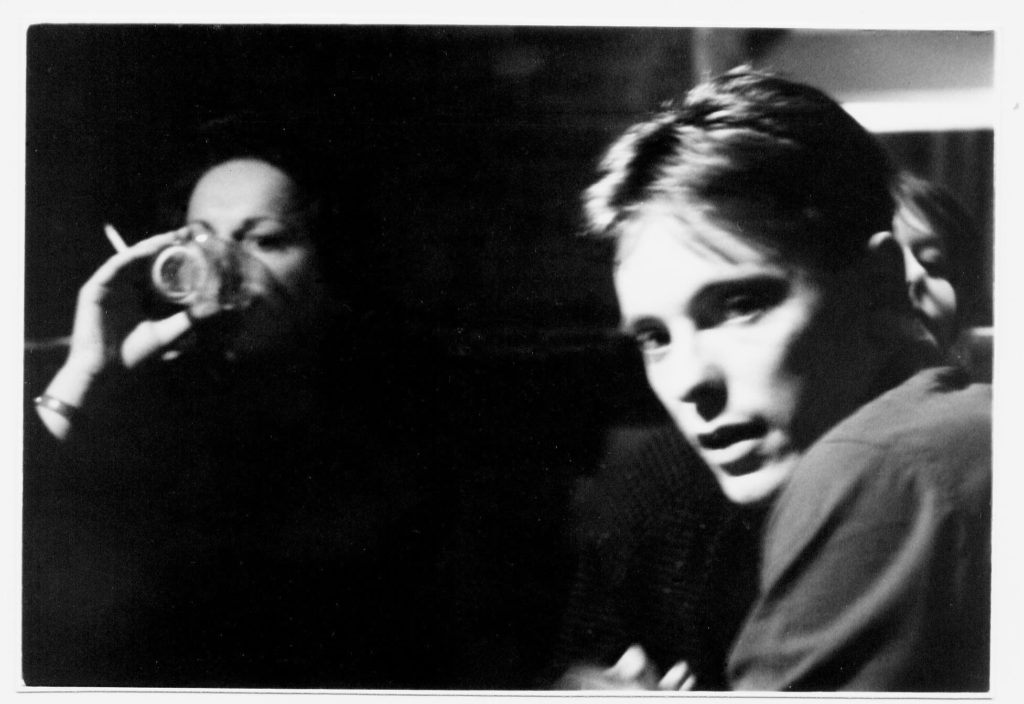 Photo credit: Dec Hickey
Just over a year previous, New Order had taken their first tentative steps into a studio, care of Cabaret Voltaire's Western Works set up in Sheffield. Here, in the bar of the city's Poly, before New Order were to take to the stage, these two post punk icons are catching up again. Barney introduced me to Richard and I eventually persuaded the Cabs to play Bedford, managing it not once but twice. Big, big nights.
Masterbag #7: 15-29.4.82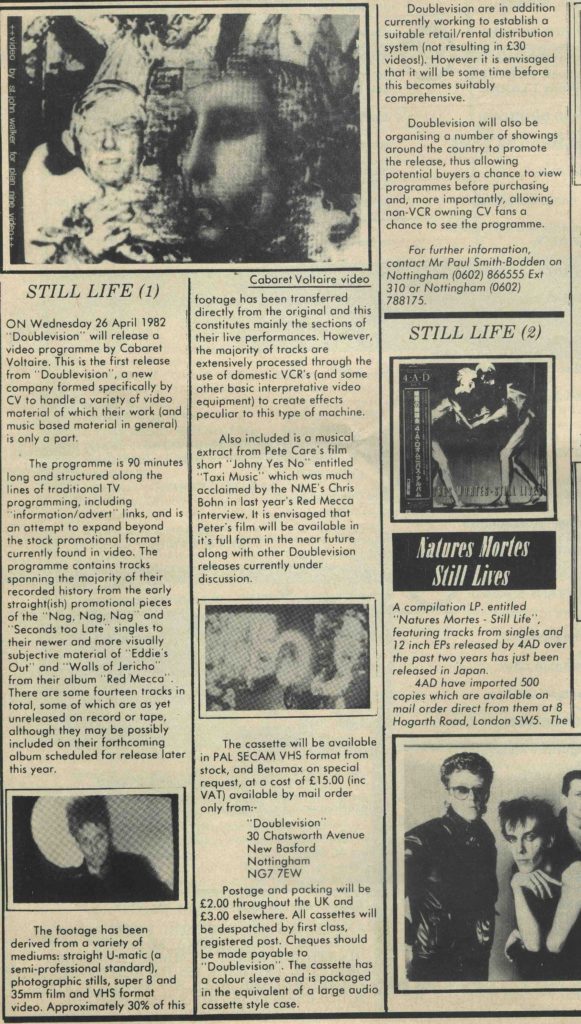 ---
01.21.32
THE B-52s – Private Idaho – Wild Planet, LP – Warner Brothers – 1980
Party Central Music. Given that their whole catalogue sounds like that, my B-52s 'arsenal' down the club was, maybe surprisingly, fairly limited. My mate, Alan J (RIP) used to slot a few into his opening hour which evened things up. Still rocking their lobster in more modern times, albeit with a bit less physical energy. Understandable.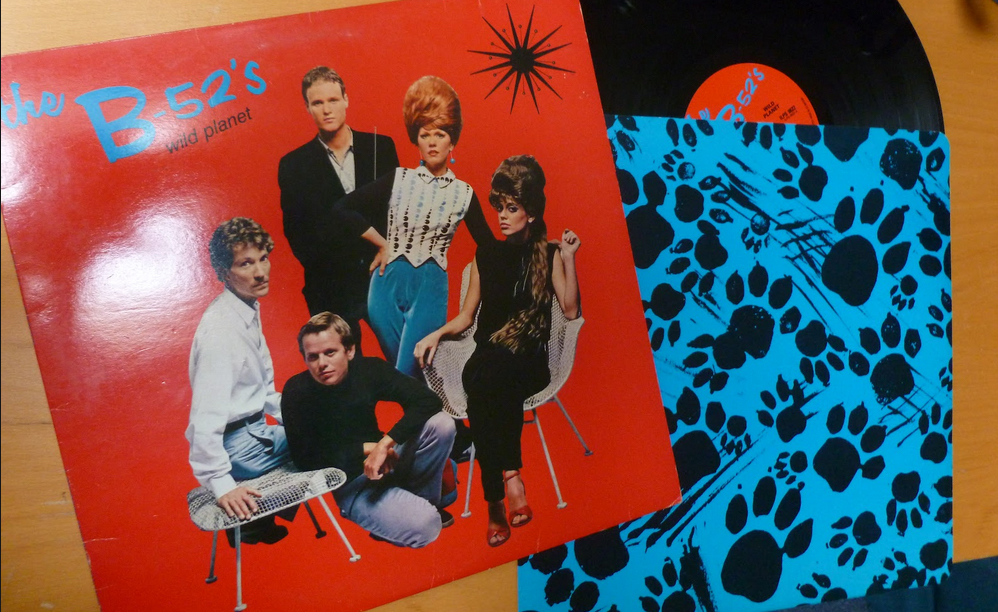 ---
01.24.59
DEVO – Whip It – 12″ – Virgin – 1980

The cartoon capers continued. Brilliant stuff.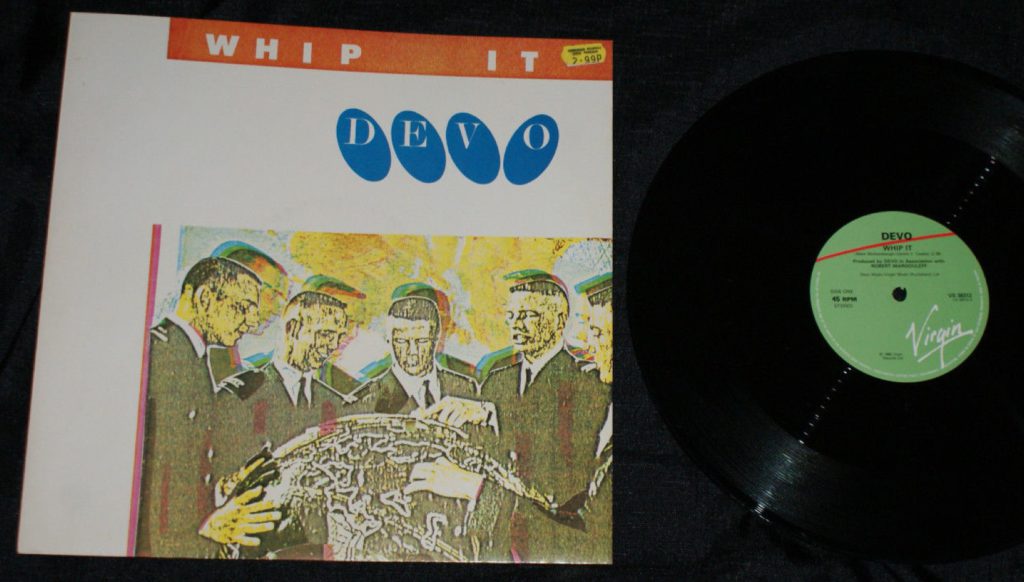 ---
01.27.36
THE TEARDROP EXPLODES – Reward – 7″ – Mercury – 1981
I'd sort of forgotten how fast this tune is.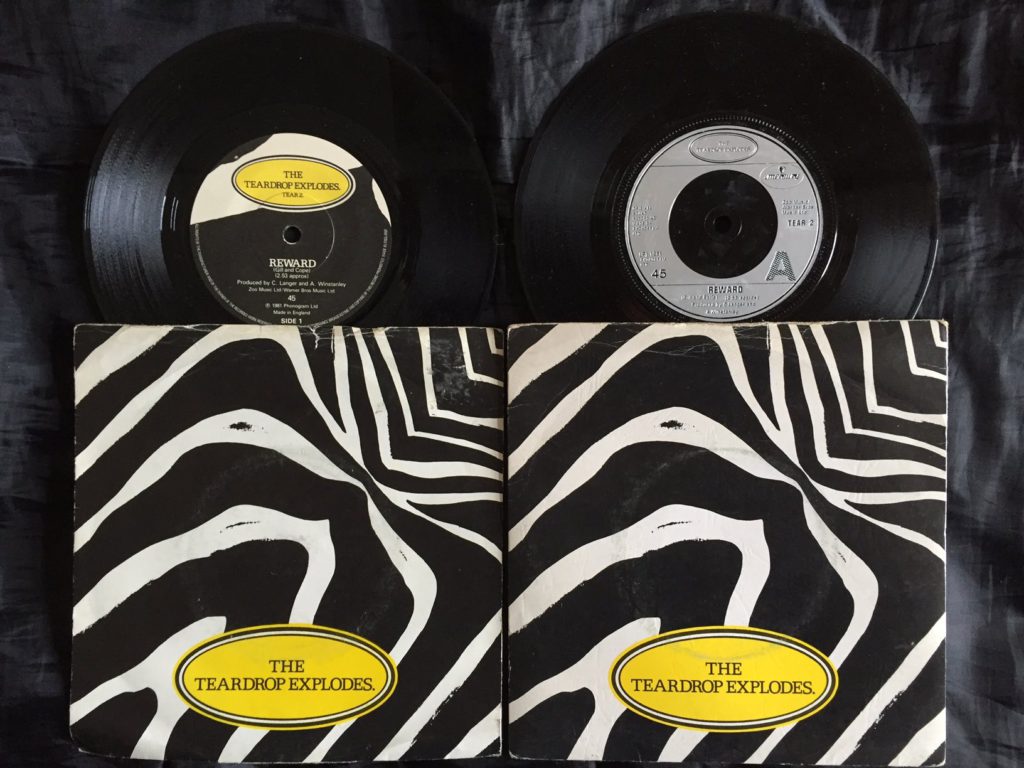 Local paper (Bedford Record?) review of their Oct 22, 1981 Bedford, Addison Centre gig… and my first promotion. As an aside, the reviewer, Andy Burroughs (who I went to school with) later became the BBC's Religious Correspondent, often cropping up on the Six O'Clock News. It didn't stop him getting into a bit of live band stuff himself around the same time… good to see.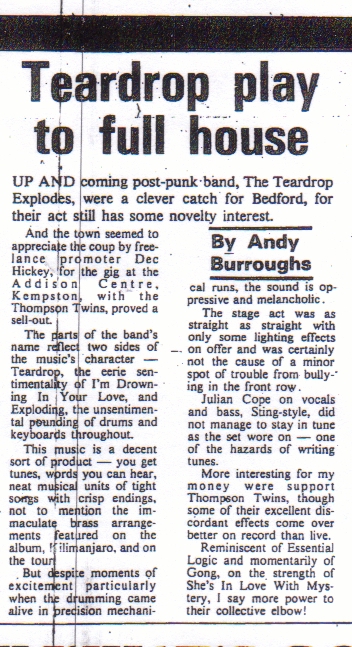 ---
01.30.16
THE SOUND – Sense Of Purpose – 7″ – Korova – 1981
The first two albums were 'it' for me back then but I must check out the rest of their catalogue. Sometime in the nineties I remember Adrian Borland striding into the Royal George pub next to EMI Music Publishing in London's Charing Cross Road and I distinctly also remember he looked very hot and bothered. He had a quick look around and was gone again but the episode came back to me when I read of his suicide in 1999, and it was subsequently noted he'd been suffering from severe depression for the last fourteen years.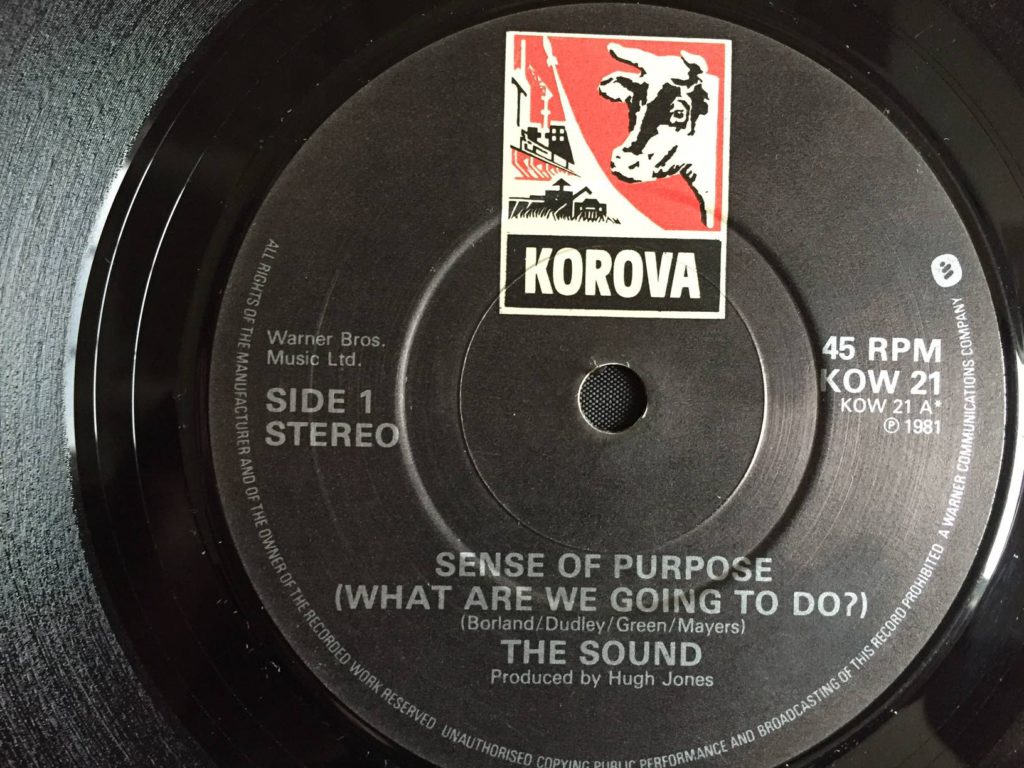 ---
01.33.45
U2 – I Will Follow – Boy, LP – Island – 1980
It's hard to remember a time when Bono wasn't a mate of world leaders but it did exist. In Sept 1980 I was due to see them play at the tiny Nags Head pub in Wollaston, Northamptonshire but I happened to dislocate my shoulder playing football in the morning. I was still intent on going but in the phone call that ensued in the afternoon with my then girlfriend Jenny (she subsequently became good mates with the band) she deemed I was a bit too out of it on the medication to be safe company in a hectic pub gig. By the next day, though, I'd 'come around' enough to catch them with her at the Marquee in London. Albeit briefly, they had their place in the whole post punk scene, it can't be denied.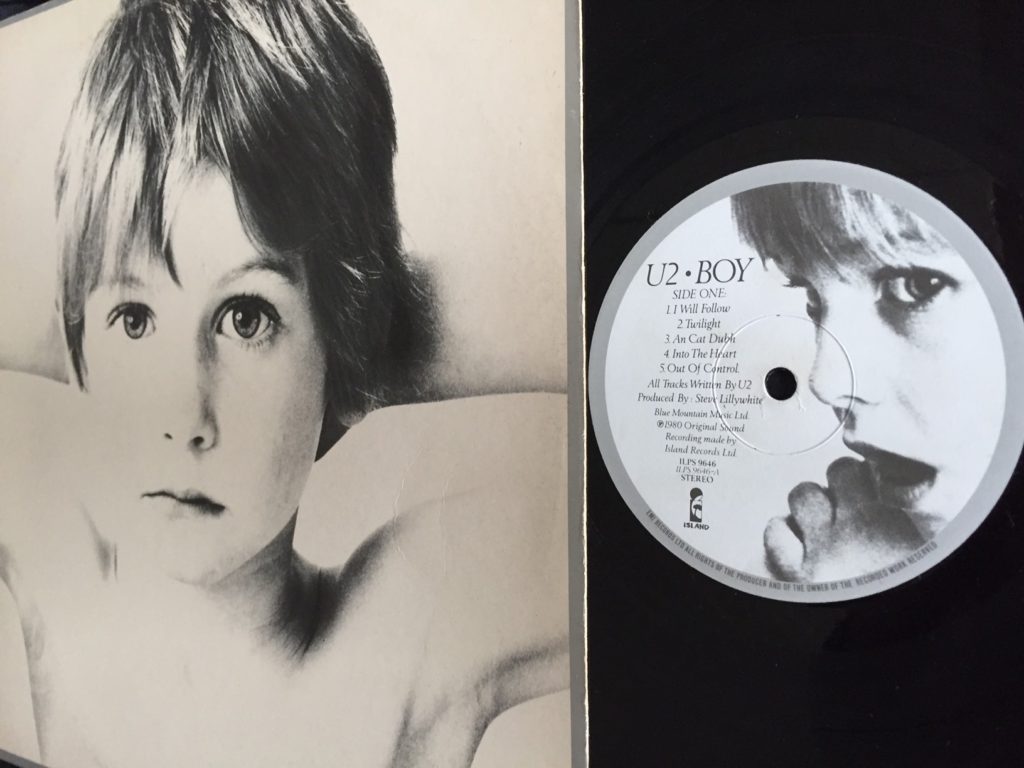 Previously unpublished, two of the 'better' photos I took at St Alban's City Hall, Jan 31, 1981. Acquired on the night from someone at the venue – but long since sold – I did have the poster from this gig. I wonder where it is now? A pale yellow and blue, 20 x 30″ type thing it was.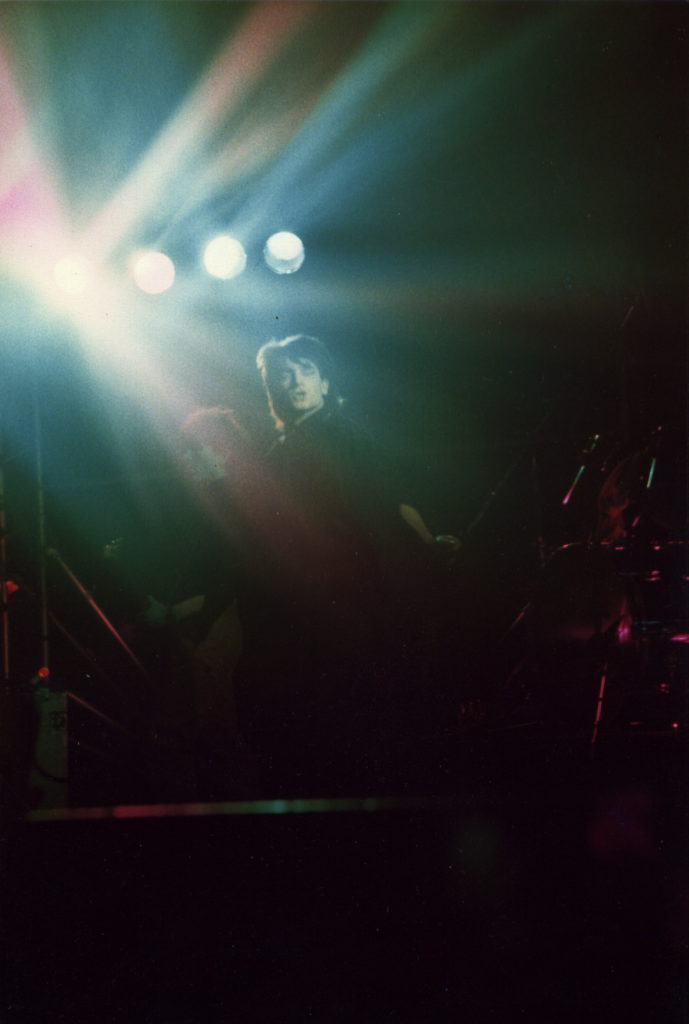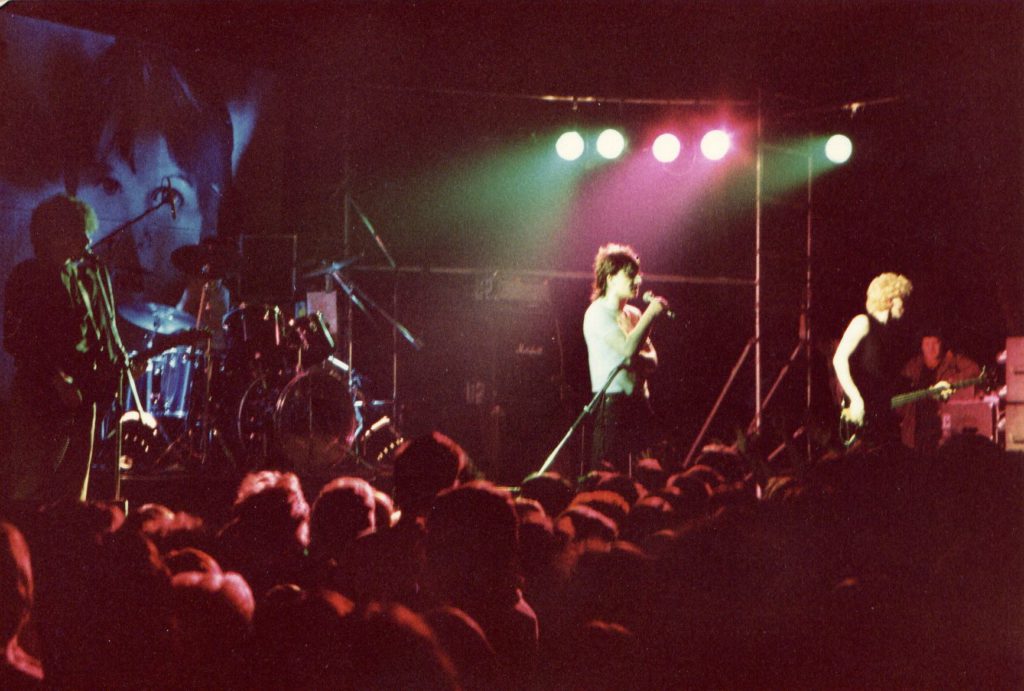 Photo credit/copyright: Dec Hickey
---
01.37.13
ORCHESTRAL MANOEUVRES IN THE DARK – Messages – 10″ – Dindisc – 1980
I can maybe lay the blame for my dance 'moves' around this time most squarely at the door of OMD singer, Andy McCluskey. And any video footage you might catch of New Order performing Ceremony on Granada TV's Celebration arts programme in 1981 will bear this out. Back to OMD and some very fine stuff early on and an appearance on the Old Grey Whistle Test that sticks in the mind. When I caught the two OMD'ers on BBC Breakfast 35 or so years later they did, however, come across like two on the verge of retirement, slightly dowdy schoolteachers. They'll still pop up here again, though.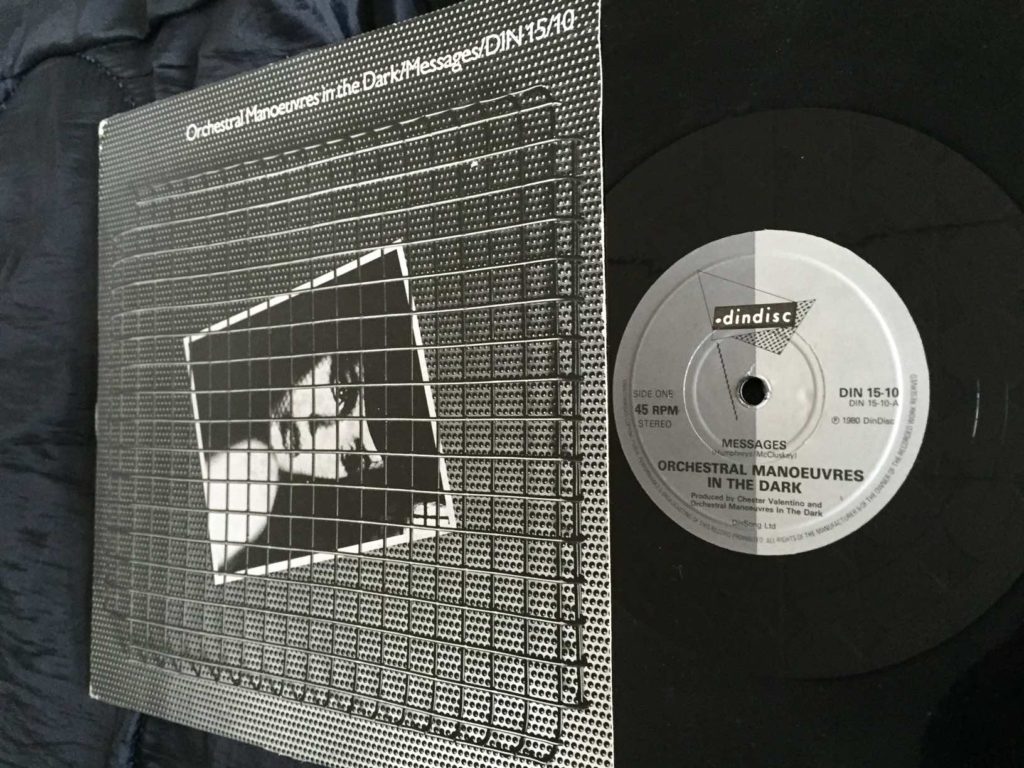 ---
01.41.47
JAPAN – Gentlemen Take Polaroids – Gentlemen Take Polaroids, LP – Island – 1980
This was a big album for me. And I'm twelve 41 Rooms shows in and no solo Sylvian yet! On a completely separate dislocated shoulder sketch to the above (!) I was in hospital '81-'82'ish when workmate, Steve Goodacre – fresh from a Japan gig – came in with a get well card for me signed by Mick Karn. A nice touch. I still have it somewhere, and when I find it, it'll be here beside this or another Japan tune.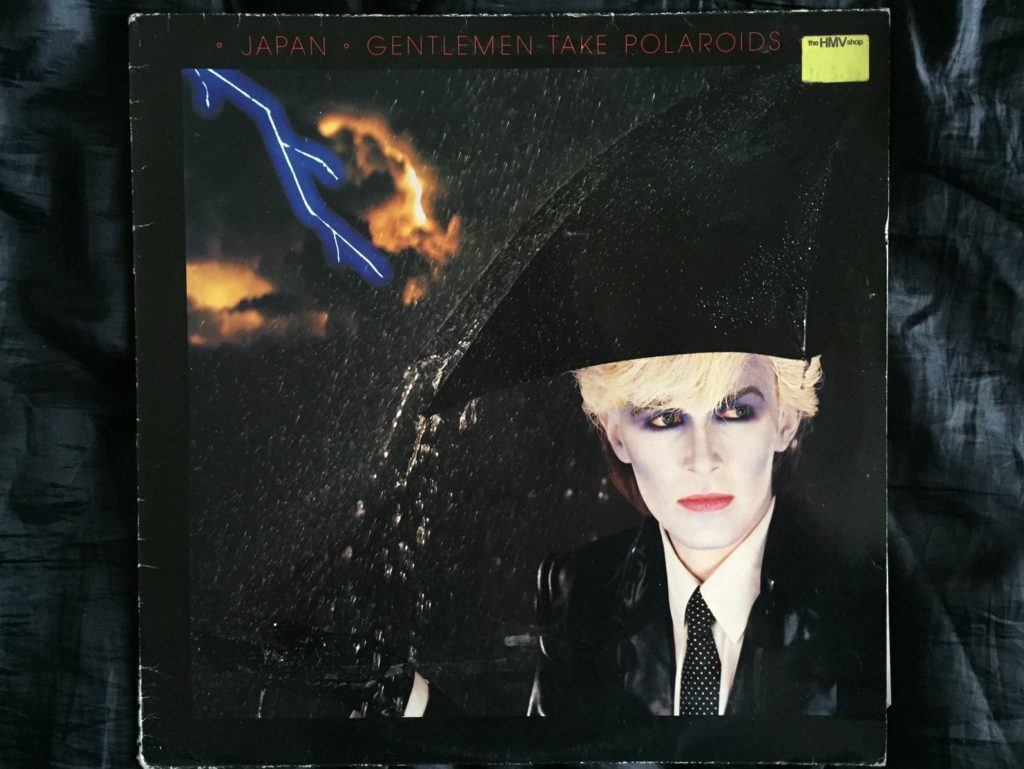 Hammersmith Odeon, May 16, 1981, and more lacklustre photography, but again, previously unpublished.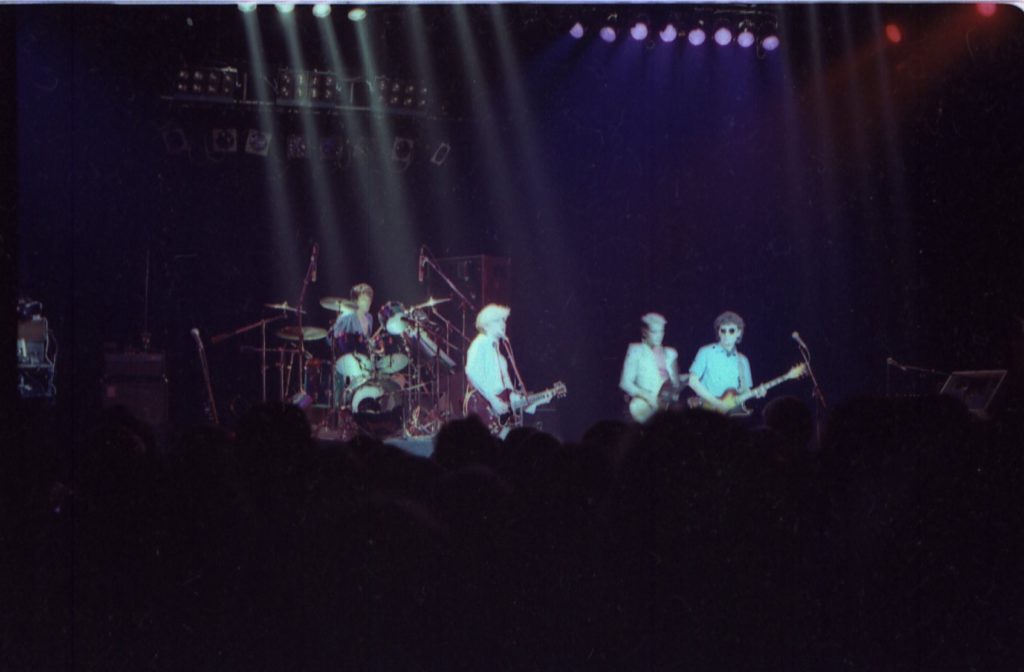 Photo credit/copyright (errr, for what it's worth 🙂 ) Dec Hickey
---
01.46.29
YAZOO – Situation (US 12″ Mix) * – 12″ – Sire – 1982 !!!!!!!!!!!!!!!!!!!!!!!
Whoops, dunnit again! The second tune to mistakenly creep into a Winkles 1981 playlist a year early.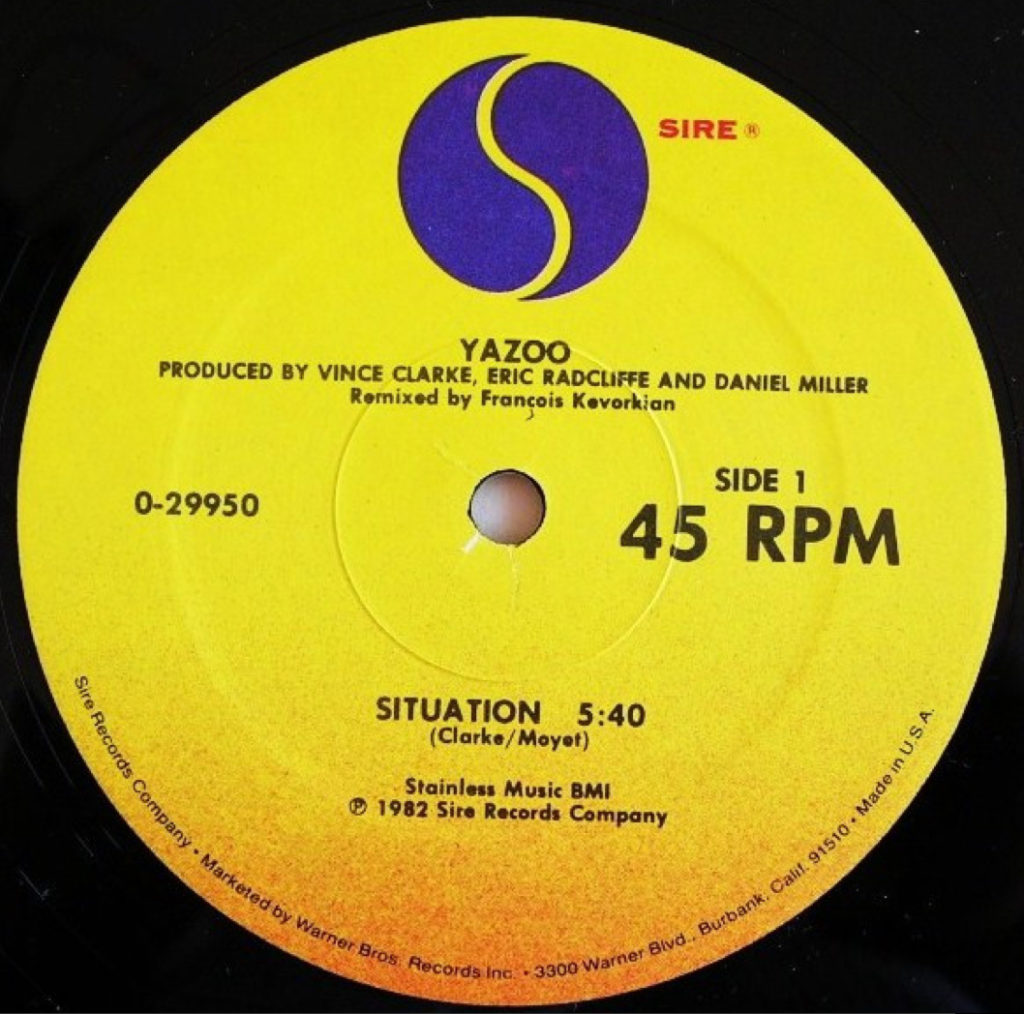 ---
01.51.59
A CERTAIN RATIO – Shack Up – 7″ – Factory Benelux / Les Disques Du Crépuscule – 1980
As iconic a sound of these times as any.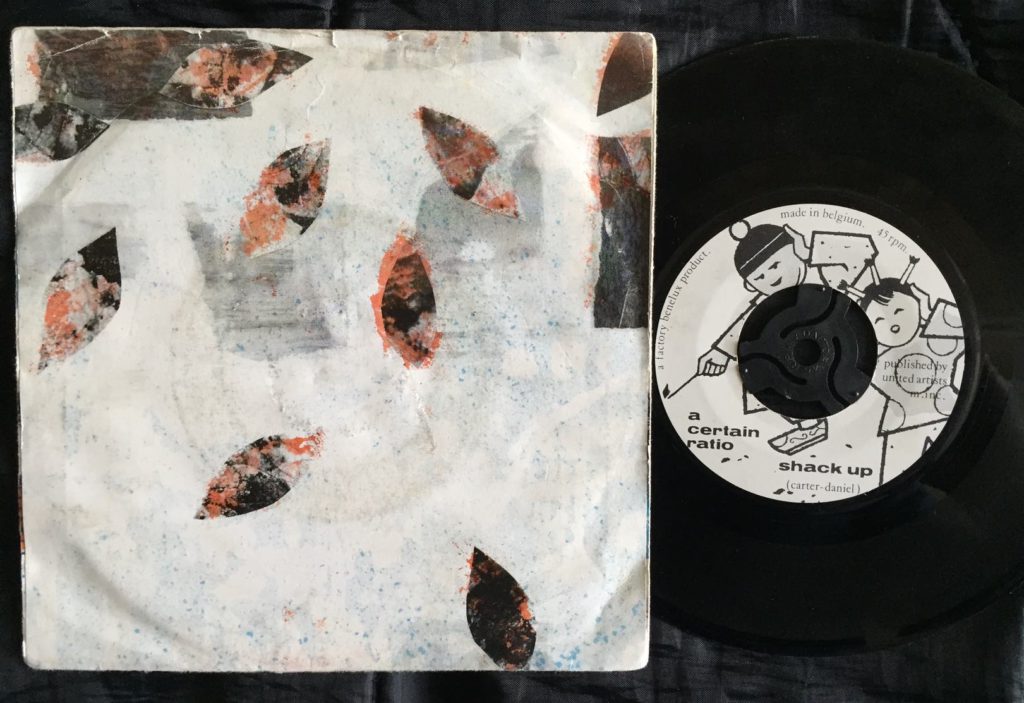 ---
01.55.11
PIGBAG – Papa's Got A Brand New Pigbag – 7″ – Y Records – 1981
Usually a tune for near the end of one of our nights.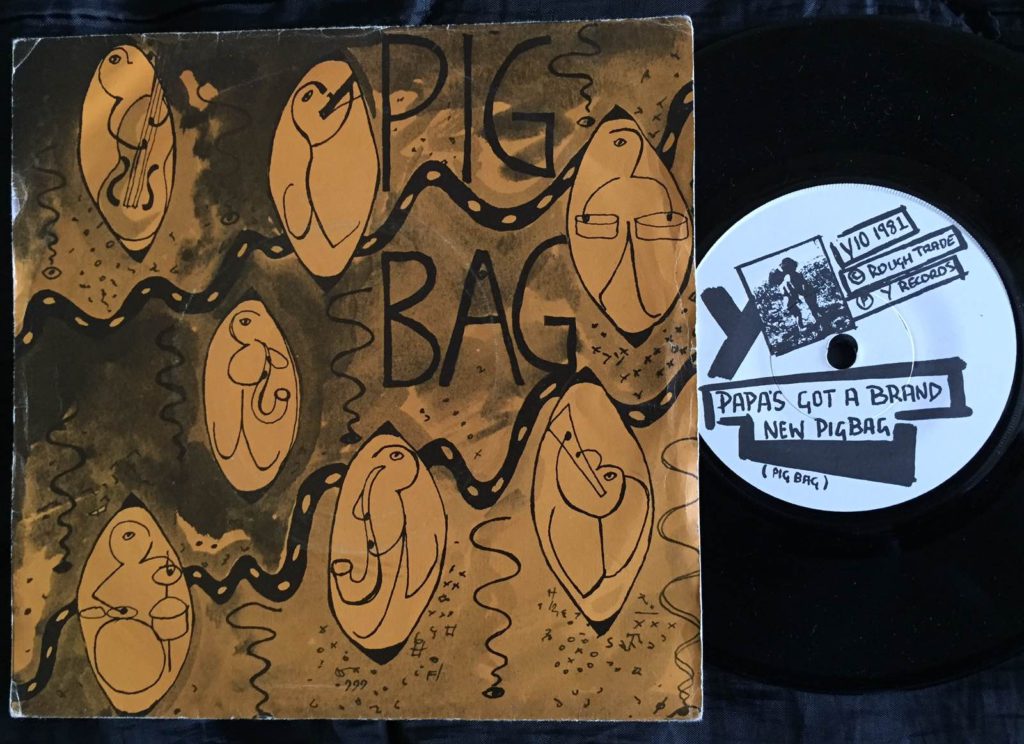 Masterbag #2, Jan '82.
---
01.58.32
THE HIGSONS – I Don't Want To Live With Monkeys – 7″ – Romans In Britain Records – 1980
Bonkers but brill… and maybe a signpost for Charlie Higson's later career.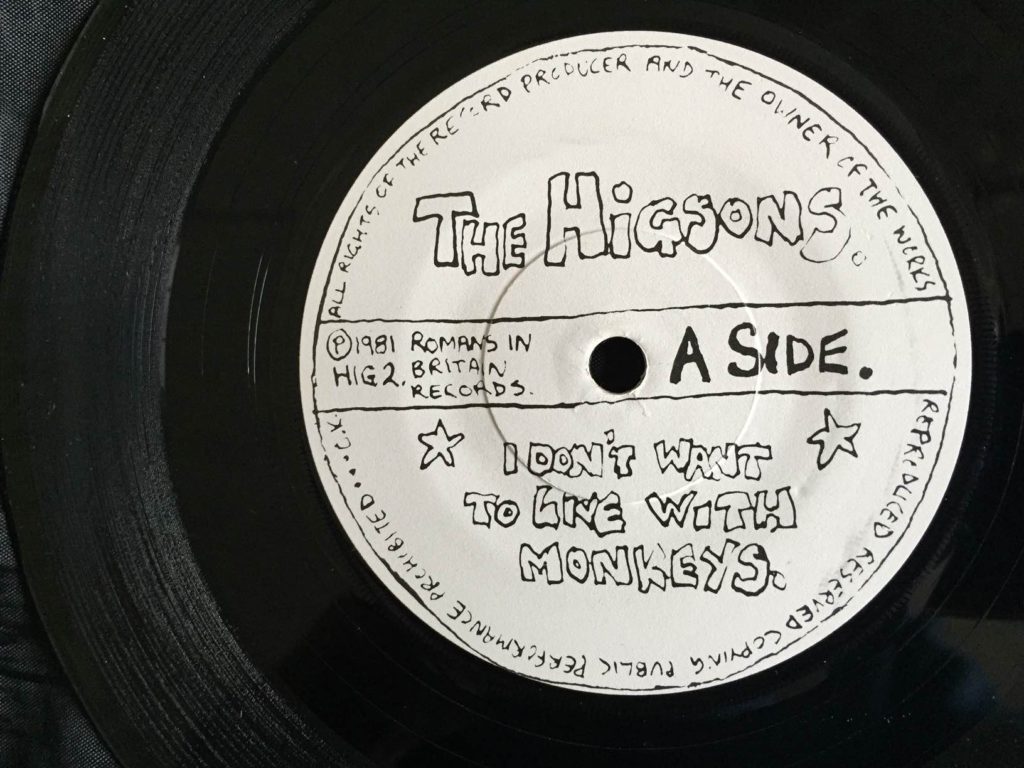 Poster – Bedford Boys Club: 26.1.85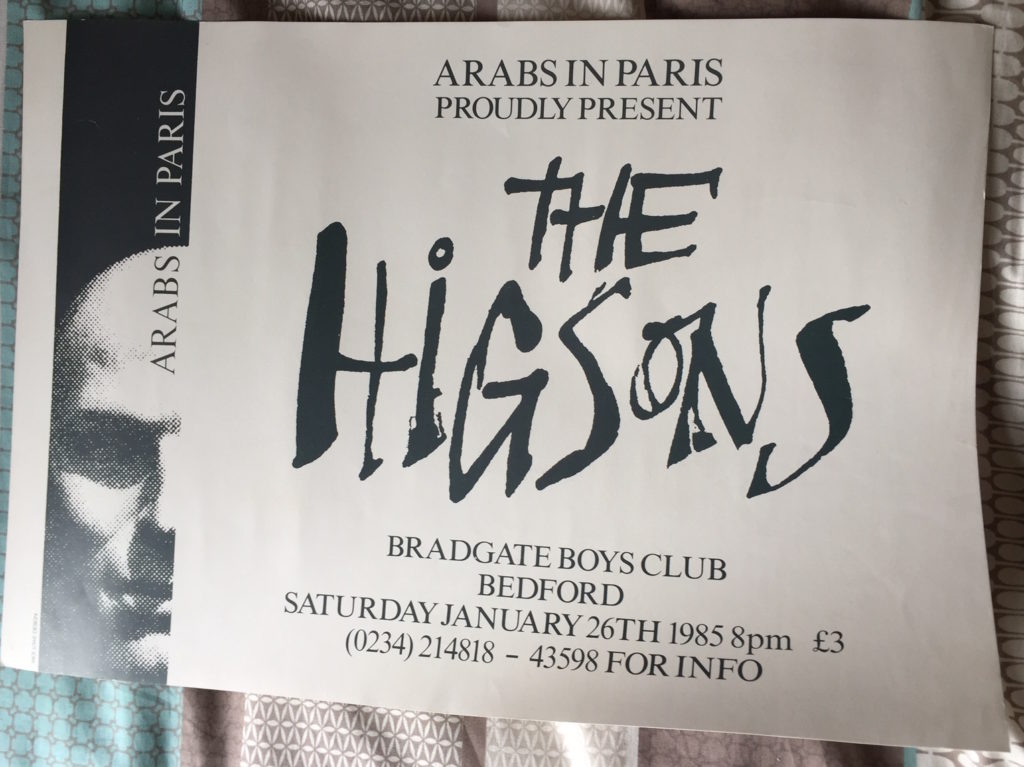 Winkles 1981 Pt 4, sometime around show #15.
Sayonara
Dec