41 Rooms, Playlist 34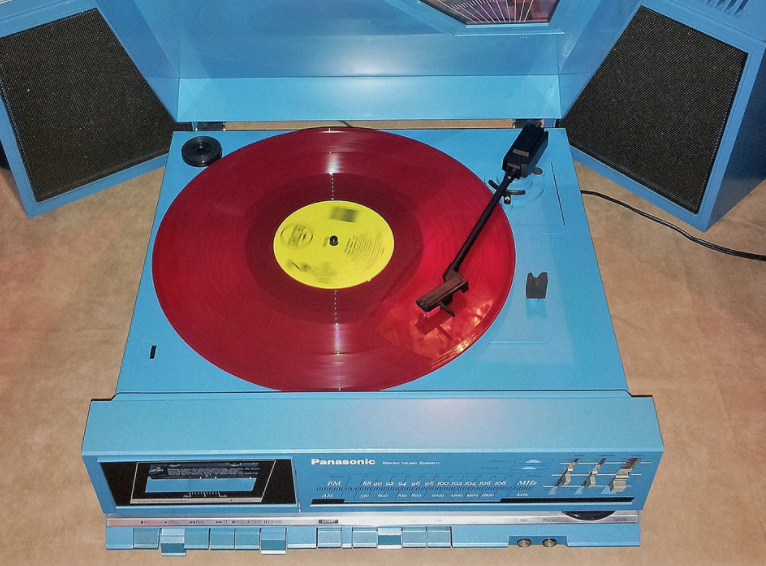 My niece's growing love of vinyl meant she's acquired one of these to play the stuff.
41 Rooms, Playlist 34 is 76% vinyl friendly. Not bad.
---
A Word Of Warning:
A couple of tracks in this show are slightly 'sonically challenged'.
---
Tracks marked * have been given a tiny (or sometimes, slightly bigger) 41 Rooms 'tweak'/edit/chop/whatever.
---
Lyric of Playlist 34: 
'Don't panic, I'm on the Tigh… tanic'
but it could have been the girls from Stockholm.
---
00.00
(Intro) THE FLAMINGOS – Stars (Edit) – Unreleased demo – 1983 Episode #1 for info.
---
00.41
NEW ORDER – Behind Closed Doors * – Crystal, CD single 2nd track – London – 2001
The mark of a great band? They can practically bury quality tracks like this as CD single 'extras'.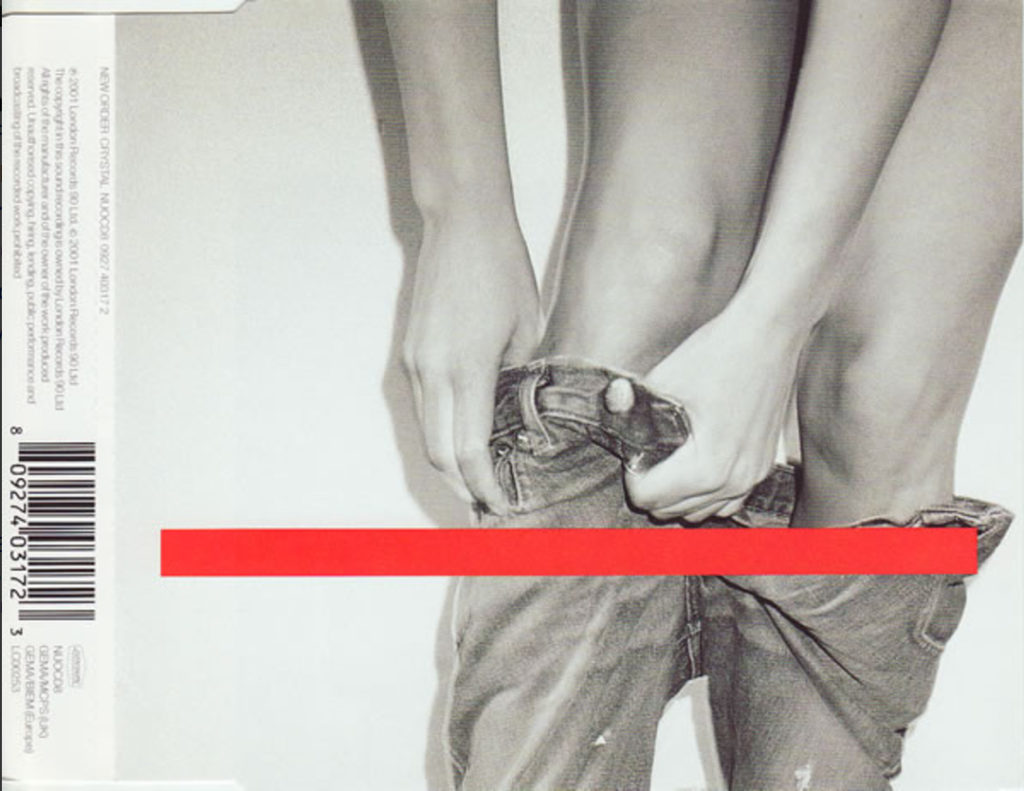 ---
05.54
ALTERED IMAGES – A Day's Wait – 7″ – Epic – 1981
Clare Grogan made a few hearts flutter and her and the band made some fab tunes.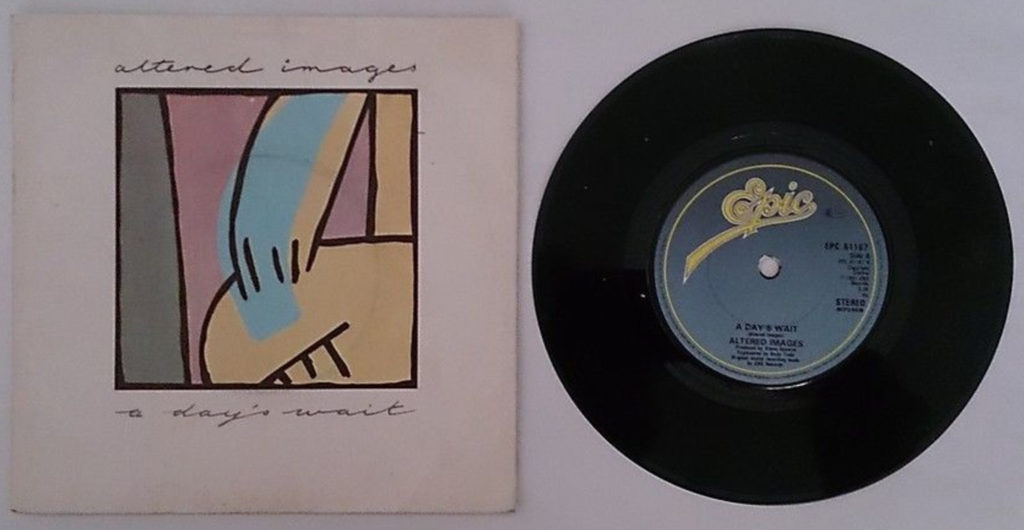 ---
10.03
COCTEAU TWINS – Musette and Drums – Head Over Heels, LP – 4AD – 1983
Royalty returning…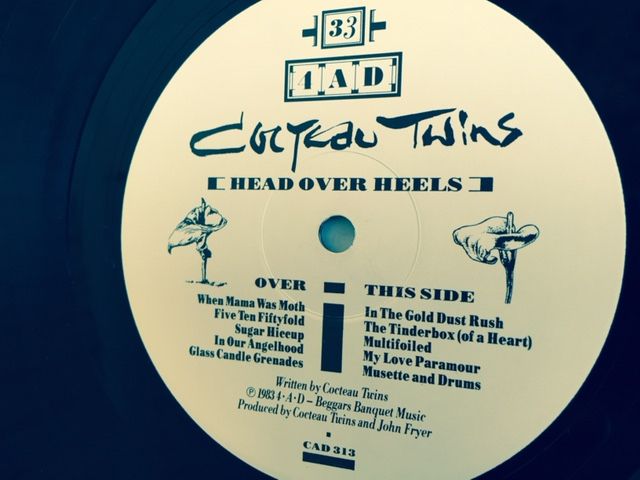 Simon sound checking, April '84, at one of the five gigs on their UK tour that month. And if at some stage I work out which it was I'll let you know.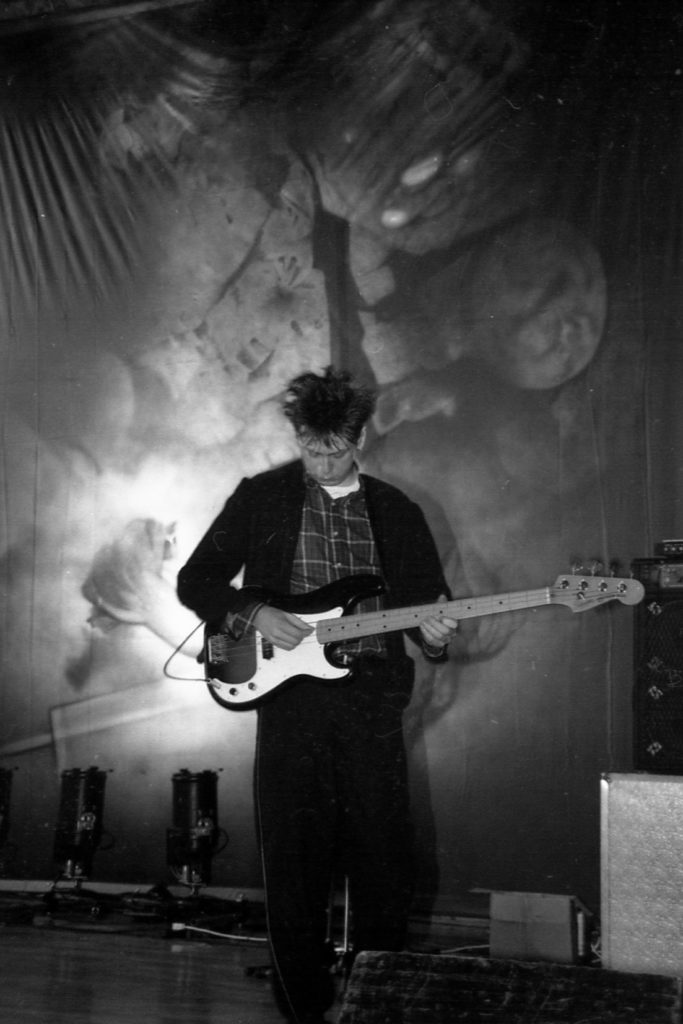 Photo credit: Dec Hickey
---
14.32
BIG BLOOD – Half Light Blues – Split 7″ – Third Uncle Records – 2015
'A limited edition of 35 hand-cut 7″s on black vinyl. Both sides end in a locked groove, each one slightly different because they were all individually cut' – Discogs
And, no, I don't have one… deep sigh.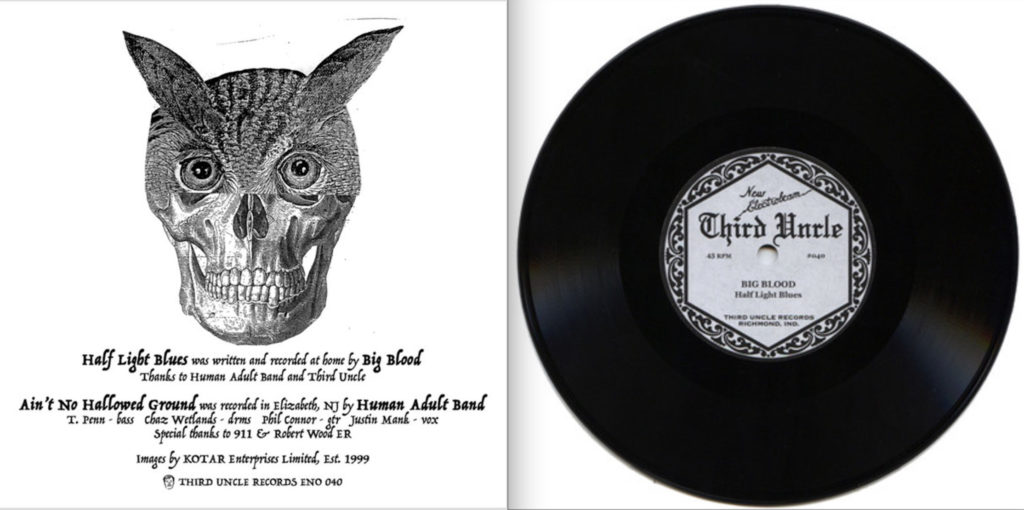 ---
19.27
PORTICO QUARTET – Spinner – Self Titled LP – Real World Records – 2012
'Space jazz'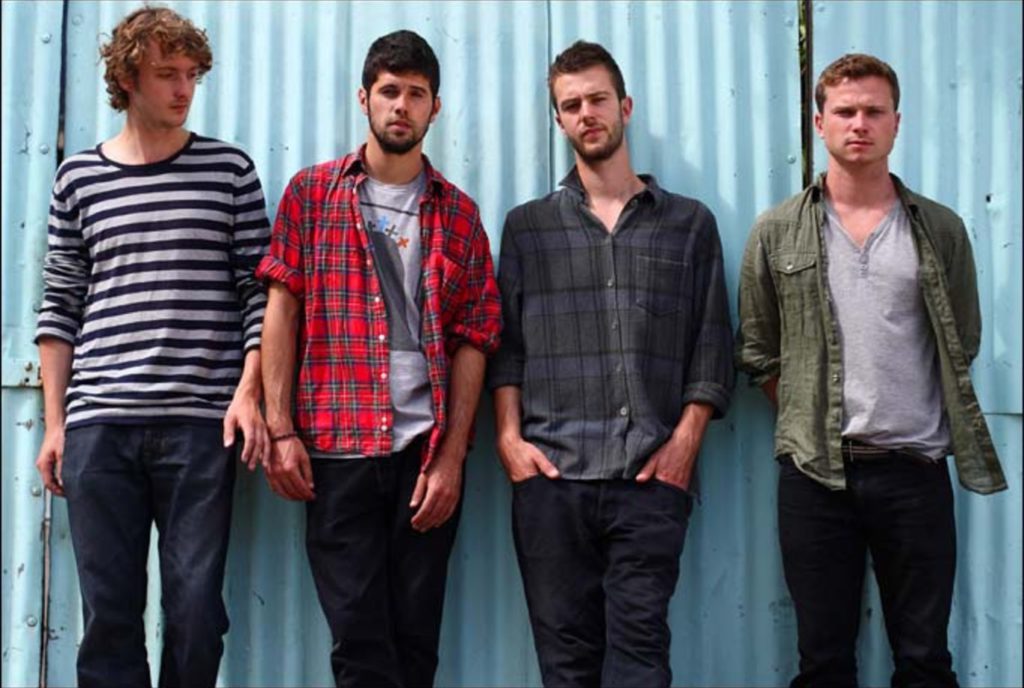 ---
23.50
BETHANY AND RUFUS – If I Had My Way (Samson & Delilah) – 900 Miles, CD only – Hyena Records – 2006
The daughter of 1960's folk trio, Peter, Paul and Mary's Pete Yarrow and a very 'in yer face' cello, described elsewhere as 'mind-blowing and genre-bending'. Definitely a bit groovy.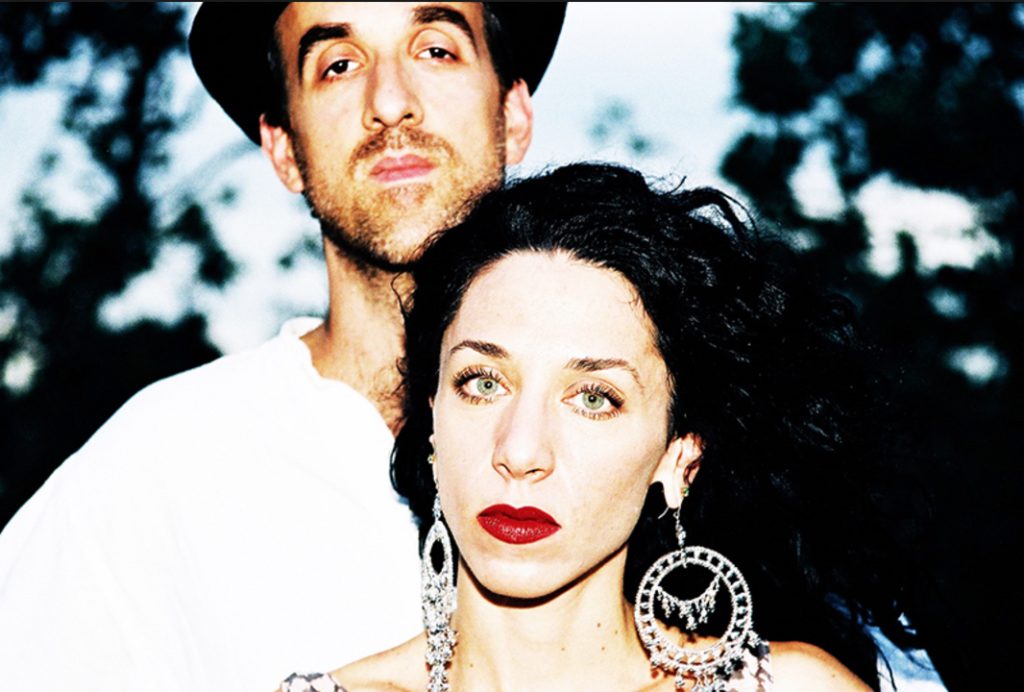 ---
27.14
ALICE RUSSELL – All Over Now – Favourite Letters, 2LP – Tru Thoughts – 2005
From her second album for the Brighton-based label.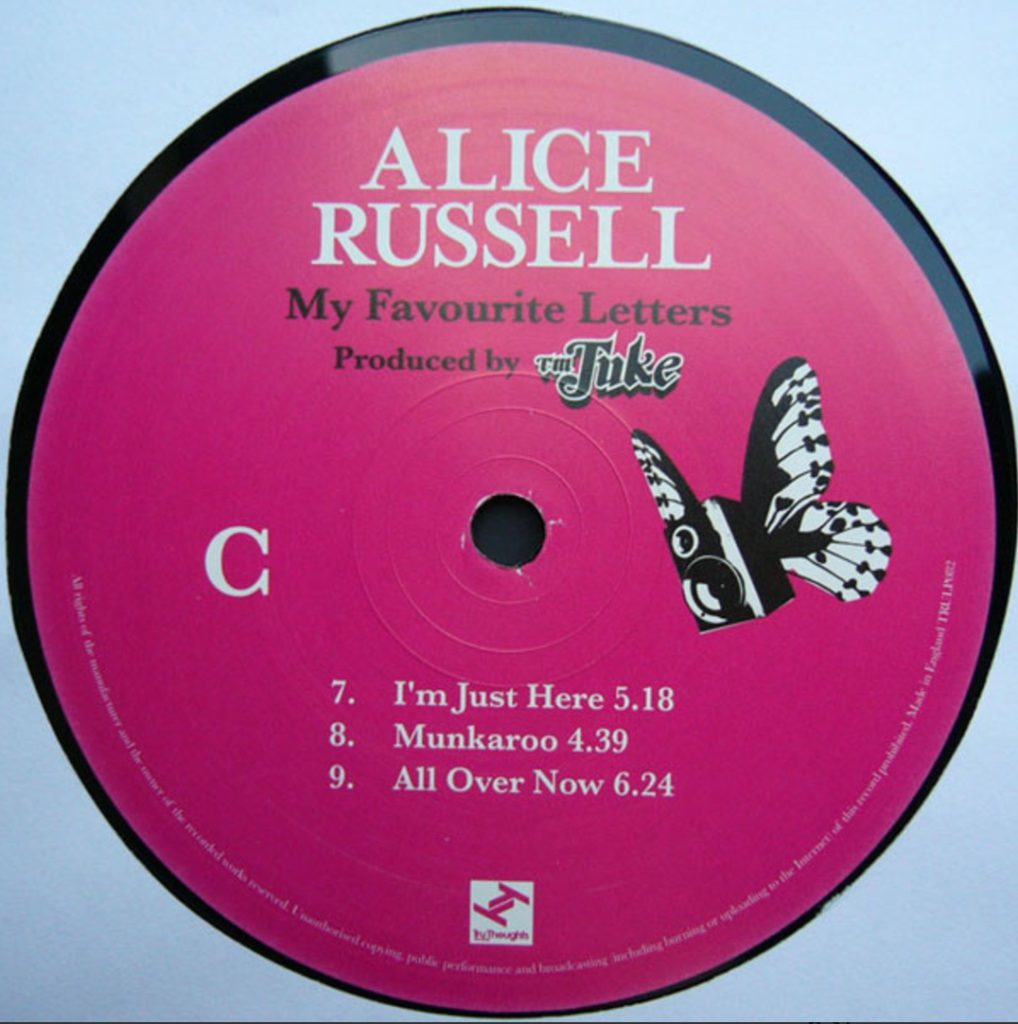 ---
32.51
SUNSHIP (feat WARRIOR QUEEN) – Almighty Father (Solid Groove Underground Souljah Mix) – 12″ – Casual Records – 2004
'Almighty Father (Casual) Ceri Evans is back! And he's genre bending once again with some futuristic dancehall and a little help from up and coming producers Solid Groove. Turn your ears in the direction of the Solid Groove Dub in particular for a dose of sub-bass bruk-two step-ragga biz on a Seiji tip. One almighty record. Dom Servini, Straight No Chaser, Vol 2, #32, Autumn '04.
back – an impossibility in these mediaeval days. The most captivating single since Sugarcubes' Birthday, and Indie #1 for six weeks. Hype is hip, then' – Martin Aston, The Catalogue #67 Feb '89.
This girl sounds fired up.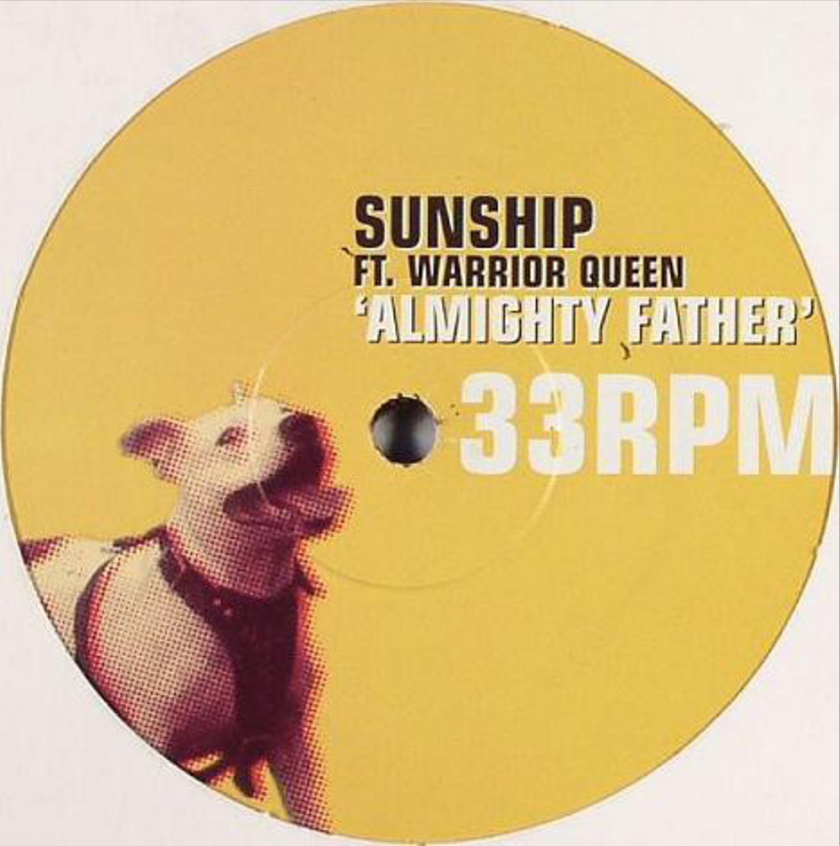 ---
37.01
BOURBONESE QUALK – Skin Deep – Self Titled LP – New International Recordings – 1987
My ears pricked up a couple of times when they got spun on John Peel's show but they were one of those bands only on the edges of my radar back then.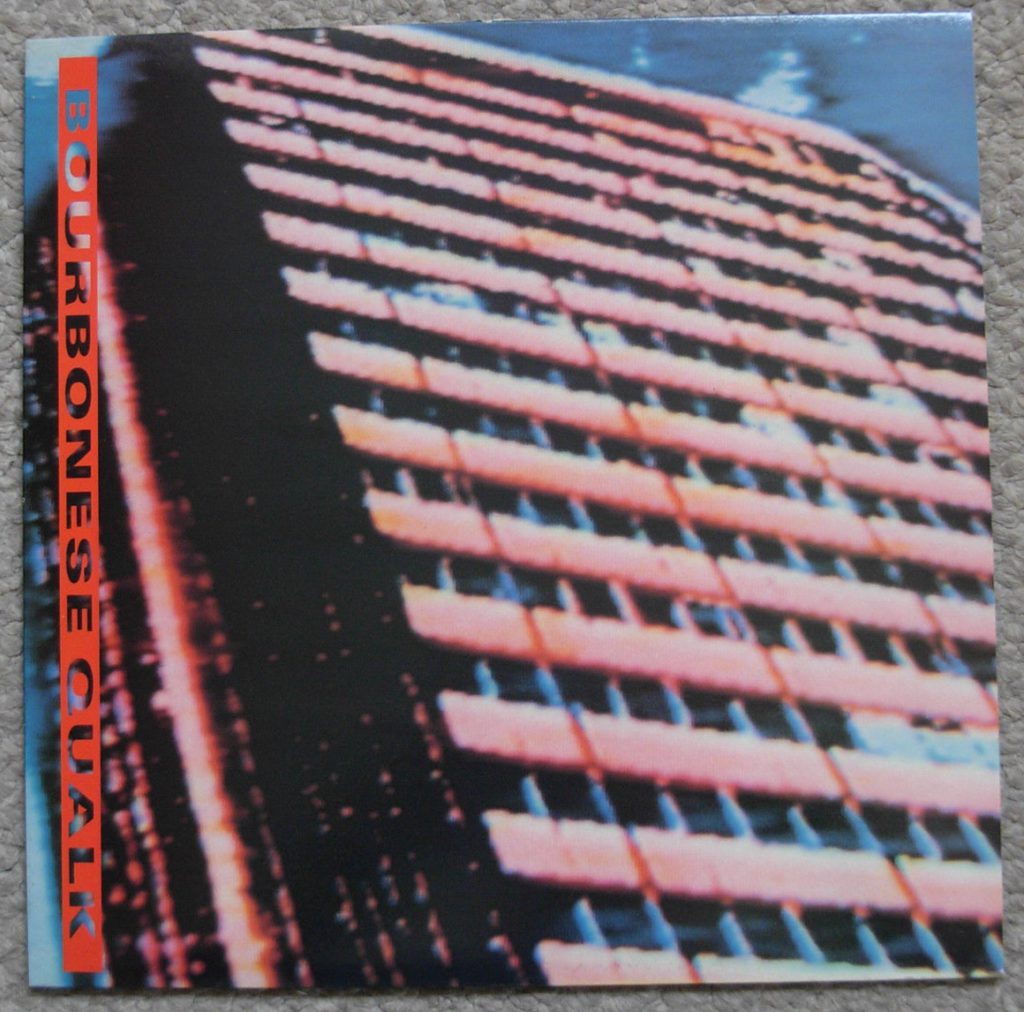 Underground #7, Oct '87

---
40.45
SIMPLE MINDS – Love Song – 12″ – Virgin – 1981
Locking their top 12″ at £1.49 back in the day.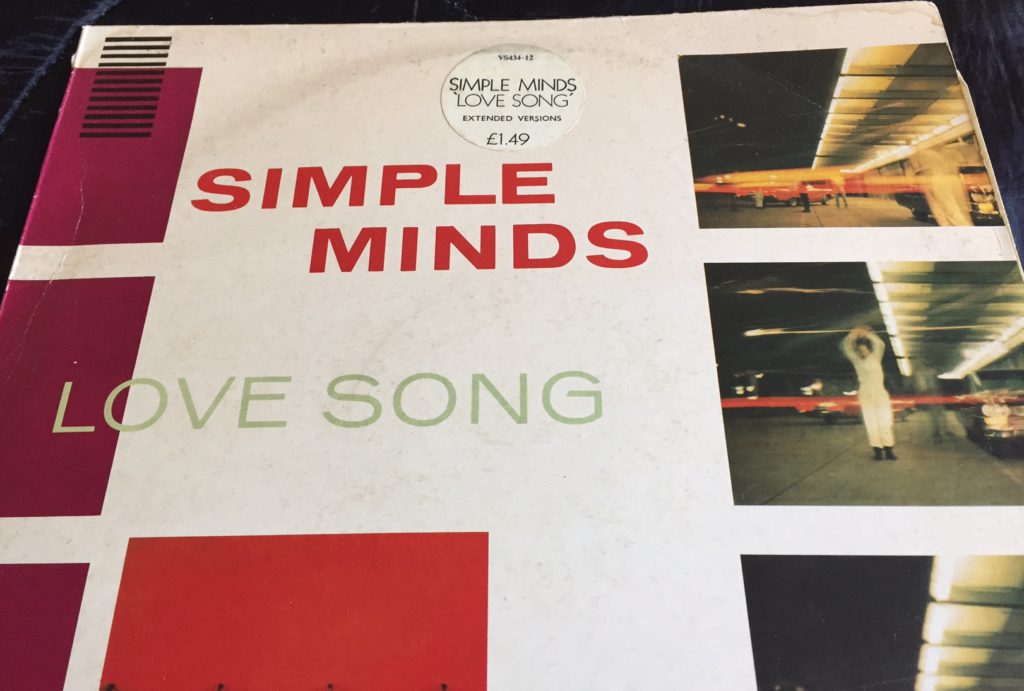 Coming off stage, Hammersmith Palais, Aug 26, '80, supporting The Skids. I was there for Kerr and crew.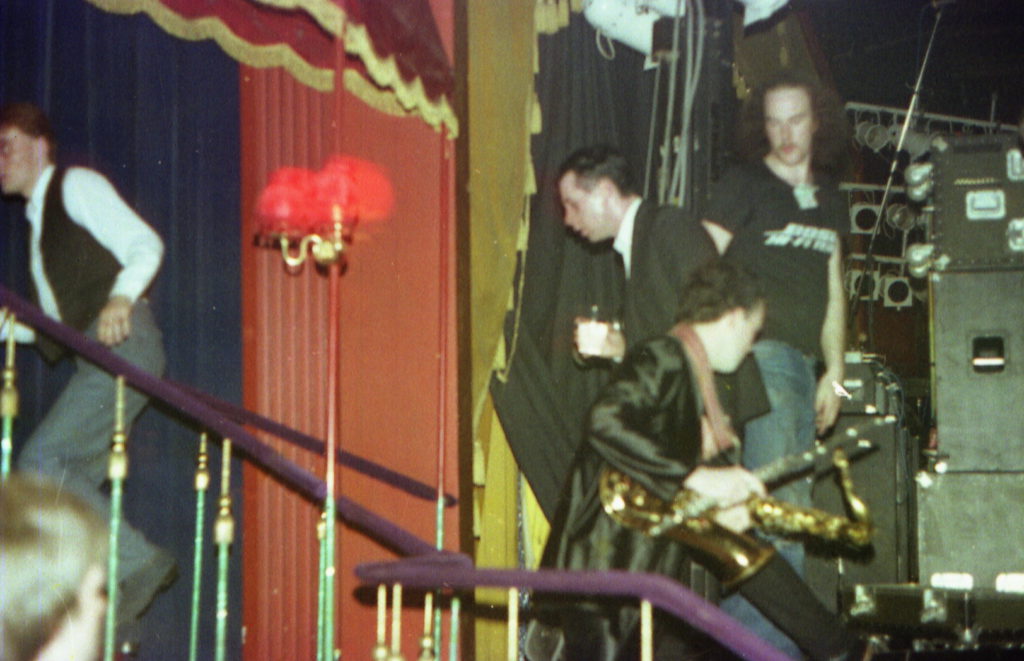 Photo credit: Dec Hickey
---
45.43
SOFT METALS – Love Or Music – The Cold War Melts, 12″ EP – Captured Tracks – 2010
From Portland, Oregon, electronic sounds duo nodding hugely to the early 80s – especially with that Pro-One synth below.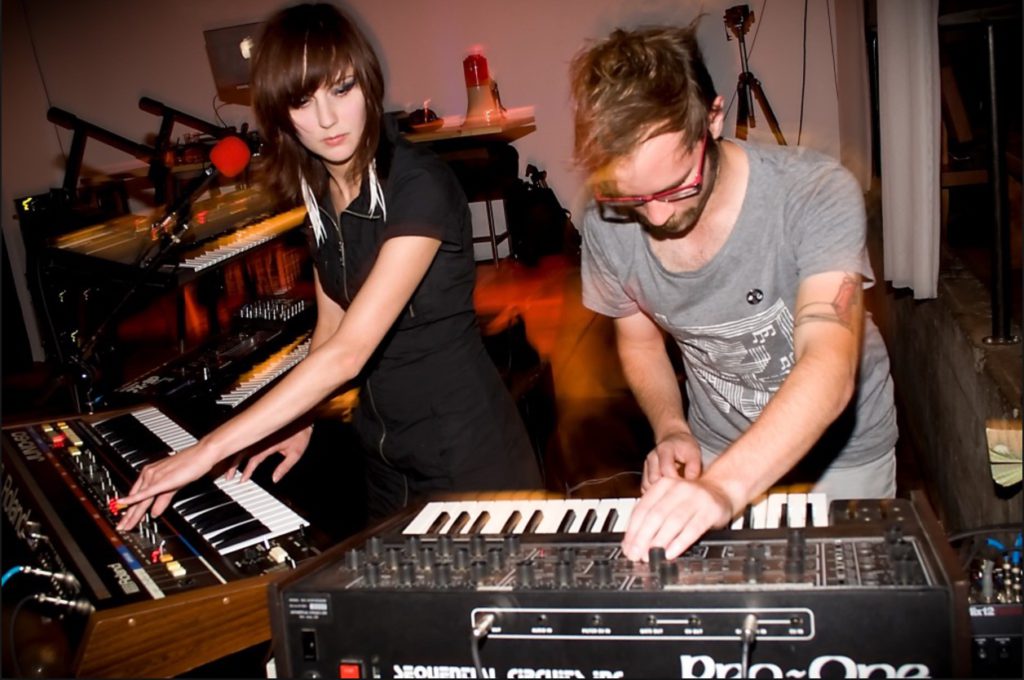 ---
51.19
NEVER ON SUNDAY – Journey – Split 12″ – Retroactive – 1991
This hidden b-side appearance was one of their two only releases and a bit of a bonus for me, as it was the M(ark) K(inchen) tune I was hunting down at the time.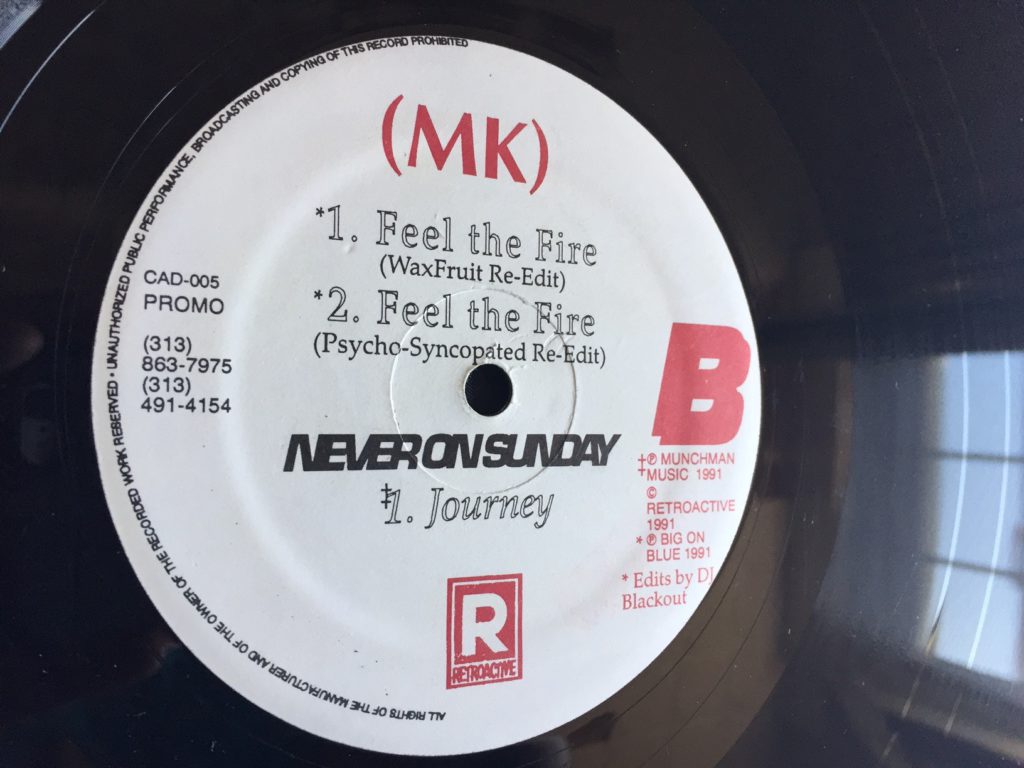 ---
55.34
HAWKE – 3 Nudes In A Purple Garden (Robbie Hardkiss' 3 Moods In A Gurple Parden Mix) – 12″ – Hardkiss – 1993
'Four tracks of melodic trance that blow in from San Francisco like a fresh Pacific breeze. Gavin Hardkiss' 3 Nudes with its flanged drums and haunting wash of vibes kicks things off on the darker side while Robbie Hardkiss' exquisite '3 Moods adds a seriously funky baseline and tribal percussive fills. A couple of 303 delights, 3 Nudes Having Sax On Acid and Pacific Coast Highway complete the picture' – Matthew Cole, Record Mirror (Music Week), 5.6.93
Big with me back at its release and still sounding one very classy tune.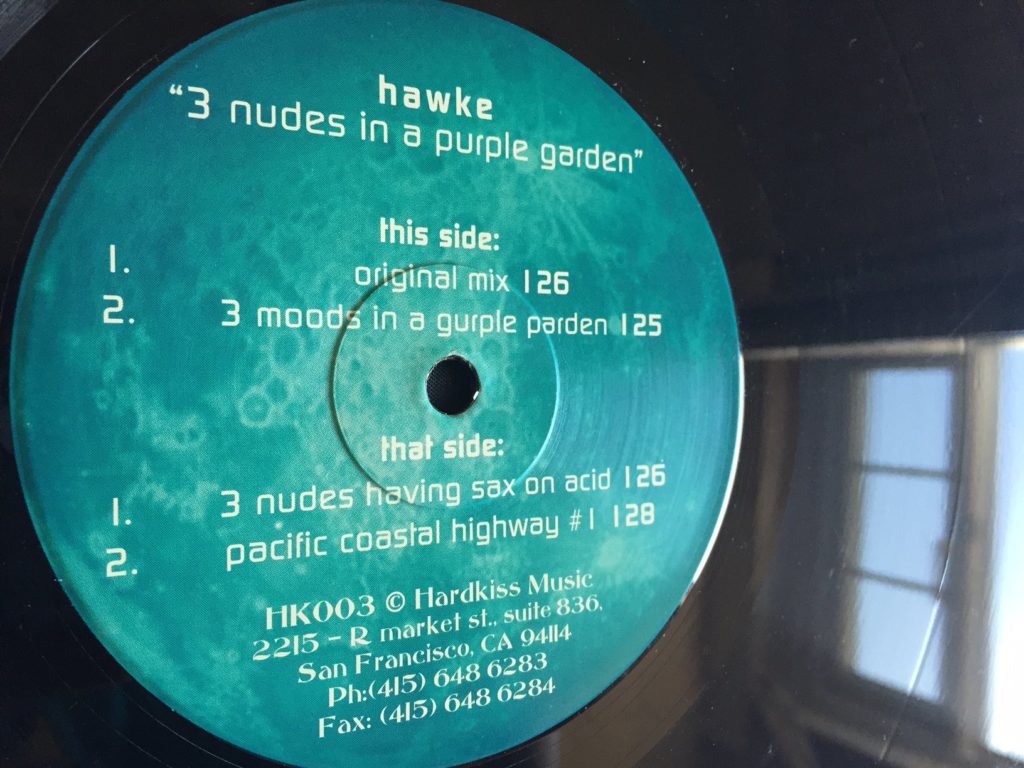 ---
01.02.15
JAMES 'BLOODY" BLUNT! – 1973 (Ashley Beedle Vocal) – CD single only – Custard Records – 2007
Now you didn't think I was going to upload a photo of Mr Blunt, did you? Sadly, the oft lacking quality control/attention to detail at major labels continues here with the misspelling of Ashley's surname on remix duties. Back to the track, and the vocals here sound better suited to the remix than they do to the boy Blunt's original! Quite some achievement but even in great remixes that sort of thing is rarely the case. I only heard the original for the first time very recently… and I won't be rushing back to it.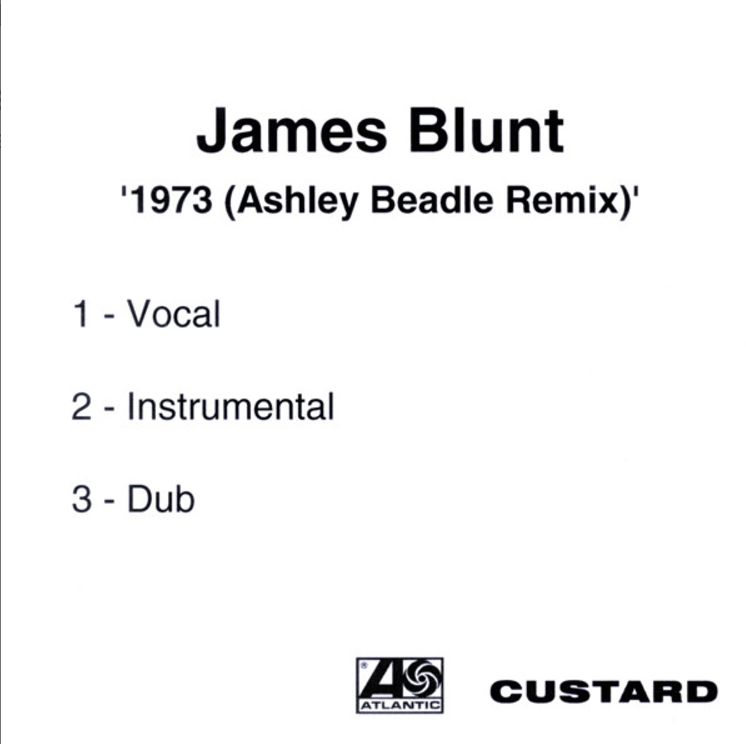 ---
01.08.12
KIDDA – Hey Y'all – Going Up – CD only – Skint – 2008
Slang moniker #1. Soulful hip hop sounding beats from the Brighton label and Ste McGregor who includes Animator and Video Director in his arsenal of talents.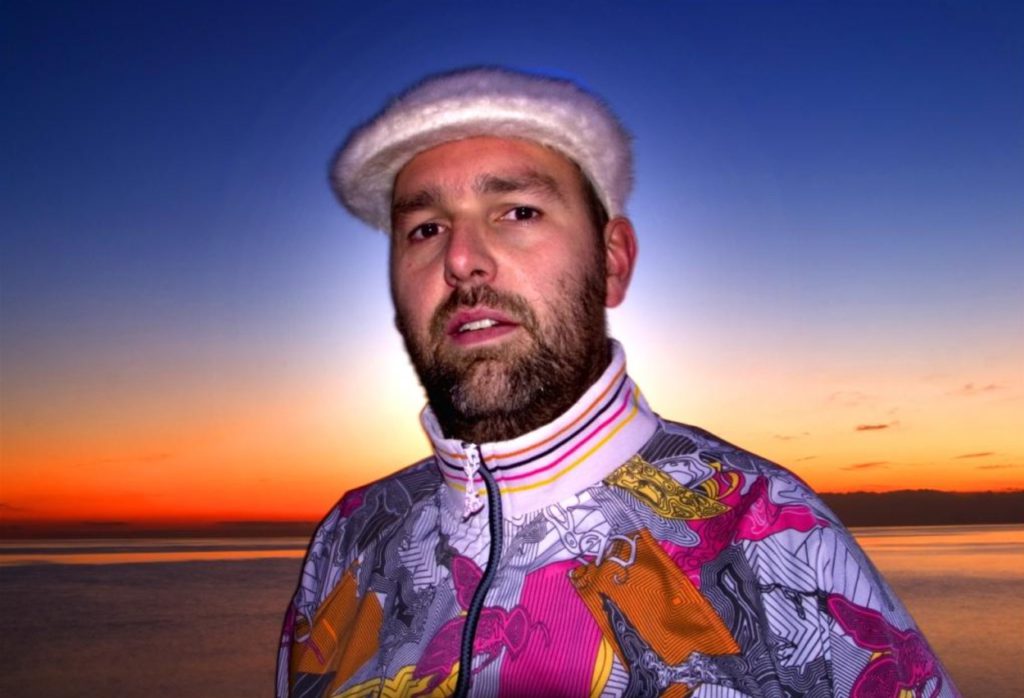 ---
01.12.14
LEGGO BEAST – Blonde Throat – Tales From The Crib – CD only – Big Chill Recordings – 2007
Slang moniker #2. More hip hop sounding skullduggery.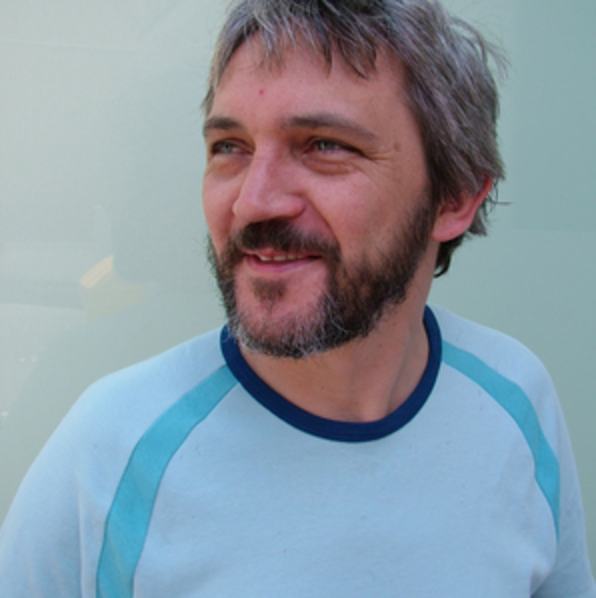 ---
01.16.38
BLANCMANGE – Blind Vision – 7″ – London – 1983
A fair few of their releases spun in our club at the time, and here, more date stamping. £1.99 for the 12″ in Virgin Records in 1983.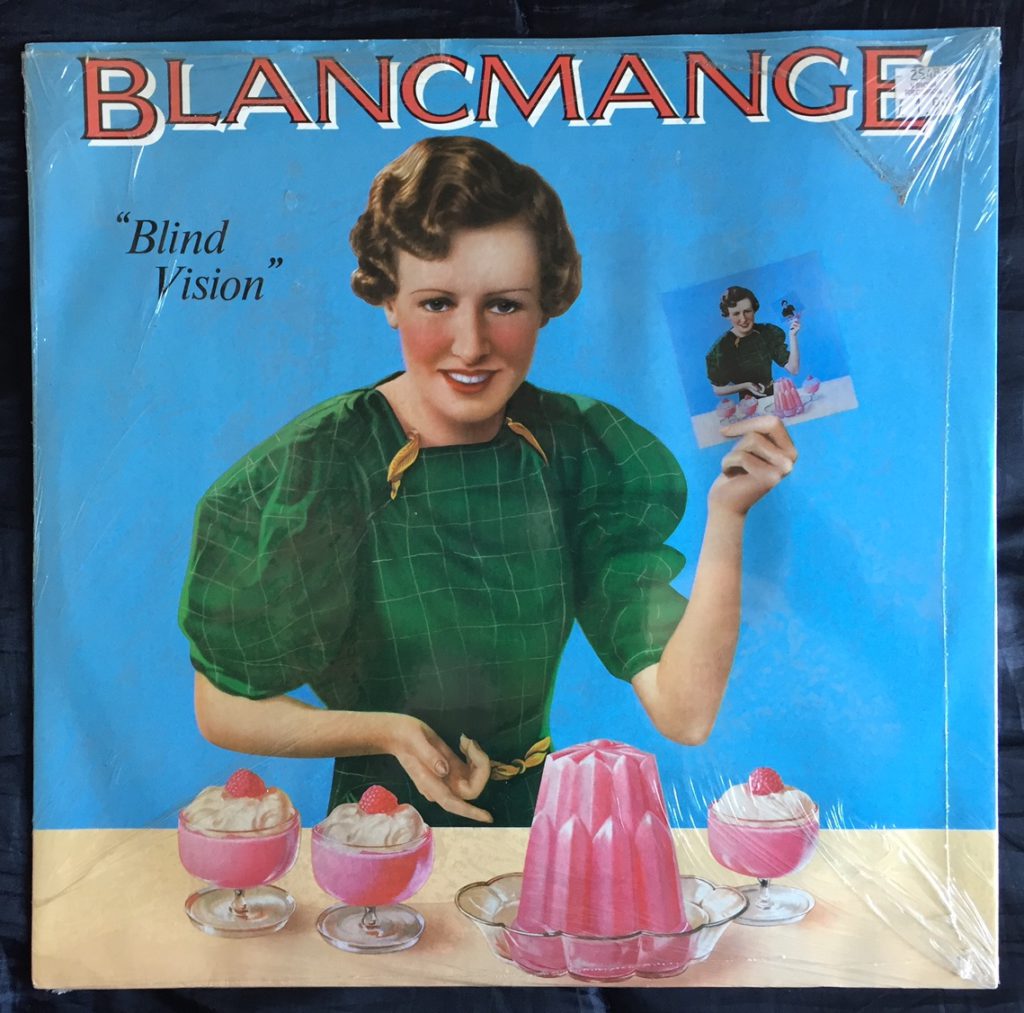 ---
01.20.29
FURNITURE – Robert Nightman's Story – 7″ b-side – Survival Records – 1984
A strong couple of tracks on this 7″ and another band I was grateful to for contributing to my Discreet Campaigns v/artists cassette just a year after this release.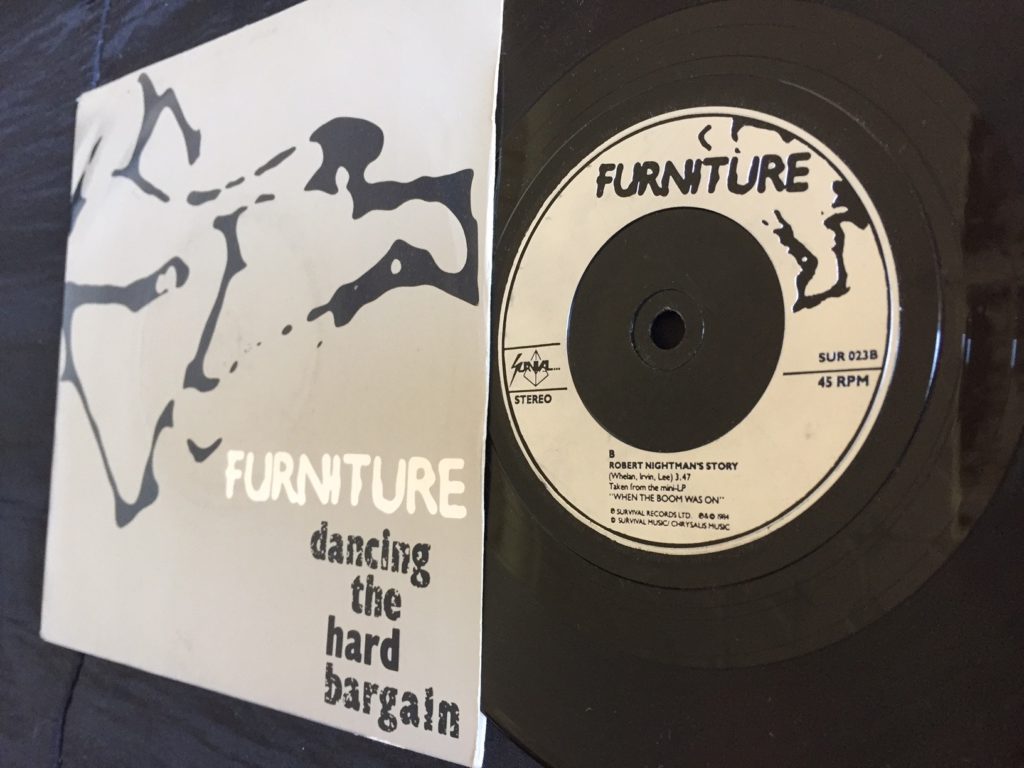 ---
01.24.10
SUZI CHUNK and GROOVE UNCLE – Barefoot In The Car Park – 7″ – State Records – 2014
This lot are no kids, won't get played/talked about in all the 'right' places but maybe come at it all from a different, maybe less aspirational direction, anyway. A cracking Sixties sound on this 500 run 7″.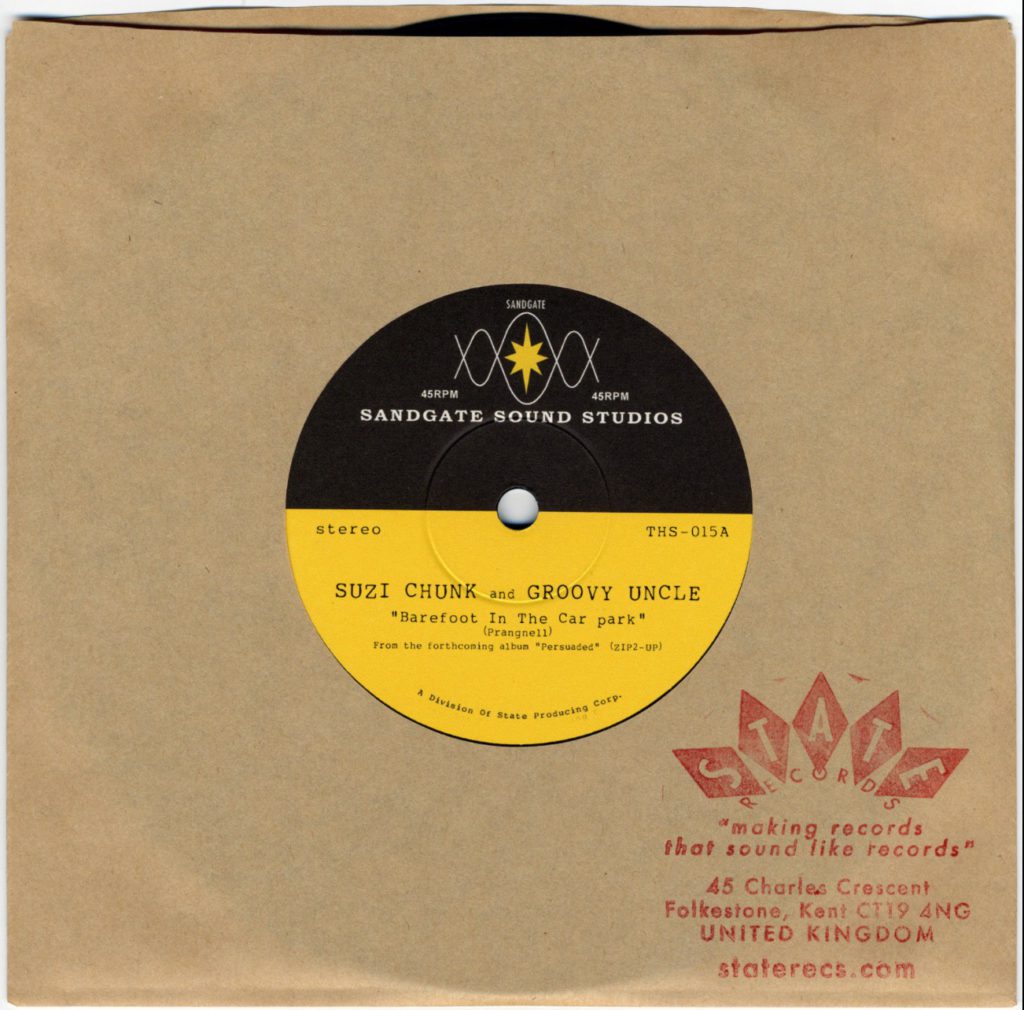 ---
01.27.23
THOSE DANCING DAYS – Fuckarias – Daydreams and Nightmares, LP – Wichita – 2011
Sounds even better when you watch their enthusiasm in the video. I wouldn't want to be the subject matter of the lyrics, though.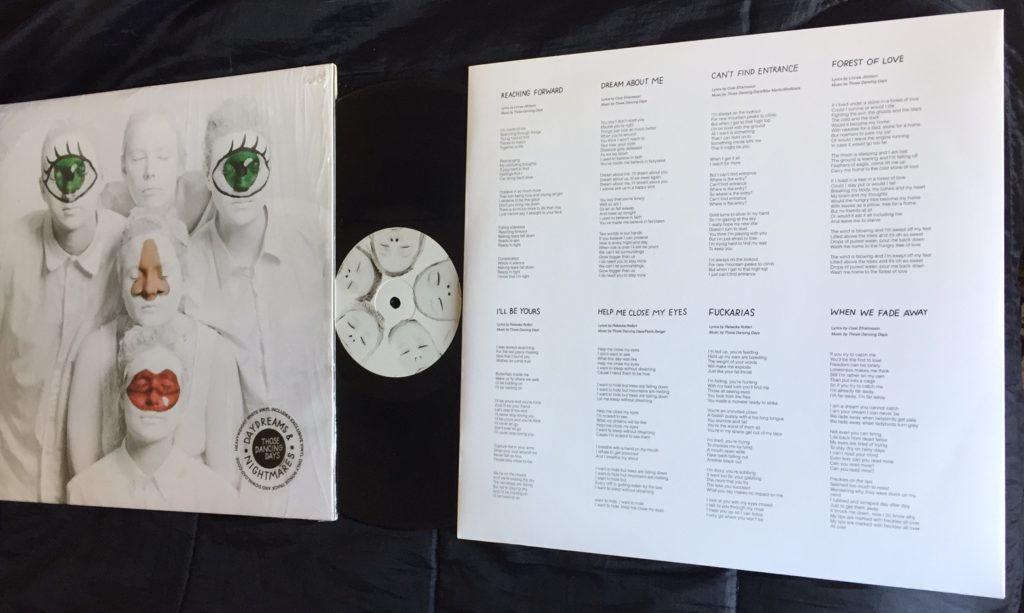 ---
01.30.16
THEE LEXINGTON ARROWS – Keep Your Big Mouth Shut – Dog That Bites, LP – Get Thee Lost Music (maybe) – 2013
They've been here before and will be again. Tagged as 'blues, garage rock, power pop, Baltimore'.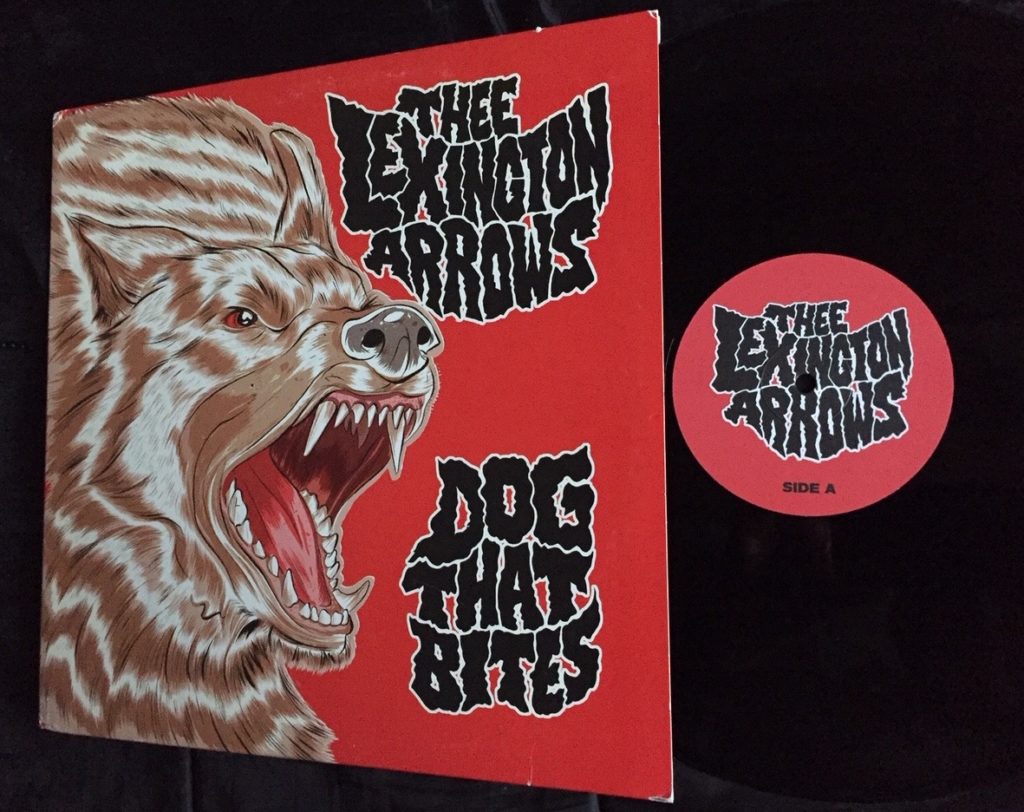 ---
01.32.37
AVIADOR DRO – Picnic en Formalhaut – 7″ – DRO – 1986
'Picnic' is more than OK but AD are the sort of band whose music, videos and onstage malarkey hasn't aged well… coz most of it was pants. So, if you search their history, beware.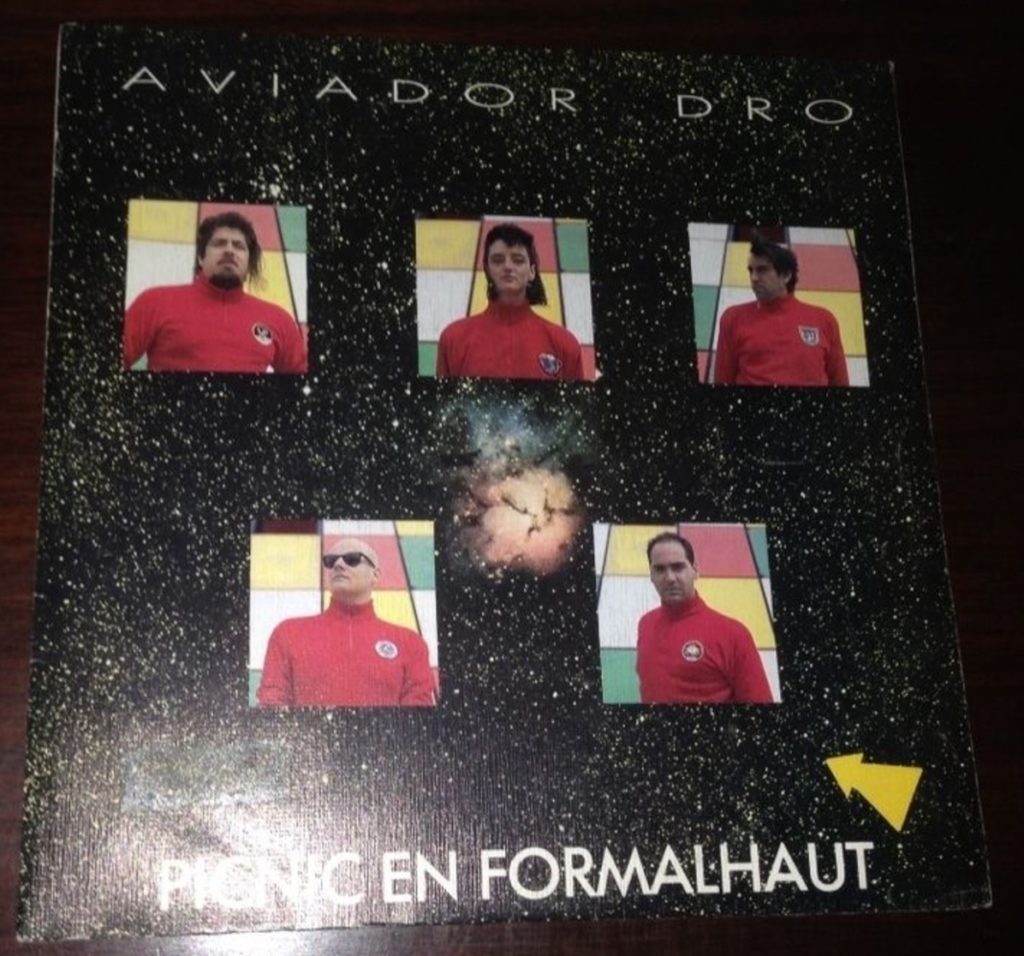 ---
01.35.08
THE B-52'S – Running Around (Inst) – ??
Can't fathom where this instrumental version is originally from or indeed whether it's officially available, but I prefer it to the vocal take – not something I'd have guessed at when talking this band. Maybe it's not really them? It's a good bit easier to hijack a band's iD if you're not using the vocals. You be the judge. Either way, thanks to cobbysmom on youtube for showcasing it.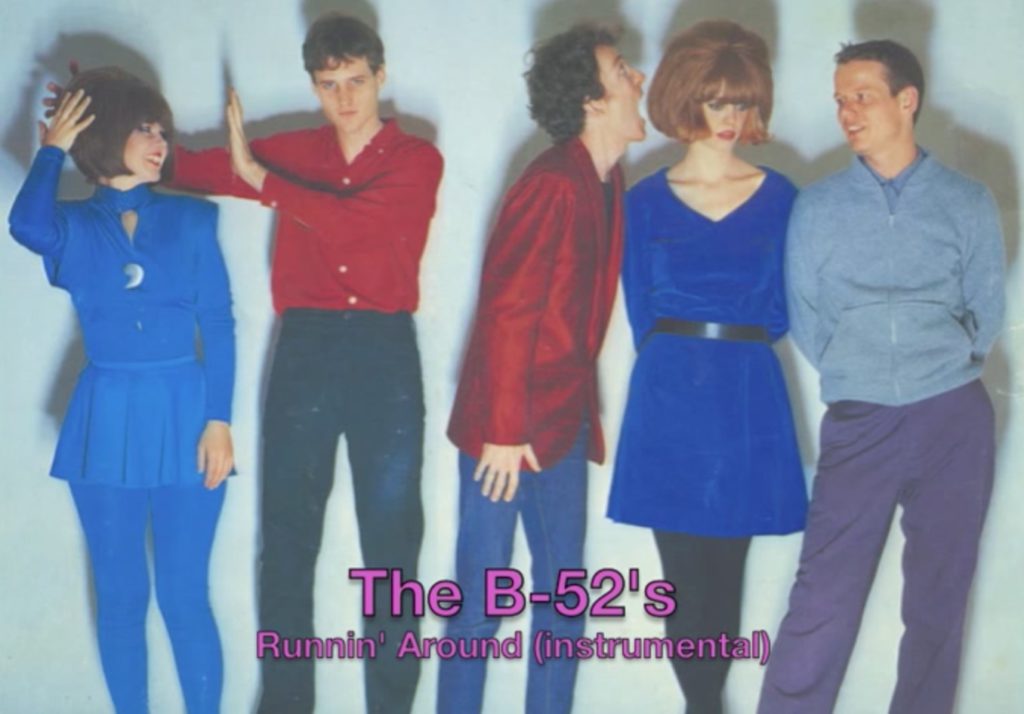 ---
01.38.18
BLOC PARTY – Helicopter – 7″, green vinyl – Wichita – 2004
500 copies of the green variety of this fiery indie 7″.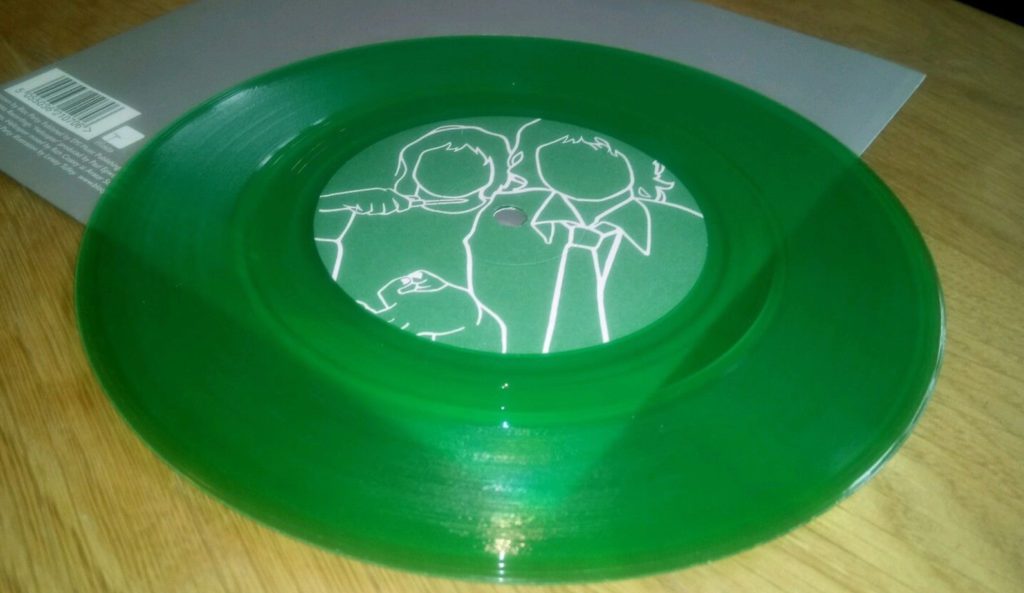 ---
01.41.55
MOTOR LIFE CO. – 20K * – (Birdstyle), mini album, CD only – Mei Mei – 1998
The band were short-lived – and the label (pronounced Mee Mee) even less so. Saw them play the Islington's Hope & Anchor in London at the time. As pix of Motor Life Co. are all but non-existent (one on the net, and that's the size of a pin head) it's time to 'roll out' the 41 Rooms tumbleweed. Maybe when a certain close (not unconnected with Mei Mei 🙂 ) friend manages to rummage through her archives there'll be a proper mugshot of the band.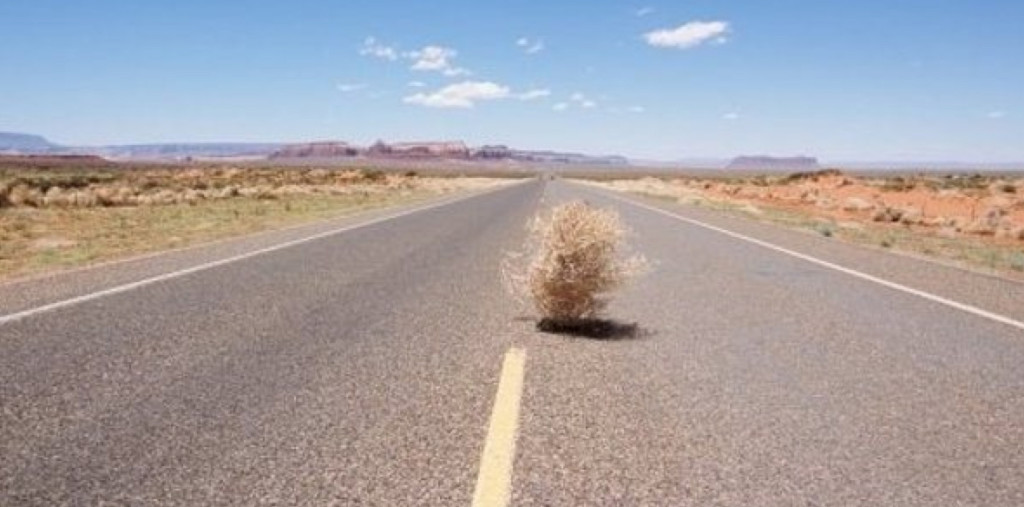 ---
01.46.14
A CERTAIN RATIO – All Night Party – 7″ – Factory Records – 1979
So instilled in me as a very early ACR 'moment'. Roll on June 24 at London's 229.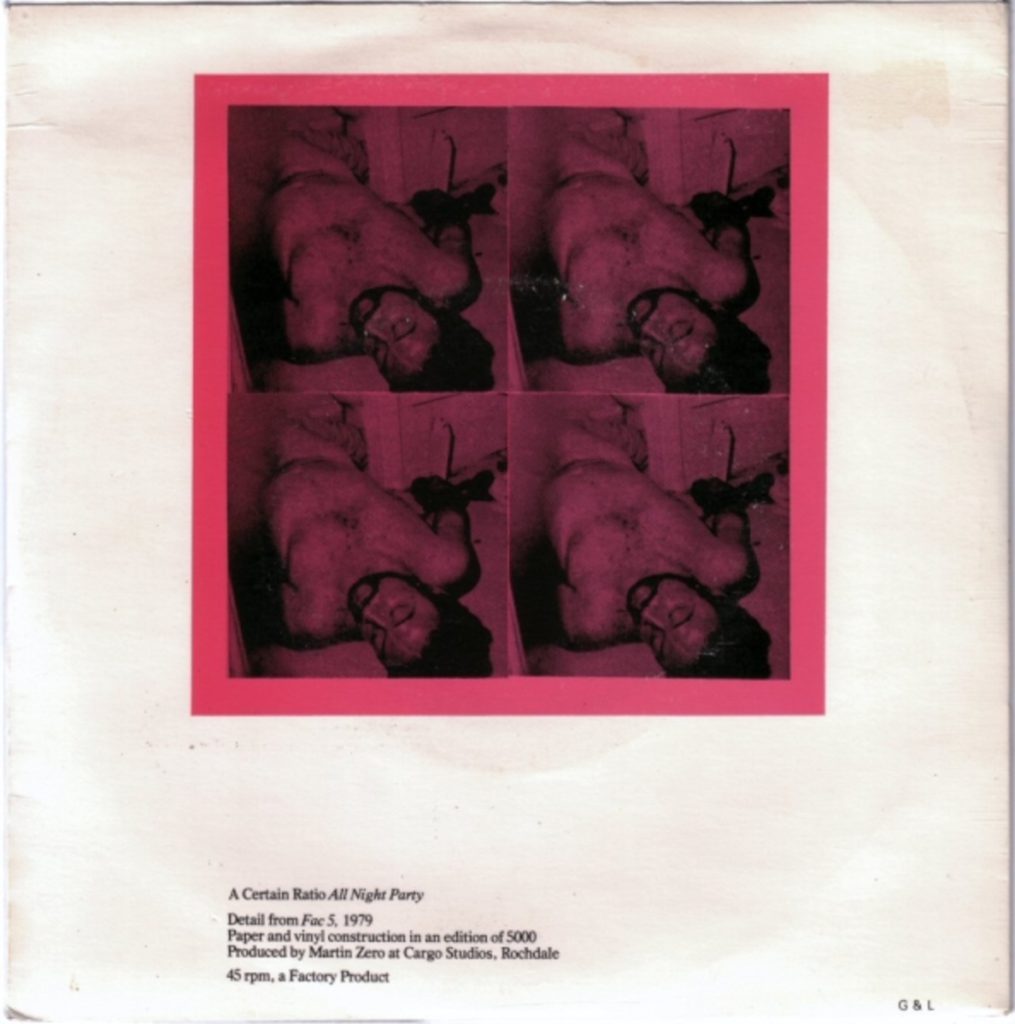 ---
01.49.22
JOY DIVISION – These Days – 7″ b-side – Factory Records – 1980
Can't remember if I clocked it back in the day but the run out groove's message on this side is 'I've only got record shops left'. Between then and now they probably got to wondering about even having those.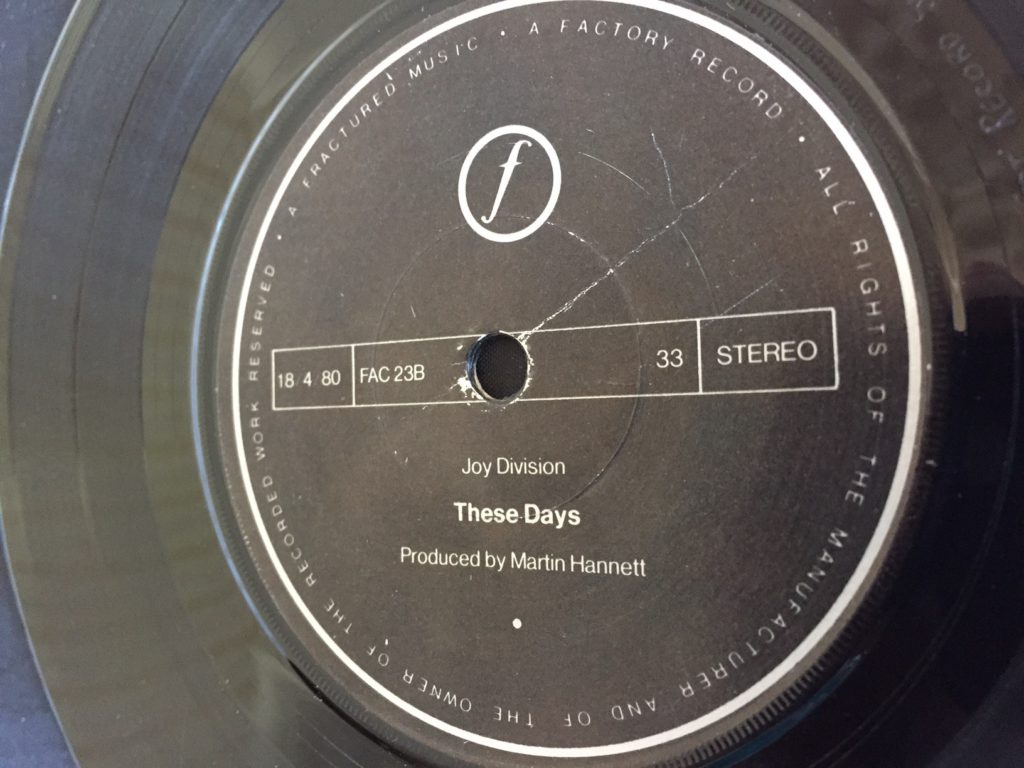 ---
01.52.38
THE IRONWEED PROJECT – Rising Sun – Dust Bowl, CD only (possibly promo only?) – 2007
The printing on this CD really is this fuzzy but the sound most definitely isn't.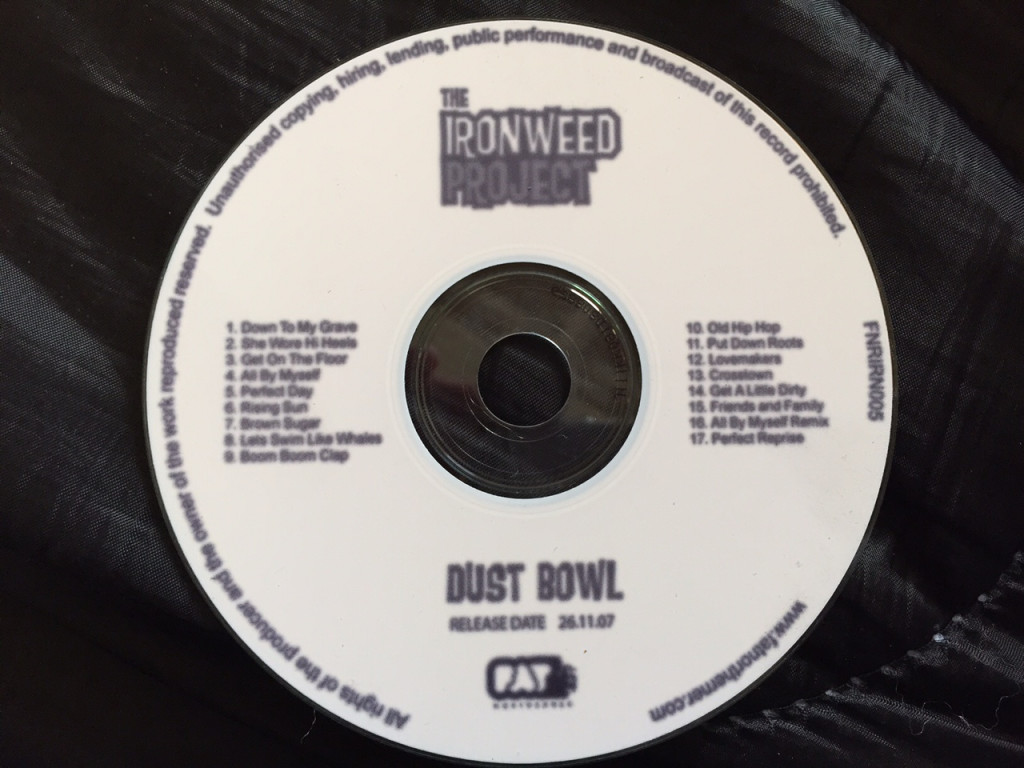 ---
01.55.56
GOLDEN EARRING – Sleep Walkin' (Album Version) * – To The Hill, LP – Polydor – 1976
'Don't panic, I'm on the Tigh-tanic' and don't panic that this is a bit of mid 70s rock appearing on 41 Rooms.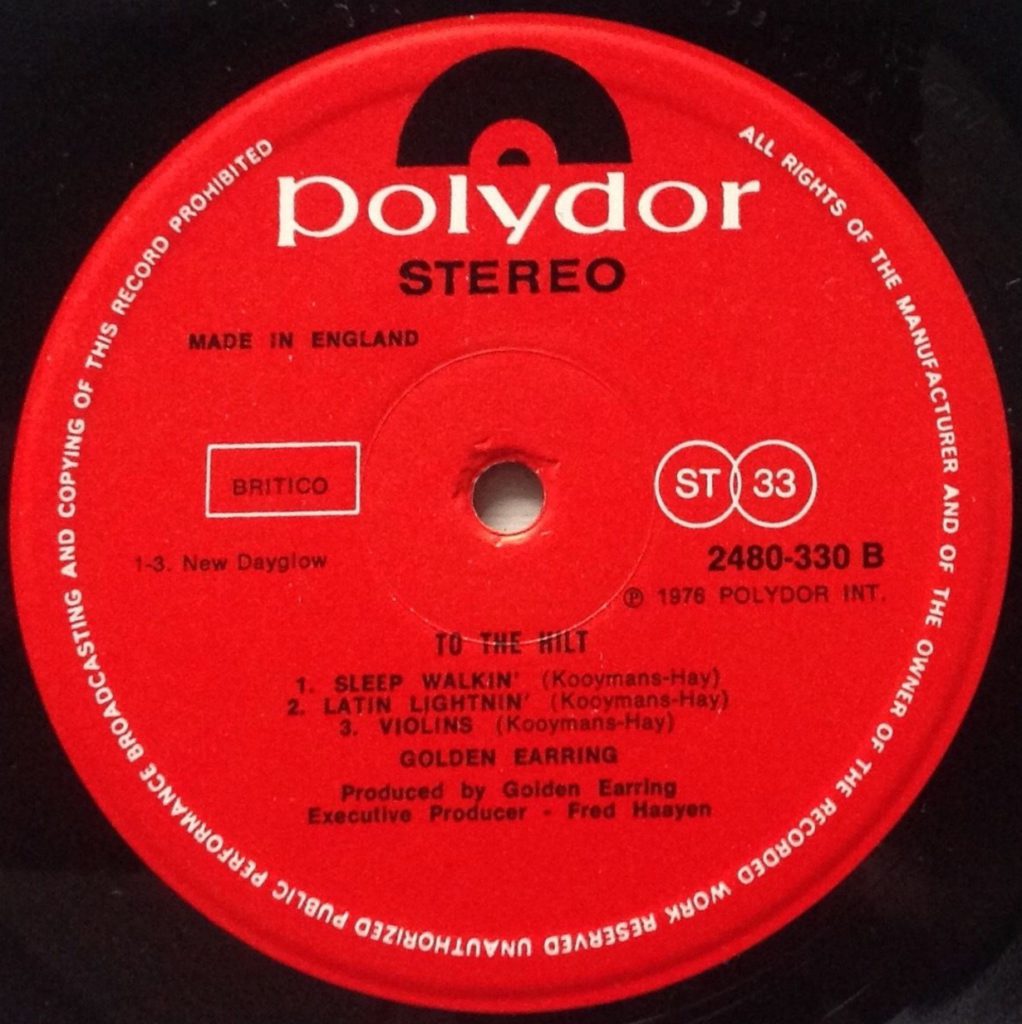 ---
Even I didn't see that one ⬆︎⬆︎⬆︎ coming…
Dec….