41 Rooms, Playlist 22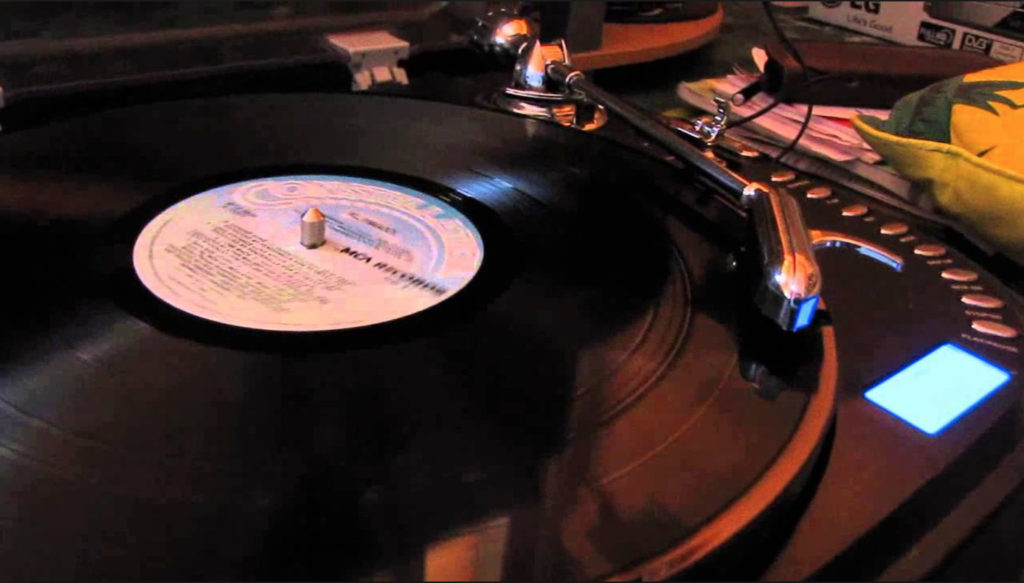 41 Rooms, Playlist 22 is 89% VINYL FRIENDLY. Near Perfect.
---
Lyric of Playlist 22: 
Even with a fair amount of competition 2Bo4 shade it. Conscious stuff…
---
A couple of the tunes here are a bit sonically challenged and, separately, those marked * have been given a tiny (or sometimes, slightly bigger) 41 Rooms 'tweak'/edit/whatever.
00.00
(Intro) THE FLAMINGOS – Stars (Edit) – Unreleased demo – 1983
Episode #1 for info.
---
00.40
NEW ORDER – Confusion (12″ Version) (Unofficial Edit) – 12″ – Factory – 1983
Excerpt from From Heaven to Heaven, New Order Live, The Early Years (1981-1984) At Close Quarters.
Edinburgh Coasters, April 11, 1983
Pre soundcheck and Ozzy is tapping away on the Emulator. A 'Rat-a-tat-a-tat-tat-hey!' snaps out and it's nothing I've heard before. Barney tells me it's something Arthur Baker (of Rocker's Revenge infamy) got them to do when they were in the States recently. It's an effect used on a new track called 'Confusion' and Barney seems embarrassed recounting Baker having asked them to do the 'Rat-a-tat's themselves. Barney effectively reckons they're better off 'emulating.'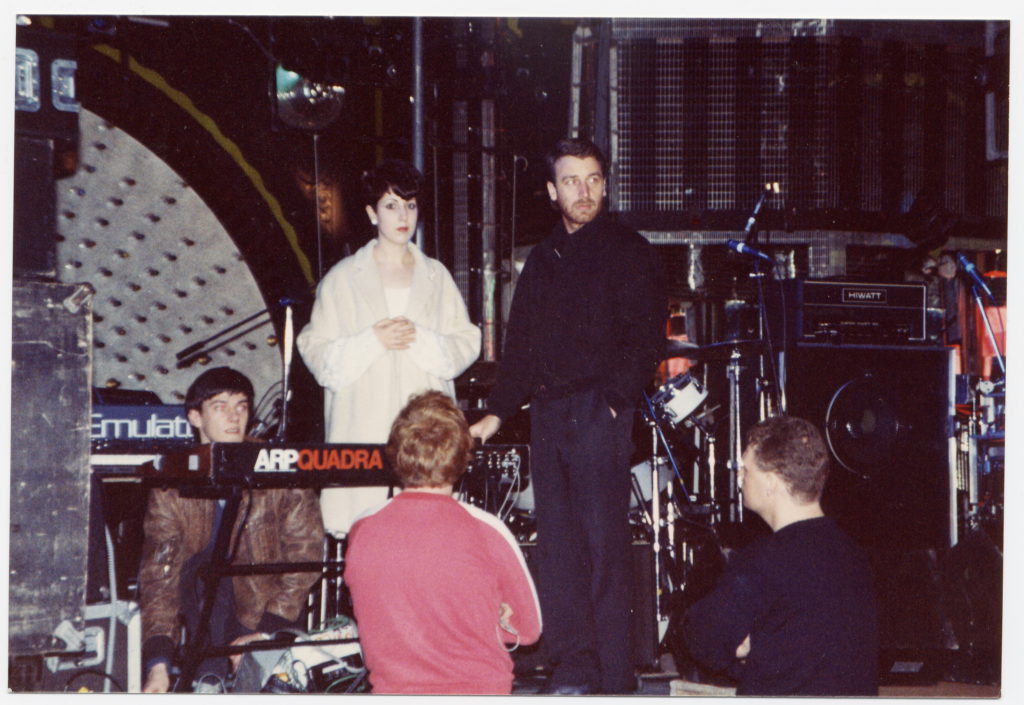 After the usual preamble of all four getting their respective instruments and sound up and running, Hooky asks, "Whaddayawannado, 'Confusion'?" There's a lead needed here and there but it takes listening back to the tape after all the intervening years to notice a weird moment where Barney and Hooky are in two different lifetimes and playing different parts as the former's bass lines from what was then indeed the newie, the aforementioned 'Confusion,' collide innocently with Hooky playing a guitar line from 'The Sound Of Music.' Back in the present tense of Coasters and Barney's slapped and plucked four note motif is to become as recognisable in soundchecks for the foreseeable future as 'The Passenger' has been to date. A couple of stabs at the new track sandwich Barney asking "Has Gillian got a separate mix in her wedge?" (sounds nasty!) and a 'Warsaw' guitar line poking out here and there. Then we're into the five minute plus debut of 'Confusion.' The track feels fully formed and although Barney 'der der der's a few lines, there is solid subject matter to hand. There's an early vocal of what, comically, sounds like "You've caused me confusion, you've taken my bass" that won't quite make the cut but it will have some relevance later on tonight as the audience catches their first glimpse, maybe, of Barney with a bass guitar around his neck. As the track finishes, our lead singer goes all poetic on us. "Wanker, wanker!" he blurts. A nice touch. None of this, of course, disguises the fact that the band are hitting the dance floor hard from yet another angle. There's a far more uplifting, sparklier feel than with the other electronic tracks to date, and New Order's time in the company of Baker and the burgeoning electro sounds of his New York club world has been well spent. Looking back, having heard it on John Peel's show, I already had C-Bank's 'One More Shot' on import 12" so 'Confusion,' appearing like some 'separated at birth' lost sibling (I didn't know John Robie had been involved in both recordings at the time) was right up my street. It would, though, be interesting to somehow gauge how much of New Order's earlier fan base fell for the tune. There are bits of "Emulator… DMX… the sequencer… no Quadra" type chat between Barney and Ozzy, and intent on nailing it, the band go for a second run through of the song. Brasher this time around and with a nifty, jagged guitar line snuck in there, it nearly sounds better.
(Gig time)
Not for the last time this week the crowd seem in a lively mood as New Order take to the stage, and it's straight into the public debut of 'Confusion,' which gets a sizeable cheer at the end. Barney pulling on a bass will have obviously been noted by the die hards…
A nod here to Dave Summersgill and a slightly drunken home made video we shot on a holiday in Wexford, Ireland in 1983. To an audio backdrop of Confusion we filmed various peeps in the town 'rat-a-tat-a-tat-tat-hey'ing, with those words hastily blazoned on a t-shirt Dave had just had printed in the town. You had to be there…
---
06.57
C-BANK (feat JENNY BURTON) – One More Shot – 12″ – Next Plateau Records – 1982
As hinted at above, written by John Robie, the man who engineered New Order's Confusion. Sibling sounds, I reckon. First heard by me on John Peel's radio show, a £2.29 import 12″ purchase followed at HMV Bedford.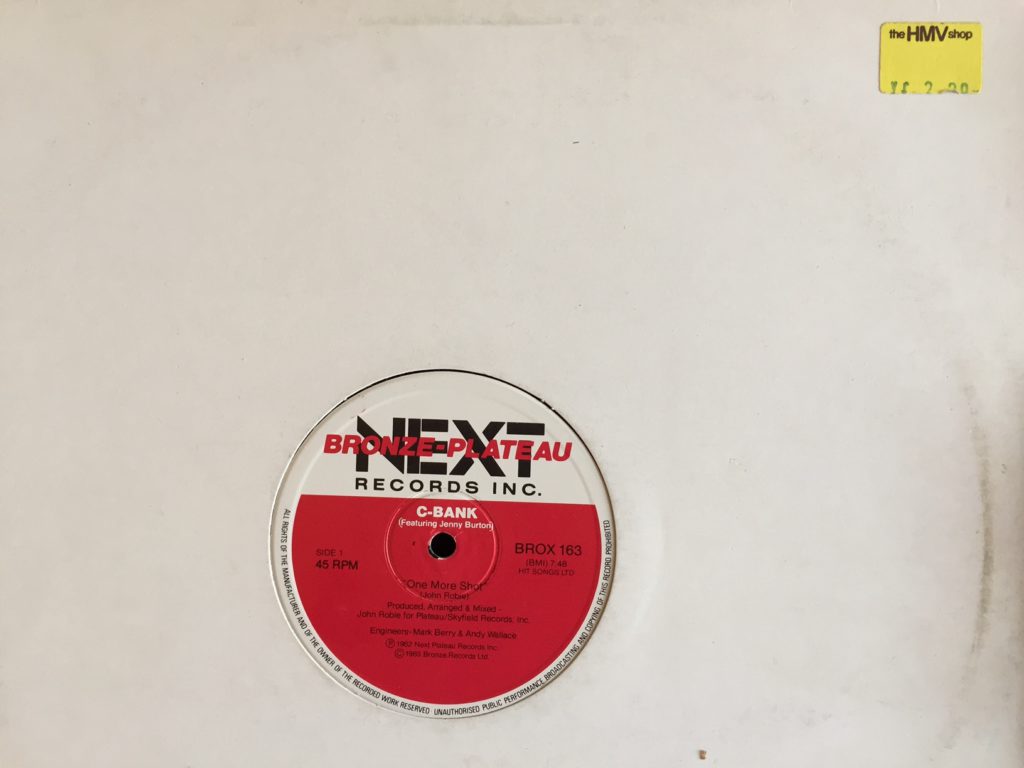 ---
13.56
PLANET PATROL – Play At Your Own Risk * – 12″ – 21 Records – 1983
As mentioned in the credits/acknowledgements for my one and only fanzine (Rorschach Testing) in early 1984, the Planet Patrol album kept me going through an insane week of work (and therefore lack of sleep) to get the mag to a printer's deadline I just couldn't afford to miss. An early electro biggie, Play At Your Own Risk was also on a DIY C90 compilation tape that Alex 'Mac' Macpherson, then the bass player in The Wake, gave me some time in 1983 or '84. The best of the electro movement is still joyous stuff to these ears.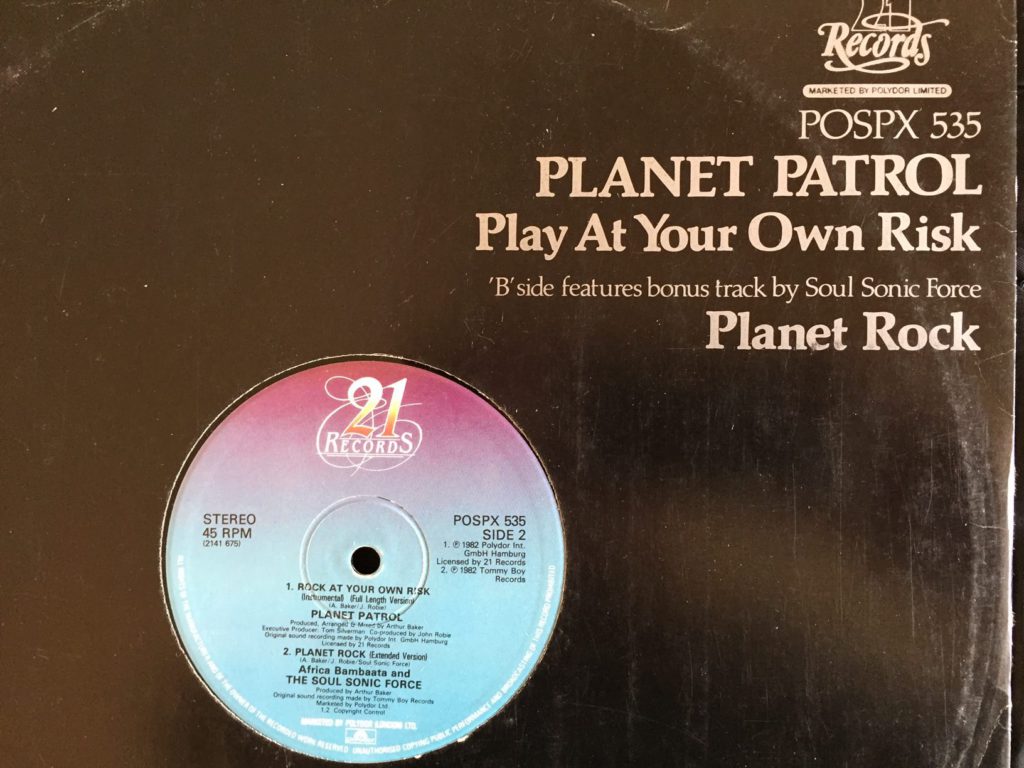 ---
20.35
PATTI SMITH GROUP – Frederick – 7″ – Arista – 1979
A safe bet to get souls on the dancefloor at our Winkles club nights back in the day.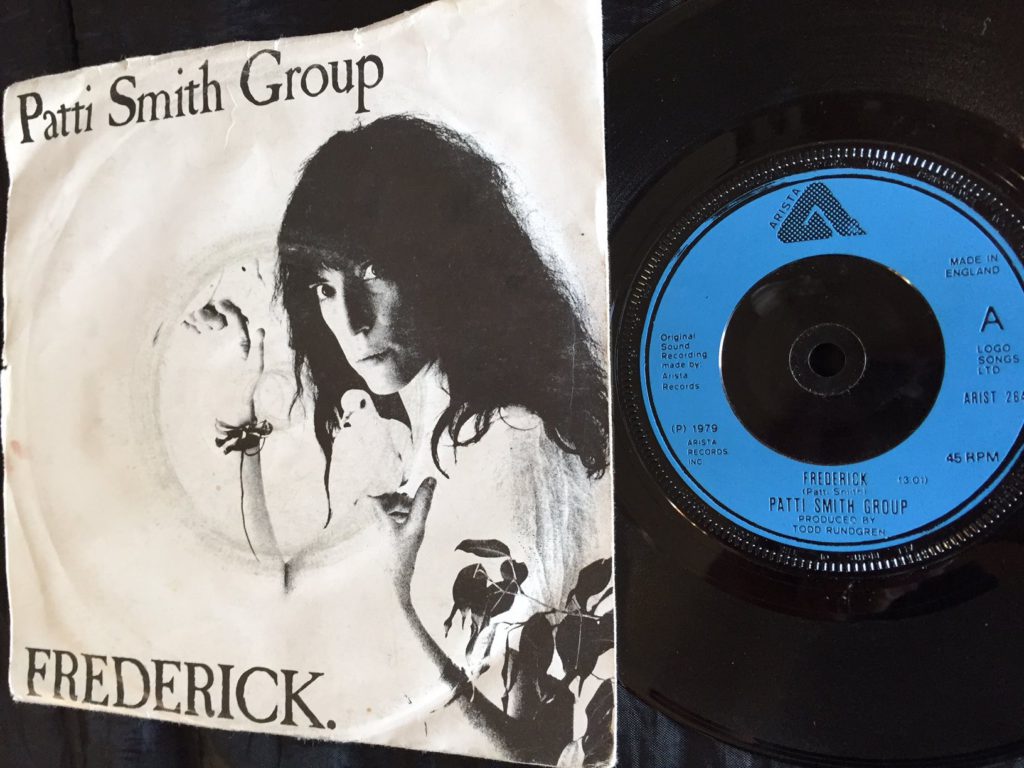 ---
23.22
SOUL – Tribes – 7″ – Cherry Red – 1981
Could – and maybe should – have fitted into a Winkles 1981 playlist. As post punk as you can get… and Soul's only release. On this basis they might have given the Bunnymen, Comsat Angels and The Sound a run for their money.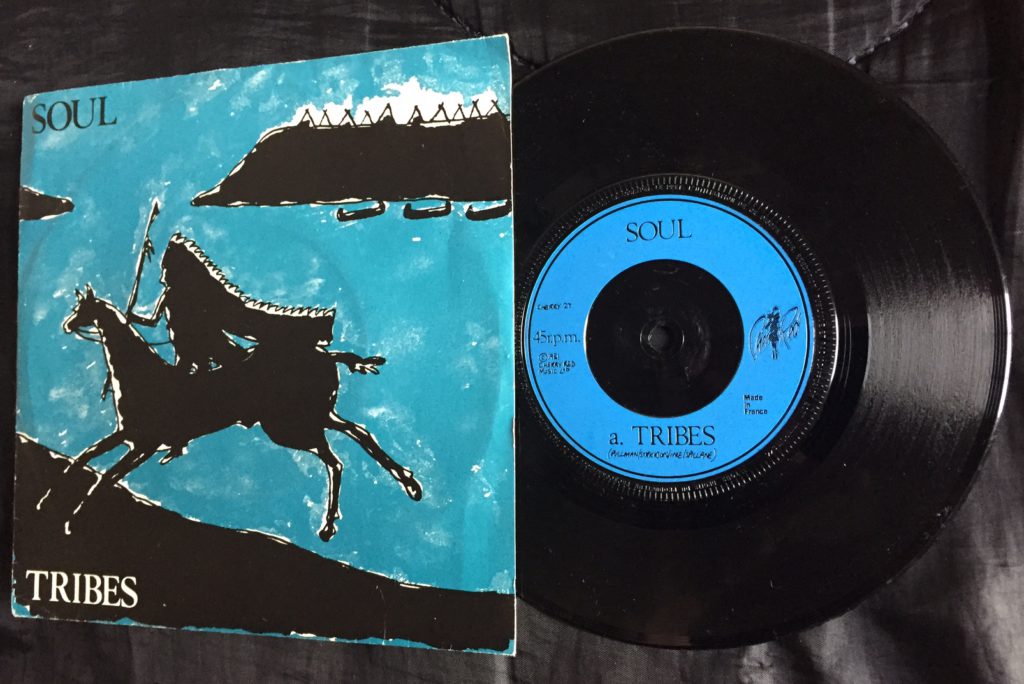 ---
26.25
KIM FOWLEY – Midnight Tragedy – Let The Madness In, CD only – Receiver Records Ltd – 1995
Maverick US producer, musician and manager.
.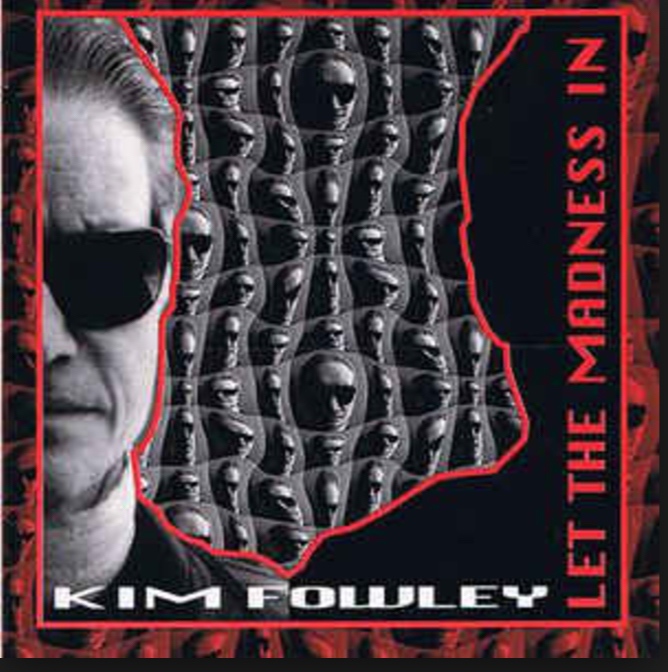 ---
29.28
DAVID HOLMES – Living Room – 12″, b-side – Go! Beat – 2000
Storming stuff!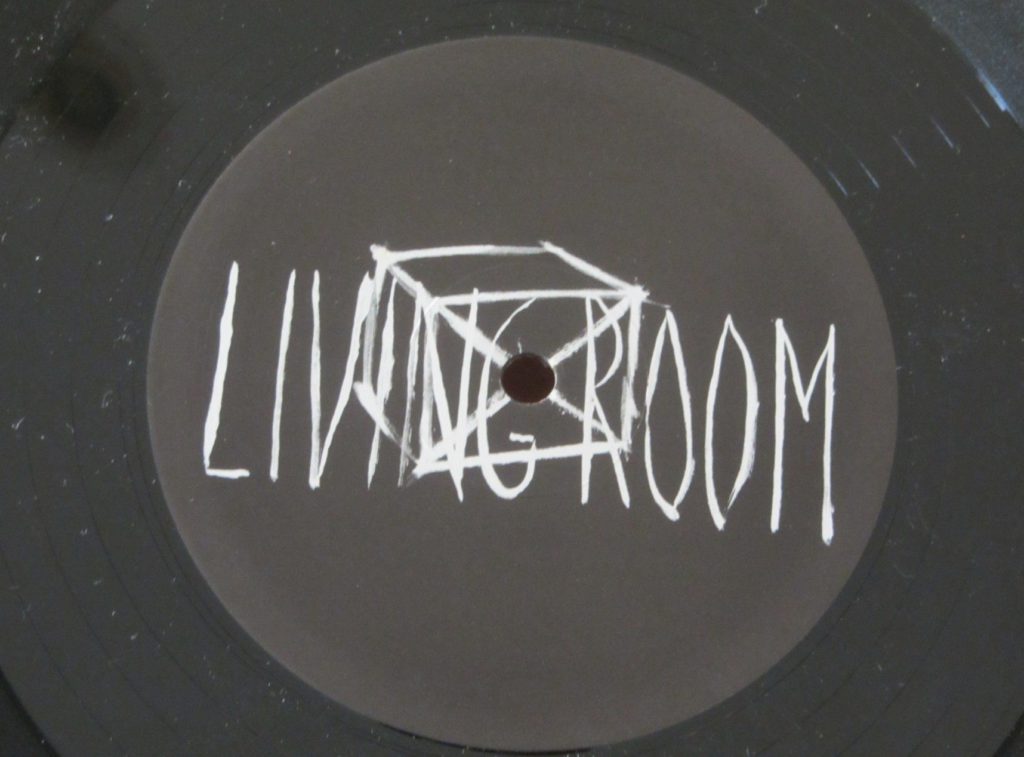 What sonically rocked David Holmes' world at a certain time back in '96. From Music Week/Record Mirror, 16.3.96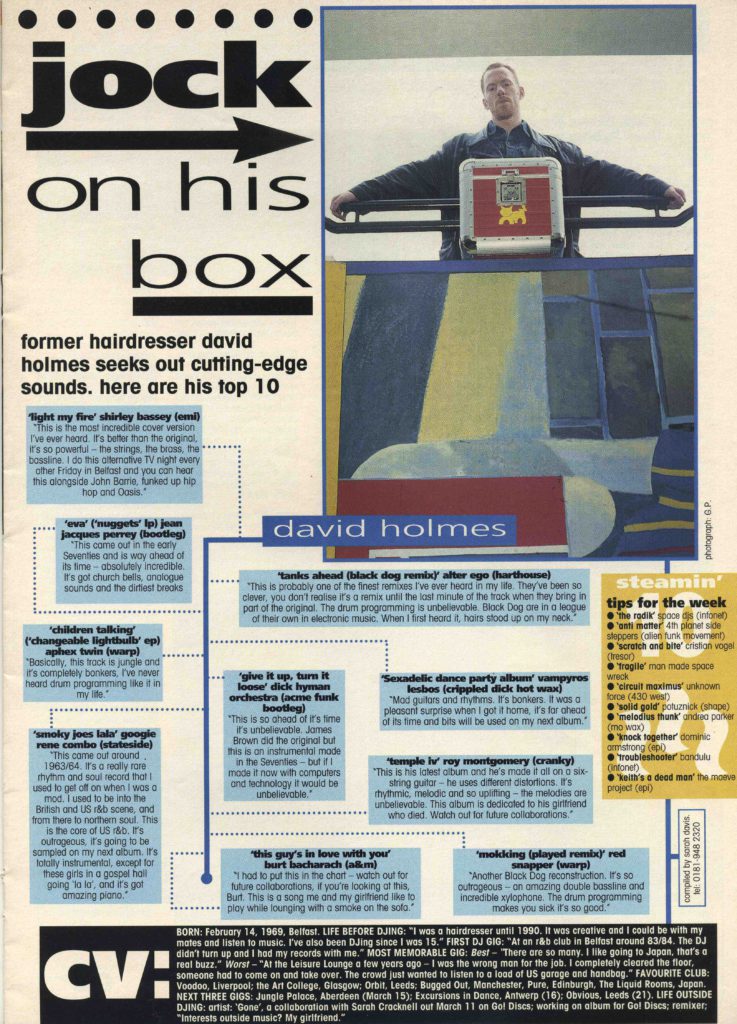 ---
35.42
THE REVOLTING COCKS – We Shall Cleanse The World – Big Sexy Land, LP – Wax Trax! Records – 1986
'Industrial' and contemporaries of Click Click, a band I managed, by virtue of a licensing deal with Wax Trax! these guys were also our label mates for a short while. Something I had forgotten about, I had a very cool grey Wax Trax! t-shirt around this time.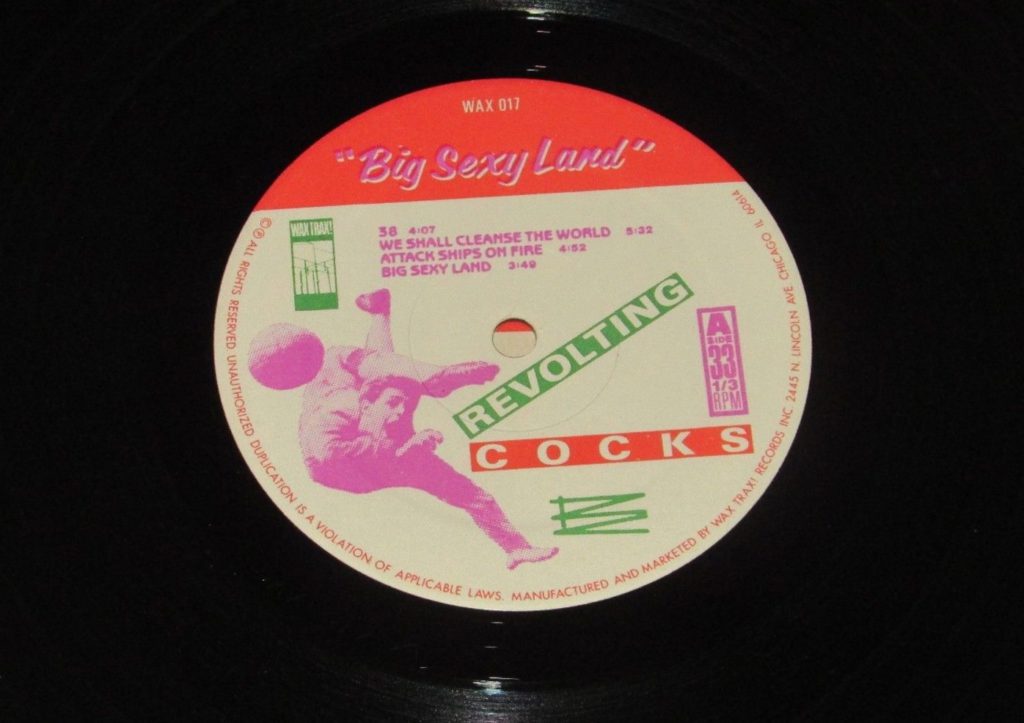 ---
40.57
SEELENLUFT – Manila  – Out Of The Woods, LP – Klein Records – 2001
'I love hearing records like these. Original and ridiculously cool spoken word nu-jazz featuring 12 year old Michael Smith. "So I started to dance, without wearing no seat belt." Did Michael Smith forget his French Letters? Big spiritual double bass and laid back off-beat drums. Claaaaassss!' – Sean McAuliffe, Straight No Chaser, Vol 2, #21, Summer '02.
and
44.01
SEELENLUFT – L.A. Woman – Out Of The Woods, LP – Klein Records – 2001
A rare 'two in a row' on 41 Rooms… but worth it.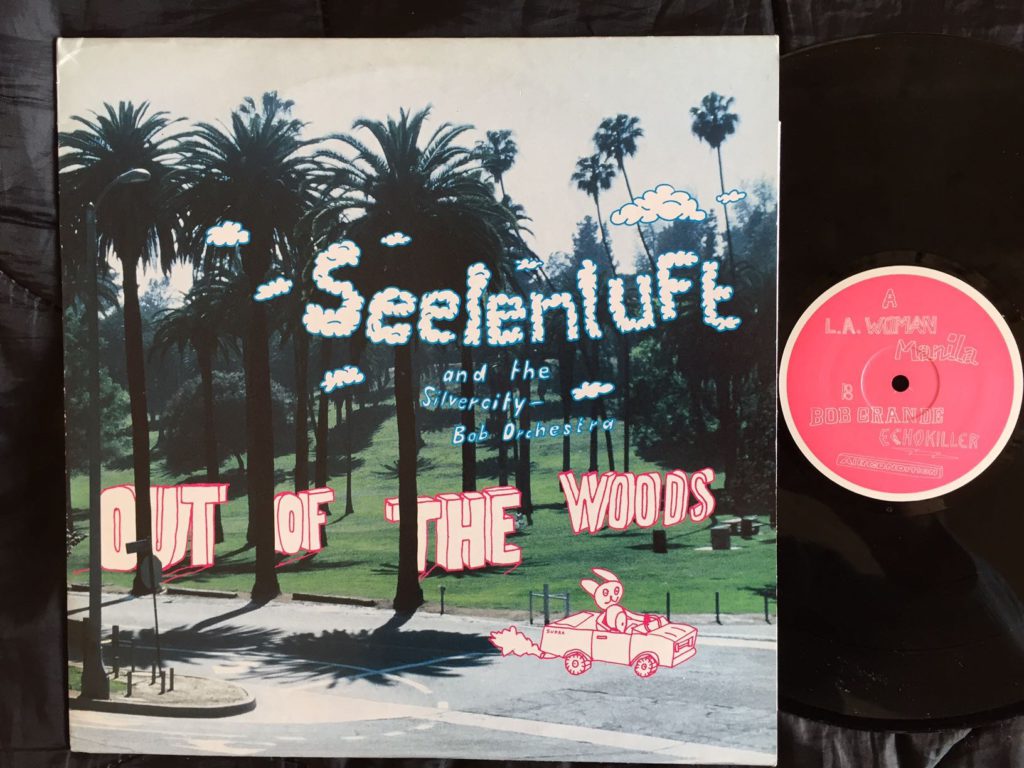 ---
47.34
PART TIME HEROES – Realise – 12″ EP – Mum's The Word Records – 2006
They dealt in the leftfield of the soul, jazz and beats field and as with most in that area (past and present), they flew more under the radar than they should have… and also produced great podcasts, too.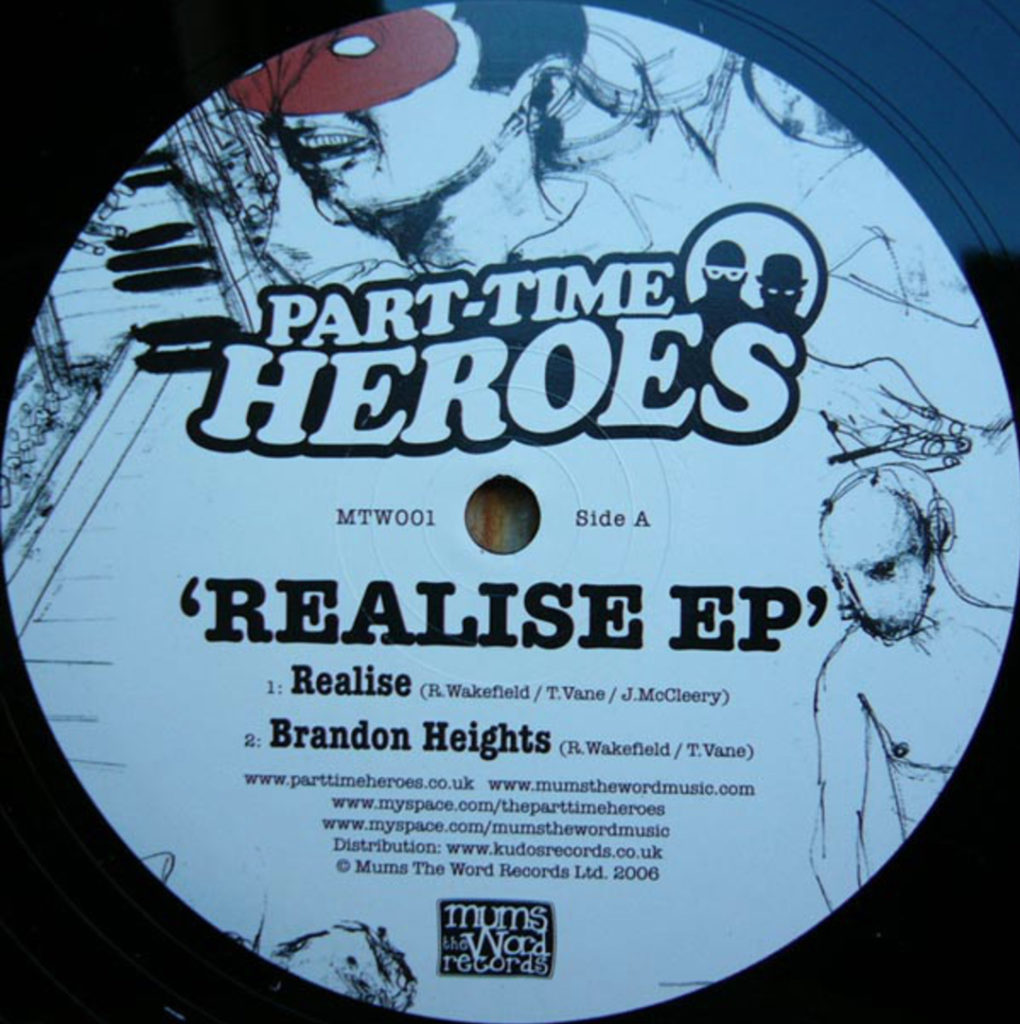 ---
53.02
SIMPLE MINDS – Changeling – Reel To Reel Cacophony, LP – Arista – 1979
Ah, the 'Simply Mindies' – as one of my dear departed friends, Alan Johnston christened them. Changeling and Premonition – filmed at a New York's Hurrah club gig in Oct '79 and subsequently broadcast on the Old Grey Whistle Test * – were two of the earliest 'bits' I recorded to a video recorder. Having then transferred them to a decent cassette tape I often played both recordings at Winkles.
Caught them live at London's Hammersmith Palais in Aug '80 (along with Pink Military, they were supporting the Skids) and then at the Marquee on Dec 17. My diary for the latter notes 'Gerry Rafferty in pub'. Now there's something you wouldn't have guessed at. Highly likely it was the infamous Ship, just along from the Marquee… and I don't suppose he was heading to the gig.
* Check it out on that Youtube place and compare it to their appearance on the UK Strictly Come Dancing recently. Give me the former any time.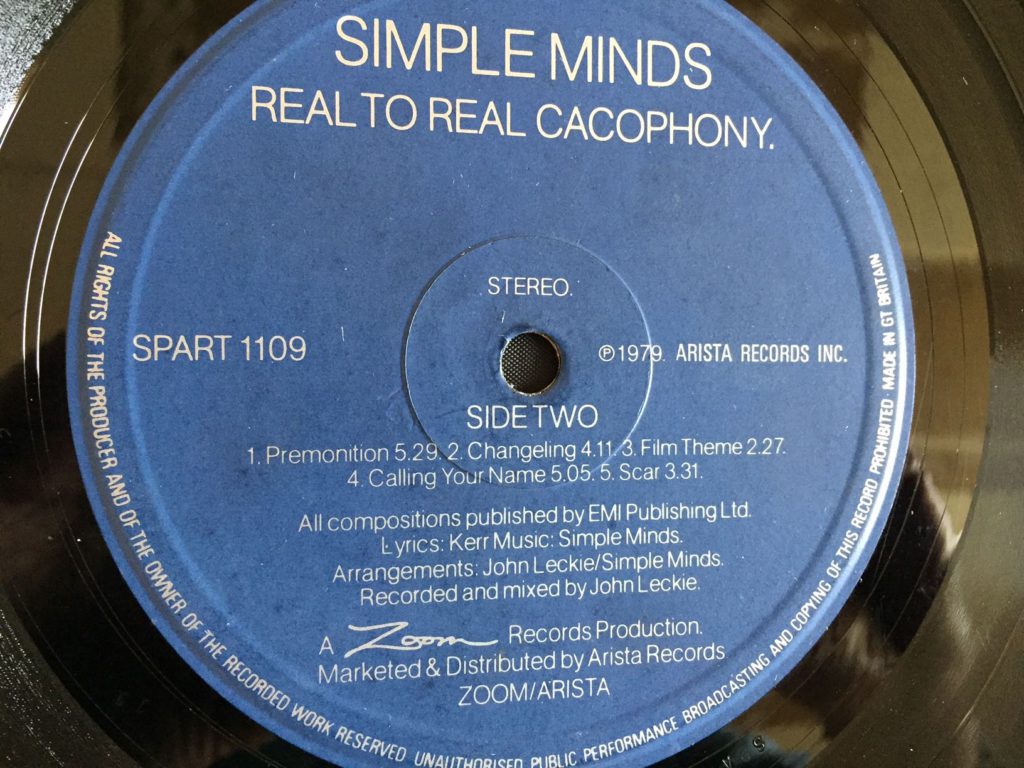 ---
57.06
MR. FINGERS – Let's Dance All Night – Am(m)nesia, 2LP – Jack Trax – 1989
Vocalist, Robert Owens had the night off, so Larry Heard went to Cheery Town on this. Bright and breezy mid tempo dance stuff that would benefit greatly from some sunshine close to hand.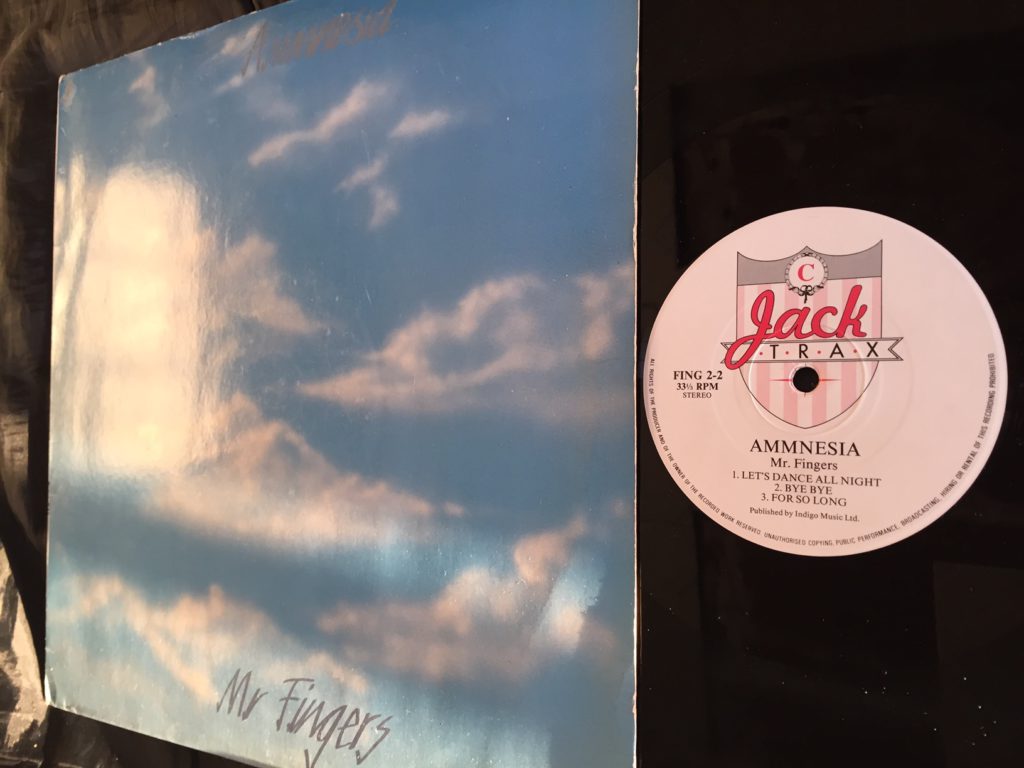 ---
01.01.52
MARK McGUIRE – The Undying Stars – Beyond Belief, 2LP – 2015
The above reminded me of this, so this followed the above…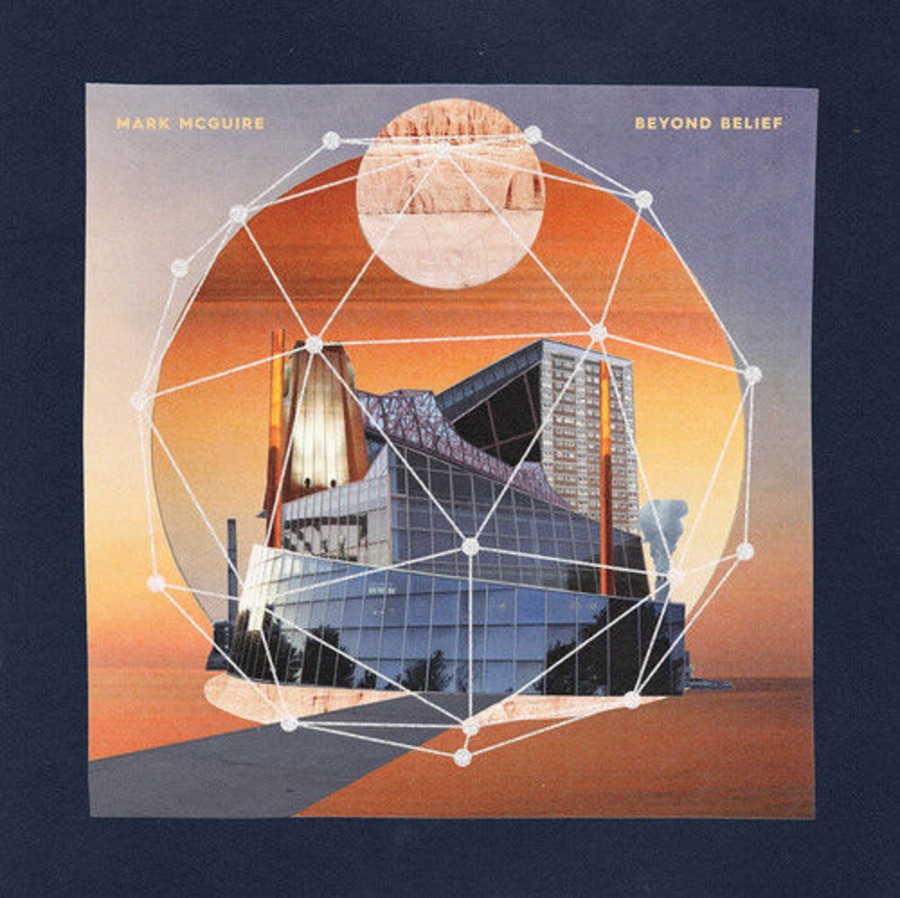 ---
01.04.48
RIVER OCEAN – Love & Happiness – 12″ – Cooltempo – 1994
'Spanish wailing Mrs Louie Vega's Tito Puente tapped 124bpm Afro-Latin throbber, wrongly labelled (beware!) with the jungle introed cantering Club Mix, stuttery La Rumba, acappella Dream sequence on 12COOL 287 (brown), rattling Tito & India, phasing Congo Drums, X-Press 2's fluttery 124.5bpm Junior Boy's Own Super Dub on 12COOLS 287 (grey)'. – James Hamilton, Record Mirror (Music Week), 19.2.94
Louie Vega and his ex, India belting out some brilliant mid 90s Latin influenced beats.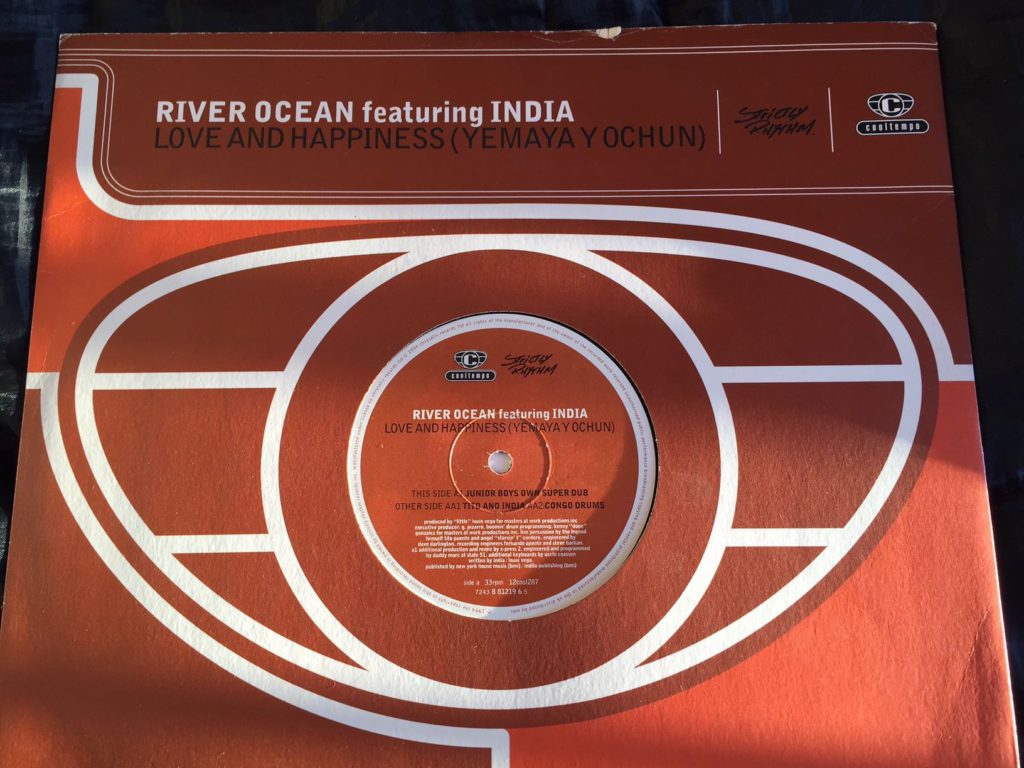 ---
01.08.58
TICKLAH – Mi Sonsito – Ya Llegó, 10″ EP – Names You Can Trust – 2014
10″ vinyl is good, as is the vocal, courtesy of one Myra Vega.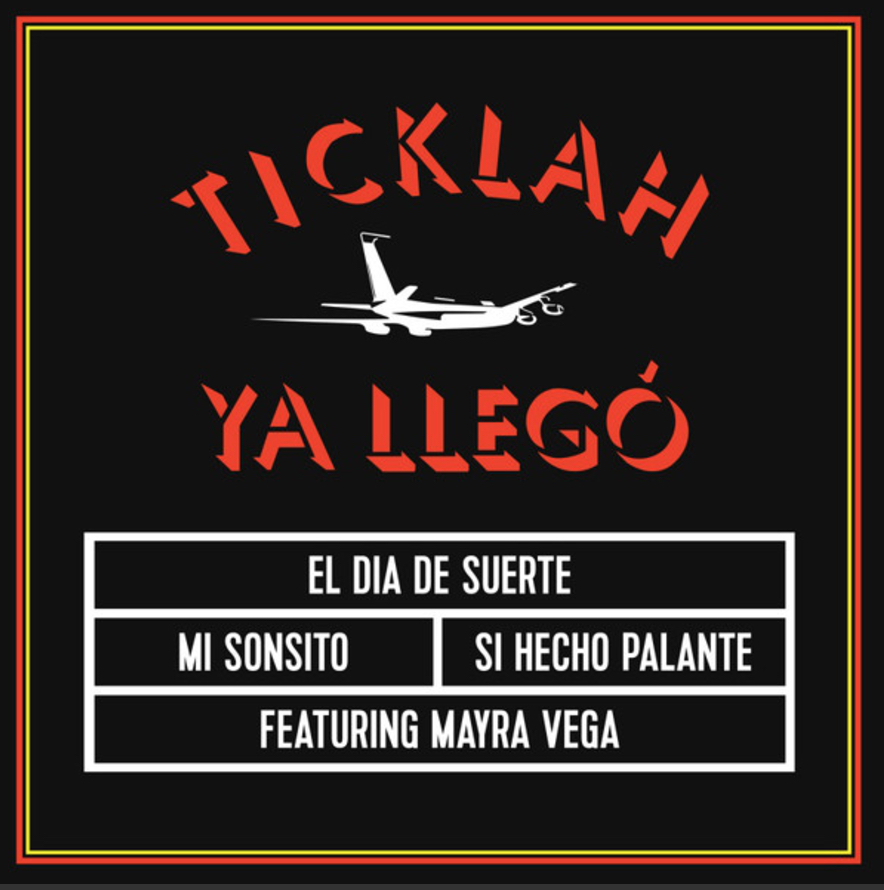 ---
01.11.54
ICARUS – A Na Me Culture Dat –  12″ – Crowmium – 1980
To be heard at regular intervals through the years on John Peel's show – and quite right, too. Roots gold… and it took me a good while to find a copy of the bugger.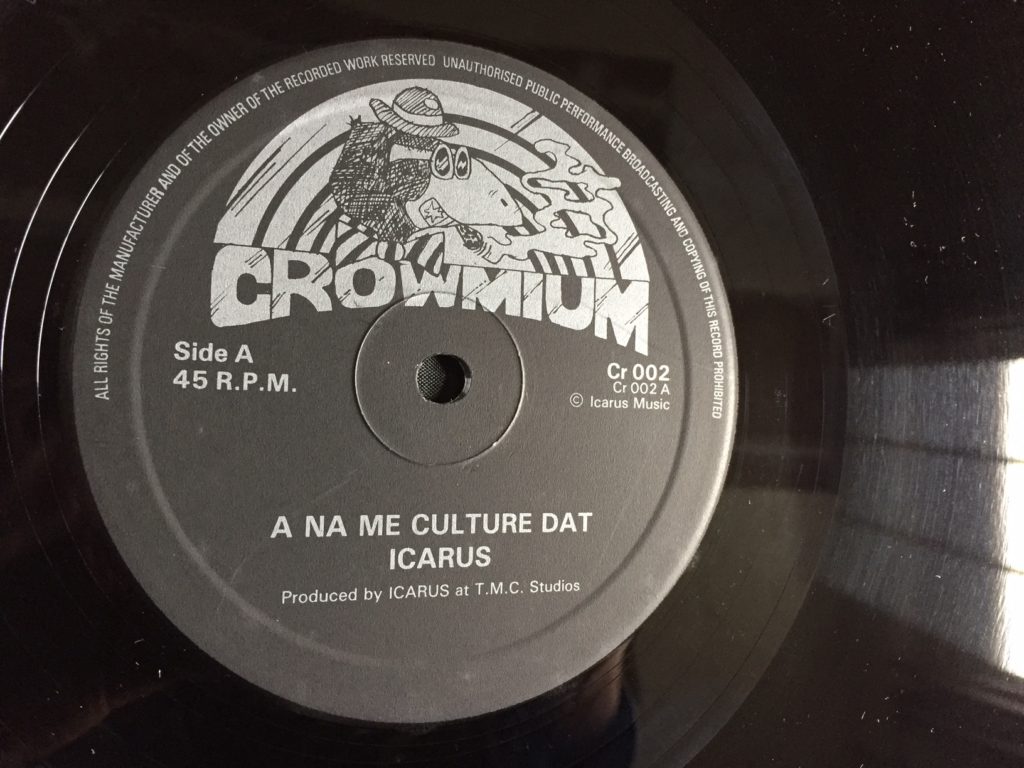 ---
01.15.26
DESMOND DEKKER – Fu Manchu * – 7″ – Beverley's Records – ?
Wonderful! I heard this for the first time in Reckless Records in London, Islington's Upper Street in the mid 90s, and eventually bought it in Amoeba Records, Los Angeles in 2012.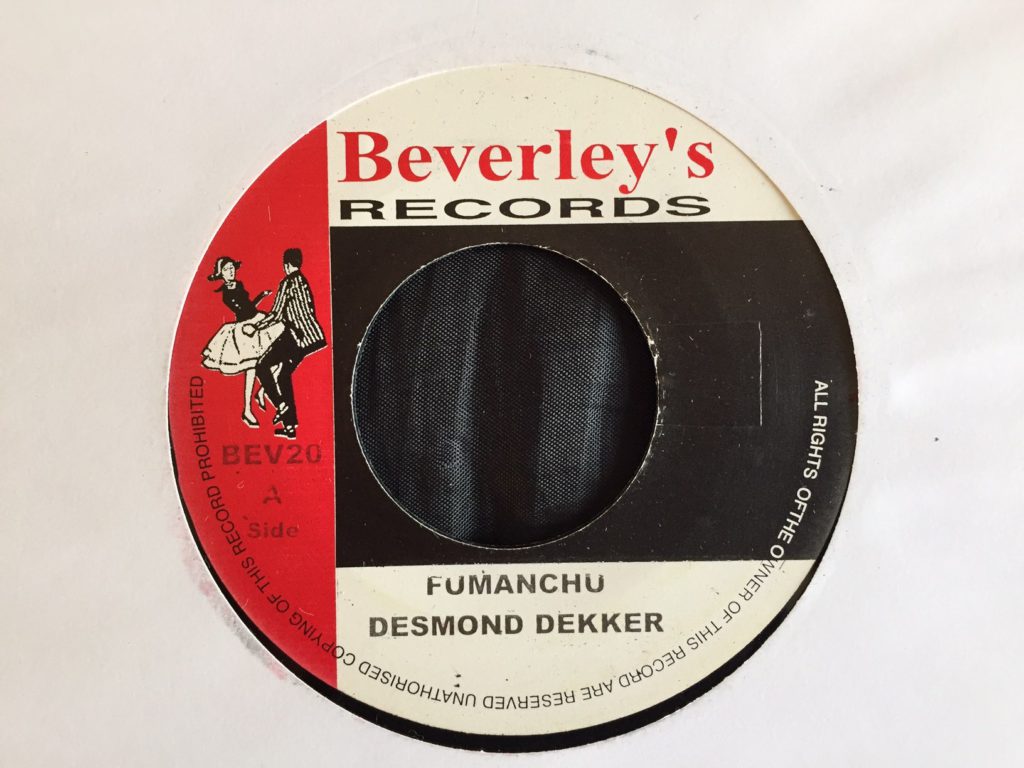 ---
01.18.42
ECHO AND THE BUNNYMEN – Ashes to Ashes (Stares Are Stars) – 5 track cassette, free with UK 7″ The Cutter – Warner Brothers – 1983
My favourite version of the track.
---
01.21.39
JOHN HARRIS AND THE SOUL SAYERS – Hangin' In – 7″ – Kerston Records – 1967
A brilliant northern soul tune… but one very bonkers production. If the tape from the original recording is buried somewhere (maybe unlikely) there's definitely a better production/mix of this possible.
Still, over the last five years the original 7″ has been rising in value, swopping hands for between $2500 and $4000!!!!! Unsurprisingly, I don't have a copy.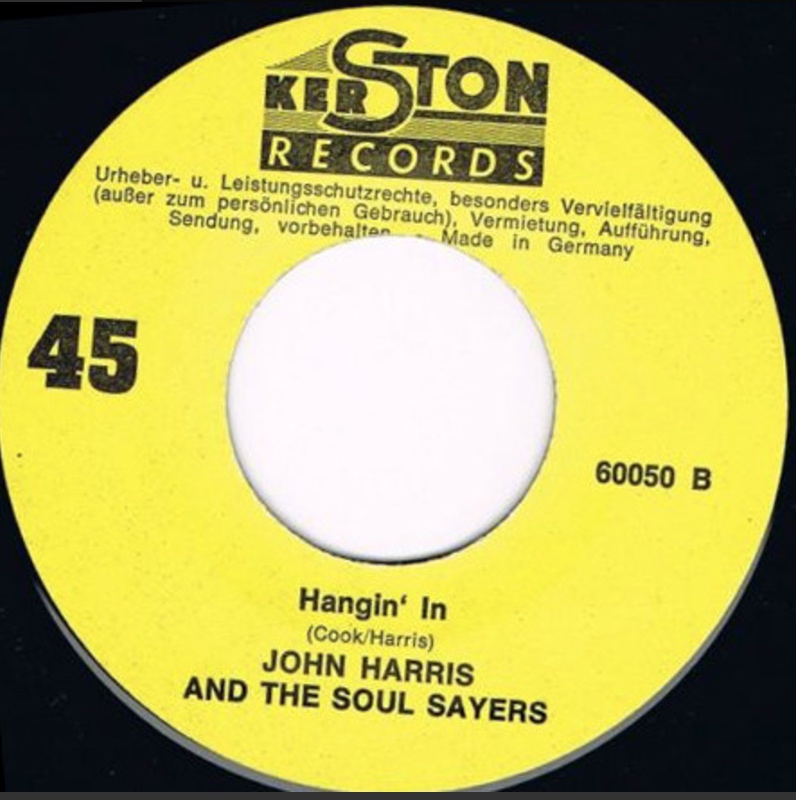 ---
01.24.15
CAJUN HART – Got To Find A Way – 7″ reissue – Warner Brothers – 2005
Late 60s uptempo crooning provides another storming northern/mod tune. Like few other genres, this stuff can seriously damage your bank account. The high hundreds for an original but I'll settle for this reissue.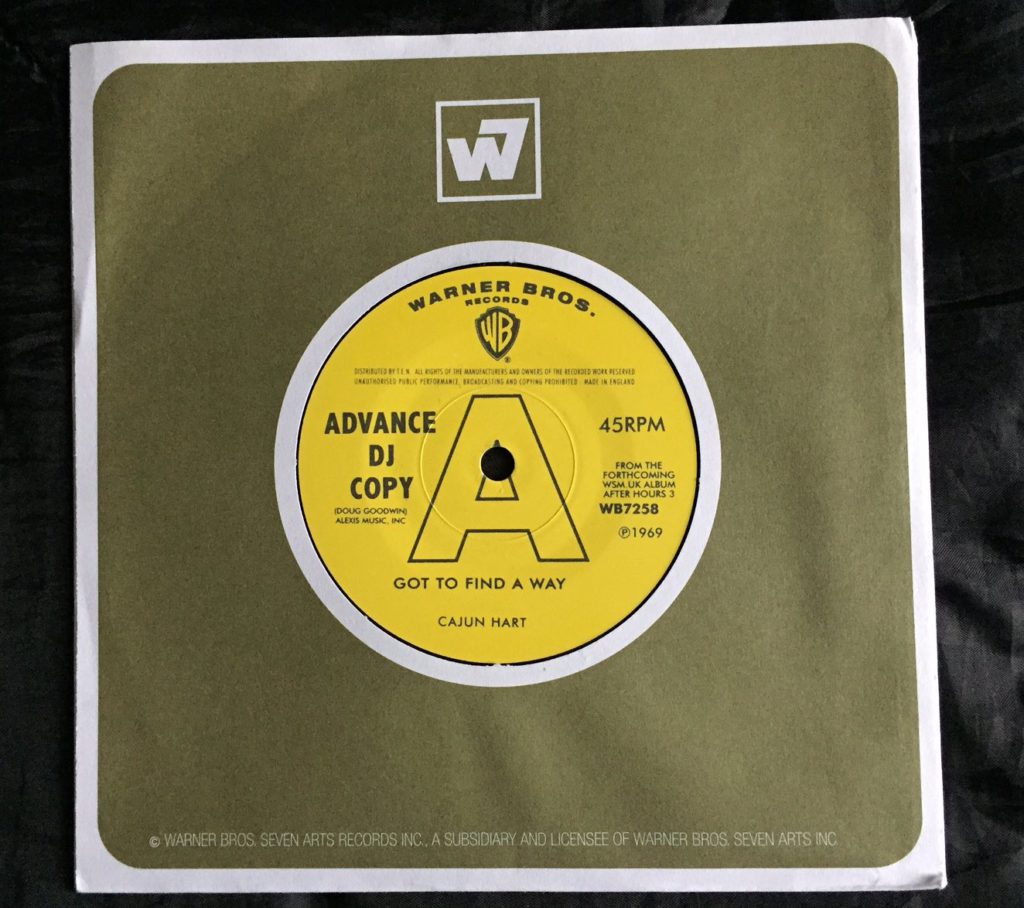 ---
01.27.09
ATTICA BLUES – The Quest * – Test. Don't Test, 12″ sampler – Columbia – 2000
They rested the wonderful Roba El-Essawy from vocal duties and still turned in a stormer. Roger Robinson providing the lyrics and vocals.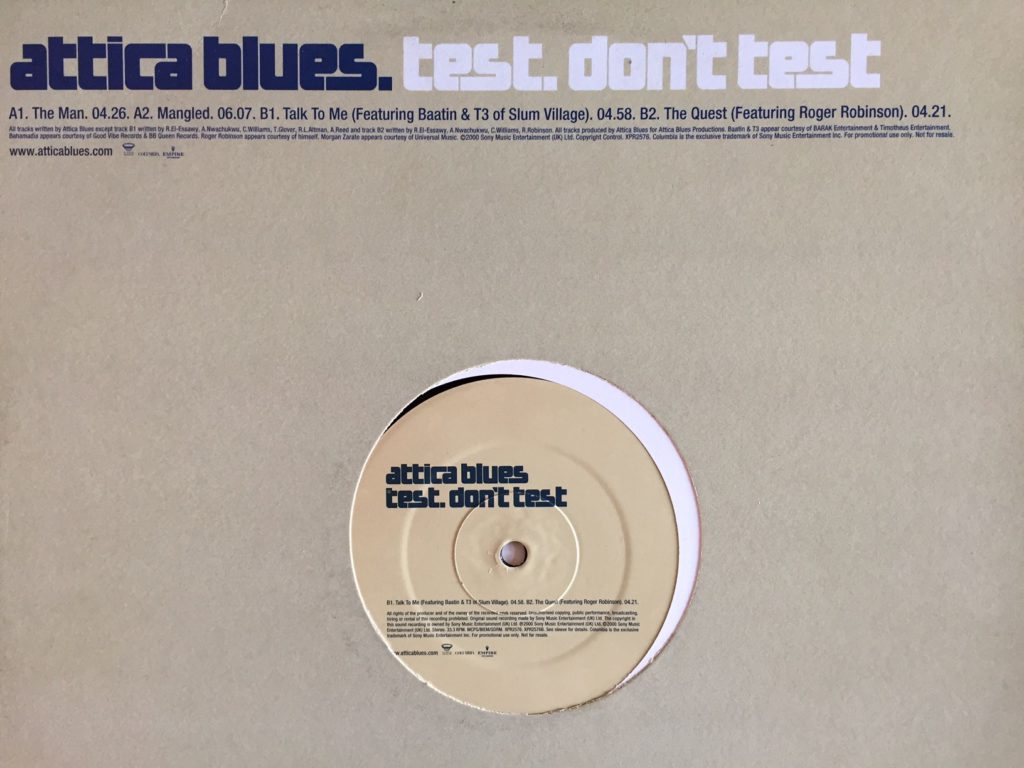 ---
01.30.39
KATE BUSH – Experiment IV – 7″ – EMI – 1986
I grew up in Bedford and in the late 70s if the wind was blowing in the right direction my radio could pick up London radio station, Capital and they were very quick off the mark with the young Kate Bush. Having then joined the fan club (see below), I started buying import Japanese KB pressings and managed to get a ticket for the London Palladium on the only tour she did back then. The dedication of youth.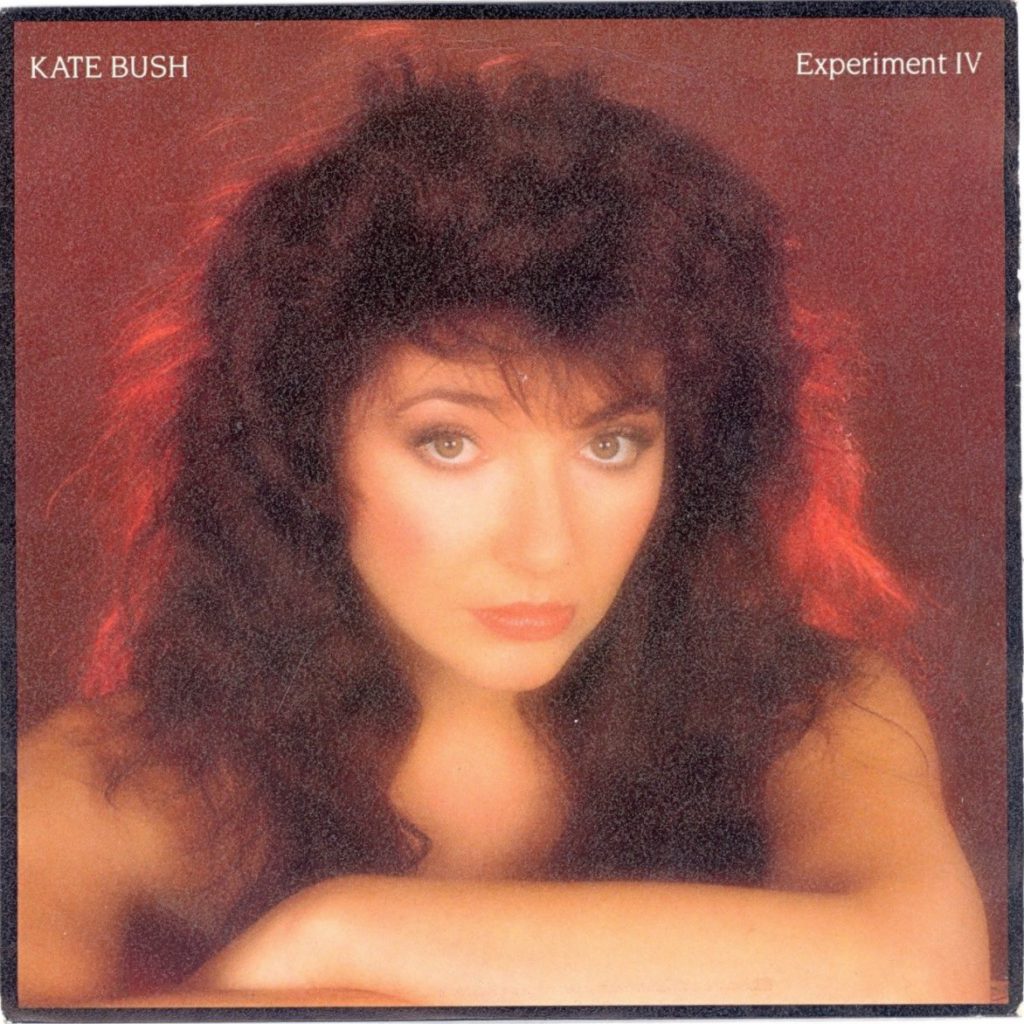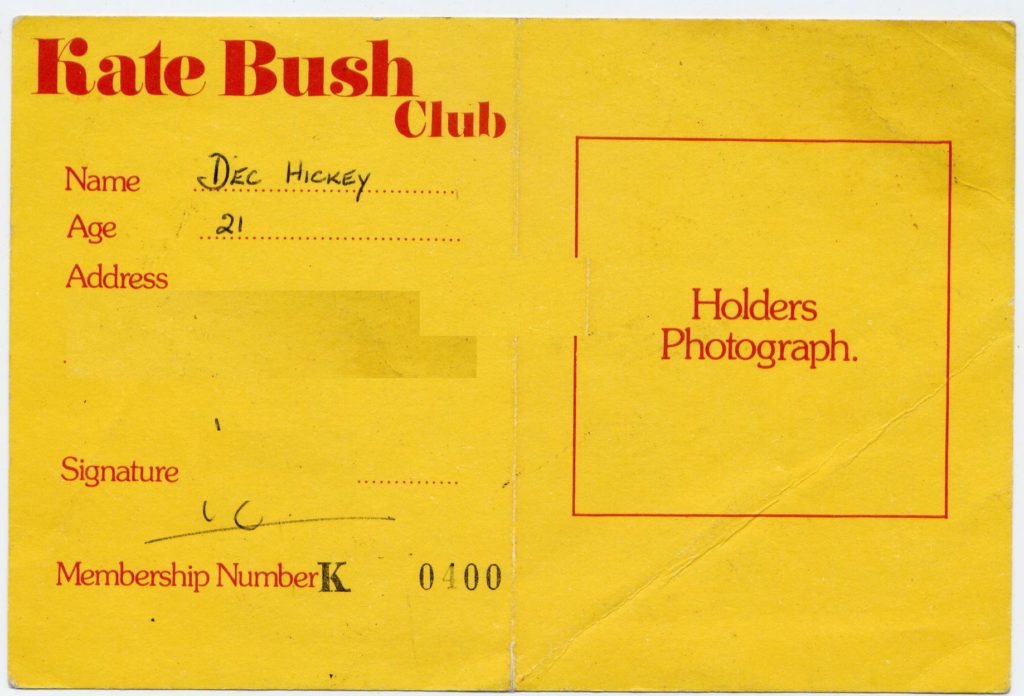 ---
01.34.46
TWO BANKS OF FOUR (feat VALERIE ETIENNE) – Unclaimed – Three Street Worlds, LP – Red Egyptian Jazz – 2003
Rob Gallagher's conscious lyrics and Valerie Etienne's vocal. A powerful combination.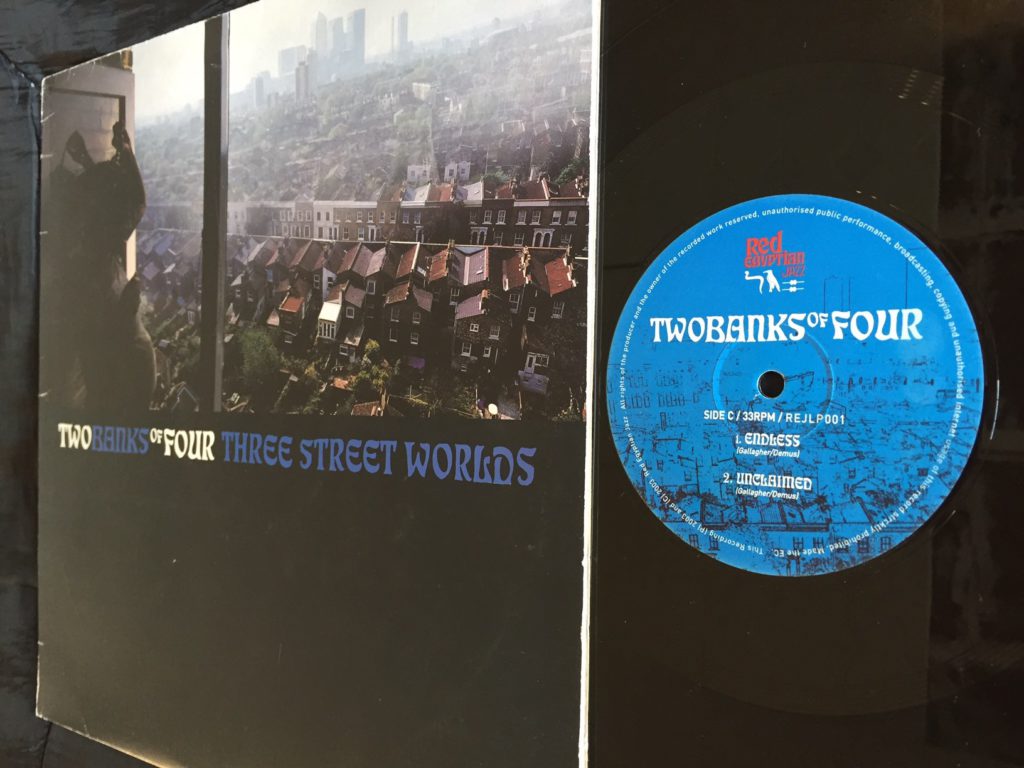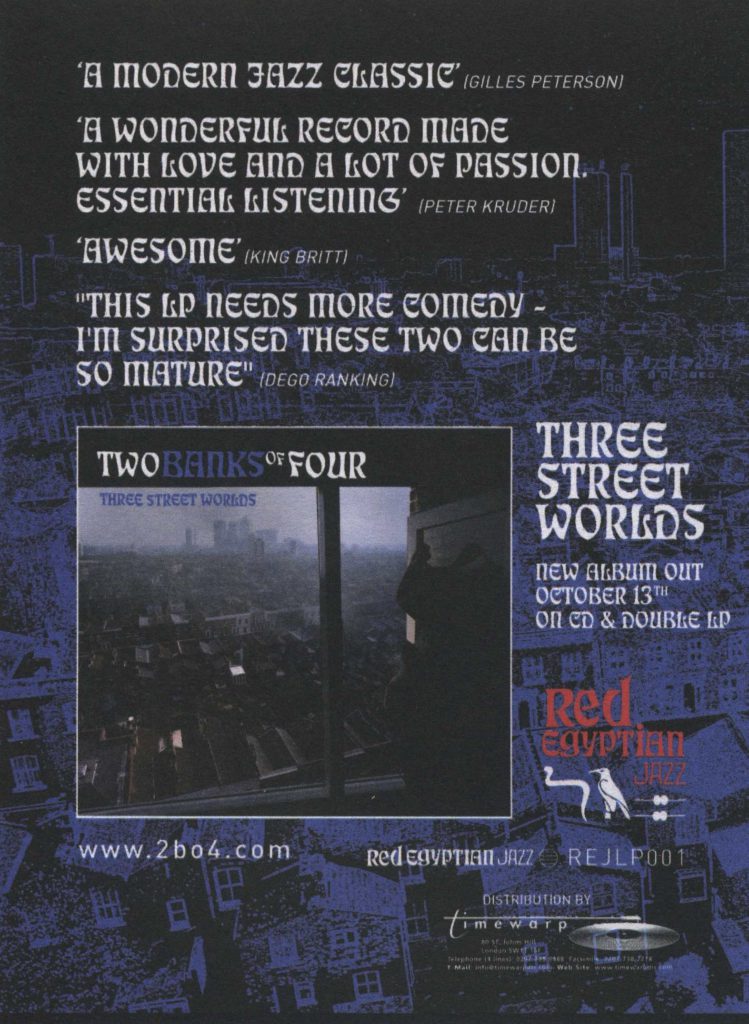 ---
01.39.25
RÖYKSOPP – Sparks – 12″ – Wall Of Sound – 2003
Beautiful… though I've always had a slight problem with the mid section breakdown. I'm fussy like that.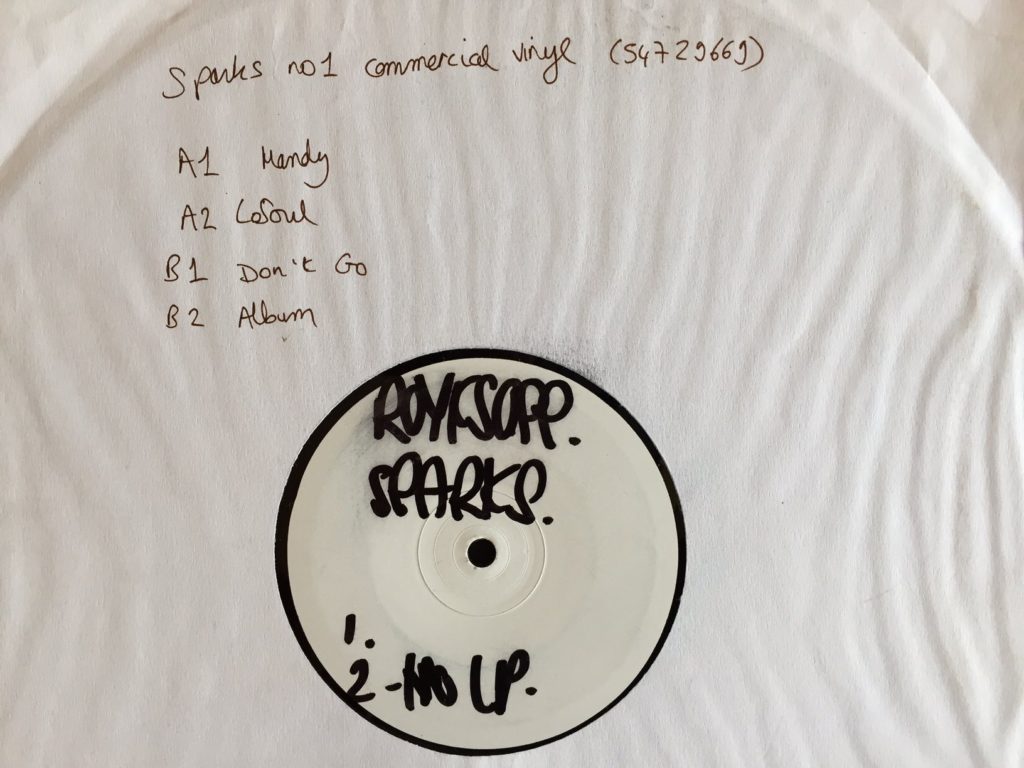 ---
01.44.30
RAE & CHRISTIAN – The Hush – 12″ – Grand Central – 1998
When they weren't utilising the fabulous Veba on vocals they got Sharleen Spiteri to put in the best vocal this or that side of any of her Texas tunes. Nominated for the Mercury prize back then, R&C would have been worthy winners.
'Having produced a couple of numbers with Texas in the past, including a track that appeared on the 'White On Blonde' album, Rae & Christian have now had the chance to combine their hip hop outlook with lead singer Sharleen's songwriting. Although the name Texus incites images of some bland 'has beens' who Chris Evans insists on slobbering all over, this should on no account be ignored. Orchestral arrangements are doing the rounds this year, but this stands out for its sheer raw soul and ultra-slick, without being sick, production. It deserves to cross over and become one of '98's true anthems in a time where labels artists are either too inept or too skint to write and produce songs that work. Grand Central should be saluted for being a collective who know what they like and have the guts to press themselves into creating lasting, polished and accessible acts while still nodding toward underground cool. This is a gust of exhilarating air. Revitalise yourself' – Rob Wood, Update, 11.10.98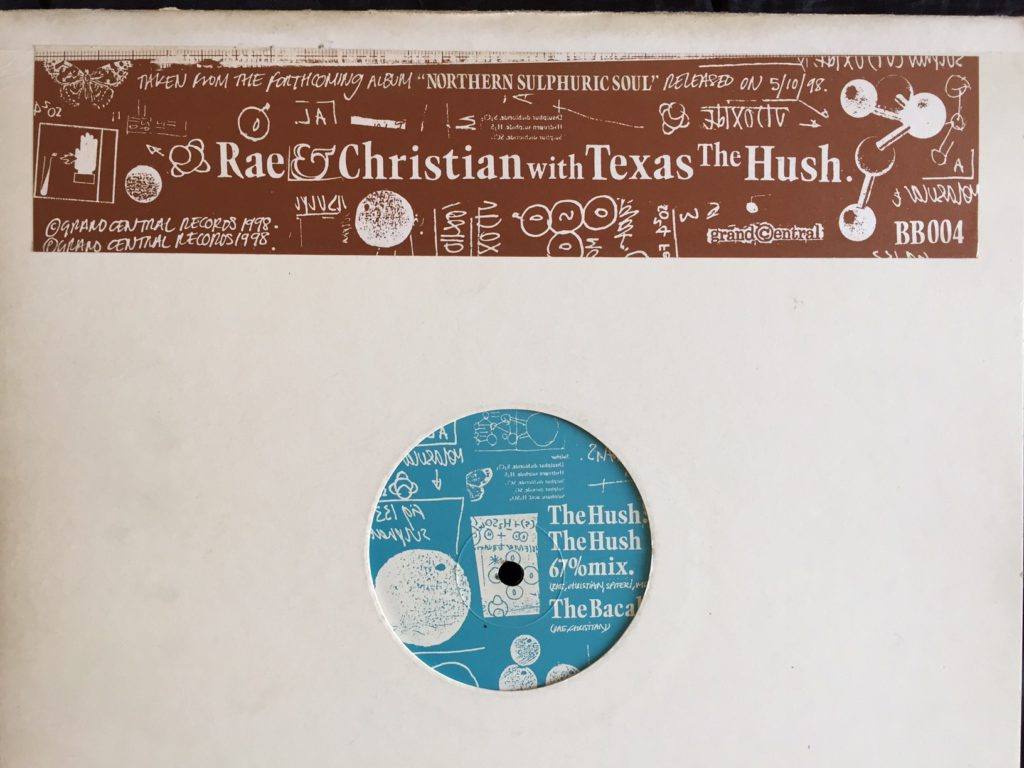 ---
01.49.24
YOUSSOU N'DOUR AND NENEH CHERRY – 7 Seconds – 7″ – Columbia -1994
Slow beats magic that reached the national charts. It is OK to like great tunes when they do that.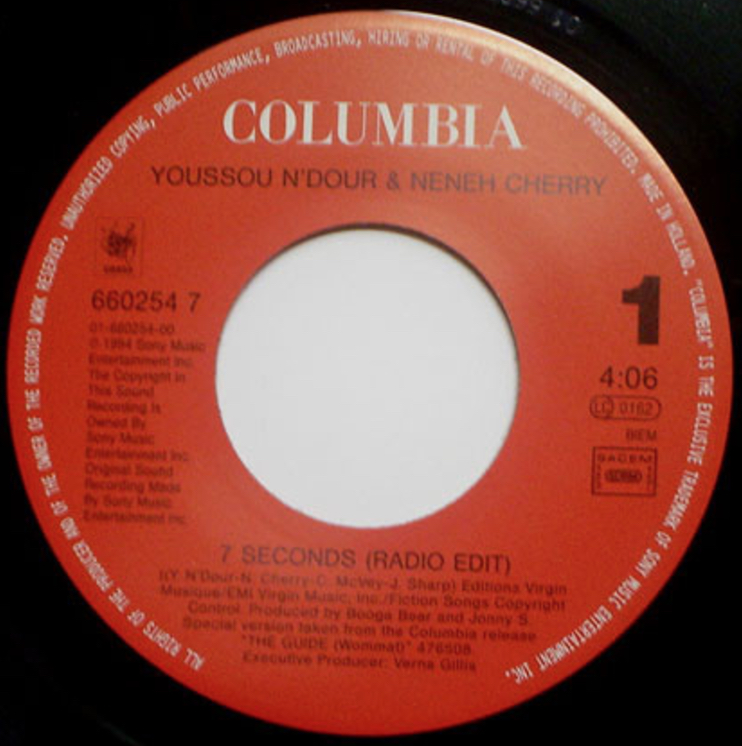 ---
01.54.01
DAVID SYLVIAN – Wasn't I Joe * – Unreleased?
The man felt he couldn't do justice to the song in a studio… so he didn't bother, and though there's a live version available on the When Poets Dreamed Of Angels, DVD, this is not it. Youtube for this one.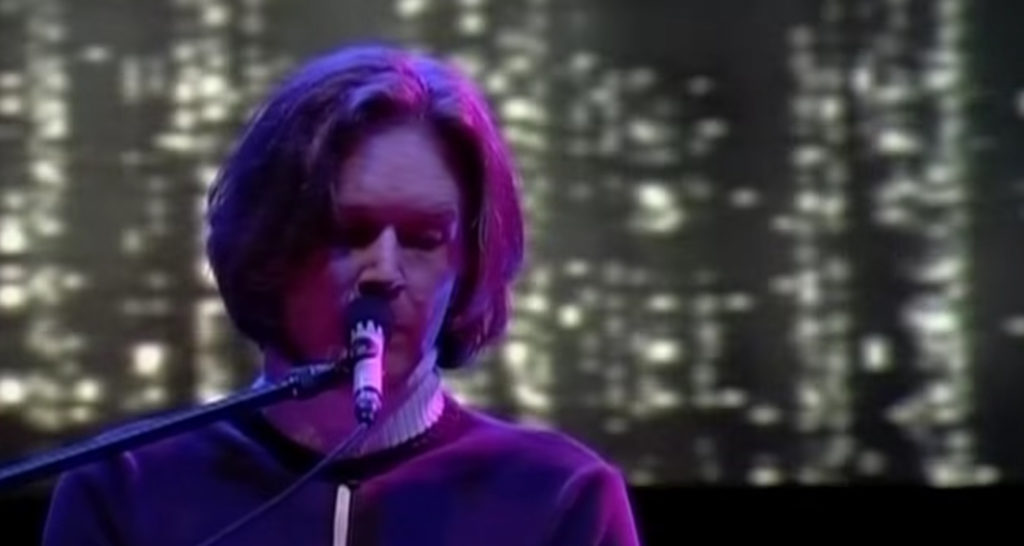 ---
Seems appropriate to say sayonara…
and see you at show #23, hopefully.
Dec