41 Rooms, Playlist 35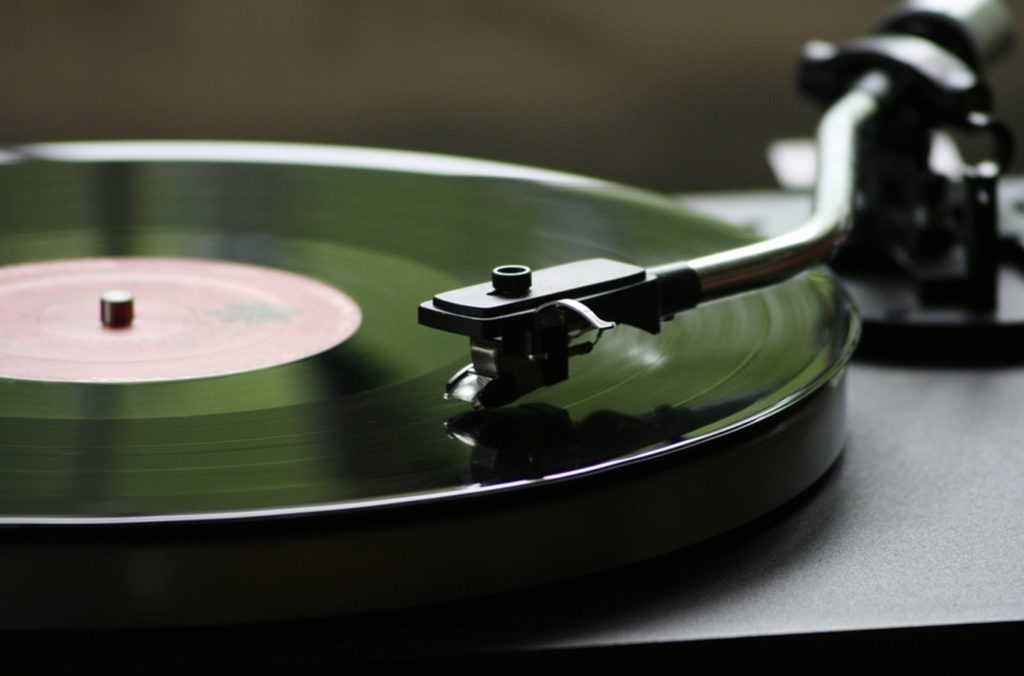 41 Rooms, Playlist 35 is 97% vinyl friendly. Soooooo close.
---
Tracks marked * have been given a tiny (or sometimes, slightly bigger) 41 Rooms 'tweak'/edit/chop/whatever.
---
Lyric of Playlist 35: 
It's a rap… RG-style – 'Things getting stranger, they're stranger every year. Fear come to hunt, feedin' off the land. Well it might rain, and it might not. You might get juked, and we might not… '
---
00.00
(Intro) THE FLAMINGOS – Stars (Edit) – Unreleased demo – 1983 Episode #1 for info.
---
00.41
NEW ORDER – Cries and Whispers – 12″ b-side – Factory Benelux – 1981
In all the early NO gigs I saw, I never heard any of the fifteen or so (to date) performances of this track. It was a staple of their earliest gigs 'til Jan '81 then, strangely, it briefly reappeared a few times on a mid '83 US tour.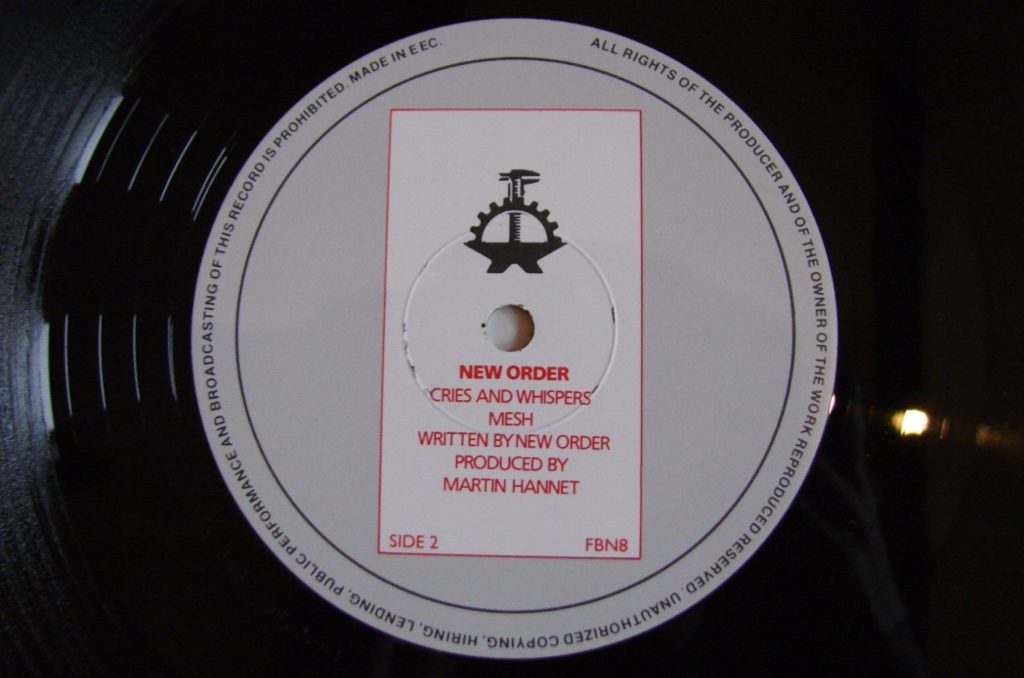 ---
03.47
THE JUAN MACLEAN – No Time – The Future Will Come, 2LP – DFA – 2009
Bouncy, cheery and very Human League-like.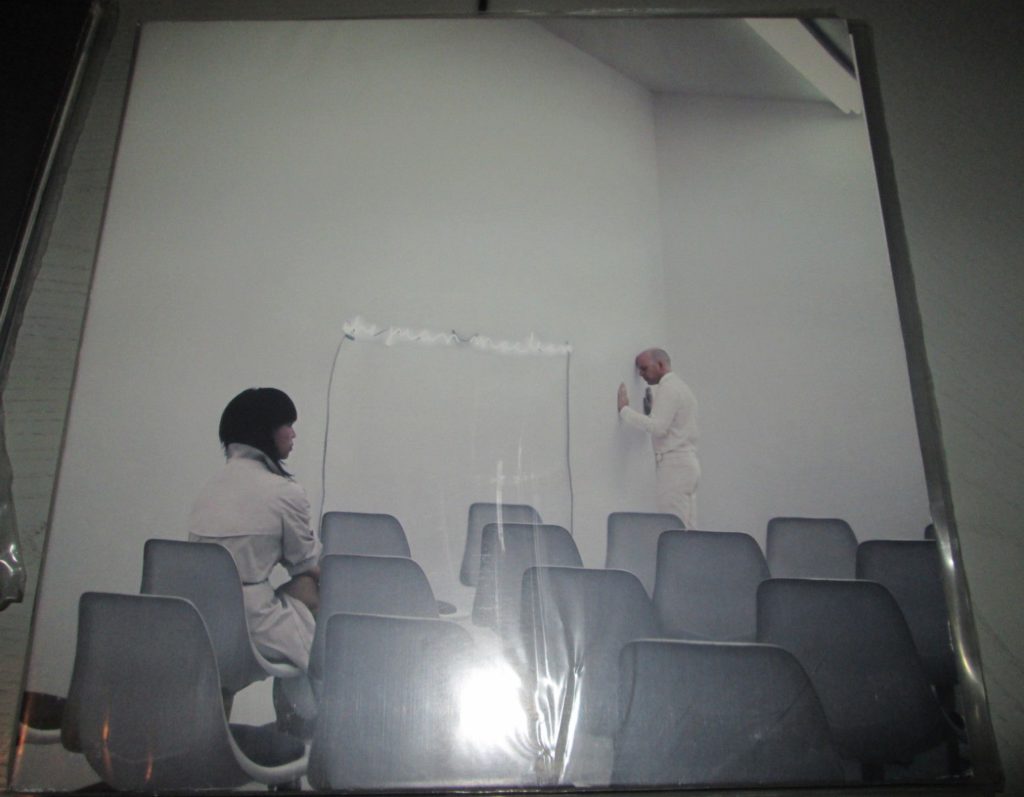 ---
07.39
HUMAN LEAGUE – Love Action – 7″ – Virgin – 1981
And speaking of. A bit of a fave on our club's dance floor at the time.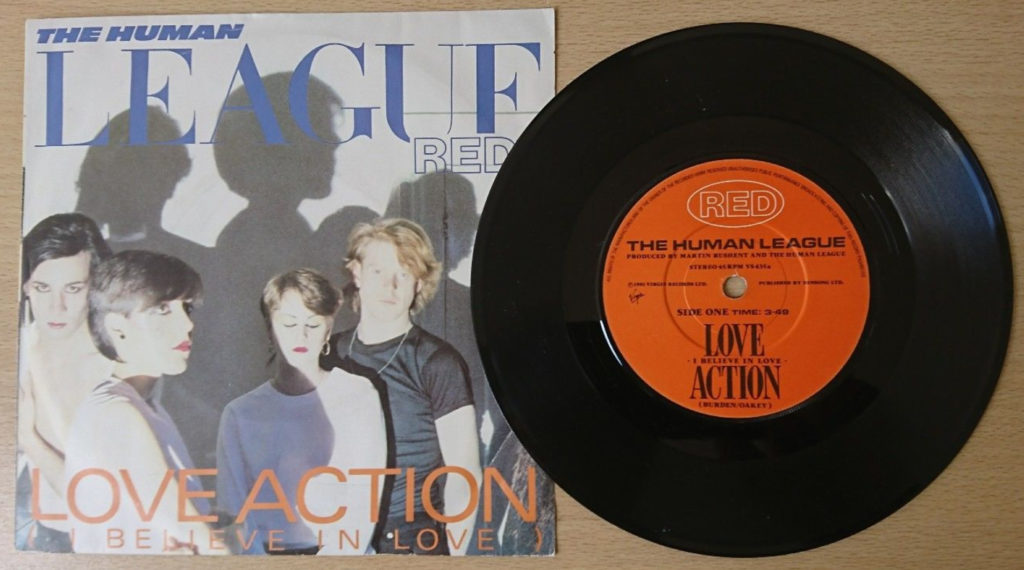 ---
11.08
THE FALLOUT CLUB – Dream Soldiers – 7″ – Happy Birthday Records – 1981
Same era as the above, and sooo early 80s, I can still see people swaying.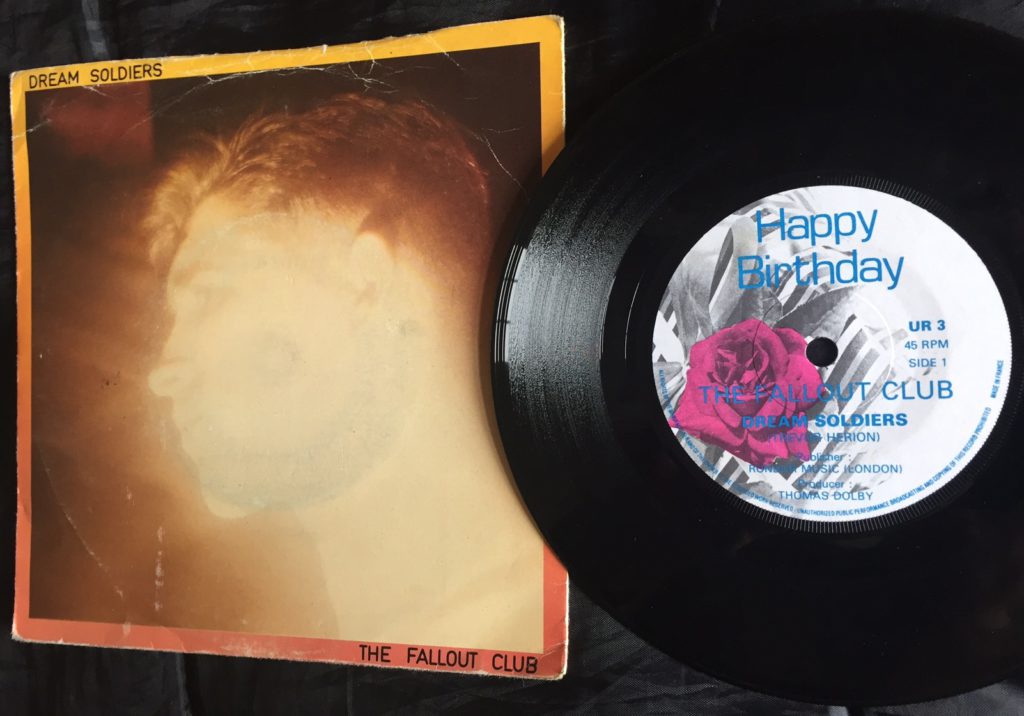 ---
14.54
SECTION 25 – Looking From A Hilltop – 12″ – Factory – 1984
A jolt to the system when it was released, and the band's finest release, some would say. Remix courtesy of Bernard Sumner and Donald Johnson.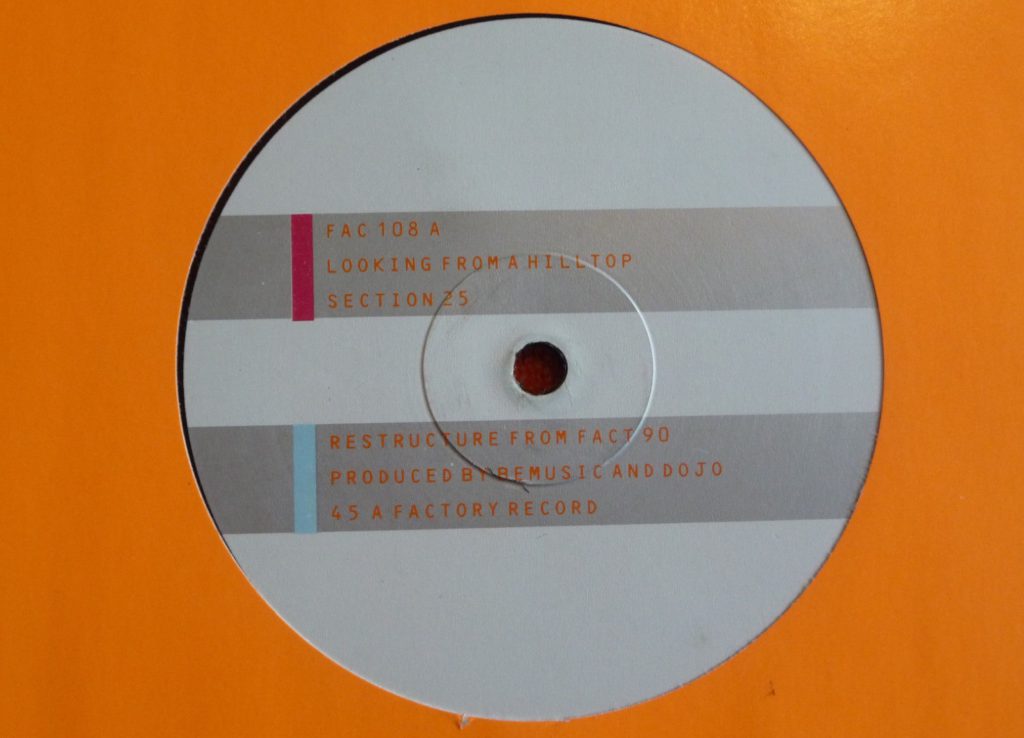 ---
18.54
JOSÉ FELICIANO – I'm Leavin' – 7″ b-side – RCA – 1973
Jose has never recorded anything he couldn't perform live but in forty five years of JF watching and research I've only ever noted him performing this song once – on a US variety TV show. The track might also be notable for having the longest mid song break in history… and there's two of them! The Japanese pressing of the 7″ is one of the few to have the full 5min 30 version – even though the label implies an edited version in the grooves.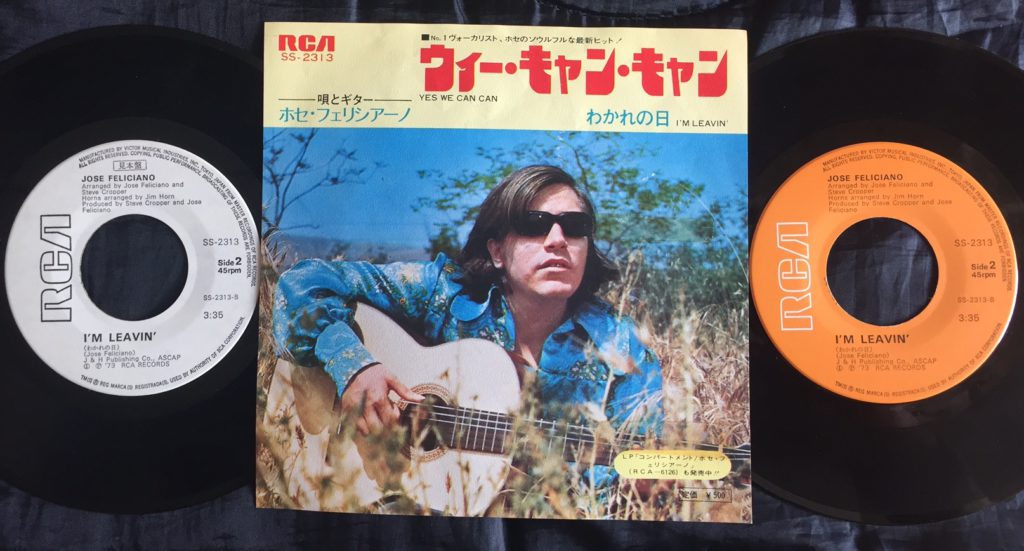 ---
24.05
GLEN CAMPBELL – And The World Keeps Spinning – Try A Little Kindness, LP – Capitol – 1970
When people of a certain age look for the feel of some carefree innocence, Glen will provide more of it than most.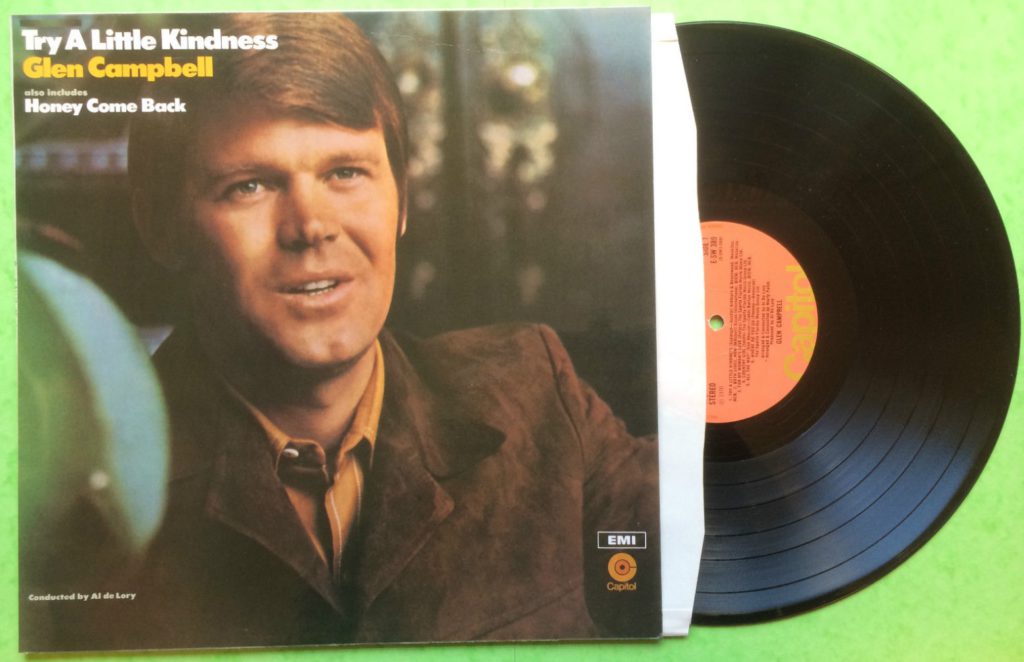 ---
26.41
MAXIMUM JOY – Why Can't We Live Together – 7″ – Garage Records – 1983
Bristolians skanking, the way they only did… well, apart from the Slits… and, errr… most probably somebody else.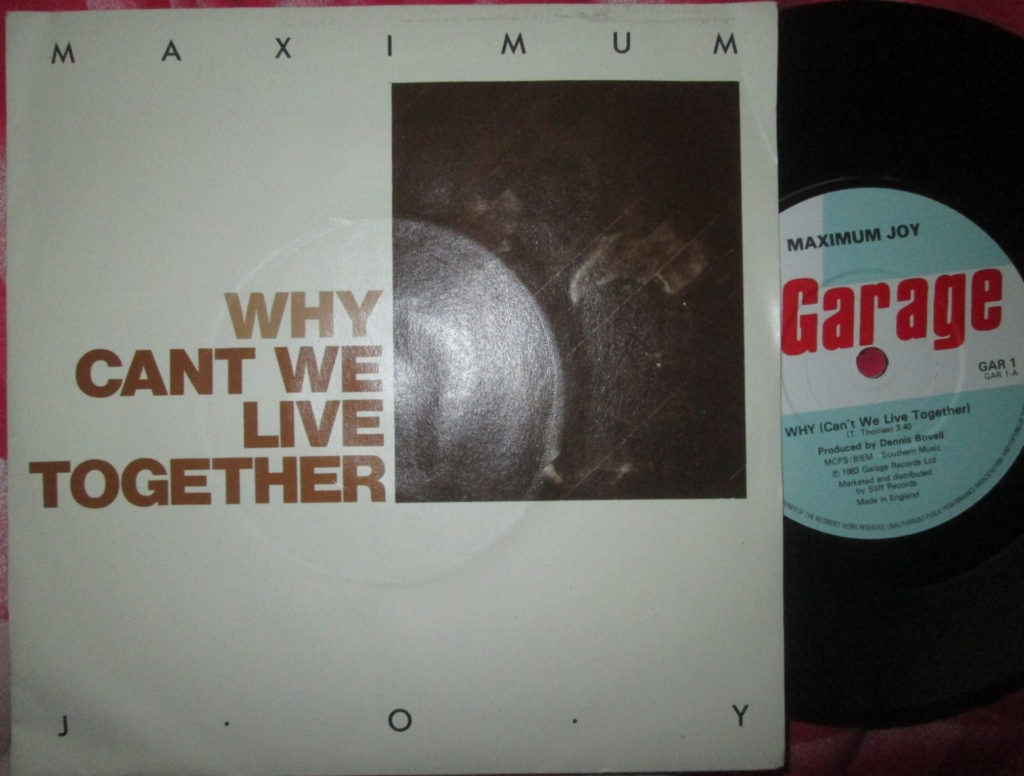 ---
30.19
THE PINKIES – Target Searching – 7″ b-side – 021 – 1981
If you're only ever going to release one single, make it a good one both sides… and these lads did.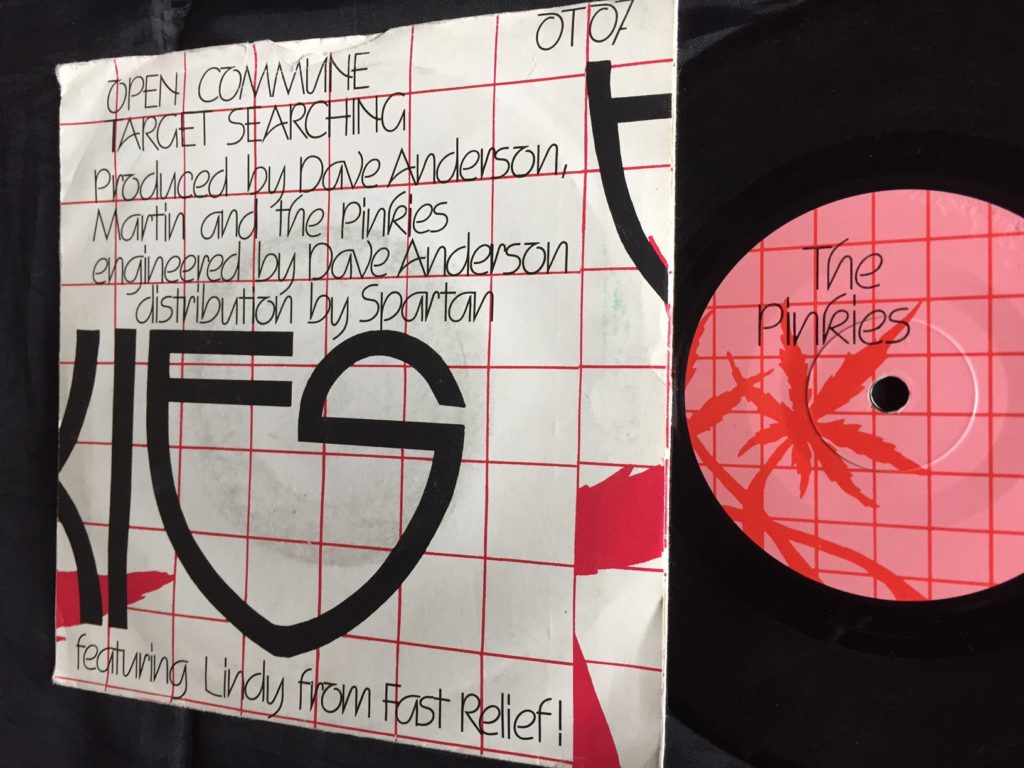 ---
33.43
JOHN FOXX – Blurred Girl – Metamatic, LP – Metal Beat/Virgin – 1980
The most ethereal track on the album. By complete accident, after this was playlisted I bounced into a 2016 John Foxx Youtube interview. As it kicked off, it felt the weirdest of experiences – for two reasons. Firstly, I hadn't remembered ever seeing John Foxx speak before – quite something, given my liking for early Ultravox, his subsequent early solo work and electronic music in general. More revelatory was his mention (and I had to rewind to make sure I'd caught it right) of having been at the 14 Hour Technicolour Dream 'happening' at London's Alexandra Palace in 1967!!!! THAT would never have seemed likely to me on seeing Ultravox performing Hiroshima Mon Amour on the Old Grey Whistle Test in late '78. Then it slowly dawned on me… John Foxx is, as of mid 2017, sixty bloody eight years old!!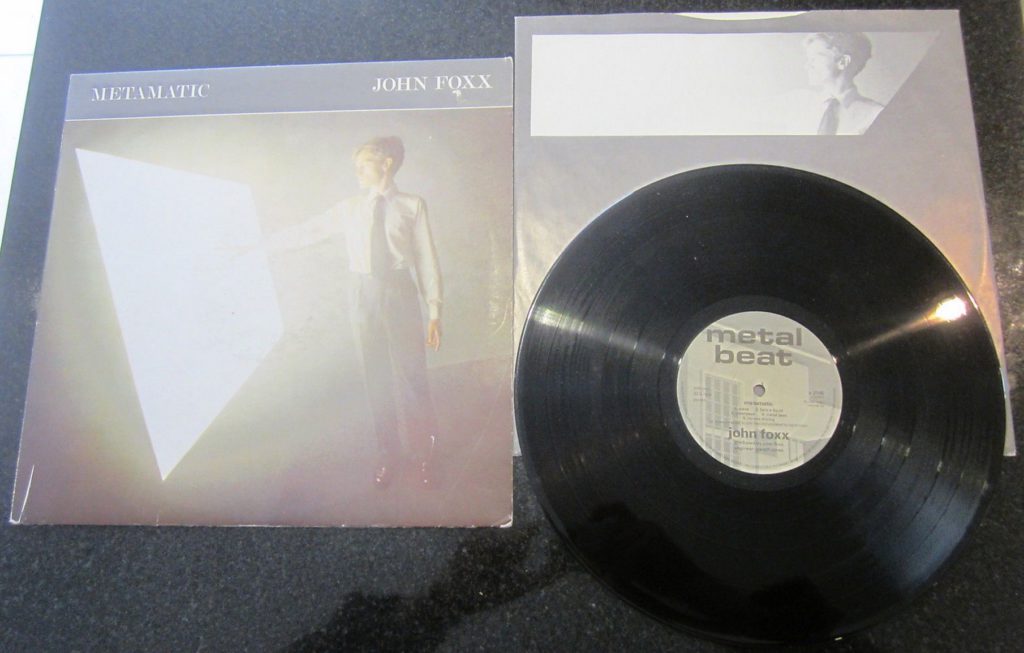 ---
37.23
BLAINE L. REININGER – Broken Fingers – Broken Fingers, LP – Les Disques Du Crépuscule – 1982
As much as I liked a lot of what I heard from Crépuscule, Factory and Factory Benelux back in the day, I very rarely bought on spec or from reviews, I needed to hear it. Also, if John Peel wasn't playing it, it was easy to miss stuff… and I missed catching this guy's records.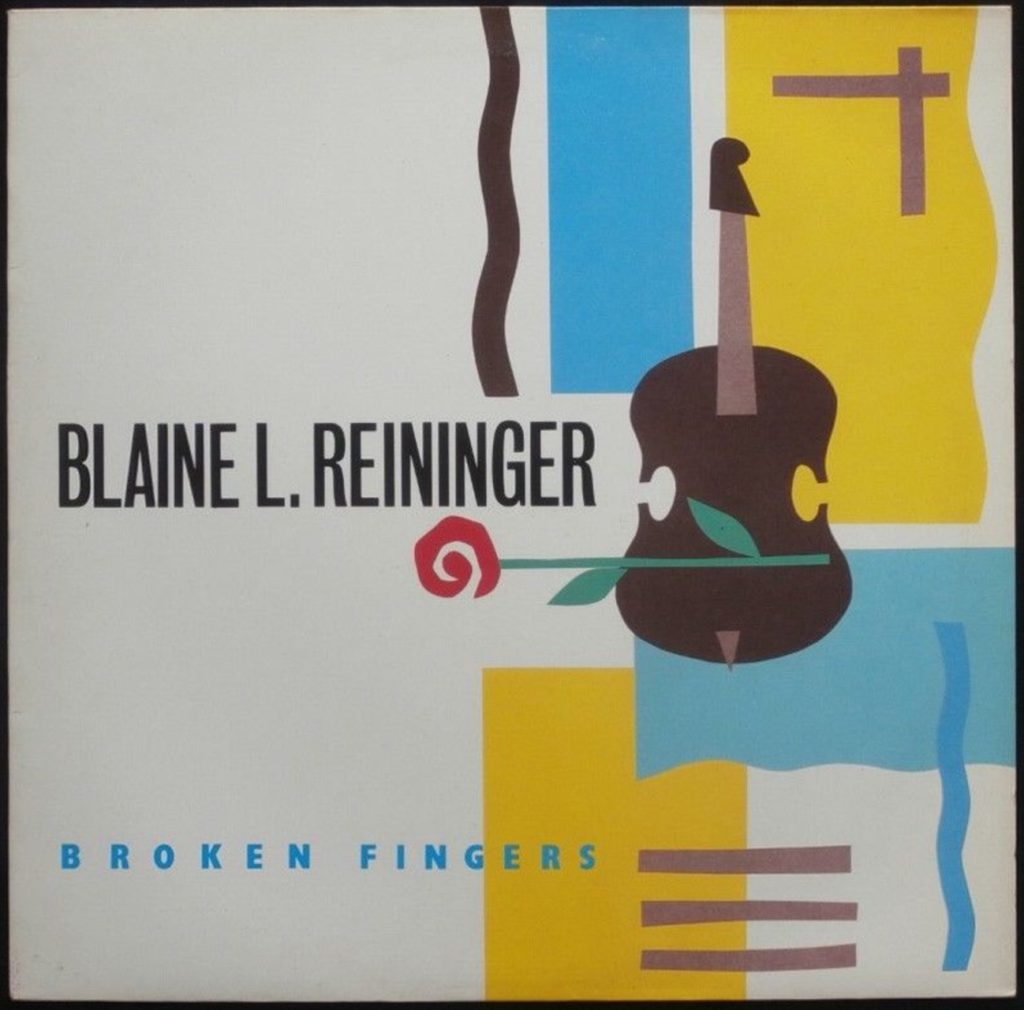 ---
40.51
THE WALKER BROTHERS – My Ship Is Coming In – 7″ – Philips – 1965
Within Scott Walker's complete body of work, maybe this is seen as being part of the 'frivolous pop years' but for its time it feels like it was an epic three minutes.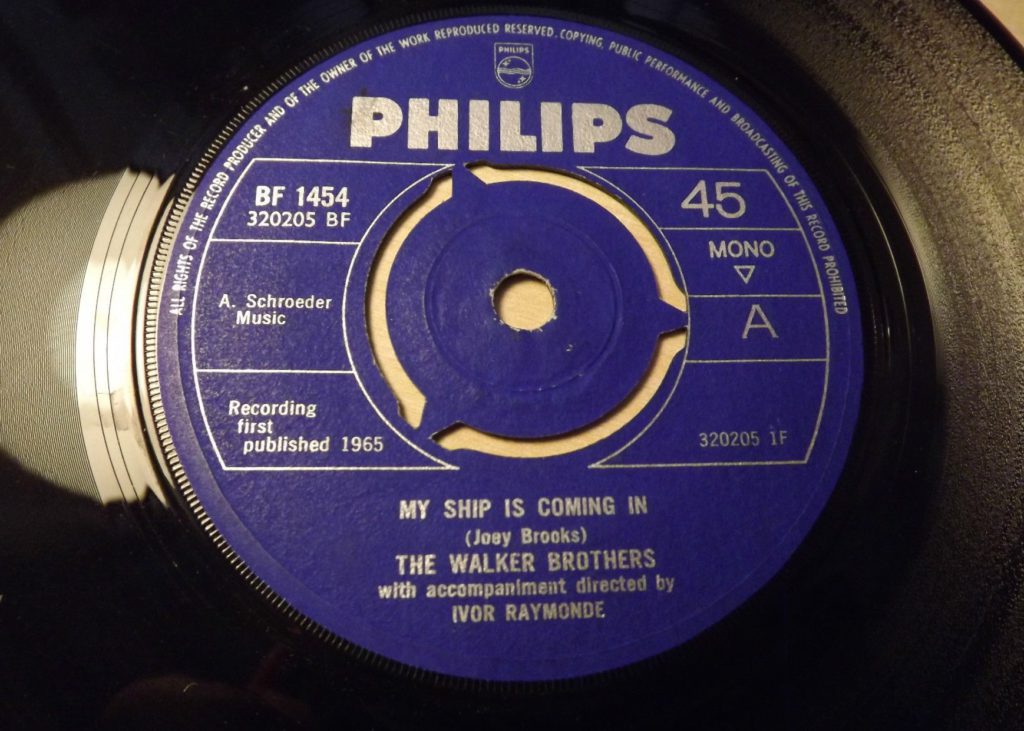 ---
43.32
NICK CAVE – By The Time I Get To Phoenix – Kicking Against The Pricks, LP – Mute – 1986
By the time I got to Portobello Road! In the early to mid 90s I had an occasional Saturday morning ritual of sitting on the steps of the Notting Hill Community Church just off London's Ladbroke Grove with my young daughter, Alice, eating goodies of one sort or another and watching the world go by for a few minutes. One time, rather confusingly we caught John Cleese shouting, 'Alice, Alice' across the street. It turned out he was beckoning his then partner. Another day, Nick Cave passed us by. Resplendent in well worn black t-shirt, skinny black jeans and black Converse trainers, he was pushing a toddler in what was possibly the scrawniest, most dilapidated looking pushchair still able for the job intended. Very punk.
---
46.54
ESKIMO – Nageuse – Self-titled 12″ EP/mini LP – Divine – 1985
It appears Nageuse is French for 'swimmer' and I'd suggest it's the highlight on this their lone release.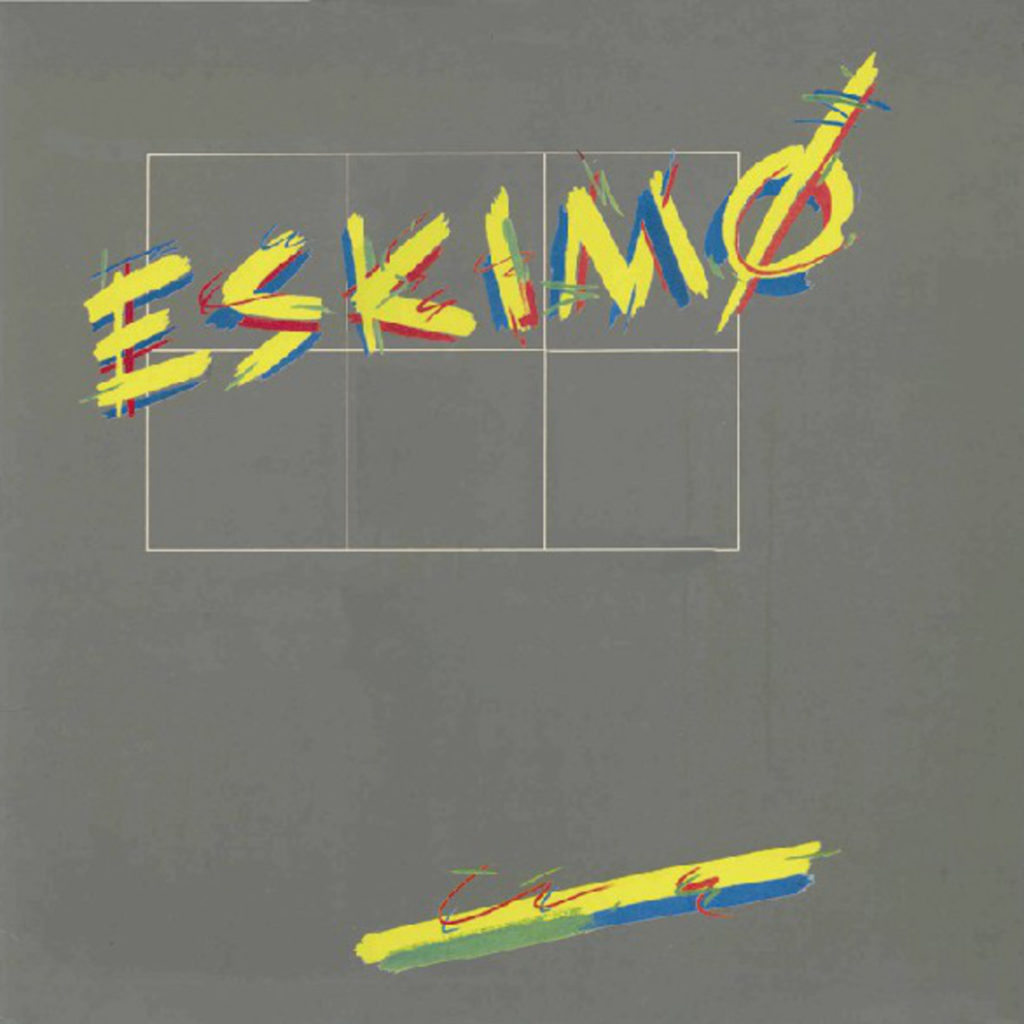 ---
51.36
POLIÇA – Lay Your Cards Out – Give You The Ghost, LP – Total National Gross Product – 2012
A Cocteau Twins album or two in someone's record collection in these parts.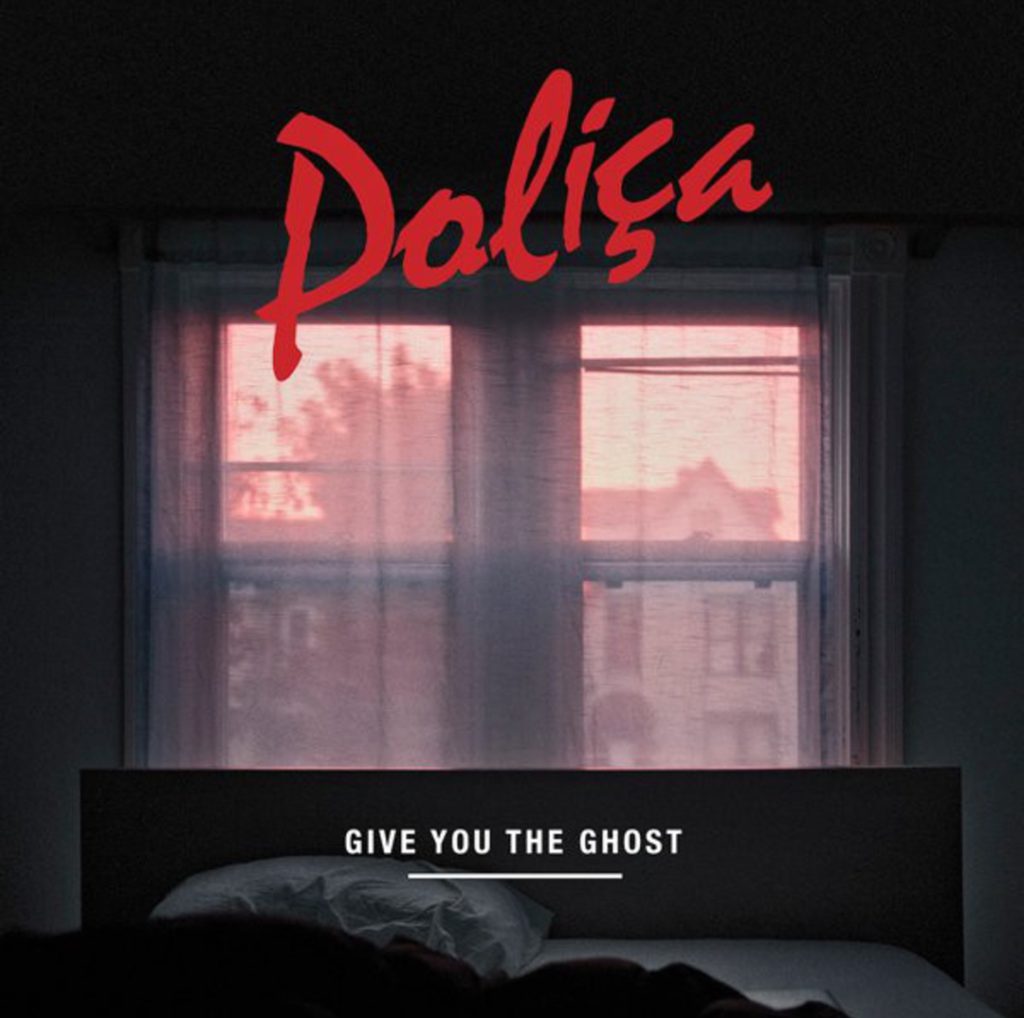 ---
55.35
DJ SHADOW (feat TERRY REID) – Listen – Reconstructed / The Best of DJ Shadow, 2LP – Island – 2012
Sounding more the general territory of Reid than Mr and Mrs Davis's lad, Josh, I'd be intrigued to know the input each of them had on this. Whatever, a triumphant merger.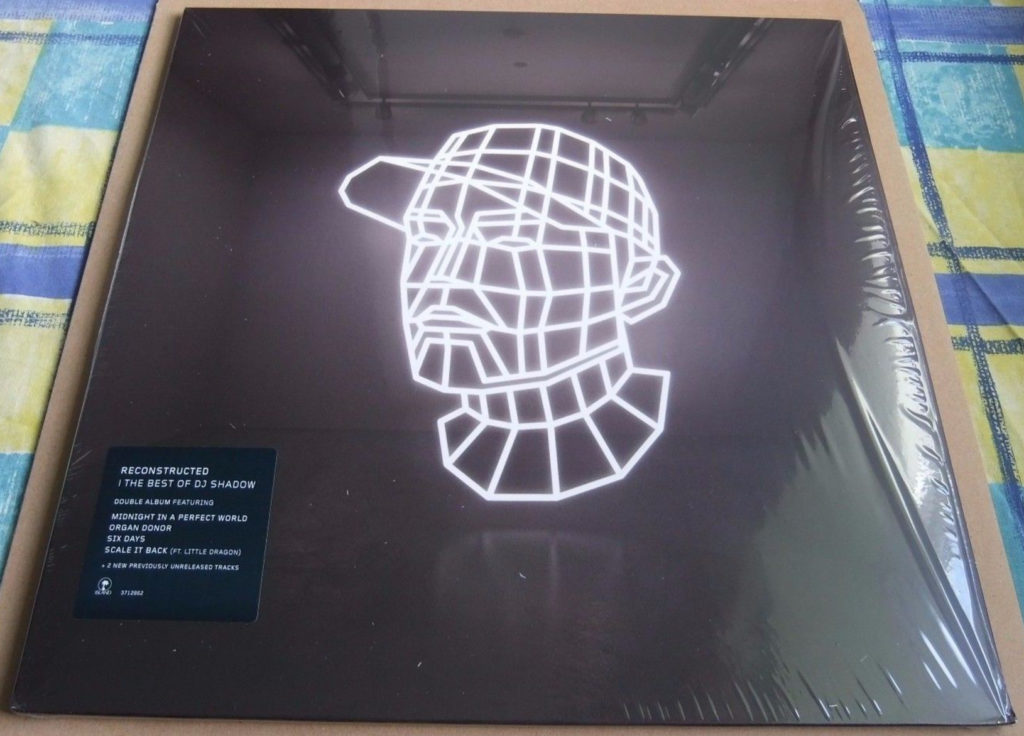 ---
58.16
GALLIANO – Long Time Gone – 12″ – Talkin' Loud – 1994
I remember being on a coach, on a school trip in the middle of a Belgian city when we were told of Robert 'Bobby' Kennedy's assassination in 1968. The subject matter for the Crosby, Stills & Nash song, the lyrics rang true enough for Galliano to recount and append two plus decades on.
'Crosby, Stills & Nash's 1969 hippy anthem harmonised now by Rob Gallagher & Valerie Etienne with typical muttering in pleasant guitar backed jiggly 115.2-0bpm Extended Mix, reggae-ish juddery 0-114.8bpm Palm Skin Productions Remix'. – James Hamilton, Record Mirror (Music Week), 28.5.94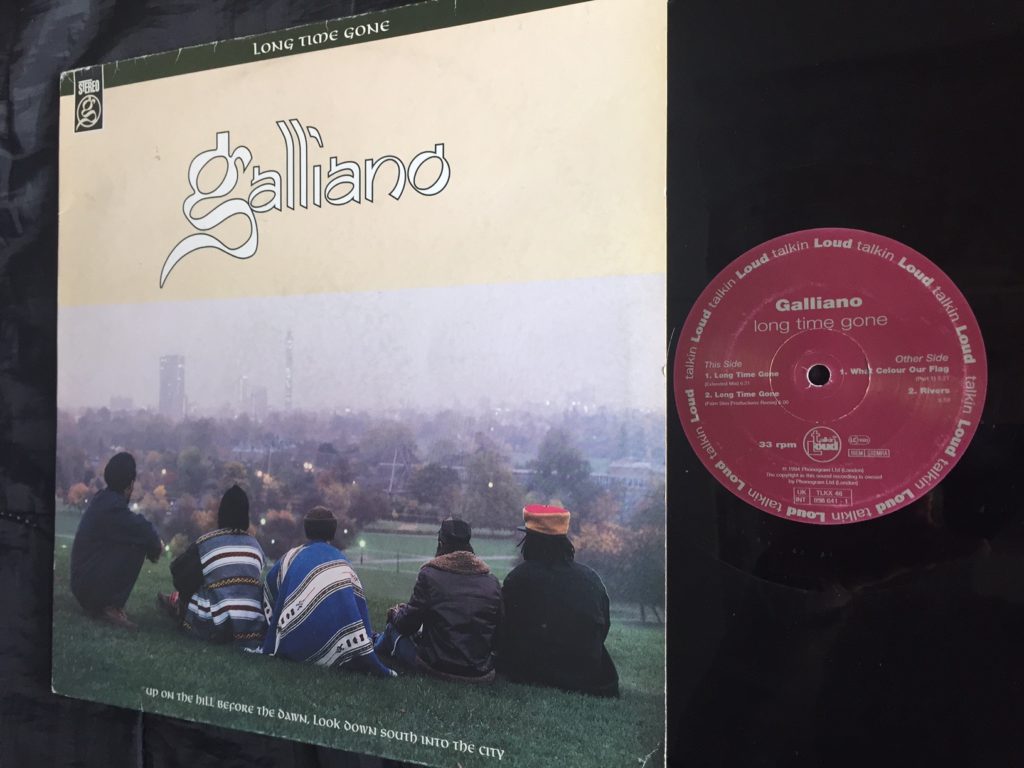 ---
01.03.29
DEEP FOREST with PETER GABRIEL – While The Earth Sleeps – CD single only – Epic Soundtrax – 1996
Neither vinyl, nor seemingly any DP and PG photo, so instead of the tumbleweed let's have a pink fairy armadillo… and he's not sleeping.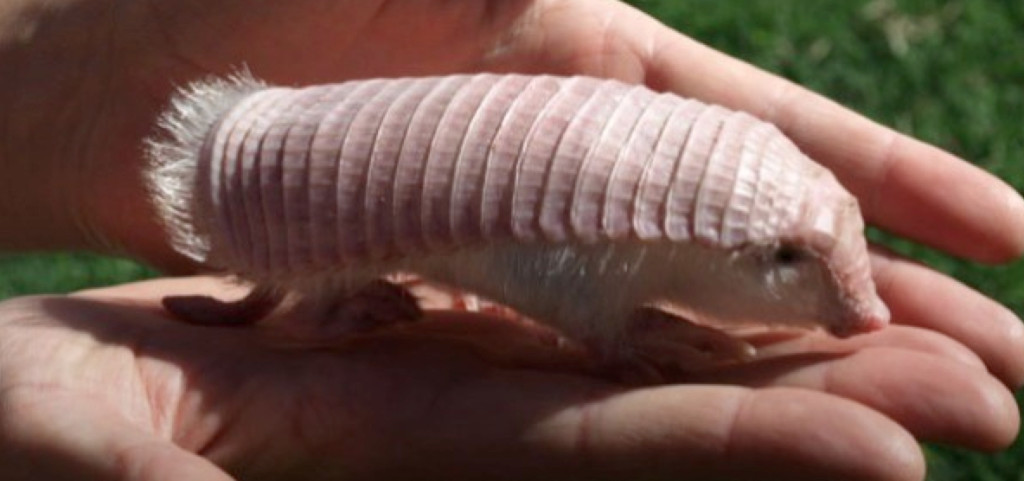 ---
01.09.56
CELI BEE and THE BUZZY BUNCH – One Love * – 12″ – T.K. Records – 1977
A serious edit of the 12″ version will suffice here, but it's still indicative of carefree times in my 1977/8 world. Most probably to be heard for us Bedfordians up our Nite Spot, Spectrum and Phase 3 clubs and on away days in the likes of Cinderella Rockafellas (Northampton), Sands (Luton), California Ballroom (Dunstable) and Unicorn (Leighton Buzzard). I paid 99p for this 12″ at HMV, Bedford on March 3, 1978 – according to the sticker on the inside of the sleeve. The 'No 500' sticker? Surely too many for one store (certainly Bedford's), it might refer to the total number of copies HMV, as a chain, ordered in.
---
01.12.48
TWO BANKS OF FOUR – Last Dance – City Watching, LP – Sirkus – 2000
Mixing it up in fine style, as 2Bof4 were well able to do.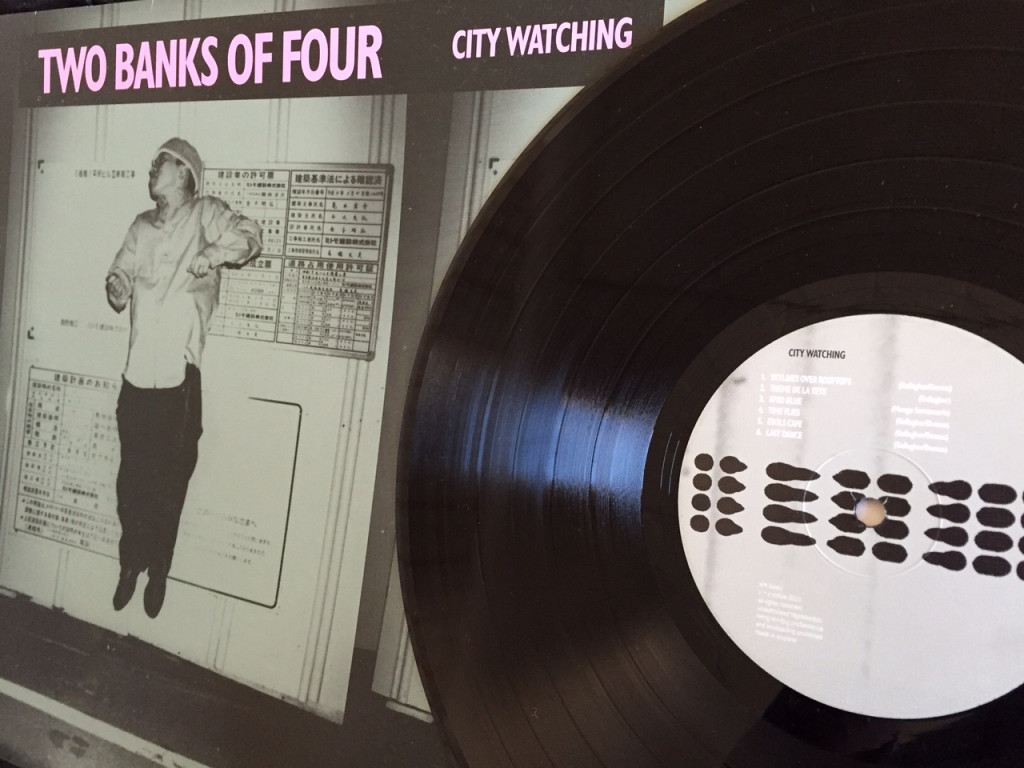 ---
01.16.28
THE WOODENTOPS – Everyday Living – 7″ – Rough Trade – 1986
Rarely has a band oozed so much 'urgency'. Rolo and his mates nearly always sounded like they had somewhere and something else they needed to get to. 🙂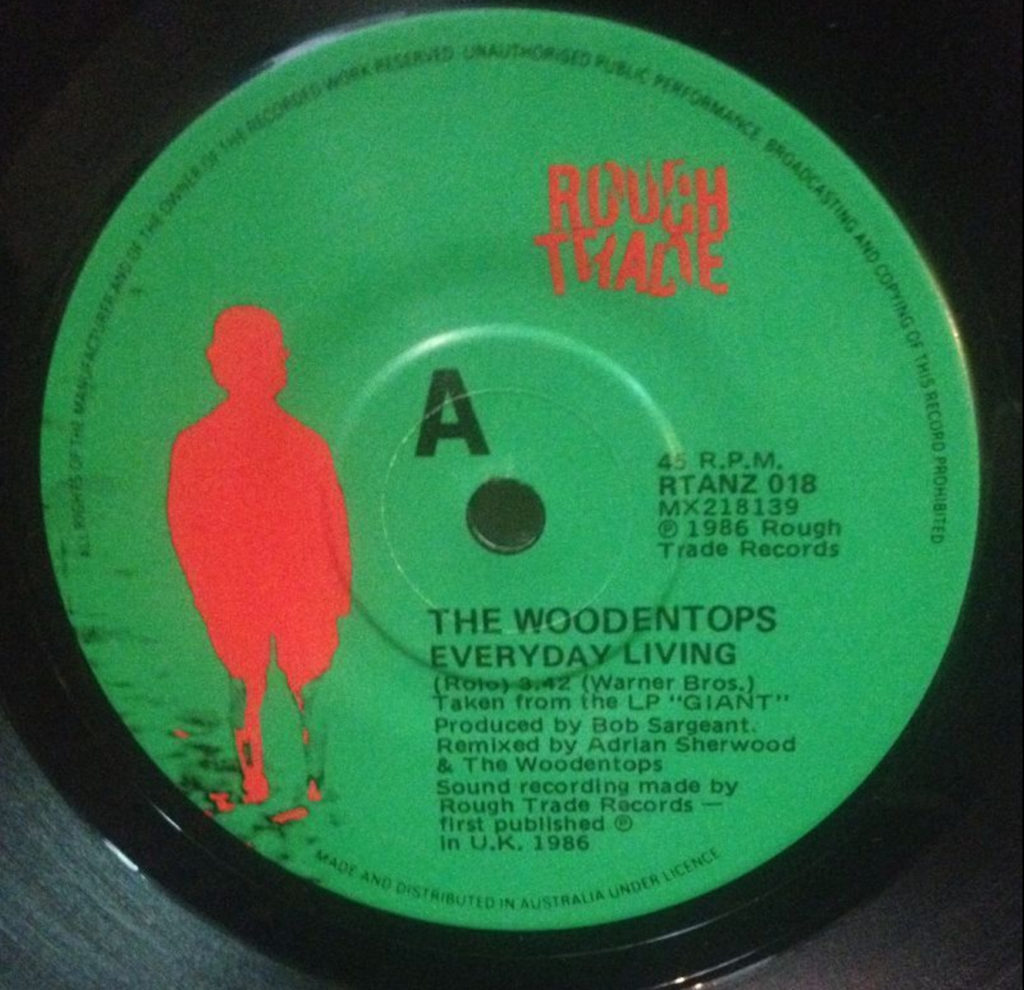 ---
01.20.10
SPOOKY – Persuasion * – 12″ – Guerilla – 1993
This slightly stood out from Guerilla's output at the time – as it would, if you were covering Throbbing Gristle! The torch singer side of Billie Ray Martin's vocals in full effect.
'A very powerful and moving record, as the former Electribe 101 torch singer teams up with the house bods for a cover of the Throbbing Gristle track. Slow, clonking synths reverberate around as Martin's incredible, powerful voice drips little ice cubes down your neck with lines like "got a little biscuit tin/to keep your panties in… ' – Dom Phillips **** 1/2 (for the vocal), Mixmag Update, 11.8.93
'A daring cover of Throbbing Gristle's sleazy/sicko love song classic. The A-side mixes stick to the downtempo pace of the original and are hauntingly sung by Billie Ray – chilling stuff!… a worthy release' – Twitch & Brainstorm, Record Mirror (Music Week), 21.8.93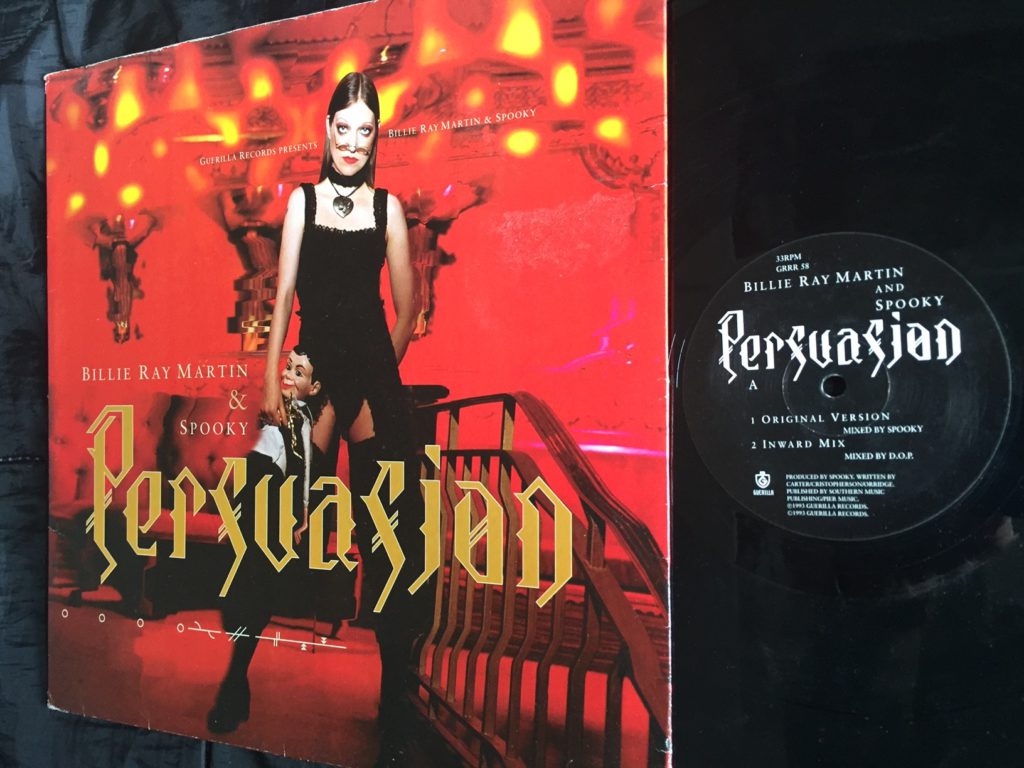 ---
01.27.09
FRESH 4 (CHILDREN OF THE GHETTO, feat LIZZ. E) – Wishing On A Star – 12″ – 10 Records – 1989
From the big beats era. The song is a classic and strangely, of the covers that have passed my way, I've never heard a bad one. Not that I go looking, though.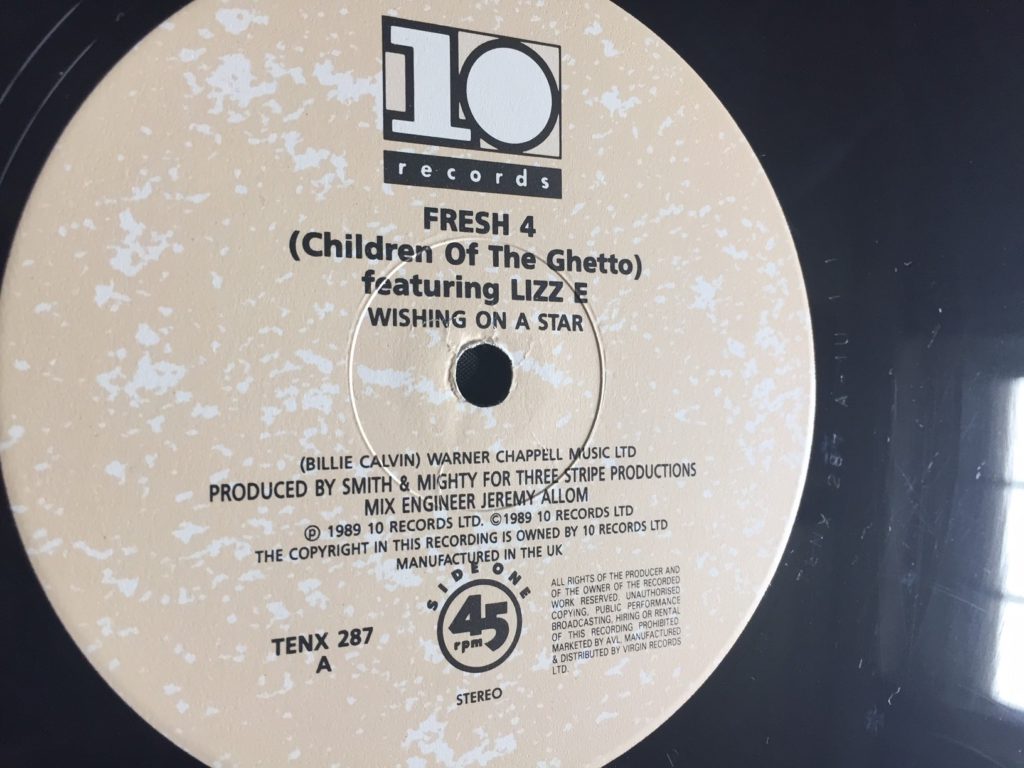 ---
01.30.21
DAVID BYRNE and BRIAN ENO – Regiment – My Life In The Bush Of Ghosts, LP – Sire – 1981
Ground… breaking… album.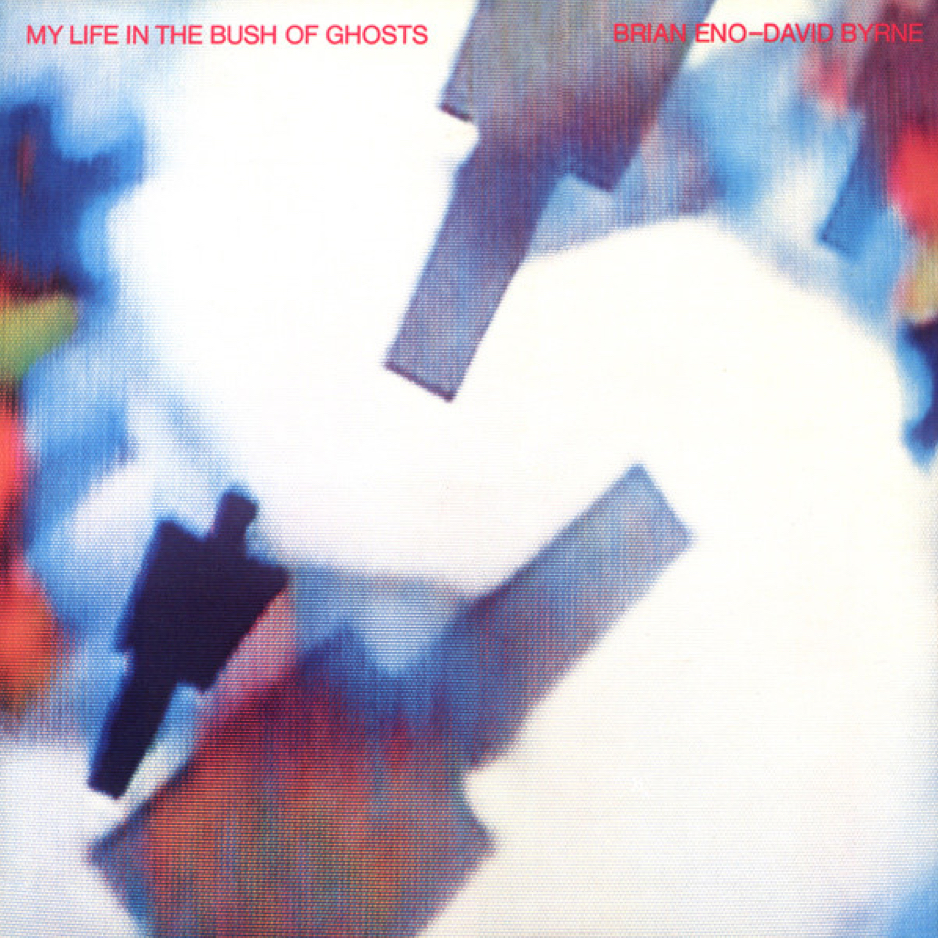 ---
01.34.23
MOLOKO – Where Is The What If The What Is In Why? – 12″ EP – Echo – 1995
The first I heard of Moloko was a promo play of this their first release, very late night/early morning on Kiss FM, via Patrick Forge, Gilles Peterson or maybe Wilber Wilberforce. You can see/hear how your ears would prick up catching this in the dead and quiet of night. Ex-Chakk man, Mark Brydon and Róisín Murphy were a class act… and maybe will be again?
'If you think the title's strange, wait until you here the record. When you've worked out exactly what speed it's supposed to be played at, you've got a fantastically original and strange EP that ranges from very triply hop, chugging funk and even a touch of jungle. The treatment of the vocals and music is refreshingly different and full of surprises. There are so many strange twists and turns it would take a page to describe them. An absolute must.' – ***** Tim Jeffery, Record Mirror (Music Week), 6.5.95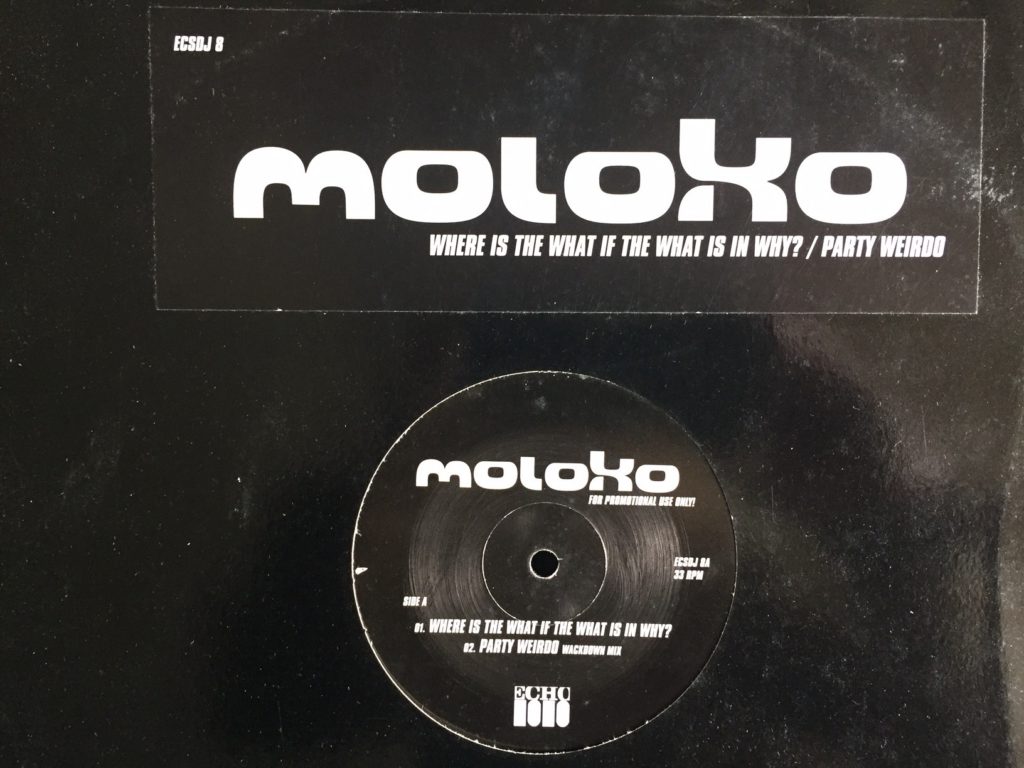 ---
01.38.06
MONSOON – Night Of The Fly * – 7″ – Blue Mountain – 1972
I heard this on poptastic BBC Radio 1 when it was released and duly bought it. A chart flop back then but now maybe deemed 'pop psych' by record dealers to give it some gravitas… and up its potential near nothing value a tad .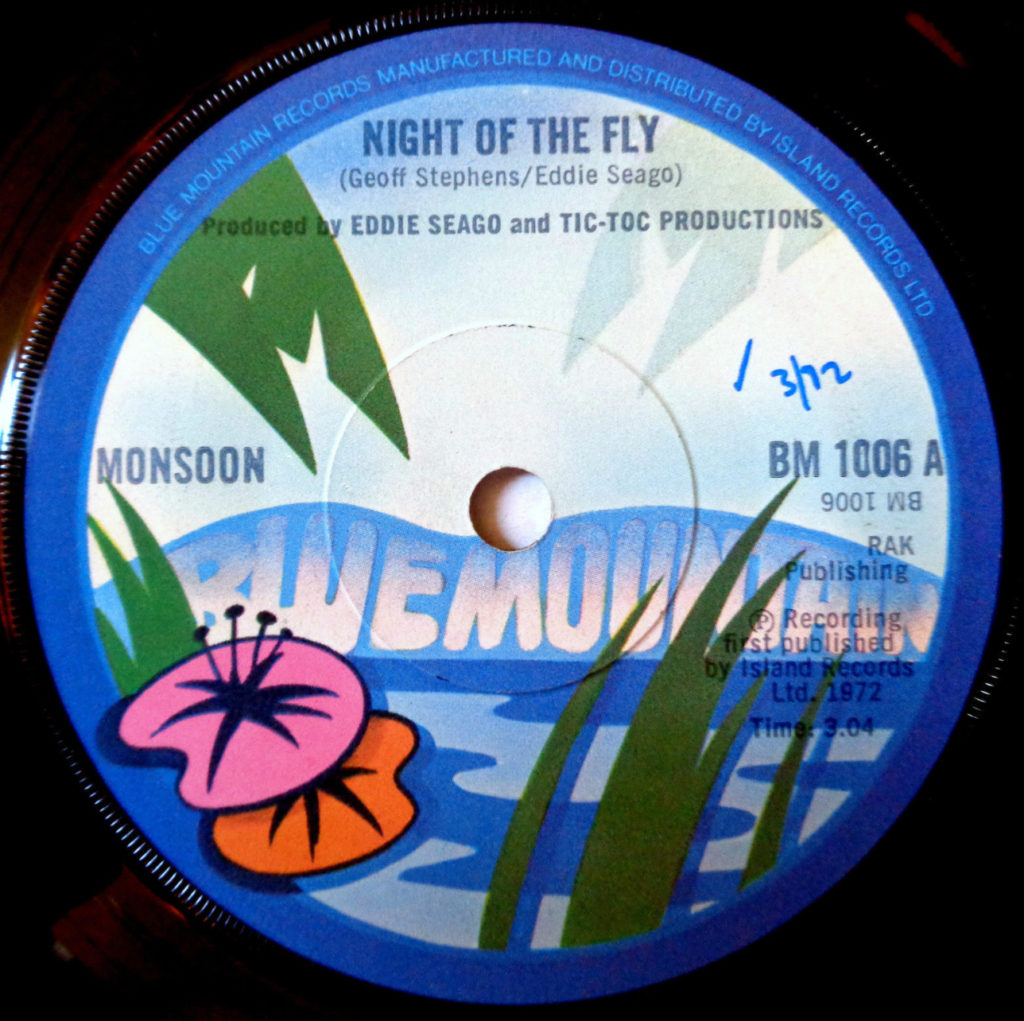 ---
01.41.04
ELECTRIC LIGHT ORCHESTRA – 10538 Overture – 7″ – Harvest – 1972
Another I bought on release. it was an imposing sound back then and bizarrely, it still sounds slightly radical now. The first ELO song, with Roy Wood and Jeff Lynne wearing their love of the Beatles on their sleeves.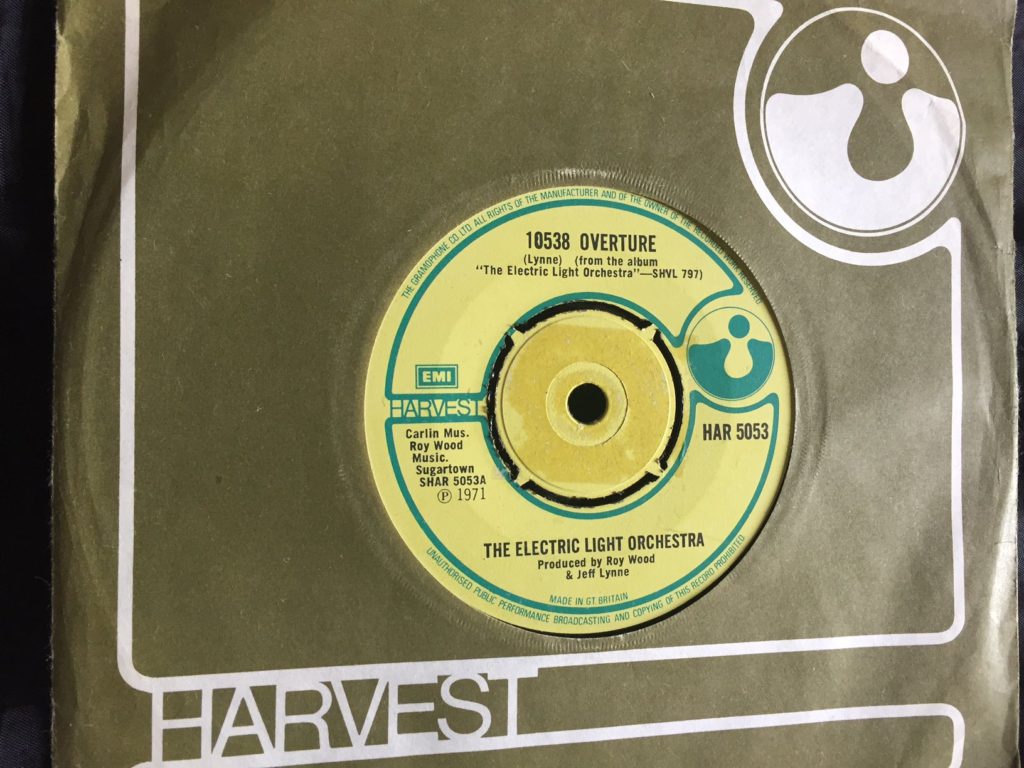 ---
01.44.50
ABECEDARIANS – Smiling Monarchs – 12″ – Factory – 1985
Being on Factory I do remember seeing the name but this single passed me by at the time, so thanks for the more recent prod/heads up, Jerry Keen!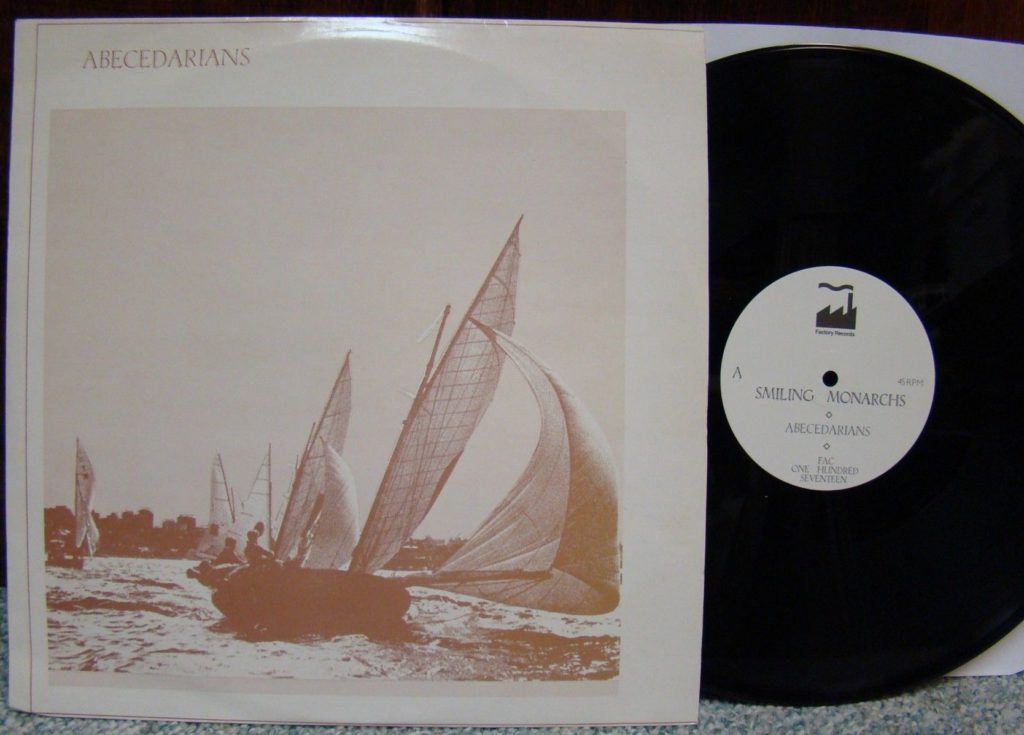 ---
01.51.11
CHAIN – Banging On The House – 12″ – Native Records – 1986
Pete Hope always sounded like he had a lot to get off his chest.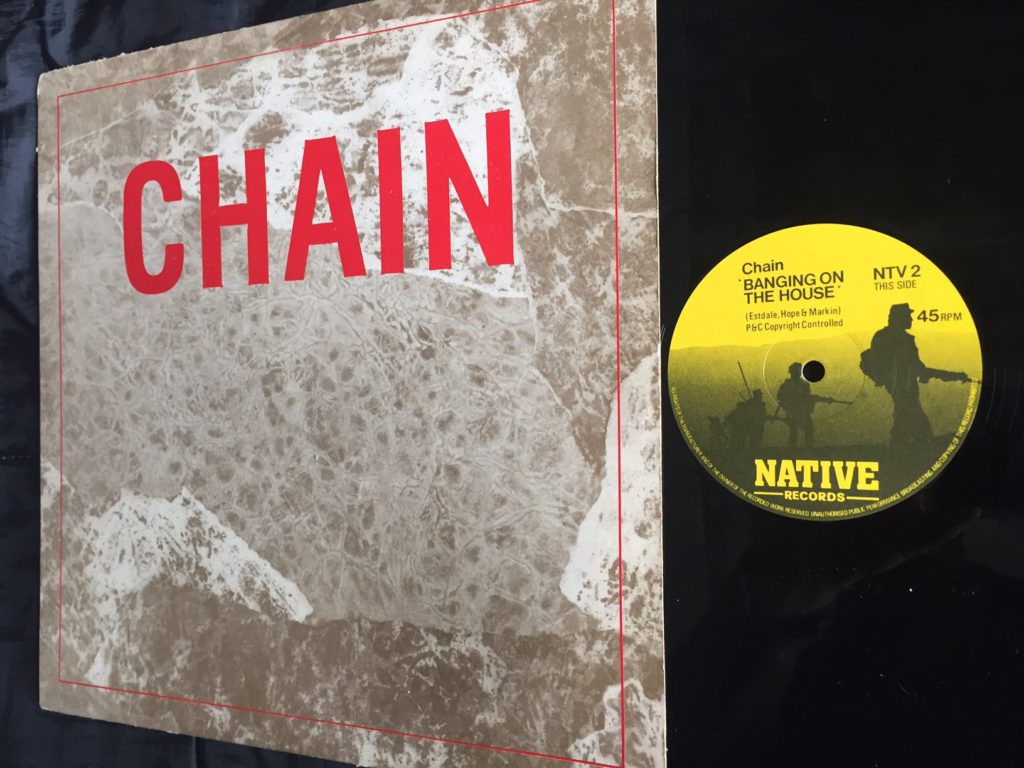 ---
01.56.04
JEFF BECK – Morning Dew – Truth, LP – Columbia – 1968
Another tune that seems to survive crap cover versions. The lineage of the song's 'progression' from (oft forgotten) writer Bonnie Dobson's original through Fred Neil's arrangement and on to the likes of Beck's here (with Rod 'The Mod' Stewart sounding damn fine) is an interesting one. Check them all out and then debate the reasoning for Tim Rose managing to secure a co-writer credit on the song in 1967. Good though, to see Ms Dobson in more recent years reclaiming her song and getting some belated dues in a live performance of it with Robert Plant.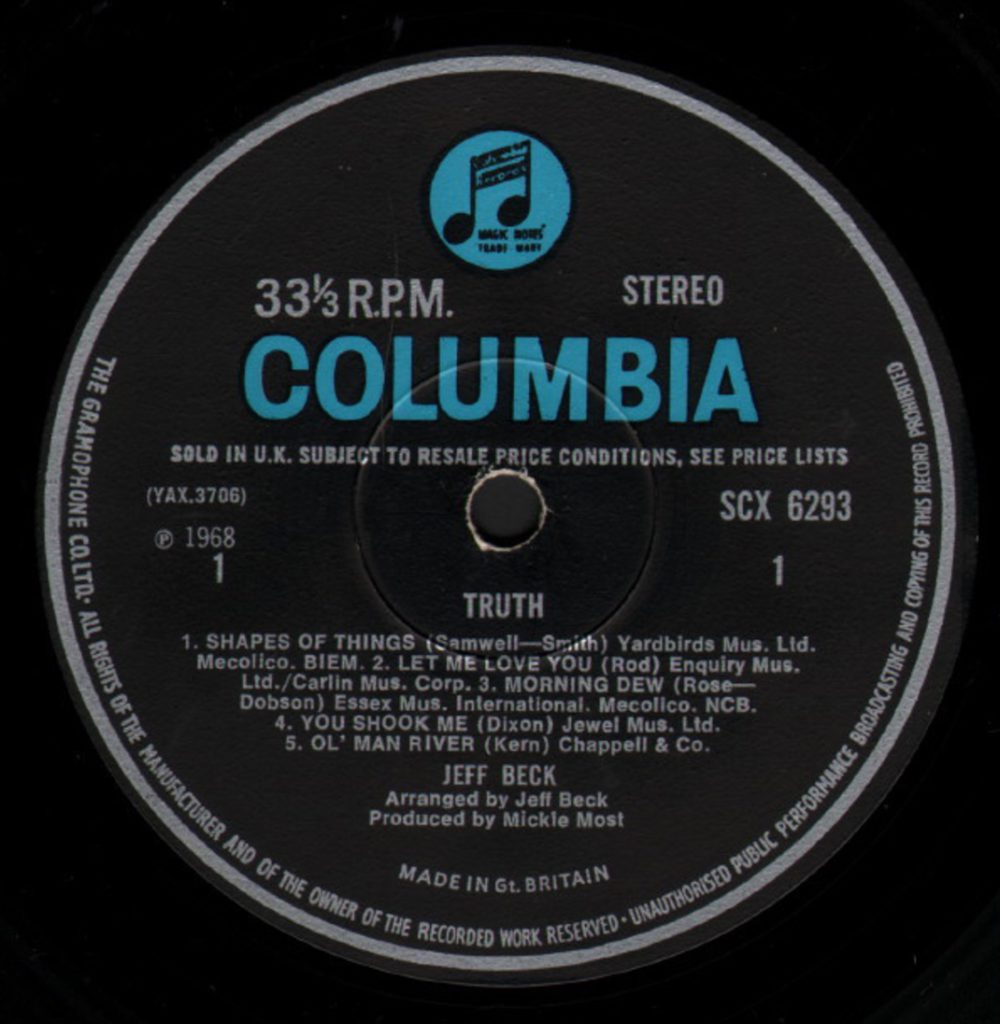 ---
I'll  say it again. As of now, John Foxx is 68!!!
Dec….