PLAYLIST 69
Uploaded July 7, 2019
Playlist 69 is… 83% vinyl friendly! Impressive.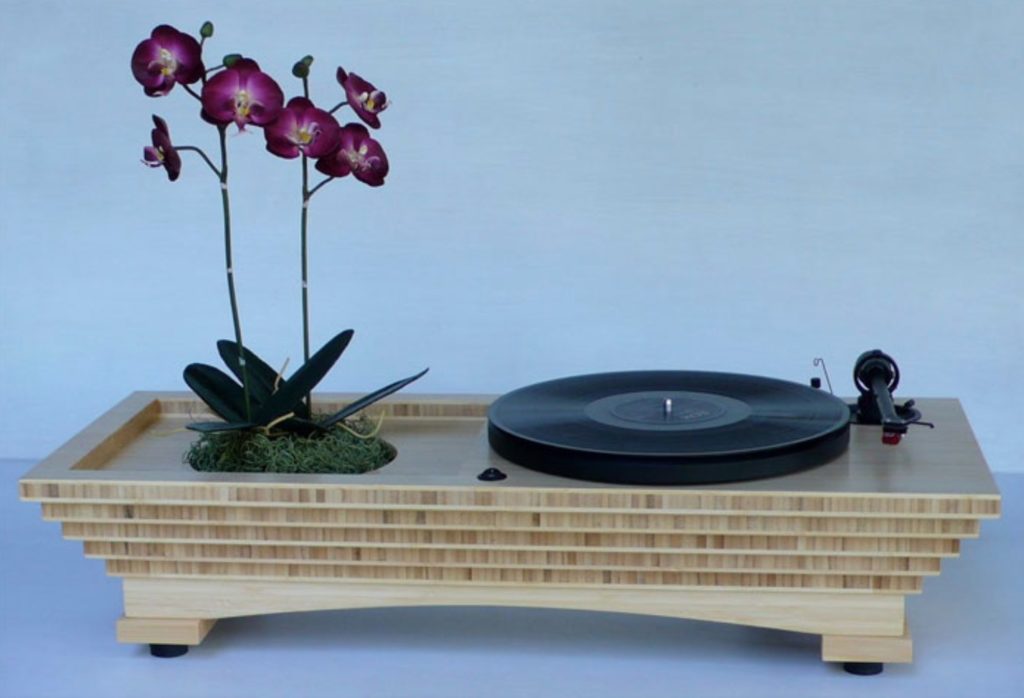 AudioWood Sound Garden. Leaves on the tracks! Just because 'you can' isn't always a great reason that 'you should'.
Tracks marked * have been given either a tiny or a slightly larger 41 Rooms 'tweak'/edit/chop/etc.
Lyric of Playlist 69….
There's some desperate subject matter played out here (mainly mid show) but we'll give it to Terry 'Poppy' J and his broken lady, Marie.
---
00.00
(Intro) THE FLAMINGOS – Stars (Edit) – Unreleased demo – 1983 Episode #1 for info.
---
00.40
NEW ORDER – Denial/Little Dead (Live) – Movement, LP (Deluxe Edition) – Rhino – 2019
This is a momentous recording for me, as recounted in this extract from From Heaven to Heaven: 'Paul Morley may have burst into tears at the Heaven gig back in February ('81) but the first of three times I would ever have a tear in my eyes watching New Order is during the version of 'Little Dead'/'Denial' that comes next. The take subsequently broadcast certainly brings a heightened state out of Barney but this particular version seems to have him somewhere else again. As with the earlier version and just as the track is peaking and Barney is working his way up to a near-demonic vocal, I deliberately look up at the studio monitors to see the cameras are also picking up on the intensity and closing right in on his face… and eyes… I think journalist, Jonh (yep, that's 'correct') Wilde, in an interview with the band years later, would refer to Barney at times as having 'the look of a frightened child' and without doubt the second take of 'Little Dead'/'Denial' at Granada Studios was such a time'.
Well, thirty eight years after the event I finally get to see it, as the performance makes it on to the Extras DVD included with this release of Movement. The night before this recording New Order had played in Sheffield, a gig I and girlfriend, Viv were at and Rob (Gretton, manager) had told us the band would be recording a TV thing at Granada studios in Manchester the next day. We decided to abandon heading home to Bedford and arranged to crash out in Manchester, at whoever's gaff, by following Barney's car back there after the gig, but before we'd barely left Sheffield, Viv's car (with Viv, myself and Annik Honoré) broke down. This was all nearing 3 in the morning. So, Barney's insomnia plus possibly some late morning alcohol for courage (mixing with the medication?), might have have added to any fragility he was also about to feel under the scrutiny of the TV cameras.

---
07.05
SOCIAL CLIMBERS – Palm Springs – Social Climbers, LP – Hoboken Records – 1981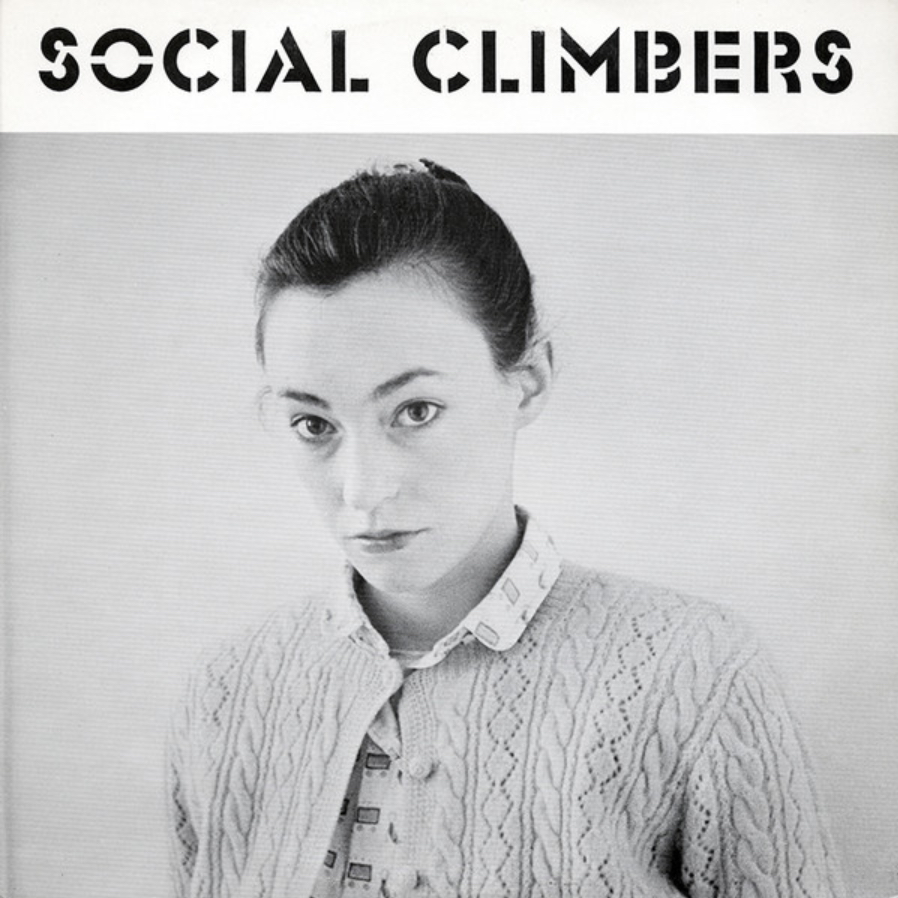 ---
11.00
ORBITAL – Forever – Snivilisation, 2LP – Internal – 1994
I think I nearly caught a very early Orbital gig by default. For a time in the early 90s I lived just off Ladbroke Grove in London and I have a memory of heading along, late afternoon with my (then not yet 4yrs old) daughter, Alice to a soundcheck at Subterania. I was due to be on parent duty that evening so the actual gig was a non runner but I would only have popped by a soundcheck for a band I knew personally – as I did Cabaret Voltaire. 'Cabs – Subterania' is also in my diary for Wed, June 5, 1991. Also, when I first heard of Orbital (later on) I had notions they'd supported the Cabs at Subterania. Now whether they were there on the date above or I'm confusing them with possibly someone like Aphex Twin – or indeed a completely different soundcheck there, the one thing I do remember is that whoever was supporting was due to be doing their stuff from behind the facade/frontage (or more?) of something weird, like a three wheeler Heinkel 'bubble' car… or van! Although Bentley Rhythm Ace would get up to the same sort of caper years later, this was too early for it to have been them. Orbital's Forever? Oh yeah. Fabulous!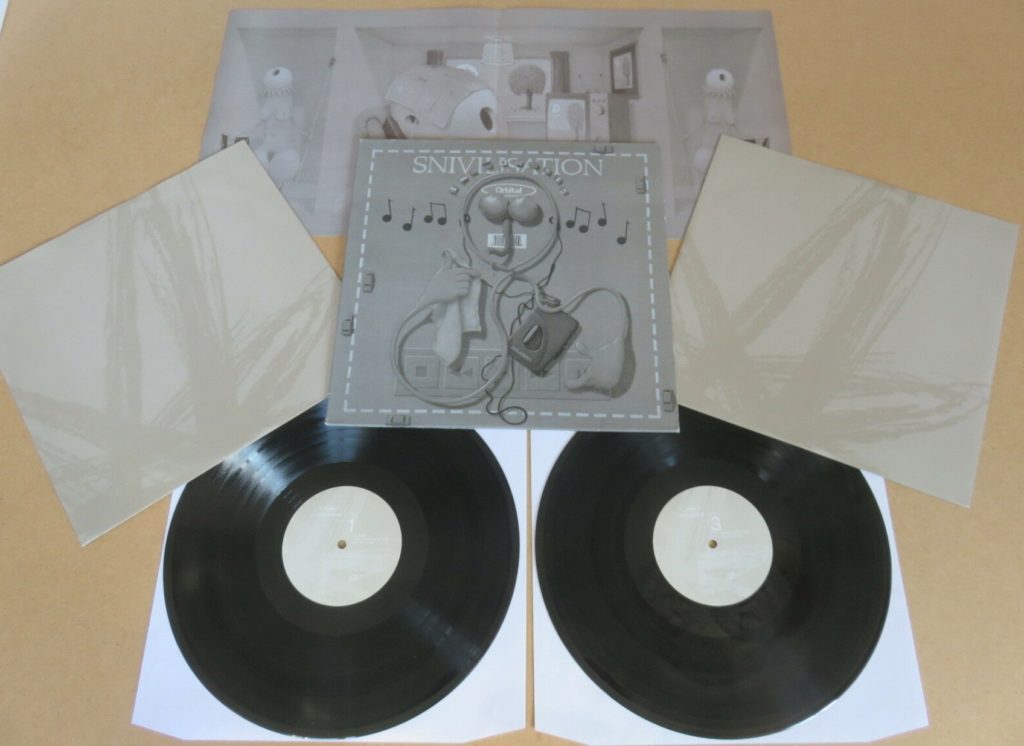 ---
With a nod to my daughter, Alice just passing a notable milestone in the birthdays thing, you'll hear her answering machine message used when she was about 3…just intro'ing….
17.25
GOATBED – D.O.G.M.A. – Hellblau, CD only – GloryHeaven – 2012
The moniker above is of Shuji Ishii. Likely the dude in red here, I'd say.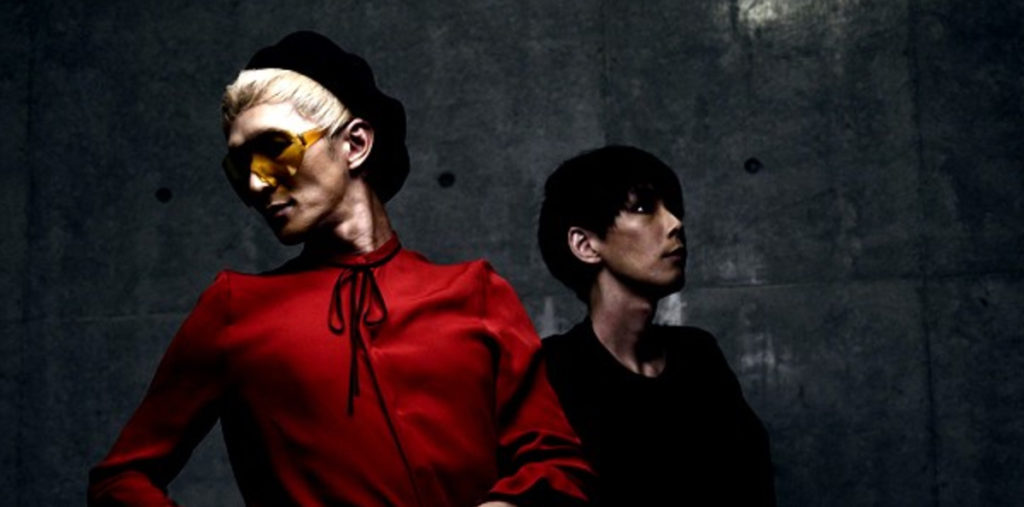 ---
20.18
UNDERWORLD – Two Months Off * – 12″ – Junior Boys Own – 2002
Two months off? The track in its original state is nearly two months long.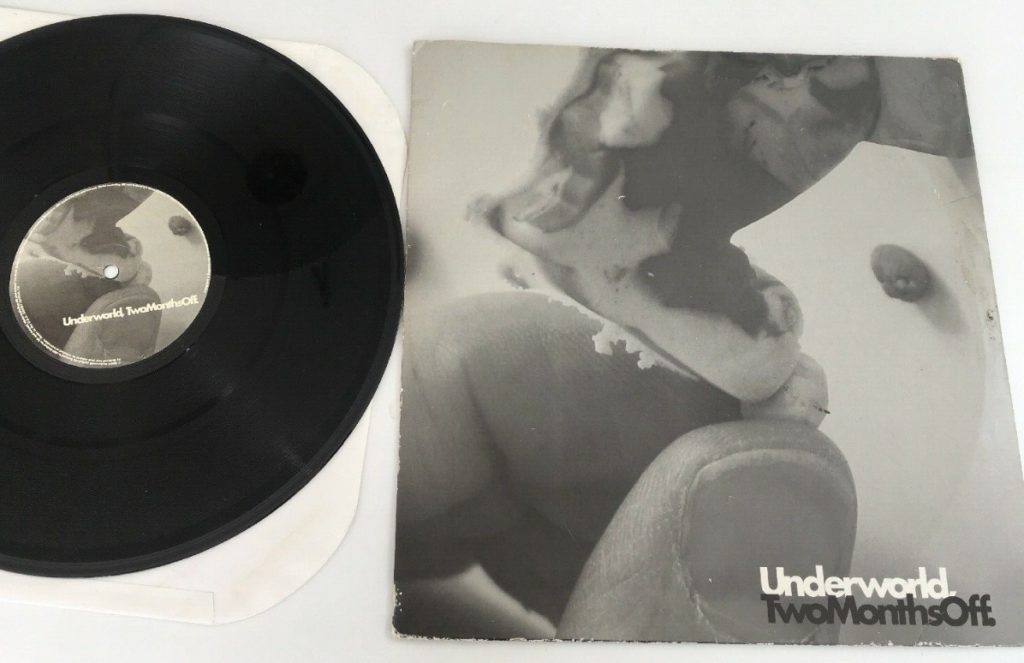 ---
26.55
FUTURISK – Push Me, Pull You (Pt 2) * – Player Piano, 7″ EP – Clark Humphrey Records – 1982
This is about the size of it…
'FUTURISK was a pioneering electro-punk group that recorded and performed in the pre-midi era of the early '80's. They had two vinyl releases that sold out, a legendary live show and some videos, but for a number of reasons by 1984 Futurisk was history. Eventually the main core of Futurisk would be the Kolosine/Hess/Howard line up, but in '79 when a teenage Jeremy Kolosine won studio time & money in a competition with his drum-machine triggered guitar-synth act called 'Clark Humphrey & Futurisk', he decided to form a band around the name to record a more punk release "The Sound of Futurism 1980/Army Now". It was an ambivalent anti-war anthem, with Jack Howard on drums, Frank Lardino on synth and Kolosine on vocals and guitar synth. In '81, Kolosine, who had gotten absorbed in a new synth/sequencer replaced Lardino with synthesist/recordist Richard Hess who had a myriad collection of Moogs, Oberheims and CATs,etc. and the line up for the "Player Piano EP" was cast. The EP, like the live show, was a strange blend of punk/minimalist/disco influenced electro pop, with drum-machine triggered synths and often frantic real drums all led by Kolosine's schizophrenic Bowie/Ferry/Foxx adulations (and about 20 seconds of punk-funk guitar). It was recorded by Rich and the band in the rooms of Ron K's house.The drum sound, gotten in a bathroom, rocks, even today. Reportedly, Futurisk may have been the 1st synth-punk band in the American South…or something, and 1981's track 'Push Me Pull You (pt. 2)' was an early pre-'Rockit' excursion into electro-funk. In 2003 LCD Soundsystem's James Murphy gave a complimentary wink to Futurisk by using the track on the delightful Colette # 5 DFA Comp CD. In 2007 an unreleased 1982 version of the track "Meteoright" was included on the "Found Tapes" compilation vinyl LP, and in 2010 a 30th Anniversary 12-inch vinyl release of "Player Piano" came out on Minimal Wave Records and included unreleased tracks.
In 2011, Futurisk's "Lonely Streets Remixes" was released on Minimal Wave / Cititrax Records with remixed tracks by Chris Carter (Throbbing Gristle,Chris & Cosey), Tom Furse (The Horrors), Prince Language (DFA, Editions Disco) and Complexxion from the UK.' – Discogs
Some of their other material hasn't aged well… to say the least. Stick with this track.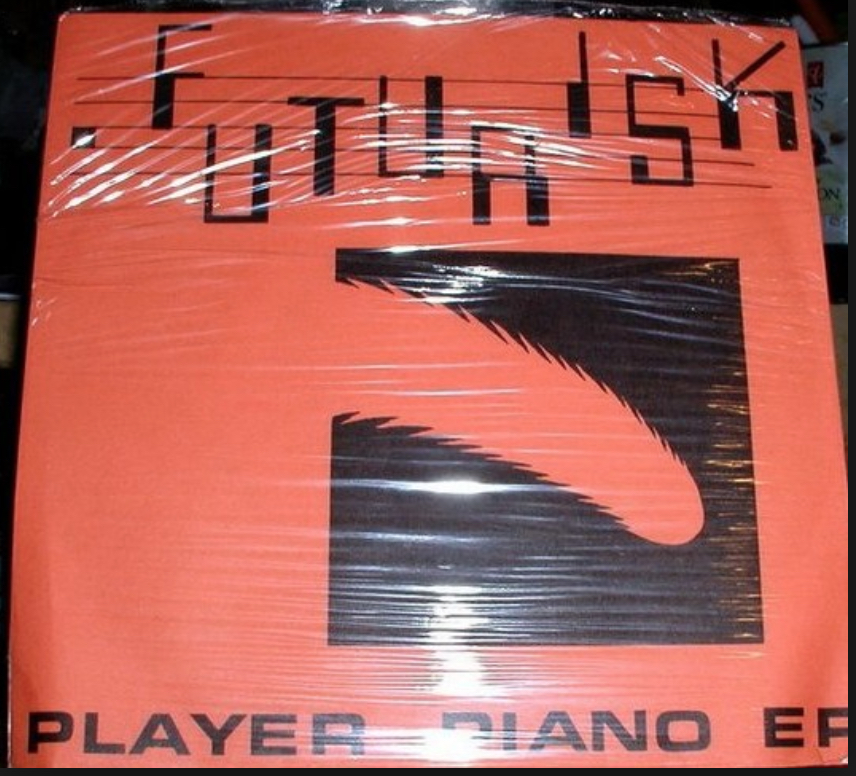 ---
A rarity for a band to pop back up on the same show but even though the front cover girl/bassist, Jean Seton Shaw isn't looking any happier than she was before, here again are…
29.10
SOCIAL CLIMBERS – Chicken 80 – Social Climbers, LP – Hoboken Records – 1981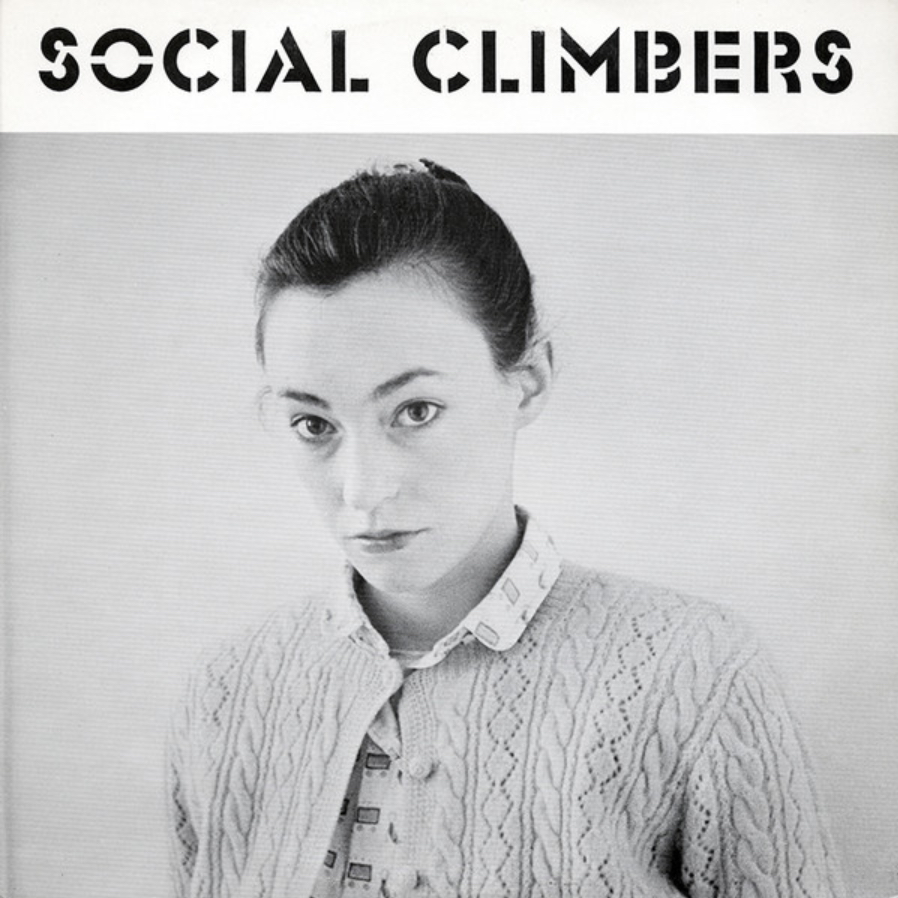 Back now to more familiar 41 Rooms territory.
---
33.07
PORTION CONTROL – Chew You To Bits (Version) – Hit The Pulse, 12″ mini LP – In Phaze – 1983
Thumping electronics. This always sounded good over our club's average sound system… a track partly responsible for my getting them to play live a at our club, too.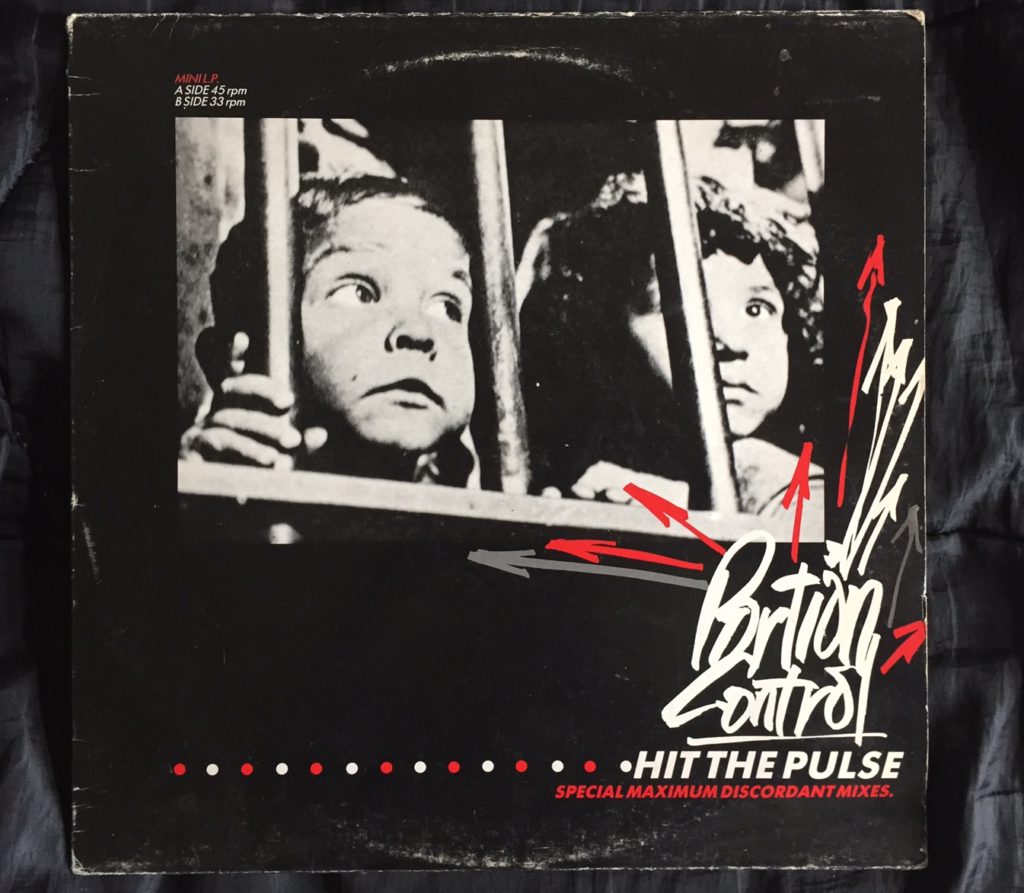 Music From The Empty Quarter, Zero Edition, early 1990.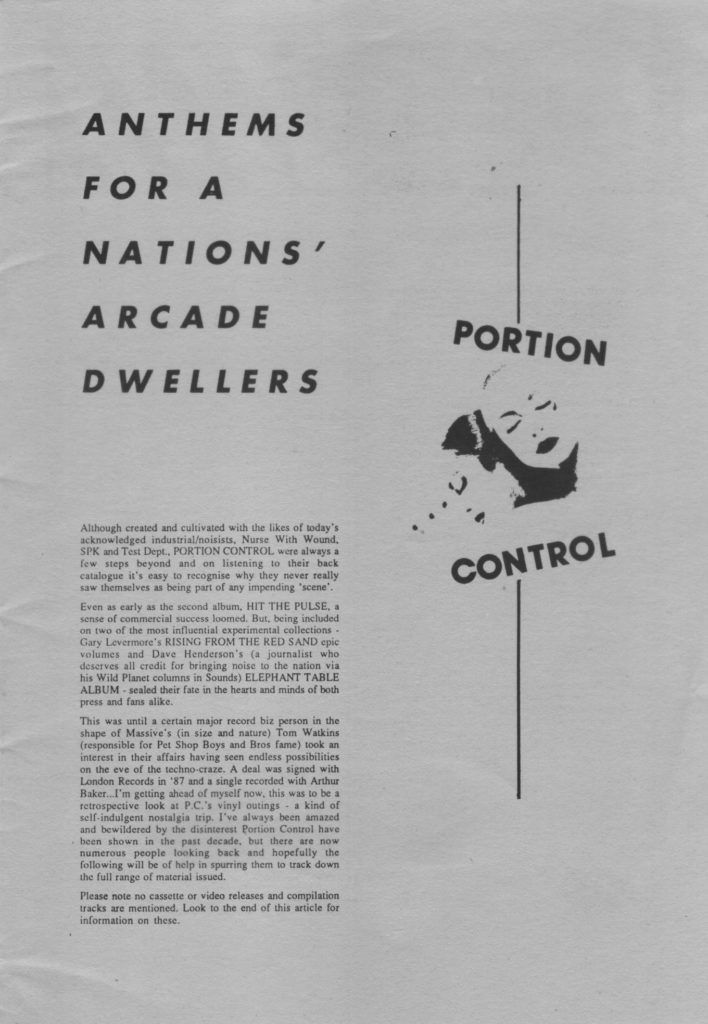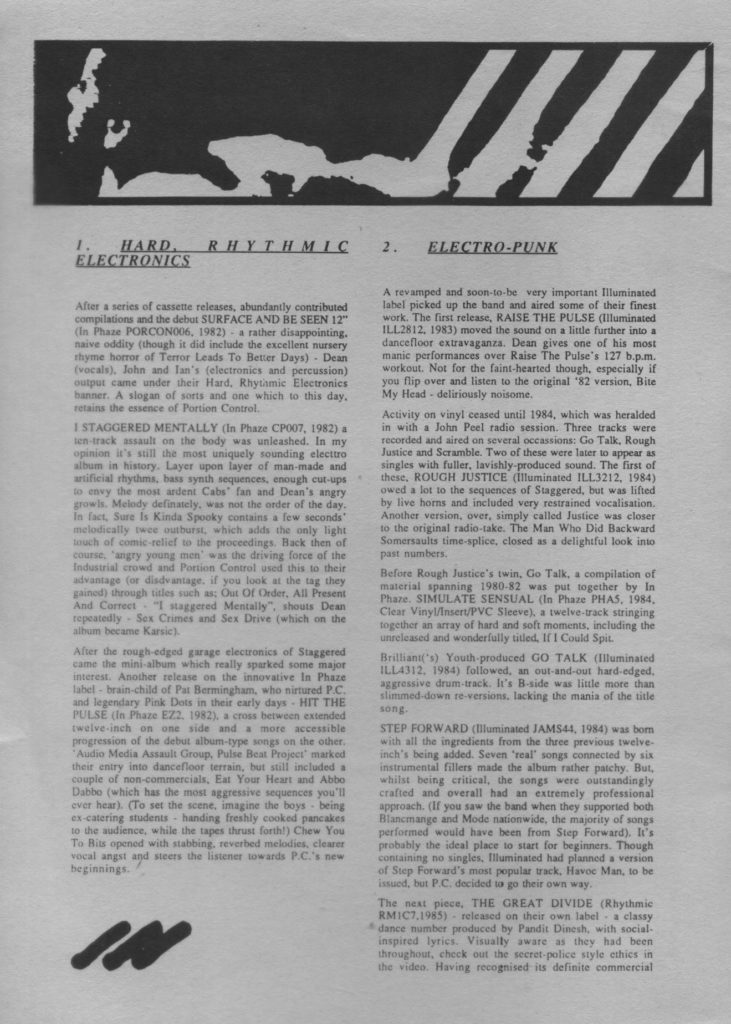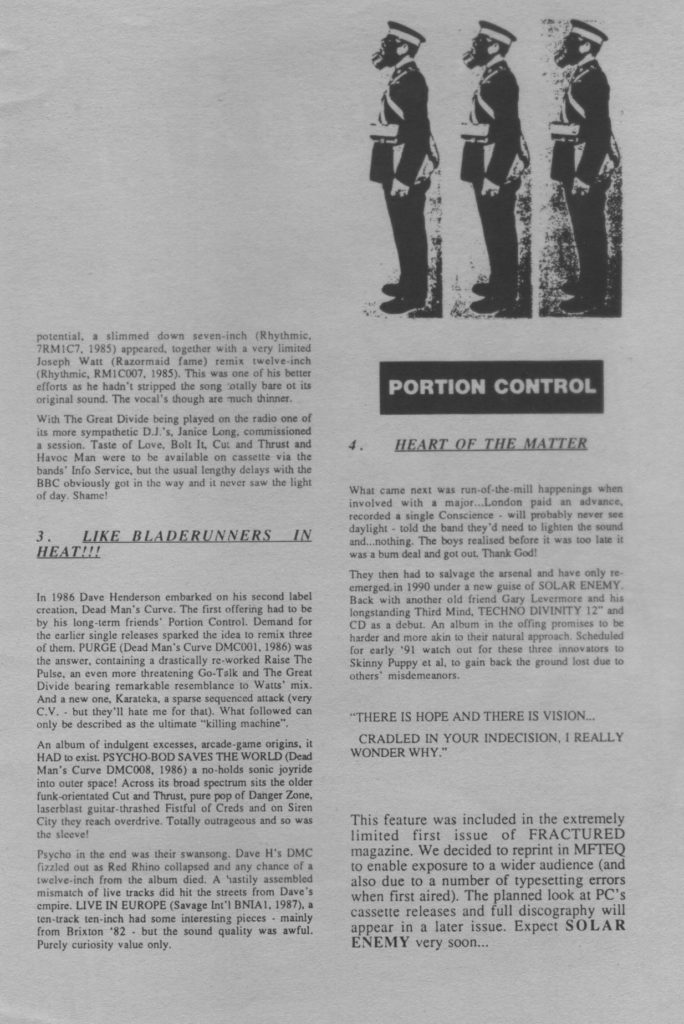 ---
36.30
SNATCH – Joey – Shopping For Clothes, 12″ EP – Fetish – 1980
For some reason back in the day I had their lack lustre All I Want 7″ but not this one.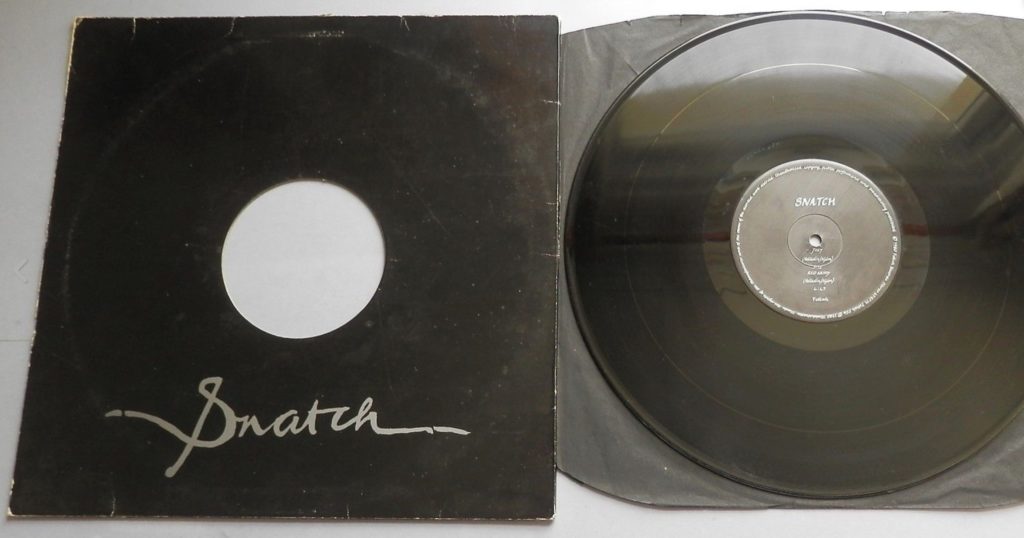 ---
39.26
LYON IN WINTER – Please Don't… – As Winter Falls, LP – Cryptovision – 1986
The late, ex Negativland, Richard Lyons sounding quite a distance from his former bandmates, and more mid 80s indie than the earlier post punk era. Understandable, as the album is from '86.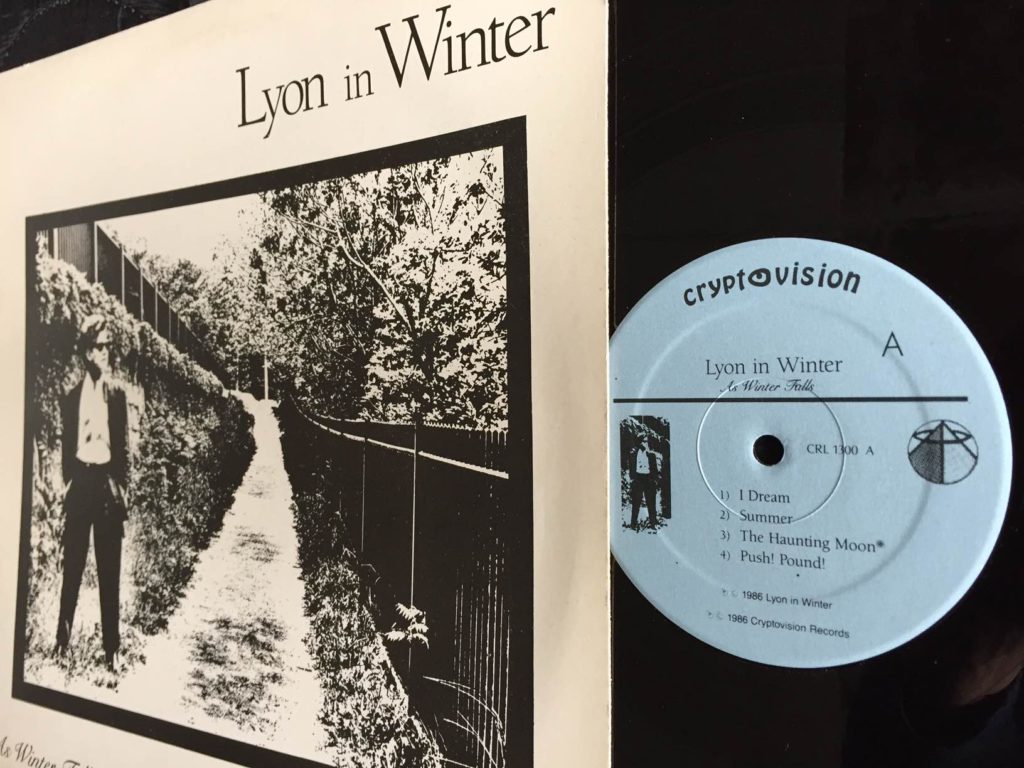 ---
43.10
POSTPRIOR – Touch The Pilot – Digital download only – Ghostly International – 2006
Formed by Ben Mullins and Michael Kuzmanovski after their other band, Midwest Product ceased to be, with this looking like their only release under this name. Here and gone in the space of six 2006 tracks.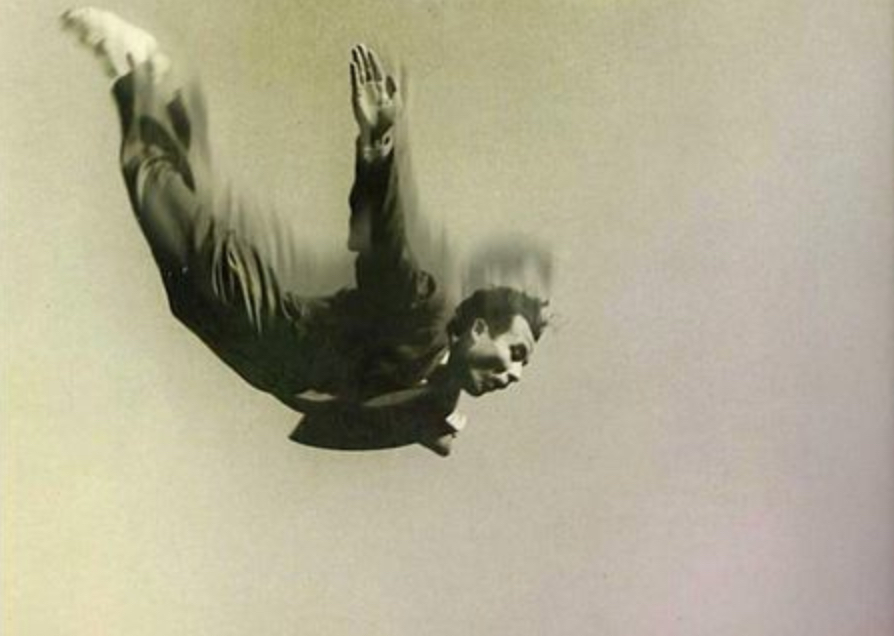 ---
47.03
THE BEAUTY ROOM – Soul Horizon – 7″ – Peacefrog Records – 2006
Kirk Degiorgio is maybe better known for his house and techno excursions but in the mid noughties he assembled this neo soul outfit, with this being the only single from their self-titled debut album. Summery West Coast-type vibes out of… Ipswich.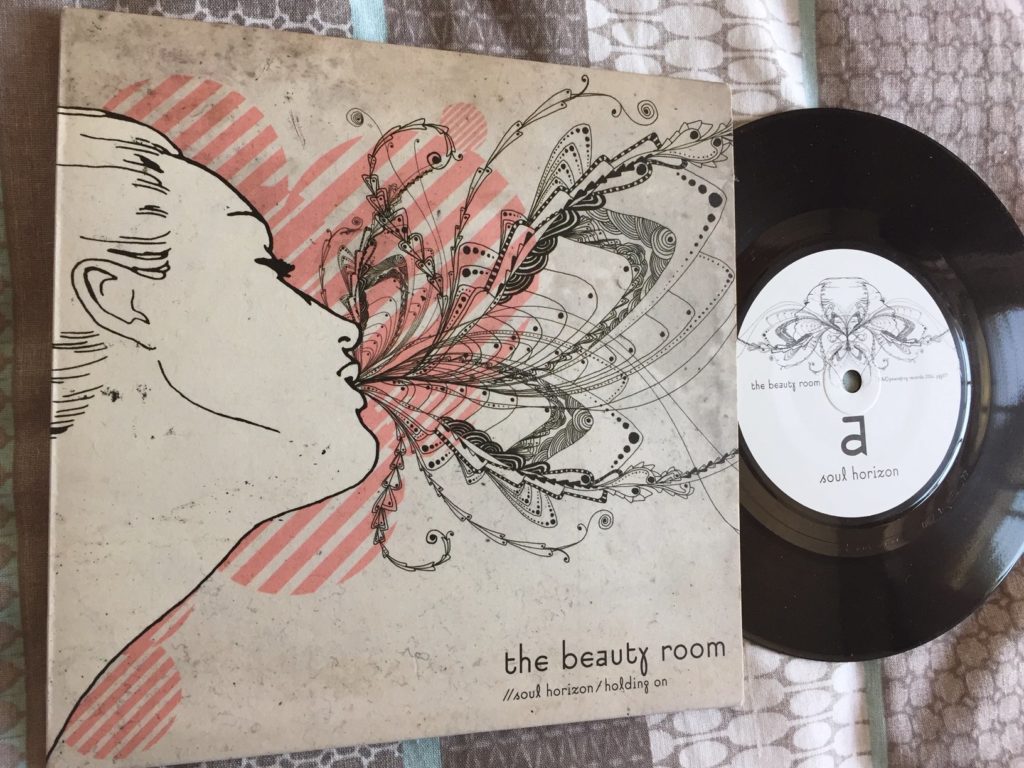 ---
50.54
NAO – In The Morning – For All We Know, 2LP – Little Tokyo Recordings – 2016
As this was a CD single only we'll go with bigging up the turquoise coloured vinyl double album, especially as four other tracks from it have already made it to a 41 Rooms show. In my world here, that's going it some whatever the genre but there's some classy electronics underpinning her neo soul on all of them.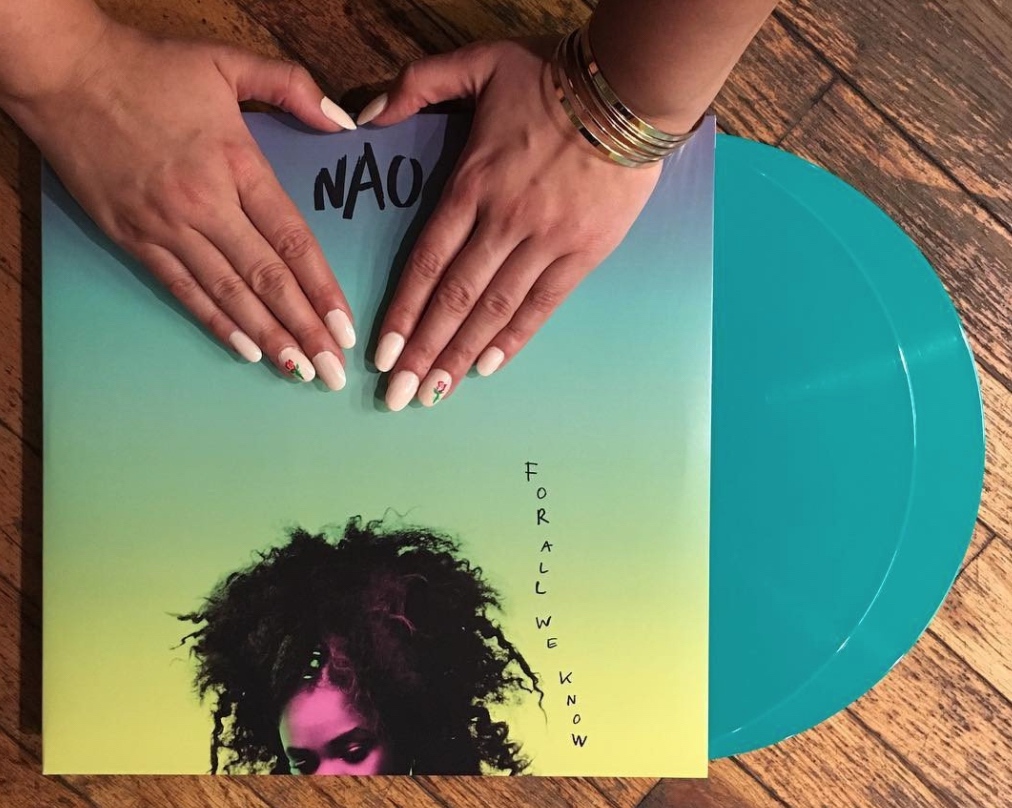 ---
54.40
RAY BLK – Run Run – Digital download only – Island – 2018
And with some roots reggae and dancehall thrown in, another gal from the UK neo soul arena. Tension in her sights.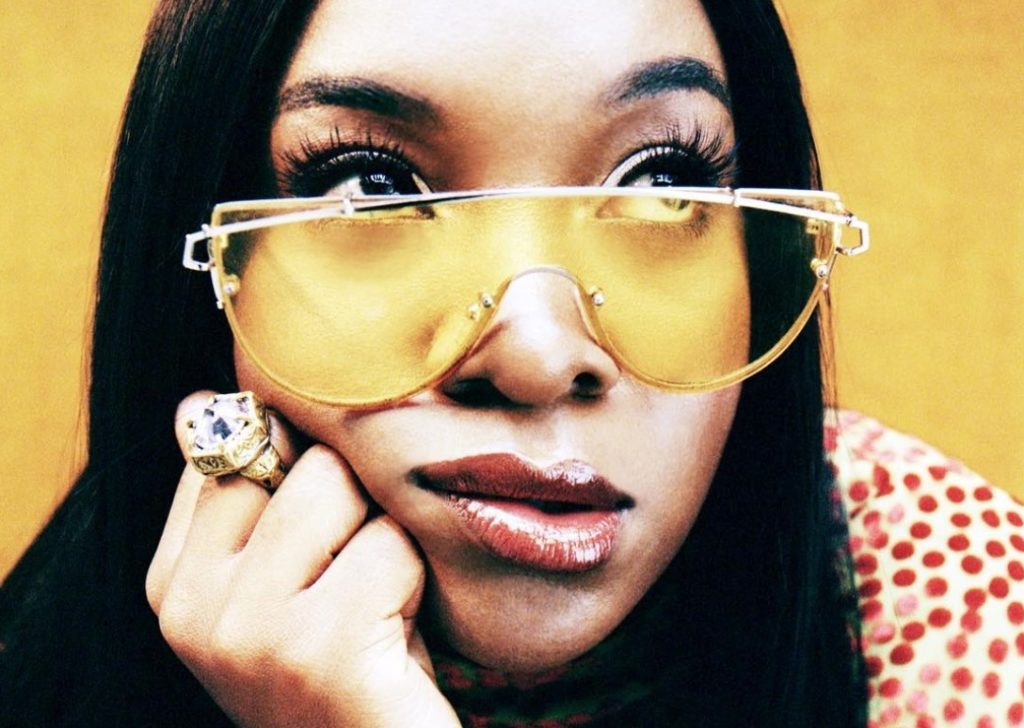 ---
57.59
GARNETT SILK – Life Is Like A Piano – 12″ – Jah Fingers Music – 2017
One of the great voices of Jamaican music, his life was tragically cut short at the age of 28.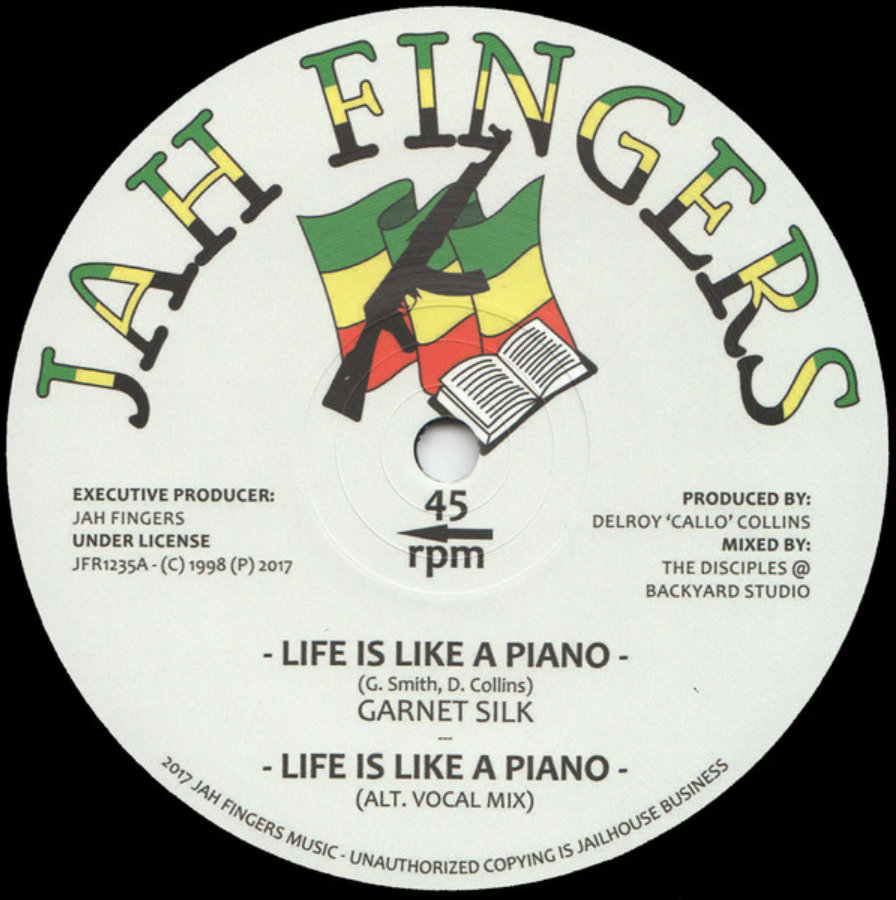 Teeeeeeeee time… or maybe coffee.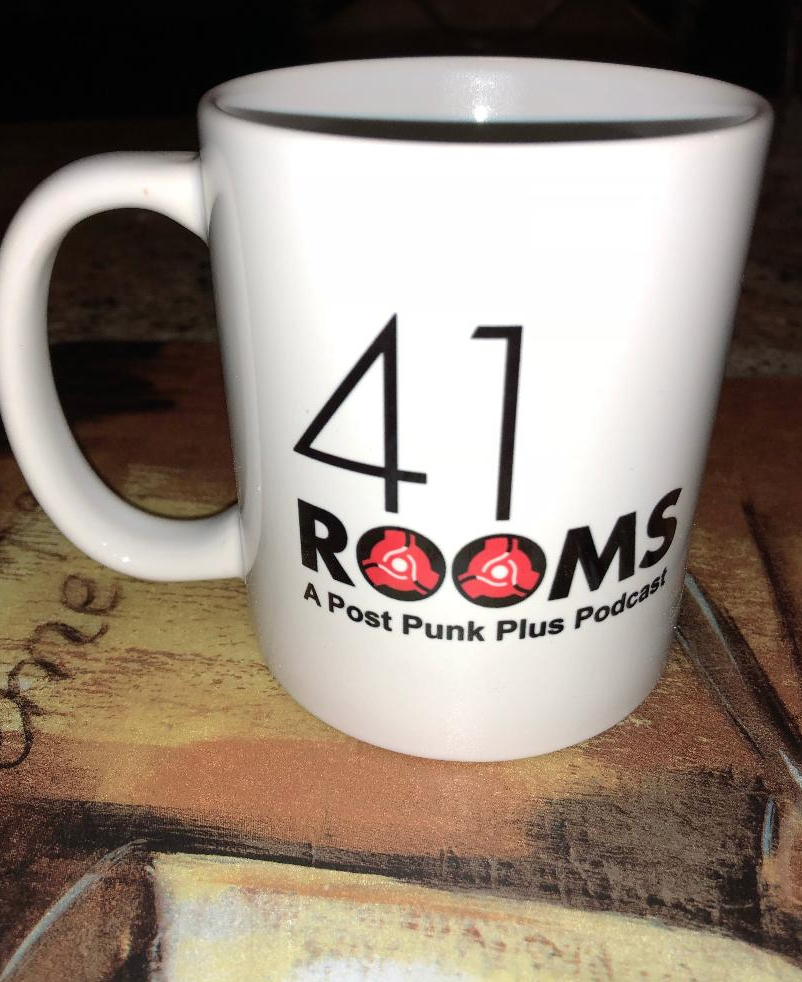 ---
01.02.36
PABLO MOSES – Lynch Mob – 12″ – Musidisc – 1993
Yet another track first heard via the mighty John Peel's radio show.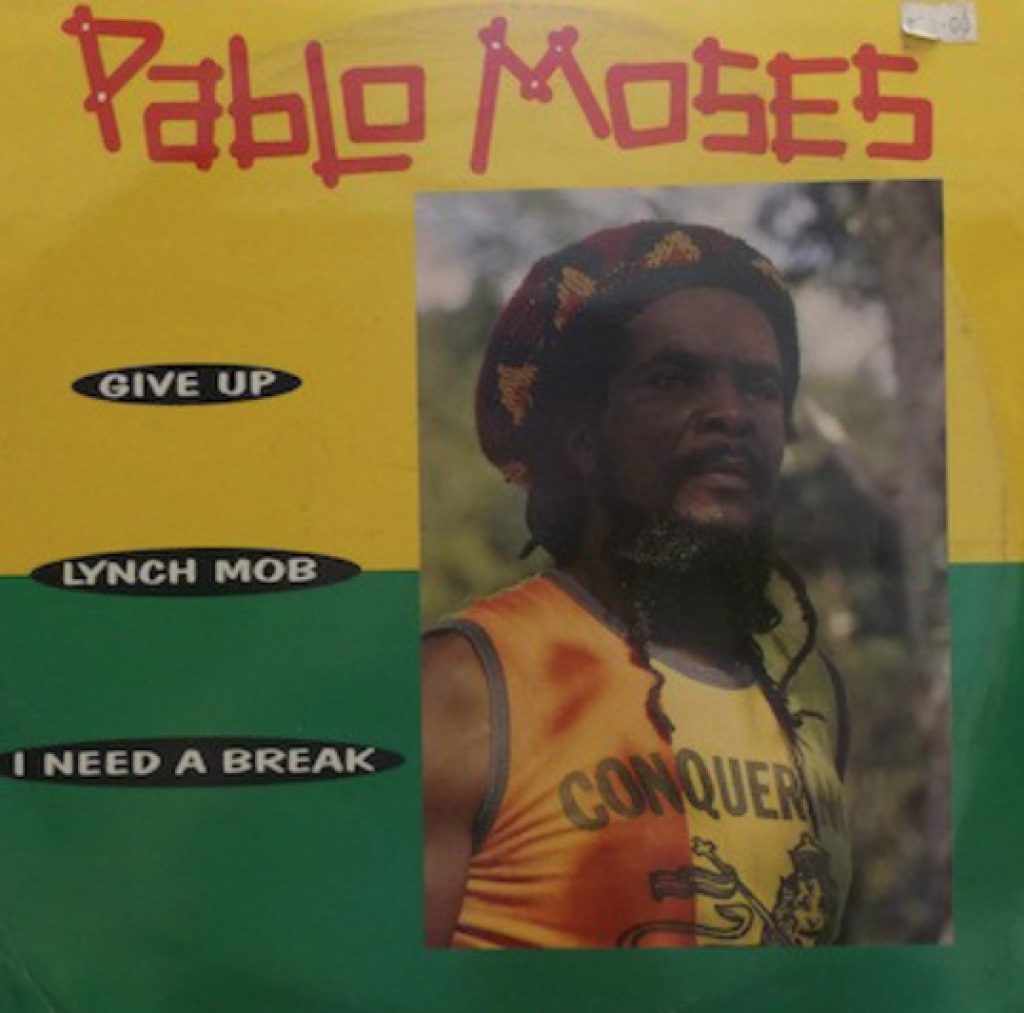 ---
01.06.36
TRAFFIC – Medicated Goo – 7″ – Island – 1968
This is from my teenage years in the early and mid 70s, when I was working backwards and collecting 1960's UK pop and rock band 7″s that I'd been a shade too young to appreciate first time around. Small Faces, Traffic, Yardbirds, Beatles, The Move, Spencer Davis Group…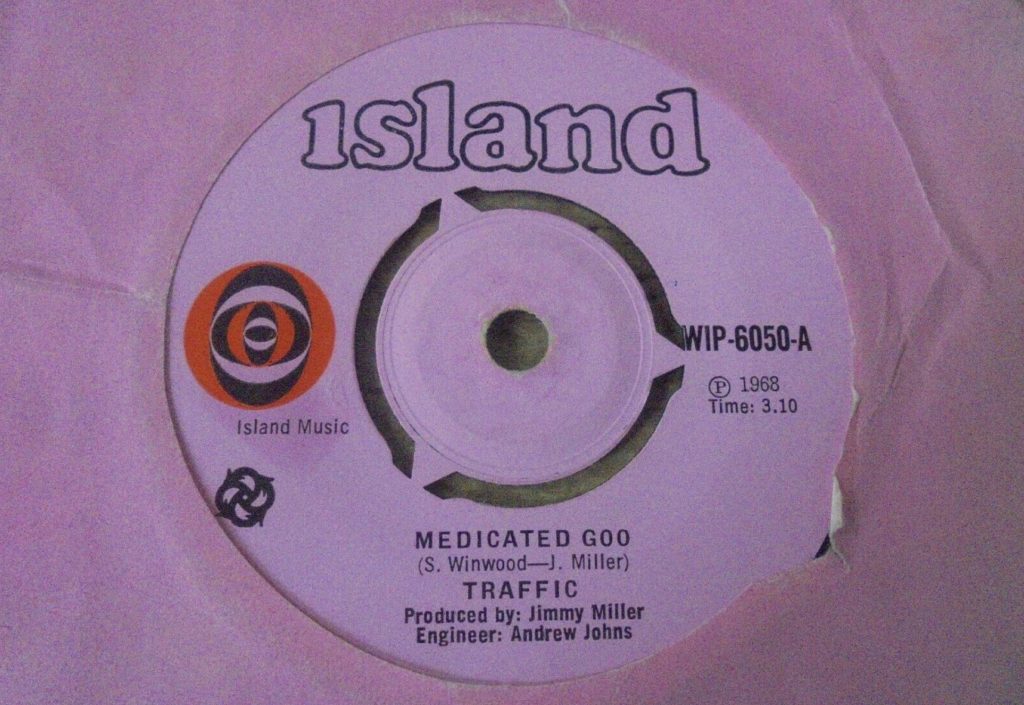 ---
01.10.04
From the same era as the above but I might have picked up on this a shade later. Conscious sounds.
CROSBY, STILLS AND NASH – Long Time Gone – 7″ b-side – Atlantic – 1969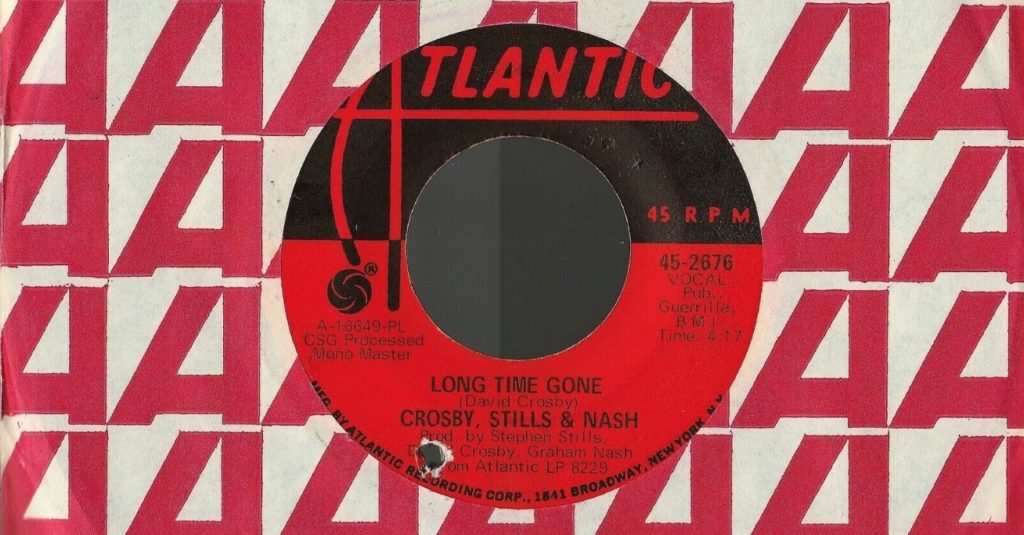 ---
01.14.14
THE POPPY FAMILY – There's No Blood In Bone – Which Way You Goin' Billy? LP – Decca – 1970
Both this and the follow up album would have been considered 'pop' back in the day, but there's definitely a dark element going on.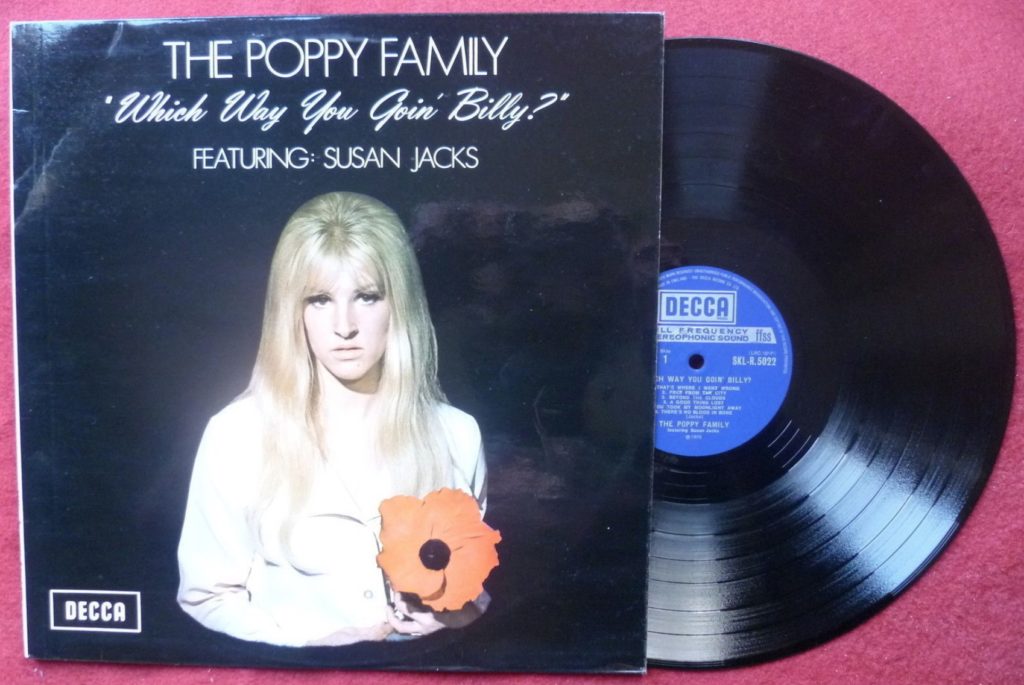 ---
01.16.54
BELLATRIX – Silverlight – CD single – Global Warming – 1998
Iceland calling. Confident vocals.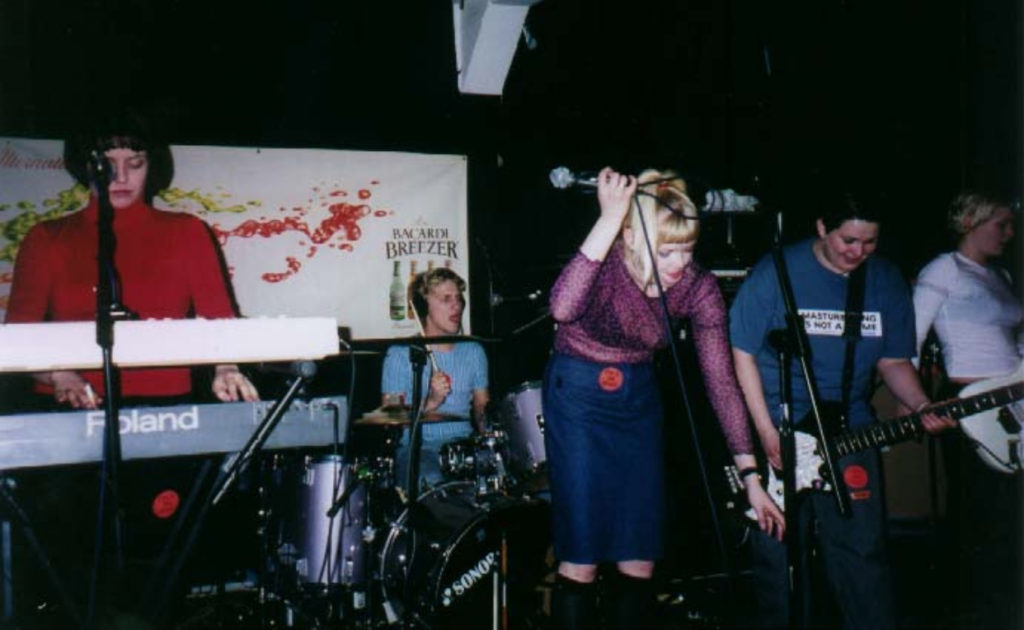 ---
01.21.19
BLUE TANDEM – Dreams – Youtube only, Lo-Fi Lounge – 1978
From 'thenumerogroup' on Youtube, trawling discarded cassettes and lost recordings, no doubt, with this one sounding like it was never intended to go any further. Very occasionally the vocalist hits a phrase that nearly reminds me of Stars On 45 Pints/Star Turn/'The Pub Singer'… but this is very cute and judging by the photo, Blue Tandem did manage to play a gig or two.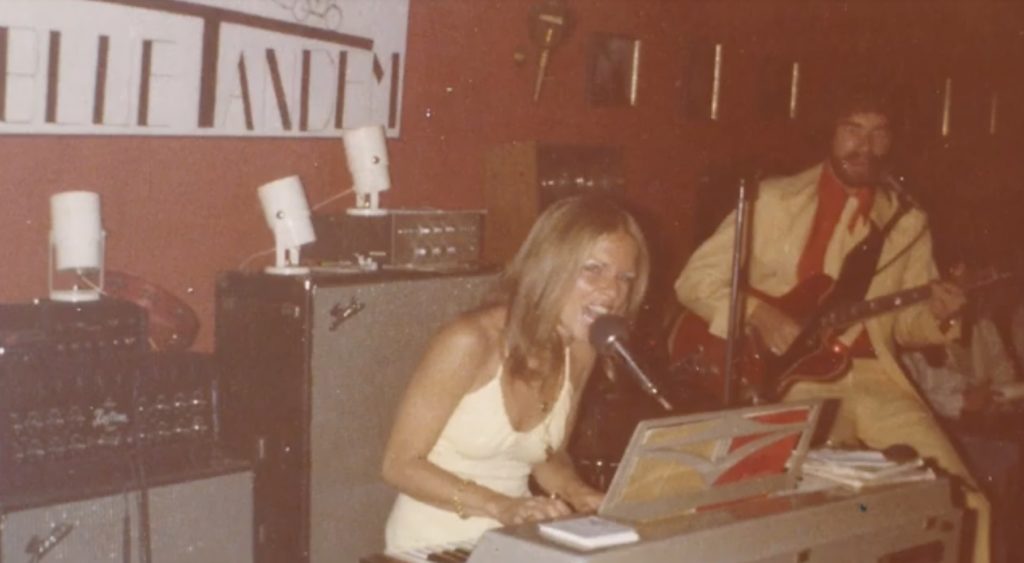 ---
01.24.54
MARINE GIRLS – On My Mind – 7″ – In Phaze Records – 1980
The strongest of the three vocalists on duties here – come on down, a young Tracey Thorn. A complete aside, on holiday one summer at my Dad's/Grandad's in Ireland in the early eighties, for some reason I got a large gaggle of our neighbours' eight kids (they included three sets of twins – a 'record' gaining them national coverage) to learn and perform this for my Walkman. I still have it.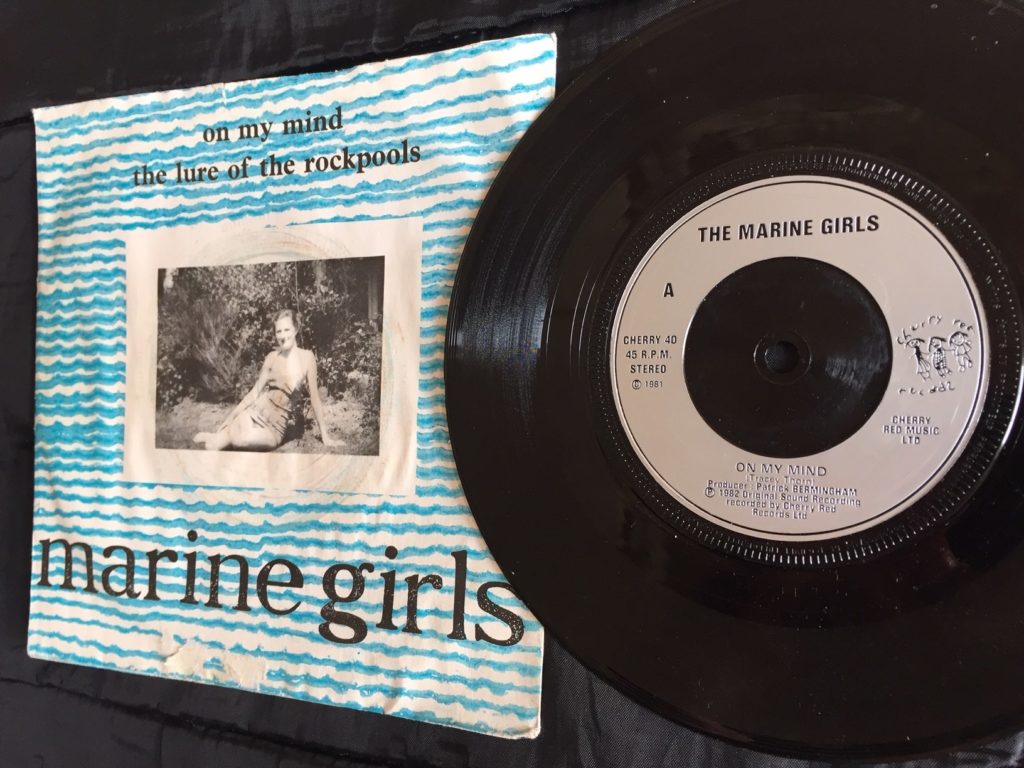 ---
01.27.57
EYELESS IN GAZA – Fixation – Photographs As Memories, LP – Cherry Red – 1981
Martyn Bates and Pete Becker at their punkiest.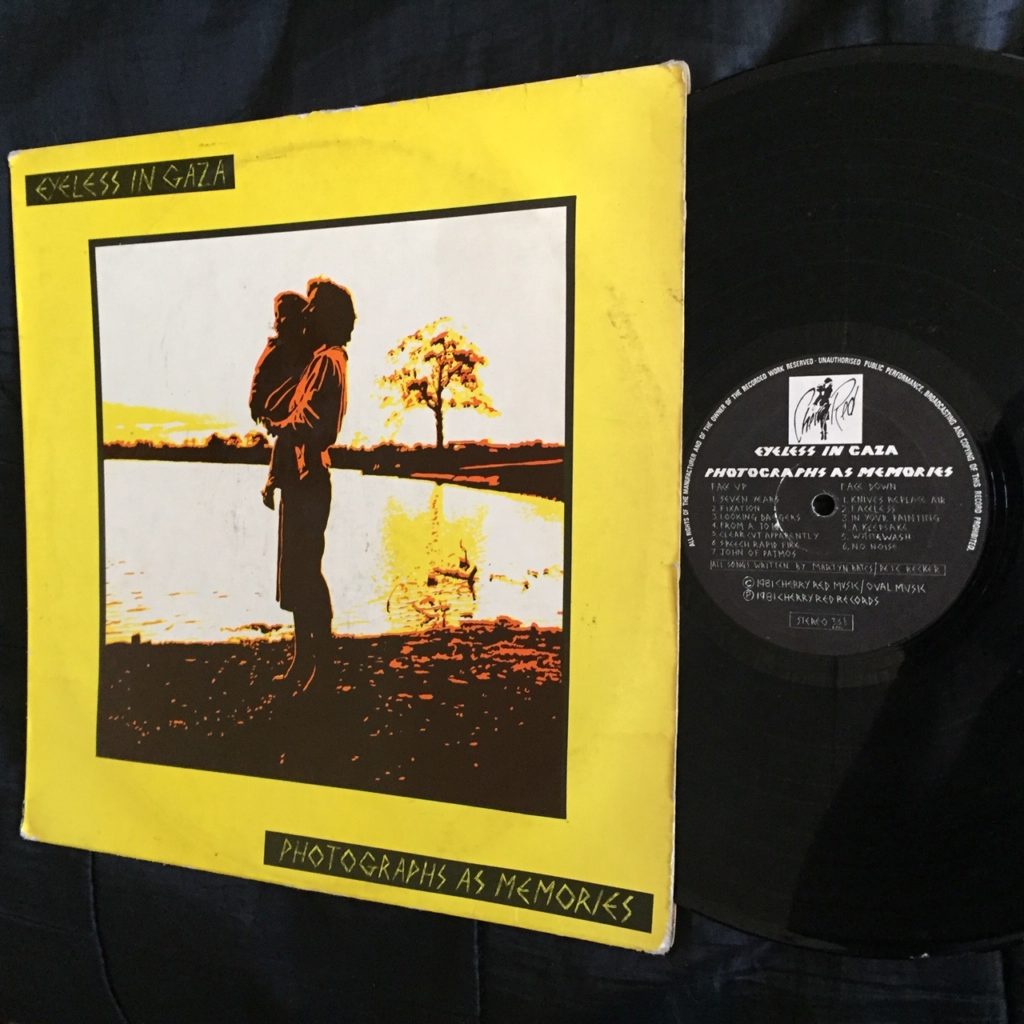 ---
01.31.08
ORCHESTRAL MANOEUVRES IN THE DARK – Mystereality – Self-titled LP – Dindisc – 1980
With this and a few other early tracks OMD were never far away from our club's decks between 1981 and 1983.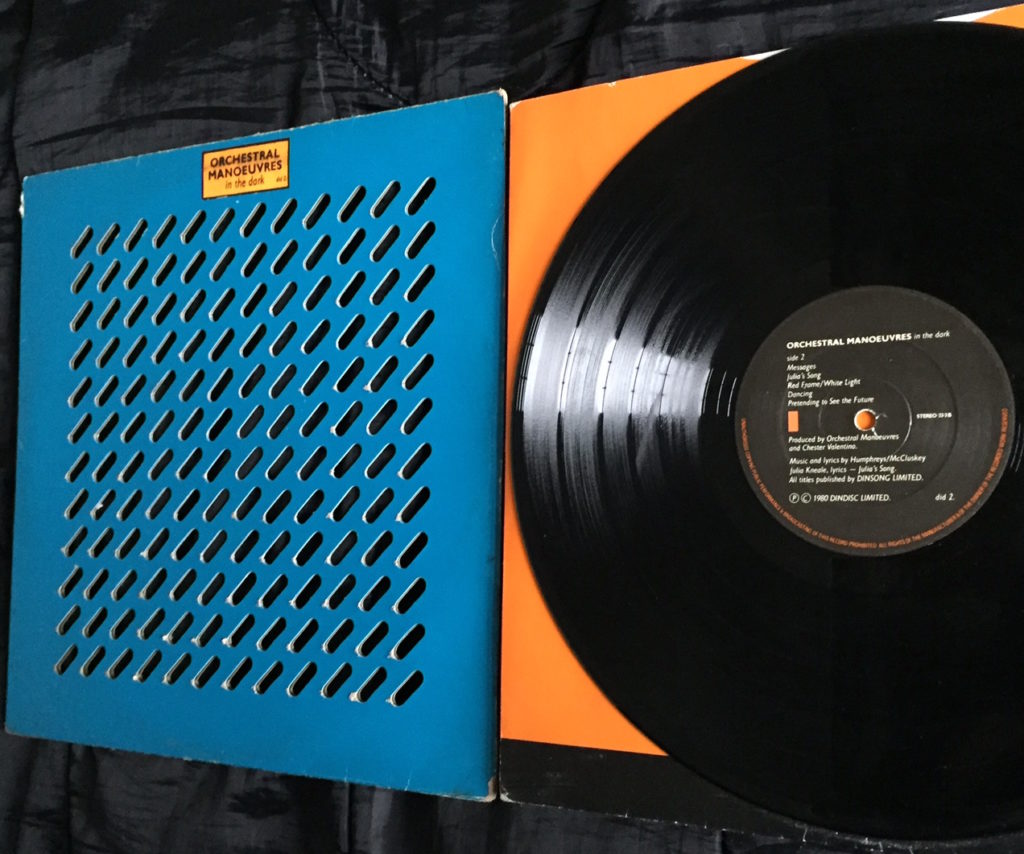 Photocopy of my ticket for their London, YMCA March, 1980 gig. Diary for the day includes: 'Posters in HMV… ' (Bedford – a dry run in another venue nine months before our eventual Winkles club 'residency')… then off to London '… Rainbow (venue), no Jam tickets, Lyceum, Psych Furs tickets √ ORCHESTRAL MANOEUVRES YMCA, support Basczax, brill night… '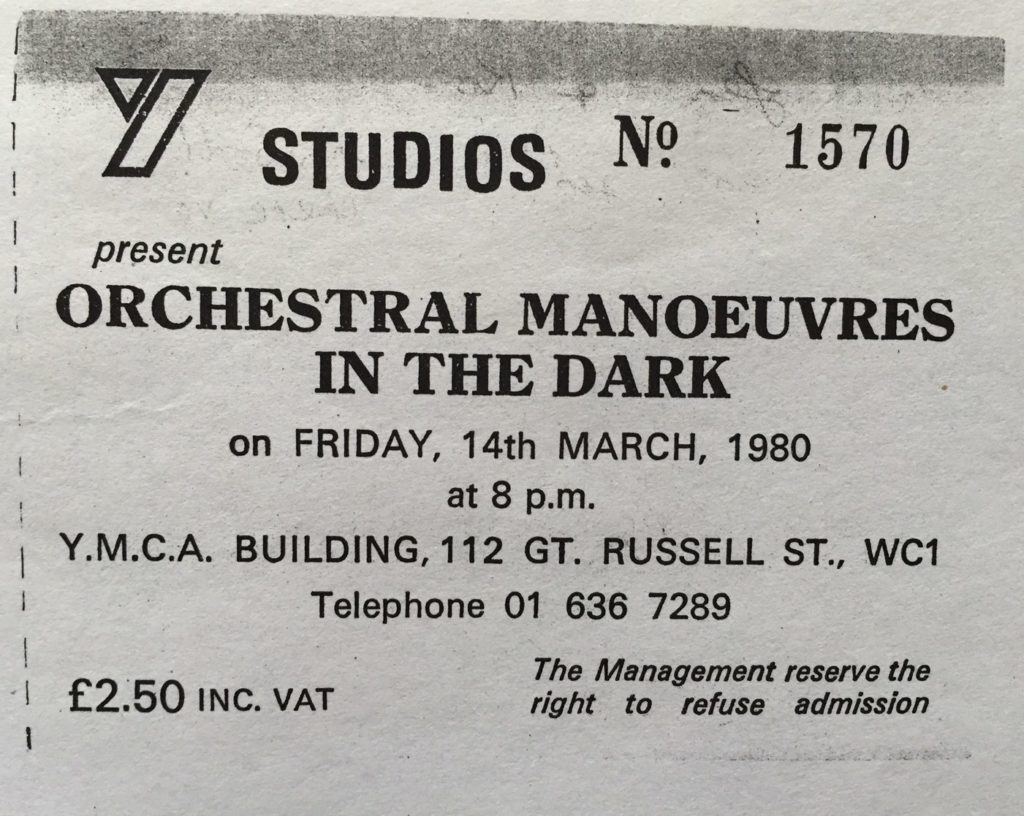 ---
01.33.47
ROMEO VOID – Nothing For Me – Its A Condition, LP – 415 Records – 1981
I bought this album at the time, on the strength of another of its tracks (coming to 41 Rooms at some point) and as it turned out, it was the only one I liked, reason enough to then sell the album. Three decades plus later and I've grown to like another of its tracks… funny that. I haven't though grown to happily ignore the missing apostrophe in the album title – not even for artistic reasons.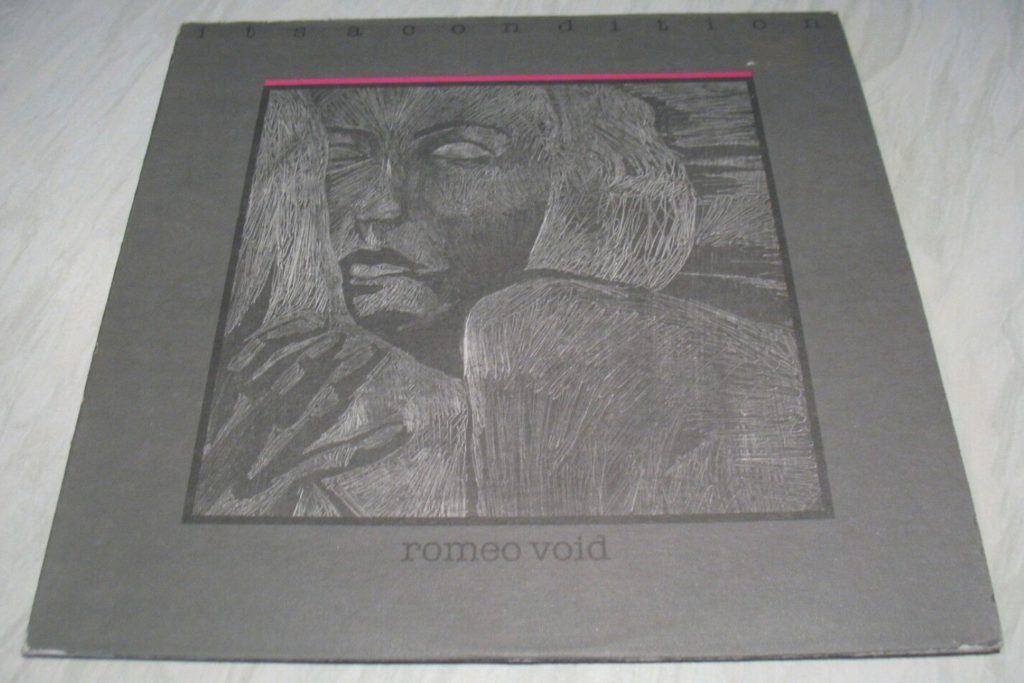 ---
01.37.12
LALI PUNA & TRAMPAULINE – Machines Are Human – 7″ – A Number Of Small Things – 2014
Lali Puna meets the Korean band Trampauline. You may call cultural exchange and in the beginning there was just the plan to do a tour together Germany in January and then Korea in February 2015. At one point both bands thought the same: Let's see what happens if we start to exchange some culture before. So finally many files were sent back and forth with two songs getting finished. Machines Are Human is featuring the voice and text of Hyosun Cha, singer of Trampauline. A love song, in 2014 machines are more human than humans. You can see Spike Jonzes' 'Her' waving at you. – www.anost.net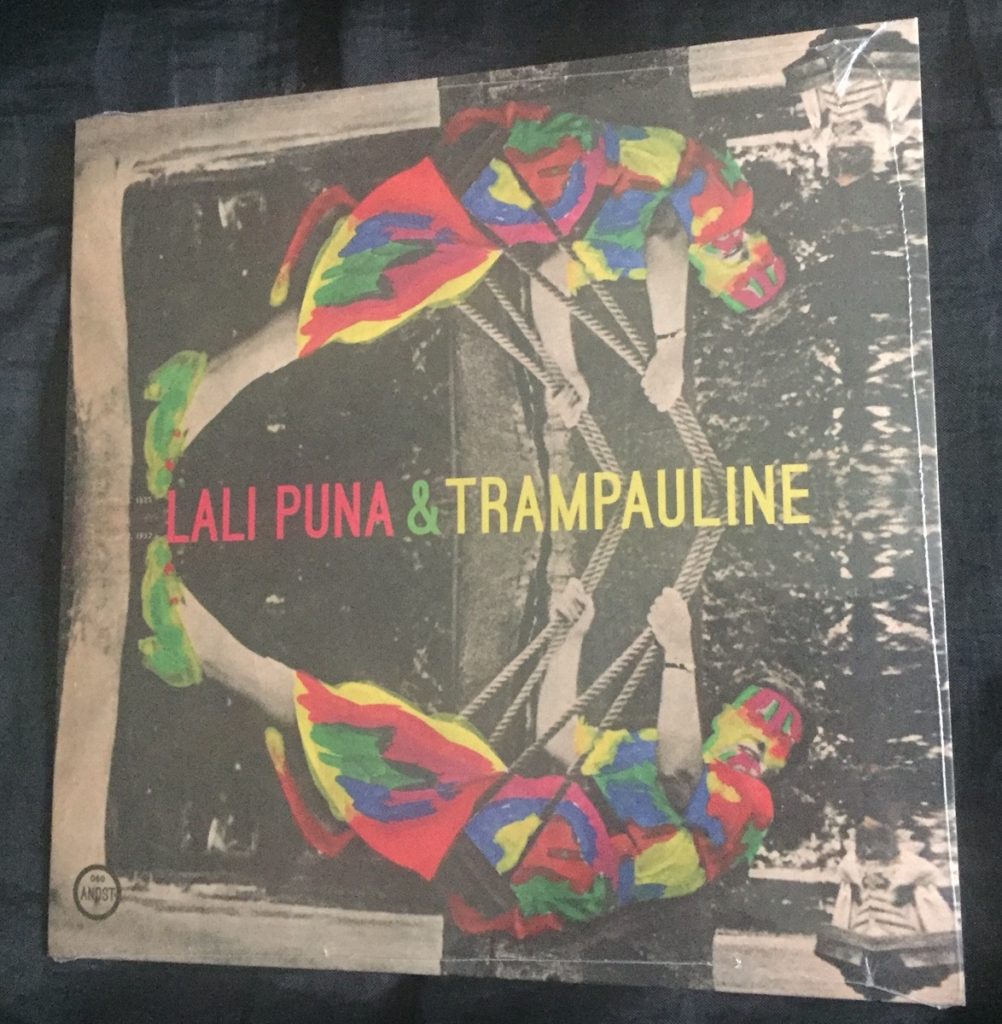 ---
01.40.12
FOX – Red Letter Day – Self-titled LP – GTO – 1975
Aaaahhh, Noosha Fox. If they'd had a fan club in 1975 I might have been in it but searching out their TV performances now I'm not convinced the band, beyond main man/writer Kenny Young, were totally behind Noosha's 'kookieness'. Of its time maybe, but somebody somewhere will still be busting for her to surface and sing again… anything, anywhere!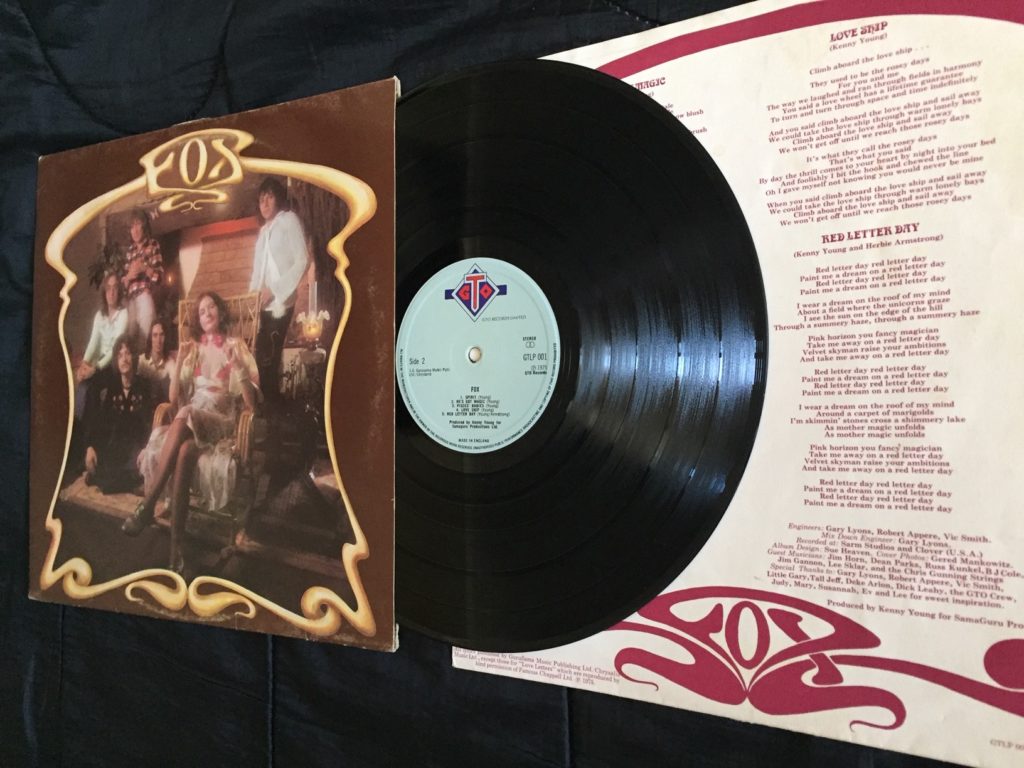 ---
01.42.59
HERBIE MANN – Hijack – 7″ – Atlantic – 1975
I was eighteen and this still feels like it partly soundtracked my summer hols with mates in Lloret De Mar, Spain this/that year.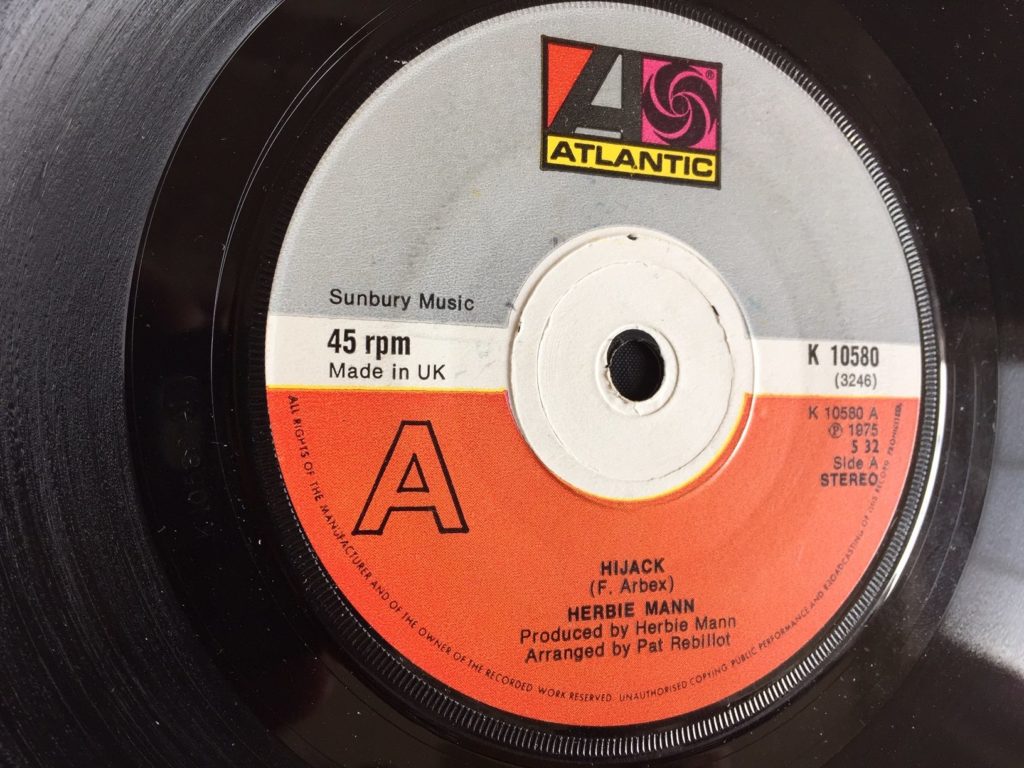 And 'Hi' to anyone who frequented a Lloret club called Tramps in 1975. We arrived pretty much the night it opened and we proceeded to also be in it for a huge chunk of the next nine or so nights. 🙂
---
01.48.00
HI TENSION – British Hustle – 12″ – Island – 1978
I'm now three years older than in the above scenario… and in a different town and club but with the same feel good factor. 'Isn't being young brilliant?'… as one of Paul Whitehouse's comic characters might say.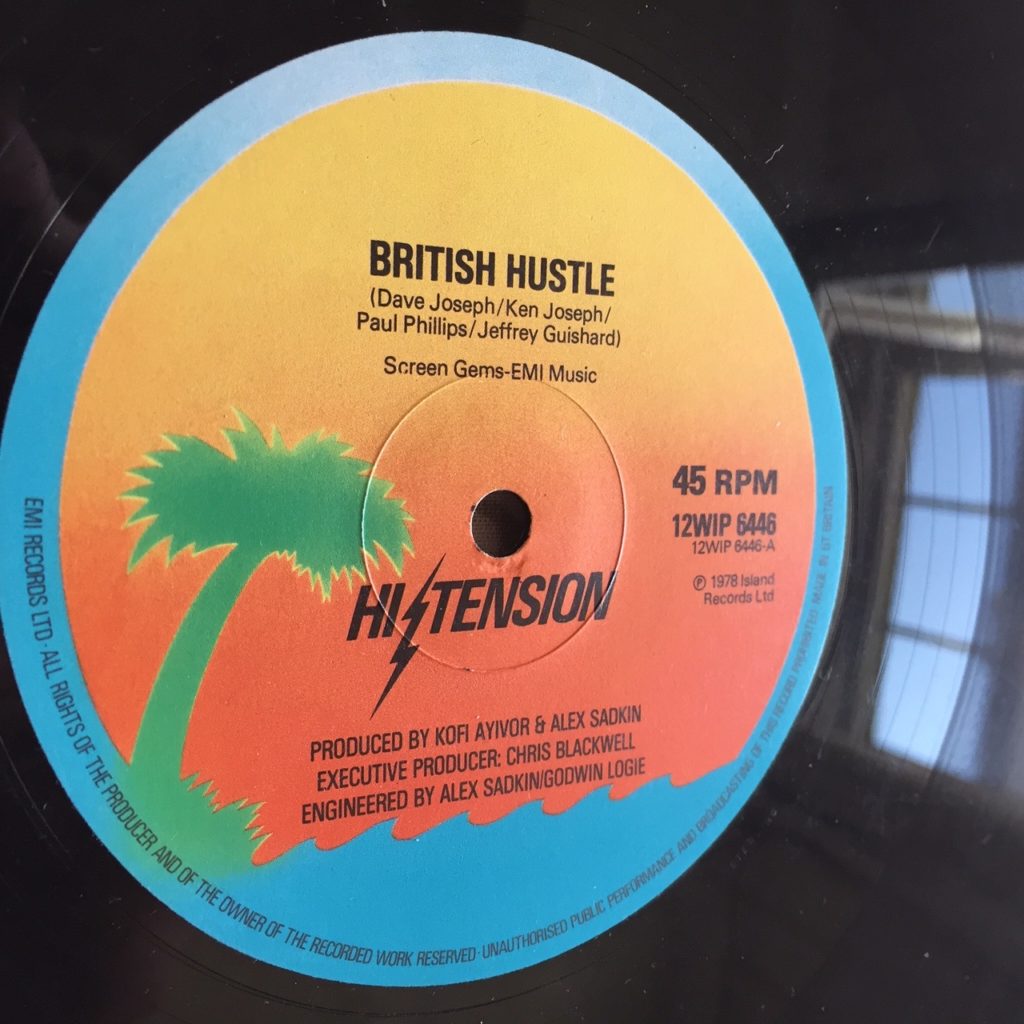 ---
01.53.52
MICHAEL ROSE – Richie The Rich – Proud, LP – RCA – 1990
Finishing with the ex-Black Uhuru front man and an album I picked up for £1 in the early 90s in Notting Hill. Bought purely for this track.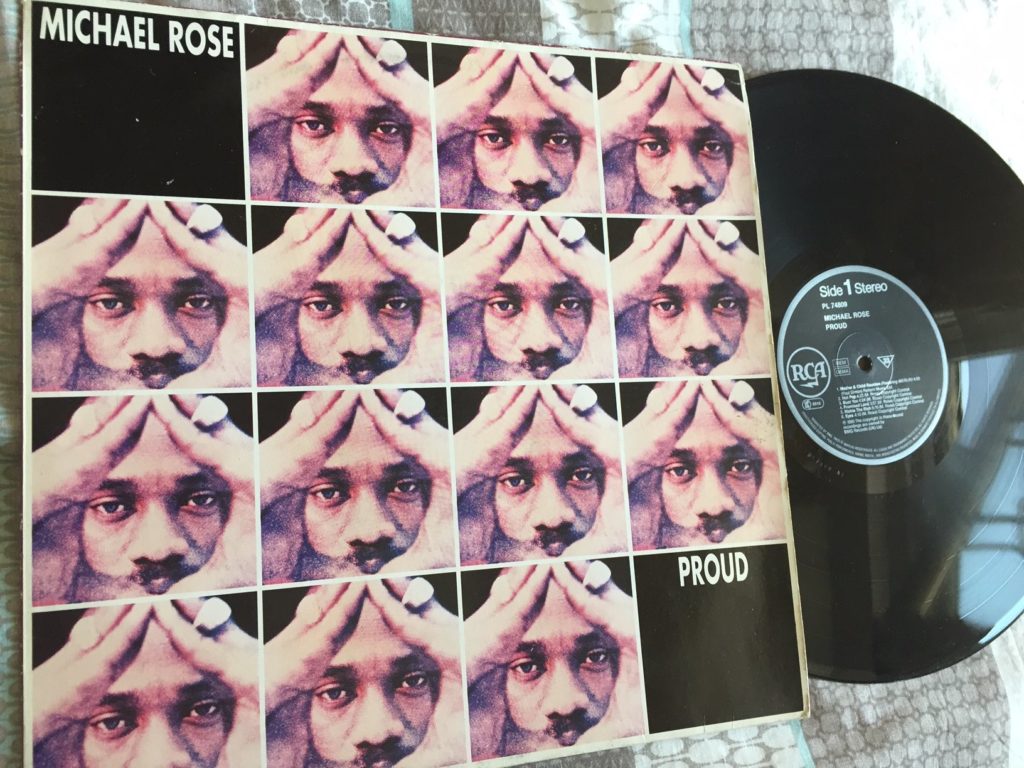 Richie The Rich indeed. Rose's lyrics ringing truer now than they did back then.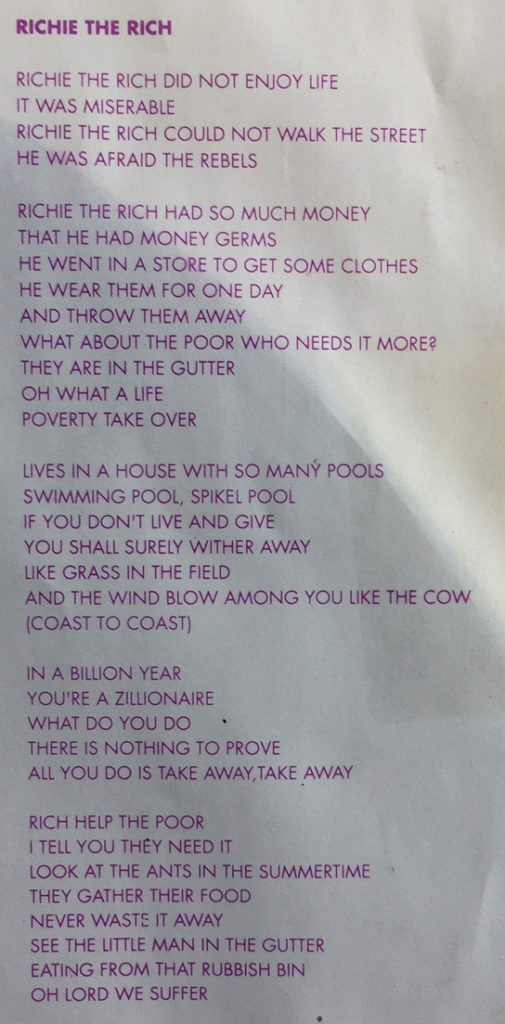 ---
Show 70 will upload on August 4.
Dec