This playlist is 87% vinyl friendly. Impressive.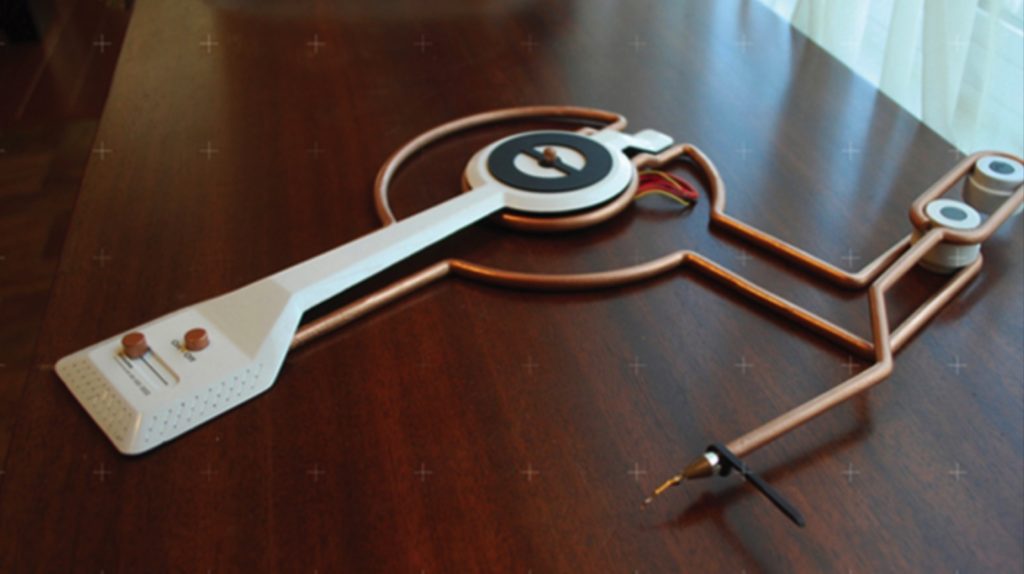 As a joke used to go a few decades back – 'I had one of those… but the wheels fell off'. RD Silva saw his Turnstyle turntable as being "As simple as it gets: The motor that spins the record. The needle that reads the record. The speakers that play the audio. The controls that…control the record. On/Off" and just about nothing else… though that copper piping looks a lot like the 1930s original recently pulled out from under my kitchen floor.
---
Any track marked * has been given either a tiny or a slightly larger 41 Rooms 'tweak'/edit/chop and the occasional tune might sound a bit dodgy, quality-wise. On top of that, the switch between different decades and production values never helps in the mix here. 🙂
---
Lyric of Playlist 116…
It came down to two Mancunians but to those that know me, maybe surprisingly I've gone for Hucknall!
---
00.00
(Intro) THE FLAMINGOS – Stars (Edit) – Unreleased demo – 1983. Episode #1 for info.
---
00.41
NEW ORDER – Times Change (inst) – Live at Manchester International Festival, 2017, 3LP – Mute – 2019
A Limited Edition three coloured vinyl set… and taken from one of the series of weekend hometown gigs the band did mid 2017 at the Old Granada Studios complimented by a 12 piece keyboard orchestra. One I'd definitely liked to have been at, though I did see them perform in the same room thirty six years earlier. Times Change? One of my fave later period NO tracks and even though I'm never been a fan of talking your way through lyrics I let Bernard off with that version gracing an earlier 41 Rooms show. Here, the instrumental somehow maybe manages to exude as much, if not more, a feel of loss. Beautiful.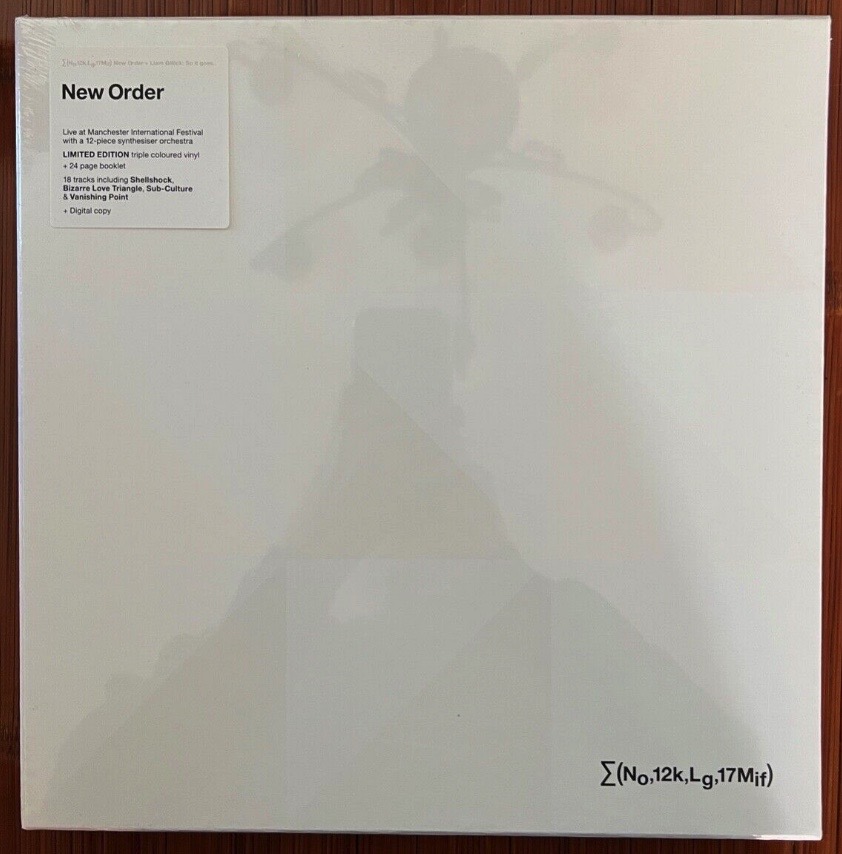 ---
05.48
OF MONTREAL – I Was A Landscape In Your Dream – 7″ – Harvest Time Recordings – 2004
Though the album version wandered through 41 Rooms on an earlier show.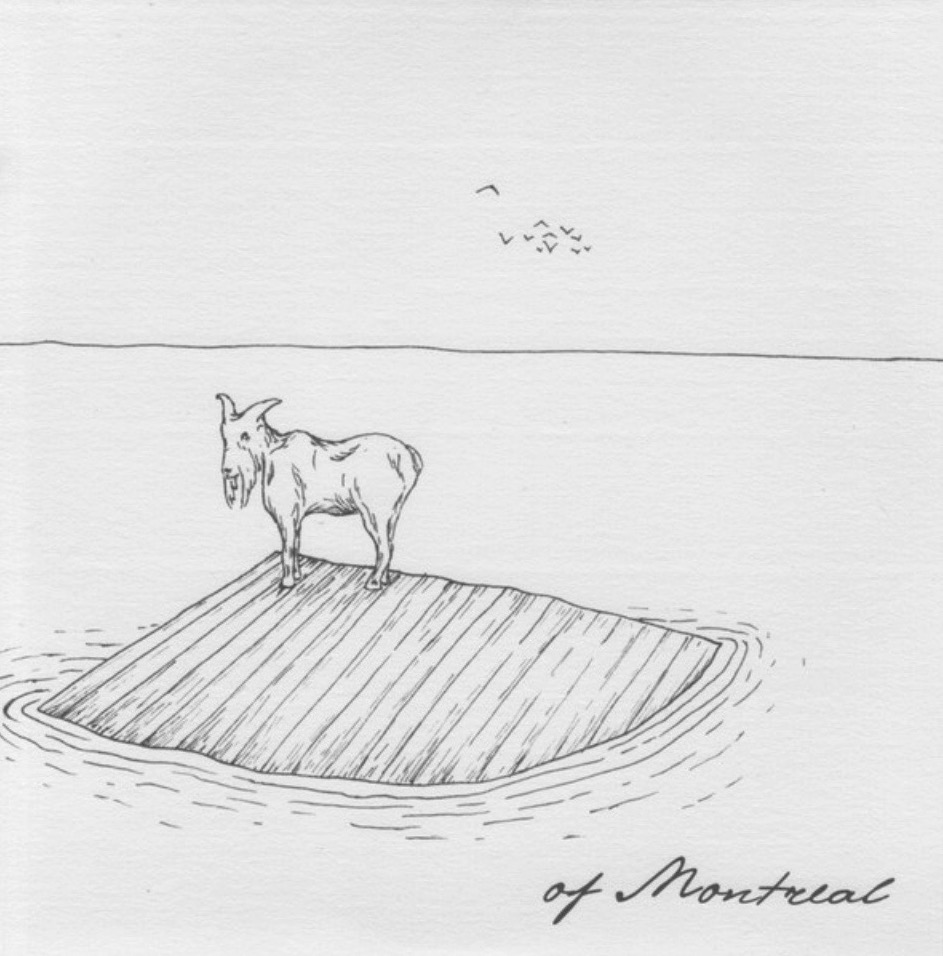 ---
08.43
ROZI PLAIN – Blink – Prize, LP – Memphis Industries – 2023
Limited Edition variations from a label getting adventurous with their vinyl colour descriptions – 'Clear (Invisible)'… errr… no it's not, I can see it… and 'Translucent Streetlamp Orange', and there's even a further limited edition run on the latter for the Dinked Edition label sold by a handful only of independent shops. Rozi Plain's music certainly has its moments with me, so I really should check out more of it.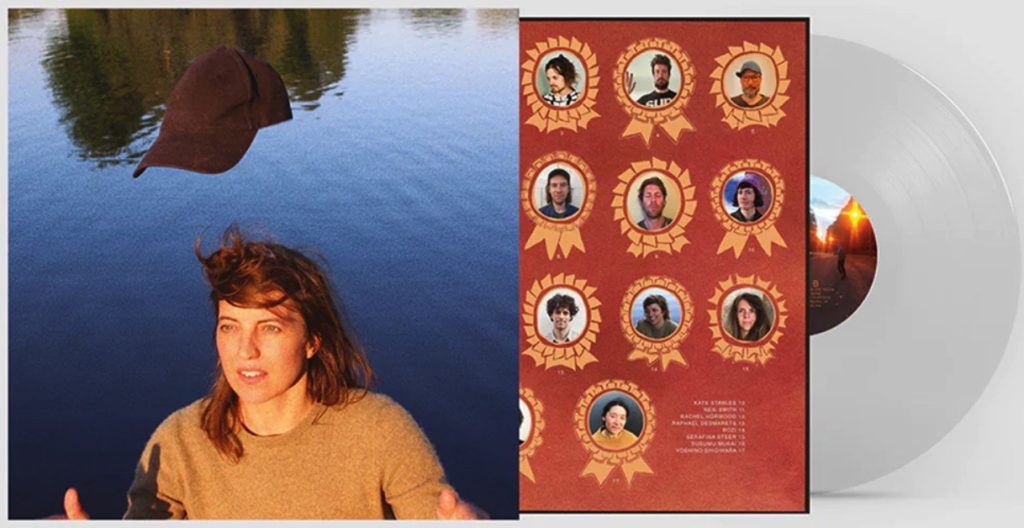 ---
13.28
SAY SHE SHE – Trouble (41 Rooms Extra Edit) * – 7″ – Karma Chief Records – 2023
Three subtly different vocalists but there's some special chemistry when the strident lead vocal bounces against the three part harmonies on this mid '60s sounding workout. They definitely missed a trick on the outro, though… so, slightly crudely, I stepped in to show them how they should have taken it. 😁 You're welcome.
---
16.49
GLEN MASON – It's All Over Now (41 Rooms Re-Edit) * – 7″ b-side – Polydor – 1967
And from '60s sounding to a '60s sound… with a touch of '50s crooning. Glen Mason had moved through nearly fifteen years of film/tv show tunes and rock'n'roll (none of which would have interested me) before he got to this lost, co-written and torch vocal-like b-side.
---
19.21
BC CAMPLIGHT – Kicking Up A Fuss – The Last Rotation Of Earth, LP – Assai Records – 2023
Motel made music.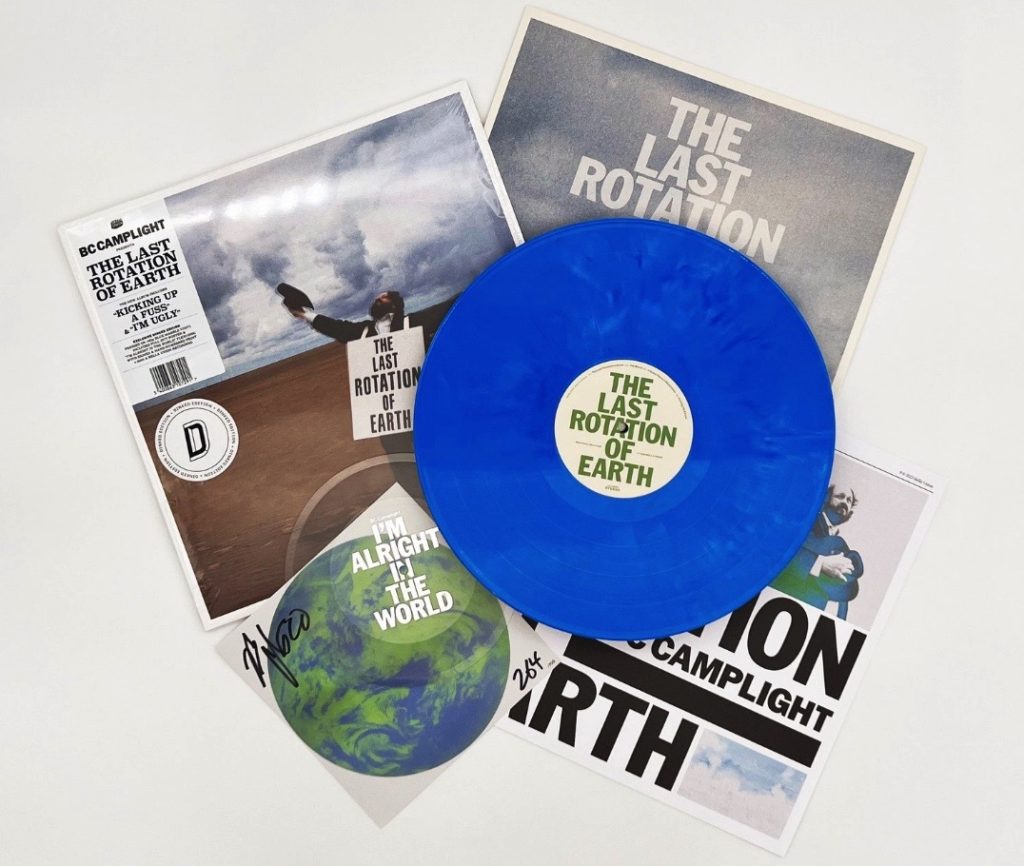 ---
22.49
ELKKA – Hands – DJ-Kicks, 2LP comp – !K7 Records – 2023
Earworm sounds.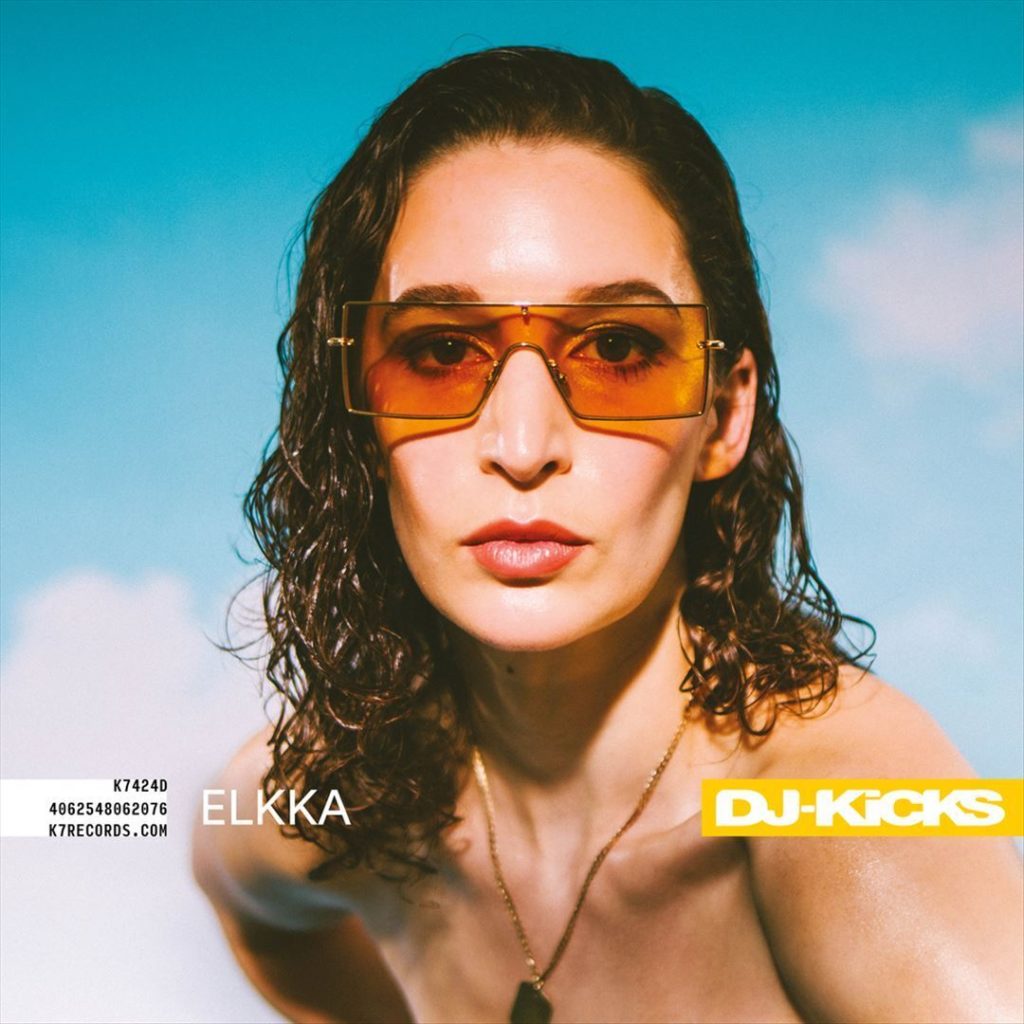 ---
27.42
HYPHYSKAZERBOX – Entity At The Party – Manic In Your House, cassette only – Suite 309 – 2023
'Hyphyskazerbox annihilates my expectations every new release. An already chaotic style of music-making – samples crashing into each other, key changes/genre shifts minimum twice per song, vocal samples as hi-hats – told to speed 👏 the 👏 fuck 👏 up. For all the chaos, Lili (Briar) keeps it all on-topic by successfully genre-hopping to whatever EDM flavor you could possibly think of, and you can bet that 38-second clip of footwork/grime/bubblegum bass will be a judgement bolt of euphoria. Follower, Origbootleg reviewing on Bandcamp
There are only 150 of these cassettes. Mine – currently on its way from San Francisco to Los Altos Hills – will get to me further down the line.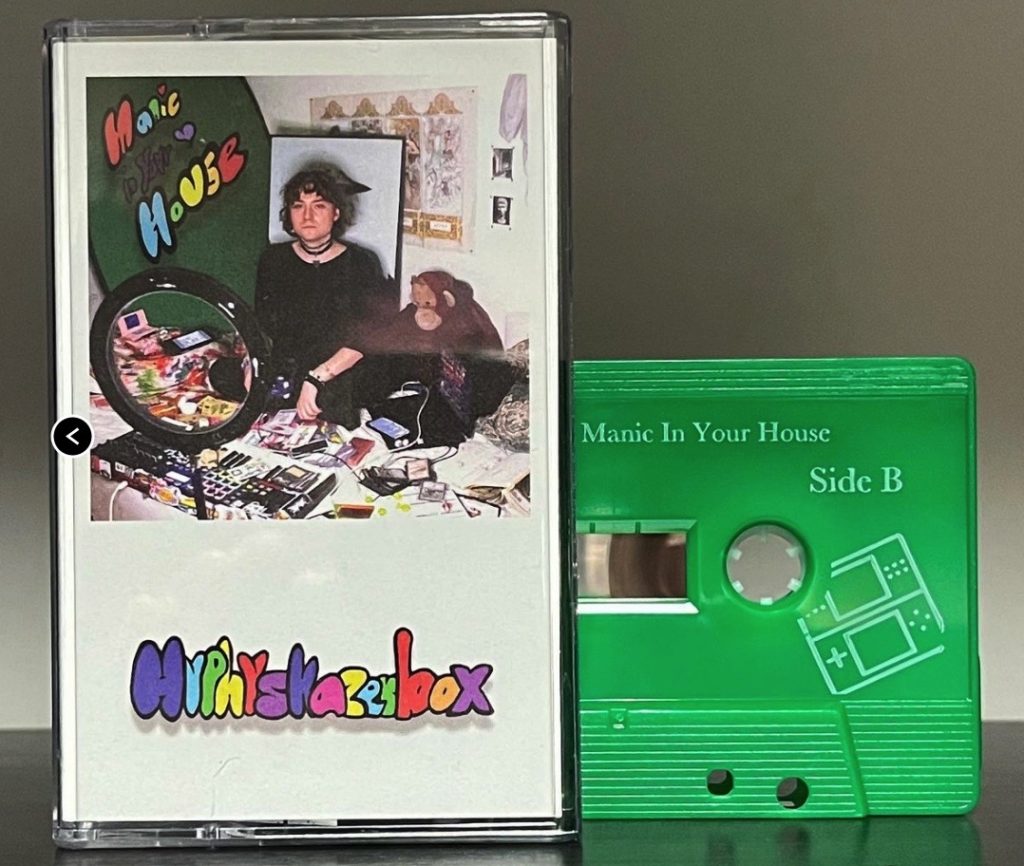 ---
31.06
JOY ORBISON – BB – 12″ – Doldrums – 2010
Bouncing techno.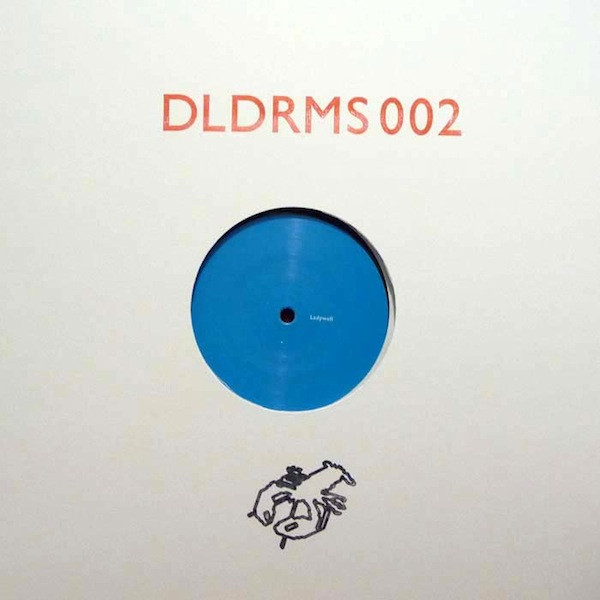 ---
36.45
ACIDULANT – Unimaginary Friend – Kanlab 02, split 7″ – Balkan Vinyl – 2023
Acidindeed.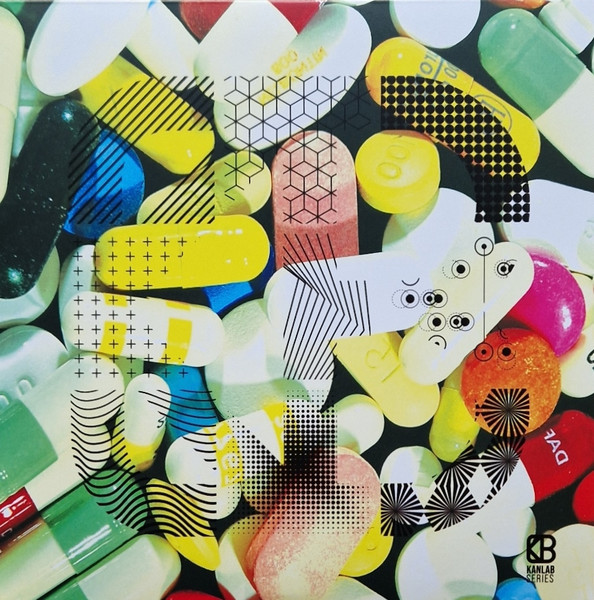 ---
40.39
TONI MARTIN – Deeper (Voodoo Magic Vox Mix) – 12″ – Easy Street – 1993
This would have first come at me late night on London's Kiss FM radio – Sarah HB, the likely DJ.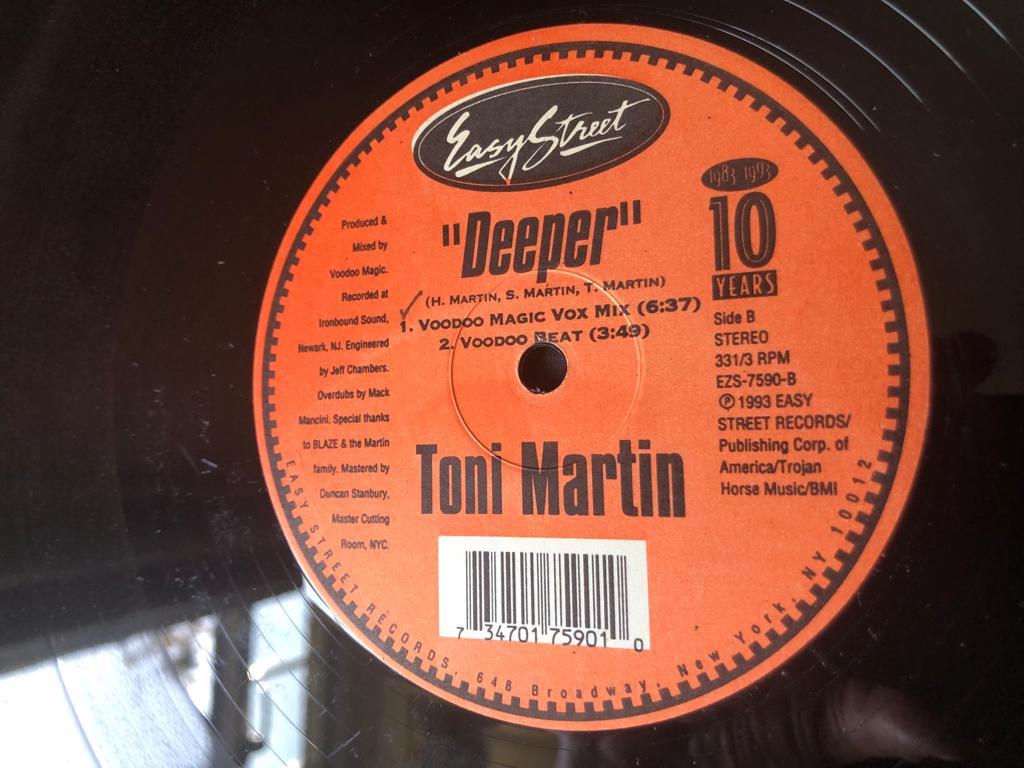 ---
46.15
RADIANT BABY (feat NINA SIMONE) – New Dawn (Ozone Friendly Mix) – 12″ – Ultrasonic Records – 1992
'Just as Wag 'Ya' Tail features Lonnie Liston Smith, this Richard Jeffereys created skipping jazz-funk wriggler features the mournfully croaking, cooing and groaning Nina Simone, with buoyant frisky 122.6bpm Jazz Tip, soprano sax tones nagged more sombre striding 0-122.6bpm New York, and breezier scampering 0-127.7bpm Ozone Friendly Mixes'. – James Hamilton, Record Mirror (Music Week), 26.9.92
Sampling the intro to Nina's Feeling Good there were at least two promos of this (with mix variations) floating around at the time.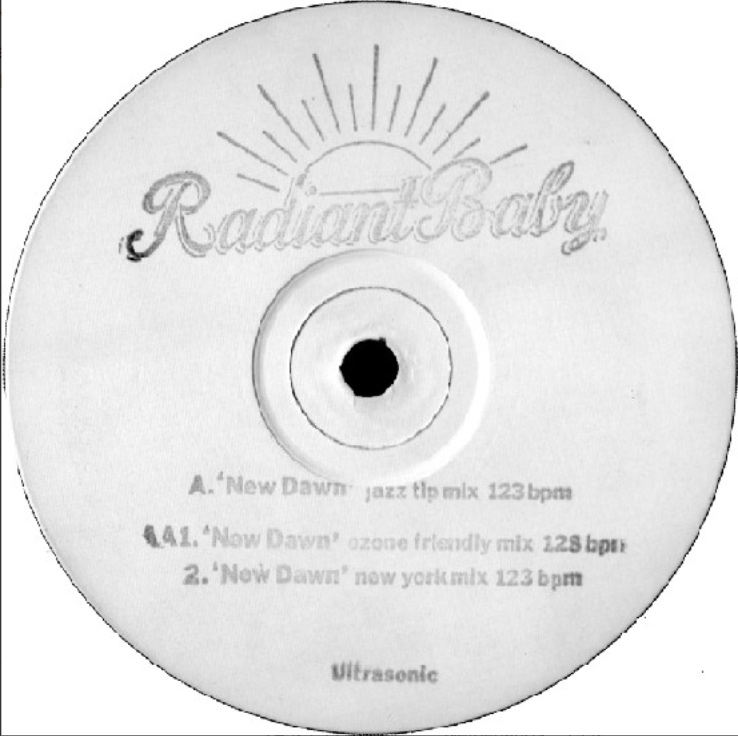 ---
49.35
EARLZINGER – Ain't Got Time – Kingdom Of Kings, download only – 2014
Previously Earl… Zinger, maybe Rob Gallagher (ex-Galliano and Two Banks Of Four) is feeling more together now 🙂 even if he is a bit rushed.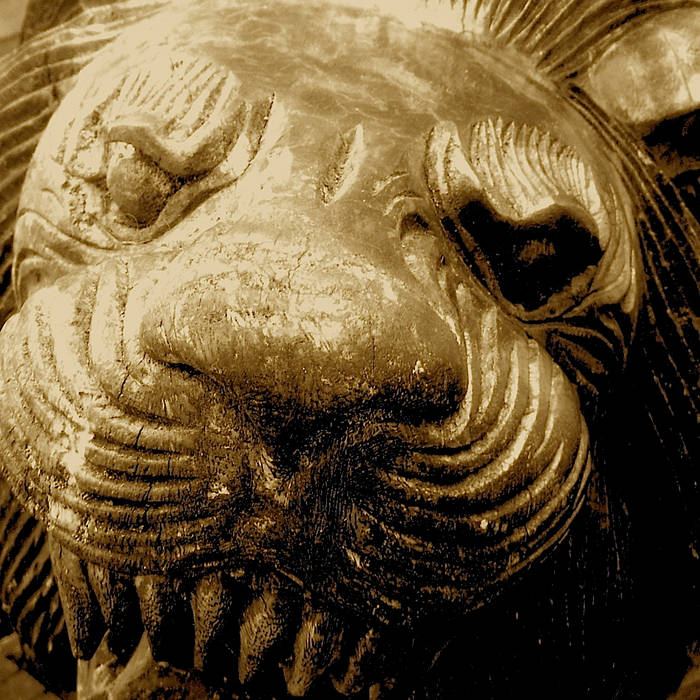 ---
52.07
CH3VY – Hard Massage (41 Rooms Edit) * – 7″ b-side – Catskills – 2005
I seem to have taken a scalpel to a good few tunes this show – massively here – but sometimes, 41 Rooms' needs must.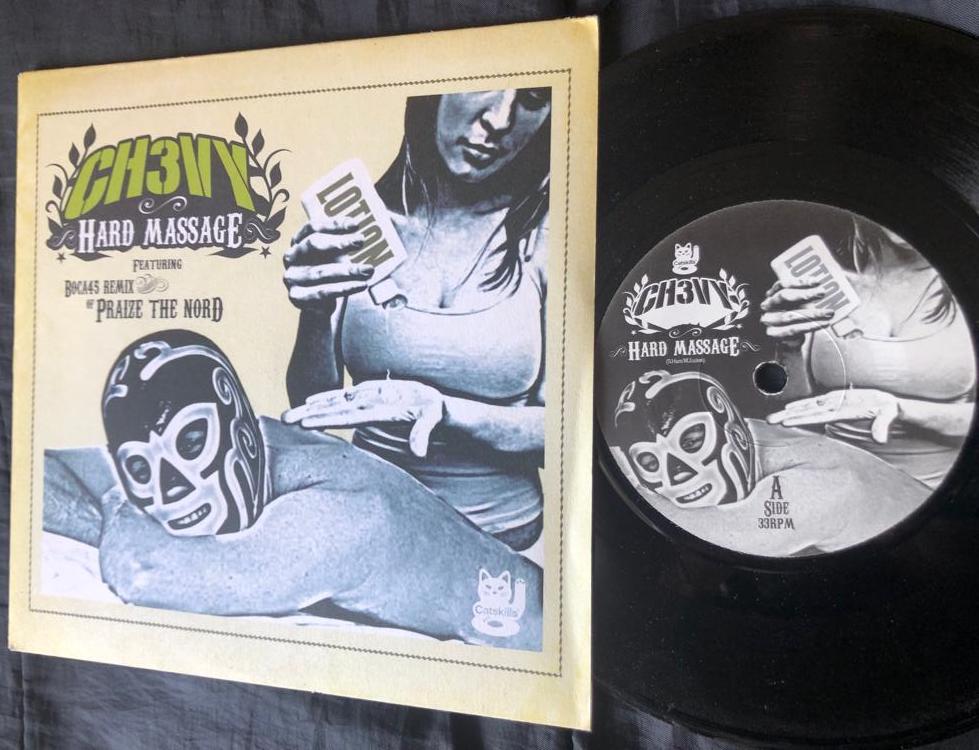 ---
55.31
THE NEW ROTARY CONNECTION – I Am The Black Gold Of The Sun – Hey, Love, LP – Cadet Concept – 1971
Could easily have gone with Nuyorican Soul's version but the original (with Minnie Riperton on BVs) won out.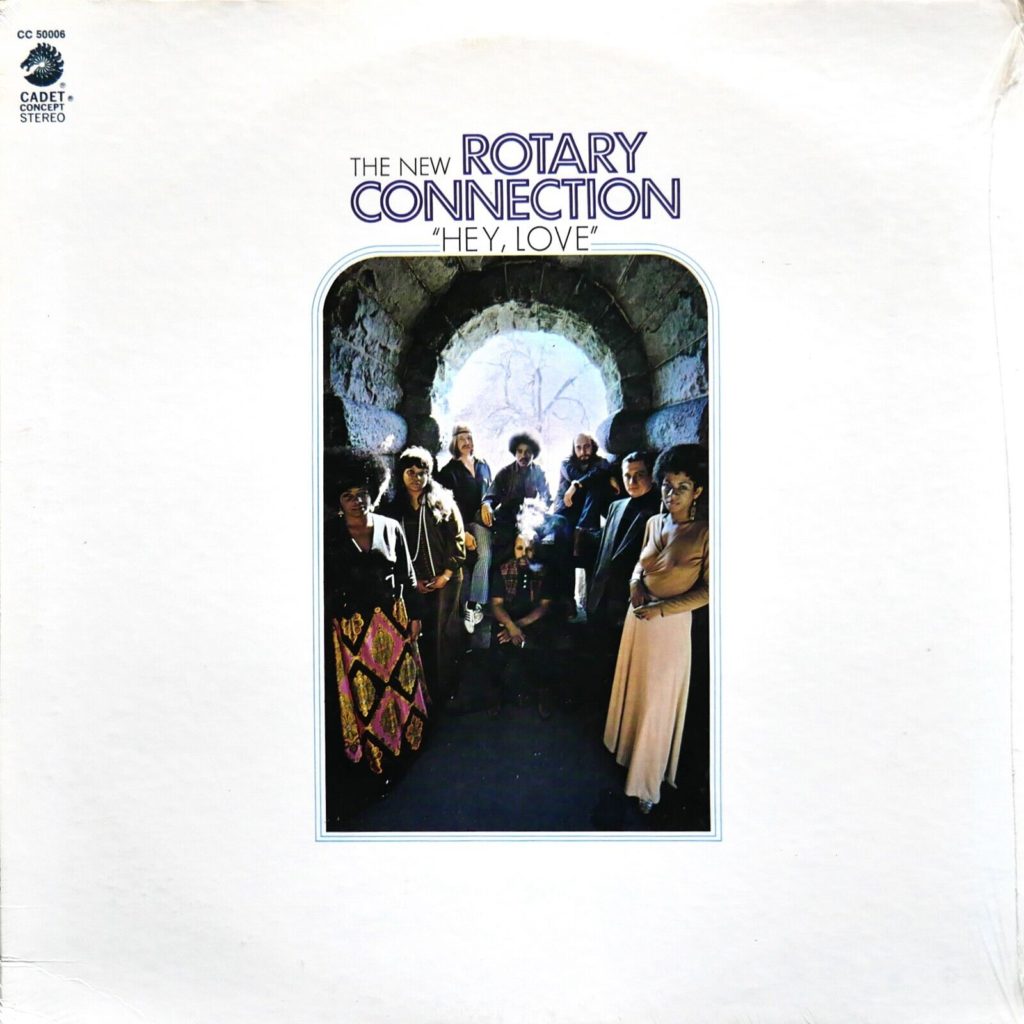 ---
01.00.14
RHYTHM(S) FACTORY – African Rhythms (Sax Mix) * – 12″ – Out – 1992
A project of one DJ Lodola, with one verse red carded, it still includes a lack lustre other one here and there. Worth it though for the chorus alone – sampled from Oneness Of Ju Ju. When I was living in London I advertised a spare copy on the world reaching eBay 15-20 years ago… and the buyer ended up also being in London… and came round to pick it up. The same thing happened with a copy of JVC Force's Strong Island. 🙂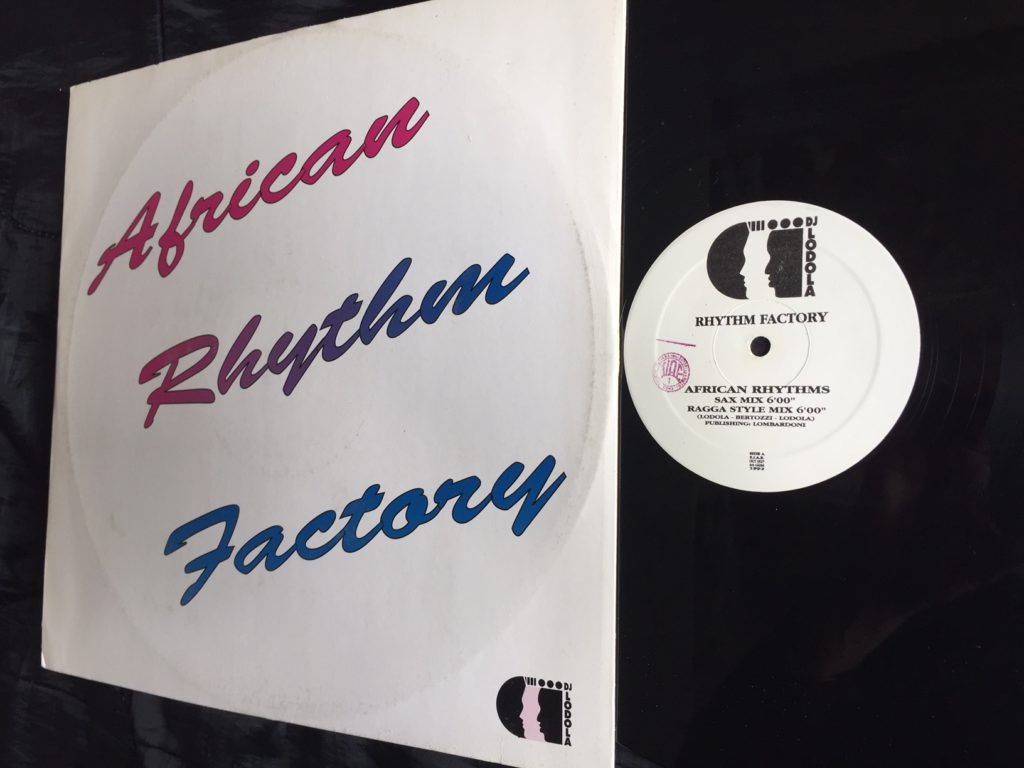 ---
01.05.00
THE JACKSON SISTERS – I Believe In Miracles – 7″ – Mum's Records – 1973
Timeless… and uplifting! The sort of track that will always work.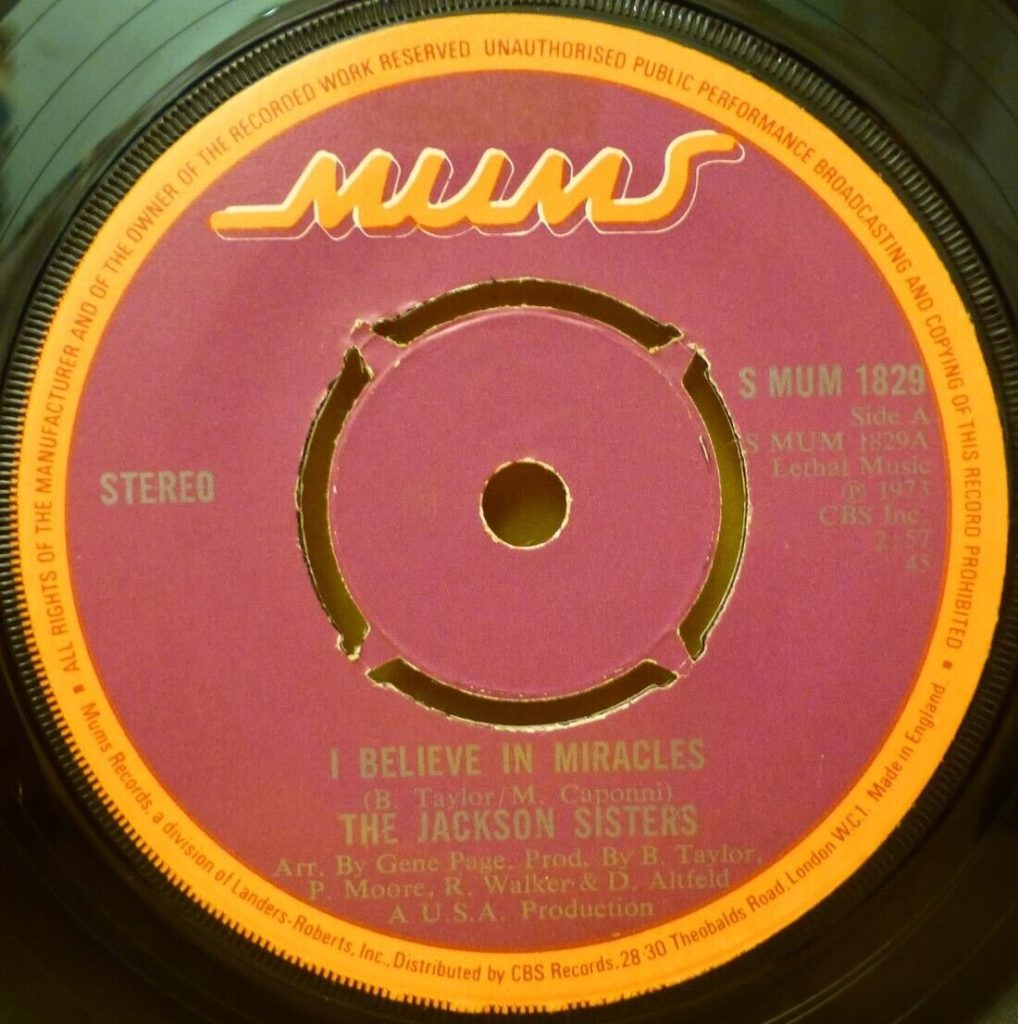 ---
01.07.41
THE FRANK POPP ENSEMBLE – You've Been Gone To Long (Album version) – 12″ – Unique – 2002
Anne Sexton's original may be the northern and soul scene's fave version but I reckon it drags in comparison to this punchier upgrade.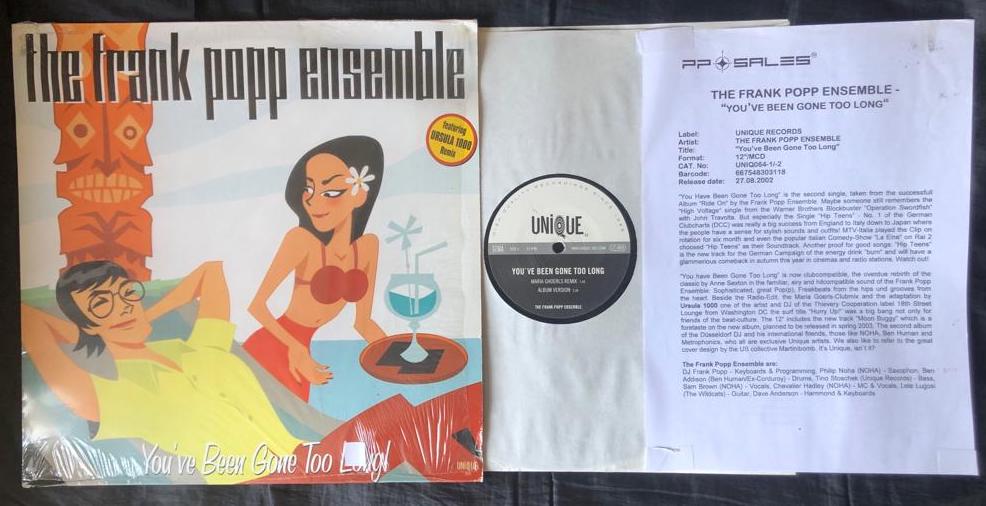 ---
01.09.58
THE CARDIGANS – Carnival – 7″ – Trampolene – 1995
Summery… and as 'indie' as they ever were.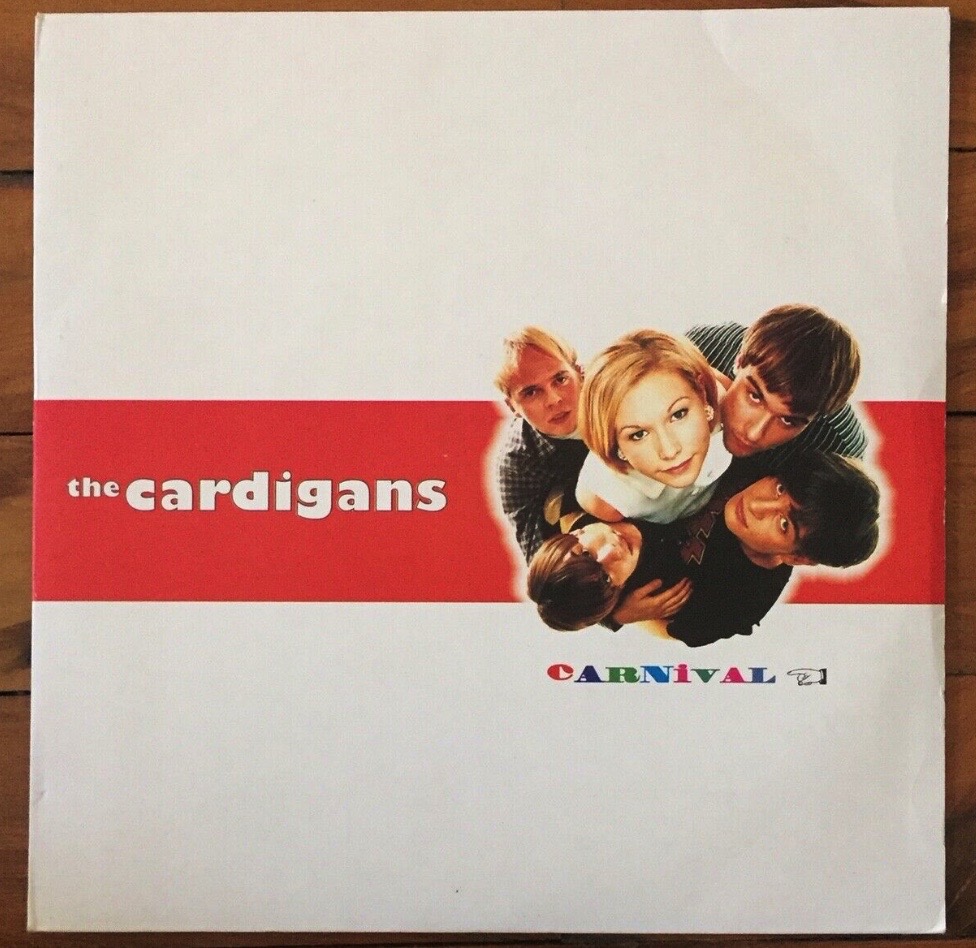 ---
01.13.05
MOTOR LIFE CO. – Trod On Your Head-Mine – 7″ – Mei Mei – 1998
A short-lived label run by Everett True, Darren Smyth and Alison Wonderland… I remember seeing Motor Life Co. at the Hope and Anchor in Islington around the time of this single.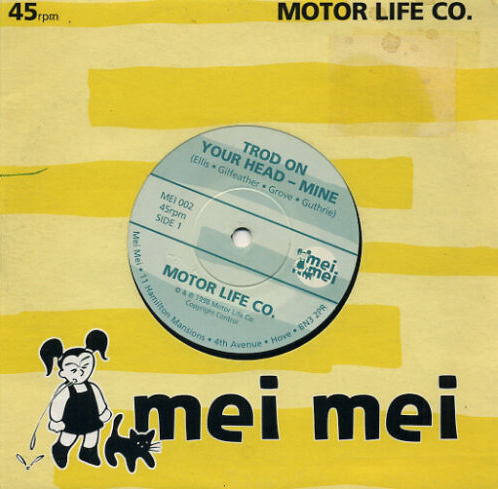 ---
01.17.36
LITTLE NEMO – Sandcastle – Sounds In The Attic, LP – Lively Art – 1989
French and maybe reminiscent of a new wave/indie sound from a few years earlier… with a nod to the likes of the Comsat Angels.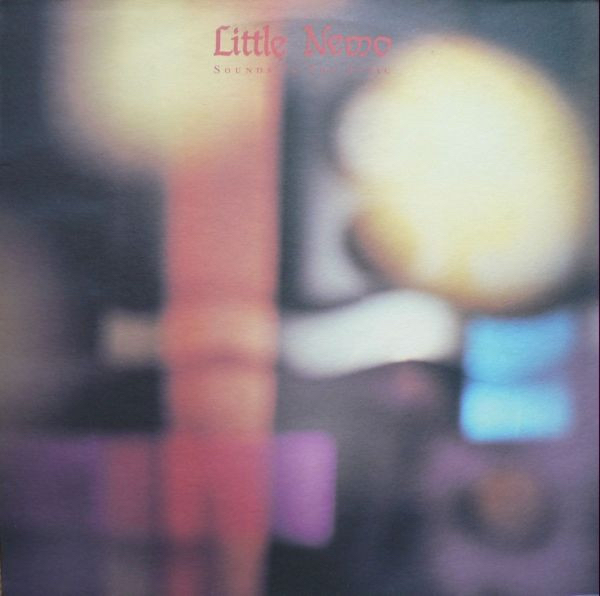 ---
01.21.26
ECHO AND THE BUNNYMEN – Simple Stuff – 7″ b-side – Korova – 1980
You sort of knew Bunnymen b-sides were always worth a listen. No fluff from Ian Mac.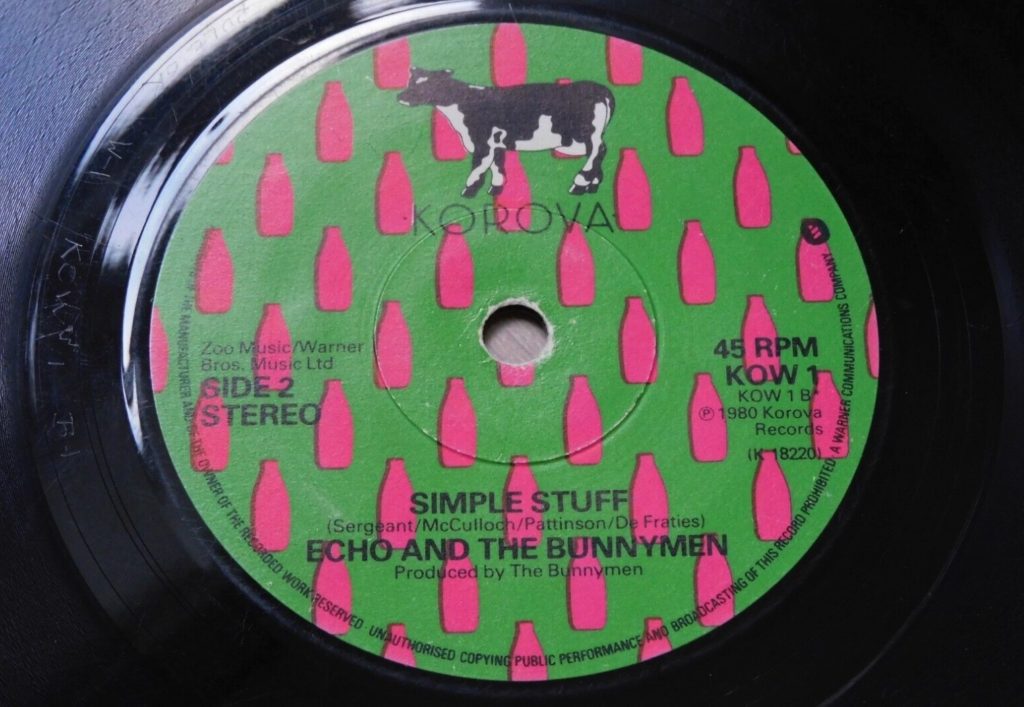 ---
01.23.34
JOY DIVISION – Leaders Of Men – Warsaw, LP – RZM Productions – 1981
Though you don't have to go far to run into one of the few dozen bootlegs that have since included these 1978 studio tracks. With Barney's guitar echoing Ian Curtis' melodies, the latter at this point was still more punk than 'dark crooner'. Some of these recordings would have definitely sounded more powerful by the JD of even just a year later but obviously they'd moved on.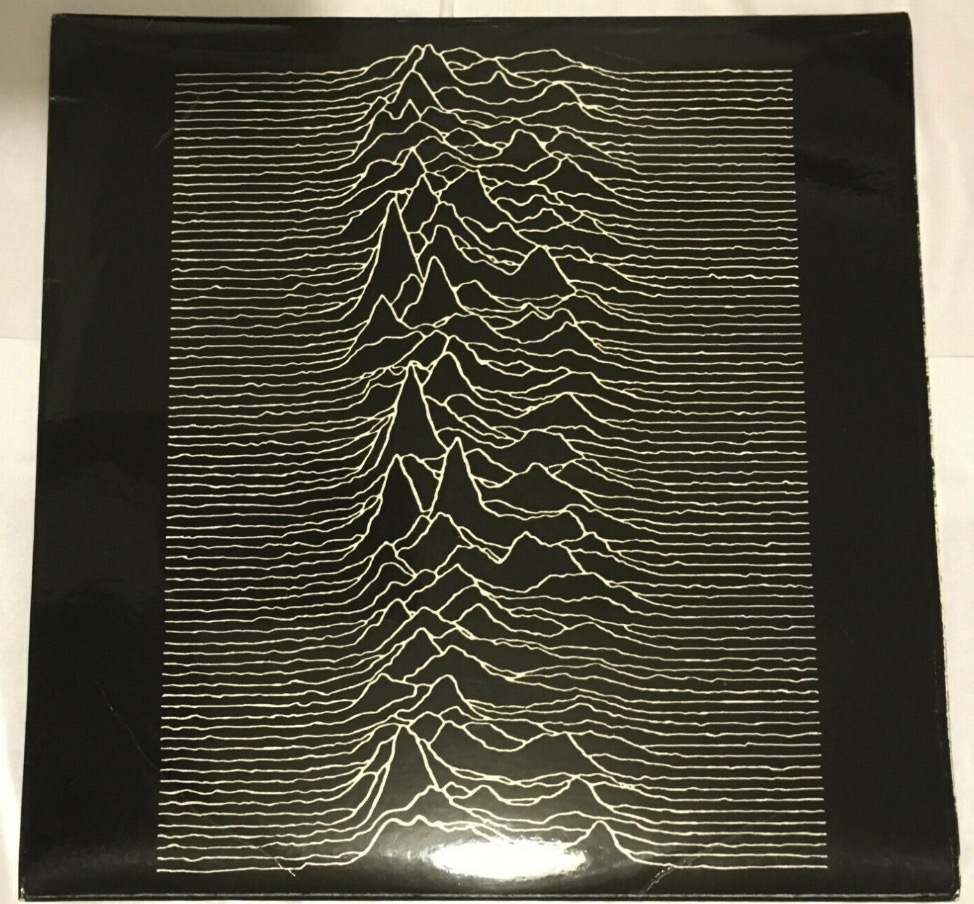 ---
01.25.55
BIG BLACK – Big Payback – Racer-X – 12″ EP – Homestead – 1985
'(James Brown) okay, so we elaborated on the lyrics a little. Sue us. The godfather was winging it most of the time anyway.' – Steve Albini's sleevenotes re the track.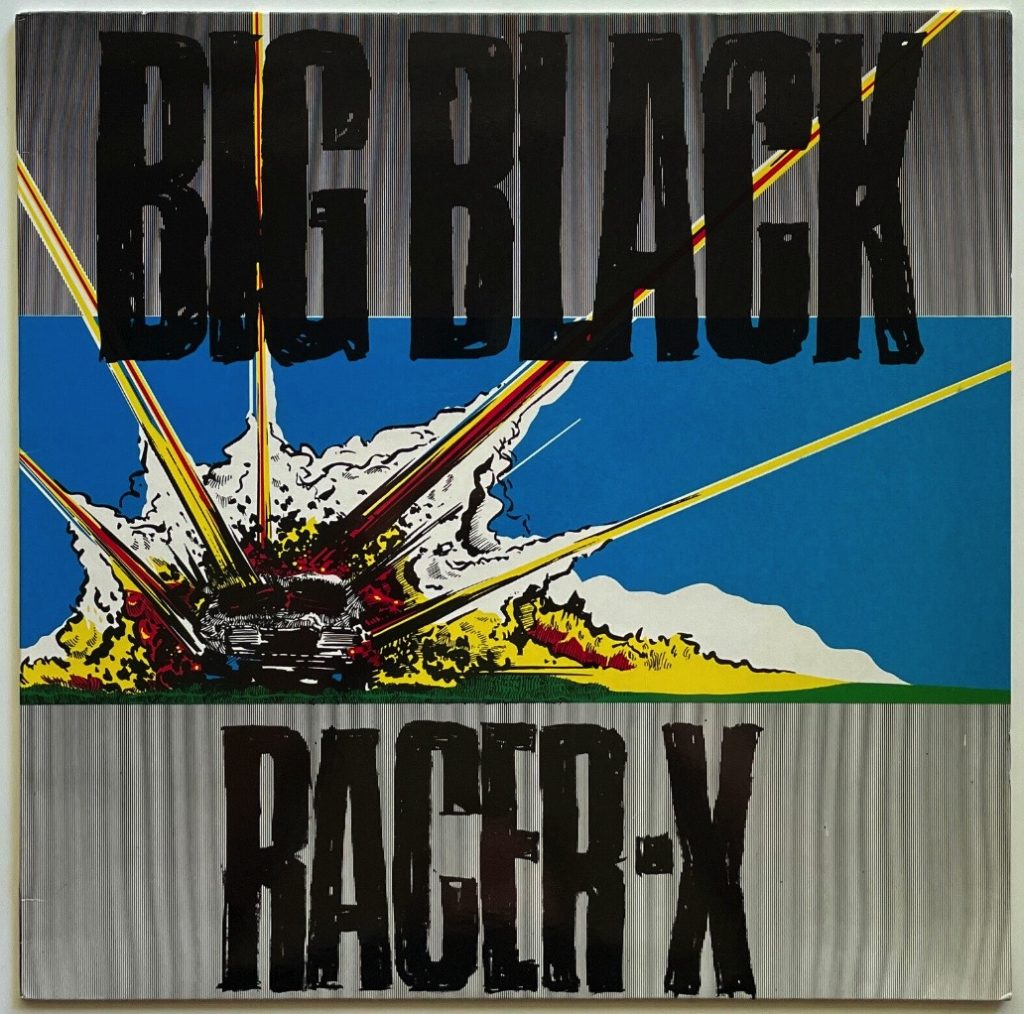 Not mine, but somewhere out there is this UK acetate – with the band's US catalogue number, though. Strange.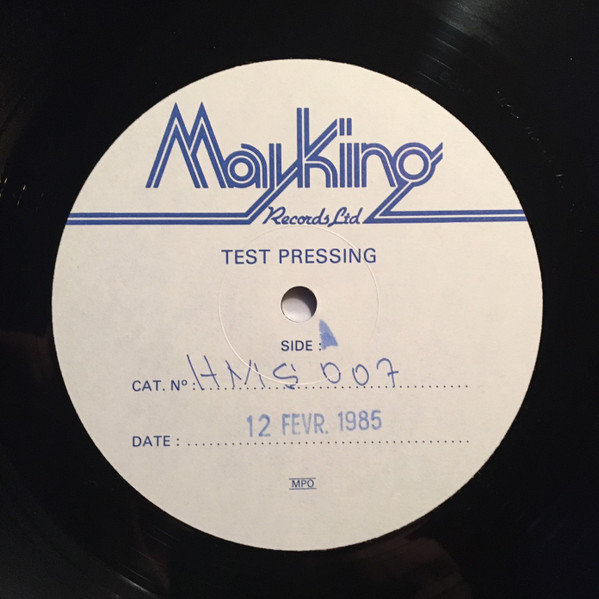 ---
01.28.13
PORTION CONTROL – Amnesia * – Violently Alive, CD only – Sigsaly Transmissions – 2010
I'm not the first to feel this reminds of their mid '80s era. Powerful.
Below: Bedford local paper piece I wrote for their gig at Winkles in 1984. Not too hard as I worked at the time in the reading room of the paper's printers, Bedford County Press. I can't have read(ied) this copy though, coz I'd have certainly renamed/corrected '23 Spidoo'. Mentioning that vocalist, Dean P would be 'searching out anyone who's not paying attention' nearly turned out to be prophetic. At one point on the evening, as the 'stage' was just the club's dancefloor he decided to get right in the face of someone (a mate of mine).. and the latter took a slight dislike and left the building! 🙂 Click Click didn't though perform that night, as we realised the already limited space was just too much hassle all round.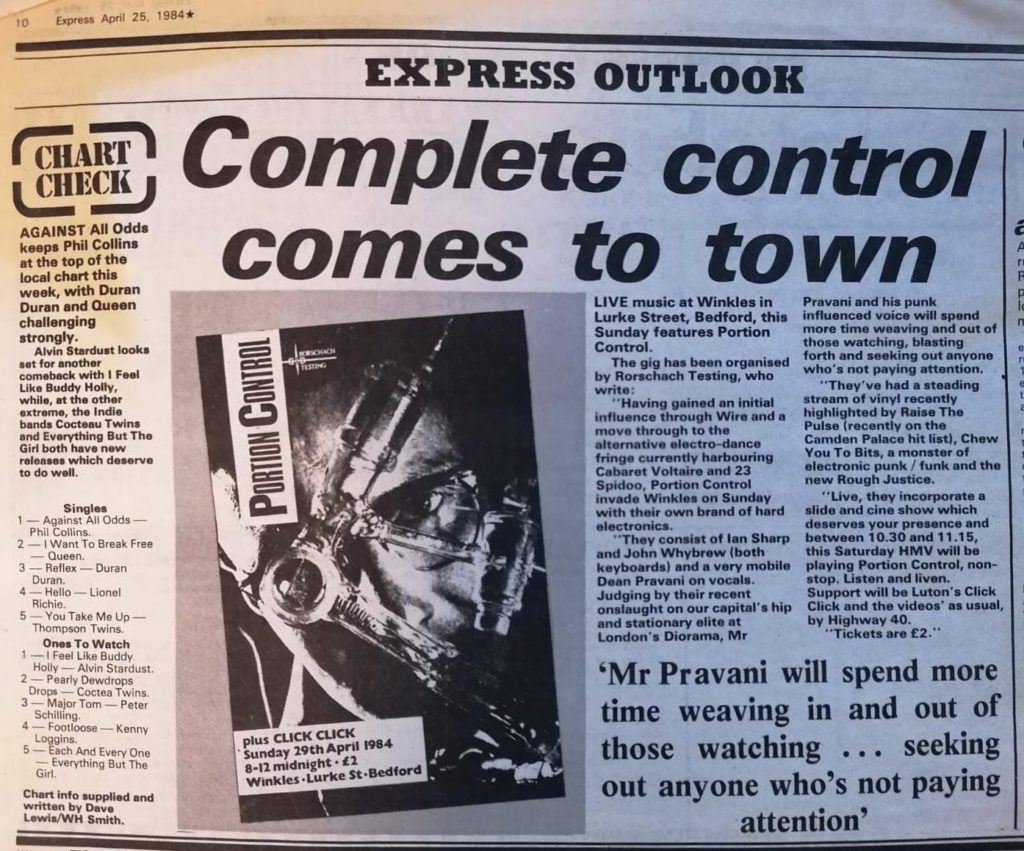 ---
01.33.51
BO GRITZ – RUT – Chroma, LP – Glasshouse – 2023
The band's Bandcamp biog states their name was 'found in work of Jon Ronson Gonzo journalism that simply "looked good written down" ' – rather than half-inched from the highly decorated and highly controversial former Green Beret commander, James 'Bo' Gritz (pronounced Greitz)'. Only 200 vinyl copies of Chroma the production line.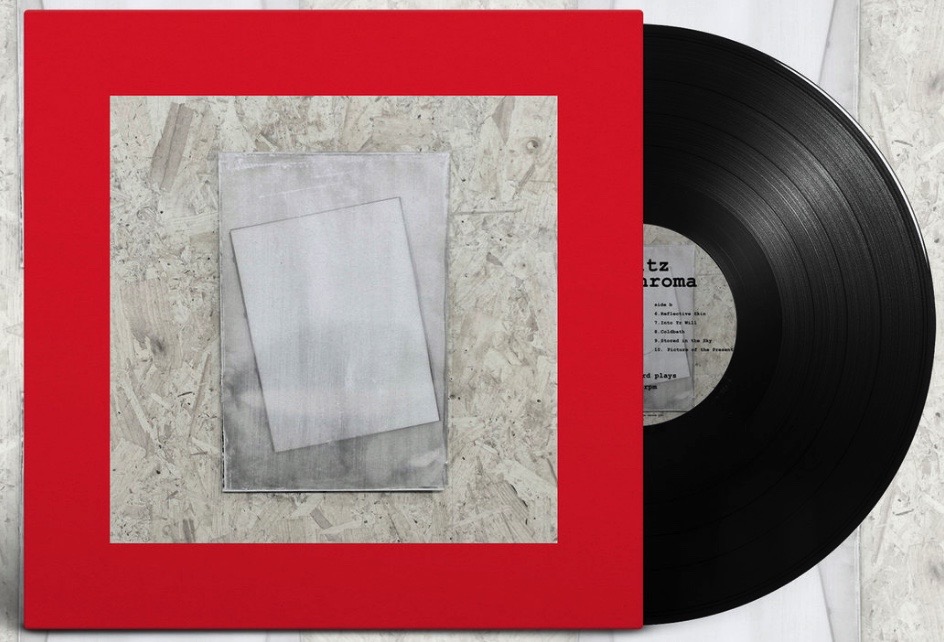 ---
01.36.52
THE TIVOLI vs CABARET VOLTAIRE – Pawns On The Fence – National Service Rewind, CD only – Shiva Records – 2010
If you also think this sounds great, you might be surprised (disappointed?) by the Tivoli's short-lived sound around the end of the noughties.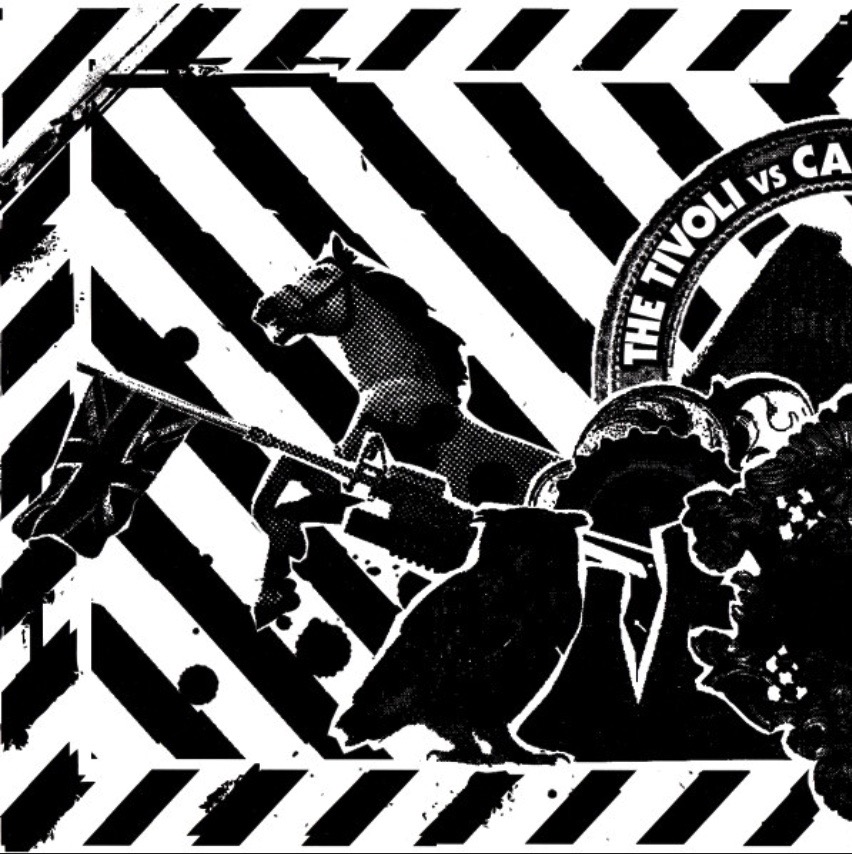 ---
01.44.43
CHANTÉ MOORE – Love's Taken Over * – 12″ – MCA – 1992
'Penned by Chanté with co-producer Simon 'The Funky Ginger' Law, this UK recorded funky drummer tapped lovely sensuous undulating groin grinder has 86.3bpm Extended Vocal, 86.4bpm Instrumental and rhythmless Quiet Storm Versions'. – James Hamilton, Record Mirror (Music Week), 26.9.92
'Fast becoming an anthem after only a few days on import, this excellent single finds Simon Law repeating his 'Long Hot Summer Night' (J.T. Taylor) production style on a breezy two-stepper full of class. Meandering strings interweave between a humming bass line and crisp, lazy rhythm track. Chante's sutler lead and backing vocals ooze sweetest soul on a track that's sensitive on the ear yet kicking on the dancefloor... '. – Ralph Tee, Record Mirror (Music Week), 26.9.92
'Just ahead of the album and tour comes the UK release of Simon Law's rough street beat that was deservedly massive on import last year. Pure drum and bass with a dirty backbeat beneath Moore's smooth vocal, Raw mid-tempo soul, and worth the sweat'. – Bob Jones, Record Mirror (Music Week), 6.3.93
'Lovely sinuous two-stepper in the 86.3bpm import mix huge here last autumn… '. – James Hamilton, Record Mirror (Music Week), 20.3.93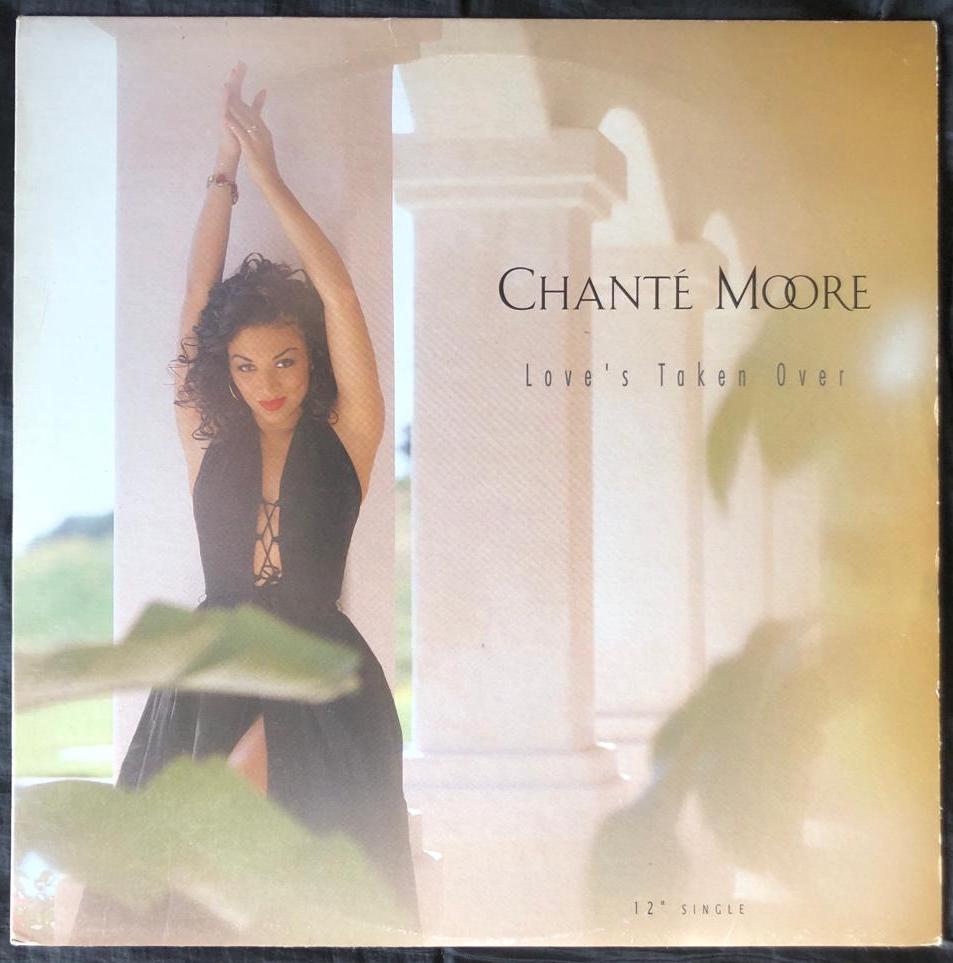 ---
01.50.45
SIMPLY RED – Holding Back The Years * – 7″ – Elektra – 1985
Easy to suggest it in hindsight – but I still will – Hucknall's earlier, 1982 version of this (then trading as The Frantic Elevators) was always a great(er) pop tune in the making… as reflective as its tone is.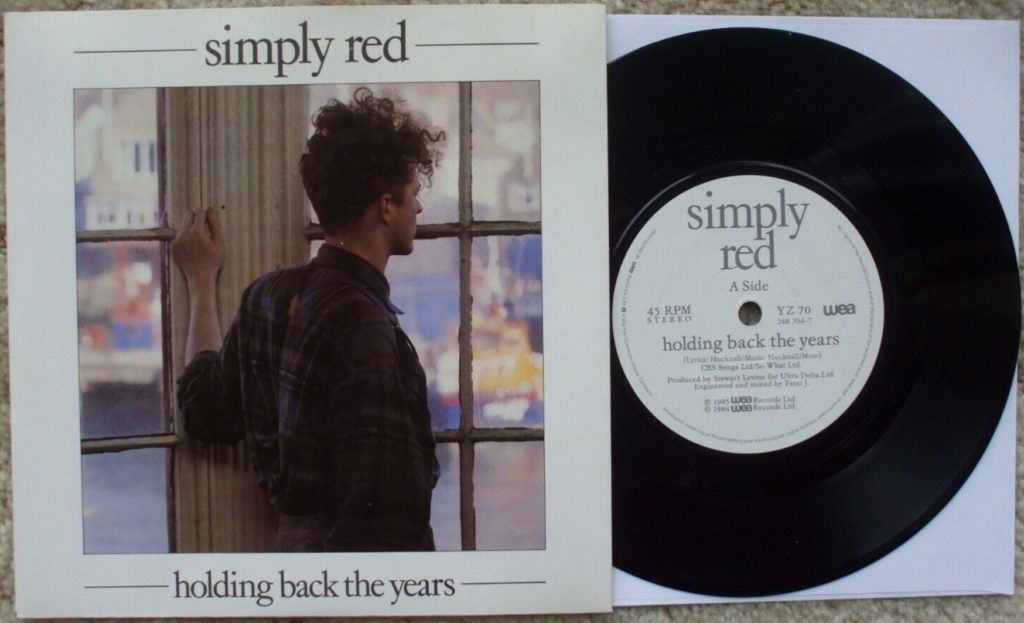 ---
01.54.59
DIONNE WARWICKE – Move Me No Mountain – 7″ b-side – Warner Brothers – 1975
It's easy to lose sight of the fact that artists noted for their emergence in the '60s were still well capable of making great music further on, even if getting it noticed got harder. Somewhere on the UK promotion of the single, We'll Burn Our Bridges Behind Us UK press and radio tastemakers and buzz builders must have done their bit by flipping it over – as this track went from the b-side to a separate pressing as the A-side. The correct move.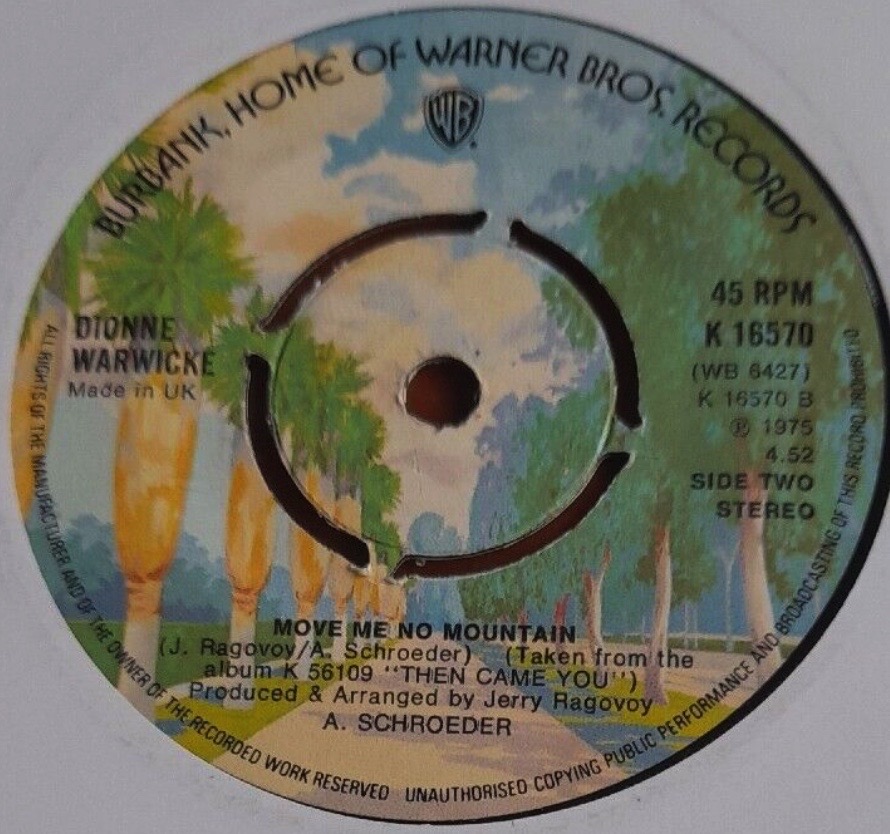 ---
Show 117 uploads on July 2.
Dec