PLAYLIST 71
Uploaded September 1, 2019
Playlist 71 is 79% vinyl friendly! Not bad.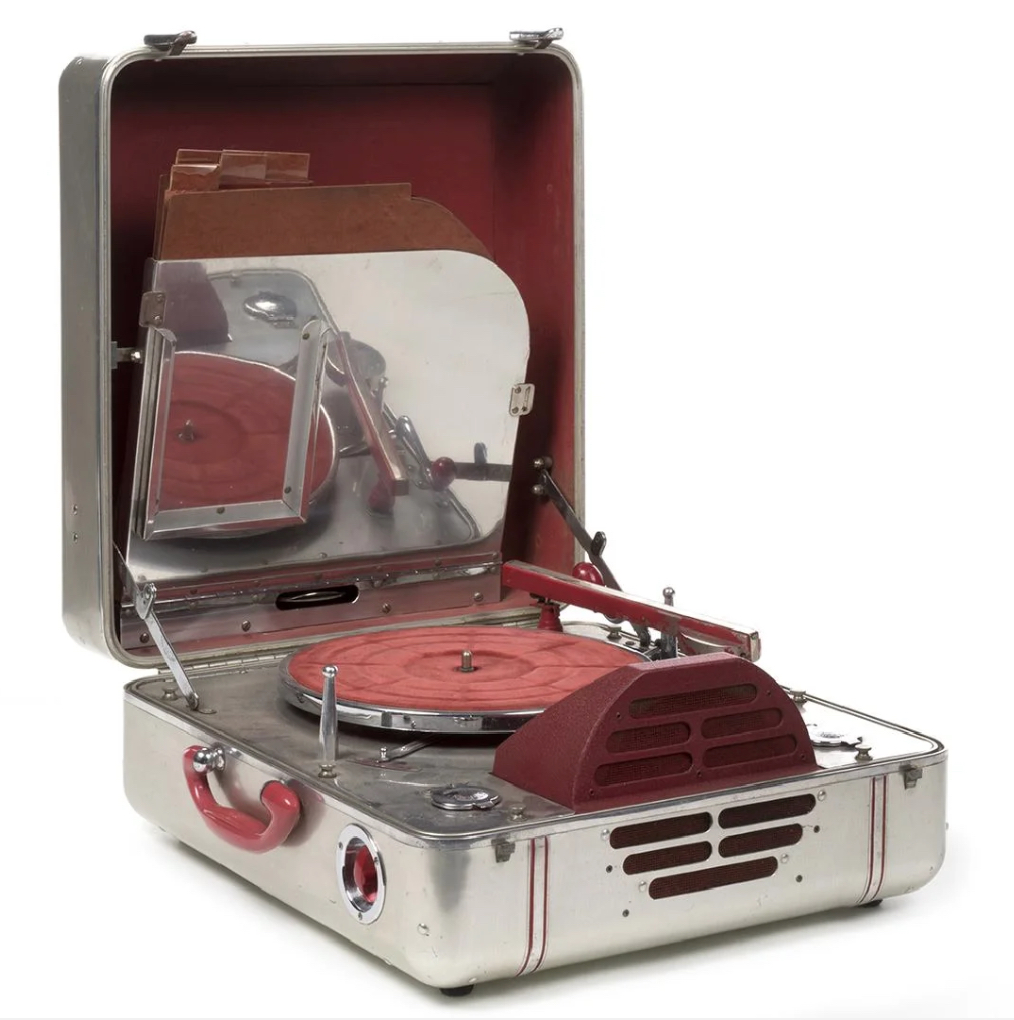 In a museum here and there, and maybe $2000 if one crops up on the open market, a late 30's John Vassos design for RCA. As you might guess, 78RPMs only. So, should you get to be near one, keep any Joy Division acetates well clear of it.
Tracks marked * have been given either a tiny or a slightly larger 41 Rooms 'tweak'/edit/chop/etc.
Lyric of Playlist 71….
It might have to be with Mr Frank.
---
00.00
(Intro) THE FLAMINGOS – Stars (Edit) – Unreleased demo – 1983 Episode #1 for info.
---
00.41
NEW ORDER – Special – Republic, LP – London Records – 1993
Ironically, just a month before the album's release in June '93 the band played their first gig in nearly four years at Dublin's Peace Festival. Peace, however, was far from the state of play as the demise of Factory, the problems with their Hacienda nightclub and their own personal falling out meant that fourteen gigs and this album would pretty much sum up New Order for nearly a decade. They could still write wonderful music, though.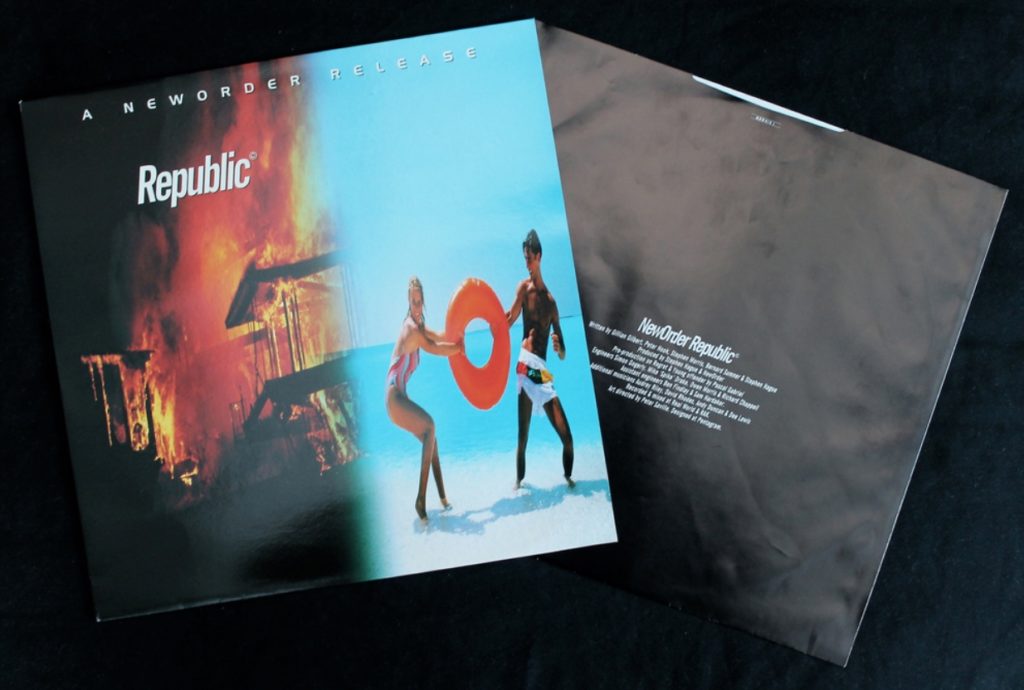 ---
05.15
ORANJ SON – Embargo Night – Soundcloud stream only…
Looking from a distance, I get the feeling these lads want to do things a bit differently. Four years on and they've yet to release anything other than a download… and their site home page suggests as much/little.

---
10.12
ACT – Snobbery & Decay – 7″ – ZTT – 1987
The flamboyant decadence of the times airbrushed, care of Propoganda's Claudia Brücken and Thomas Leer, with the latter a long way from what he's up to now. See below.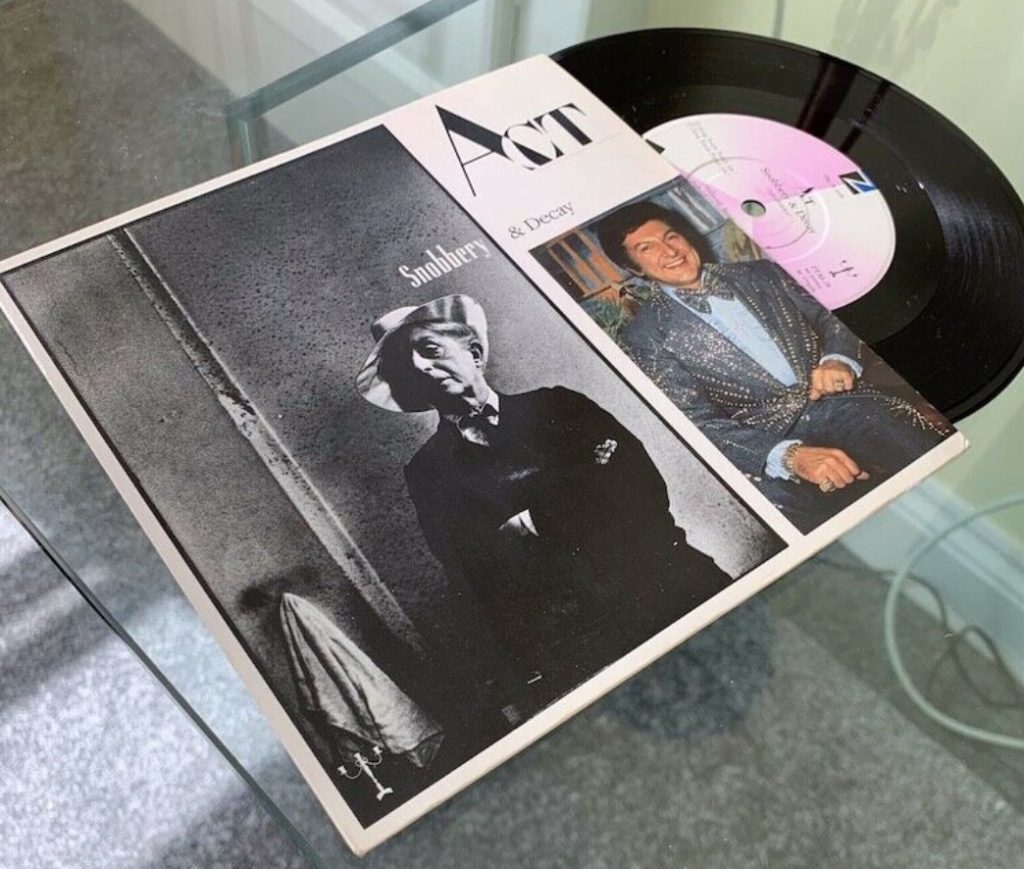 ---
14.58
THOMAS LEER – 'Men, Women and Children… ' – Live at Beacon Arts Centre, Greenock: 12.10.18 – Youtube only.
It's been a very long (three decades?) path to get himself into a live gig situation but this one – fittingly a backdrop to a 'Port To A Bridge' Thomas Leer and Robert Rental Exhibition – is one of at least two Leer has performed in the last year or so and moving forward, hopefully there'll be others, as I'd really like to catch him at some point. At this point sadly, no vocals but it would be a great shame if he progresses to more live performances and he didn't get that rich vocal back into play.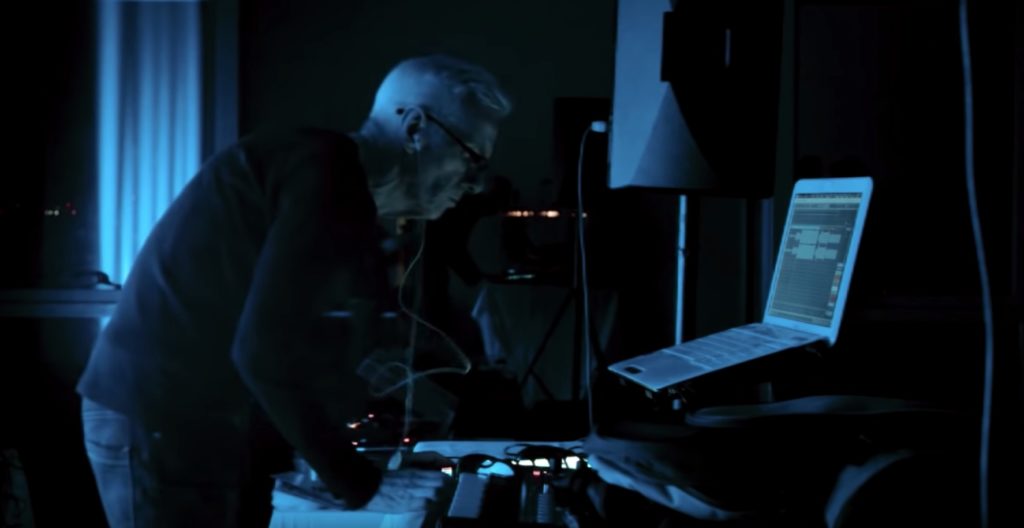 ---
20.46
CABARET VOLTAIRE – Sleepwalking (Peel session, 22.10.84)
Given the quality of the studio's producers and engineers and the speed at which they and artists had to come up with the goods (3-4 tracks in a matter of hours), John Peel sessions were gold dust if your favourite band managed to secure one. More a very carefully controlled live gig than an album in the making, this session take of Sleepwalking is from the second of only two the Cabs did for Peel.
The poster for the second of my two Cabs Bedford Boys' Club promotions, just a couple of months before the above session.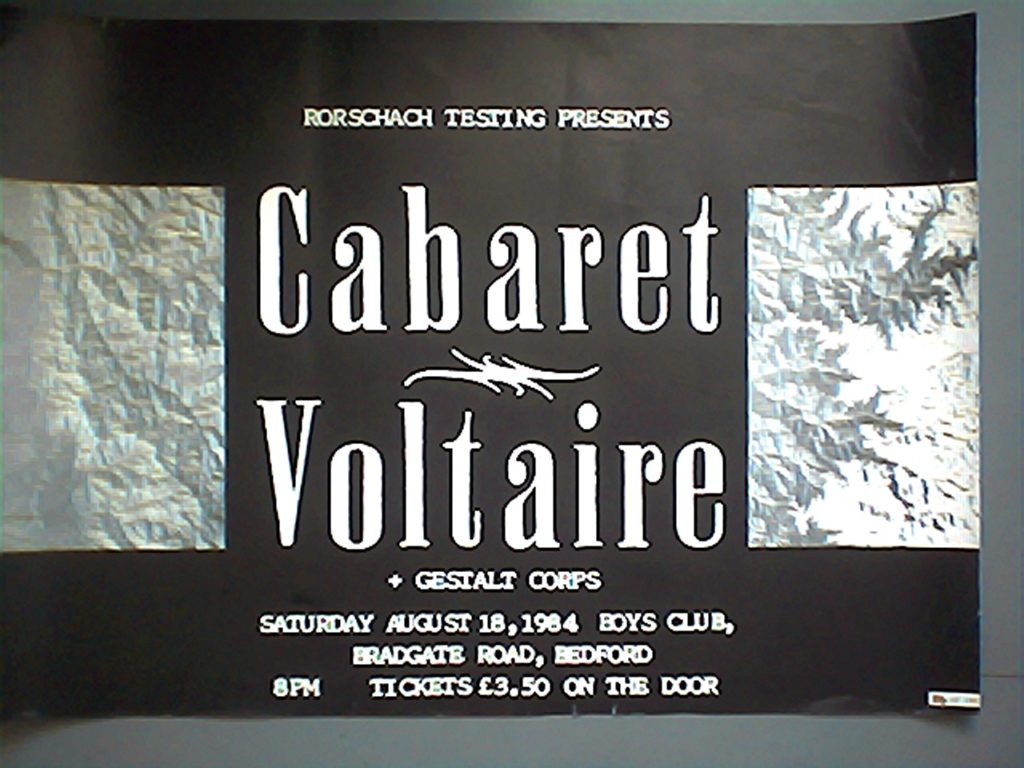 and Mal at said gig. Photo credit unknown.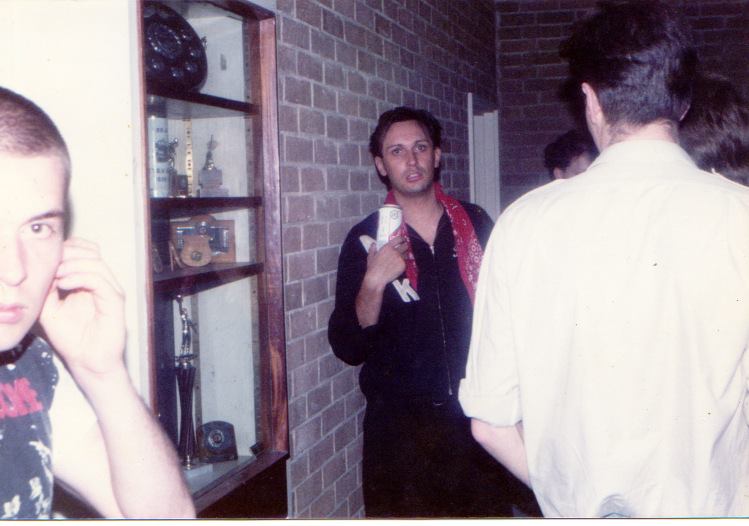 ---
26.18
HEAVEN 17 – (We Don't Need This) Fascist Groove Thang – Live, at London's Abbey Road studios, for the Beeb – 2010
A great version, and at your leisure you can search out the vid to this recording on Youtuuube. Glen Gregory may look a tad smug but on this evidence they've made the near four decade leap from a studio only project to a great sounding live act.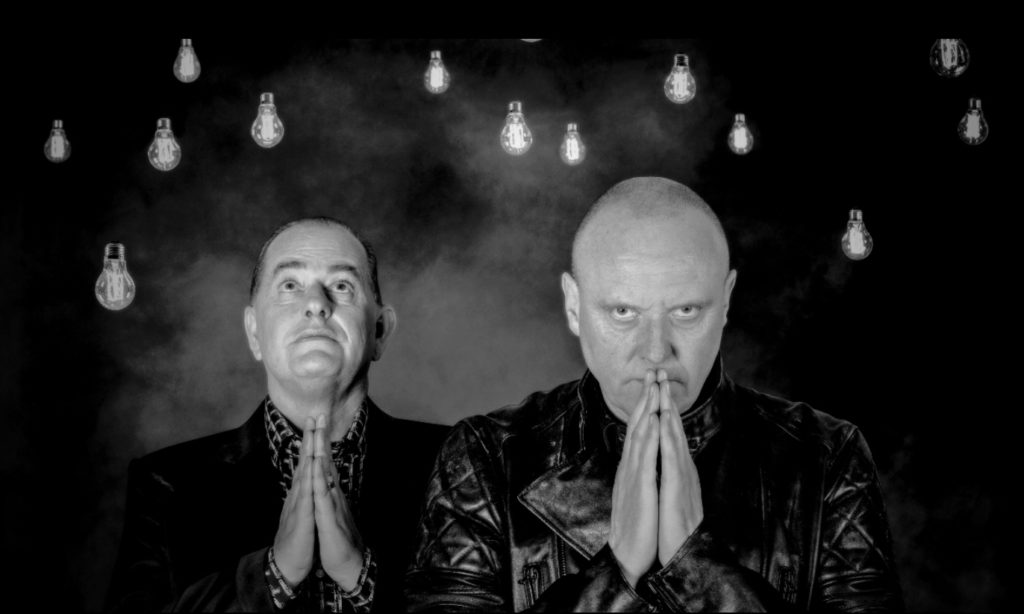 ---
30.32
HOT (bleedin') GOSSIP (!!!!!) – Soul Warfare – 7″ – Dindisc – 1982
There must be some mistake? No but rest easy. I'm confident this is the only time this dance troupe will be turning out for 41 Rooms but I do have a big soft spot for the 'tentative' vocals of one Kim Leeson on this – all helped mightily by having the Heaven 17/BEF lads on production duties. The very rare combination here of cute and funky.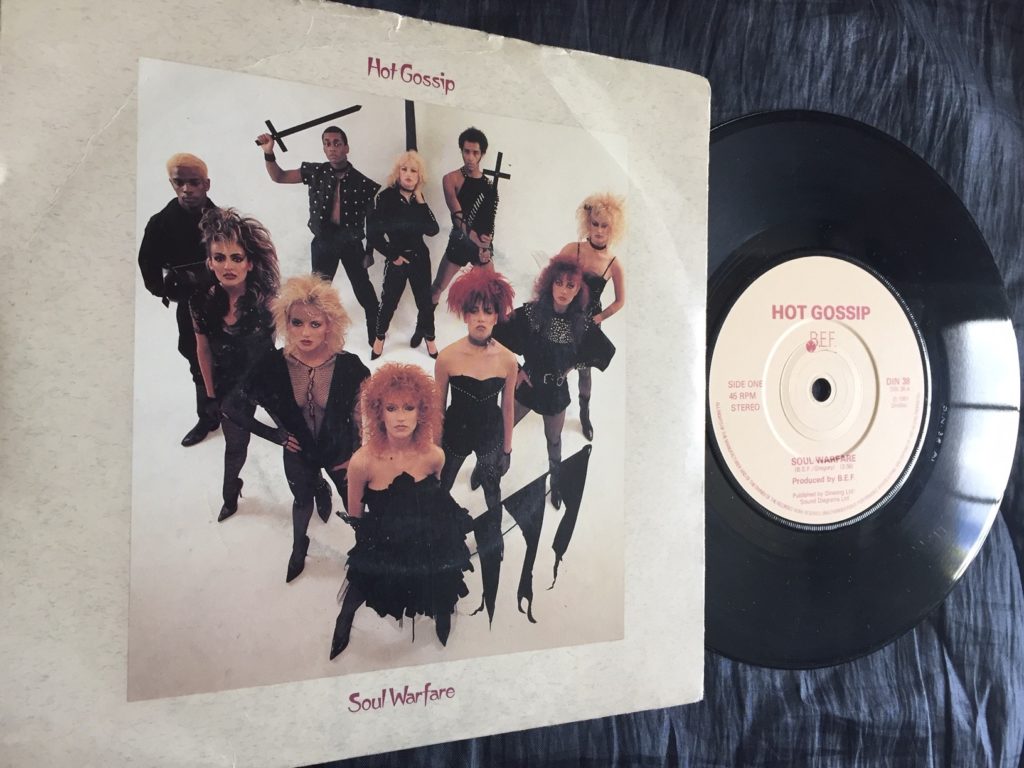 ---
34.14
CORTEX – Mary et Jeff – Troupeau Bleu, LP… or the Mary Et Jeff, LP – Disques Espérance – 1975
I just know I'd have little interest in anything else on this album (just as well as an original copy is a very expensive buy) but Steve Cobby recently tagging this track 'proto jazz house' just about nails it.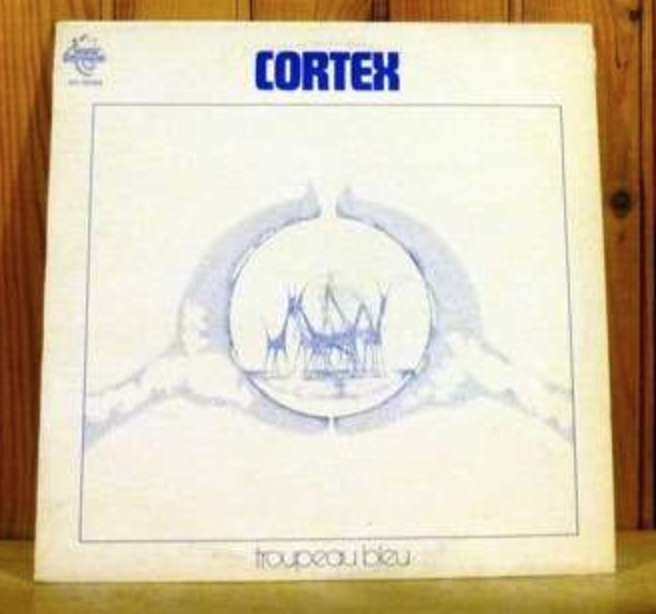 ---
36.54
THE OLIVIER PETERS QUARTET – Full Moon – Wings Of Spring, LP – Village Music – 1980
More 70s-80s jazzers… and when you get a vocal in there (and importantly, one that's not scatting!) you might get my attention. I first heard this in the mid 90s, via Patrick Forge's Cosmic Jam radio show on KISS FM in London and again, I've a strong notion I'd have little interest in most of OPQ's other 'tunes'.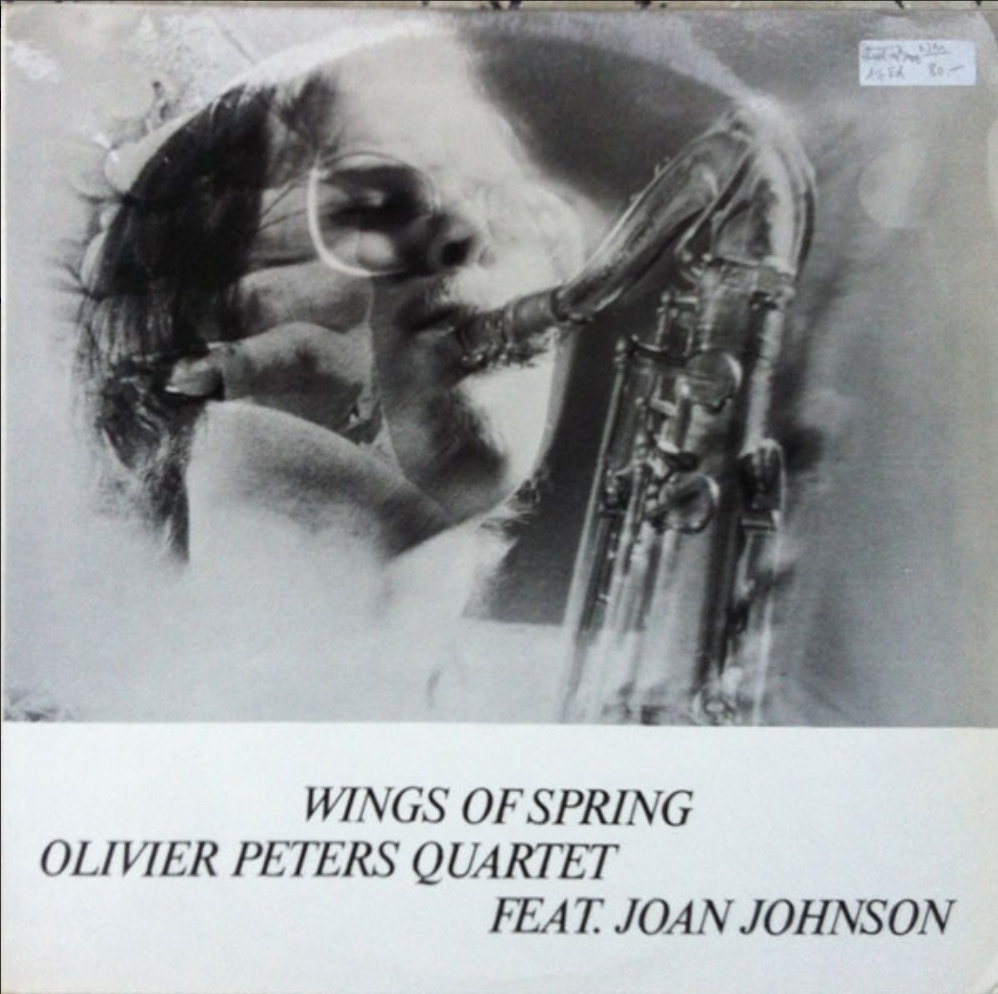 ---
39.36
CADO BELLE – September – The Cado Belle EP, 12″ – Anchor – 1977
It's a semi conscious decision but guitar solos are few and far between on 41 Rooms. The 'geeeetaring' going on here got this track through purely because it bookends a glorious vocal from Maggie Reilly. I saw this lot at Bedford TT (Teachers Training) College in Nov '77 and though I remember nothing of what was just another gigging night at the venue for me the diary does say 'group good'. Watching any old footage of the band now and I'm less than enthralled and online there's a BBC In Concert performance where, criminally, Reilly just scats/doodles through the whole of this track. If the song was in its infancy at the time of that gig I'll let her off but the band's career on vinyl died with this EP, a year before the band themselves split up. A September song for this show's Sept 1 upload, with my copy of the EP, bought at the time (and maybe after the gig?), havin a £1.35 HMV sticker on the inside of the sleeve.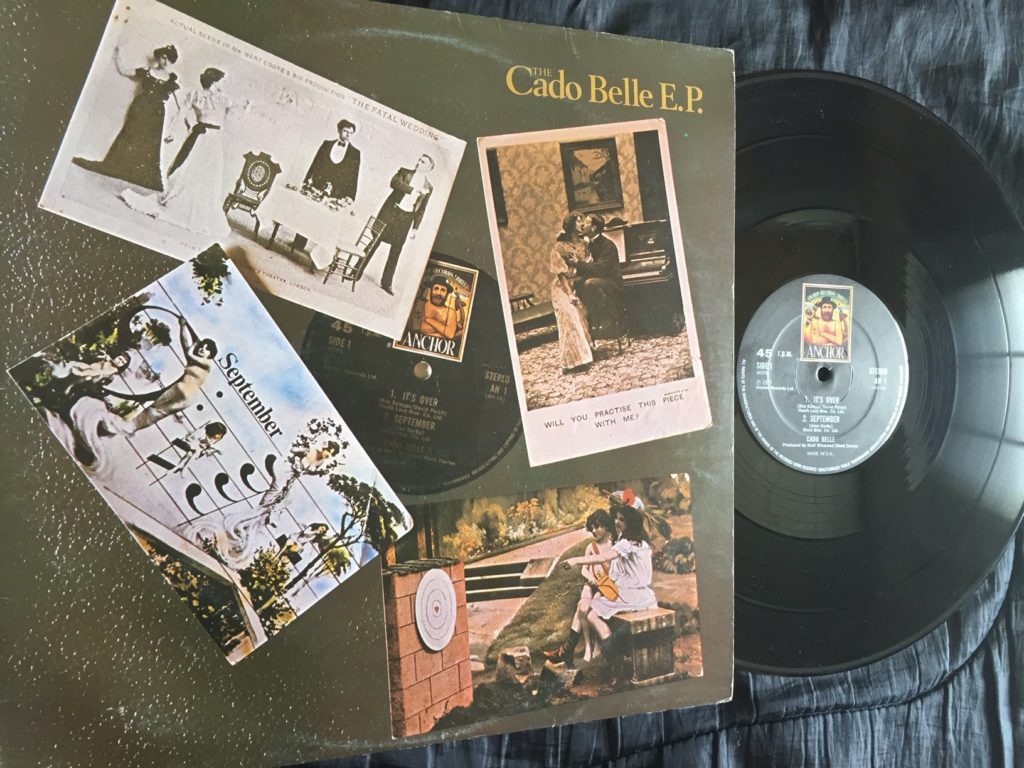 ---
43.02
THE MILK – Never Come Down – Promo only CDr/download – Wah Wah 45s – 2019
Label head honchos, Dom Servini and Adam Scrimshire have been behind these guys for a while. On a 7″ please, if it's OK with everyone involved.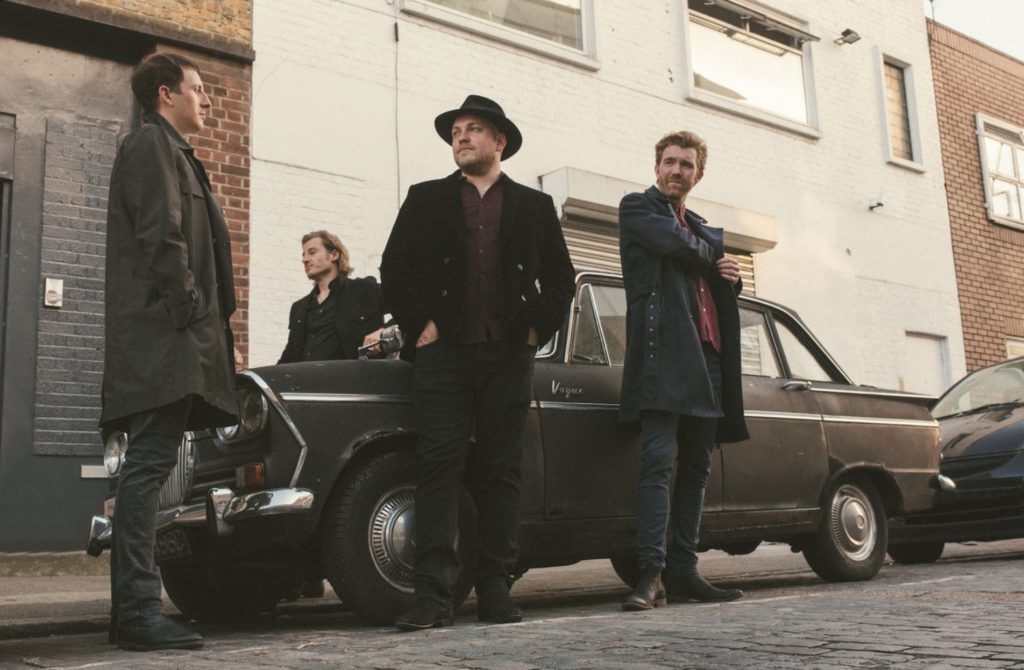 ---
47.17
VICKTOR TAIWÒ – Digital Kids (feat Solomon) – Dear White People (A Netflix Original Series Soundtrack) – Download only – 2017
I first happened on Vicktor Taiwo's music at the beginning of this year and it's only now I've realised this track got picked up for the above series. Some of those sync agents know their stuff and the placing would definitely account for a renewed interest in an (albeit short) career that had seemed from the outside to have stuttered a bit. When he's hit the mark though, he's really hit it.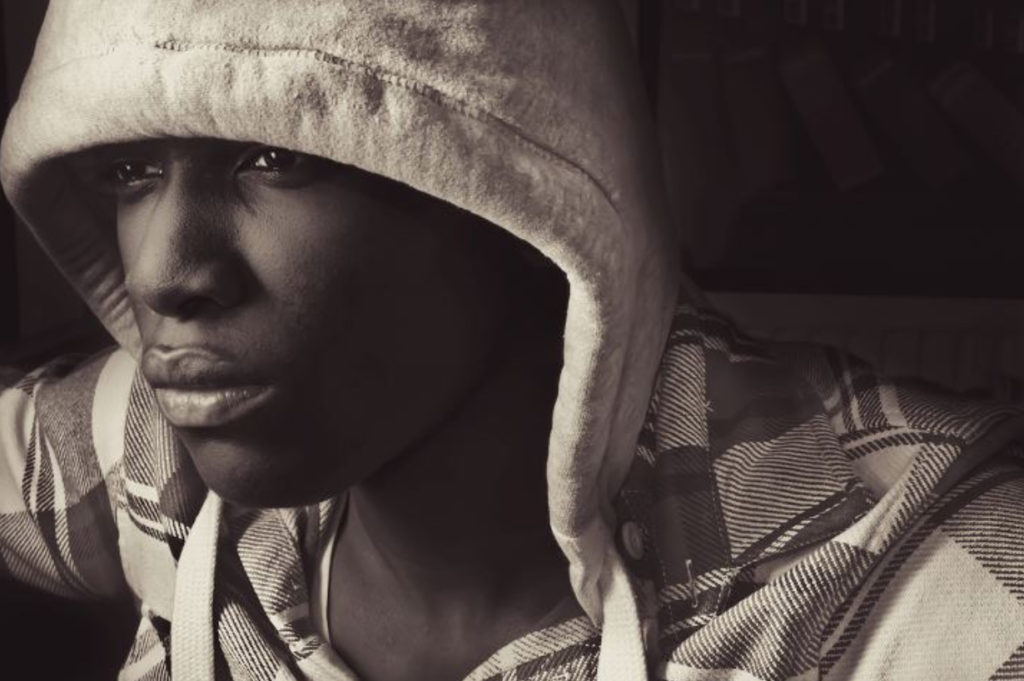 ---
50.41
HOLY STRAYS – Christabell – 7″ – Morning Ritual – 2012
Drummer and composer, Sébastien Forrester playing the perfect game of 21st century sounds on a 7″ and coloured/see through vinyl.
---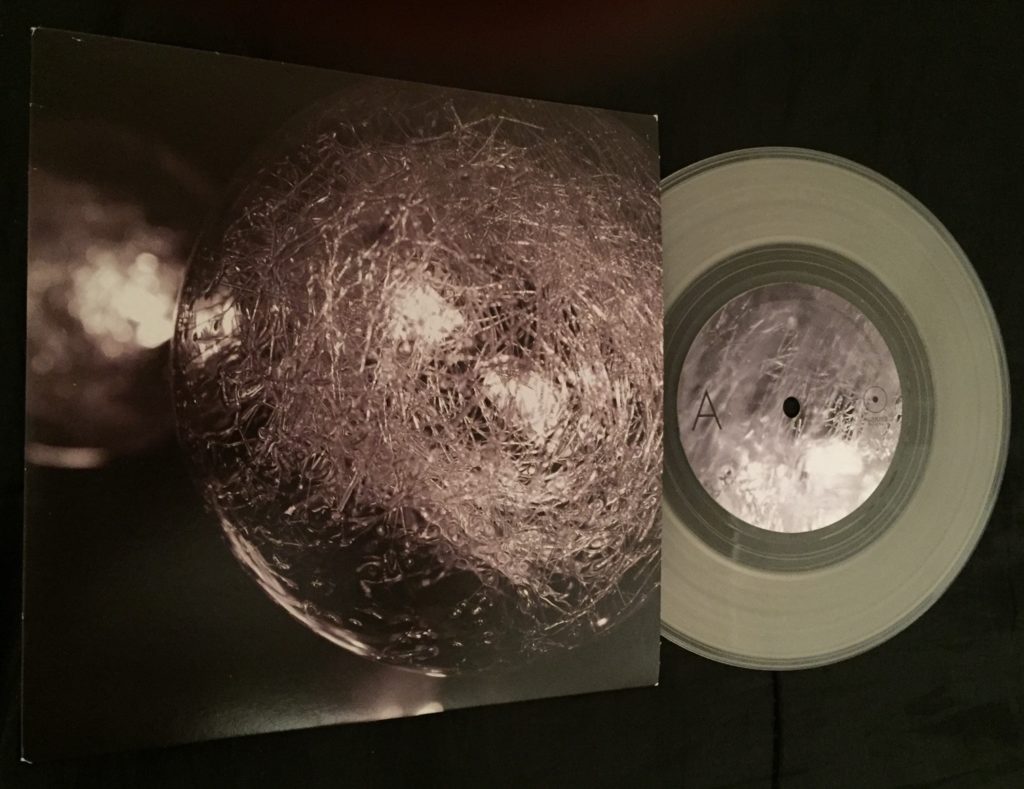 ---
55.51
PRINCE FATTY and HOLLIE COOK – And The Beat Goes On – 7″ – Mr Bongo – 2012
Leaving it to Wikipedia here… 'Hollie Cook is the daughter of Sex Pistols' drummer, Paul Cook. Her mother, Jeni was a backing singer for Culture Club and Boy George is her godfather… ' A bit of an intro to life but this girl's 'tropical pop' (her description) is very fine by me and I remember Robert Elms, via his BBC London radio show, getting on her case early.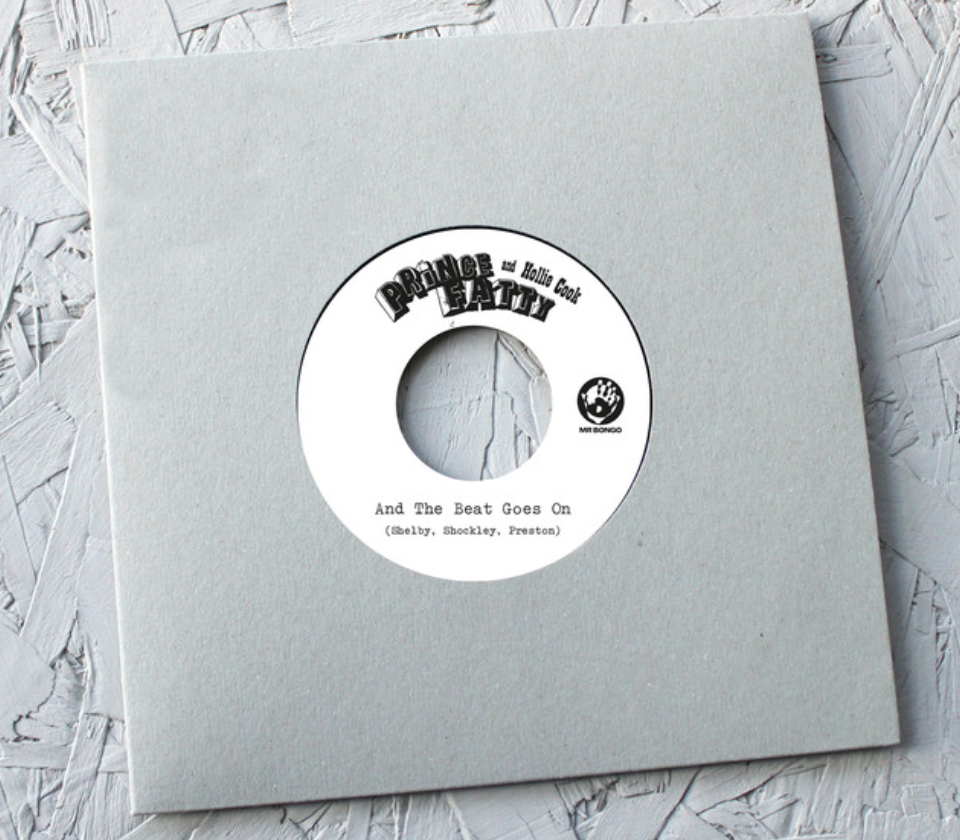 ---
59.18
THE TWINKLE BROTHERS – Africa For The Africans (Album version) – Me No You-You No Me, LP – Twinkle Records – 1981
One for my sis, Yvonne and here's my 12″, bought in the mid 90s in (now gone) On The Beat Records in London's Hanway St. A great haunt but forever really dusty in there, and by the end of a serious session there'd be a layer of grime on your fingers. The war wounds of cratedigging…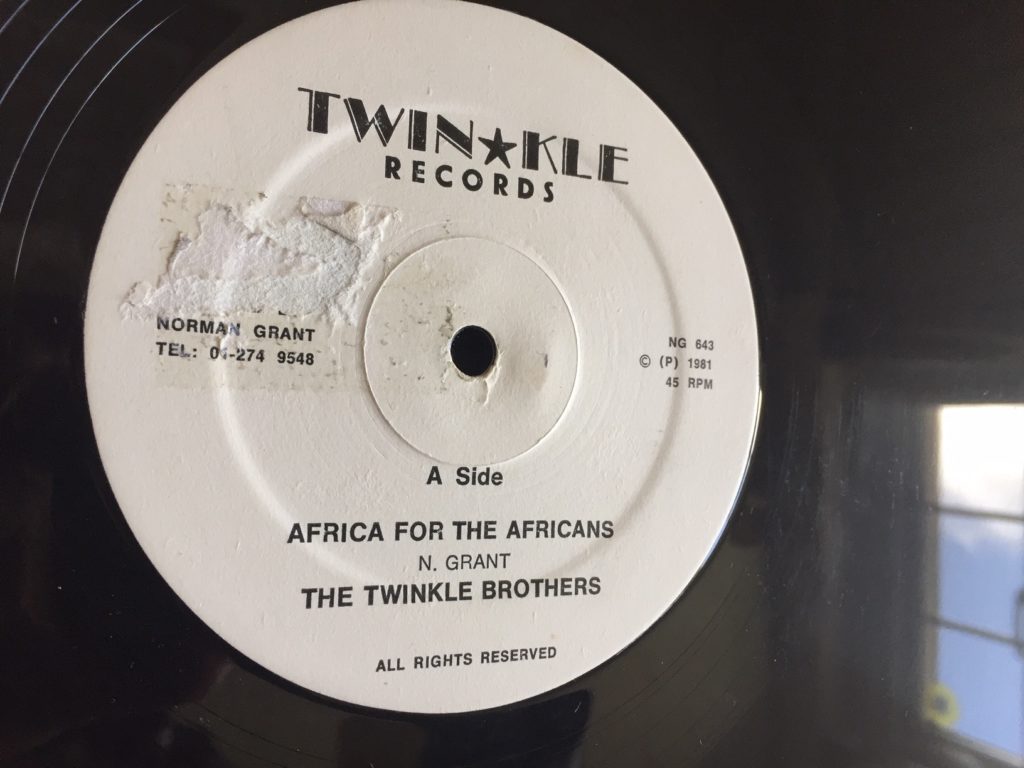 Half time refreshments…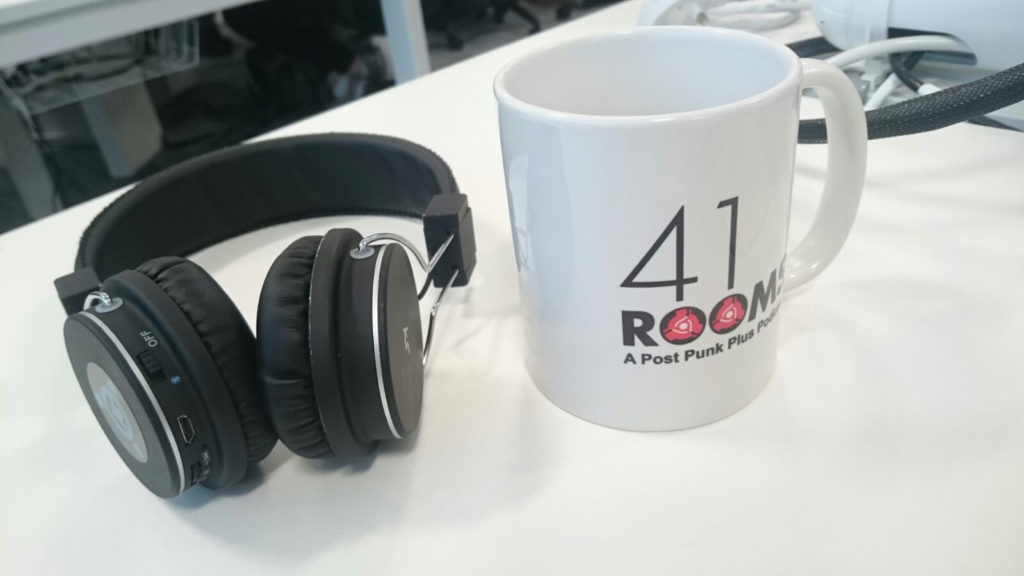 ---
01.02.42
THIRD WORLD – One Cold Vibe – 7″ – Island – 1978
… but along with the rest of the album, blasted from my bedroom on warm summer days in the same year, off the sky blue vinyl version of Journey To Addis. Onwards to my diary for June 23 '79 and after watching them (at the Hammersmith Odeon, I think), I note they were… 'GREAT!!' Not much of a review but it was a one-line-a-day sort of diary.
---
01.07.02
SIOUXSIE AND THE BANSHEES – Hong Kong Garden – 7″ – Polydor – 1978
I don't know how this didn't make it into a Winkles era revival hour in one of the early 41 Rooms shows, as it was a staple play, certainly in our earliest club nights, in 1981. Pop/Post Punk Gold.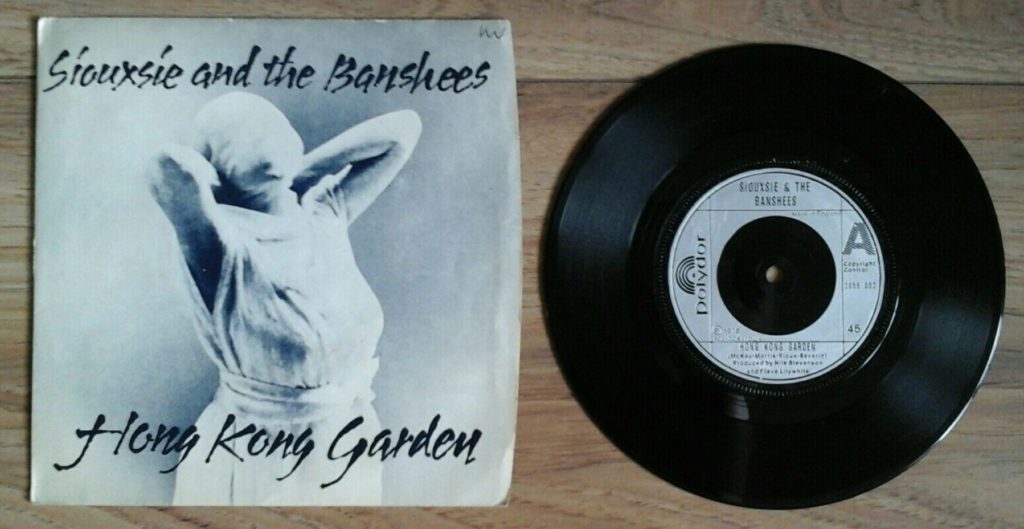 A late 70s/early 80s 83 x 60cm poster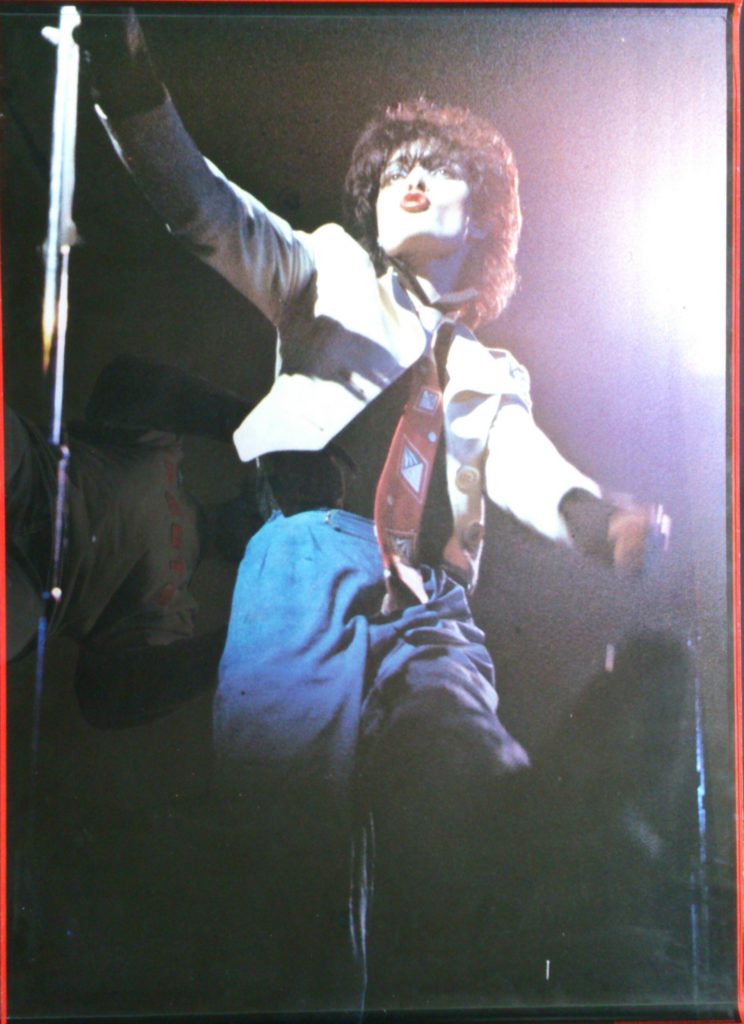 ---
01.09.50
SKELETAL FAMILY – Restless – 12″ – Chrysalis – 1986
From their out and out Goth days via the Red Rhino label and onwards to Chrysalis where a different vocalist and the aim for chartdom lasted just two singles – with this being the first. I imagine however, long standing fans of the band are happier that the SF version back in action after three decades has reinstated their original vocalist. Funny old game… music.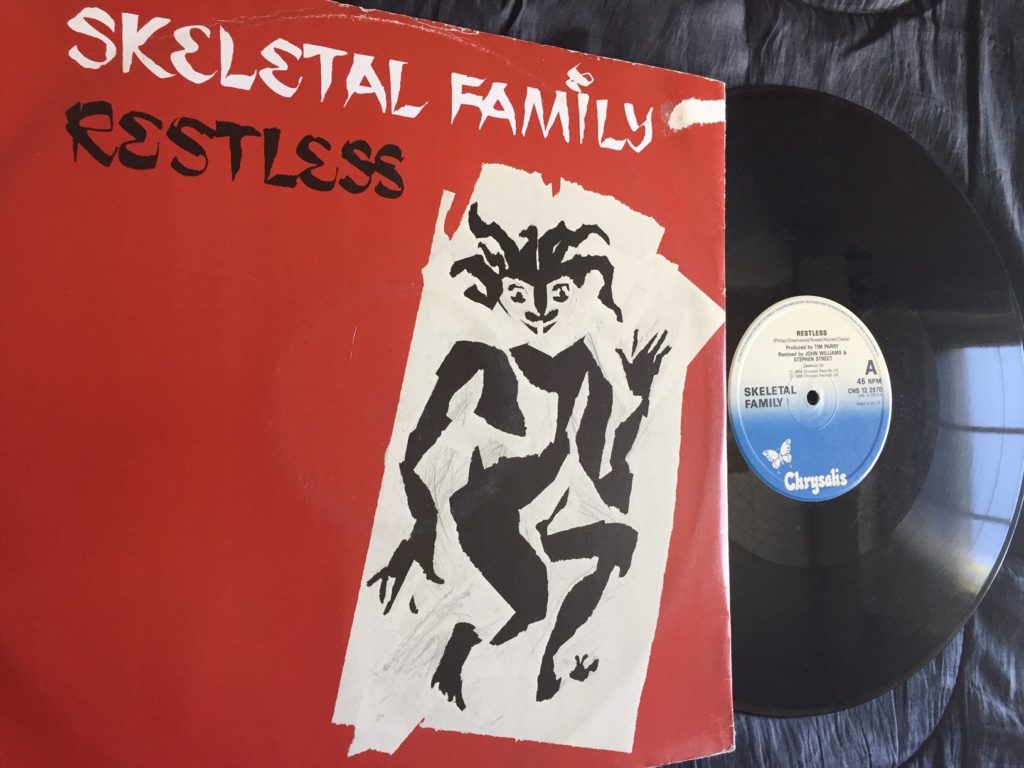 ---
01.13.01
THE BIRTHDAY PARTY – Fears Of Gun – The Bad Seed 12″ EP – 4AD – 1983
If Cave was to sing a dinner menu you'd still sense an undercurrent of apocalyptic turmoil.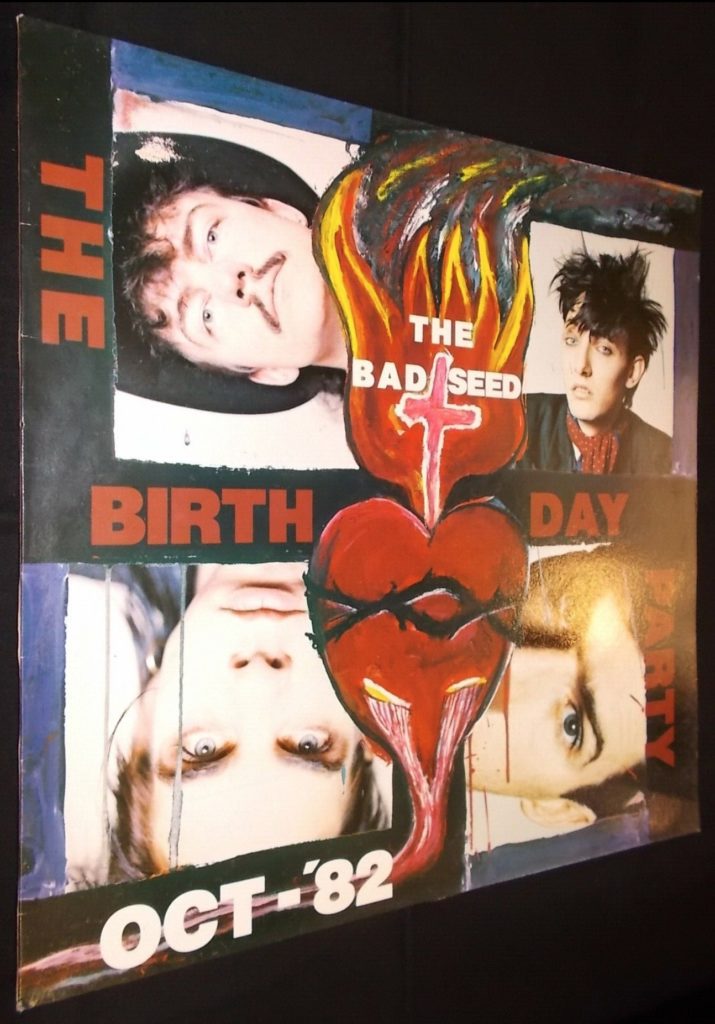 ---
01.16.45
DUB SEX – Instead Of Flowers – The Underneath 12″ EP – Cut Deep – 1988
Yet another eighties band that have resurfaced after decades likely elsewhere involving proper jobs, relationships, kids etc.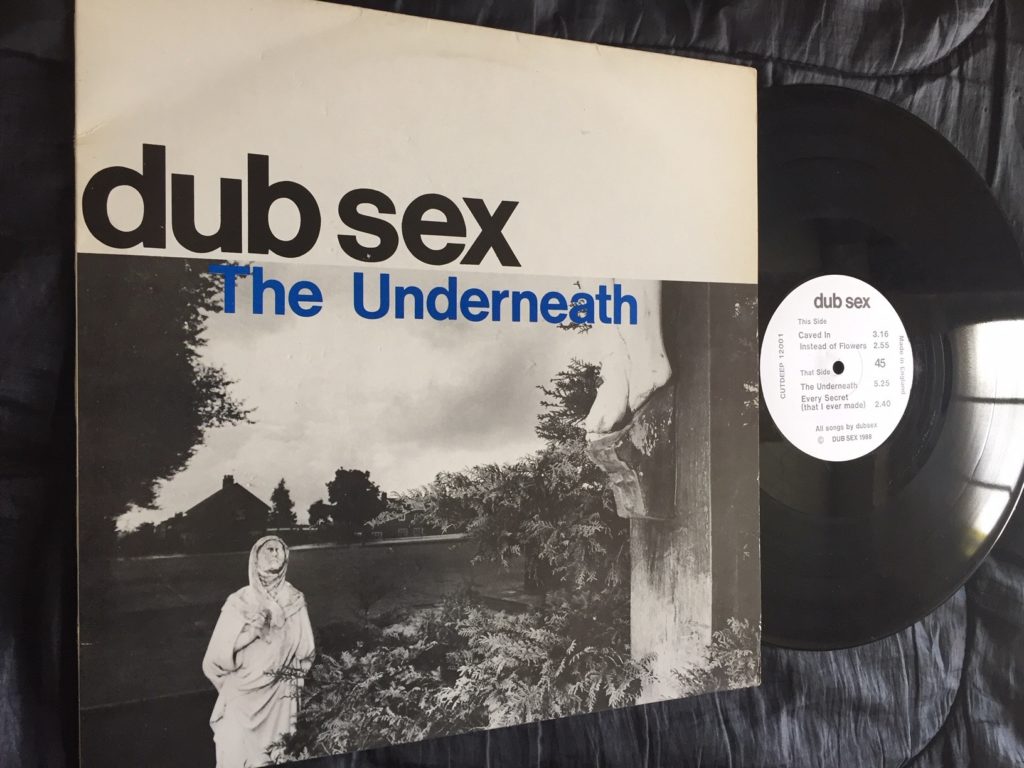 ---
01.19.34
THE KILLS – Love Is A Deserter – 7″ – Domino – 2005
An in yer face/between yer ears chugger.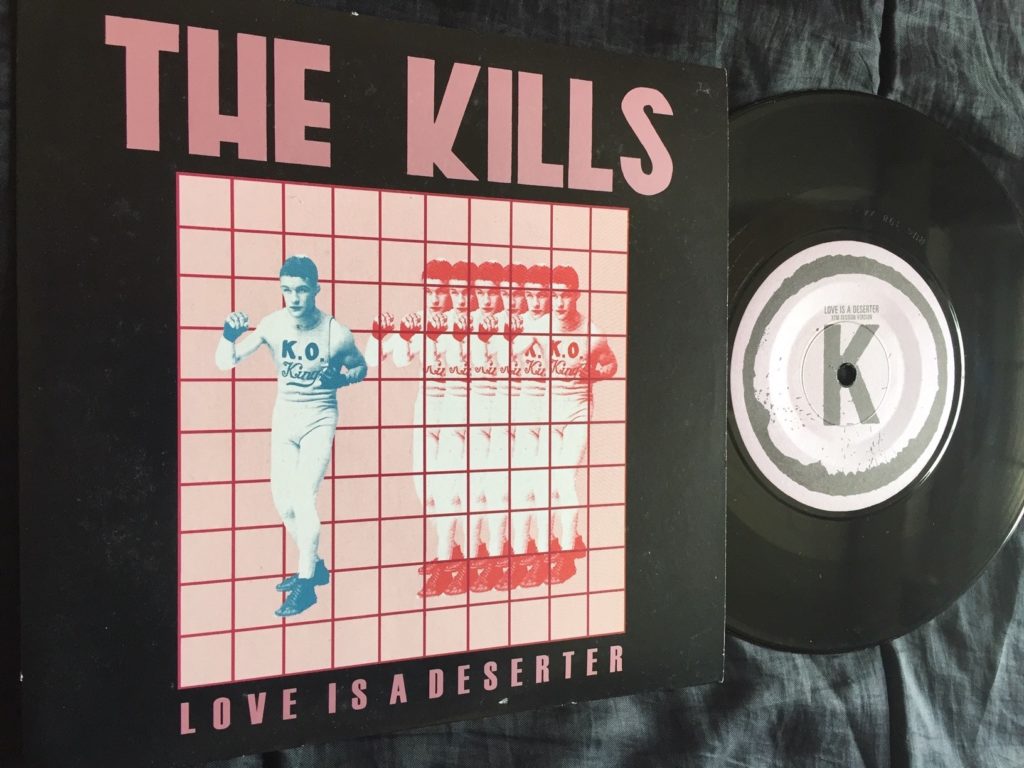 ---
01.23.16
CUD – You're The Boss – The Peel Sessions, 12″ – Strange Fruit – 1987
Front man, Carl Puttnam and his power crooner vocals were always the stand out element here, and the Leeds outfit are another that have, you guessed it, reformed. Their 'breather' was only two plus decades, though. One for my mate, Jem Noble, who used to do their live sound.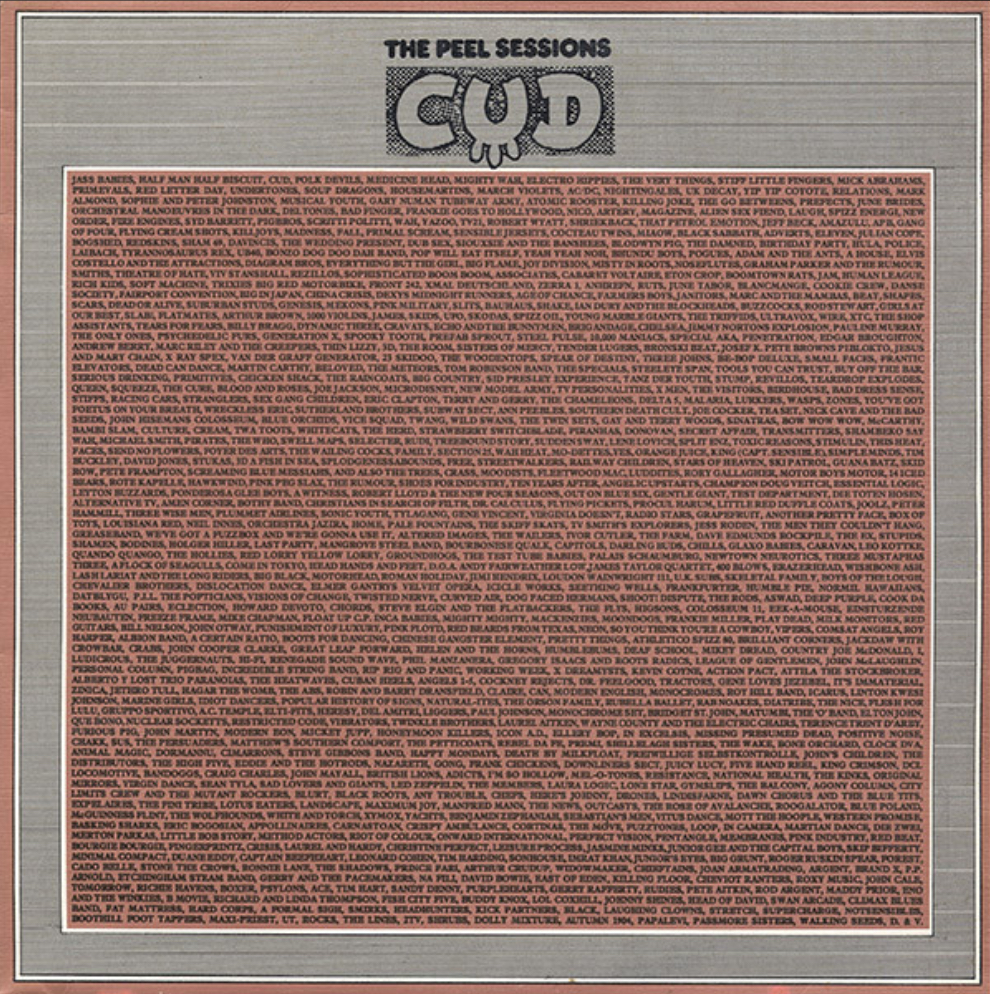 Article, Underground (#9) – Dec, '87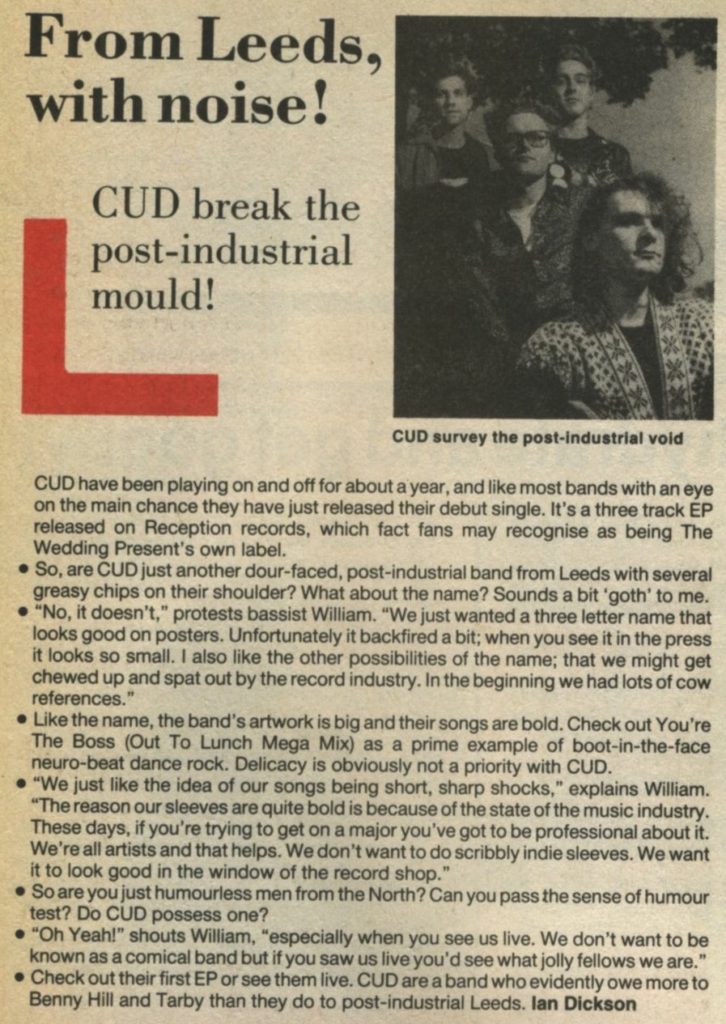 ---
01.25.58
FOLK IMPLOSION – Kingdom Of Lies – One Part Lullaby, 2LP – Domino – 1999
Lou Barlow's nineties home.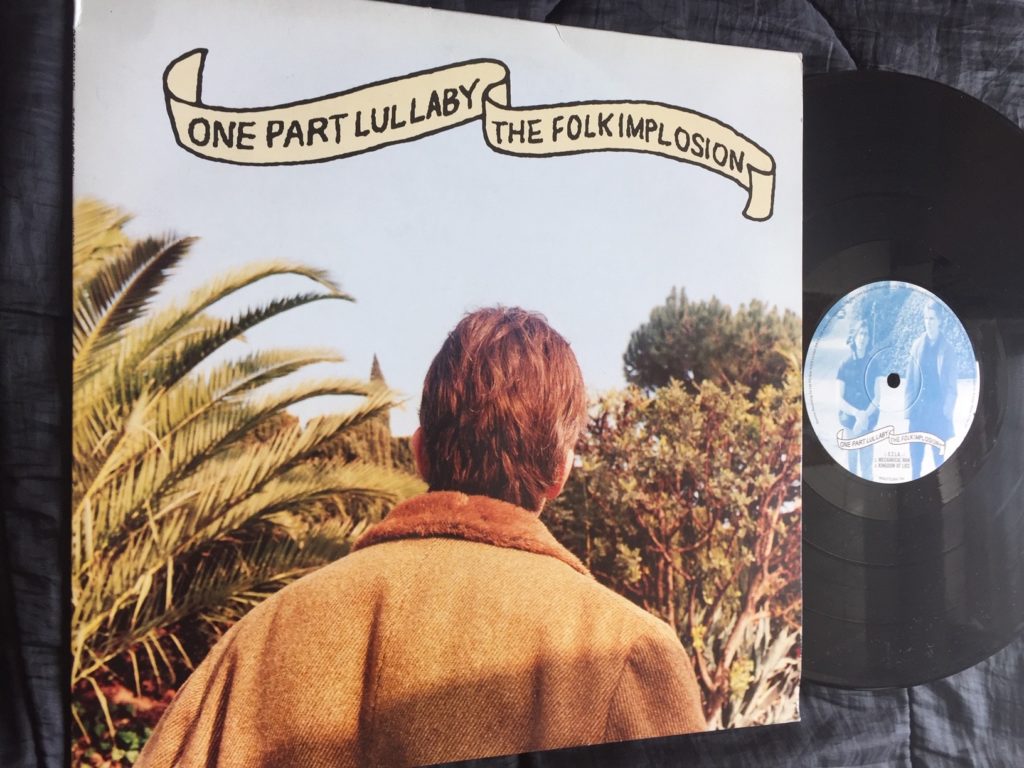 ---
01.29.32
PERCY X versus BLOOD SUGAR – -3 (Magnetic Mix) – 12″ – Soma Quality Recordings – 1995
Glaswegian beats merchant, Anthony Scott MacKinnon messing in a hippety hoppety way with Andrew Weatherall and David Harrow. Exactly how isn't important.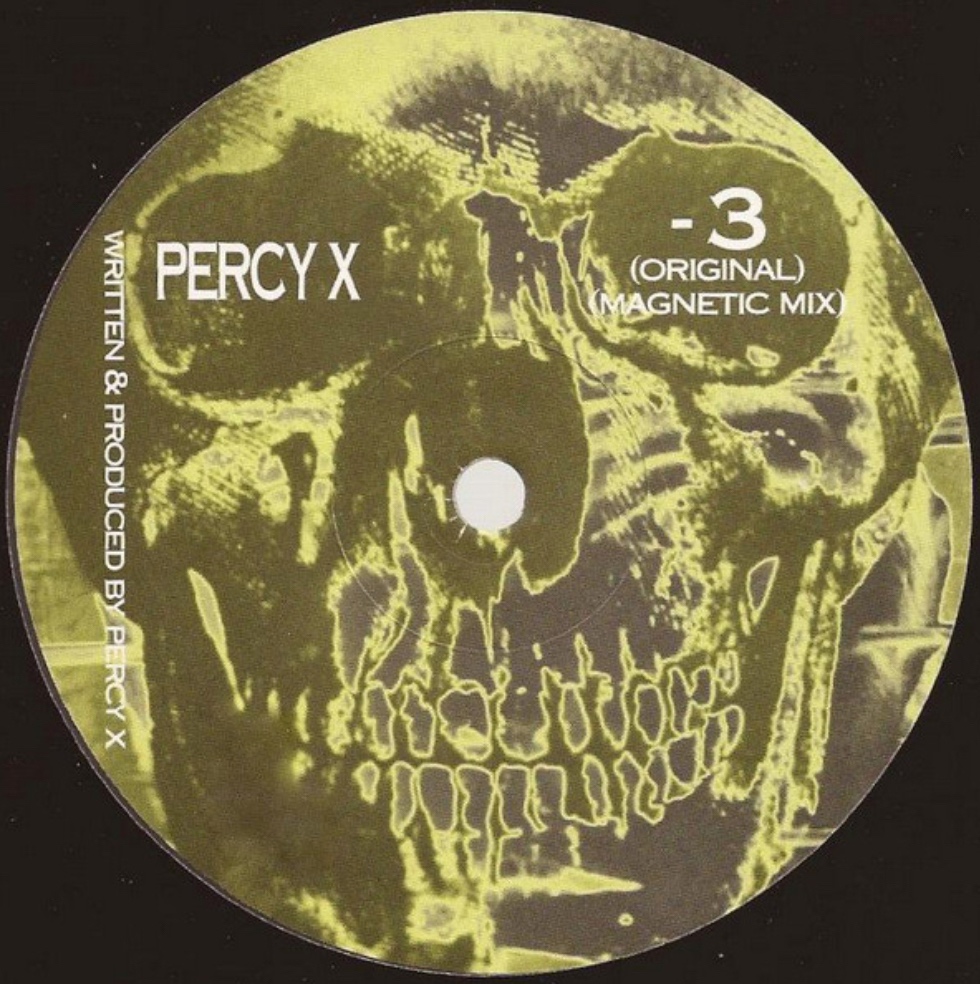 ---
01.34.33
BANDERAS – Nice To Know – 7″ b-side – London Records – 1991
It always surprised me (and maybe their label) how these gals didn't make a bigger mark. Their class pop will be back at 41 Rooms at some point, though.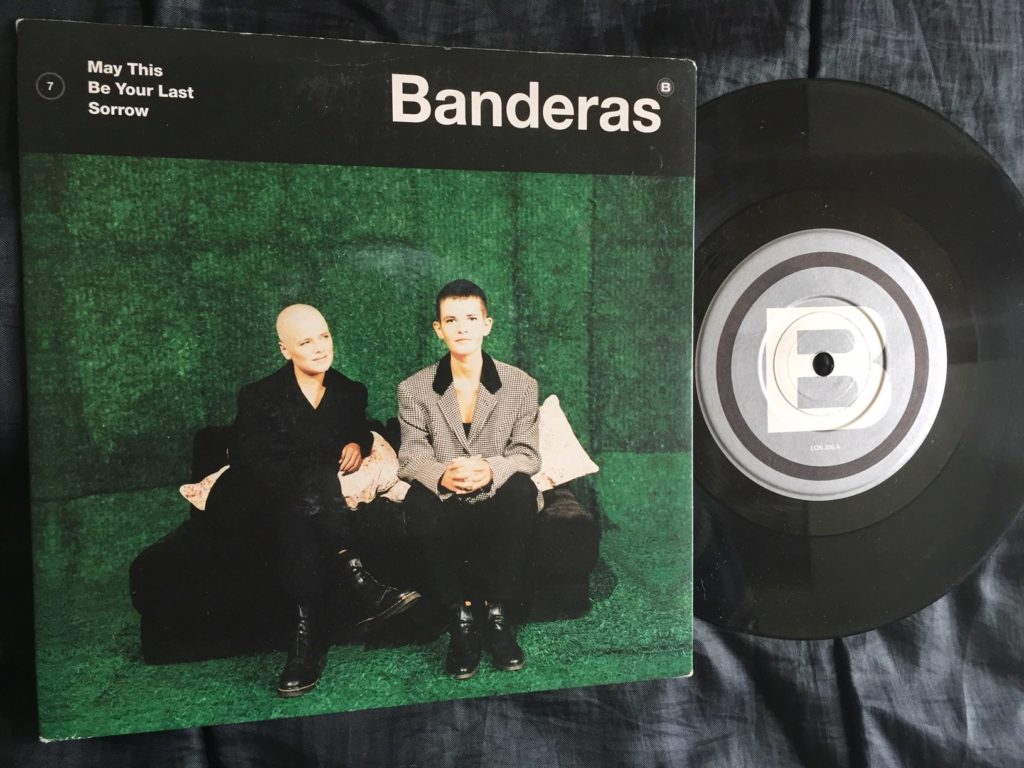 ---
01.39.44
EYELESS IN GAZA – No Noise – Photographs As Memories, LP – Cherry Red – 1980
Ah, I can sonically smell my earliest fascination with EIG right here in these punk-folk-with-beats grooves. If not the first thing I heard from them (their debut 7″ Kodak Ghosts Run Amok via John Peel?) No Noise wouldn't have been far off. The track also featured on Cherry Red's 1982 bargain ('Pay No More Than 99p' on the cover) various artist compilation LP, Pillows & Prayers, which truckloads of us 'alternative' heads bought.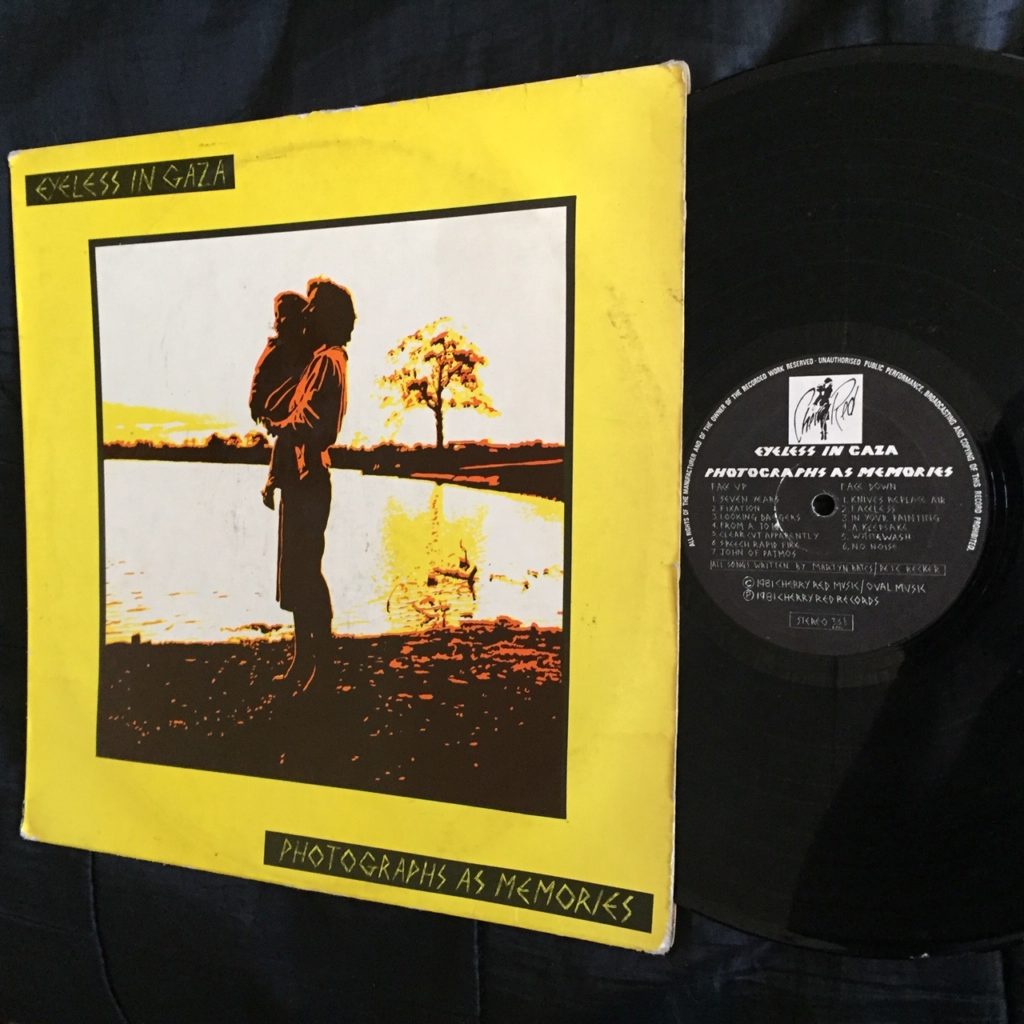 A 1981 gig poster. I wasn't there.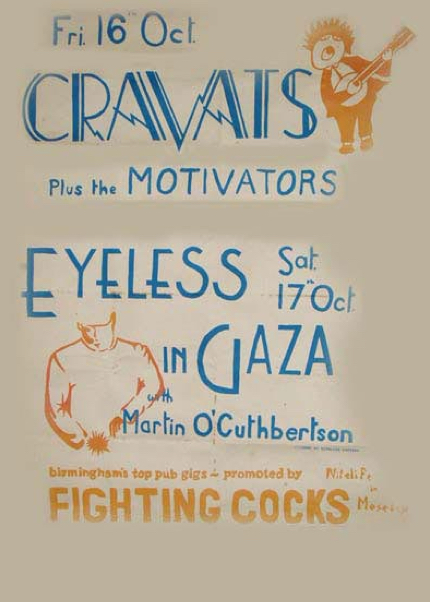 ---
01.42.34
JACKSON C. FRANK – I Want To Be Alone – Self-titled LP – Columbia – 1965
I don't own a copy of the album and nor will I ever. The mental health problems Frank would later suffer put paid to his career and this, his only album, now fetches very big money. Thankfully, a couple of labels have seen fit to re-release this material plus demos, etc over the last few years.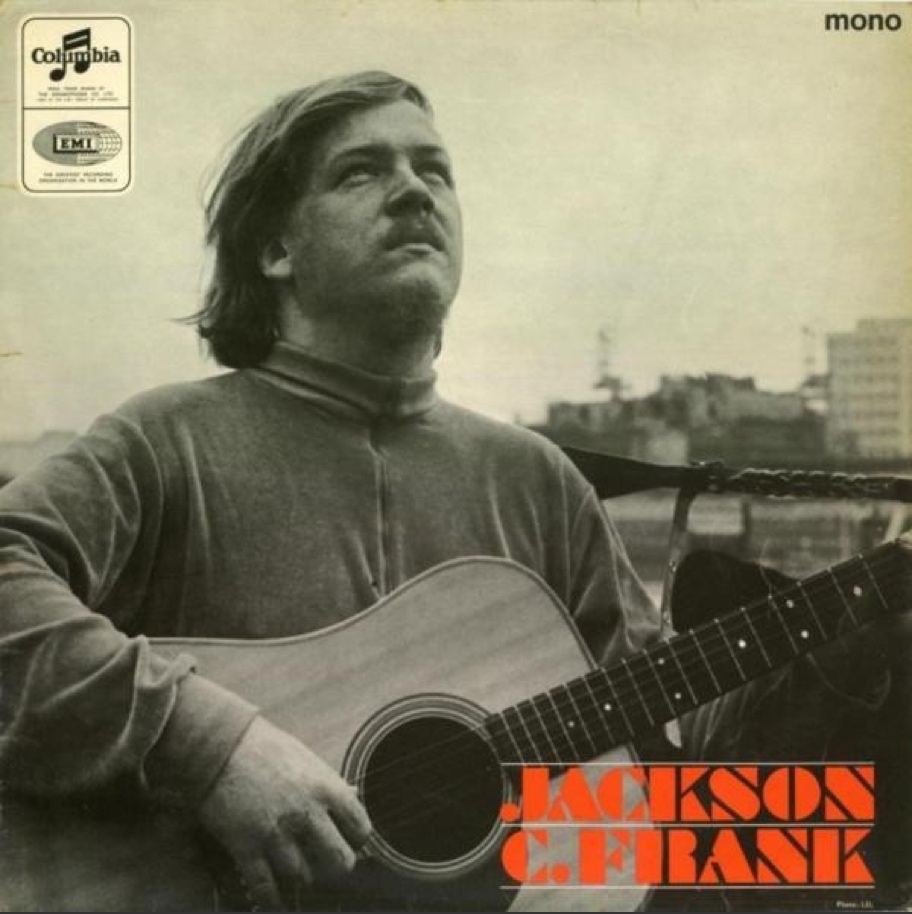 ---
01.45.47
KATHY SMITH – End Of The World * – Some Songs I've Saved, LP – Stormy Forest – 1970
In the nicest possibly way, there was maybe a bit of a 'flower child' about this lady, and there's an 'of the time' promotional 'video' online you just have to check out for the Star Trek type dance troupe. The song has definitely aged better than both them and the video.
---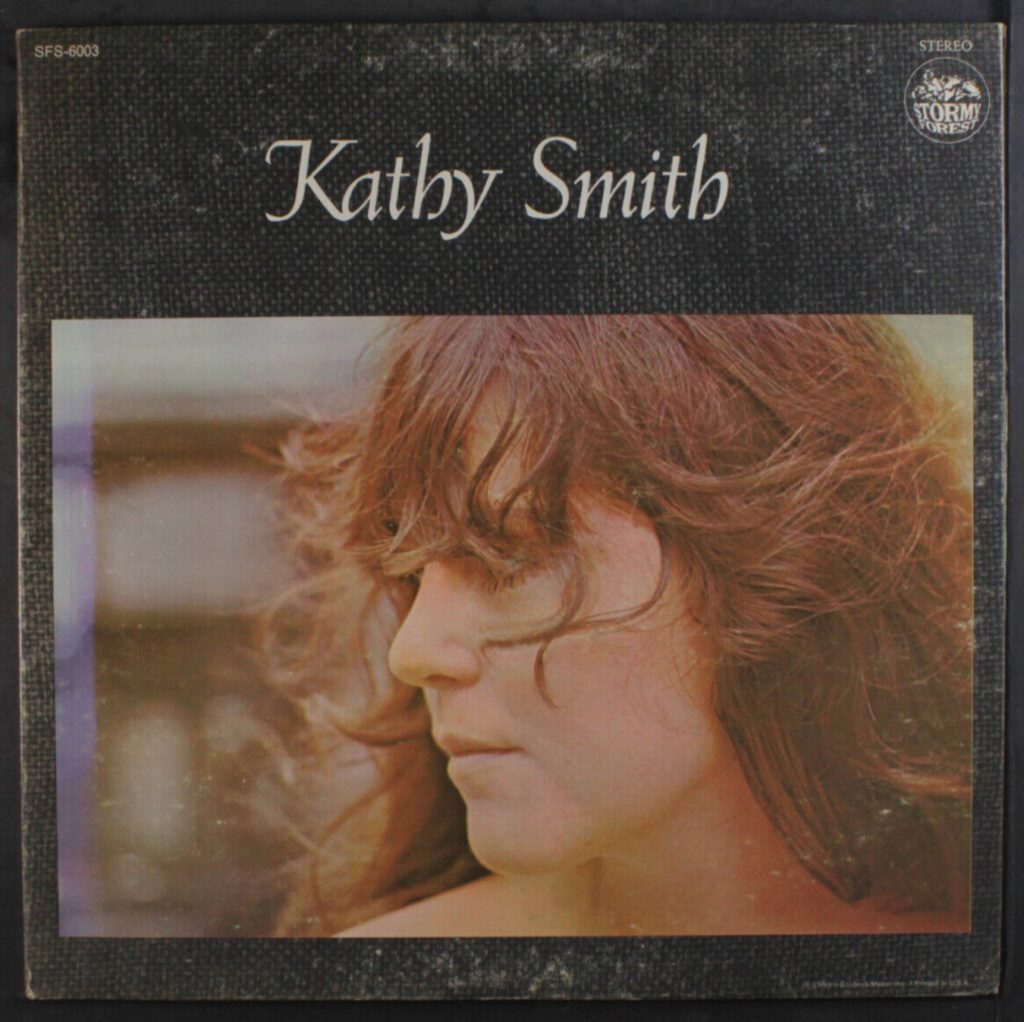 ---
01.51.23
TERRY CALLIER – Dancing Girl – What Color Is Love, LP – Cadet – 1972
I first heard this (and belatedly, of Callier himself) in the early 90s, once again likely via either a Patrick Forge or a Gilles Peterson KISS FM radio show. Having had a career in music in the late 60s-early 70s Callier pretty much retired from that path to a more stable job to put his daughter through college but a new audience brought him back into the limelight. Sadly he's no longer with us but he left a bunch of stunning tunes and this is right up there.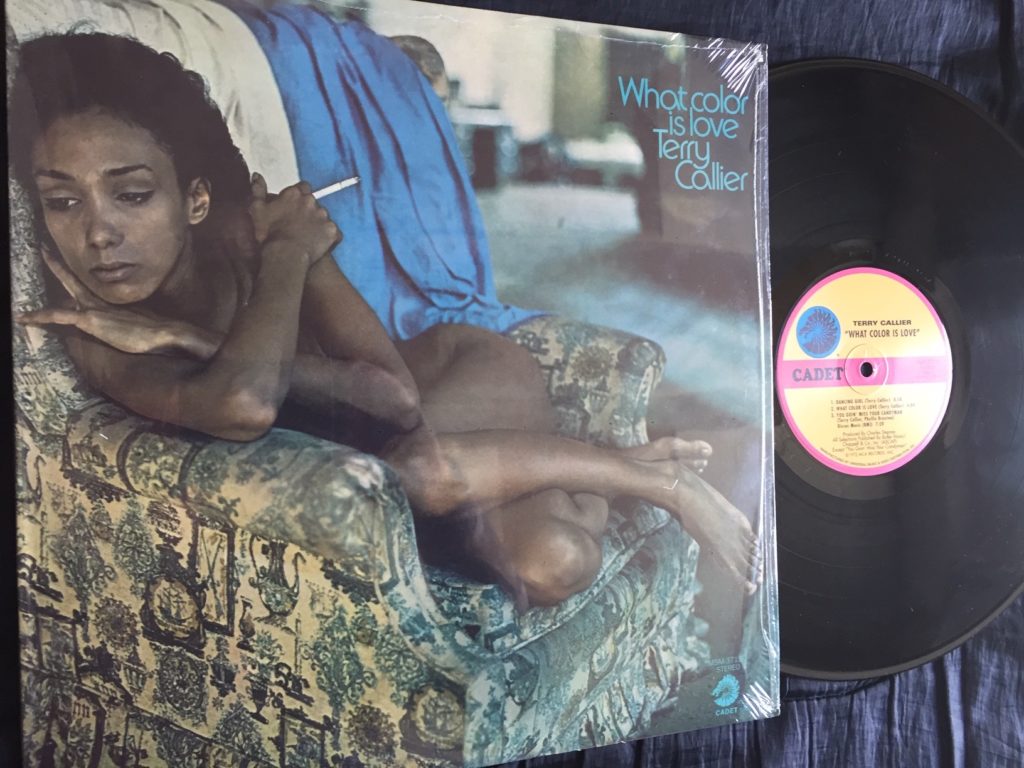 ---
Show 72 will be with you Oct 6.
Dec