PLAYLIST 68
Uploaded June 2, 2019
Playlist 68 is… 77% vinyl friendly! Not bad.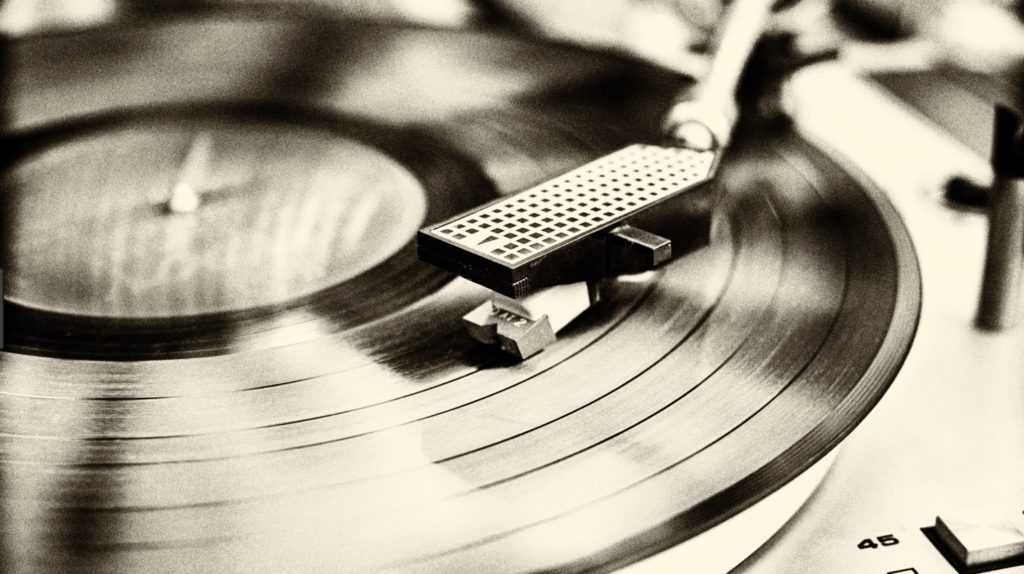 Tracks marked * have been given either a tiny or a slightly larger 41 Rooms 'tweak'/edit/chop/etc.
Lyric of Playlist 68 (includes)
And I feel just like Sigourney Weaver
When she had to kill those aliens…
Ah, we've maybe all been there. Just part of a lyrical journey here, but add to that a song style unlike most others and the award this month goes to Mr Grant!
---
00.00
(Intro) THE FLAMINGOS – Stars (Edit) – Unreleased demo – 1983 Episode #1 for info.
---
00.41
NEW ORDER – Player In The League * – Here To Stay, promo only CD single, extra track – London – 2002
The track never made the final cut for 2001's Get Ready album, nor indeed to ITV's football highlights TV show, The Premiership, for which it was submitted, but here it's a classy single b-side… well, nearly… as it was a promo only. The Australian CD is captured here as visually it's a shade more interesting than the UK 'near' release.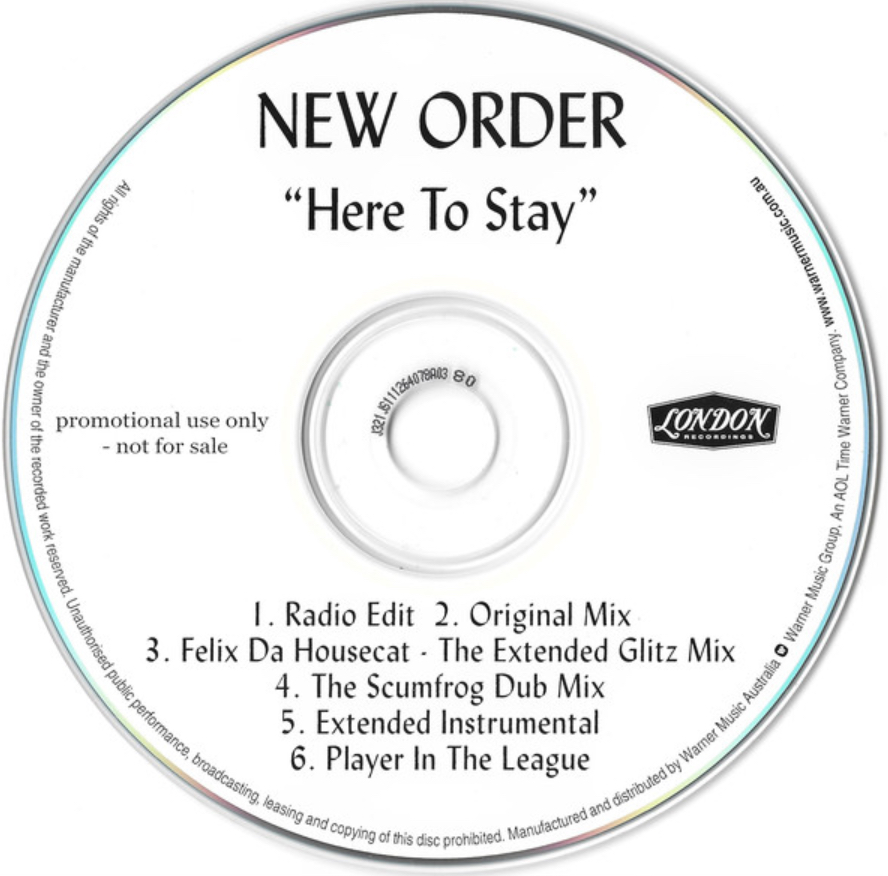 ---
05.59
I AM THE COSMOS – Monochrome – Monochrome, LP – Elastic Witch – 2013
Irish electronica.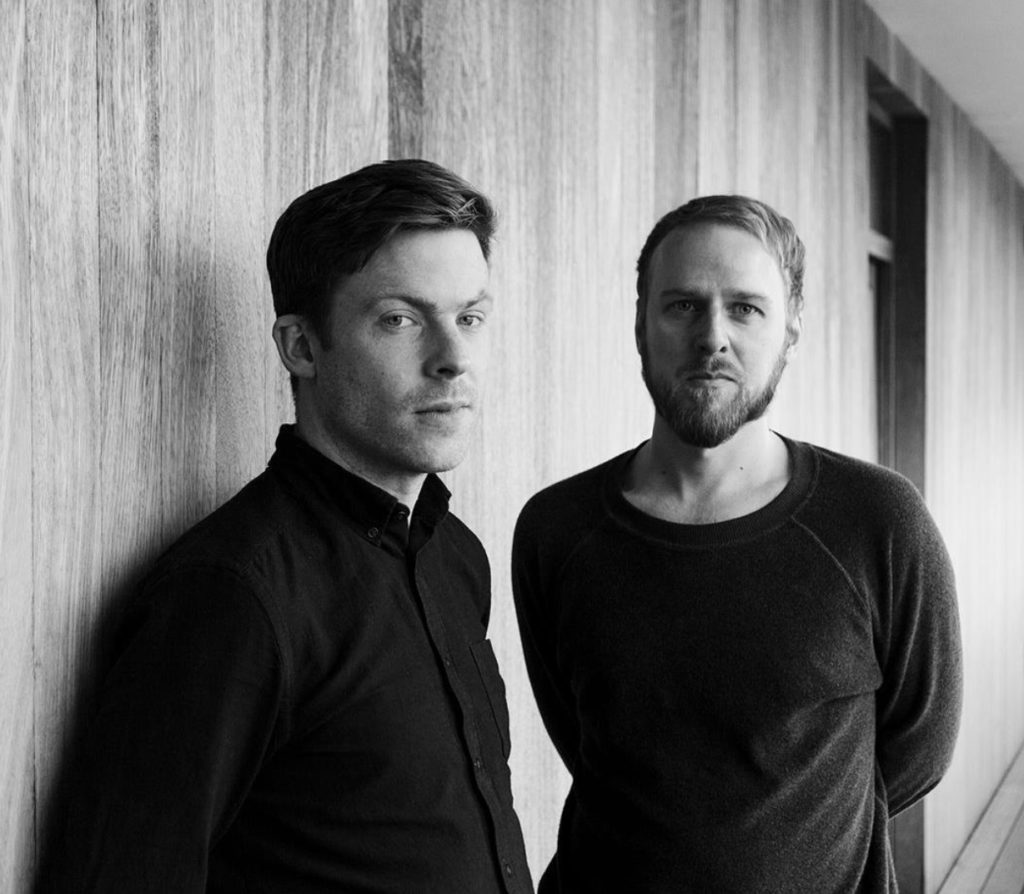 ---
09.50
AXODRY – Save Me – 12″ – Westside Music – 1986
I reckon I'd have passed on this back in the day, and apart from the band's 'look' not helping, that has surely got to be a print cock-up on the band photo. Now? As bombastic as it is (in a later Tears For Fears-type way), from the distance of time the track has some charm.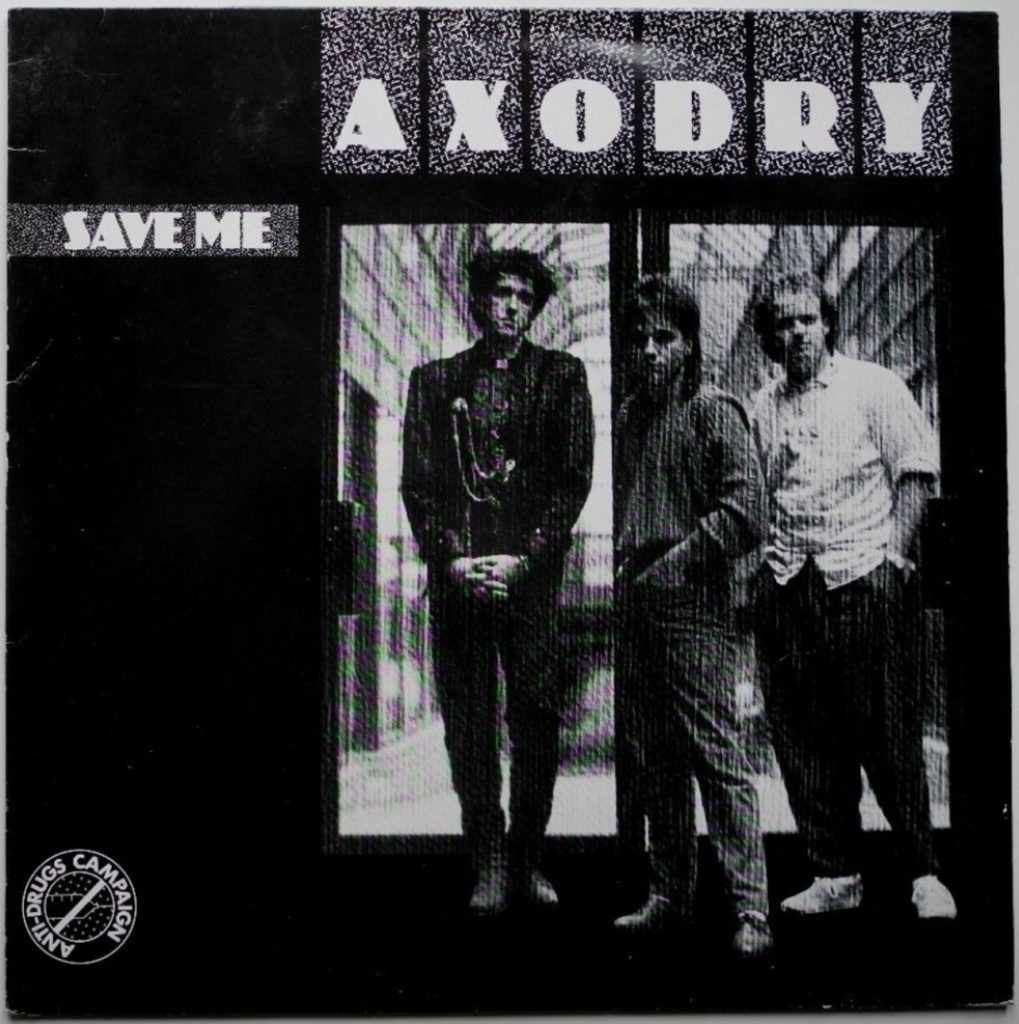 ---
14.58
THEN JERICHO – The Motive (Extended Version) – 12″ – London – 1987
The only TJ track I ever had time for… but I definitely wouldn't have spun it at a Winkles' 'alternative' club night. Mark Shaw looking way too in love with himself wouldn't have helped his chances of some profile from us, either. The sort of tune practically signposting a grand chorus from the off and chiselled for a stadium to sing along to – and in their shortish period in the headlights they must have played one somewhere. I still can't work out how many chorus parts this has got. Bridges… choruses… too confusing. They all sound fine though.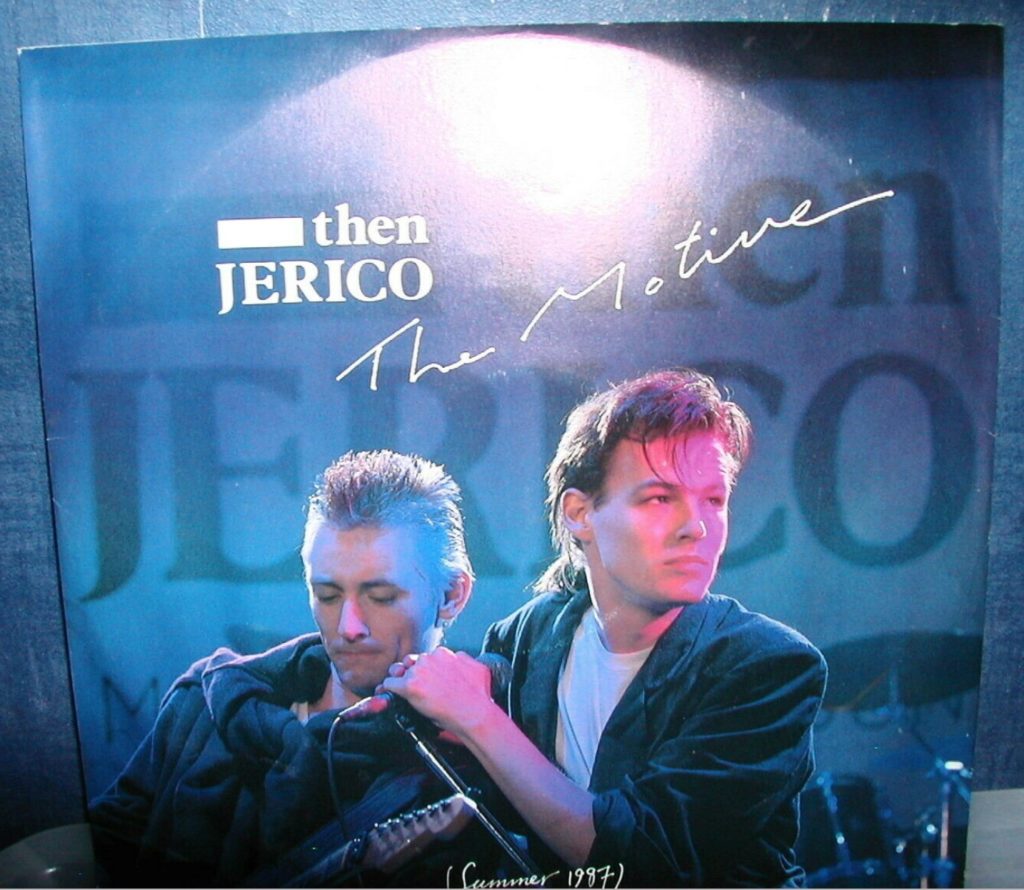 ---
19.47
ROBERT PALMER – You Are In My System (Remix) * – 12″ – Island – 1983
The story goes that Palmer heard The System's version of this tune in a club and promptly headed to a studio to lay down his own take. The purists may bow to the original but the thumping production had me spin this one in our club – the only time I'd have played Palmer there, I think.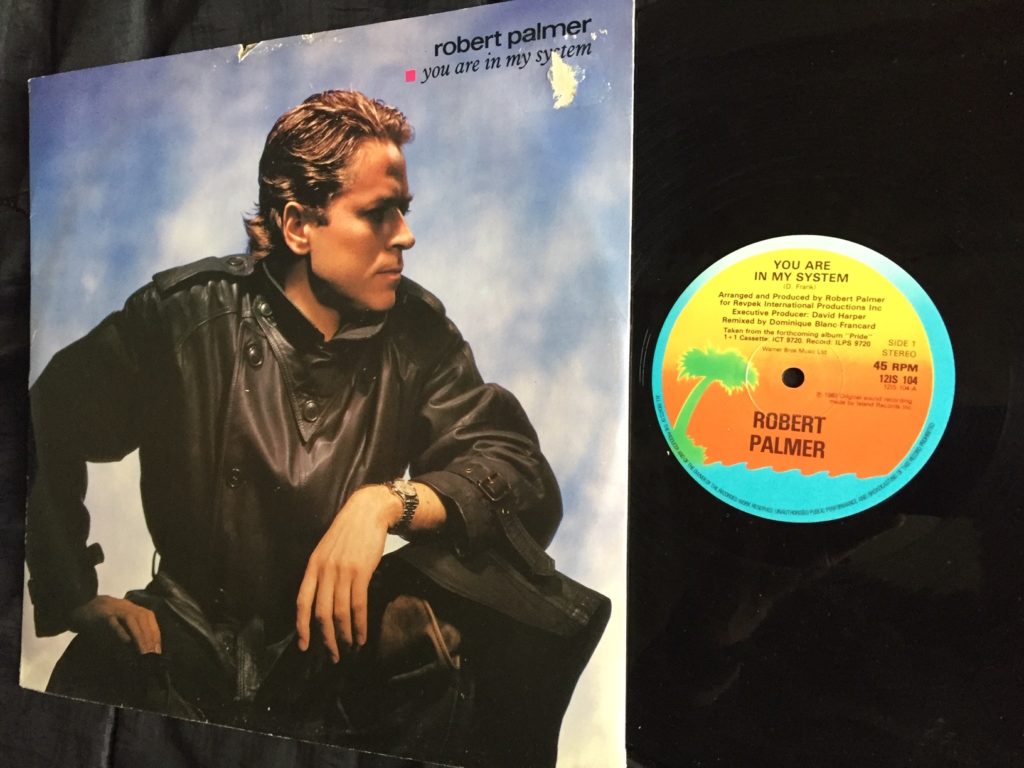 ---
24.32
LEISURE PROCESS – A Way You'll Never Be – 7″ – Epic – 1984
This also certainly got a few spins on my club decks and although that bass slap sound was to become more identifiable it's only recently I've noticed Level 42's Mark King was on those duties here.
---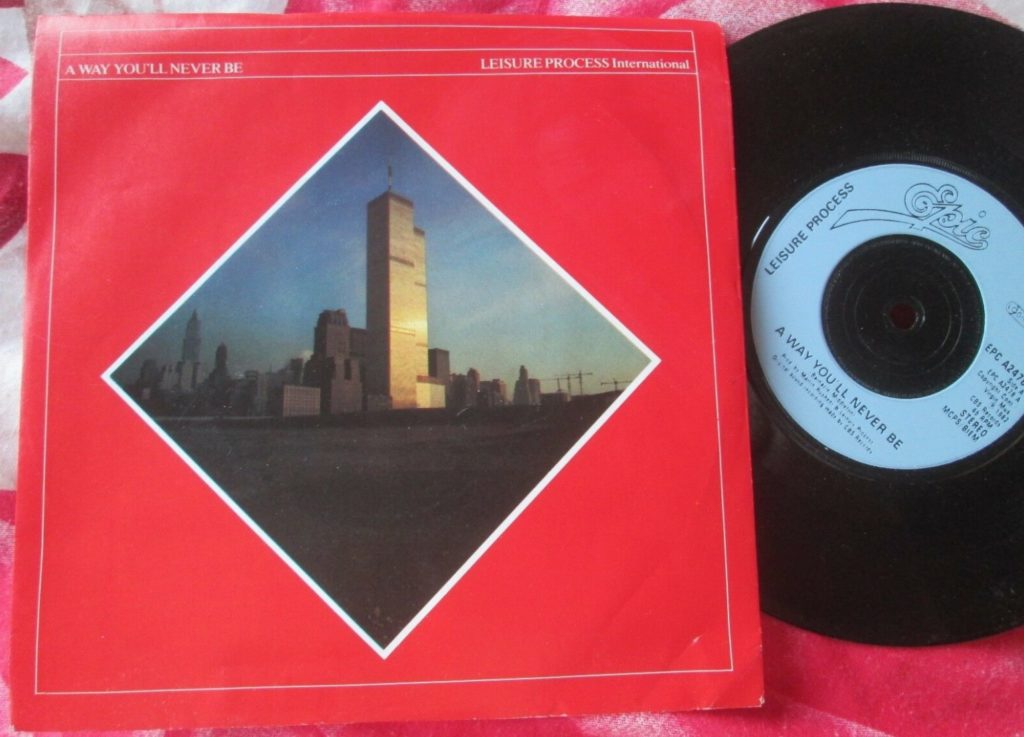 And so, that sound again here! Hellfire, yep it's…
29.04
LEVEL 'BLOODY' 42! – The Chant Has Begun – 12″ – Polydor – 1984
Think I first heard this via a live TV performance, possibly on The Tube but the breakdown here reeeeally tested my going with the track, and you'll not be hearing the band here again… and here endeth a 25mins guilty pleasures section.
Back now to more familiar 41 Rooms territory.
---
33.53
A CERTAIN RATIO – The Planet – 12″ b-side – Robs Records – 1991
The Manc left-field funksters wig out with a spacey electronic instrumental. On New Order manager, Rob Gretton's Robs Records label – his side hustle in the early 90s, this was his second release. My 'charges', The Flamingos would also soon appear for two singles on RR, so we were ACR label mates for a brief time. I got sent this, along with most of the early 12s on the label, by Rob's label manager, Pete Robinson, so wherever you are now, Pete… cheers!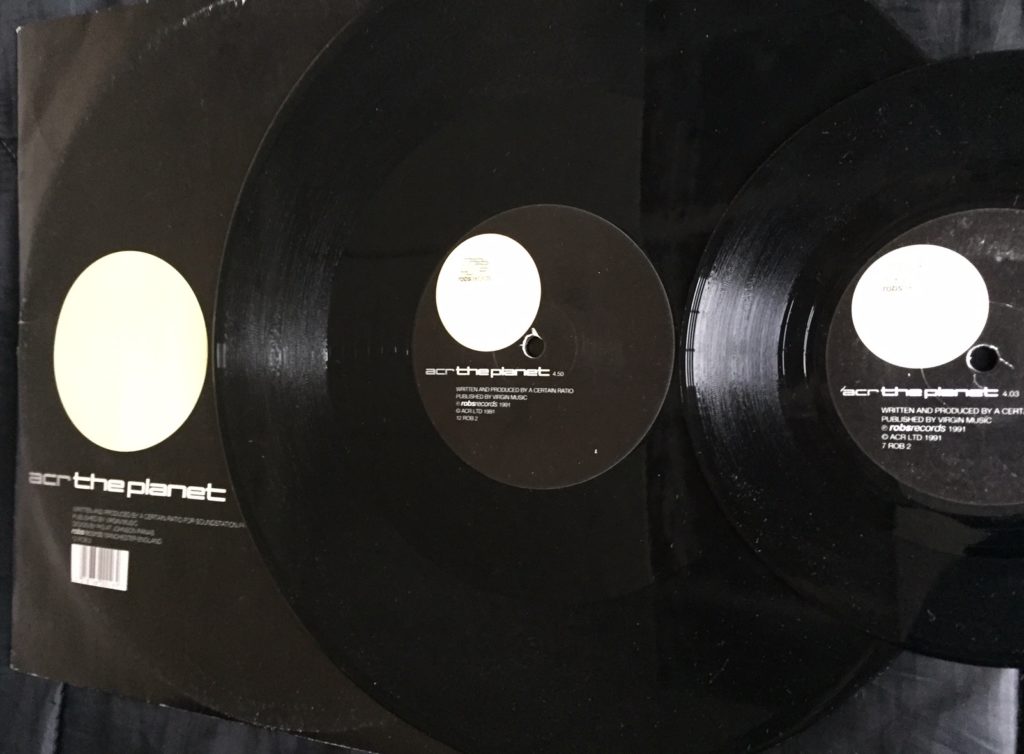 Below: The flyer for the Robs Records 1992 launch night, in London… with Rob rightly holding court and very likely revelling in showcasing his Manc-based label on the capital's turf. If he was still with us he'd do it on home soil these days. I don't remember much about the night. Rob… Mike Pickering looking very focussed on DJ duties… Heather Small all alone at one point and looking slightly lost (though she most probably wasn't) even though the re-released version of her and Mike's M People debut album Northern Soul was beginning to break the band… The Flamingos very short set including Chakk's Sim Lister blowing classily on some instrument… and Steve Morris introducing me to producer, Stephen Hague, then working on New Order's Republic album.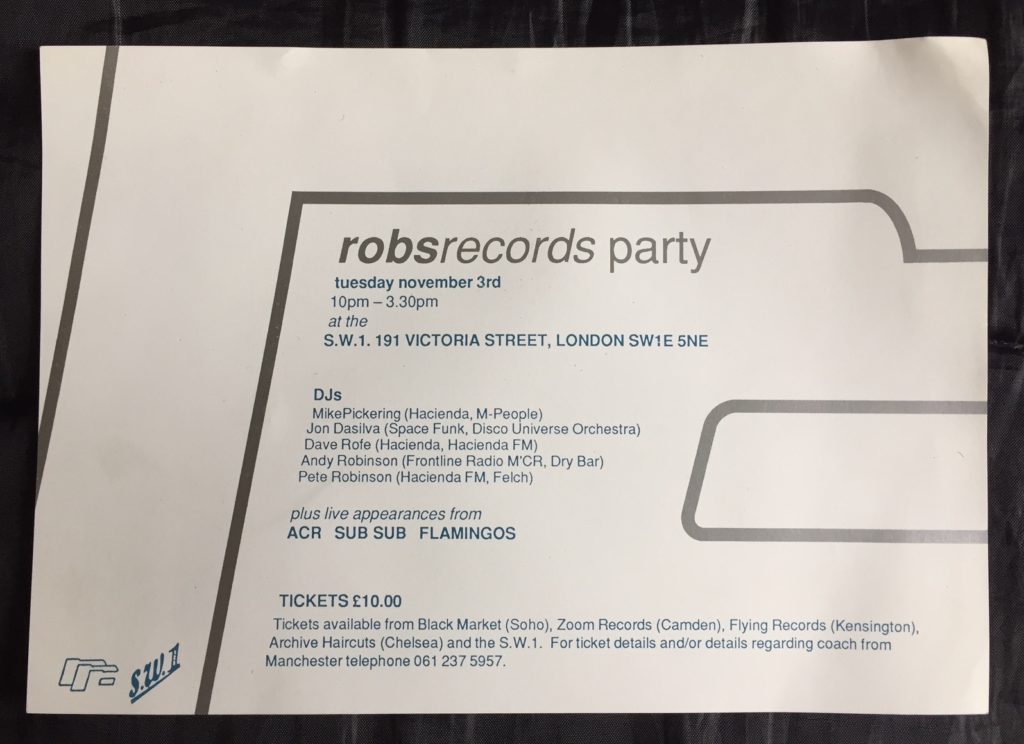 ---
38.30
BEANFIELD – Enchanting Signs (Kirk Degiorgio's Off-World Remix) – 12″ – Compost – 1999
Out of Germany and bustling! Broken beat electronica and inner city busyness etc, etc.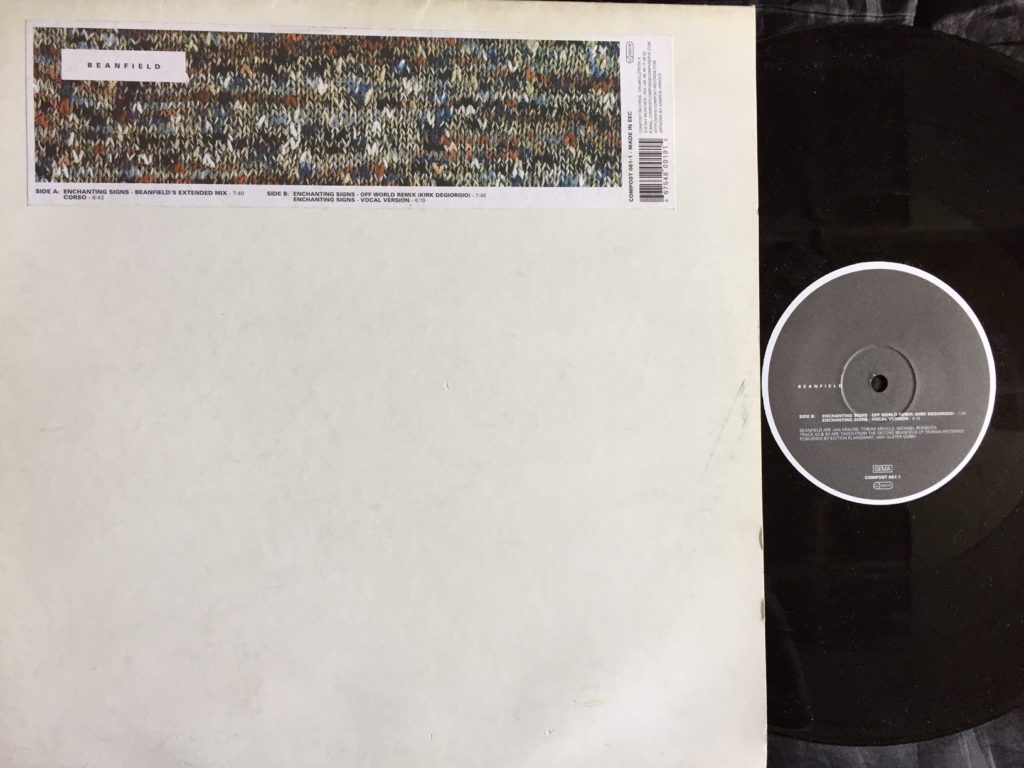 ---
44.51
NUMBERS – Moon Blood (Like A) – Safety In Numbers, 2LP – Main Squeeze – 2001
Even tougher bustling! Broken beat… dark jazz… soul electronica… etc, etc. I've actually got the track on a People label compilation, Family Planning Vol 1 but the Numbers album below is maybe a purer source for the track.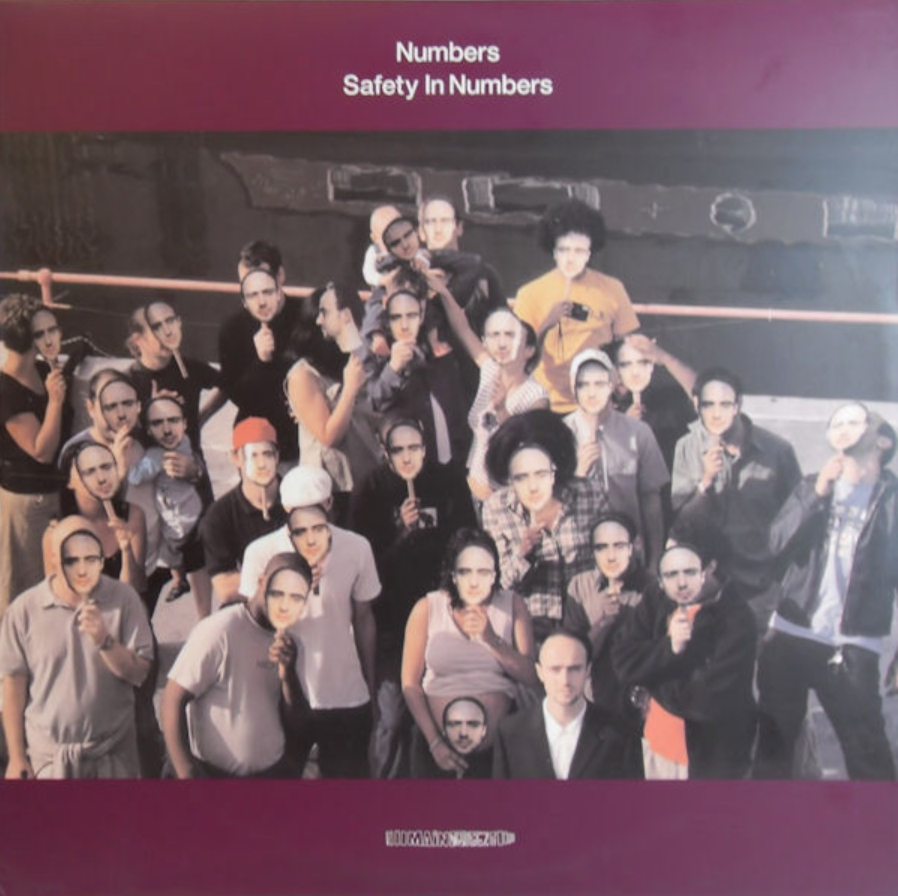 ---
50.52
JOHN GRANT – Sigourney Weaver – Queen Of Denmark, LP – Bella Union – 2010
I would imagine that if you knew of Grant's solo work and were then to get the heads up that he was about to include your name in a song, there just might be a very slight bit of unease in the wait to hear just how and why you'd been included. 🙂 We'll assume Sigourney's been alerted by now.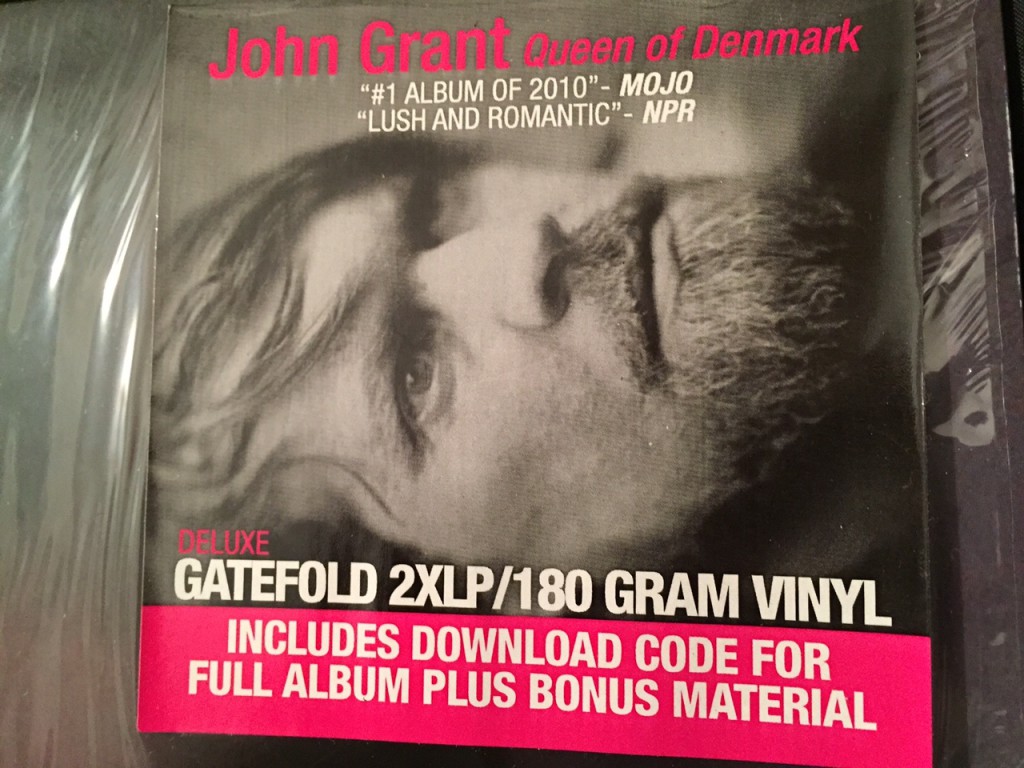 ---
54.10
DAVID SYLVIAN – Orpheus – 7″ – Virgin – 1988
It's David Sylvian. What else do I need to say?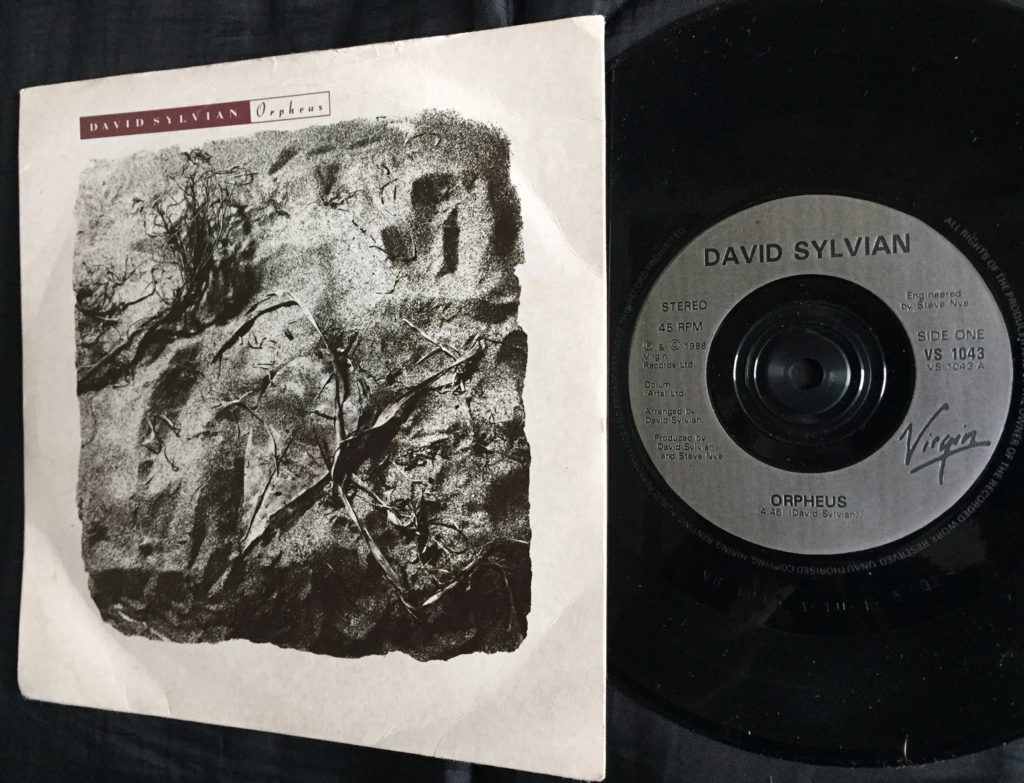 ---
58.53
NANCY SINATRA – You Only Live Twice – 7″ – Reprise – 1967
The name's Sinatra (no, not that Sinatra)… Nancy Sinatra, getting the Broccoli's call to soundtrack the James Bond franchise, and yet another of those artists with probably another gem or two hidden (to date) from me.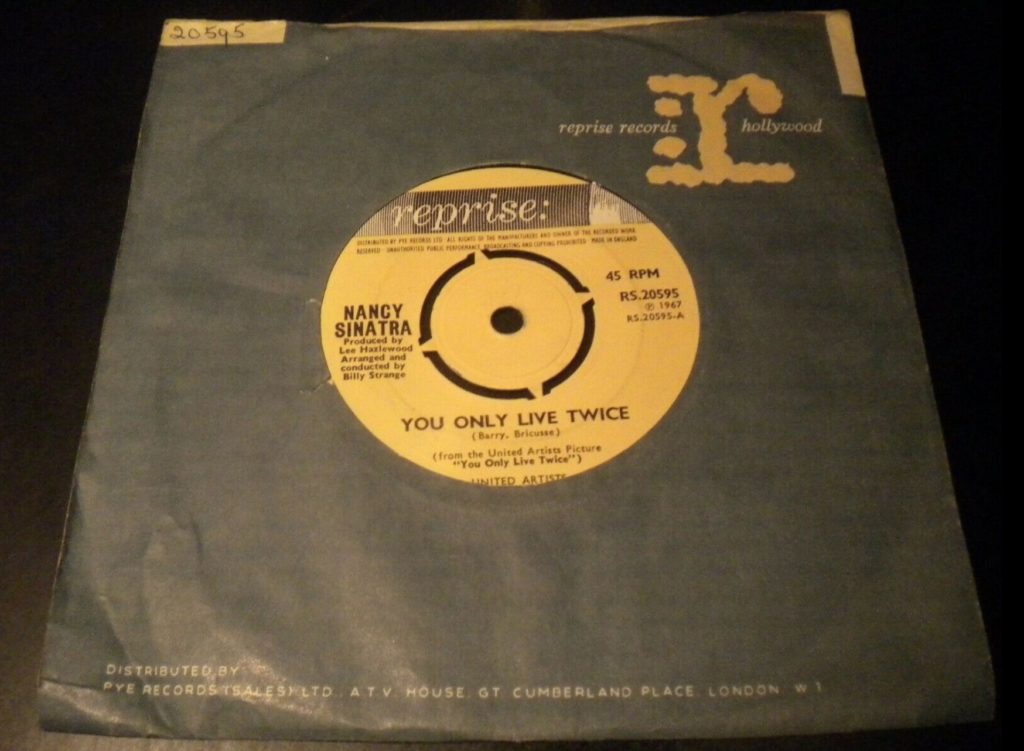 And here's an acetate I was outbid on. On the upside, the seller kindly linked the audio to the listing and as it's a different take to the above, you may be hearing its scratchy grooves here further down the line.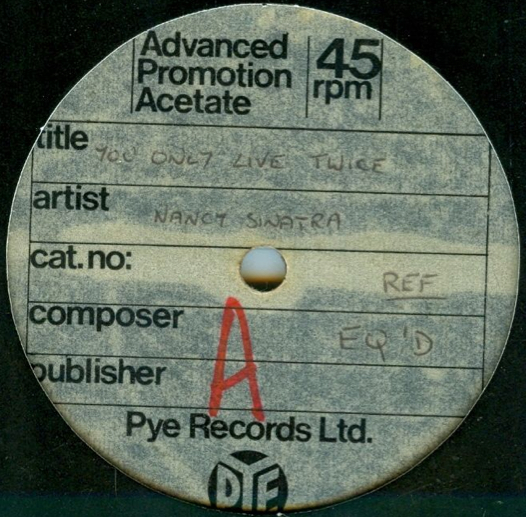 Half time break.
---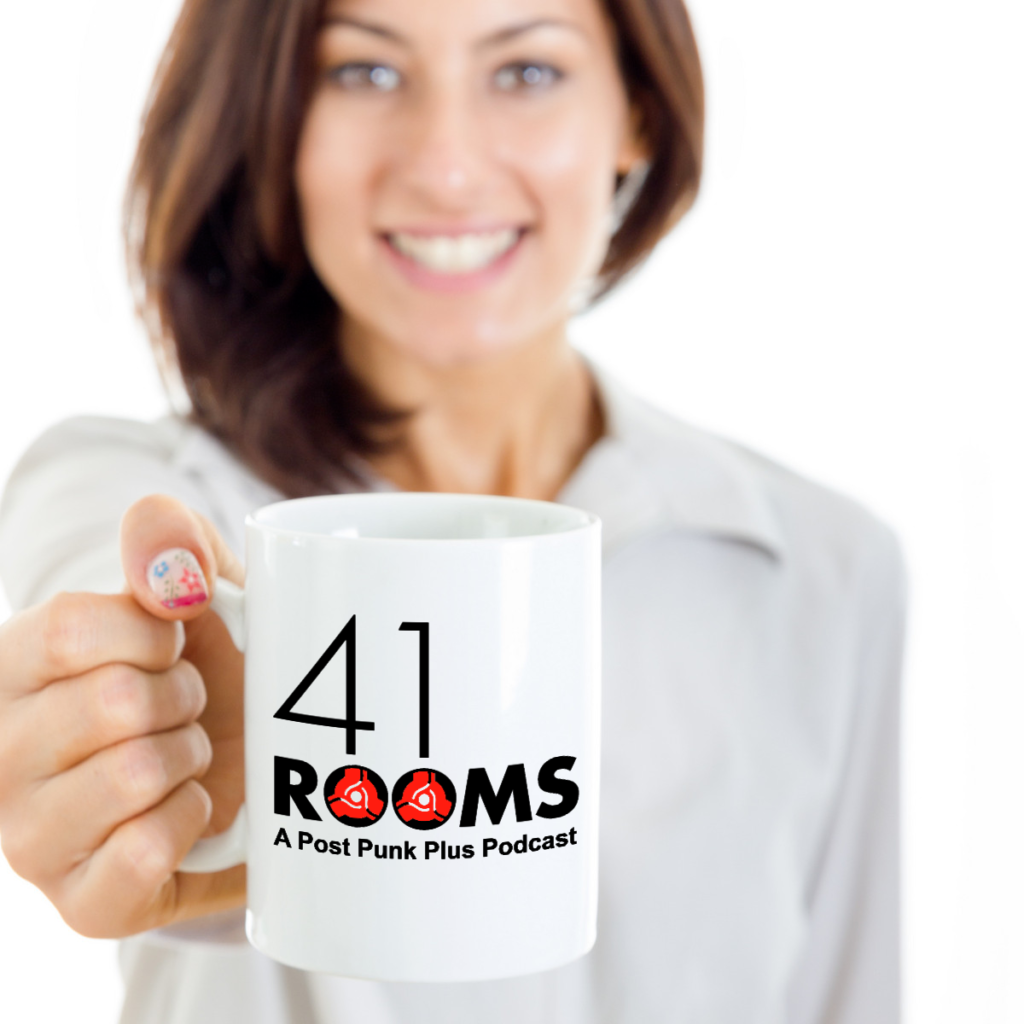 ---
01.01.29
THE SUNSHINE COMPANY – I Need You – Happy Is, LP – Imperial – 1967
The summer of love… or for someone involved here, maybe not. A cool twist on the George Harrison/Beatles tune.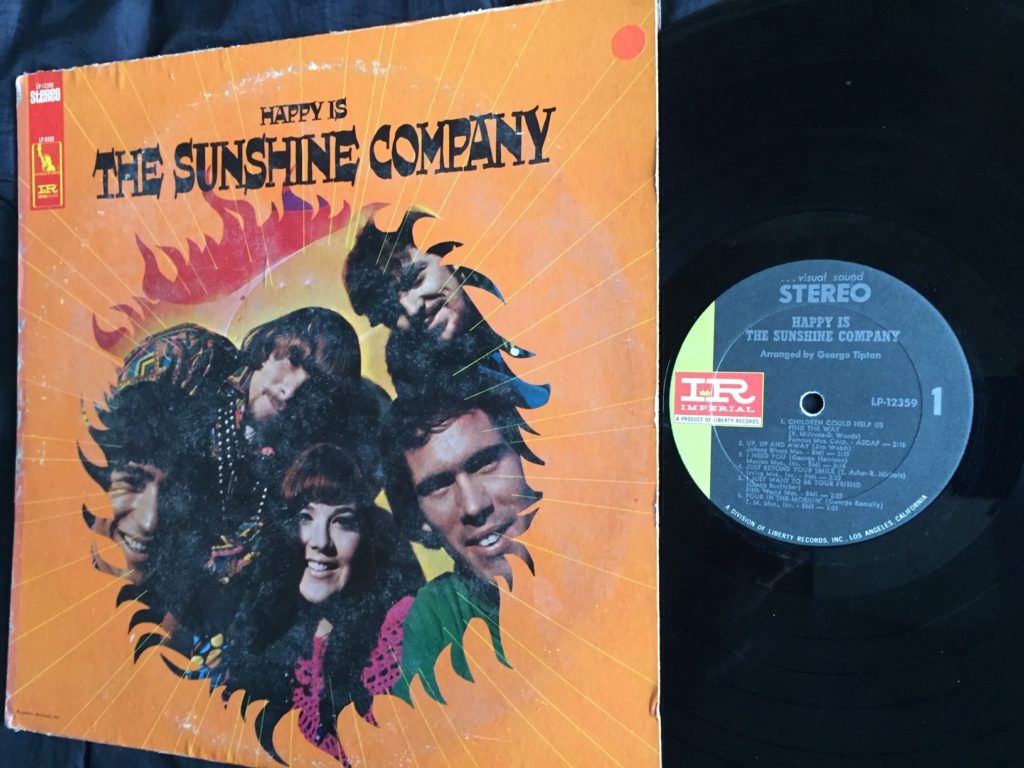 ---
01.04.00
BETH HIRSCH – Let It Live – Titles & Idols, 2LP – Studio !K7 – 2001
One of the vocalists that graced Air's multi million selling album, Moon Safari, Beth came to singing a bit later in life than most, which I like to think might partly account for her distinctive vocal styling.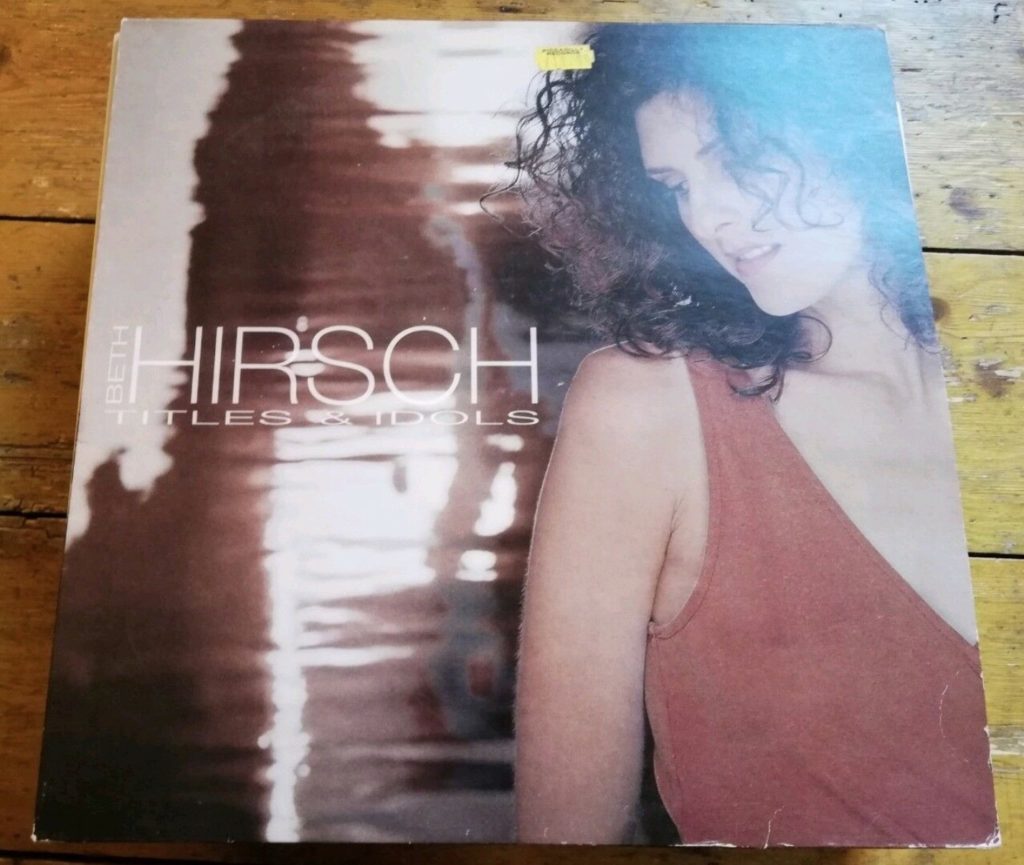 ---
01.07.18
KISHI BASHI – F Delano – Omoiyari, CD only – Joyful Noise Recordings 2019
In reality, Seattle, Washington born singer, multi-instrumentalist and songwriter, Kaoru Ishibashi. See what he did there with his name?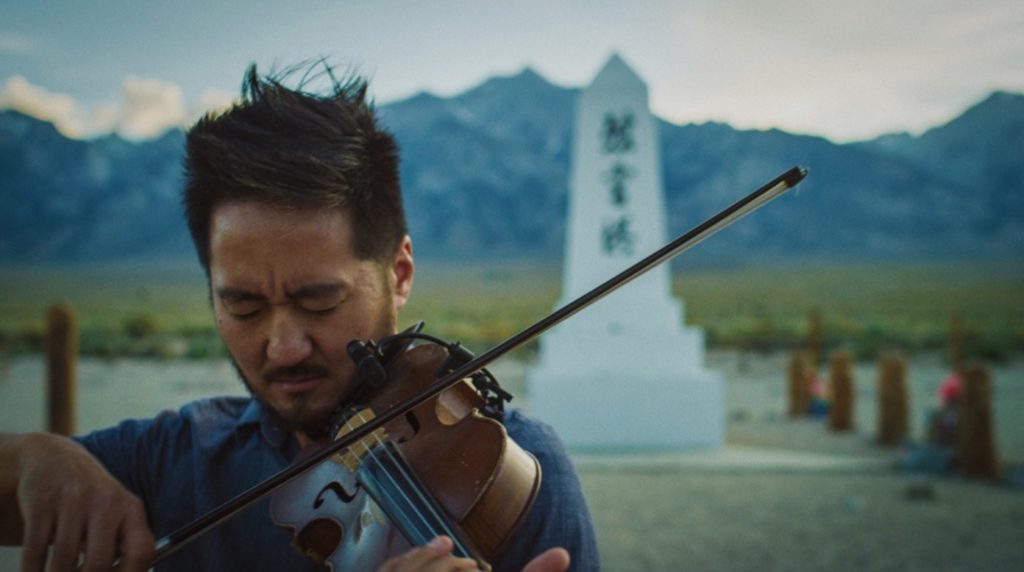 ---
01.10.39
THE AVOCADOS – I Never Knew – 7″ – Choo Choo Train – 1981
Their only ever release, though a bunch of those involved became the 49 Americans and Steve Beresford separately ventured onwards to become a musician of some note.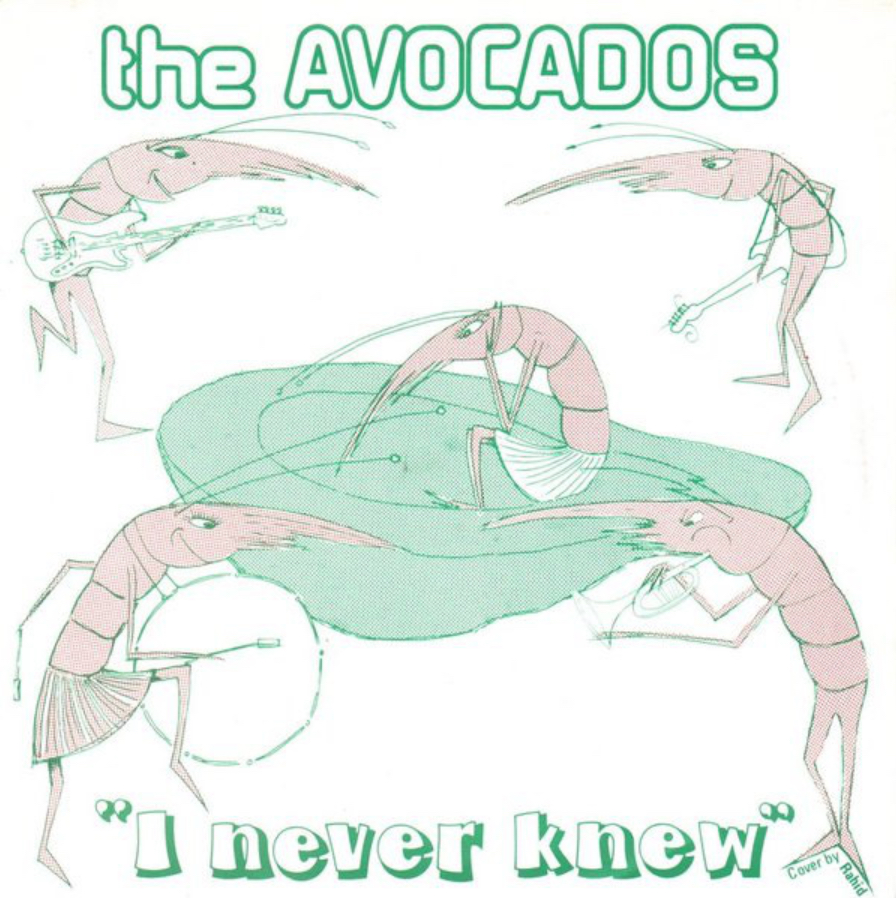 ---
01.12.56
CRUEL SUMMER – Leeches – Ivy, LP – Mount Saint Mountain – 2017
Dipping between 'see through' and 'sky blue' the track sees out the album and also stands alone on a single-sided 7″ – 65 copies only.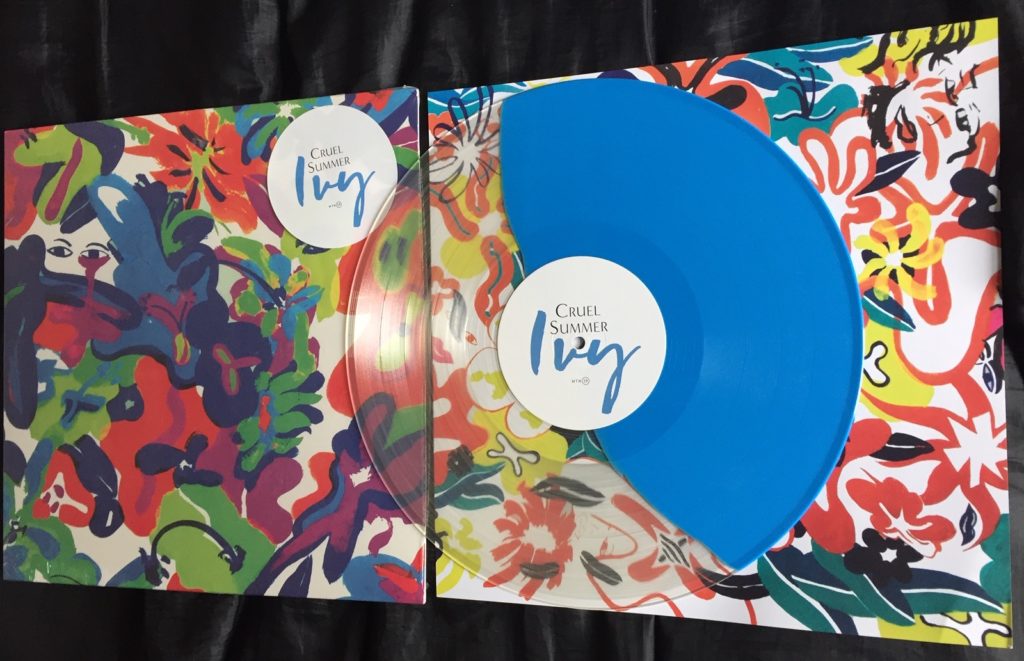 Cruel Summer: The Make Out Room, San Francisco, 29.12.19.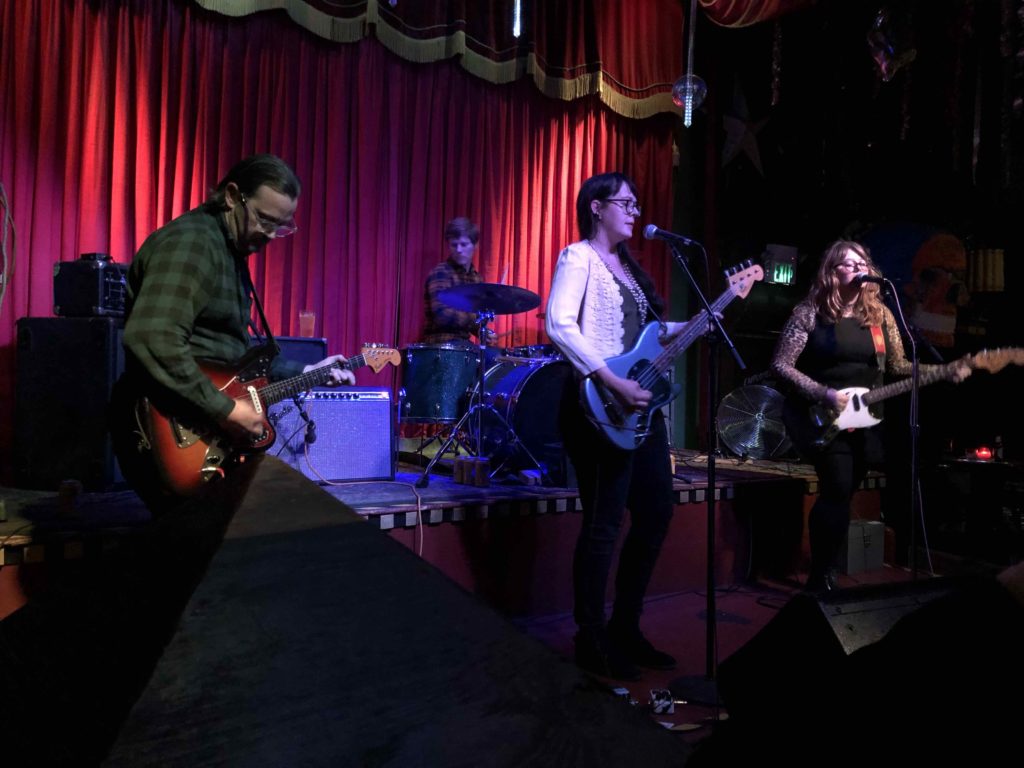 Photo credit/copyright: Sam Habash… with me in tow, A fab night.
---
01.18.21
THE CHAMELEONS – Up The Down Escalator – 7″ – Statik/Virgin – 1983
A lot of 41 Rooms' shows since any hour of tracks from my early 80s alternative/indie/post punk etc club nights but we're into a mini section right now. Coincidentally, Chameleons Vox, Mark Burgess passed through my old home town, Bedford a few days back… and having been quick off the mark to buy a copy of From Heaven to Heaven when it was published, maybe he made a quick pilgrimage down to Bradgate Road, the site of New Order's gig there back in 1981. He wouldn't have seen the Boys' Club if he had, though. Completely transformed, it's now a mini theatre.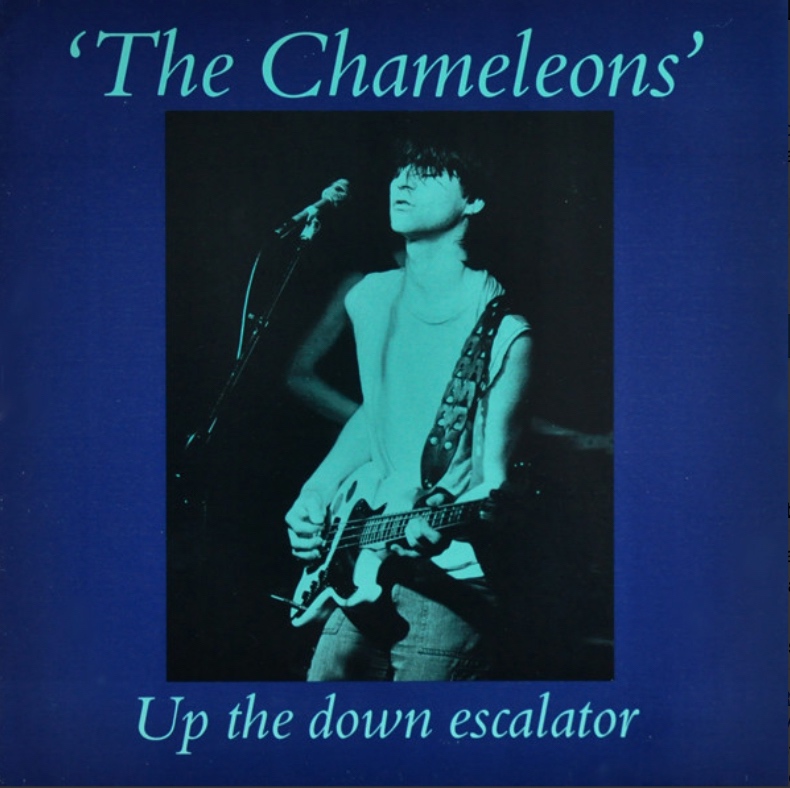 ---
01.22.14
MANICURED NOISE – Metronome – 7″ – Pre Records – 1980
Some early Talking Heads somewhere in the record collections of these boys back then, I think. They never released an album at the time but check out some previously unreleased goodies on their Northern Stories 1978/80 compilation album from just a few years back.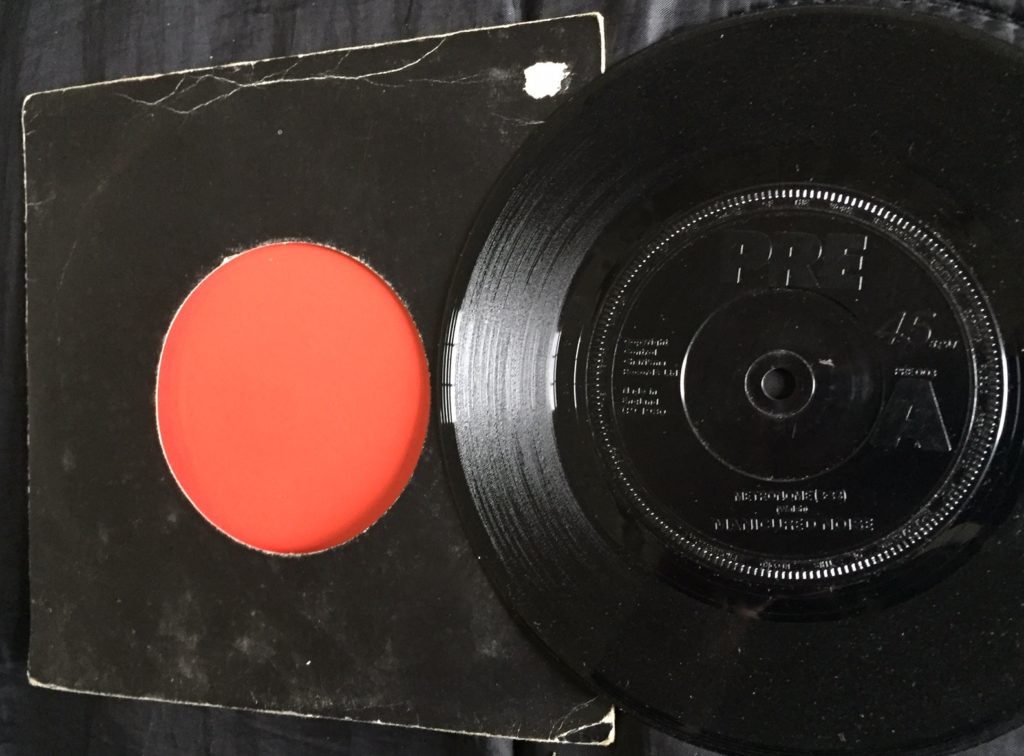 ---
01.25.38
THE SINATRAS – You Make Me Feel Like I'm Wearing New Clothes – 7″ – Transmanor – 1982
Their second album may have been called 'Let's Be Frank' but that's where the connections ended. More a bouncy-in-a-Teardrop-Explodes-kind-of-way sound.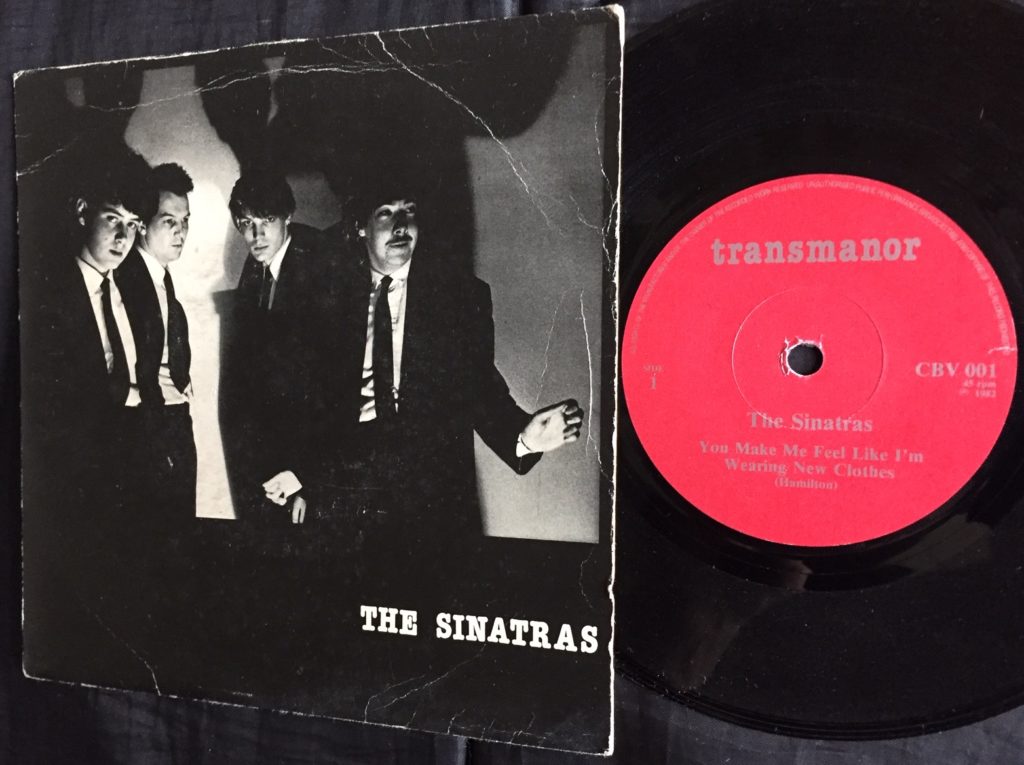 ---
01.28.05
THE CUBAN HEELS – Walk On Water – 7″ – Cuba Libre – 1982
One for Danny Duggan! The man who suggested Winkles for our club nights way back, he DJ'd at the New Order Bedford gig, was on a few early NO gig missions with me/us and now does a Saturday tea time, northern/soul show on 103.2 Dublin City FM. Oh, and we were in the same all conquering 1968 St Joseph's Junior School footie team. None of that to do with The Cuban Heels, though. The vocals are sooooo early '80s – maybe more 'alternative' than post punk.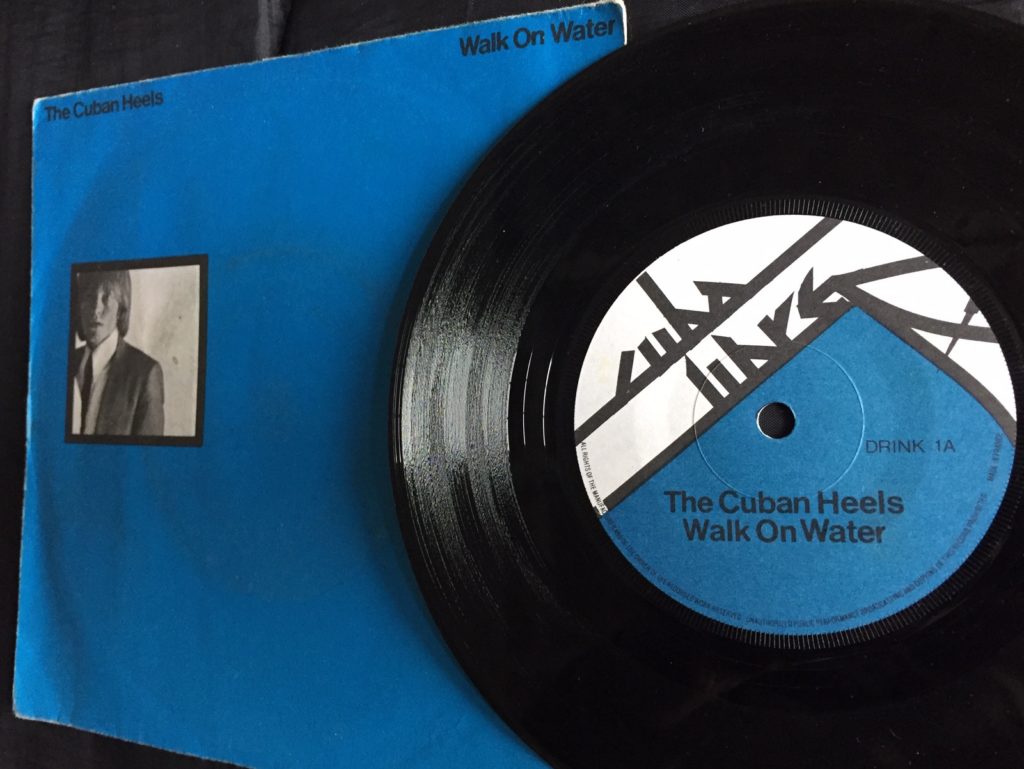 ---
01.30.52
THE FLATBACKERS – Gary – John Peel session, 1980…
Not the truest of comparisons, but if I hear this, for some Martha and the Muffins come to mind.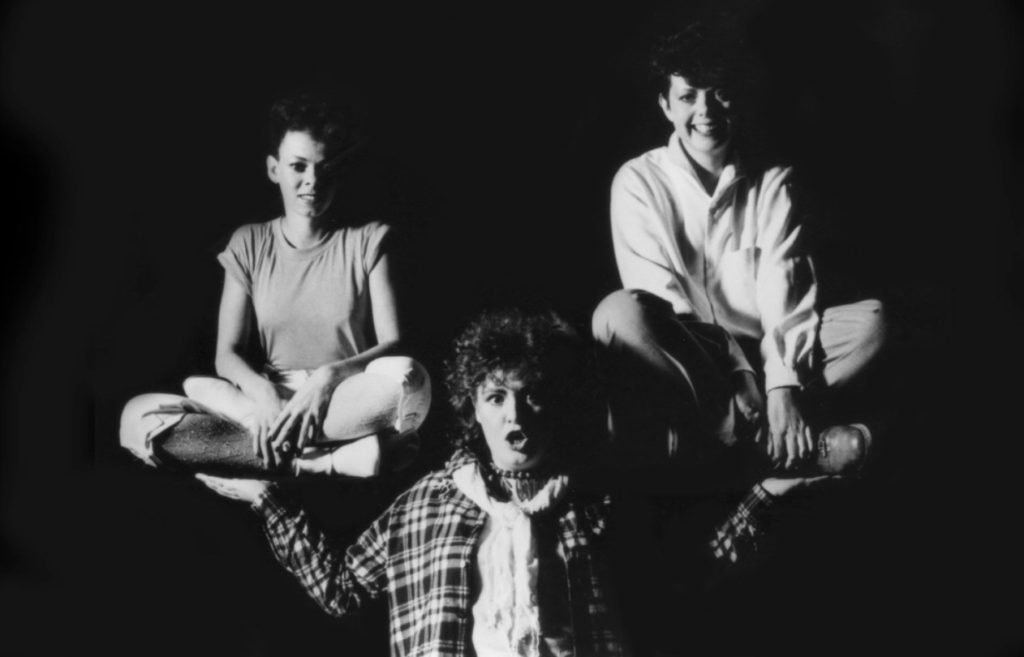 ---
01.33.40
MIA DOI TODD – What If We Do (Nobody Remix) – La Ninja: Amor and Other Dreams Of Manzanita, CD only – Plug Research – 2006
Back in the distant past of the late nineties/early noughties I clocked this on the then relevant MySpace. How the once mighty have fallen. Mia – on the other hand – went on to record another version of the track and releases an album every couple of years or so.
---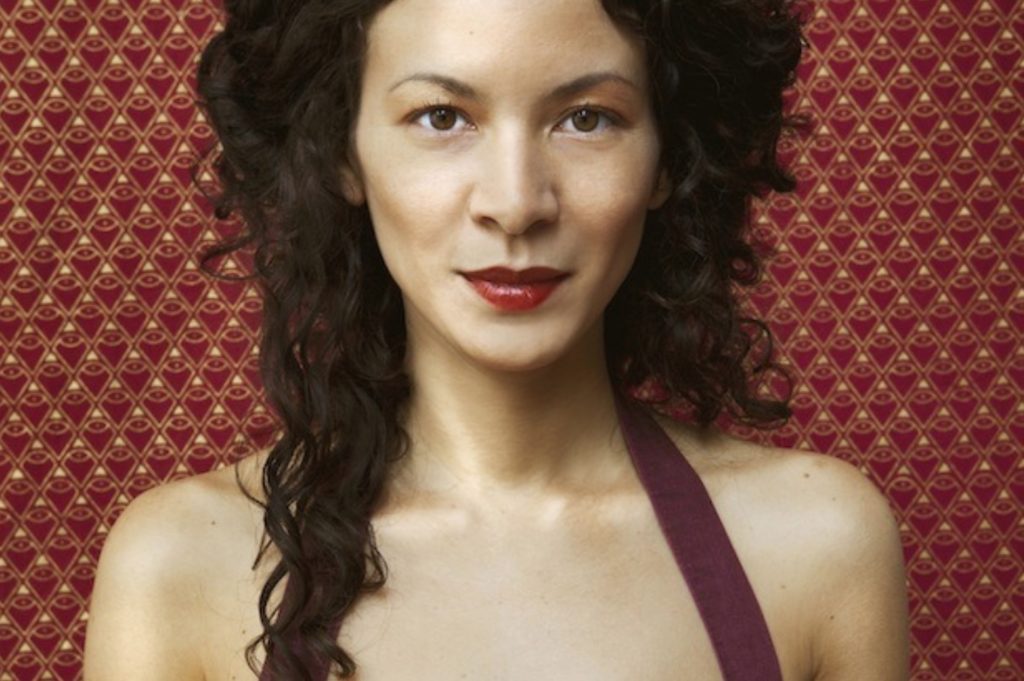 ---
01.37.25
NICO – You Forgot To Answer – John Peel session, 1974…
The first time I properly noted Nico wasn't through her Velvet Underground and Warhol connections but via a live (Whistle Test?) TV studio performance and/or a repeat of her 1974 Peel session. Whether you like her or not, the package of her vocals and harmonium are hard to ignore.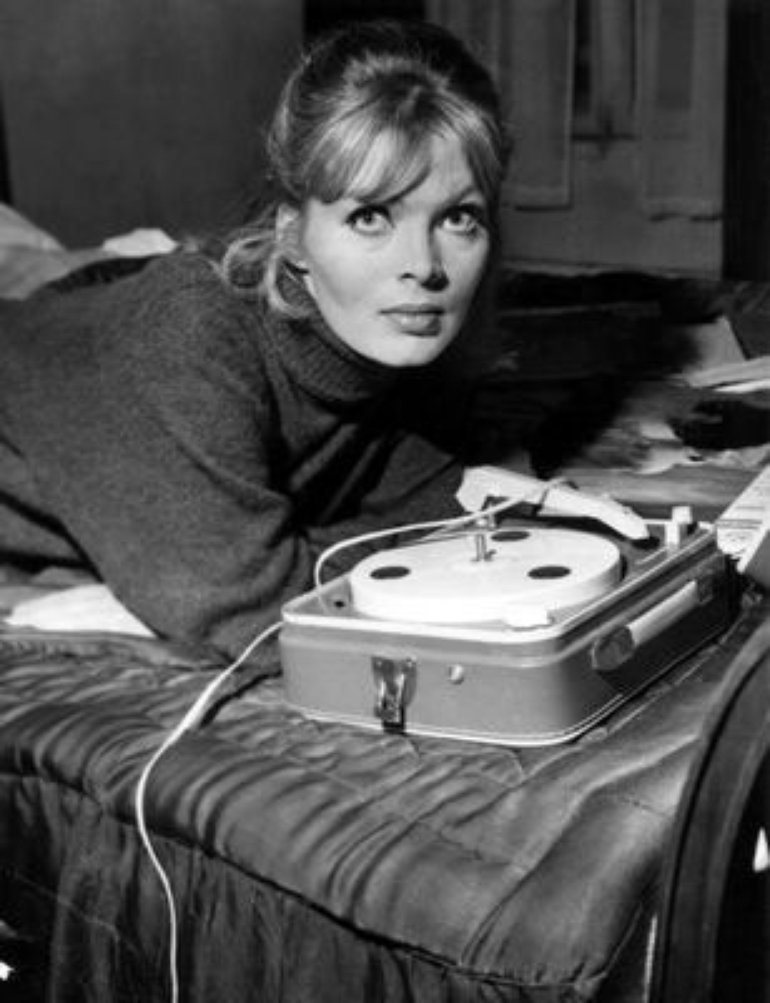 Nico on the wheels of st… Bakelite?… plastic?
---
01.41.52
DANIEL VALDEZ – El Nino – Mestizo, LP – A&M – 1974
A crowd funding/pledging effort to re-release this album a few years back seems to have faltered but for whatever reason, his solo recorded career began and ended with this album. He later moved into acting and film work but he certainly had a voice.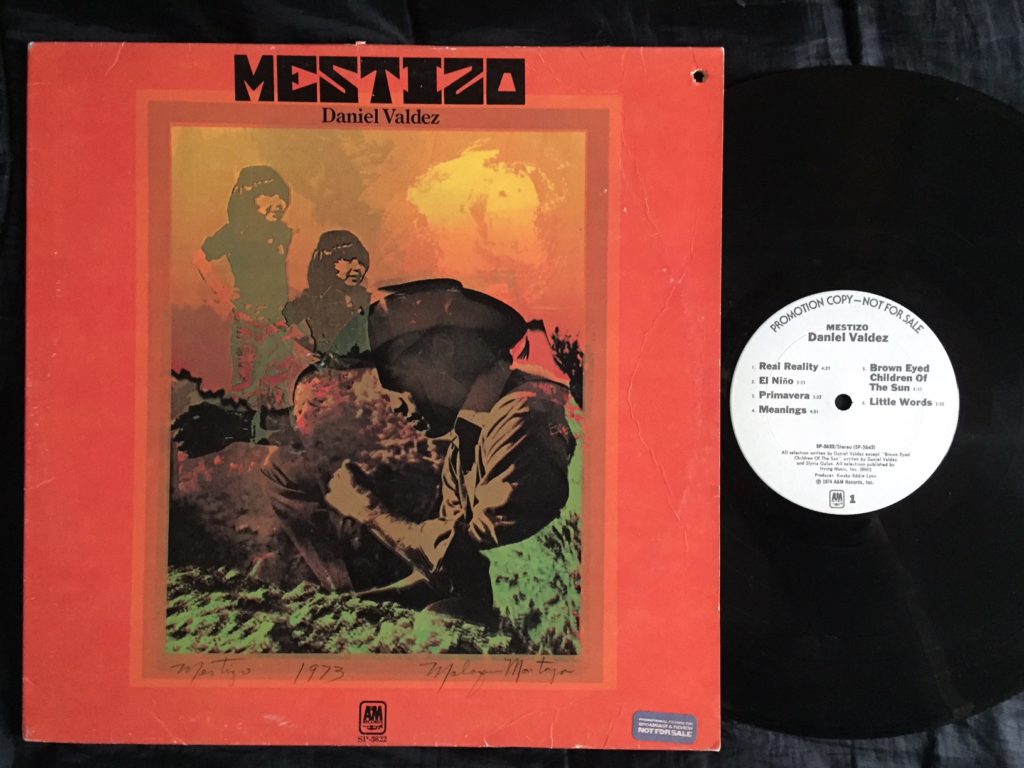 ---
01.45.16
THE VIEW FROM MADELEINE'S COUCH – Cancao Do Sereia – Tranquilo, CD only – The View From Madeleine's Couch – 2004
Brazilian jazz and bossa nova… out of Australia. Sunshine sounding, all the way.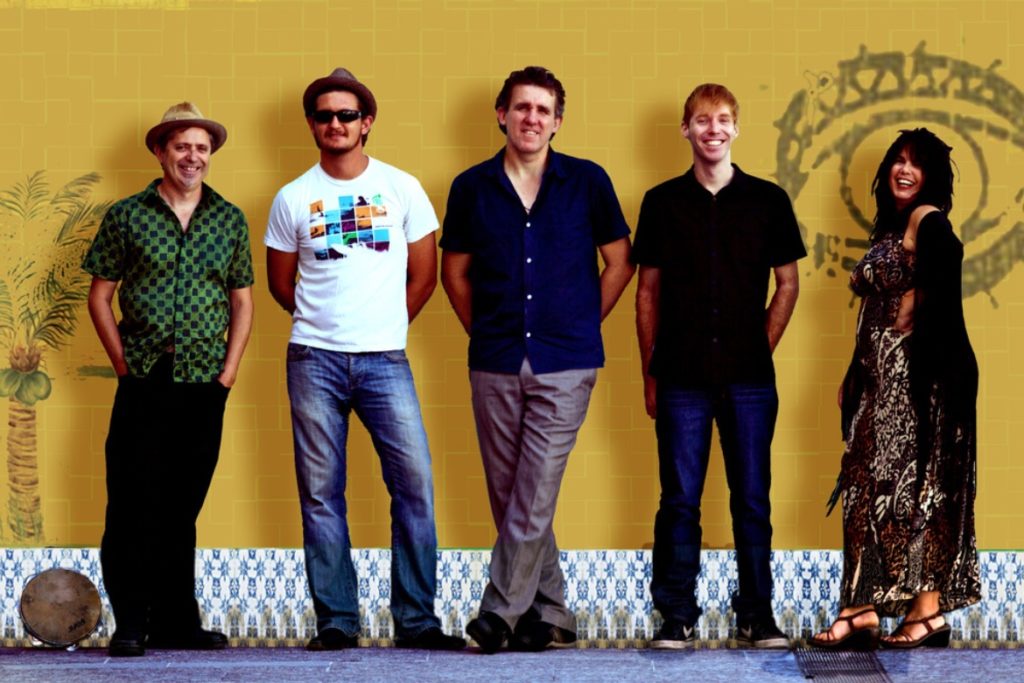 ---
01.49.28
IRMA THOMAS – Live Again – Straight From The Soul, CD only – Stateside/Imperial/Minit – 2004
A Bacharach & David tune seemingly only ever performed by Irma, but even her 1965 take on it astonishingly went unreleased from her mid sixties days on the Imperial label. What the flip were they thinking?!?! The song later surfaced on a 1992 IT compilation but unsurprisingly it's since gathered some wings via a lone outing on Netflix's fab comedy, Schitt's Creek, which is where I (like a whole bunch of others, no doubt) Shazam'd it. Hi fives to the show's sync agent.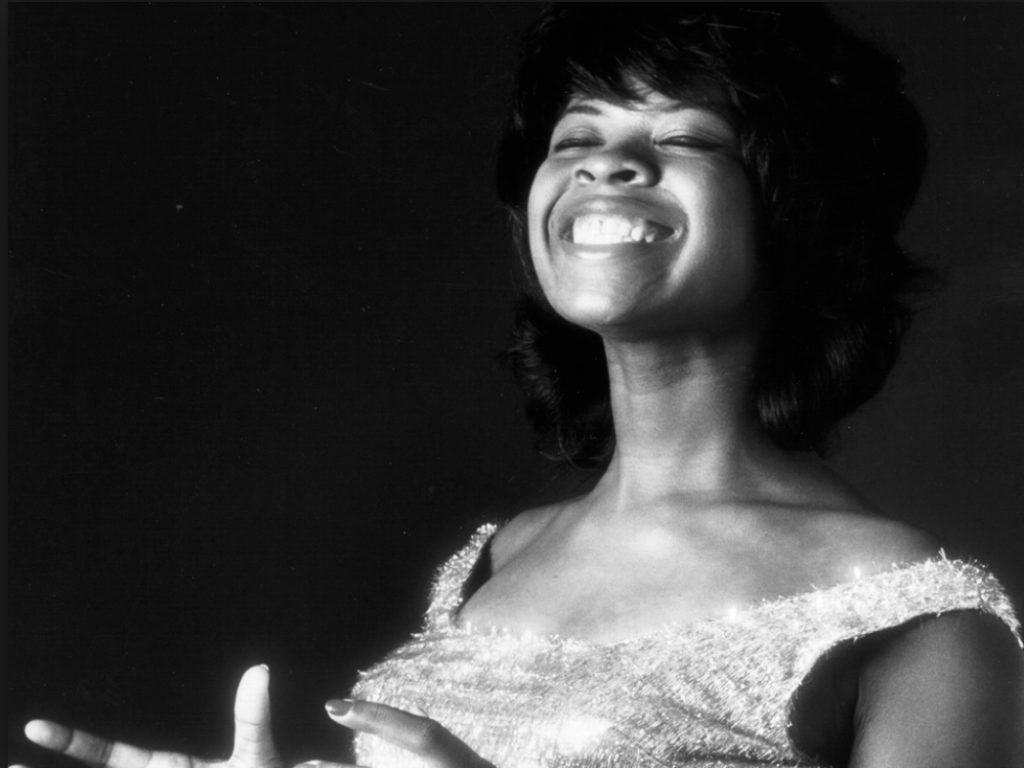 ---
01.51.37
THE MAMAS & THE PAPAS – Monday, Monday – 7″ – RCA – 1966
The Summer of Love back again and few soundtracked it better than these four souls. I would have been eight or nine when I first heard this shining out of Radio 1 or 2, either on the family gramophone in the sitting room or piped through from there to our Sunday family lunch, via a speaker neatly hidden under a cupboard in the kitchen. Dad configuring our 'hi-fi'… sort of. Hey! What are those apostrophes doing in the band name? Get 'em outta there!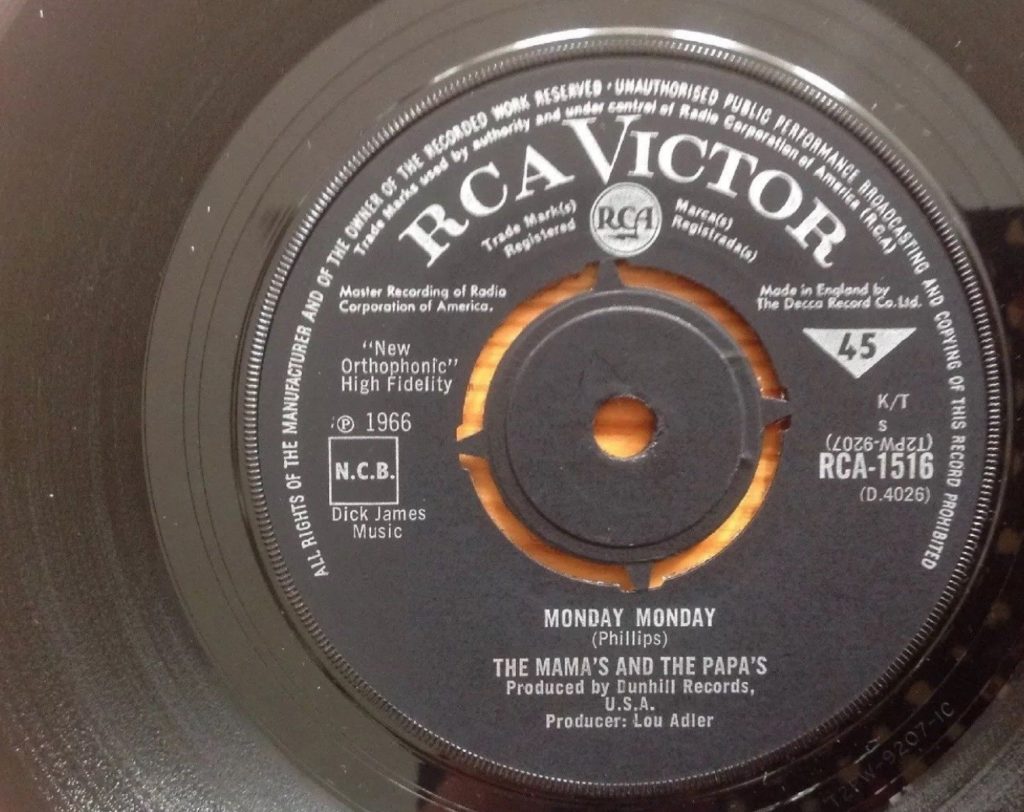 ---
01.54.48
KIKI DEE – First Thing In The Morning – 7″ – The Rocket Record Company – 1977
One evening, in London in the early noughties, I was down a tiny club night called Kashmir, to see a friend on a multi artist, 'wheel 'em on, wheel 'em off' open mic sort of shindig when this lady, unassumingly got up to do a couple of songs. Her early Fontana label material is more likely to appear on 41 Rooms than her Elton era period in the major spotlight but from the latter, this was a cheery pop tune for this then seventeen year old. 'First Thing In The Morning' and last thing at show 68, indeed.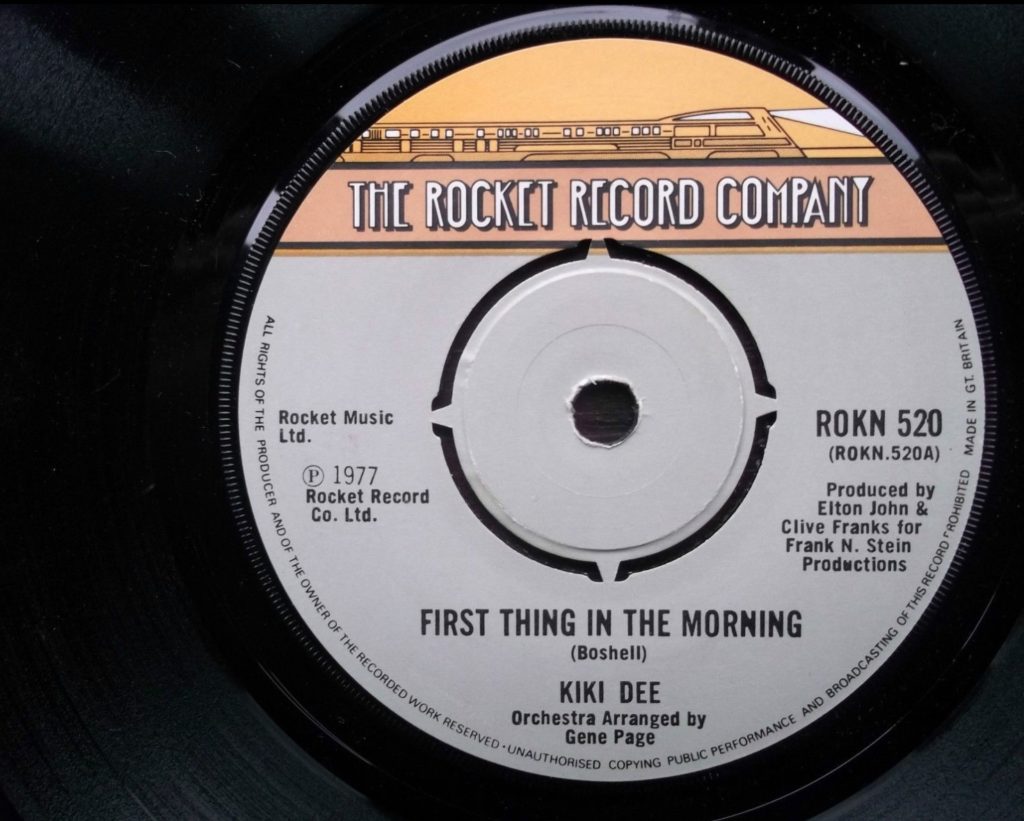 ---
Show 69 will be with youy on July 7.
Dec