41 Rooms, Playlist 44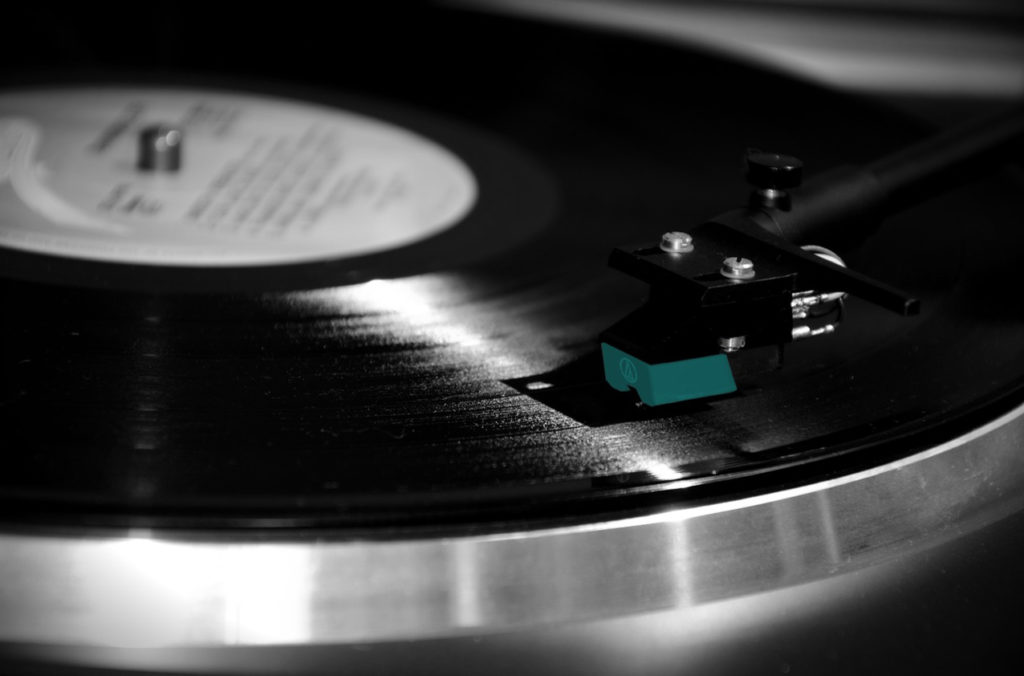 41 Rooms, Playlist 44 is 83% vinyl friendly. Impressive. 
---
Tracks marked * have been given a tiny (or sometimes, slightly bigger) 41 Rooms 'tweak'/edit/chop/etc…
and a few sound a bit sonically challenged.
---
Lyric of Playlist 44: 
It goes to the late JL… and that's without feeling particularly spiritual myself.
---
00.00
(Intro) THE FLAMINGOS – Stars (Edit) – Unreleased demo – 1983 Episode #1 for info.
---
00.41
NEW ORDER – Stray Dog – Music Complete, LP – Mute – 2015
When you're a New Order fan of 37 years standing it's not easy taking to a guest vocalist – even if (or, especially when?)  the voice is as distinctive as Mr Pop's. I'll bet Hooky would have liked to have been involved with this one.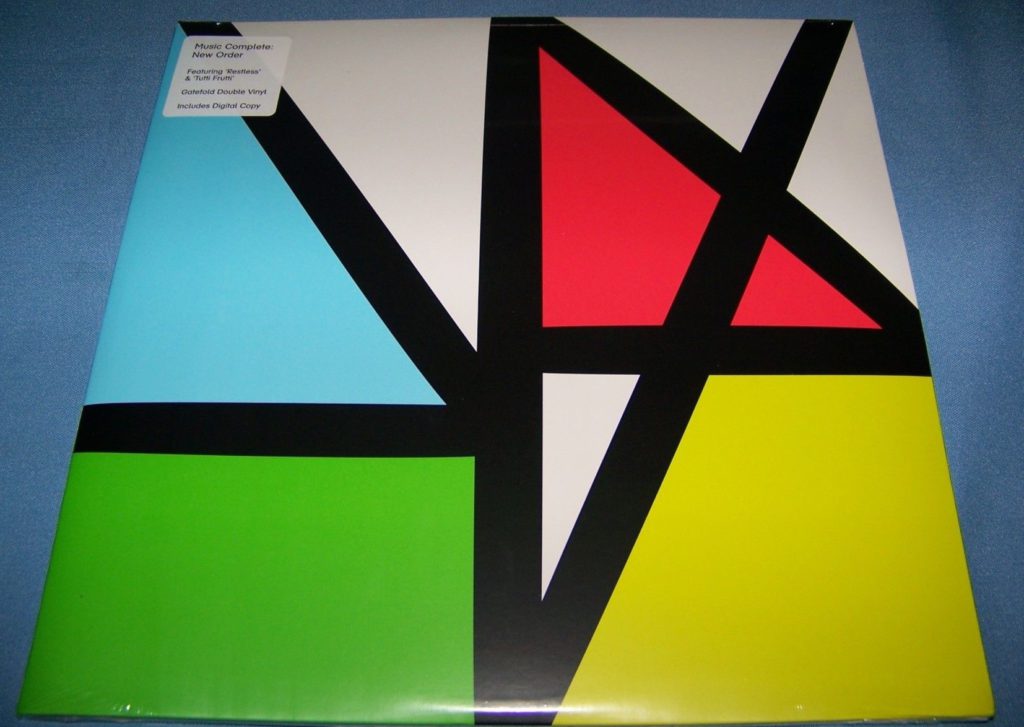 ---
06.15
PUBLIC SERVICE BROADCASTING – Signal 30 – 7″ – Test Card Recordings – 2013
A Record Store Day 2013 purchase, with that Rough Trade sticker looking to fade quicker to nothing, rather than grey.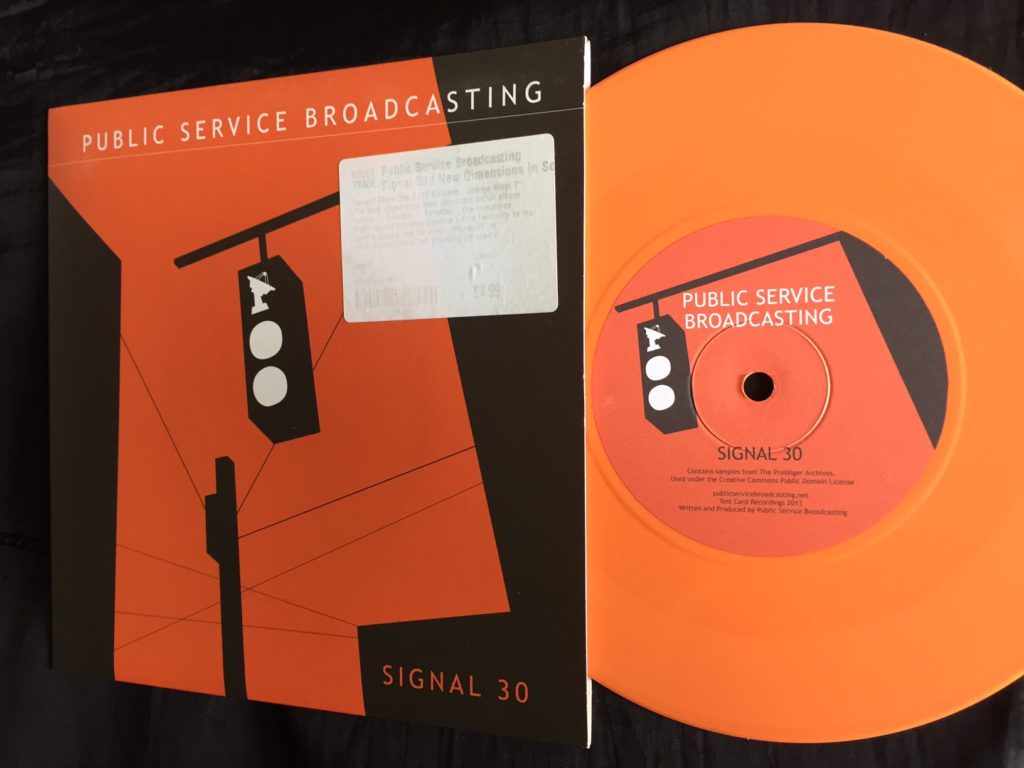 ---
09.20
NEON BARBS – Break Your Chains – 7″ – Logical Step Music – 1981
Their only ever release but a fine one at that.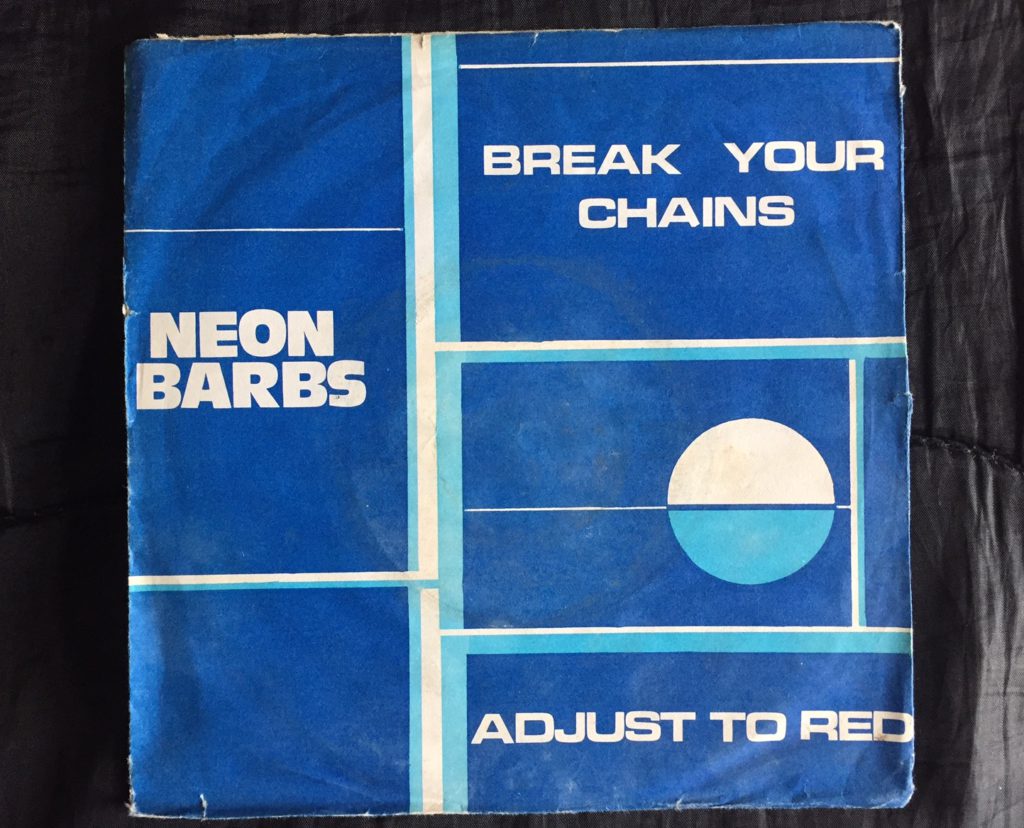 ---
13.12
THE STROKE – Revenge – 7″ – CBS – 1980
It appears this duo had the luxury of four singles on CBS. All of them bombed but this one might have faired better on an indie label.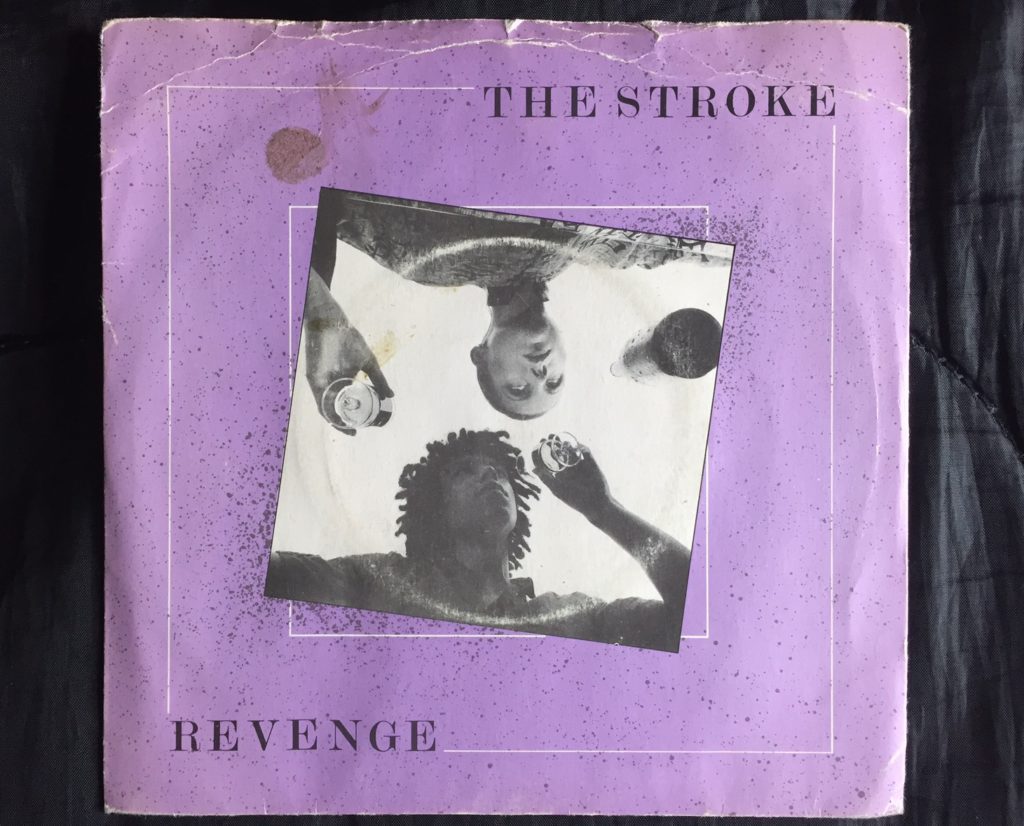 ---
15.53
(THE) GOSSIP – Fire/Sign – Movement, LP – Kill Rock Stars – 2003
The early days of Beth Ditto and co's thumping soul infused indie rock, and not the first album to be called Movement.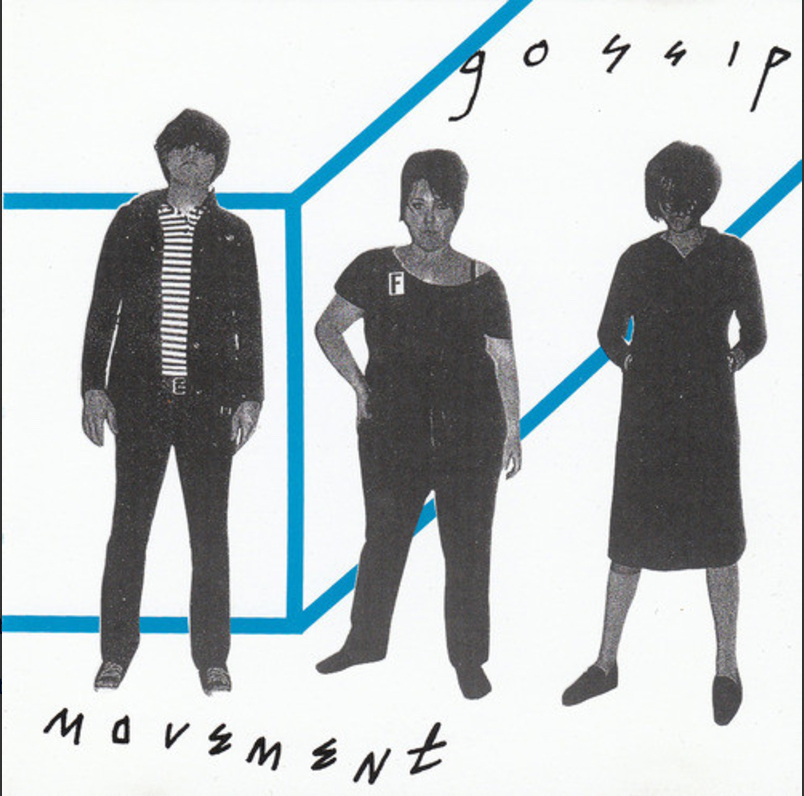 ---
18.15
THREE JOHNS – Sad House – Raging Spool (NME Various Artists), cassette only – 1984
Given away with the NME, one of a number of v/a cassettes the mag trotted out in the 80s.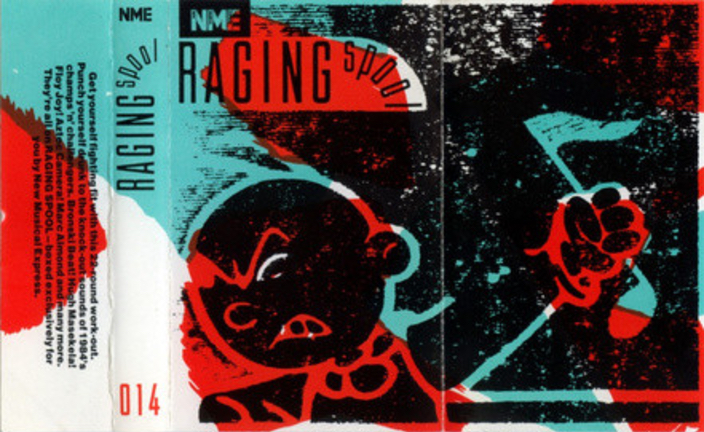 ---
20.23
THE STEPFORD HUSBANDS – Will It Ever End – New Ways Of Seeing, LP – Cryptovision – 1987
Definitely heard by me on John Peel's radio show but courtesy of the very eclectic WFMU Radio here's all you're likely to need to know about this US/UK group.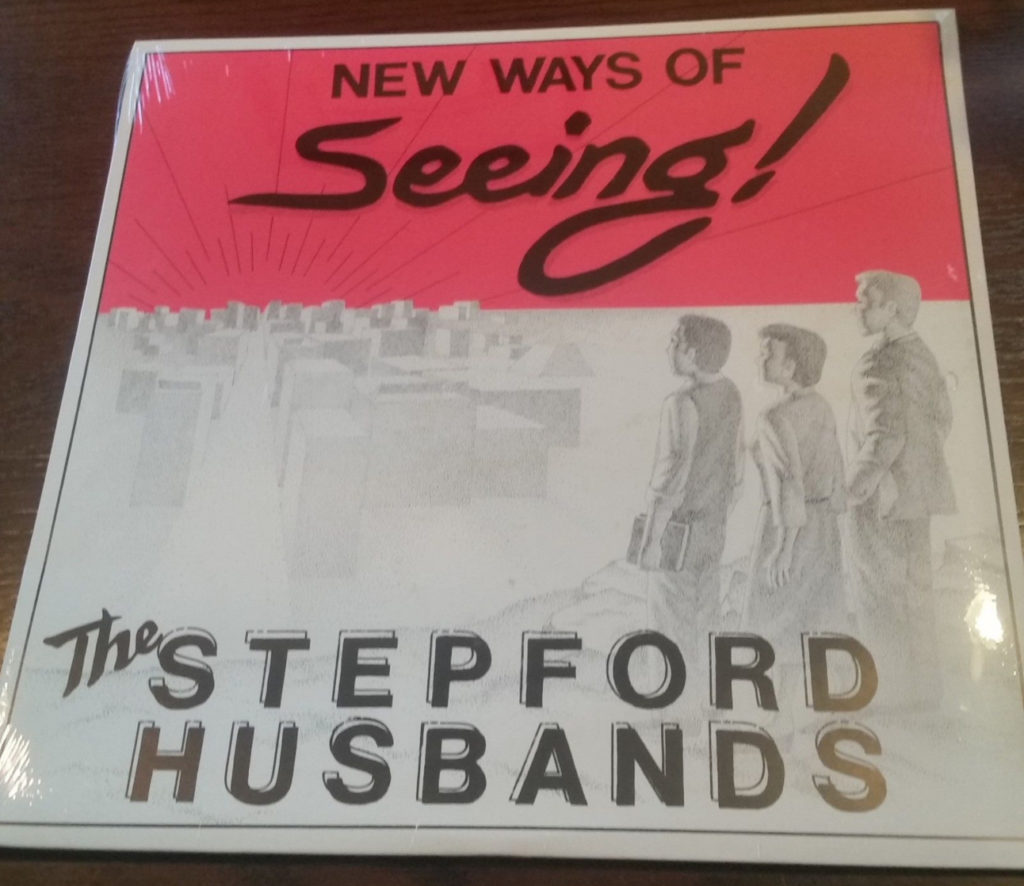 ---
22.43
LAURA VANE & THE VIPERTONES – Steam – Self Titled, LP – Unique – 2009
Rocking and funking!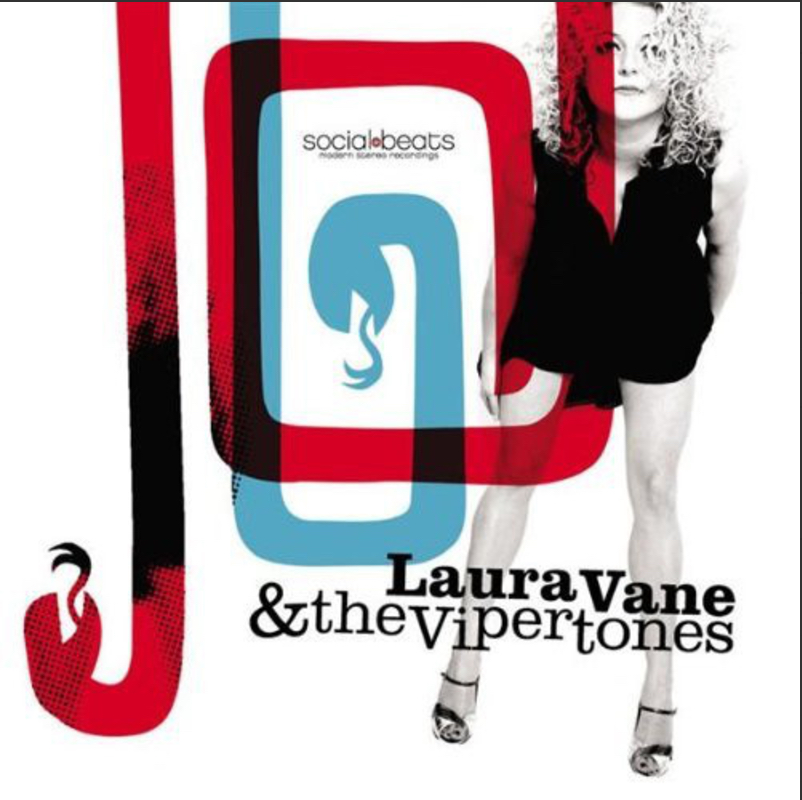 ---
25.17
MYRA BARNES – The Message From The Soul Sisters – 7″ – King Records – 1970
Born Vicki Anderson, with her being the mother of Carleen and Jhelisa Anderson, singing obviously runs in the family. As Myra B, she was part of The James Brown Revue and it's Brown's simple but distinctive keyboard line that sets this monster in place. You'll need the 1989 UK Urban label 12″ to get the two parts back into one track but it feels right to visually showcase the track's original single-split-over-two-sides source.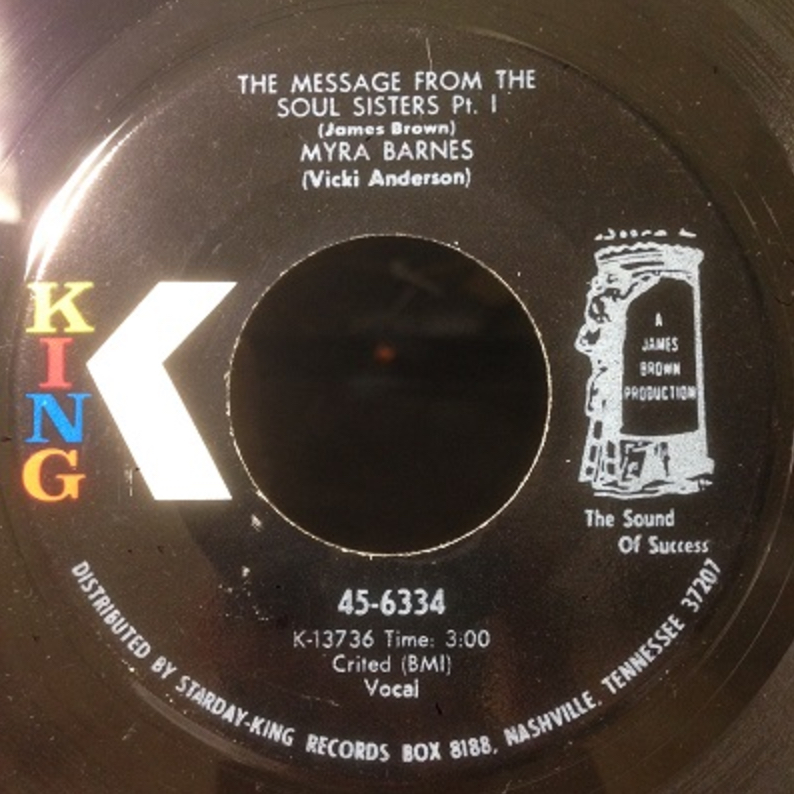 ---
29.12
THE IDES OF MARCH – Vehicle – 7″ – Warner Brothers – 1970
Punchy brass-lead monster, in the vein of early Chicago hits, I'm A Man and 25 or 6 To 4. Likely to still cut it and raise an eyebrow in various circles.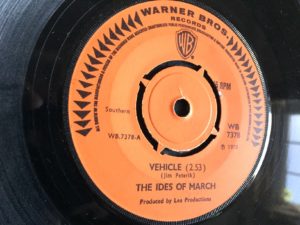 ---
32.04
JON LUCIEN – Search For The Inner Self – 7″ – Ampex – 1971
For me, the late JL's finest moment, and I'll look to treat myself to an original 7″ copy of this at some point.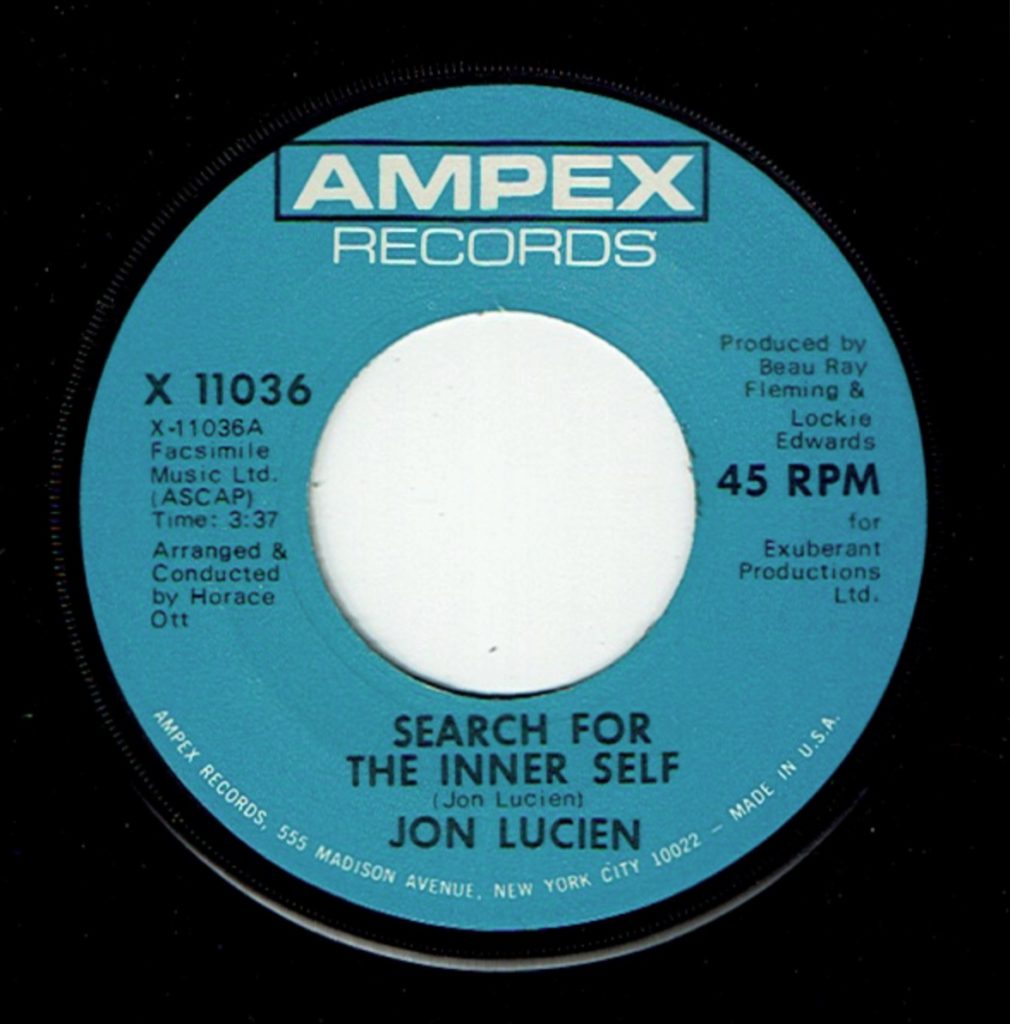 ---
35.40
SUNSET GUN – Be Thankful (For What You've Got) – The Angels Are Coming, V/a double cassette – Pleasantly Surprised – 1983
The sort of cool vocal match up that sibling pairings bring, Deirdre and Louise Rutkowski went on to release a more polished take of this on CBS but this version (in reality, of Curtis Mayfield's Diamond In The Back) definitely shades it for me. I bought a couple of Robert King's Glasgow-based Pleasantly Surprised tapes back in the day, though I've only got half of this one still… and just the cassette… with no case… very poor. The sort of release though that might have been partly responsible for putting an early idea in my head for the Rorschach Testing Discreet Campaigns v/a cassette.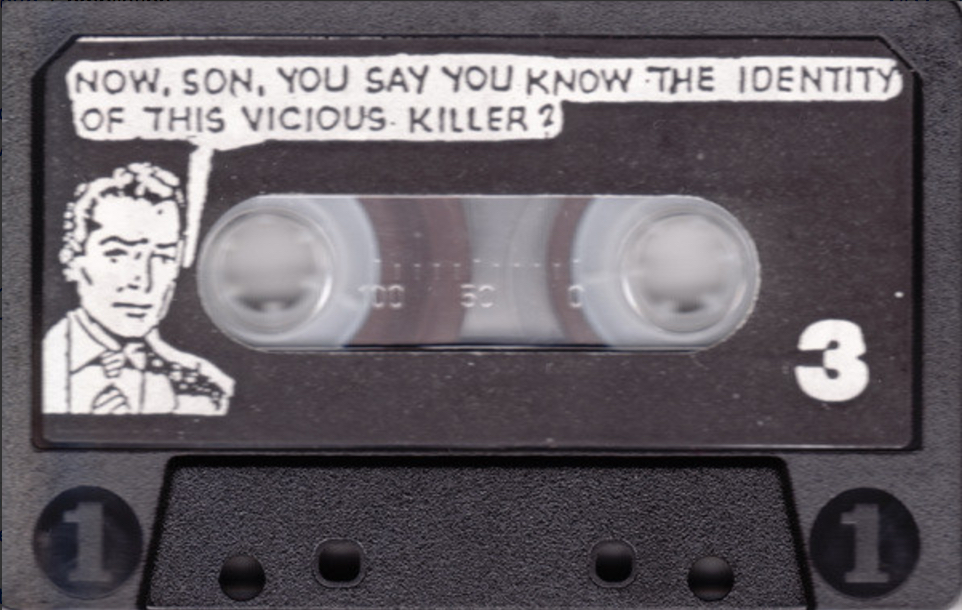 Below: Sunset Gun's early days history, as documented with their track, Gotta Have Me Go With You, included on the Pleasantly Surprised label's debut release, the 1982 various artists cassette, An Hour Of Eloquent Sounds.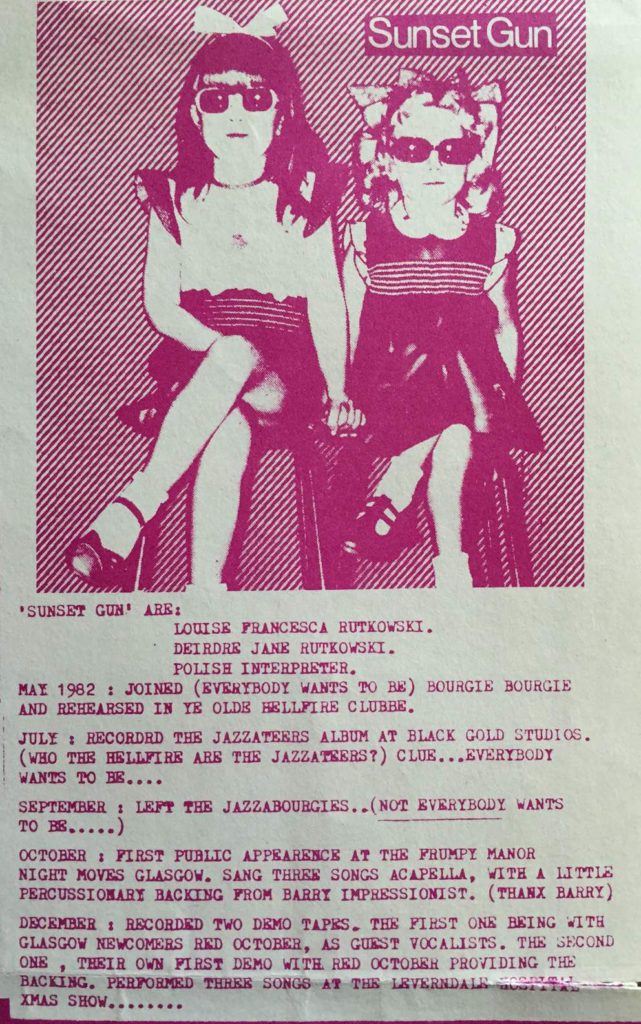 ---
40.17
THE SUNDAYS – Here's Where The Story Ends – Reading, Writing and Arithmetic, LP – Rough Trade – 1990
There'd be a sizeable audience for this crew getting back in action, should it ever happen.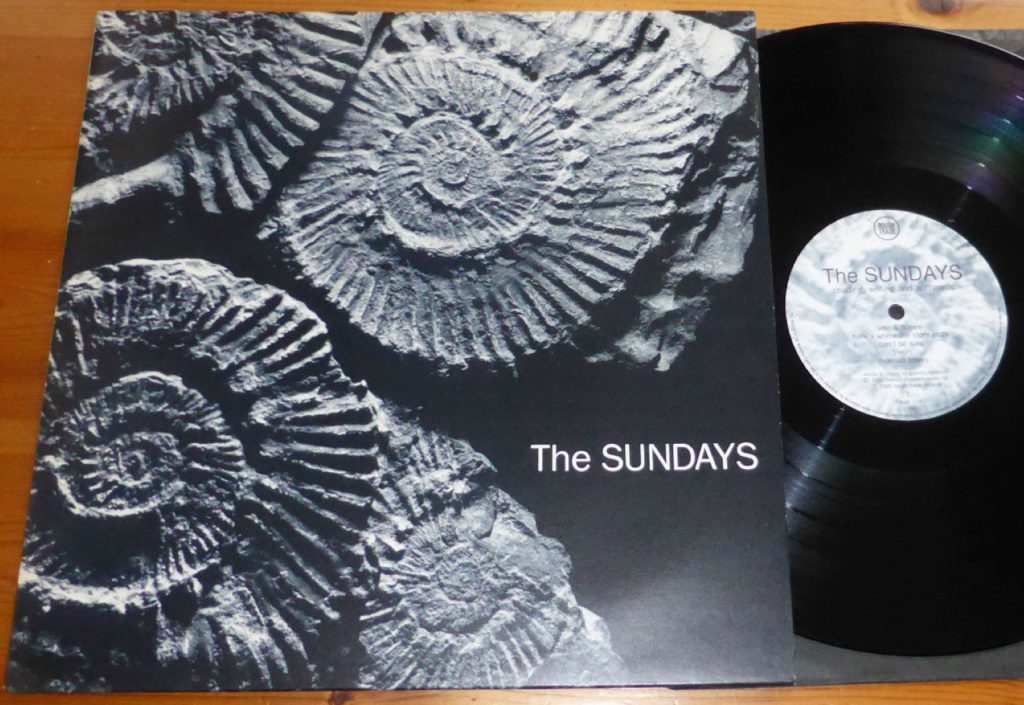 ---
44.02
STEALING SHEEP – Love – Not Real, LP – Heavenly – 2015
A verrrrry late entry, as the podcast was finished before I realised 10,000 Maniacs Pit Viper was just about to get an unintended second 41 Rooms run out. Segueing (that just doesn't look right… ) in a replacement is tricky. Still, this Liverpool trio came off the sub's bench and scored a winner, and turquoise/teal is as good as coloured vinyl gets for me.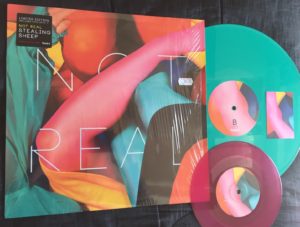 ---
47.49
ETIENNE DE CRÉCY – Scratched – 10″, promo only – XL Recordings – 2001
This knocked my socks off when I first heard it. Definitely a Kiss FM tune, with guest vocalist, the late Belita Woods sounding a bit Billie Holiday-like – and none the worse for it. Very cool.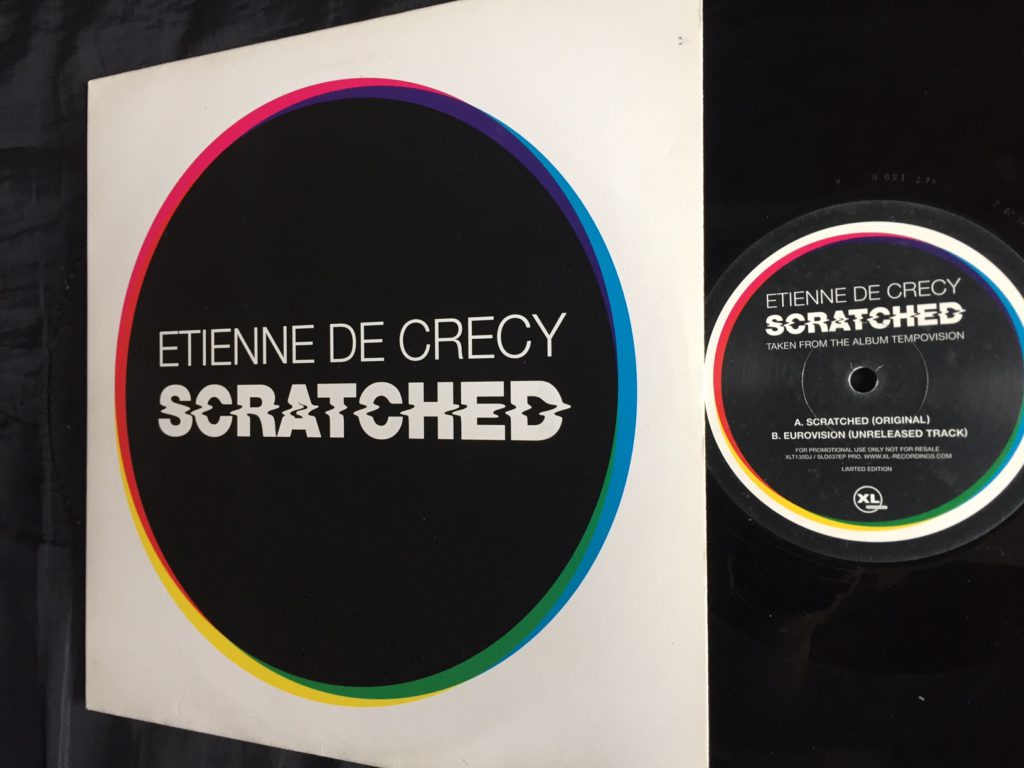 ---
51.04
SUPERSTARS OF ROCK – Strobelight Serenade – 12″ – Related – 1997
There's some sexual tension going on and the 'Cruising' topic crops up on both sides of this 'after dark' electronic gem. For years I wasn't even sure it was a female vocal!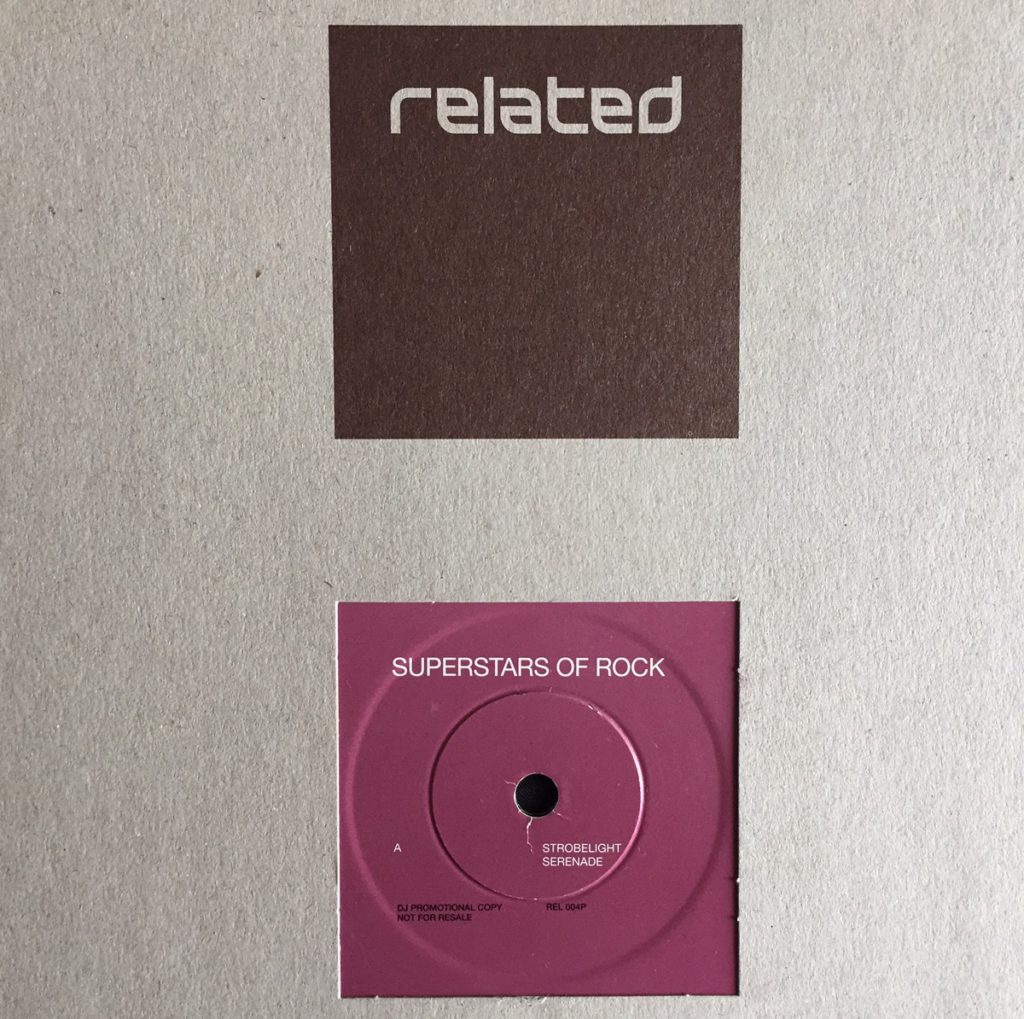 ---
58.32
BURIAL – Distant Lights – Self Titled, 2LP – Hyperdub – 2006
We're in Will Bevan World…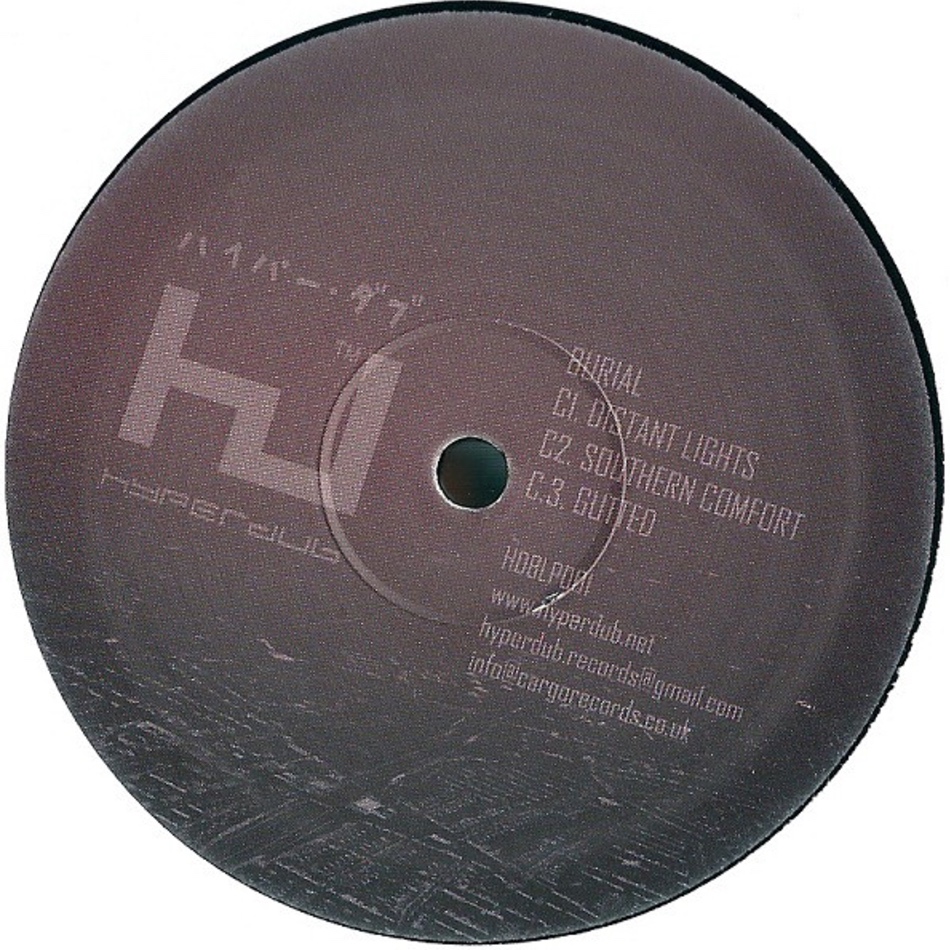 ---
01.03.50
PYE CORNER AUDIO – Black Mist (Old Apparatus Remix) – The Black Mist EP, 12″ – Front and Follow – 2014
500 copies… and if it had been made thirty plus years ago I'd have spun it at Winkles. No one would have been dancing but I'd have played it anyway.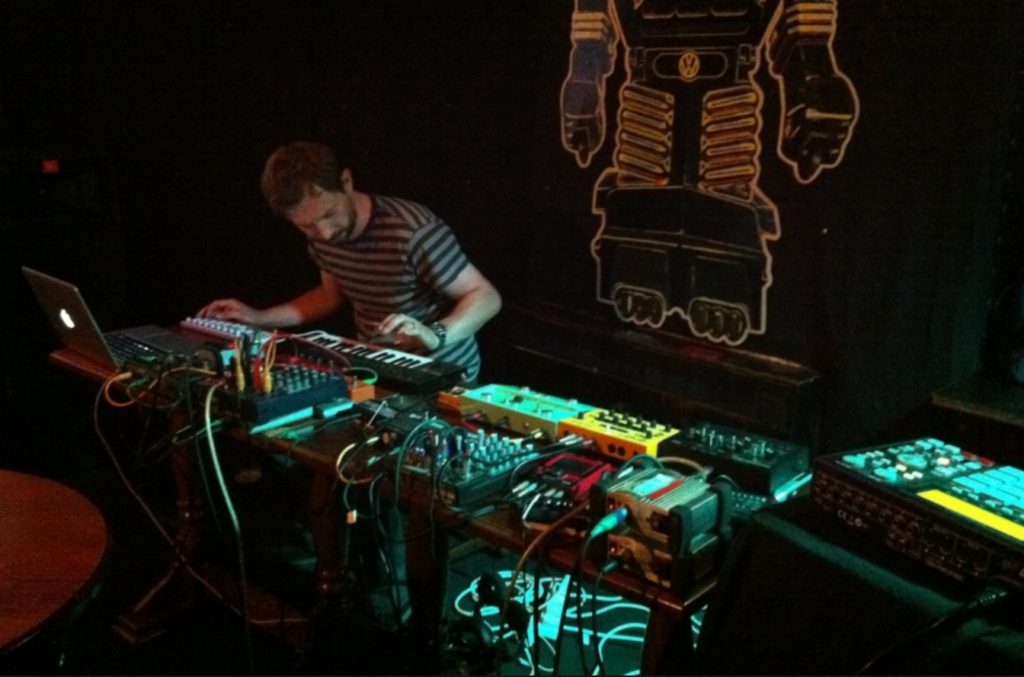 ---
01.08.35
HONEYDRUM – Itchy Throats – Vacation, (3 track cassette) – AMDISCS – 2011
Limited edition release (wouldn't ya guess?), from the cassette favouring New Jersey/New Brunswick set up.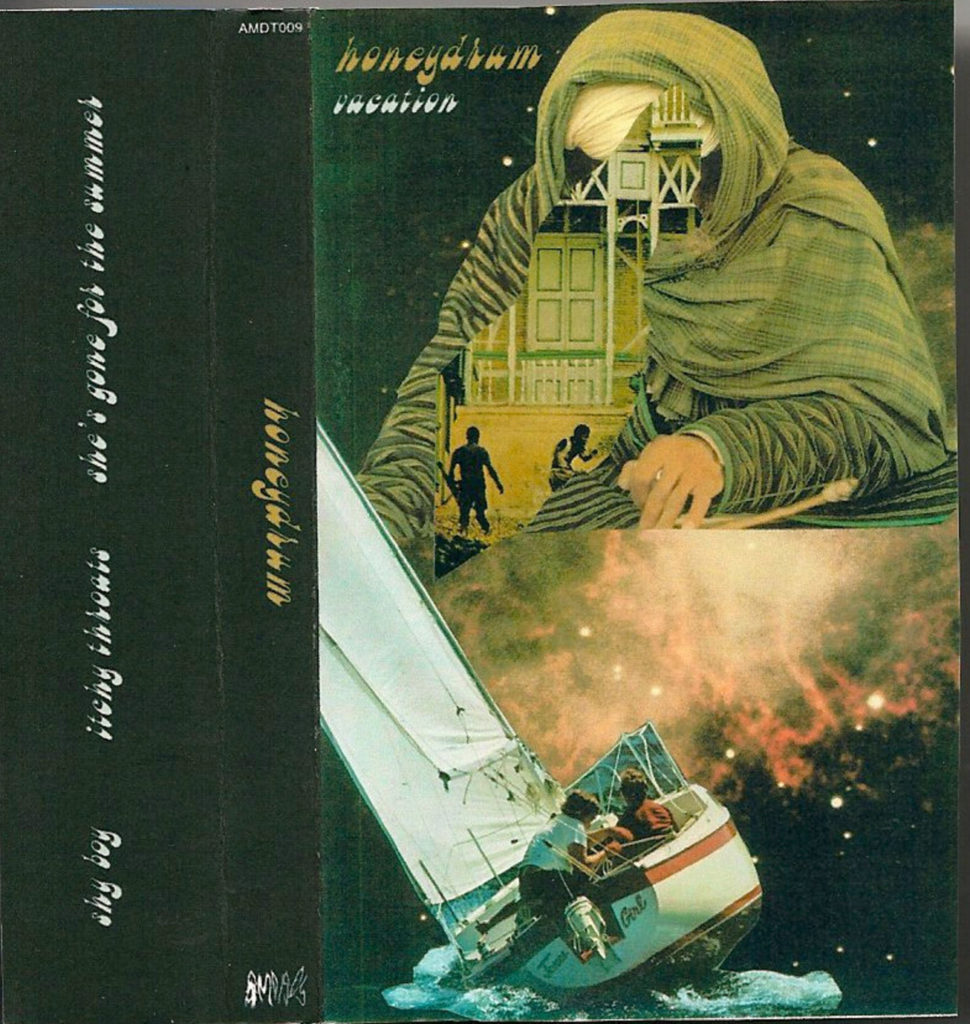 ---
01.10.47
STRANGER SON – City Music – Luna Marseille, CD only – White Box – 2011
Out of Manchester and previously known as Stranger Son of WB (White Box, the label?).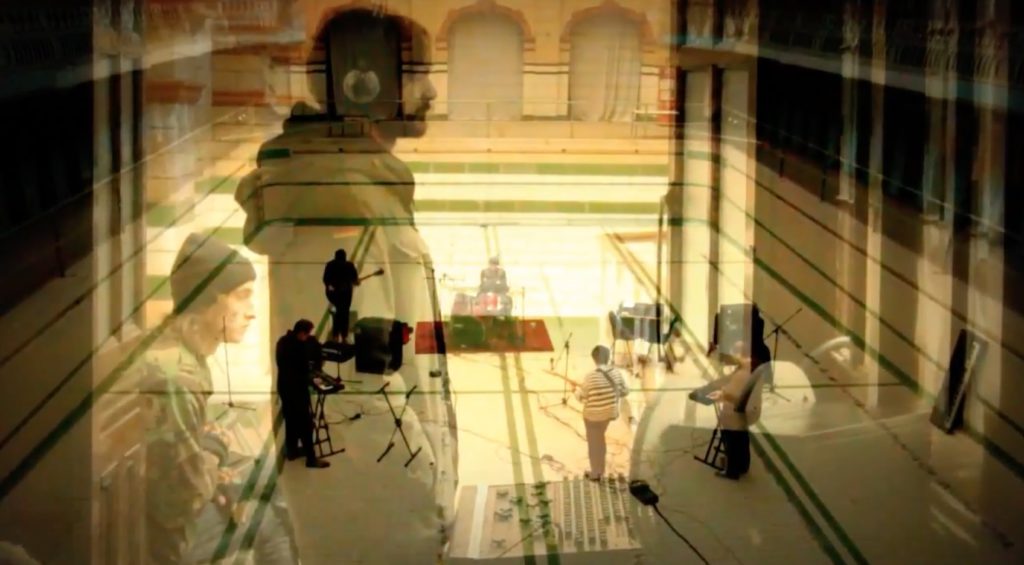 ---
01.13.52
THE AEROVONS – World Of View – 7″ – Parlaphone – 1969
A track worthy of the Beatles, I'd say… if they'd written and/or recorded it. I've pictured the 'demo(nstration)' 7″ (usually pressed in the very few hundreds and distributed to radio, TV and the media of the day) as coming across these of any single I was after as a teenager was a bit of an extra thrill. Either this or the stock copy though is likely to cost you over £100 these days.
Alternatively, in more recent years RPM put out a CD of the band's original 1969 Abbey Road recordings and possibly, via some other route, a run of 200 hand numbered 'Test Record' vinyl albums also exists – the latter nearly matching the cost of grabbing this 7″.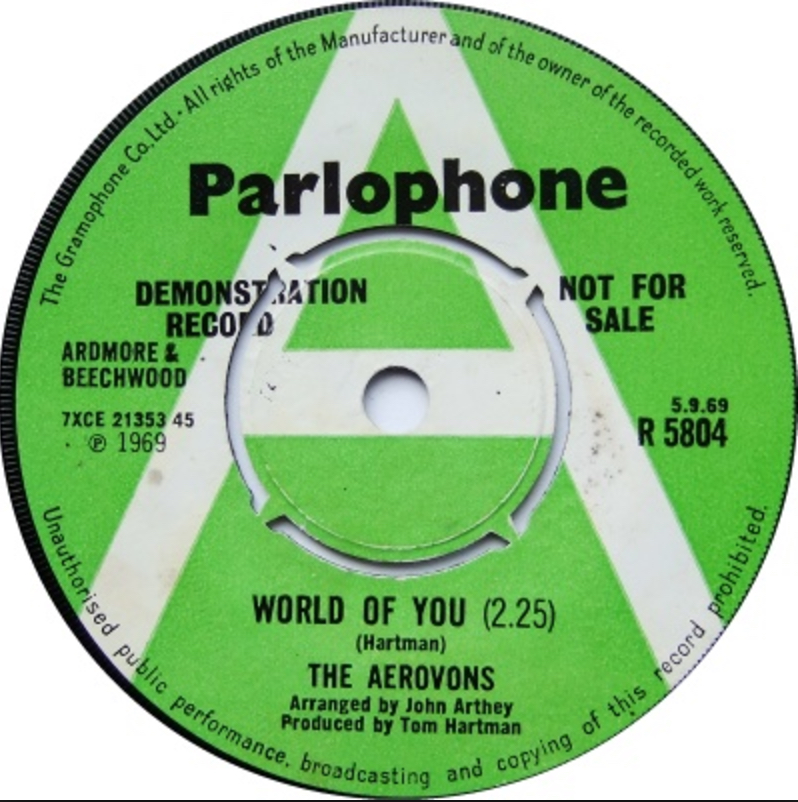 ---
01.16.19
THE GODS – Hey Bulldog – 7″ – Columbia – 1969
They would become Uriah Heap (not a name you'll hear here too often) but back in their earlier, more youthful days covering this Beatles tune was seen as a good move. Another £100 7″, if in near mint condition. More importantly, just a great cover.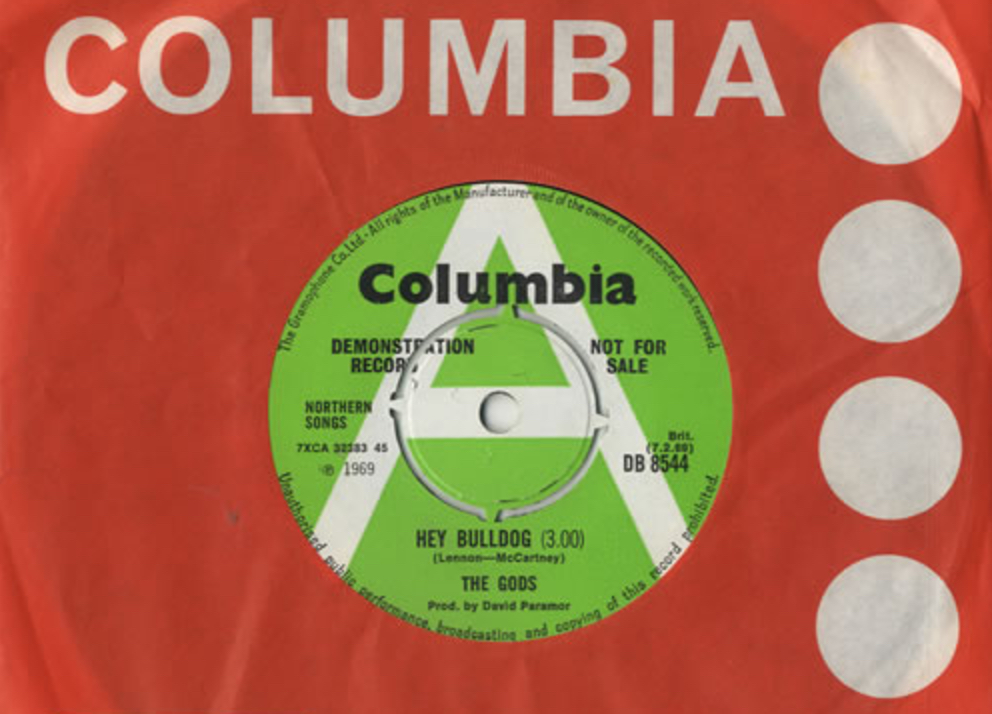 Rare acetate. Sold on eBay, Jan, '18 for £130.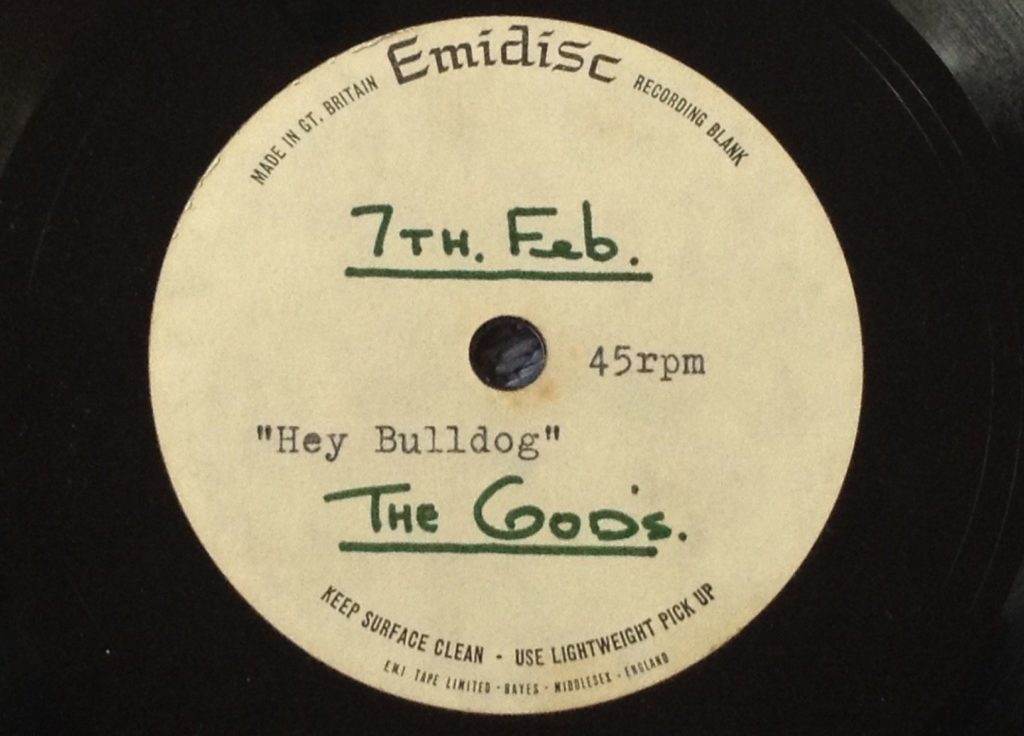 ---
01.19.10
NITA ROSSI – Untrue, Unfaithful (That Was You) – 7″ – Piccadilly – 1965
Having a stronger voice than some of her mid sixties peers didn't guarantee Ms Rossi any success beyond this hit – as good as it was. If you head to Youtube you'll find the UK south coast housewife has in more recent years been captured at various private parties knocking out a cover version or two on a DJ's mic… and the girl's still got the voice.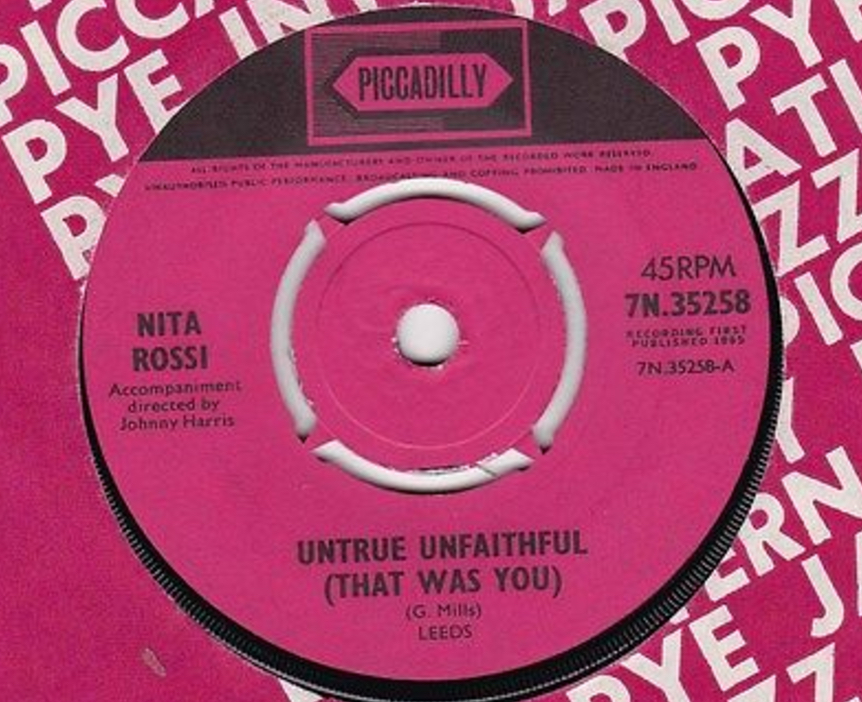 ---
01.21.39
GRIS-DE-LIN – Birthday – 7″ b-side – BB*Island/Noisy Little Birds – 2016
Up to date and the Bridgeport based vehicle for friend, Lucy Underhill, who years ago when she recorded under a slightly different guise I suggested she should have had a stab at covering the above Nita Rossi tune. Back here and now as Gris-De-Lin, apart from the yellow vinyl, Discogs notes 'hand screen-printed artwork (I might know who printed that). Additionally an individual download code is attached to white inner sleeve for 4 songs digital release "The Kick EP'. Also hand numbered (mine's 48), I seemed to miss out on the download. Lucy? Lucy! 🙂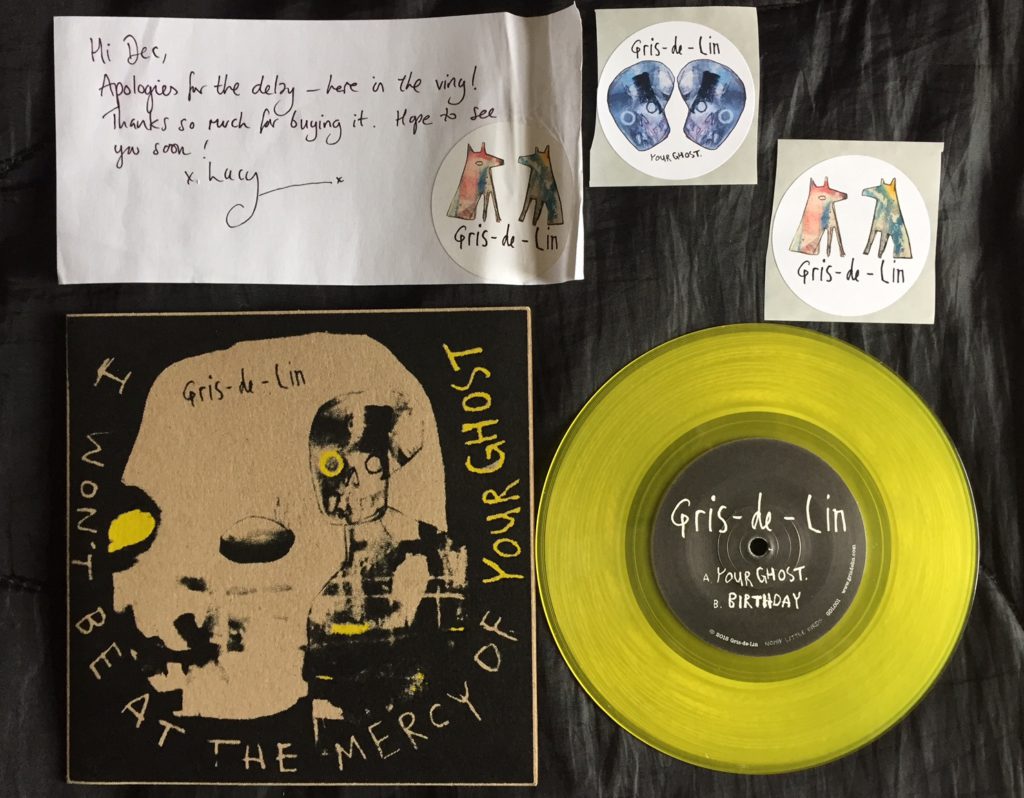 ---
01.25.28
THOMAS  DYBDAHL- From Grace – 7″ – Last Suppa – 2009
Here's more bespoke goings on. Over to Discogs again: 'Limited edition of 500 hand-numbered and signed copies with offset cover with additional spray painted front picture. There is also a limited version of 60 hand numbered + autographed. The artist made both versions himself'.
By my calculation that's 560 7″ copies of this fab single out there somewhere, with #278 in this house, though I'm not sure of the difference between 'signed' and 'autographed'. Maybe those 60 with the latter got a more flamboyant sweep of the pen.
---
01.29.26
SHAWN PHILLIPS – She Was Waitin' For Her Mother At The Station In Torino And You Know I Love You Baby But It's Getting Too Heavy To Laugh – Second Contribution, LP – A&M – 1970
To save time, occasionally referred to as 'Woman (She Was Waiting For Her Mother)'. An awesome piece of music, and aligned to the track somewhere on Youtube there is a really quite moving/poignant anecdote/comment from a fan, that I'll print here… as and when I can find it again.
PS: Over a year later I've just spent half an hour trying to find the above mentioned comment… and I can't. Maybe I just dreamt it.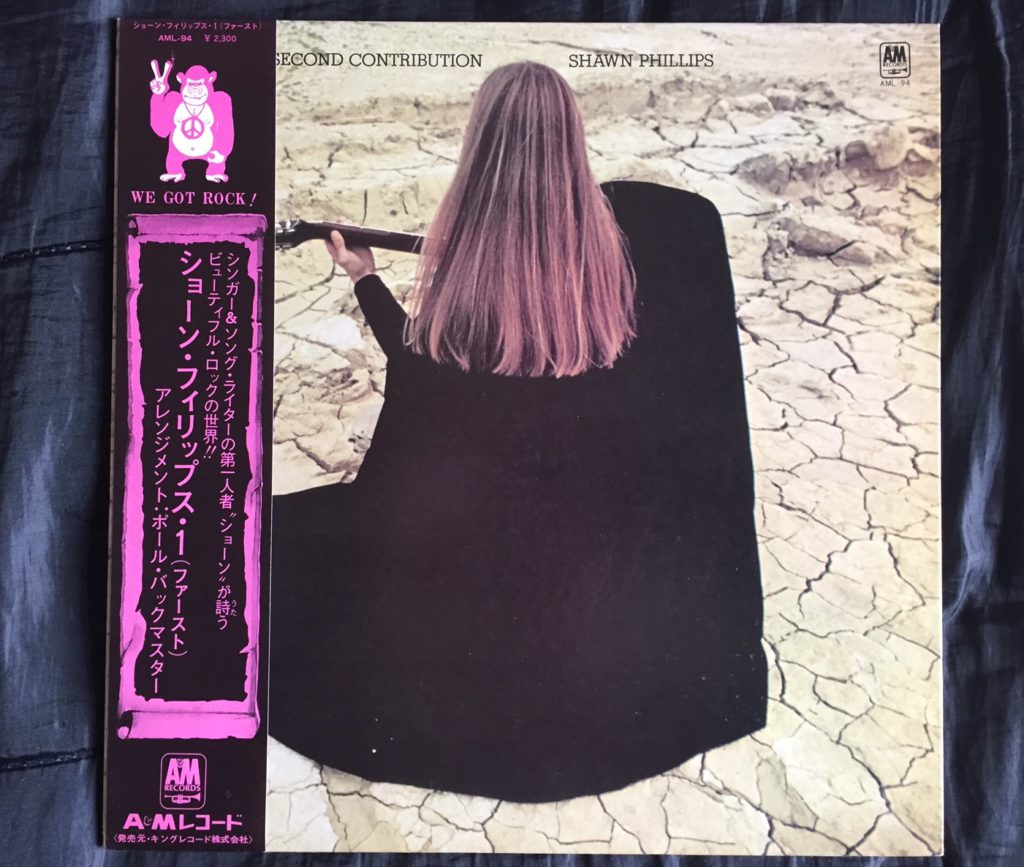 ---
01.34.03
JOHN TURRELL – Wrong Time – The King Maker, CD only – The Big Chill Label – 2013
Another guy who… has… a… voice.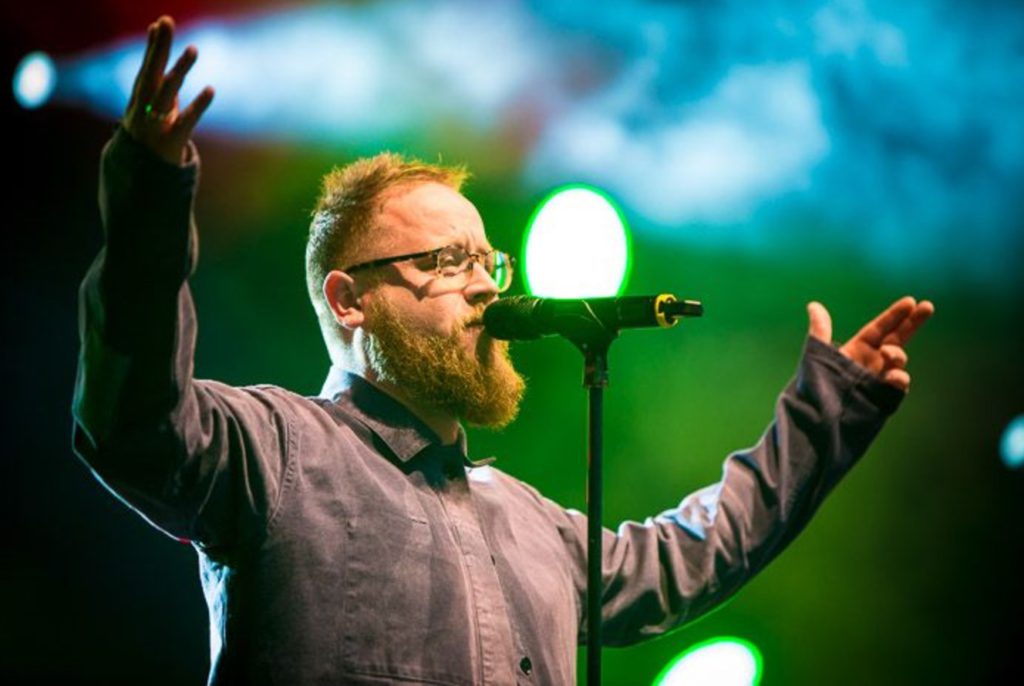 ---
01.37.15
KEVIN YOST – Conquistadors (Main Sail Mix) – 12″ –  i! Records – 2000
I first heard this on a maybe late 90s Ross Allen radio show – possibly Kiss FM once again – and for some reason I thought I caught that it was The Strawbs (!?!?). Very Confused of Islington (now Ireland)… and no Shazam to help out back then.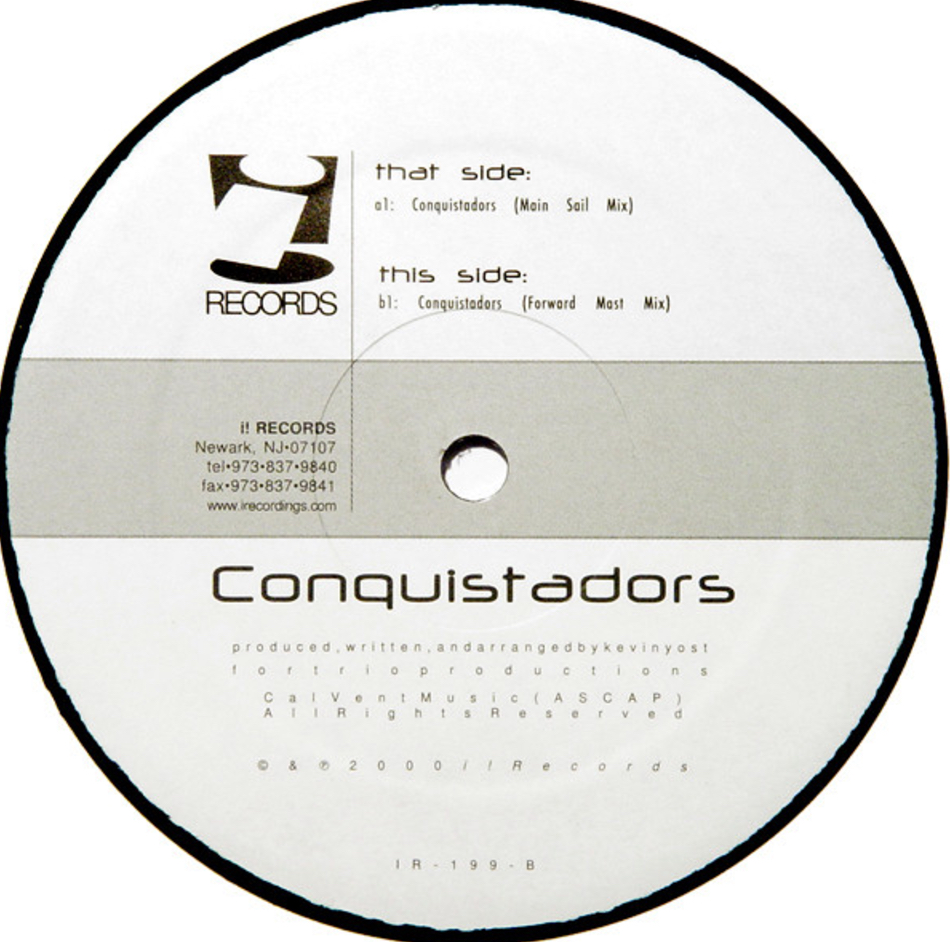 ---
01.46.49
ELEKTRONS – Joy – Red Light, Don't Stop, 2LP – Wall Of Sound – 2007
Yet more genius 'rippling'-type rhythms – this time augmented in no small way by soul-jazz vocal gun for hire, Pete Simpson. Beautiful.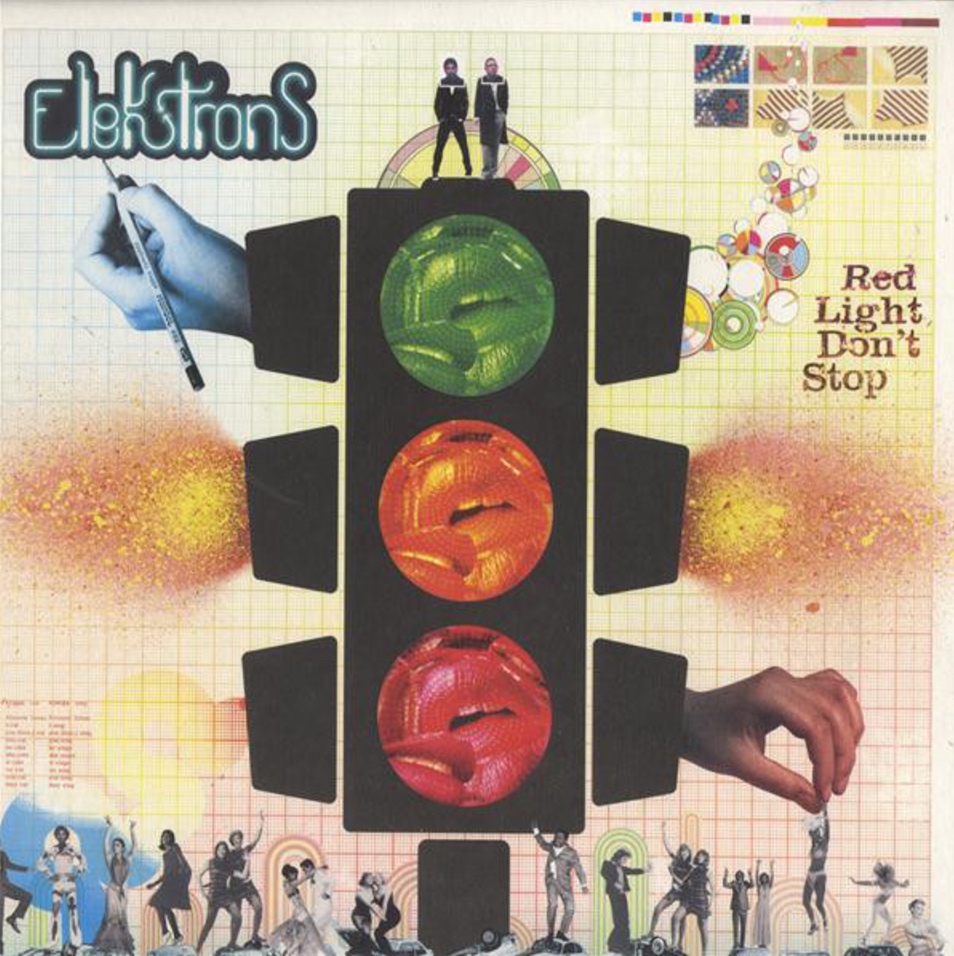 type stuff
---
01.52.38
UNDERWORLD – Mmm… Skyscraper I Love You – 12″ – Boys Own Recordings – 1993
Bearing a title you won't likely find covering two or more different songs any time soon, hearing this track for the first time way back then certainly pricked up the ears. Even as the UK's progressive scene was pushing house music's envelope, I thought this was laying down an extra marker.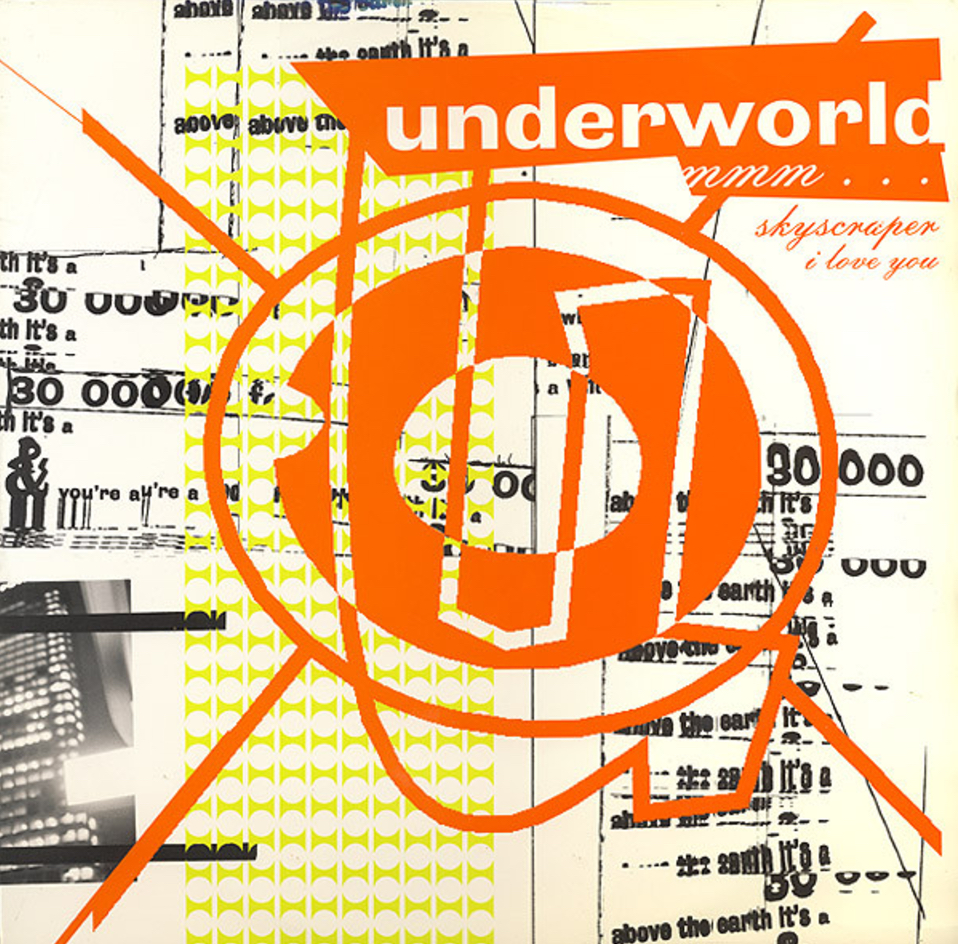 ---
'Look away to the hills, there's a way… '
Dec