PLAYLIST 78 uploaded April 5, 2020
and is 79% vinyl friendly. Not bad.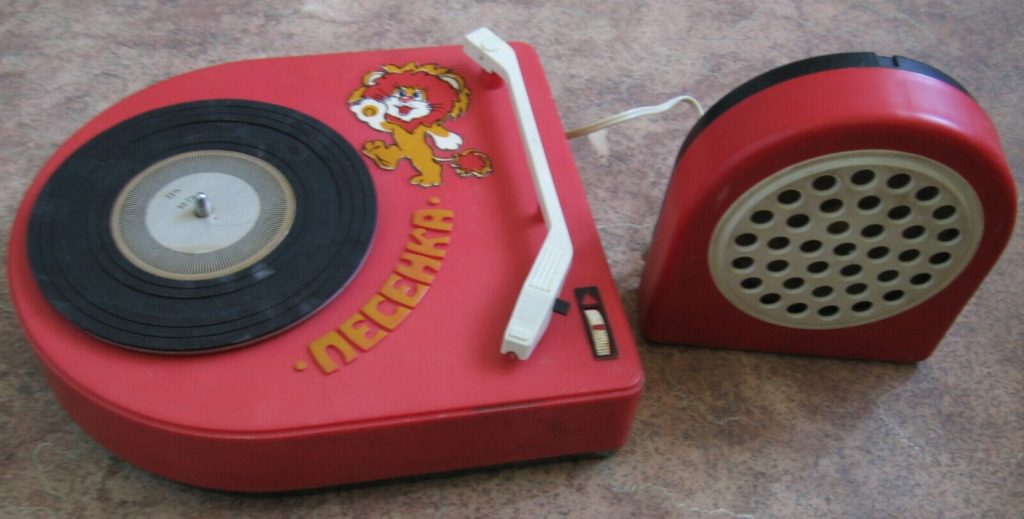 Russian back-in-whatever-day ('toy'?) turntable. Cracked cover and batteries not included. Currently on eBay for £200, inc p&p from the Ukraine. Don't all rush.
---
Any track marked * has been given either a tiny or a slightly larger 41 Rooms 'tweak'/edit/chop/etc.
And one track here is sounding 'less than ideal', sonically. 🙂 In fact it's this one. ⬇︎
---
Lyric of Playlist 78…
'I've seen you burn children and leave them to die'…
We're definitely going to need some context with that. An honourable mention also to…
And Above all, Roland… Never Fall In Love. That is Not For You'.
---
00.00
(Intro) THE FLAMINGOS – Stars (Edit) – Unreleased demo – 1983 Episode #1 for info.
---
00.41
NEW ORDER – Senses – Movement, LP – Factory Records – 1981
One of the eight or so tracks that pretty much made up the set lists for the band's first nine months (give or take) in existence. Tense. The song made it to their first John Peel session but hasn't been heard live since 1984, so don't hold your breath on that score.
My war torn original copy of the album gets another outing.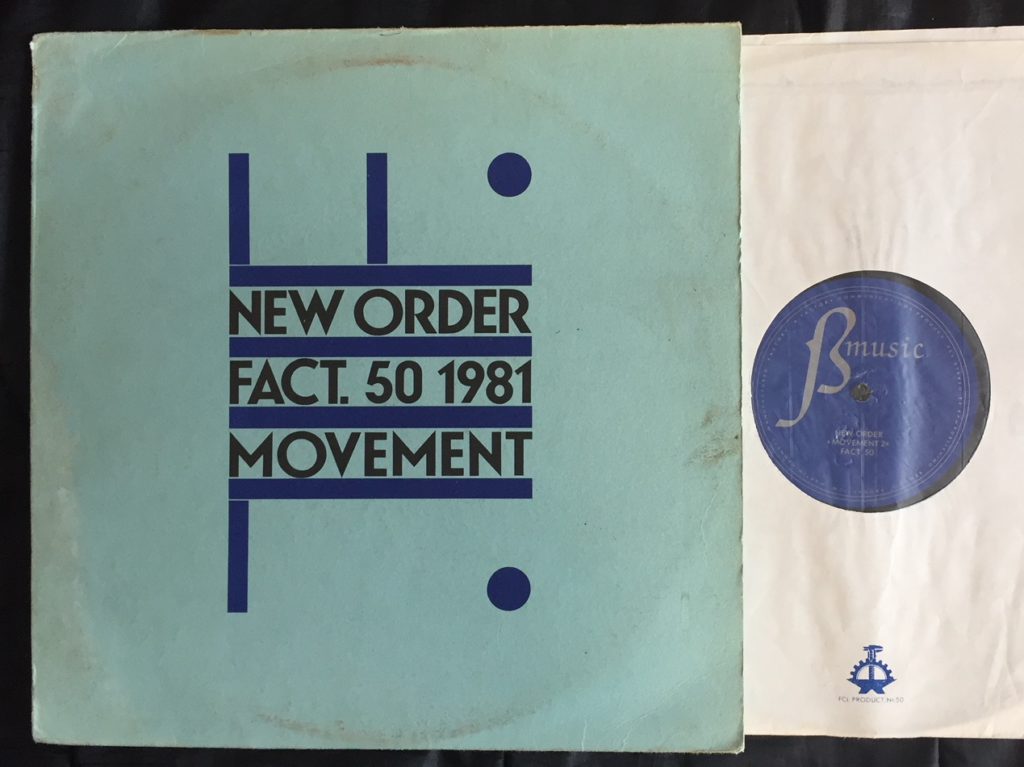 ---
05.11
JOY DIVISION – Komakino – Flexi-disc – Factory Records – 1980
Discogs: 'Given away in record stores, released in generic die-cut paper sleeve. On release, Factory stated that this disc would never be deleted from its catalogue. At least 75,000 copies were pressed'. I would have been happy playing any of the three tracks on this flexi at our club but it certainly wouldn't have happened via one of the buggers actually being on a turntable. Even if you avoided getting kinks in them, you couldn't trust flexi discs on decks, as they slipped way too easily. Still easily to be sourced online, my seven copies (more than anyone needs) were all acquired at the time and maybe handed out with shop purchases.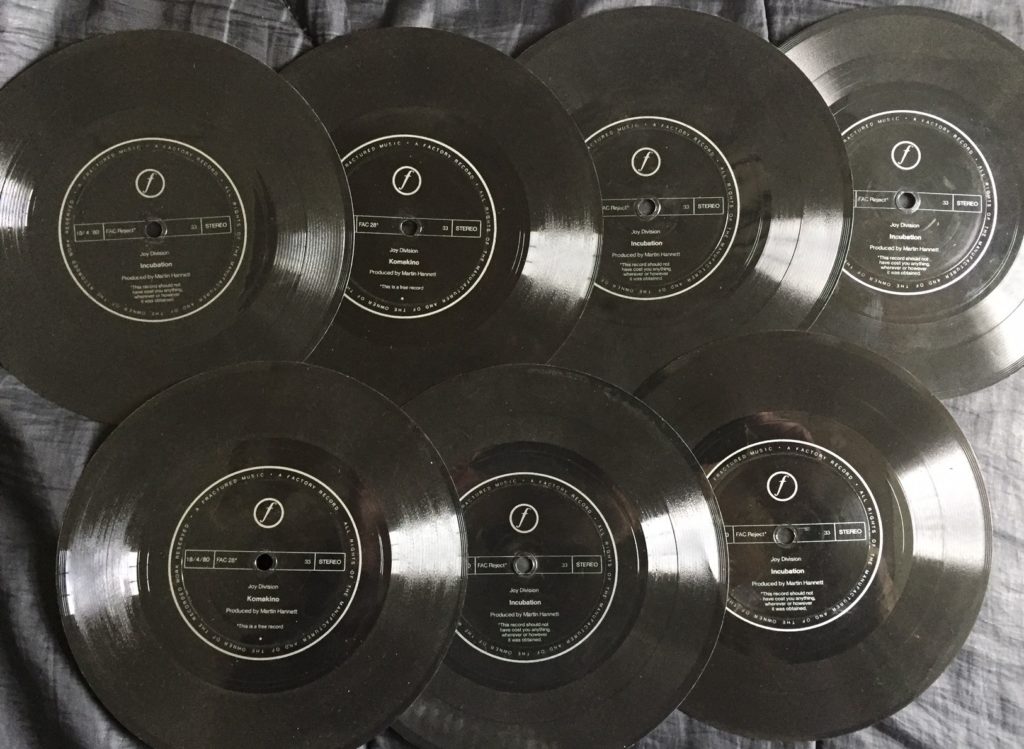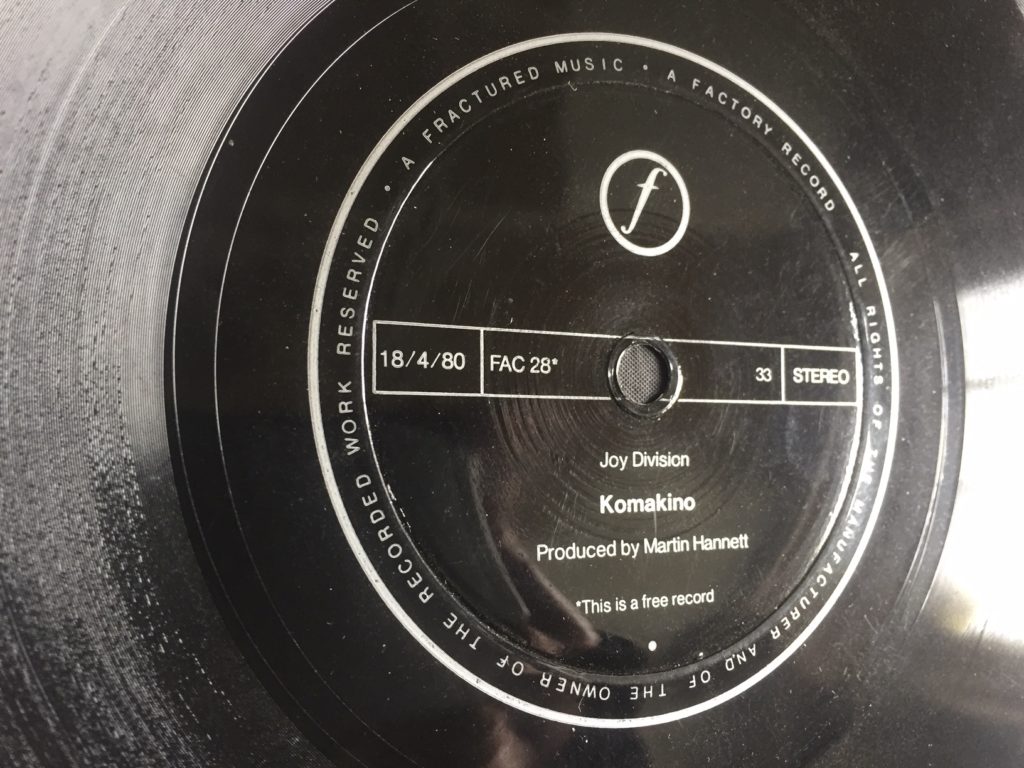 ---
09.00
HONEYDRUM – Freaks – Digital only – Bandcamp – ?
Bar a solitary 7″, the New Jersey band's constant stream of releases between 2010 and 2015 (including a short period when they were every week!) came via either cassette or digital.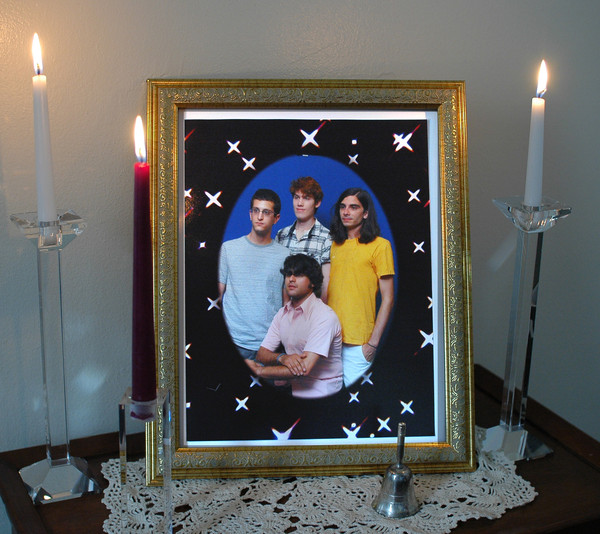 ---
11.16
THE SOUND – Possession – From The Lions Mouth, LP – Korova – 1981
Up there with the best of the contenders for any post punk scene appraisal… as they were there first time around. 🙂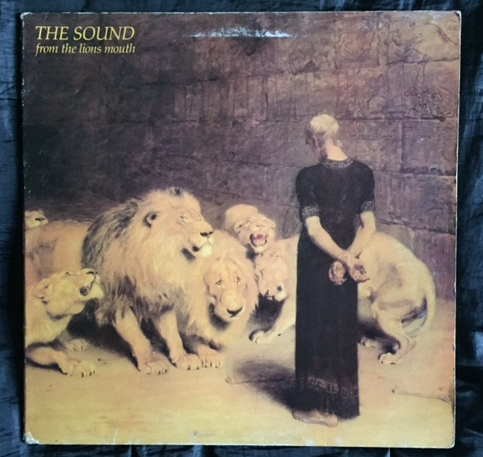 ---
14.35
VISITORS – Electric Heat – 7″ – Deep Cuts Records – 1979
I bought this and the more current, to the time, Compatibility 7″ very soon after seeing them support New Order at Edinburgh's Valentino's in April '81.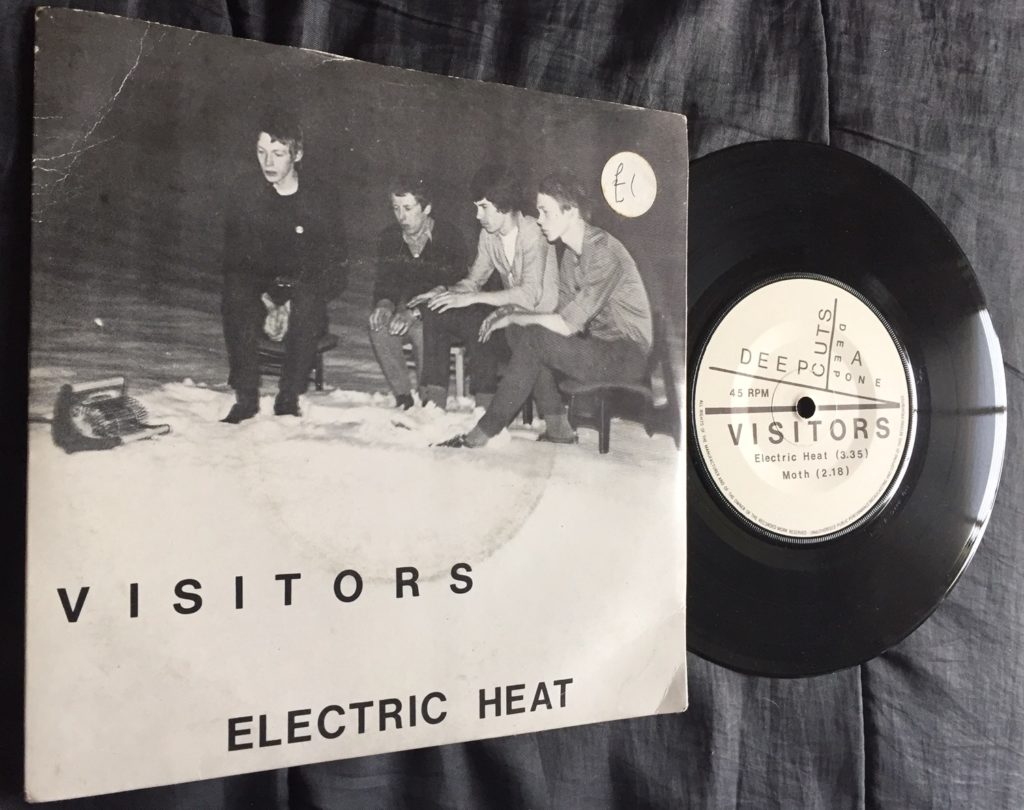 ---
18.09
FIRE ENGINES – Get Up And Use Me – 7″ – Codex Communications – 1980
'Use me!… ' I'm no musician, so I'm not quite sure why this frenetic couple of minutes sounds so delightfully 'wonky'. 🙂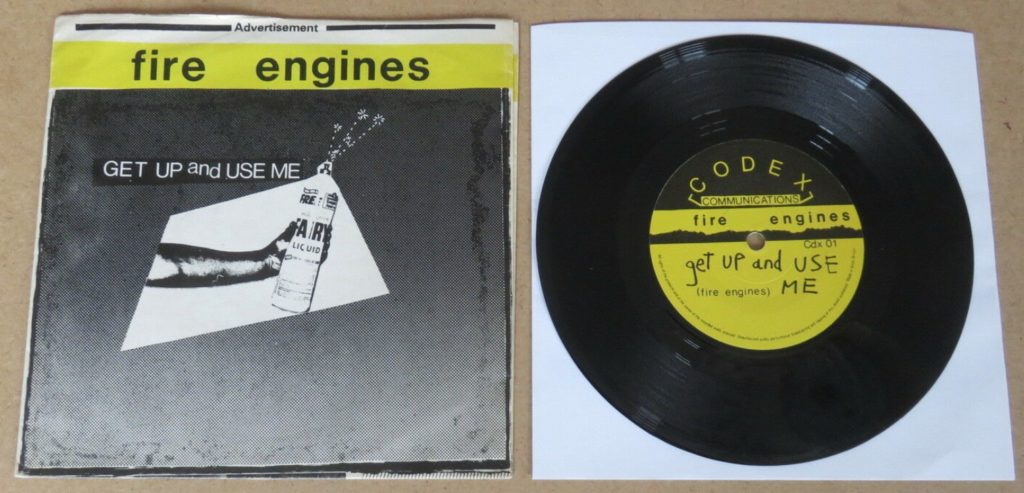 ---
20.15
HALF MAN HALF BISCUIT – Time Flies By (When You're A Driver Of A Train) – Back In The D.H.S.S., LP – Probe Plus – 1985
These lads had a sense of humour. Even if you didn't like the tunes you could smile greatly at a song title or storyline, but another of the tunes on this album – Rod Hull Is Alive – Why? – was always going to come back and slap them in the face at some point.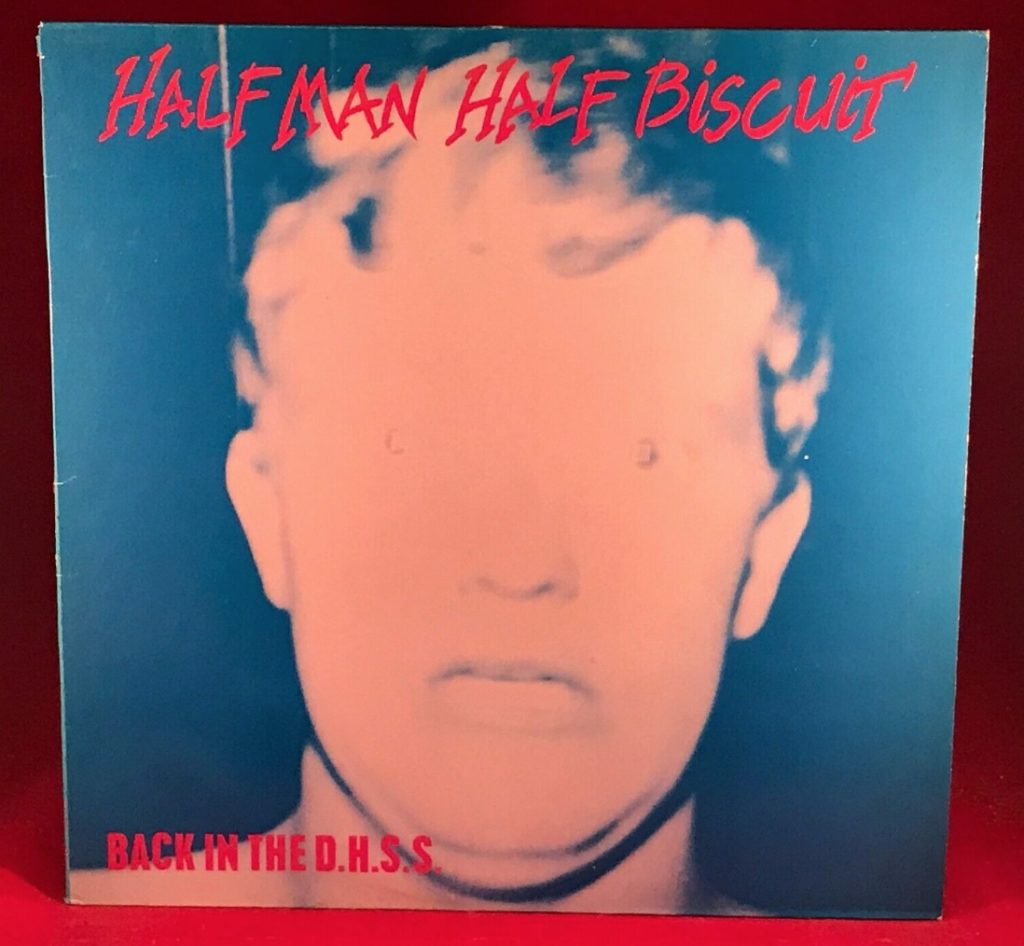 ---
22.14
BETH SORRENTINO – Along Comes Mary – Would You Like To Go : A Curt Boettcher Songbook, CD only – Basta – 2014
The first thing that sprang to mind when I came across Beth was… 'Wine and dine Sorrentino's style!', a sort of rallying call to anyone who watched films at cinemas in Bedford, UK in the seventies. Nothing to do with Beth, or indeed her previous musical life as, along with her brother, part of indie band, Suddenly, Tammy! Sorrentino's was in fact a local Italian restaurant that seemed to be forever part of the inbetween films ad slots. Back to Beth, and as it informs on the tin, Along Comes Mary is a Curt Boettcher cover. The song may have been a massive hand clapping hit for The Association in the sixties… but this version is better.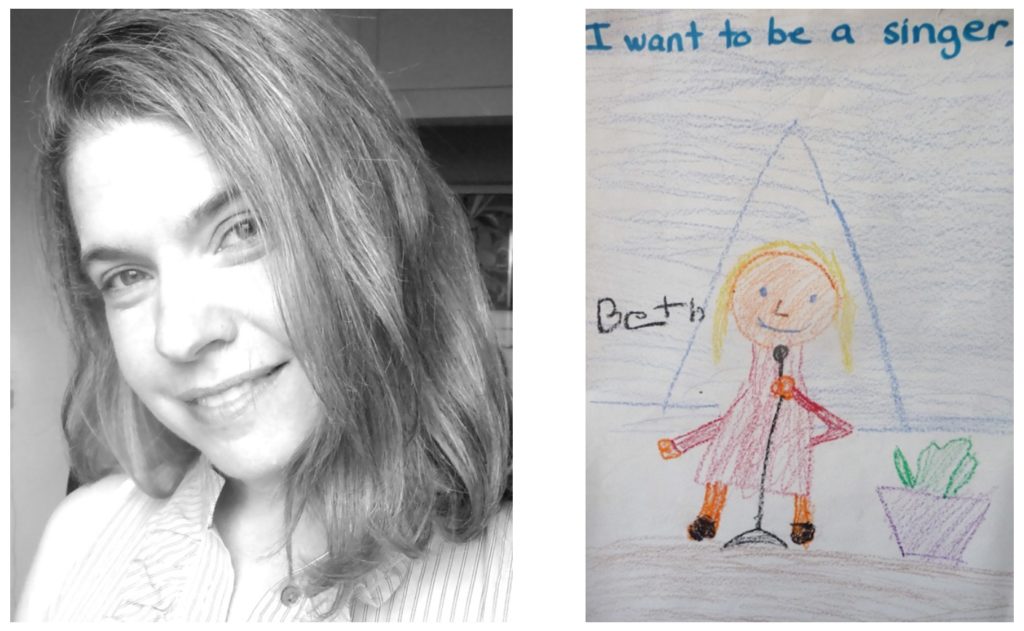 Also, sounding not unlike this free spirited girl…
---
25.05
CAROLE KING – Pleasant Valley Sunday (Demo) * – The Legendary Demos, LP – Hear Music – 2012
From the era before her own solo artist success, a song she and Gerry Goffin wrote and paid a few bills with, courtesy of The Monkees's version smashing the charts worldwide.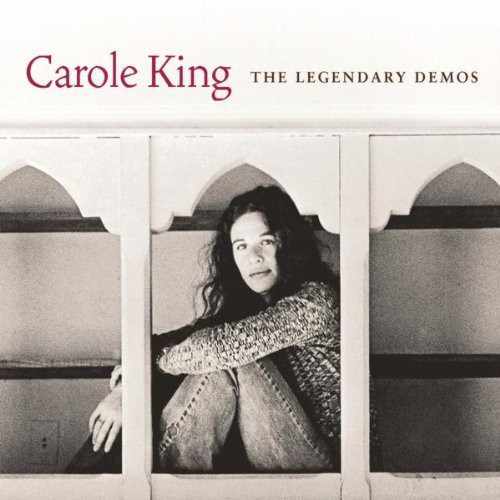 ---
27.27
DEWEY – Loch Linnhe – 7″ – Speedy Wunderground – 2017
250 hand numbered copies… and I was too slow on the case.
'London-based vocalist, multi-instrumentalist and producer DEWEY (real name Fifi Dewey) met Speedy head-honcho Dan Carey in his studio while providing backing vocals for Carey-collaborator Nick Mulvey. 'I kept hearing about her through various people', says Dan, 'and we kept meaning to meet up – and then, one day, there she was in the studio.' At that session, Fifi passed Dan a CD of dozens of demos she had written and recorded. 'I had one listen and it was a revelation,' recounts Carey. 'We started recording straight away… The song itself is named after a trip to an otherworldly area situated on the west coast of Scotland and is, in her words, 'a paean to unrequited love and nostalgia buoyed by an overriding message of hope… The result is a truly unique piece of music. It's hard to place specific influences but there are hints of Bjork and Jeff Buckley, along with subtle RnB textures. Label co-runner Pierre Hall describes it as being 'like Sade meets PJ Harvey', but continues, 'There's more to it than that. Every time I listen it reveals something new and fresh. It's like peeling off the layers of an onion. Points of reference cascade over another and become something different – like ripples on a pool of water. It's very elemental. For me, she perfectly encapsulates that moment between being asleep and dreaming. Kinda half-remembered, but almost too far away to grasp, just out of reach.' – deejay.de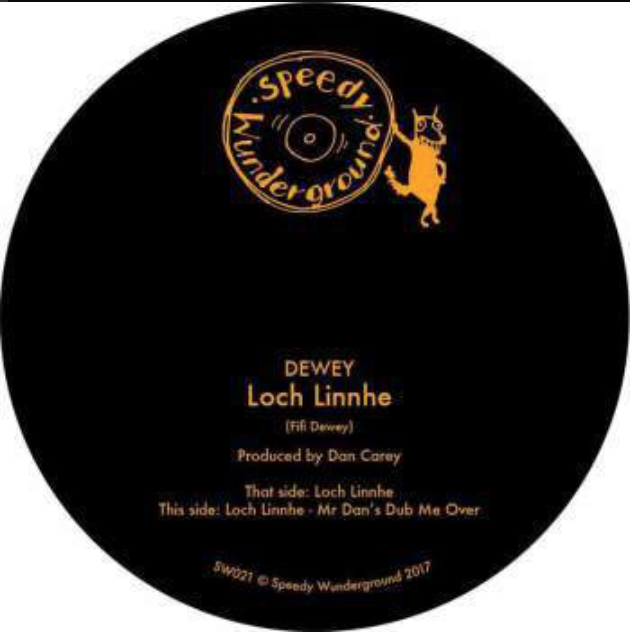 ---
31.11
HELEN SHAPIRO – Tell Me What He Said – 7″ – Columbia – 1962
One of two Shapiro singles in an oft-referred-to-here bunch of 7″ singles that came with a second hand Dansette my dad bought from Peacocks Auctions in Bedford in the early to mid sixties. As a kid it was a revelation hearing music this way. The tenth one down the spindle (go watch one in action, kids) always ran a great risk of sounding very skewed, though. Helen? Just fifteen when recording this single, she had a voice way beyond her teenager years.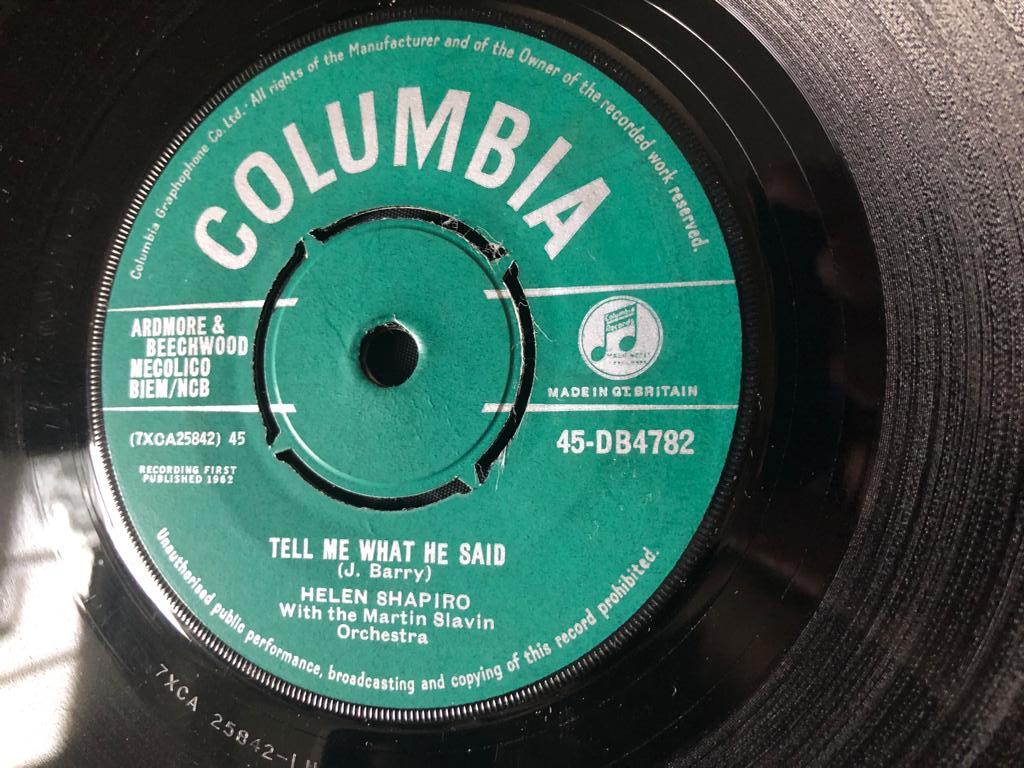 ---
33.54
THE SUPREMES – You Keep Me Hangin' On * – 7″ – Tamla Motown – 1966
In spite of its simplicity, one of the most distinctive guitar 'lines' you will have heard, and an idea maybe used more than the other one time I can recall right now – in Slade's version of The Shape Of Things To Come. Here? Motown magic, indeed. And I might have mentioned this before but if you ever find a UK Motown 7″ with a very tiny orange dot painted on its label, it was at one time in the ownership of a Keith 'Tilly' Tillson, a Bedford soul collector I certainly bought a few singles off of back in the day. I'm not sure why he felt the need to iD them or indeed if he did it to every single he sold but the chances are they'll have travelled a good bit since. 🙂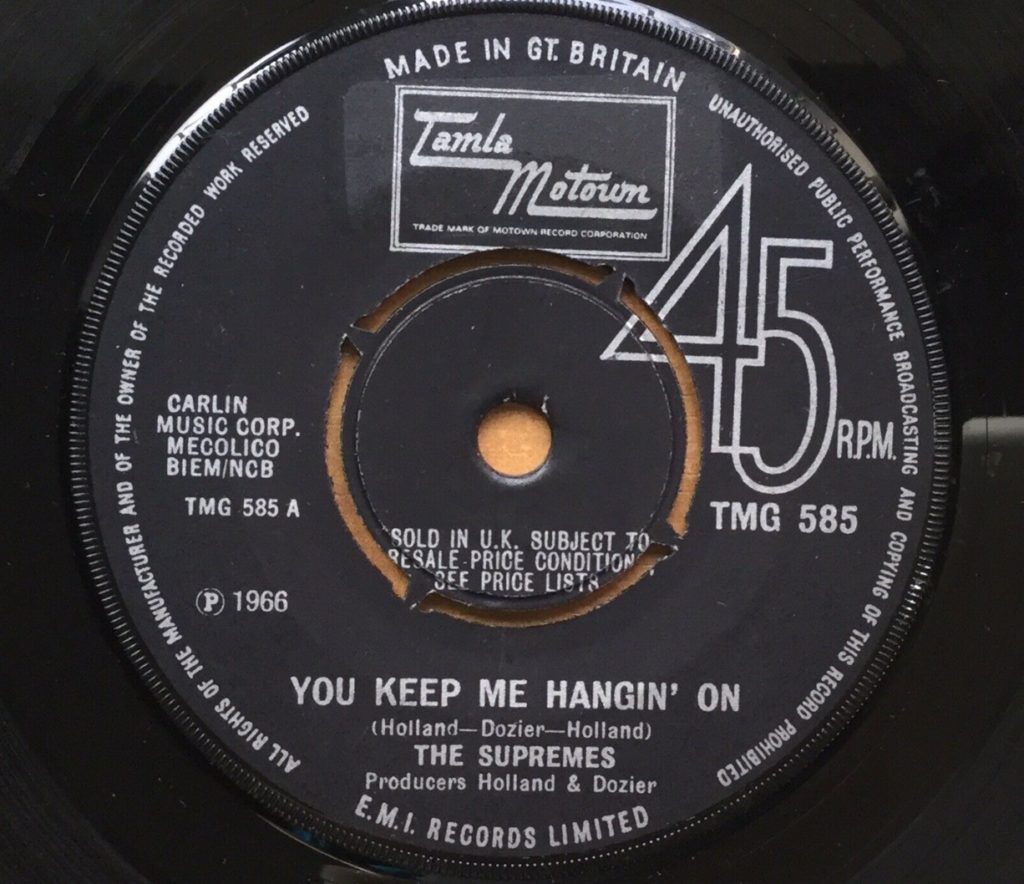 ---
36.20
THOMAS LEER – Soul Gypsy * – Contradictions, 2×12″ LP – Cherry Red – 1982
If there is such a thing, Thomas is nearing '41 Rooms Royalty' status.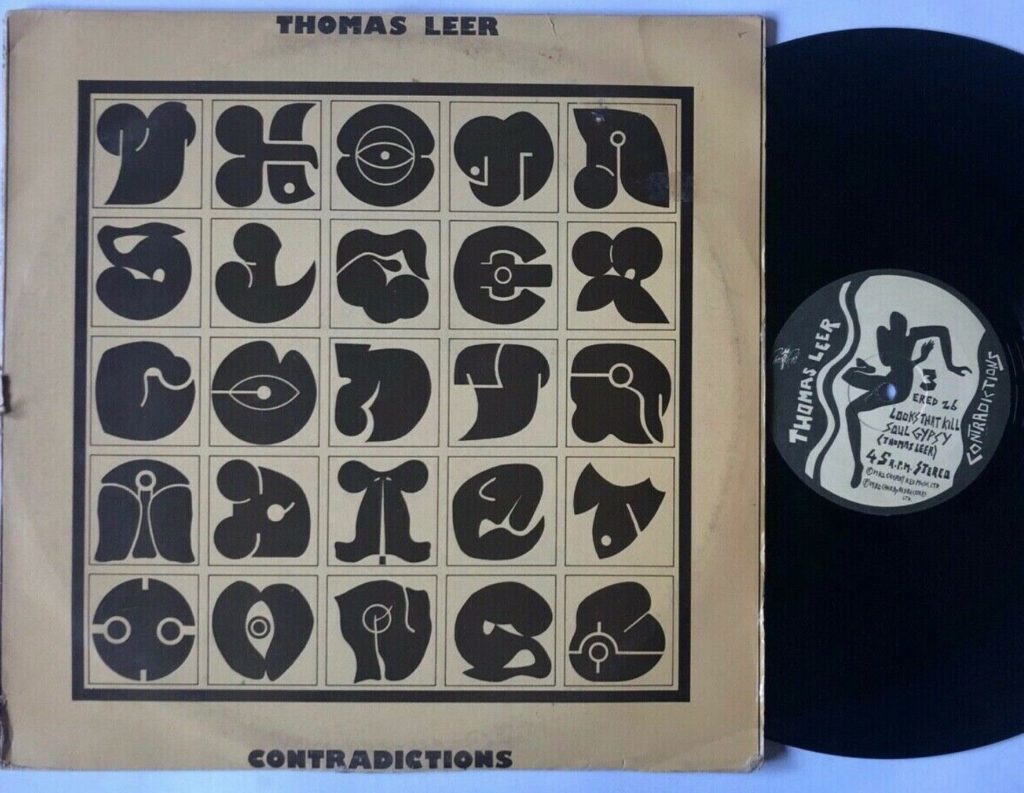 ---
41.53
WILLIAM ONYEABOR – Body And Soul (Scientist Remix) – 12″ – Afrodisiac Records – 2002
Studying cinematography in Russia isn't the usual preamble to making funk records in Nigeria but the late William O did both in the seventies, and you'll have to go some to find the original own (Wilfilms) label Body and Soul album that included this track. Raw.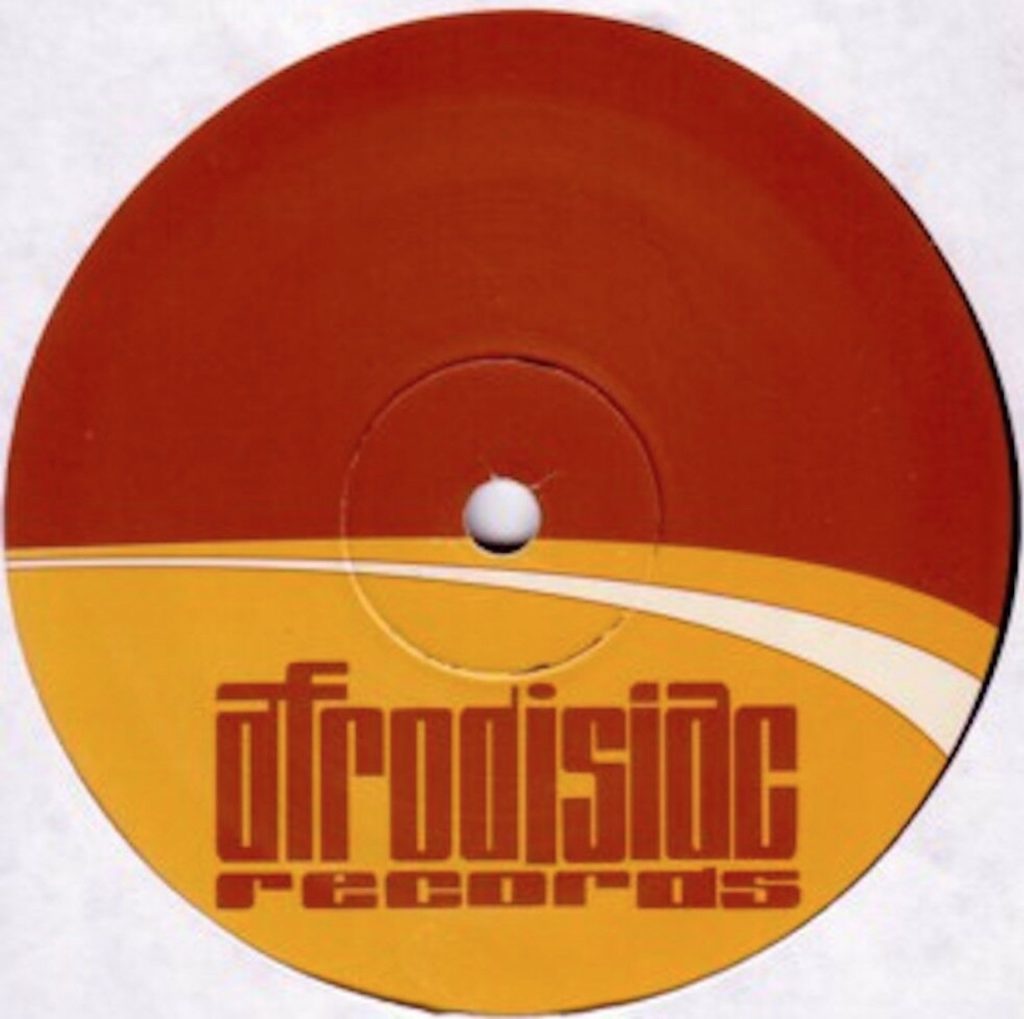 ---
48.13
THE ASPHODELLS – A Love From Outer Space (Version 2) * – Ruled By Passion, Destroyed By Lust, 2LP – Rotters Golf Club – 2013
Andy Weatherall (RIP)…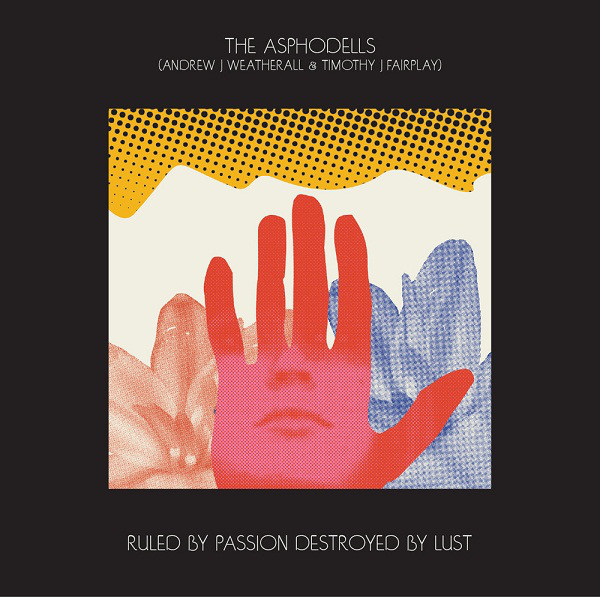 Tunes floating his boat back in the day. Record Mirror, 23.7.94
---
---
55.59
WE DRAW A – Glimpse – Glimpse, EP, CD only – Brennessel – 2013
Coupled on a CD a year later with yet another digital EP, Whirls.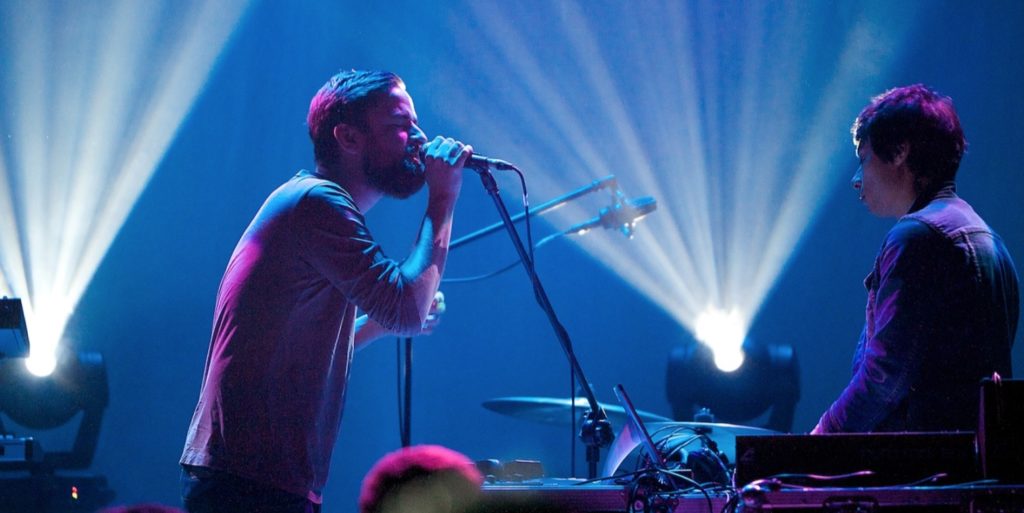 ---
Half time…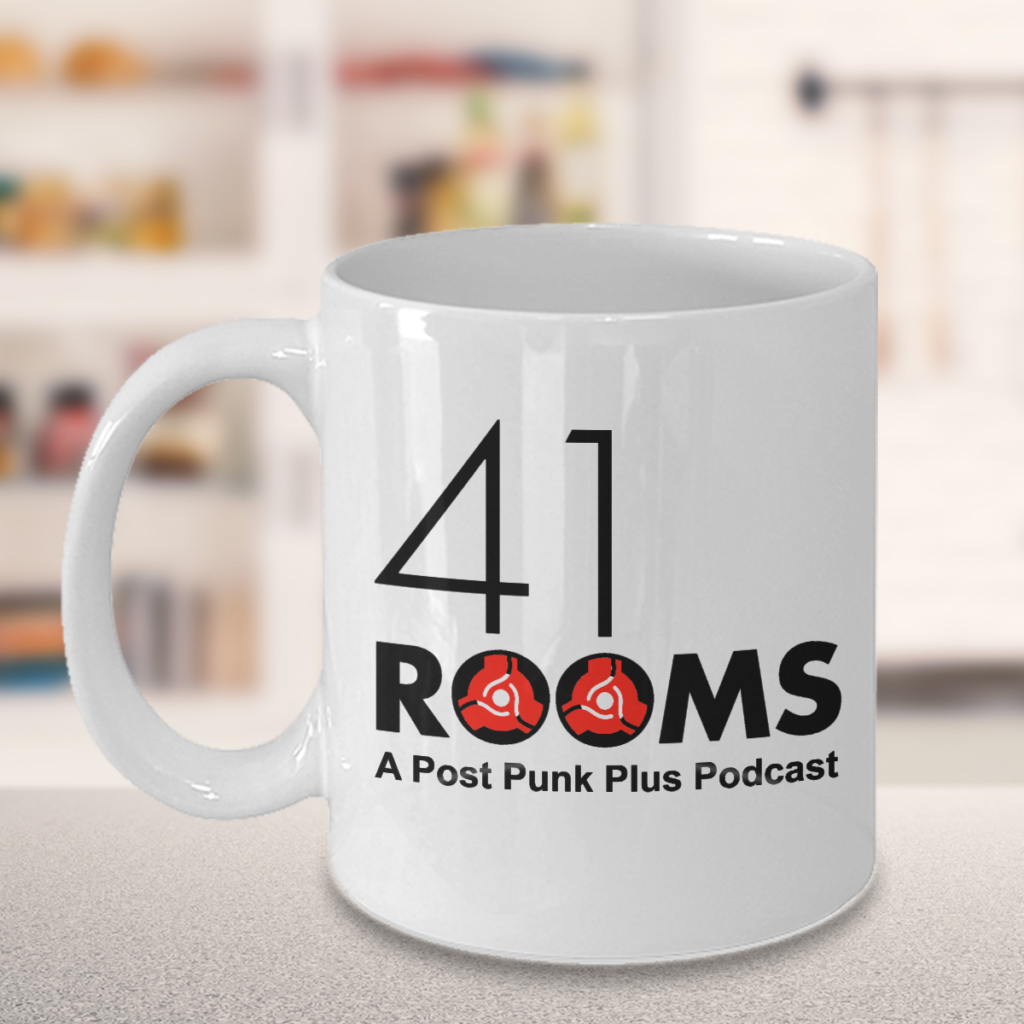 ---
01.01.38
FINGERS – Dead End Alley (Stecca Vocal Remix) – 12″ – Black Market International – 1993
The two thirds of Fingers Inc that had been Larry Heard and Robert Owens were now just Fingers. A big nod to the remixers here, as by a mile, this urgent shuffler was my fave take.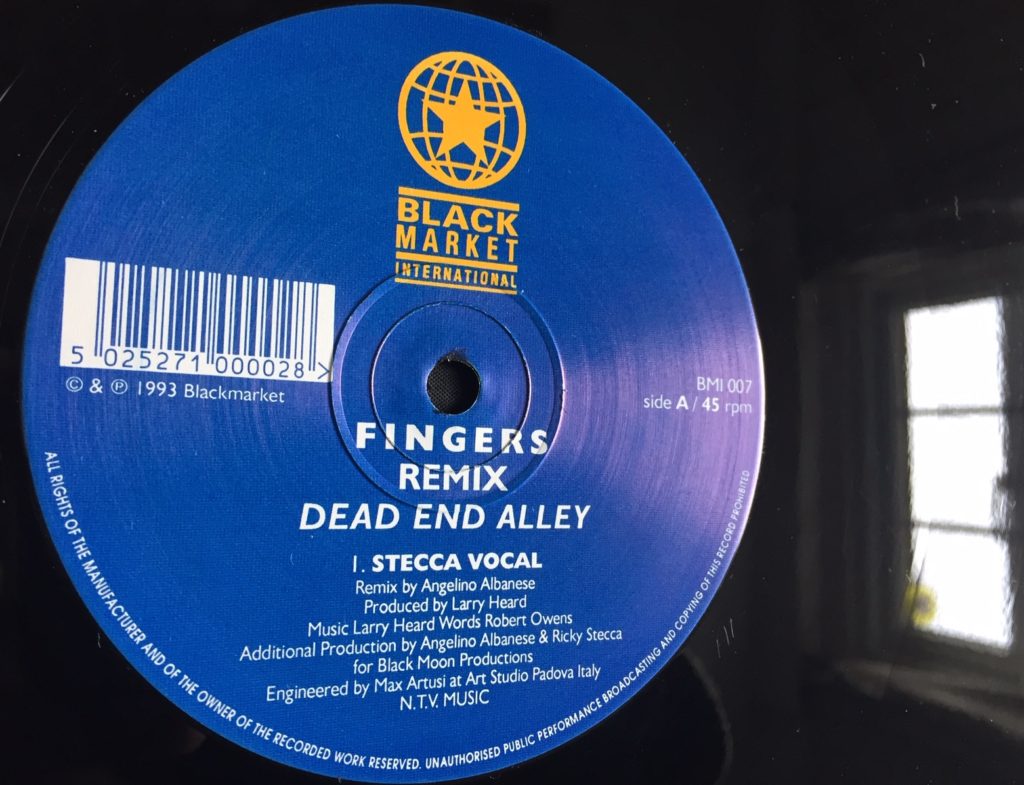 ---
01.05.03
MARSHALL JEFFERSON (feat CURTIS McLEAN) – Step By Step * – 12″ – Freetown Inc. – 1995
More 'urgent' grooves – and thank flip for sampling! coz I reckon Curtis may have 'zoned out' struggling through this mix for real. 🙂 The builds and drops make it.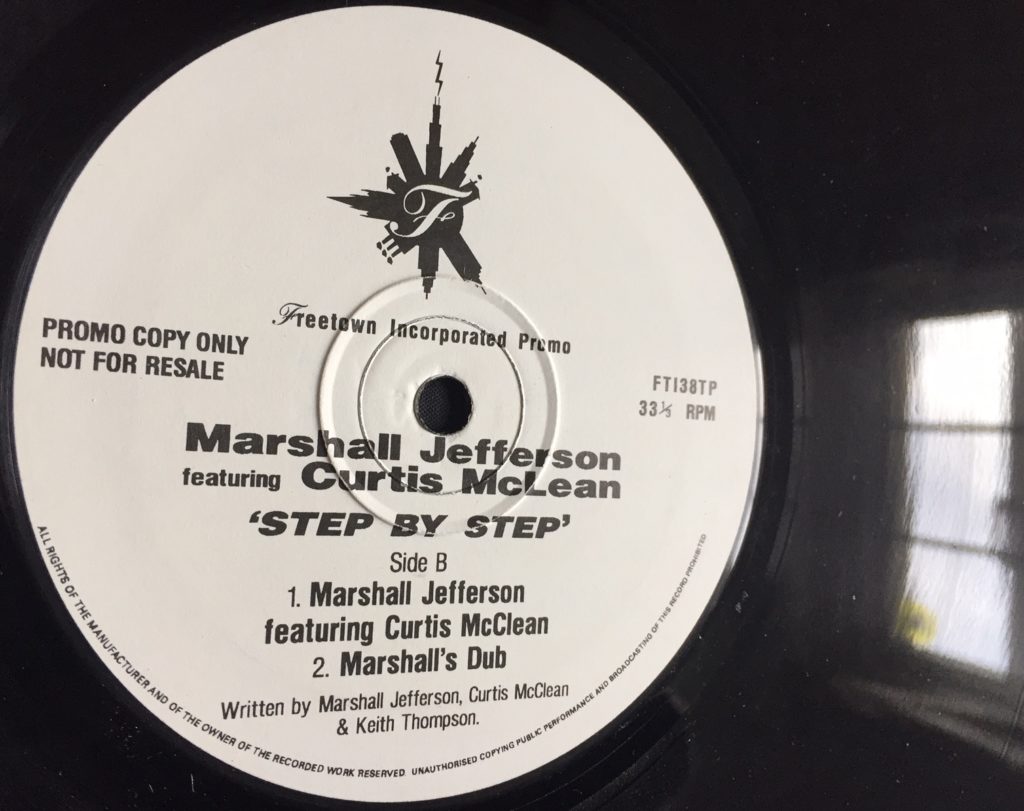 Record Mirror, 18.5.96
---
01.11.33
THE RACONTEURS – Hey Gyp (Dig The Slowness) – 7″, S/Sided, Etched, Ltd, 'Test Pressing' – Third Man Records – 2019
Let's be frank, Third Man can often be a fairly elitist label set up and the chances are that by the time normal fans knew of this they hadn't a hope in hell of buying a copy. It's Jack White's label, he's in the Raconteurs… and he'll do what he wants – and part of his pension plan likely included vaulting a copy of each of the five separate, single sided and etched, limited edition 7″ versions of this release. None of them will be cheap to acquire. One version on Discogs currently has two sellers teasing the world with their copies at $1500(!), so I won't be seeing a copy anytime soon… if ever.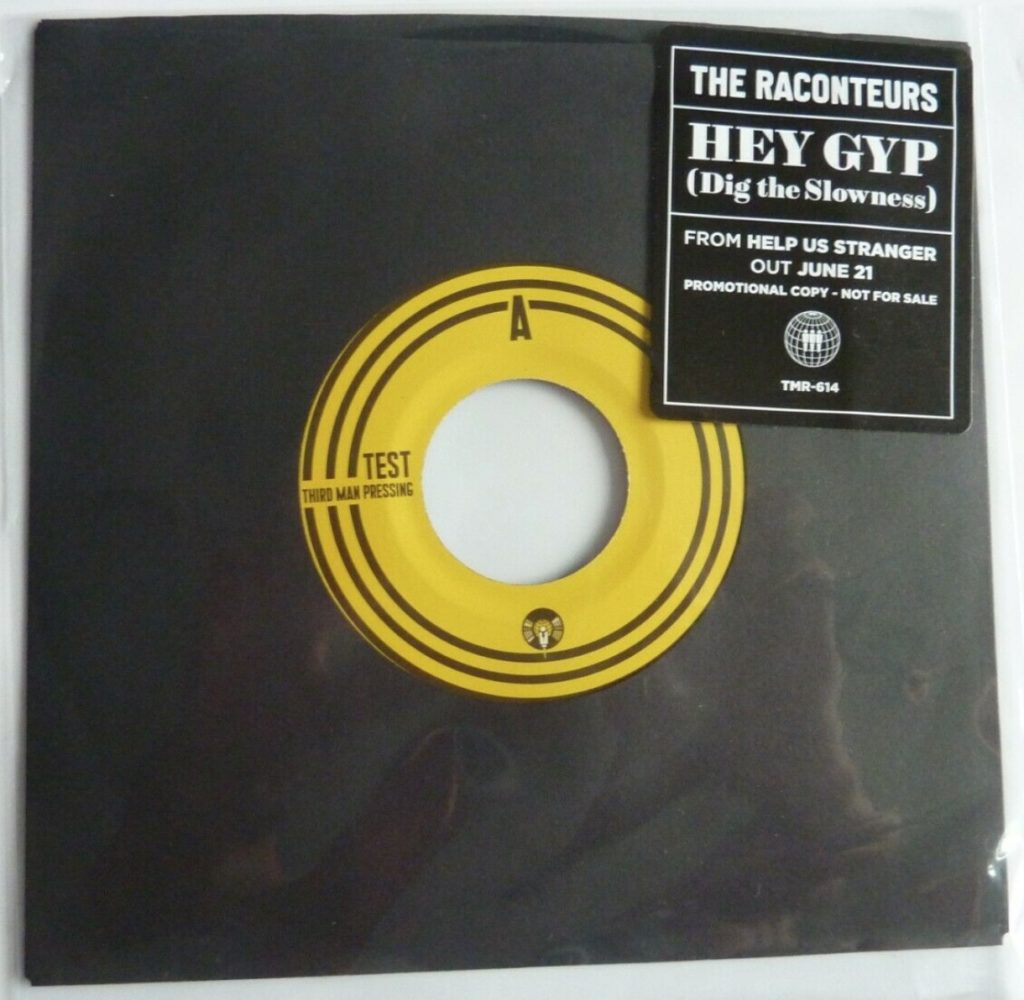 ---
01.13.44
POLYROCK – Love Song – Changing Hearts, LP – RCA – 1981
Next to nothing else on the album grabbed me… but this is a bit mesmeric.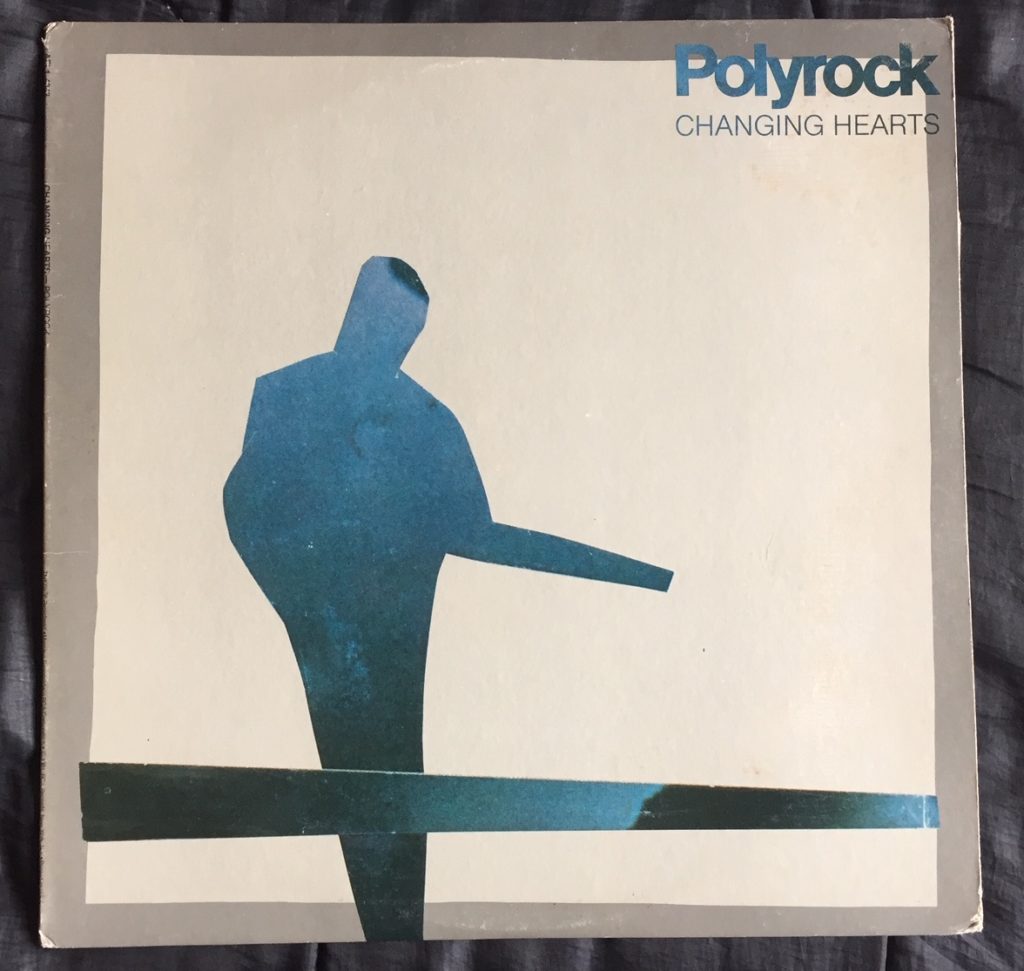 ---
01.17.59
COMMON GROUND (aka RAW DEAL?) – Angels Never Fall In Love – 10″ acetate – 1998
Somewhere through the years I was under the impression (rightly or wrongly) this anonymous 'set up' may have involved Raw Deal – better known to his mum and dad as Jim Robins, and someone out there will know the truth. As with the majority of the Nineties era beats stuff (all tempos) in my collection, this bouncy head nodder is yet another I first heard on London's KISS FM and the acetate won't have cost me much more than the £1 you can currently get a mint condition, Ultimate Dilemma-labelled 10″ stock copy for on Discogs. 🙂 If I were to sell the acetate it might get me my money back… and that's only a might.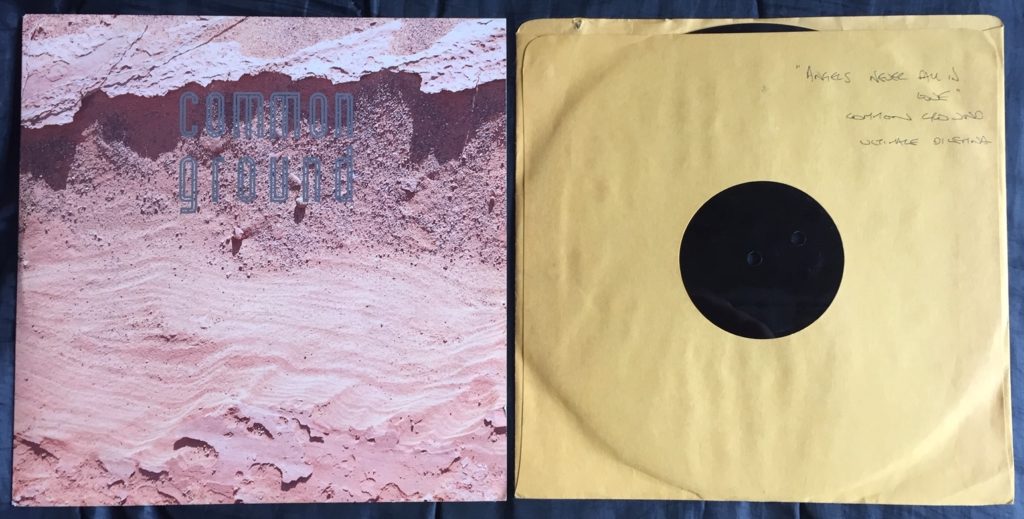 ---
01.23.02
RJD2 – Since We Last Spoke – Since We Last Spoke, 2LP – Definitive Jux – 2004
I too would be looking to use initials if I'd been born with the christian name, Ramble. You gotta do… etc etc… and he's one of a very small group of artists I've heard in a record shop and just had to go ask 'What's this?' at the counter. Smoke & Mirrors off his debut album, Deadringer, as it happens.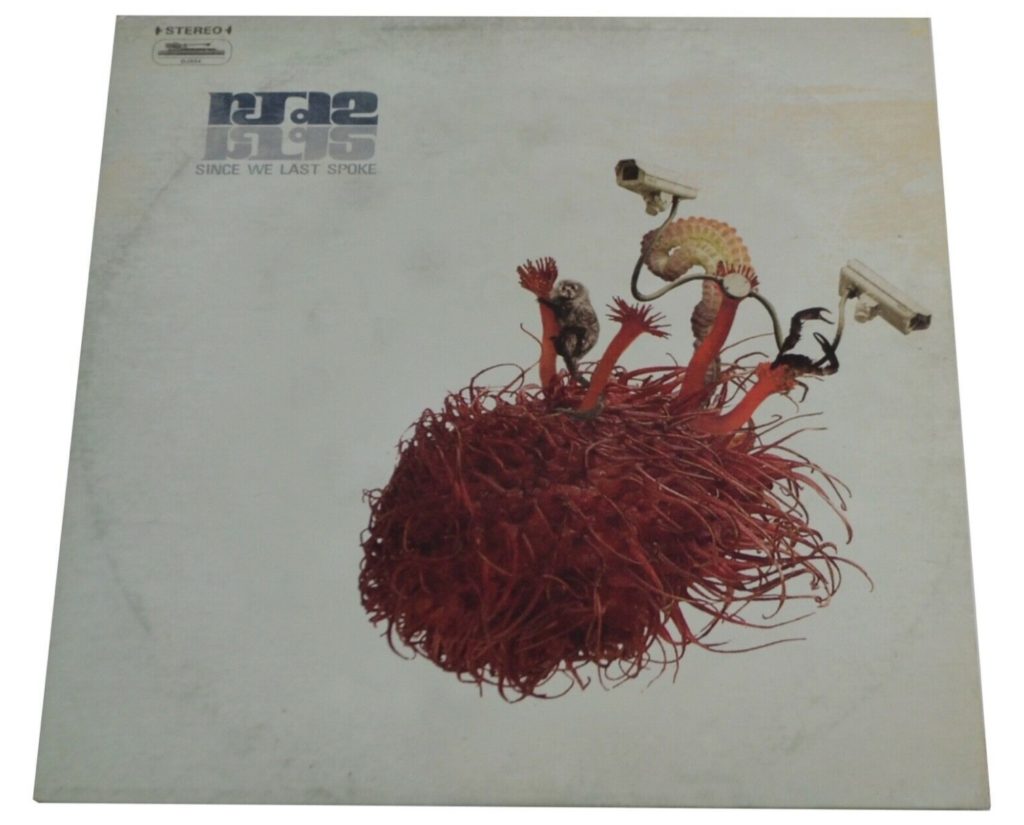 ---
01.27.13
COSEY FANNI TUTTI – Tutti – Tutti, LP – Conspiracy International – 2019
Chugging and clattering in all the right places!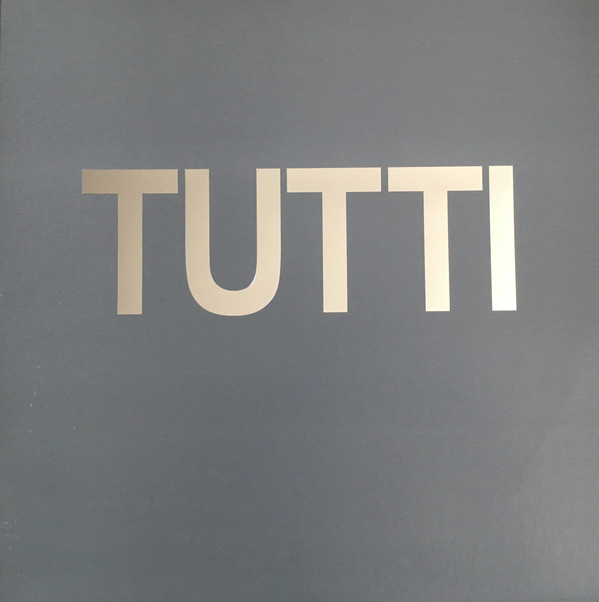 ---
01.31.30
OLIVER – Jean – 7″ – Crewe – 1969
A sort of 'guilty pleasure' sound for me, and you maybe 'had to be there', as they say. I was eleven or twelve when this, the follow up to his big hit, Good Morning Starshine was drifting over the radio airwaves and a hugely vivid memory I have is standing by the big gate pillars at my uncle Seamus' in Adamstown, Wexford, Ireland during my summer holiday and holding my miniature, plastic-cased reel to reel recorder as the reels reveal me singing along to the chorus (and possibly only the chorus) of this very tune. 'Tell the sheep in the meadow, come home my way… ' Appropriate, as there were a good few not far from me at the time.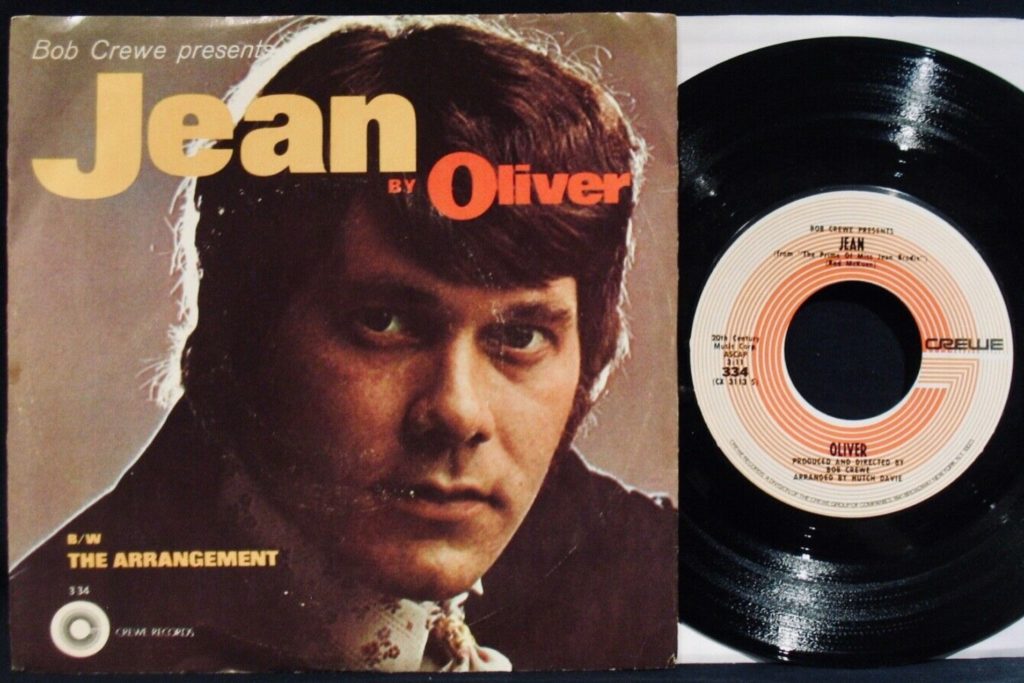 ---
01.34.37
THE LEMON MEN – I've Seen You Cut Lemons – 7″ – Polydor – 1969
This is genius! A '60s pop melody, with vocals care of decade-further-back-in-time crooner, Glen Mason – and both are totally at odds with the 'out there and dark' psych-style lyrics. An explanation is definitely needed for this oddest of 7″ers. Thankfully, someone has done some legwork, so see below. To add to the polarising combination of all of the above, it's one of the extremely rare 'releases' where the scarcity of any known acetate seems (currently) to have been matched by that of any stock/store copy… or copies!
Re the store copy: Aside the 'A' side label visual currently on Youtube and also on 45cat.com (and they look to be the exact same image) my 7″ is also the only one I know of, and neither Discogs nor Popsike has ever listed or sold a copy… but don't rush looking… it's a goddam instrumental version! Re the only known acetate: Clocked on Discogs, its sale was… to me!
To fill in, besides someone maybe once having had a conversation with Sean 'James Bond' Connery(!) here, courtesy of 23 Daves and his Left and to the Back ('Digging for nuggets from the dusty old storerooms of pop') blog site is the best outline on the track's raison d'etre. And speaking of Bond, if I hadn't already spun Nancy Sinatra's You Only Live Twice on an earlier show it would have made sense, sonically, for the vocal version of 'Cut Lemons' to be sitting right next door here. Separated at birth… sort of. 🙂
My acetate.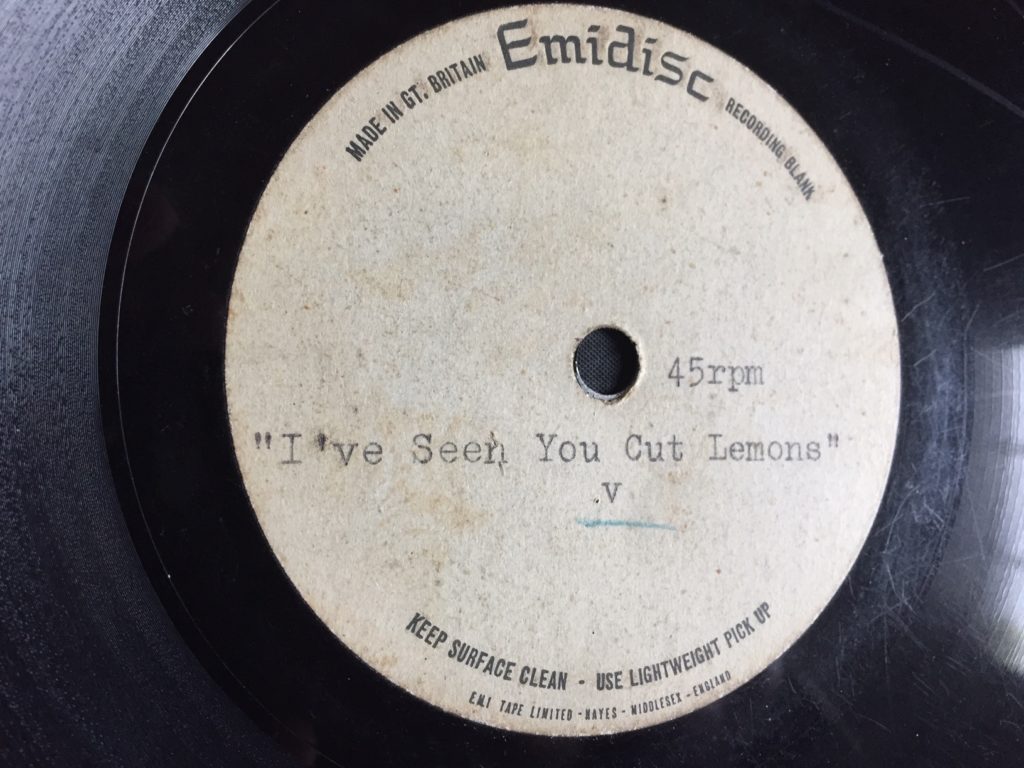 My stock copy.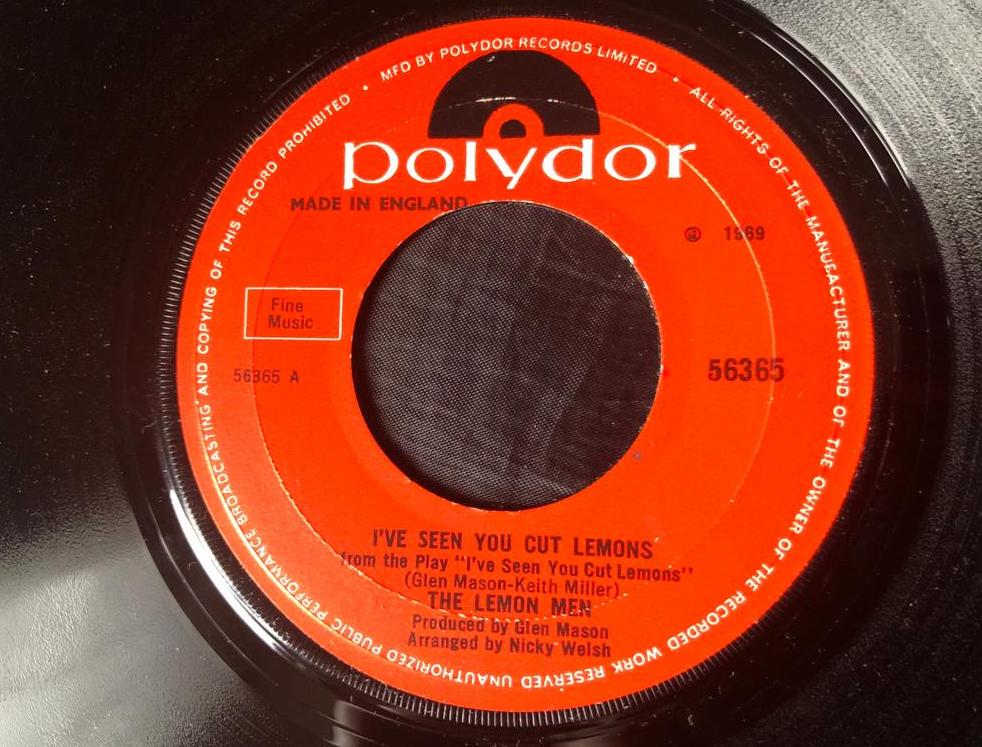 ---
01.39.01
NEIL YOUNG – Old Man – 7″ – Reprise – 1972
Photographer Henry Diltz tells the story about the day he met the subject matter of this song with Neil Young… 'Neil Young bought a ranch in Northern California which he named Broken Arrow Ranch. I went up there a few times with Gary Burden in 1971 and stayed a couple days taking pictures. Gary was my art director/ partner and still works with Neil. We used to walk around the ranch in the morning, smoking a fatty and checking things out around the property. The Ranch came with a foreman named Louis Avila who had been there for years. This particular morning we stopped by the foreman's bungalow and he and Neil had a talk on the porch. This was in 1971, a year before his album Harvest came out and as the story goes, this is the Old Man that Neil sings about.' – morrisongalleryhotel.com
And separately…
(When buying the ranch) 'There was this old blue jeep there and Louis took me for a ride… in this blue jeep, and he gets me up there on the top side of the place and there's this lake there that fed all the pastures and he says, 'Tell me. How does a young man like yourself have enough money to buy a place like this?' And I said, 'Well, I'm just lucky, really… just real lucky.' And he said, 'Well, that's the darndest thing I ever heard.' – Neil Young, onstage, 2006
And then we blink… and we all are 'the old man'. We're here for just a second, kids.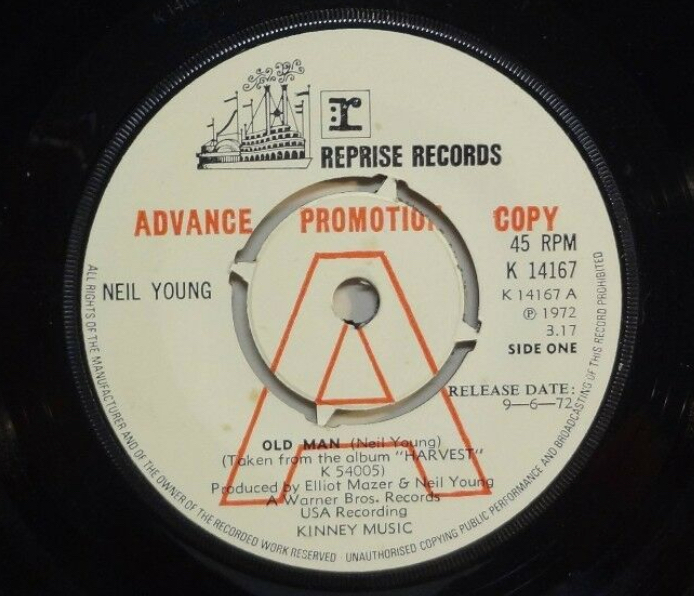 ---
01.42.18
INDIAN TEA – I'm Alright – Sometimes, EP, CD only – HTT Records – 1998
I've playlisted Indian Tea before, and from a separate release. So, two CDs at least of their work are out there, though you'll presently find it impossible to find any hint of their existence on the net. There was definitely a Birmingham, UK connection because I had a conversation with band member, Michael at some now forgotten other London gig where either Groove Corporation or Original Rockers (both on Brum label, Cake) were mentioned in the chat. Nothing of which accounts for Indian Tea sounding like a late sixties/early seventies West Coast 'soft rock' crew… with twists. When I saw them at The Social in London (2000 or 2001) they were fairly at odds with what was very generally going down, but rightly it didn't matter and the first track played by the DJ after they stepped off stage – Crosby, Stills & Nash's Wooden Ships – made total sense. Indian Tea will be back here… and if I've managed to get a little bit of SEO together here and you happen on this Michael, I hope you're well! 🙂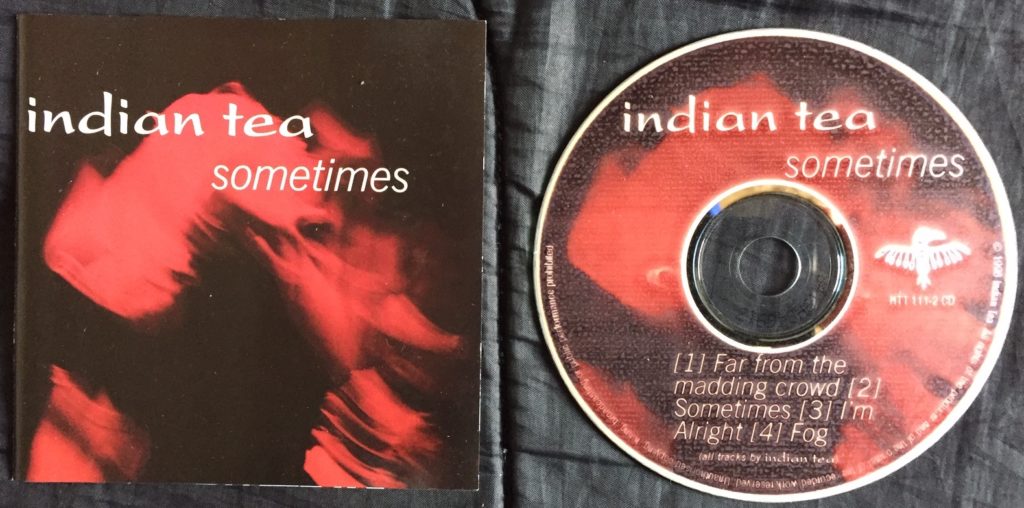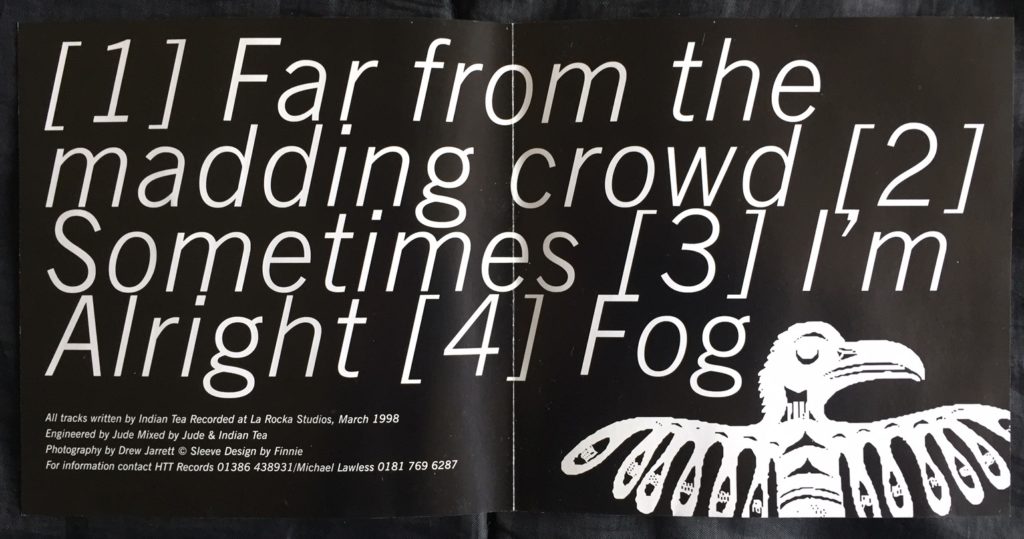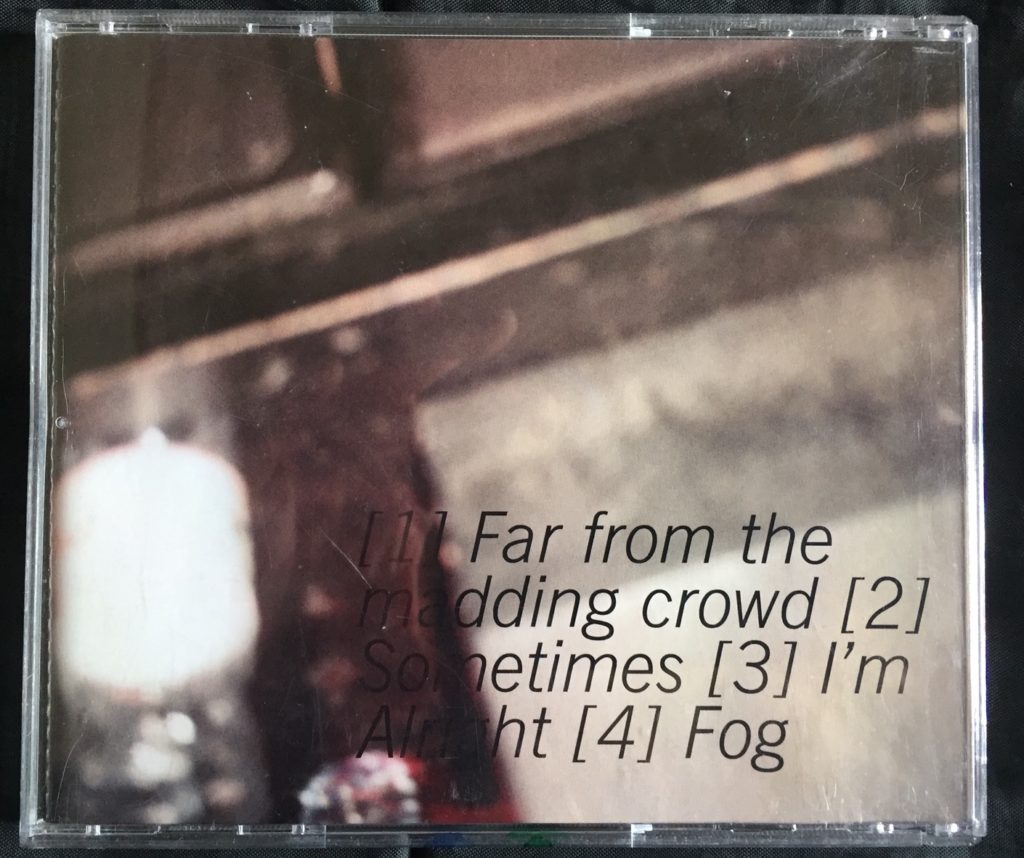 ---
01.47.05
JIM MORRISON – Indian Summer (UCP Berlin Bootleg)
Genuinely coincidental, an Indian Summer follows Indian Tea. Doors' fans won't agree but I'm wayyyy more taken with how Morrison's vocals 'perform' on this than on the band's own version. Inspired by a car accident a four year old Morrison witnessed on a family trip to New Mexico – an episode subsequently played out at the start of Oliver Stone's movie The Doors, it was also the first song the Doors ever recorded.
---
01.54.18
DOVES – Rise – The Cedar Room, 10″ EP – Casino – 1998
One of the last times I saw New Order manager, Rob Gretton (RIP) was at an early Doves gig at the Camden Falcon in London, 1998'ish, when he was involved in getting this EP out. A busy night, I remember just inside the door early on asking Andy Robinson (then in NO's road crew but now one half of the management) where Rob was. He motioned across the road, 'He's still in the van'. I went out and over, pulled open the side door and through a thick mist of dope, Rob smiled, 'Hello, Declan.' Happy days… 🙂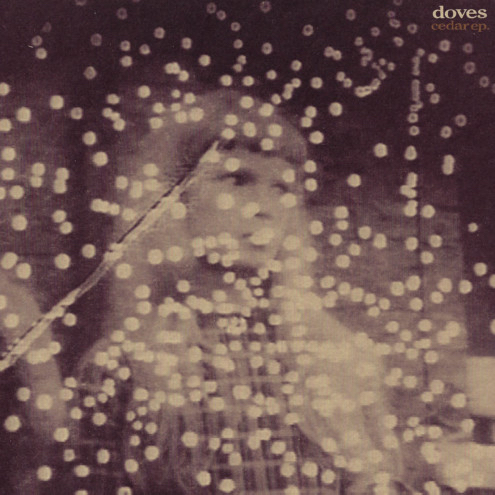 ---
Show 79 coming at you May 3.
From just one of the millions of self imposed, COVID caused 'bunkers'. Stay safe, but spare a thought for the thousands worldwide who won't see May 3.
Dec x