This playlist is 81% vinyl friendly. Not bad.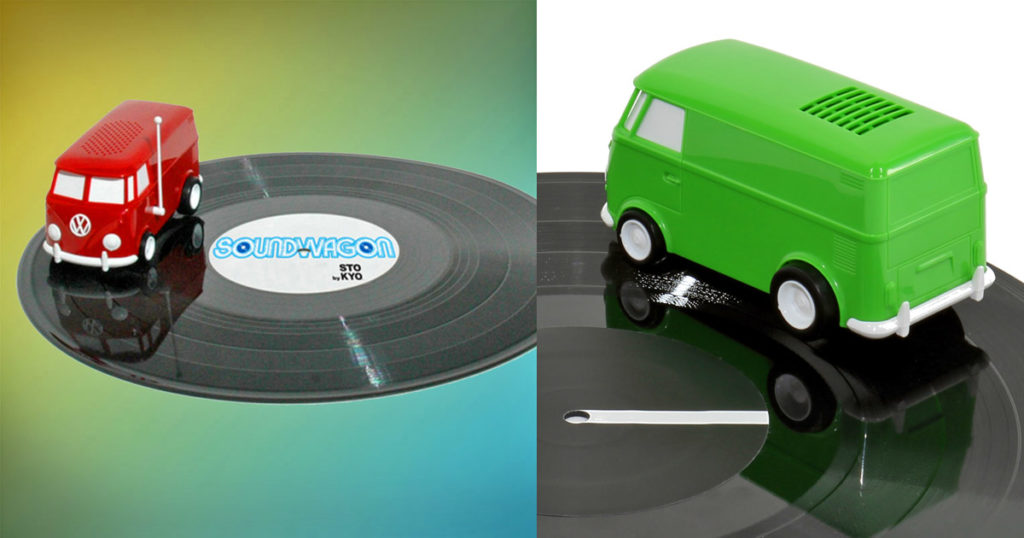 Fancy taking the car for a spin? Nothing more than a goddam novelty I'm surprised I haven't included this Stokyo Record Runner (hijacking a Volkawagon van) here before. I think they missed a trick though, as it's the fully windowed 'hippy' fave version of the van that maybe would have appealed to more folk… if at all. Only running at 33 1/3rpm I'm guessing it was burning through the petrol too much at 45rpm 🙂 but either way, you're surely not going to be letting this thing loose on any valuable vinyl.
---
Any track marked * has been given either a tiny or a slightly larger 41 Rooms 'tweak'/edit/chop and the occasional tune sonically might not sound quite how it originally did. On top of that, the switch to different decades and production values doesn't help. 🙂
---
Lyric of Playlist 108…
The presentation may be snappy and blunt, so maybe… it's Ms Whack!
---
00.00
(Intro) THE FLAMINGOS – Stars (Edit) – Unreleased demo – 1983. Episode #1 for info.
---
00.41
NEW ORDER – Thieves Like Us (New York Demo #1) – Power, Corruption and Lies, LP (Definitive Edition, box set) – Warner Music – 2020
A few will have been privy to early workings on some of New Order's earlier tracks before the Definitive Edition boxsets started to chronologically appear in 2019 and judging by the name this one would might have been worked on around the time the track was getting its initial live run outs during the band's 1983 Spring/Summer US tour dates.

Thieves Like Us, TV South recording, Southampton: 30.11.83.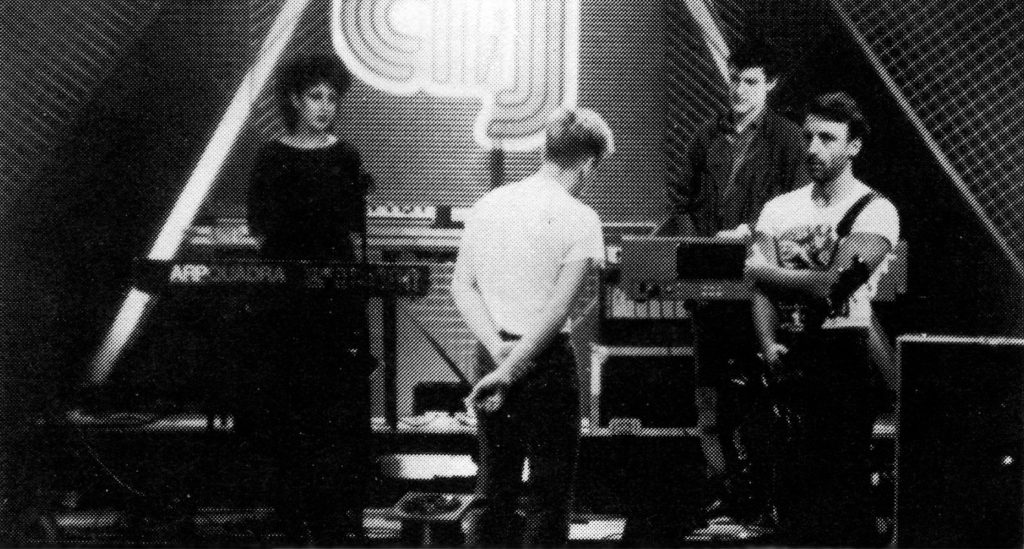 Photo credit/copyright – Dec Hickey
---
06.23
LONELADY – (There Is) No Logic (The Other Two Remix) – 12″ – Warp? – 2022
A transparent orange 12″ vinyl, available for pre order through Bandcamp for shipping around Oct 21. Mr and Mrs Morris (Gillian Gilbert and Steve Morris) with their take on a track from Julie's Former Things album.

---
16.06
TIERRA WHACK – Stand Up (Extended Mix) * – Download only – 2021
The gal also has a great name and the tune simple but full of character!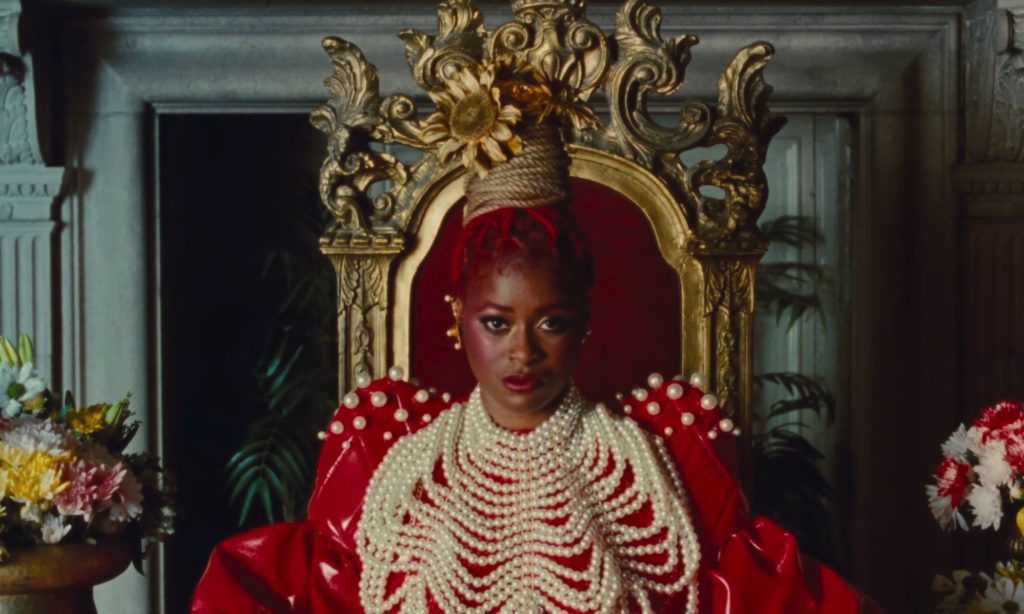 that then blends with…
---
20.13
ANNA LIANI – Mamma Son Tanto Felice (a cappella, then an unknown mix) – Youtube only – Early 2010s
'Sounds vaguely familiar? You've probably heard it this way'
And then again, you probably haven't. A rough and not quite ready use of an a cappella I came across about a decade ago. I'd never heard of Liani or (more pertinent to here) anything of the song's previous history, and given the decade it originally sprung from I won't be racing there to listen, either. Here, Liani's vocal runs over Ms Whack's beats, then it's an unknown mix from the same time period. The latter though seems to have since disappeared from the net.
---
24.08
THE TIVOLI vs CABARET VOLTAIRE – My Town * – National Service Rewind, CD only – Shiva Records – 2010
In action 2008-2011, The Tivoli were a rock band – of the 'traditional' sort, it seems – with their Sheffield base the likely route to the Cabs connection.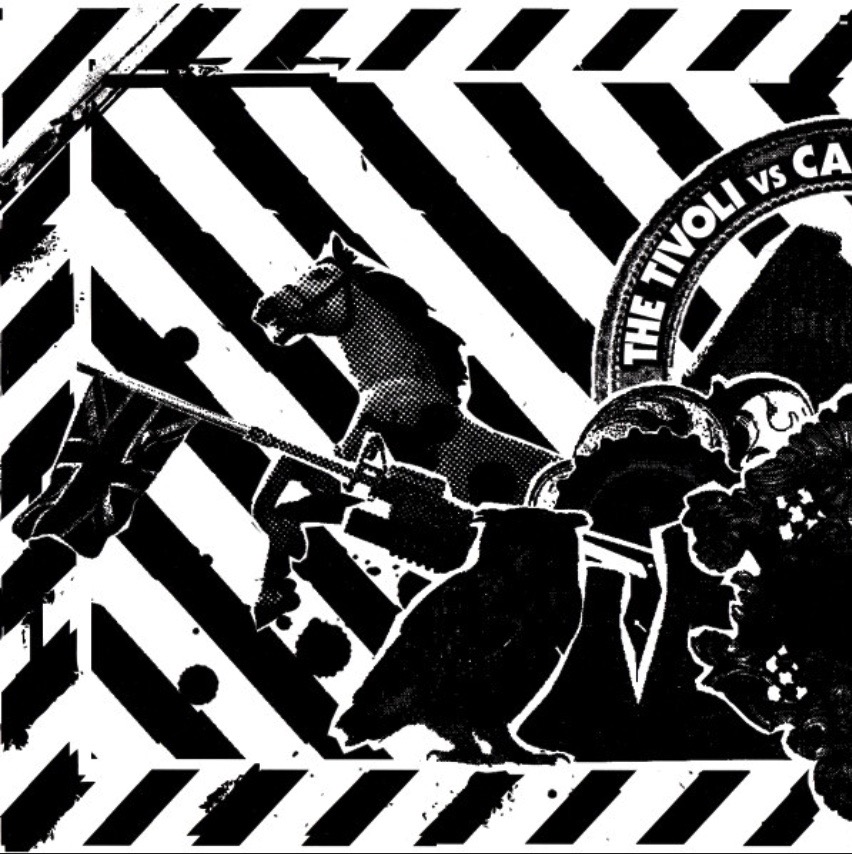 ---
27.46
D*NOTE – Waiting Hopefully (Radio Version) – 12″ – VC Recordings – 1997
The '90s was mainly beats (all styles and tempos) for me and I was a big fan of Matt Winn (Wienevski)'s D*Note. Great vocalists (P.Y. Anderson guesting here) and class lyrics and tunes, here there's an edgy and cinematic feel.
---
30.08
CATH COFFEY – Say What You Say – 12″ – 4th & Broadway – 1997
And much of the above for here, too.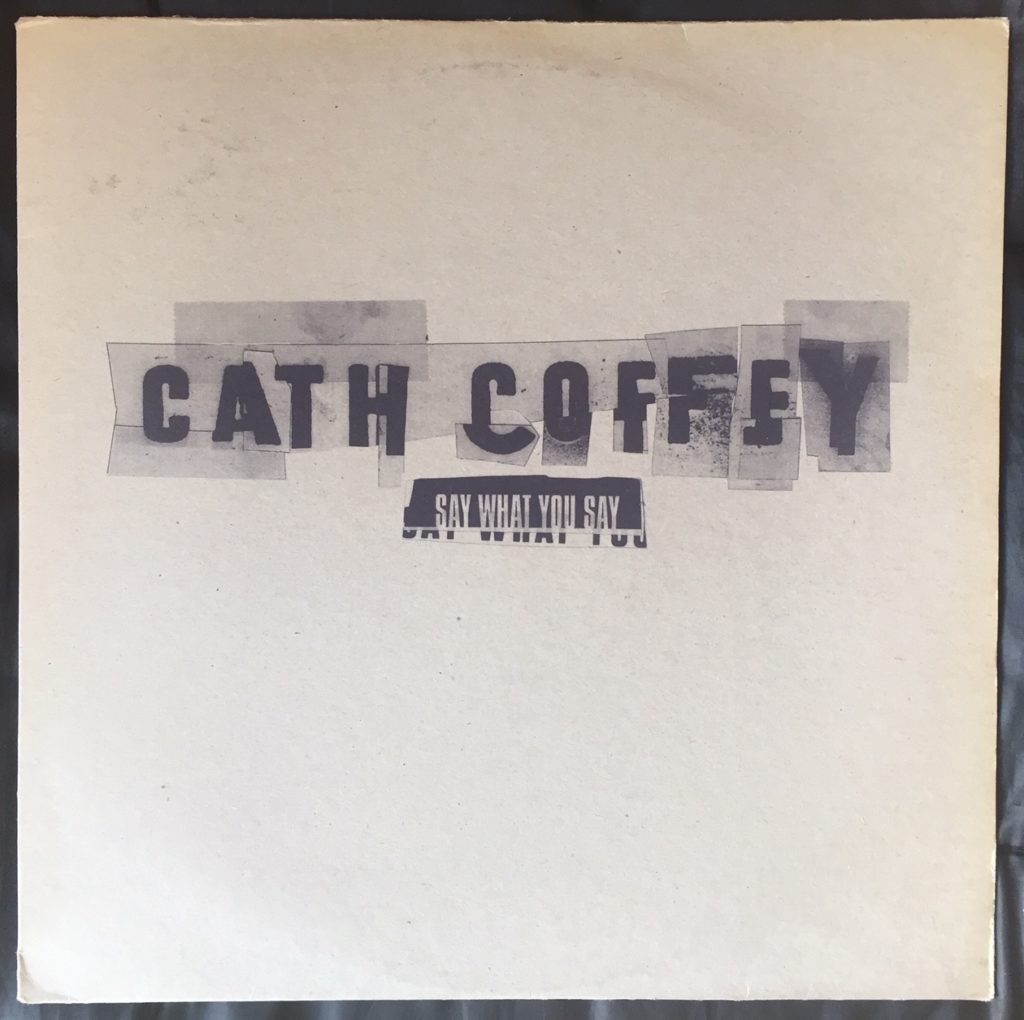 ---
33.57
JOEY MERCEDES, BRANDON MARKELL HOLMES and ROBERT PM – It Goes On – Download only – 2022
It's most probably a generational thing but I reckon anyone who lived and breathed house music in its first decade (mid '80s onwards?) has these days to do a lot more searching to find something… 'interesting'.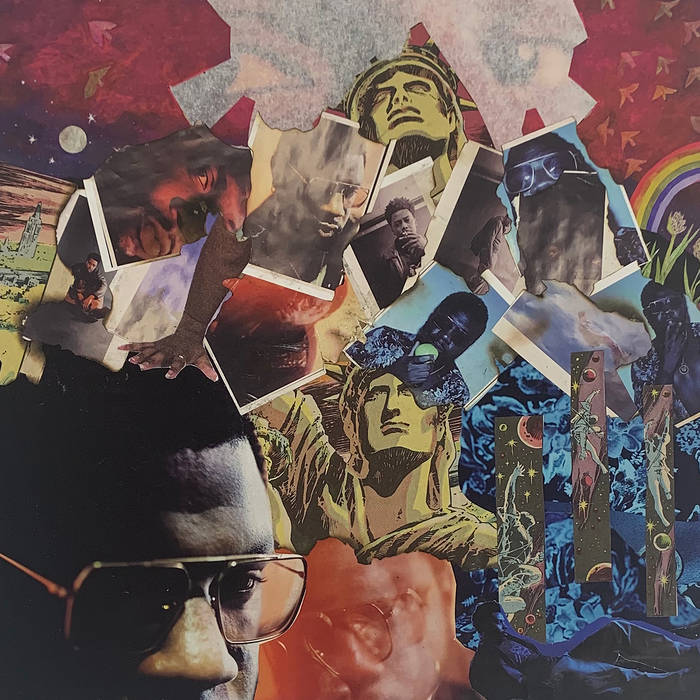 ---
38.28
N'DINGA GABA (feat. SAHFFI) – Summer Breeze (Raw Artistic Soul Mix) * – 12″ – Foliage – 2011
Nowt to do with the Seals & Crofts written and Isley Brothers propelled tune, someone buy a drink for whoever came up with that vibes-type bridge!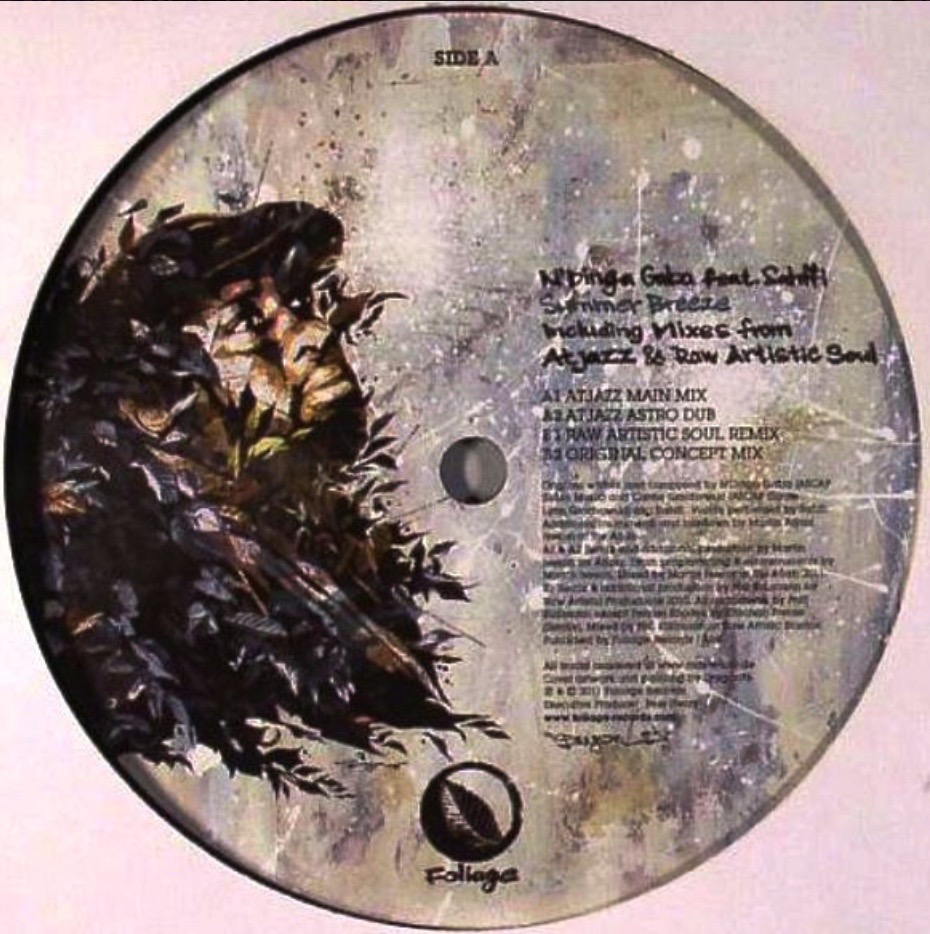 ---
43.21
THE SEATBELTS – Cats On Mars (DMX Krew Remix) – Promo only 12″ – Victor – 1999
Seemingly a late '90s Japanese one-off album involving a collective of dozens and a track reworked by a Krew… of one, Londoner, Ed Upton.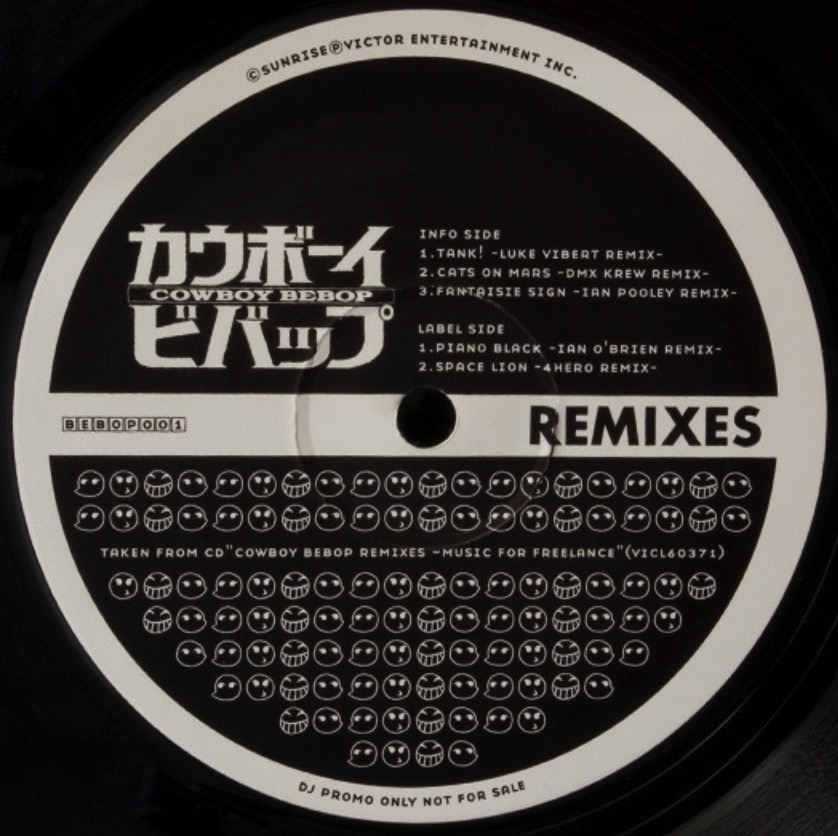 ---
48.26
EVERYTHING BUT THE GIRL – Frost and Fire – Eden, LP – Blanco Y Negro – 1984
Saw them just the once back in the day – at Ronnie Scott's in 1983, with Weekend also on the bill and Paul Weller at the bar, I seem to remember. Not many vocalists as 'understated' as Tracey Thorn make the impact she does on a tune.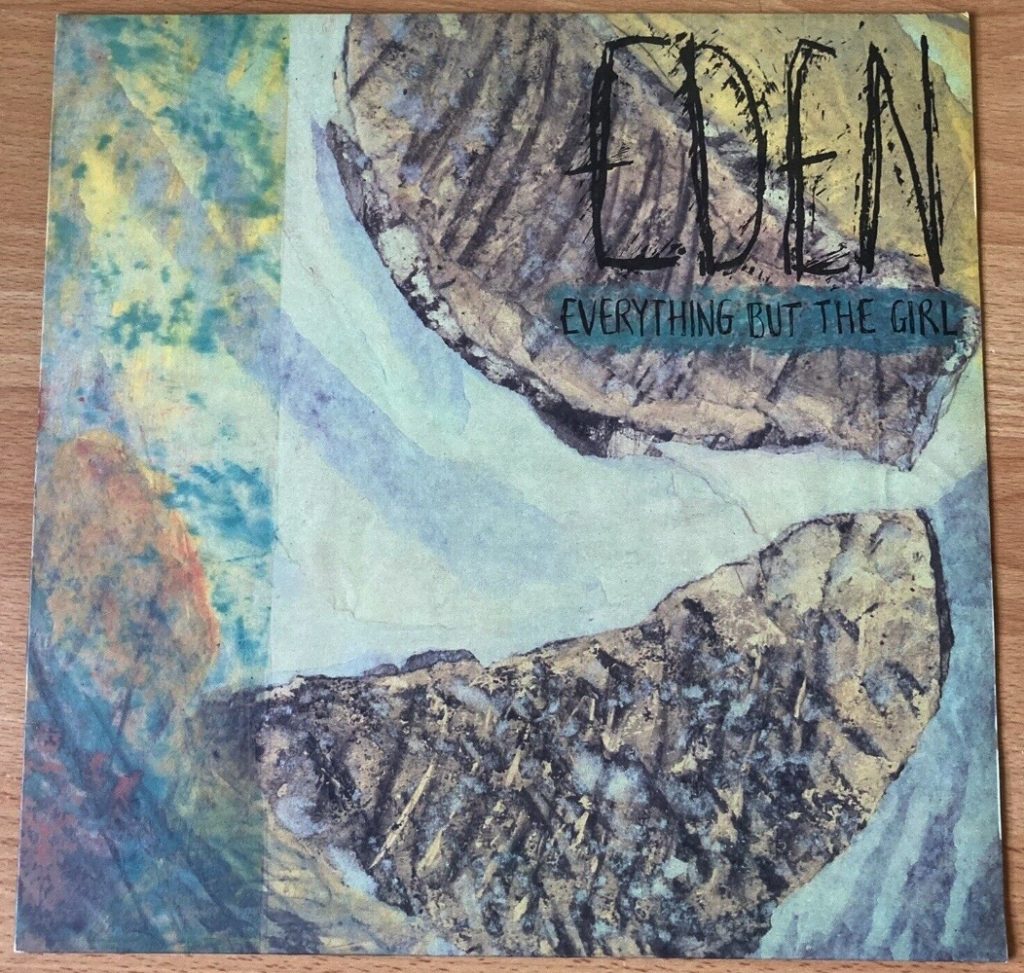 Masterbag #11, 10-23.6.82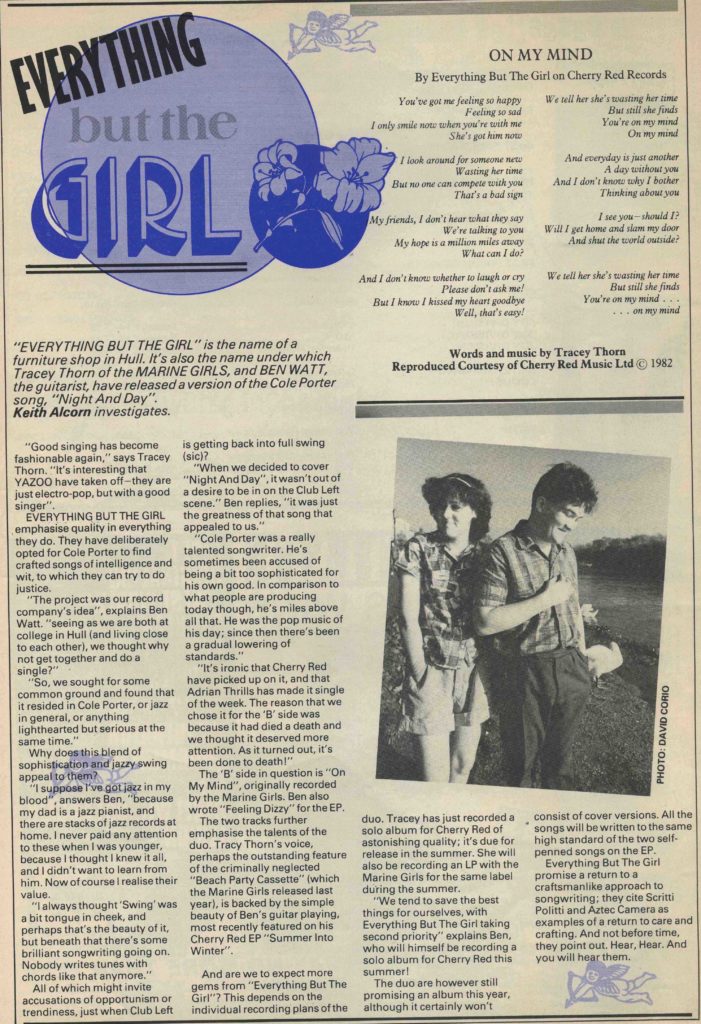 ---
53.04
ROY DAVIS JR. – Gabrielle (The Scroll Mix) – 12″ – Large – 1996
The vocal delivery and production here is what makes it for me, and a suitably named label, to boot.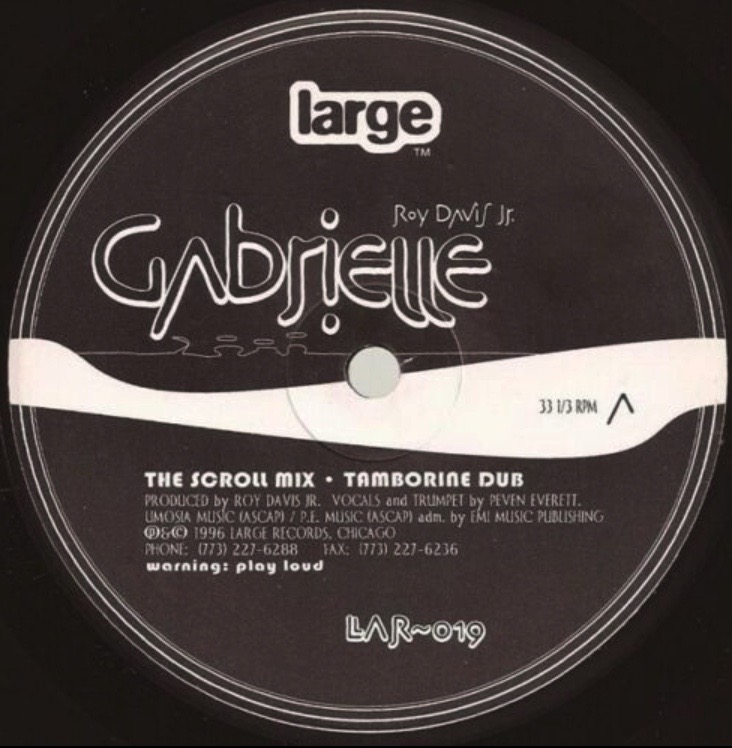 ---
57.52
DELTA 5 – Try – 7″ – Rough Trade – 1980
Most probably the only time over the ether (or indeed anywhere?) Roy Davis Jr has glided into Delta 5. I think the Leeds lads and lassies got away with it.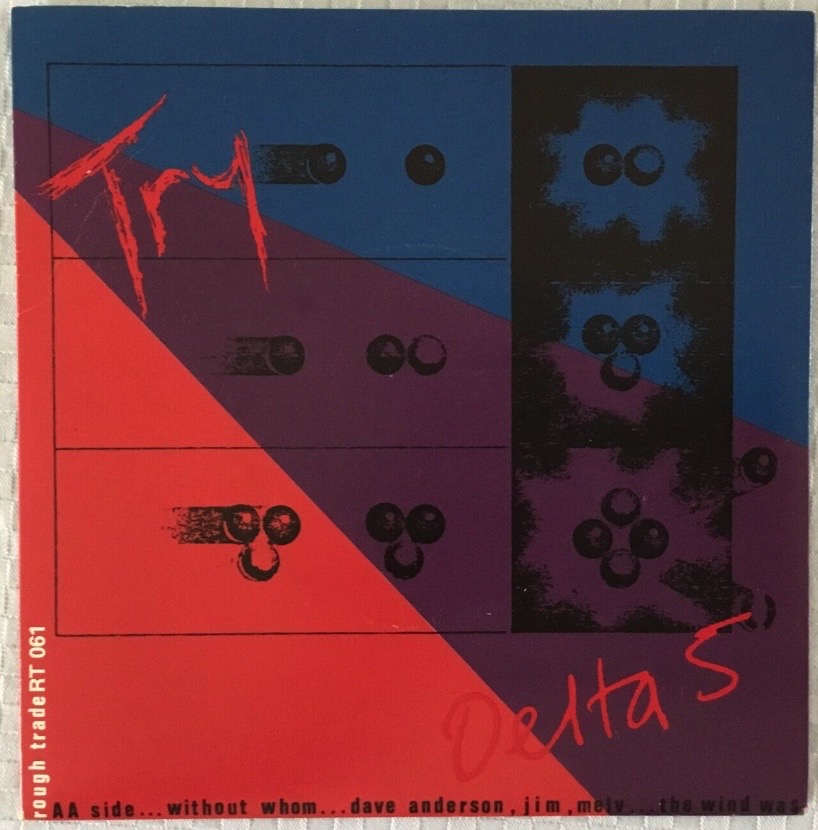 ---
It's half time. Mugs R Us!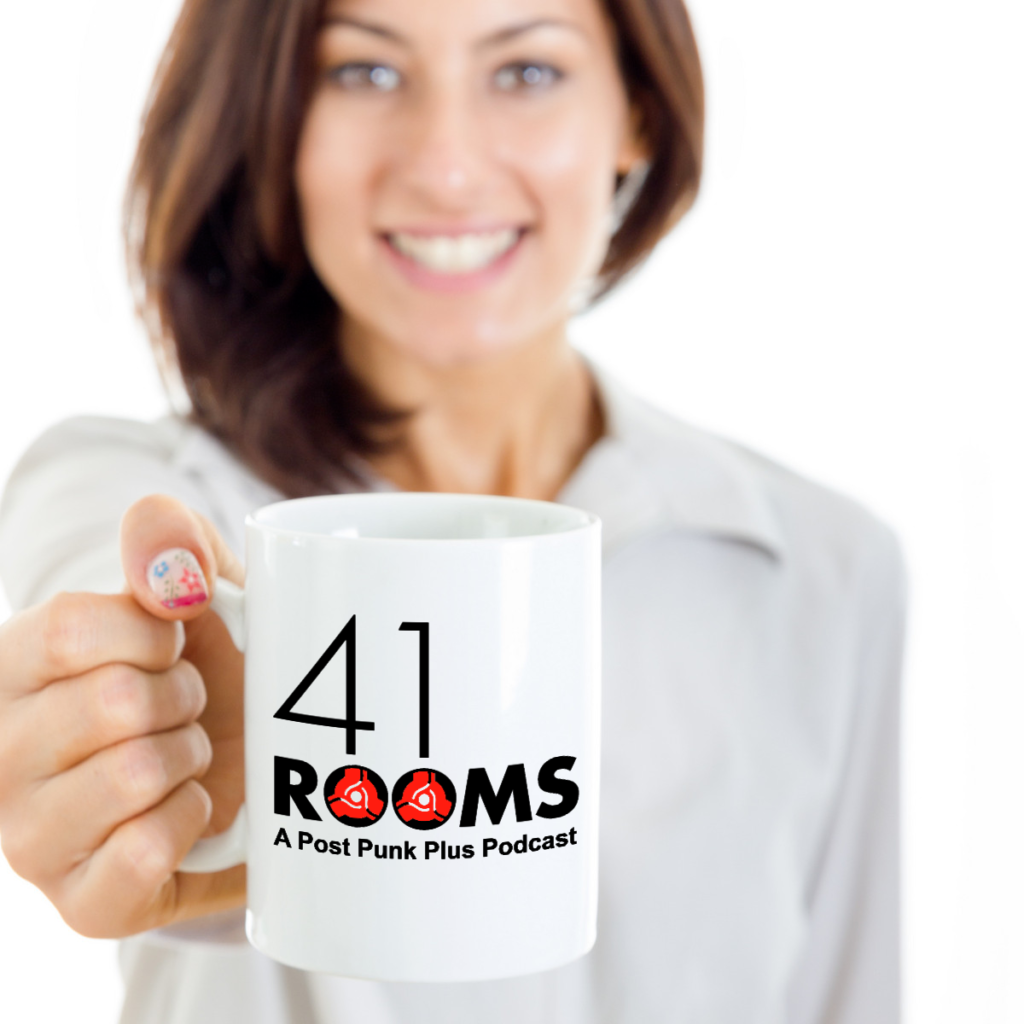 ---
01.01.55
ESSENTIAL LOGIC – Eugene – 7″ – Rough Trade – 1980
Vocalist, Lora Logic made it on to the first ever 41 Rooms playlist. Eugene? It's hard to know.
'I've long had a weakness for their 3rd single, the jittery saxophone blast of Eugene. Logic had a remarkable voice which led her lyrics to become utterly indecipherable. She's certainly mentioning fossil fuels somewhere in there, but beyond that I'm thoroughly, if pleasantly, lost'. – Thoughts of cyberinsekt @ livejournal.com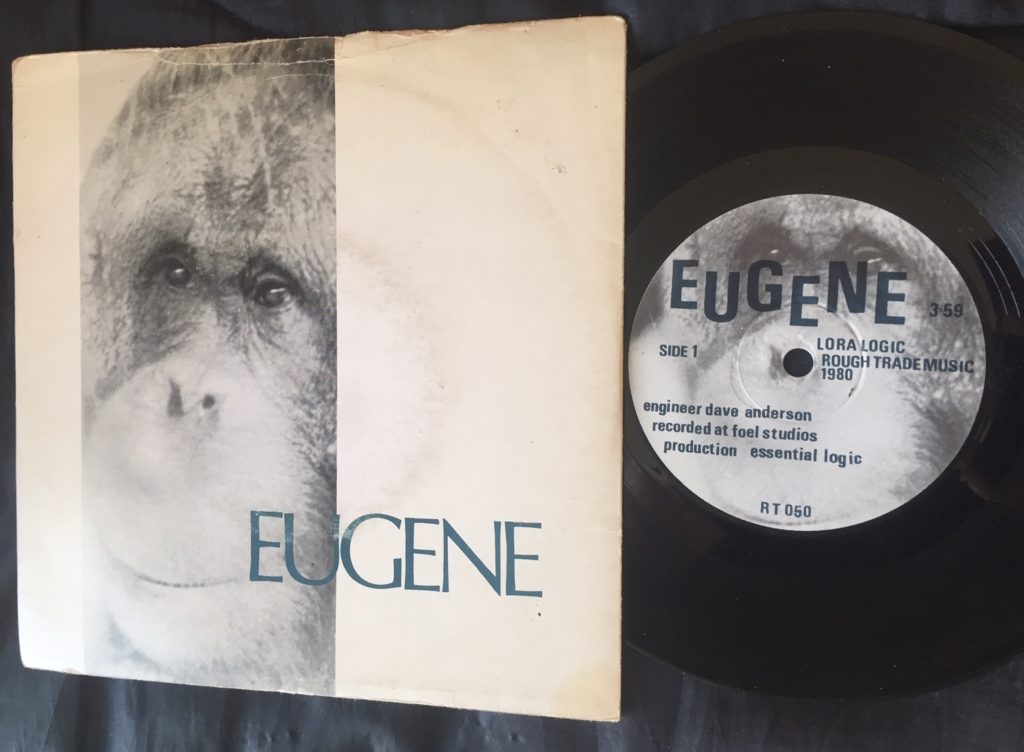 ---
01.08.49
LENE LOVICH – Lucky Number – 7″ – Stiff – 1978
The unforgiving side of me would have been hoping that no version of a modern day Lene (she's 73) would be out there now performing with the same sort of accentuated kookiness she utilised back in the late '70s… but there is and she does!.. and to be fair, maybe hardcore gig going fans do want and expect a version (vision!) akin to their first sightings back in the day – an acceptable one, anyway.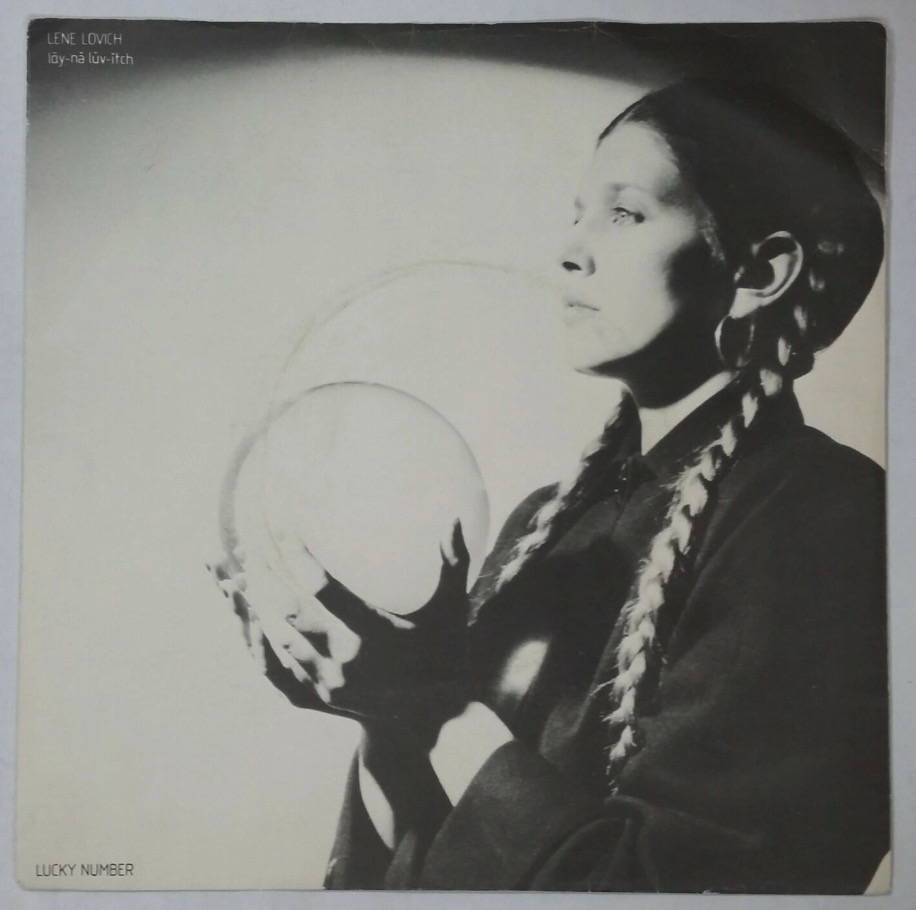 ---
01.12.18
JANE AIRE and THE BELVEDERES – Driving – Self-titled, LP – Virgin – 1979
Out of Akron, Ohio and covering Pearl Harbor and the Explosions. If your first visual exposure to Jane Aire was, like mine, her appearance on the Old Grey Whistle Test (performing this song, as it happens) in late '79, then her entrance on stage involved more wacky moves. Thankfully, she ironed most of it out pretty quickly. I liked the guttural tone of her voice so much us Got-Ta-Scatta boys used a randomly chopped sample of her vocal from another song as a starting point idea for a track. On that front… her and… Glen Campbell(!) You needed to be there. 🙂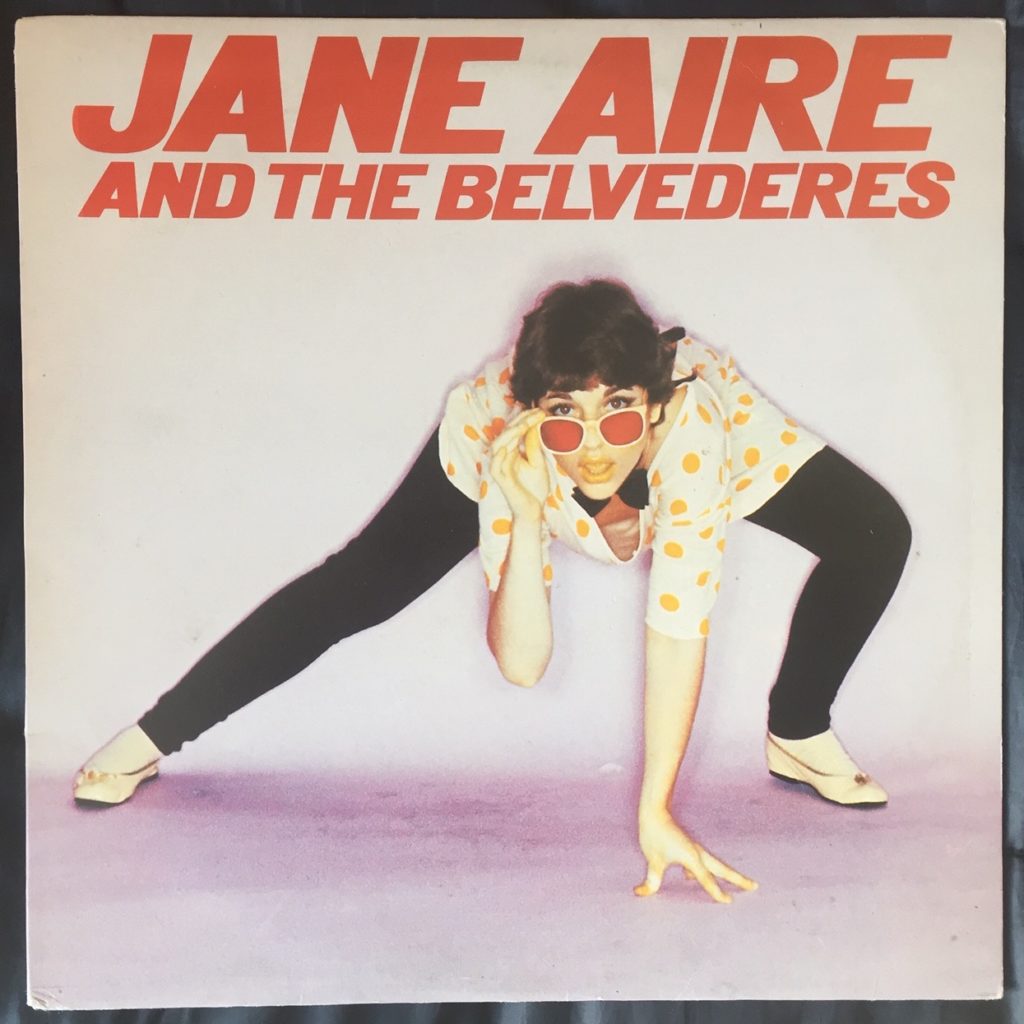 ---
01.14.27
THE PRETTY THINGS – Rosalyn – 7″ – Fontana – 1964
That other form of r&b, I was a hairs breath away from signposting this as a Them tune on the show. Close call… but you maybe see the connection.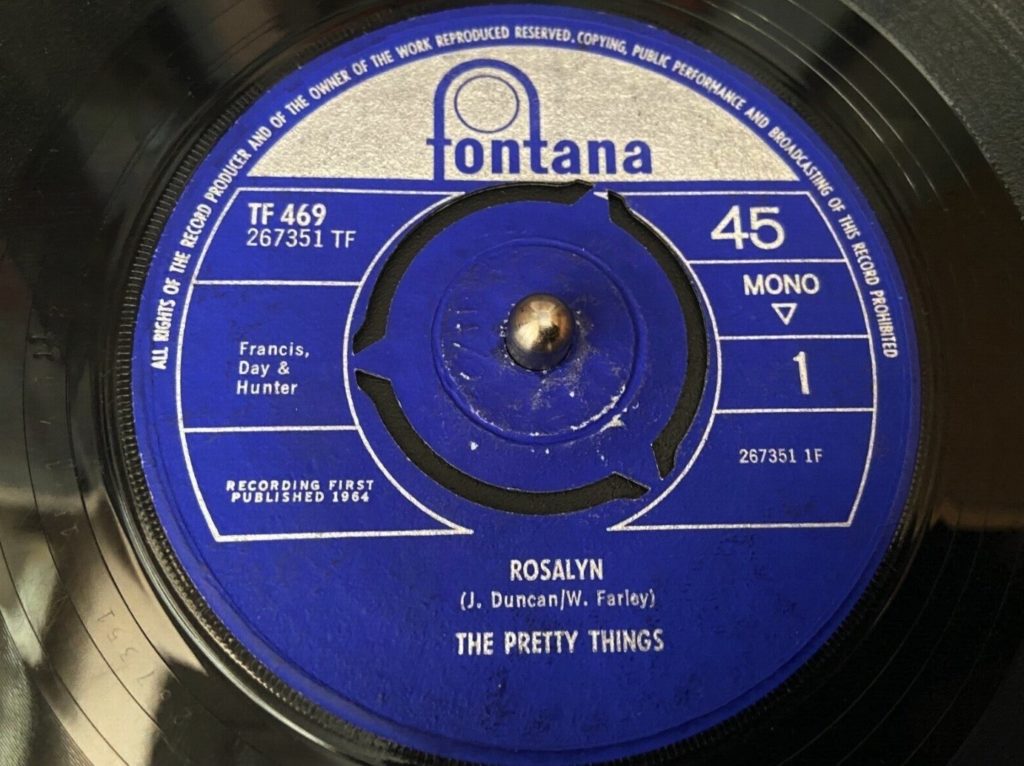 ---
01.17.17
THE YARDBIRDS – I'm Not Talking – Five Yardbirds EP, 7″ – Columbia – 1965
The track featured as a b-side on a few oddball Yardbirds 7″ releases around the world but ya just gotta love those UK EP sleeves of the day.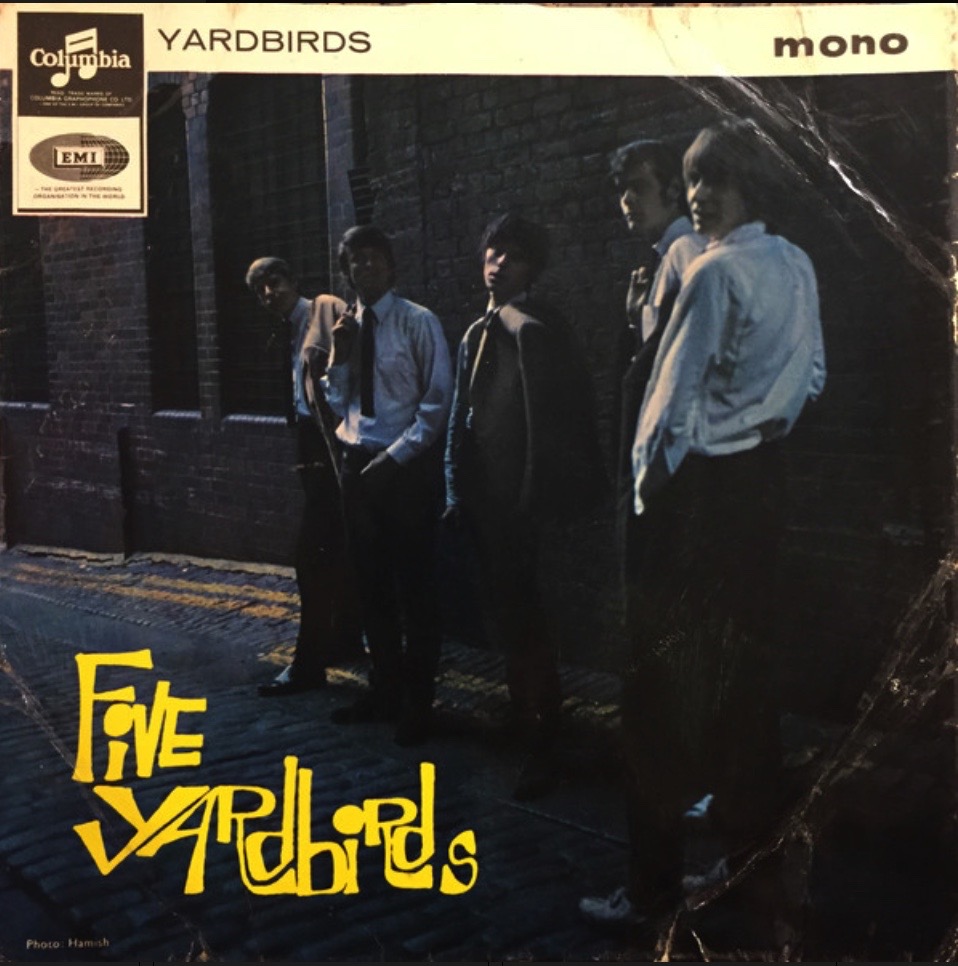 ---
01.21.05
THE DICKIES – Communication Breakdown – Stukas Over Disneyland, LP – PVC Records – 1983
I've never been wired to get off on a band playing (because they can) at a thousand miles an hour but throw in a bit of humour and you just might get me… and with this Led Zep cover, the Dickies did. The sometimes near-jibberish lyrics and the 'Stop!' in the middle make me chuckle every time.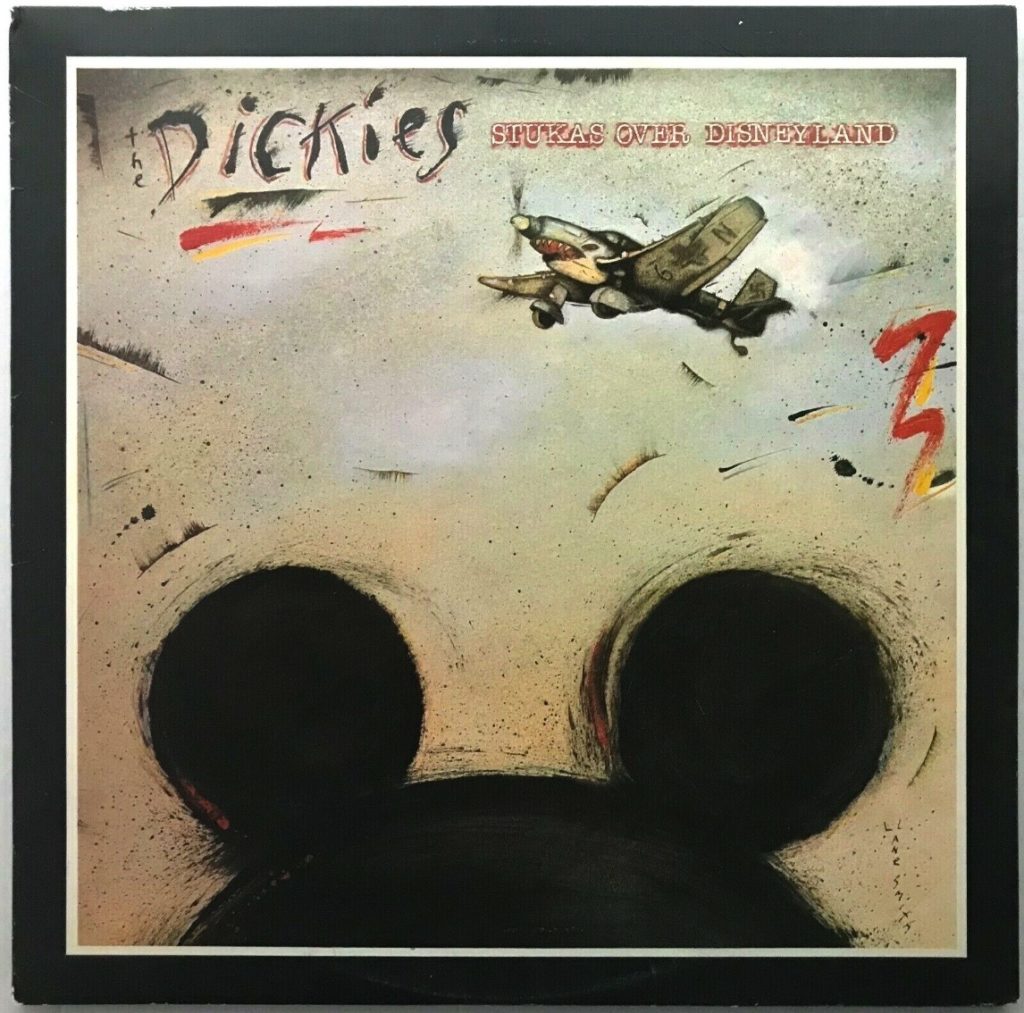 ---
01.24.32
OUTSIDE – Resist – Suspicious, promo only 12″ EP – Dorado – 1998
From a label I always had my eye on back in the day, with vocalist here, Karime Kendra delivering something heartfelt and moody.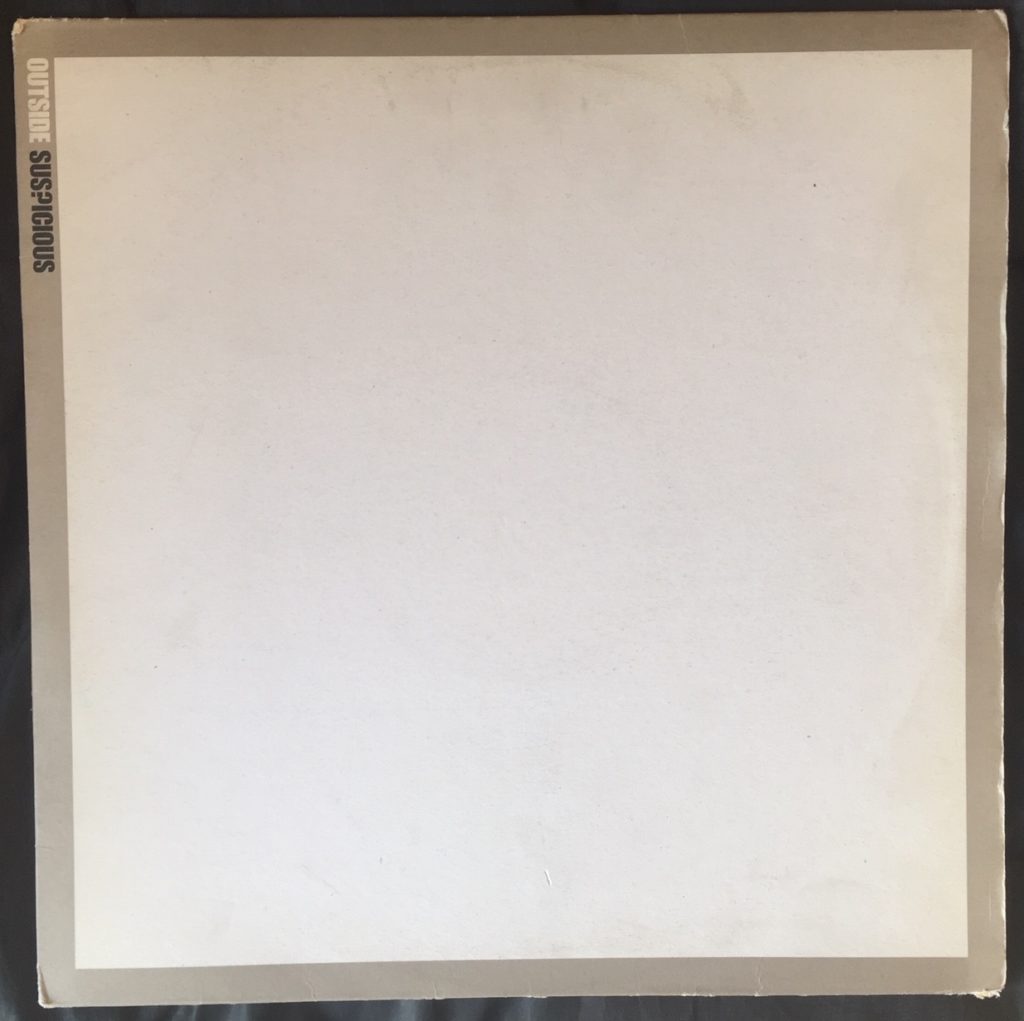 ---
01.27.42
SYLVIE VARTAN – I Made My Choice – 7″ – RCA – 1965
There were a few female vocalists of the time that could have stamped more of a mark on this than Vartan (and I've not been convinced by anything else of hers I've bumped into over the years) but there's a vulnerability in the vocal delivery here – maybe added to by her multi cultural upbringing – that works… for me anyway. And beyond that, a salute certainly to the lady, as she's been constantly releasing music for sixty years!. Not many have done that.
---
01.30.58
BIG BLOOD – Sweet Talker – Do You Wanna Have A Skeletal Dream? LP – Feeding Tube Records – 2020
41 Rooms faves and regulars!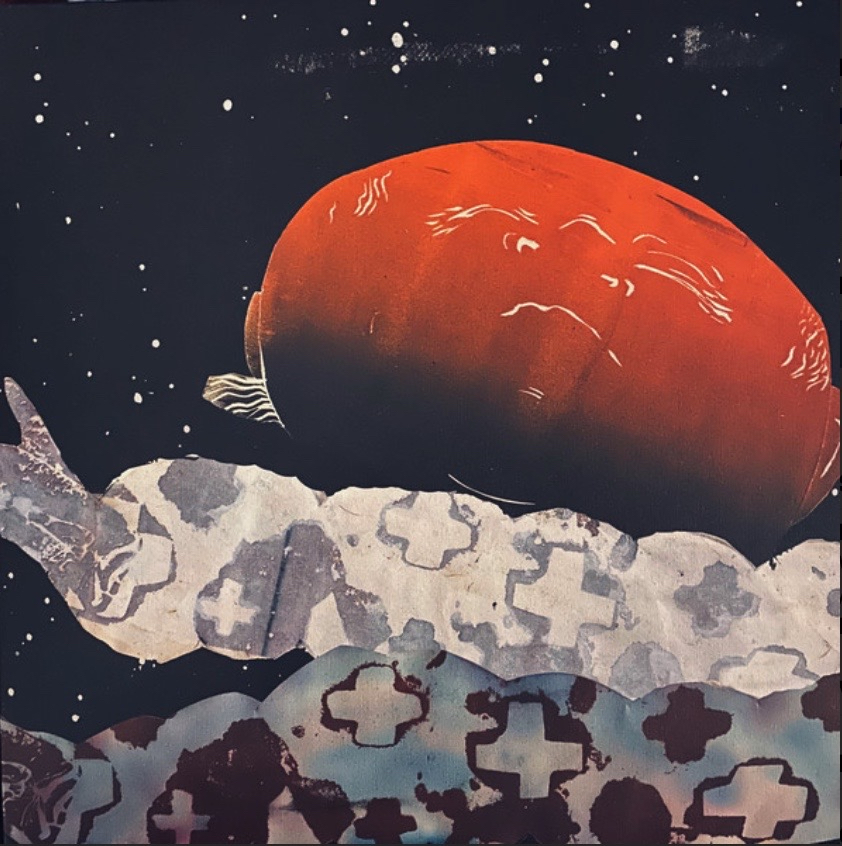 ---
01.33.42
TODD RUNDGREN – I Saw The Light * – 7″ – Bearsville – 1972
The things you do when you're a teenager. Sometime after this single was released I spent the whole of one evening in my bedroom alternating between playing this 7″ and Brenton Wood's Gimme Little Sign… and for some reason I thought I'd chalk each play off… on the wallpaper(!), in that way prisoners used to do in old films, when counting down their days left in clink. Weird. There could have been 15+ spins for each.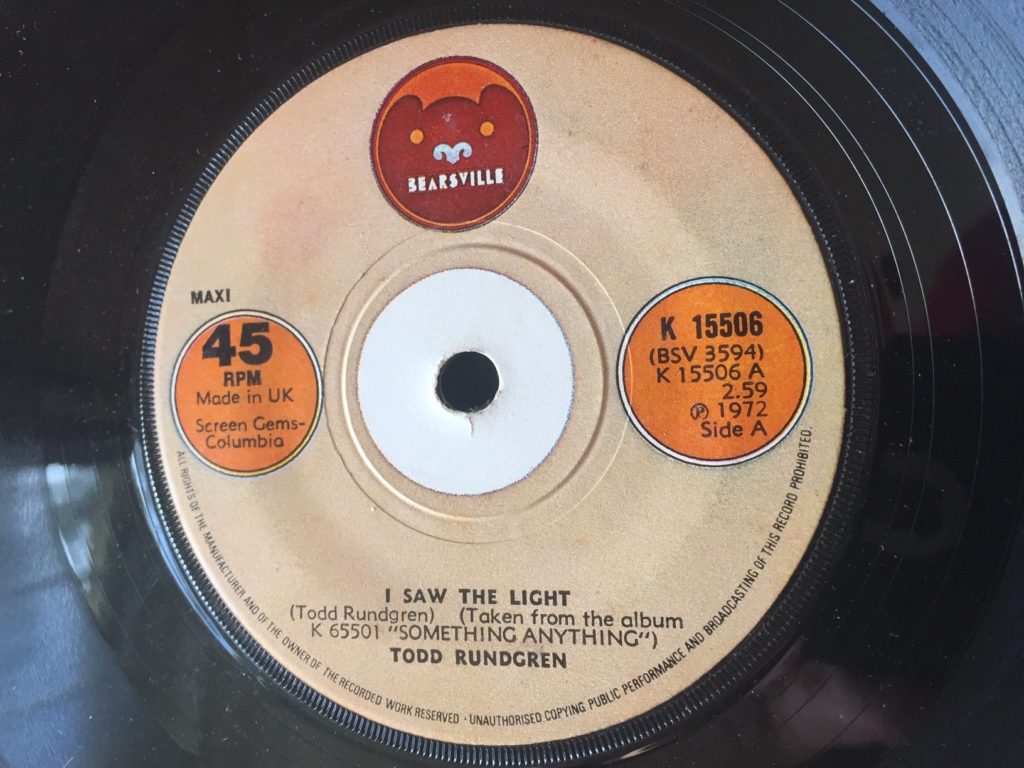 ---
01.38.49
ROXY MUSIC – All I Want Is You – 7″ – Island – 1974
'Mid period' Roxy but still good enough for me to occasionally spin in our club in the early '80s.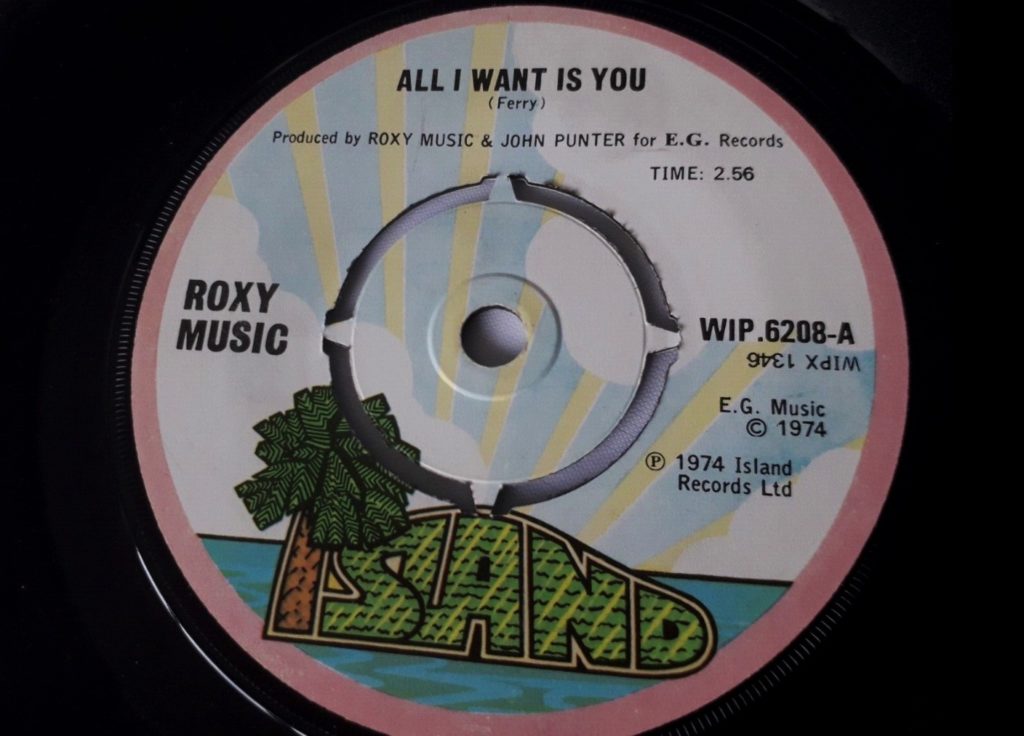 ---
01.43.29
SIMPLE MINDS – Celebrate – 7″ – Arista – 1981
This also did make it to my decks in Winkles but there were other 'Mindies' tunes I played more.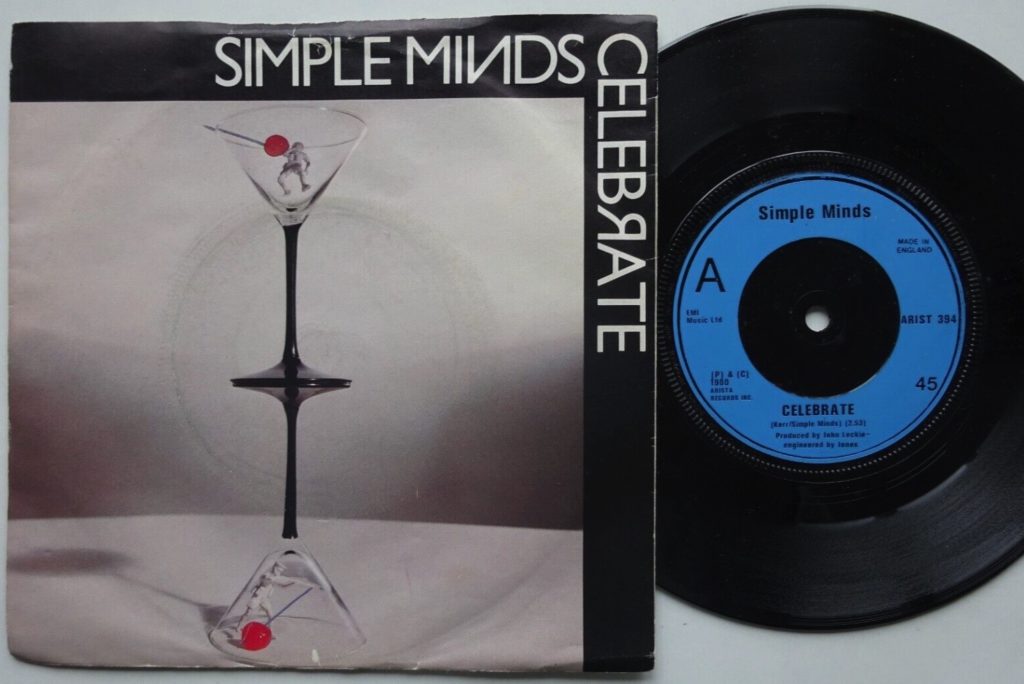 ---
01.48.35
THE CHAMELEONS – In Shreds (Previously unreleased version) – Script Of The Bridge (25th Anniversary Edition), 2CD only – Blue Apple Music – 2008
And more 'Winkles back in the day' tunes, albeit it would then have been with the official single version. A monster tune, this take obviously didn't quite make it at the time.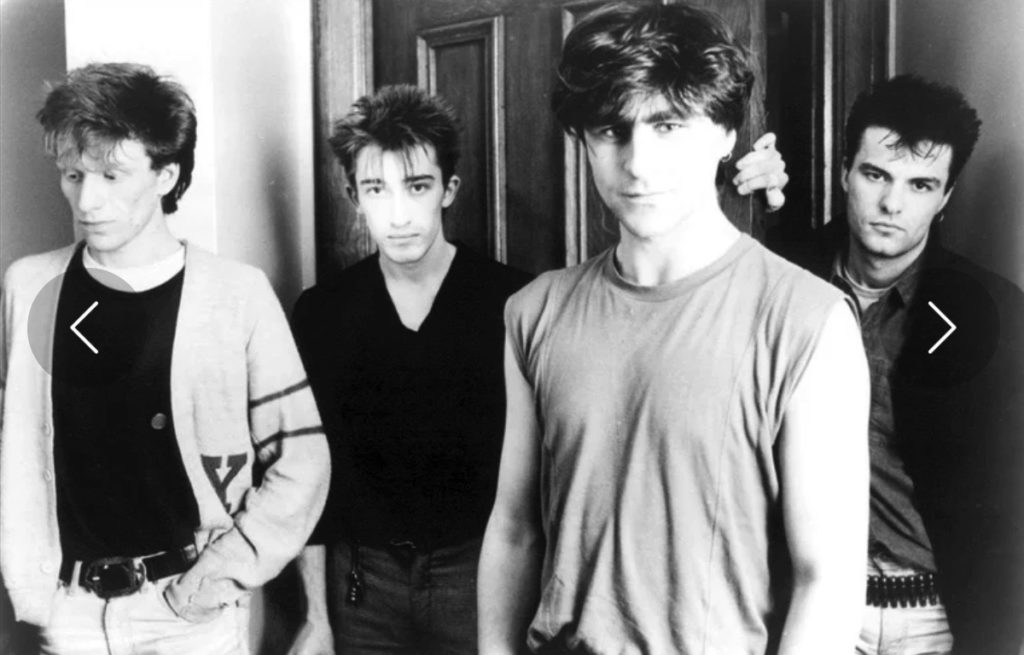 ---
01.51.42
THE TEARDROP EXPLODES – (Read It In) Books (7″ b-side version) – Zoo – 1980
Grittier version of the Julian Cope and Ian McCullough tune than on the Teardrop's debut album.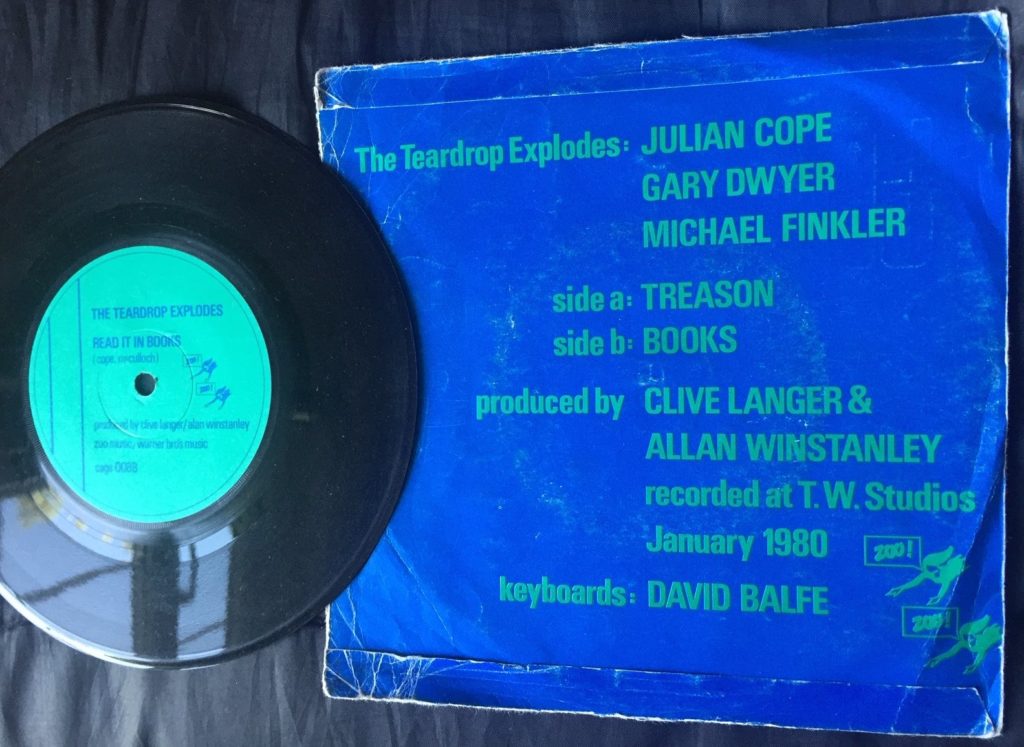 ---
01.54.43
ALPINES – Drive – Night Drive, 10″ – Polydor – 2011
The debut single from a duo who to date have managed four albums.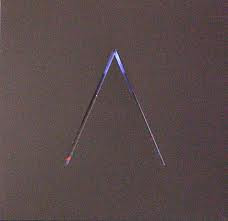 ---
01.54.43
KEITH LE BLANC – You Drummers Listen Good – Major Malfunction, LP – World Records – 1986
Thumpin'! With Adrian Sherwood, Skip McDonald and Doug Wimbish all involved, this has the Tackhead production and sound all over it.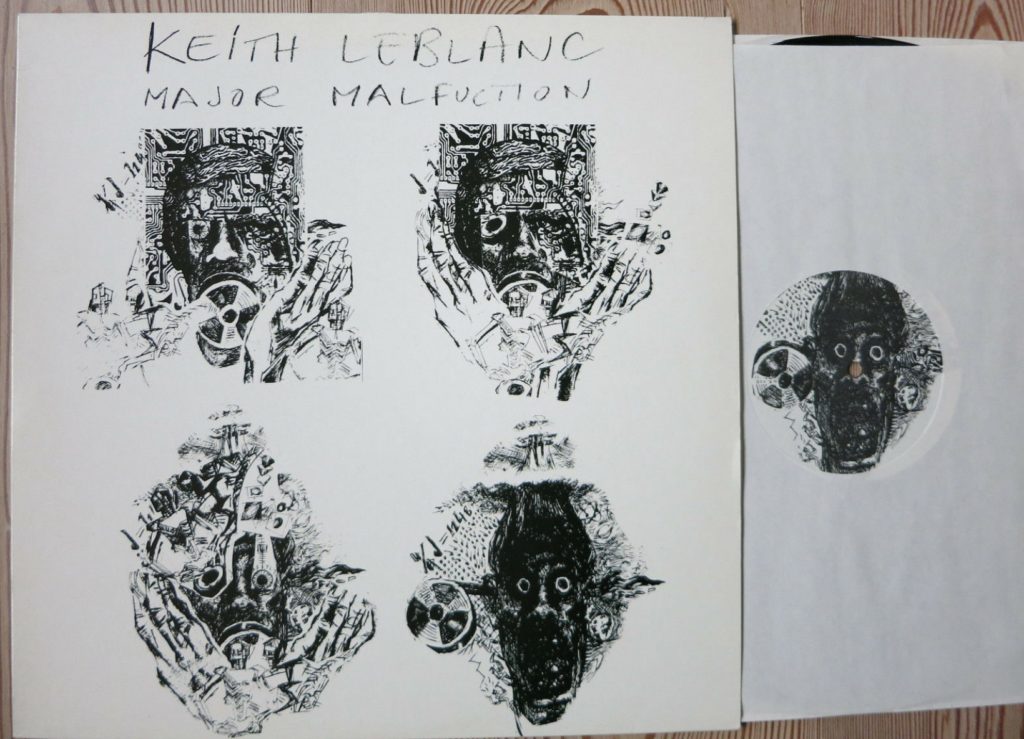 ---
01.54.43
SUPER A. D. – Check The Subject – Detonation, The New Breed – The Best New Undiscovered Dance Artists, v/a, promo CD only – ?? – 1999
From the 'big beats' era and one of four tracks that these two Scandinavian brothers had on this Nuneaton, UK sourced comp, all of which sank into oblivion – in total contrast to the show ender.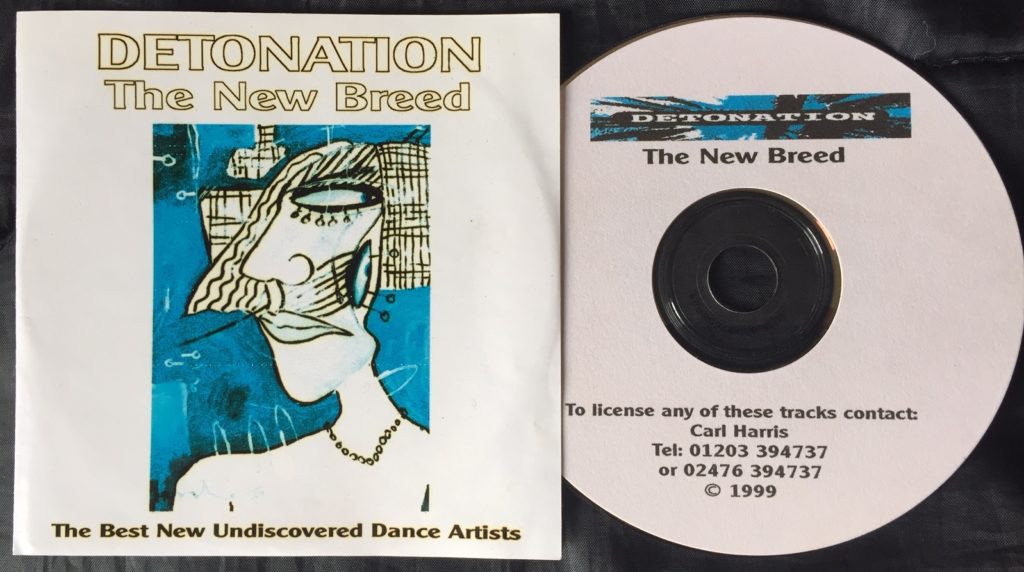 ---
01.54.43
JOY DIVISION – Love Will Tear Us Apart – 7″ – Factory – 1980
If there'd only ever been ten 41 Rooms shows this might have been in there, but for no particular reason it finally appears here, finishing show 108. As iconic a song as it gets, I would have signed off here with it in my normal fashion until I realised – nearly too late – that one (June 10, 1980) of the two requests that I put in for on John Peel's radio show in the early '80s (it was a done thing back then) just happened to fall in sync with the release of this single. So, as a one off, it's over to Peely… and out.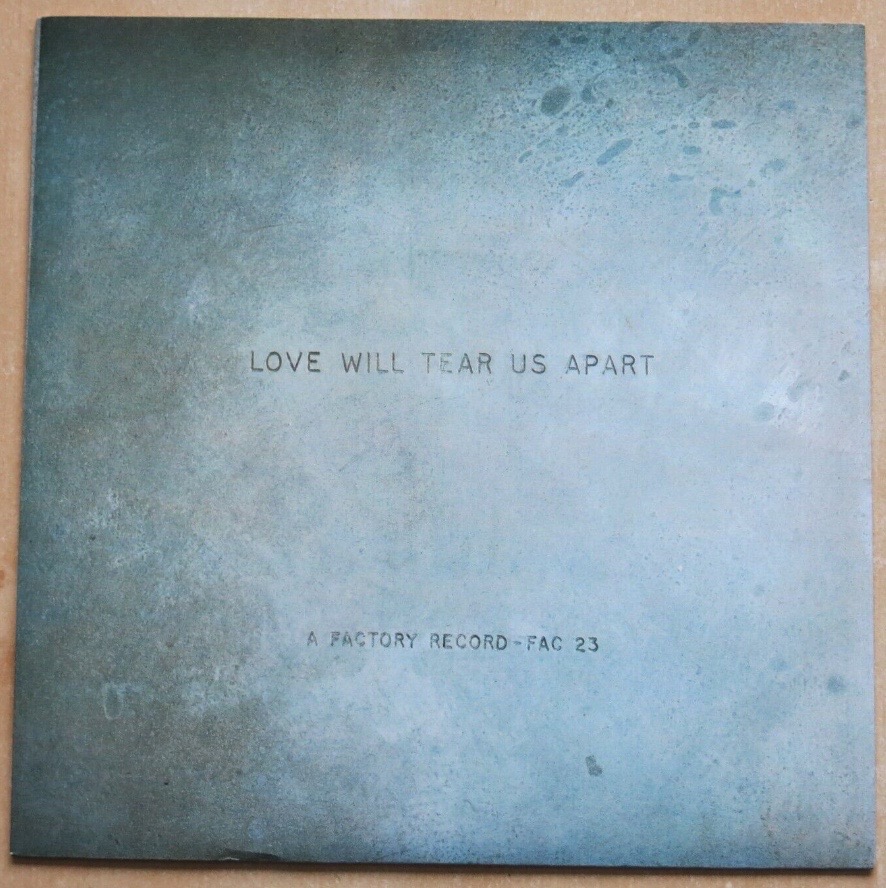 ---
Show 109 will be out and about Nov 6.
Dec