PLAYLIST 91 Original Upload May 2, 2021
and is 71% vinyl friendly! Not bad.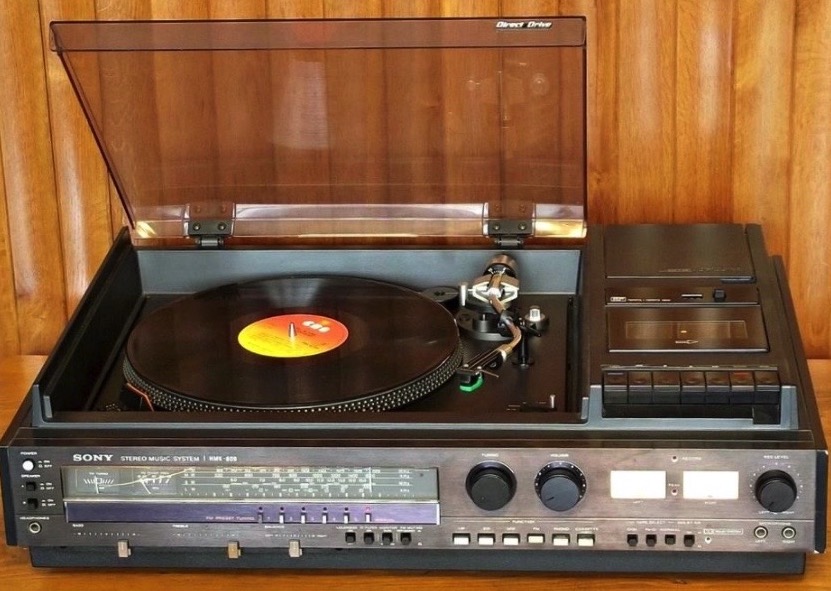 A Sony HMK-80B set up, from 1979. Nothing sonically gobsmacking here, but if my experience with the slightly earlier National Panasonic equivalent (the 41 Rooms homepage) is anything to go by, the 'all in one' nature of these music centres was very cool back then.
---
Any track marked * has been given either a tiny or a slightly larger 41 Rooms 'tweak'/edit/chop.
---
Lyric of Playlist 91…
'There's a hole in the bucket, dear Liza, a hole…'
It brought a smile, mainly for the childhood memories of the song it's lifted from – Harry Belafonte's There's A Hole In My Bucket – but also for the message/lyrics in total. Cancel Your Hopes, indeed. There are people my age who have great grandchildren and boy are the latter going to be dealing with some crap as they grow to try and balance 'life'.
---
00.00
(Intro) THE FLAMINGOS – Stars (Edit) – Unreleased demo – 1983 Episode #1 for info.
---
00.41
NEW ORDER – Let's Go (Nothing For Me) – (The Best of) New Order, CD, US promo only – Qwest/Warner Brothers – 1995
Originally from 1985, a very cool vocal version was demo'ed but then got dropped. That may or may not have been something to do with part of the melody sounding akin that of Sooner Than You Think… depending on which came first, of course. Let's Go was an instrumental the band occasionally performed live through to '87 and it then made it to the Salvation! film soundtrack album and this Nothing For Me vocal version was later spotted when it promo'd on a one track only CD and subsequently led off the US only (The Best of) New Order 1995 compilation album.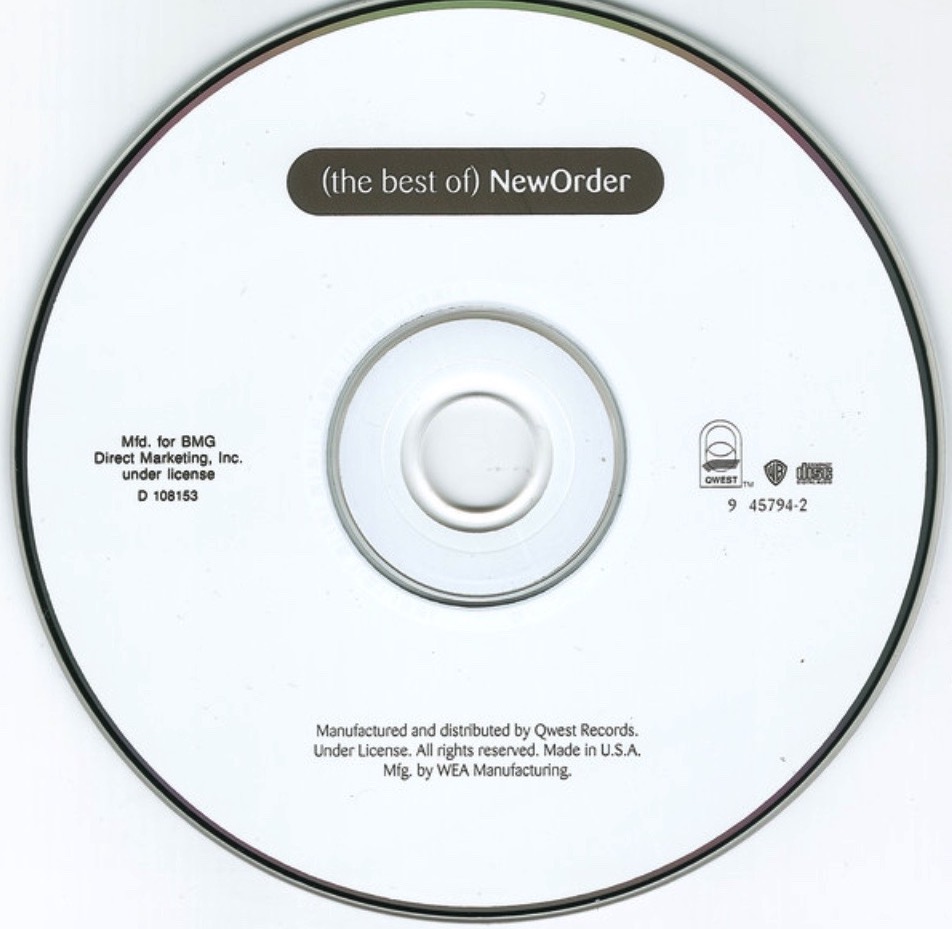 ---
04.31
THE FALL – Mr. Pharmacist – 7″ – Beggars Banquet – 1986
Mark E on someone's regular visits to the chemist.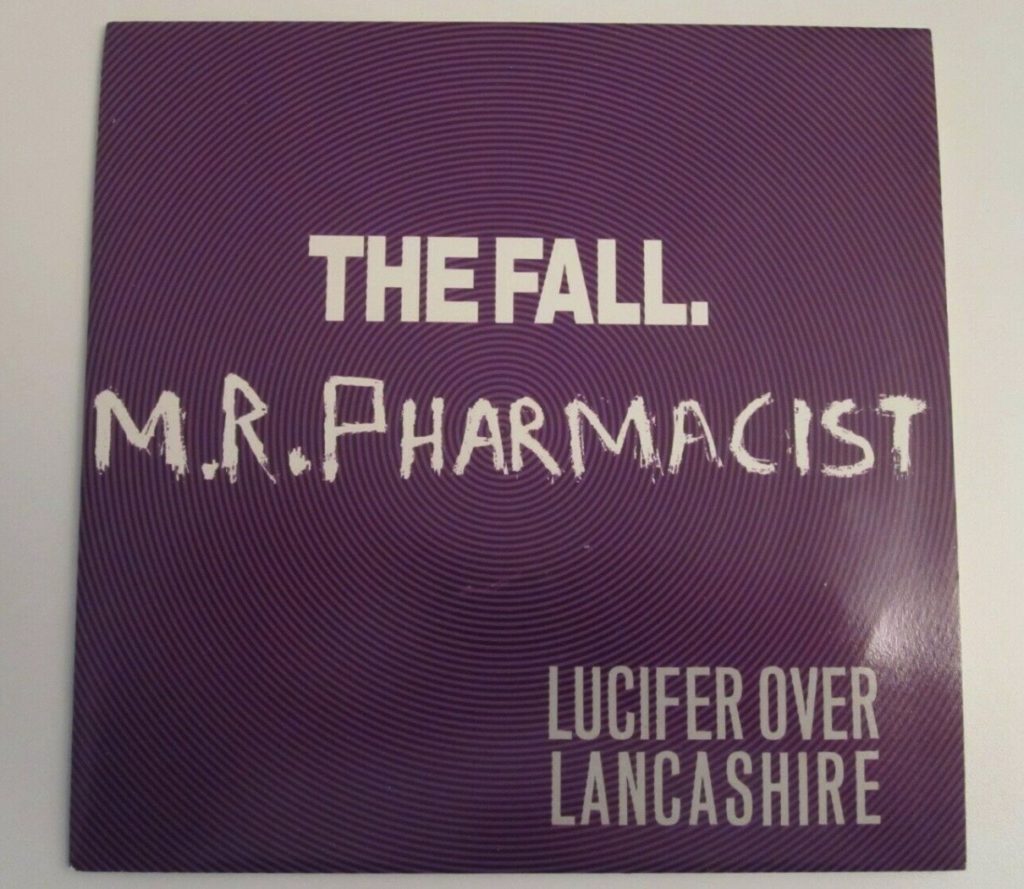 ---
06.48
THE CHAINS – Nervous Breakdown – On Top Of Things, LP – Get Hip Recordings – 2002
The '60s garage sound morphing in Australia in the new millennium.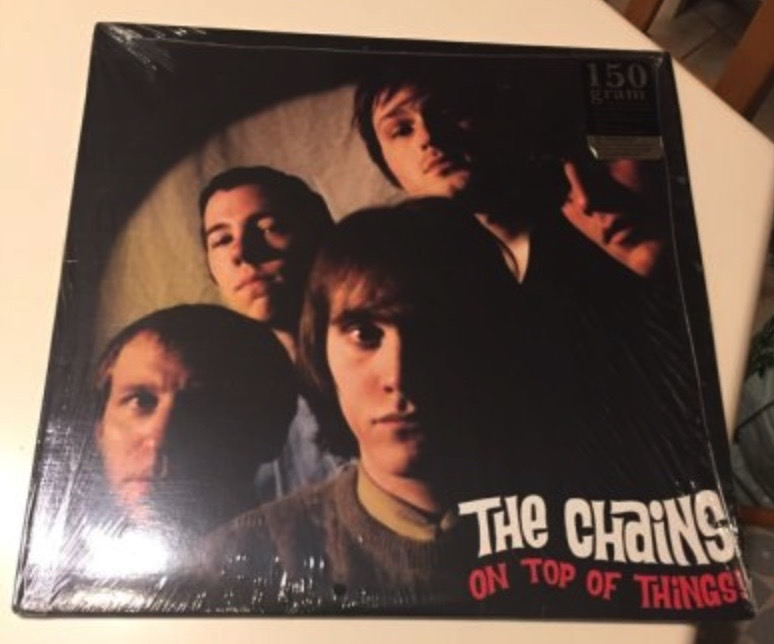 ---
09.50
ECHO AND THE BUNNYMEN – Do It Clean – 7″ b-side – Korova – 1980
Were any early Bunnymen tracks ever really b-sides?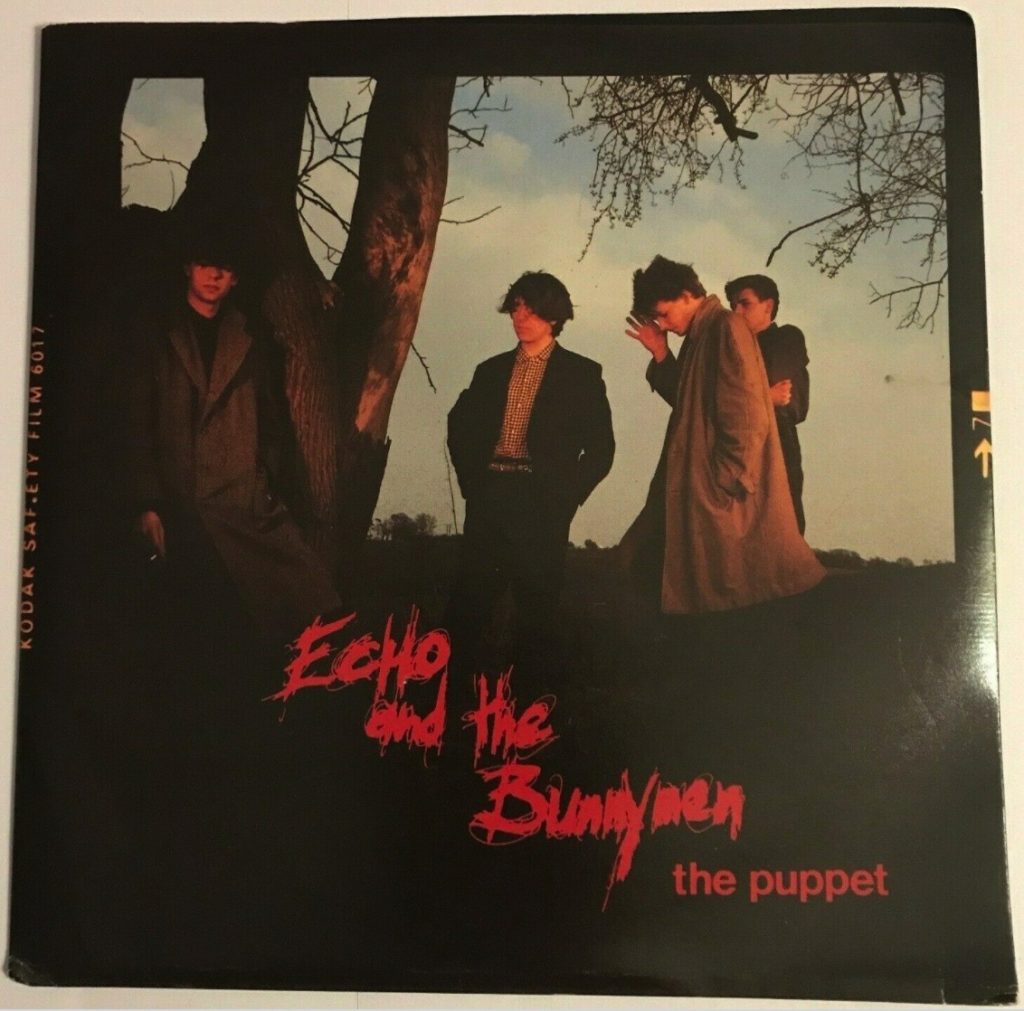 ---
12.28
KATY CARR – Berliner Ring – Coquette, CD only – Deluce Recordings – 2009
Katy was a student on a Commercial Music course I was working at in the late '90s and my office had an open door policy for any advice I could offer. Whilst a lot of the students were understandably aligning themselves with the genres that were then creating the biggest waves Katy was travelling a different path. One chat I had with her involved a discussion on Kate Bush and her eyes lit up. Now six albums deep, she's still very much travelling her own path. 🙂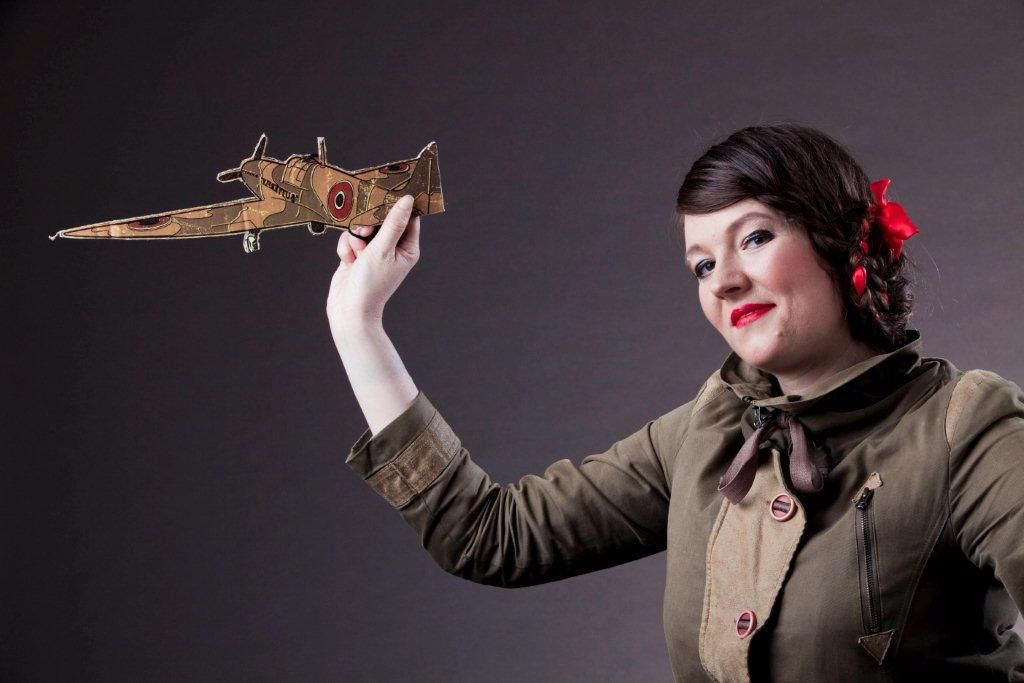 ---
16.05
SQUAREPUSHER – Cooper's World – Hand Normal Daddy, 2LP – Warp – 1997
Jazzy d&b and sounding like incidental music for an episode of Kojak or Streets of San Francisco back in the day.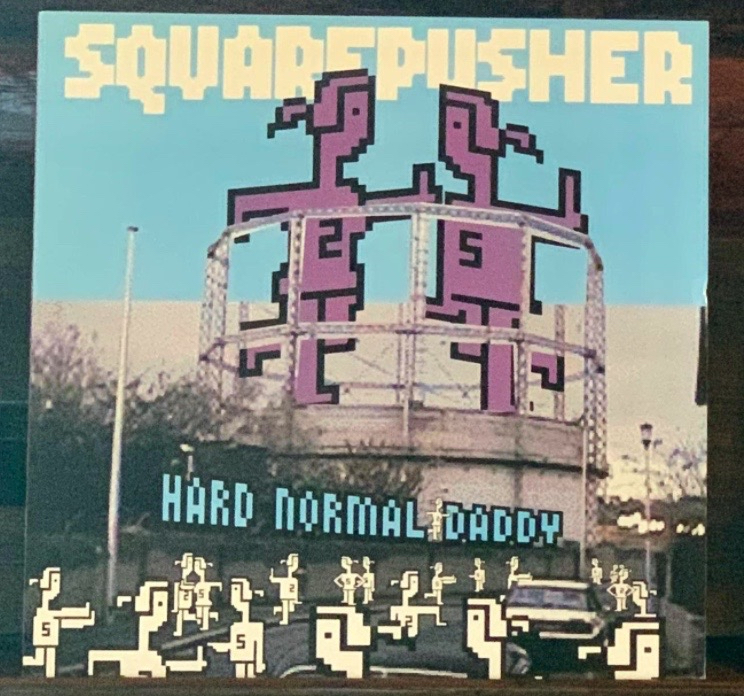 ---
21.12
STRETCHER – Mousehold – Unreleased – 2002'ish
Quirky and twitchy electronic bizniz from my mate, Spud… and there might be more info here if and when he remembers to wing it my way. 🙂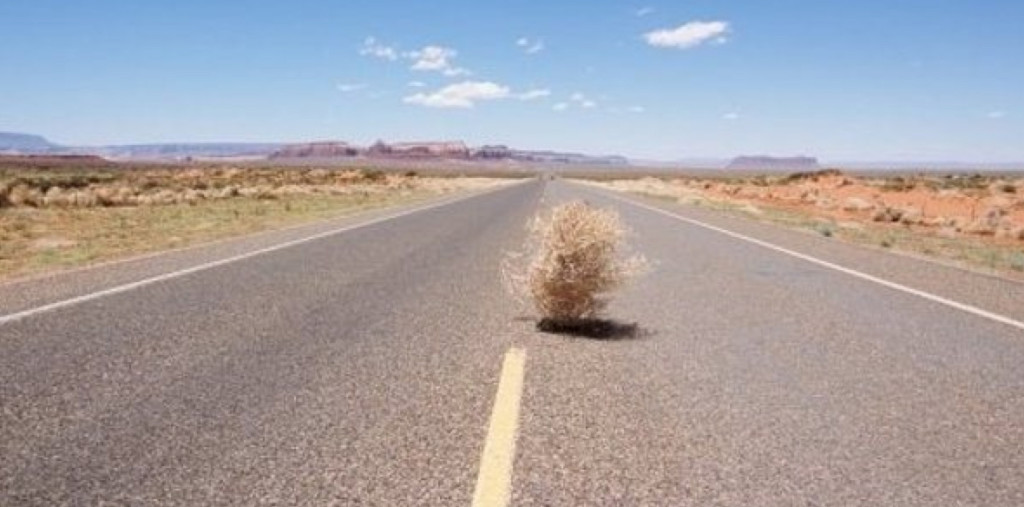 ---
24.55
THE SOFT PINK TRUTH – Coat Check – The Soft Pink Truth 12″ EP – Soundslike – 2001
A style of cut and paste sound manipulation that a previous 41 Room attendee, Akufen has used. In small doses only, I reckon.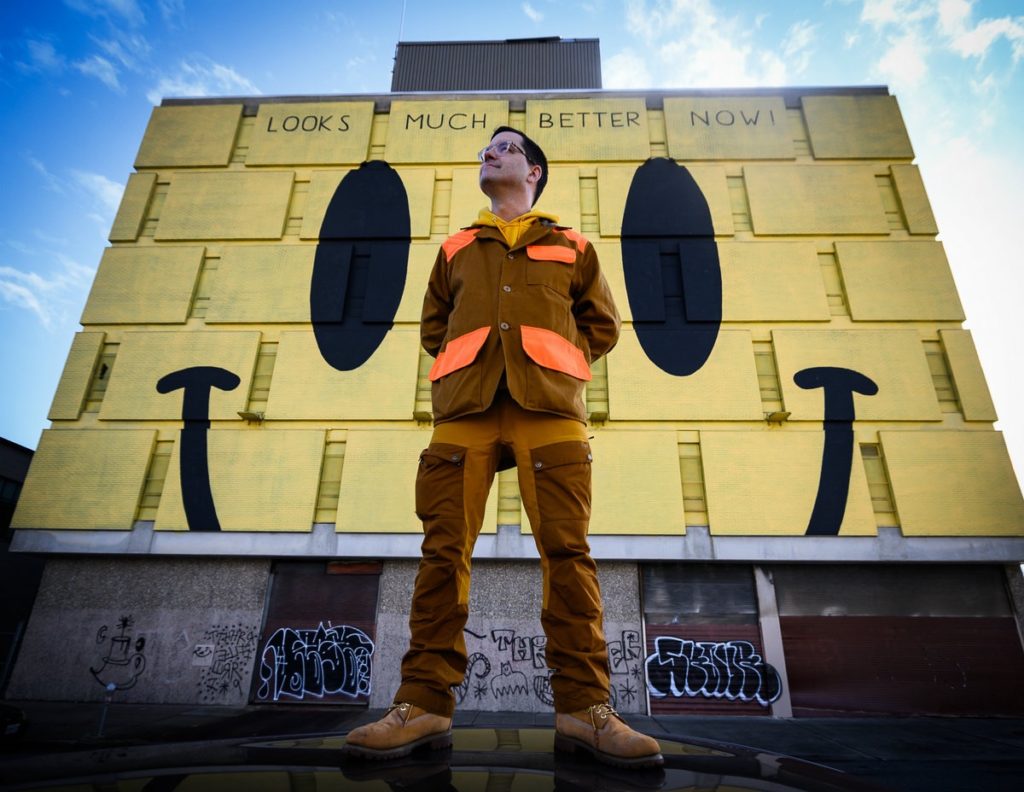 ---
29.08
TRACEY THORN – Why Does The Wind – Love and Its Opposite, LP – Strange Feeling – 2010
I tried numerous times to get the fab TT's music on to a 41 Rooms show but she's then been sidelined. I must try harder.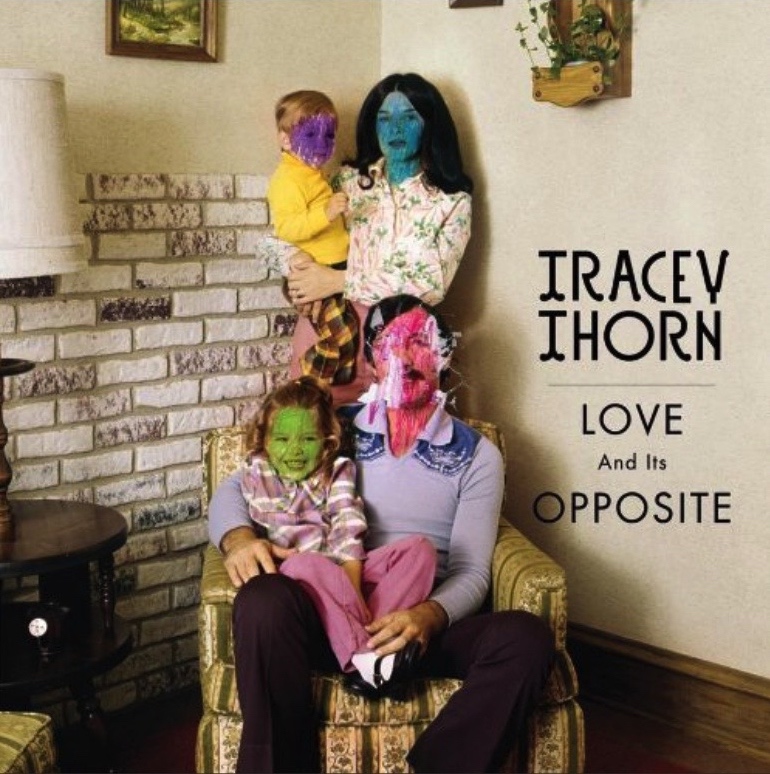 ---
32.39
THE LOUNGE SOCIETY – Burn The Heather – Silk For The Starving, 12″ EP – Speedy Wunderground – 2021
Hebden Bridge in the house, and a band that features the son of a friend of mine from his early days in Bedford, novelist, Stephen May. Having Speedy Wunderground as your label home is also worth noting, so things are looking bright for this band. Coincidentally – and on a lighter note – I have, genuinely, just burnt a whole load of heather. Overgrown garden stuff…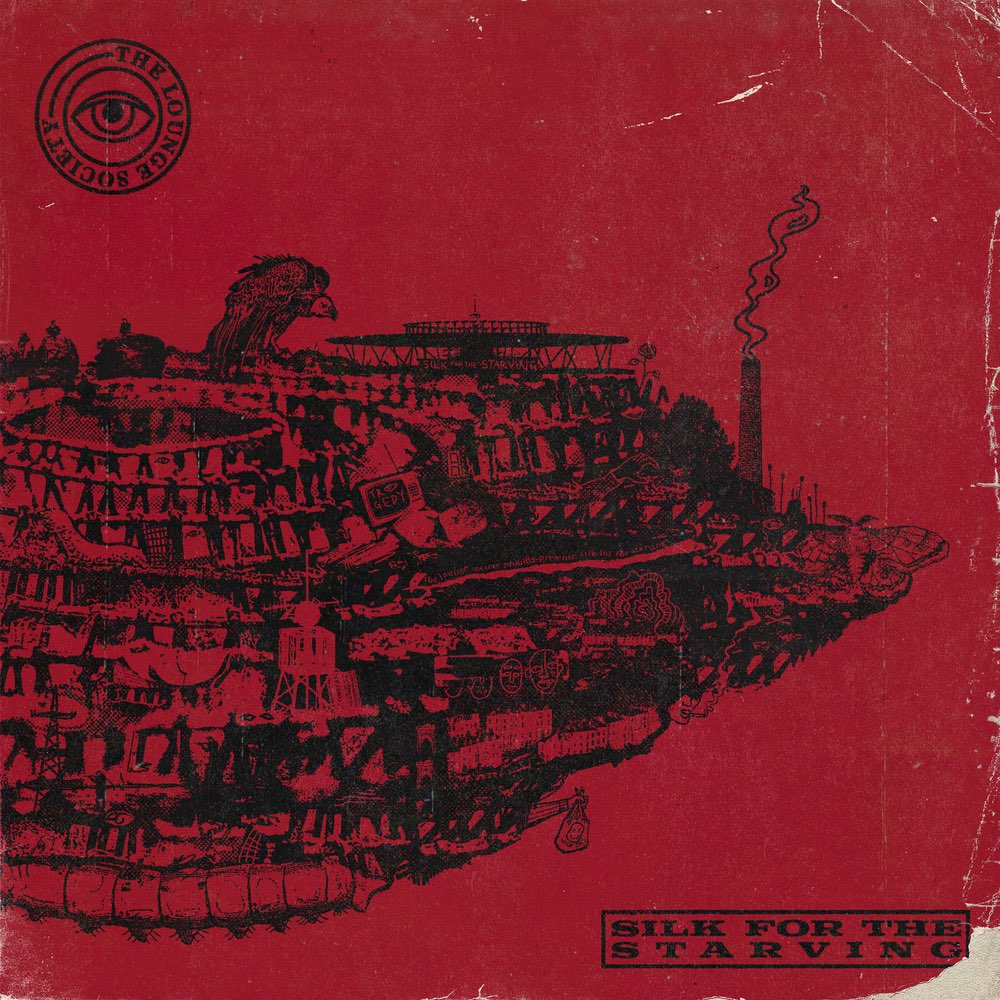 ---
35.43
PENFRIEND – Cancel Your Hopes – Penfriend, 5-track CD sampler – Self released – 2020
The sampler was 'Sent with initial orders of the Disarm 10th Anniversary Demos & Rarities set, released by She Makes War', one Laura Kidd under what might now be a previous alias.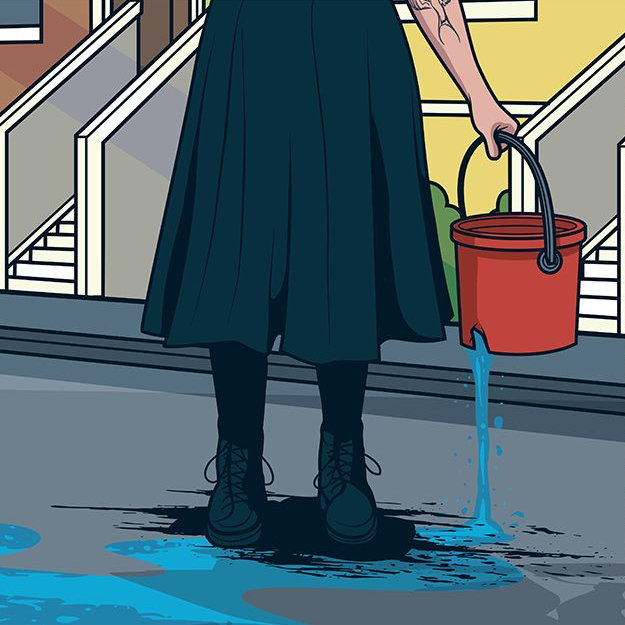 ---
38.52
GRAMMATICS – New Franchise – One track promo CD, only – Dance To The Radio – 2008
Owen Brinley is another peep here under a former guise, and seemingly with a track that promo'd nothing other than itself, as it appeared then on neither an official single nor an album.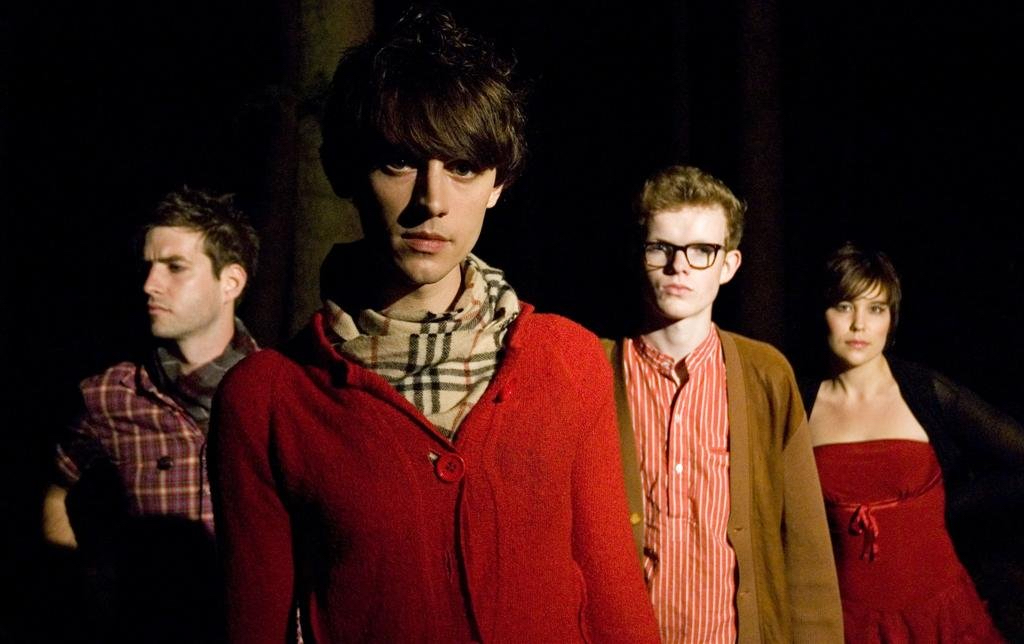 ---
43.20
CREAM – Strange Brew – 7″ – Reaction – 1967
Even within the changing landscape of music in the mid '60s this would have been a more menacing sound than the average 7″ blaring out of UK radio of the times, especially as it preceded the birth of the BBC's more liberating Radio One by a few months.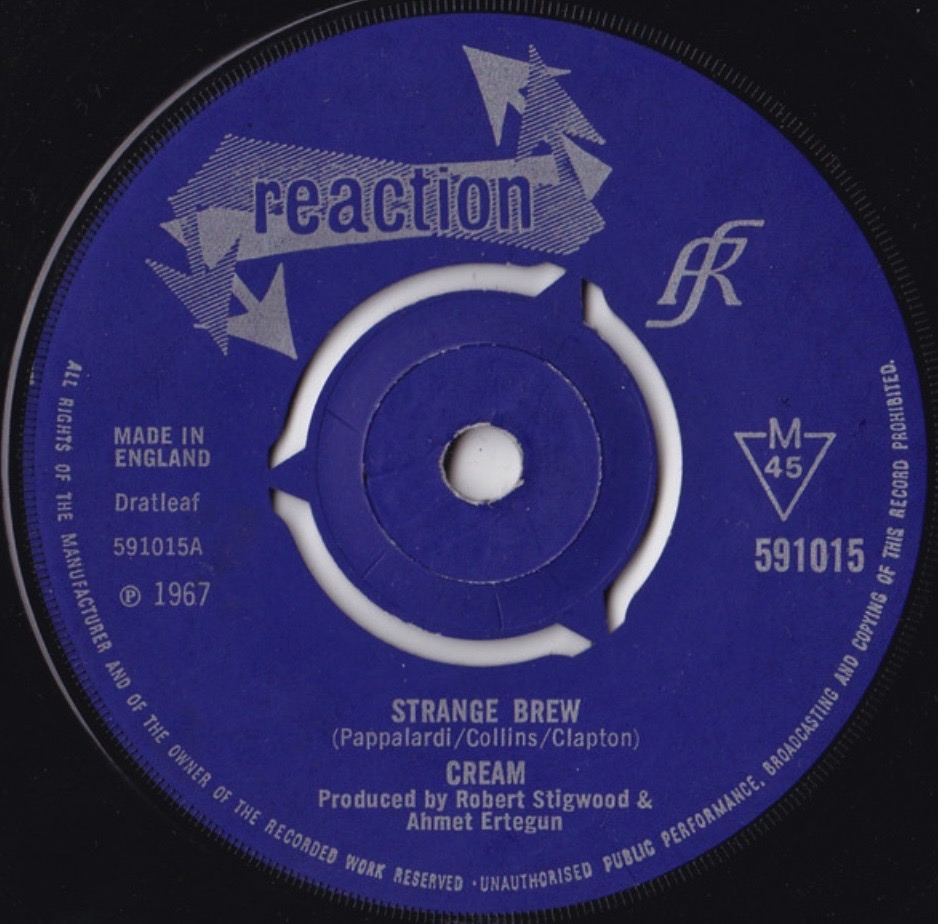 ---
45.58
STEVIE WONDER – Superstition – 7″ – Tamla Motown – 1972
Actually spinning the very slightly extended album version on the show, but this was another of those rare 'Wow!' moments, when the song jumped out of the radio as a new release. That funky clavinet was like nothing this 15-year old lad had heard to that point.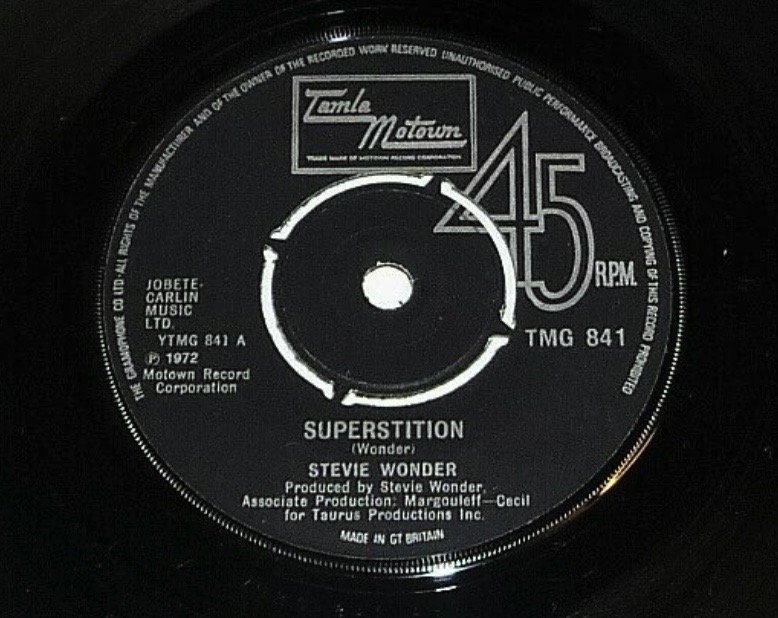 My UK 7″ acetate! Whether the seller had a turntable or not to check what exactly this was I don't know but without listing it as being Stevie Wonder it slid under the radar. I took a £25 Buy Now punt – and Stevie it was! Feeling oh so slightly like a sparser version of the fully released single version I will give it a spin on a future show.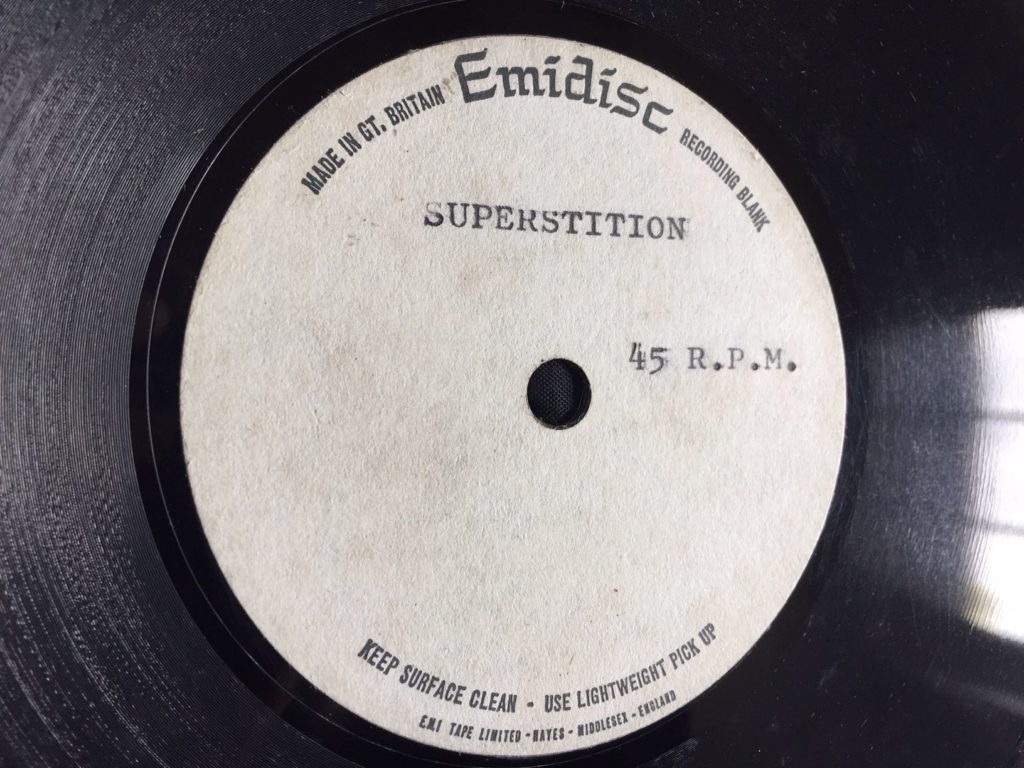 ---
50.24
MARCELL –Sesuka Hatimu – Download only – VMC Music – 2020
Someone posted a cool world map of radio stations on Facebook recently, so I randomly hit one in Indonesia and this was the tune that jumped out at me from Station Unknown – and it had me smiling big time when I 'Shazam'd it.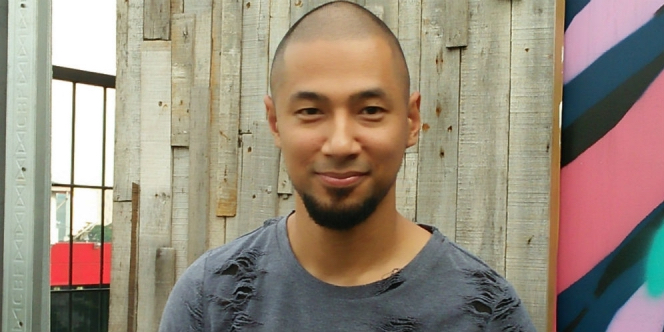 ---
54.11
SOUL II SOUL – Joy (Album Mix) – 7″ b-side – Ten Records – 1992
'... this lurching jiggly title track from their upcoming album is throatily wailed by Richie Stephens through gospel-style girls hypnotically chorusing "joy, it's a new sensation, new vibration, rocking' the nation", in a shuffling 100.9bpm Brand New Heavies remix plus producer Jazzie B's much starker joltingly tapped 0-100.7-0bpm Club, chunkier bright 100.5bpm Radio and vibes rippled sparsely percussive Instrumental Dub Mixes'. – James Hamilton, Record Mirror (Music Week), 12.9.92
Caron Wheeler is the vocalist most associated with Jazzy B's crew but the lads could put in a neat turn as well.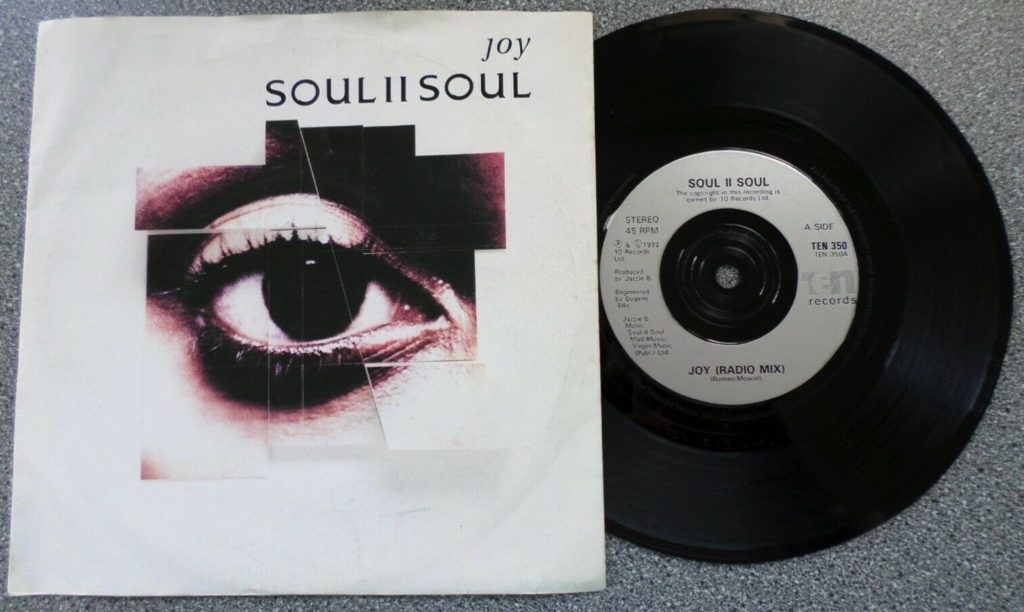 ---
In the hands of Robin, Viv's mug is back.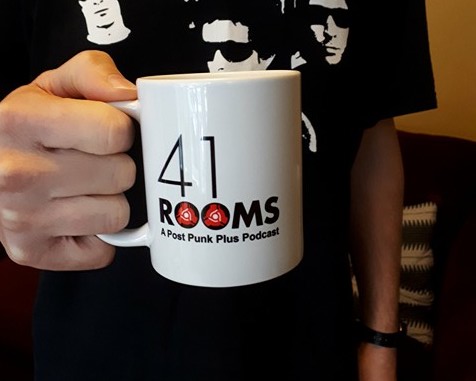 ---
58.17
SHARA NELSON – Pain Revisited – What Silence Knows, LP – Cooltempo – 1993
Forever the Massive (Attack) Unfinished Sympathy vocalist of that iconic 'long walk in LA' for the single's video, Pain Revisited is from the first of the two (to date) solo albums Nelson has made since.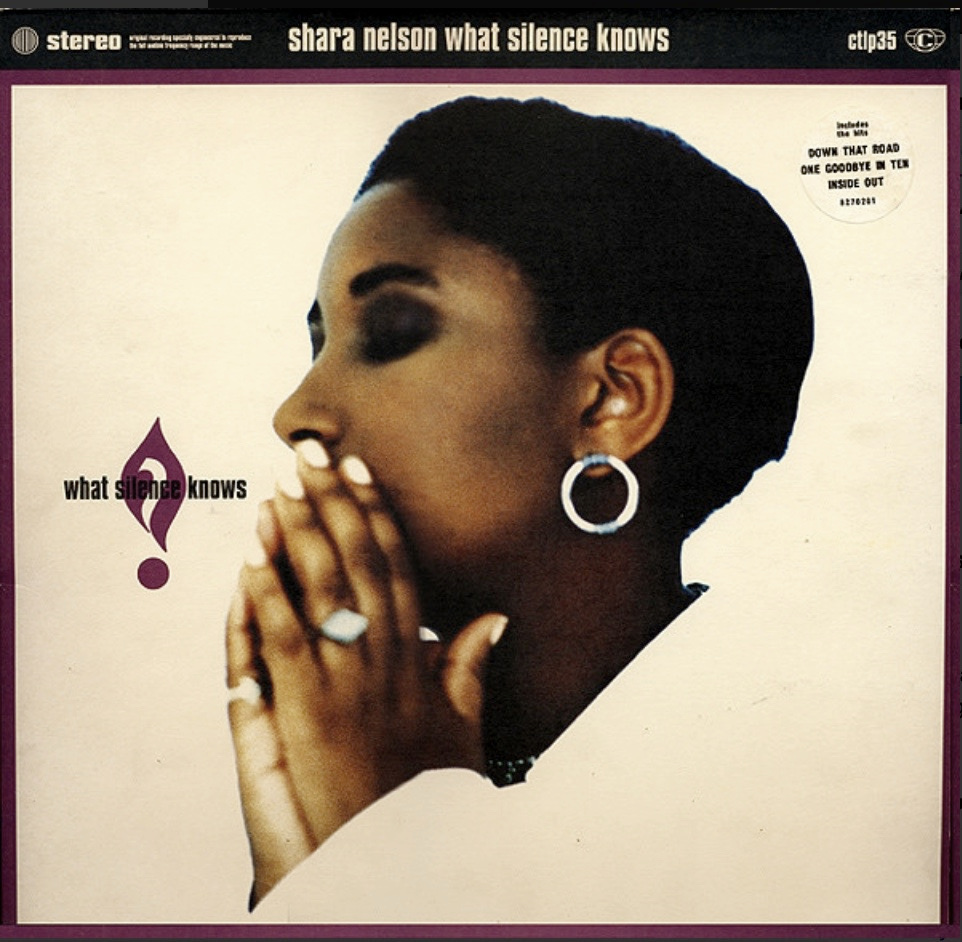 ---
01.02.32
TOWER OF POWER – It Really Doesn't Matter * – Rhythm & Business, CD only – Epic – 1997
If you like the sound of a horn section then TofP's fifty plus year career perfecting the art could easily fill your boots, but it's this vocal and melody that does it for me here. Nothing earth shatteringly original but big time feel good and a bit reminiscent of the fat and funky 90s swing as nailed by Artz & Kraftz, Force One Network and others.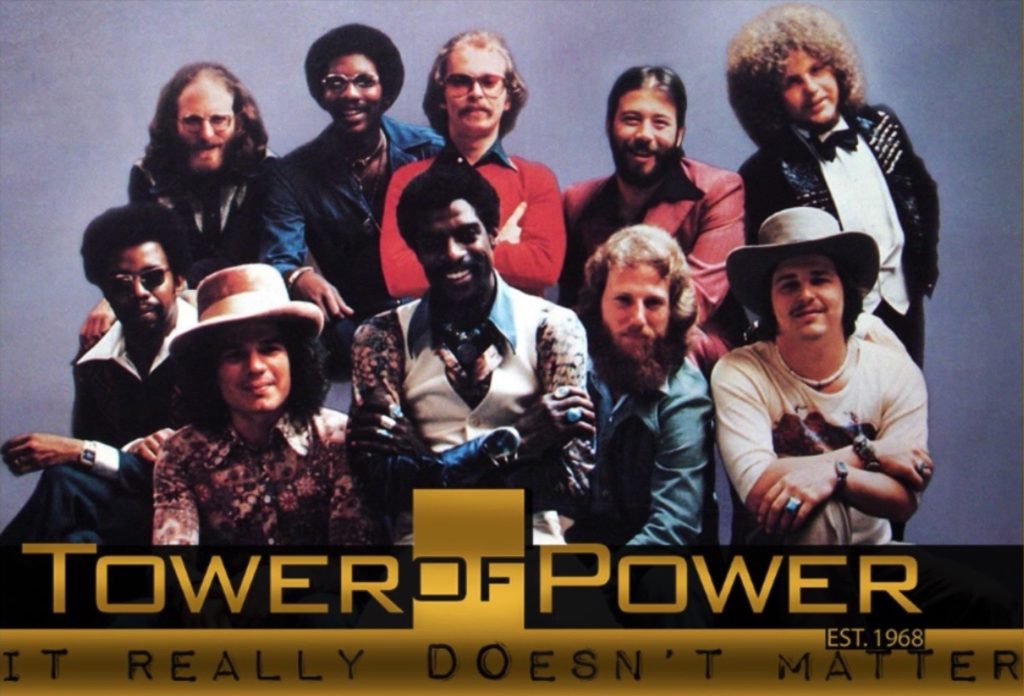 ---
01.06.55
A RACE OF ANGELS – Days On Earth * – Youtube only – 2013
The lesser spotted voice of Yeofi Andoh and whichever co-conspirators are to hand when he does release material. Conscious sounds for the 21st century.
'A Race of Angels is the primary outlet for Yeofi Andoh, a somewhat enigmatic synthesist of soul, jazz, and folk. Originally from rural England, the multi-instrumentalist learned guitar first and played in local punk bands. During the early '90s, he moved to the U.S., originally to New York, and then to California. He was signed as a solo artist to major label Atlantic, but some executive-level upheaval led to the shelving of his Necessary Madness — for which he was identified as simply Yeofi — prior to its intended 1996 release date. Andoh worked as a fashion photographer, went on to collaborate with the likes of Dorado act Outside and vocalist Lizz Fields, and eventually made his first moves as a Race of Angels. Broadcast No. 1 (2005) began a sporadic series of short-form releases and compilation appearances highlighted by the yearning soul-jazz ballad "Just Begin," included on From L.A. with Love (2007). After a lengthy period of silence, a three-track EP titled Before the First Goodbye (2016) surfaced as a teaser for proper debut album Pointless, prepared for release on the Fresh Selects label'. – Andy Kellman, music.apple.com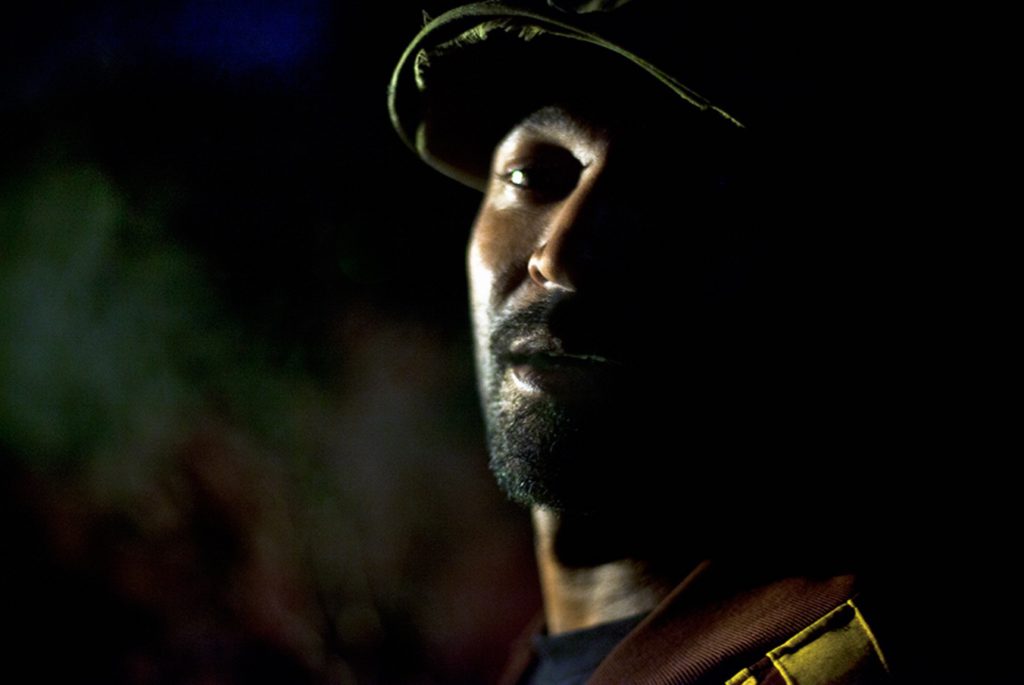 ---
01.11.15
CURT BOETTCHER – Misty Mirage – Misty Mirage, LP – Archives – 2001
I should do it more but when buying on eBay from Japan and other far flung, heavy rate p&p countries I rarely halt at the check out and search the sellers other items to (sort of 🙂 ) lessen the shipping 'hit'. One time I did and this album was quietly and cheaply sitting in the inventory, and as I was after a couple of tunes on it it was a bit of a result. Curt? An intriguing figure, and if you have a thing about the sound of the '60s his sadly short life and career are worth checking out.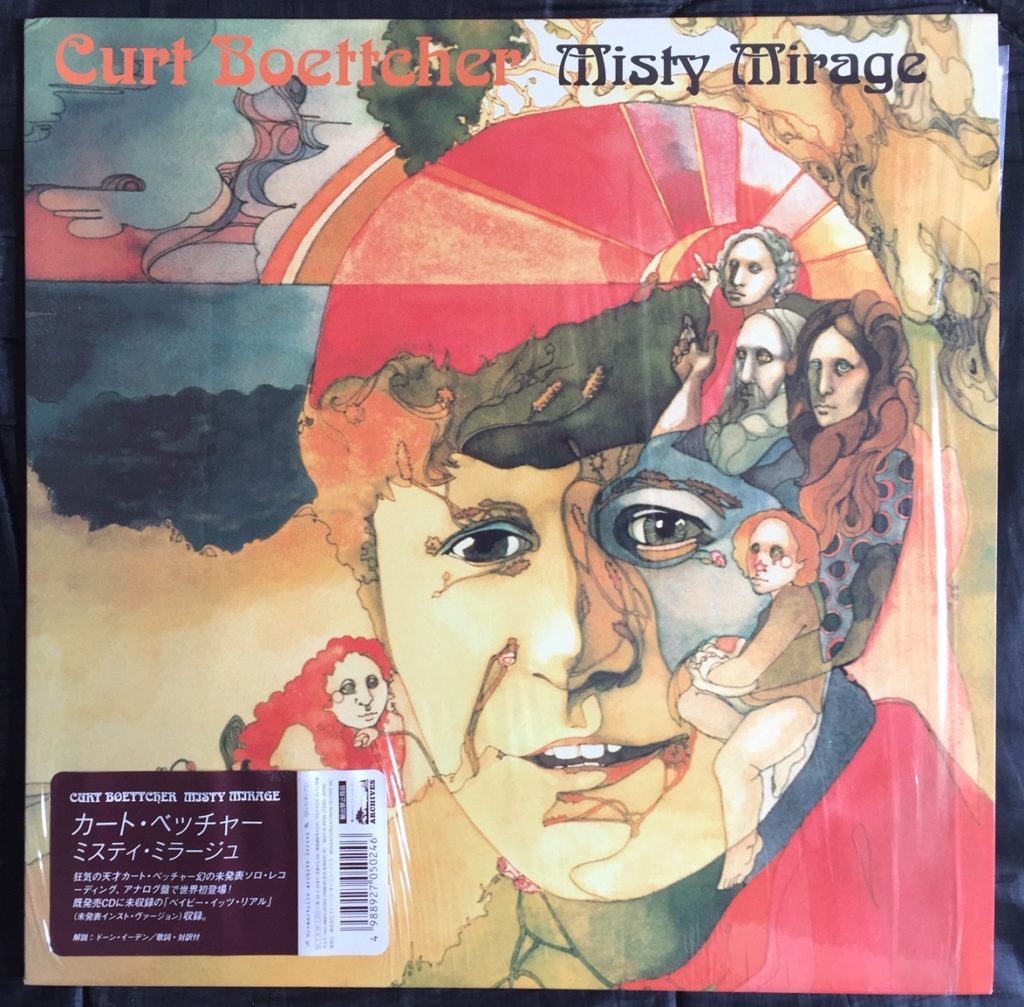 ---
01.14.56
ELECTRONIC – Get The Message – 12″ – Factory – 1991
The blending of Bernard Sumner and Johnny Marr, two iconic Mancs more associated with their iconic other selves but here successfully looking for inspiration elsewhere. A wind down/come down tune in the days of rave?
'… whispering' Bernard (New Order) Sumner and jiggling' Johnny (Smiths) Metterarr's pop hit now gets the D.N.A. treatment with a rumbling funky drum chinked and piano plonked 106.2bpm Groove Mix, losing the rumble to become a more tightly tapping episodic Sin Mix on the flip'. – James Hamilton, Record Mirror (Music Week), 4.5.91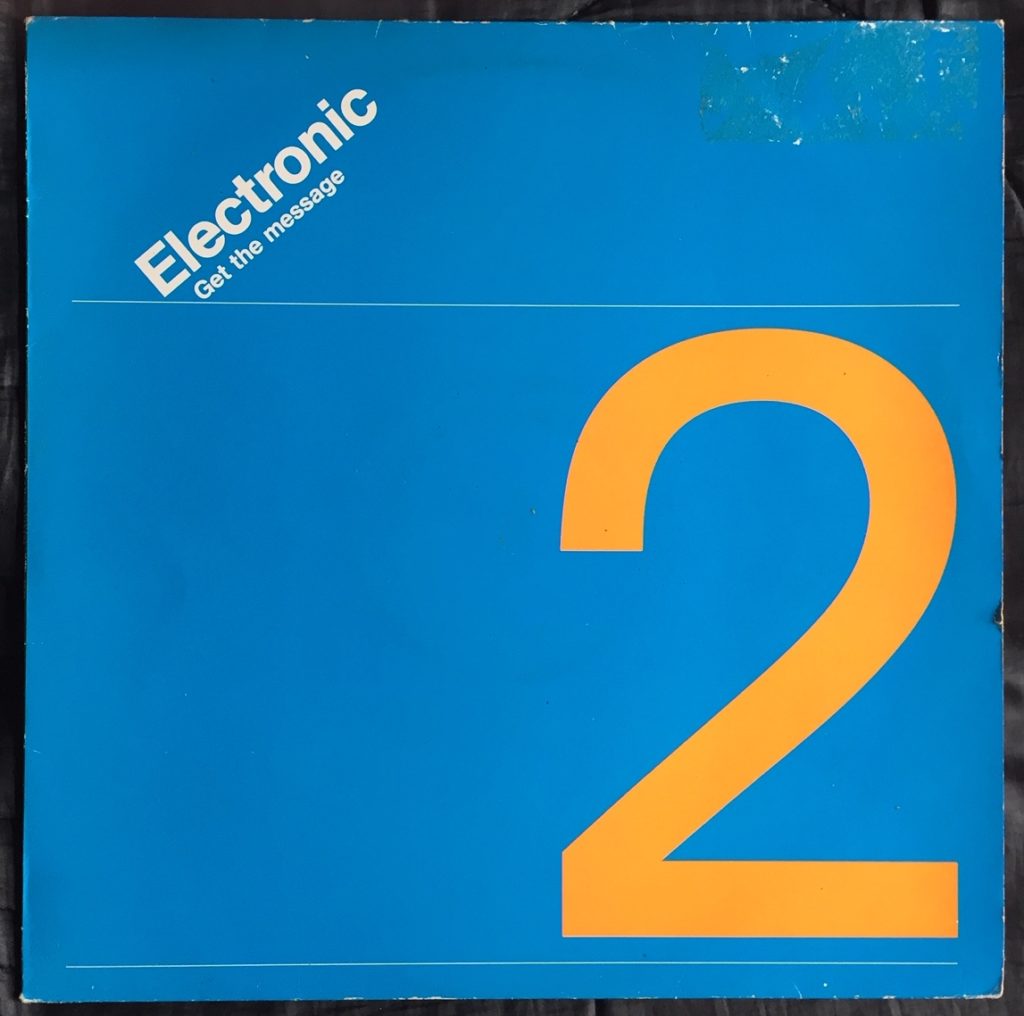 ---
01.19.29
BRILLIANT – Love Is War – 12″ – Food – 1986
If I think of bass player, Youth it's Killing Joke and his lurching, nonchalant 1982 appearance on Top Of The Pops, performing Empire Song that springs to mind but here he is just four years later, as one third of Brilliant and this Stock Aitken Waterman big production – possibly the first and last time the latter will be heard on 41 Rooms.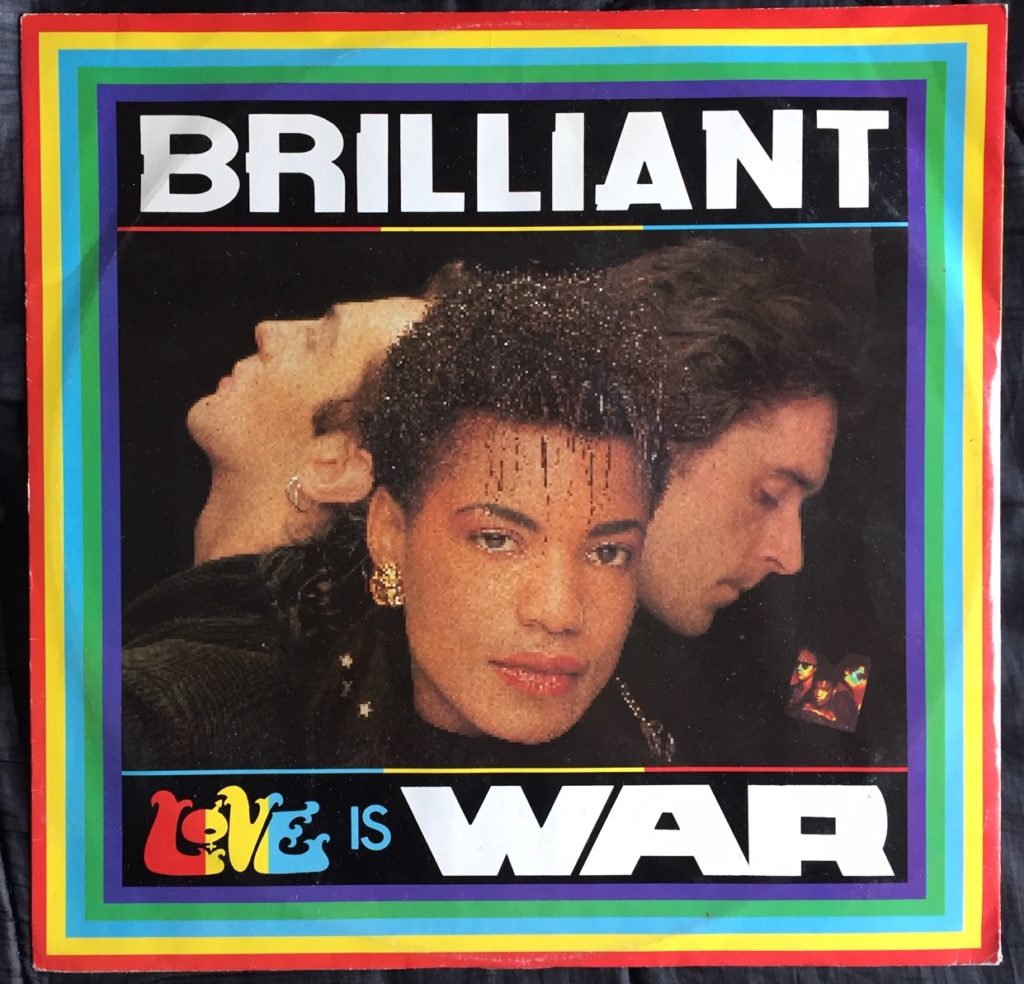 ---
01.25.07
JOSÉE – Modern Life * – Lost Souls Dancing, CD only – Inertia Records – 2004
Shining bright firstly as the vocalist for the short lived but sumptuous Hefner, Lost Souls Dancing has been Josée Hurlock's only album to date and along with her work with Japanese producer, Kuniyuki Takahashi, maybe the only other venture to capture her talent at its best. She has guested on a bunch of other artists' (mostly house) tracks but for all her efforts, for me she's never sounded quite 'right' on most of them. Positive vibes, she'll come good again. 🙂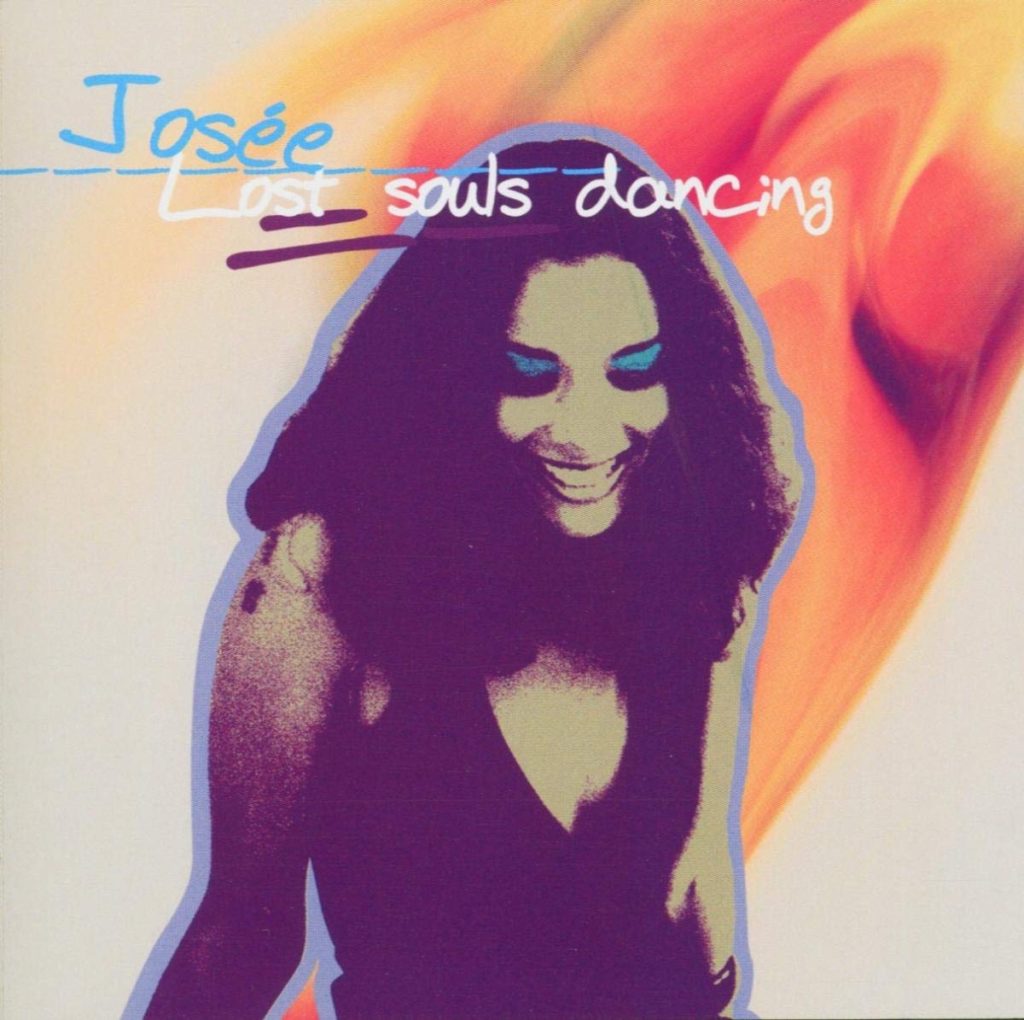 ---
01.27.22
MJ COLE – I See * – 7″ – Talkin' Loud – 1999
Downtempo here, Cole is maybe best known as a producer of garage tracks – the '90s UK dance variety, not the '60s US guitar-led style. What is it with niche music styles managing to have names that have previously signposted completely different sounding genres? Garage… drum and bass… r&b… swing (keep going…) It's not that language is short of words.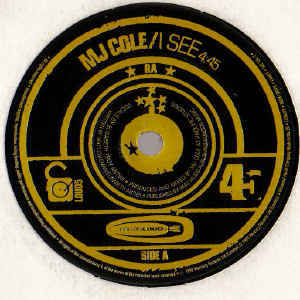 ---
01.31.45
ANJALI – Lazy Lagoon * – 12″ – Wiiija Records – 2000
If I was to use the term 'whispy sound' on 41 Rooms it would be here. So, I have… and it is.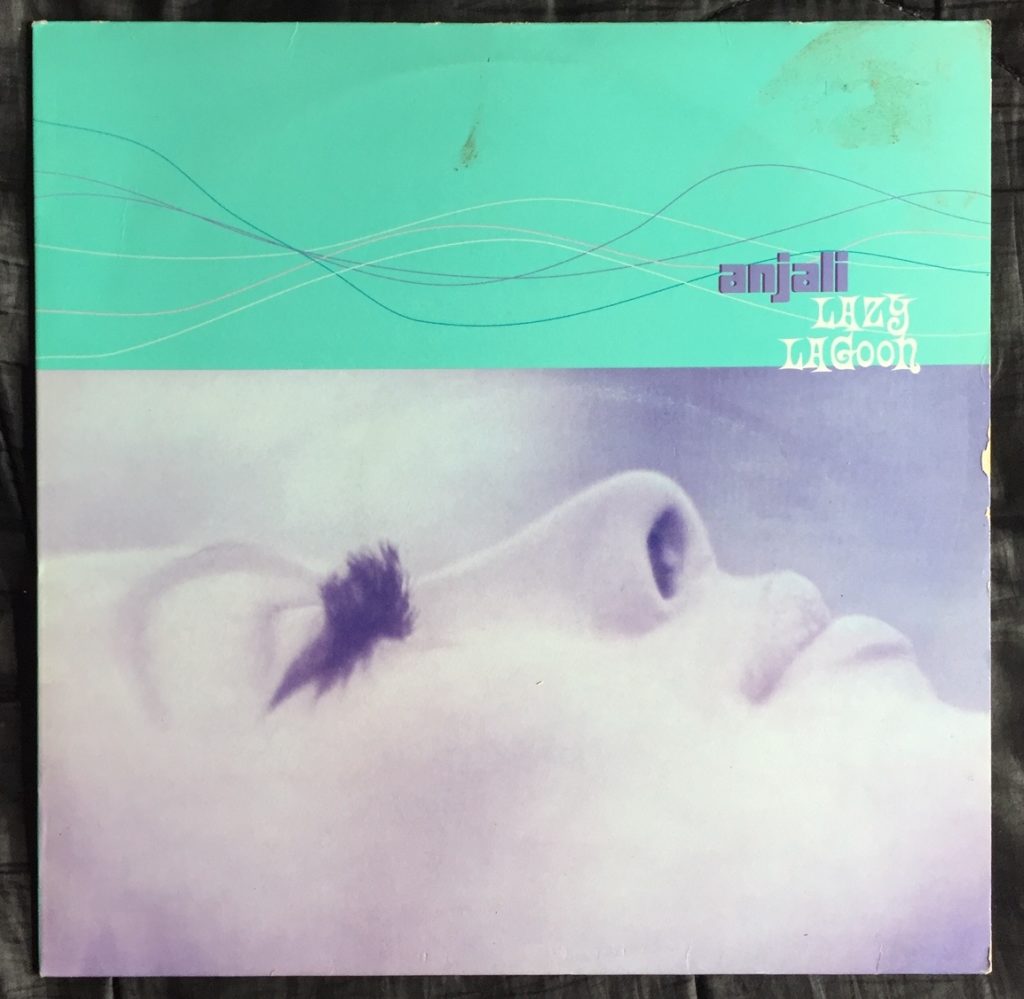 ---
01.35.08
THE BLUE NILE – Seven A.M. * – Hats, LP – Linn Records – 1989
Paul Buchanan's lot are a revered enigma. Just five albums in nearly forty years – the last being in 2004 – I'll wager he's not since changed tack and gotten a 'proper' job.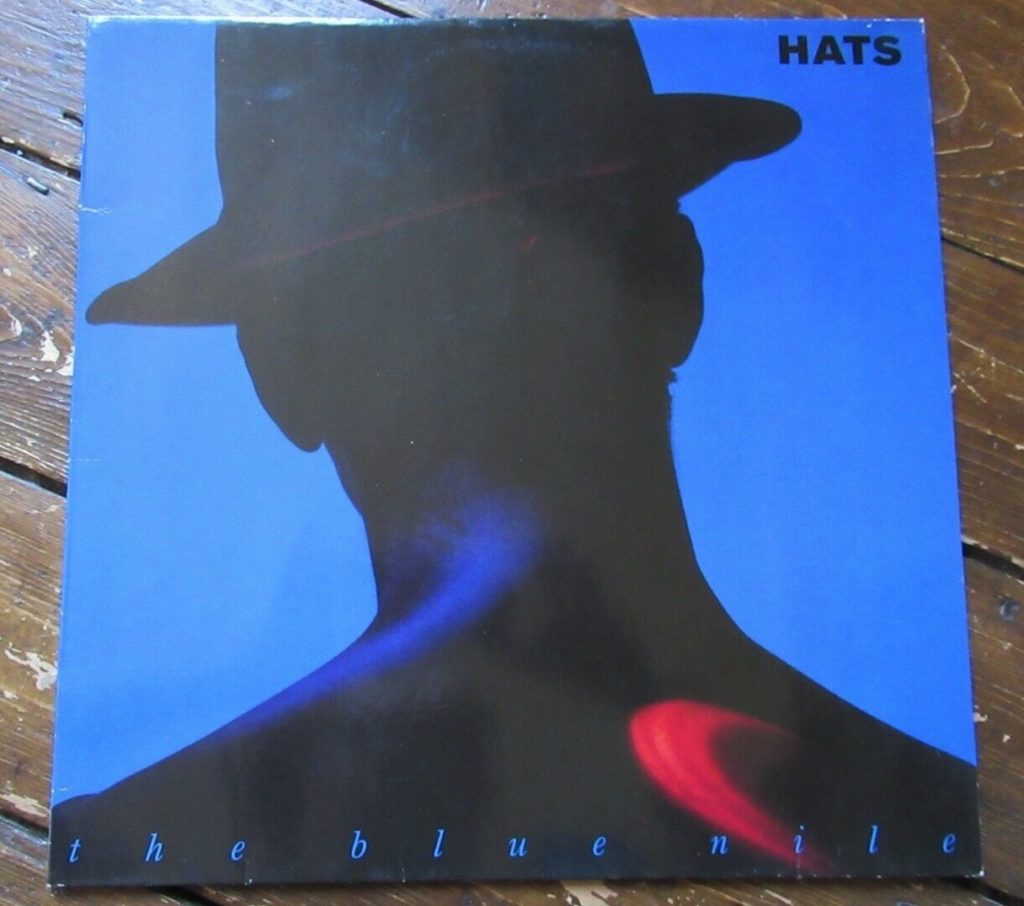 ---
01.39.46
PETULA CLARK – You'd Better Come Home * – 7″ – Pye – 1965
Not one of the girl's biggest hits at her charting heights in the '60s but a very cool tune all the same. As an aside, at a weekend market stall I once happened on a handful of PT cassettes that were, in effect, 80s/90s 'work in progress' rehearsal recordings – one involved music she was bouncing back and forth with Michel Legrand! Thinking they'd be of greater interest to a hardcore PC fan I eBayed them and within hours, someone claiming to be from PC's inner camp who was suggesting they'd mislaid the tapes contacted me and the recordings returned to their spiritual home. 🙂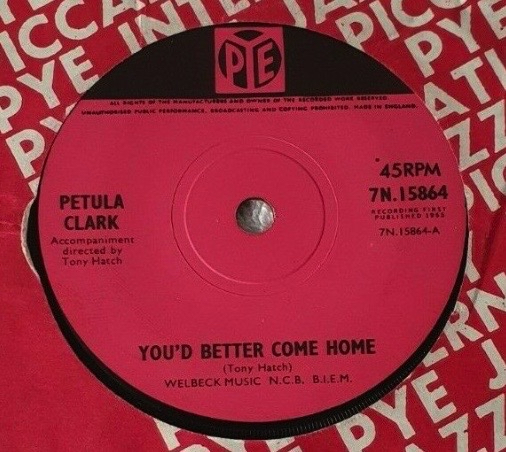 ---
01.42.43
SUZI CHUNK (with GROOVY UNCLE) – Got My Eye On The Prize * – Girl From The Neck Down, LP – State Records – 2012
I've said it before, as with other Chunk sung tunes, if they'd been recorded by Dusty Springfield in the '60s they'd now be worshipped.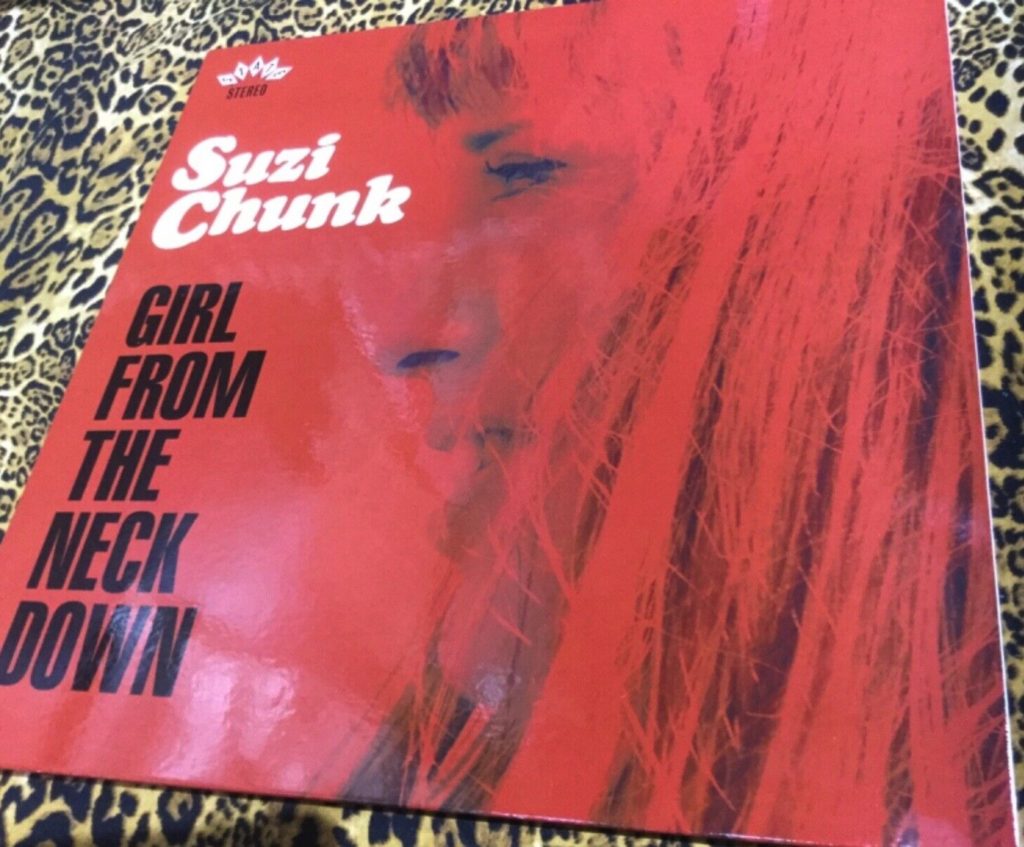 ---
01.45.55
JAPAN – Taking Islands In Africa – Gentlemen Take Polaroids, LP – Virgin – 1980
The shift from Chunk to Japan and David Sylvian will look more glaring than it actually sounds. 🙂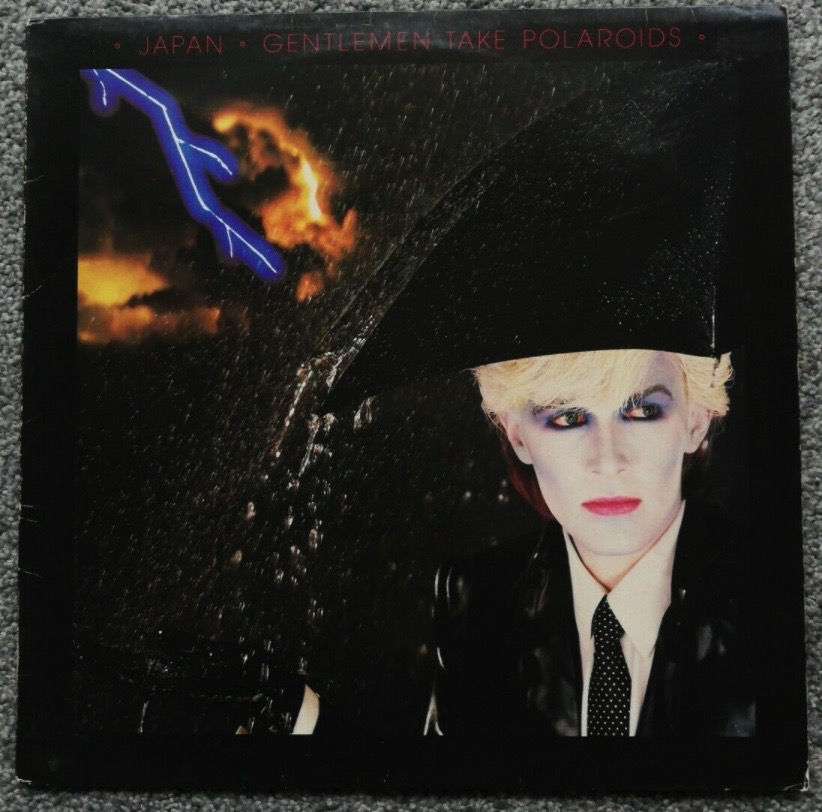 ---
01.50.25
MATHILDE SANTING – It May Not Always Be So * – Water Under The Bridge, LP – WEA – 1985
Sharp haircut, suited and seemingly from out of nowhere to us Brits, this Dutch lady cut a striking presence on UK TV show, The Tube in 1984.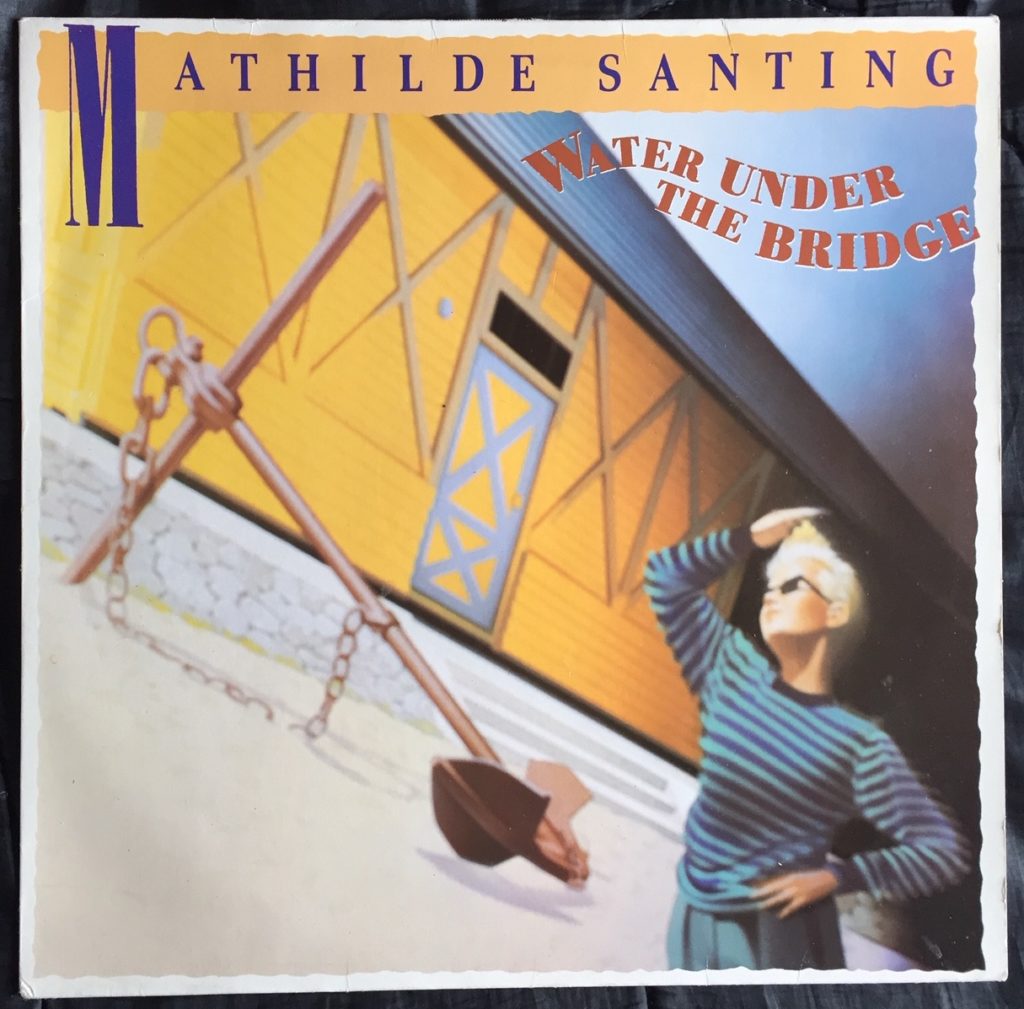 ---
01.53.36
ANNA DOMINO – This Time – This Time, LP – Les Disques Du Crépuscule – 1987
From the outside, an American who seemed to fit seamlessly into the expansive 'bag' of this European label but if you're not currently listening to the show whilst reading this then head here for one of a couple of short and slightly poignant recent Youtube look backs from Anna. I've seen it from both sides but pieces of music are often treated with no more respect and worth than that of individual grains of sand but from the aspect of those producing that music there's always way more involved. Always.
---
Show 92 will hopefully be here June 6.
Dec x