41 Rooms, Playlist 9 is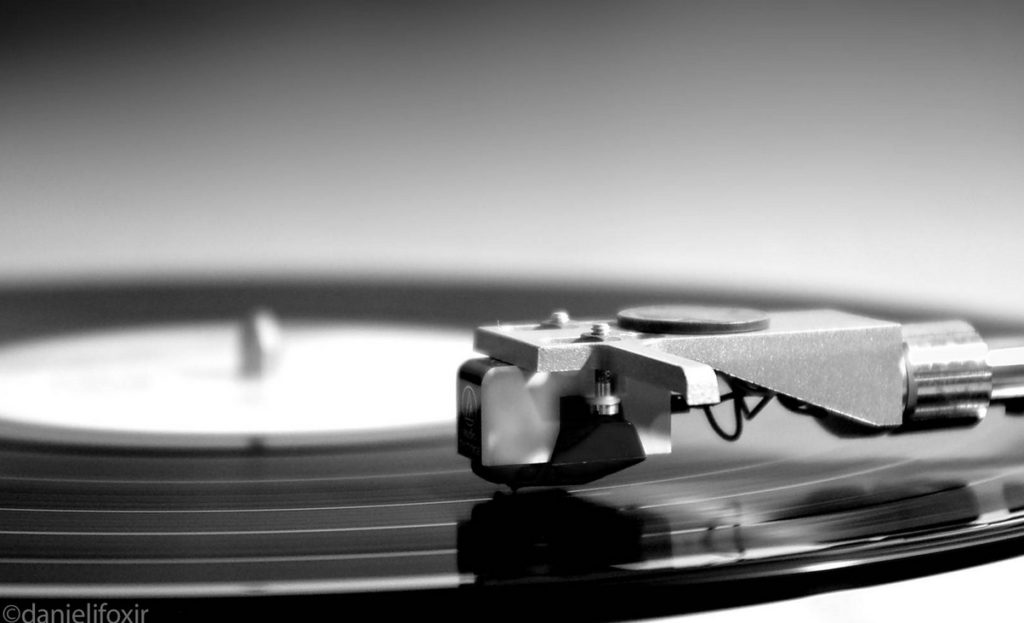 93% VINYL FRIENDLY. Near Perfect.
---
Lyric of Playlist 9:

'Each new hour holds new chances for new beginnings, the horizon leans forward offering you new space to place new steps of change… ' Could only be with the poetess…
---
00.00
(Intro) THE FLAMINGOS – Stars (Edit) – Unreleased demo – 1983
Episode #1 for info.
---
00.40
NEW ORDER – Murder – 12″ – Factory Benelux – 1984
In a 'We're good enough to start with something low-key/instrumental' sort of way this always felt like a great set opener to me. I certainly would have loved to see them play this live back in the day but it never happened.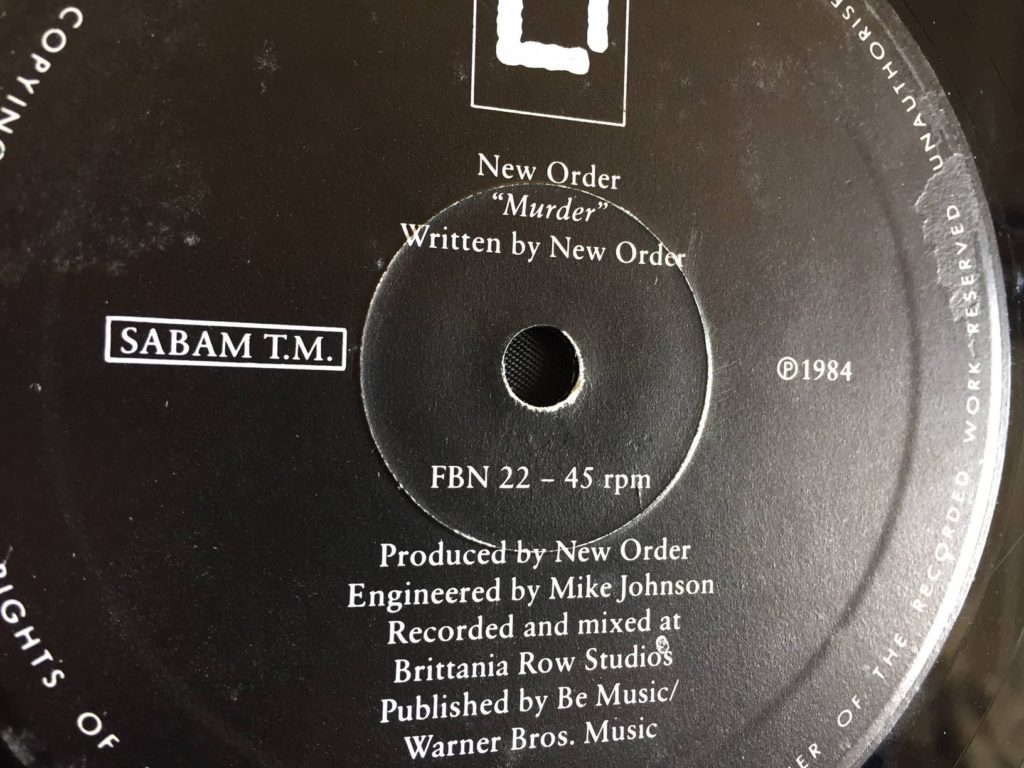 ---
04.21
SURGE – Wreckage – Wreckage, LP – Millennium Records – 2000
A crashing and interesting racket…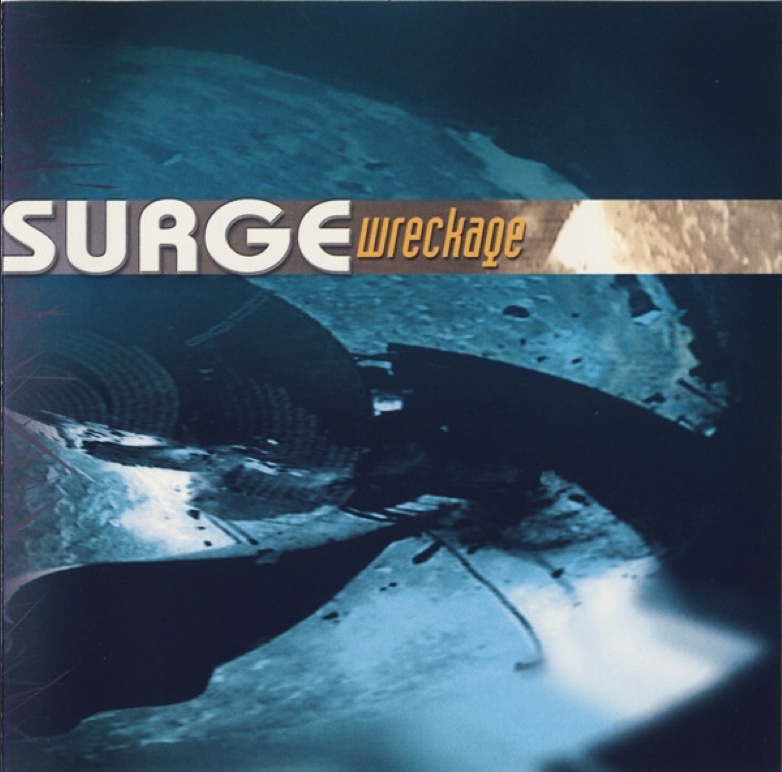 ---
07.45
THE CHAMELEONS – Second Skin – Script Of The Bridge, LP – Statik Records – 1983
They've made some hugely memorable tunes but for no real reason I've only seen them once, back in April 1982 at a cool basement club in Cambridge called the Sound Cellar. Just checking the exact date of the gig, at the time of uploading, one site informed me that was 12,448 days ago… which is a bit worrying. Got the bonus of one and a bit versions of In Shreads that night though, as they managed to screw up the first run at it. Fine by me. And Mark Burgess gets a double vote from the 41 Rooms camp, as he bought a copy of From Heaven to Heaven from me through the post. Top man, all round.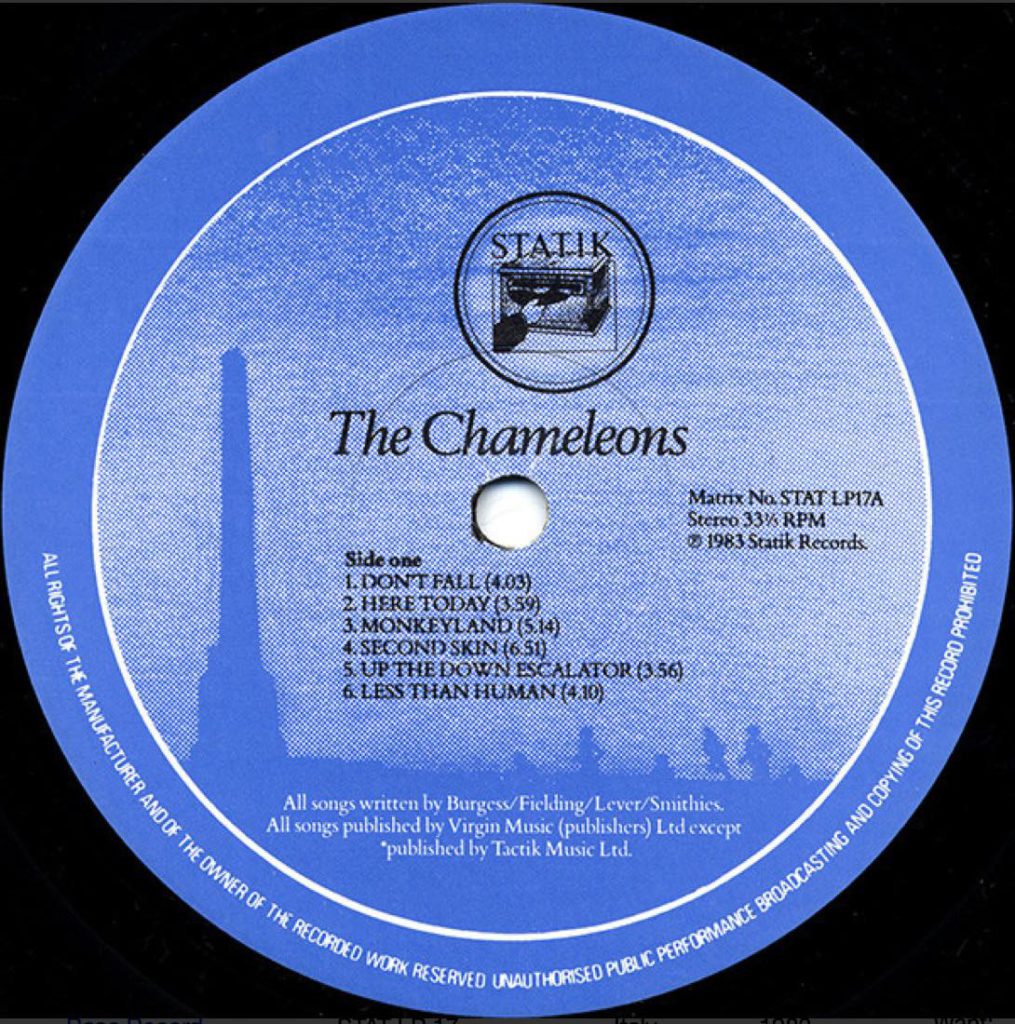 ---
13.54
ORANJ SON – Radio Wires – Digital/download only
As good a starting place for this new Liverpool band is right here. And I'll bet someone within has been listening to their Mum or Dad's record collection. No bad thing.

---
16.53
FREDDY FRESH – Creeper – 7″ – Howlin Records – 2002

He's recorded for dozens of labels but managed to get this Spangle green, promo vinyl 7″ out on his own set up. I could be wrong but I'll guess that gunslinger guitar isn't his own work. Maybe it's not even a guitar. 🙂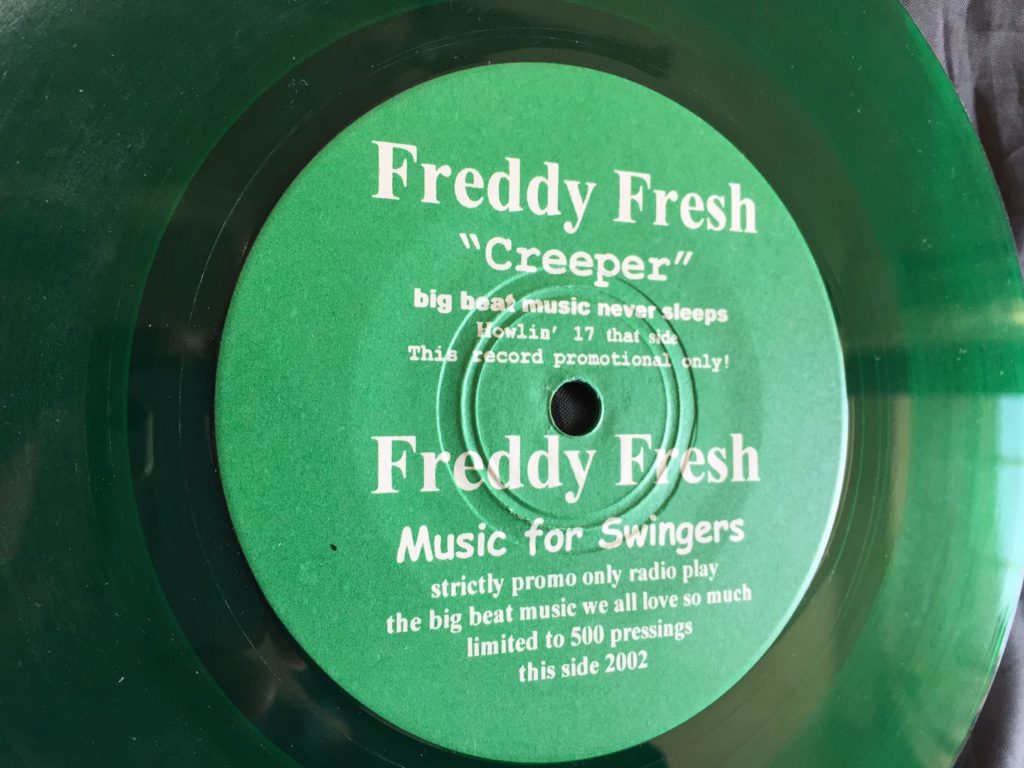 ---
20.29
WORKING FOR A NUCLEAR FREE CITY – Eighty Eight – Businessmen & Ghosts, 2CD – Melodic – 2008
Had to be cheap for me to bother with a pesky CD. £3 inc p&p… just as well, as I couldn't find another track on it that I liked – and there were 28 of them! Eighty Eight will most definitely do.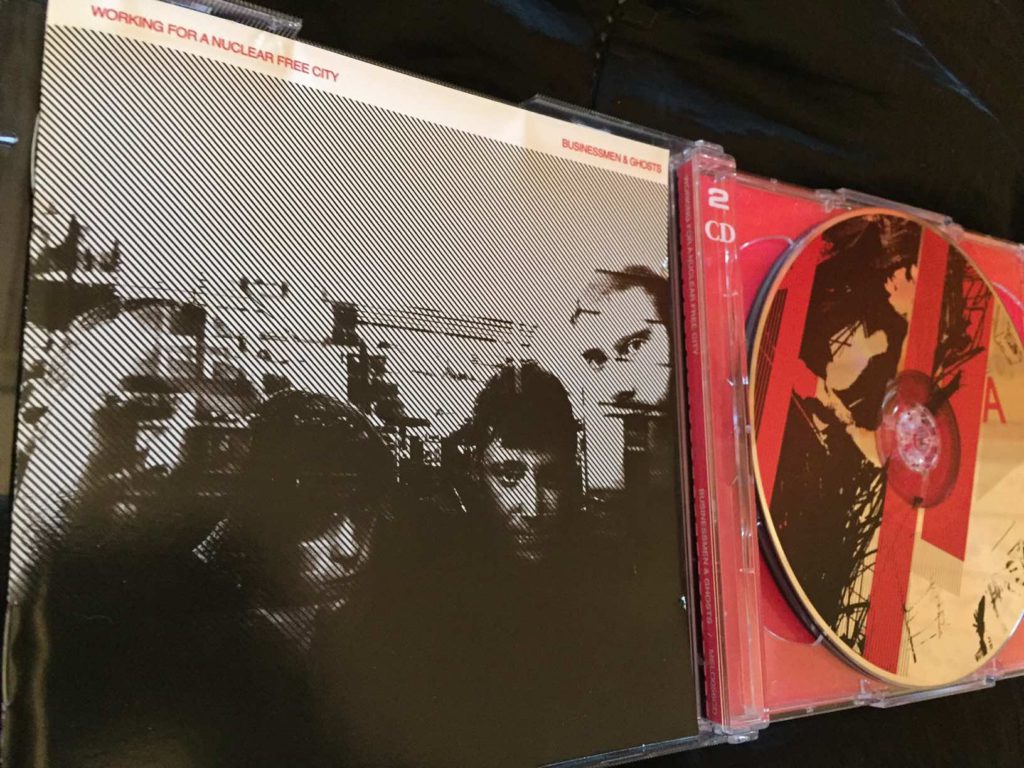 ---
23.47
LCD SOUNDSYSTEM – Big Ideas – 12″ – DFA – 2008

As soon as the DFA label boss and LCD main man, James Murphy disbanded the latter in 2011 I should have been straight down the bookies asking for odds on them reforming. They would have been short.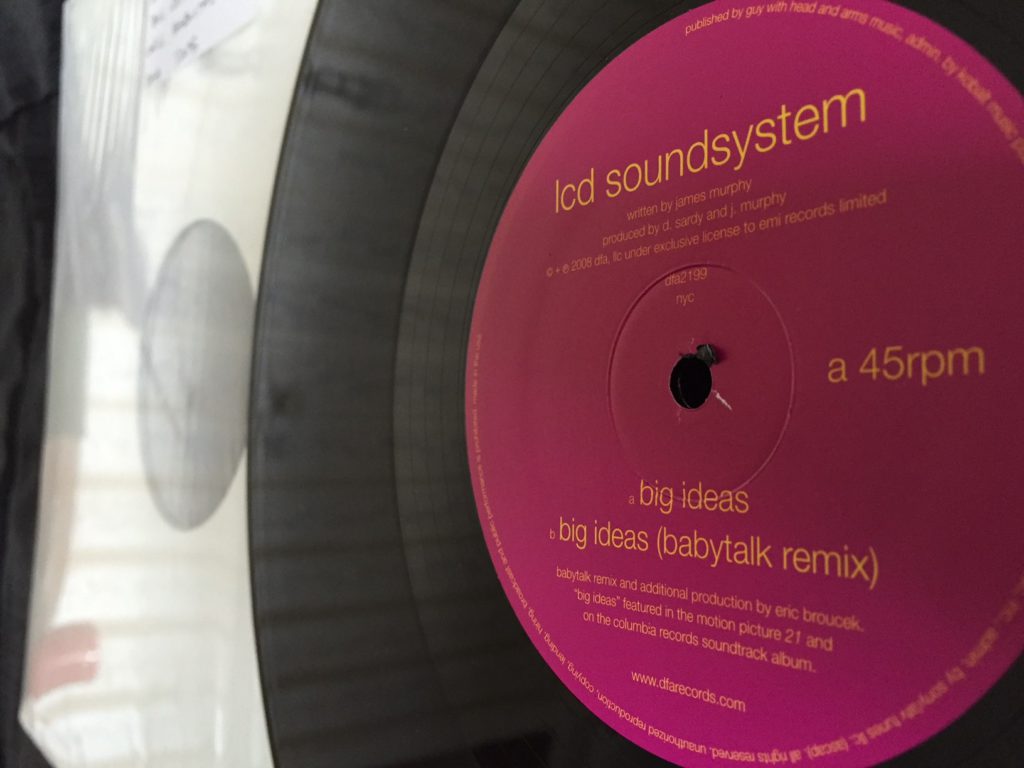 ---
28.47
DJ FARRAPO & YANEZ – Baiano Vem Baiano Vai – 7″ – Afro Art – 2006
Cheeeeeeery stuff! 'Drum 'n' Bossa' it says on the label… and they're not wrong. Worth £5 of anyone's money.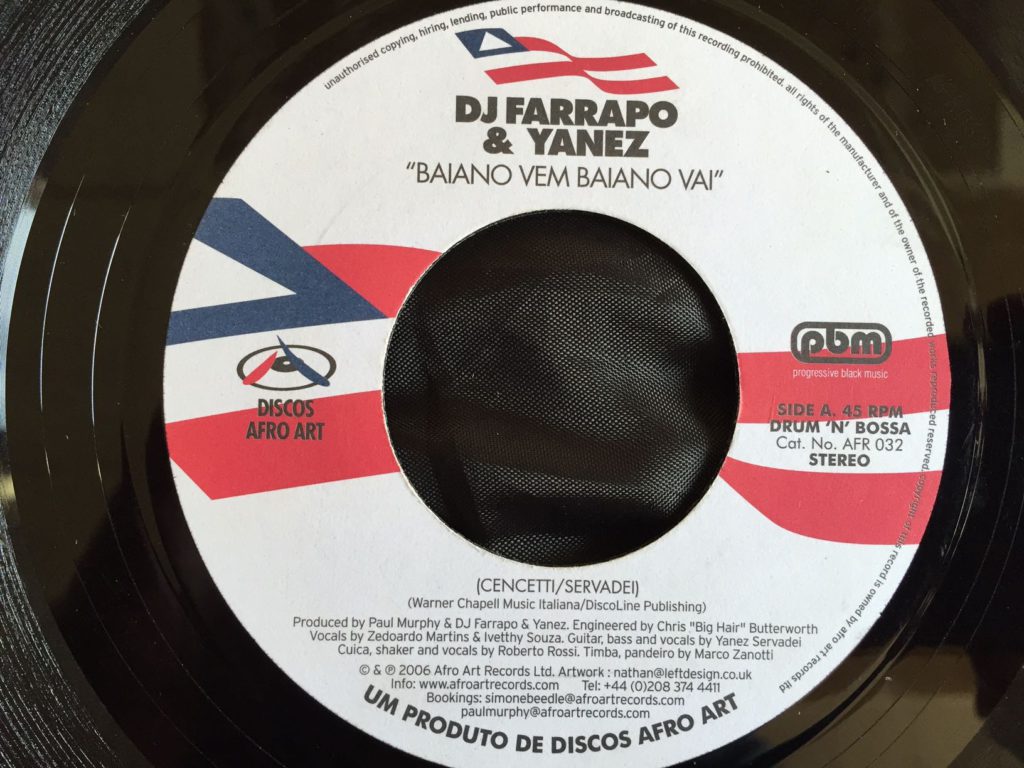 ---
31.55
CHANGO – Mira Pa Ca – Chango, LP – ABC – 1975
I first heard this when Soul Jazz label owner, Stuart Baker guested on (I think) a Gilles Peterson radio show on Kiss FM in mid nineties London. Wild stuff, Chango were right down Santana Street, in Latino Rock City and I found this promo copy in The Record Man, a massive second hand vinyl shop in Redwood City, California – the sort of place I could have done with two of three days in. I loved Mira Pa Ca so much, I was behind a cool bunch of folks who subsequently did a cover of it… and I even wrote an extra verse for the English version and named 'the band' in homage to our early '80s club. It'll turn up here at some point.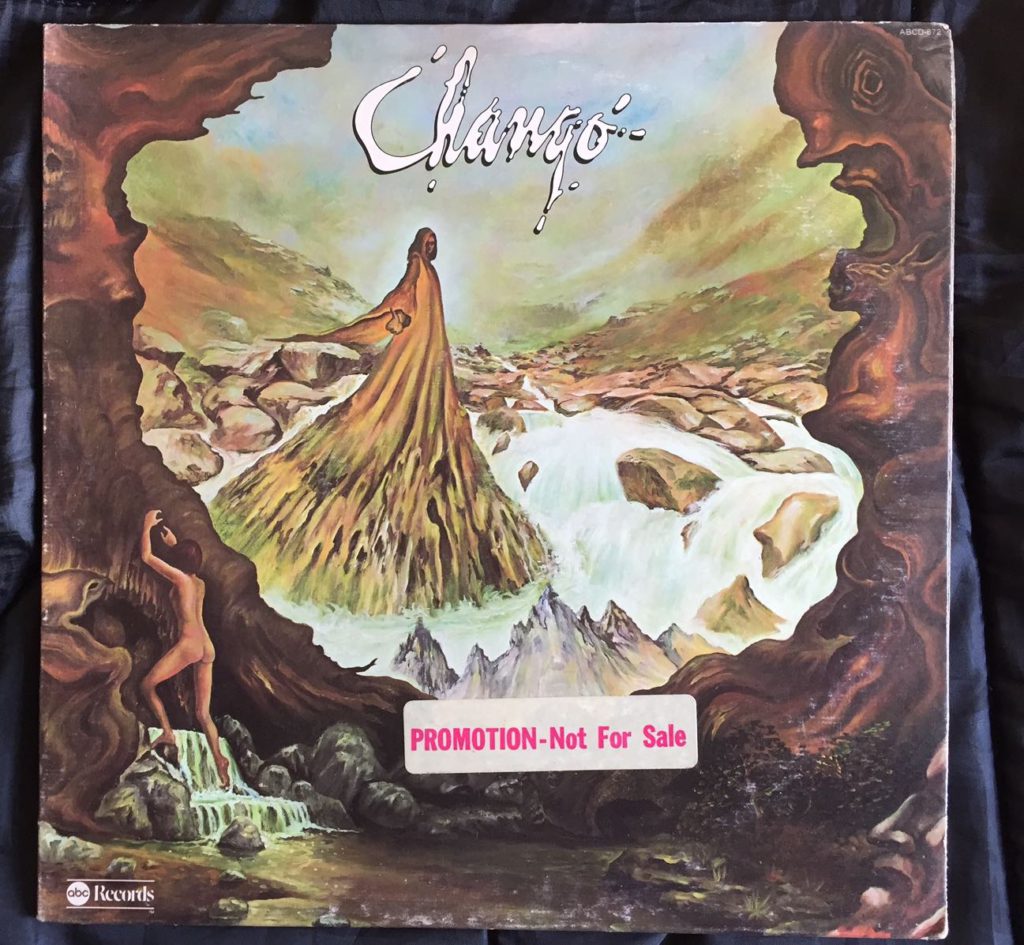 ---
Lyric of the Podcast winner…
34.57
LTJ BUKEM – Horizons – 12″ – Looking Good Records – 1995
An iconic voice and an inspirational slab of d&b. I've been involved in a fair bit of Maya Angelou sampling myself, Danny Bukem's here being from her On The Pulse Of The Morning poem, read at Bill 'Willie' Clinton's Presidential Inauguration Ceremony in 1993.
The Winkles club I knew in the early eighties eventually became the Pad in 2002 and I went back to Bedford to manage the club in its first few months. One of the highlights of then, or indeed any 'gigging' night out for me… ever, was Danny Bukem – with MC Conrad and Makoto in tow – spinning/performing at the club; big props to Mark Russell for pulling the favour. My mate, Spud (also Pad employee/support DJ on the night) and myself stood on the slightly raised area at the back of the club and when Bukem and his crew got behind the decks (at this point in time he was well able to fill Brixton Academy), he dropped just about every light in the club and he and the 200 rammed in the Pad nearly took the roof off. An awesome sight and sound.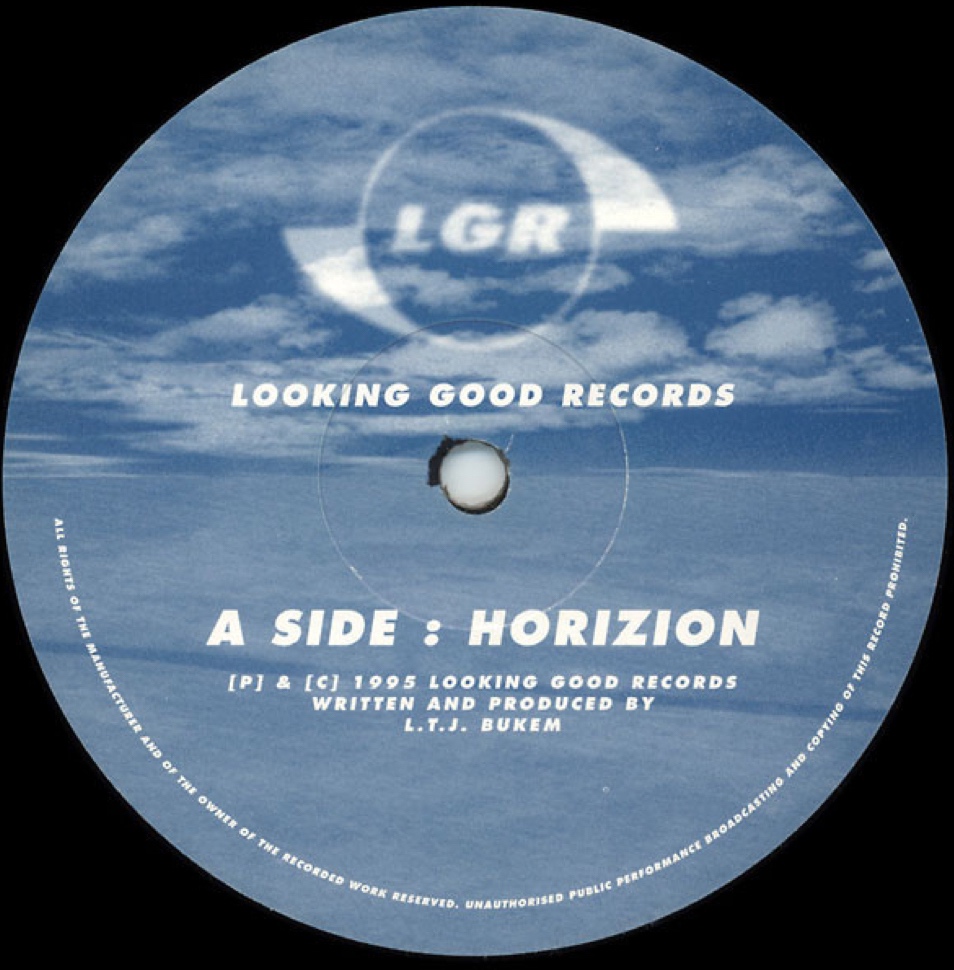 A Record Mirror/Music Week article, from 19.4.97.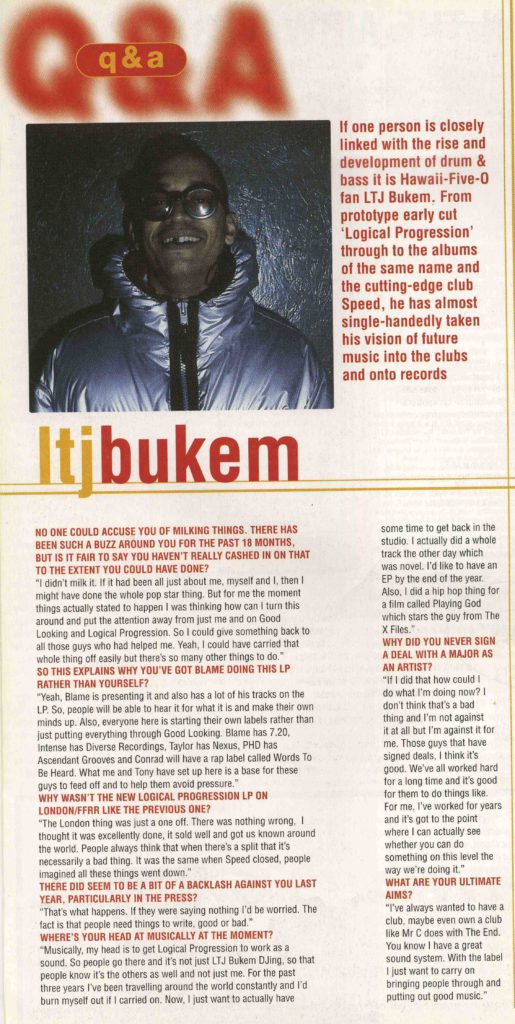 ---
39.04
APHEX TWIN – On (u-ziq Remix) – 12″ – Warp – 1992
Some people are just wired differently. Richard James is one of them, I think. He's from Limerick, Ireland, don't you know.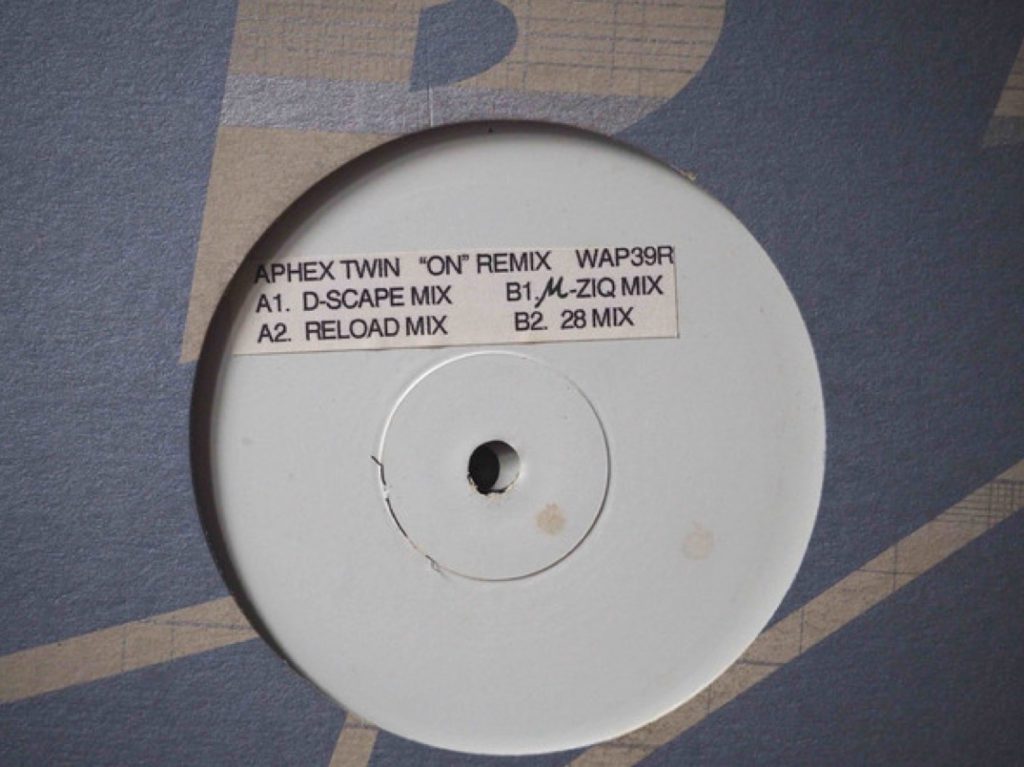 ---
45.17
TERRY CALLIER – Do You Finally Need A Friend – The Best Of  – 2LP, Charly – 1992.
When Callier was coaxed out of a thirty plus year retirement to perform again (he gave up in the 70s, a then steady paying job putting his daughter through college), I was lucky enough to catch two of his early'ish gigs, at London's Jazz Cafe. He could silence that room like no one else, and the audience's devotion was nearly spiritual at times.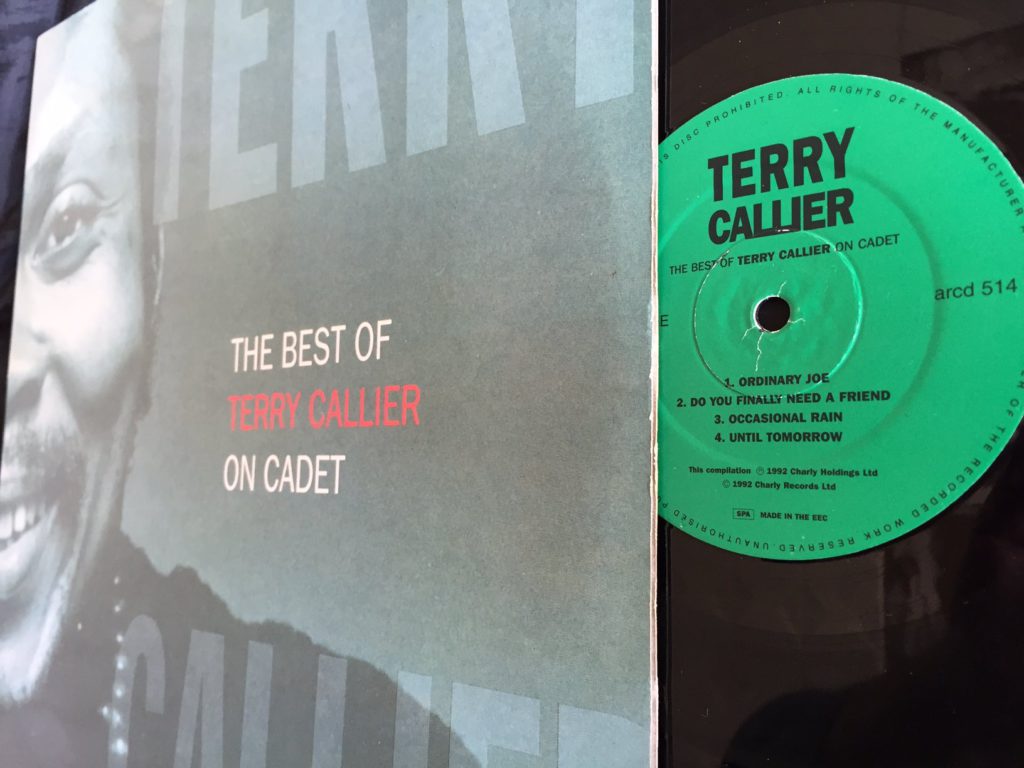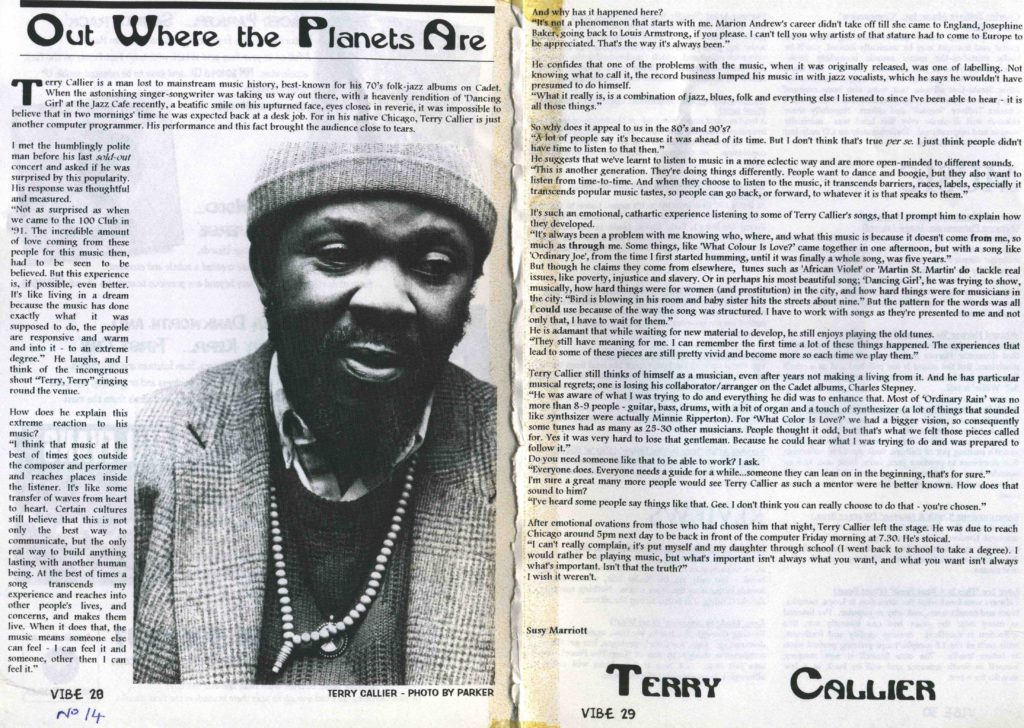 ---
50.53
JOHN AND BEVERLY MARTYN  – Auntie Aviator – The Road To Ruin, LP – Island – 1970
The Martyn here with the beard had a fair amount of punk attitude… and combined with his lifestyle he possibly wasn't destined to becoming an old man. When I moved to the sleepy'ish part of rural Ireland I'm now in, one of the first people to pop around was a retired local teacher I had known through my dad. We got around to talking music at one point and he asked whether I'd heard of someone called John Martyn. I sort of chuckled and said I had. It turns out that in his last few years Martyn could occasionally be found in the pubs in my neck of the woods, as he'd gotten together with a local woman and was living close by. An afternoon in the pub with John Martyn would have been some session to get involved with or witness.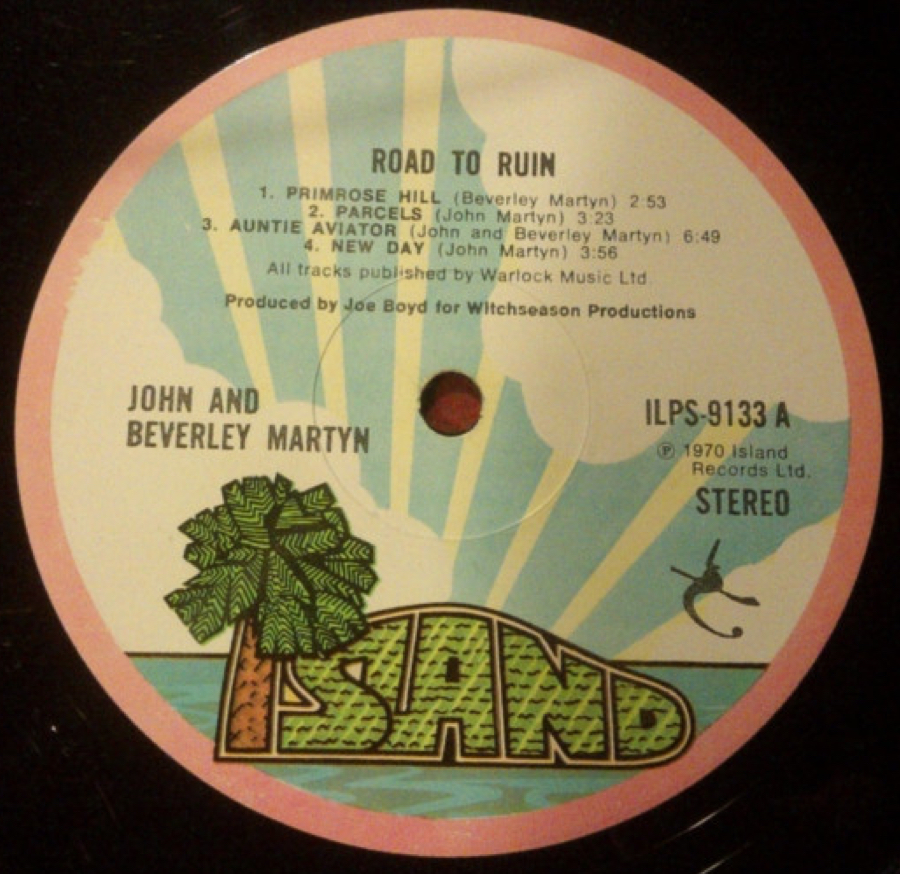 ---
56.39
THIS MORTAL COIL – Nature's Way – Blood, 2LP – 4AD – 1990
Randy California may have written this tune but TMC's version is the one. The Spirit version sounds like a demo, ten minutes after inception.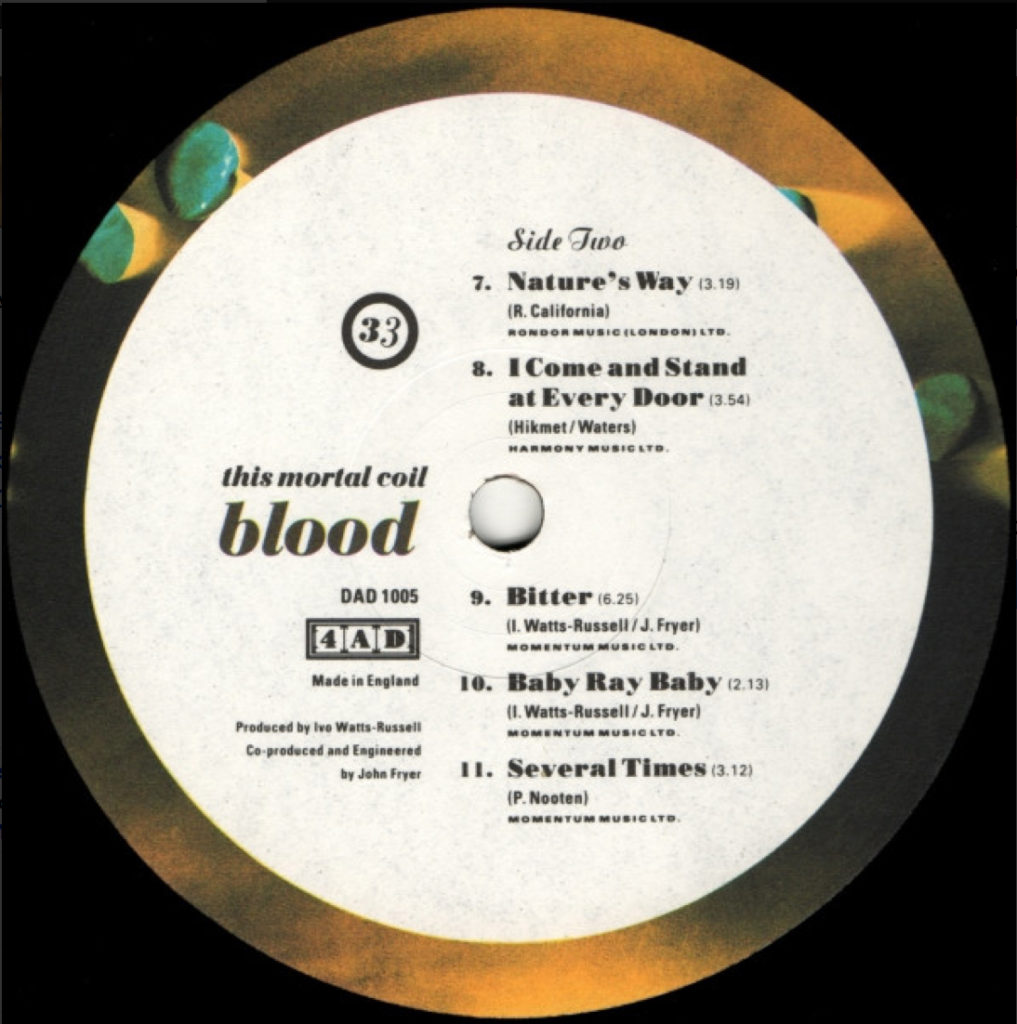 ---
WINKLES – 1981 , Part 2
01.00.03
CINDY AND THE BARBI DOLLS – Voice In The Night – 7″ – A Not Major Production – 1979
Of its time, this idiosyncratic sounding three track EP was their only release. The other two tracks will also feature on 41 Rooms at some point and I will treat myself to a copy in far better nick at some point, though it'll be a far more expensive buy these days.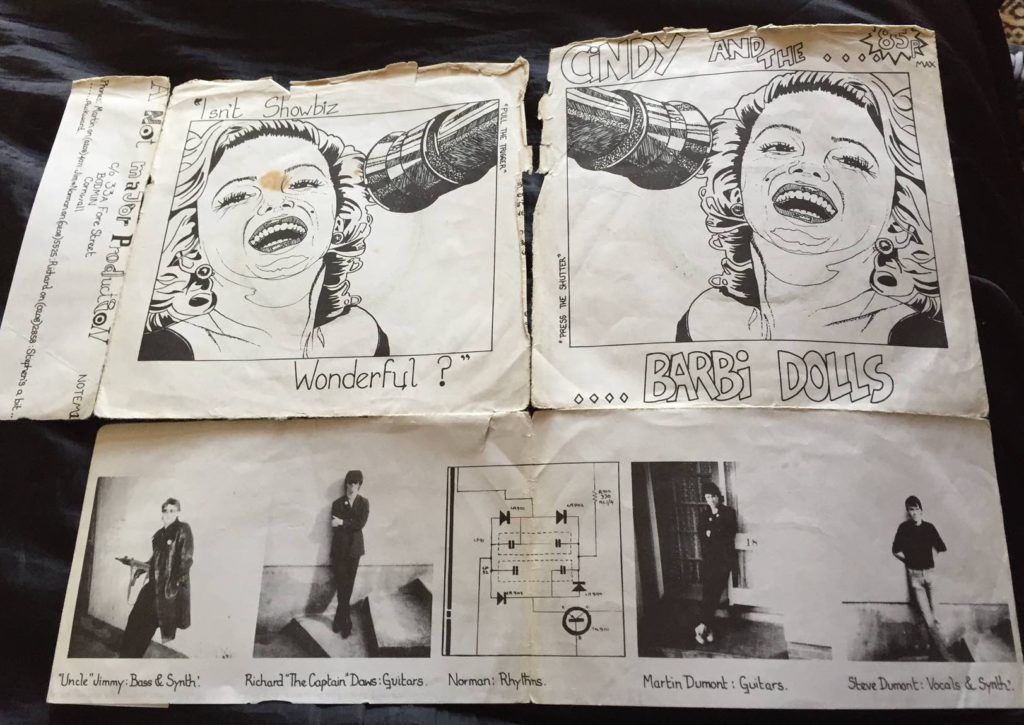 ---
01.04.04
SHAKE SHAKE! – Shake Shake – 7″ – Compact Organization – 1981
Bit of a B-52s thing goin' on.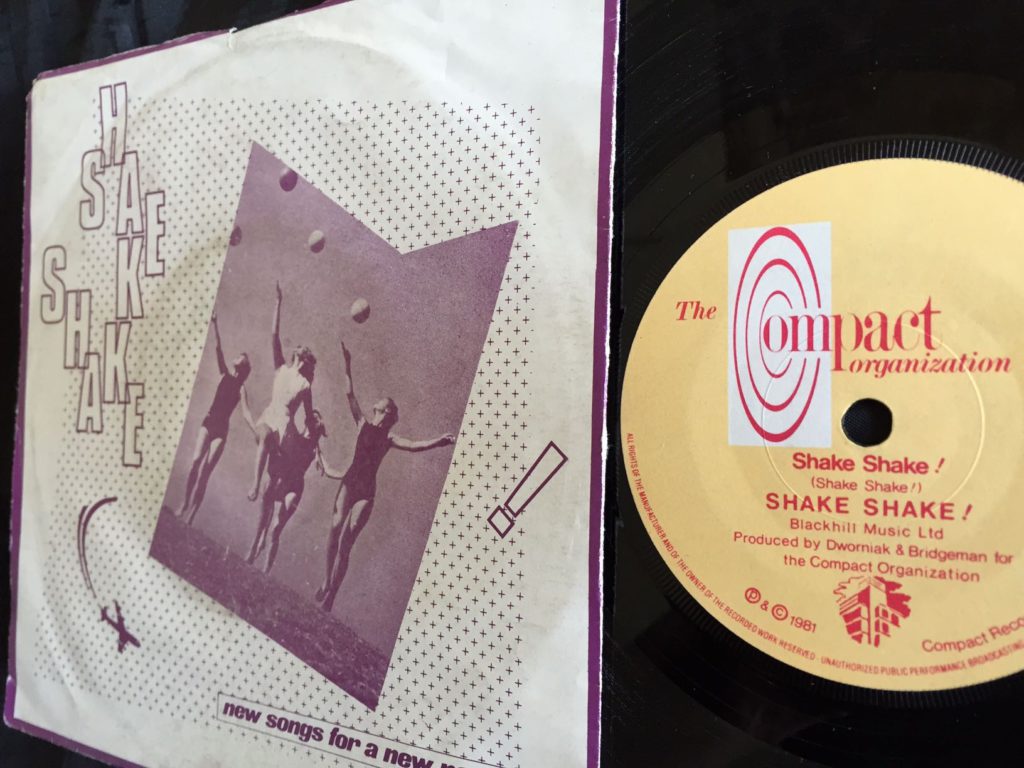 ---
01.06.24
DISCOUNT CHIEFS – Trumpets Will Blow – 7″ – Round Ear Records – 1981
Sounds like the sort of record that would have been made by a band from East Anglia..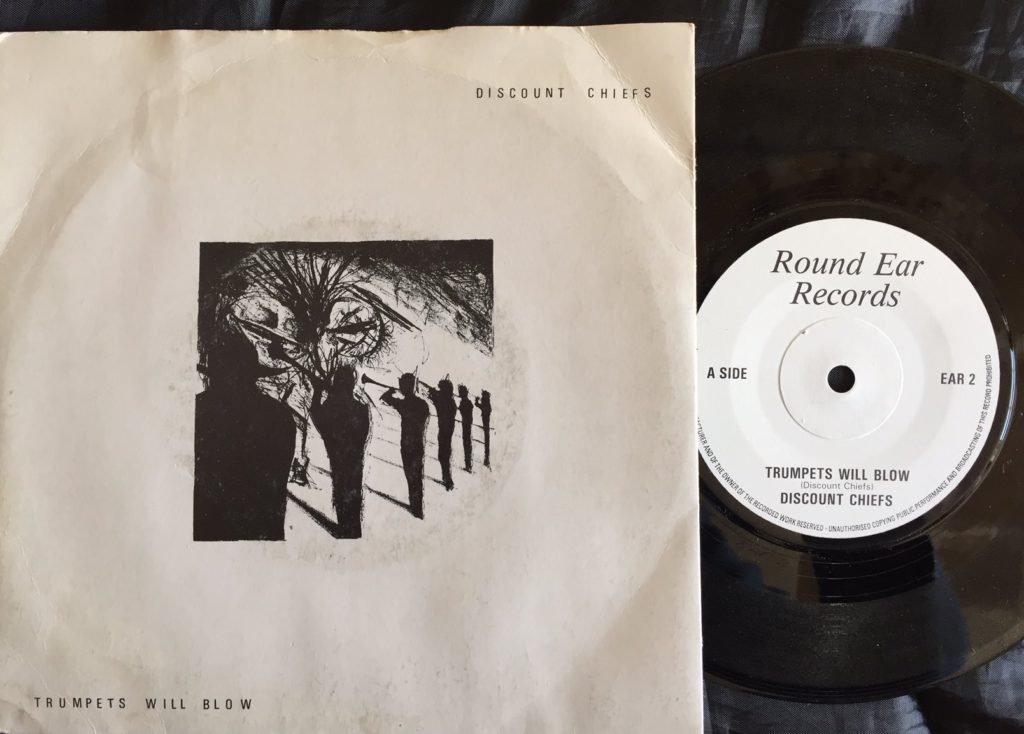 ---
01.08.39
23 SKIDOO – Last Words – 7″ – Fetish – 1981
Markedly different from the Coup era Skidoo but still damn fine.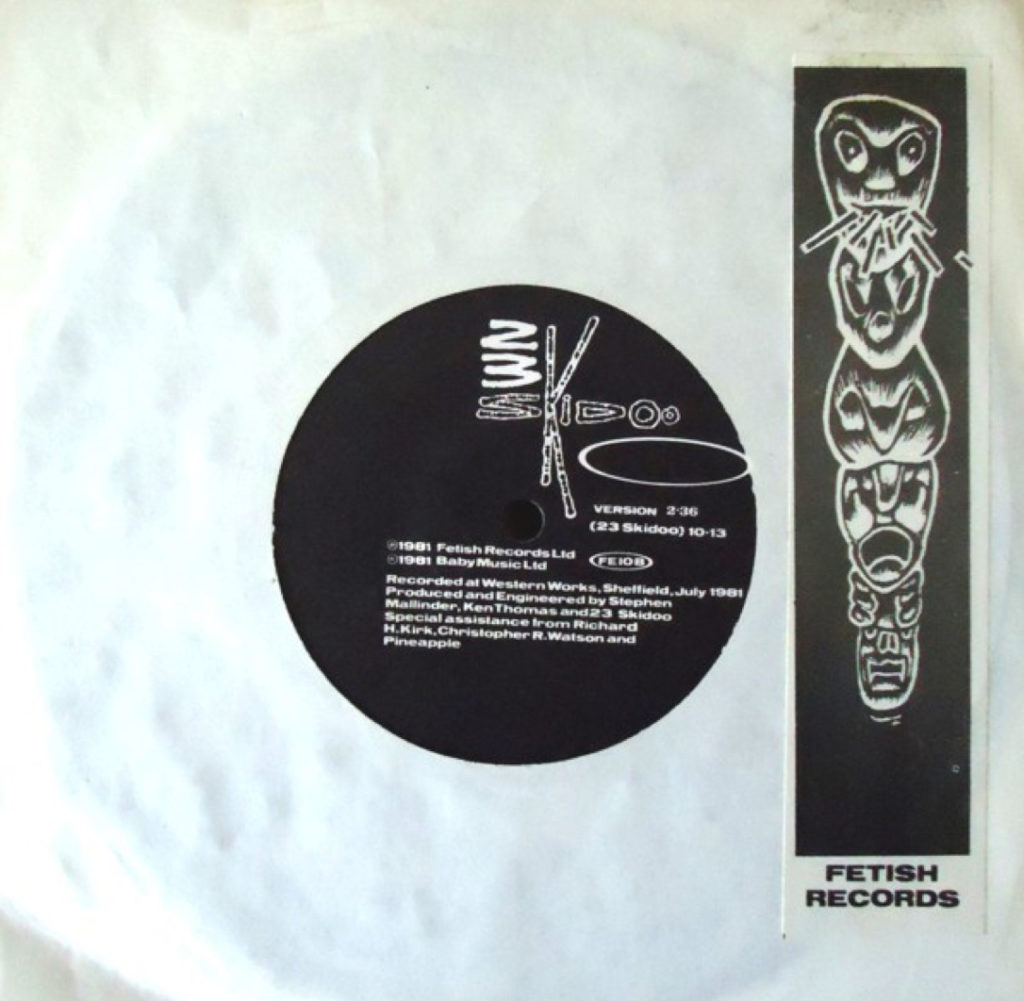 ---
01.11.57
MARINE – Life In Reverse – 7″ – Les Disques Du Crépuscule – 1981
These funking Belgians were a big fave in my immediate circles back then.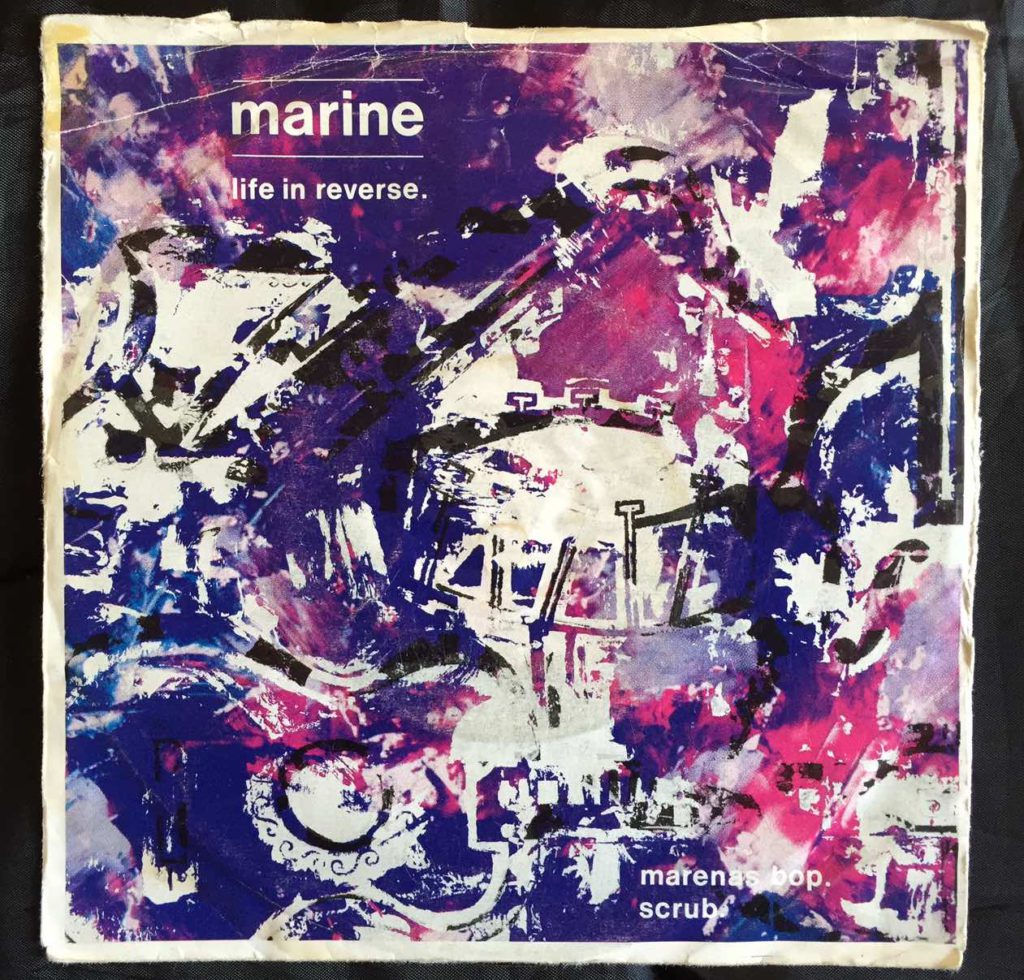 ---
01.14.36
DIGITAL DANCE – Treatment – 7″ – Dirty Dance Records – 1981

There's video footage of the band performing this track and it's safe to say one member has likely regretted his 'performance' ever since – the others maybe nearly as much. Hunt it down at some point. Top track all the same.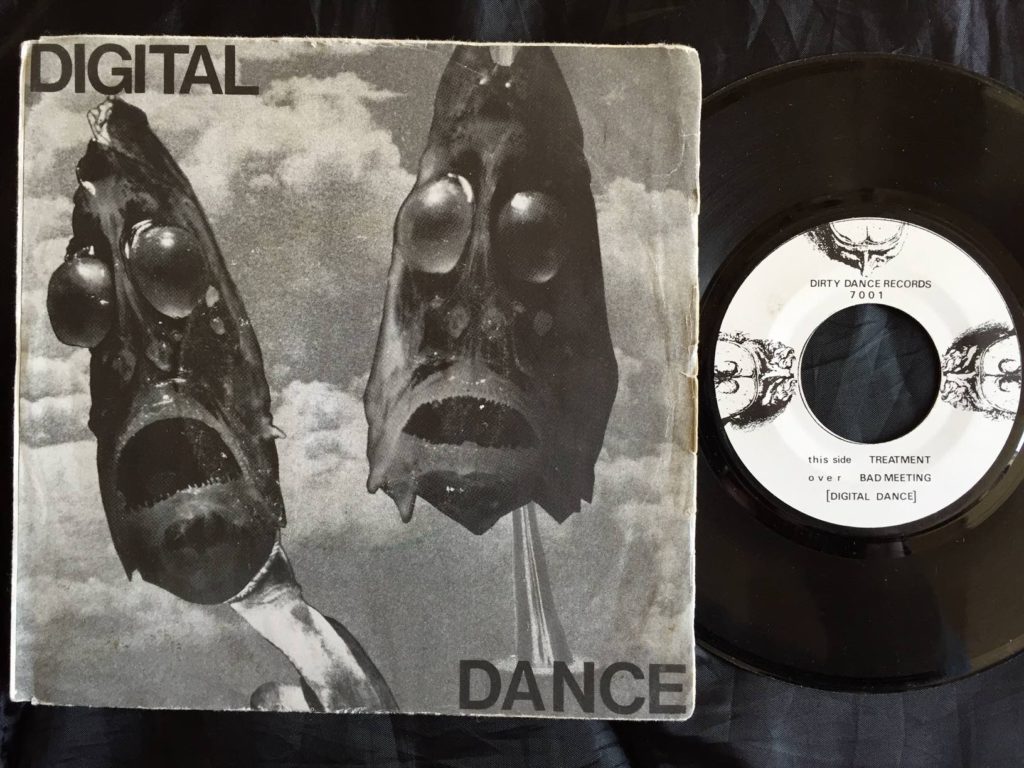 ---
01.19.49
NATURAL SCIENTIST – (Let's Hear It For The) Natural Sciences – 12″ EP – Dental Records – 1981
Recorded at Cargo Studios in Rochdale but none of Joy Division's Atmosphere (also recorded there) seeped from the walls to imprint on this jaunty Tom Robinson sounding track.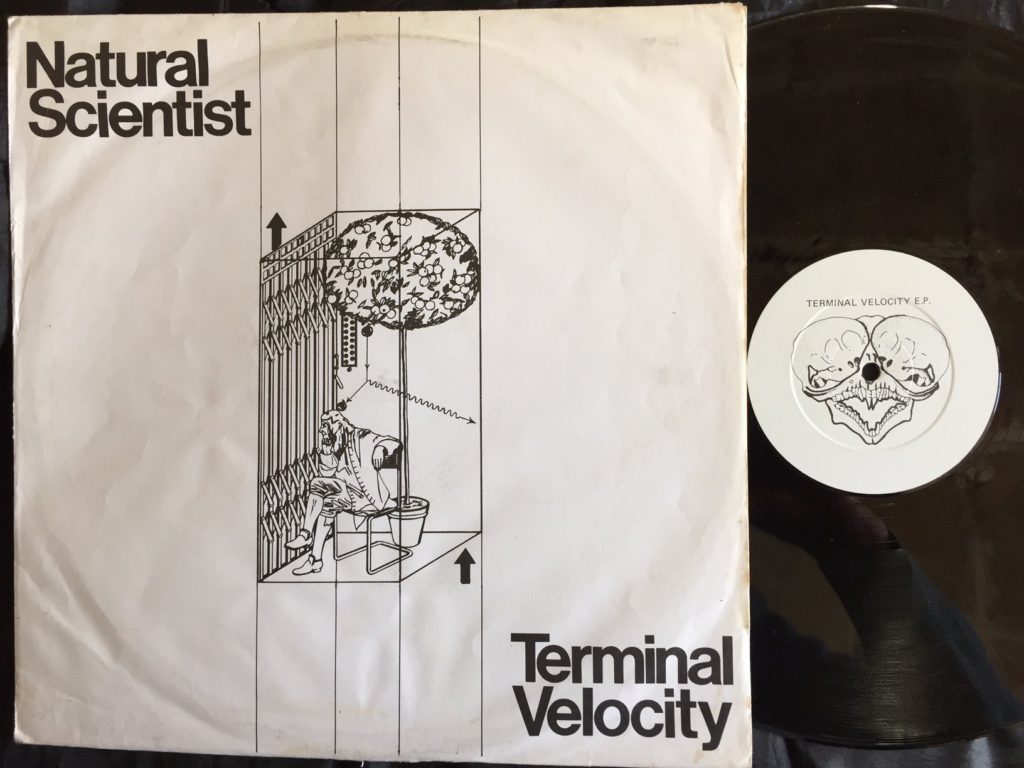 ---
01.24.56
THE DECORATORS  – Strange One – 7″ – Red Flame – 198….. 2! Whoops!
Already in this 1981 mix before I clocked the mistake. And from the vaults…
'This woke me up a bit, anyway. Breakneck bass, some rattling good percussion and an extremely punchy horn section. Over that you get some vaguely psychedelic-sounding guitar and vocals that have all the biting quality of a Howard Devoto. Sounds odd? Sounds quite good actually: file under Hard-To-Classify'. Dave Rimmer, Masterbag #16, 8-9.82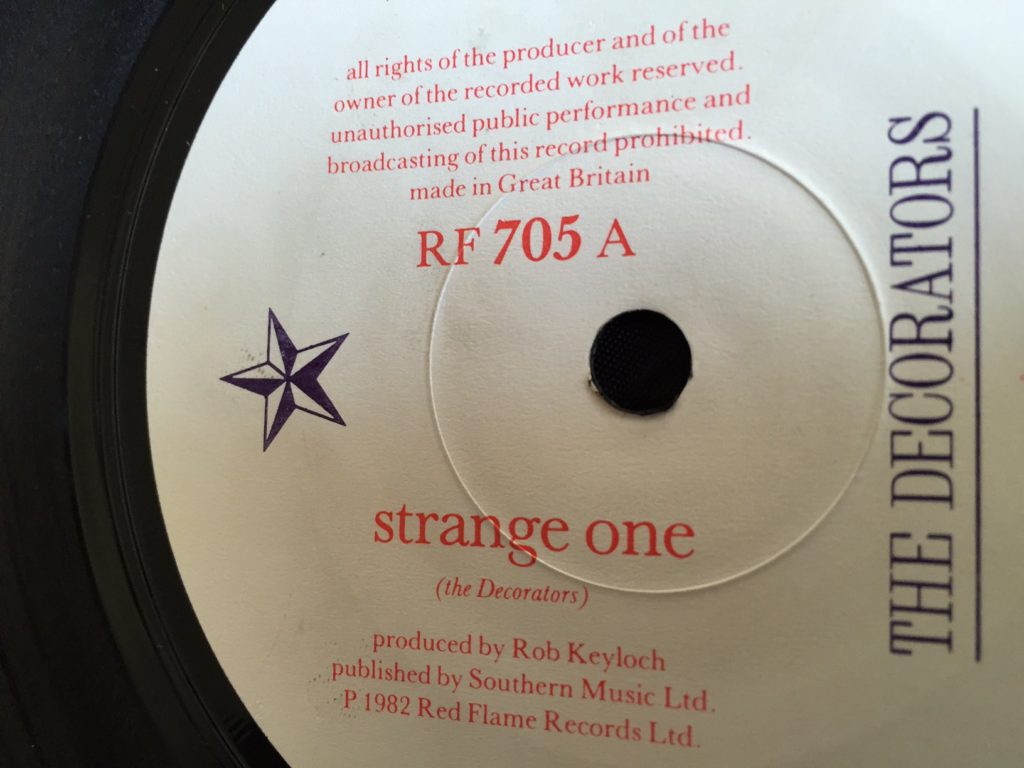 ---
01.29.00
PAST SEVEN DAYS – Raindance – 7″ – 4AD – 1981
Still sounds particularly 'relevant'.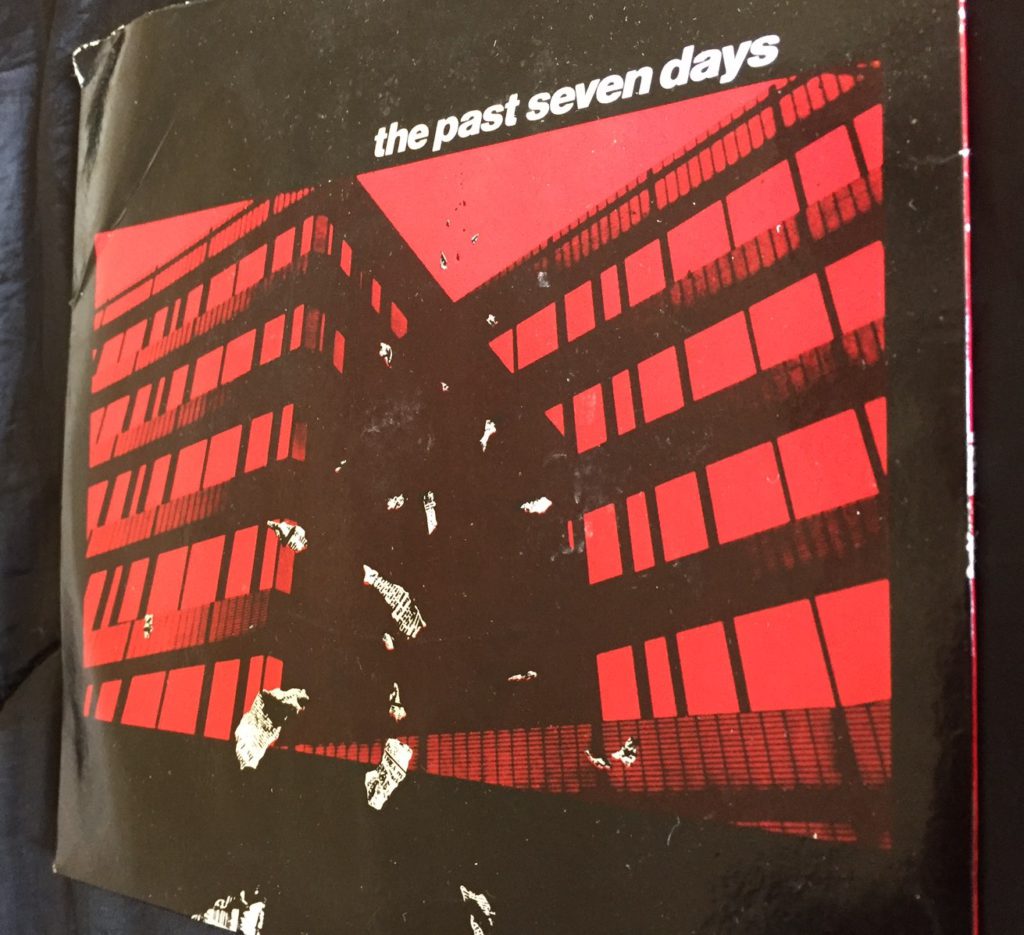 ---
01.34.35
MEDIUM MEDIUM – Hungry, So Angry – 7″ – Cherry Red – 1981

Some loping indie funk never done no-one no harm.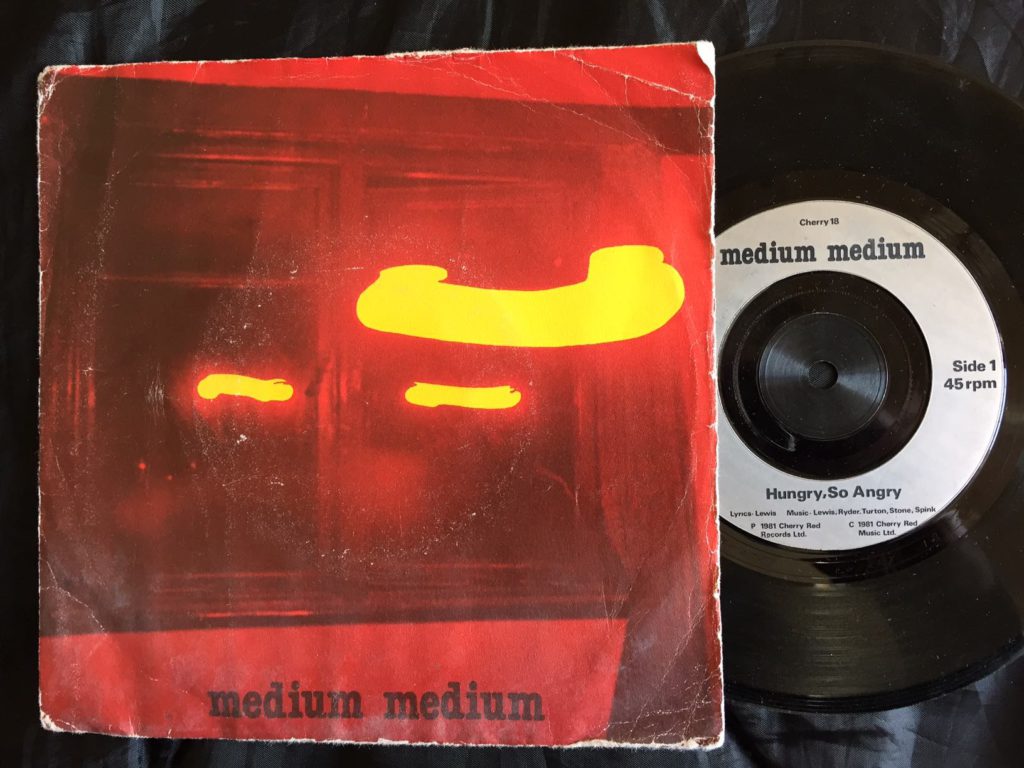 ---
01.38.21
MANICURED NOISE – Faith – 7″ – PRE – 1980
Uplifting… and very 1980-81.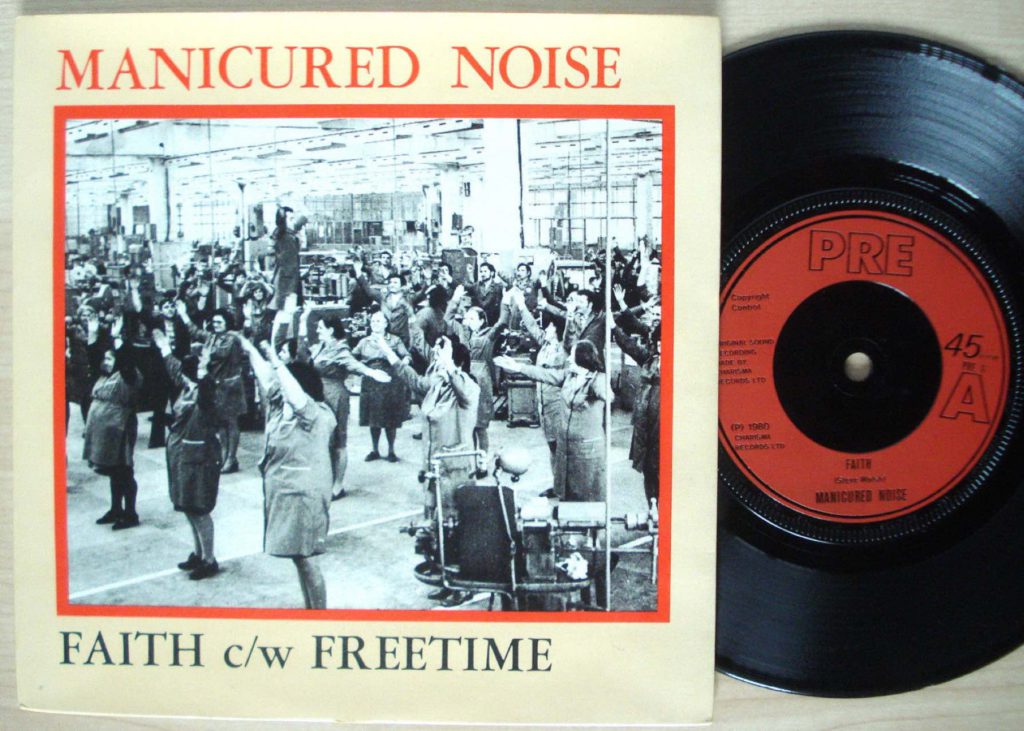 ---
01.41.43
LIQUID LIQUID – Bell Head – 12″ – 99 Records – 1981
US 'no wave' art house type bods with a very distinctive sound. I bought both this and their Successive Reflexes 12″ at the time. The interest of Mo Wax's James Lavelle and that label's subsequent re-release of LL material has certainly helped to stretch the band's influence to a more recent generation.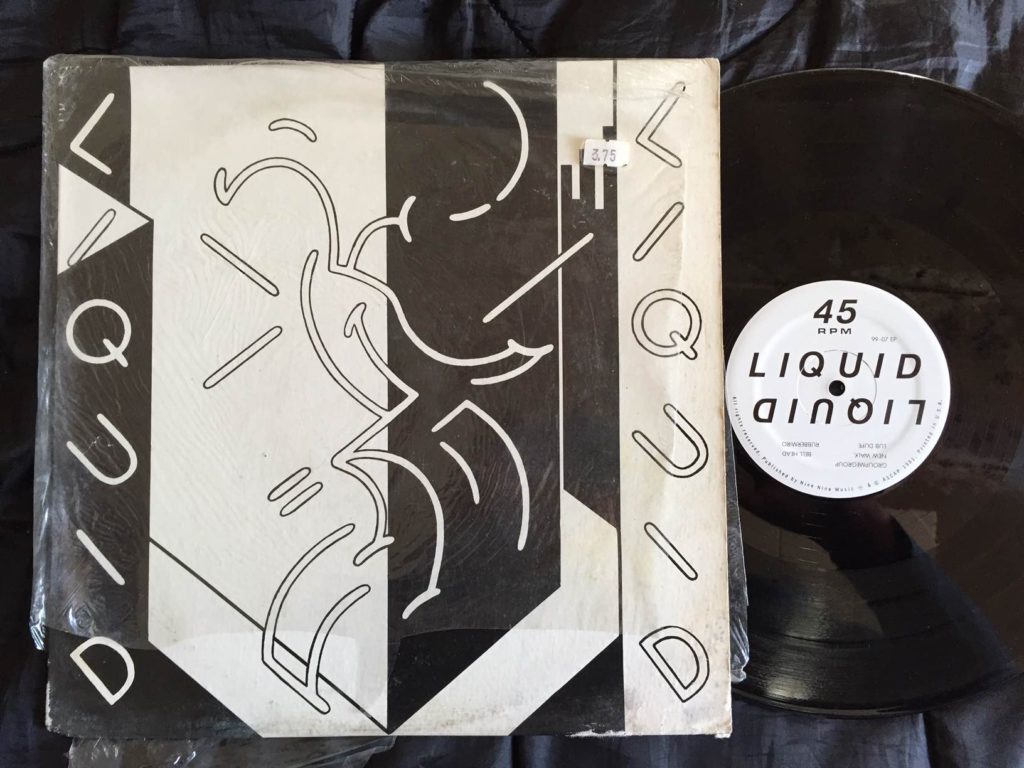 ---
01.43.48
VICTORIAN PARENTS – All American Hero – 7″ – Polydor – 1981
Supported a Comsat Angels gig promotion of mine in Bedford in 1981 and appeared on the BBC's Old Grey Whistle Test. I don't remember them performing this track but, either way, a major label deal with Polydor didn't propel them upwards.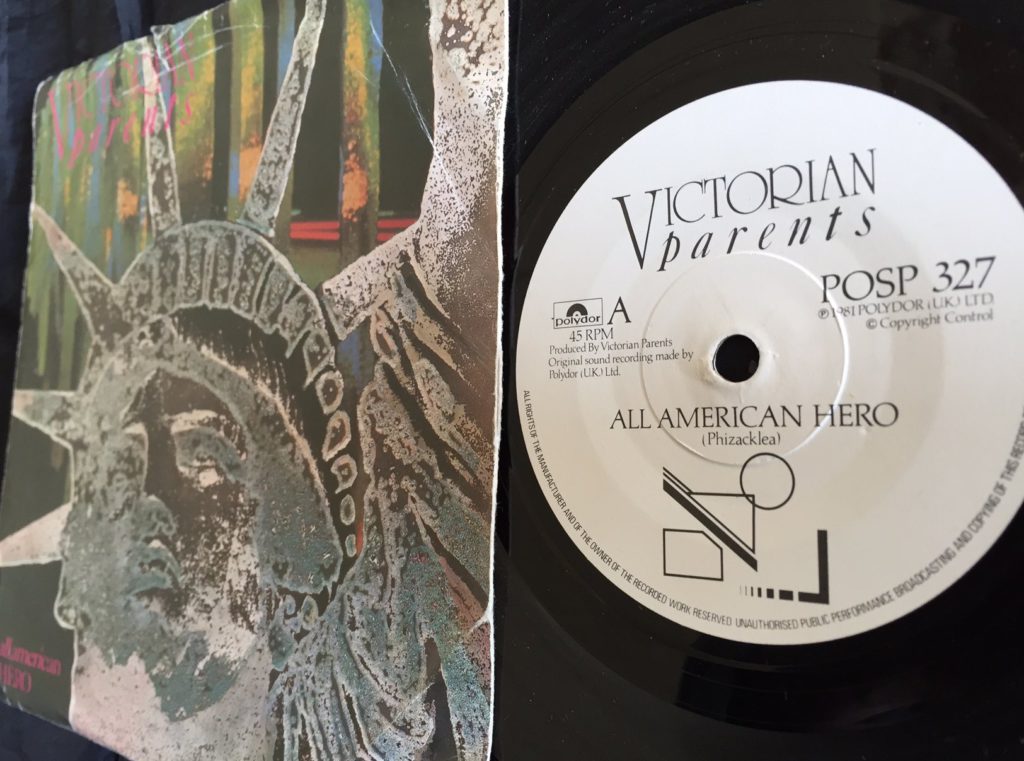 ---
01.48.11
COWBOYS INTERNATIONAL – Today Today – 7″ – Virgin – 1980
With a vocal leaning towards Anthony Newley and London Boys era Bowie, the Ken Lockie-led CI provided one very classy, dreamy pop tune. A big, big fave of mine. Search out the video of them performing a slightly adrenalin-fuelled version on the Old Grey Whistle Test in Jan, 1980. Marco Pirroni and Terry Chimes on both this and the vinyl.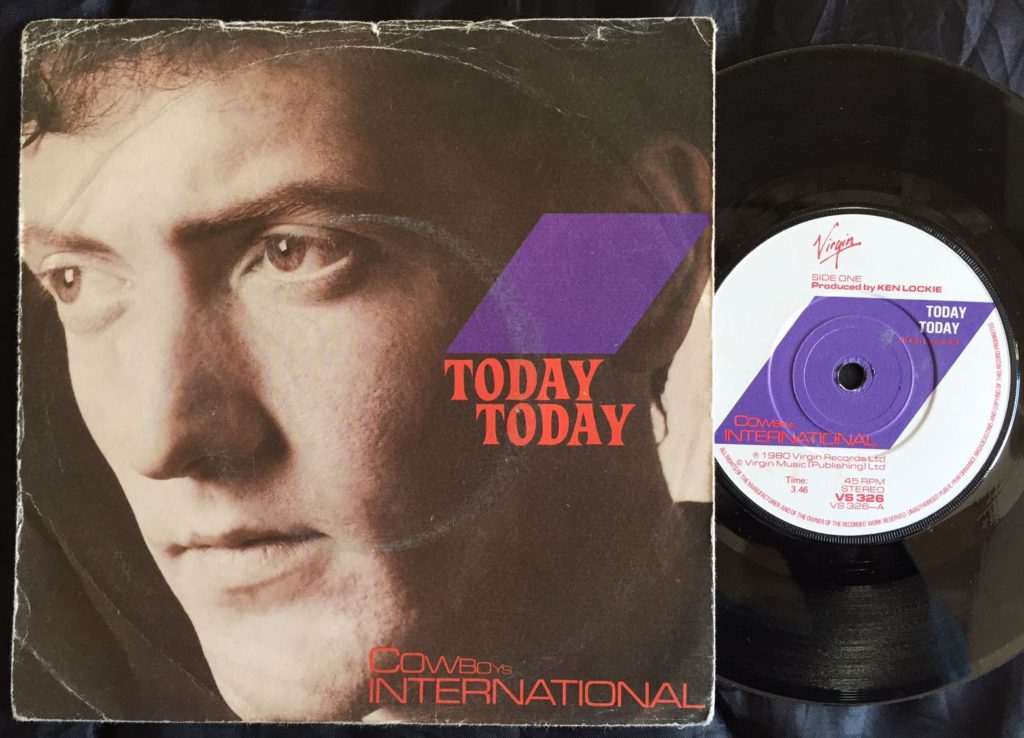 ---
01.51.49
PAULINE MURRAY AND THE INVISIBLE GIRLS – Mr X – Pauline Murray and the Invisible Girls, LP – Illusive – 1980
Got played regularly through the five years our club ran… mostly by me. Martin Hannett on the production knobs.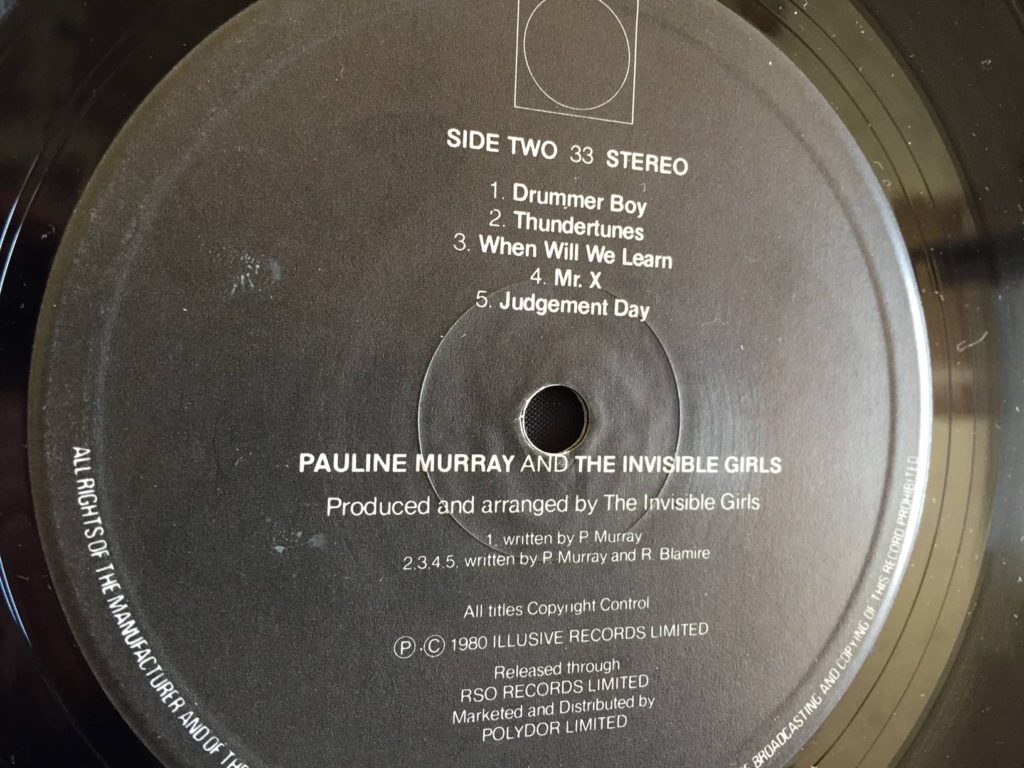 ---
01.55.46
DR ALIMANTADO – Born For A Purpose – 7″and 12″ – Greensleeves – 1979
Last up is a roots gem. With the 7″ from 1977 and the 12″, seemingly, from two years later (?), I found out about a decade ago this is also a John Lydon fave.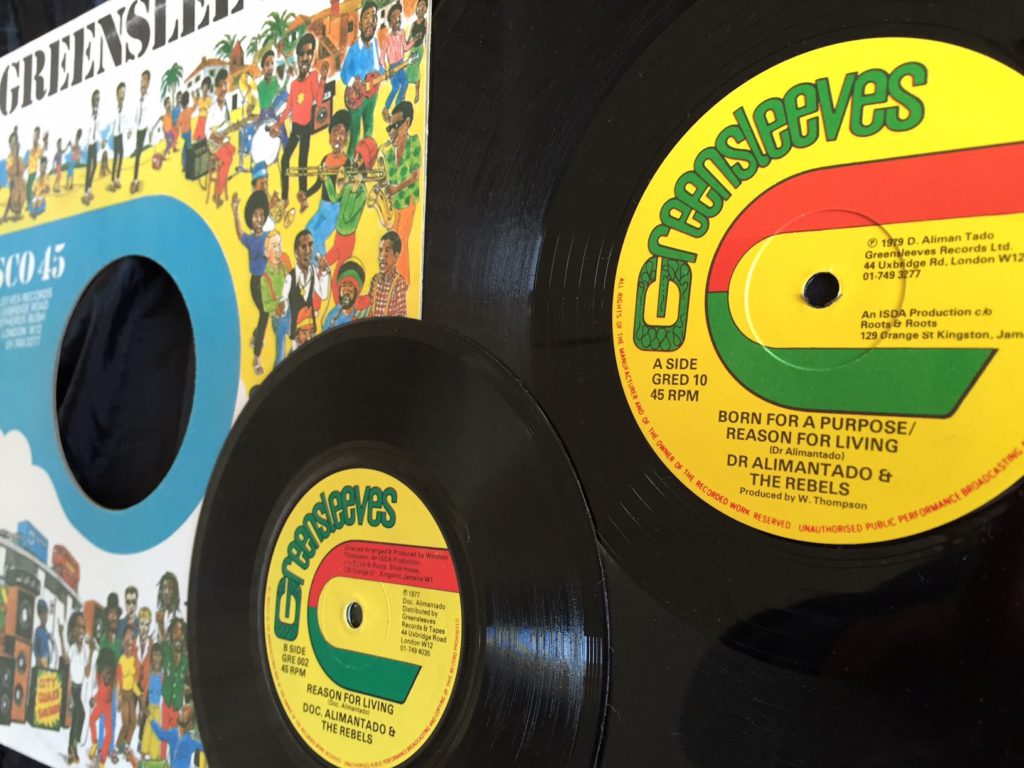 ---
Patreon                                                                                   
If you like the 41 Rooms podcasts and/or website then hopefully you'll consider making a donation via Patreon, their mission being to help creatives of all sorts 'achieve sustainable income'.
Cheers for the support… and see you soon!
Dec x