41 Rooms, Playlist 16

41 Rooms' Playlist 16 is 82% VINYL FRIENDLY. Impressive.
---
Apologies, I had to record this show at 6.30am when I woke and I had a bit of a croaky voice and fuzzy head thing going on. 'Normal' service will be back for the next one.
---
 Lyric of Playlist 16:
They're not online but if I could decipher them all, it would definitely include…
'Let the dollar circulate… '
Same crap, just a different era.
---
Tracks marked * have been given a tiny (or sometimes, slightly bigger) 41 Rooms 'tweak'/edit/whatevahhh
00.00
(Intro) THE FLAMINGOS – Stars (Edit) – Unreleased demo – 1983
Episode #1 for info.
---
00.41
NEW ORDER – Crystal – Get Ready, LP – London Records – 2001
Trademark New Order. I was lucky enough to catch the soundcheck for the first of a three night run at Brixton Academy in 2001 and they did this. Thundering around the empty hall it seemed to announce the band were back with intent. In the early days I'd hear their tracks live weeks or even months before an album would surface but this was the first time in the then twenty years since I'd first seen them live that I'd hear new tracks via a new album before their gigs. Strange… but it still got the heart racing.
Below: The reverse of daughter, Alice's Get Ready album sees Peter Saville's 'For Alice with Love' message quietly fading into oblivion.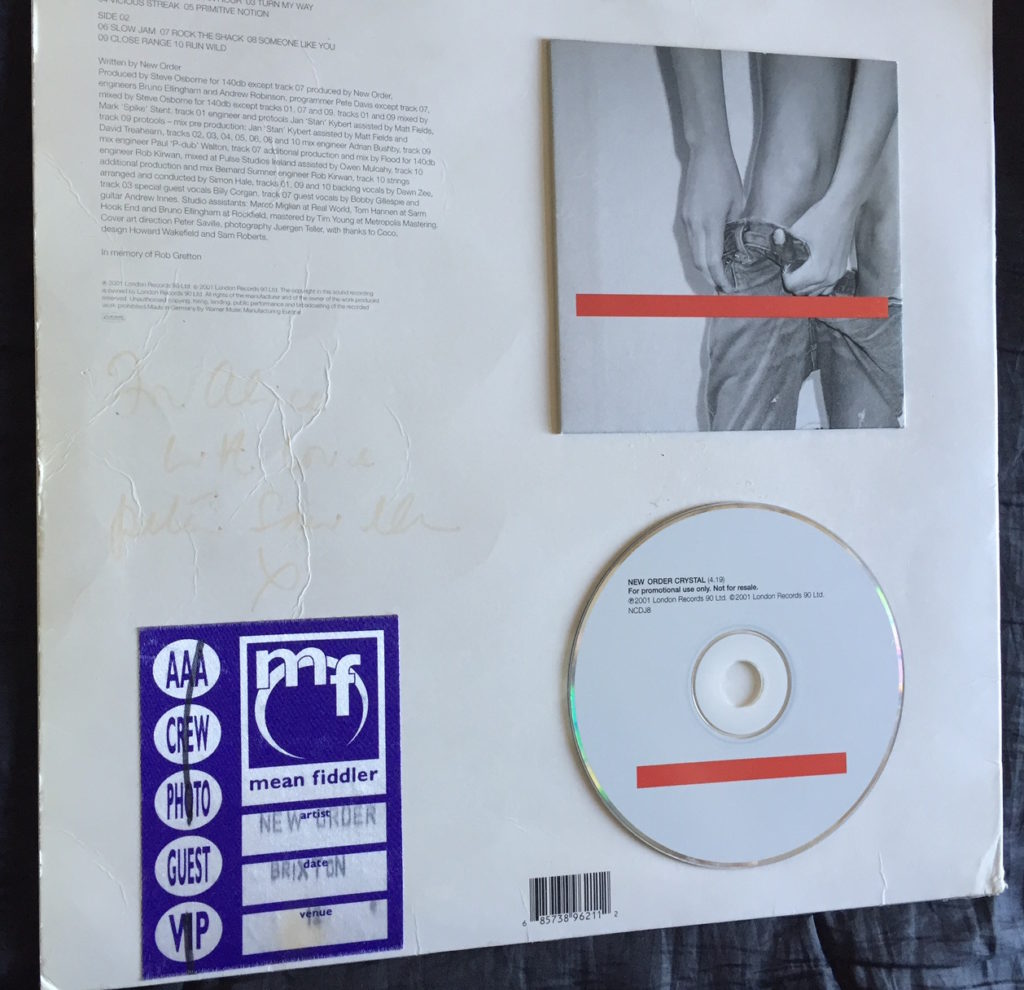 Promotional VHS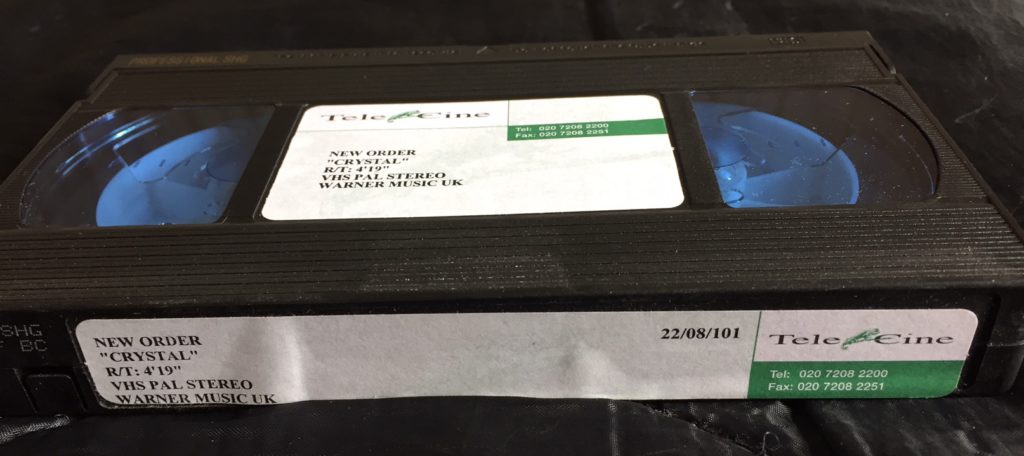 ---
04.59
INSPIRAL CARPETS – I'll Keep It In Mind – Island Head 12″ EP – Mute – 1990
I wasn't a fan of the albums but they put out some great singles… and Tom Hingley's vox was a definite plus. Baggy in the dress department if not quite sonically, I remember promos of their Mute 12″ remixes were always up for 50p/£1 grabs in Music & Video Exchange's various Notting Hill shops.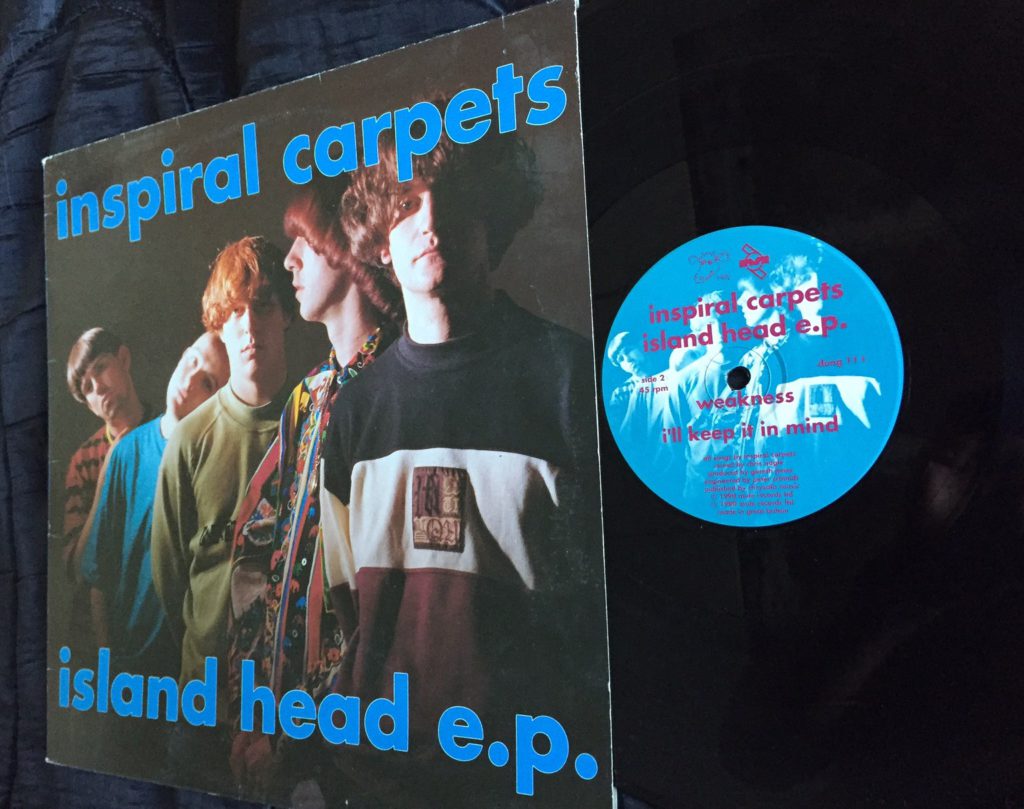 ---
08.04
PURESSENCE – Never Be The Same Again – CD single extra track – Island – 1998
James Mudriczki's voice is one great instrument. Yet more from Manchester way, they ceased operation in 2013 after a 21 year run.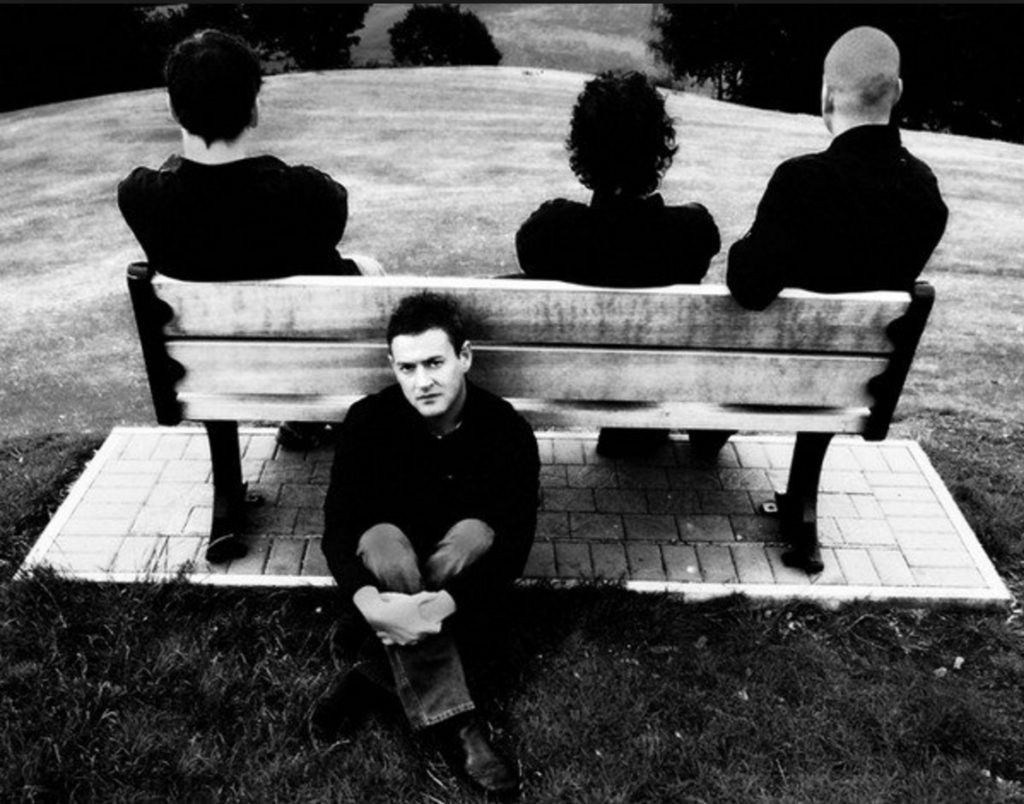 ---
11.29
CHELSEA WOLFE – Demons – Apokalypsis, LP – Pendu Sound Recordings – 2011
Her vocal reduced to a fuzzy backdrop… but it works, I think.
This 'orange black smoke' vinyl version of the album is a 2014 re-release on Sargent House.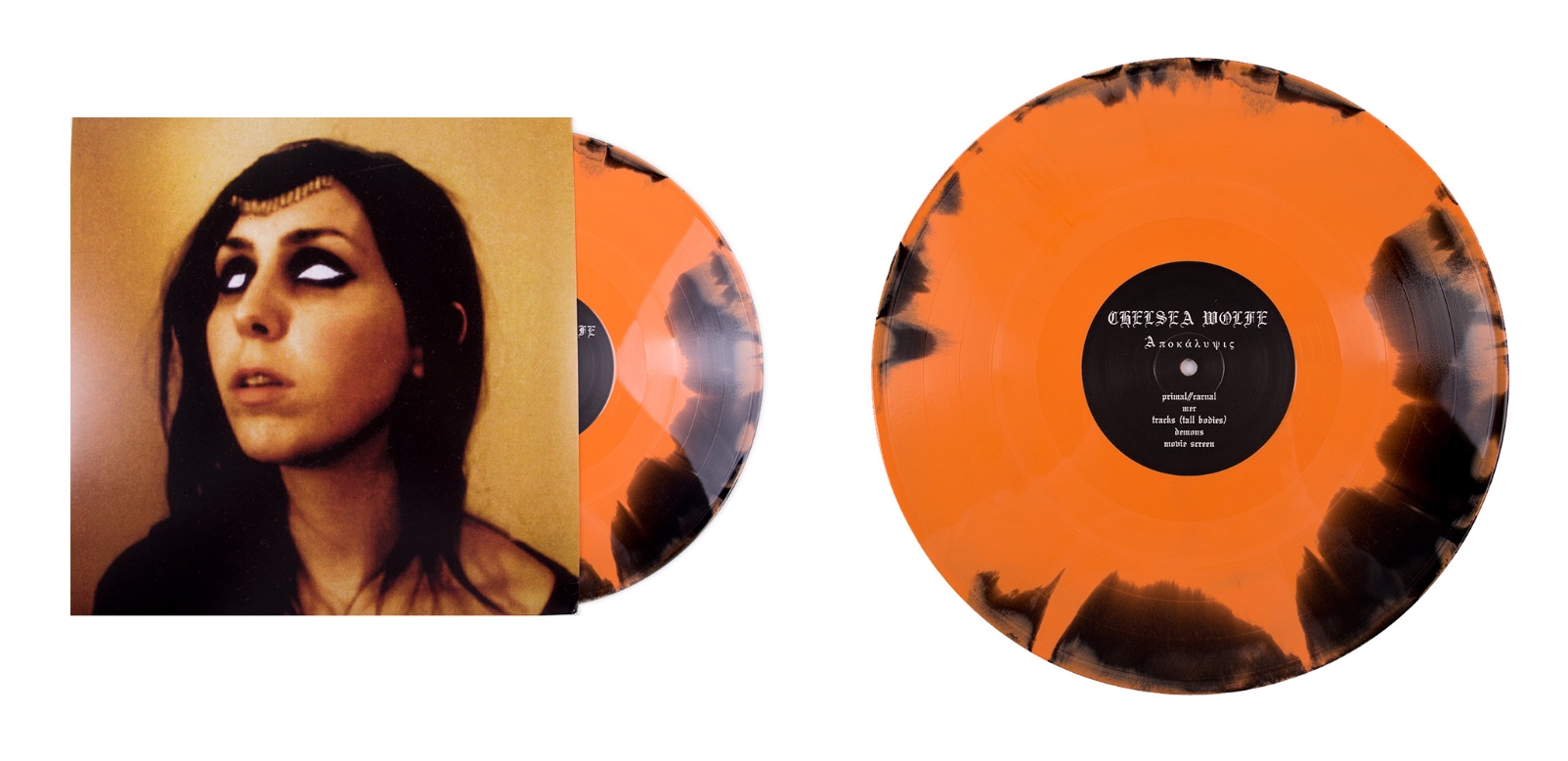 ---
14.28
CLOCK DVA – Beautiful Losers – Advantage, LP – Polydor – 1283.
Until Discogs came along I hadn't realised just how much material these Sheffield lads had released before I got to the Thirst album in 1981. There's bound to be something in there I'd go for, yet another task for down the line. Beautiful Losers though, is from their era with a major label.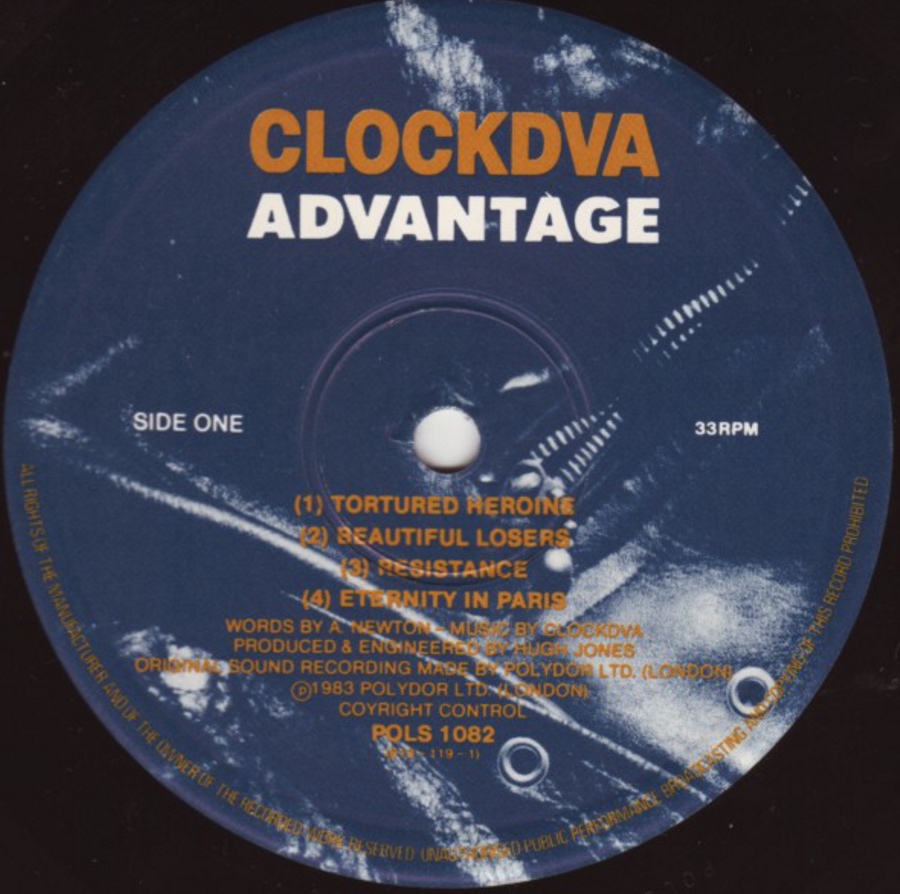 ---
18.44
SKATEBÅRD – Marimba – 12″ – Supersoul Recordings – 2011
Thinking on from having recorded the show, as he's Norwegian I definitely will have got the pronunciation wrong 🙂 … but Marimba is jaunty.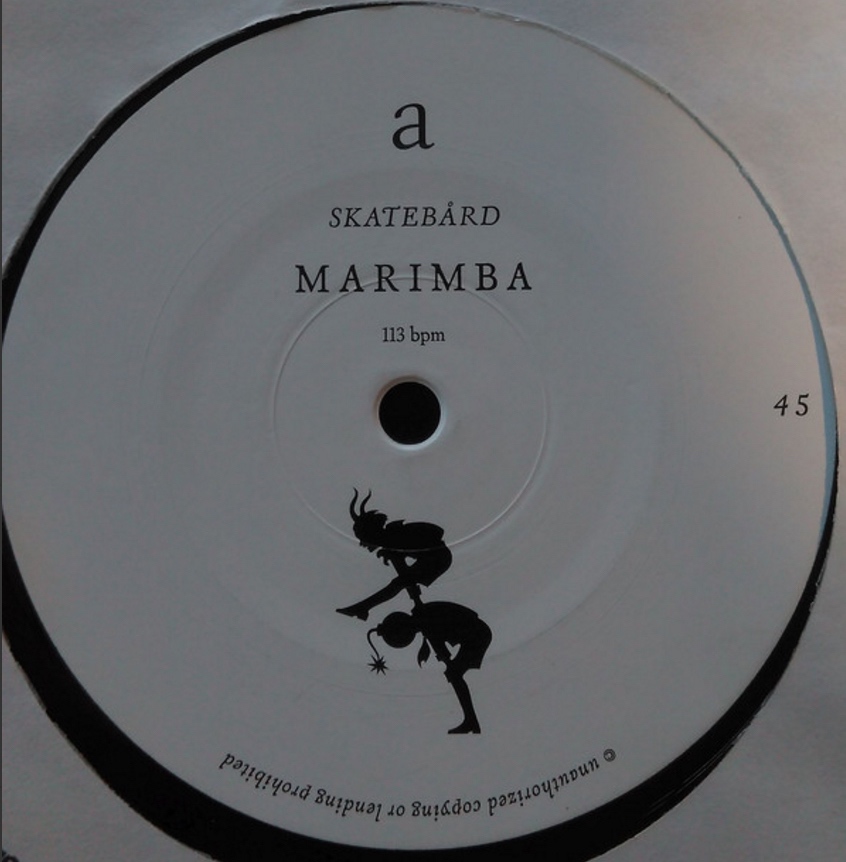 ---
24.30
CLANDESTINE (feat NED SUBLETTE) – Radio Rhythm – 12″ – Sleeping Bag – 1984
This is weird and wonderful. Ned Sublette? My arse! Sounding like the Beverley Hillbillies or a cowboy Elvis impersonator on an away day in New York's clubland in the eighties. Hence the addition of some distant and blurred cows in the photo. If I'd known about this 12″ in 1984 it would definitely have got spun down our club. The '119' on my copy's sleeve is the B(eats)P(er)M(inute). Obviously owned by a DJ at one point.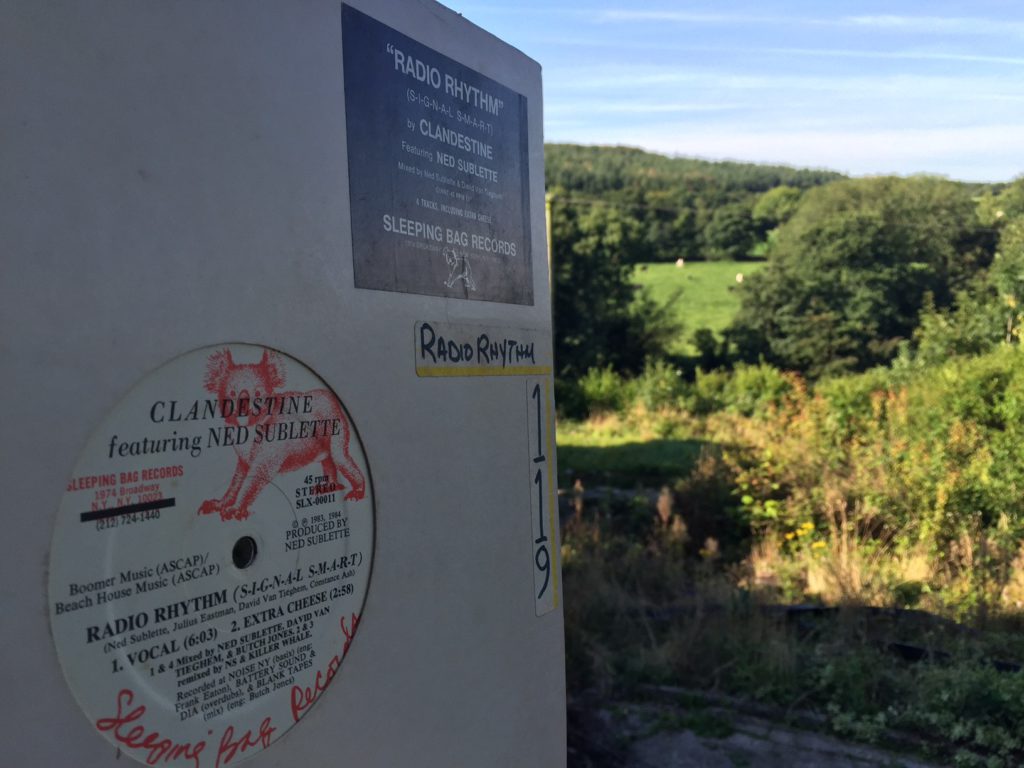 ---
29.00
LAIKA – Sugar Daddy – Silver Apples Of The Moon, LP – Too Pure – 1994
Possibly a quiet nod to The Nice in the title? And I realise that I got the label wrong on the broadcast. Definitely a fuzzy head in action. Whatever, at a smallish gig somewhere up in northern England one time I showed some appreciation to the soundman for playing Laika through the mixing desk before the main event. It truly seemed to give him a lift. 🙂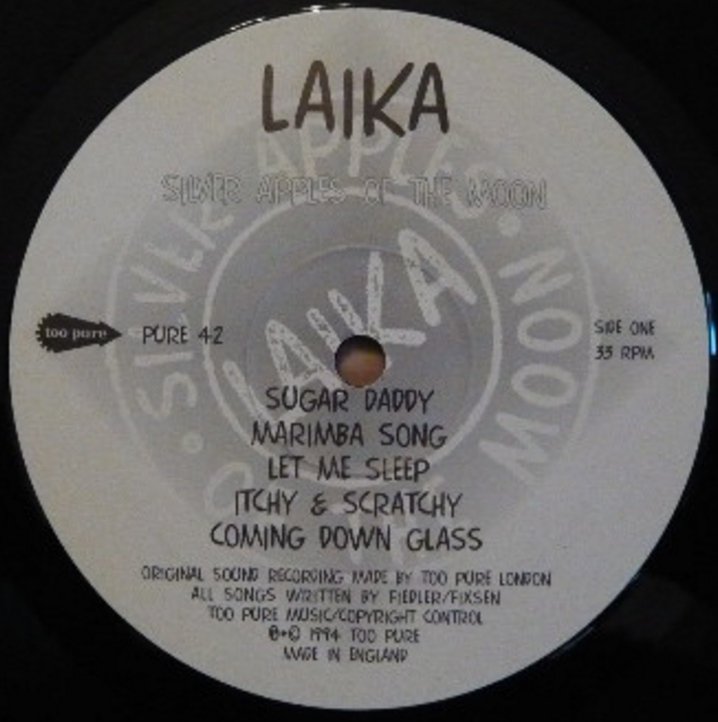 ---
33.50
A RACE OF ANGELS – Present Love – Download only – 2009
I've been a fan of this man – real name Yeofi Andoh – for 10-11 years, since a mysterious track by G(ifted&)B(lessed) surfaced on a Gilles Peterson radio show that I subsequently worked out had included A Race Of Angels on vocals. It promptly disappeared but through the following years there were faint sightings (or maybe soundings)… but boy it's been hard sourcing info on him. Listening to a lot of his releases, I would never have put money on the fact he actually grew up in Wooton-under-Edge, a small village in England's West Country!! More information here than I knew of in the previous ten years.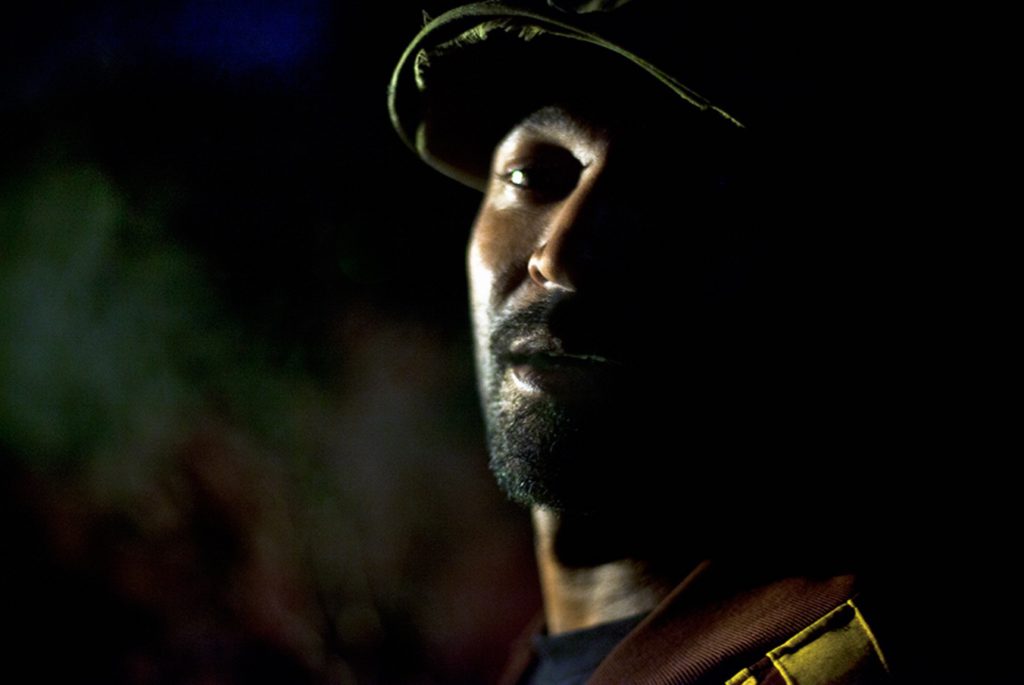 ---
38.20
KENNETH WHALUM – Ghost Town – Download only – 2015
More genius modern soul. I don't think I'm alone in this but it's harder to be moved by music now – whatever genre – than when I was 11, 21, 31, but when I do get the 'tingle', a sort of rush comes over me… and it's good.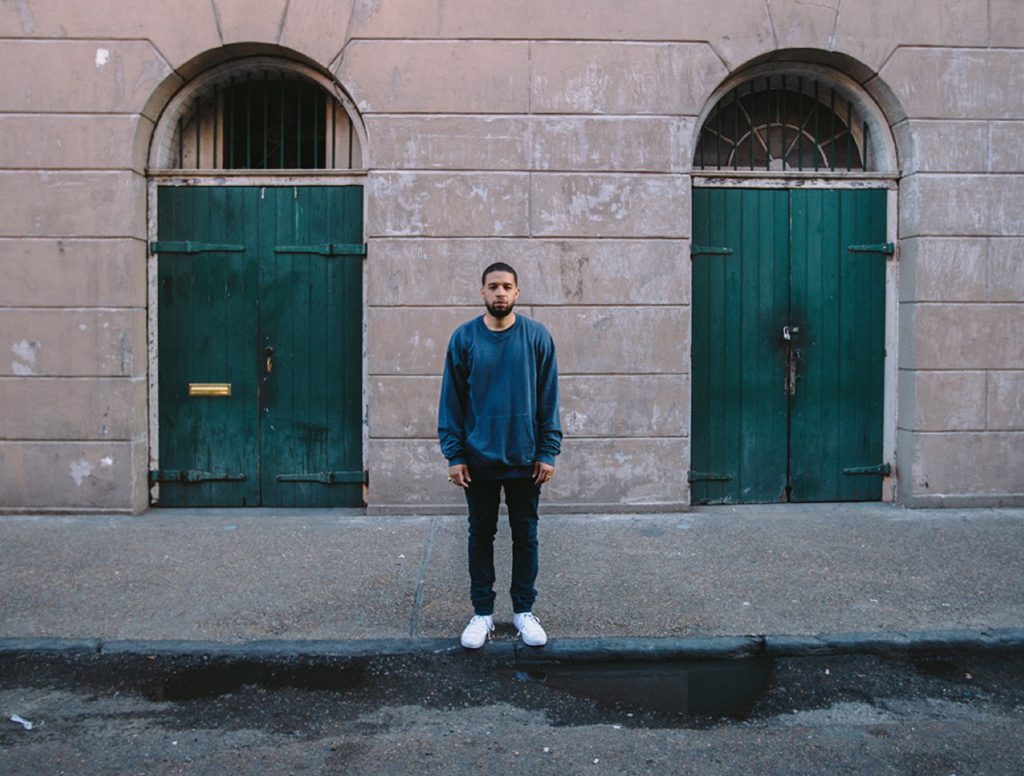 ---
42.21
THE RAAH PROJECT – Will You Be There – Score, 2LP – Equinox – 2012
More inspiring soul music of the modern sort.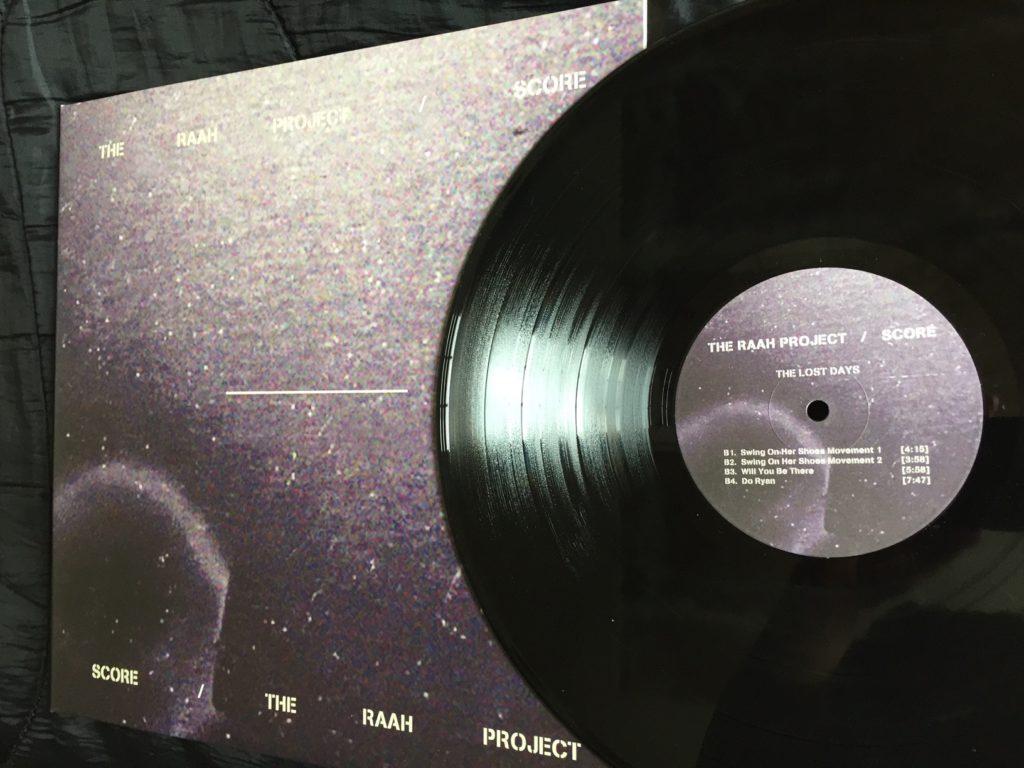 Of course, if you check out the video (a still below) there should only be one question. How many takes? Possibly a shade tougher to pull off than Massive Attack's 'continuous shot' Unfinished Sympathy, it looks like they might have had a very early kick off. Try this in the UK and some unannounced/uncalled for spotty, gaunt 'yoot' with a baseball cap and low slung trackie bottoms will probably butt in on the proceedings… just for the hell of it.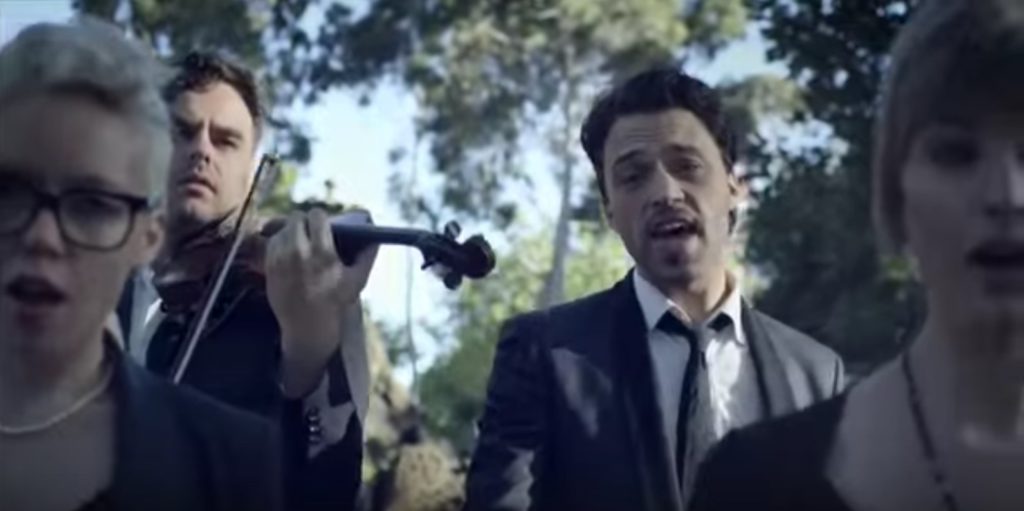 ---
45.58
ATOMICA (feat CHARENE DAWN) – Radiate and Elevate – 12″ – Freeze Records – 1996 
One release and one release only. Here for but a brief moment… and then gone.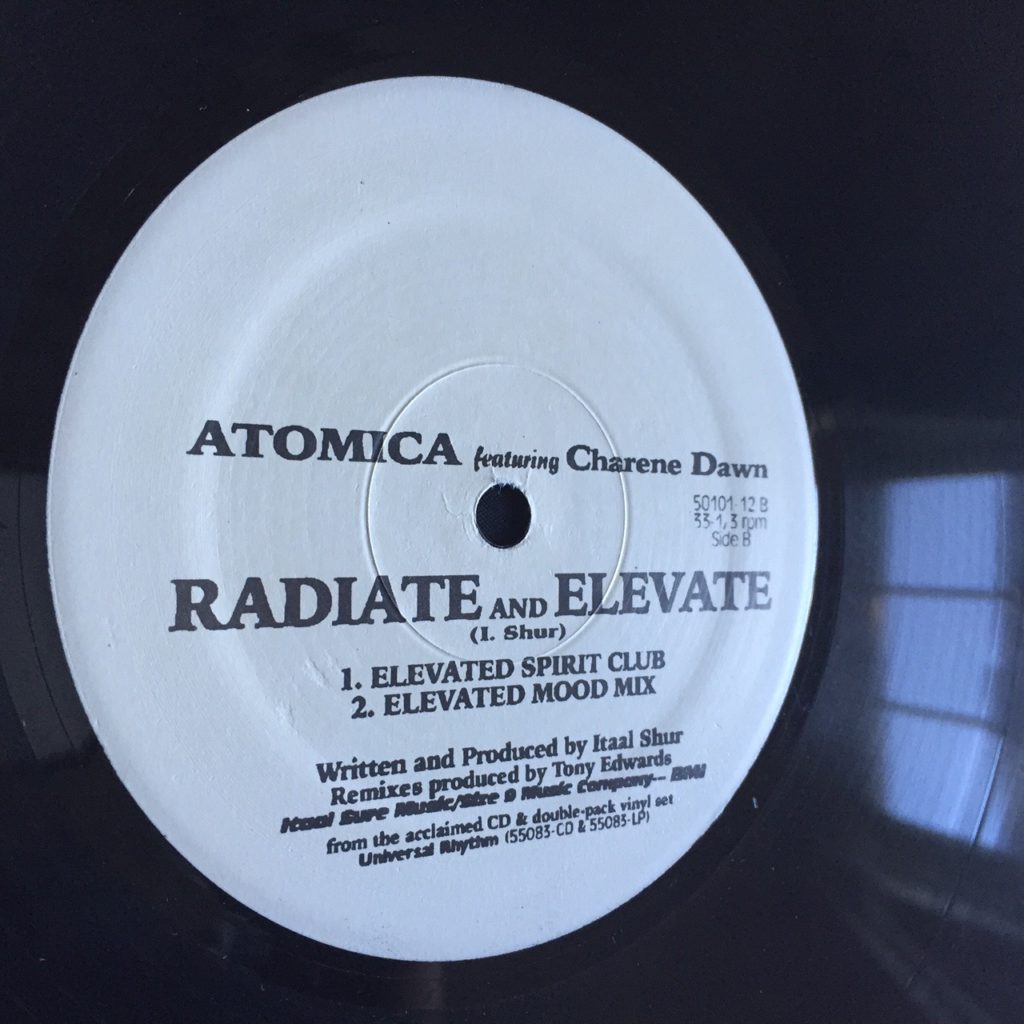 ---
50.13
TARWATER – No More Extra Time – Silur, LP – Kitty-Yo – 1998
From East German punk rock roots doth post rock grow.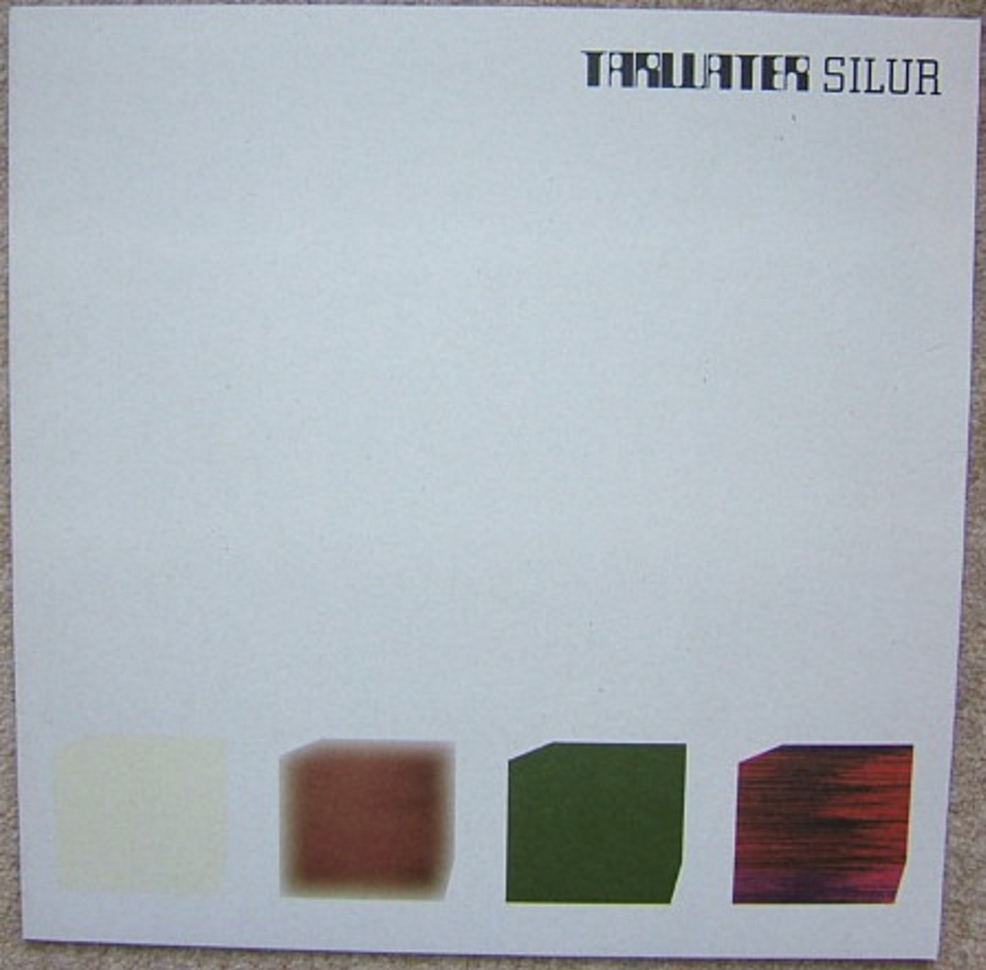 ---
54.44
SKI OAKENFULL (feat ROSE SMITH) – Life Changes – Life Changes, 2LP – Columbia – 2000
Ski is currently back working with Valerie Etienne… which is also a very good thing.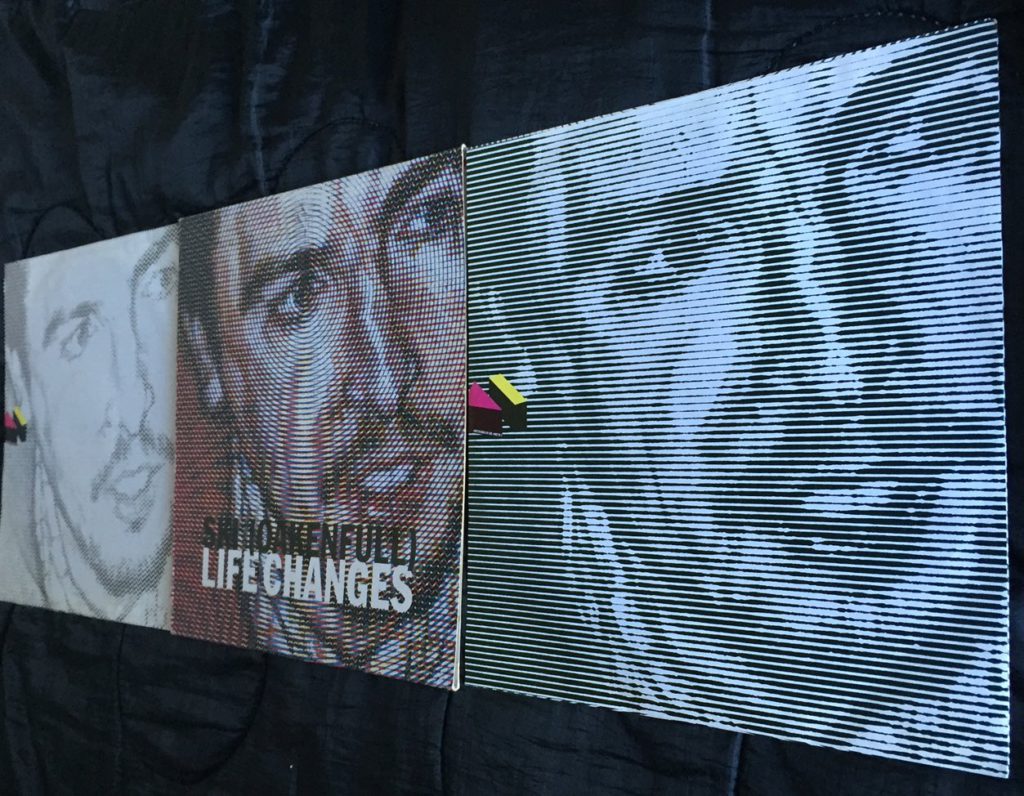 ---
59.48
SMOOTH + TURRELL – Gabriel – Eccentric Audio, LP – Jalapeno Records – 2011
And in different settings John Turrell's voice will crop up again on 41 Rooms.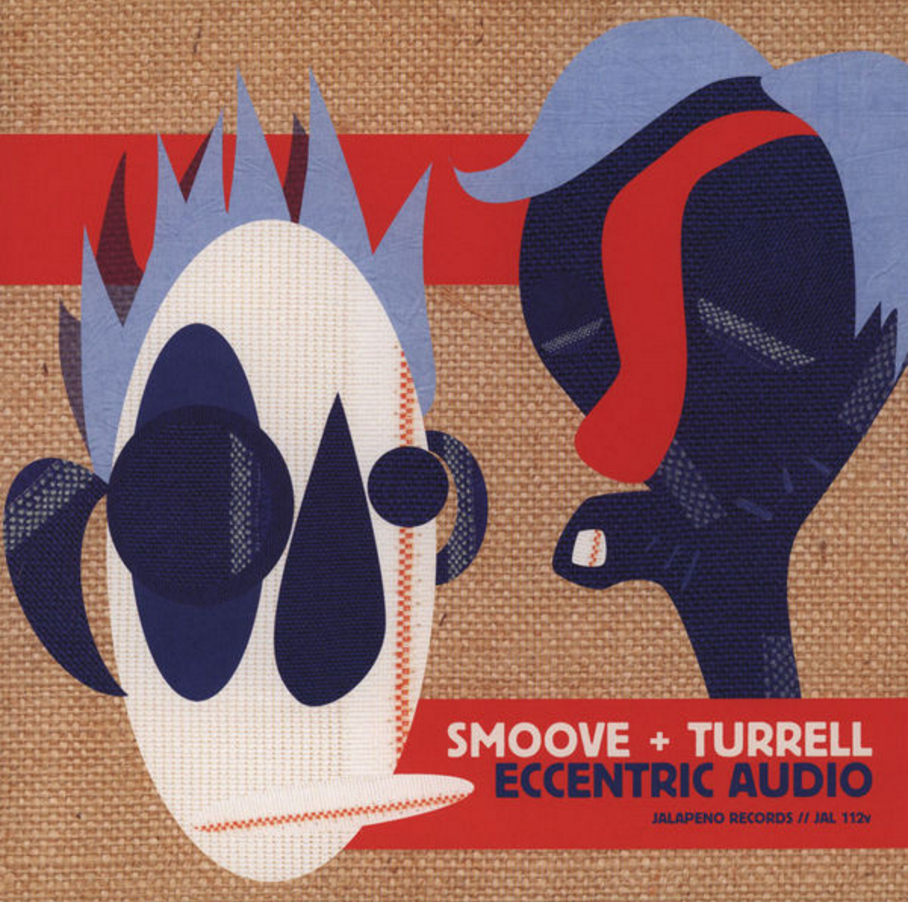 ---
01.03.01
THE CUTLER (feat RUSSELL MORGAN) – Revolution – The Best Things In Life Aren't Things, CD only – Steel Tiger – 2012
Steve Cobby's 'Best Things… ' back here once again and that's one lived in voice he's got the use of here. Conscious sounds from an album that should be played… and mentioned, if only to say the title aloud.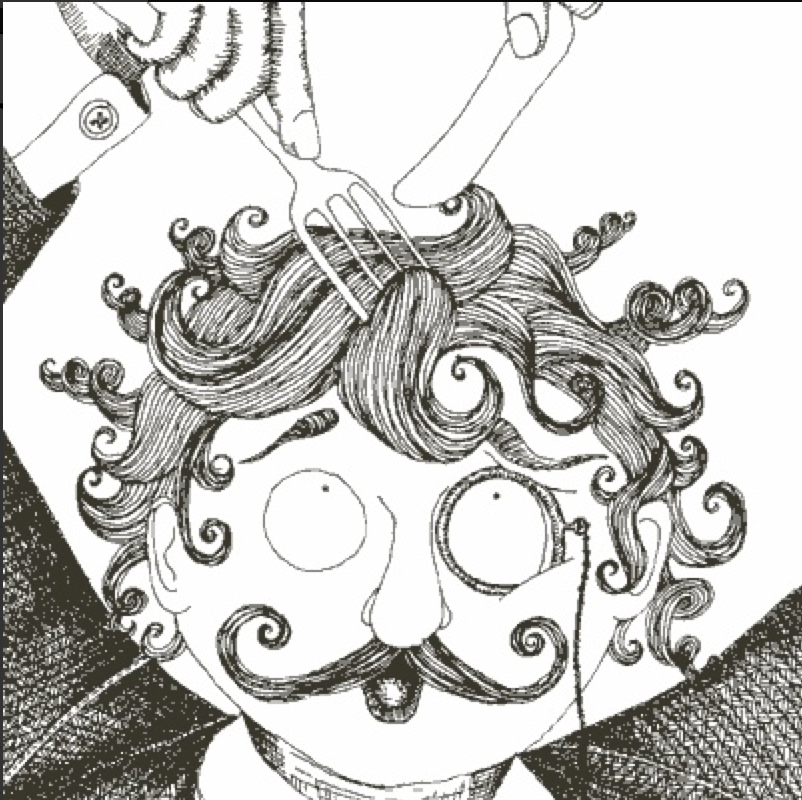 ---
01.07.44
GNAG OF FOUR – What We All Want (Live) – Official Live Recording, 2LP – Let Them Eat Vinyl – 2015
Shaking down the walls of London's Barbican Centre in 2005, thankfully coinciding with original vocalist/founding member, Jon King's brief return to the ranks.
---
01.12.46
GLAXO BABIES – Limited Entertainment – 7″ – Y Records – 1980
With a nod to the lads above I'd say. Bristol based new wave funkers. Maybe in true punk fashion they didn't clear the use of a snippet of John Peel's radio show being included… and he'd have been just fine with that, I'm sure.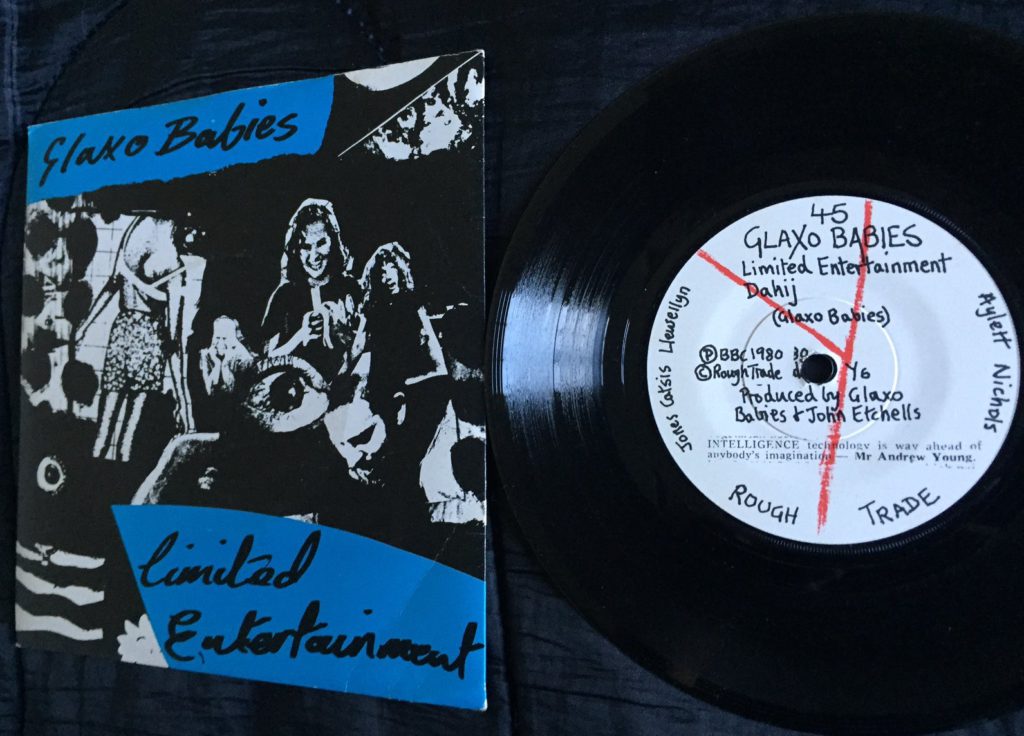 ---
01.16.05
THE WAKE – The Old Men – Harmony, LP – Factory Records – 1982
Very fond memories of 1982 -1985. 🙂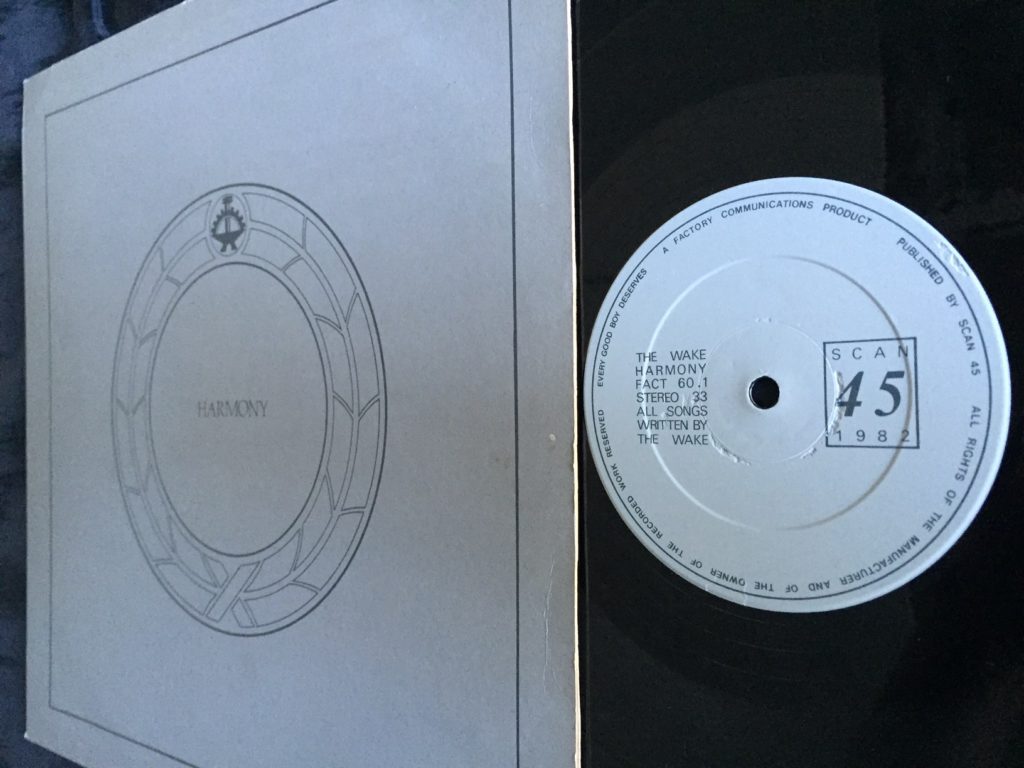 The Wake: Mac, Steven, Carolyn and Caesar outside Revisited (sadly missed vintage clothing shop), Bedford, Sept 7, 1983 – prior to their first gig at Winkles later the same day. And as I'm presently back in the town of my birth, Caesar says 'Love To Bedford!' Thinking about it now, I should have snapped them here when they came back to the town for a second time. 😉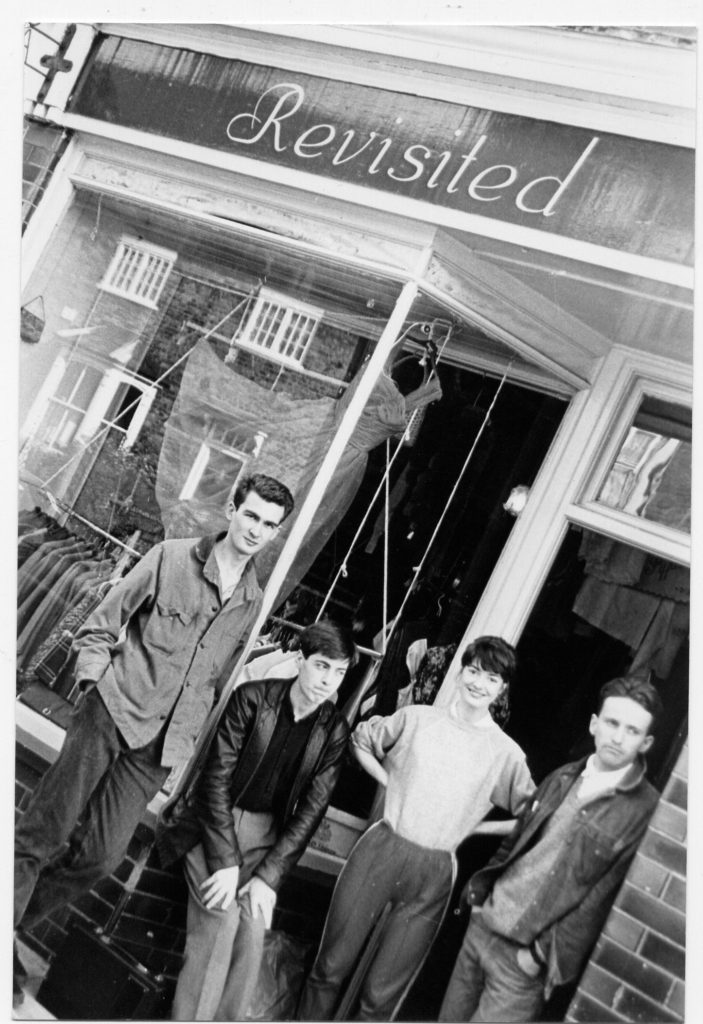 ---
01.21.53
SNEAKY (feat BARBARA PANTHER) – Feel Like A King – 7″ – Hot Source – 2009
From Manchester to Berlin, I think. Sneaky? Quirky! Either way, a winner.
---
01.26.02
MERRY CLAYTON – Gimme Shelter – 7″ – Ode – 1970
It's Jagger and Richards' baby but this is the version, though I'm likely in the minority with that idea. As she sang on the original maybe she just thought 'Well, if that's all you're gonna do with it, Michael, I'll show you how it should be done.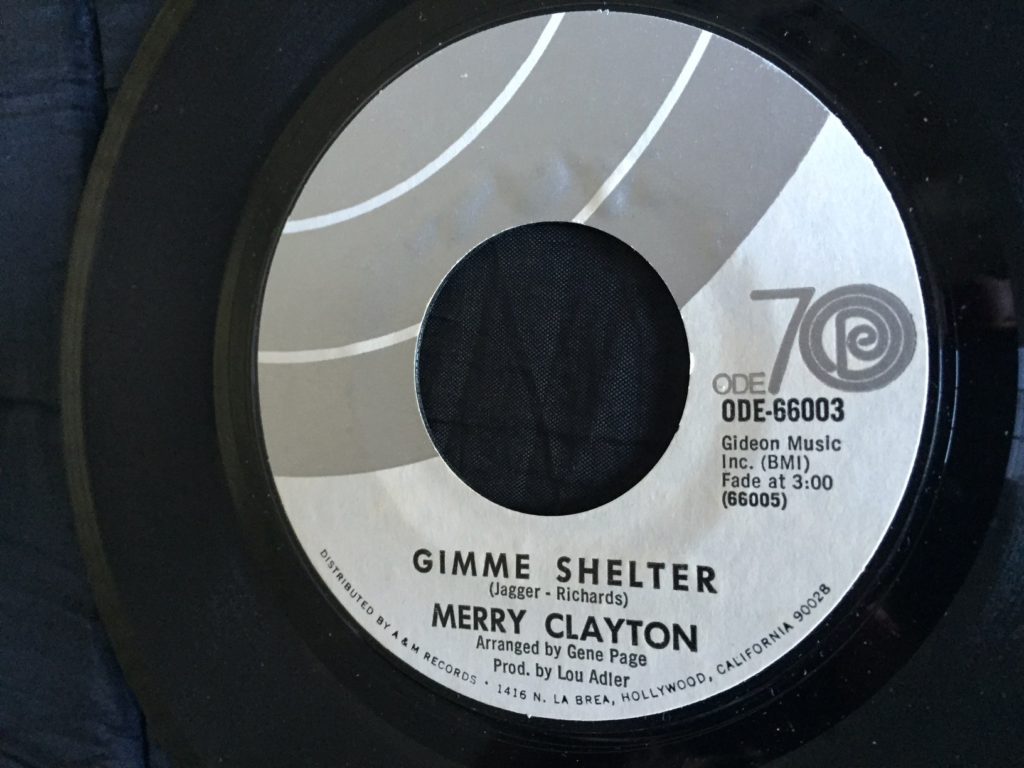 ---
01.29.05
WAHOO (feat PAUL RANDOLPH) – Don't Take It Personal (George Levin Edit) – 12″ b-side – Fine – 2007
2007, but harping back to a 80s-90s feel. Inspired… and a big tune!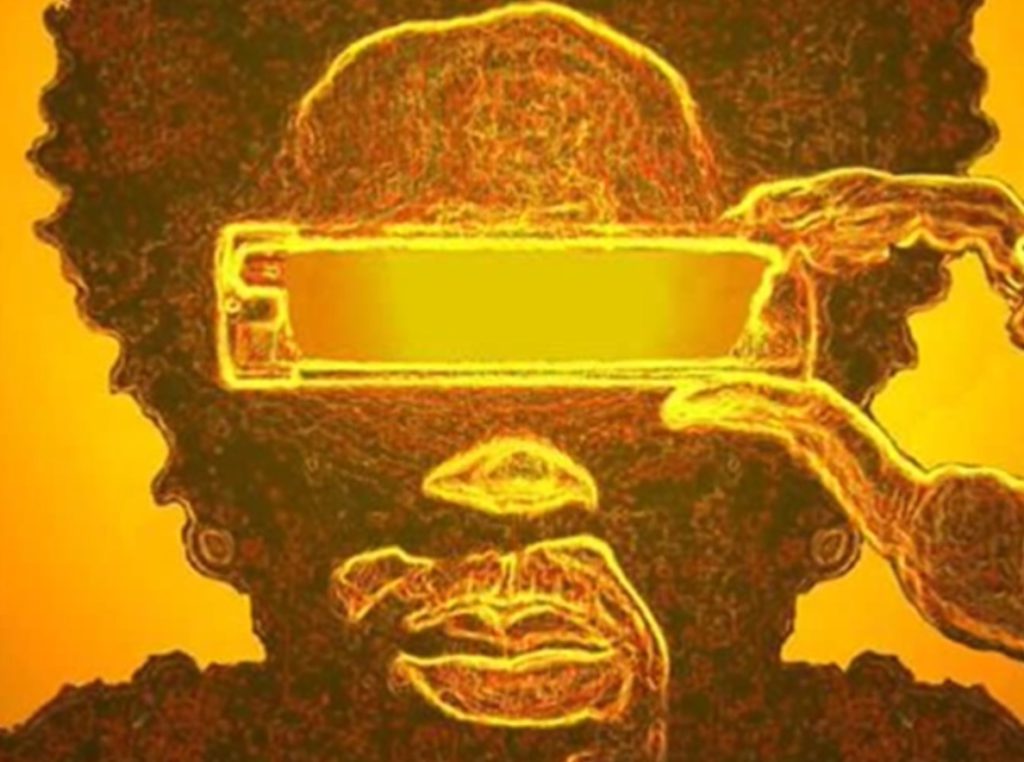 ---
01.33.43
BILLY PAUL – Let The Dollar Circulate – When Love Is New, LP – Philadelphia International – 1975
Having been a big Motown fan as a mid teener, the Philadelphia Int label didn't get a look in with me. And I would have actively bypassed BP. A bit of a wrong move when listening to this.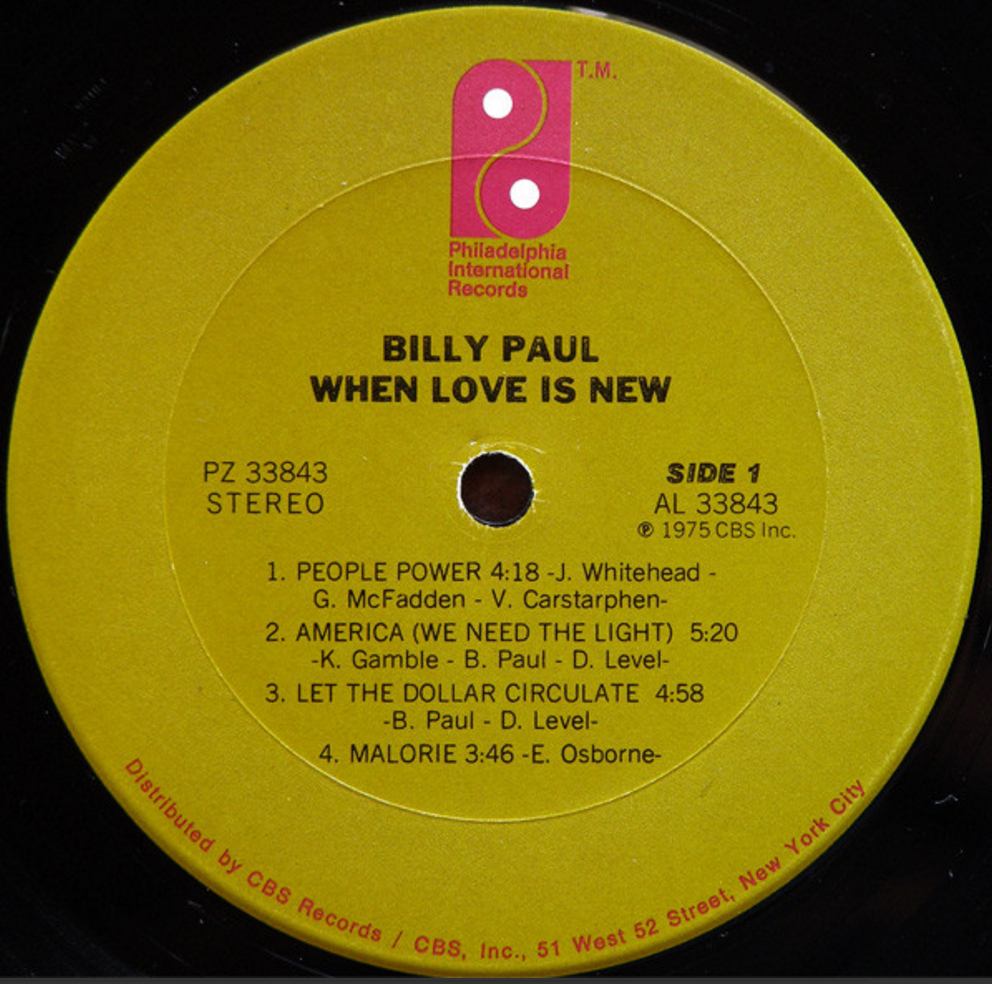 ---
01.38.29
MOTON RECORDS INC (T.W. BROWN/BILLY PAUL) – East – 12″ – Moton Records – 1996
'This vintage tune, taken from Paul's early Philly LP 'Going East', has been the rediscovery of 1996. Championed by the likes of Russ Dewbury and Gilles Peterson, it builds from a Callier-style folk funk intro into an exotic swirl of eastern mysticism, rasping flutes, dramatic strings and impassioned vocals. With the original LP now attracting silly money, this 'radio use only' Moton 12″ is a more viable option. In addition, Diesel and Harvey have slipped in some drums to beef up the maracas-driven rhythm of the original and increase its floor appeal. It definitely had the desired affect down at London Xpress the other week. The B-side's out-there dub has heavily treated and echoed up snatches of the original over a bongo backdrop. *****'  – Andy Beevers, Record Mirror (Music Week), 9.11.96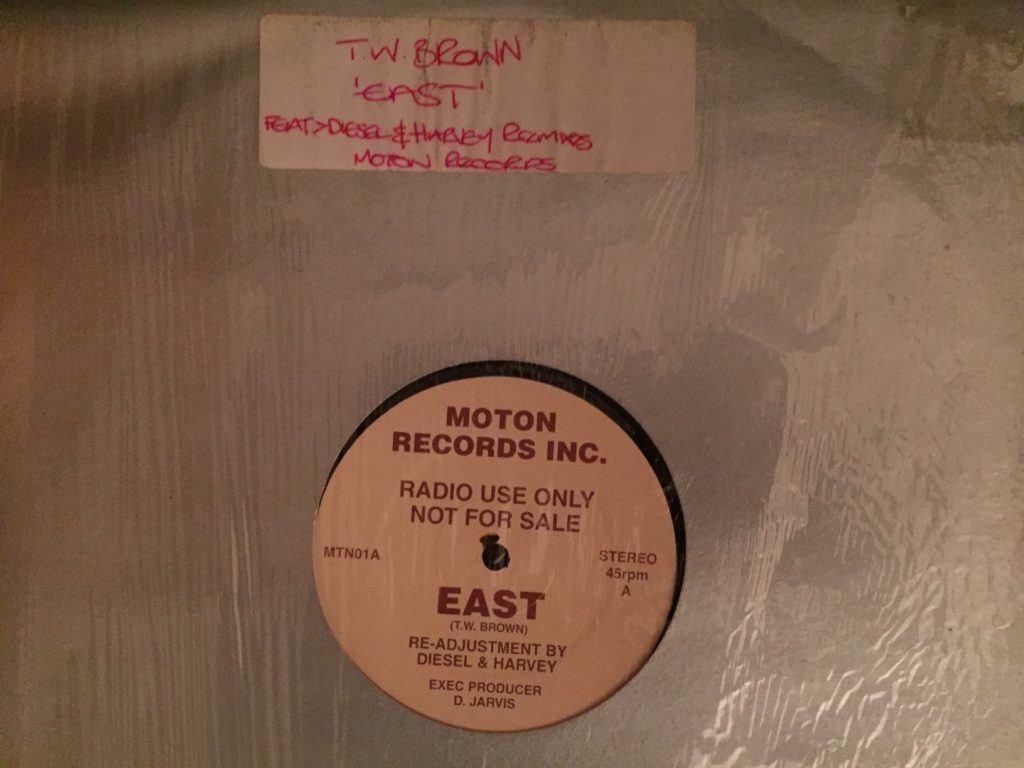 ---
01.42.56
SLEEVE – Save The Children – Sleeve Records – 199?
So good I had to have three. Another of those great records I used to feel compelled to rescue from the 50p/ £1 bins.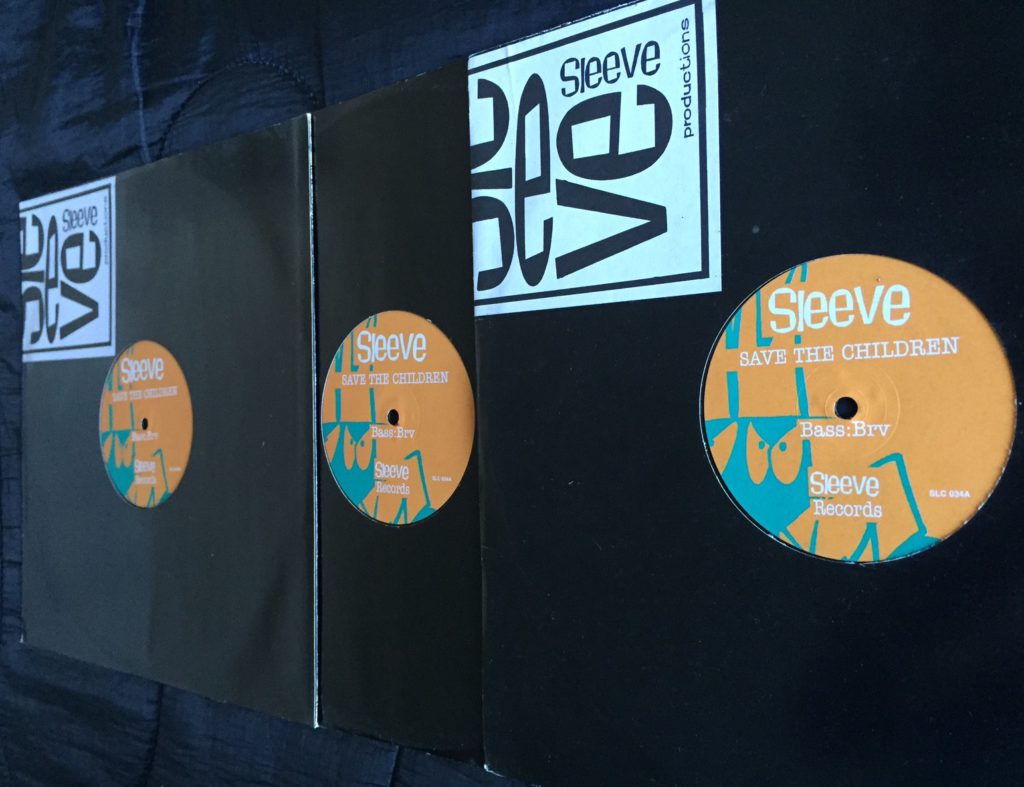 ---
01.48.37
QUASIMODE (feat VALERIE ETIENNE) – Take The New Frontiers * – Golden Works, CD only – Geneon Universal – 2009
… but a massive brutal edit for inclusion here. The ideal 'go to' girl for this kind of track, Ms Etienne on stellar form.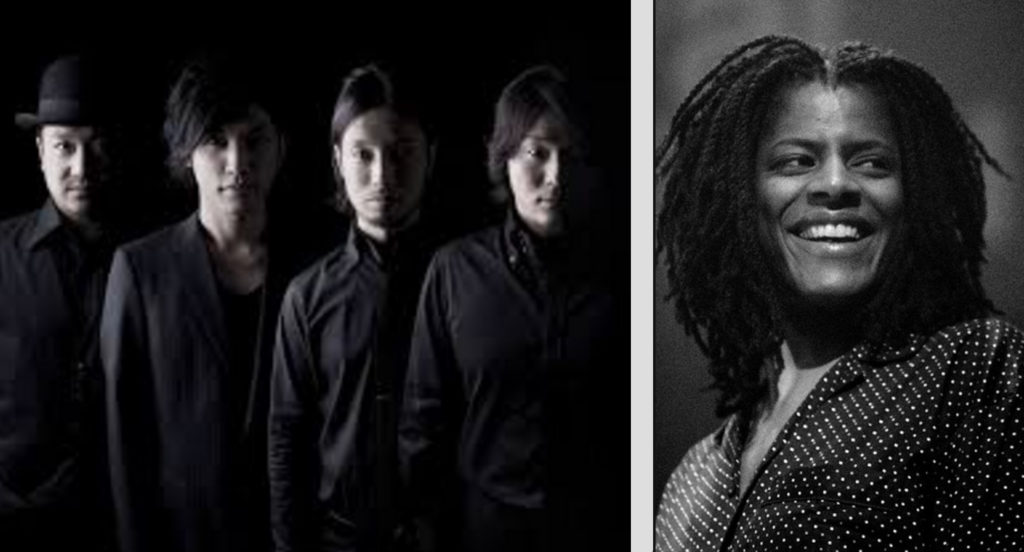 ---
01.52.40
LIGHTHOUSE – One Fine Morning – One Fine Morning, LP – Evolution – 1971
Came across this in the nineties. Big in popularity (certainly in Canada in the early 70s) and in numbers of personnel. With 13 members at one point, their press photos could look like a summer of love commune roll call. I think this is madly wonderful but the bull in the china shop is the keyboard in the middle break/bridge. It sounds soooooo wrong. US and Canadian copies of the album pictured.

---
01.57.31
MOLOKO – Over & Over * – Statues, LP – Echo – 2003
The whole of Mark Brydon and Roísín Murphy's Moloko era was class, and their fade out here a suitable 41 Rooms exit.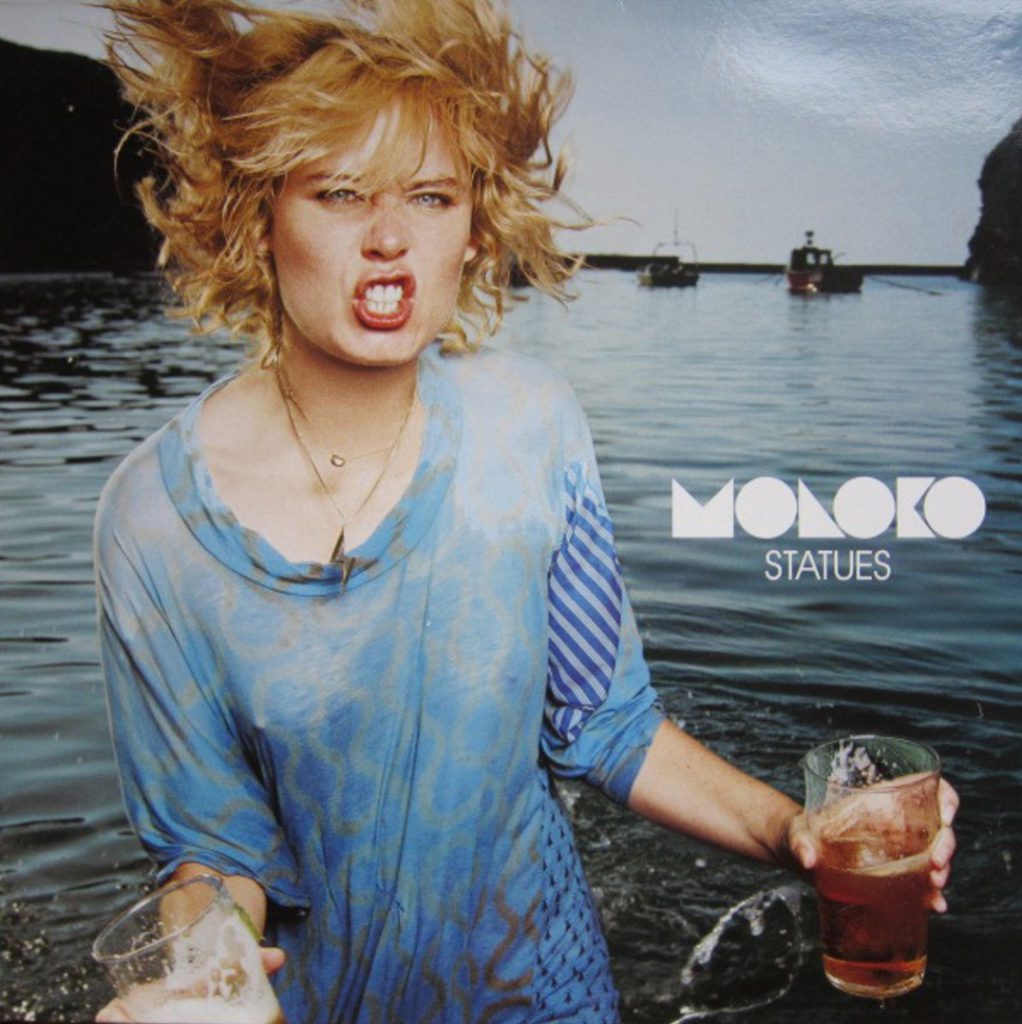 ---
A lot more soul tinged sounds than first intended, but that's OK. A re-balance next time.
And… we're gone.
Dec