PLAYLIST 43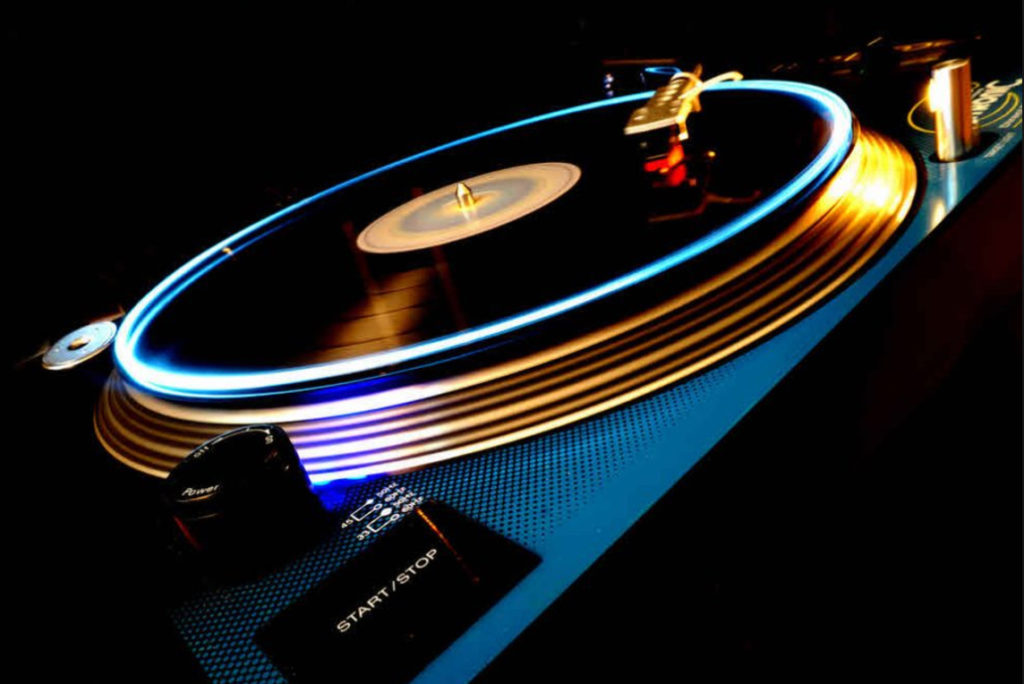 41 Rooms' Playlist 43 is 79% vinyl friendly. Not bad.
---
Tracks marked * have been given a tiny (or sometimes, slightly bigger) 41 Rooms 'tweak'/edit/chop/whatever…
---
Lyric of Playlist 43: 
Belongs to the late Ian Kevin Curtis.
---
00.00
(Intro) THE FLAMINGOS – Stars (Edit) – Unreleased demo – 1983 Episode #1 for info.
---
00.39
NEW ORDER – Procession – 7″ – Factory – 1981
Barney's vocals, Steve's lyrics (for they are his), that synth, Hooky's bass… everything about this is just the bizniz. There's a 2015 'Remastered' version out there that seems to slightly bury Barney's vocals, which is a mistake, so avoid that one. As I playlisted the single's other side (Everything's Gone Green) previously, it's too late to champion this as one of the great double sided 7″s of all time – but it is just that.
As unlikely a scenario as it may have been for Factory Records, the nine colour variations of the sleeve might have been more to do with chasing chart positions than any artistic folly of sleeve designer, Peter Saville, but even this NO head didn't go for them.
My single sleeve below? More 'collateral damage' DJ'ing it in Winkles, 1981-86.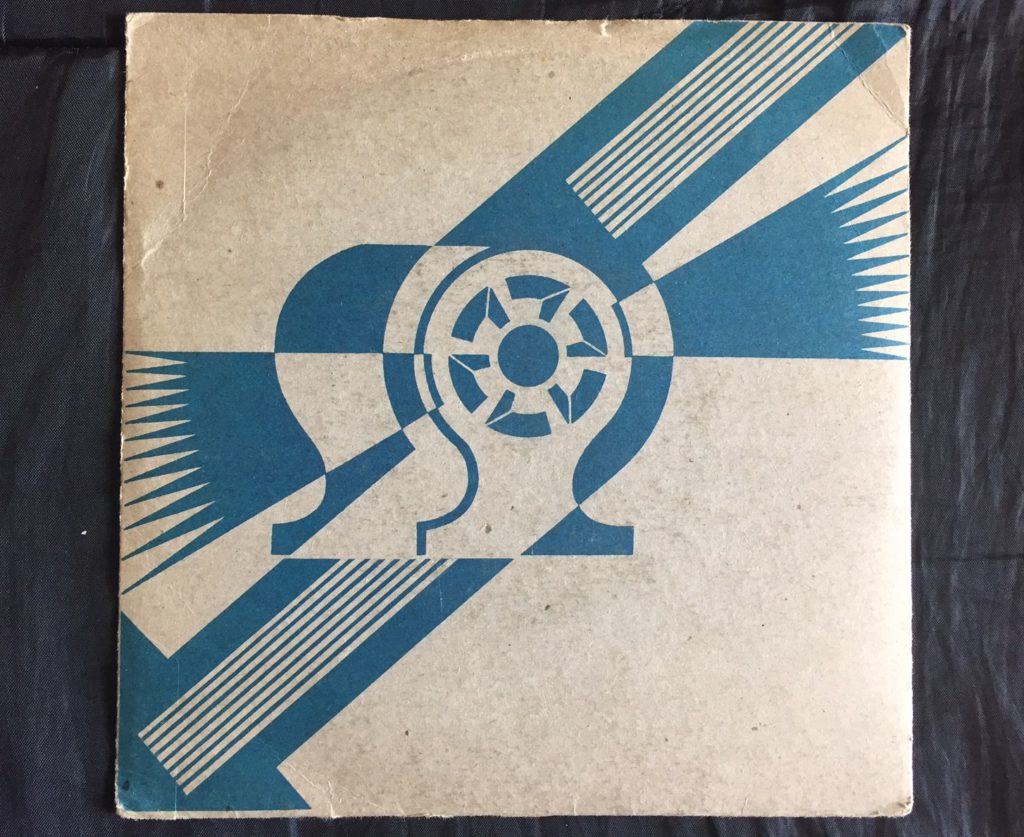 ---
04.02
JEZ KERR – Isolation – Soundcloud only
It's a brave move to cover a Joy Division song, and seeing as Jez is an original member of fellow Manchester post punk heavyweights, A Certain Ratio and therefore has very long time close connections with the remaining Joy Division members, he would have been pretty sure he'd got a solid version of this one together before he let it into the open… and he has.
And from Jez's Facebook page, another genius anecdote.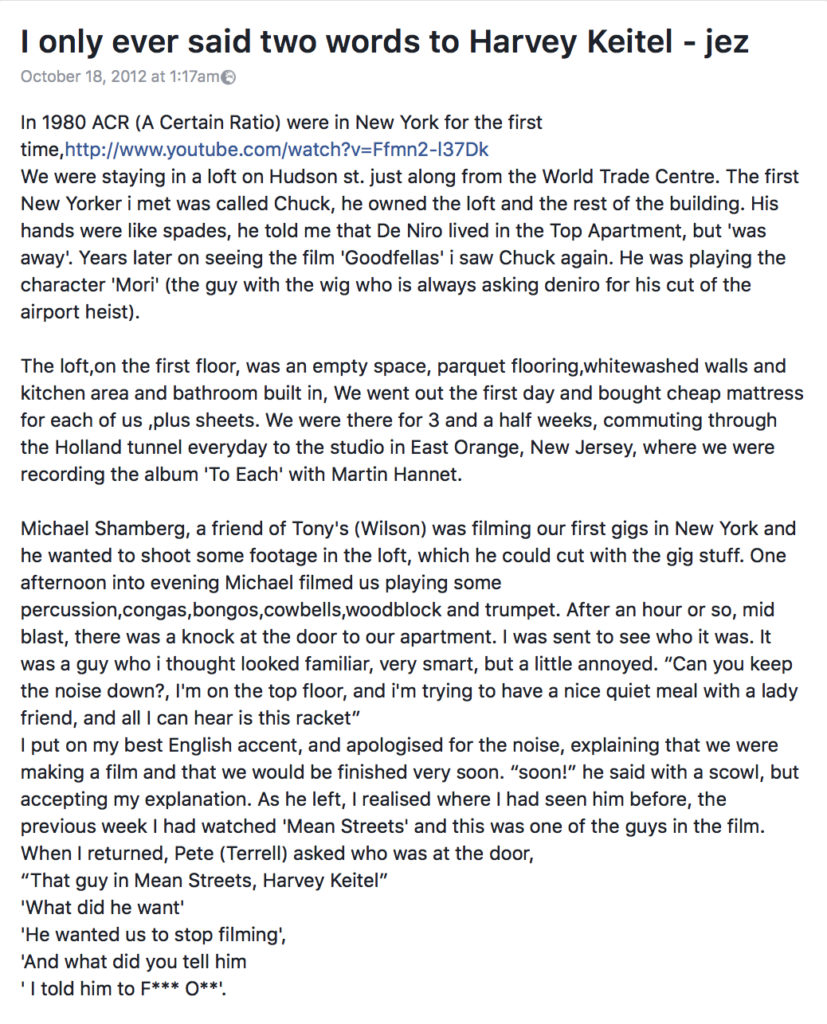 ---
06.40
VEE VV – Love Canal  – 7″ – Constrictor (Singles-Series) – 1987
Originally this track came as a free flexi with the fanzine, Blam! but as these flimsies weren't great at functioning properly on a record turntable and I came to the track a lot later I've gone for the solid and bright yellow vinyl version Constrictor put out in their 'Limited to 1000 copies' Singles-Series. Depending on your sources, Vee VV came from Blackpool, Manchester and/or Sheffield, but they certainly had previously contributed a couple of members to Factory band, Tunnelvision. Now long deceased Vee VV do however have a Facebook page that serves to remind of their history. Nice touch.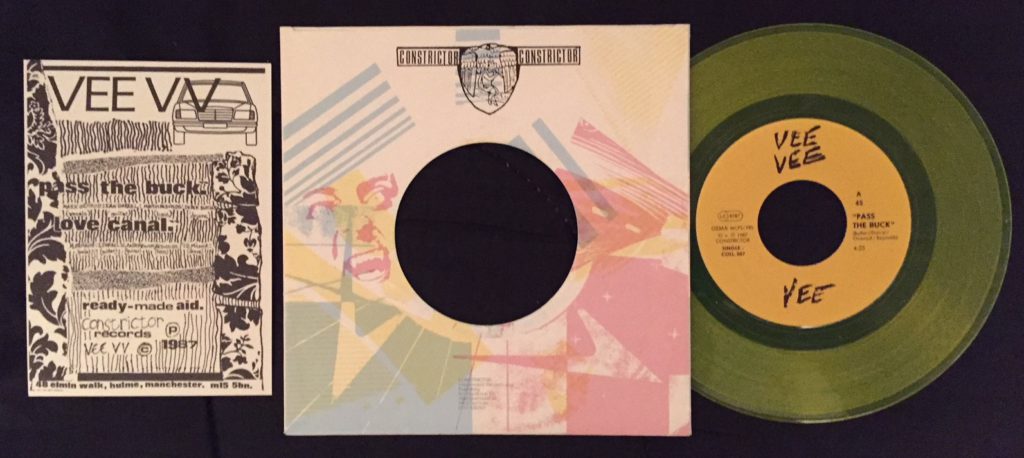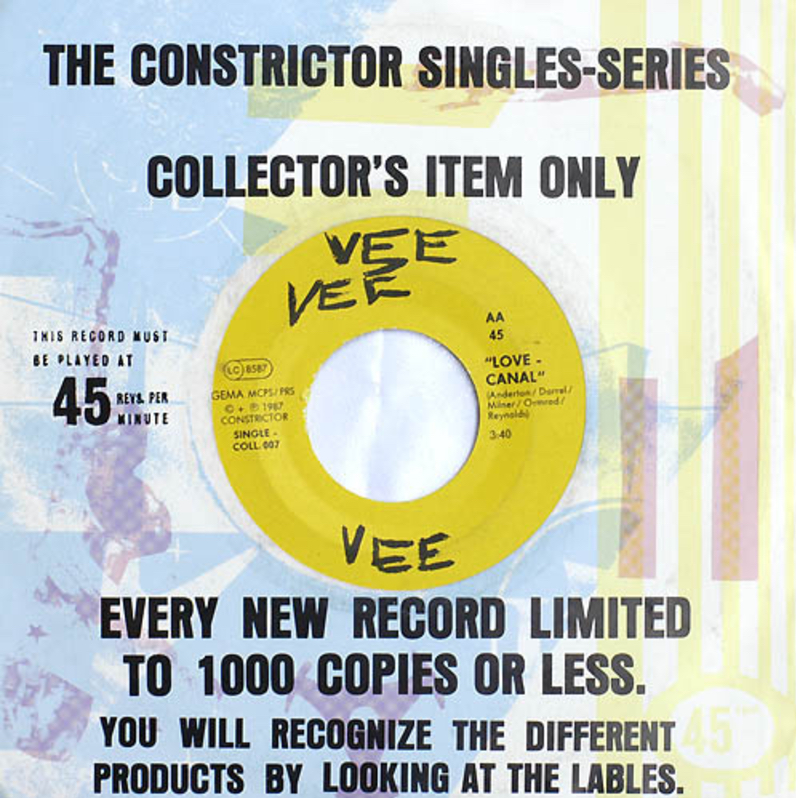 Those last two lines on the above sleeve – wise words, indeed and they also probably took some inspiration from these next guys…
---
10.09
GANG OF FOUR – To Hell With Poverty! – 7″ – EMI – 1981
Leeds calling. More ooooop north jittery angst, but right on it as always.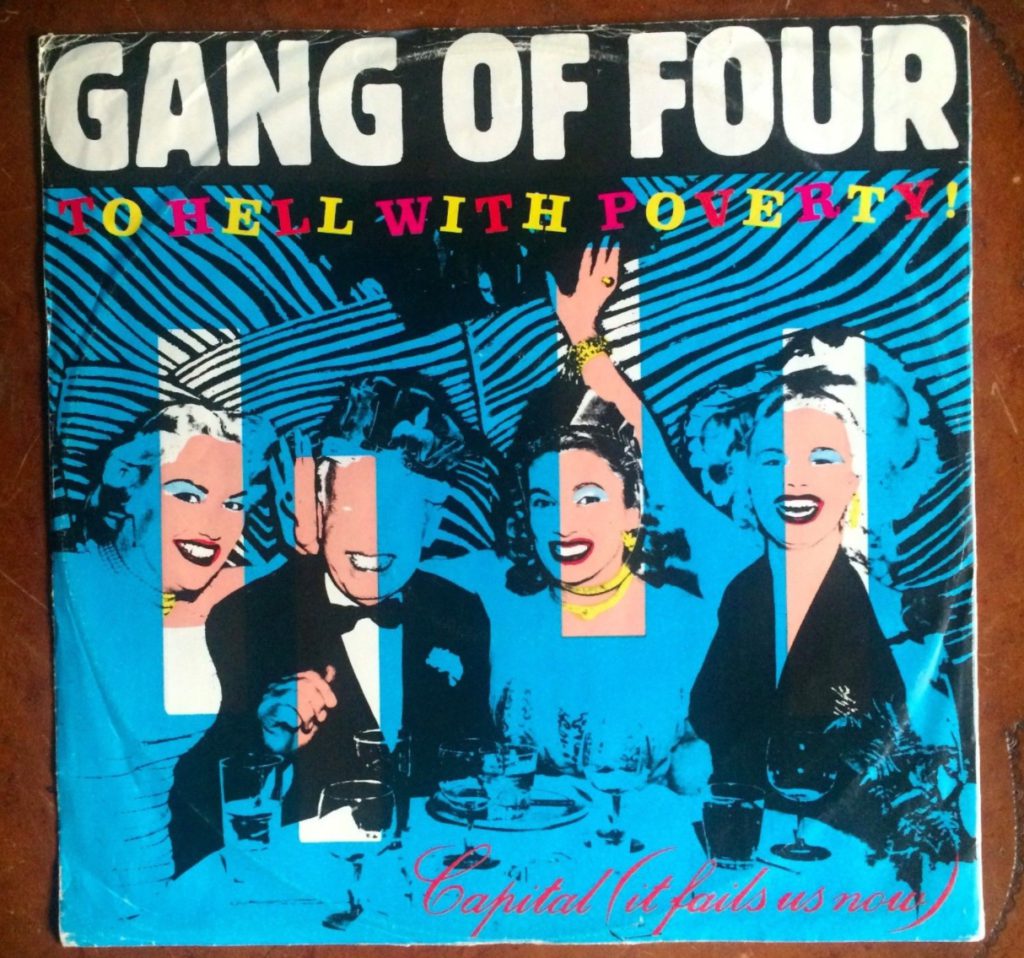 ---
14.08
CLICK CLICK – I Rage I Melt – 7″ – Play It Again Sam! – 1987
A mighty sound, and in being licensed to PIAS it was the bridge between their previous releases on mine and Mick Lowe's label, Rorschach Testing and their subsequent signing to PIAS. I was their manager throughout all this period so we saw signing up with the weight and clout of PIAS as making sense.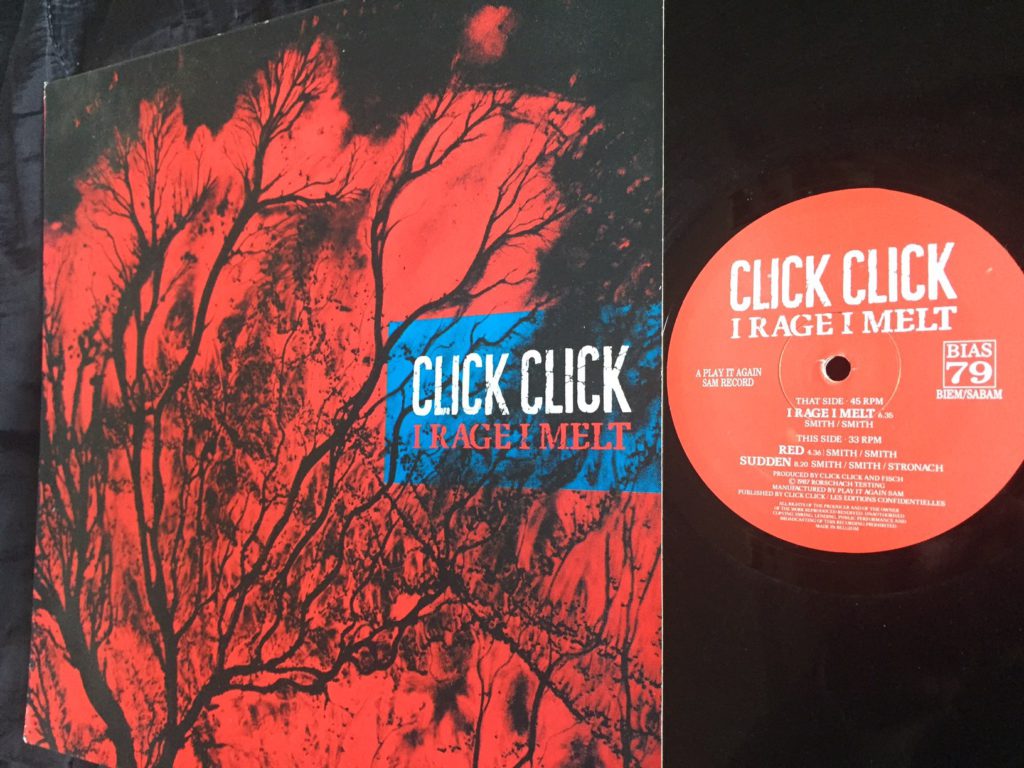 Test pressing. Maybe half a dozen in existence.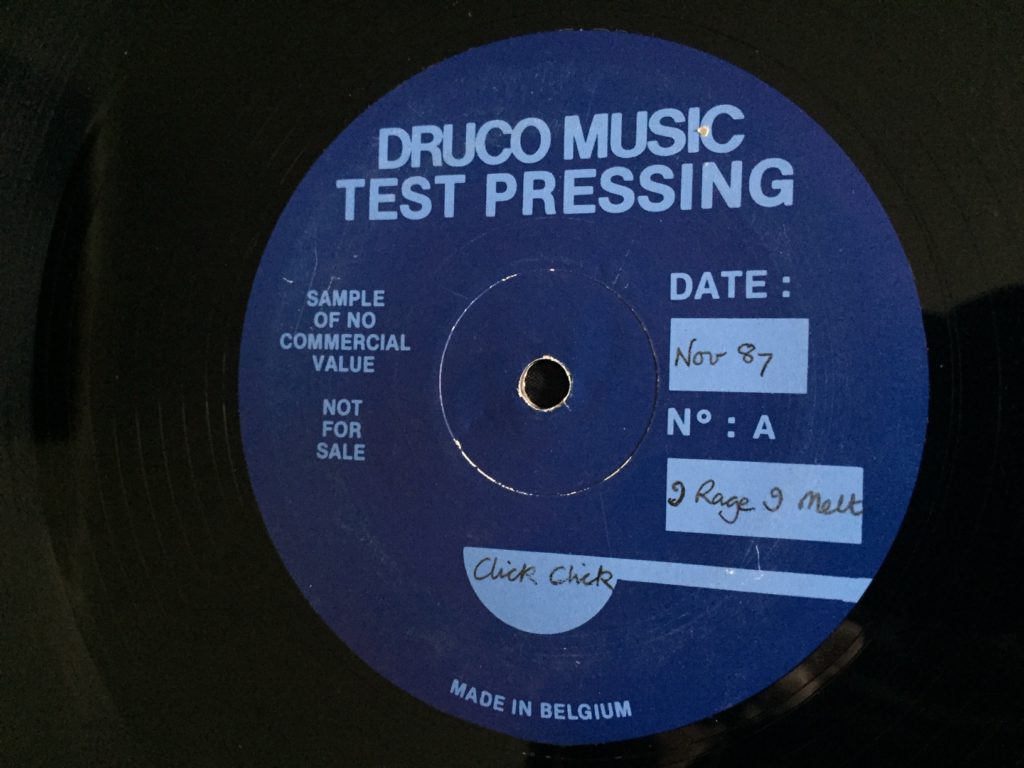 ---
19.47
LAIBACH – Geburt Einer Nation – 12″ – Mute – 1987
I remember John Peel playing this and having misheard some of the lyrics as 'Ein mann, ein ball' he was half seriously hoping it to be a football song. With Laibach anything was/is possible… including playing live in… North freakin' Korea… which they managed to do in 2015 – a bit of world tour stop not managed by too many other leftfield Western artistes.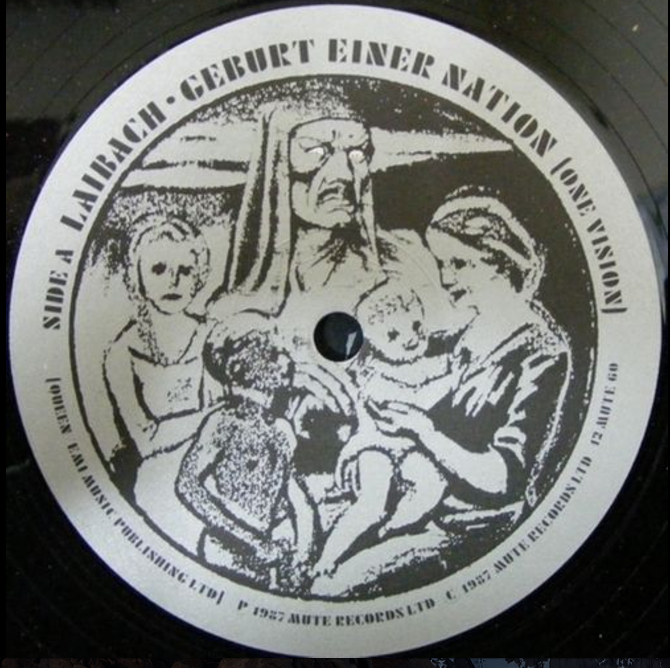 ---
23.55
LIONROCK – Lionrock (Most Excellent Mix) – 12″ – Deconstruction – 1992
UK progressive house in the early 90s definitely had its place. Big beefy tunes to groove to on a dancefloor. Job done. Mainstay of the label's operational side through its various eras has been one Mike Pickering of Hacienda, M People, Quando Quango and TCoy fame. A top bloke.
'Created by Manchester DJ Justin Robertson on his own (not that widely available) label, this dramatic synth blasts punctuated and Liquid Liquid 'Cavern'/Grandmaster Flash 'White Lines'-like bass rumbled percussively cantering 119.4-119.6bpm progressive house instrumental is coupled with the similarly throbbing but drier more truancy 119.7bpm 'Roots 'N' Culture (Part One)', punctuated by its reggae title line.' – James Hamilton, Record Mirror (Music Week), 26.9.92
'An instant Club Chart hit three months ago, when first on his own Most Excellent Recording Company logo, Manchester DJ Justin Roberston's dramatic synth blasts punctuated and Liquid Liquid 'Cavern'/Grandmaster Melle Mel 'White Lines'-like bass rumbled cantering percussive now 119.8bpm instrumental and its similarly throbbing but tighter truancy 119.9bpm 'Roots 'N' Culture' reggae title-lined alternative version are finally out fully, newly flipped by ska drumfills prodded breezier jangle 0-124.8-0bpm A Trumpet Jamboree in Edinburgh and A Dub-tastic Jamboree in Edinburgh remixes.' – James Hamilton, Record Mirror (Music Week), 28.11.92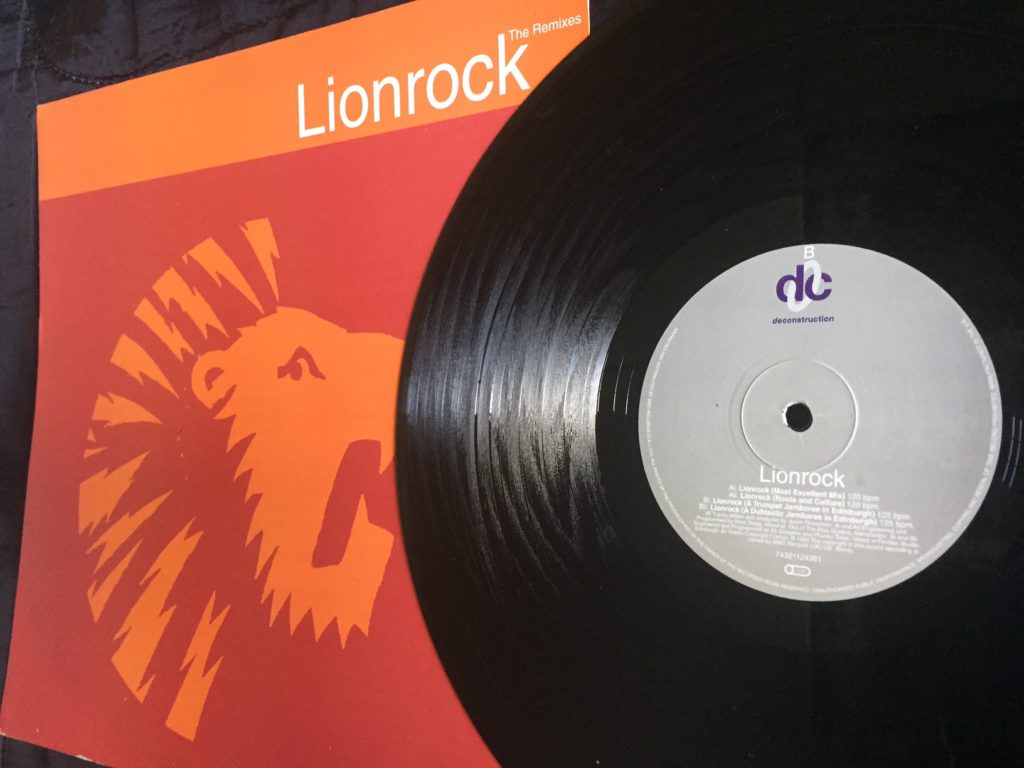 ---
28.20
THE CHAMELEON PROJECT – Fallen – 12″ – Guerilla Recordings – 1992
See first couple of sentences from above. Dick O'Dell's label could also knock out house from the grittier side.
'Created by D.O.P.'s Kevin Hurry & Kevin Swain, this whispered "feel" repeating simple synth burbled jiggly steady 123.5bpm progressive house throbber maintains a monotonously hypnotic groove, flipped by the "I have fallen and I can't get up" repeating more bouncily percussive but otherwise similarly mesmeric 121.7-0bpm 'Fallen.' – James Hamilton, Record Mirror (Music Week), 28.11.92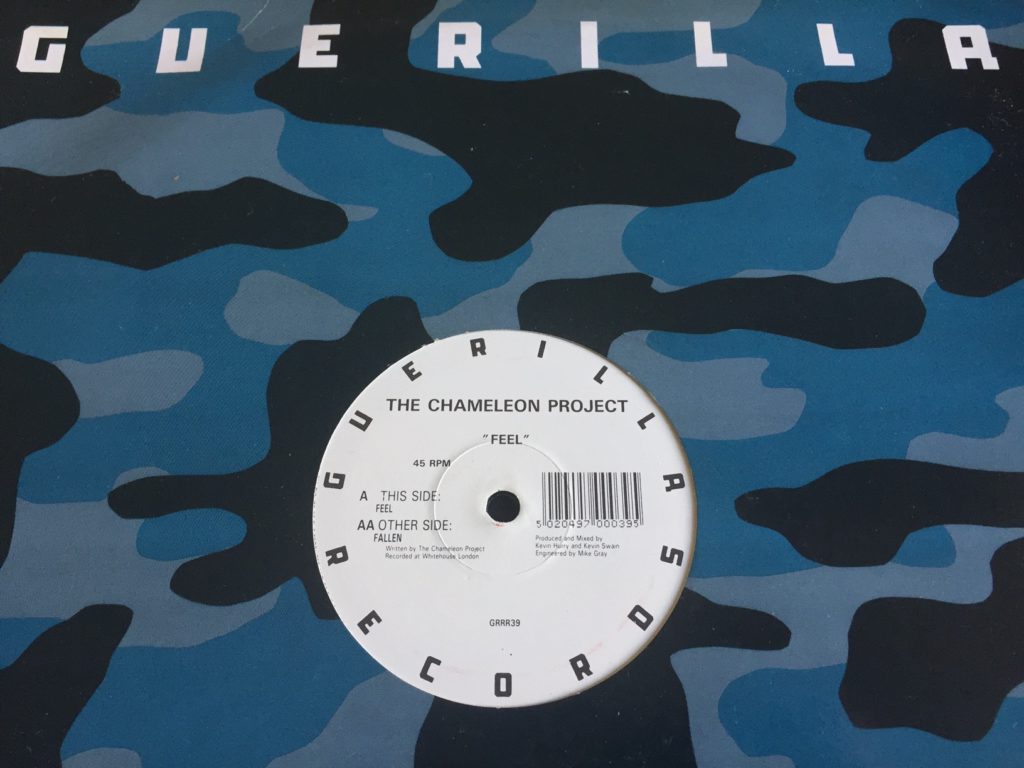 ---
35.06
RICHARD H KIRK – Freezone (Original Mix) – Virtual State, 2LP – Warp – 1994
The Cabaret Voltaire man excelling in solo mode in the early days after he and Mal parted company.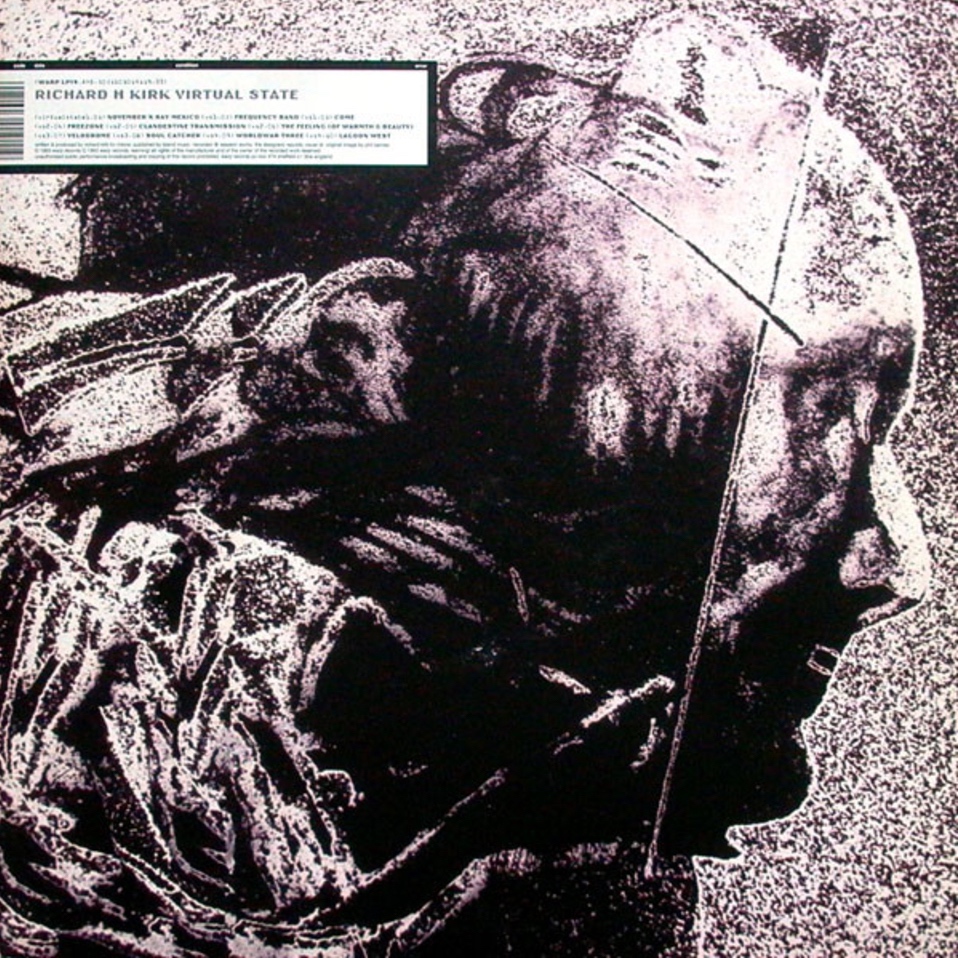 ---
40.25
SALI SADIBE & THE LONDON TO AFRICA ALLSTARS – Transitory World (Djen Magni) – 12″ – Sterns – 1993
The type of seemingly out of nowhere tune that just made me smile.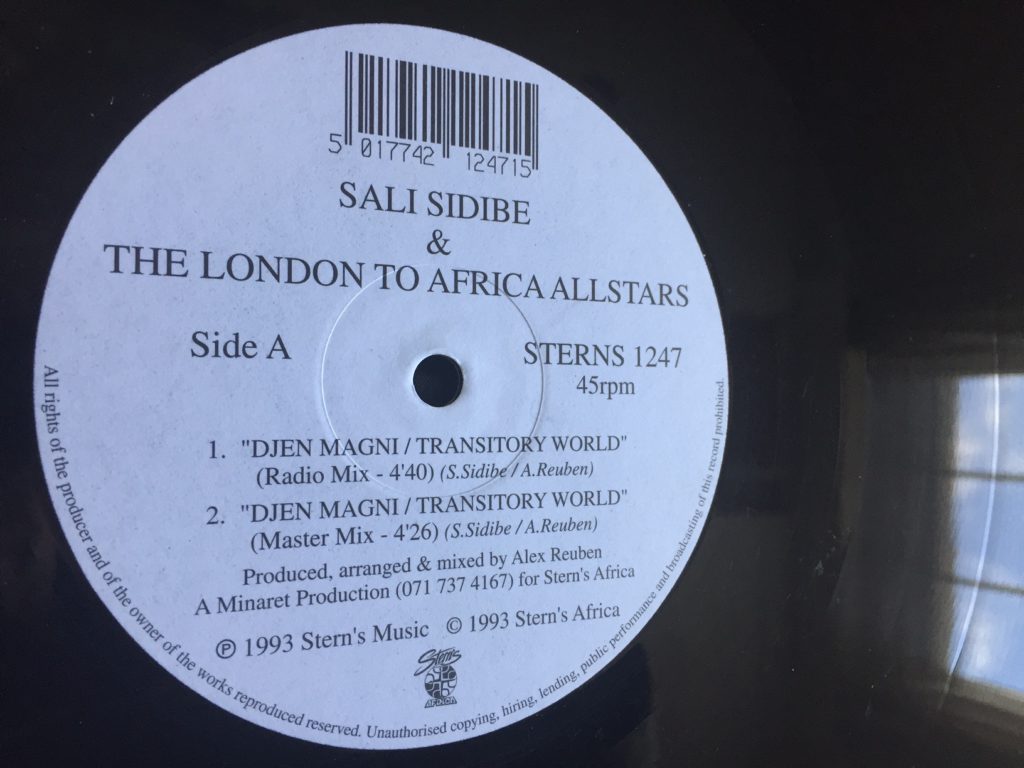 ---
44.35
THE CREATURES – Miss The Girl – 7″ – Wonderland/Polydor – 1983
The only single from the 'parent' and debut album, Feast, all of which was recorded in Hawaii – not somewhere you'd imagine that amount of black clothing being appropriate. Vibes? Xylophone? Ask Budgie.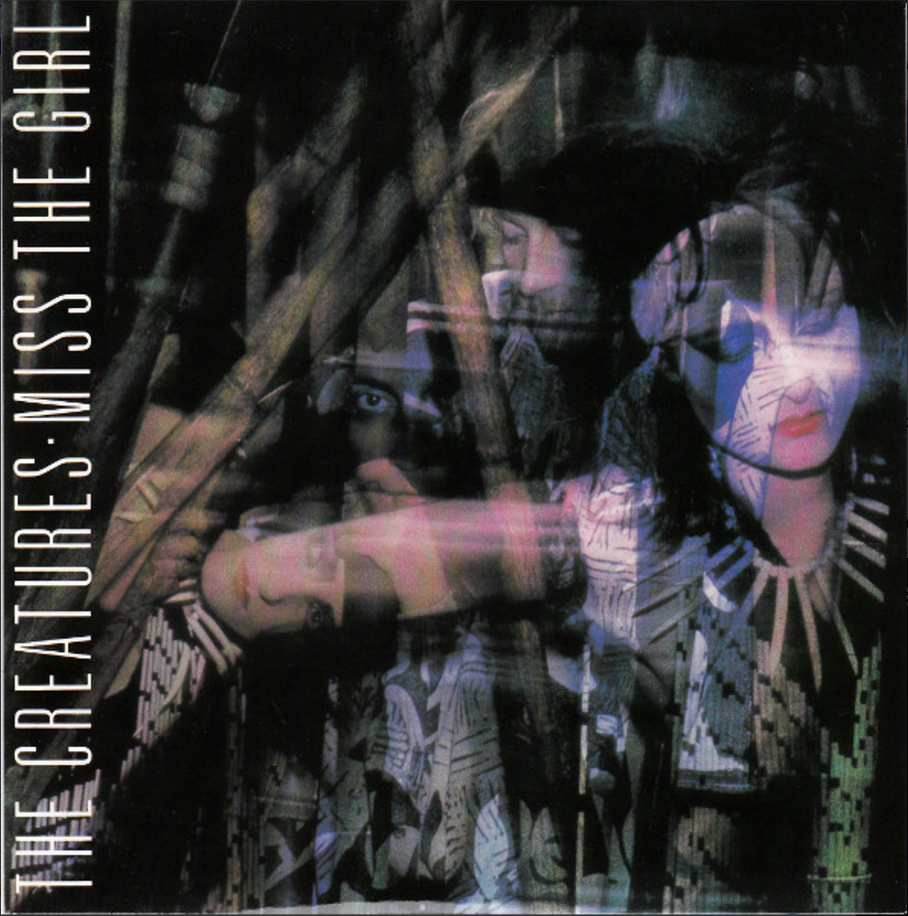 ---
47.14
DANIELLE DAX – Bed Caves – Pop-Eyes, LP – The Initial Recording Company – 1983
It's hoped the lack of a sustainable career in music doesn't completely kill the desire to be creative and Dax seems to have avoided that. 'At present Dax continues designing, painting and music making at her home in London were she lives with her husband Adrian and four cats' ends her website's present biog.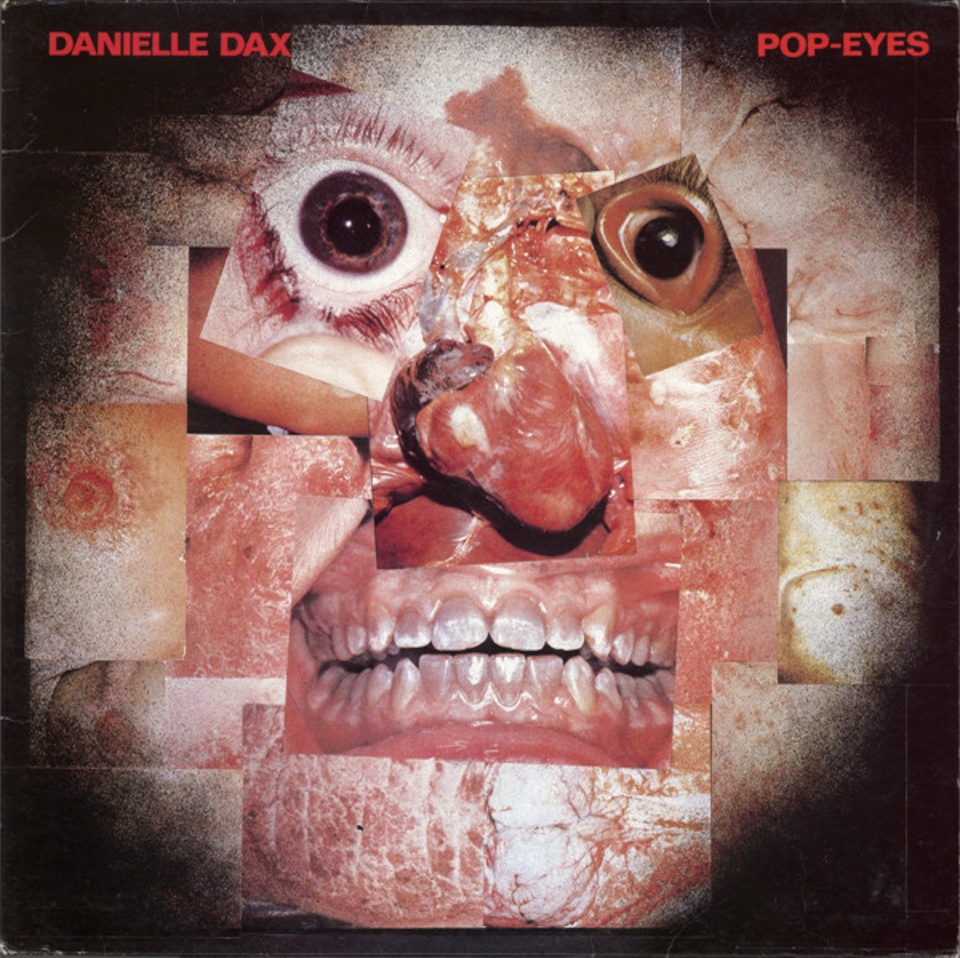 ---
50.12
BATTLES – Leyendecker – Mirrored, 2LP – Warp – 2007
Mirrored this set up certainly was.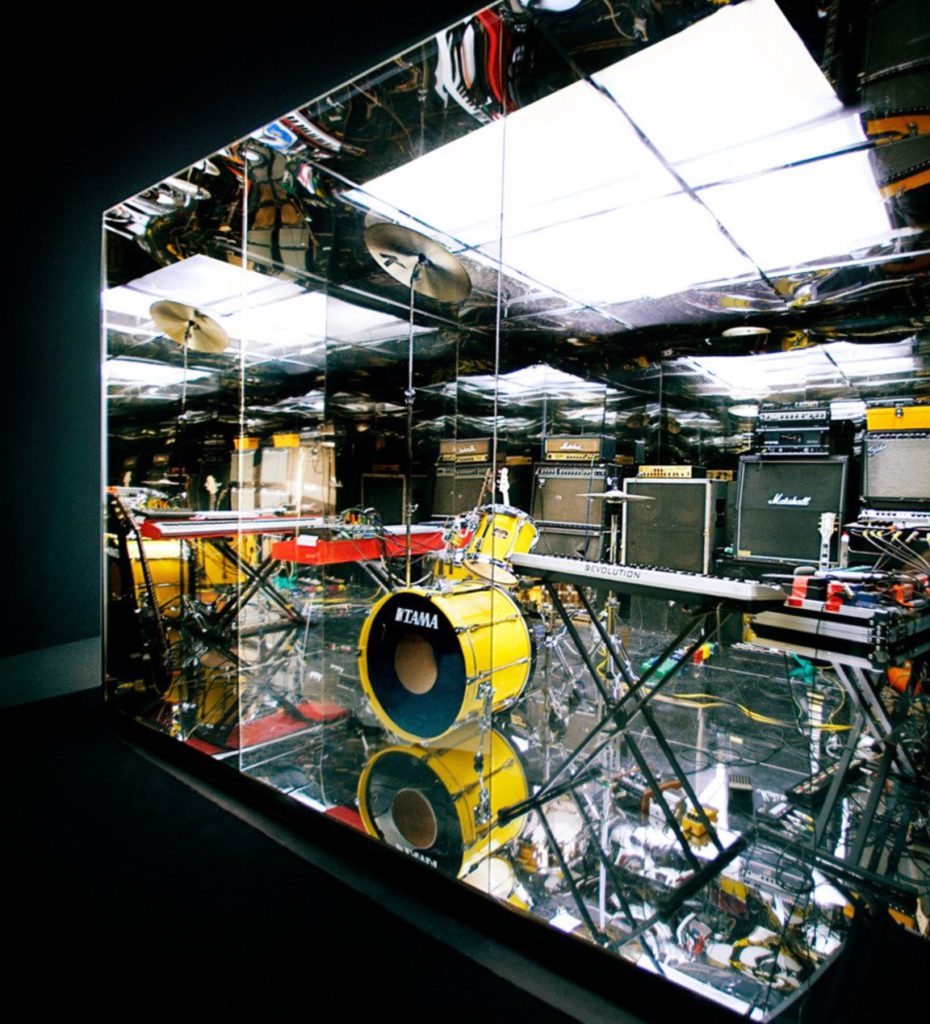 ---
52.52
FITZROY NORTH – White Paint * – 7″ – Tiburoni – 2012
Two groovy instrumentals for the price of one 7″ – both now played on 41 Rooms.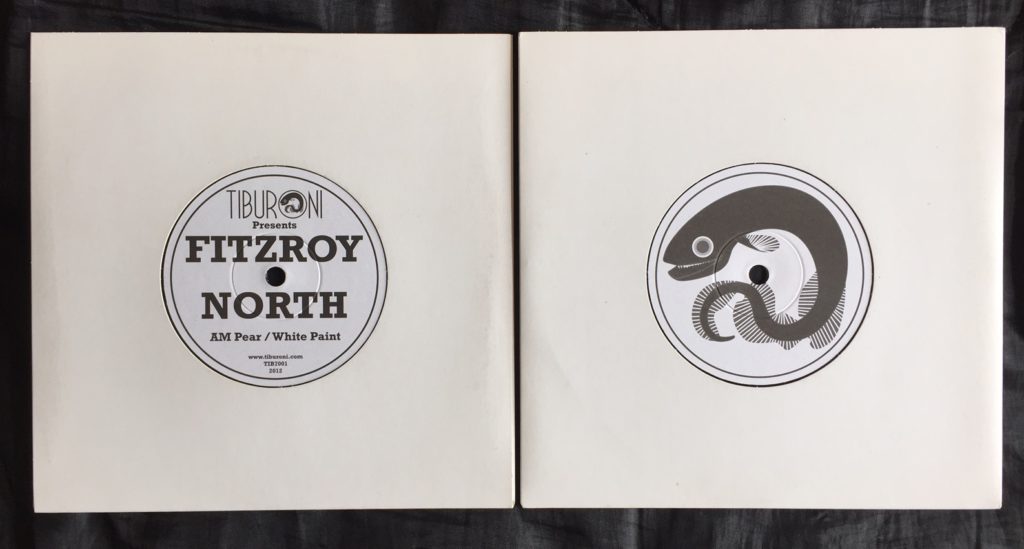 ---
55.56
PRINCE – If I Was Your Girlfriend – 7″ – Paisley Park – 1987
Some 'racey' lyrics that most probably didn't make it to too many daytime radio playlists.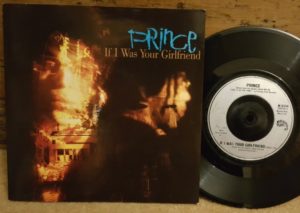 ---
01.00.27
THE FUNK BROTHERS (feat TRACY GRAHAM) – That's How It Feels – 12″ – Polydor – 1991
I knew Paul Graham very briefly around the time of this single and the adoption of the FB moniker was in homage to the same named group of sessioners that backed the Motown acts in the late 50s/early 60s. I remember around the same era as this 'very soulful single sung by a white girl', Kiss FM DJ, Bob Jones bemoaning the fact that there was a hint of reverse racism evident at certain British radio stations – and this track would have been just the sort to suffer.
'Masterminded by sultrily anguished Tracy's brother Paul Graham, in-store DJ at Kensington High Street's Hyper Hyper (and in fact originally labelled as being by Hyperfunk, which remains the producer credit), this sombre slinkily rolling groin grinder is in 98.75bpm Extended and 94.4bpm 7″ Versions. ' – James Hamilton, Record Mirror (Music Week), 2.11.91
---
01.04.53
ARTZ & KRAFTZ – All Of It (Radio Mix) – 12″ – Columbia – 1993
Sometimes stuff just makes you smile and this, melodically, was a big uplifting tune for me at the time.
'Soulfully moaning guys' bounding classy 123bpm All Nite Classic Mix and Dub, funkier slow jackswing-ish rolling 106.3bpm Radio Mix, moodier 104bpm Phat Mix and jolting 104.8bpm Instrumental.' – James Hamilton, Record Mirror (Music Week), 13.3.93
'Forget the A-side house mixes and head straight for the Radio (particularly firing) and Phat mixes o the flip, which have been building momentum nicely over the past couple of weeks. Artz & Kraft are four young guys from the East Coast of the US who combine samples from MC Shan ('The Bridge') and Cypress Hill ('Latin Lingo'), among others, with an infectious original song that's rich in vocals/harmonies and underlined with a chunky rhythm now essential for your swing collection.' – Ralph Tee, Record Mirror (Music Week), 10.4.93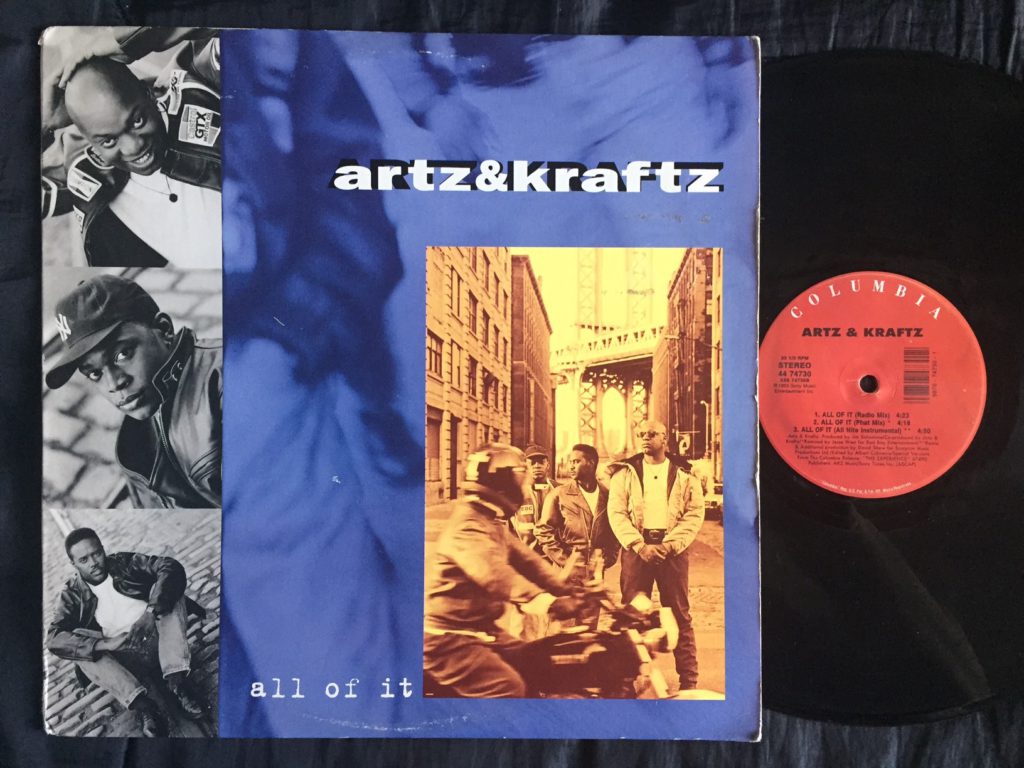 ---
01.09.01
FORCE ONE NETWORK –  Somethin' About You (Big D DJ Impossible Radio Edit) – 12″ – Qwest – 1992
Same as the above. R&B cheeriness.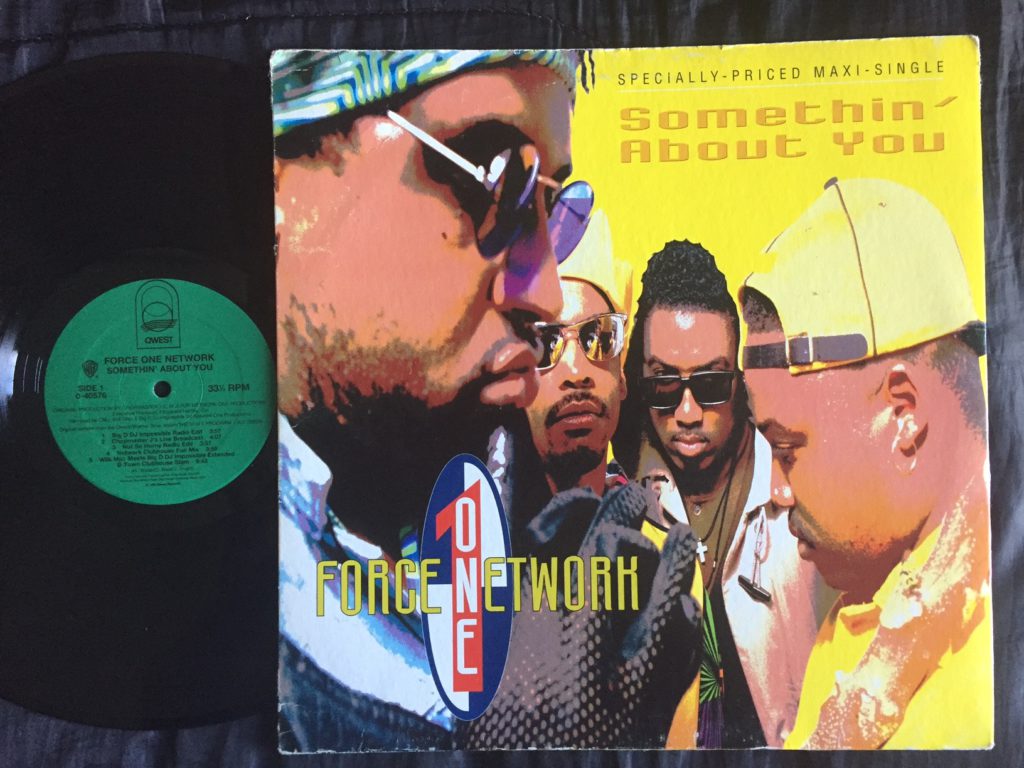 ---
01.12.32
MR. FINGERS – Alright – Introduction, LP – MCA – 1992
I mistakenly attributed this track to 'Larry Heard' on the show, rather than his Mr. F tag. It's a fine line, as he's produced quality under a number of aliases.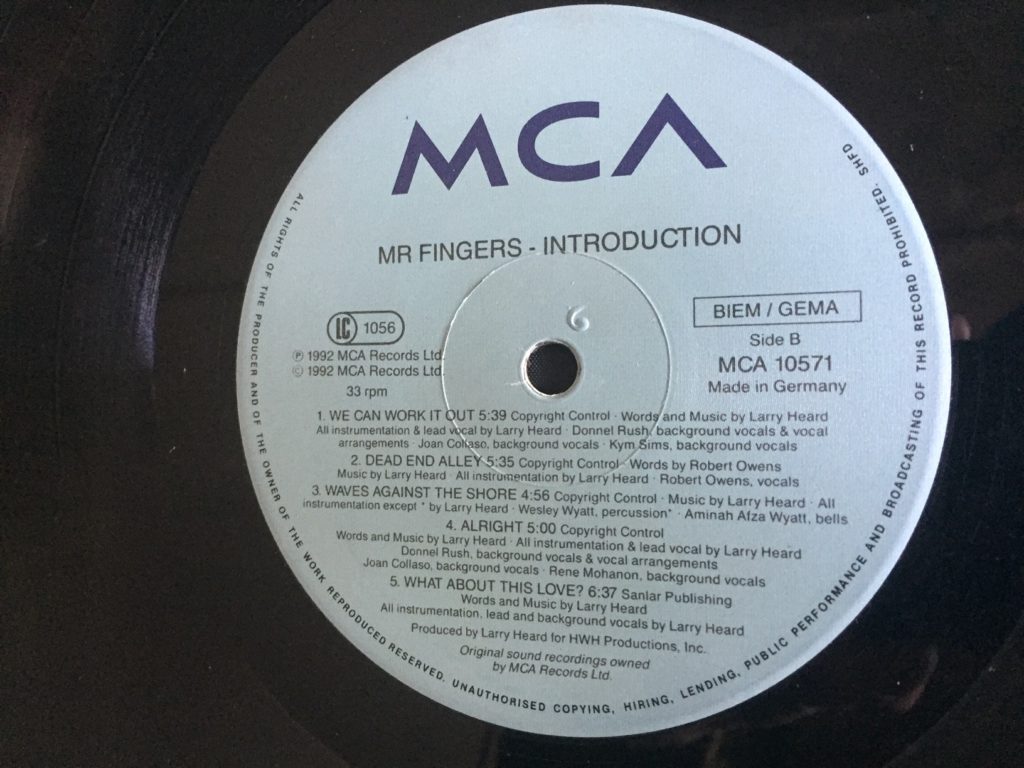 ---
01.17.18
THOMAS LEER – Virtual Girl – 1991, download album only (Bandcamp) – 2015
Even though the album was only released a couple of years ago, the recordings are, you may have guessed, from 1991 and therefore more akin the sound of Leer's more commercial 80s period, including 1985's The Scale Of Ten album.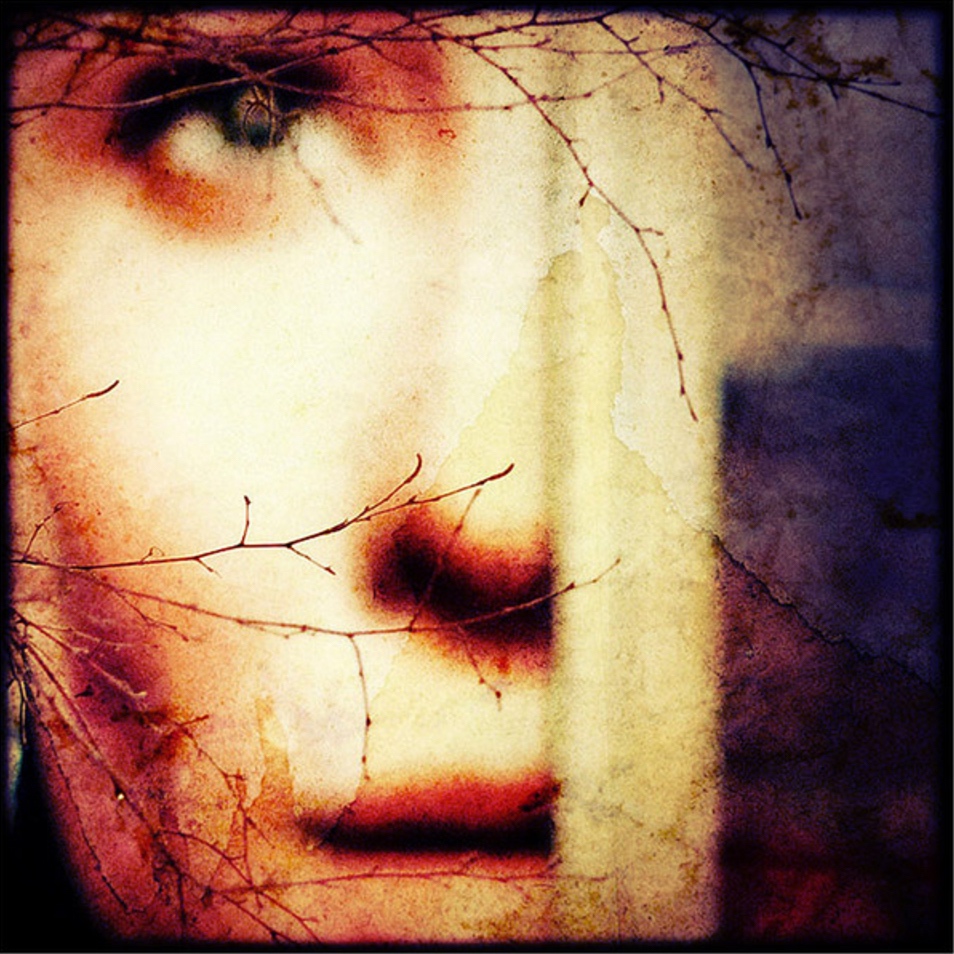 ---
01.21.36
THE NAUGHTIEST GIRL WAS A MONITOR – Only You Know What I Mean – ????
At a long glance, it would appear this is 'available' via Youtube only… and it's a bit of a lost beauty that seems to stand slightly adrift of their published early 80's output of just three 7″ singles… of which I, at the time, bought the first one. Not sure what's going on in this practically lone online pic of them but they strike me as having been outside bets in that there post punk world.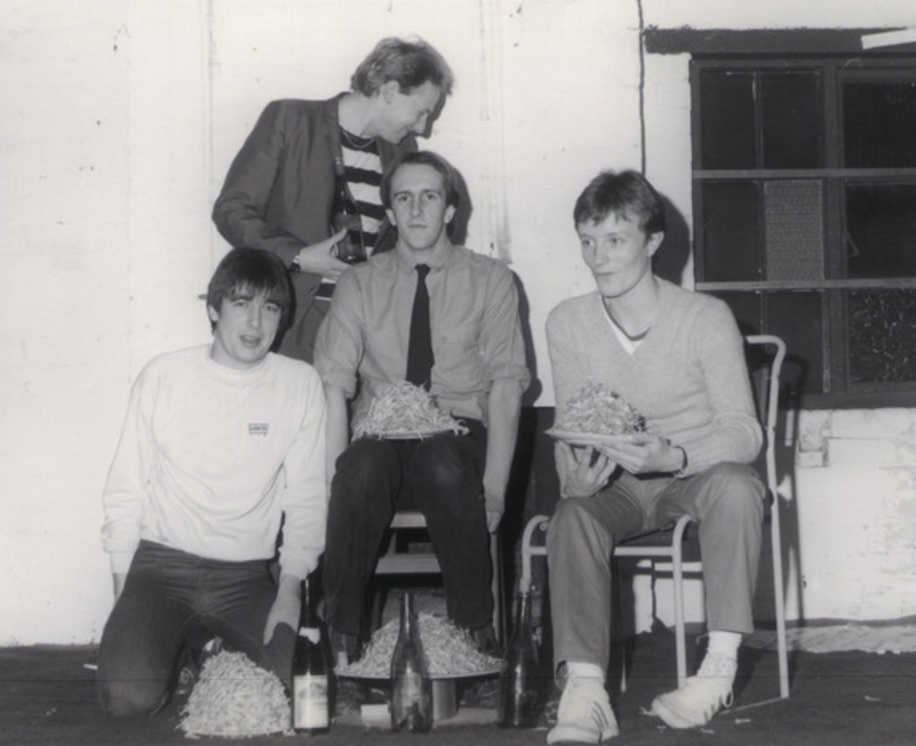 ---
01.24.51
STAC and BLUE DAISY – Wishing On A Star – Download only (Bandcamp) – 2014
It would be an easy mistake to make but in their Wah Wah 45s world and elsewhere, she's Stac and he's Blue Daisy, and yep, this track's sound was intended – a wonderfully fuzzy (when you acclimatise to it) and maybe brave, cover of a properly classic tune. Surprisingly, the few other versions of the song I've heard have all also made a more than reasonable stab at it.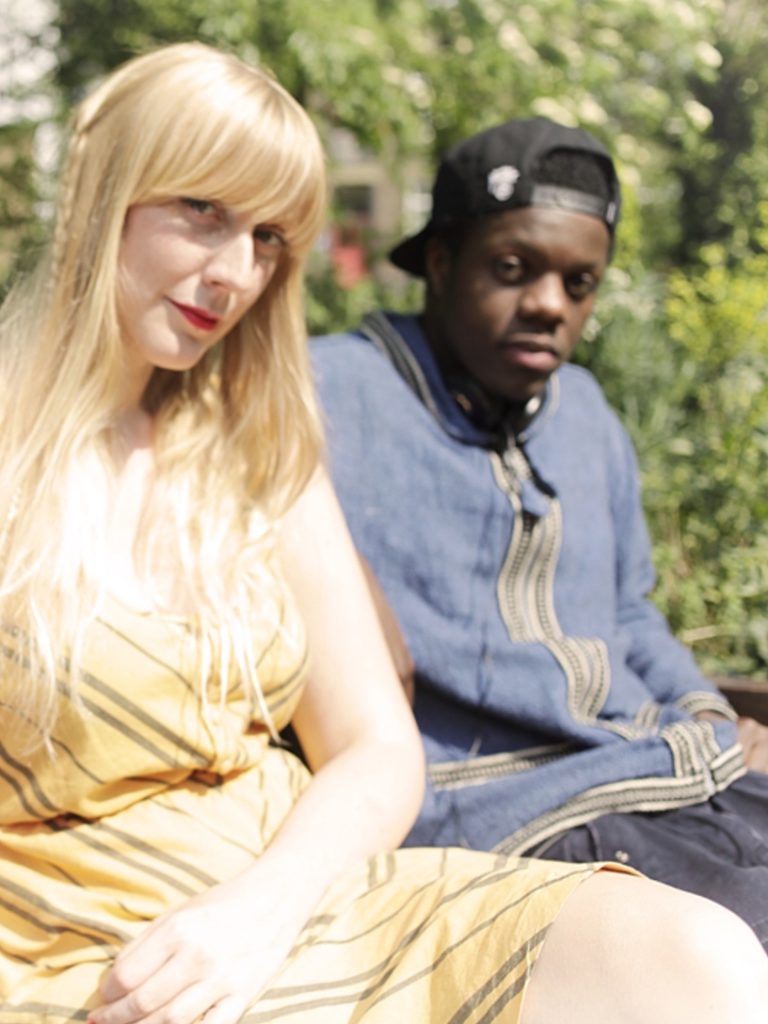 ---
01.29.15
A CERTAIN RATIO – I Feel Light – Mind Made Up, CD only – Le Maquis – 2008
Still doing it 'right'.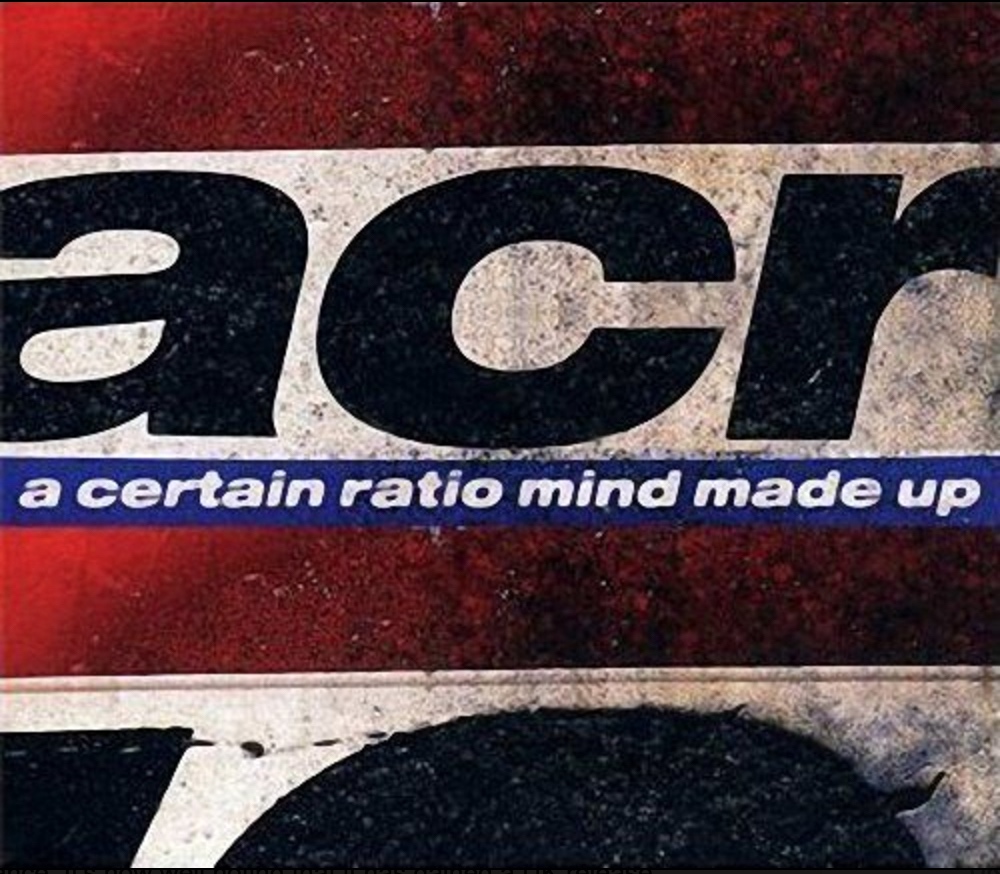 ---
01.32.28
SOFT METALS – Eyes Closed – Self-titled LP – Captured Tracks – 2011
Portland, Oregon old skool keyboard enthusiasts…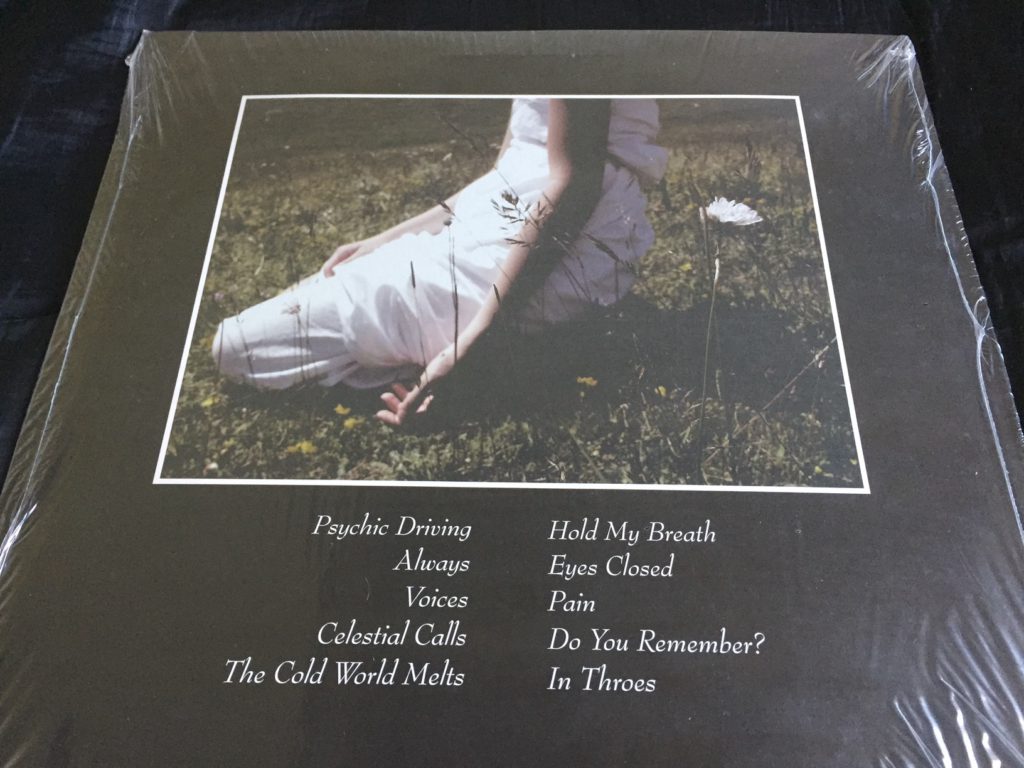 ---
01.36.57
SIMPLE MINDS – Sons and Fascination (John Peel session, 15.2.82) – New Gold Dream (81-82-83-84) boxset, 4CD only – Universal – 2016
Still cutting edge electronic goings on at this point… and here's a ropey but never published before photo I took of the 'Mindies' over 17 months before the above session, at their Hammersmith Palais, London gig, Aug 26, 1980.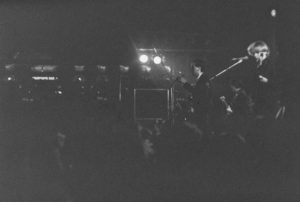 Photo credit: Dec Hickey
---
01.43.15
CHANGO – Caminando – Self-titled LP – ABC – 1975
A rainy, shivery and bleak northern England landscape doesn't breed too much Latin rock but a la Santana, El Chicano, etc., Californian sunshine in the mid 70s did.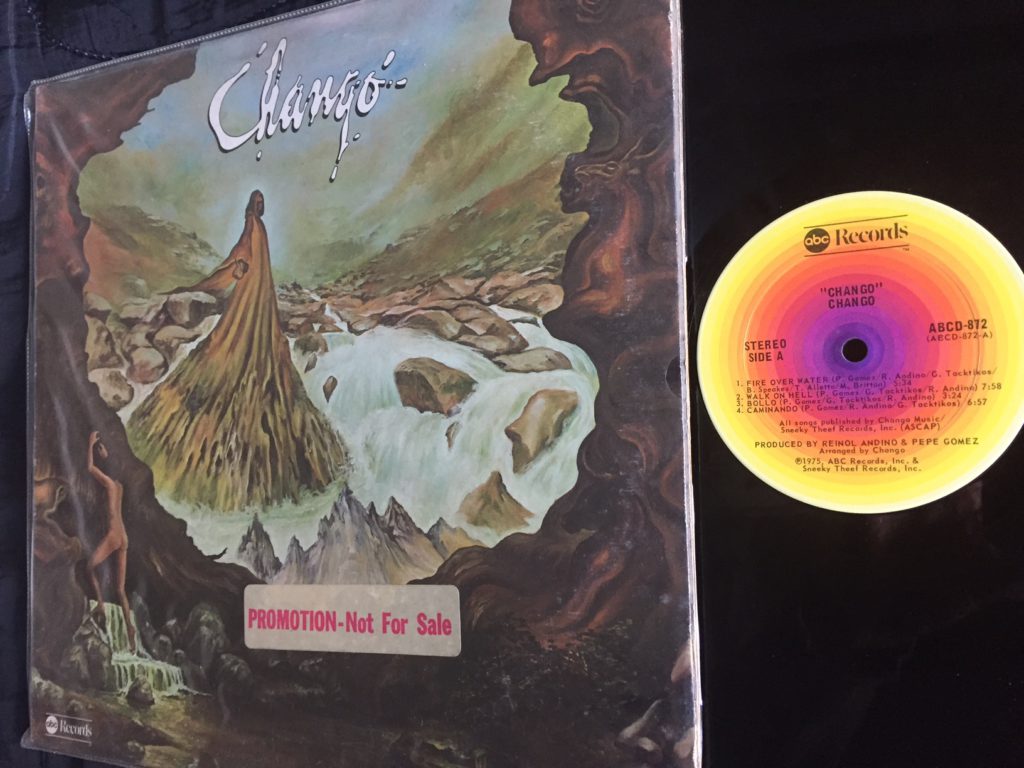 ---
01.48.58
SERGIO MENDES and BRASIL '77 – Love Music – 7″ – Bell – 1973
More sunshine sounds. Mendes is most probably glad he called a halt to the naming thing at Brasil '88. Sergio Mendes and The Noughties wouldn't have worked.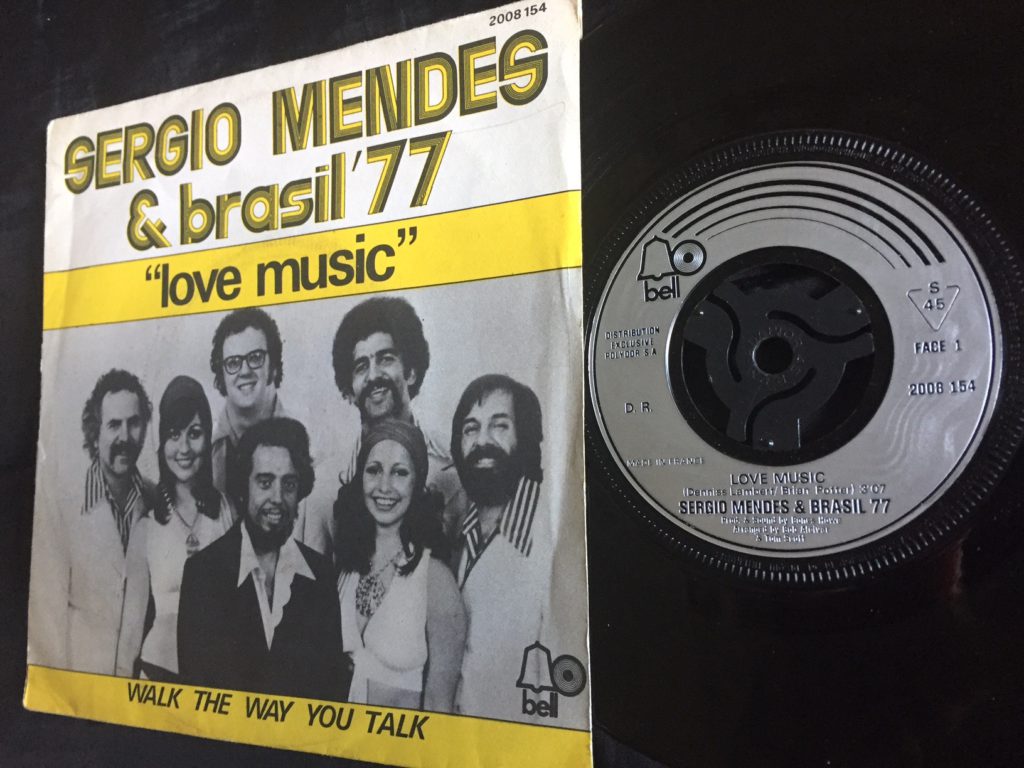 ---
01.51.43
SUPER FURRY ANIMALS – Northern Lites * – 7″ – Creation Records – 1999
And as Autumn is knocking in my part of the world, another summery sounding tune – albeit out of Cardiff. Any warmth at the Northern Lites? Dunno.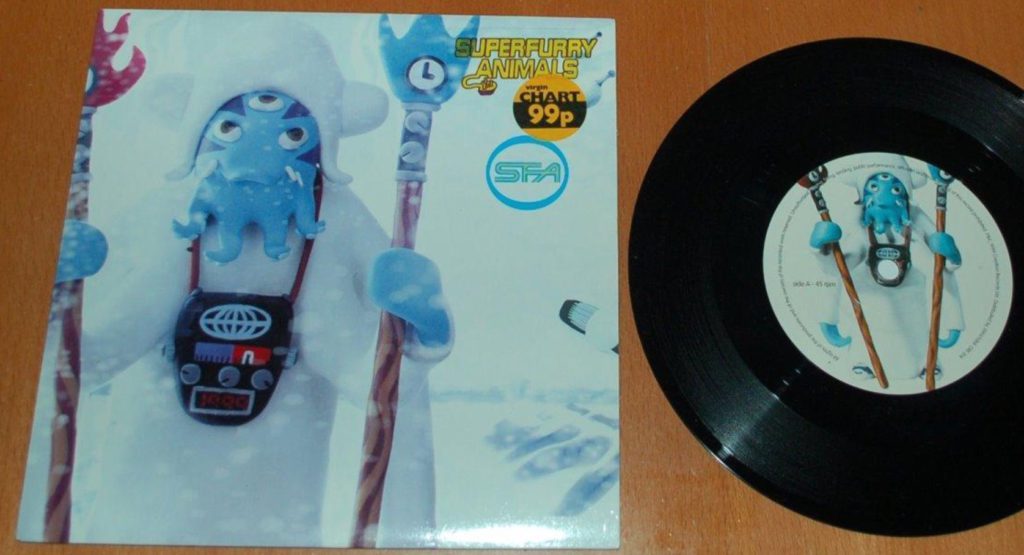 ---
01.54.57
ROBERT WYATT – I'm A Believer – 7″ – Virgin – 1974
Only two Wyatt tracks on 41 Rooms to date but they've both been absolutely inspired cover choices from the man. Somebody somewhere will know just how many artists appeared on Top Of The Pops in a wheelchair. It's at least one.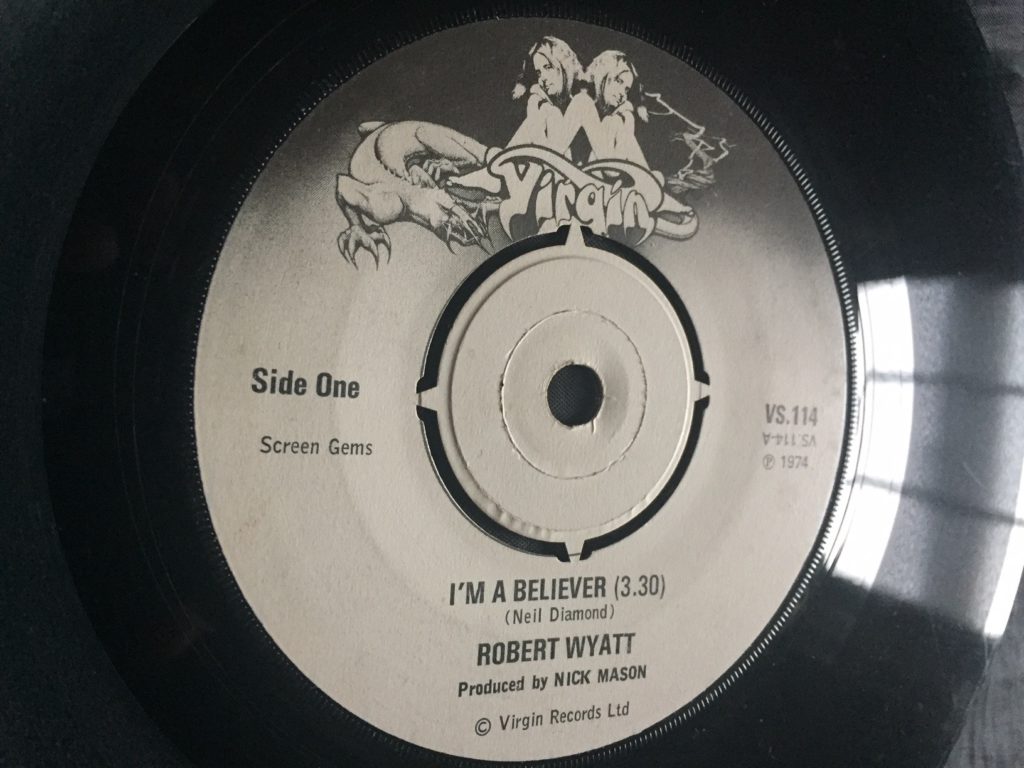 ---
I subconsciously got on a constant, uplifting vibe in this episode. Sometimes things just happen that way.
Dec