PLAYLIST 73 uploaded November 3, 2019
and is… 73% vinyl friendly! Not bad.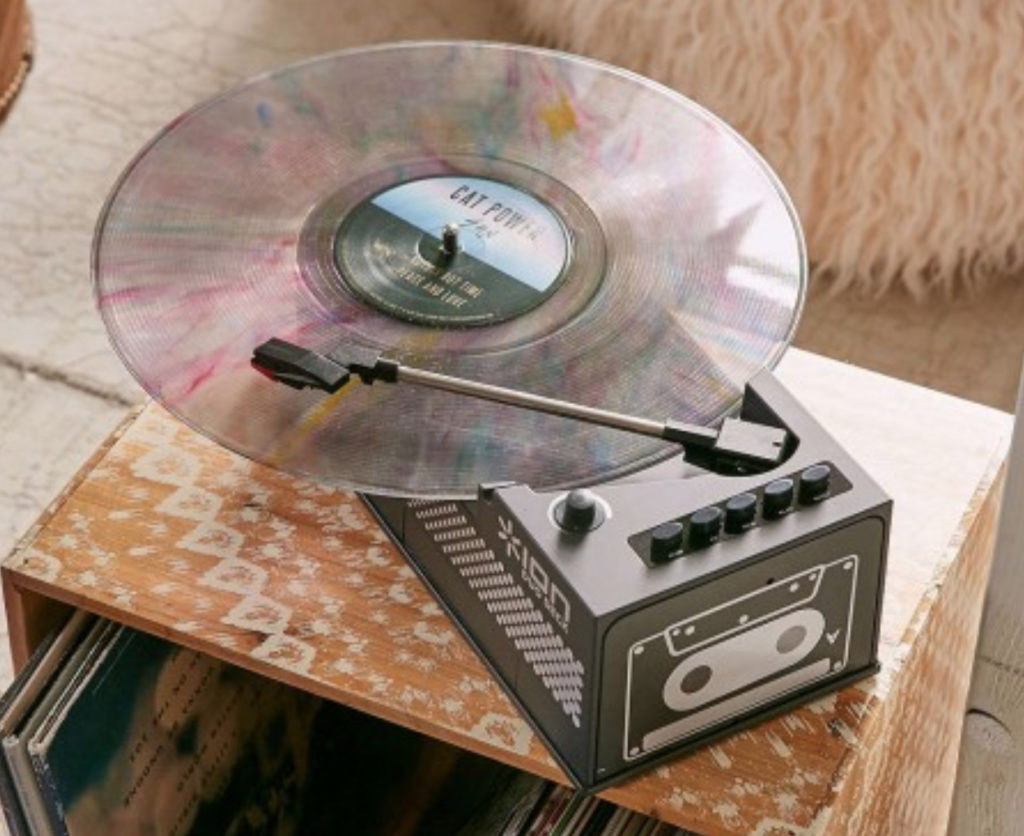 The above? An Ion Duo Deck Digital Conversion Turntable. $99 or thereabouts.
---
Be aware, a few of the tracks (cassette takes) are sonically challenged.
Lyric of Playlist 73….
maybe belongs to Ms Armitage. Ripping it up.
---
00.00
(Intro) THE FLAMINGOS – Stars (Edit) – Unreleased demo – 1983 Episode #1 for info.
---
00.41
NEW ORDER – ICB (Cargo Demo) (2019 Remaster) – Movement, Definitive Edition boxset – Rhino Records – 2019
Some might have heard these Cargo studio demos before in lesser quality, bootleg offerings but the clarity here brings new life to what was to be the working material for the band's debut album. Essential for the full on fan. For whatever reason, the recordings are also notable for Martin Hannett stamping less of his trademark style than elsewhere.

To be framed whenever. I hadn't seen one of these but apparently spotted in and acquired from a record shop in Cambridge.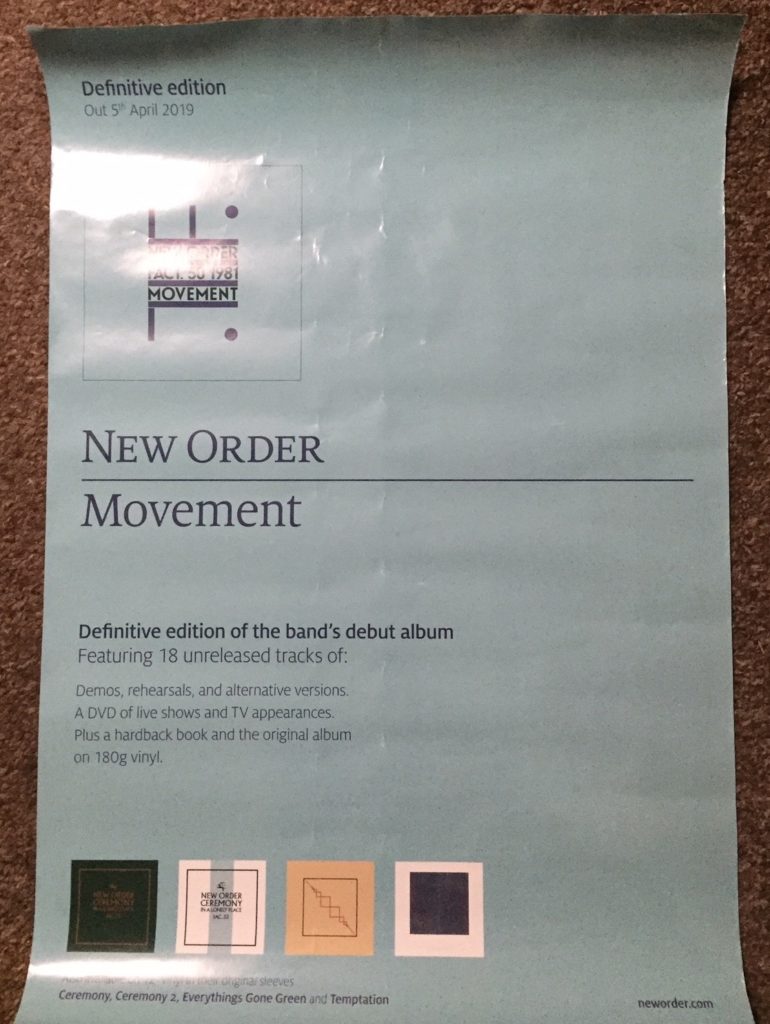 ---
04.59
BUNNYDRUMS – Win – 7″ – No label, self-released – 1981
As with so many, John Peel introduced these US new wavers to me, albeit a couple of years after this their debut single had passed me by. If they sent him a copy he most probably played it as well, though. Nailed on post punk.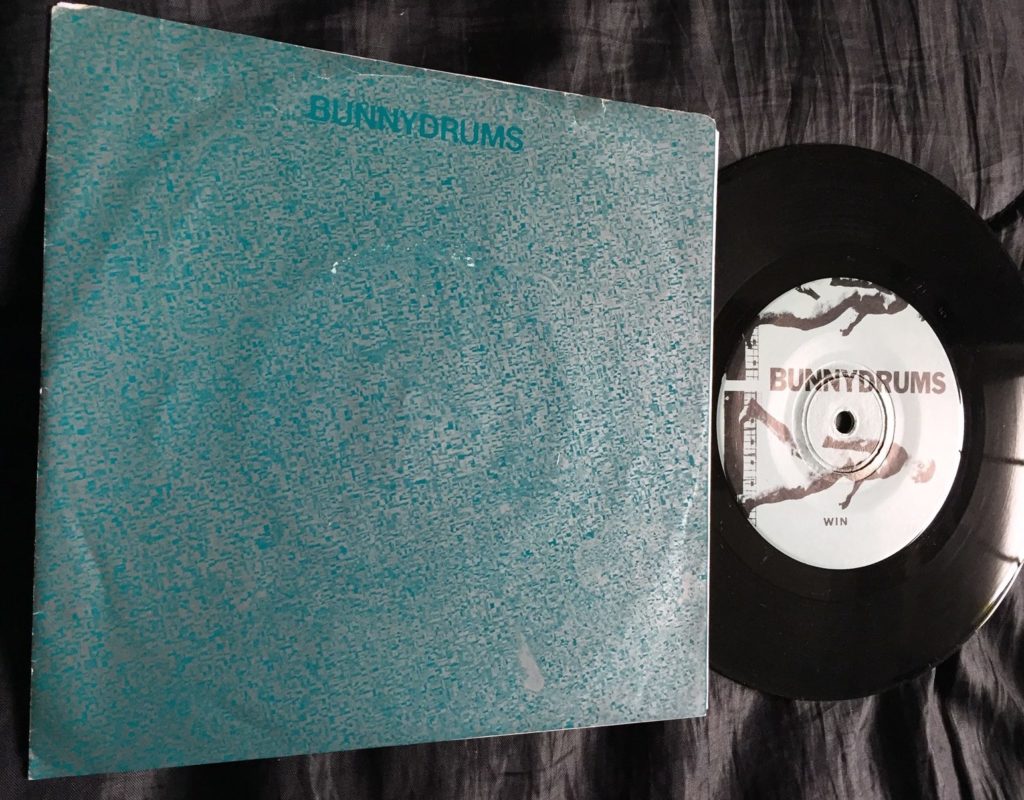 ---
08.21
CLOGGED COG – The Taker (Live) – Resonance FM session only – 2018
And nearly four decades on, from a live session for the always-worth-keeping-an-ear-on Resonance FM, a not too dissimilar sound to the one above – and you can check out this very performance on Youtube, where the station has a good number of their session guests represented. Clogged Cog? This is the content on their website's About page. Something in the water, possibly.
'Brought together through mutual hateful things, Al, Pete and Mego are the real deal. Dickinson's real deal, if Dickinson was in the motion and the deal was success.
'Their sound is developed. The look is finely tuned. Splicing milk atoms to reveal the music of the curd. Plump hot rounded music that threatens the soul. If you listen to one song the space is not paper. Nor is it not make. Nor is it a turmeric. It is hot yet buff. It breaks you down, looks in your eyes because you are hopeless. It circles the fear that you call home but doesn't care if you never see it again.
'You scratch the ground for your ear. Young boys sit on beaches where we work and play. They wait for tunes to be delivered on small plates made of sulphur. Lest we forget, Courtauld weeps for lost days. Surrounded by your worst fears, it all becomes too real. Now pull up a chair and sit there. We'll tell you when to move.
'Watch a professor sucking splinters. It's not worth it but you have no choice'.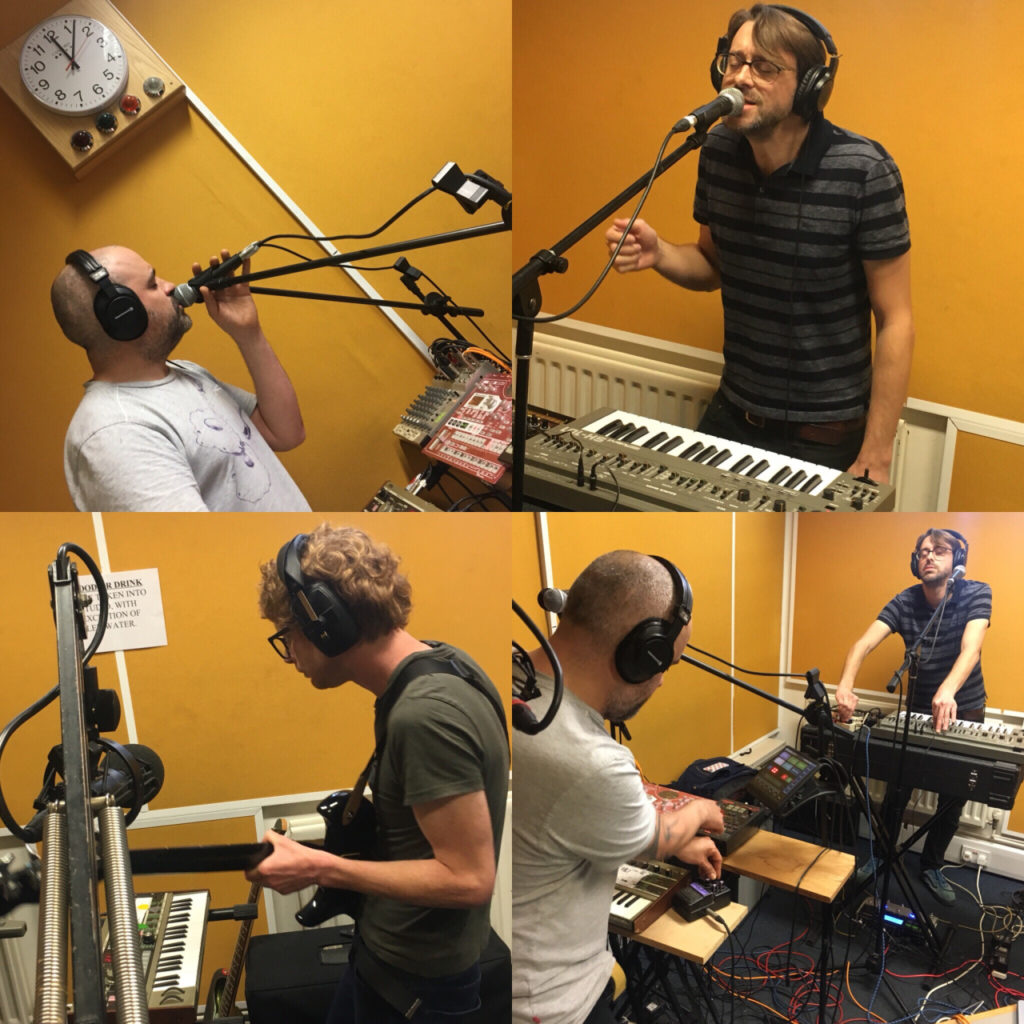 ---
13.26
DAVID BYRNE and BRIAN ENO – Help Me Somebody – My Life In The Bush Of Ghosts, LP – Sire – 1981
Two major talents coming from different angles, with a singular vision. As much as the idea of back-dropping found voices with beats and things wasn't new, this album was still a tour de force. It sounds no less so now.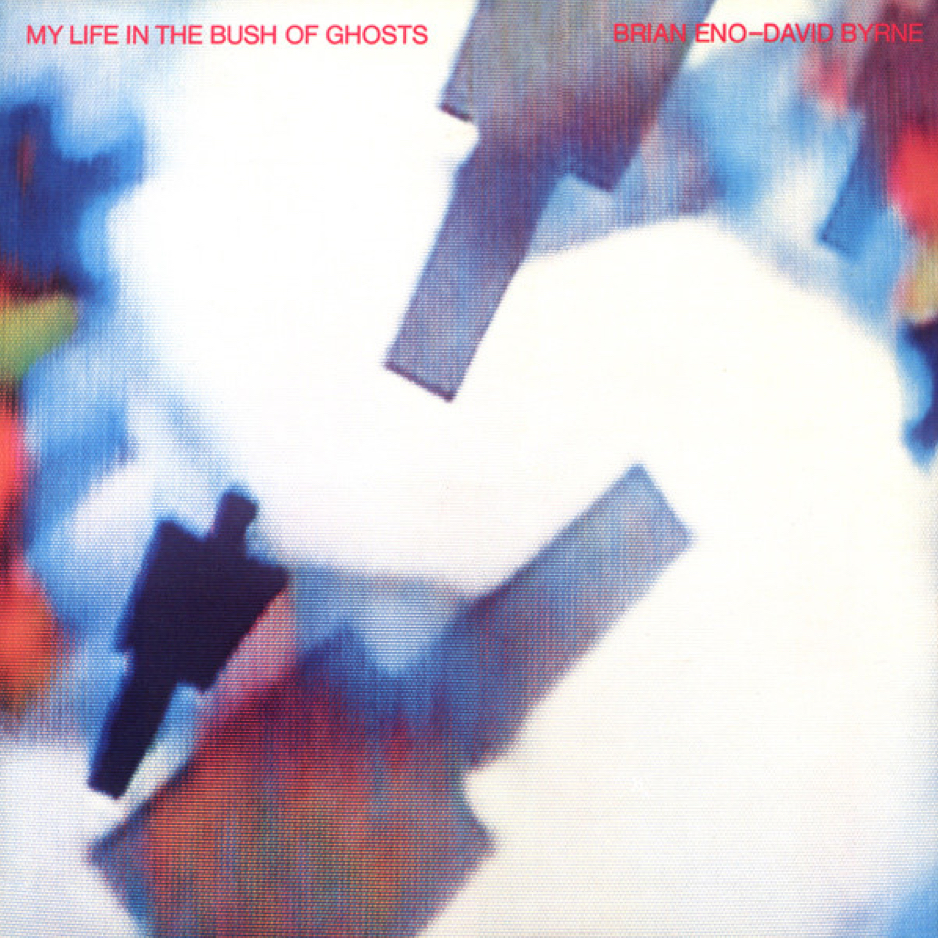 ---
17.24
NILE MARR – Part Time Girl – Download only (but it reeeally should be on a 7″!) – 2019
He's inherited his dad, Johnny's melodic sensibility. 🙂 Sparkling indie pop.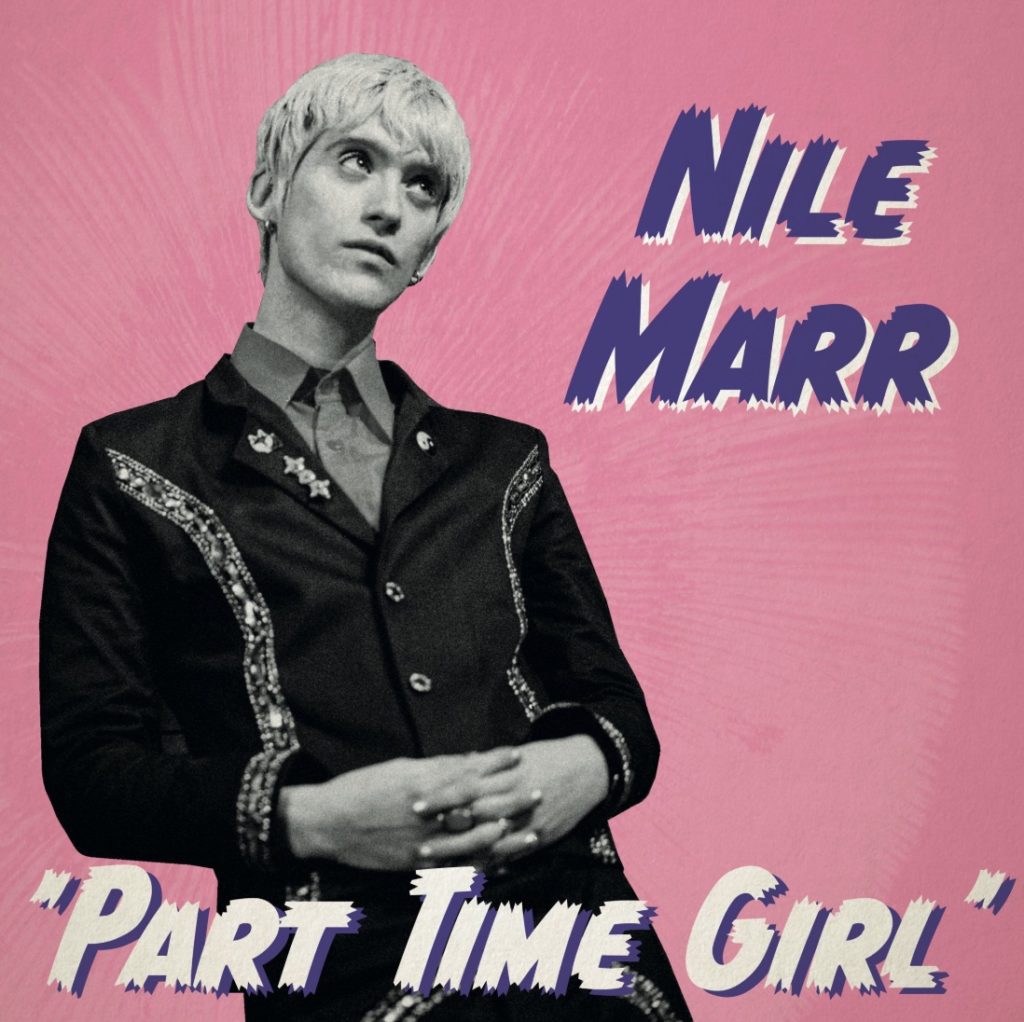 ---
20.37
THE LAST SHADOW PUPPETS – Standing Next To Me – 7″ – Domino – 2008
Bugger! Wonderfully performed on the Jonathan Ross (TV) Show at the time, I was niggled for years as to what this song reminded me of. If I had clocked it by the time I was compiling show 23, it would have been sat right next to its bastard brother (or should that be grandad), Love's Maybe The People. 🙂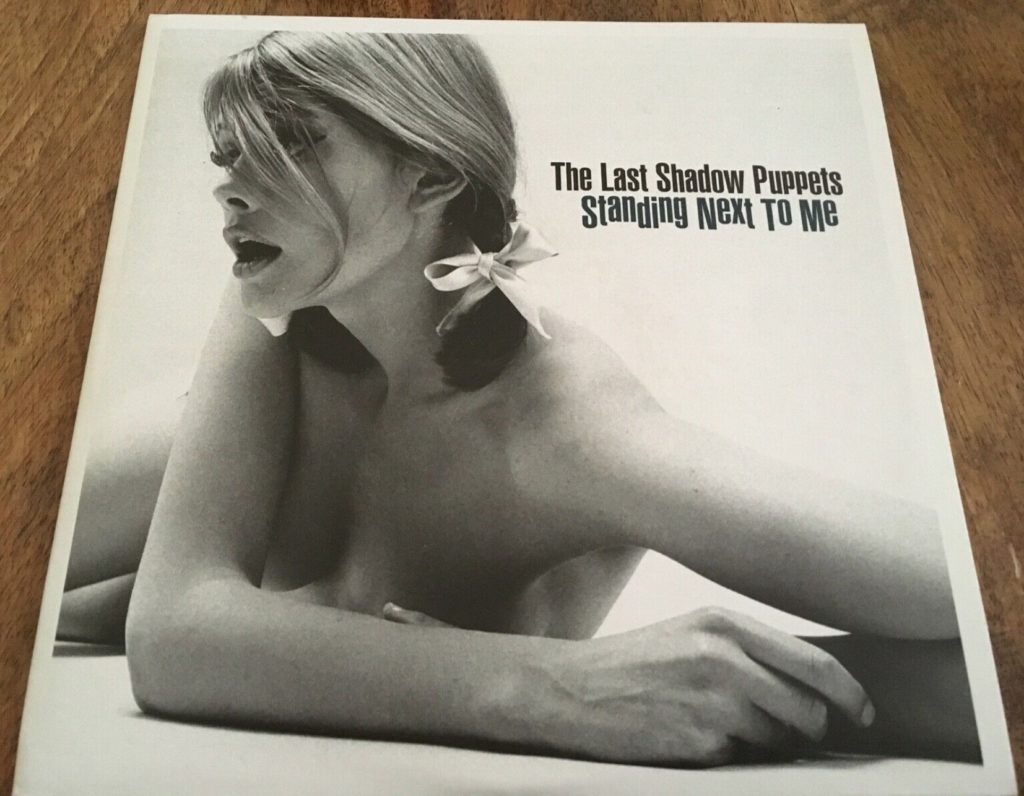 Instead, we'll change tack.
---
22.46
RONI SIZE (feat JOCELYN BROWN) – Sing – 12″ – V Recordings – 2005
House, drum and bass and other faster BPM genres in the nineties and noughties benefitted massively from hooking up with 'soul belters', none more so than Size racing Brown to the finishing line here. Breathtaking (maybe literally!) and a coupling that will be back here.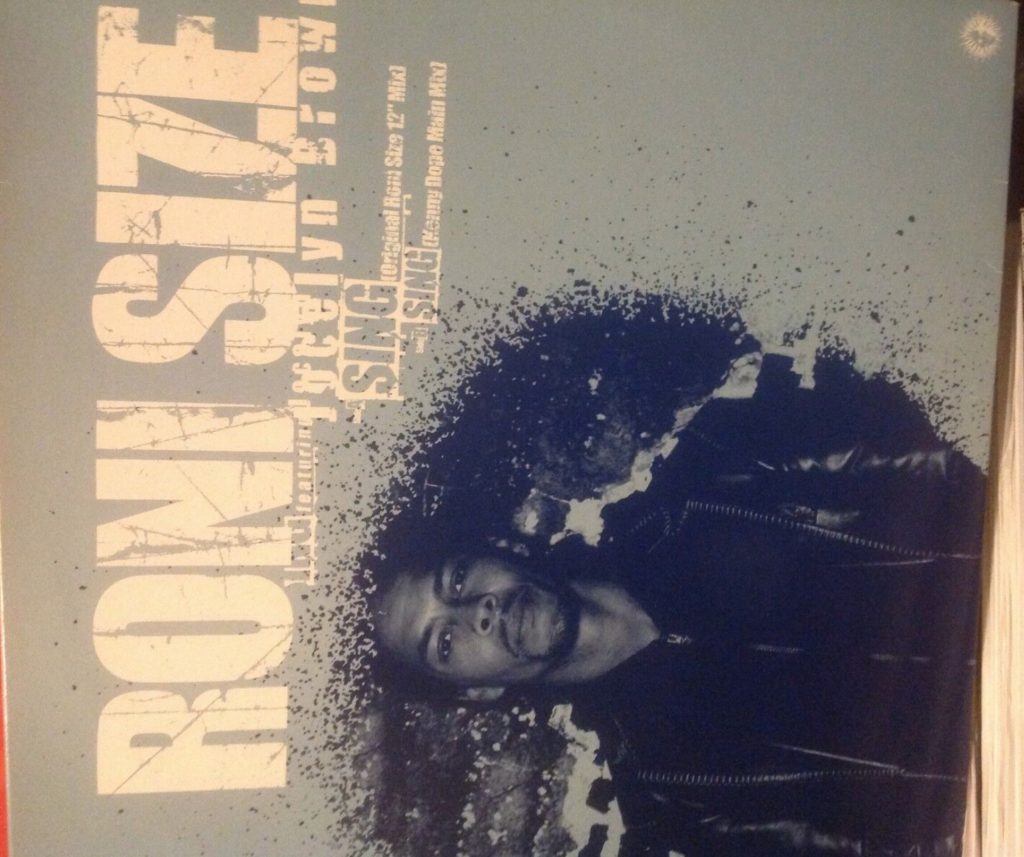 ---
27.59
LONDON ELEKTRICITY – Hanging Rock – 12″ – Hospital Records – 2005
To be honest, this track could have had any found sounds 'wordage' dropped into it but as Picnic At Hanging Rock was a fave film of mine this one gets extra Brownie points. When I think of bodies dancing to d&b I remember a certain Lazy Sunday, a free one day mini festival that used to be held in Bedford in the eighties and nineties. There was a blistering d&b beat going on mid afternoon and this one girl was oh-so-slightly slinkilly shuffling – at half speed and in a world of her own… and she looked brilliant doing it!
---
33.46
ROBIN TROWER – Caledonia – 7″ – Chrysalis – 1976
A major swerve from the above and with the late Jimmy Dewar on vocals this… is… rocking!!! I suspect I was in the minority but in my rock youth it was Dewar that was very much the highlight in this partnership.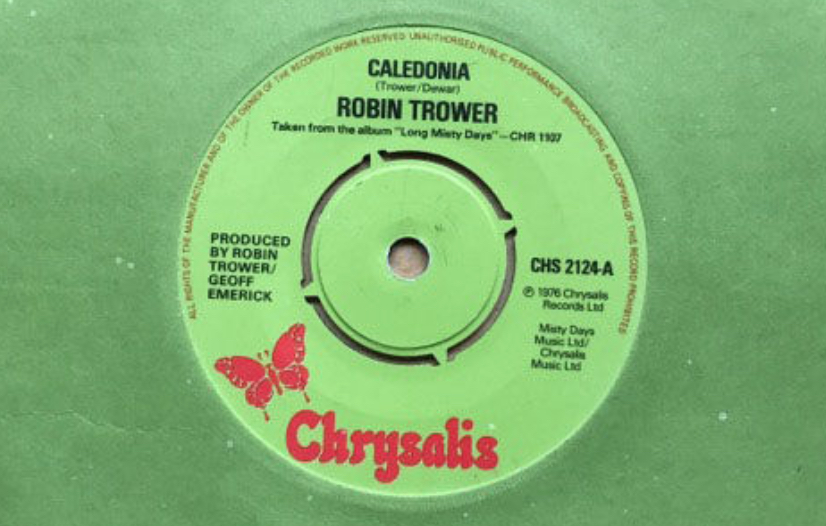 ---
37.16
THIN LIZZY – The Rocker (Single Edit) – 7″ – Decca – 1973
Sizzling! Do I still love this, too… and if they performed it at Bedford T(eachers) T(raining) College in Sept '74 I would dearly liked to have even the slightest memory of it.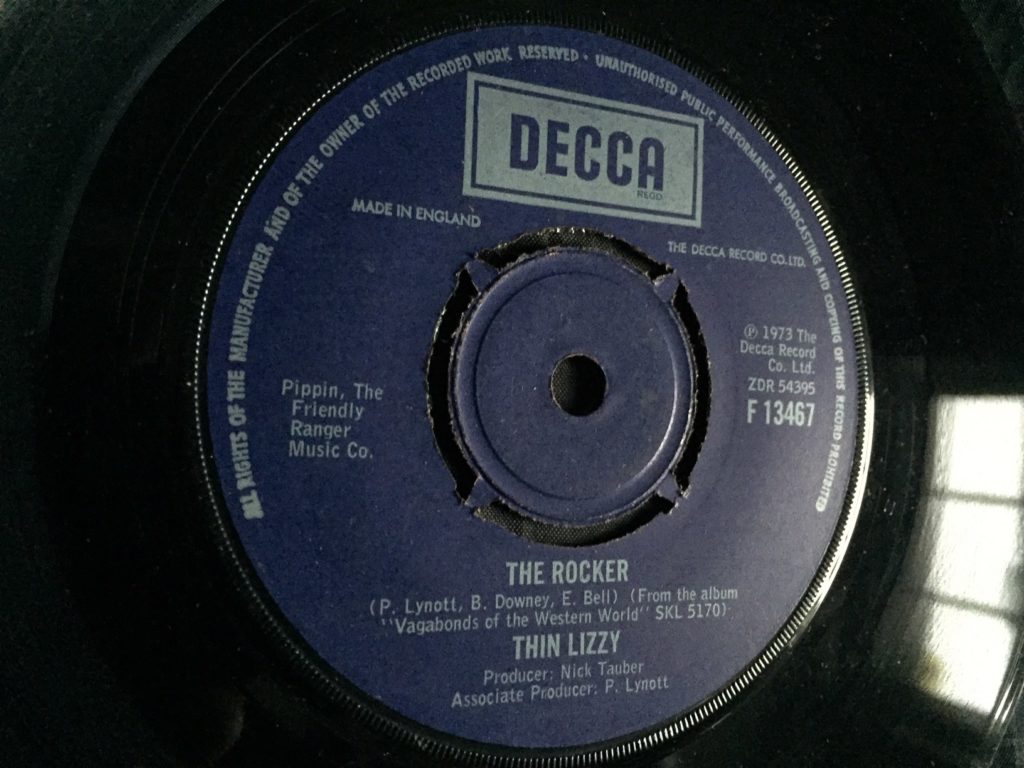 ---
39.51
BIG BLOOD – Our Love Will Still Be There – The Daughters Union, LP – Feeding Tube Records – 2019
Two years on from the album's initial release, a first vinyl run – 250 copies only – and Colleen soars triumphantly through the Troggs' cover. A very fine choice.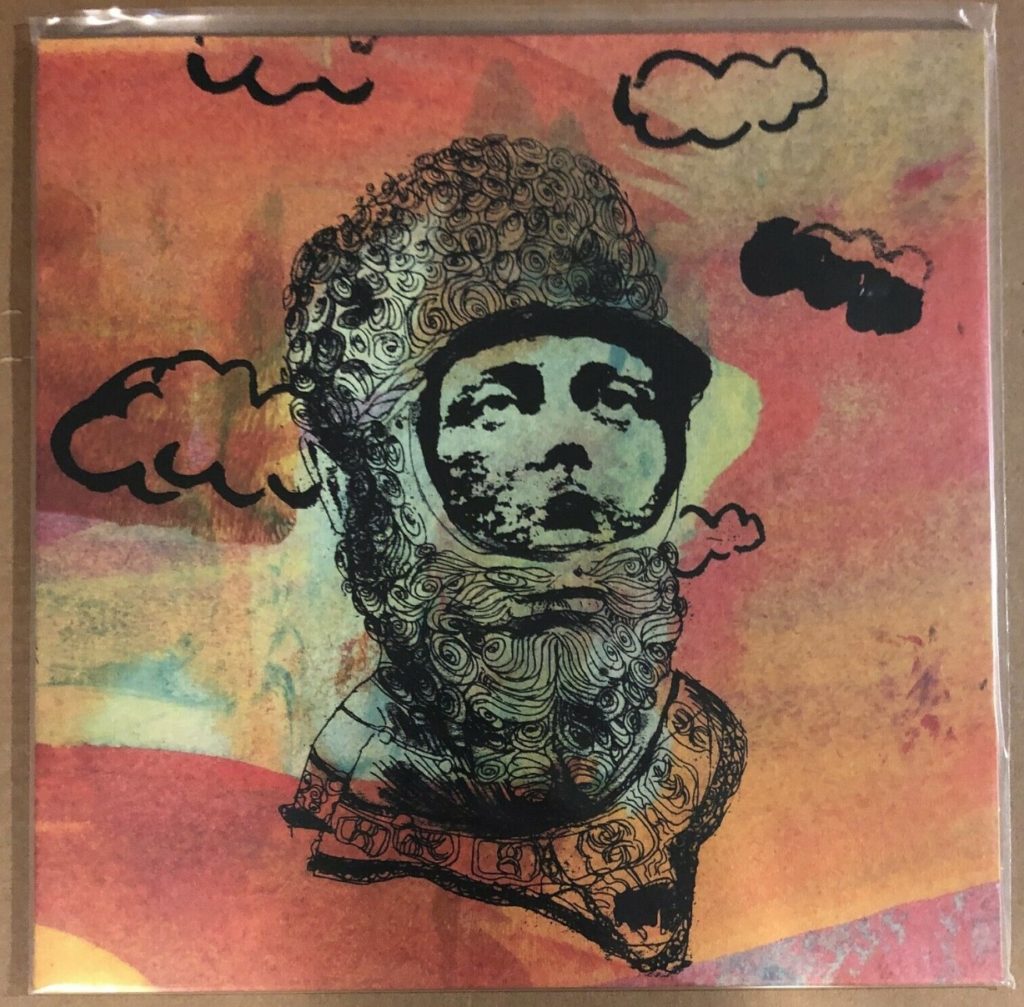 ---
43.03
DJ SHADOW – Six Days (Soulwax Remix) – 12″, single-sided promo only – Mo-Wax/Island – 2002
Josh Davis's remix buddies throwing a 'punk pop' feel behind a particularly interesting vocal 'idea' of his. Search out the story.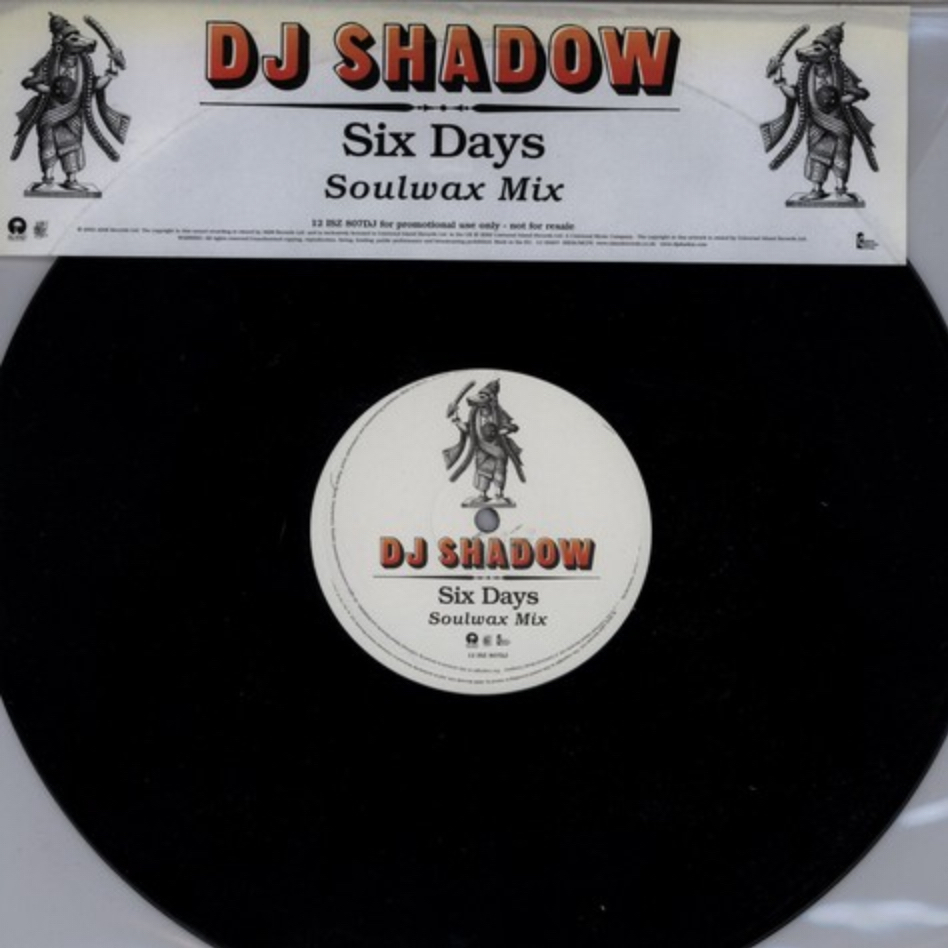 ---
47.38
THE B-52s – Rock Lobster – 7″ – Island – 1979
When they surfaced they had such a unique sound, and maybe even more of an effect in the UK. The look, the vocals, the songs… nobody quite like them. I have to admit though that at our club back when, with other DJs taking up the reigns with Rock Lobster, I was always on the case with other tunes in the band's catalogue.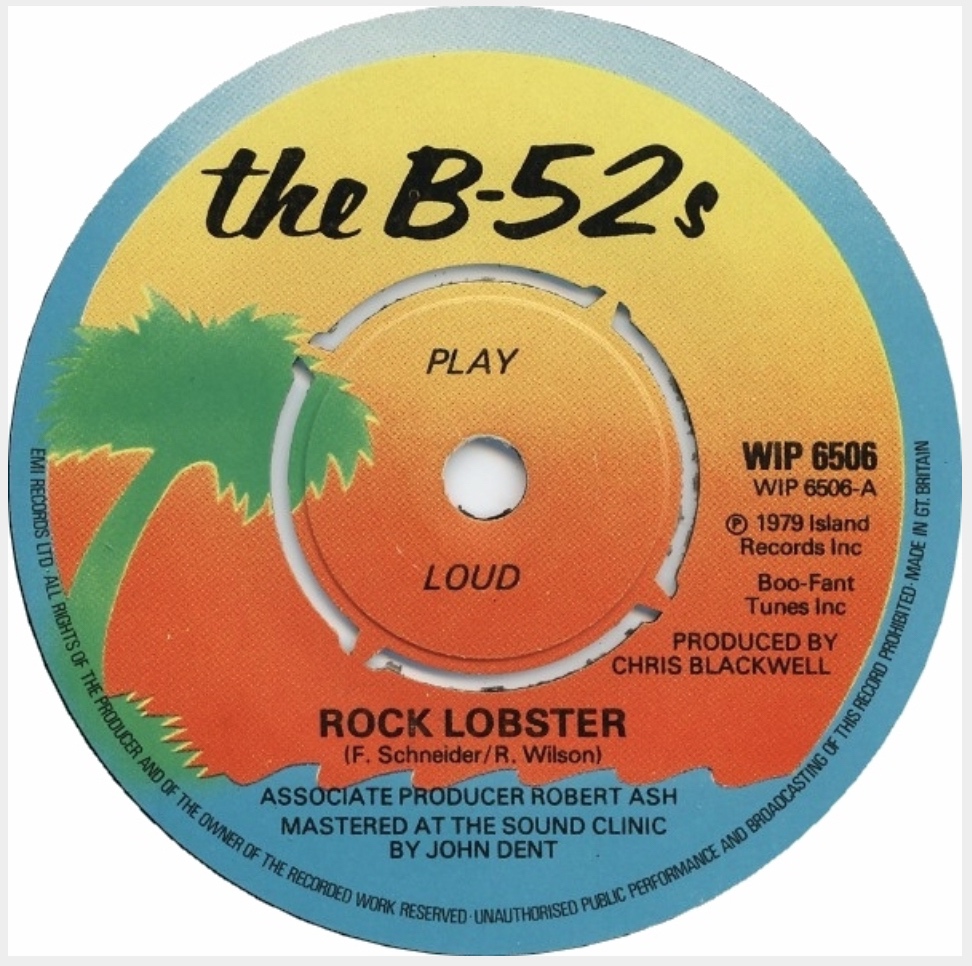 ---
54.25
KATE BUSH – The Man With The Child In His Eyes – 7″ – EMI – 1978
When this gal was just beginning to make waves nationally, if the wind was blowing in the right direction in Bedford (NB: pre digital era) I could pick up London's Capital Radio (50 miles away) where they were unsurprisingly quick off the mark in promoting the KB sound.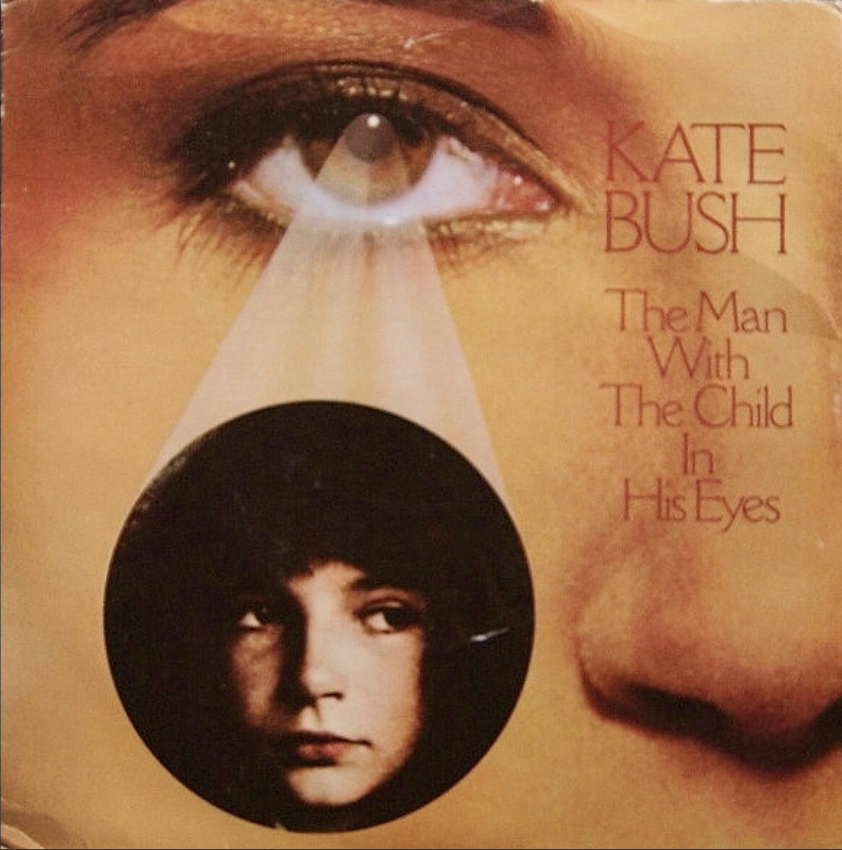 Back then I generally saw fan clubs as pretty… wet! Memories of all those Bay City Rollers and Osmonds from a few years earlier sucked in to their respective causes with crap… but I did relent to join three, so here's an excuse to yet again print my original KB fan club card. Apologies to regular listeners/playlist watchers. 🙂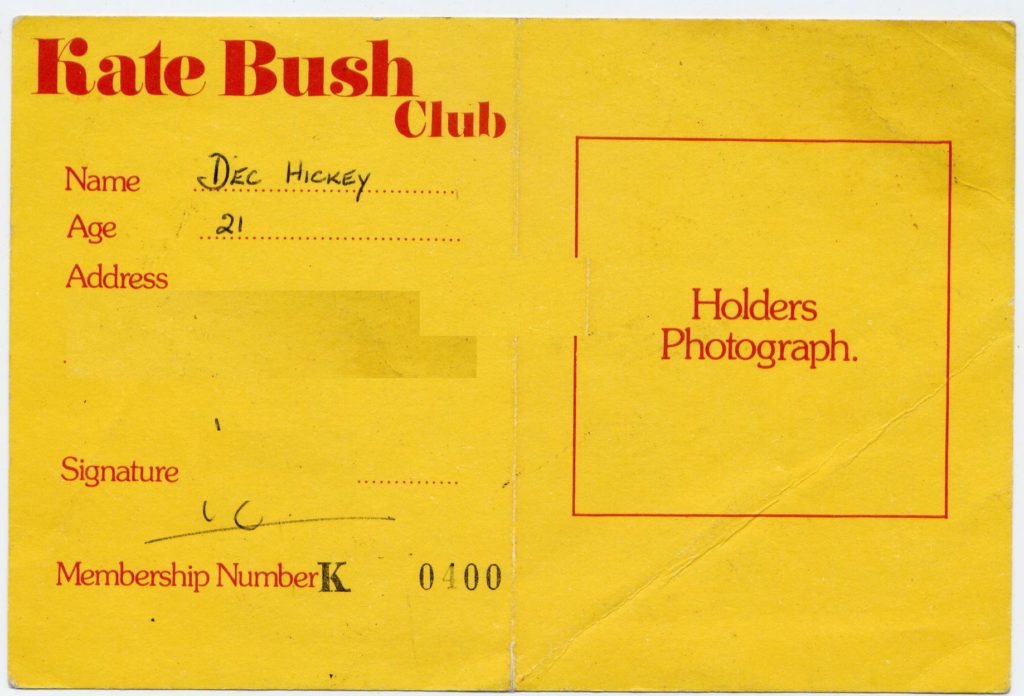 ---
56.55
GLEN CAMPBELL – Guess I'm Dumb – 7″ – Capitol – 1965
Just a one podcast hop to the Glen man being back here again, and considering I was a fan in my early teens (the early 70s) it would be nearly three decades later before I even heard this track, quite possibly on one of Sean Rowley's radio shows for BBC London early this century. In the years that followed Glen blowing up internationally, this single would have been seen as more than surplus to requirements on UK radio but it's a 'not so lost' beaut now.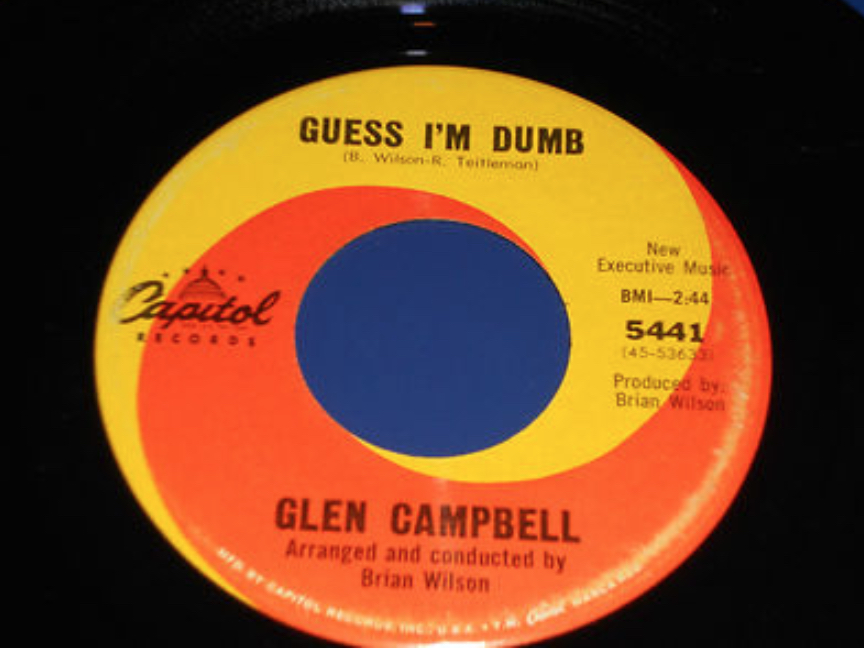 Tea. Strong, little milk and two heaped sugars.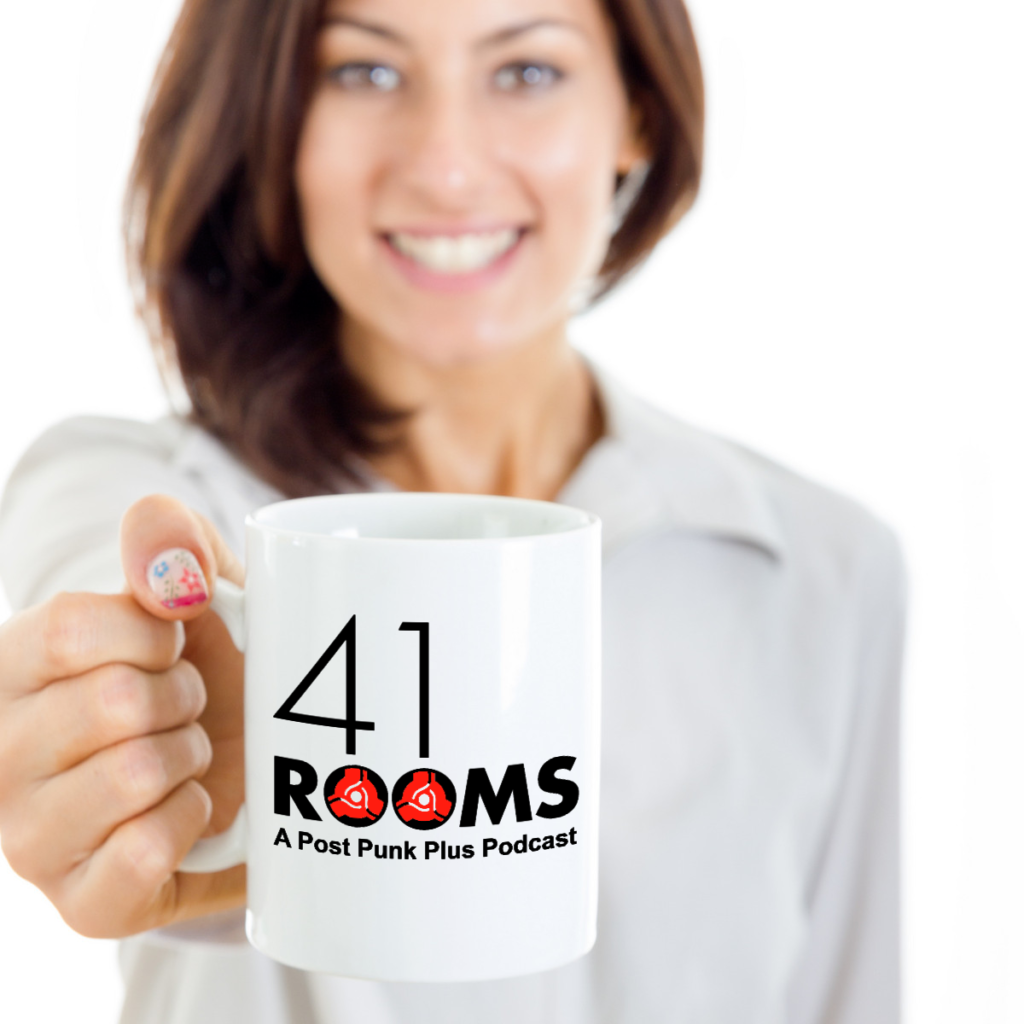 ---
59.32
MADELINE BELL – Don't Come Running To Me – 7″ – Philips – 1966
With practically more slight variations on the spelling of her christian name than she's had releases, a solo artist, a session singer, a Blue Mink member and back to solo artist again. A classic sixties soul sound, reflected in its £20-£30'ish pricing when a copy comes on the market.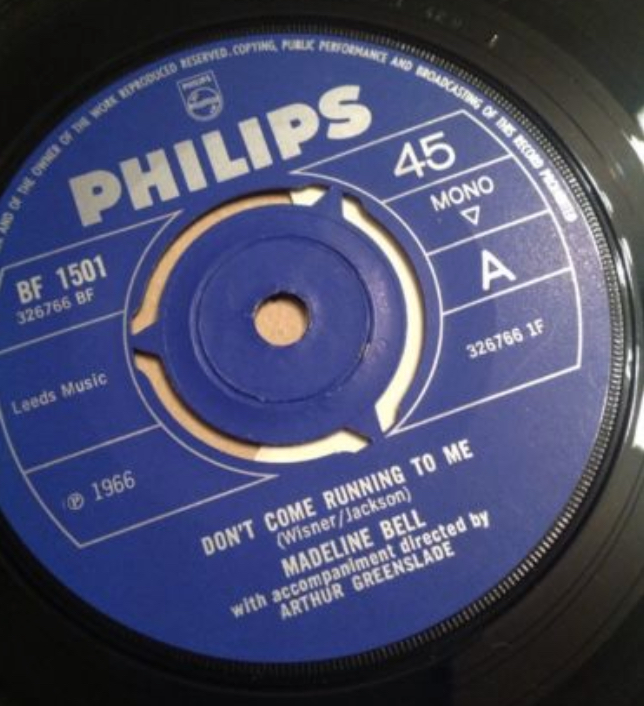 And an acetate I lost out on last year. 🙁 £36 to the winner.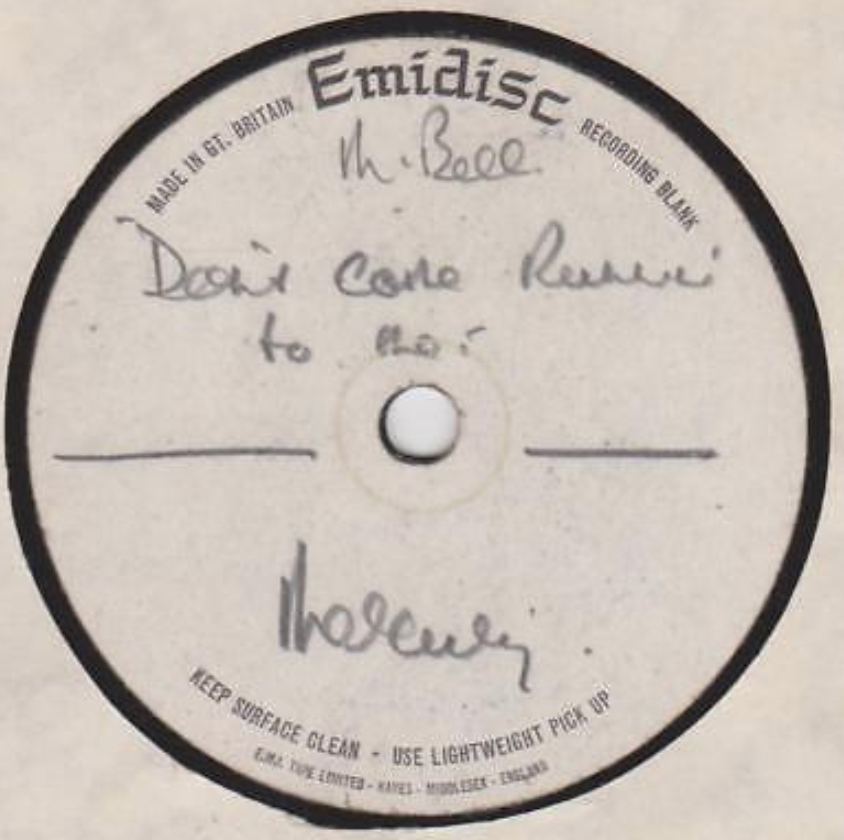 ---
01.02.46
MARTIN DUPONT – Your Passion – 7″ – Turquoise D – 1982
Four albums, but this was his only single. A downbeat sound, a bit mesmerising and not cheap to acquire, it rightly still has its admirers.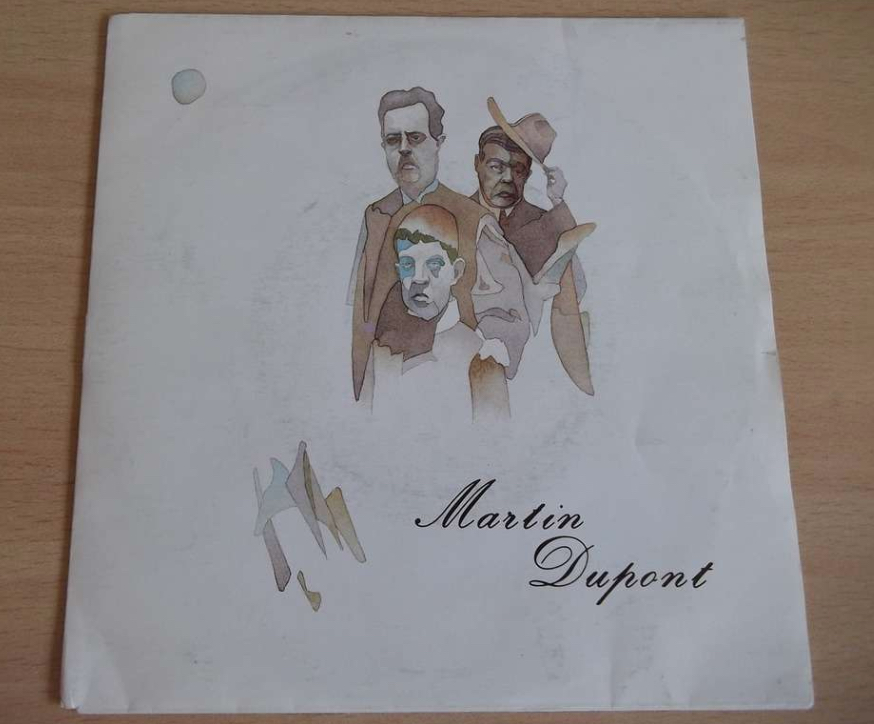 ---
01.06.05
EMMELINE ARMITAGE – Rip It Up – Soundcloud only – 2018
This girl has a real way with words, for me brought to even more life when floating over and sync'ing with other sounds. It may be in the genes but she's more than holding her own as the daughter of Poet Laureate, Simon A. Onwards to official releases!
---
01.09.16
STEPHEN MALLINDER – Satellite – Um Dada, LP – Dais Records – 2019
As I was in the country I caught a Mal Q&A and solo live set at the Quietus Social in London earlier this week – a night much added to by having Lonelady on DJ duties. I had a catch up chat with both and allowing for the fact it was Mal and machines, although there was only one track from Um Dada in his set it was a great 'gig'. Satellite? Electro(nic)/deep house/whatever grooviness.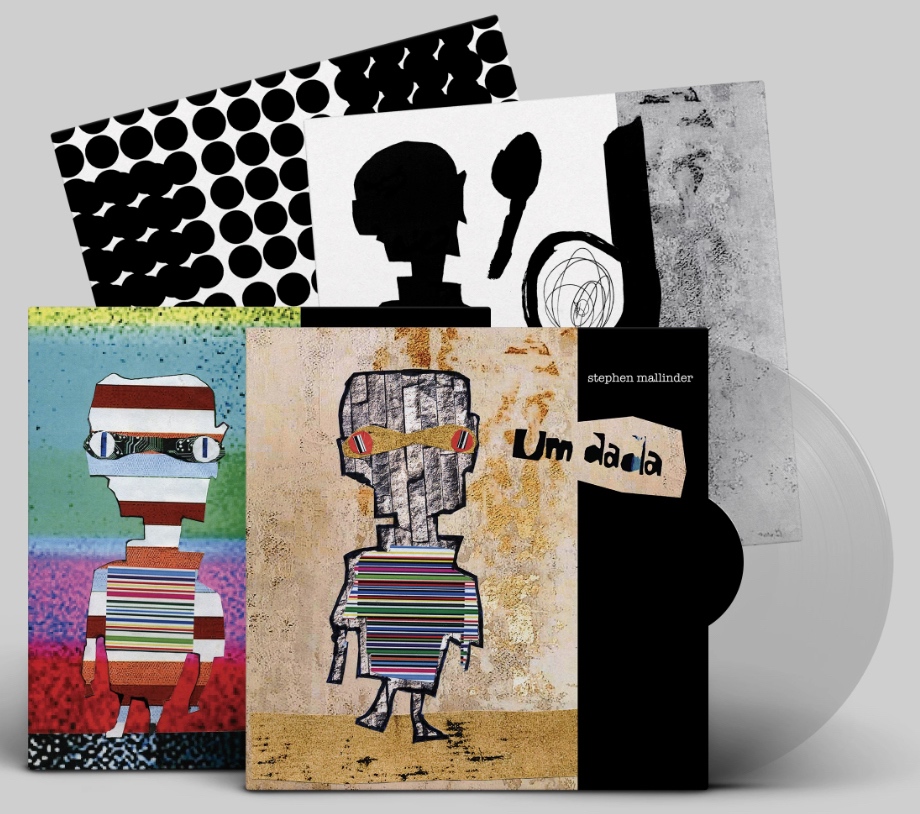 ---
01.14.38
THE FLAMINGOS – What A Carry On (Unreleased demo) – 1986'ish
Always a favourite of mine and one of a whole bunch of unreleased but very workable ideas Cliff Peacock and Dave Summersgill pulled together in amongst the four singles they did release, between 1985 and 1998.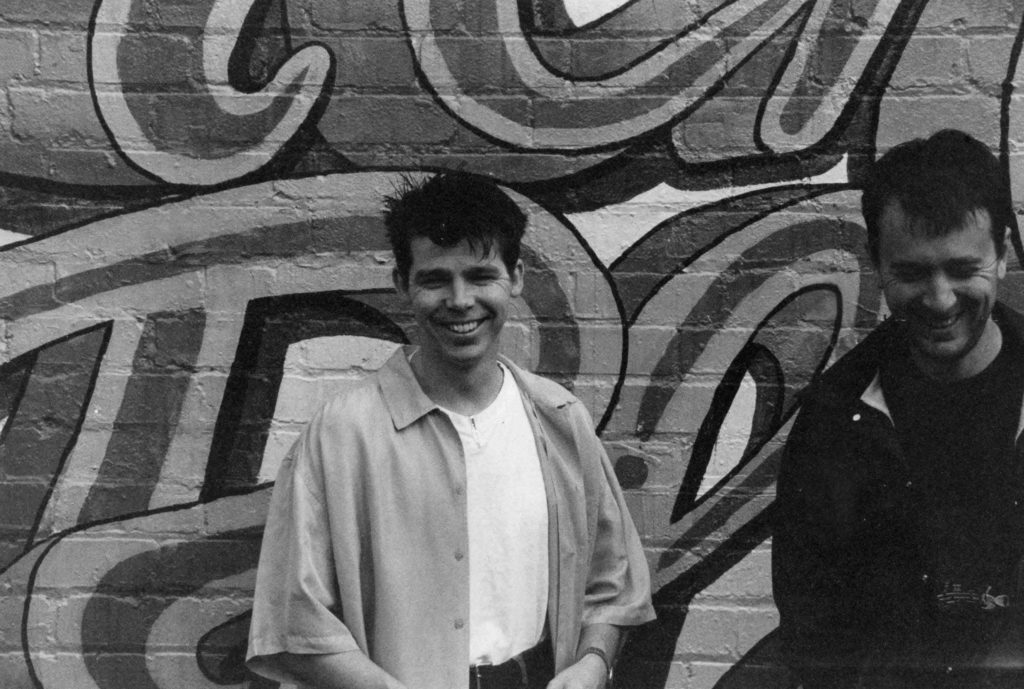 ---
01.18.08
JONI MITCHELL – 'We Are Stardust' (Roxanne Roll Remix) – Soundcloud only
Roll (aka Lisa Jelliffe) is maybe best known for her involvement in the Fleetmac Wood remix project and party, started down in an East London basement back in 2012. Not 'meant to be a tribute, but more a dedication and celebration of it all by editing and remixing songs from the band's extensive catalog'. Without looking further into it, I'm guessing Roll might be looking to do the same with Joni – if she isn't doing so already.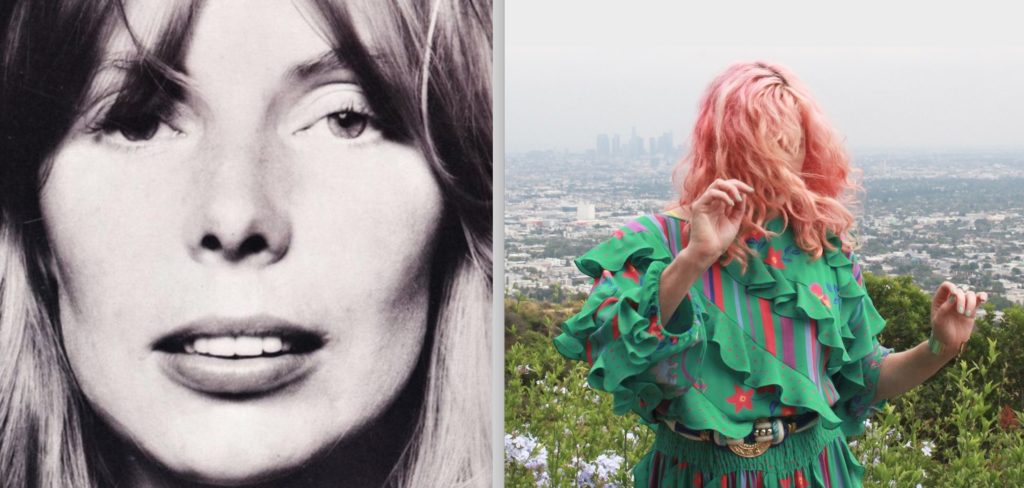 ---
01.21.25
SLEEVE – Hipness – 12″ – Frisco International – 2005
Another very neat 'amalgamation', albeit a different sort. This first floated by my ears on its initial release in 1992 when spun on KISS FM, possibly by Wilber Wilberforce – the DJ, not the 18th century politician, that is.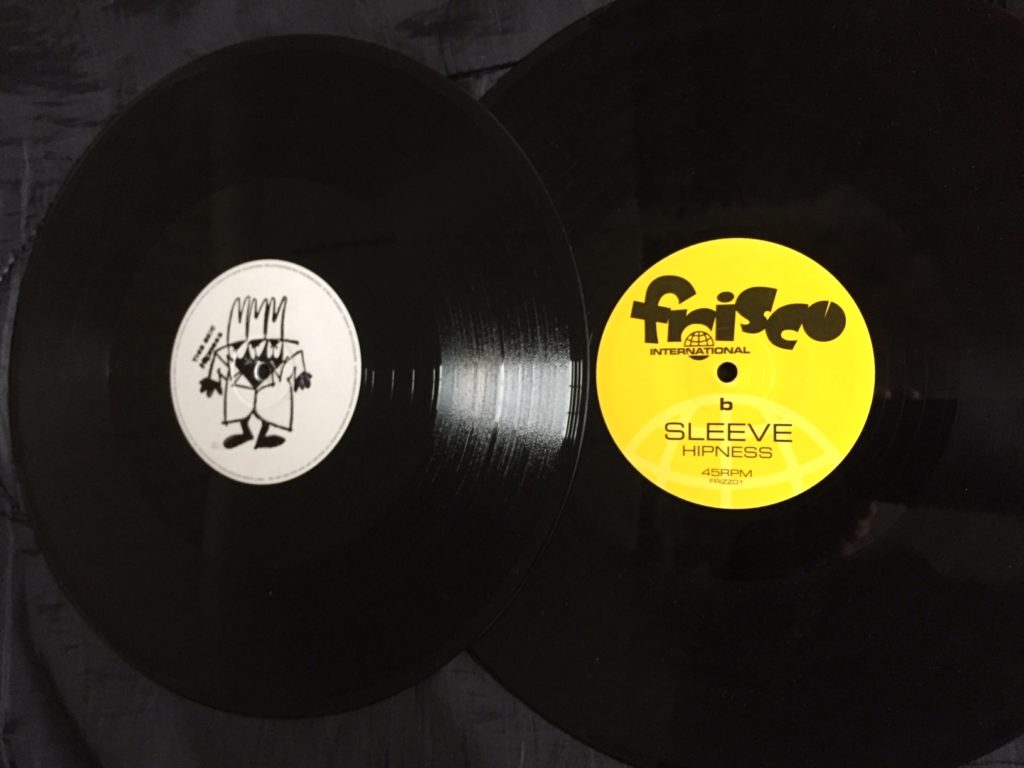 ---
01.28.16
JAZZ THE GLASS – Old Money – Download only, Bandcamp – 2019
One half of the earlier mentioned and long departed Flamingos, Dave Summersgill with some recent and seriously head nodding beats and brass that sound like the ideal backdrop to car driving scenes in a blaxploitation movie… and it's available here.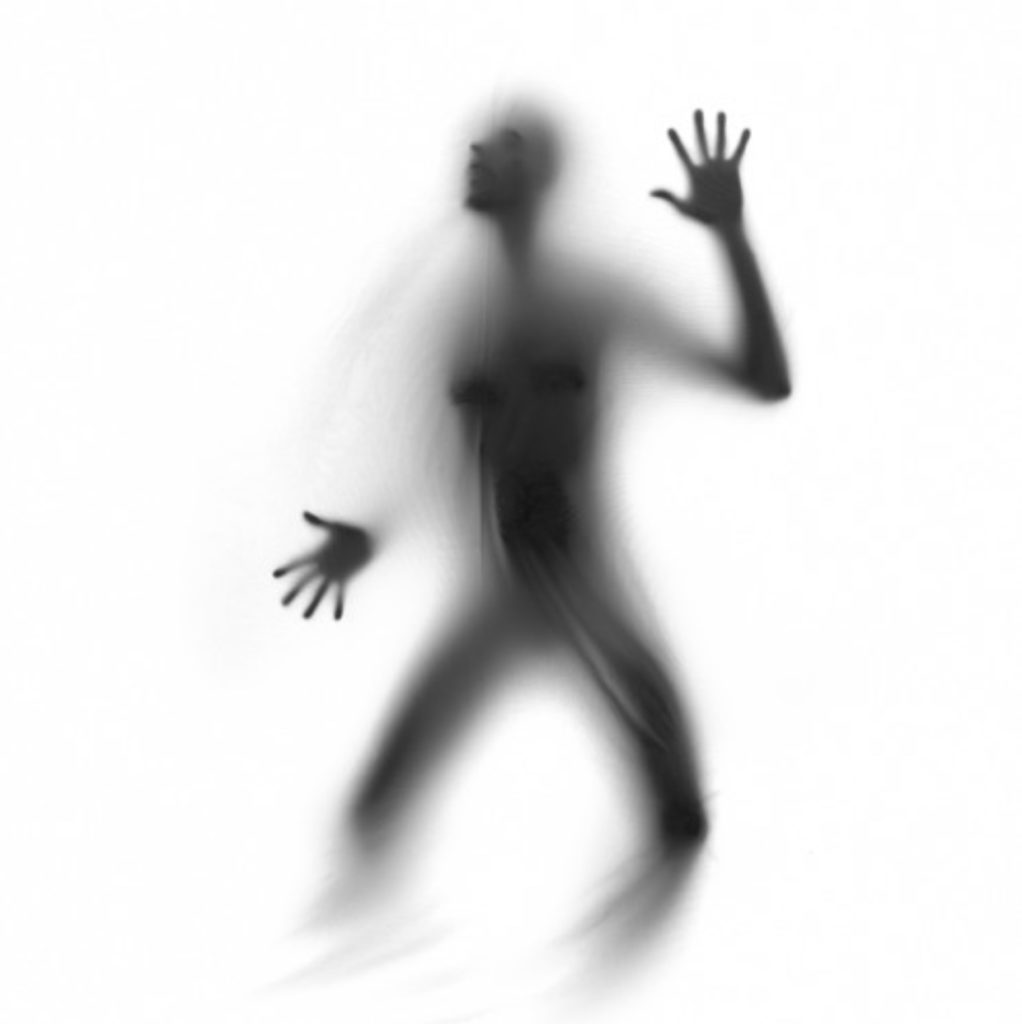 ---
01.34.37
NORMAN SINGH – The Nervous Neck – The Suck & The Blow, private cassette – 1985
'Norman' has made it to 41 Rooms before. In reality, one Martin Shouler, the bass player for an early eighties Bedford band, Actors & Famous People. Seemingly he had too much sonic stuff going on inside to be restrained by the band's output alone and he produced at least three (I have three, anyway) C60 cassettes worth of outpourings, so tracks from Stop Talking To The Pig (1984, his first) and Some Geese Have All The Luck (1985) could also be coming your way at some point – if only to namecheck the 'album' titles again. There's a lot going on in the recordings and I'll bet there was a Tascam 4-track Portastudio involved somewhere.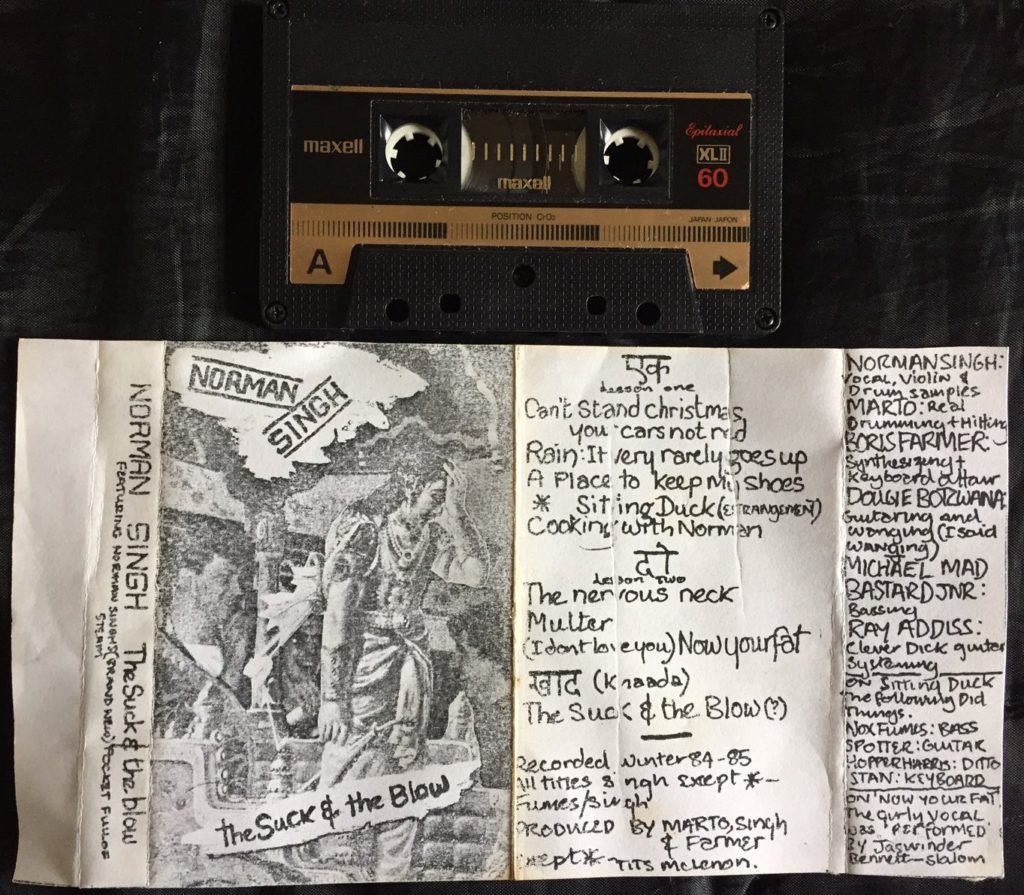 ---
01.41.00
ERICK – Adam In The Garden – Erick, self-released cassette – 1988
Out of Essex, UK… and like the Norman Singh cassette above, Erick's hasn't (to date) made it to Discogs either but you can hear it/them here.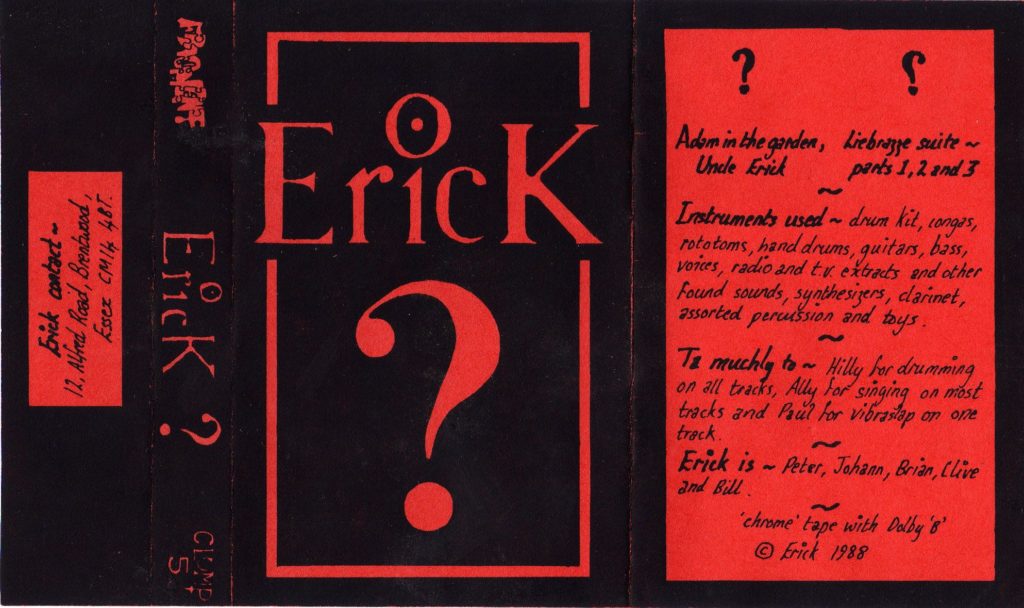 ---
01.46.46
FELT – My Face Is On Fire – 7″ – Cherry Red – 1982
Their third single release (their second for Cherry Red) and albeit with some classy songwriting ever present it's Lawrence's vocals that were (certainly on the tracks I took to) always the highlight for me.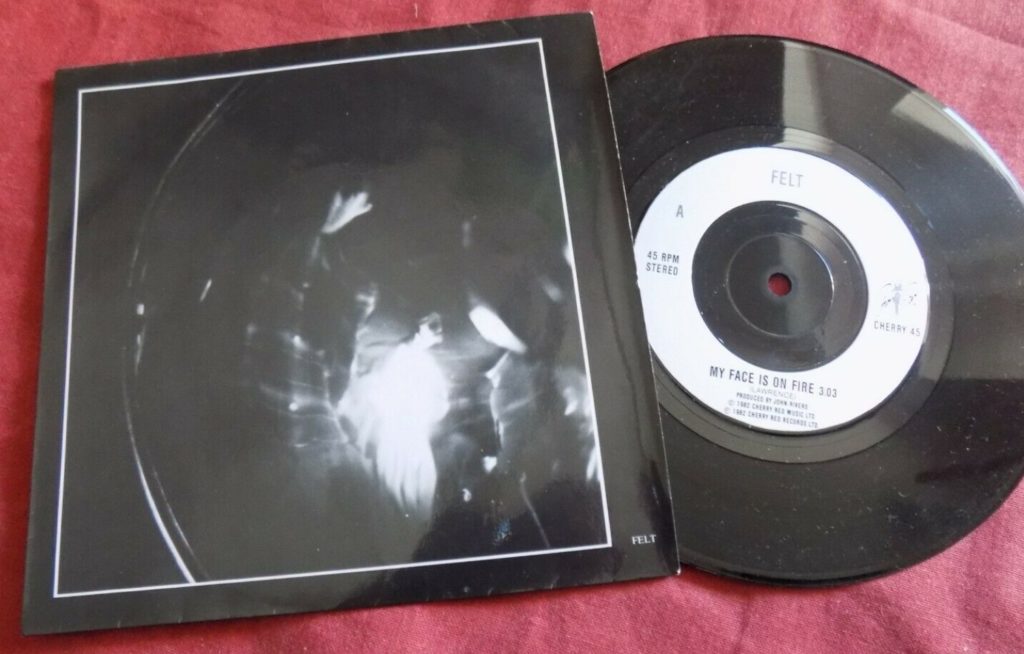 ---
01.49.44
FAMILY FODDER – Savoir Faire – 7″ – Fresh Records – 1980
Their second single… and they're still in action nearly forty years later! Yet another band who took a few decades out of releasing records (jobs, family… life?) and then got back into the swing of it.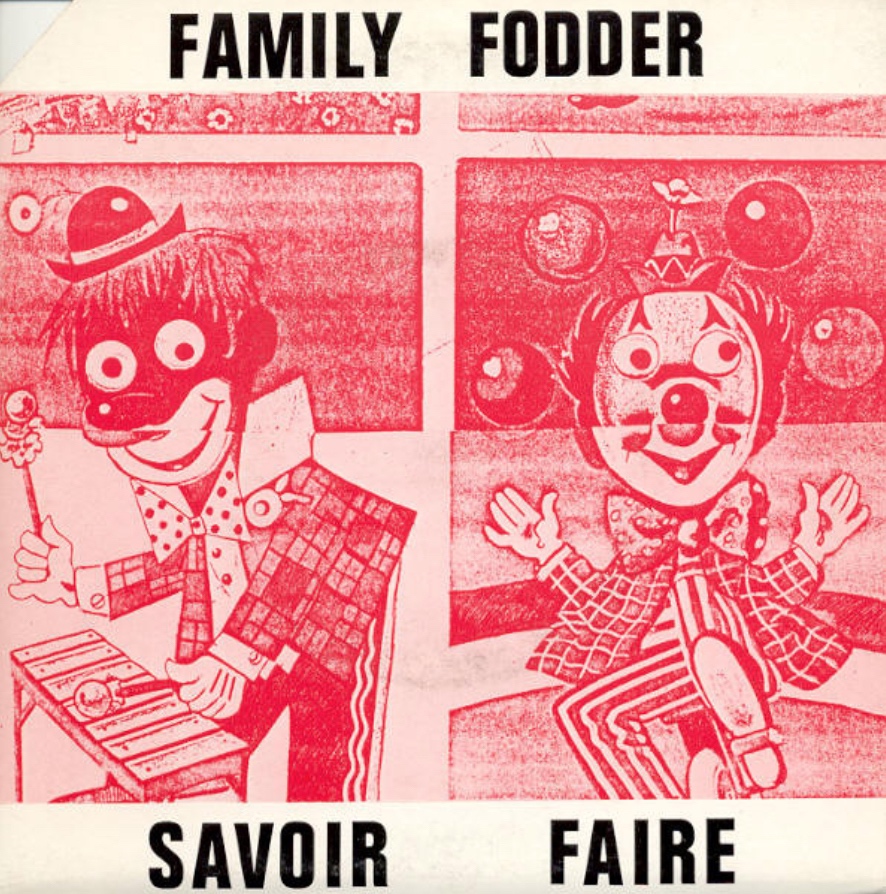 ---
01.52.56
FAY RAY – Family Affairs – 7″ – Surrey Sound Records – 1980
Firstly as Hot Water and then as Fay Ray they released four singles and Peely gave them a session. Certainly 'indie' in label status, but even this, a great track and the best of their 7″s, didn't really convince me the band were post punk/alternative in attitude… the way the Police didn't for me, either.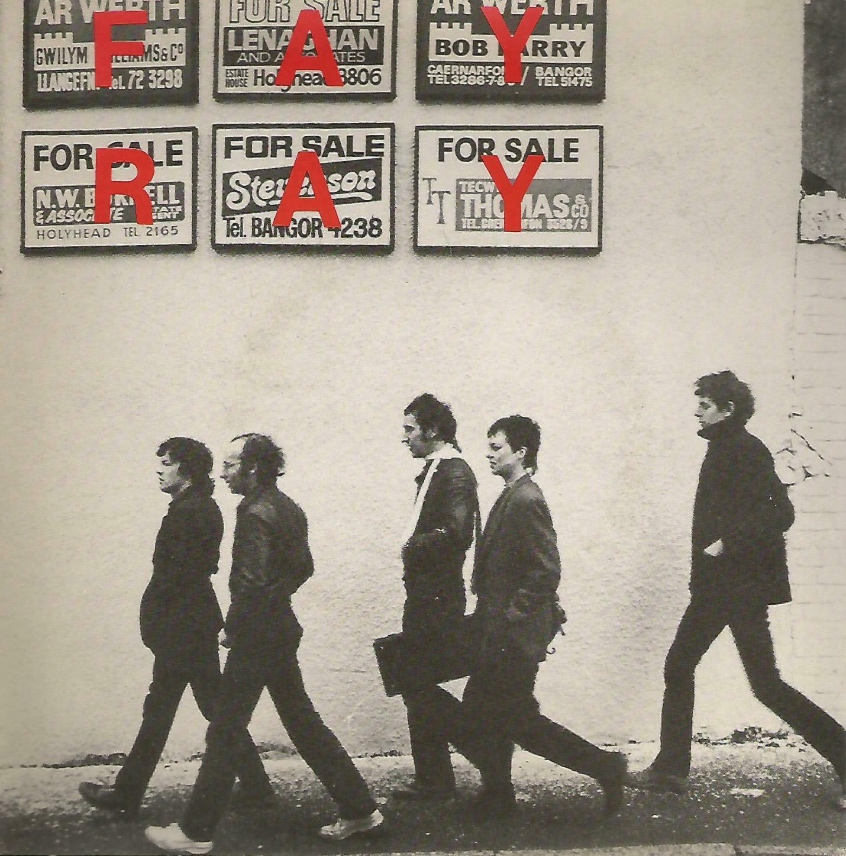 ---
01.56.20
MAN & THE ECHO – I Don't Give A Fuck What You Reckon – 7″ b-side – 1965 Records – 2016
These lads have a twist on things I really like. Here it's with a train of thought (if not vocal outpouring) we've maybe all had at one time or another.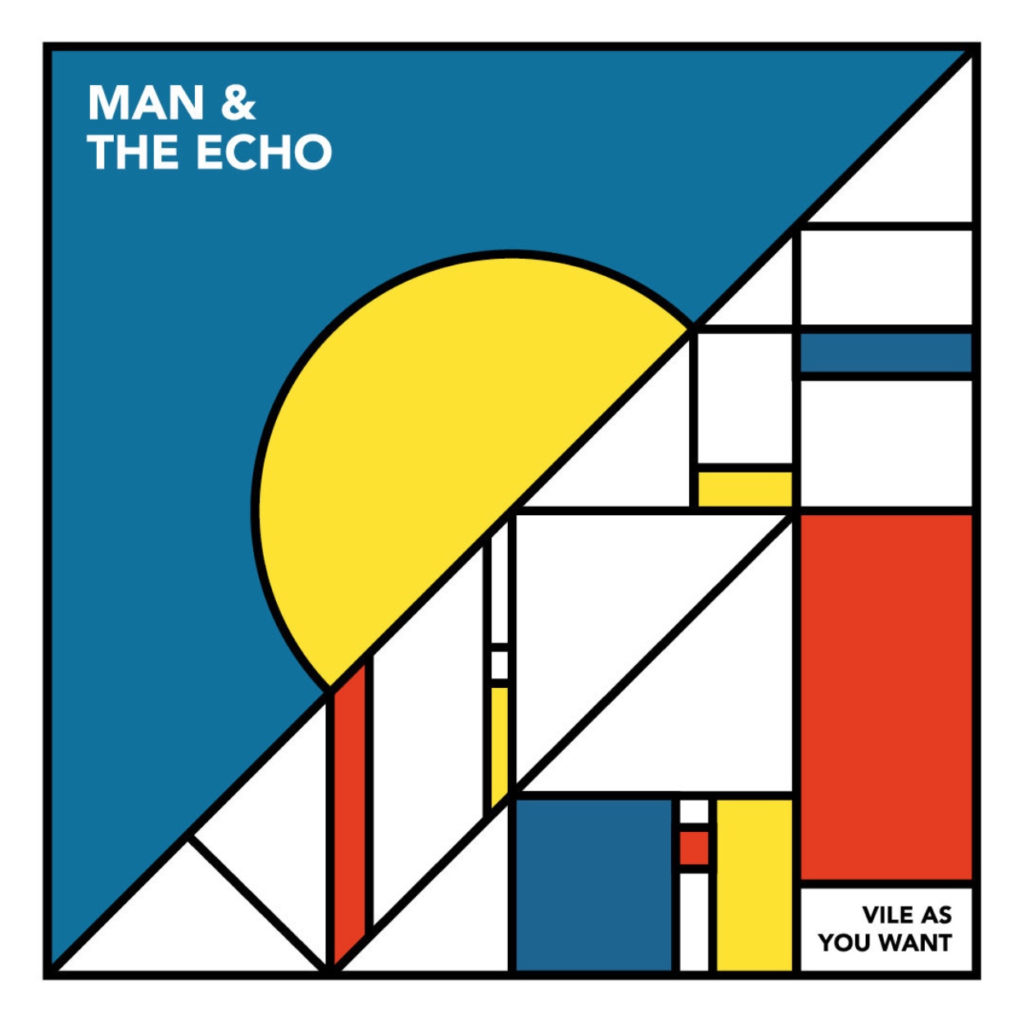 ---
01.58.13
REDSKINS – Kick Over The Statues! – 7″ – Abstract Dance – 1985
A stormer of a tune to finish with, this must have been a blinder on a good Redskins gigging night. Heavily political in their outlook (members of the Socialist Workers Party and supporters of the anti-apartheid movement) but it would appear that vocalist (and ex-NME journo) Chris Dean has since disappeared completely off the radar.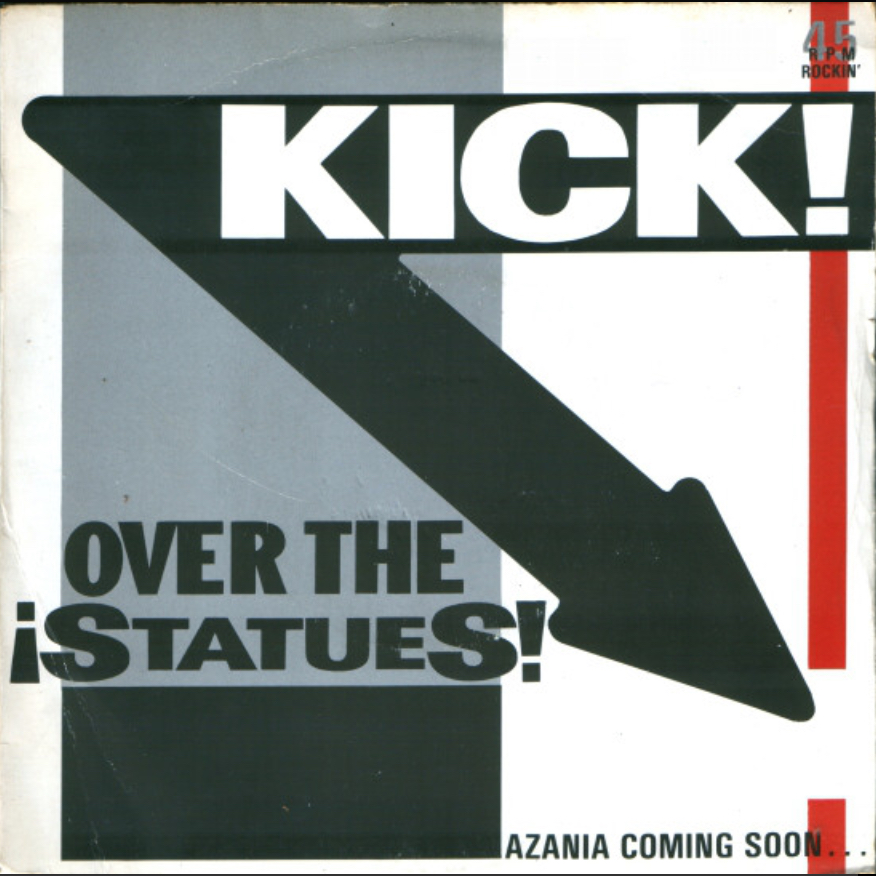 ---
Show 74 will be with you Dec 1.
Dec x