PLAYLIST 60 
Uploaded Oct 7, 2018
Playlist 60 is 84% vinyl friendly. Impressive.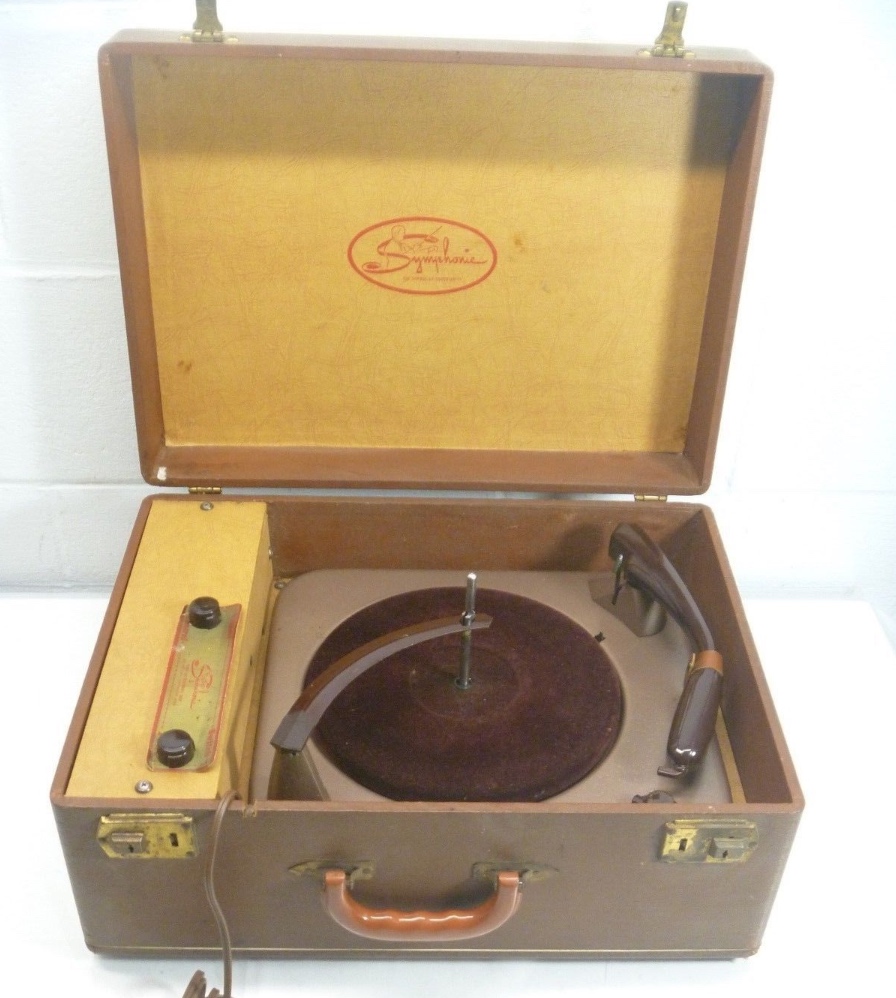 ---
Lyric of Playlist 60
Not quite a 'lyric', but it might have to be the overlaid ramblings of Vance ??? and Fred Nettles. "My main background is… a cat, which is nine feet high… " Of course it is, Fred.
---
00.00
(Intro) THE FLAMINGOS – Stars (Edit) – Unreleased demo – 1983 Episode #1 for info.
---
00.41
NEW ORDER – Skullcrusher – Salvation (Original Soundtrack), LP – Les Disques Du Crépuscule – 1988
As they occasionally did back in the day, New Order let loose a gem slightly under the radar – in this case an instrumental, on a film soundtrack only – and with added vocals, they played it live just the four times. With Hooky sounding in his element, you'd have only caught it in 1984, but twice very fittingly as a gig opener – much the way Murder would have worked well, if again they'd played that live way back… which they didn't.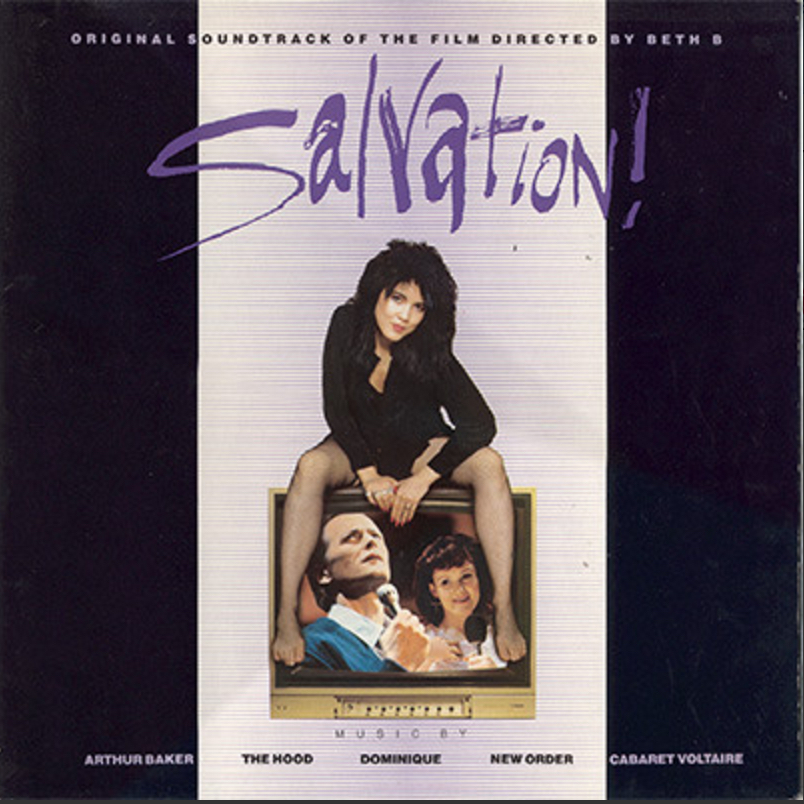 And from the same year, a rare photo of New Order with not one but two acoustic guitars in tow – soundchecking at Manchester's GMex, 17.12.88.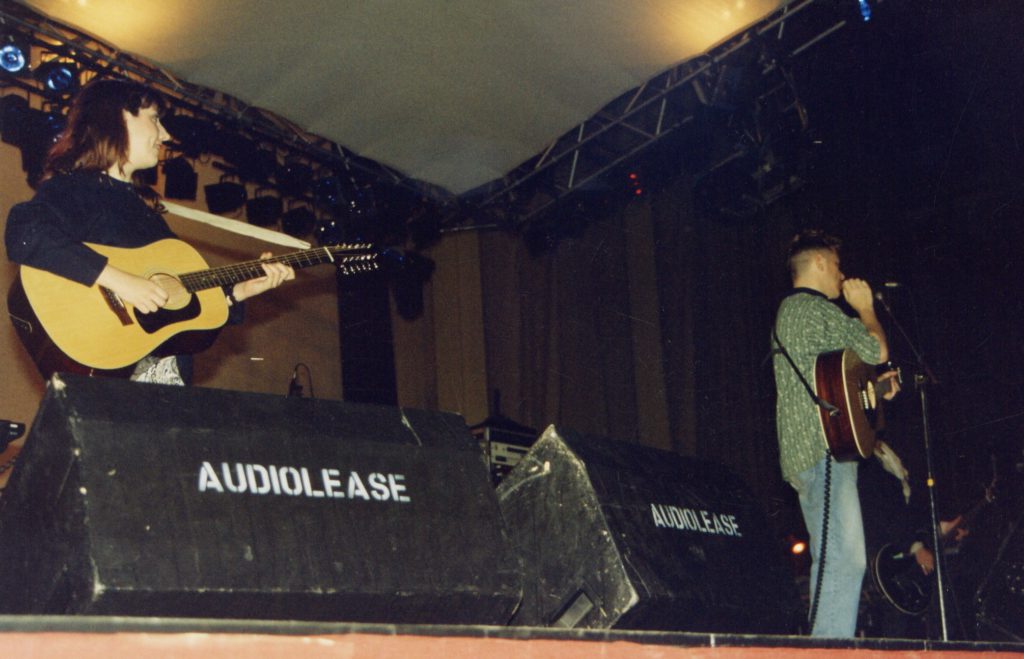 Photo credit/copyright: Dec Hickey
---
03.18
W.H. LUNG – Want – CDr promo single (only) – Melodic – 2017
A band whose earliest steps had passed me by but in a conversation on post punk with two young gig go'ers who I shared a bar table on site at the All Together Now festival in Waterford, Ireland a few weeks back, they offered these guys as modern day PP protagonists… and they're not wrong. Top stuff.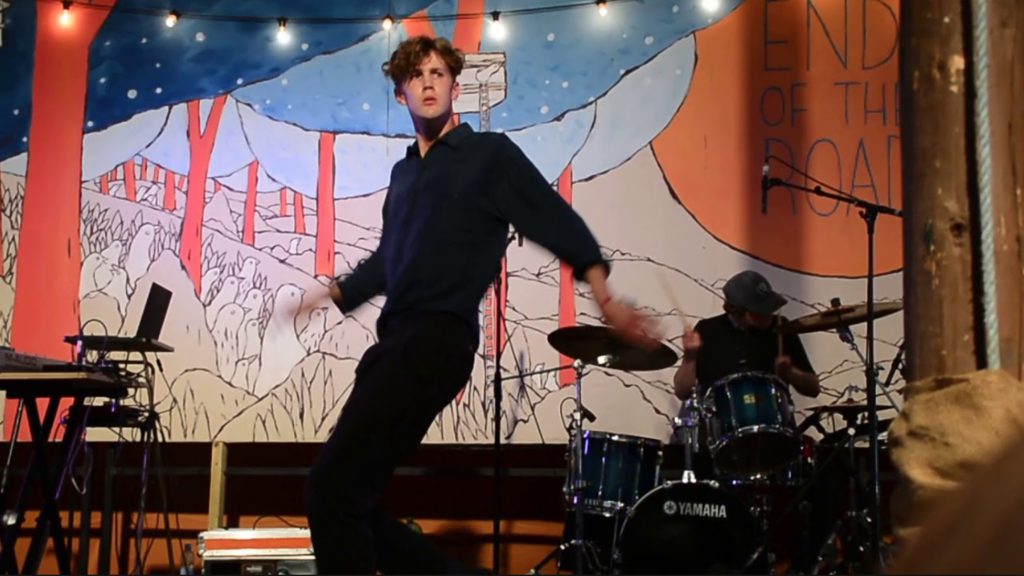 ---
06.37
UT – Sham Shack – Ut, 12″ EP – Out Records – 1984
After a near twenty plus year hiatus the radical no-wavers sprung back into action and Nina Canal just updated 41 Rooms on things. 'Everything is coming out re-mastered, and on vinyl and CD in some form, the first two EPs (Ut and Confidential) and single together on one CD (already released) and Early Life and the Ut Live at Venue together on one CD'. All on Out, the same, original self run label, you can keep up with the band via Bandcamp and Facebook.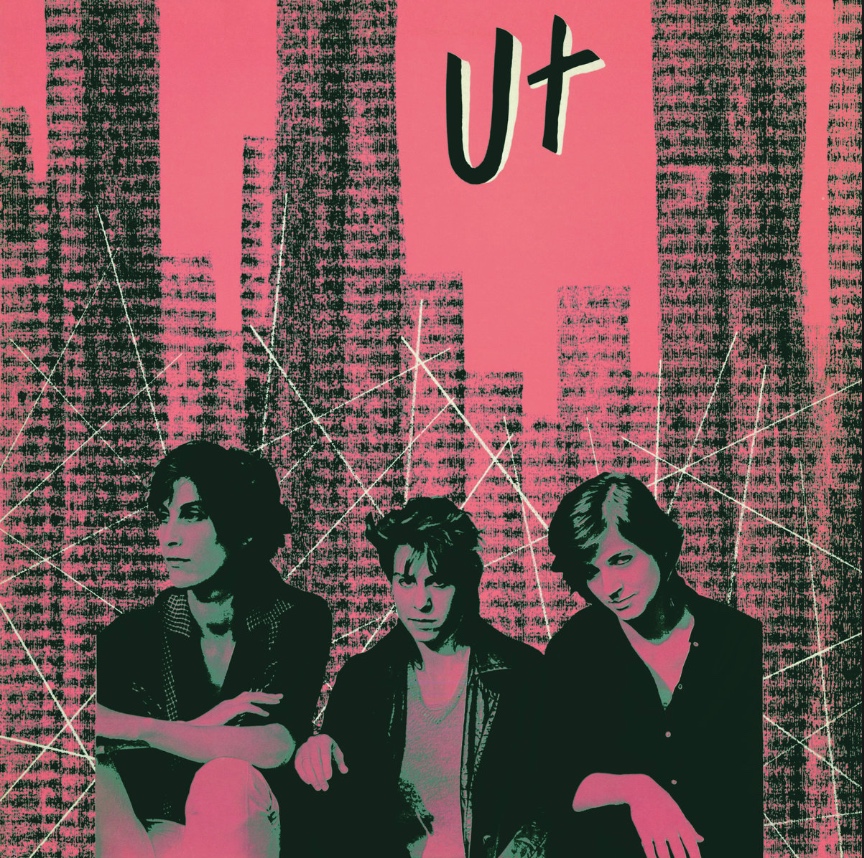 Supporting The Fall, Bedford Boys Club, 1.10.83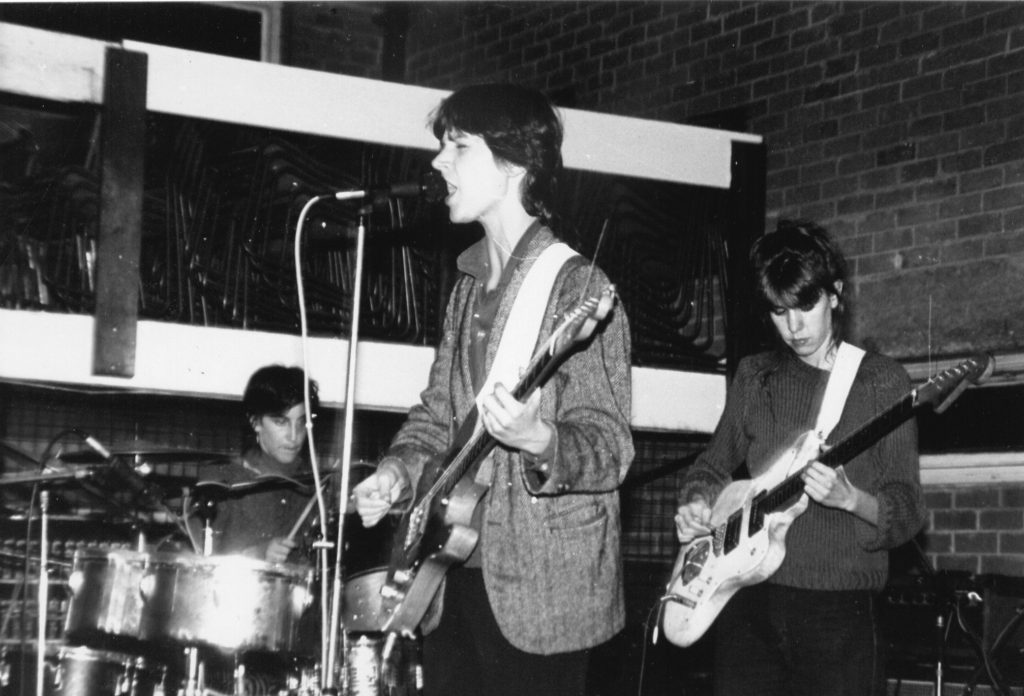 Photo credit/copyright: Dec Hickey
---
10.38
LONELADY – Bunkerpop – 12″ – Warp Records – 2015
Fabulous! Itching for new music from Msssss Campbell.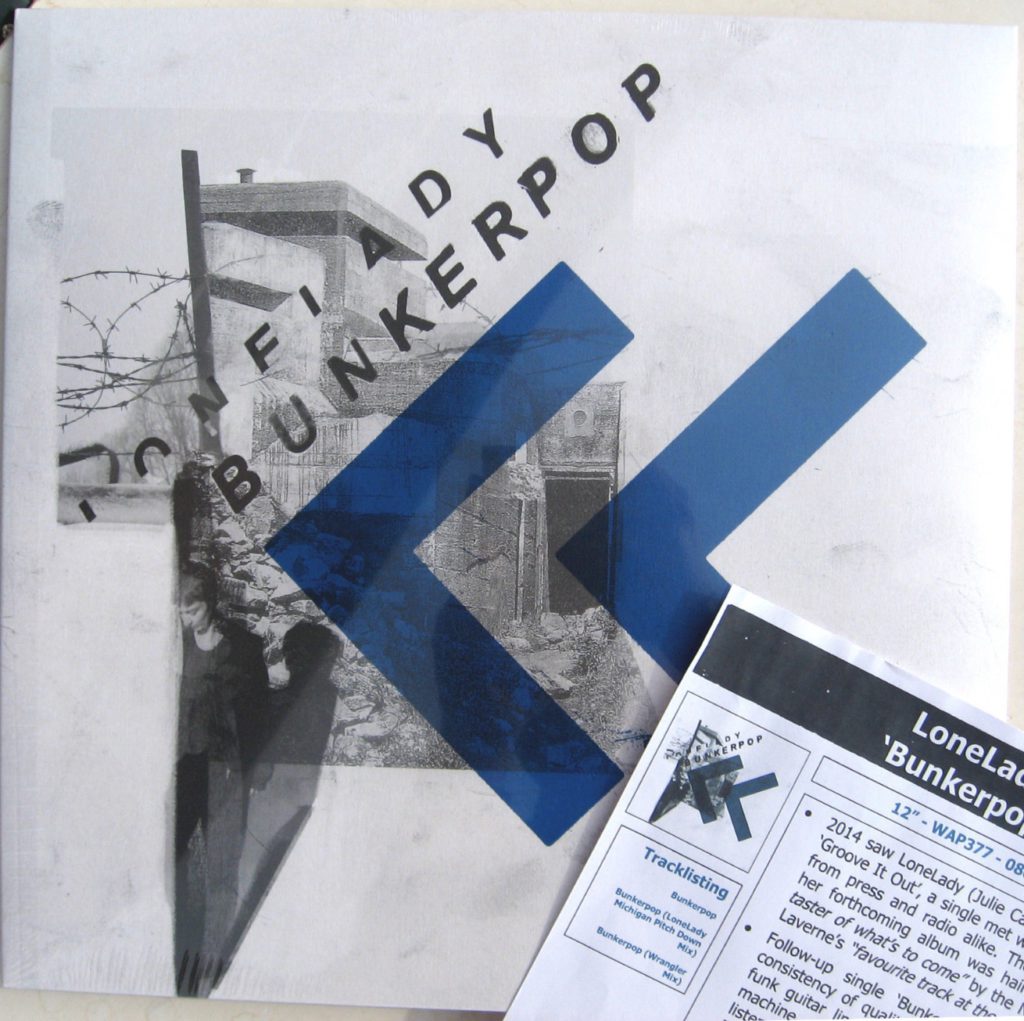 ---
16.24
SIMIAN MOBILE DISCO – Cruel Intentions – Temporary Pleasure, LP – Wichita – 2009
The James' Ford and Shaw joined by the belting Beth Ditto. Result!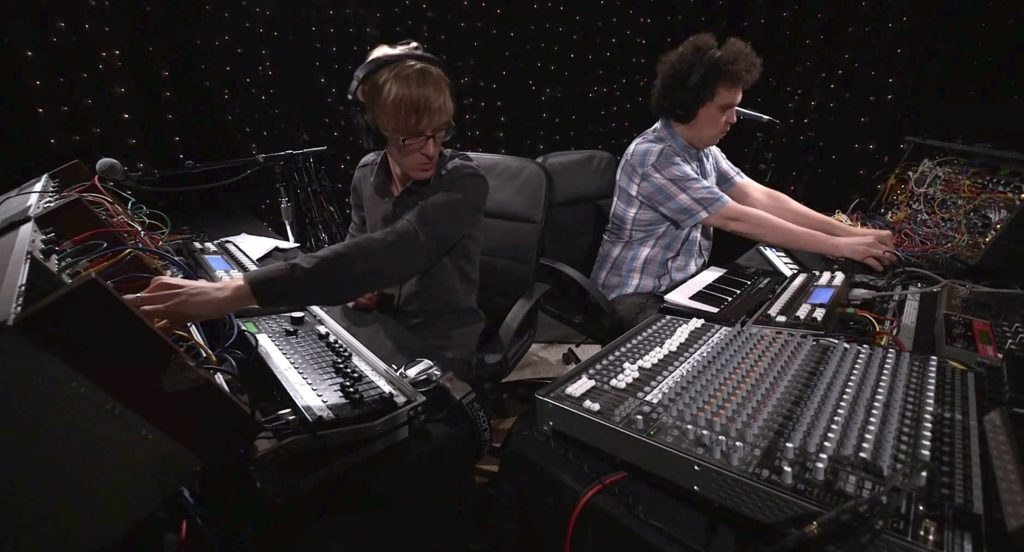 ---
19.22
SHRIEKBACK – Working On The Ground – 12″ – Y Records – 1983
The sleeve's a great snapshot of band finances at the independent label sharp end back in 1983 but I wouldn't be surprised if the advance noted here made the two weeks outlined look far healthier than the rest of the year.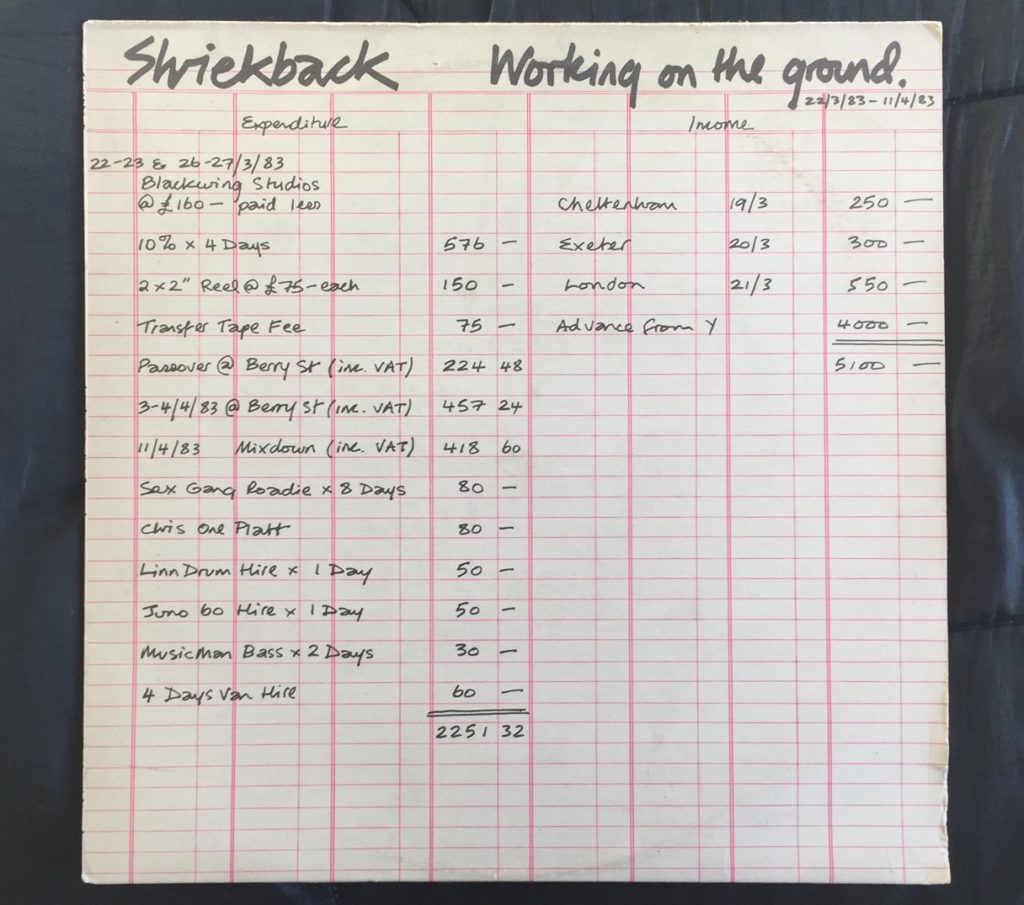 ---
24.00
SUGAR BILLY – Keep Movin' On – 7″ b-side – Fast Track – 1973
I'll be getting myself another copy of this driving funk/soul groover at some point, as there's a huge chunk of the vinyl missing from this copy. Doh! Don't drop your records on a hard floor, kids – especially 60s-70s era US sevens. They're way more brittle than their UK cousins.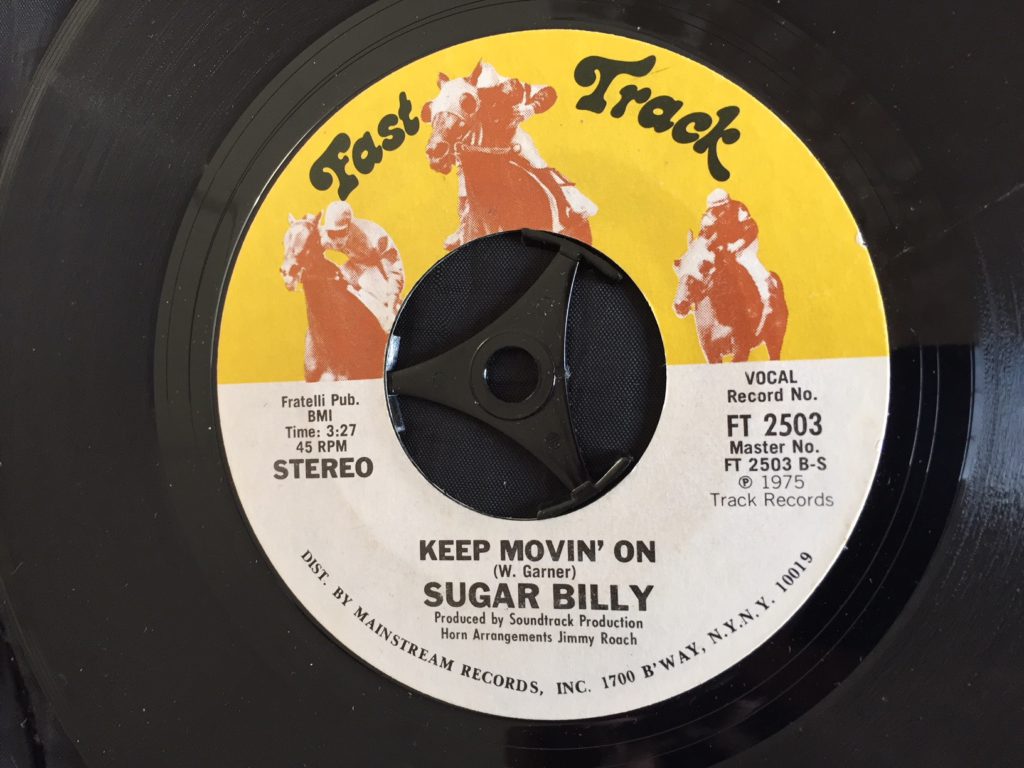 ---
27.12
ELECTRIC GUITARS – Beat Me Hollow – 7″ – Stiff Records – 1982
Albeit a bit speeded up, there's more than a nod to Talking Heads' I Zimbra here and if I'm honest, it's maybe sounding 'cuter' now to these ears than it would have done back in 1982, if indeed I heard it. A few millennia further back Japan copied the Chinese in reading their books from (seemingly) back to front, but that doesn't account for why Stiff's outlet there appeared to give the b-side most prominence on the front cover of this 7″. Not sure what's going on with that visual, though.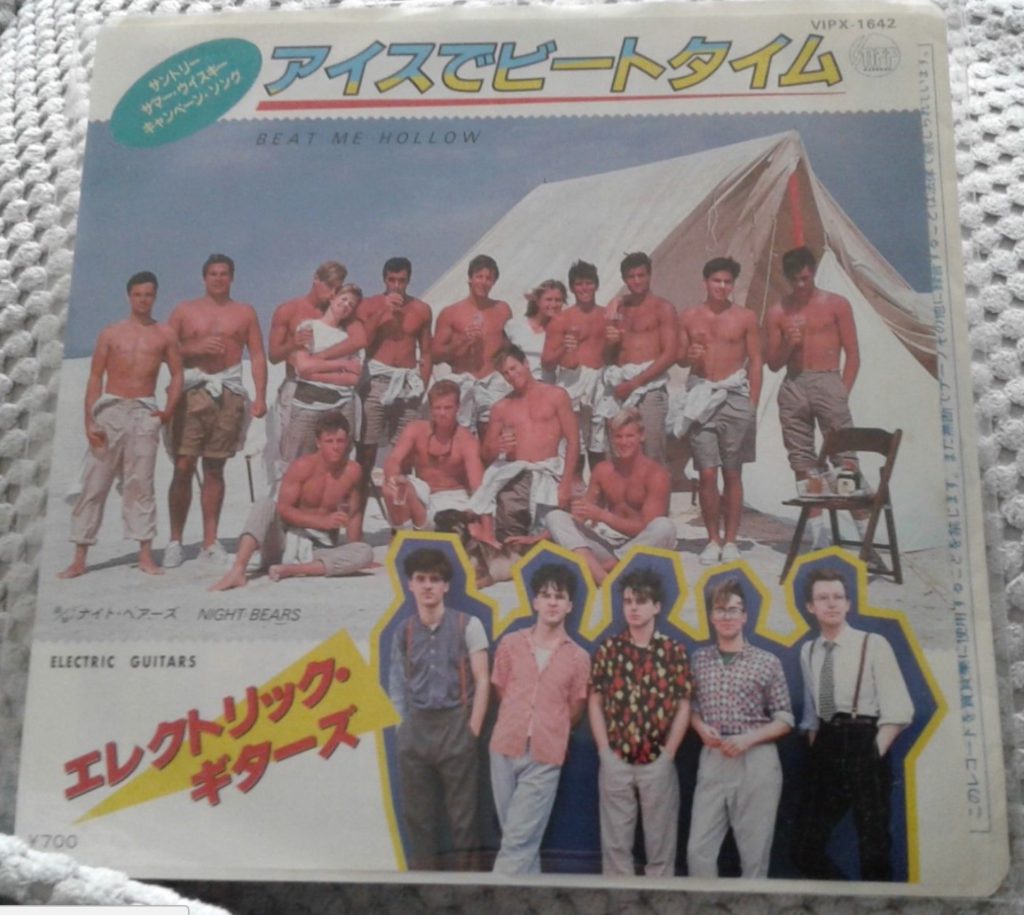 ---
30.35
MARTHA AND THE MUFFINS – Obedience – Danseparc, LP – RCA – 1983
Undoubtedly Echo Beach was their 'marker' but with sporadic releases continuing through the years since, there have been some interesting sounds.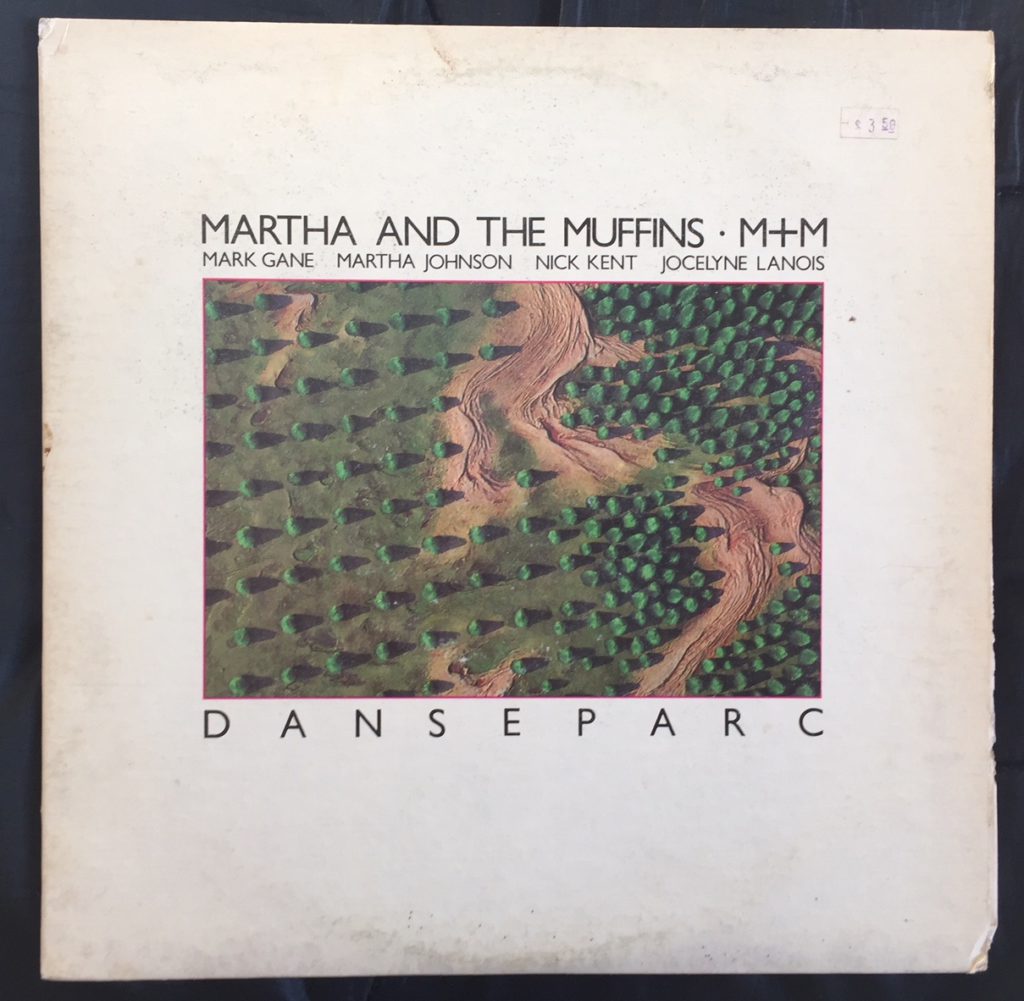 ---
33.44
THE PSYCHEDELIC FURS – Pulse – Self Titled LP – CBS – 1980
Butler Rep at his ranting best.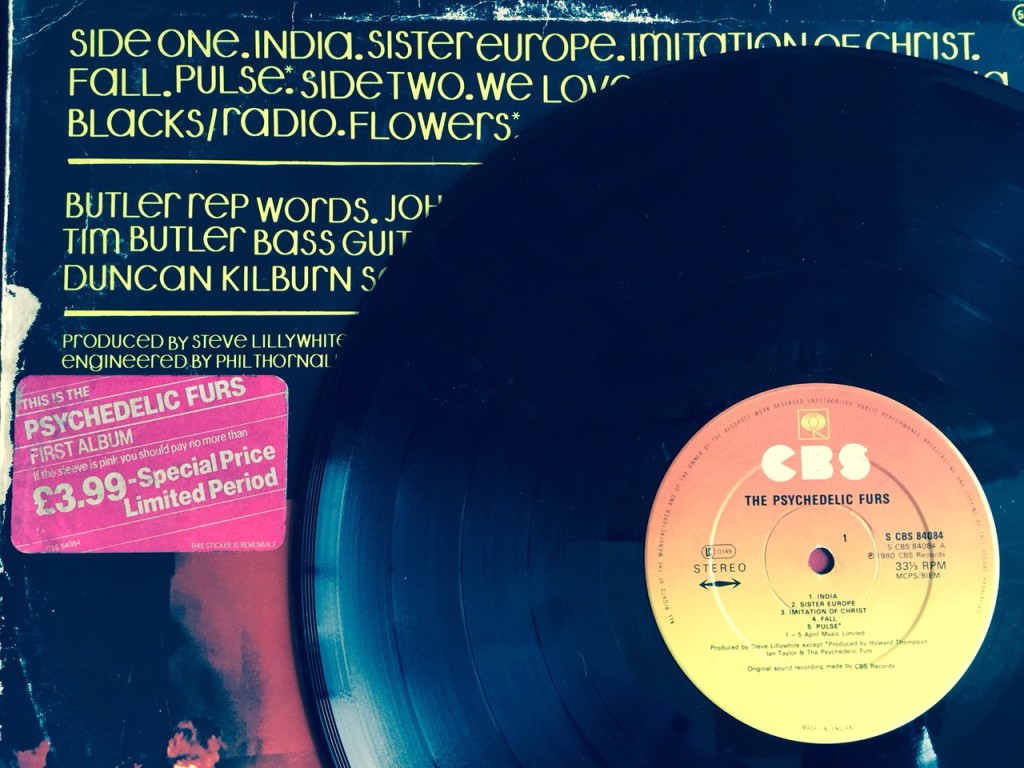 ---
36.22
NEGATIVLAND – A Nice Place To Live – Points, CD only – Seeland – 1992
Hijacked commentary from a state fair, eloquently backdropped by these sound terrorists, it was all kicking off at some point in Contra Costa County, California… or rather, it wasn't. Maybe there's something in the water in Pomona but this track might be reason enough to not grow old(er) there.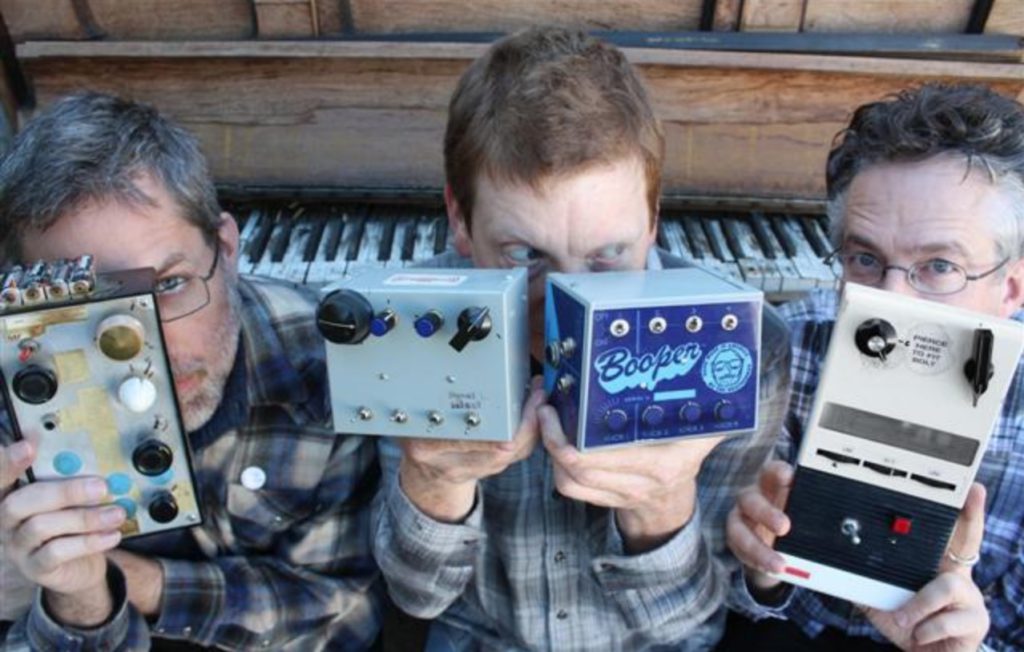 ---
39.03
NANCY SINATRA – Sugar Town – 7″ – Reprise – 1966
You are now entering a 'carefree sounding' eight minutes, not often equalled elsewhere on 41 Rooms. Here certainly, Ms Nancy doesn't appear to be too weighed down by being Frank's daughter. Unsurprisingly it's the sixties… and with Lee Hazelwood all over it.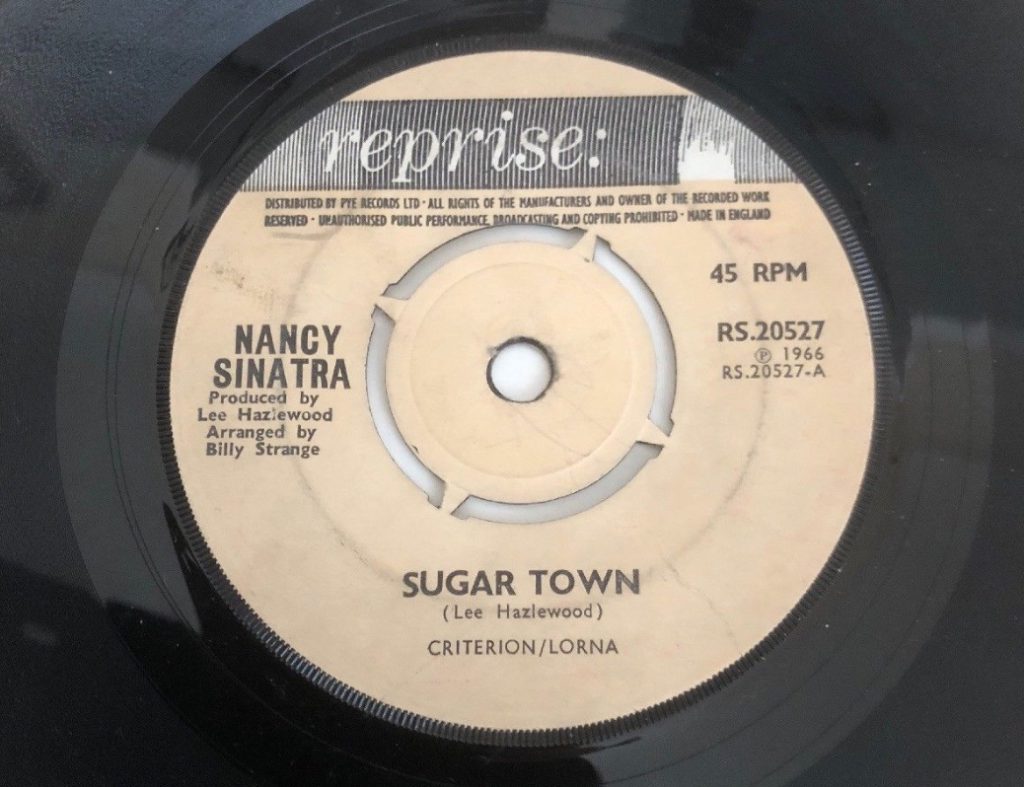 ---
41.17
ROGER MILLER – King Of The Road – 7″ – Philips – 1965
If this had been released a year or two earlier it could well have been the sort of ditty to have been included with the 'not quite legendary' second-hand 7″ers that accompanied the second hand, flip top Dansette record player my dad brought home sometime in the early-mid 60s. Instead, it became a regular spin via the '(Worldwide?) Family Favourites' radio show that soundtracked the Hickey family's Sunday lunchtime meal get together a few years later. Without doubt, the only period in my life where 'BFPO' was more than regularly mentioned over the airwaves. These things stick, kids.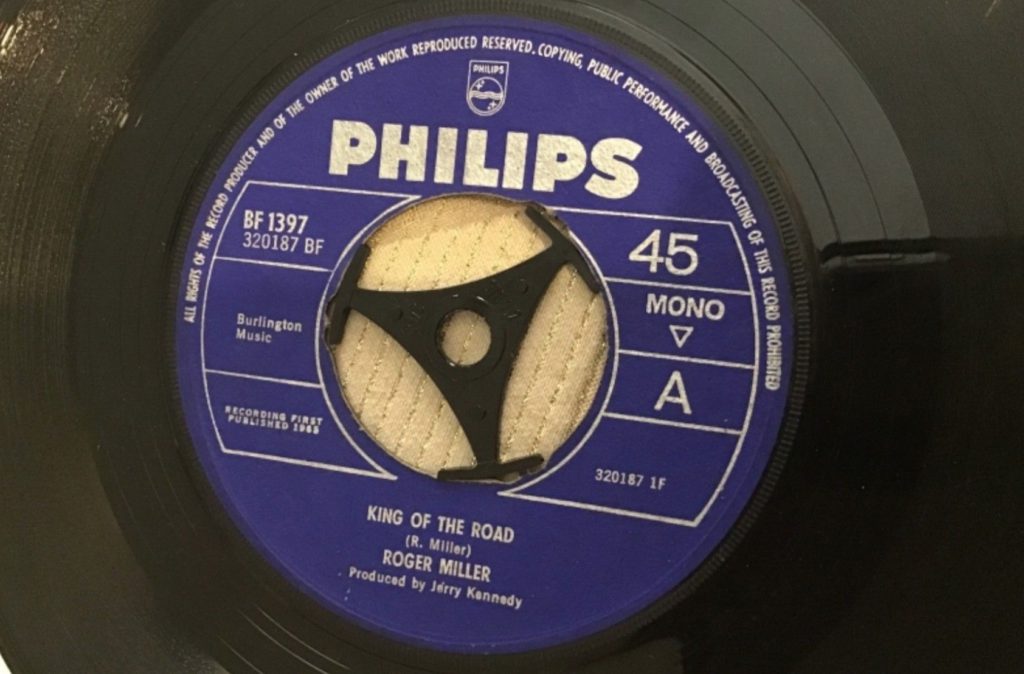 ---
43.32
PETER SARSTEDT – Frozen Orange Juice – 7″ – United Artists – 1969
Yep, Peter was yet another without a care in the world… and orange juice seemed to help.
Would have loved to have nabbed this acetate, but no such luck.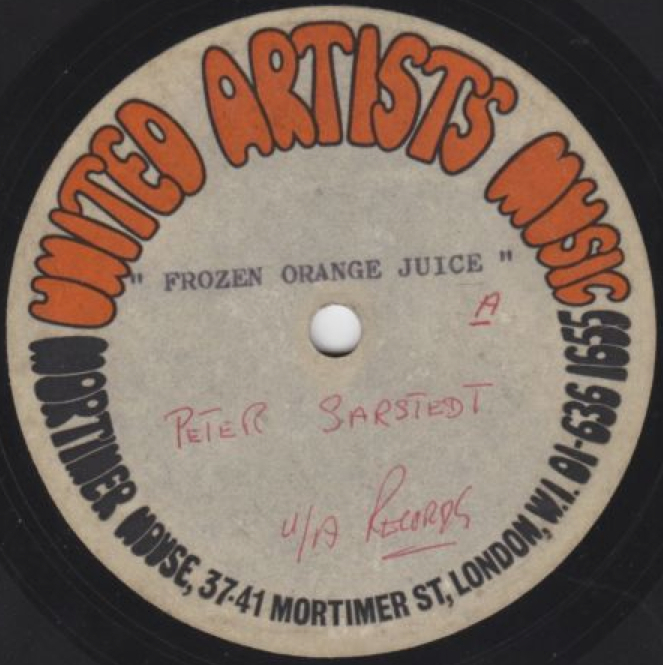 ---
46.39
MAN & THE ECHO – Operation Margarine – Self Titled LP – 1965 Records – 2016
'And you can call it Operation M…A…R… G… erine.' Playful stuff! 🙂 With a bit of a light and breezy northern soul feel – without the 'soul' – it wouldn't look weird to see someone 'shuffling' on the dance floor to this.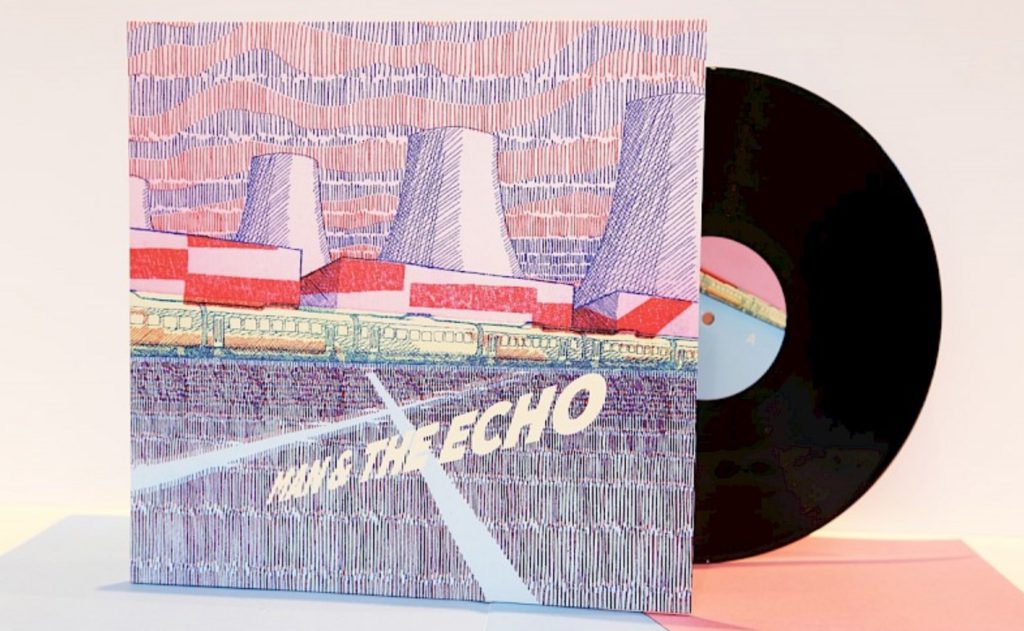 ---
50.06
NEW STREET ADVENTURE – Forever Unmasked – Just The Kind Of People, EP. Digital only – ?? – 2011
A four track EP but boy will you have trouble finding anywhere to buy any of it. If you succeed, let me know.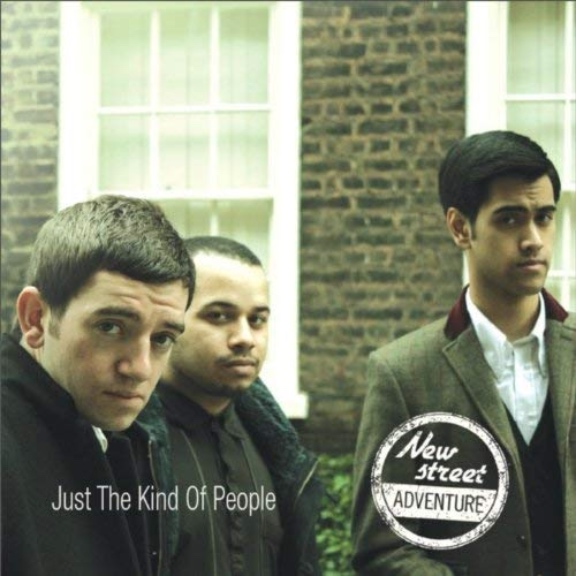 ---
53..10
KIKI DEE – On A Magic Carpet Ride – 7″ b-side – Fontana – 1965
Possibly seen at the time purely as an antidote to the slightly drab A-side (Now The Flowers Cry), this grew to be a mod/northern stormer. Given the scene's huge preference for US pressings (where none of them had centres) they heavily favour their UK vinyl being intact. If this one is missing its middle you can pick up a copy for less than a hundred quid. Find a 'complete' copy in really good nick and these days and it'll cost £400-£500!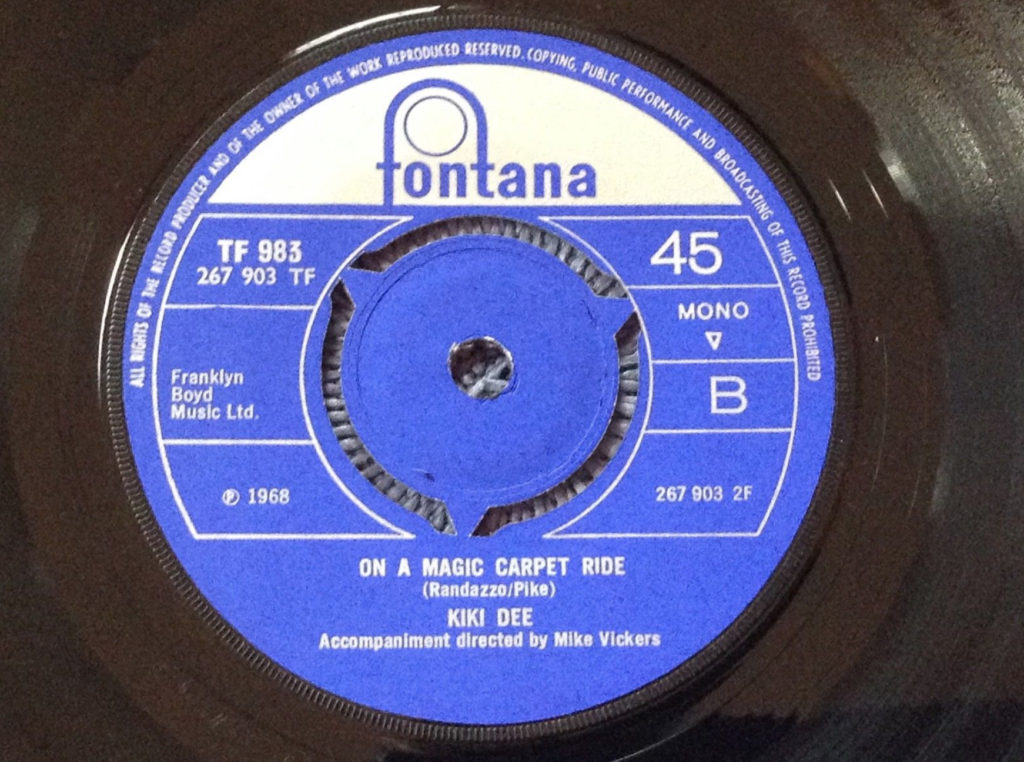 ---
55.40
EYELESS IN GAZA – Kodak Ghosts Run Amok – 7″ – Ambivalent Scale Recordings – 1980
An intrinsic part of 41 Rooms' banner image since day one and possibly in my Top 100 Tracks Ever, EIG's debut finally gets to grace the show. All stickered and personalised individually by Martyn Bates, a self released 7″ every bit as idiosyncratic in look as it is in sound. Genius stuff.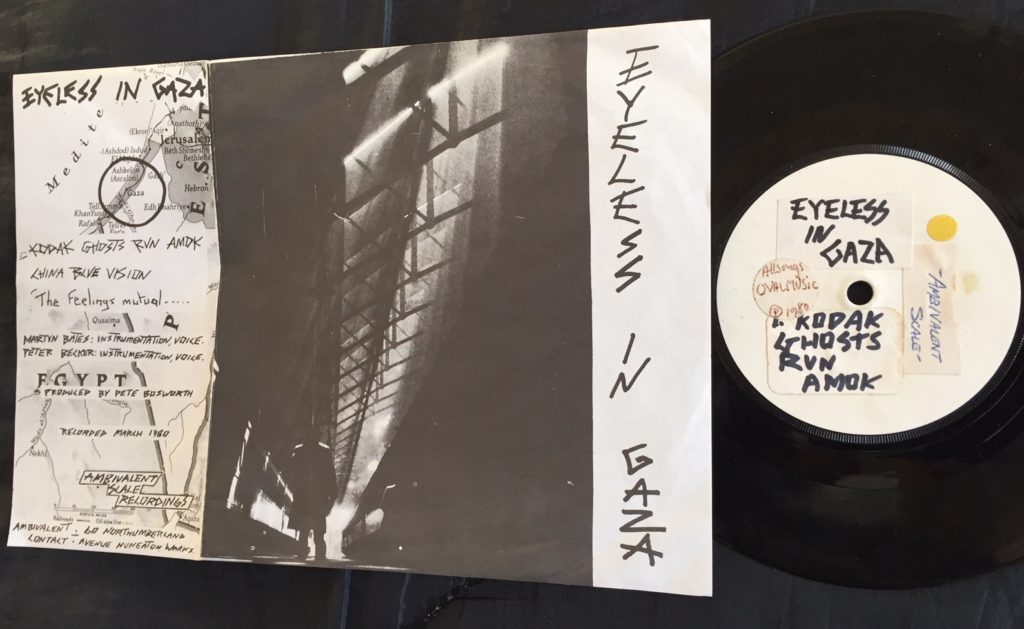 Pass/ticket from the first of my three EIG gig promotions in Bedford.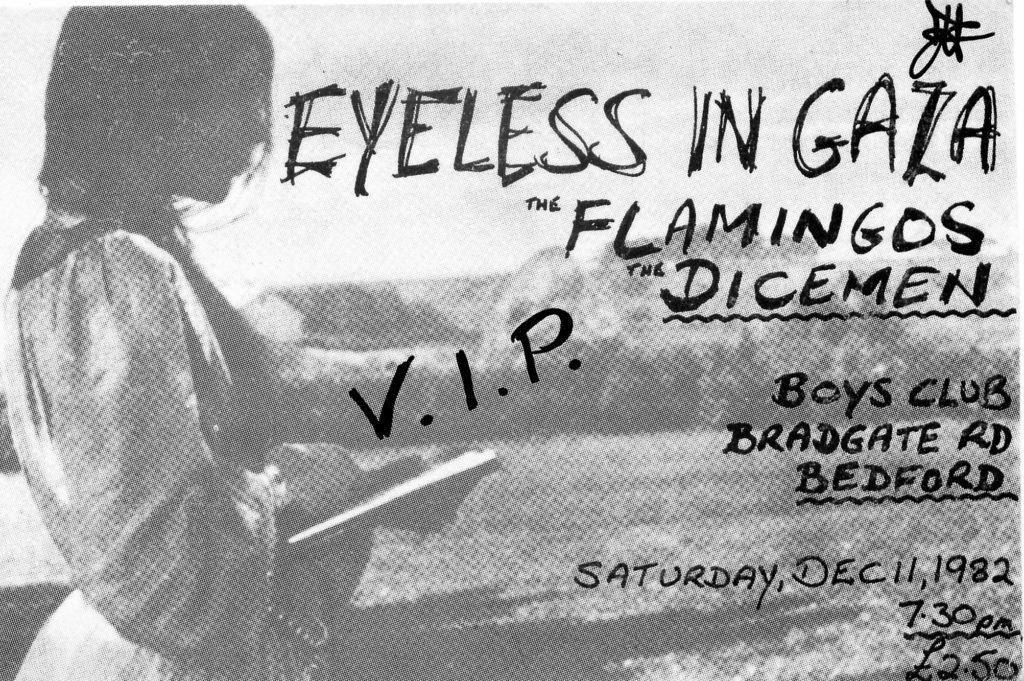 ---
58.05
THE WAKE – Something Outside – 12″ – Factory Benelux – 1983
Somehow along the way in the eighties some of my Winkles playlist records mistakenly ended up with my long departed and still sadly missed pal, Karl but in a twist I never worked out I ended up with his copy of Something Outside. Who knows were the rest of Karl's records went after his passing but thankfully this treasure has survived. Neatly signed by The Wake when, via a gig of theirs in Bedford, Caesar and Carolyn stayed at Karl's flat and Steven and Mac crashed at my place.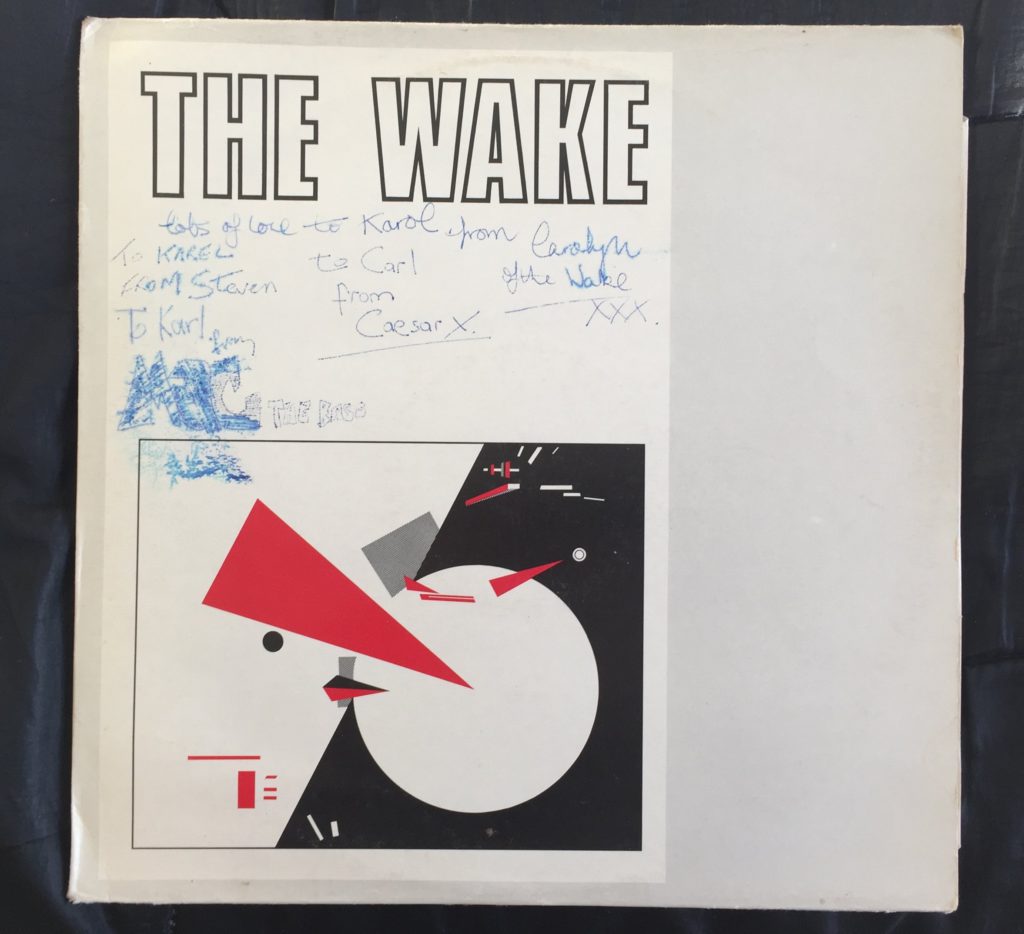 And for continuity, Karl and The Wake outside the very cool Bedford vintage clothing shop, Revisited, on the afternoon of Sept 7, 1983, the first of two times they were to play at Winkles.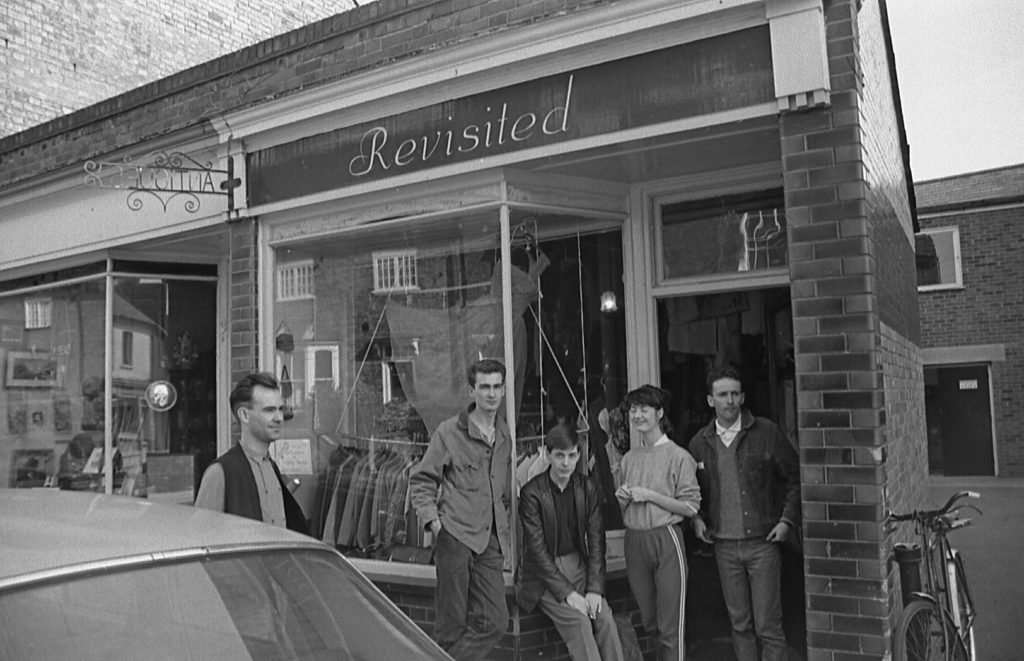 Photo credit/copyright: Dec Hickey
---
Half time… and travel time?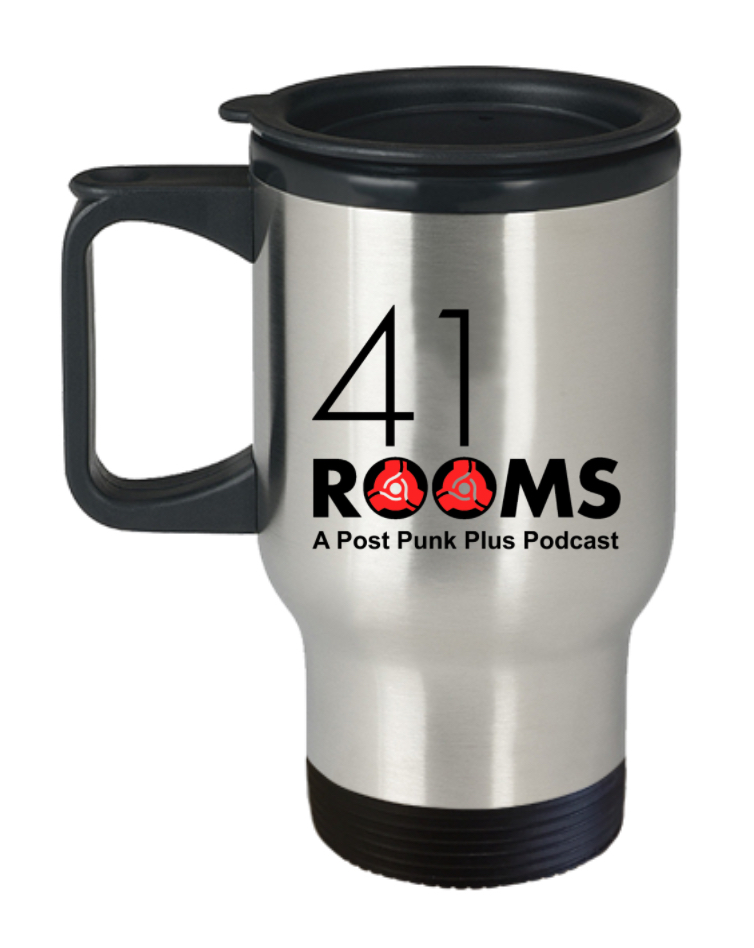 ---
01.05.44
(THE) DISTRIBUTORS – Never Never – 7″ b-side – Red Rhino – 1980
Post Punk Dub, of sorts… and a 'b-side' only in name. Both sides of many a single carried full weight back then.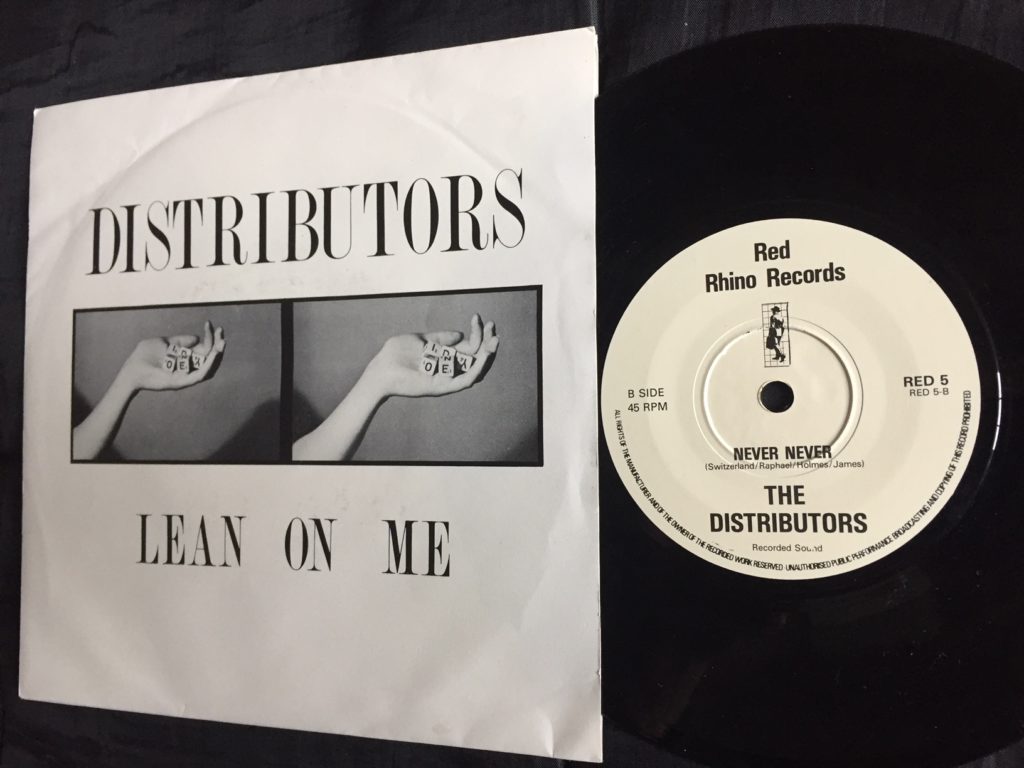 ---
01.09.01
MASSIVE ATTACK – Better Things – Protection, LP – Wild Bunch/Circa – 1994
Your vocal style has certainly made the grade if a call comes in from these Bristolians, but Tracey Thorn had always been a mesmerising listen.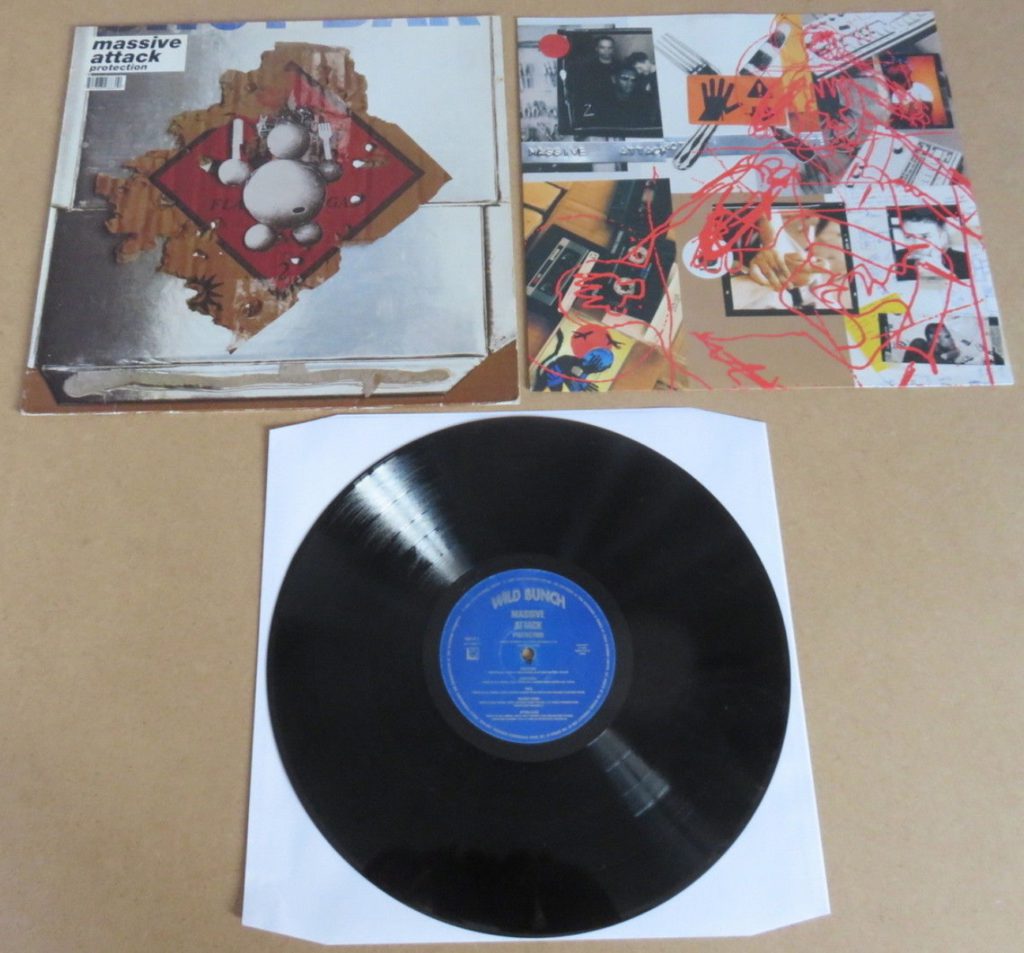 ---
01.13.03
BILLIE RAY MARTIN/ELECTRIBE 101 – Talking With Myself (Original 8-Track Demo) – Digital only – Bandcamp – 2016
Another top rate female voice, though more of the 'chanteuse' 'diva' type than Ms Thorn above, Billie Ray Martin would be a good contender for a modern day remake of Cabaret, and combining as she did with the Birmingham boys who'd later become Groove Corporation this fully fledged prototype set the wheels in motion for some regular class from them in the pop charts briefly in the late eighties.
'The band famously and widely reportedly met after I'd placed an ad in the Melody Maker entitled: "Soul Rebel seeks Musicians, genius only". 
'I got a telephone call and four guys came from Birmingham to meet me. Allegedly, and probably true, I told them I wasn't interested and sent them on their way, but Brian of the band kept calling. He convinced me to come to Birmingham, and off I went .We listened to music, and found that indeed, we had more in common than I had assumed. There was house music in the air and all of us at that time across the globe were re-defining the way we wanted to write and record music. I remember us listening to Bomb the Bass, amongst other influential records, and deciding that this is what we wanted to do from here on. 
'A little while passed… cut to the Wag club. I was out raving one Saturday, as always, when Julian Jonah's 'Jealousy and Lies' sounded through the speakers. I even remember where I stood. It was on the winding staircase, going down. I stopped and just stood there, staring, mesmerised. When the record had ended I proceeded to run around the club asking if anyone knew what that record was. I tried to reach the DJ but didn't succeed. It took a few days and I found the record. Put it in a bag, went to Birmingham and said: "This!" 

'We pretty much just copied the record and I had brought a song I had written a while before, entitled: 'Talking with Myself'. The guys built the arrangement around the song. The result was the demo. This was prior to automated desks with total recall, so the mix, as with all Electribe Mixes, was put down onto tape 'Live'. The four guys would all stand hunched over the desk pushing buttons and the results were left just like this and not edited. This is how the album was later recorded as well. 
'Brian went to London with the demo as he was certain that a friend of his at Phonogram would be interested in this song, and he came back pretty much with the deal. Simultaneously, some independent radio stations had gotten hold of the white label with the hand-drawn snake that we had pressed up and everyone went nuts about the record. People found out that we had signed to Phonogram and the company received call after call from angered radio stations and magazines asking where the record was and why it had not yet been prioritised or released properly. This was fun for us to experience of course, as the buzz was so strong. Phonogram took a while longer to prioritise the record, namely when major manager Tom Watkins came onboard, but that's another story. 
'Later, prior to the official release of 'Talking with myself' Phonogram put us in a studio where I was supposed to re-sing the vocals. I did, but insisted that the recording was not as good as the demo vocals. The band disagreed but I told them I knew. The next day I received a call and was told I was right. So what you hear on the 8-track demo is pretty much the same recording (as far as I can now tell) as what ended up on the official single, with perhaps some bits from the new vocal recording edited in. I am not sure. It's possible that I recorded another vocal in the studio in Birmingham. I think there are some minor differences in the vocal performances. 
'Luckily this demo doesn't have the 'Mission Impossible' part, which I thought was naff, and was always against. The rest, as they say, is history.' – Billie Ray Martin, Bandcamp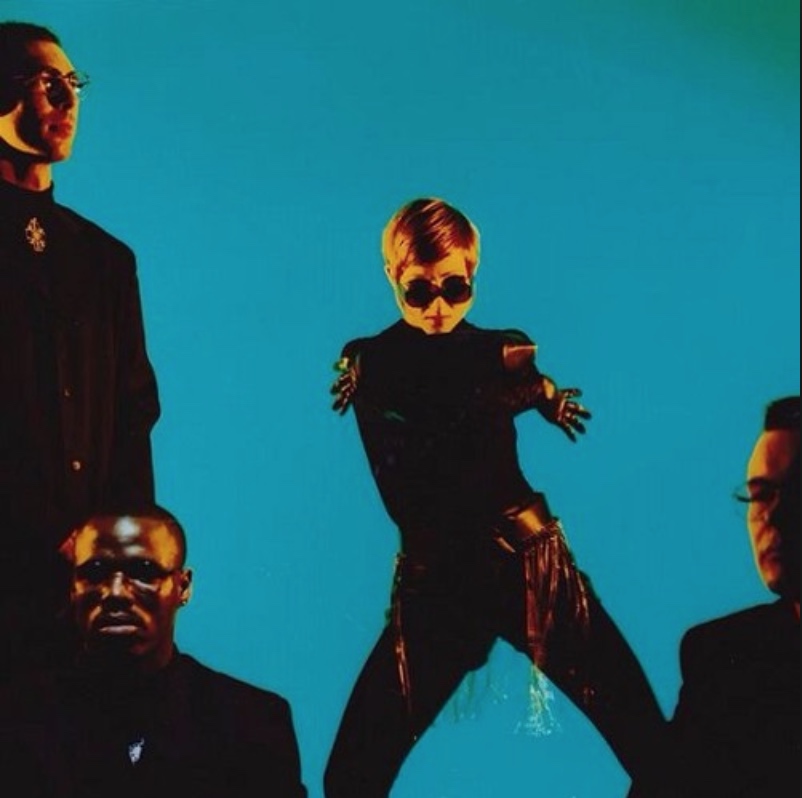 ---
01.19.36
CORNERSTONE – Like Alice Coltrane – Unreleased… Late 90s/Early 2000's?
This beaut was briefly on MySpace… a long way back when the platform actually meant something. All I remember was that Cornerstone were a duo and the reason I clocked and grabbed the song was because one half was ex Attica Blues member/vocalist, Roba El Essawy. These days there's neither a mention elsewhere on the interweb of Cornerstone's very brief existence, nor indeed this track.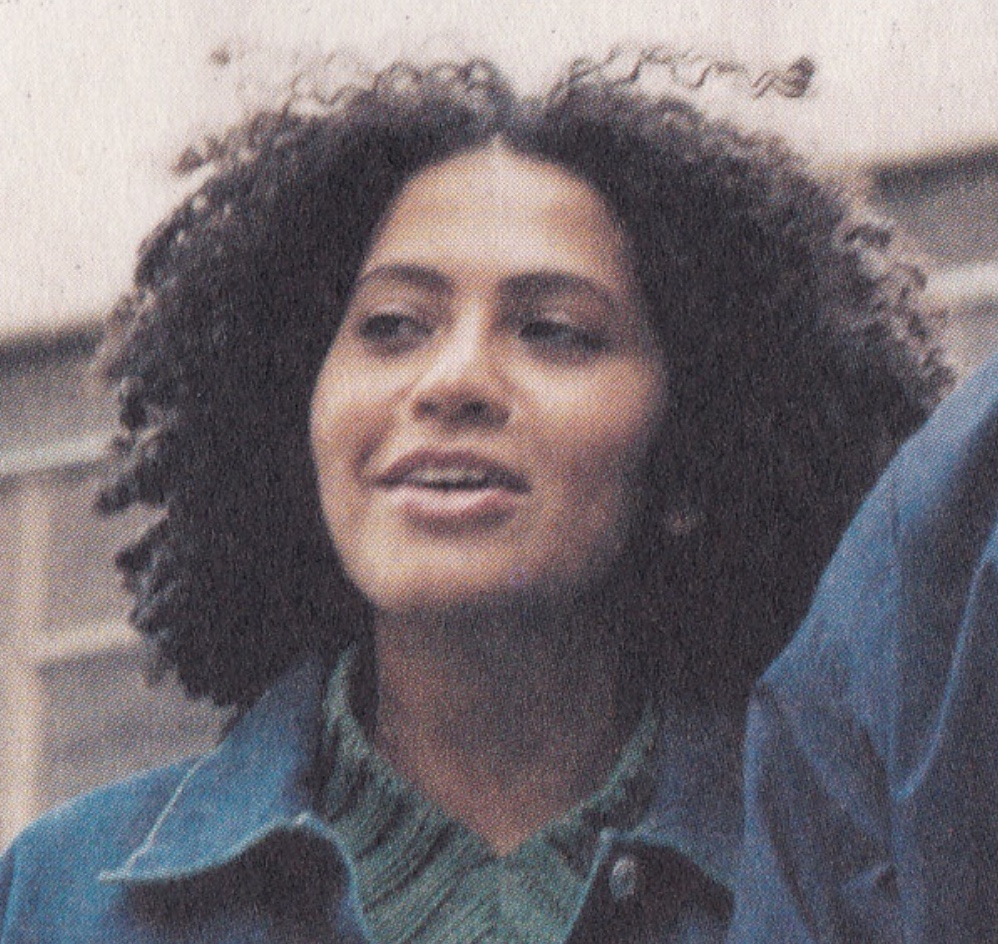 ---
01.23.21
ABC – Date Stamp – The Lexicon Of Love, LP – Neutron Records – 1982
A near perfect pop album. Martin Fry, Steve Singleton and Mark White after their post punk, earlier Sheffield days as Vice Versa.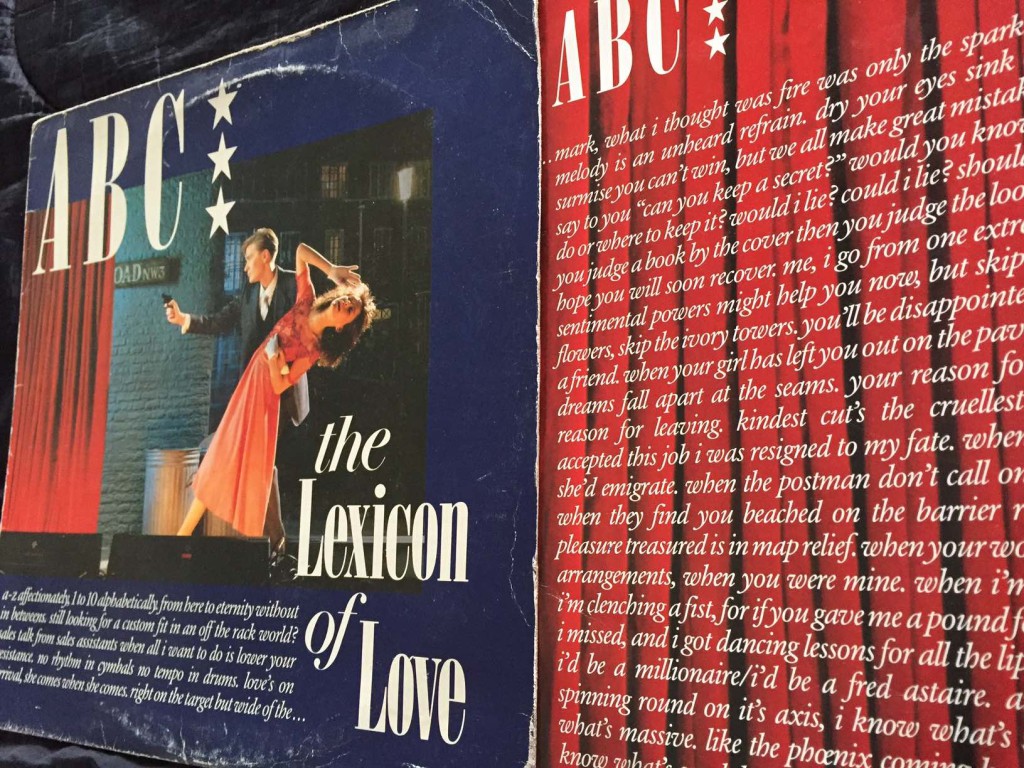 ---
01.27.07
A CERTAIN RATIO – Naked And White – Force, LP – Factory – 1986
Their last album for Factory and the sort of tune that maybe signalled their move to major label, A&M. Simon Topping and Martha Tilson had both stamped their vocal mark on earlier ACR but since then Jez Kerr's vocals have also been a highlight.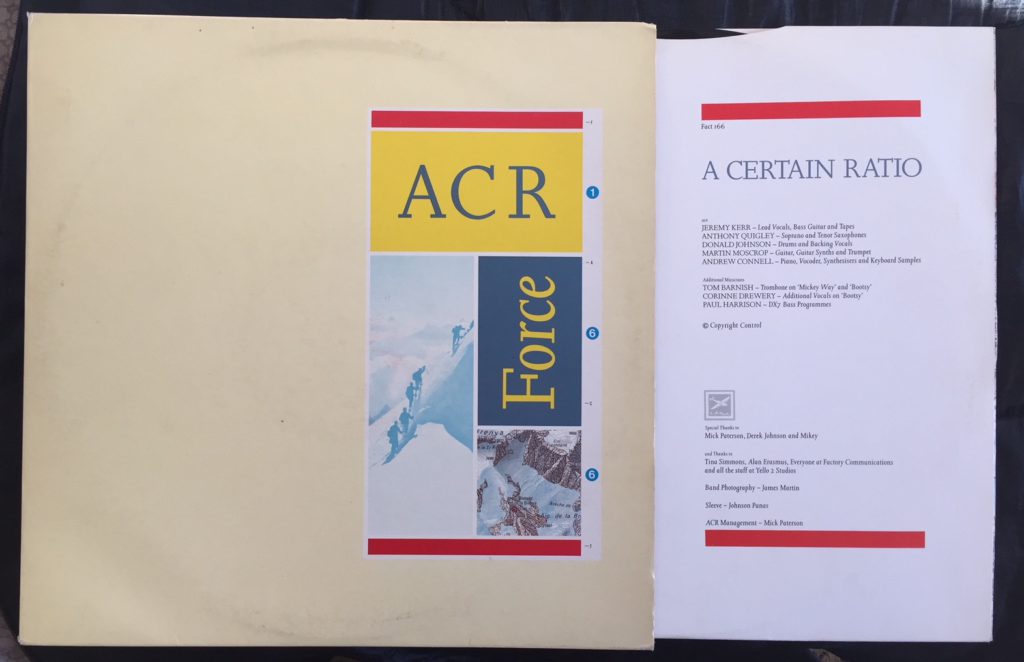 And although it's been on 41 Rooms before, here's a repeat of a great ACR story.
'In 1980 ACR were in New York for the first time. We were staying in a loft on Hudson St. just along from the World Trade Centre. The first New Yorker I met was called Chuck, he owned the loft and the rest of the building. His hands were like spades, he told me that De Niro lived in the Top Apartment, but 'was away'. Years later on seeing the film 'Goodfellas' I saw Chuck again. He was playing the character 'Mori' (the guy with the wig who is always asking De Niro for his cut of the airport heist).
'The loft, on the first floor, was an empty space, parquet flooring, whitewashed walls and kitchen area and bathroom built in. We went out the first day and bought a cheap mattress for each of us, plus sheets. We were there for 3 and a half weeks, commuting through the Holland tunnel everyday to the studio in East Orange, New Jersey, where we were recording the album 'To Each' with Martin Hannett.
'Michael Shamberg, a friend of Tony's (Wilson) was filming our first gigs in New York and he wanted to shoot some footage in the loft, which he could cut with the gig stuff. One afternoon into evening Michael filmed us playing some percussion, congas, bongos, cowbells, woodblock and trumpet. After an hour or so, mid blast, there was a knock at the door to our apartment. I was sent to see who it was. It was a guy who I thought looked familiar, very smart, but a little annoyed. "Can you keep the noise down?I 'm on the top floor, and I'm trying to have a nice quiet meal with a lady friend, and all I can hear is this racket."
'I put on my best English accent, and apologised for the noise, explaining that we were making a film and that we would be finished very soon. "Soon!" he said with a scowl, but accepting my explanation. As he left, I realised where I had seen him before, the previous week I had watched 'Mean Streets' and this was one of the guys in the film.
'When I returned, Pete (Terrell) asked who was at the door.
"That guy in Mean Streets, Harvey Keitel."
"What did he want?"
"He wanted us to stop filming".
"And what did you tell him?"
'"I told him to F*** O**." – Oct 2012, Facebook 
---
01.31.25
DEPARTMENT M – Bleak Technique – 7″ – Hide & Seek Records – 2015
Main man, Owen Brinley has definitely got something.
Limited to 150 unnumbered pressings, the single supposedly came with a black card inner sleeve and a personal handwritten note from Dan at Hide & Seek, though mine doesn't have the latter.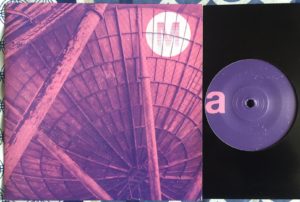 ---
01.34.39
BOMB THE BASS – Winter In July (Brighton Daze Mix) – 12″ – Rhythm King Records – 1991
Much aided here by guest vocalist, Loretta Heywood, Tim Simenon is still, very occasionally, putting stuff out there.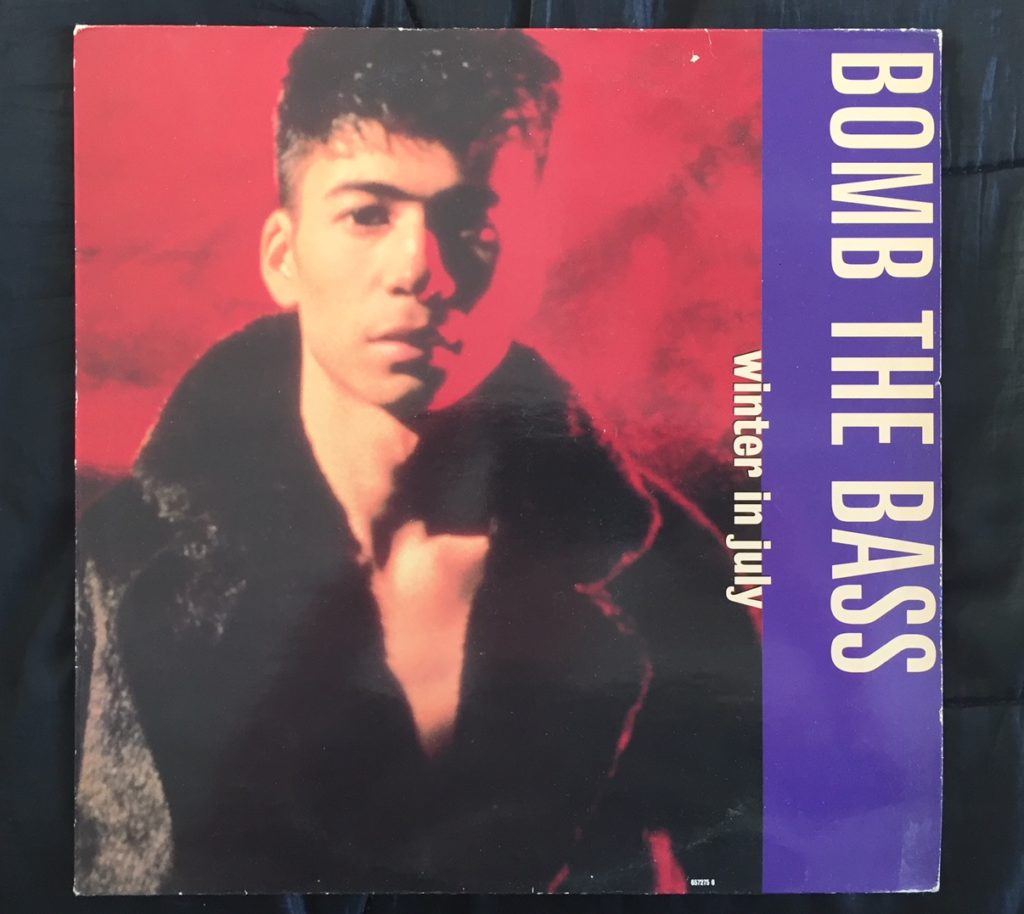 ---
01.39.59
WAYNE WONDER – Keep Them Coming – 7″ – Mad House – 1999
I might have clocked this moody number via a brief stint of listening to shows on BBC Radio's 1Xtra. Some reggae/dancehall etc guys churn out singles on a production line scale, and that might be why – even with limited pressing totals – picking up gems like this will still cost less than a pint of your favourite tipple.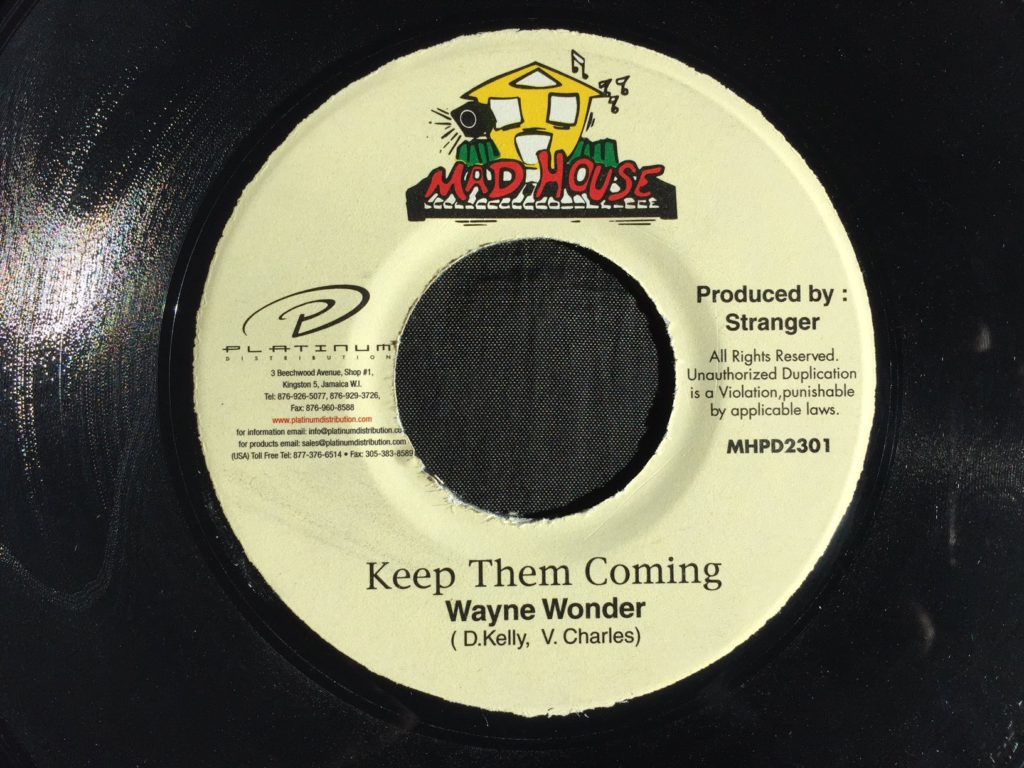 ---
01.43.43
PRESSURE DROP – Nice Up The Area – Front Row, 2LP – Boombastic – 1993
More 'moody'… but in a jiggly sort of way.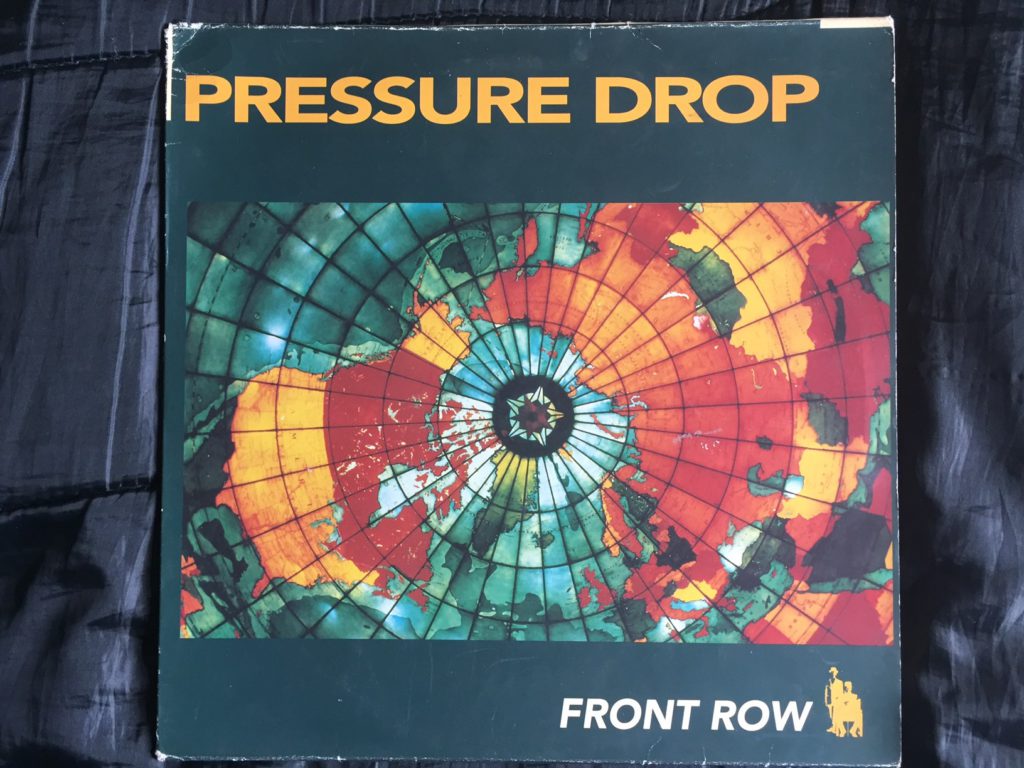 ---
01.47.07
JR. THOMAS & THE VOLCANOS – What A Shame – 7″ – Colemine – 2017
Roots-style… and soulful, there are 300 yellow vinyl copies out there but they're creeping up in price, so the plain old/newish black vinyl will do.
PS: At 1.50.30 someone muffles a two second vocal that's just… sublime. Sometimes it's the little things…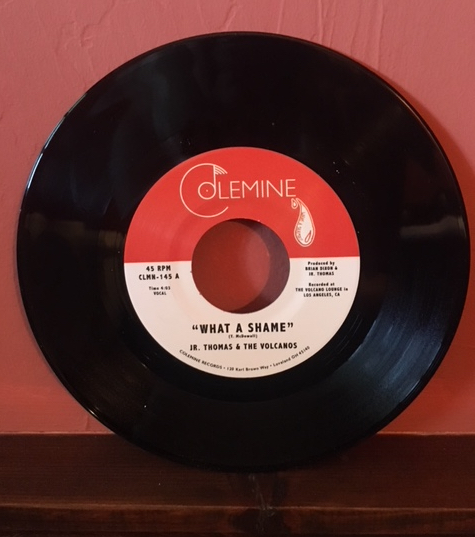 ---
01.51.25
MORGAN HERITAGE – Mama & Papa – Protect Us Jah, LP – VP Records – 1997
Roots-style… and soulful, Part 2!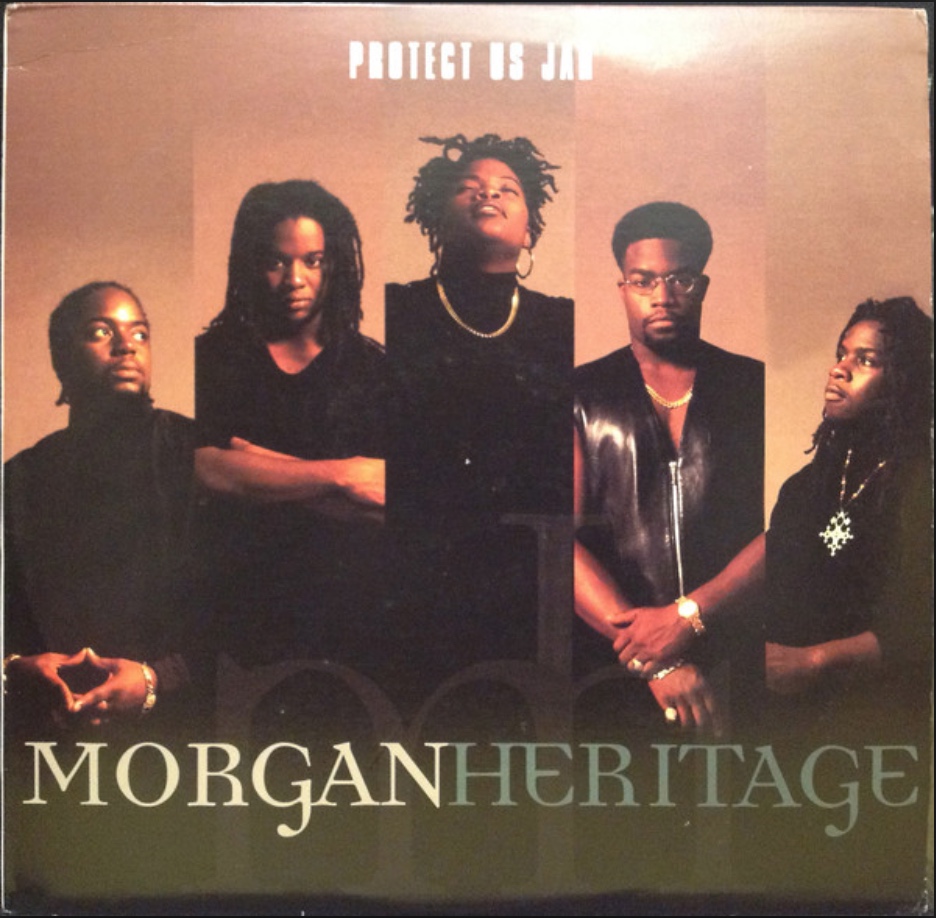 ---
01.54.42
TERRY CALLIER – Until Tomorrow – The Best Of Terry Callier on Cadet, 2LP – Charly – 1992
I wouldn't normally namecheck a Best of against an original LP/single etc but given my TC likes and loves, this is one great 'grouping' that particularly hits the mark. Until Tomorrow?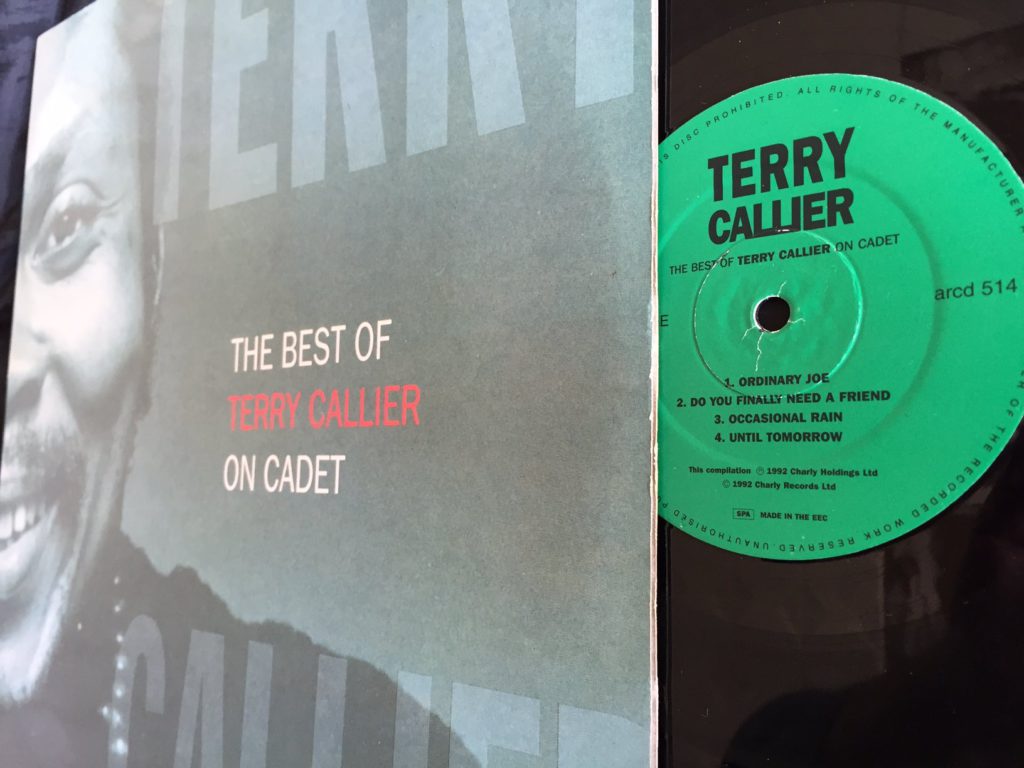 Until next time.
---
Show 61 surfaces on November 4.
Dec